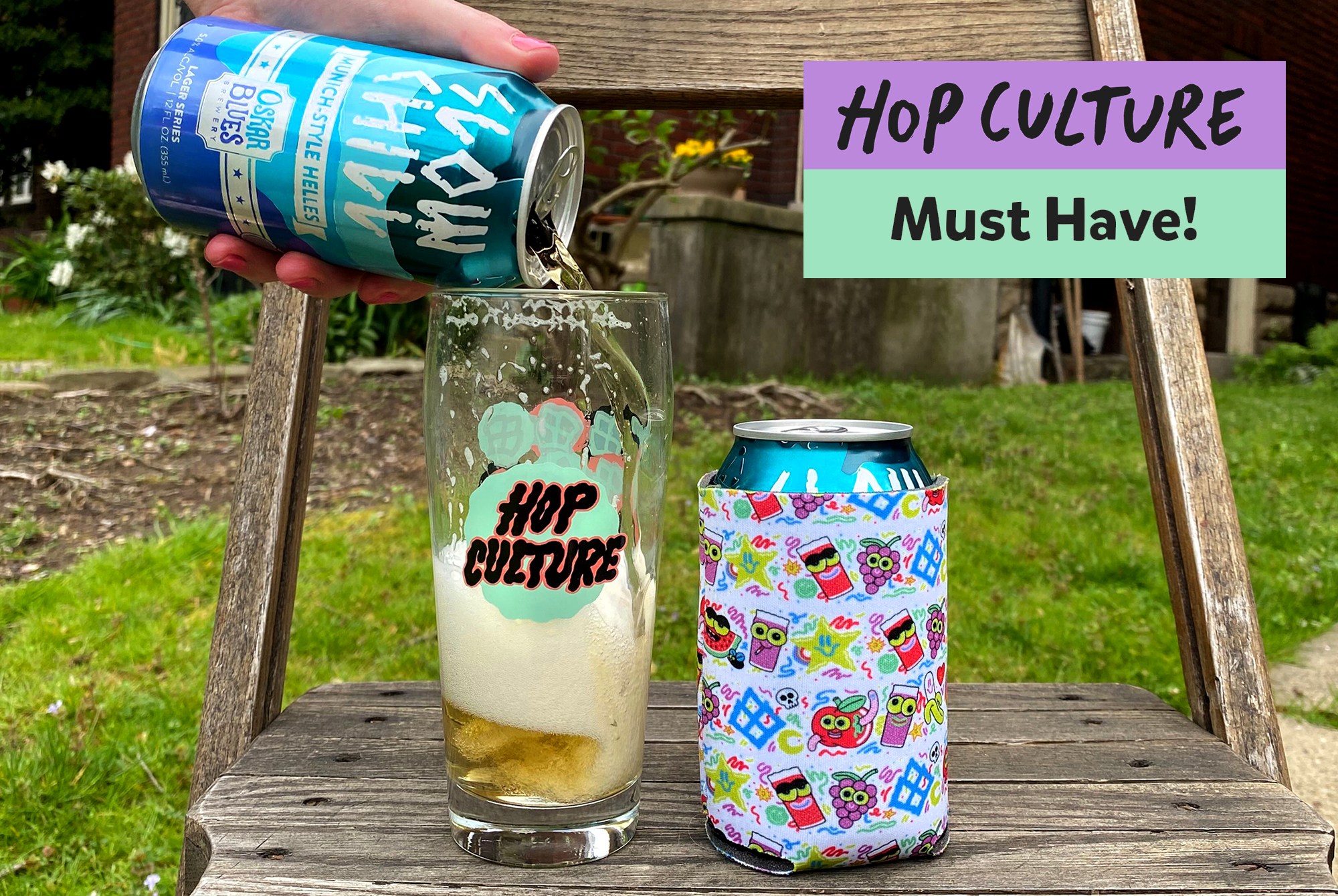 Editor's Note:
This is a Hop Culture "Must Have," one of the many food or drink items that keeps us going.
Spring has finally sprung. As a Pittsburgh native who just braved four months of endless gray, I've been sitting on my stoop and smiling at strangers.
Heck, I'm just smiling, strangers or not. The sun puts me in a good mood.
With the warm weather comes Memorial Day, a time to reflect on the service of those who protect our freedoms. The holiday is also inextricably linked with American culture as a time to get together with friends, fire up the grill, and enjoy some classic American brewskis.
It's in this spirit that I created the Hop Culture Starter Pack (link to pack), a rad little package that contains the world's coolest koozie, a flashy bottle opener, and a Hop Culture logo glass. I worked on each design with Sam Taylor (LINK TO INTERVIEW), the London-based artist who helped me with Hop Culture's visual identity since Day One. The designs are perfect for enjoying the sunshine and the beach.
If only one of the items catches your eye, buy it individually. Or pick up all three items as part of the package and enjoy a discount.
The Grapes and Apples Koozie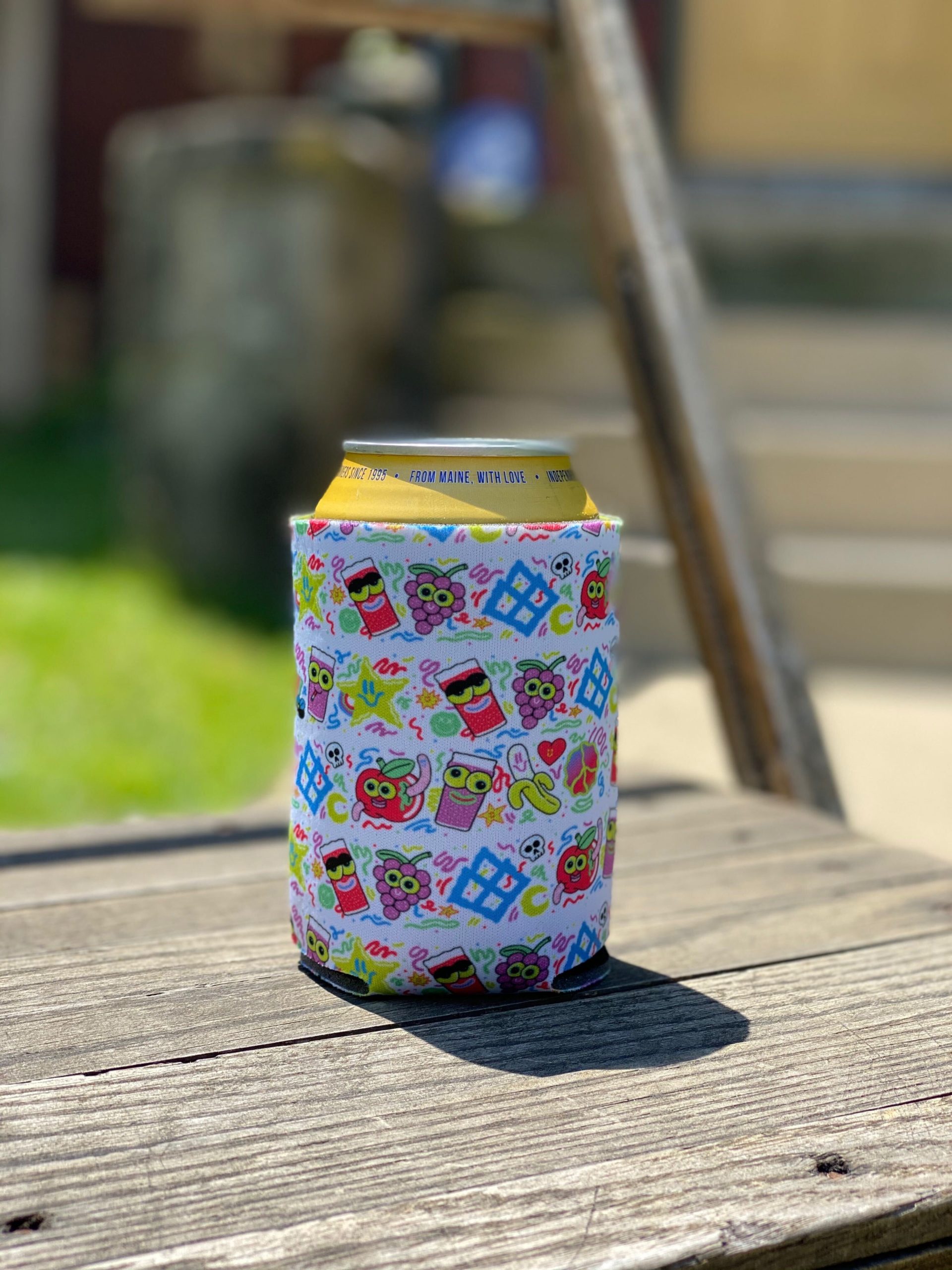 Koozies have a bad rap. That's because most brands treat them like the cheap company pens you find in the back of an Oriental Trading catalog. They slap a name and a logo on a black koozie and hand them out for free at trade shows. You wind up with a drawer full of useless neoprene you only see when you eventually clear it out.
But what if a koozie worked better? Either because of its unequivocal functionality, like YETI's Colster, or because it looked so good you wanted to keep it on a shelf?
In designing our koozie, I took this question into careful consideration. I said, "Enough with bad design. Give the humble koozie its moment in the sun!"
And that's how I arrived at the Hop Culture Grapes and Apples Koozie.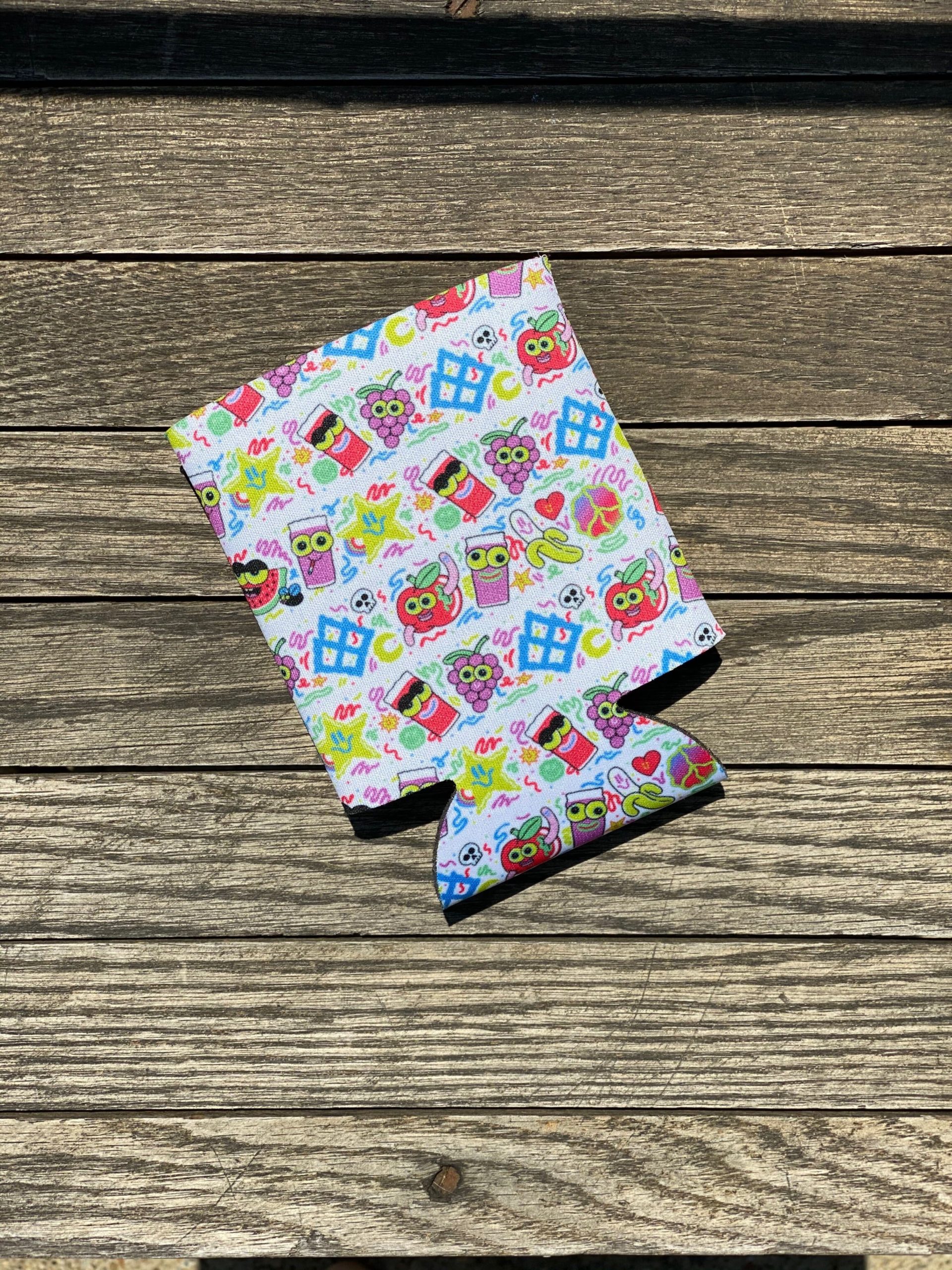 The Grapes and Apples design isn't new; it adorned the first glass we ever released. But it's one of my favorites. The design contains our logo, a funny apple, a smiling banana, some wacky grapes, a peace sign, and a drunken glass of beer, all done in bold and bright colors. The entire thing screams "BEER," "FUN," and "HOP CULTURE" in capital letters. I've put this on hats and a pair of custom Vans shoes. The koozie looks just as good. Next step? A sublimated Grapes and Apples t-shirt.
The Grapes and Apples Koozie holds both 12-ounce cans and bottles as well as 16-ounce cans.
The Party Wave Bottle Opener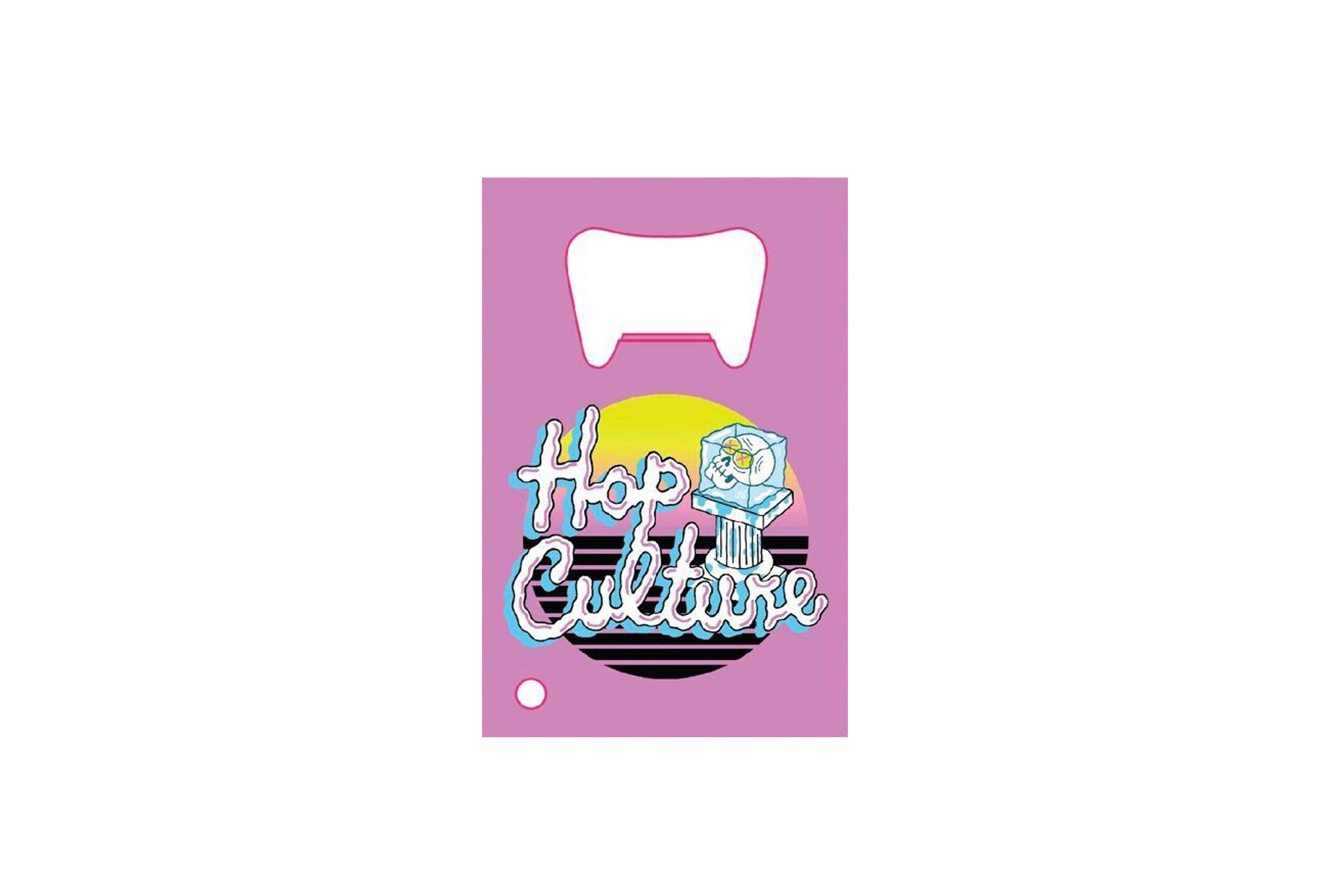 Once I decided to bring back the Grapes and Apples design, I dug through the Hop Culture archive to see if any other old designs caught my attention.
Lo and behold (where does that phrase come from??), I found a vaporwave design we used for our Juicy Brews Summer Invitational at Triple Crossing in Richmond, Virginia, in 2018.
Originally, we put the design on hats — we still have four or five. But with two years gone, and the sun shining, I felt like this design had more juice in the tank.
After a few beers and some time in Photoshop, I knew we needed to make the Party Wave Bottle Opener. Designed to fit in the credit card slot of a wallet, the bright pink Party Wave bottle opener is perhaps even more eye-catching than the Grapes and Apples Koozie. Because once again, your beer accessories shouldn't be collecting dust. Show 'em off, use 'em, and display them loud and proud.
The Hop Culture Logo Glass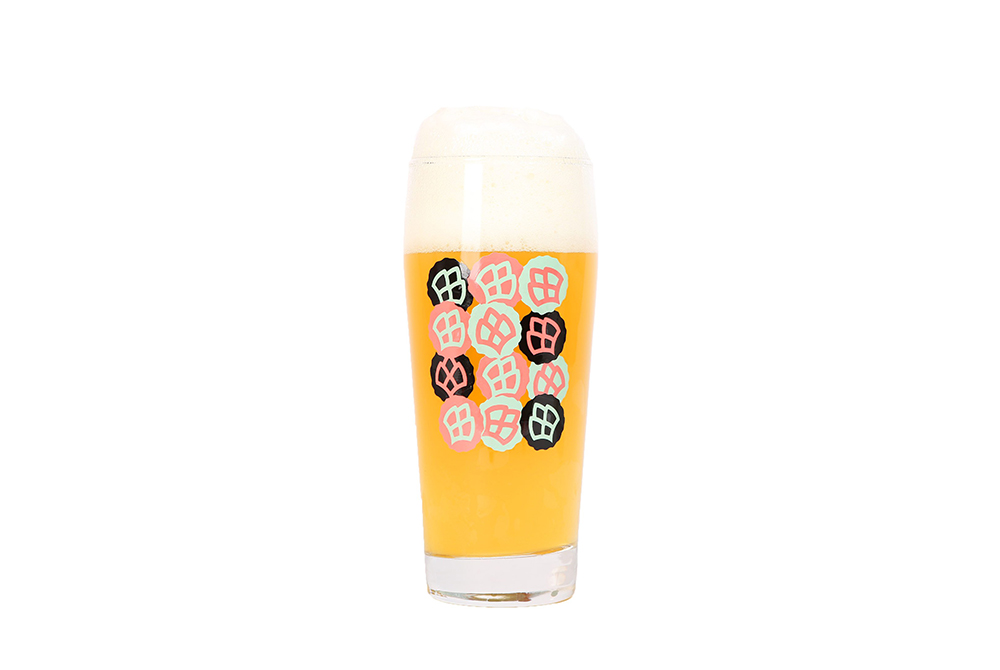 As much as we love pushing the envelope on color and design, we created this glass to take a back seat. Because when everything sticks out, nothing sticks out.
So when you have a koozie that screams "fun" and a bottle opener that yells "party," a sexy but subtle glass that whispers "nuance" seems like just the thing.
When thinking about the three items as a package, I wanted to match the aesthetic elements. Similarly, I wanted to match the functions. This pack contains the essentials: a bottle opener, a koozie. A glass seems like the next obvious choice.
We used a similar shape for our Apres Ski Glass as well as our Hop Culture x Killer Acid Freshly Baked Glass. It's endlessly functional, perfect for any beer style, cold brew, or even just water.
And for any aspiring beer photographers, the colors, design, and form of this glass were all chosen to let the color of a beer take center stage.
Unless otherwise noted, all of the products featured on Hop Culture are independently chosen by our editorial team. However, Hop Culture may earn a commission from purchases made through affiliate links on the site.
Liked this article? Sign up for our newsletter to get the best craft beer writing on the web delivered straight to your inbox.