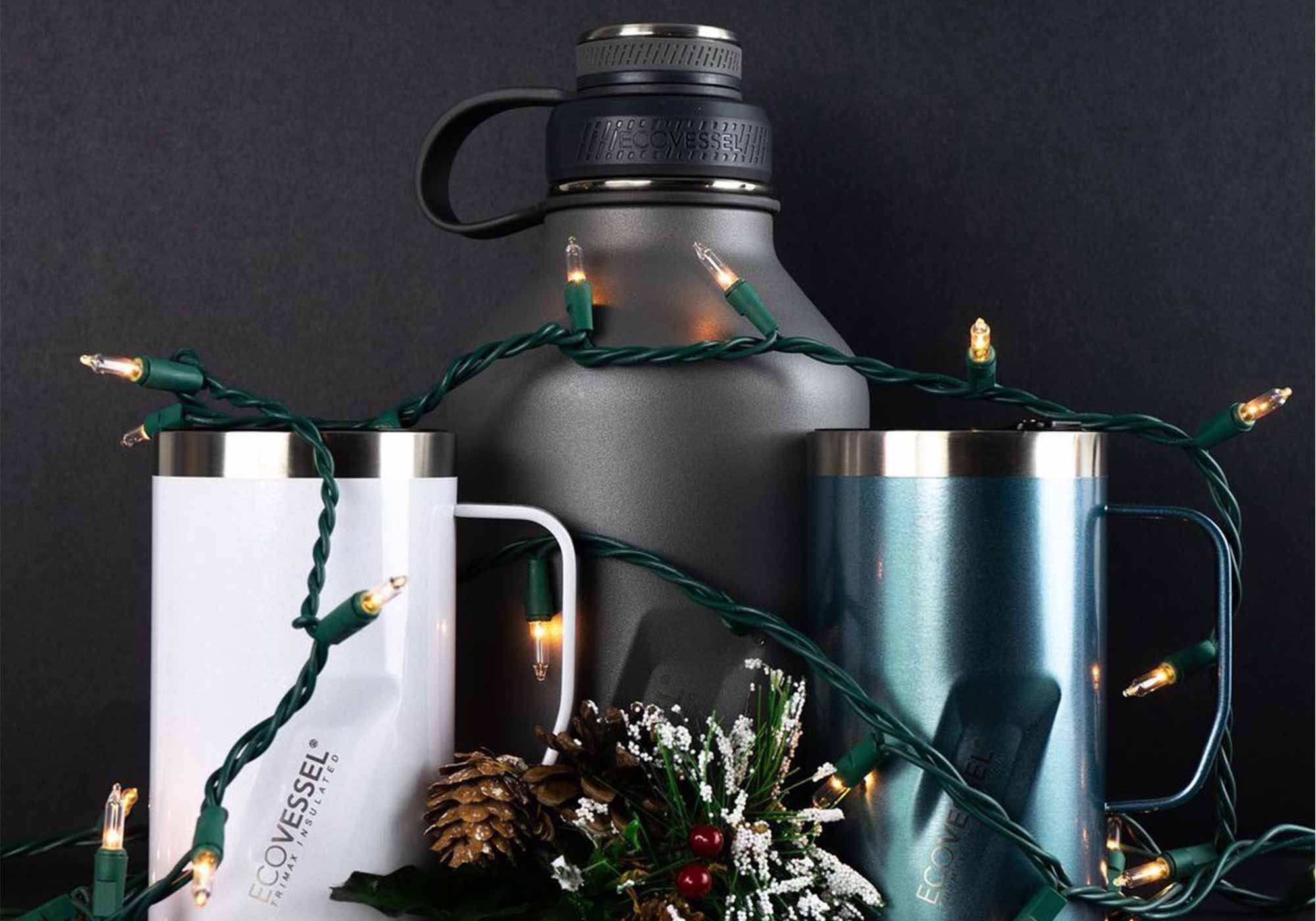 Photography courtesy of EcoVessel
Last call for last-minute gift giving! It's a phrase that sends chills down our collective spine. But let your friends at Hop Culture alleviate some of your stress. To make your life a little easier, we've rounded up our picks for the top ten last-minute gifts of the year.
Because we get it. Work piles up around the end of the year. Families start Zooming a little bit more. Friends throw annual cookie swaps and White Elephant parties. Time just seems to slip away in the final thirty-one days of the year.
Looking for even more ideas? Don't forget to check out our recent guides of the top brewery merch of the year and the best beer glasses to gift in 2021.
Hop Culture's Top 10 Last Minute Gift Ideas
Beer Drop Membership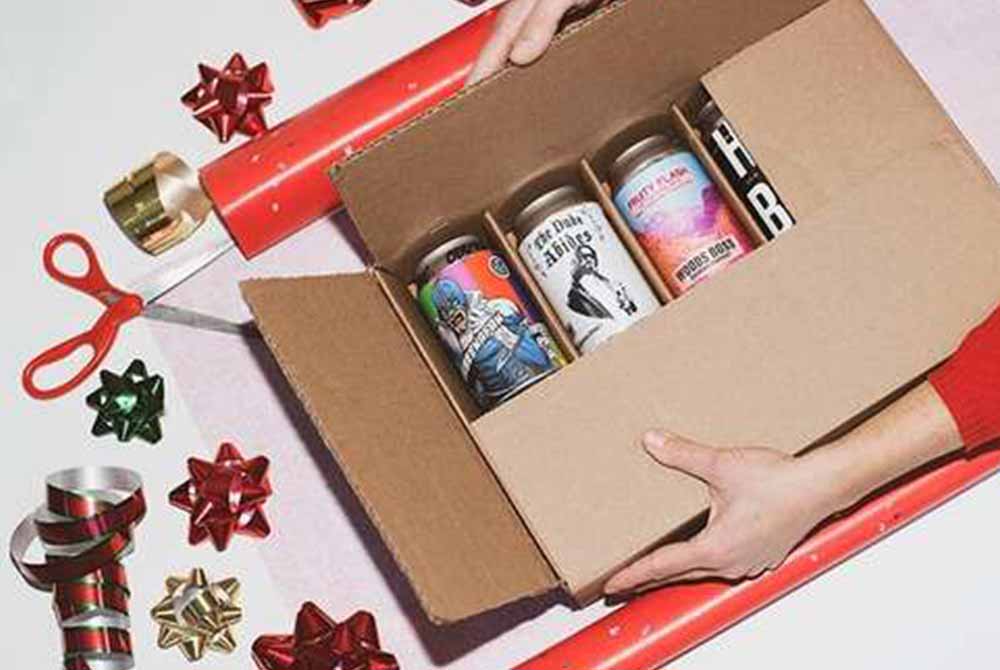 This is not only an excellent last-minute present but also a gift that keeps on giving. Beer Drop personalizes and tailors a box of beer just to fit your own giftee's hazy IPA or Imperial stout needs.
To start, Beer Drop asks you to pick your five favorite styles in categories like "top picks," "hoppy," or "malty." Next, Beer Drop will curate a box for you based on your exact preferences. Each month, you'll receive ten cans of beer from five different breweries (two cans per brewery).
We love Beer Drop so much that we named it one of our 17 best craft beer subscription boxes of the year.
As a gift, you can send up to twelve months of top-rated cans of beer, personalized to your recipient's preferences along with a custom note. The best part? No immediate shipping needed.
Shipping Details: Giving this membership as a virtual gift card eliminates your shipping worries! Just pick a date along with the duration of your box and your personalized eGift card will be sent on that day. Your recipient will then tell Beer Drop where to deliver their customized box.
MiiR Beer Pint Set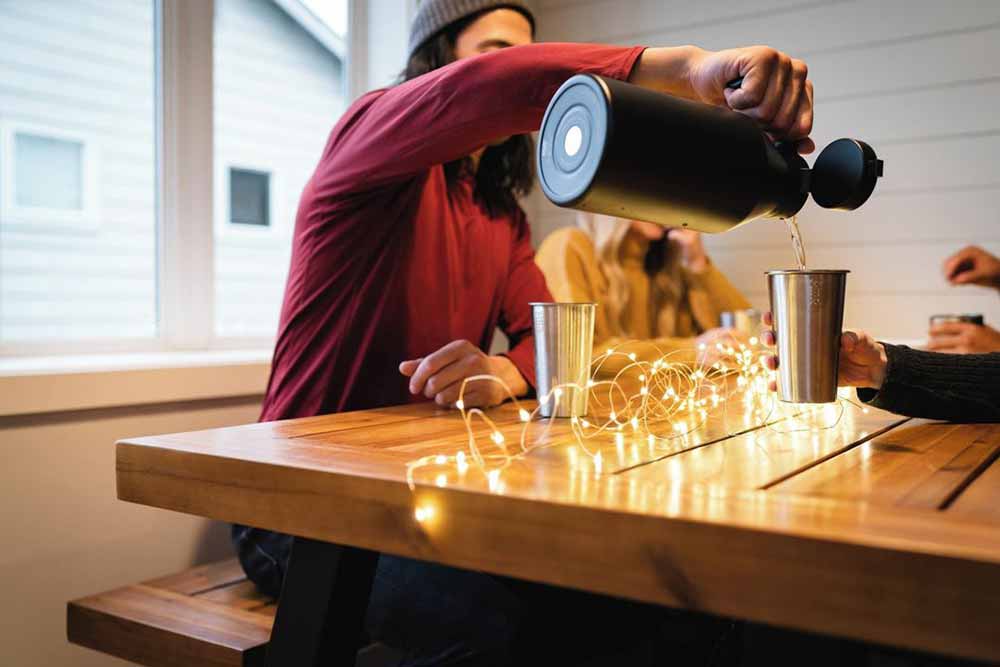 For a limited time, load up your cart with $45 worth of last-minute gifts and you'll receive a free 23oz MiiR insulated bottle for yourself!
To hit that number, we recommend the Beer Pint Set. Already on sale for 21% off, the Beer Pint Set comes with a 64oz Growler that holds four pints of beer, cider, kombucha, or even just water, along with two stainless steel Pint Cups. These tumblers are stackable and uncrackable.
We've already named one of MiiR's products to our list of the 17 best beer glasses of the year, so take advantage of this deal while you can.
Shipping Details: Get free ground shipping on orders delivered in the U.S. over $45. MiiR does it's best to ship your order within one business day of purchase, so that should help with the holiday tension. But the company does caution that, during the holiday season, delivery can take a little longer, so get those orders in now!
Untappd Insiders Annual Membership
Do you know someone who loves rating beers on Untappd? Or unlocking the latest badges? The Untappd Insiders Program upgrades you to a more premier version of our Untappd app.
As an Insider, you'll get access to exclusive badges and Untappd's secret merch store as well as better statistics, a yearly collectible magnet, and much more. And the best part? It costs less than a can of beer every month!
If you have a friend, family member, or significant other that's always on Untappd, this is the perfect last-minute gift.
Shipping Details: You can give this membership as a virtual gift! Just enter your friend's name and email (and additional message, if you'd like) and this gift will be sent their way.
EcoVessel Double Barrel Insulated Beer / Coffee Mug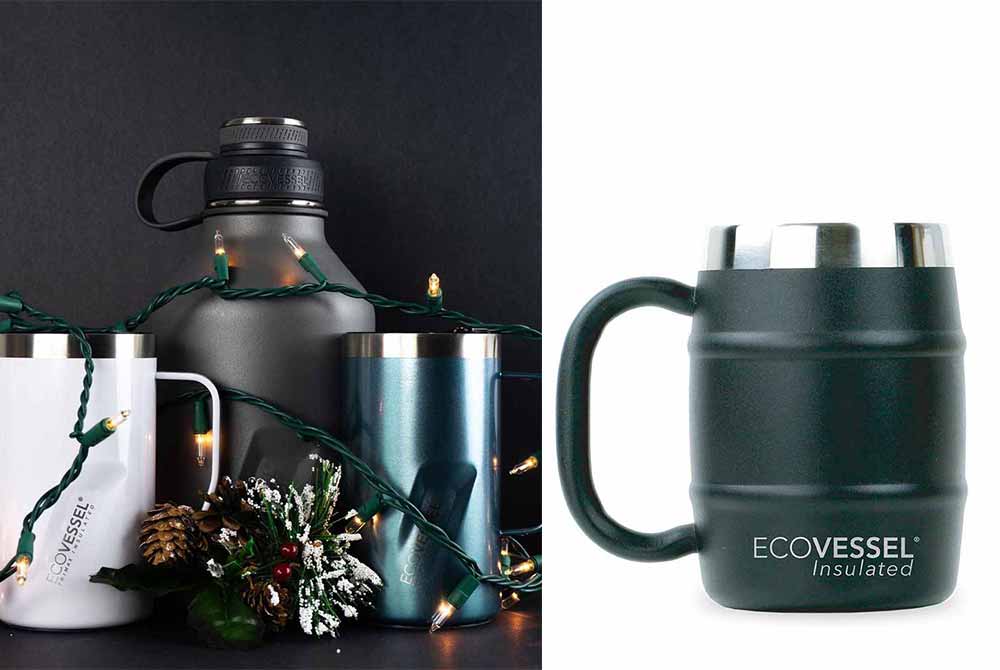 We love EcoVessel for their on-the-go growlers, but they also craft an excellent line of drinking mugs, tumblers, and cups. One of our new favorites is the Double Barrel Insulated Beer and Coffee Mug. Because if you know the Hop Culture team, you know how much we cherish both our coffee and our beer.
On sale for 12% off right now, this unique double barrel insulated mug doubles as both a coffee cup and a beer tankard. Made from two layers of premium stainless steel, this vessel keeps your morning Joe steaming and your afternoon pint chilling.
Shipping Details: EcoVessel ships within 2 to 3 business days of processing your order. So this is a gift you'll probably need to order ASAP. But you can take advantage of free shipping on orders over $49 (after discounts, Continental US only).
Tavour Gift Card
One of our best sites to buy beer online also has one of the easiest ways to gift beer last minute. With two convenient options — either a gift box or a gift card — send some of the nation's top craft beer to the beer lover in your life.
A gift card lets your recipient craft the beer box of their dreams from over 650 of the most hyped breweries across the country — Prairie Artisan Ales, Urban Artifact, Hoppin Frog, Divine Barrel, Magnify, Brouwerij West, Junkyard Brewing, Angry Chair, and so much more. A gift box puts the curation in the hands of the expert Tavour team. Choose from options such as the IPA Gift Box Set, Stout Gift Box Set, and more.
Shipping Details: You can give this membership as a virtual gift! Just add either the gift card or gift box to your cart, put in your recipient's address, add a message, and you're all good to go.
BeerAdvocate Extreme Beer Box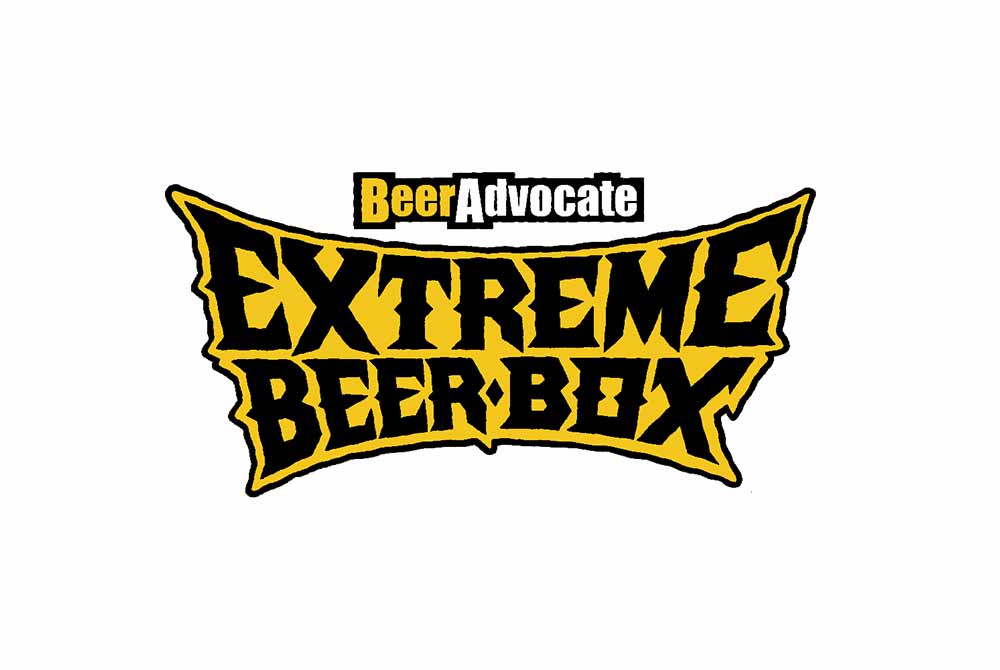 BeerAdvocate kicks off 2022 with a "take home" version of its iconic Extreme Beer Fest. Inside the Beer Box, you'll find twelve extreme beers, from twelve extreme brewers, all curated by BeerAdvocate founder Todd Alström. If you live in a shipping zone, Half Time Beverage can ship the box right to your recipient's home! Expect beers from Great Notion, Kane Brewing, Mortalis Brewing, Southern Grist, and more. For a full list of participating breweries, click here.
Shipping Details: To ensure the freshness of all the beer, these boxes ship in January. So buy the box now and it'll ship after the holidays to your recipient. This way, you don't need to worry about it reaching your giftee in time! See full shipping guidelines by state here. Please direct any questions to virtualevents@halftimebeverage.com.
Brewvana Brews Less Traveled Beer Club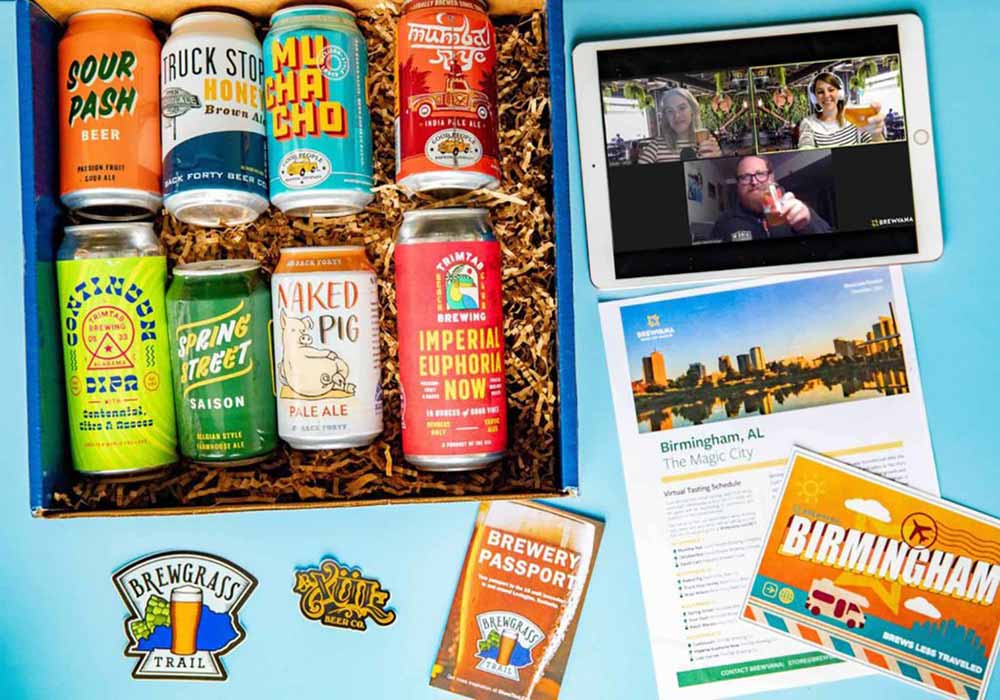 The Brews Less Traveled Beer Club takes you on a tour of the best uncharted craft beer cities in the country, complete with weekly virtual tastings. Every month, you'll receive eight beers from different breweries in one unique beer city — each hand-picked by a team of beer experts.
The clever tastings are just one of the reasons we also named this craft beer subscription one of our best of the year. Another? You can actually get the first month free when you choose a six-month membership.
Explore the world of beer from your living room with the Brews Less Traveled Beer Club.
Shipping Details: You can give this as a gift. Just check the little box that says "give this as a gift!" and you'll be prompted to add your recipient's email address. Sign up by December 20th for a January box. Boxes will be shipped after the 20th and will be delivered before the first live stream of the next month. Orders made after the cutoff date will be held until the following month.
Shop Now: $69 / month with first month free
Hop Culture Magnets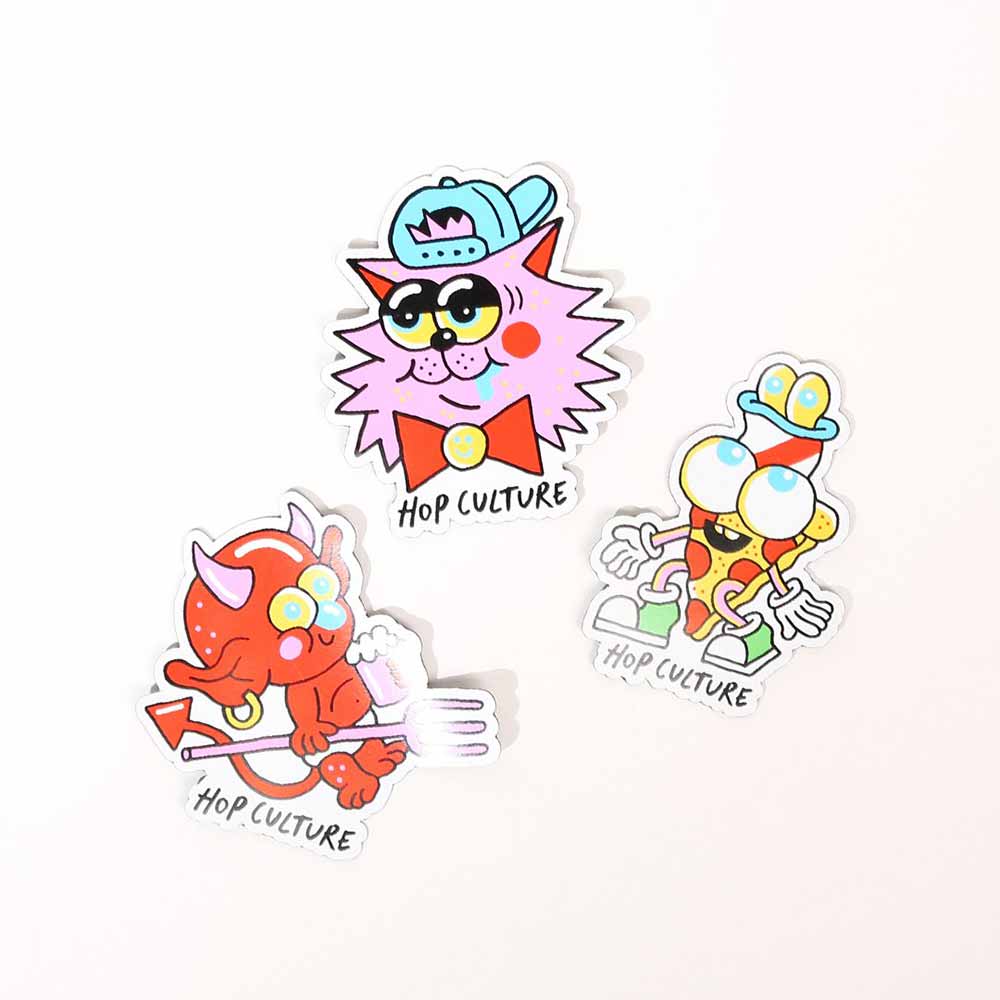 The holidays are here and we've got three new magnets recently teed up in the store. Designed by our favorite British artist Sam Taylor, there are three quirky, fun options to choose from: Collect 'em all!
Pizza + Beer – Is there a better combination? Perfect for holding up your "Save the Dates."
Little Devil – Because the last year has been just a little devilish, right?
Cat – The Hop Culture team loves animals. Especially ones that wear hats. Put one of our favorite feline friends on your beer fridge!
Shipping Details: Order by Dec. 15th to get your magnets in time for the holidays. Due to high shipping times, Hop Culture cannot guarantee on-time shipping, but we will do our best to fulfill and ship orders in a timely manner.
Half Time Gift Boxes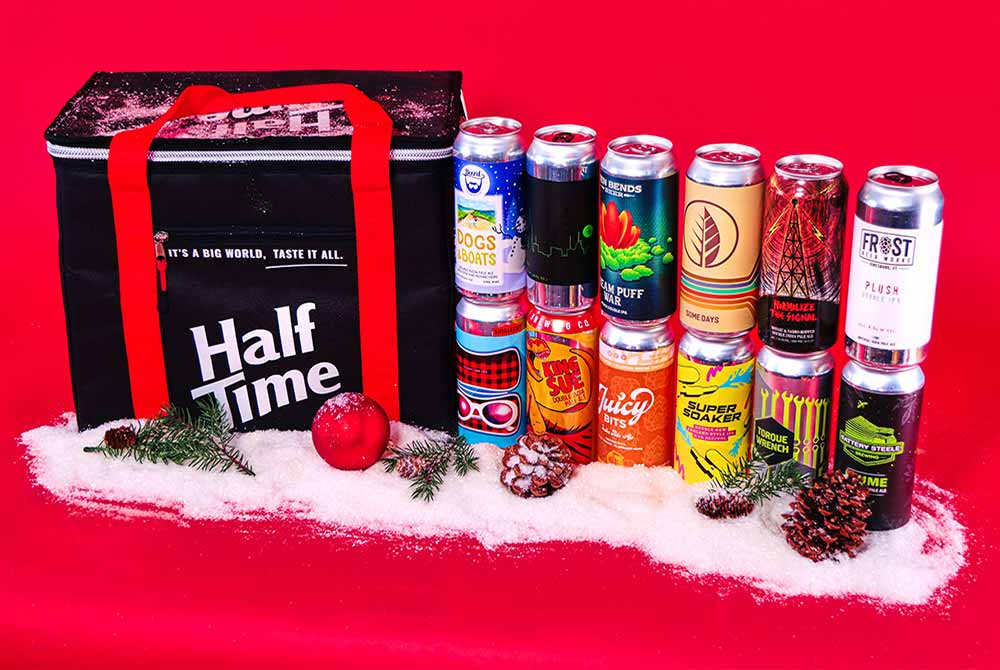 Our friends at Half Time, the most trusted source for online beer ordering, offer one of the largest selections of beer and cider around. We ranked them as one of our favorite places to buy beer online!
Over the past several years, Half Time has won Best Bottle Shop in New York and Top 3 Beer Store in the World (according to Ratebeer.com). This fantastic beverage shop offers a variety of beer gift boxes including:
Ultimate IPAs Gift Box
The Dark Side – Stouts & Porters Gift Box
Sour Power Gift Box
The Beer Nerd Signature Reserve Gift Box
I Love NY Gift Box
Superior Ciders Gift Box
Award Winning Beer Gift Box
Around the World Gift Box
Das Bier! German Sampler Gift Box
IPA Sampler Gift Box
Premium Pilsners Gift Box
Belgium In A Box Gift Box
Made In American Gift Box
Non-Alcoholic Gift Box
Shipping Details: Half Time only offers shipping to the following states (and only select zip codes in some): AK, AZ, CA, CO, CT, DC, DE, FL, GA, ID, IL, IN, KY, LA, MA, MT, NC, ND, NE, NH, NM, NY, NJ, NV, OH, OK, OR, PA, RI, SC, TX, VA, WA, WI. Enter your zip code in the box on any product page to see if they ship to you.
Sharper Image Canned Beer Draft System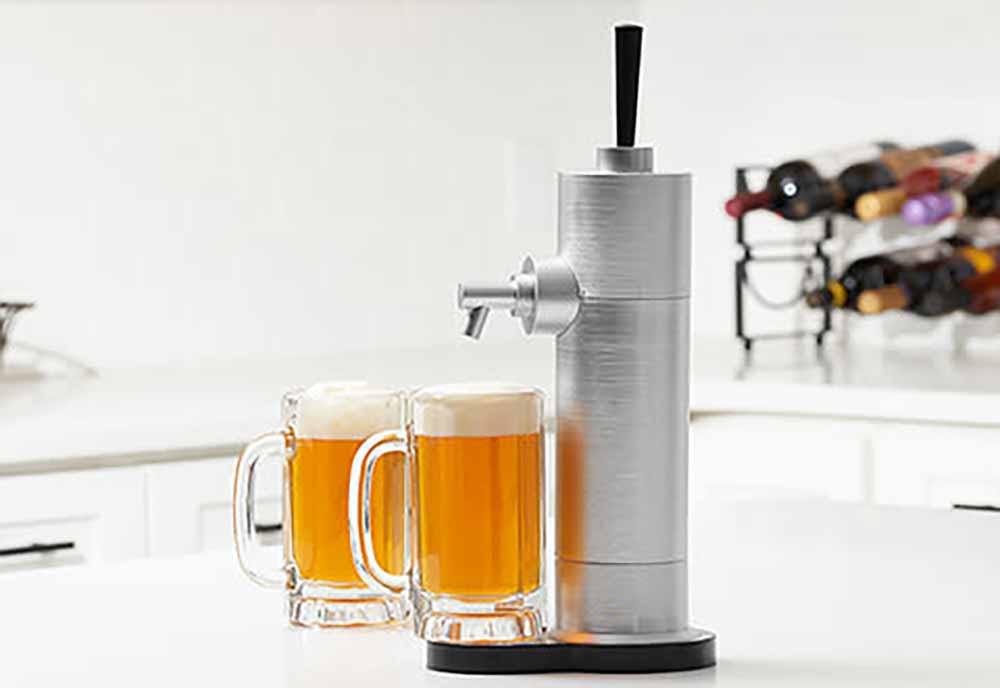 As kids, we always used to browse The Sharper Image catalogs. Over the years, we've become less excited about remote-controlled cars and way more into fancy beer gadgets.
For instance, check out The Canned Beer Draft system. It acts like a tabletop bar system that's perfect for any game room, den, or downstairs bar. Using ultrasonic vibrations, this mini tap system creates a dense micro-foam to boost the flavor of any canned beer. It's simple to operate: just open a can of your favorite beer, place it into the base, and pull the tap. Voila! Fresh beer.
This handy piece of gear works with most beer can sizes, including 12oz, 330ml, and 16.9oz tall boys.
Shipping Details: Sharper Image ships out from their warehouse on the same day! Not many places can offer that kind of fast turnaround, so take advantage of their shipping policy for this last-minute gift.