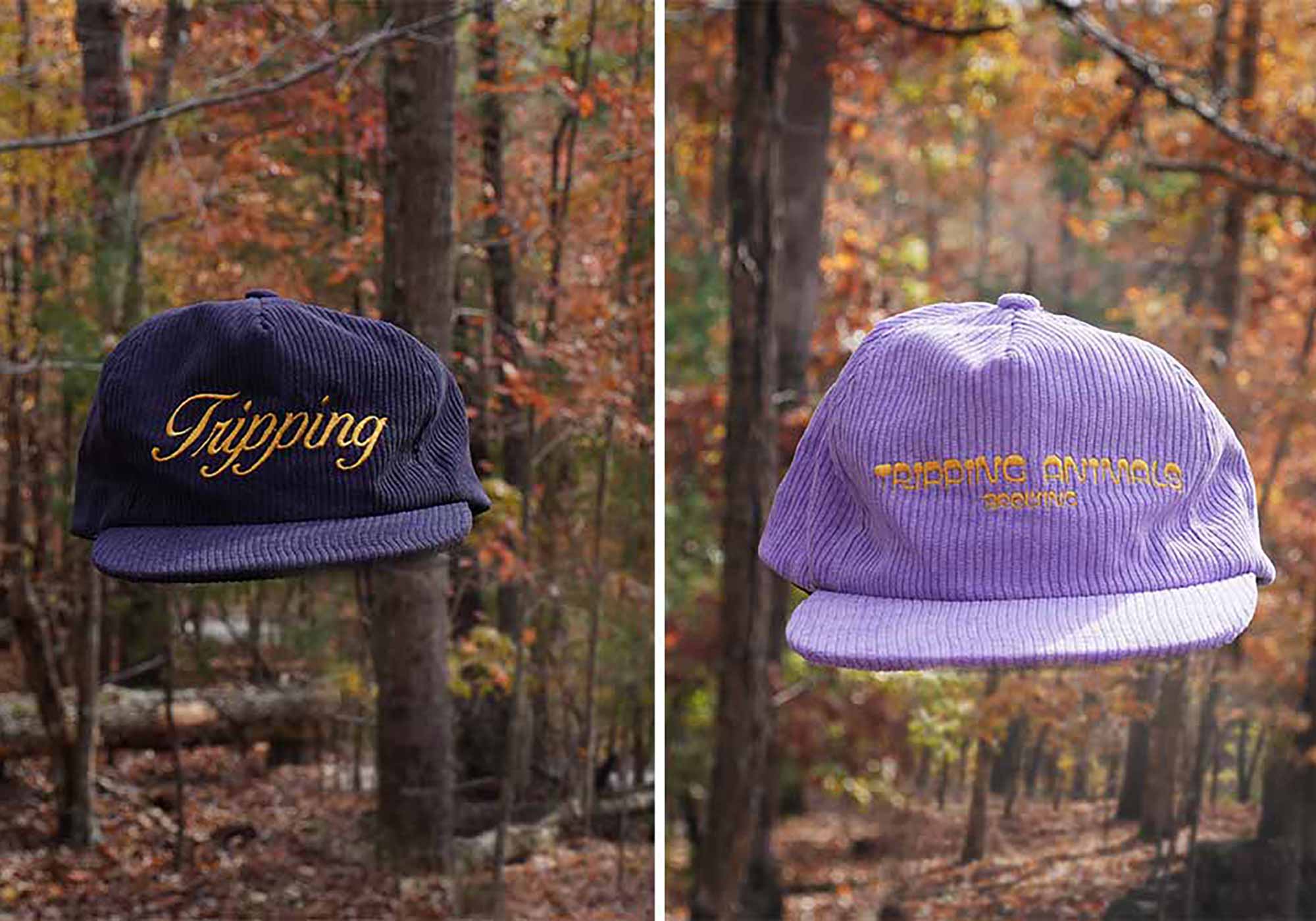 Photography courtesy of Tripping Animals Brewing Co.
These days it's not enough for a brewery to simply brew beer. They also need an incredible taproom space, a robust social presence, unique branding, and a trendy merch line.
We love sporting a Hop Culture hat or a Hudson Valley Brewery pocket tee. But beyond eye-catching designs, we've seen breweries using mugs, shirts, caps, glasses, and more as blank canvases to push initiatives, support organizations, and make impactful statements.
With that in mind we rounded up the best brewery merch we've seen this year.
Hop Culture's Picks for the 14 Best Pieces of Brewery Merch in 2021
Crowns & Hops Black People Love Beer T-Shirt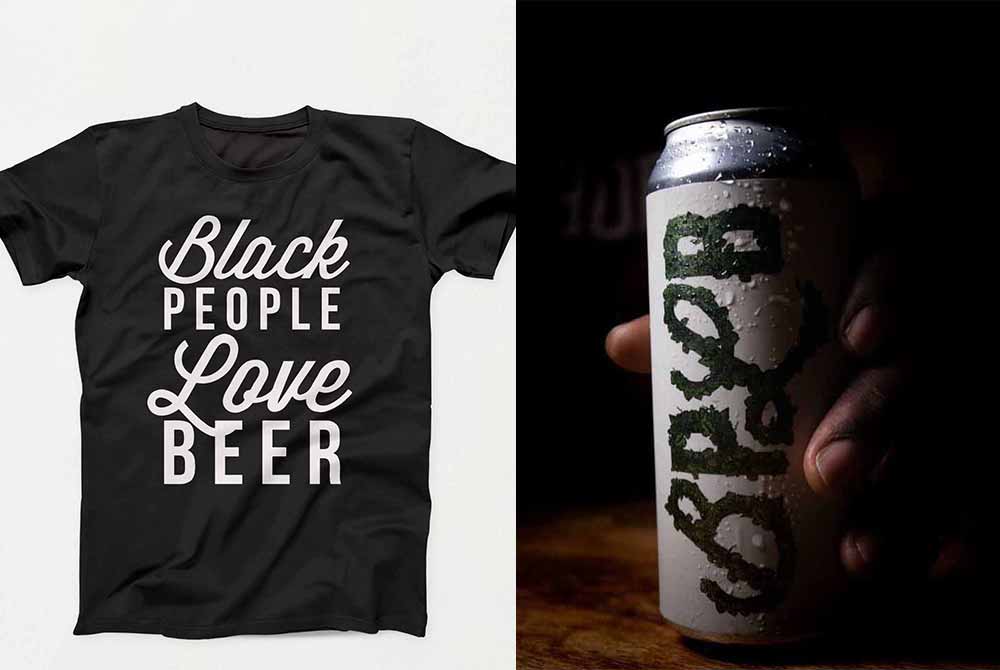 A recently updated demographic audit of brewery owners from the Brewers Association found that 93.5 percent of brewery owners in America are white. And less than one percent are Black-owned.
BIPOC-owned Breweries like Weathered Souls, Hella Coastal, and Crowns & Hops (aka our Best New Brewery of 2020) are leading the way for Black representation in craft beer.
The Inglewood-based brewery's beer flagship hazy IPA called BPLB (which stands for Black and Brown people love beer) literally says it all. The mission is to be 100% inclusive, bringing diversity, inclusion, and racial equity into the entire craft beer industry. Beyond drinking BPLB, grab one of these tees. Make a statement and support a BIPOC-owned business.
You can also directly join Crowns & Hops in increasing the less than one percent by investing in the brewery through their Our Crowns equity crowdfunding. Be a part of the change you want to see.
Allagash Camping Mug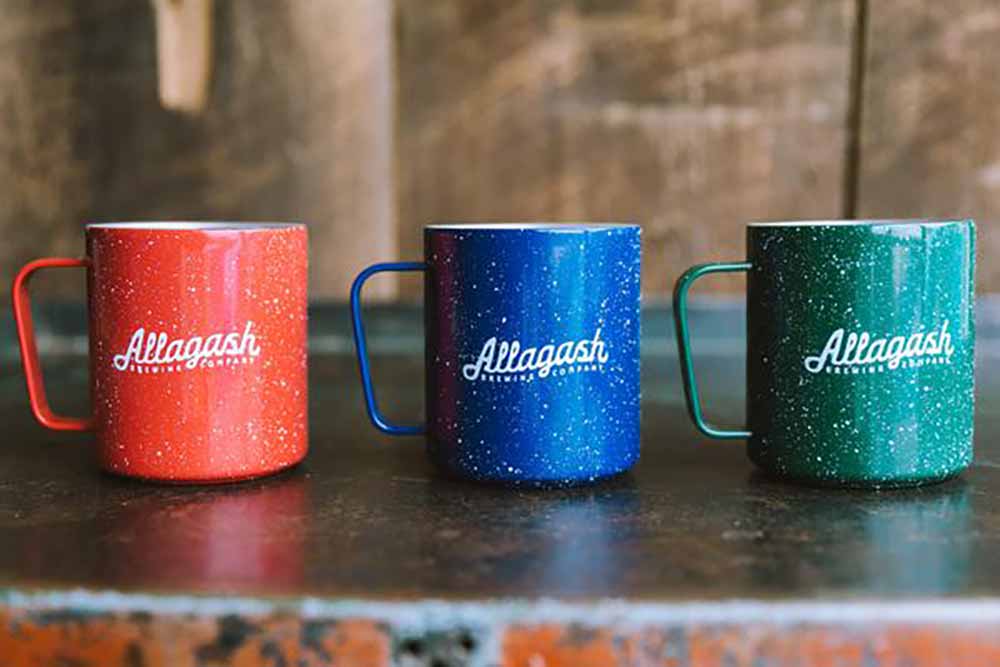 Dreams do come true! Portland, Maine-based Allagash Brewing made a set of custom mugs with outdoor retailer MiiR! If you're not in the know: MiiR makes some of our favorite gear. Whether we're traveling to the beach or hiking up a mountain top, we're filling these mugs with coffee in the morning and drinking beer out of them by night.
Tripping Animals Corduroy Lavender Hat
Full transparency: When we saw these plush corduroy hats drop on Instagram in mid-November we wanted the navy one. But these bad boys were snapped up within mere hours. At the time of publishing the lavender ones are still available. But who knows they may be gone now too!
If you're lucky enough to nab these limited-edition lids from one of the hottest breweries in Florida, consider yourself cool. At least for the next year. Sporting vintage vibes, these corduroy caps are as Tripping Animals says, "for the ultimate trippers".
If you missed out on these, not to worry. We highly recommend checking out Tripping Animals new line of swimwear including these badass B-Fresh collab Everhaze trunks and one-piece.
Weathered Souls Black Is Beautiful Glass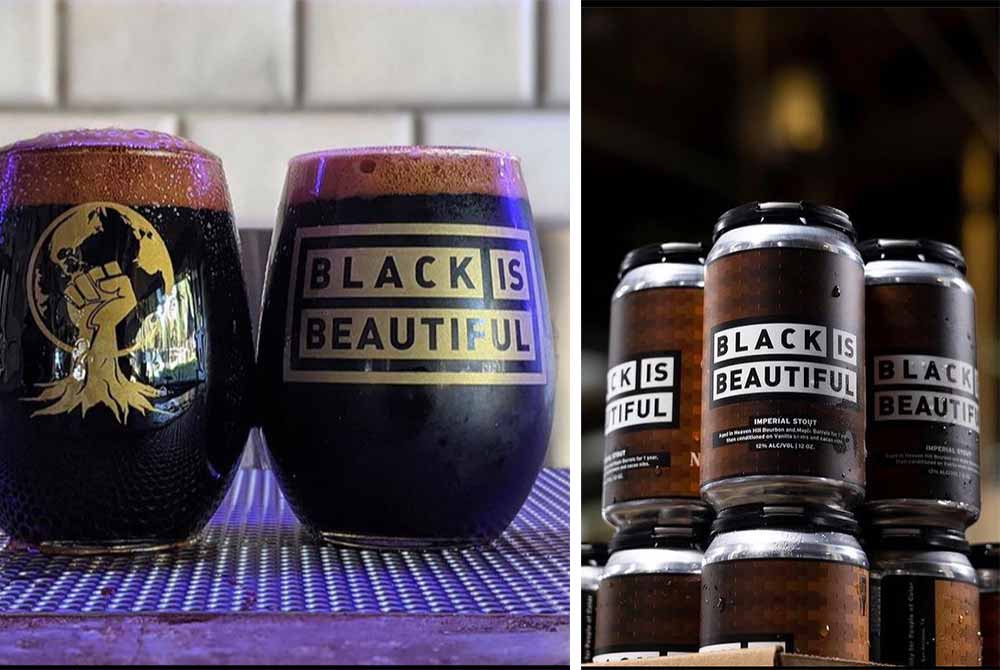 If you've heard of Weathered Souls Founder Marcus Baskerville, it's probably because he started the internationally acclaimed Black is Beautiful Project. This collaborative brewing project raises awareness about racial injustice. In the last year, the 1,300 participating breweries and allied trade participants (representing all fifty states and twenty-two countries) raised more than $3M for 501c3 organizations.
Last month the brewery launched a very limited run of these powerful Black is Beautiful glasses. Basically, they're only available until they sell out. So, grab one while you can!
And keep your eyes peeled on what's next from this revolutionary brewery. After five years of racking up accolades (including Hop Culture's own "Best Brewery of 2020" award) Weathered Souls is taking things a step further. Baskerville is not only opening a new brewery in Charlotte, NC, but starting the Harriet Baskerville Incubation Program (HBIP). This new initiative provides opportunities in the beer industry for minorities and women.
Green Bench Brewing x Beer Kulture Collab Kulture Tings Limited Release Tee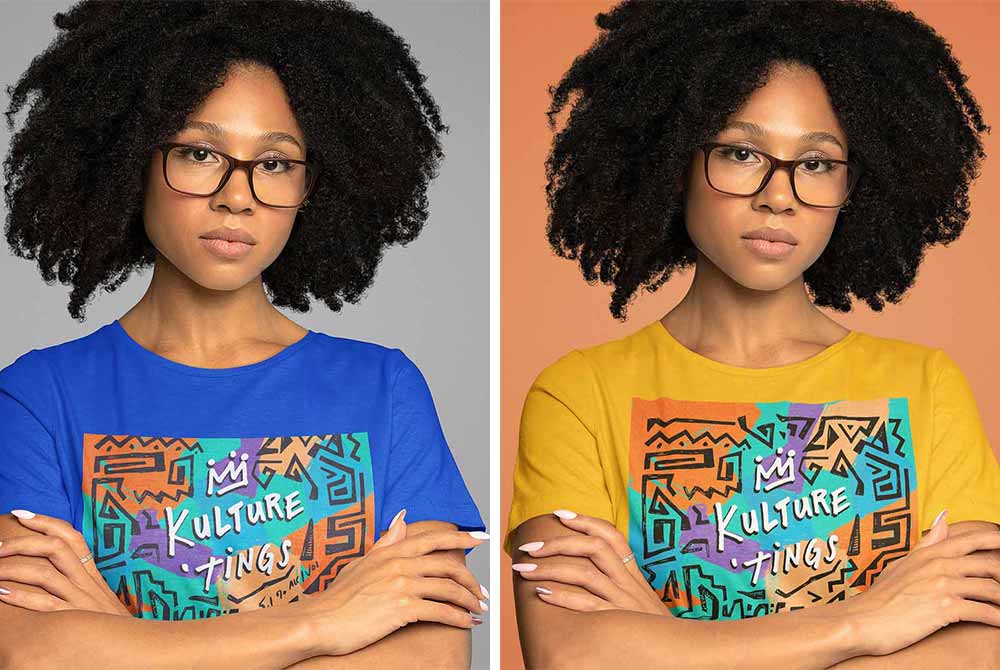 At Hop Culture we've had the chance to collab with a variety of incredible organizations. From Samuel Adams and GLAAD to the Pink Boots Society to Beer Kulture, the nonprofit organization working to increase diversity and inclusion in the craft beer industry. Last year we created a collab glass called 'A Mile in Our Shoes', designed by New York City artist Amika Cooper (@blackpowerbarbie). Proceeds from the sales funded a journalism internship for a deserving Black/African American, Hispanic, Native North American, or Pacific Island individual.
And Beer Kulture President and CEO Latiesha Cook has continued to partner with beer businesses and breweries across the country. Kulture 'Tings is a project in collaboration with Black-owned Green Bench Brewing in St. Petersburg, FL. This flagship series of beers produced by Green Bench represents and celebrates everyone in the craft beer space regardless of their race, background, or identity.
Beer Kulture tapped Kristin Northup (@Craftbrands), a local St. Petersburg graphic designer and illustrator, to design these corresponding tees.
Nguyen Coffee Supply Phin Long Sleeve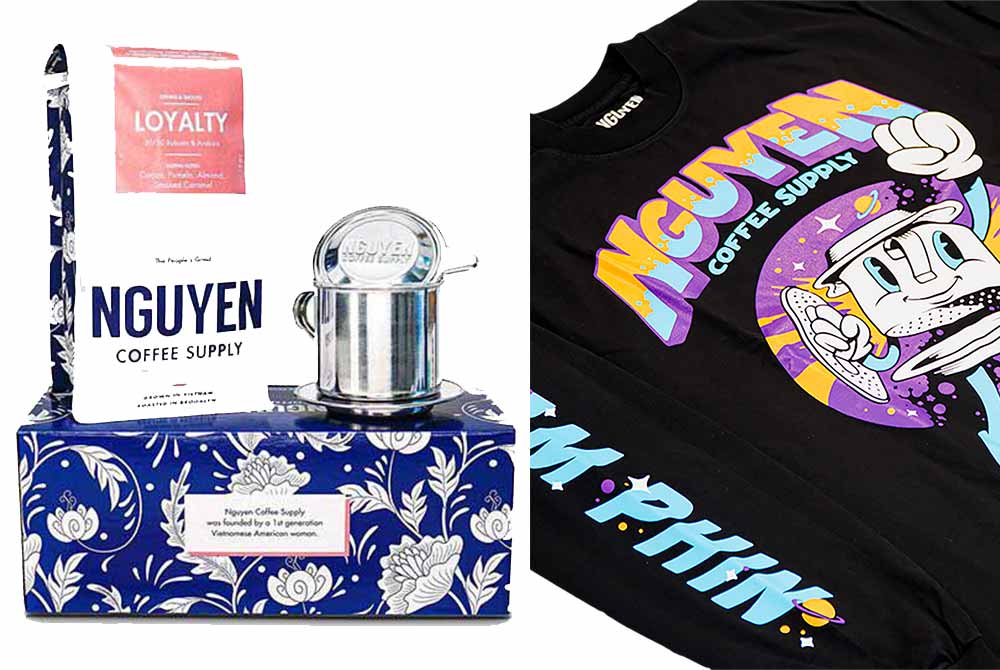 We know this isn't a brewery, per se. But we love this Brooklyn-based coffee company. This Vietnamese and women-owned business partners with a fourth generation farmer in Vietnam's Central Highlands to bring direct-trade specialty Vietnamese green coffee to the States. They're one of the first if not the only to do so.
Founded by Sahra Nguyen, a first generation Vietnamese American daughter of refugees, Nguyen Coffee Supply aims to transform the coffee industry through diversity, inclusion, and transparency. But through the lens of Millennials and the fresh vibes of Brooklyn.
Meaning in addition to the rich, robust bags of beans, you'll also find a trendy line of merch. Nguyen plasters bright, bold graphics across a series of three black long sleeve shirts that are made with 100% cotton. The shirts are named and characterized after "Phin", a traditional coffee filter used to make Vietnamese coffee (which Nguyen also sells).
Managing Editor Grace Weitz and her wife loved these rad tees so much…that they bought two.
Humble Sea Humble Village Tall Boy Glass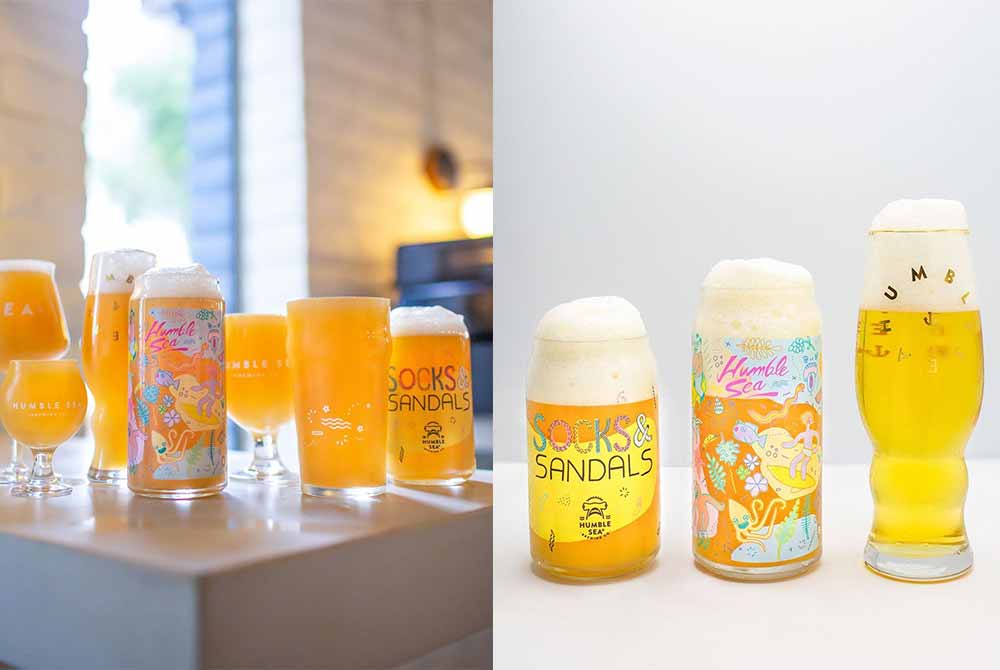 Looks like we're no longer the only ones singing the praises of the kooky, chill brand vibes of California-based Humble Sea Brewing Co.
Recently Innovation Leaders named the beachy brewery one of the 12 brands you need to know.
Driven by talented Co-Founder Frank Scott Krueger, who is also the Creative Director at branding agency Good Knife, Humble Sea's line of labels and merch takes inspiration from the beach, pop culture. Think beer names like Not Your Dad's Pale Ale, Chiller Whale, and Gnarcholas Cage, which earned a place on our top craft beer labels of 2020.
The Humble Village tall boy glass takes many of these quirky Humble Sea characters and sticks them all on one glass. It's just the ultimate tribute to the brewery.
If you're a true kook (literally what Humble Sea calls its fans) you need this glass for your collection.
Great Notion Flannel Pajama Pants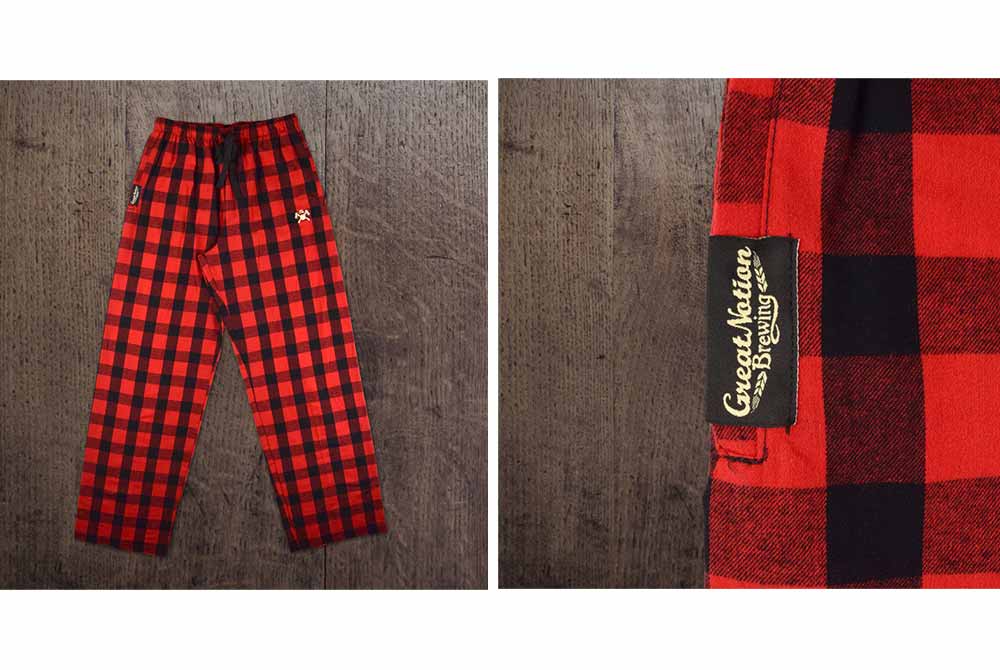 What better way to cozy up in the cold winter months than with these soft flannel pants from Great Notion? Known for decadent, culinary-inspired creations like Blueberry Muffin Fruited Sour and Double Stack Imperial Stout (it tastes like pancakes!), this Pacific Northwest brewery actually has a variety of rad apparel options. From the Ledge Bier Pullover to the cozy Autumn Beanie and now these Flannel Pajama Pants. Great Notion just has the pulse on how to protect yourself in the great outdoors.
Lager, Lager, Lager Sweatshirt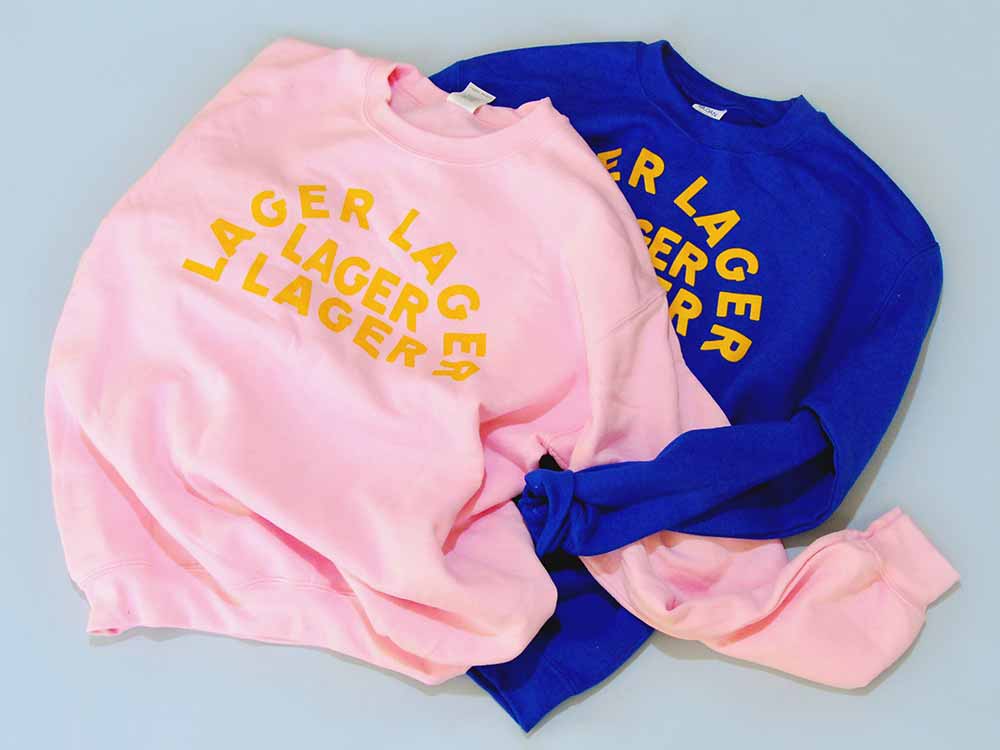 Preface: Halfway Crooks makes some of our favorite beer merch in the game. Tongue-in-cheek humor dominates their whole lineup of shirts, sweatshirts, hats, and glasses. Plus, all of their apparel is extremely well made.
As self-proclaimed lager enthusiasts this Lager Lager Lager Lager crewneck immediately caught our eye. We prefer the royal blue version, but it also comes in baby pink. And we weren't the only ones. Apparently, this entire line of apparel took the internet by storm. And for good reason. Hilarious, stylish, and statement-worthy, these sweatshirts belong on any lager fan's back.
Finback Breathing:Conversations Faces (5 Panel) or Pint Glass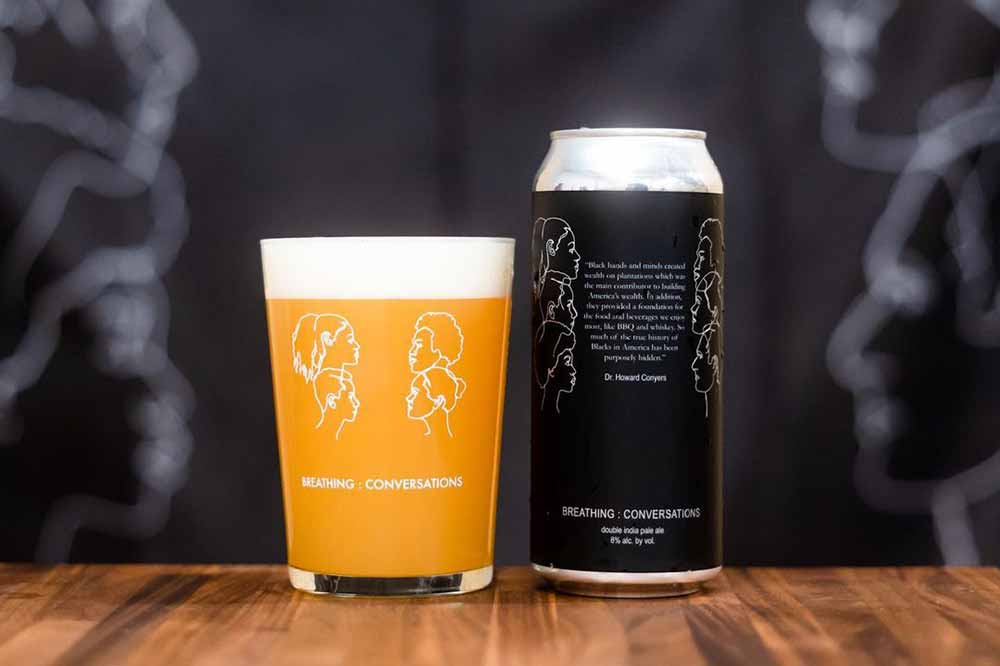 In the summer of 2020 Finback Brewery in Queens, NY released a beer. Not just any beer, Breathing Conversations was an entire project aimed at creating dialogue around racial and social equality. The initiative invited those that participated to join the call for change. The first step? Having an internal candid conversation with your own team. After making the 8% DIPA breweries were encouraged to add those notes, thoughts, and words from their discussions directly onto the beer label.
Finback also asked that participating breweries donate a portion or all of the proceeds from the beer to foundations that promote racial equality. Finback itself contributed sales from their Breathing Conversations run to The Southern Poverty Law Center and Black Lives Matter and pledged another $10,000 to BeyondBeer, a planned not-for-profit fund working on "engaging the brewing industry and people of color to work on issues of diversity, inclusivity, and equality for the long term."
Based on their work we named Finback Co-Founders Basil Lee and Kevin Stafford some of our most important voices in craft beer in 2020.
Alongside the beer Finback also released a 5-panel black herringbone hat and pint glass. Let's continue to have those hard conversations and make a better world for everyone.
Buy Breathing:Conversations Hat: $20
Buy Breathing:Conversations Glass: $11
Hudson Valley Brewery Apotheosis Skateboard Deck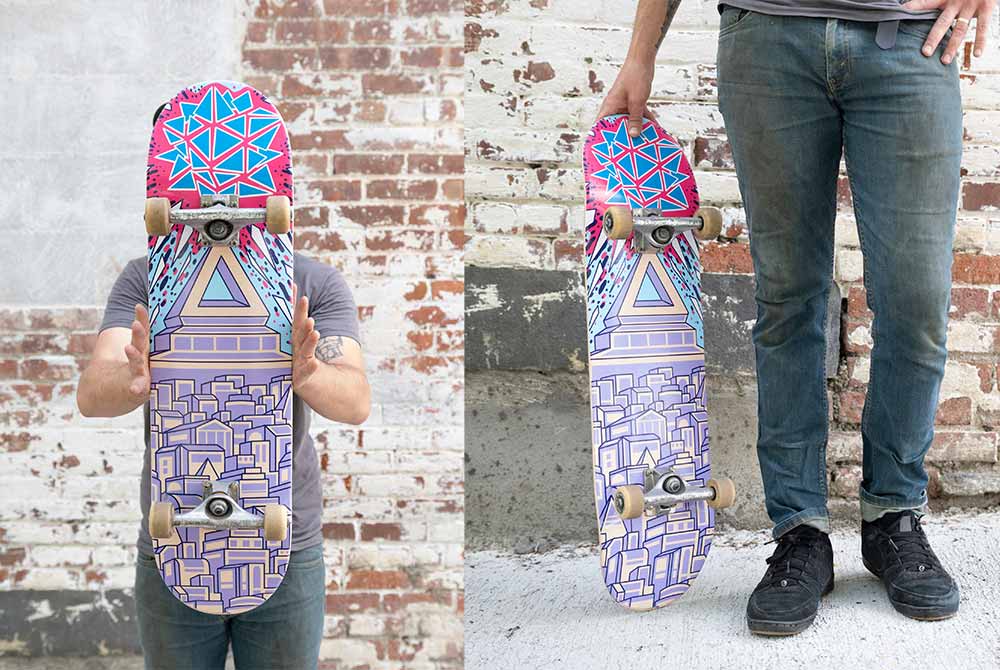 If we were to name a brewery off the top of our head that has some of the most beautiful can art and merch we've ever seen…Hudson Valley Brewery would top that list. So much so that we named their Ultrasphere sour IPA one of our favorite can label designs of 2019 and their Instagram one of the twenty best of 2020.
In our eyes you could argue that Hudson Valley made a name for itself on two things: creative, unique sour IPAs, and elegant, ethereal designs. With the help of their artist Evan M. Cohen, Hudson Valley uses each beer label to tell a story.
Often they'll translate that narrative to a piece of merch. Most of which will be snapped up mere days after dropping. So we encourage you to check out what they have available right now from stunning prints to beautiful, functional totes. Although don't be surprised if these items are gone by the time we publish this article, too!
However, if we're splurging just a little bit (and looking for the absolutely coolest of HV's beer gifts) we have to go with the Apotheosis Skateboard Deck. A study in shapes this illustration bursts off the back of the skateboard in an explosion of color and movement. To make an analogy this design is…Just like popping an ollie.
Collective Arts x Hop Culture Queer Beer Tumbler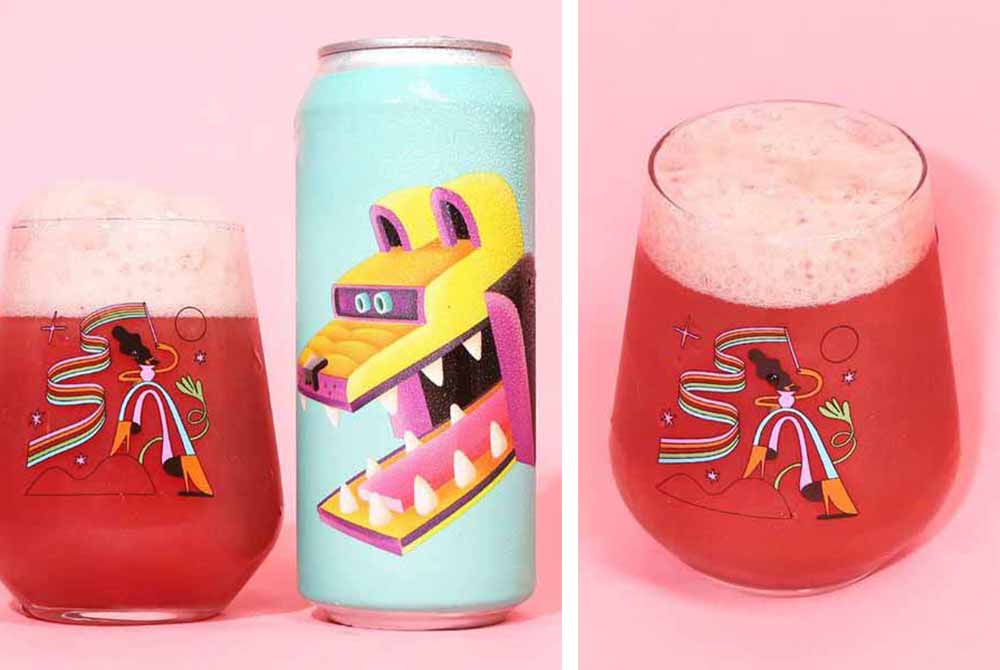 Well-known for bringing together art and beer, Collective Arts made a priority the past two years to celebrate queer artists during Pride month in June. Most recently by releasing a series of special edition cans of their flagship Life in the Clouds IPA. Collective Arts showcased four different queer artists from across the globe including Ethan Barry (Vancouver, CA), Matthew Willie Garcia (St. Joseph, MO), Gabriella Grimes (Philadelphia, PA), and Henri Campeã (São Paulo, Brazil).
To celebrate our inaugural Queer Beer Fest this past June we teamed up with Collective Arts to feature a design from one of their artists Henri Campeã, a Queer Brazilian artist, on a limited-edition tumbler. For the month of June we donated all of the net proceeds from the sales of this exclusive glass to Queer | Art, an organization launched in 2009 to support a generation of LGBTQ+ artists that lost mentors to the AIDS Crisis of the 1980s. They offer mentorship, exhibition opportunities, funding and other support to LGBTQ+ artists.
Known for his vibrant illustrations with hints of magic and surrealism, Campeã's glass was the perfect way to celebrate Queer Beer. But Pride and the Queer community should be celebrated 365 days out of the year.
So scoop one of these glasses up now.
Cerebral Brewing Cerulean Nalgene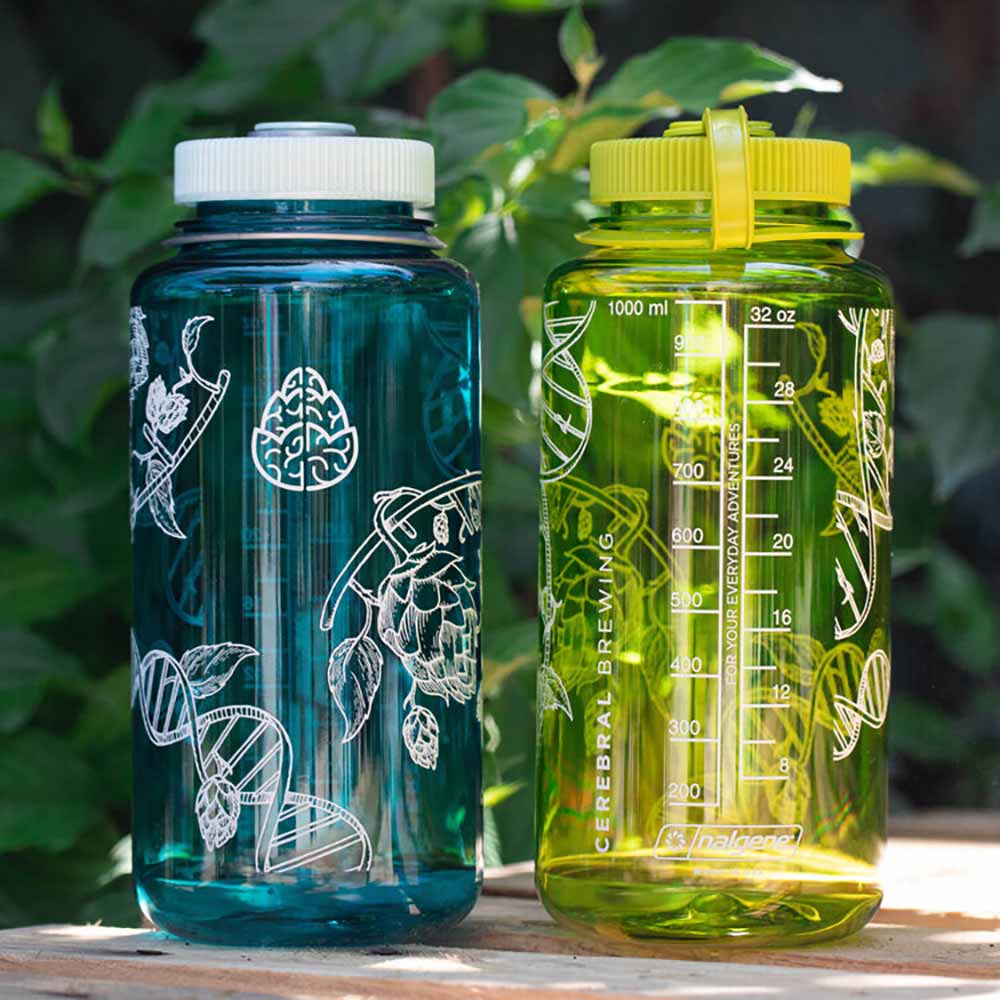 Something totally different! We're not sure we've seen brewery branded Nalgenes on the market…ever. It makes sense though that Cerebral Brewing in Denver, CO, a state known for its wide range of mountains and outdoor activities, would plaster a durable water bottle with its iconic graphics.
Available in a brilliant Cerulean and idyllic spring green, these BPA-free, reusable water bottles with the trademark Hop Brain logo and Hop Helix wrap are ideal for the athletic beer drinker in your life.
Bow & Arrow Serape Blanket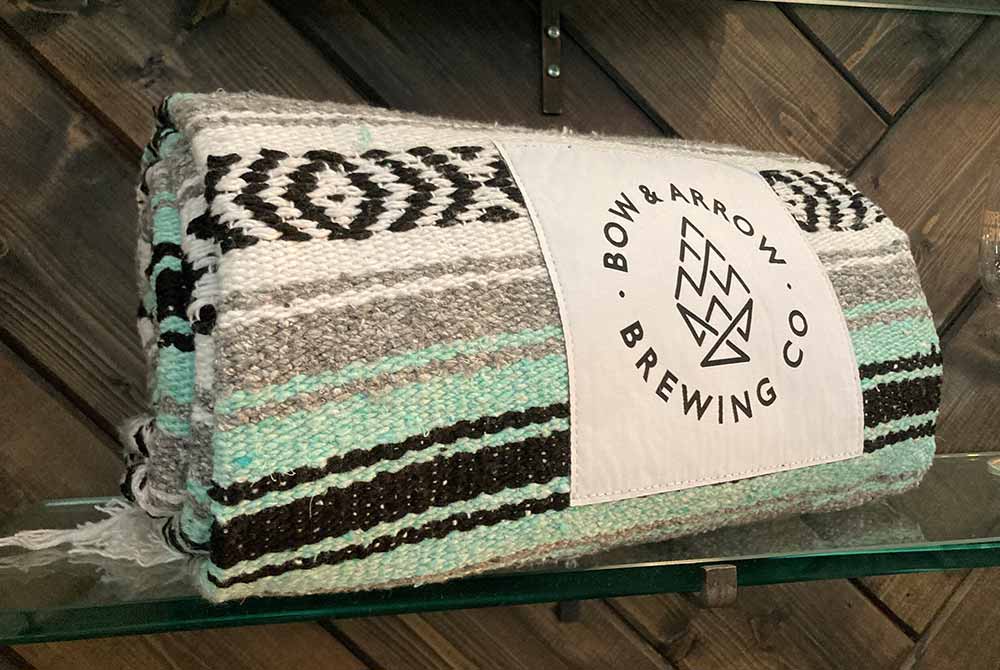 Native, woman, and Queer-owned, Bow & Arrow Brewing Co. is a one-of-a-kind brewery. Helmed by Shyla Sheppard and her wife Missy Begay, the Albuquerque-based brewery draws on the duo's distinct Indigenous heritage, which you'll find in everything from the ingredients in their beers to the line of merch.
This Serape blanket is more a nod to the brewery's Southwestern roots with these new threads sure to keep you cozy and warm throughout the cold winter months.