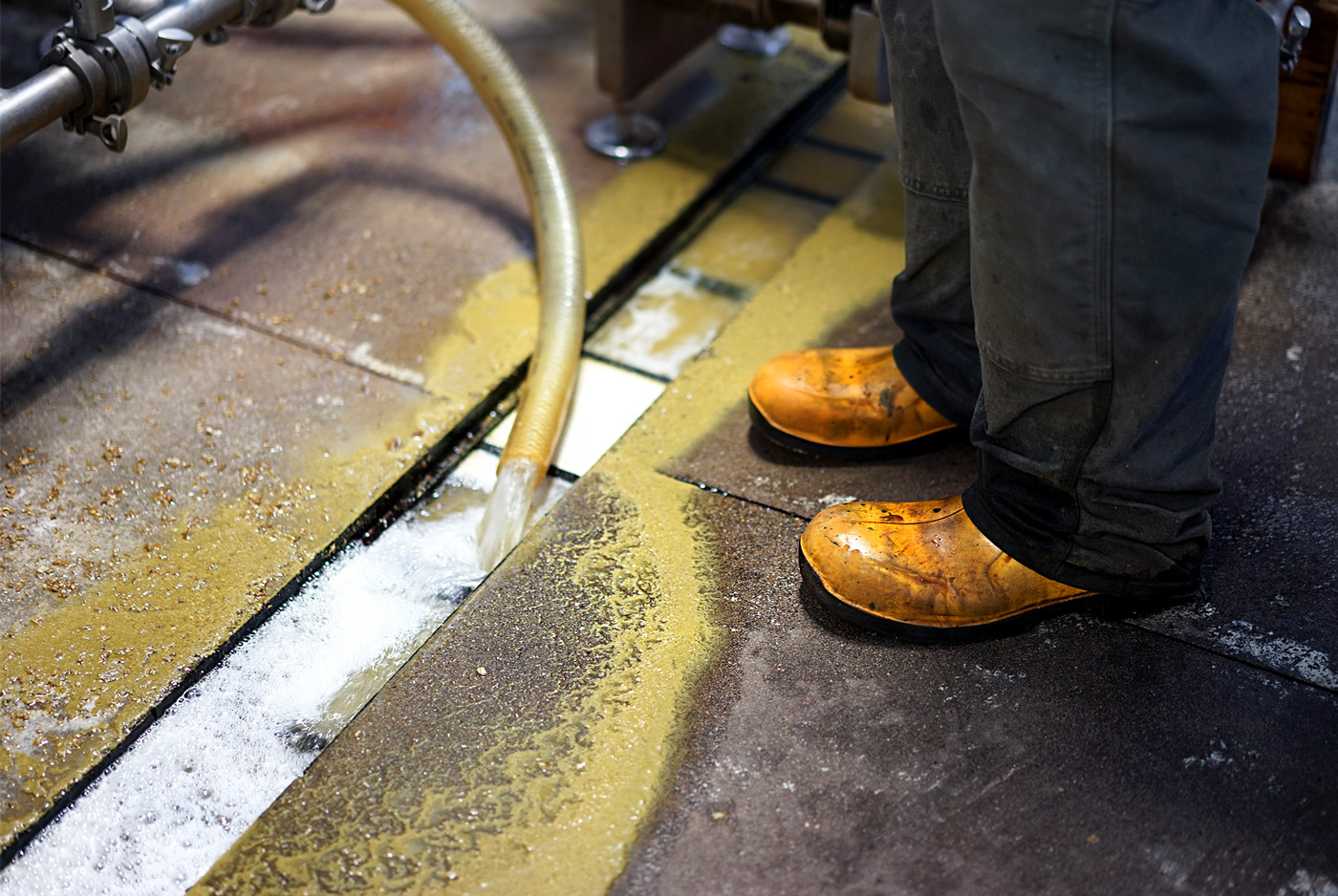 Photography by J. Travis Smith
A thick, voluminous haze emitting lush aromas of citrus and tropical fruit has formed above the West Village in Manhattan, and its manifestation can only mean one thing: Juicy Brews NYC is almost here.
That's right, lupulin lovers: We're less than a week — or by our calendar, under seven D.B.H., or Dayz Before Haze — away from our second celebration of hazy, juicy IPAs on December 3 at Industria NYC. After the success of the first Juicy Brews in Pittsburgh, in October, we wanted to expand our reach for this next Freshie Fest. And what better place to do that than in New York City, with its thriving beer scene. We've assembled a top-notch list of more than 20 brewers to serve unlimited pours of their finest hazy and juicy IPAs — all of which are produced in limited quantities, and most are unobtainable without waiting on a line akin to a new Supreme release.
A week suddenly feels far away, huh? To get your, uh, juices flowing in anticipation of the festival, we asked 10 of the participating breweries to tell us about one of the beers they will be serving, as well as which IPA has been most influential in the development of their own expression of the style. Read the entries below and grab your tickets.
TRIPLE CROSSING BREWING CO.
Richmond, Virginia
as told by Jeremy Wirtes, co-owner and head brewer
Juicy Brew: Battle Creek
This is a 100 percent Mosaic DIPA at 8 percent ABV that expresses itself as pungently dank with bright, tropical, sticky grapefruit. After waiting for what felt like forever for our hop contracts to come through, we finally got our hands on Mosaic and couldn't believe both the complexity and intensity of the hop. We aren't often too excited about any one variety but Simcoe's daughter has proven to be our favorite hop since that first batch.
Most Influential IPA: West Coast IPA, Green Flash Brewing Co.
This might date us a little, but we were most influenced by Green Flash's West Coast IPA when it used to come in the stubby SN bottles and six-packs. That beer was hazy, totally unfiltered, and had hop character for days. The hop character also came with immense bitterness and a fairly clean yeast flavor, but back then it was so wildly different and more expressive than anything else I could regularly get in the Richmond market. Our focus on IPAs shifted from that type of beer towards a significant decrease in bitterness, an expressive house ale yeast that blends hop and yeast together, and dry-hop rates that are moderately excessive. Newer varieties like Mosaic began hitting the scene on a larger scale, which allowed brewers to explore flavor and aroma way past the original "C" hops, which we also love. We're after the full gamut of hop character depending on the varieties used, from fruit to dank, but always with a full, soft and plush drinkability.
IPA, despite how popular it gets, and how much of it we drink, has never let go of its hold on us. We've focused on it for so long and learned just enough to know that we still have a lot left to learn. And if that's wrong, we don't want to be right.
Learn More Follow @triplecrossing
ASLIN BEER CO.
Herndon, Virginia
as told by Andrew Kelley, co-founder
Juicy Brew: Grove Stand
Grove Stand is an IPA brewed with lactose, dry hopped with Citra and Mosaic, and conditioned on hundreds of pounds of tangerines and Madagascar vanilla beans. The result is a beer that reminds us of a creamsicle made with fresh Florida oranges.
Most Influential IPA: Various
It's hard to say that any one IPA has been the most influential to us, partly because we've tried to take aspects from many IPA brewers. We make beers that we like to drink, and this all started when we were homebrewers. Then we enjoyed drinking IPAs from The Alchemist, Hill Farmstead, Tree House, and Trillium.
Learn More Follow @aslinbeerco
MAGNIFY BREWING CO.
Fairfield, New Jersey
as told by Eric Ruta, owner
Juicy Brew: DDH It's All Relative
This is a double dry hopped DIPA with Waimea and Citra in the whirlpool, and Rakau, Mosaic, and Simcoe lupulin powder in both dry hops. The story behind the name is that all breweries employ hops at a different rate. Even our regular hop rate is very intense, and our double dry hop rate is even more so. Today with so many breweries making IPAs and the category being so wide and vast, lumping all IPAs into a category can get dangerous. People ask a lot about hop rates and what exactly it means to double dry hop, and truly the best answer is, It's All Relative.
Most Influential IPA: Substance, Bissell Brothers Brewing Co.
The first time I had it, it made me realize what IPA could be.
Learn More Follow @magnifybrewing
FOUNDATION BREWING COMPANY
Portland, Maine
as told by John Bonney, co-founder
Juicy Brew: Epiphany
We first released Epiphany on December 31, 2014. It was the first IPA that we ever made. IPAs at the time were either West Coast in style, meaning more bitter, resiny and dry, like Stone or Green Flash; or East Coast, meaning malty and English in style, like Harpoon IPA or Dogfish 60 Minute. We didn't think Epiphany fit either dominant category, so we called it a Maine IPA. Definitions have changed and evolved (East Coast and West Coast seem to mean different things to different people now), but the name Maine IPA stuck.
We use Cascade, Citra, Columbus, Ella, and Mosaic hops in Epiphany, which gives us tons of tropical fruit and citrus up front, with a dank, resin note in the background keeping it interesting. The key to Epiphany though is that it strikes the balance with all those hops, as there is enough going on in the body and in the background to make it dangerously easy to drink, particularly at 8 percent ABV.
Most Influential IPA: Heady Topper, The Alchemist
I first had Heady while visiting family in Vermont in 2012. It was the first IPA I really liked, so much so that I told my business partner Joel to seek it out as well traveled over to Vermont to visit friends. It was all about a different approach to using hops, focusing on the flavors and aromas, not just the bitterness, which was the dominant trend at the time. It really changed how I, and the rest of the industry, saw IPAs.
Learn More Follow @foundationbrew
BURLEY OAK BREWING CO.
Berlin, Maryland
as told by Bryan Brushmiller, brewer and owner
Juicy Brew: Citralaxy
Our triple dry hopped DIPA is our presentation of the IPA we want to drink. This juicy and dank beer combines Galaxy and Citra hops to represent all our accumulated knowledge through trial and error and months of testing. We had a very passionate goal of making the best IPA we could. It's opaque aesthetic and pungent tropical and citrus fill your olfactory senses, which is then complemented by low bitterness and fluffy mouthfeel.
Most Influential IPA: Various
We're influenced so much by so many of our friends and their beers that to point out one IPA would not do the new IPA movement justice.
DISTRICT 96 BEER FACTORY
New City, New York
as told by Chase Planson, head brewer
Juicy Brew: Mother of All Bombs
This is a DIPA using some of my favorite hops: Citra, Mosaic, Vic Secret, and Azacca. It explodes with tropical fruits, like mango and pineapple, and finishes with a creamy, soft mouthfeel and balanced bitterness. It's definitely a crusher at 8 percent ABV.
Most Influential IPA: Eastern Standard, Peekskill Brewery
In terms of IPAs, Peekskill's Eastern Standard has been the most influential for me in the past few years. This beer touches on everything I want in an IPA: dryness and balance. Here the fruity hops play off the spicy hops, the bitterness balances out sweetness, and the dryness keeps you wanting more.
Learn More Follow @district96_beerco
MELVIN BREWING
Jackson, Wyoming
as told by Jeremy Tofte, co-founder
Juicy Brew: Asterisk
This DIPA uses copious amounts of Mosaic hops that give strong notes of tropical fruit, stone fruit, mango, and berries. It's brewed with a blend of Northwest 2-row and light crystal, all Mosaic hops, and some stuff you don't even know about. It was conceived and named when the brewery was not allowed back into the Great American Beer Festival to defend their gold medal in the Imperial IPA category due to a computer glitch. So we decided to make the best DIPA of 2013 and the winner of that year's gold would then need to put an * next to their medal.
Most Influential IPA: Ours
We come from a small hamlet in the mountains that nobody cares about, including other breweries. So instead of lamenting over the fact that we could only get two bomb-ass IPAs delivered to our state (Sierra Nevada's Pale Ale and Celebration Ale), and that none of the local breweries made IPAs, we decided to make our own so that we could drink hard.
Learn More Follow @melvinbrewing
CRIME & PUNISHMENT BREWING CO.
Philadelphia, Pennsylvania
as told by Michael Wambolt, brewer and co-owner
Juicy Brew: Space Race
We're super excited to be serving Space Race, our "house IPA." Space Race has probably been through 50 different iterations at this point, but the hops always stay the same: Citra, Mosaic, and Simcoe. This is our ever-evolving attempt at crafting your favorite IPA.
Most Influential IPA: Pliny the Elder, Russian River Brewing Co.; Susan, Hill Farmstead Brewery
I definitely had to include two here. I first had Pliny the Elder eight years ago and was so blown away by how dry and balanced it was — learning later that a lot of that balance was due to the usage of CO2 hop extract. I probably attempted a good 30 clone recipes before I was pleased with an attempt at it. It also showcases Simcoe hops beautifully.
Susan from Hill Farmstead was one of the first New England IPAs I ever had, about four years ago, and was just shocked at the mouthfeel, aroma, and flavor. Again, a beautiful use of Simcoe, along with Citra and the lesser known Riwaka.
Learn More Follow @crimeandpunishmentbrewingco
DANCING GNOME BEER
Pittsburgh, Pennsylvania
as told by Andrew Witchey, founder and brewmaster
Juicy Brew: Better One or Two
We're serving a bunch of stuff at Juicy Brews, but I think my favorite of those we're bringing is our DIPA, Better One or Two. It's the DIPA that I had been working on since before we opened, and it's really dialed in, in regards to what it is. Citra, Simcoe, and Mosaic hops create an excellent and balanced flavor profile that offers nearly everything you'd want in this style of beer. At 8 percent ABV it's on the lower end of DIPAs, so it's immensely drinkable. Definitely one of my favorite beers in our entire catalogue, if you will.
Most Influential IPA: Head Hunter IPA, Fat Head's Brewery
I think picking one is pretty tough, because it was more about building on all the IPAs that I loved and working to understand what it was about them that I loved. Heady Topper is understandably on that list, alongside Hill Farmstead's Abner and probably even Bissell Brothers' The Substance. But I'd also say Fat Head's Head Hunter. It's West Coast, but it packs an immense amount of flavor and aroma and really is exemplary. So just as far as IPAs as a category is concerned, and it being so accessible to me as a young craft drinker, I'd say Head Hunter.
Learn More Follow @dancinggnome
FIFTH HAMMER BREWING CO.
Long Island City, New York
as told by Chris Cuzme, co-owner and brewmaster
Juicy Brew: Unforgivable
A haplessly hazeless IPA in 2017? Unforgivable! Dry hopped with Simcoe and Mosaic Cryo hops atop a bed of marris otter and golden promise malts, wheat, and oats, this unforgivably mildly hazy IPA is rich with notes of pineapple, mango, and melon. Drinking with one's mouth and not their eyes, one can be pleasantly surprised.
Most Influential IPA: Various
Me being an "old schooler" at 40, the IPA most influential to me has got to be Russian River's Pliny the Elder, right alongside its Blind Pig. I love the diversity within the IPA style. But when those beers hit my palate for the first time it seemed that a world of flavor opportunity opened up before my eyes; so much hop flavor in a single glass. That said, I could only drink one or two Plinys, but could drink Blind Pig forever and then some.
Having Heady Topper for the first time opened a whole new game for me in recent years…as well as delighting in many of my friends' New England-style IPAs, and discovering the diversity within the hop and pH dance as well as adjunct grists; well, it's a deliciously fun world right now. Plus, it helps to know that enthusiastic imbibers will help subsidize what would have once been thought to be a fiscally irresponsible abundance and overuse of hops. The encouragement and confidence is there for all of us to play freely. (Responsibly, too! Quality first ALWAYS.)
There is no singular focus I have on IPAs; I like all the substyles. I'm currently focusing on finding a sweet spot between the extreme juiciness of the East and the crispness of the West. I love using the term "Transcontinental" or "Omnipresent" to describe what I'm looking for. Having just started Fifth Hammer, I'm ecstatic to let loose in the years to come.