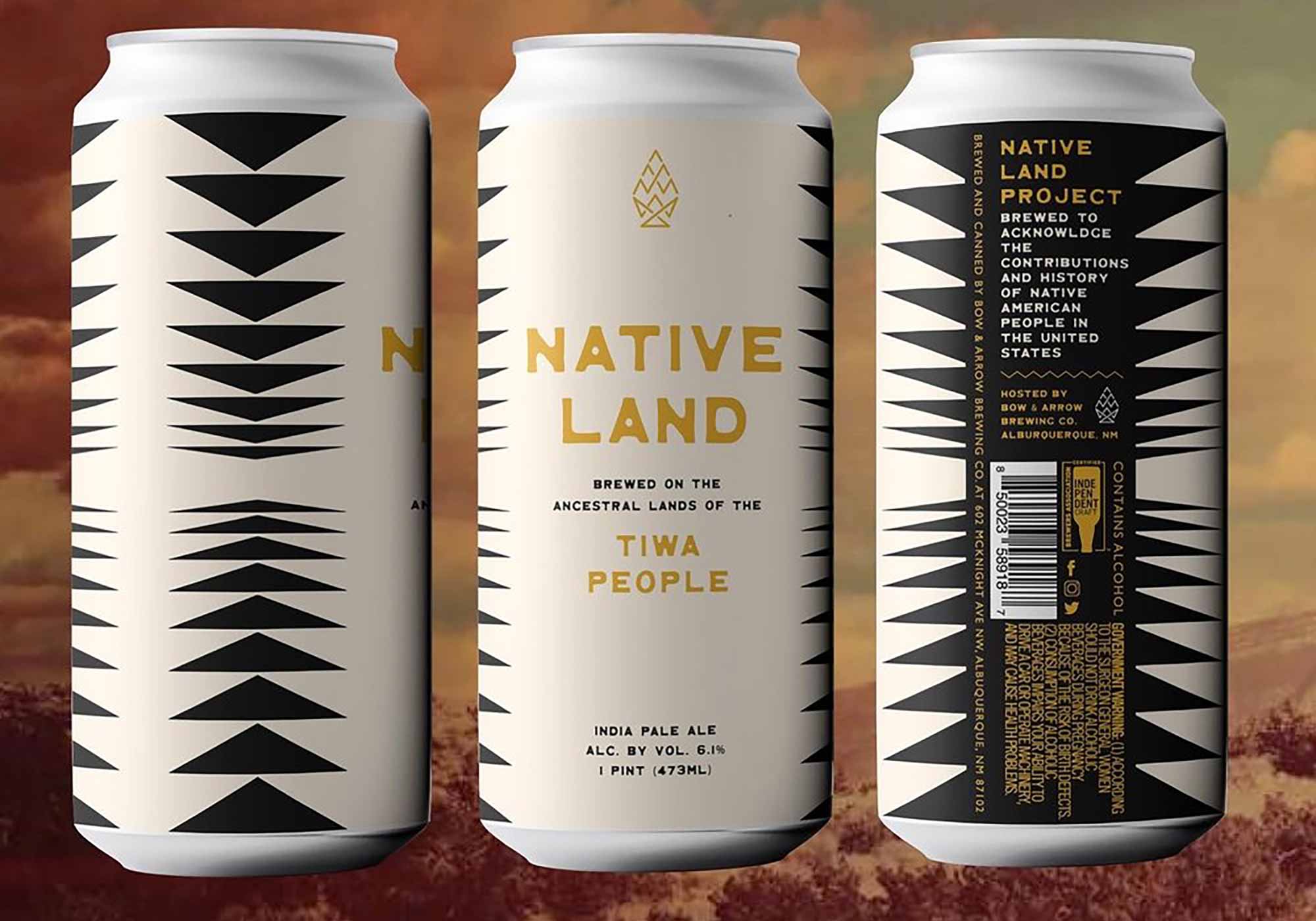 Photography courtesy of Bow & Arrow Brewing Co.
There's a chart hanging on Shyla Sheppard's wall listing out all fifty states. Every time a brewery in a new state joins her Native Land Beer Campaign, Sheppard ticks it off. With twenty checked, she's almost halfway there.
"My goal is at least to have one brewery from every state," says the co-founder of Bow & Arrow Brewing in Albuquerque, NM. "This is already exceeding my initial expectations."
Launched during National Native American Heritage Month in November, the Native Land Beer Campaign is an IPA beer collaboration designed to increase awareness about ancestral Native land. The campaign also hopes to raise funds for current Native communities and organizations.
It's another example of how breweries are using their platform to drive change in the craft beer industry.
What Is the Origin of the Native Land Beer Campaign?
Sheppard and her team at Bow & Arrow Brewing—-the first brewery owned by Native women in the United States—-originally planned to release a beer on their own to acknowledge the Tiwa people, on whose ancestral land their brewery stands. Additionally, proceeds would benefit First Nations Development Institute–where Sheppard has served on the board for more than a decade–and its Stewarding Native Lands program.
"Initially we had the idea to brew this beer ourselves, and then we thought, you know, why not take this to a broader audience and invite other breweries to join us?" says Sheppard. "Wouldn't it be amazing to have this label with so many different tribes on it across the country and everyone directing resources to these Native communities?"
With that in mind Sheppard and co-founder Missy Begay opened up the opportunity for other breweries to participate.
They had only two asks:
First, breweries who participate in the campaign must acknowledge whose ancestral land they're built on and add that to the beer's label.
Second, breweries commit to donating a portion of the beer's sales to support Native organizations.
The campaign runs through March and has already attracted about three dozen breweries.
Who Is Participating in the Native Land Beer Campaign?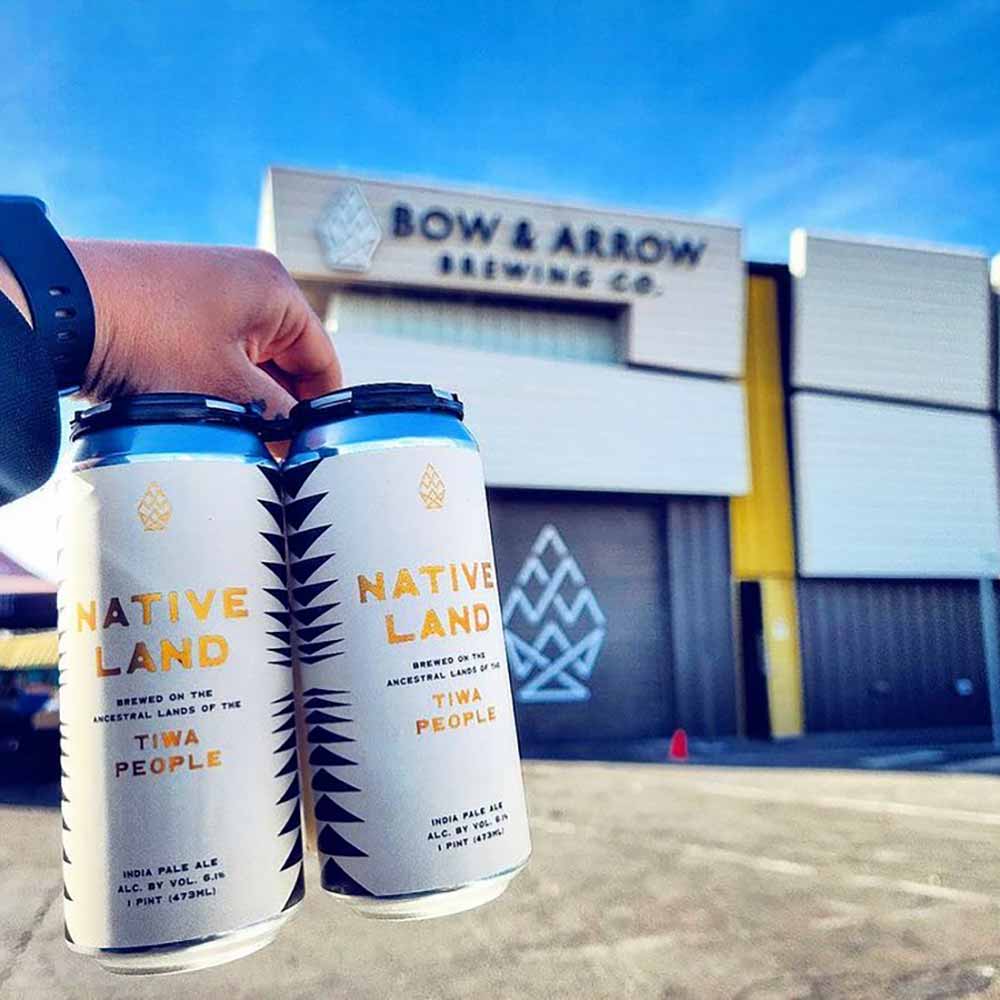 Bow & Arrow Brewing debuted their Native Land beer on Nov. 19, 2021.
The same day, Outer Range Brewing Co. in Frisco, CO, released their version using the recipe and honoring the Mountain Ute tribe.
Similarly, breweries from Alaska to Georgia to Vermont have signed on. Some have already begun brewing, including Westbound & Down Brewing Company in Idaho Springs, CO, and Native-owned Skydance Brewing Co. in Oklahoma City, OK.
Nashville's Yazoo Brewing Company plans to release theirs sometime this month, as well as a second Brettanomyces version in early 2022. The brewery will acknowledge the ancestral home of the Eastern Band of Cherokee and Shawnee tribes on the label. Justin Miller–Yazoo's packaging manager and a member of the Stockbridge-Munsee Mohican Tribe–is glad Sheppard and Begay extended an invitation.
"They've been making waves in the industry as the first Native woman-owned brewery, so we were honored when they asked if we would like to participate in the Native Land Beer campaign," Miller says. "Land acknowledgments are a good way to increase Native visibility and start conversations that can produce fruitful impact, and the money raised by the sale of the beer will go to organizations that strengthen Native communities."
Matt Cote, a brewer at Aeronaut in Somerville, MA, said the campaign fits into Aeronaut's larger diversity, equity, and inclusion (or DEI) work. Much like the brewery's participation in the Black is Beautiful collab and Brave Noise campaign.
"Bearing in mind that every DEI initiative is as necessary and critical to the dismantling of oppressive systems, the Native Land project really strikes a chord with us as occupants of some of the first tribal land to be colonized and, therefore, stolen," says Cote. "It is incumbent upon us as New Englanders to boost the signal of indigenous folks who wish to reclaim their rights as human beings and as rightful denizens. We think it is paramount to honor their stories, their legacy, and begin to meet demands for reclamation/restoration as well as all forms of reparations."
What Is the Goal of the Native Land Beer Campaign?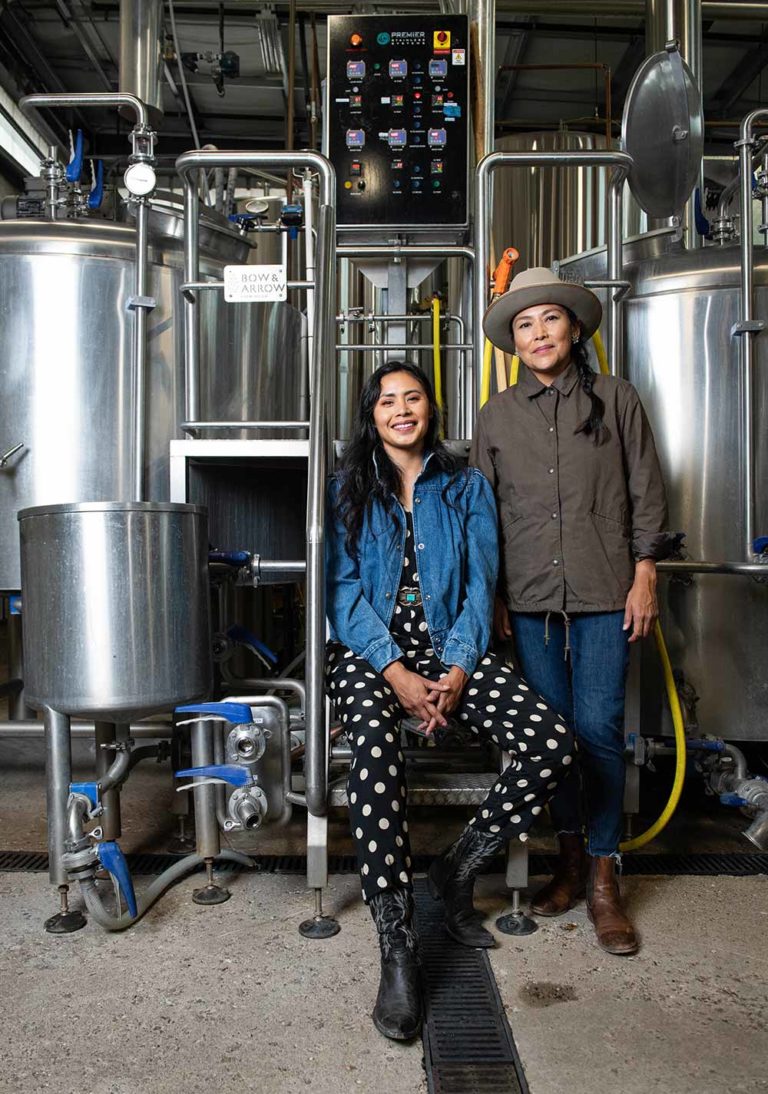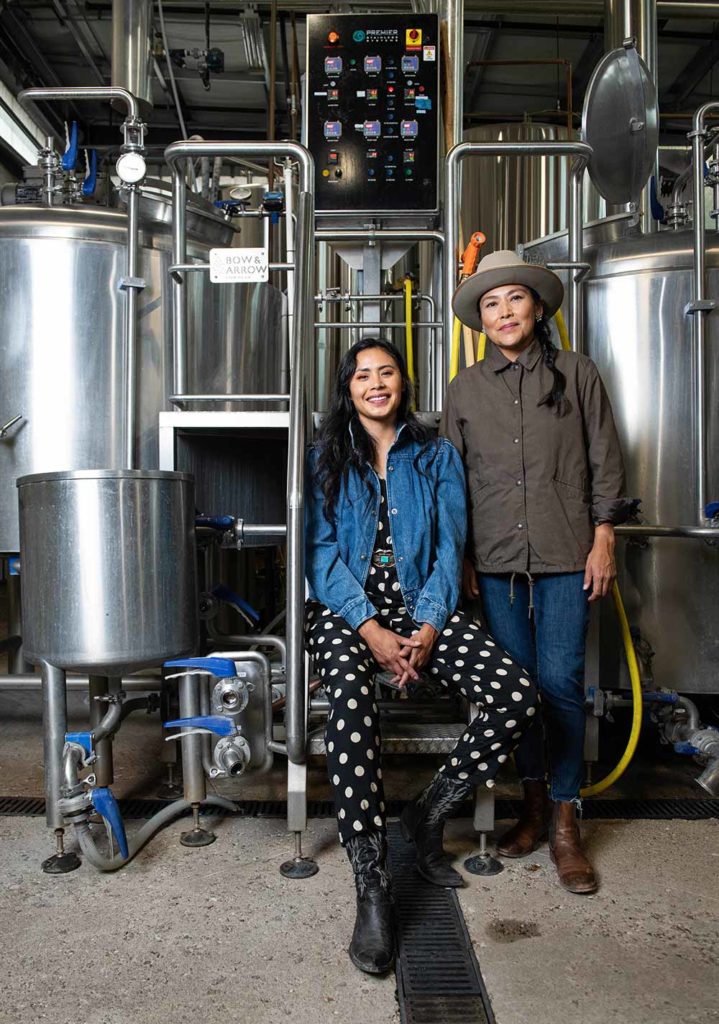 To Sheppard, the campaign isn't just a chance to "celebrate the resilience of our ancestors," though that's a part of the equation.
"We also recognize the contemporary experience of Native people," she explains. "This is more than just a land acknowledgement. It's creating awareness that Natives are not only an important part of this country's history, but also we're still here. I think that is a critical part of this. Generating resources to these organizations that are currently dedicated to strengthening and empowering contemporary Native people is an important aspect of what we're doing."
Participating breweries are encouraged to connect with local tribes and Native organizations, in part so that profits can benefit a range of communities. Sheppard said it's been "really heartwarming" to see people reaching out and forming relationships with Native nonprofits in their areas.
"There's just ongoing challenges we face as Native people in terms of invisibility," Sheppard says. "People talk about us without us, and we could be sitting in the same room. We're realizing we can play an active role in educating people that we're still here, and by the way, we can be entrepreneurs, brewers, distillers, winemakers. We want to demonstrate not only to non-Natives but also to our own people like, 'hey, we can do these things.'"
The campaign furthers that mission, but it's also an extension of Bow & Arrow's broader ethos, which focuses heavily on celebrating the Southwest, the land, and their heritage.
How Bow & Arrow Brewing Honors the Land Through Beer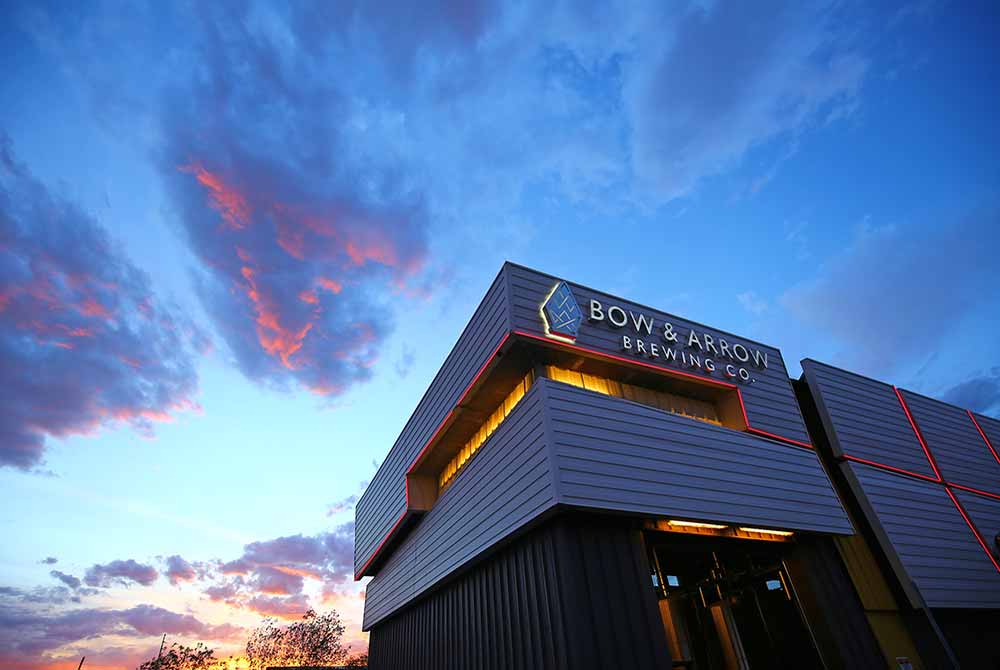 It's not surprising that Bow & Arrow started the Native Land Beer Campaign. It's one of the few Native-owned breweries in the country.
Sheppard grew up on the Fort Berthold Reservation in North Dakota and is a member of the Three Affiliated Tribes while her partner Begay was raised on the Navajo (Diné) Nation in New Mexico.
"At the end of the day, our business very much depends on the land for ingredients," Sheppard says. "Land stewardship and access to our ancestral lands is important, but it's all interconnected if you think about the importance of healthy land, healthy food, and healthy agriculture."
Whenever possible, Bow & Arrow buys from Native-owned vendors, such as Navajo Agricultural Products Industry. The day we spoke, Sheppard planned to pick up roasted blue corn from the nearby Santa Ana Pueblo for the brewery's Denim Tux American pilsner. Additionally, her team uses local ingredients like sumac and foraged wild tea.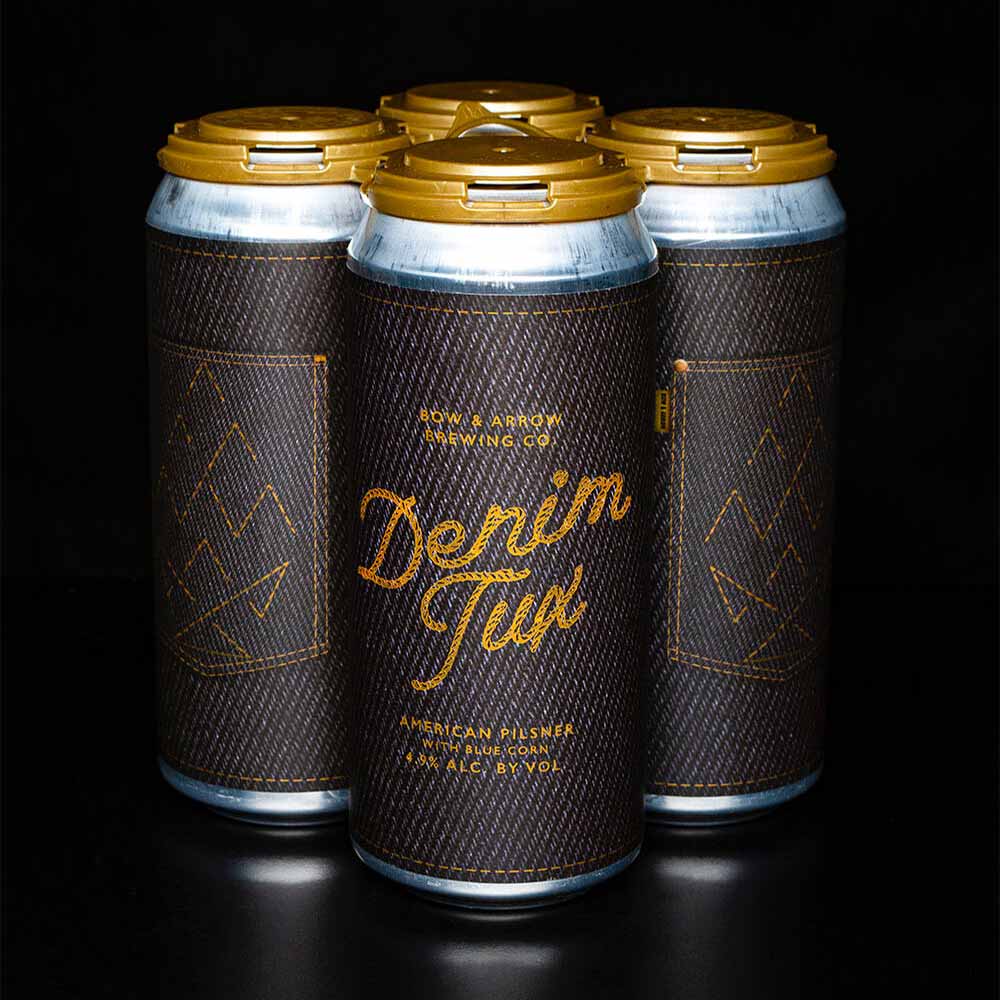 "I think reconnecting with our language, reconnecting with our agricultural histories and foodways, those are all part of the healing process from the taking and the trauma that our people have experienced," Sheppard says. "A lot of this is about empowerment. It's not about a sob story. It's about, we have these precious resources, how do we strengthen them?"
Bow & Arrow Reaches Brewing Capacity, Opens Second Taproom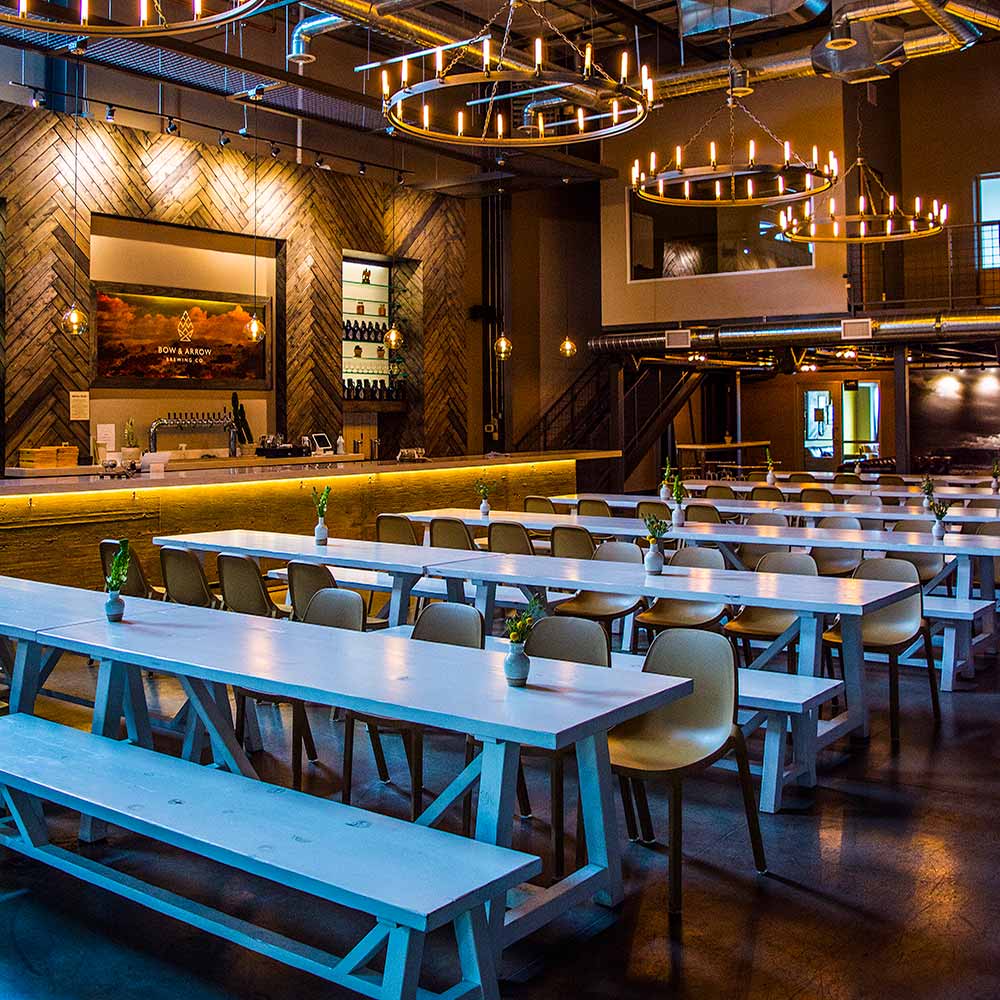 The brewery's branding and taproom are also imbued with a deep sense of place and personality. Beers like the Bolos & Bling IPA and the Ranch Debris raspberry sour–a reference to Roswell's alleged alien activity–are decidedly Southwestern. So is the brewery's décor, including a photo Begay took of the neighboring Sandia Mountains on the back bar and a precision-cut cardboard buffalo by the front door. Sheppard says the latter is a nod to her grandfather, who raised buffalo.
"He would throw us in the back of the truck and he'd be feeding them," she recalls. "He'd tell us how in the fiercest blizzards, the buffalos face the storm."
That lesson stuck with Sheppard as she navigated red tape to open Bow & Arrow and again during the pandemic. She found a path forward through both, and now after several delays, the brewery is growing.
In late August, Bow & Arrow opened its second location in Farmington, NM. Known as Rambler, the taproom stands several hours north near the Four Corners, not far from where Begay attended high school. New brew tanks finally arrived last month, enabling Bow & Arrow to double its production.
"That's huge for us," Sheppard said. "We've been brewing at capacity for most of this year."
Sheppard envisions more locations beyond the Albuquerque flagship and Rambler, but she says nothing is solid yet.
What Is the Future of the Native Land Beer Campaign?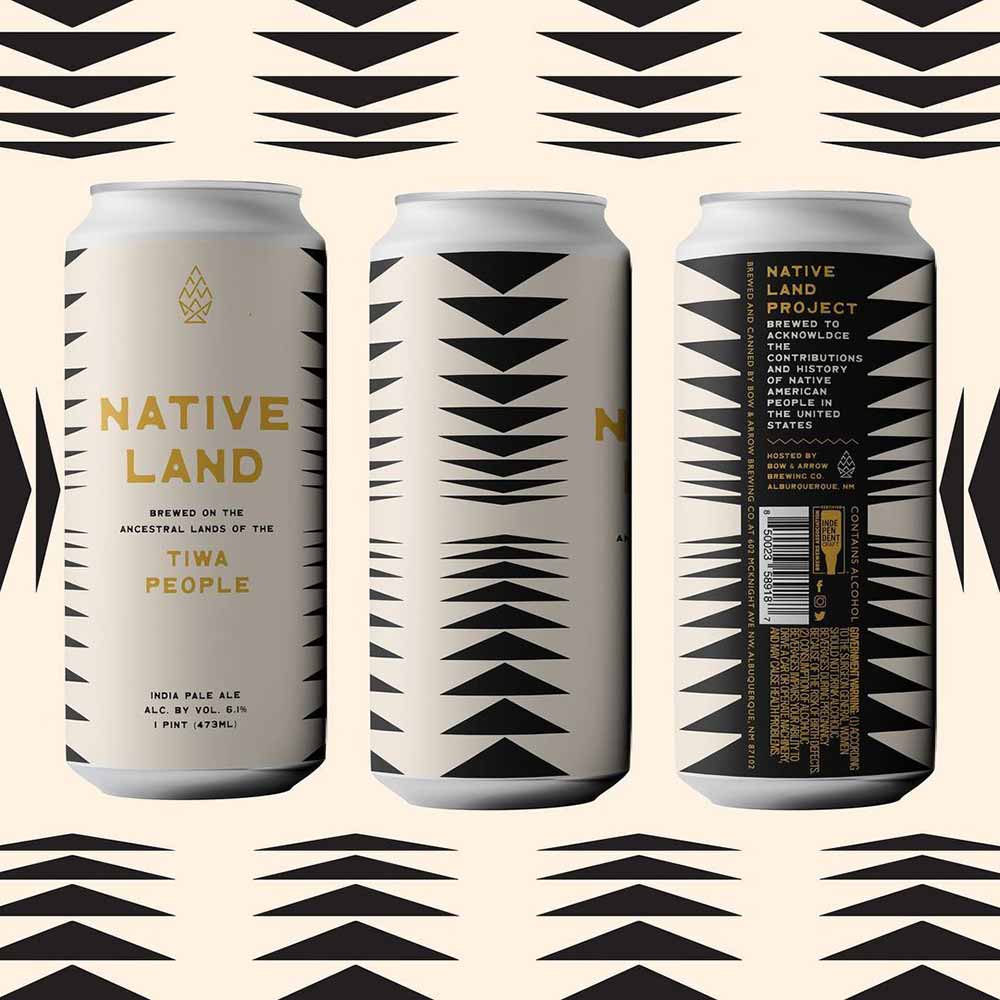 As Bow & Arrow grows, it seems only natural that the Native Land Beer Campaign advances alongside it. Sheppard knows it will take some time for word to spread and for more breweries to commit, but it's shifting the conversation in a largely homogenous industry. And Sheppard wants to give it the space to continue.
"We've talked about maybe this could be an annual thing," she says. "Maybe it's during Native American Heritage Month every year. I definitely feel like this has sparked a lot of interest and important conversations."
How Can I Participate in the Native Land Beer Campaign?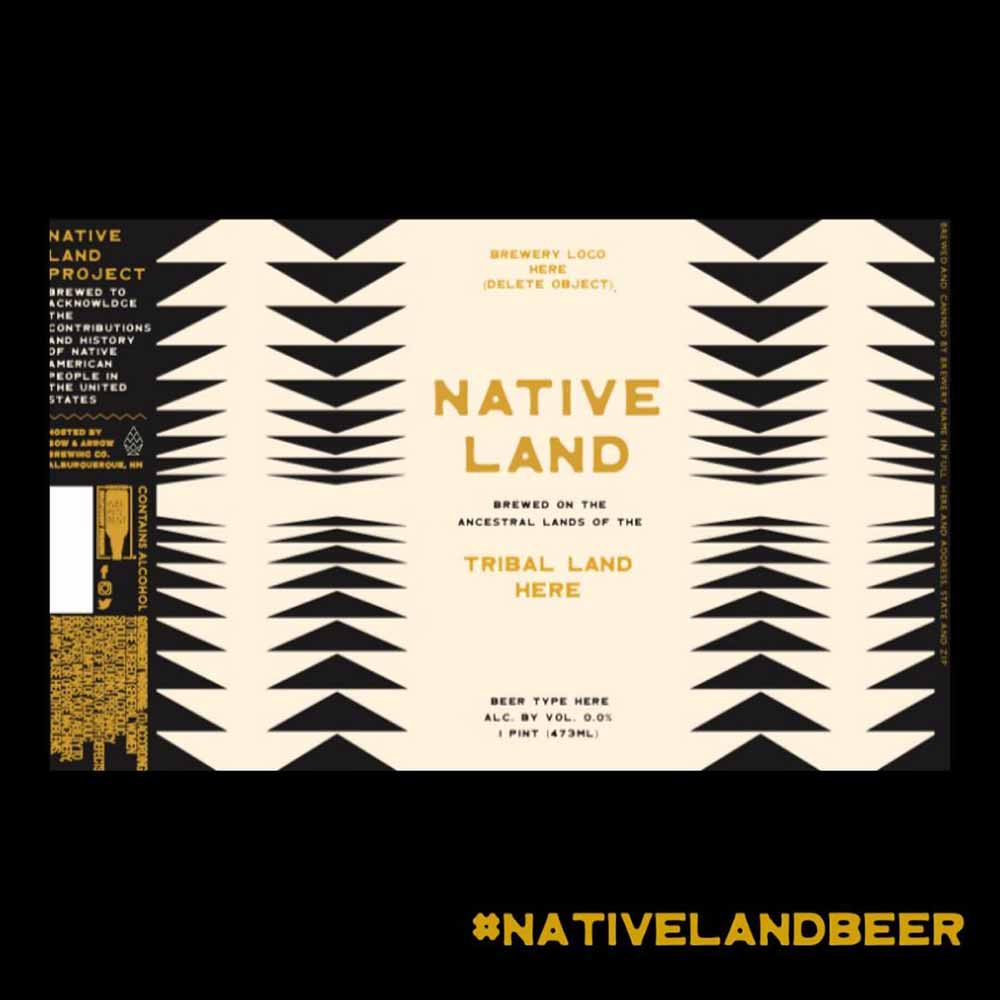 Sheppard wants it to be easy for breweries to participate. Bow & Arrow offers a straightforward sign-up form on its website for interested participants, asking questions about which tribes will be acknowledged, which organization will receive proceeds, and the intended beer release date and format. The campaign provides information about how breweries can identify which tribes to acknowledge, and Sheppard says they're also happy to answer questions.
The drinking public can support the Native Land Beer Campaign by following along on Instagram, encouraging local brewers to sign up, or by snagging a pint at any of these participating breweries:
Aeronaut Brewing
Somerville, MA
Expected Release Date: Jan. 6th, 2022
Alluvial Brewing Company
Ames, IA
Expected Release Date: Feb. 1st, 2022
Aslan Brewing Co.
Bellingham, WA
Expected Release Date: TBD
Barnaby Brewing Co,
Juneau, AK
Expected Release Date: Mid-January
Bathtub Row Brewing Co-op
Los Alamos, NM
Expected Release Date: Dec. 10th, 2021
Bosque Brewing Co.
Albuquerque, NM
Expected Release Date: March 2022
Breckenridge Brewery & Pub
Breckenridge, CO
Expected Release Date: Jan. 3rd, 2022
Brewjeria Company
Pico Rivera, CA
Expected Release Date: Jan. 28th, 2022
Casa Humilde Cerveceria
Chicago, IL
Expected Release Date: Mar. 15th, 2022
Crowns & Hops
Inglewood, CA
Expected Release Date: TBD
Excelsior Brewing Company
Excelsior, MN
Expected Release Date: Feb. 7th, 2022
Fiction Beer Company
Denver, CO
Expected Release Date: TBD
Flying Bison Brewing Company
Buffalo, NY
Expected Release Date: Feb. 19th, 2022
Funky Picnic Brewery & Cafe
Fort Worth, TX
Expected Release Date: TBD
Goldspot Brewing Company
Denver, CO
Expected Release Date: Dec. 31st, 2021
Halfway Crooks Beer
Atlanta, GA
Expected Release Date: Jan. 18th, 2022
Hana Koa Brewing Co.
Honolulu, HI
Expected Release Date: Jan. 28th, 2022
Harvest Roots Kombucha
Birmingham, AL
Expected Release Date: Mar. 31st, 2022
HenHouse Brewing Company
Santa Rosa, CA
Expected Release Date: TBD
Imagine Nation Brewing
Missoula, MT
Expected Release Date: TBD
Marble Brewery
Albuquerque, NM
Expected Release Date: March 2022
Midnight Sun Brewing Co.
Anchorage, AK
Expected Release Date: TBD
NoFo Brew Co. & Distillery x Frrameshift Fermentation
Cumming, GA
Expected Release Date: Mar. 4th, 2022
Outer Range Brewing Co.
Frisco, CO
Expected Release Date: Nov. 19th, 2021
Riverbank Brewing
Council Grove, KS
Expected Release Date: Mar. 11th, 2022
Ruse Brewing
Portland, OR
Expected Release Date: TBD
Second Street Brewery
Santa Fe, NM
Expected Release Date: Feb. 1st, 2022
Skydance Brewing Co.
Oklahoma City, OK
Expected Release Date: Nov. 25th, 2021
Temescal Brewing
Oakland, CA
Expected Release Date: Dec. 14th, 2021
The Rare Barrel
Berkeley, CA
Expected Release Date: TBD
The Alchemist Brewery
Waterbury, VT
Expected Release Date: TBD
Twin Sisters Brewing Company
Bellingham, WA
Expected Release Date: TBD
Westbound & Down Brewing Co.
Lafayette, CO
Expected Release Date: Early Dec. 2021
Yazoo Brewing Company
Nashville, TN
Expected Release Date: TBD