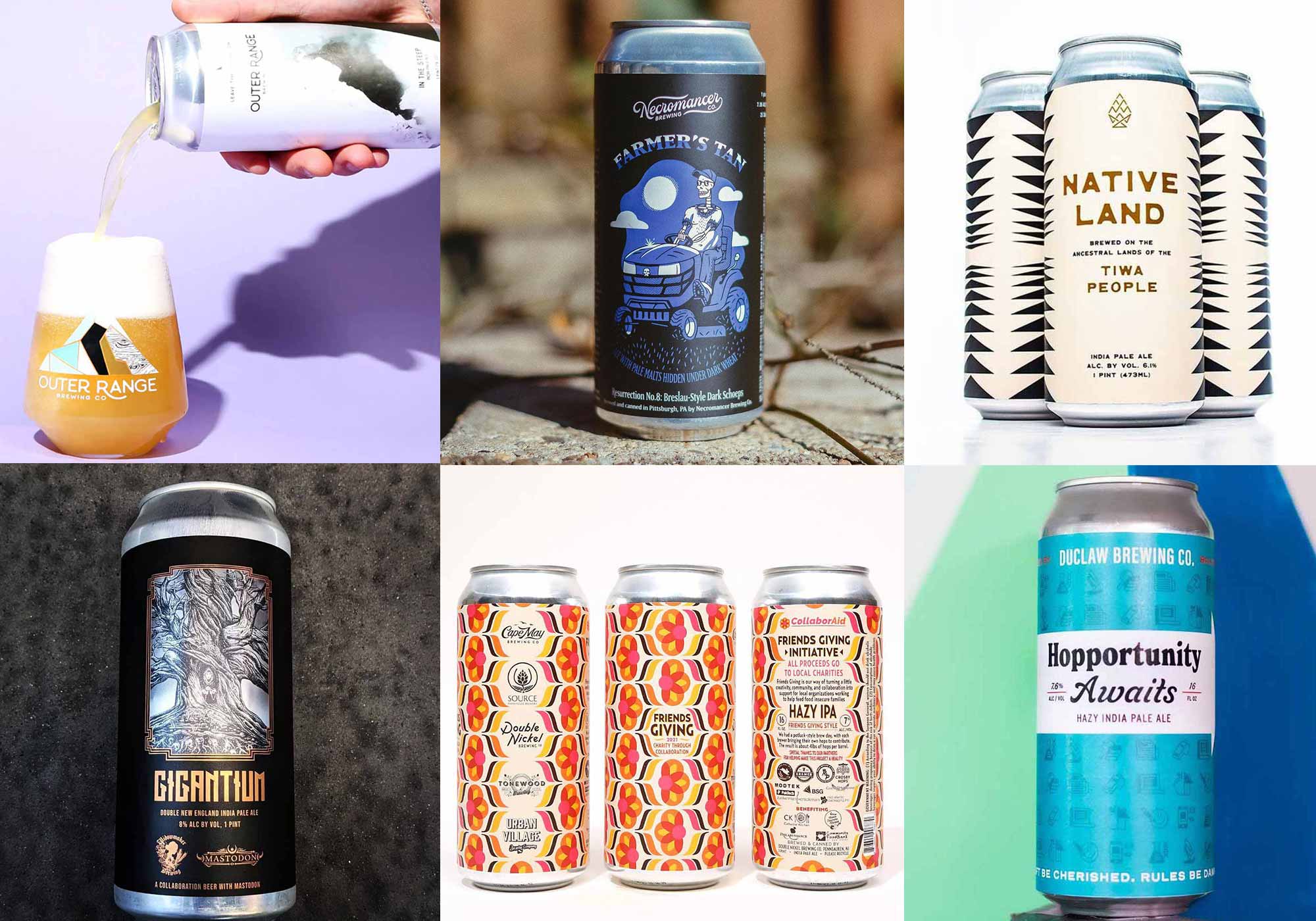 November has been a busy month for the team here at Hop Culture. Starting with International Stout day on Nov. 4th we drank quite a few stouts to narrow down a list of the best. Although not all at once!
On Nov. 11th we celebrated Veteran's Day by toasting with beers from a few veteran-owned breweries across the country.
And since all of November is National Native American Heritage month we honored a small, but growing number of Native American-owned breweries paying homage to their tribe's culture, traditions, and stories through craft beer.
Of course, we all know this jam-packed month ended with a family feast. And this year we downed a few beers that we were most thankful for from ones that have changed the industry today (like Black is Beautiful) to those that have made marks in the past (like Heady Topper).
All in all we're excited to wrap up November and head into the final month of 2021. Keep your eyes peeled here all throughout December as we announce our Hop Culture Awards including The Best Beers We Drank in 2021, The Best Breweries of 2021, and more! With that in mind we'll be putting a pause on the best beers of the month until the new year. This piece will be back in January 2022.
But until then…
Here Are the 12 Best Beers We Drank in November 2021
Farmer's Tan
Necromancer Brewing Co. — Pittsburgh, PA
Breslau-Style Dark Schoeps — You may be asking yourself: What the hell is a Breslau-Style Dark Schoeps? We did when our friend Ben Butler, founder of Necromancer Brewing Co., sent us one of his newest beers.
We named Necromancer one of our top breweries to watch in 2021 because they brew these intriguing, oft-forgotten beer styles. The eighth installment in this "Resurrection Series", Farmer's Tan is a bygone, wheat-forward, malty style known as Schoeps, that first appeared in writing in 1550.
Necromancer's version pours an almost chestnut brown. Predominant nutty notes complement the color with just a touch of Saphir hops to round out a smooth finish.
My wife and I drank a can of Farmer's Tan alongside our vegetarian Thanksgiving meal. The bready beer paired perfectly with all of our stuffing, cranberry bread, veggie meatballs, and brussel sprout and kale salad.
We'll toast to this once written-off beer style all year long.
Sunday Paper
Exhibit 'A' Brewing — Framingham, MA
Imperial Coffee Stout– To celebrate International Stout day on Nov. 4th, 2021 we wrote a piece on the 21 best stouts to drink for the official beer holiday.
Exhibit 'A' Brewing's Sunday Paper made our list because as Hop Culture freelancer Andy Krump wrote, "Sunday Paper does what a stout should do: Present a flavor profile comprising dark bitter chocolate and dark roast coffee, punctuated with light sweetness. But there are other, perhaps unexpected notes worth sniffing out in Sunday Paper, like bitter raisin and even red fruit, to accompany the standards. The beer ties together with a slick mouthfeel and a black-as-night body. It's a stout through and through, and an excellent demonstration of how a style with a formula as written in stone as this carries a breadth of variation."
In the Steep
Outer Range Brewing Co. — Frisco, CO
New England IPA– A few years ago I had a chance to visit the brewery a few years ago. And let me just say: Outer Range's taproom is almost as magical place as the beer. A place where you can sit down and drink with 360 degree mountain views.
But beerwise, we've consistently praised Colorado-based Outer Range for its terrific takes on IPAs and Belgian beers. Technically, the husband and wife team of Lee and Emily Cleghorn try to stick to brewing only within these two lanes. For that reason they've really perfected their versions of IPAs.
You can clearly see and taste that dedication in In the Steep, which reminded me of a fresh mountain stream. Just replace the water with Citra hops. Instead of bashing me over the head with bitterness as if I were whitewater rafting, In the Steep gently glided me down a babbling brook of tangerine, grapefruit, and apricot.
Since this is a list of the best beers we drank in November, we do want to also mention that both Lee and Emily are veterans. But you don't need to wait until next Veteran's Day to enjoy this IPA. Consider drinking a beer from Outer Range or one of these veteran-owned breweries to honor those who have served our country.
Native Land
Bow & Arrow Brewing Co. — Albuquerque, NM
New England IPA– November is National Native American Heritage month, so Indigenous-owned Bow & Arrow Brewing Co. recently started an initiative called the Native Land Beer Campaign. Brewed to recognize the history and contributions of Native American people in the United States, Native Land Beer invites other breweries to brew the shared recipe and join in the goal to acknowledge the ancestral land a brewery is located on. Plus, breweries that join the initiative must commit to donating a portion of proceeds to an Indigenous organization.
Recently, a small but growing number of Native American-owned breweries have used craft beer to share the stories, traditions, and customs of their tribes. Native-owned breweries are re-writing the narrative and reclaiming their Indigenous identities through everything from their use of ingredients to the art on their cans.
The beer itself is a hazy cloud of Citra, Strata, and El Dorado hops. But for us this beer is more than the sum of its parts. Native Land Beer is another shining example of the power beer has to create change in our community.
Hopportunity Awaits
DuClaw Brewing Company — Baltimore, MD
Hazy IPA– A new hazy IPA from DuClaw Brewing Co., Hopportunity Awaits puts a spotlight on people breaking barriers and opening doors. The beer actually features the stories of ten professionals across a range of backgrounds. And does so in truly innovative fashion.
Scan a QR code on the side of the can and you'll be taken to the story of people such as our very own Hop Culture Founder, Kenny Gould, cartoonist and Founder of Pints and Panels, Em Sauter, Ohio's first Black female professional brewer and owner of DOPE Cider House and Winery, Hannah Ferguson, and more.
To bring Hopportunity Awaits to life DuClaw, partnered with Craft x EDU. Founded by Dr. J. Jackson-Beckham, the nonprofit organization champions inclusion, equity, and justice in the craft brewing community. DuClaw committed to donating a portion of the proceeds from the sales of Hopportunity Awaits to starting a grant that will be administered through Craft x EDU. The grant aims to create educational opportunities for those starting a career in craft beer.
Our freelancer Andy Krump named Hopportunity Awaits one of the beers we're most thankful for this holiday season. "DuClaw has this crazy habit of making good beer, so it may go without saying that the hazy IPA you find in the can is worth drinking," writes Krump. "But Hopportunity Awaits is the rare beer where the can has more to say than the beer itself."
Friends Giving
Double Nickel Brewing Company — Baltimore, MD
Hazy IPA– Every year around Thanksgiving Double Nickel brews Friends Giving, a collaboration with a handful of New Jersey and Pennsylvania breweries to raise money for local food banks and nonprofit organizations dedicated to fighting food insecurity. In just the first three years of the project, they've already raised and donated over $315,000 in much-needed funding and food donations. We're thrilled that our friends at Double Nickel have spearheaded this campaign.
Plus, the beer inside is pretty fantastic too. Dubbed a 'potluck IPA', Friends Giving features a host of hops including Amarillo, Idaho 7, and Citra. All have a seat at the table perfectly pairing together for a bountiful beer.
Wermut
Von Ebert Brewing — Portland, OR
Gruit– Another forgotten brewing method, gruits are actually beers that forgo hops, replacing them with herbs, plants, and spices. Today, that practice might sound blasphemous, but before the sixteenth century the flavor, aroma, bitterness, and preservation compounds in hops hadn't been discovered yet. Instead brewers implemented wild plants and herbs called gruits. Can't wrap your head around beers without hops? Well, we wrote all about them this past month.
While you won't find too many versions of a gruit today, a select few modern brewers have tried their hand at the challenge.
For instance, Von Ebert, who recently released Wermut, a mixed-culture, oak-aged gruit inspired by herbal vermouth. Combining Pad d'arco bark, wild cherry bark, lemon verbena, quassia, and gentian herb, Wermut has a distinctive profile with notes of lime candy, honey lemon Ricola, and oak.
Tart and bracing, Warmut awakens your mouth. We guarantee this beer is unlike any you've ever tried. We highly recommend you try a gruit at least once. And Wermut is a great place to start.
Sno'd In
Bend Brewing Company — Bend, OR
Winter IPA– Bend Brewing Co. in Bend, OR considers Sno'd In a "winter IPA". Another style that falls into the what exactly is this beer? category, Sno'd In truly feel like a winter IPA. What does that mean? Well, maybe this was just a psychological trick of the mind, but this beer almost reminded us of melted glacier water. Just really cold, crisp, and clean.
We picked up plenty of golden pineapple from a combination of Amarillo, Chinook, Comet, and Ekuanot hops. The somewhat tropical hop selection might be just what folks surviving through winter need on a subzero night with a ten degree windchill.
Tower of Flower
AleSmith Brewing Company — San Diego, CA x Beachwood Brewing — Long Beach, CA
DDH West Coast-Style IPA– Two absolute West Coast powerhouses teamed up for an absolute beast of a West Coast-style IPA. A collab between AleSmith and Beachwood, this double dry hopped IPA featured Galaxy, Cashmere, and Nelson.
AleSmith actually sent me a package of Speedway Stout, but somehow snuck this floral treasure in with its iconic dark beer. And while I love Speedway Stout this one stood out even more.
Super floral on the nose and palette, Tower of Flower lived up to its name. And yet a beer that could have strayed off the path into an over-powering potpourri field instead stayed a steady course. There's a bitter backbone in this beer, but it's not too assertive. More like a confident driver at the wheel. Often double IPAs and especially DDH IPAs can veer off balance, but Tower of Flower was smooth sailing.
Gigantium
Widowmaker Brewing — Braintree, MA
Double NEIPA– We love Widowmaker for their culinary-inspired fruited sours, but Owner Ryan Lavery and his team also make a stellar lineup of IPAs. In this case Widowmaker partnered with the legendary band Mastodon to celebrate the launch of their new album Hushed & Grim.
Brewed with Citra and Strata, Gigantium crushes the palette with gigantic notes of passionfruit, watermelon Jolly Rancher, and citrus. This double hazy to be exactly what a New England-style IPA should be: juicy, juicy, juicy.
Paupack Cream Ale
Wallenpaupack Brewing Company – Hawley, PA
Cream Ale– There are some cream ales out there such as Genesee Cream Ale that have an absolute cult following. And in our opinion for good reason. Brewed with either ale or lager yeast, cream ales are smooth as a baby's bottom. And for the lactose intolerant there is actually no cream or lactose used here. The word "cream" is simply a marketing ploy to perhaps help emphasize the velvety texture of these beers.
Fluffy and luscious, Wallenapaupack's version is actually the Pennsylvania-based brewery's flagship beer. I drank a tallboy of this at a Friendsgiving. The crisp and crackery beer perfectly complemented our rich feast.
Drab
Wondrous Brewing Company — Emeryville, CA
Porter– A new brewery in Emeryville, CA, Wondrous Brewing impressed me with a majority of its taps devoted to lagers! When I visited a Czech-style pilsner, a couple dark lagers, a German-style bock, a helles, and a pilsner made up at least half the draft list. After mulling over the bock or one of the dark lagers I actually wound up ordering the porter.
A dark beer with English chocolate and crystal malts, Drab delivered from all directions. Melted chocolate with a touch of smoke washed down as easy as pie. If all of Wondrous' beers are as delectable as Drab then Wondrous Founder and Head Brewer Wynn Whisenhunt has certainly done justice to his brewery's name.