Image courtesy of Newair®
Here's the thing: One of my favorite parts about being the managing editor of a beer magazine is trying new beers that breweries across the country send us. It's one of the best ways that I can keep up with what's new and hot in the industry.
It's how I learned about Phantasm, the unique new ingredient making hazy beers even juicier.
Or Cold IPAs.
It's also how I try to stay on top of all the incredible hazy-IPA-producing breweries (although sometimes we need to call in the experts or even ask all of you).
And source beers for our "best lists" such as "The 20 Best Beers to Drink in Summer 2022."
After all, there are over 9,000 breweries now cranking out anywhere from probably twenty to over one hundred different beers a year.
That's a lot of beer to drink!
And just like any great brewer has a top-of-the-line cold box to keep all their packaged beer fresh and cold, I realized I needed an upgraded beer fridge to take care of the influx of packages showing up on our doorstep.
My old one simply wasn't keeping up.
Which is why I started searching around for the best beer fridge. One built with a craft beer aficionado in mind that could hold the maximum amount of cans.
Oh, and it had to look good too!
That's not too much to ask, right?
Honestly, it didn't take me too long. Both Hop Culture Founder Kenny Gould and former Managing Editor John Paradiso own Newair® beer fridges. Plus, I remembered a story we had written on Newair's 20th anniversary last year.
Just so happens I had perfect timing. Why?
Because Newair® recently teamed up with Stone Brewing to create a rad new line of beer fridges.
With four distinctly branded offerings in a variety of sizes, each with unique features and graphics, the Newair x Stone® lineup has a beer fridge for everyone. Whether you're a hardcore craft beer fanatic or just a weekend adventurer.
First, What Makes Newair® the Leader in High-Quality Beer Fridges?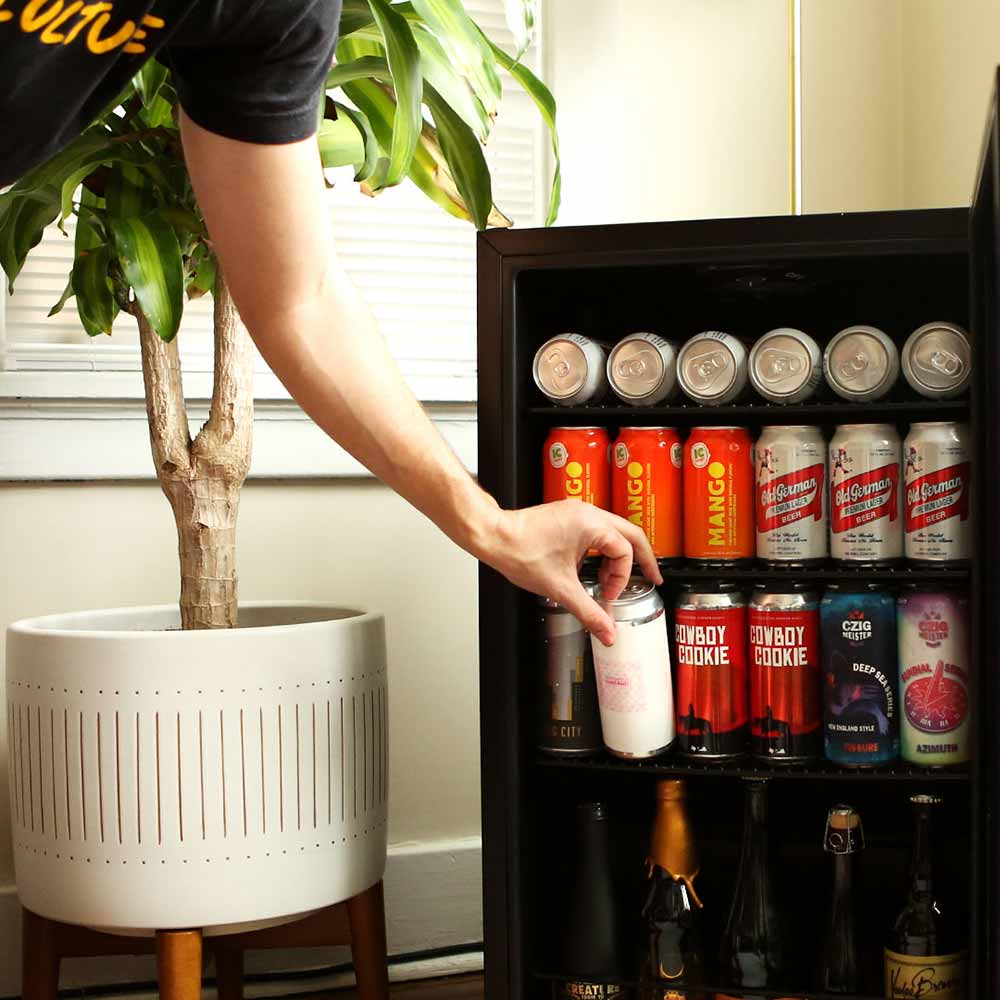 Look, if you're like me, the number one thing you're looking for in a beer fridge is that it will take care of your beer, keeping it at the right temperature to preserve the quality of the liquid inside.
Quite simply: Newair® has become a global leader in high-quality beer fridges for a reason. Their products include well-thought-out details like precise temperature control, a variety of shelving options and adjustable shelving, and a sleek, versatile design.
All are front and center in Newair x Stone's brand new line of fridges.
Newair® Collabs With Stone on Unique Line of Beer Fridges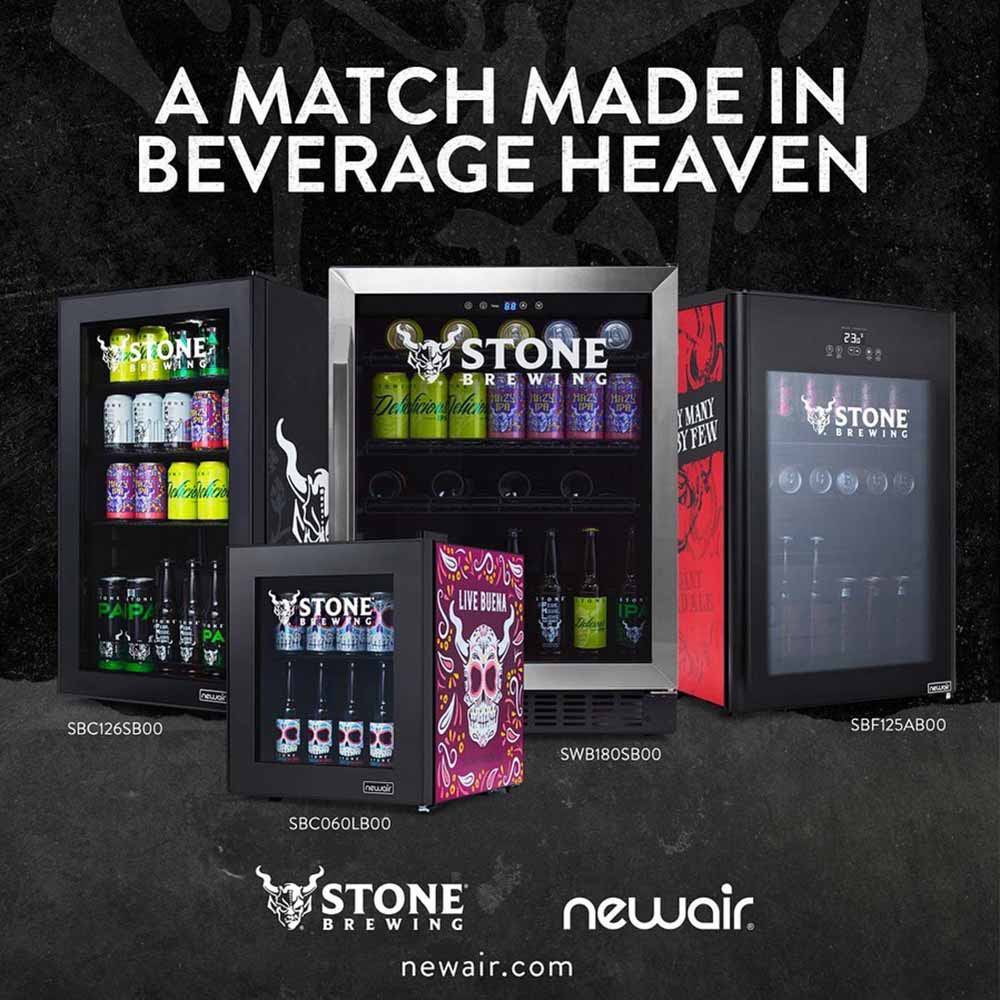 At its core, Newair® is a company that believes in supporting the community. A local business out of Southern California, Newair® places a huge emphasis on cultivating culture.
Accordingly, developing partnerships has become a core component of their business plan.
But it's about finding the right partnerships.
As a homegrown company itself, Newair® wanted to find a partner with a strong brand and widespread recognition. But also one that still stayed true to its roots.
"Ultimately it's about a gut feel that it's a good partnership," says John Crossley, vice president of product for Newair®. "Do you trust the people you're going to be in partnership with? Do you believe in their brand and…the direction of their business? We were able to check all those boxes with Stone and we like to think Stone checked all those boxes with us."
In the end, it was Stone's distinctive branding and California roots that made for such a natural fit.
"They have great command of their brands, not just in understanding what they are today, but what they want them to be in the future," says Crossley.
So when Newair® approached Stone about a potential beer fridge collab, it seemed like a great match.
"Newair has a really incredible reputation when it comes to beer fridges specifically," says Erin Smith, Stone Brewing VP, Marketing. "CLearly they know what beer drinkers are looking for, and they deliver with really high quality. That was important to us. And at the end of the day, a nice cold beer is what we want to deliver for all our fans—so the partnership just made sense!"
Four Beer Fridges, Three Stone Brands, Two Companies, One Amazing Lineup
To develop the entire line, Crossley says Stone pretty much gave Newair® creative freedom.
"They said, 'Hey, tell us what products work best with what brands,'" says Crossley.
Putting their brains together, Crossley and his team took a serious look at Stone's tone, ethos, and imagery. They found three distinctive brands to pair up across a line of four different beer fridges, adding certain signature Newair® features along the way.
Here is a closer look at all of the new beer fridges:
Arrogant Bastard 125 Can Beer Froster Beverage Refrigerator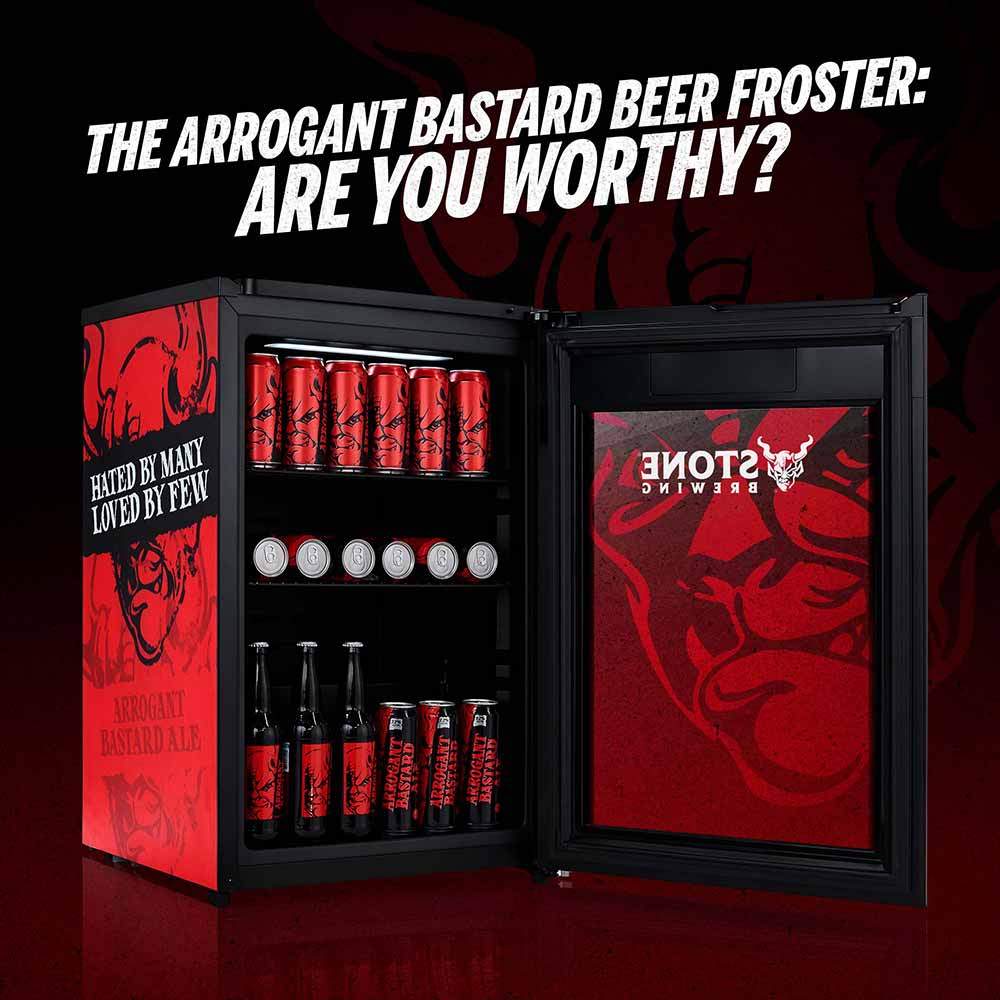 Arrogant Bastard stands out. It's perhaps Stone's most rabble-rousing, out-there brand. This is a beer that has built up a following of hard core craft beer fans.
"Arrogant Bastard is an icon in craft beer," says Smith. "For many people, it was their first experience of craft, so it was a great fit for a fridge."
With a tone and imagery that could be called intense and visceral, Arrogant Bastard is not for the faint of heart.
"We figured someone associated with that brand is comfortable with extremes and this is an extreme product for people very serious about beer because you can store beer at any temperature you want," says Crossley.
Keeping that in mind, Crossley knew that Newair® wanted to pair this brand with a beer fridge featuring Newair's ingenious beer froster "because it's one of the most innovative products in beverage refrigeration," says Crossley.
The beer froster's Turbo Mode can get a fridge all the way down to 23°F in less than an hour while the Party Mode helps the temperature stay constant over six hours, no matter how many times someone opens the door.
Crossley calls this feature "perfect for entertaining." And the Arrogant Bastard 125 Can Beer Froster Beverage Refrigerator is certainly a statement piece.
Bold, brash, and in your face, this beer fridge features the Arrogant Bastard sneering gargoyle on the side in red, white, and black with the tagline "Hated By Few, Loved By Many."
"The Arrogant Bastard is a visual icon known throughout the beer word, and we love that this one implies, 'keep your hands off my beer!,'" says Smith. "Gargoyles are historically known as protectors against evil spirits. The Gargoyle is on every one of our beers to symbolize our quest to create amazing beers and let nothing get in the way of that. This is exactly the kind of collaboration the Gargoyle would be proud of!"
Perhaps Crossley puts it best: "The Arrogant Bastard branding product looked too slick to pass up!"
This is a fridge for the chosen few. It's up to you to decide whether you're worthy.
Smith says, "We all agreed that an Arrogant Bastard fridge would be in high demand for our super fans!"
Newair Stone® Brewing Live Buena Beverage Refrigerator and Cooler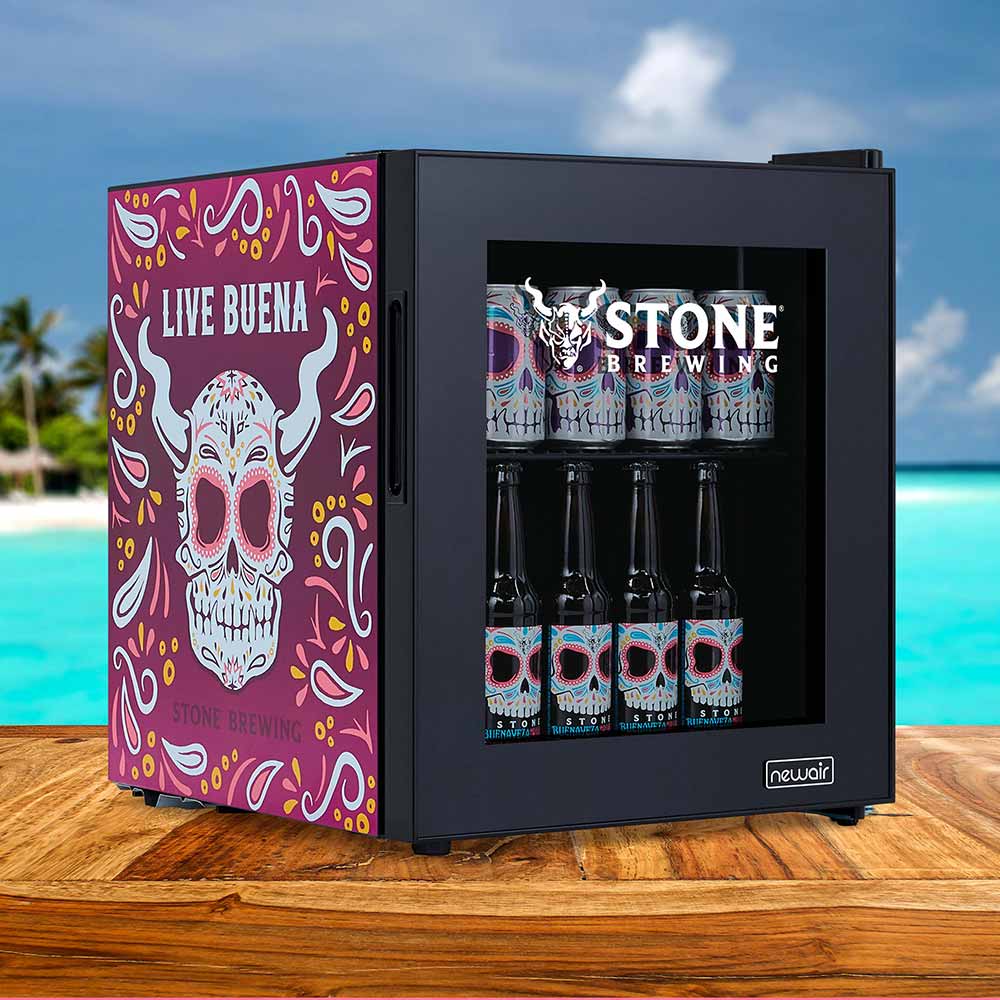 Another iconic brand for Stone Brewing with standout graphics, Buenaveza takes a bit of a 180 from Arrogant Bastard. "Buenaveza and their 'Live Buena' tagline is a lot of outdoor, relaxing, take it easy, beach-based and surf-based association, so we thought what better than a countertop product," says Crossley.
The Newair Stone® Brewing Live Buena Beverage Refrigerator is the smallest and most affordable of all the options. Holding sixty cans, this fridge is compact enough to fit under a desk in a home office, in a dorm room, or even in the back of a van (if you're living that #vanlife).
Plus, it's the most colorful of all the fridges.
"The bright colors, pastels, and fuchsia associated with the brand works well on a smaller profile because it is so loud in a good way," says Crossley.
Smith agrees, "Stone's Buena Brand Family is all about celebrating the good life…This fridge isn't too serious or masculine. It's elevated in style and simply fun.
This one truly pops and will be perfect for an at-home bar to keep that six-pack chilled for "whenever the good life calls."
Newair Stone® Brewing 180 Can FlipShelf Beverage and Beer Refrigerator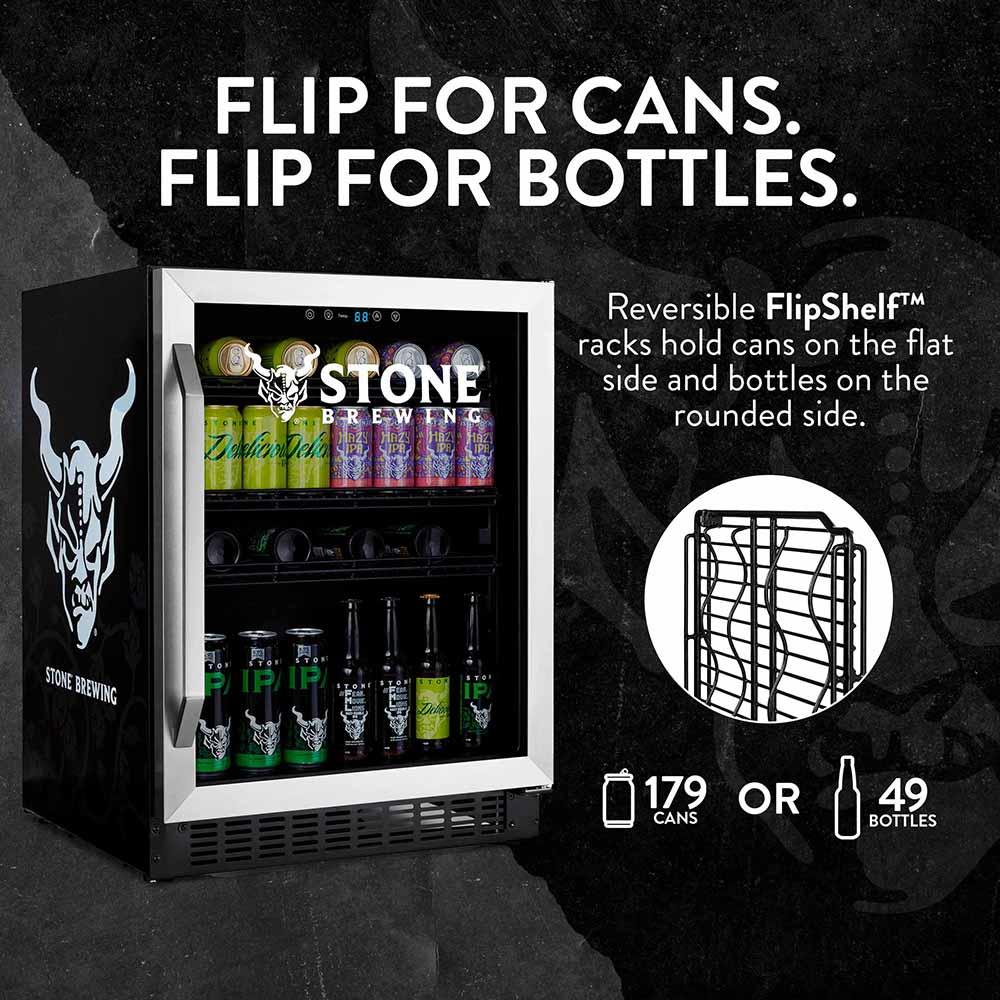 For Stone's bellwether brand, Crossley knew they needed to create two fridges with some of Newair's flagship features—the FlipShelf™ and SplitShelf™.
After all, providing different shelving options and adjustable shelving is a feature that has defined Newair® beer fridges.
"Through our research, we noticed that it's really important to beer lovers to have a bunch of different shelving options for their beer because there are so many different ways to store growlers, 12oz standard cans, bottles, and even kegs," says Kate Rogers, product manager at Newair® in a previous article for Hop Culture.
With that in mind, Newair® created versatile shelf technology that creates the perfect place to house a craft beer collection.
For instance, the FlipShelf™, a proprietary Newair® product that allows customers to choose whether to store bottles or cans on one side.
On one side, the shelf is flat, "so you can stand cans and bottles upright," says Rogers. However, the other side is grooved to help store larger-sized bottles such as wine or 750mL beer bottles."It's the best storage option for beer and gives people the most customization out there," says Rogers.
Perfect for folks who might also be wine enthusiasts or interested in larger format beer bottles, the FlipShelf™ is a main feature of the Newair Stone® Brewing 180 Can FlipShelf Beverage and Beer Refrigerator. "Some craft brewers come up with limited-edition beer bottles that are corked and on the off chance Stone comes up with something bigger, we figured that would be a real natural fit as well," says Crossley.
But at the same time, you can also stick in six-packs of Stone's core Stone IPA (one of our "15 Best American IPAs Available in Most Stores Right Now") or Stone Delicious IPA.
"Since 1996, Stone Brewing has been celebrated for its craftsmanship and attention to detail, and now there's a beer fridge to match that quality," writes Newair®.
Newair Stone® Brewing 126 Can Beverage Refrigerator and Cooler with SplitShelf and Adjustable Shelves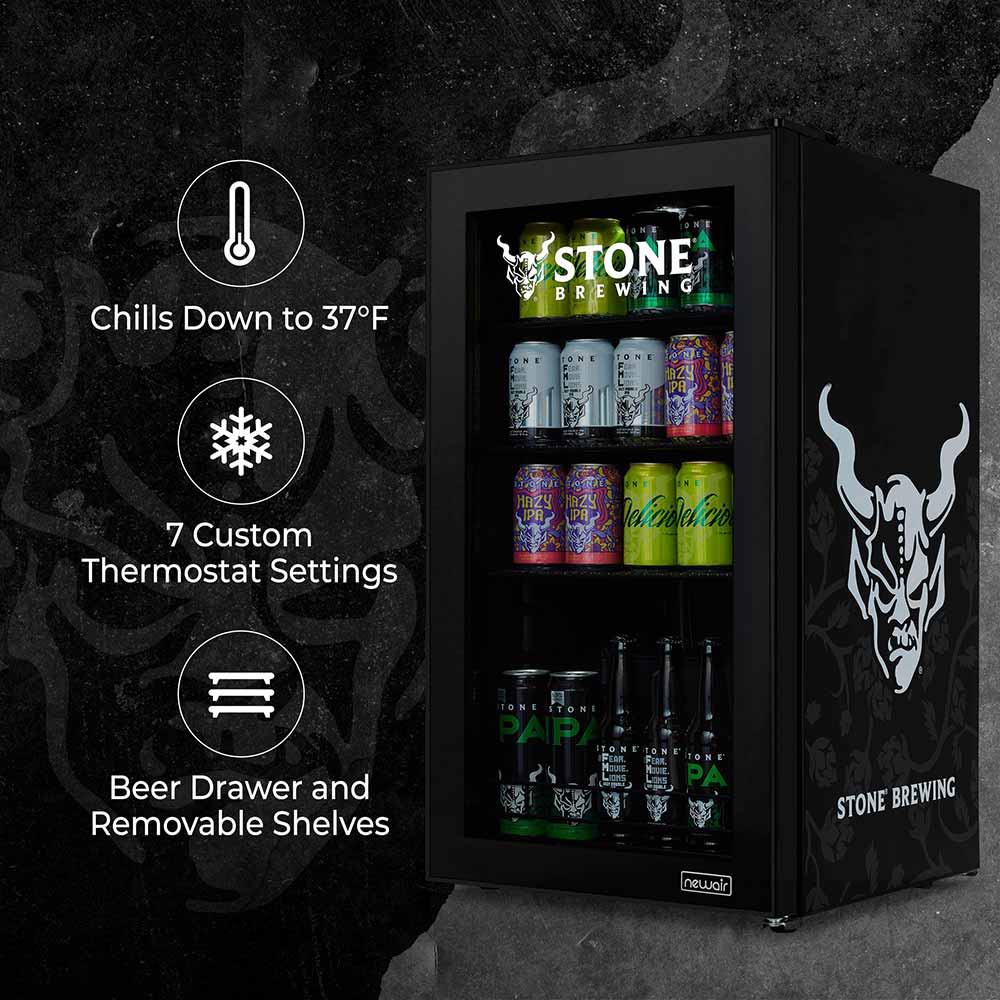 Similarly, the Newair Stone® Brewing 126 Can Beverage Refrigerator features the SplitShelf, a half shelf that allows you to store standard-sized cans in the back and larger bottles in front.
It's a main feature in this beer fridge. And honestly, why I knew I wanted one of these bad bois to safely house all of my cans and bottles. Oftentimes, breweries send me 16oz cans, but I also get packages of 750mL bottles, 12oz cans, 19.2oz cans, and even crowlers.
The innovative SplitShelf ensures that I can fit whatever sized package someone sends me.
Plus, the fridge is sleek as hell.
With the iconic Stone® gargoyle on the side panels and glass door, this fridge just looks freakin' awesome in the office.
So far, this fridge has been a win-win.
"I love how the hop design is incorporated on these fridges," says Smith. "It adds a level of sophistication that really speaks to the quality of these fridges and the Stone beers inside them. There's nothing overstated about this, but it still tells guests, "hey – I like high quality craft beers and I'm serious about that."
The Verdict on Newair's New Stone Beer Fridges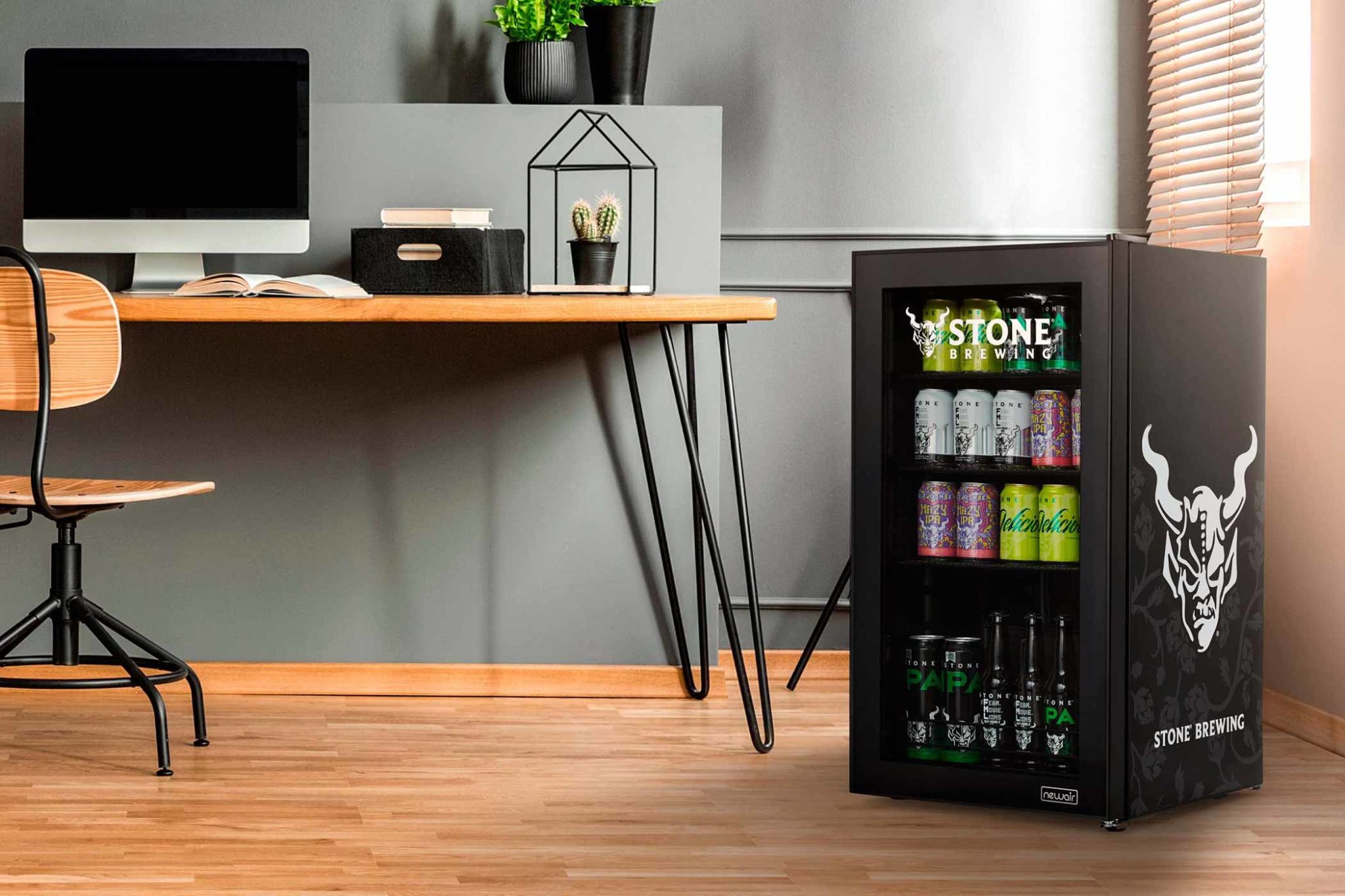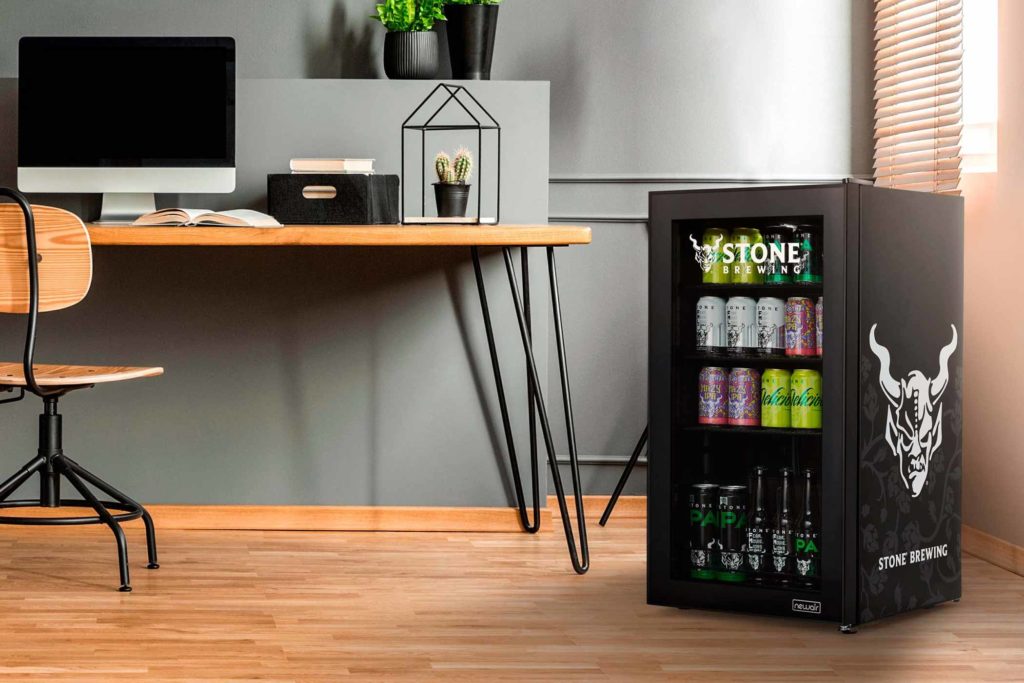 From start to finish, this collaboration took about nine months to execute, according to Crossley. And with the fridges hitting shelves this past month, the response has been overwhelmingly positive so far.
For me, the Newair Stone® Brewing 126 Can Beverage Refrigerator and Cooler with SplitShelf and Adjustable Shelves has fit in perfectly.
With the adjustable shelves, I can set up the fridge exactly how I want. Now I have 126 cans sitting snugly in a perfectly cooled, hella polished fridge. Everything from West Coast and hazy IPAs to pilsners, kölschs, and Mexican lagers, even märzens, ESBs, and porters are at my fingertips.
Situated right next to my desk, if I'm writing about a beer, all I have to do is reach over, open the door, and pull it out.
And I don't even have the beer fridge that Newair expects to perform best!
Crossley says he's predicting the Buenaveza Live Buena countertop fridge will fly off the shelves because "it's going to be a have-to-have for some." People who identify with the more compact size, approachable price point, and bright graphics will immediately be attracted to this fridge.
On the other hand, from a revenue standpoint, Crossley expects the Arrogant Bastard Beer Froster Fridge to be the overall best sell. Just because that brand has such a devoted following.
For what it's worth, Crossley says that his personal favorite is the Newair Stone® Brewing 180 Can FlipShelf Beverage and Beer Refrigerator. "I really want to get the Stone FlipShelf for my place at some point, I just don't have a place to put it, so I either need to get a new place or figure it out," he laughs. "It's something I'm really excited to own because of the power of the Stone brand, the familiarity of it, and the versatility the FlipShelf™ provides."
Honestly, whatever fridge you need, this Newair x Stone® lineup nails it.
If you're looking to upgrade your den, add that final touch to your game room, or simply, like me, find a fridge that can meticulously take care of all the cans and bottles you love, Newair® and Stone have created the perfect cold companion.
"The possibilities are endless," says Crossley.