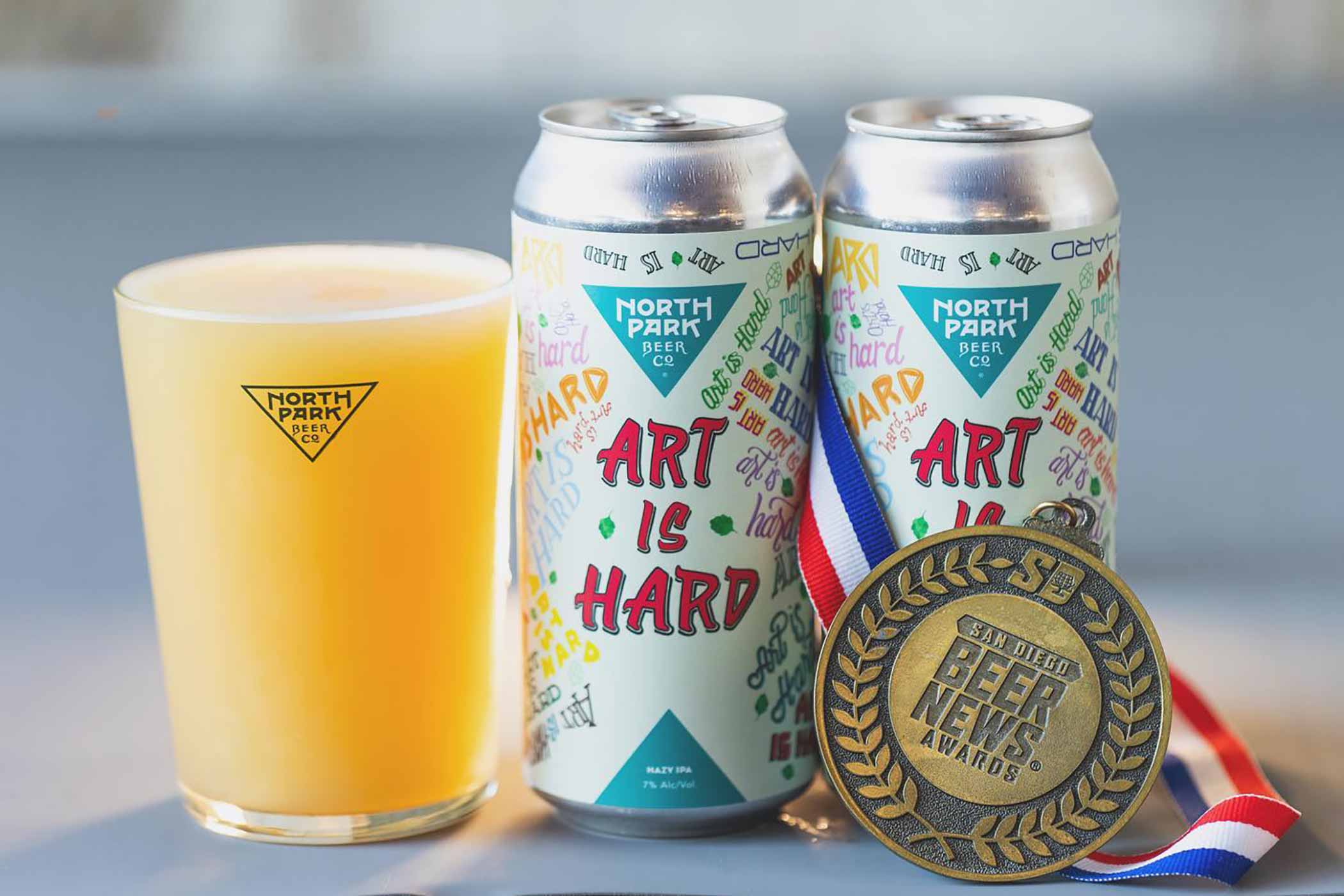 Photography courtesy of @northparkbeerco | North Park Beer Co.
Editor's Note:
To celebrate National IPA Day this week on Aug. 4th, 2022, we created a two part series answering the question: What breweries are brewing the best hazy IPAs in the country?
For part one, we put out this question on social media and let you—our fans and readers—send us answers.
For part two, which we'll release on Wednesday, we asked a couple of experts in the industry to send us their picks for their favorite under-the-radar breweries producing excellent hazy IPAs.
We think it's fair to say that the haze craze still has us in a daze. And we're not the only ones. Last year the style "IPA – New England" on the Untappd app ranked second highest with the most number of check-ins with over 6.1 million. Followed up closely by "IPA – Imperial / Double New England" in the fifth spot with just under 2.9 million.
We're not writing anything here that is going to shock you. Everyone from the originators of the style such as Tree House, Trillium, and The Alchemist in the Northeast to Monkish and North Park in the West and all breweries in between have jumped on board the turbid train.
Even bigger breweries like Sierra Nevada, Rogue, Bell's, Firestone Walker, etc., have come out with their own super easily accessible versions of the style that you can find at a store near you.
And people continue to innovate, creating new ingredients that are making hazy beers even juicier. Yes, it is possible.
With a style that's here to stay (and with National IPA Day coming up on Aug. 4th, 2022), we wanted to know the breweries you—our readers and fans—think make the haziest IPAs.
Which breweries do you think are nailing these cloudy, opaque, foggy, murky, blurry, misty, turbid beers you can hardly see through?
Which breweries do you love the most for tantalizing our taste buds with uber juiciness?
This article will be part one of a two-part series.
In the second piece, we'll tap into the advice of an expert in the industry to see which breweries might be flying under the radar. In 2019, we wrote a piece called "You Should be Drinking Hazy IPAs from These 5 Breweries," where we took a peek at some of the lesser-known breweries crafting excellent hazies. As we all know, a lot can happen in three short years—(hello, pandemic). But especially in the beer world, we've seen the rise of cold IPAs, the bubble bursting on seltzers…eh, maybe not, and non-alcoholic beer gaining ground.
So we wanted to take the pulse on the pulp, coming up with a list of breweries you should keep your eyes on when it comes to producing galactic, out-of-this-world New England-style IPAs.
But before we get to our expert picks…we put out a question throughout all of our social platforms (Instagram, Twitter, and Facebook) asking: "What is the best hazy IPA you've drunk this year and why?"
Across all platforms we received over 200 responses.
And after culminating and sifting through the data we found a few overwhelming trends.
Many of which are pretty succinctly summed up in this most liked comment from @ddhdipa, "Best hazy IPA under 7% this year to me was 'Sauvin Sunrise' by @fidensbrewing and 'Forced Optimism' by @greencheekbeer coming in second place. If we talk best DNEIPA, that's tought but I'd put some @monkishbrewing up there (e.g. LA Freshie), @trilliumbrewing (Really Big Birds) and again some @fidensbrewing (e.g Jasper with Nelson). If we talk best TNEIPA, @northparkbeerco 'Permanent Sunshine' has got to be up there. So many great beers to choose from!"
Read on for the top five breweries that you named most when it came to your favorite hazy IPAs. A few probably won't surprise you. A couple might.
North Park Beer Company
San Diego, CA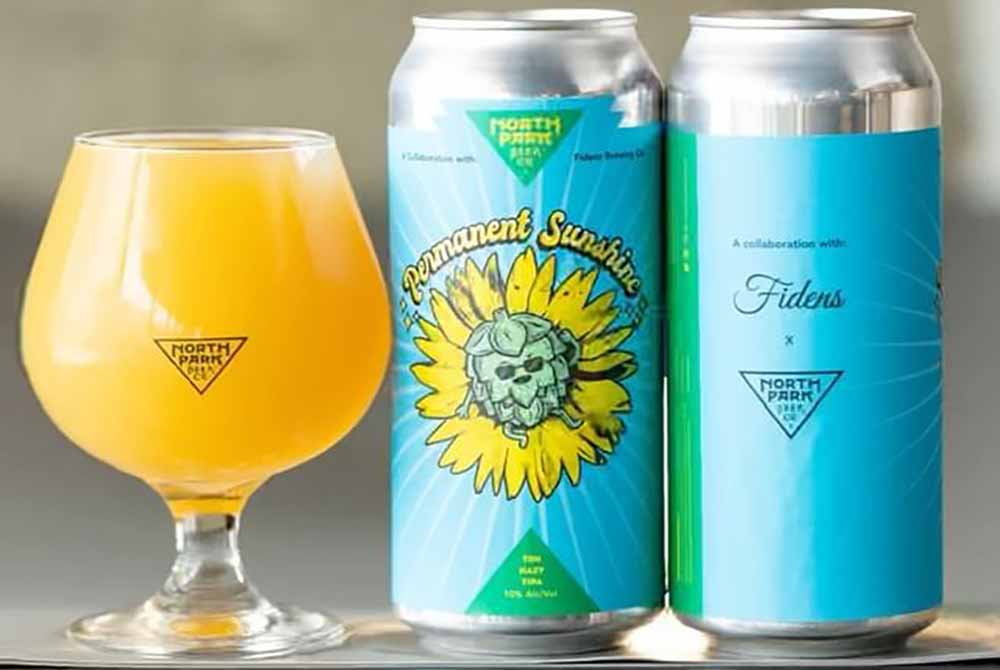 By far and away the brewery that received the most love across all our social platforms, North Park actually came onto our radar for its ultra decadent stouts. We named them one of our "10 Best Breweries to Watch in 2021" after learning about this San Diego-based beaut from our friends at Humble Sea (purveyors of pervasive foggy IPAs themselves).
But IPAs have always been at the core of North Park, too. In fact, founder Kelsey McNair started the brewery back in 2016 after his Hop-Fu! American IPA became the single most award-winning homebrew recipe in history.
Damn, don't you just hate folks who are good at everything!
Accordingly, North Park has risen to prominence on a foggy wave. For instance, standouts include their house hazy Art is Hard, a GABF silver medal winner in 2021 and SD Beer News Gold Medal Winner in 2022. Somehow North Park takes a now standard combination of hops—Simcoe, Citra, and Motueka—and transforms it into something luscious and creamy along with tropical and dreamy. We can probably thank huge amounts of malted oats and extra pale premium pilsner malt for that mega mouthfeel.
Also Permanent Sunshine, a collab with Fidens Brewing (see below). Technically a triple NEIPA, this one loads up on Freestyle Motueka, Freestyle Nelson, Citra, Citra Incognito, and Galaxy hops.
"The only thing better than sharing beer with your friends and family is sharing beer in the sunshine with them, make that a permanent habit and take some time to stop and smell the sunflowers," writes North Park in the beer's Untappd description.
Perhaps @sandiegofoodie_92114 put it best, "@northparkbeerco has the best IPAs in America."
Beers Mentioned Included: Art is Hard, Permanent Sunshine (collab with Fidens Brewing), Blurry Buds (collab with Slice Beer Company) that @baddadbeerreview called a "freaking 🔥🔥🔥🔥 collab from @slicebeer and @northparkbeerco at at the start
of the year," ParkMan (collab with Modestman Brewing), and Freestyle Collider, which @dipafiend_510_408 called an "incredibly smooth TIPA chock full of bitter and juicy Southern Hemisphere hop flavor."
Fidens Brewing Co.
Colonie, NY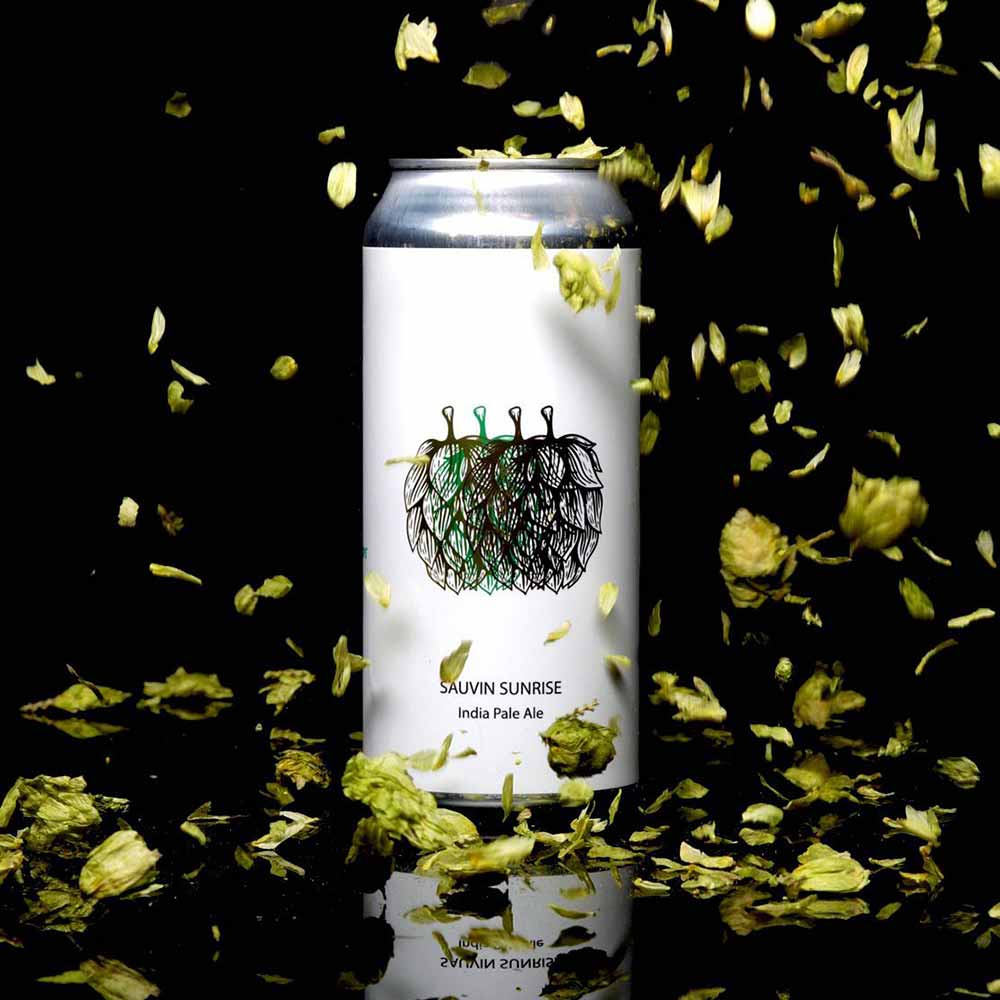 Following a close second behind North Park with the most number of mentions, Fidens Brewing actually came onto the scene relatively recently. Launched in the fall of 2019 in the town of Colonie, NY (near Albany), Fidens had folks camping out and lining up to grab their coveted IPA releases (which turned into a drive-thru sales line during the pandemic). Many of which, if not all, fall into that New England or hoppy ale style.
We'll be the first to tell you, the hype is real when it comes to Fidens. Oftentimes beers sell out within an hour or two thanks to Fidens Co-Founder and Head Brewer Steve Parker's ability to brew creamy, expressive iterations on a hazy… Every. Single. Time. Seriously, these guys can't miss.
"IPAs are our brew of choice and we don't apologize for it," Parker told us when we interviewed him a couple years ago. It's a courageous choice. One reflected directly in the brewery's name. Fidens is actually a Latin term meaning courageous, or without fear.
With Parker and his team consistently and unapologetically brewing hazy IPAs, it's funny how back then Fidens Brewing might have been the best brewery you'd never heard of.
Well, the secret is certainly out now.
We named Gratitude and Progress, a double NEIPA, one of our "Best Beers to Drink in Summer 2021." But that's just one of dozens we could have mentioned.
You all wrote in with a few more…
Beers Mentioned Included: Sauvin Sunrise, Jasper with Nelson, Loose Boots, The King's Axe (a collab with Dream State Brewing), and Did You Know Allen?, which @dipa_can_dan called an "all around perfect hazy DIPA! Hands down. Aroma, texture, mouthfeel, and flavor all there and 9.0% ABV."
Monkish Brewing Co.
Torrance, CA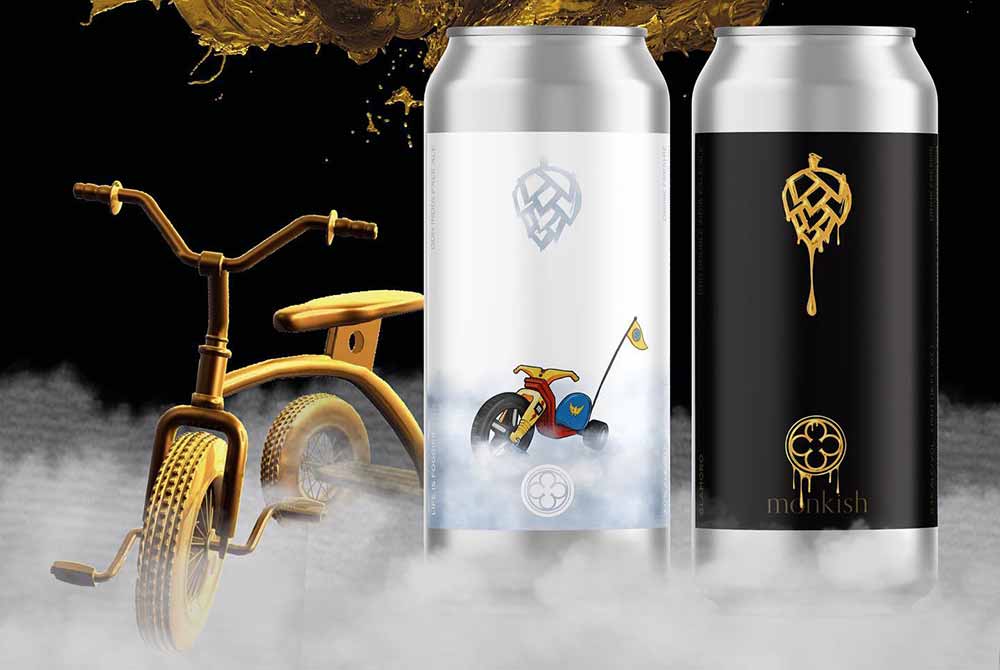 We also weren't surprised to see Monkish gain quite a few comments across the board. Afterall, Monkish has reached cult status for a reason. Mainly for brewing some of the most well-regarded hazy IPAs in the country. With can releases dropping on social media and selling out within a couple hours, Monkish is a brewery that has made a name for itself on the foundation of IPAs (and also pale ales and stouts, but pssh, this is an article about IPAs).
Basically, the Torrance brewery has done for the West Coast what Other Half did for the East Coast. That is to say, they've created super-hyped hazy hop-focused beers that people line up for around the block and speedily snap up as fast as Sonic the Hedgehog collecting coins.
When it comes to hazies, Monkish likes to focus specifically on one hop variety or combination before moving on to a new one. For example, Life Is Foggier, a DDH NEIPA with Citra, Nelson Sauvin, and Galaxy. LA Freshie, a hazy double dry hopped with Citra and Nelson Sauvin. Or Under the Wave, a double NEIPA that @picturestudiosnyla writes is "hands down" their favorite hazy IPA.
Beers Mentioned Included: LA Freshie, LA Roots, Life Is Foggier, Under the Wave, and Adieu Adieu.
Parish Brewing Co.
Broussard, LA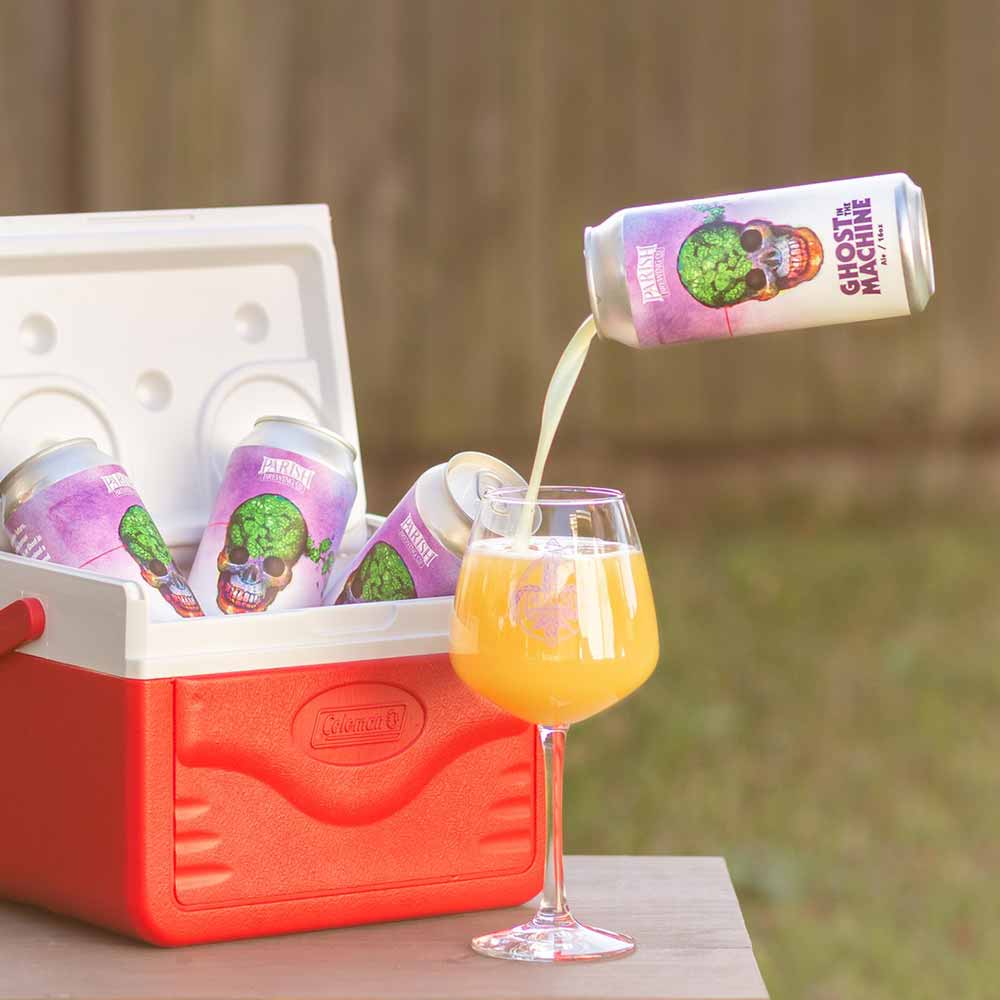 While many of the breweries mentioned above pump out pimped-up hazy releases constantly, Parish has a bit of a different approach. This brewery made a name for itself in the world of wavy beers for mostly one beer—DDH Ghost in the Machine. And it's a killer (get it).
DDH Ghost in the Machine ranks number one all time as the highest rated "IPA – Imperial / Double New England / Hazy" on the Untappd app.
Parish calls it their "most saturated and gooey IPA to date," dry-hopping with over eight pounds of Citra per barrel.
And you all agree. @beerchroniclehou writes on Twitter, "@parishbrewingco DDH Ghost is 🐐 period."
What makes Ghost in the Machine so special? Parish adds an obscene amount of Citra hops from their favorite hop farm in the Yakima Valley in Washington. Seriously, that's the secret here.
Quality hops, quality brewing, quality beer. This is just pure hazy expression at its finest.
We'd die to pour one out and drink it right now.
And if imitation is the sincerest form of flattery, so would other breweries. Another opaque darling—Equilibrium—collabed with Parish on Ghost in the Laboratory. Mashing up the grain bill from EQ's Straight Outta The Laboratory and riffing off Parish's love of Citra in Ghost in the Machine, this variation includes Citra Incognito and Citra in the boil followed by a massive double dry hop (apparently the heaviest dry-hop in Equilibrium's history) of Citra LUPOMAX and Citra.
Writes @scornwell64, "Exceptional balance. Soft but the hops shine through."
Nectarous and pulpy, this beer slayed as well, ranking the ninth highest-rated on Untappd this year.
Beers Mentioned Included: Ghost in the Machine, DDH Ghost in the Machine, and Ghost in the Laboratory (collab with Equilibrium).
Industrial Arts and District 96
Garnerville, NY, x New City, NY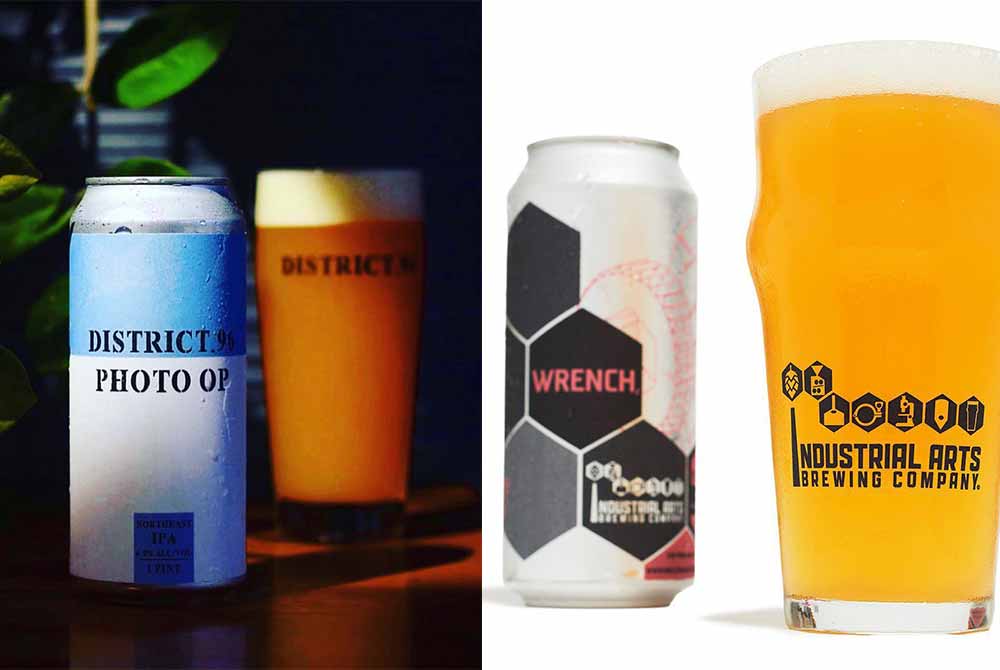 We're grouping these two together because it seems like when most folks mentioned one they added the other in the same sentence. Probably because they're a mere fifteen-minute drive from each other. "@industrialartbrewing's Wrench NEIPA one of my personal favorites, can't beat it," writes @845_beerguy on Instagram. "@district96beer Photo Op comes second."
A few of you might read these two and wonder, but 1) we're just rolling with the data and 2) what we love about these two breweries is that they're making superb fluffy beers without all the fluff and hype of some of the others on this list.
Consider these two a bit under the radar. You probably won't run into the #lineculture that you might find at, say, Fidens, 135 miles up the road or Monkish, 2,800 miles across the country.
But not all hazies have to be hyped.
Actually, some of these beers have the hardware to back them up. For instance, Wrench recently picked up a silver at the 2022 World Beer Cup.
If we may say so ourselves, the Hudson Valley region teems with star quality IPA producers. To name a few: Tin Barn, Beer Tree, and of course, the aforementioned Fidens.
Perhaps @boirevif said it best, "@industrialartsbrewing no hype, super quality, accessible."
Beers Mentioned Included: Photo Op and F.O.A.P.B from District 96 Beer Factory and Wrench from Industrial Arts
Learn More About Industrial Arts
Honorable Mentions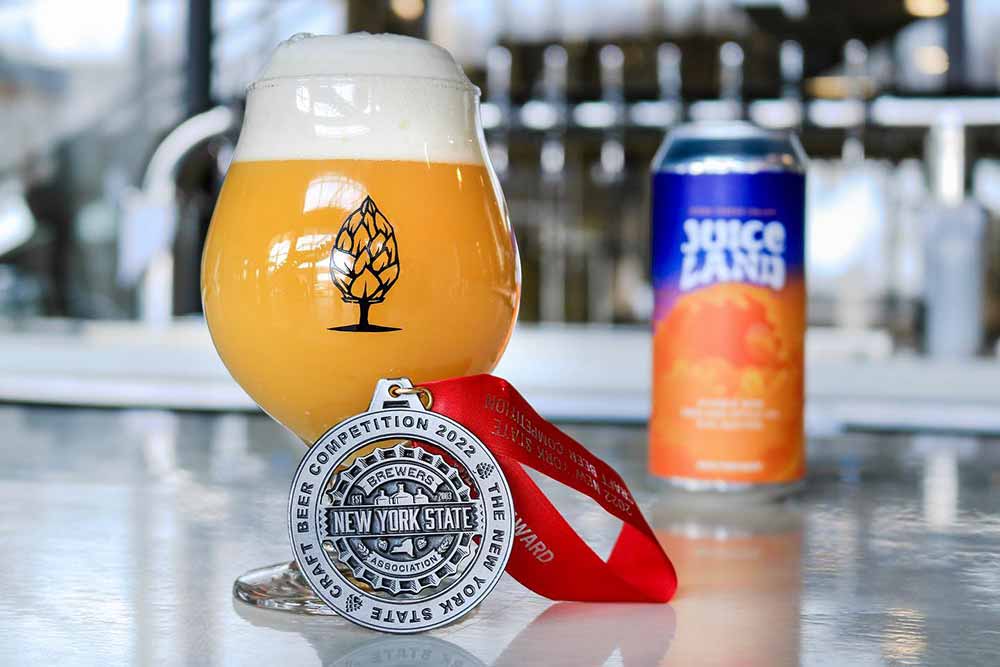 The following breweries didn't not received as many comments as the ones above. But they did nab multiple mentions from you all across Instagram, Facebook, and Twitter.
Other Breweries Receiving More Than One Mention Included: Beer Tree Brew, Bissell Brothers Brewing Co., Magnanimous Brewing, Pure Project, Tree House, and Trillium.
Look out for our piece Wednesday on the 5 Under-the-Radar Breweries with the Best Hazy IPAs, According to an Expert!