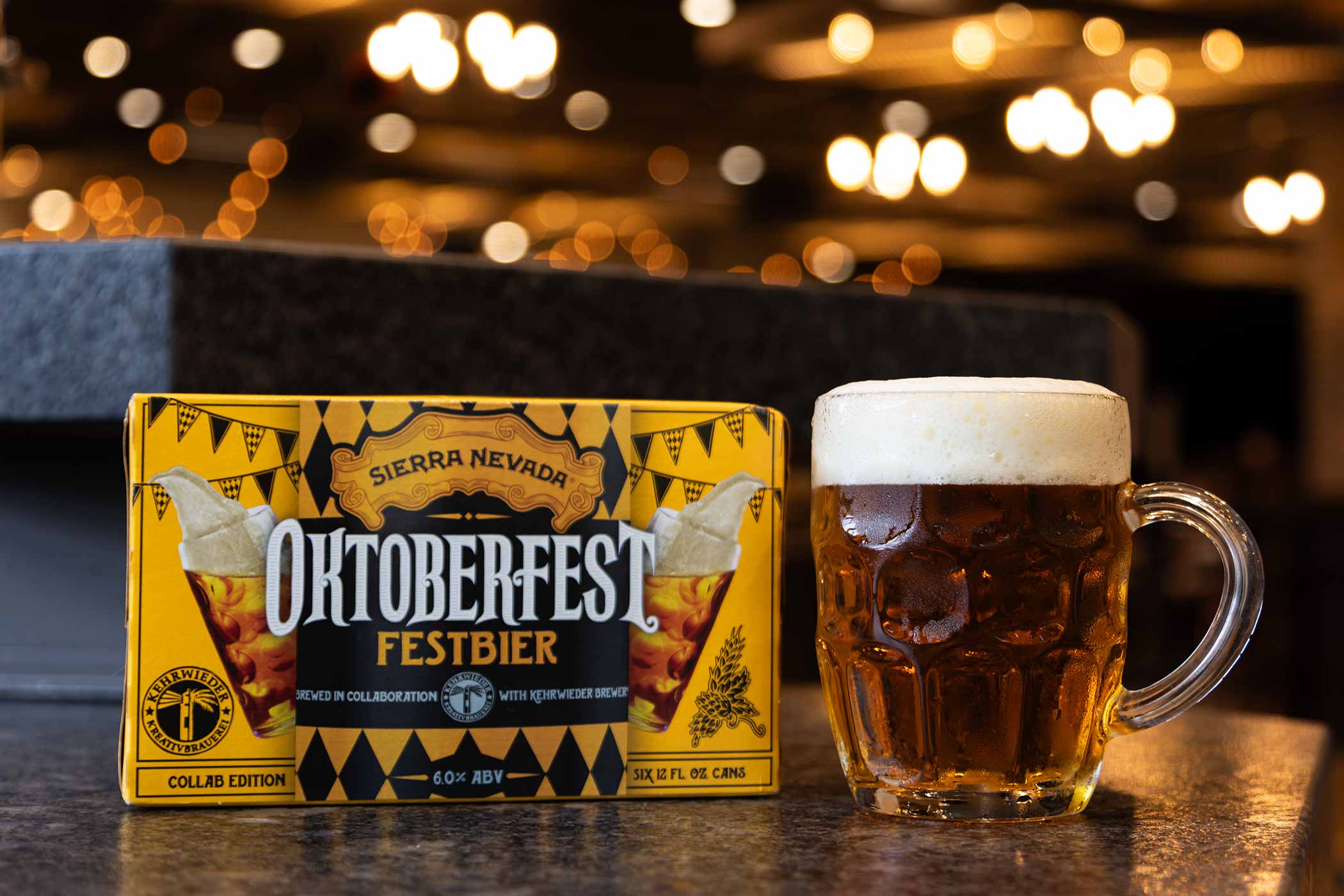 Photography courtesy of Sierra Nevada Brewing Company
Other Sierra Nevada Stories You Might Like:
Sierra Nevada does Oktoberfest differently. For the past nine years (minus a two- to three-year break during COVID), one of the most iconic breweries in the world teamed up with a different German brewery, collabing on an Oktoberfest that bridges continents.
Which sort of harkens to the origins of Oktoberfest, an event celebrating the wedding of Bavarian Crown Prince Louis (later King Louis I of Bavaria) to Princess Therese Von Sachsen-Hildburghausen in 1810. Amid the Napoleonic Wars (1803-1815), the raucous party, replete with free beer and food provided by the royal family, aimed to unite Germans during a tumultuous time.
The 188th Oktoberfest celebration kicks off in Munich, Germany, in four days. This year, to celebrate, Sierra Nevada collabed with Kehrwieder Kreativbrauerei, an up-and-coming German craft brewery with more than forty international awards "leading the way in shaking up the beer scene," says Sierra Nevada Innovation Brewmaster Scott Jennings, who met Kehrwieder Brewmaster and Co-Founder Olli Wesseloh when he studied brewing science at VLB in Berlin at the turn of the century.
Started in 2011, "Kehrwieder is one of the first craft brewers in Germany, producing (almost) only non-traditional beer styles or at least traditional styles with a modern twist," says Wesseloh. "No Pilsener, no hefeweizen! The leitmotif of our beers is balance, drinkability, and creativity."
Although the two lost touch after school, they reconnected by chance in 2009 when Wesseloh visited Sierra Nevada's brewery in Chico.
"Upon touring the brewery, we walked through the pilot brewhouse, where Ken "introduced" me to Scott, and we both went like, "wait a minute, I know that guy," says Wesseloh. "We've never lost track since!"
Together, the two brewed this Oktoberfest collab to mirror the journey of both breweries.
"I was genuinely surprised and hugely honored when Scott called to tell me they wanted me to be their Oktoberfest pattern this year," says Wesseloh. "They wanted to go back to the roots of what a collab brew is all about: getting together with friends and having fun."
With Oktoberfest Festbier, both breweries—one iconic and one forging its own path—marry (see what we did there) the old, the new, the historic, and the untraditional—all in one festive can.
Two Breweries, Two Brewers, Two Different Continents, One Similar Path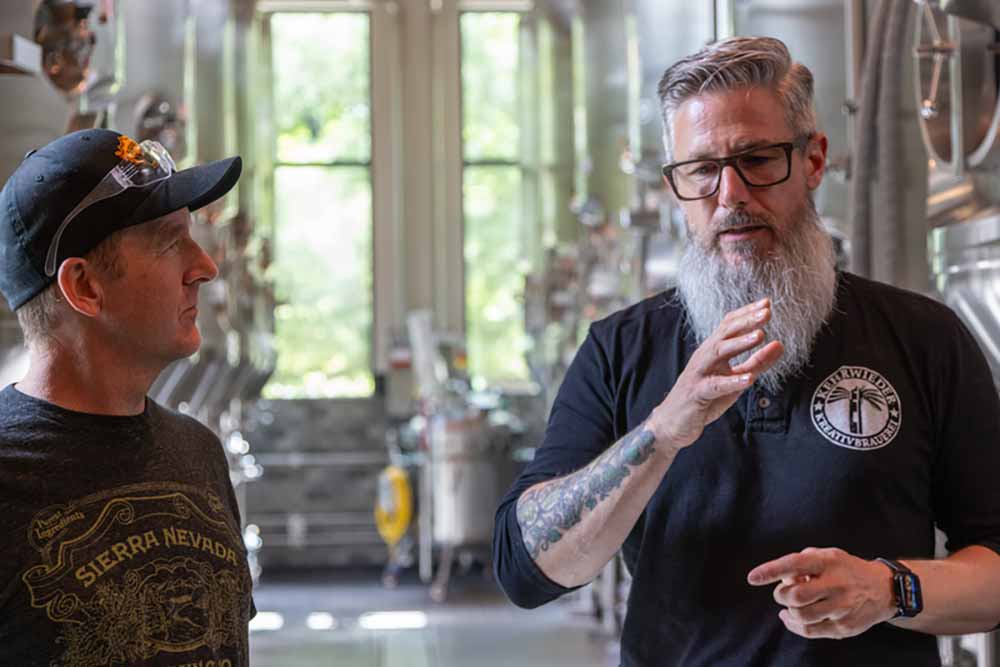 Sierra Nevada and Kehrwieder share a lot in common: They're both breweries that have gone against the grain of beer in their respective countries.
Sierra Nevada Founder Ken Grossman released Sierra Nevada's first commercial beer in 1980 (a stout, actually), but shortly after that put Pale Ale onto the market. At the time, light lagers dominated, but a counterculture of underground homebrewers started brewing against the current.
Sierra Nevada Pale Ale bucked convention in so many ways.
Bracingly bitter at 38 IBUs, Pale Ale tasted unlike any other beer on the market. And Grossman focused on a hop very few people had heard of at the time: Cascade.
Using Cascade for both bittering and aroma, Grossman went ham on the hop. The result? A pale ale far outpacing anything else in bitterness on the market.
"Our Pale Ale was a shock to most people's systems," Grossman told Hop Culture.
Today, we know Pale Ale as one of the most iconic beers in America that helped carry the wave of the American craft beer revolution. But it took years for the brewery to reach that status.
According to Jennings, Kehrwieder in Germany reminds him of the early days of Sierra Nevada.
"Where they're at in their brewery timeline and what they're doing in Germany reminds me a lot of the spirit of Sierra Nevada, particularly back in the '80s and '90s," says Jennings. "[At the time], Sierra was among a handful [of breweries] fighting an uphill battle of a well-established beer culture, dominated by a handful of big players who were stubborn and reluctant to alter trajectories in any way."
In Germany, beer has a centuries-old history. Rigid laws and precise techniques dominate German beer culture. It's a country that developed the Reinheitsgebot, aka Beer Purity Law, in 1516, decreeing that, by law, one could only make beer with four ingredients—water, barley, hops, and yeast.
Breweries still follow this law today.
And many have a storied past. Just look at the big six Munich breweries—Augustinerbräu Münche (Augustiner), Hacker-Pschorr, Hofbräu, Löwenbräu, Paulaner, and Spaten-Franziskaner-Bräu (Spaten). Technically, only these six breweries can make an authentic Oktoberfest beer. Anything made outside Munich by a different brewery should only be considered Oktoberfest-style.
Into this aura of tradition and culture, the Hamburg-based Kehrwieder has made its own tracks.
"They've been an inspiration to a lot of small breweries there embracing the forge-your-own path," says Jennings.
But Wesseloh isn't taking Kehrwieder out on a limb for no reason. The 2013 World Champion of Beer Sommeliers knows what he's doing and wants to do things his way.
"This isn't just a collab. This is a collab with a German craft brewer who has been acknowledged and recognized in the industry over the years," says Sierra Nevada Brand Manager Andy Gurjian. "Kehrwieder is not necessarily brewing just traditional German-style beers. [Olli] loves hops, so he takes that approach and makes marvelous craft beers."
Much like Grossman took a little unknown hop and created something spectacular at a time when big breweries' fizzy, flavorless lagers dominated everything.
One Icon + One Flagship = One Incredible Festbier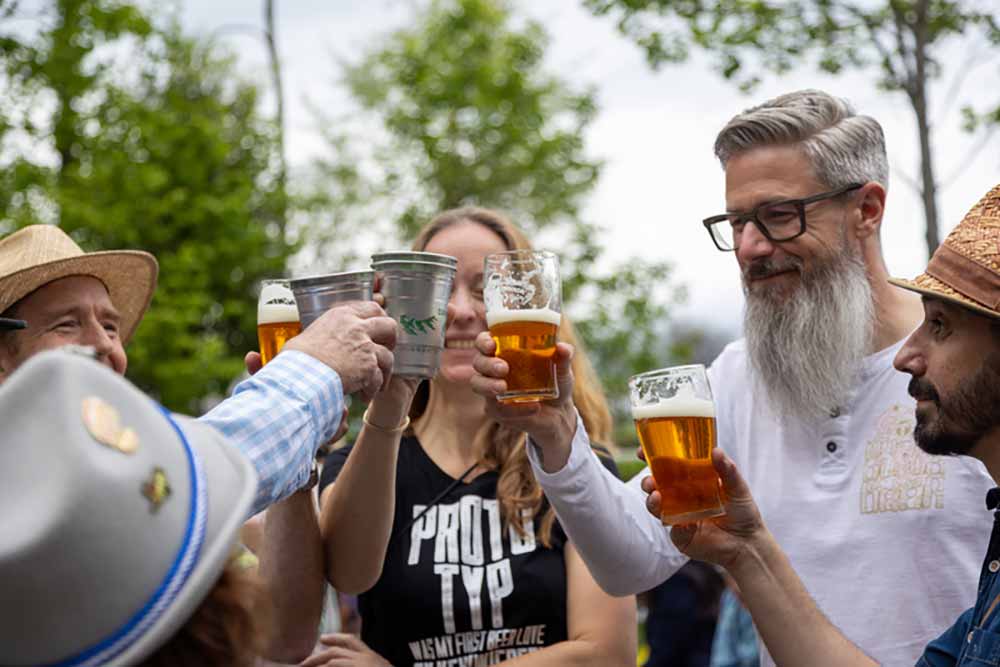 Sierra Nevada and Kehrwieder's seasonal Oktoberfest takes the tradition of a Festbier, adds a bit of each brewery's DNA, and modernizes things a bit.
When Jennings and Wesseloh started to develop the recipe, they chose a Festbier as the base style because it allowed them to showcase the best of both breweries' prototypical beers—Pale Ale and PROTOTYP (Kehrwieder's flagship India pale lager that won European Beer Star Gold).
"Festbiers are bright gold in color and have a super high drinkability," says Wesseloh. "Like a helles, you have slight malt notes like biscuit but not bready or caramel. … In the end, this beer is made to drink from steins, so it really has to be crushable." Usually somewhere around 6-6.5% ABV.
First pioneered by Paulaner, Festbiers today in Germany are THE official beer of Oktoberfest. Which hasn't always been the case.
When we say Oktoberfest, you may think, wait, isn't that the malty, amber German lager? You wouldn't technically be wrong, but you're thinking of a Märzen, a smooth, toasty, bready, slightly spicy German amber lager with a bit of Noble hop bite.
First brewed by Spaten in Germany, Märzens were the official beer of the Oktoberfest celebrations in Munich before being replaced by Festbiers.
(Confused? Don't be. We wrote up a full rundown on the difference between an Oktoberfest, a Märzen, and a Festbier.)
"Those caramelly, malty ones [i.e., Märzens] didn't fit the bill really because there was too much sweetness that lingers; you're probably not going to do two or three liters at a festival," says Jennings. "The goal of the Festbier is to have a very high drinkability for something that has a reasonably strong ABV."
And that's what, as Jennings says, Kehrwieder's PROTOTYP is all about.
Technically classified as an IPL, PROTOTYP, for all intents and purposes, is a "helles on steroids," according to Wesseloh, noting the beer actually takes inspiration from Pale Ale's drinkability and flavor depth.
"When we designed the recipe, we tried to combine something that speaks to [Kehrwieder's] origins and what they are known for, and also something that speaks to our origins and what we're known for," says Jennings. "One of the commonalities is high hop character."
To that end, Jennings and Wesseloh added a bit of C-10 crystal malt because "in our old-school beers—Pale Ale, Torpedo—we use a little bit of crystal malt," says Jennings.
Wesseloh says you'll also find "pale malt from Pale [Ale] and CaraPils for body, foam, and mouthfeel from PROTOTYP."
From a hopping point of view, Jennings says they again wanted to "straddle the fence on traditional Festbier and Sierra Nevada beer," so they included German hops, such as Hersbrucker, Tettnang, and Tradition, along with a new German hop called Ariana, while also bringing in…drum roll, please…Cascade, of course.
"The Tettnang and Hersbrucker are really Noble hops that give you that floral, grassy, even herbal, fine herb German character," says Jenning. "But for both Olli and myself, that wasn't enough, so we put in Cascade."
Adding just under one pound per barrel, "the hopping rate is pretty close to what we do for Pale Ale, which is far above and beyond … a normal Festbier," he says, noting this collab Festbier hits the mid-30s for IBUs, a good ten to fifteen IBUs higher than traditional for the style. "We really wanted this beer to showcase the hops."
Wesseloh agrees, "The backbone is pretty traditional, but, of course, we added quite some more "modern" hops than you would find in a traditional version," he says, noting they dosed the whirlpool with whole cone hops.
Consider this beer: one part Sierra Nevada, one part Kehrwieder, and one part traditional Festbier—all blended together.
As Jennings says, "We're here to make something new and unique that brings elements to a traditional style representative of who I am as a brewer, who Olli is as a brewer, and who we are as breweries."
What's the Verdict on This Sierra Nevada x Kehrwieder Oktoberfest Festbier?
"I'm biased, but I do think it's the best [Festbier] out there," says Gurjian. "And I've tried a lot of them!"
Pouring a deep gold, Sierra Nevada's Oktoberfest has a bit more depth of color than traditional Festbiers thanks to the addition of C-10 crystal malt that "helps it glow a bit more without creating too many caramel flavors," says Jennings.
You'll get some fruity, slightly grassy notes and fresh baked bread on the nose that Wesseloh likens to "a faint touch of brioche."
But "it's all about the hops," says Jennings. "You're going to get a really fun blend of herbal Germanic character with some layers of fruit on top."
Taking that first sip, thanks to the Cascade, you'll notice "somewhere between a citrus and a pear," says Jennings. "I got an apple pear, an Asian pear, and a little bit of citrus."
Uniquely, the Ariana hop adds some berry notes too.
For Wesseloh's palate, he finds "slight notes of honey in the mouth, a good but well-integrated bitterness with a high drinkability."
All come together for a slightly malty but ultimately hop-punchy German-style lager that's like a buoyant party in your mouth.
"It finishes again with that beautiful hop bouquet and wants you to take another sip – or rather gulp – right away!" says Wesseloh.
Throughout this beer's inception, design, and execution, balance remains the keyword.
This beer bridges styles, continents, traditions, and breweries through one recipe, one liquid, and one can.
And for the pro move, Jennings recommends pairing this Festbier with a traditional German dish—schnitzel.
"If I had a choice, I'd get a schnitzel right now, I'd get a Festbier to go with it, and oh my gosh, I'd be so happy," he says.
Where Can I Find Sierra Nevada's Collab Oktoberfest Festbier?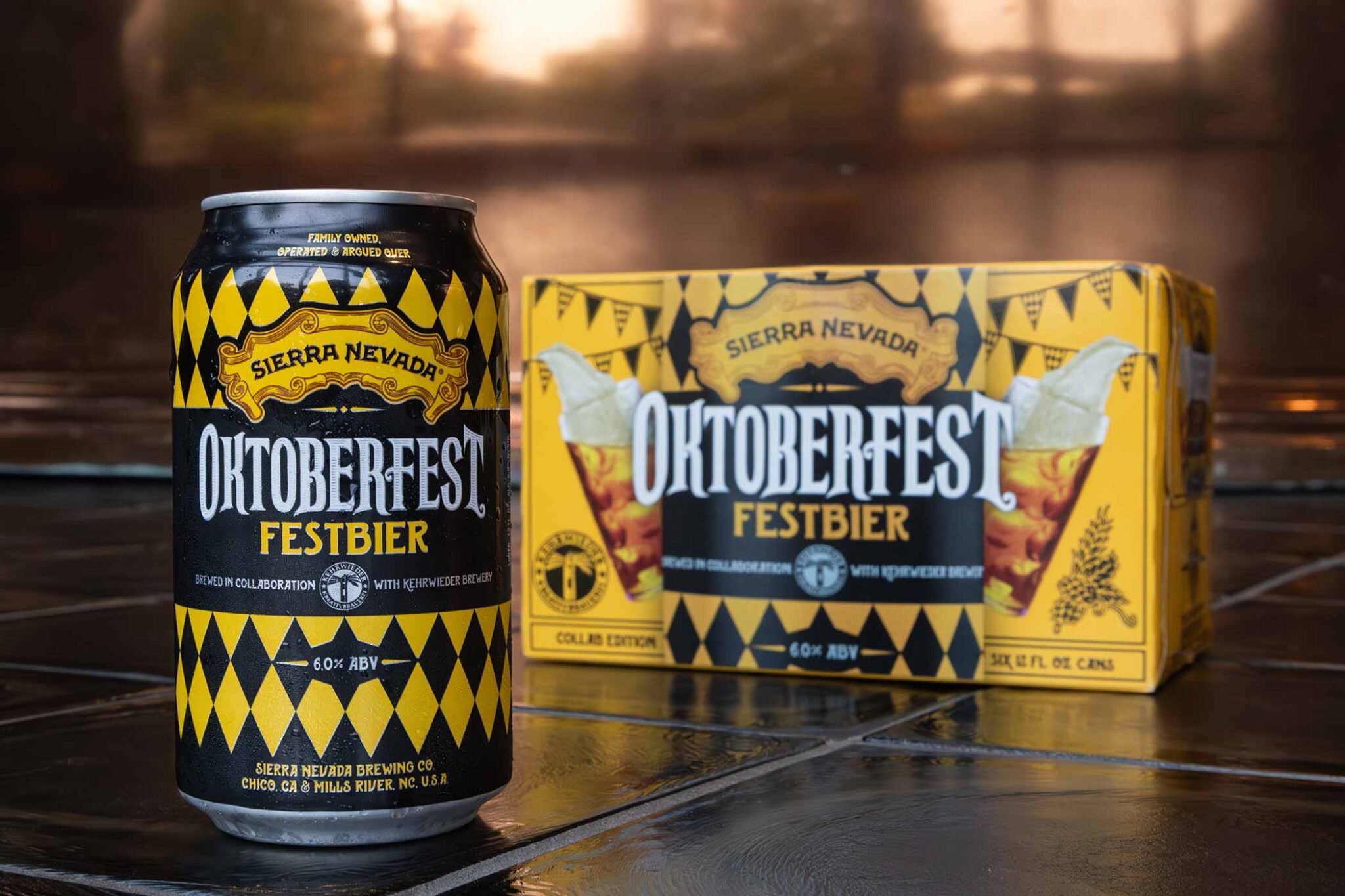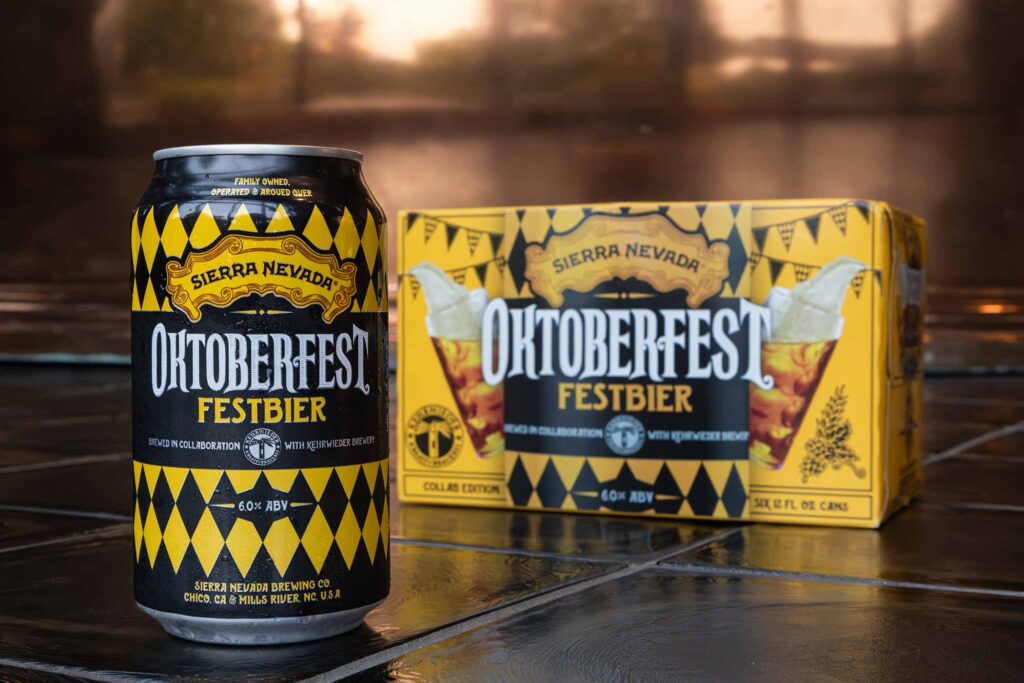 You can find this beer across Sierra Nevada's entire fifty-state footprint. But you'll need to hurry. This limited-edition Oktoberfest will only be available through September.
Grab your Sierra Nevada x Kehrwieder Oktoberfest while you can.
Use Sierra Nevada's Brew Finder to find an Oktoberfest near you.