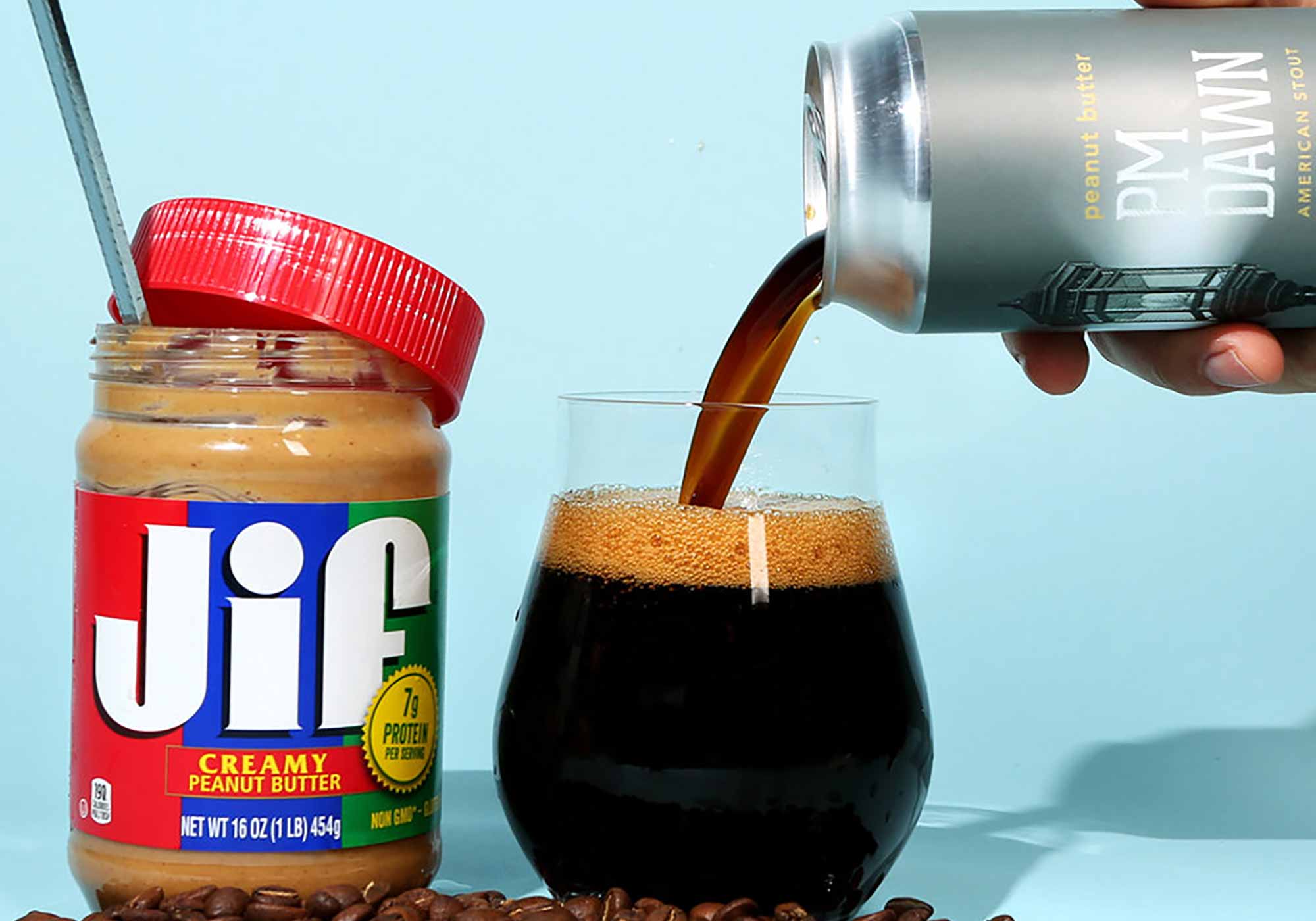 Photography courtesy of John A. Paradiso
It's peanut butter jelly time…peanut butter jelly time! One of the most iconic ingredients in America, peanut butter captures the kid at heart in all of us. But today, the ground nut butter is no longer just for spreading on Wonder Bread. More and more breweries are putting peanut butter into their beers, meads, and alcoholic beverages.
According to the popular online beer marketplace Tavour, peanut butter has been making waves in the industry. Since 2019, the online retailer has reported a thirty-five percent increase in the number of peanut butter beers on the app. Breweries like DuClaw Brewing Co., Trillium Brewing Co., Great Notion, and many more have all experimented with the creamy and the crunchy. And even meaderies have dipped their knives into the jar.
Of course, many craft brewers don't stop with just peanut butter. We've seen everything from peanut-butter-and-jelly-inspired meads to peanut-butter-cup-flavored stouts to even a Skippy-inspired creation.
Perhaps it's the nostalgia of peanut butter. Maybe it's just the decadent and delicious flavors. Or it could be that peanut butter really does pair well with almost anything. Whatever the reasons, peanut butter beers and beverages are sticking around for the future.
What makes peanut butter beers so popular, and how exactly do brewers get that wonderful flavor into the can? Since we celebrated National Peanut Butter Day yesterday on January 24th, 2022, we've been unscrewing the jar and sneaking a spoonful on peanut butter beers.
Why Are Peanut Butter Beers So Popular?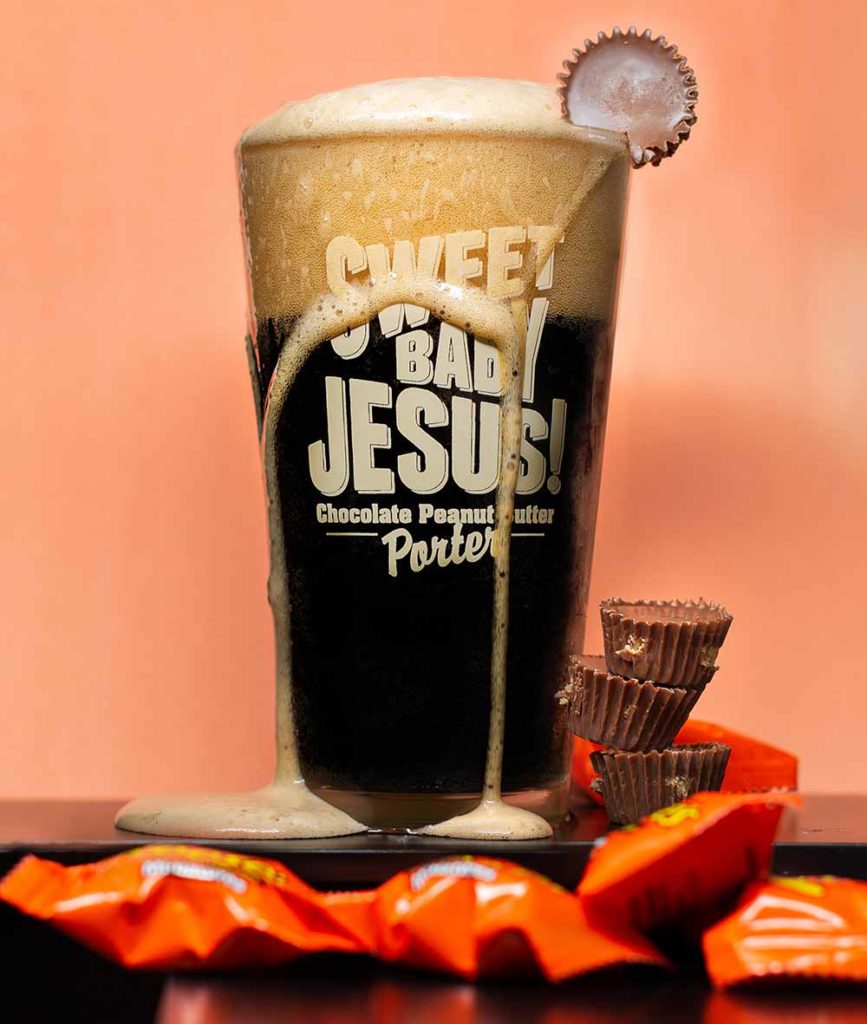 In America peanut butter is as nostalgic as apple pie and baseball. Many kids grew up eating crustless peanut butter and jelly sandwiches in the cafeteria, snagging Reese's Peanut Butter Cups from candy baskets on Halloween, or simply spooning it out of the jar as a snack.
"It's a part of our culture" says Jeff Herbert, Founder of Superstition Meadery, who engineered an entire line of peanut-butter-inspired meads through a series called Peanut Butter Jelly Crime. "It's this classic flavor we all know and love. It just feels good to think about peanut butter [and] jelly sandwiches."
Peanut butter drinks work because they tap into a memorable, enjoyable ingredient.
When Herbert started Peanut Butter Jelly Crime, he wanted to "do something fun and delicious, that people could identify with psychologically as a customer and with their palate as an American and a person."
It worked.
According to Herbert, Peanut Butter Jelly Crime has become a top-five product across every sales channel from distribution to Superstition's web store and taproom.
Similarly, when DuClaw released its Sweet Baby Jesus! chocolate peanut butter porter as a one-off winter seasonal in 2012, it became an instant hit.
Two days after launching, DuClaw's Baltimore distributor called back and ordered more by the barrel instead of the case (for reference…that's a lot). "It started going crazy, which we didn't expect," says Dave Benfield, Founder of DuClaw Brewing Co., who notes that DuClaw struggled just to keep the beer in stock for those first eighteen months.
Almost ten years later and the brand remains super popular.
It's that wistful childhood feeling that draws grown-up Americans to drinking peanut-butter-inspired beverages.
But How Exactly Do Brewers Get That Peanut Butter Flavor?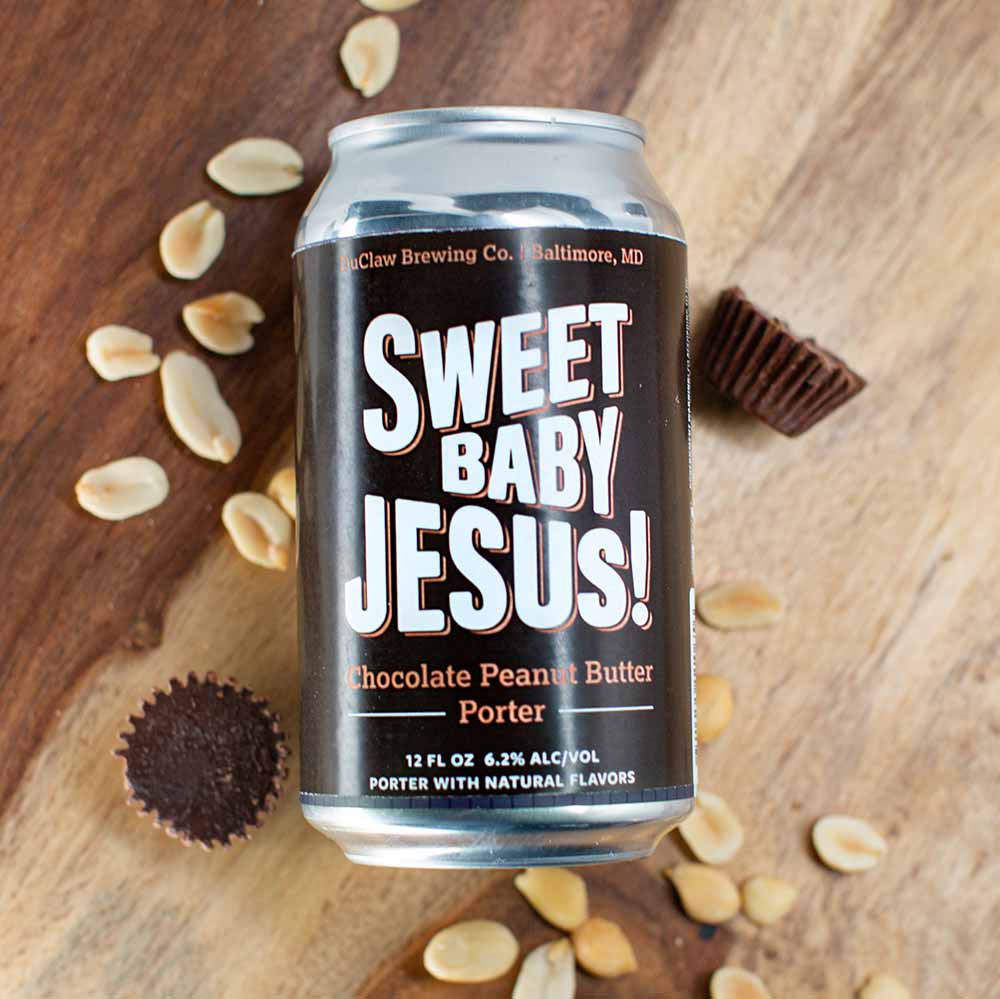 Achieving that smooth, creamy PB deliciousness in beverages can be challenging. It's very ambitious to add straight-up Skippy during brewing because "peanut butter has a high concentration of fat and oil that just separates out and degrades the beer," says Benfield. "You can't just put peanuts or peanut butter in beers and make them shelf stable for very long."
Instead, Benfield and his team actually worked with one of their suppliers to come up with a proprietary product that gives a great peanut butter flavor while maintaining shelf stability. DuClaw tested about six renditions before landing on something they really liked. In fact, the name Sweet Baby Jesus! actually refers to what one DuClaw brewer said when they finally achieved that peanut butter perfection: "Sweet baby Jesus, we got peanut butter in beer!" says Benfield.
Alternatively, some brewers try removing the oil from peanut butter through separation before adding it to beer. Or working with a blend of natural extracts.
But perhaps the most popular technique in the industry is using a dry peanut butter powder.
At Superstition, Herbert adds PB2 Powdered Peanut Butter to a hopback during the brewing process.
The R2D2-looking vessel works like a coffee filter – you fill it with whatever ingredients you like and circulate your product through it. Traditionally, brewers use it for hops, but in Herbert's case he replaces the vegetative matter with ground peanuts.
Of course, much like the used coffee grounds in a filter, using peanut powder can be a messy process. "The dry peanut powder is a nightmare for filtering," says Herbert. "If you've never made a product with peanuts or peanut powder…it's a huge mess and a lot of extra work, but it's worth it for the flavor you get."
Experimenting Beyond Peanut Butter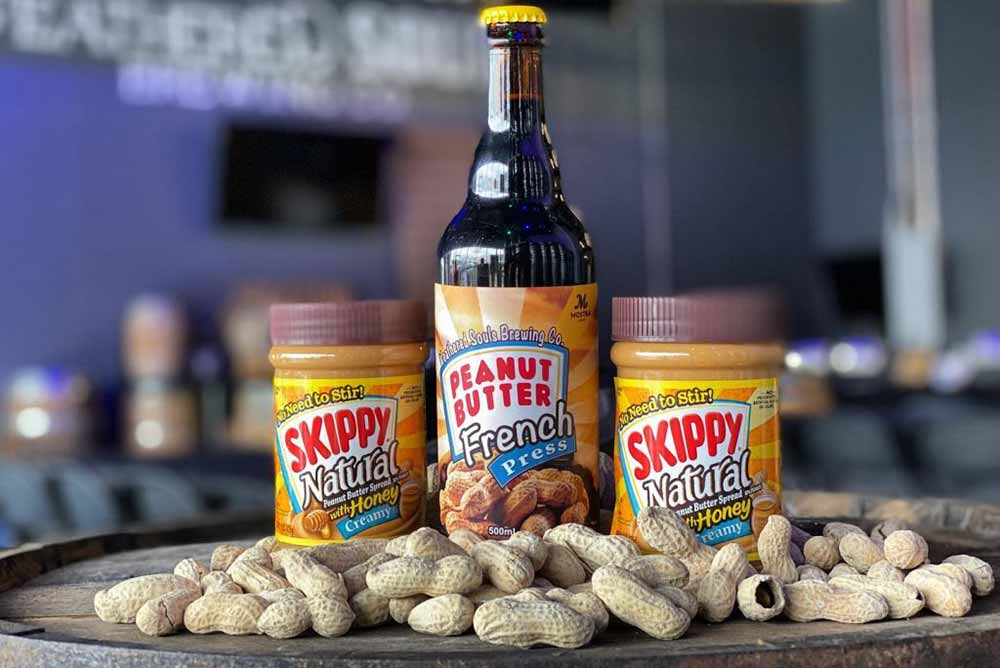 One of the other magical properties of peanut butter is that it goes well with so many other ingredients.
Peanut butter and coffee.
Peanut butter and banana.
Or peanut butter and pretty much any berry.
The list goes on and on.
After riding the success of Sweet Baby Jesus!, Benfield and his team started to experiment. They released Sweet Baby Java, a version with cold-steeped coffee beans in 2017 and are experimenting with a nutella version that they'll launch later this year.
Similarly, after Superstition's Peanut Butter Jelly Crime exploded, Herbert expanded the brand. To date he's released eight variants, including those with everything from marshmallows to banana to strawberry to coconut, and more. Some he's even barrel aged.
In February, Superstition plans to drop Double Peanut Peanut Butter Jelly Cream with double the peanuts.
Overall, if peanut butter made you weak in the knees as a kid (or still today), give these ten creative versions a try to satisfy your childhood cravings in an adult beverage.
Our 10 Favorite Peanut Butter Beverages to Try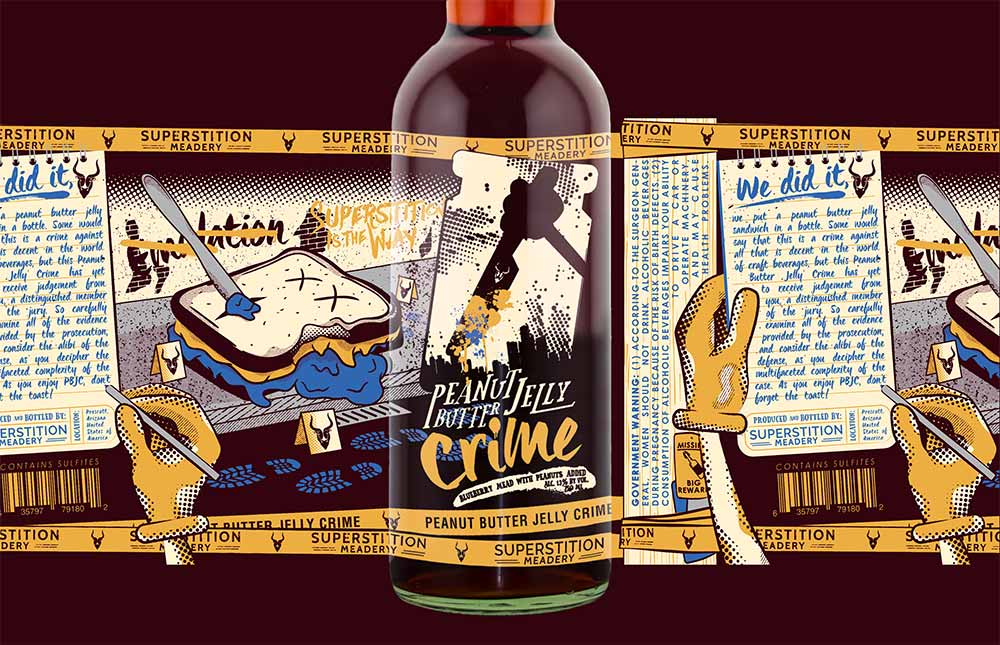 Peanut Butter Jelly Crime – Superstition Meadery
Prescott, AZ
Mead – While all of the cornucopia of Superstitions' Peanut Butter Jelly Crime variants are delicious, we recommend starting with the original. "On the nose you get peanut butter, blueberry, grape jam, and honey graham cracker," says Herbert. "On taste, you'll get big jammy flavors up front that will transition into creamy smooth peanut butter finishing with notes of wheat and toasted honey."
Plus, the entire series has such a fun plot line. On the Peanut Butter Jelly Crime label you'll find nods to an unsolved murder with a knife and a dead sandwich. A former firefighter, Herbert would respond to crime scenes and put up the crime tape. It's a theme Superstition carries throughout each label in the series.
Whodunit!? We don't know. But we do know that this mead is…killer. 
Sweet Baby Jesus! – DuClaw Brewing Company
Baltimore, MD
Porter – A porter's coffee and chocolate notes lend themselves perfectly to peanut butter. Sweet Baby Jesus! pours a dark brown, almost black like a stout, but without the heavy body of its counterpart. "It's a thinner body which allows that peanut flavor to come through and doesn't have to fight the body and wear you down," says Benfield. "The peanut hits you and the chocolate comes through to cut the sharpness as a finishing undertone."
Peanut Butter PM Dawn – Trillium Brewing Co.
Boston, MA
Coffee Stout – A midday snack in beer form, Peanut Butter PM Dawn combines heavenly coffee, chocolate, and peanut butter into a beer treat. It's like a liquid caffeinated Reese's Cup. It didn't necessarily hit those rich and velvety layers that the North Park stout did, but like a solid cold brew, it balanced solid refreshment with deep flavor.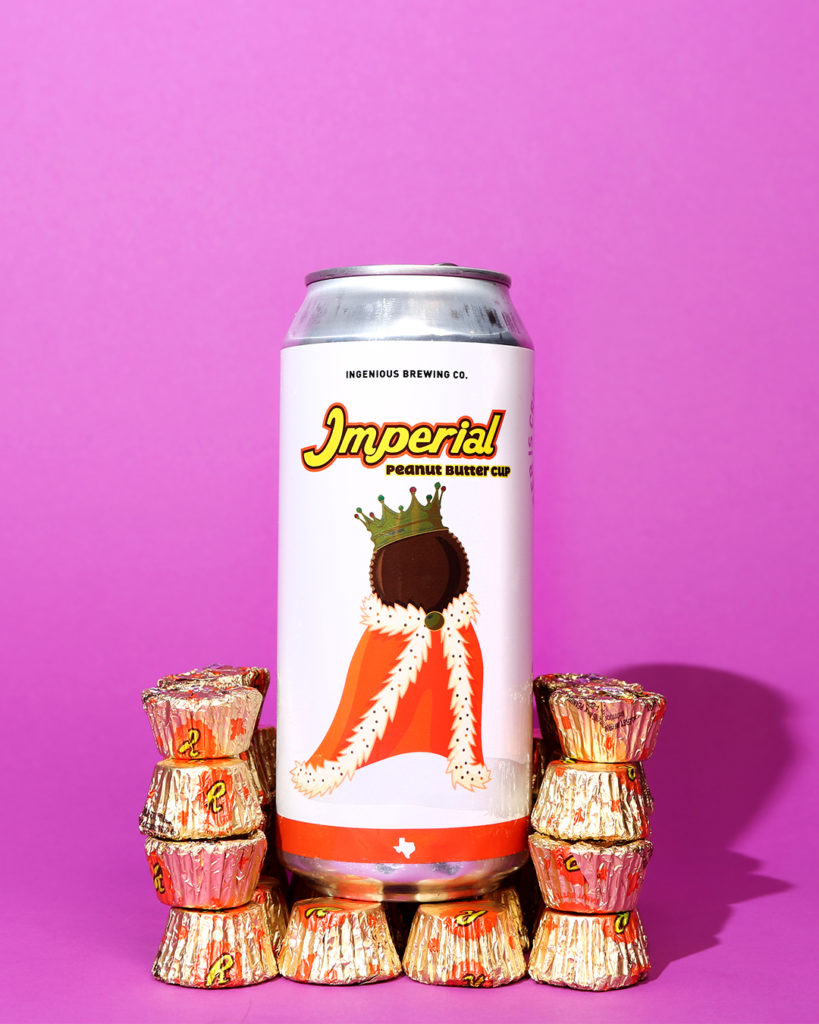 Imperial Peanut Butter Cup – Ingenious Brewing Company
Humble, TX
Imperial Milk Stout – Ingenious brewed an ode to the king of candy: the peanut butter cup. As is often the case with Ingenious' beers, this was pure fun. Peanut butter and chocolate combine for a perfect pairing in this imperial stout. The booziness felt like it crept up while drinking but it never felt overwhelming. If you like Reese's Cups, you'll love this beer.
Peanut Butter S'mores – Decadent Ales
Mamaroneck, NY
IPA – Probably one of the only peanut butter IPAs you'll find on the market, Peanut Butter S'mores combines peanut butter, marshmallow, graham cracker, and a touch of chocolate for one decadent explosion. Known for putting Willy Wonka-esque flavors in IPAs, Decadent nails it again with this one. We probably wouldn't trust any other brewery to nail a peanut butter flavor in an IPA.
Peanut Butter Bandit – Junkyard Brewing Company
Moorhead, MN
Stout – Junkyard actually makes a variety of peanut butter beers, including King Size, Jelly the Nut, and Betsy's Bright Idea, but we love Peanut Butter Bandit. And we're not the only ones. The award-winning stout tastes like a peanut butter cup in a pint. Uber roasty, chocolatey, and nutty, Peanut Butter Bandit steals the show.
Peanut Butter Jelly Imperial Stout – Untitled Art
Waunakee, WI
Imperial Stout – Eating peanut butter and jelly sandwiches is one of our best childhood memories. So why do grown-ups often relinquish that simple joy? Drinking Untitled Art's Peanut Butter Jelly Imperial Stout brings out that kid in everyone. This beer is a sideways pivot from the pastry stout trend, taking a childhood favorite and packing it right into a big barrel of roasty deliciousness.
Untitled Art isn't the only brewery out there making PB&J beers – style points to Central Coast Brewing for designing P-Nut Butter Breakdown's label after a Skippy jar and Weathered Souls Peanut Butter French Press. But they make one of the best, bringing this kid's meal into adulthood with a truckload of peanut butter mixed with berry purees. Peanut Butter Jelly mimics the salty, smooth, jammy delight of the world's greatest sandwich. However, since this one clocks in at 11% ABV, take care when packing a can in your lunchbox!
Peanut Brother – Great Notion Brewing
Portland, OR
Imperial Milk Stout – From the brewery that nailed blueberry pancakes in beer comes an equally gorgeous peanut butter beer. To make Peanut Brother, Great Notion ages its Imperial milk stout on peanut butter and chocolate. The result? Another confectionary treat with big, bold dollops of peanut butter playing perfectly off huge chocolate undertones.
CHONK Peanut Butter & Jelly – Drekker Brewing Company
Fargo, ND
Pastry / Smoothie Sour – Known for executing inventive pastry sours, Drekker transforms the iconic American childhood sandwich into beautiful sour bliss in a can. CHONK Peanut Butter & Jelly packs such a punch of flavor that will smack you in the face with tart jam and then smooth you over with creamy peanut butter.
Peanut Butter French Press – Weathered Souls
San Antonio, TX
Imperial Stout – From the crowd-pleasing French Press series, this version adds peanut butter, toasted cacao nibs, and "Dragon Juice" coffee from Longroad Coffee.
Yes, Weathered Souls has created a straight-up Reese's Peanut Butter Cup in a glass with an added kick of coffee (and 11.3% ABV). I mean we're shaking in our boots because this beer just lights up all the addictive pleasure zones in our brain.
Chocolate? ✅
Peanut butter? ✅
Coffee? ✅
Best of all, Weathered Souls always switches up the featured coffee. In the past Ethiopian and Yemeni beans have been the star. This year the San Antonio-based brewery (which just announced the opening of a new taproom in Charlotte which will include an incubation program for minority- and women-owned breweries) added beans from Longroad Coffee.