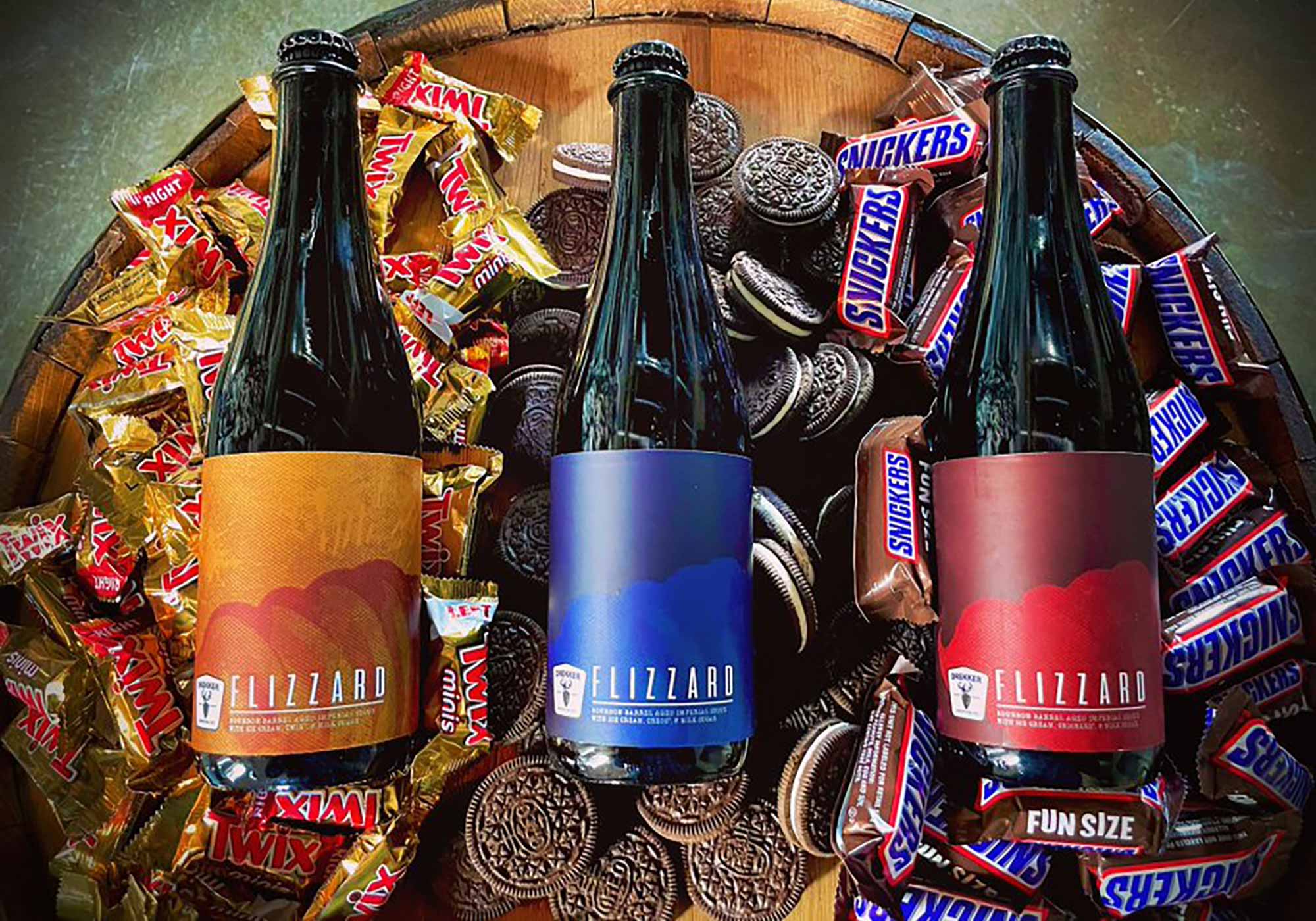 Photography courtesy of Drekker Brewing Co.
Fall means the return of many things. We break out Oktoberfests, Märzens, and festbiers to celebrate the harvest. And of course for a few weeks we take up the debate over the uber controversial pumpkin beer…once again. Scary right? But by far the official holiday that we all eagerly await? Halloween, of course! Mostly, because as adults (and craft beer lovers) we can drink candy-inspired beers all night long.
Yes, the chilly, leaf-peeping season also sends the spooky kind of chills down our spine towards the end of October. But it's not all scary.
In fact, much of it is sweet. A staple of any trick-or-treating session, candy, much like craft beer, comes in so many varieties and styles. And confection companies are constantly innovating. Because much like craft beer fans, their consumers are always on the lookout for something new. I mean how many Oreo iterations are there at this point? Wait, is an Oreo even considered candy? That's a debate for another time.
Of course, we're a craft beer magazine so to us a great pint is like our adult candy. So to celebrate the Halloween holiday why not combine the two?
Actually, this has become a bit of a tradition here at Hop Culture. Last year we gave you an overall guide to what style of beer to pair with popular candies and the year before we gave you specific recommendations.
This year we're keeping the custom alive (or dead), but with a twist. We found the craziest, wildest, candy-inspired beers that will be sure to make your Halloween heavenly (or hellish).
In the spirit of this spooky tradition…
Our 7 Picks for This Year's Top Candy-Inspired Beers for Halloween
REESE'S Peanut Butter Cups
Peanut Butter French Press
Weathered Souls Brewing – San Antonio, TX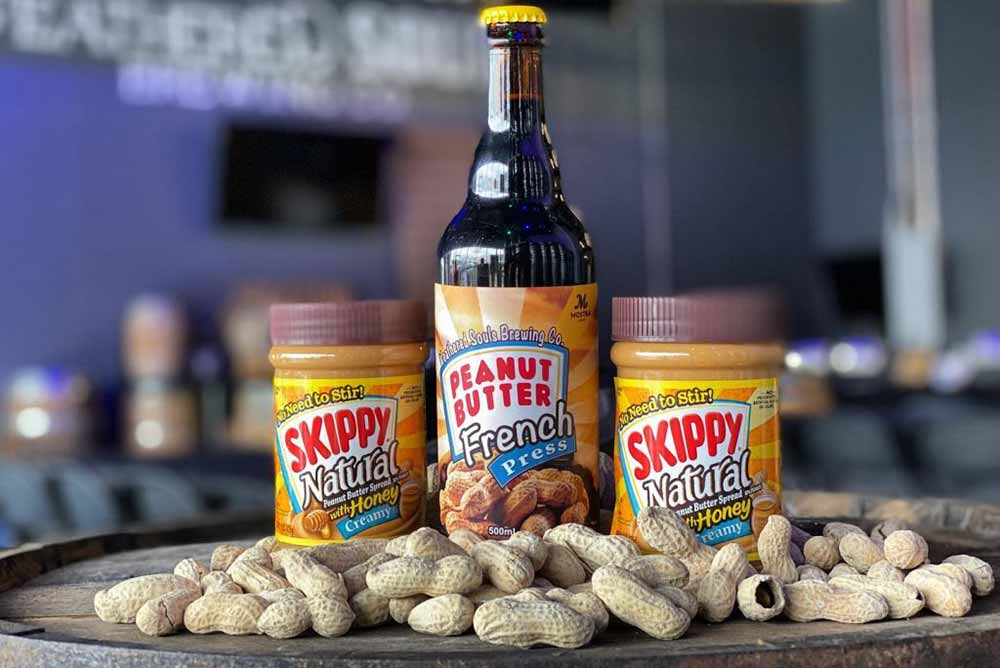 Imperial Stout — From the crowd-pleasing French Press series, this version adds peanut butter, toasted cacao nibs, and "Dragon Juice" coffee from Longroad Coffee.
Yes, Weathered Souls has created a straight up REESE'S Peanut Butter Cup in a glass with an added kick of coffee (and 11.3% ABV). I mean we're shaking in our boots because this beer just lights up all the addictive pleasure zones in our brain.
Chocolate? ✅
Peanut butter? ✅
Coffee? ✅
Best of all Weathered Souls always switches up the featured coffee. In the past Ethiopian and Yemeni beans have been the star. This year the San Antonio-based brewery (which just announced the opening of a new taproom in Charlotte which will include an incubation program for minority- and women-owned breweries) added beans from Longroad Coffee.
Dragon Juice is a twelve-month aged coffee from the Dominican Republic. WSB dropped this limited release in September on Tavour, but it looks like @weatheredsoulsbrewing_sa recently posted on Instagram that stout variety packs featuring this treat are available now! If you live in Texas make sure to pick a few up before Halloween.
Boris
Bent Water Brewing Company – Lynn, MA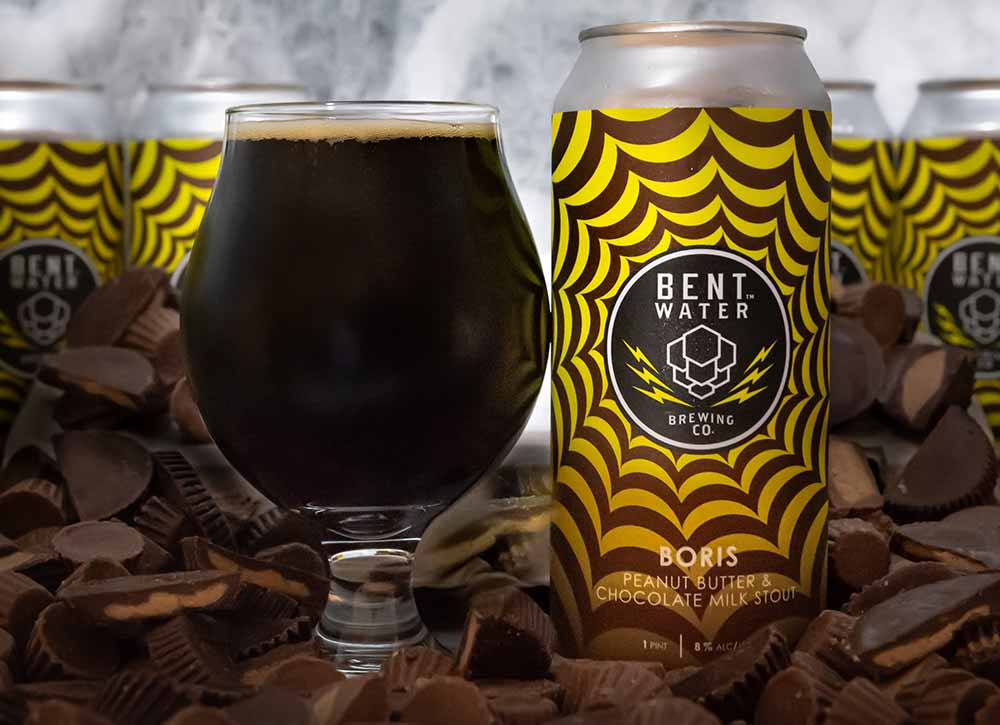 Peanut Butter and Chocolate Stout — REESE'S Peanut Butter Cups offer two treats in one package. So here's a twofer.
An annual Halloween release from Bent Water, Boris is like brewers Zachary Nicastro and Tony Porecca's own Frankenstein. Just listen to the description: "On a dark and stormy night, we created a monster. We took an old recipe, charged it with peanut butter, gave it a jolt of chocolate, and cranked up the ABV. It's alive!!!"
Nicastro and Porecca recommend pairing this Halloween candy-inspired beer with REESE'S Pieces. I recommend just drinking this silky smooth decadence right out of the can. You won't even need the candy. Trick-or-treat!
Snickers
Friends to the End
Great Notion – Portland, OR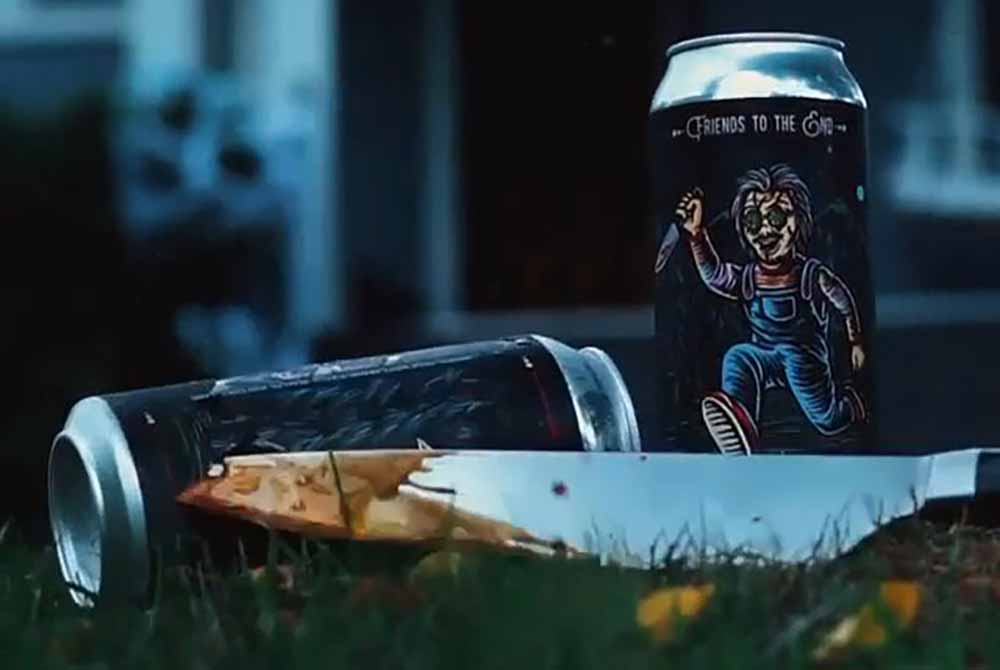 Imperial / Double Stout — We're scared just looking at this can! A collab with Chuck's Hop Shop, Great Notion describes this beer as, "nothing to snicker at." Chockful of gooey caramel, peanuts, and cocoa nibs this beer unwraps just like…well a pretty popular Mars candy bar.
It's no surprise that the minds that brought us a beer that tastes exactly like pancakes nails the flavor of this candy-inspired beer. Beyond that our favorite part of a Snickers is that nice ooey stickiness from the caramel. And somehow Great Notion translated this texture into its Imperial stout, one that will coat your knife…er we mean mouth.
Candy Corn
Candy Corn Float Slushy XXL
450 North Brewing Company – Columbus, IN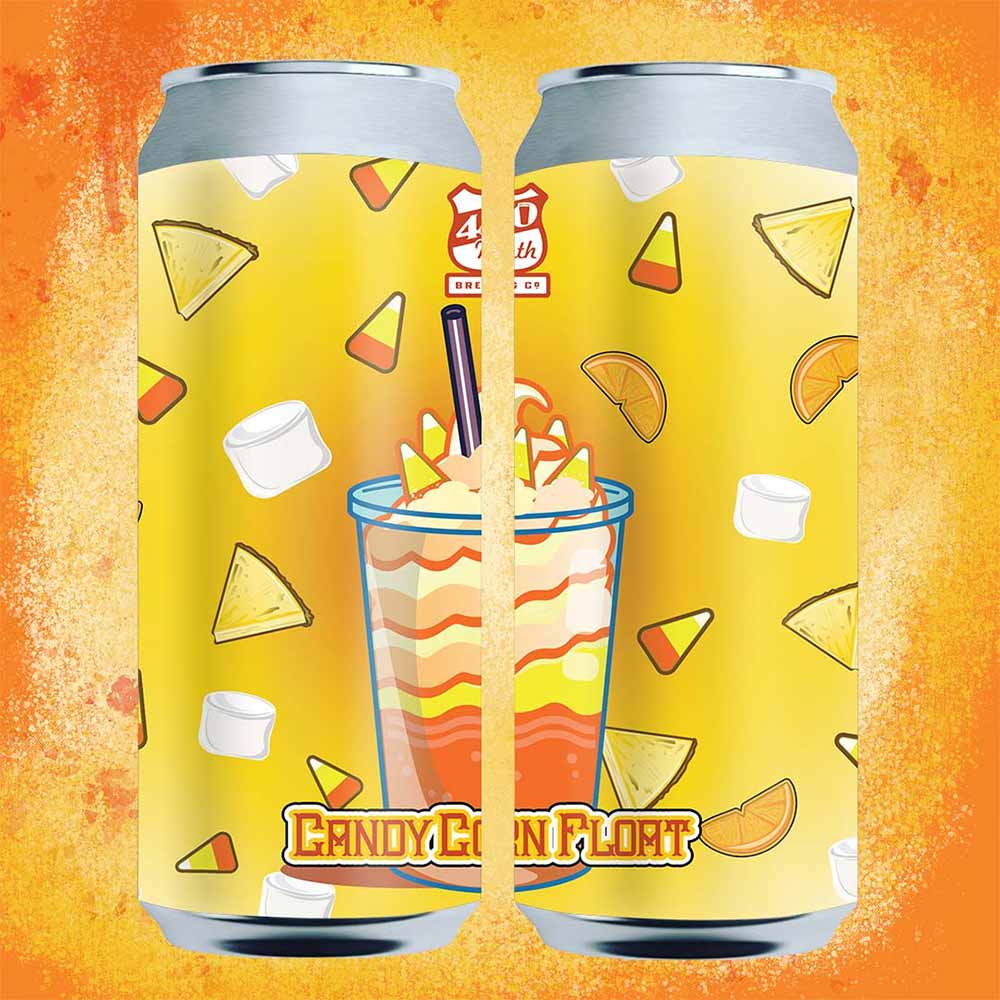 Fruited Sour — Well, this one is pretty literal folks. Except, how in the weird world of confections did 450 North Brewing mimic the flavor of Candy Corn!? We've always been baffled by exactly what those tiny orange, white, and yellow triangles taste like. Well, who better to turn to unravel the mystery than the crazy candy, dessert, and fruit-laden beer magicians themselves — 450 North Brewing.
The Columbus, IN-based brewery actually released a whole series of fantastical, whimsical, and ghoulish Halloween beers this year.
But Candy Corn Float Slushy XXL impressed us the most. Features Cara Cara orange, vanilla soft serve ice cream, marshmallow, pineapple, vanilla cream, and Candy Corn, this is one crazy beer.
The universe may never know the answer to the question: What exactly is Candy Corn? But we'll take 450 North Brewing's interpretation as the closest thing.
Skittles
Franken Smiggles
Pontoon Brewing – Sandy Springs, GA
Fruited Berliner Weisse — Pontoon Brewing Co. originally released this beer as Rainbow Smiggles, a Berliner weiss collab with Sprayberry Bottle Shop. The beer had this crazy candy-clashes-with-cereal vibe going on.
Now, the brewery launches a spooky version around Halloween called Franken Smiggles. Featuring strawberry marshmallow cereal, strawberry candy, strawberry, vanilla, and lactose this is a Halloween candy beer that will, as the brewery puts it, "keep you from dipping into your kid's candy stash." The beer releases on October 30th, 2021. Just in time for Halloween.
Oreo
Flizzard BA Stout with Oreo (2021)
Drekker Brewing Company – Fargo, ND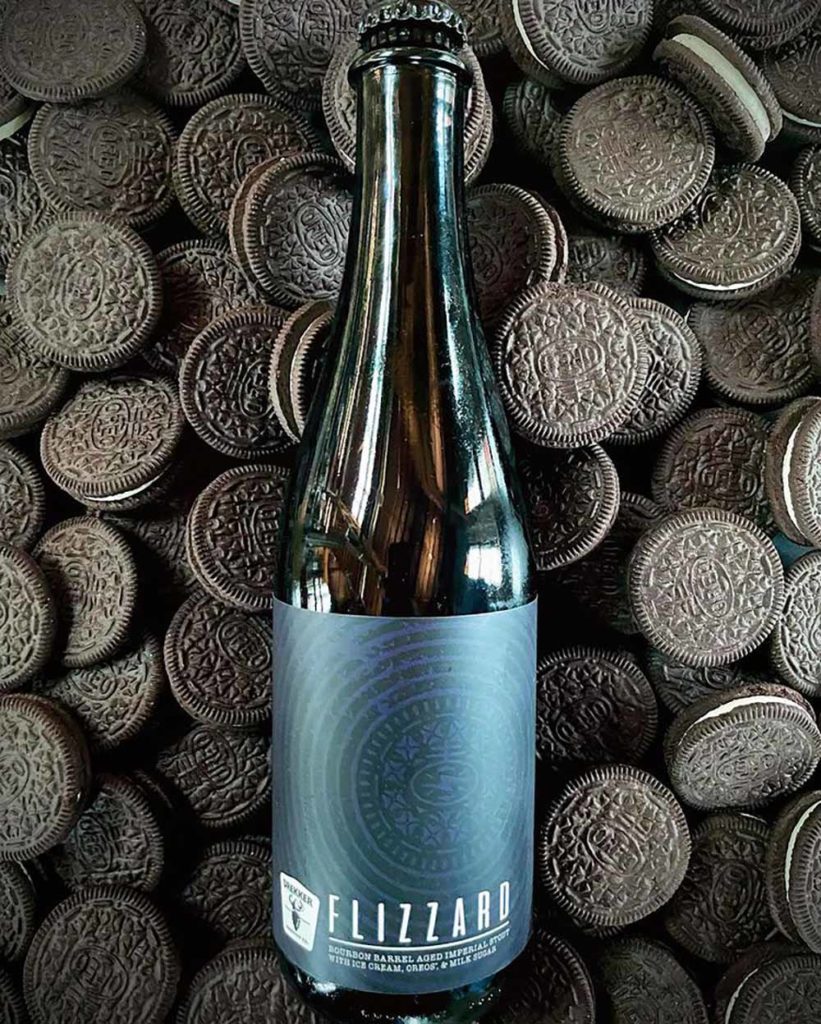 Imperial / Double Pastry Stout — Have you seen the amazing artwork from this North Dakota-based brewery? With skulls and zombies galore tearing up their cans, Drekker is made for Halloween year round. Plus, with series like Braaaaaaaains…you get the idea. We've recognized this hardcore psychedelic brewery before for its bangin' fruited sours. But with their stouts, they have a serious side.
Just kidding! Flizzard BA Stout may look super serious on the outside, but don't let the label fool you. Drekker still features the wild child inside with this one.
A huge 13% ABV beer, Flizzard is a blend of Imperial stout and milk sugar aged in Heaven Hill barrels for eighteen months and then conditioned on a ridiculous amount of vanilla ice cream and Oreos. Drinkers beware. You'll get addicted.
Drekker has also released Twix and Snickers versions in the past, but the Oreo one drops this Friday Oct. 29th starting at noon. So for now we're going to consider Oreo an unofficial candy. At least for Halloween!
Hershey's
Hershey's Chocolate Porter
Yuengling Brewery – Pottsville, PA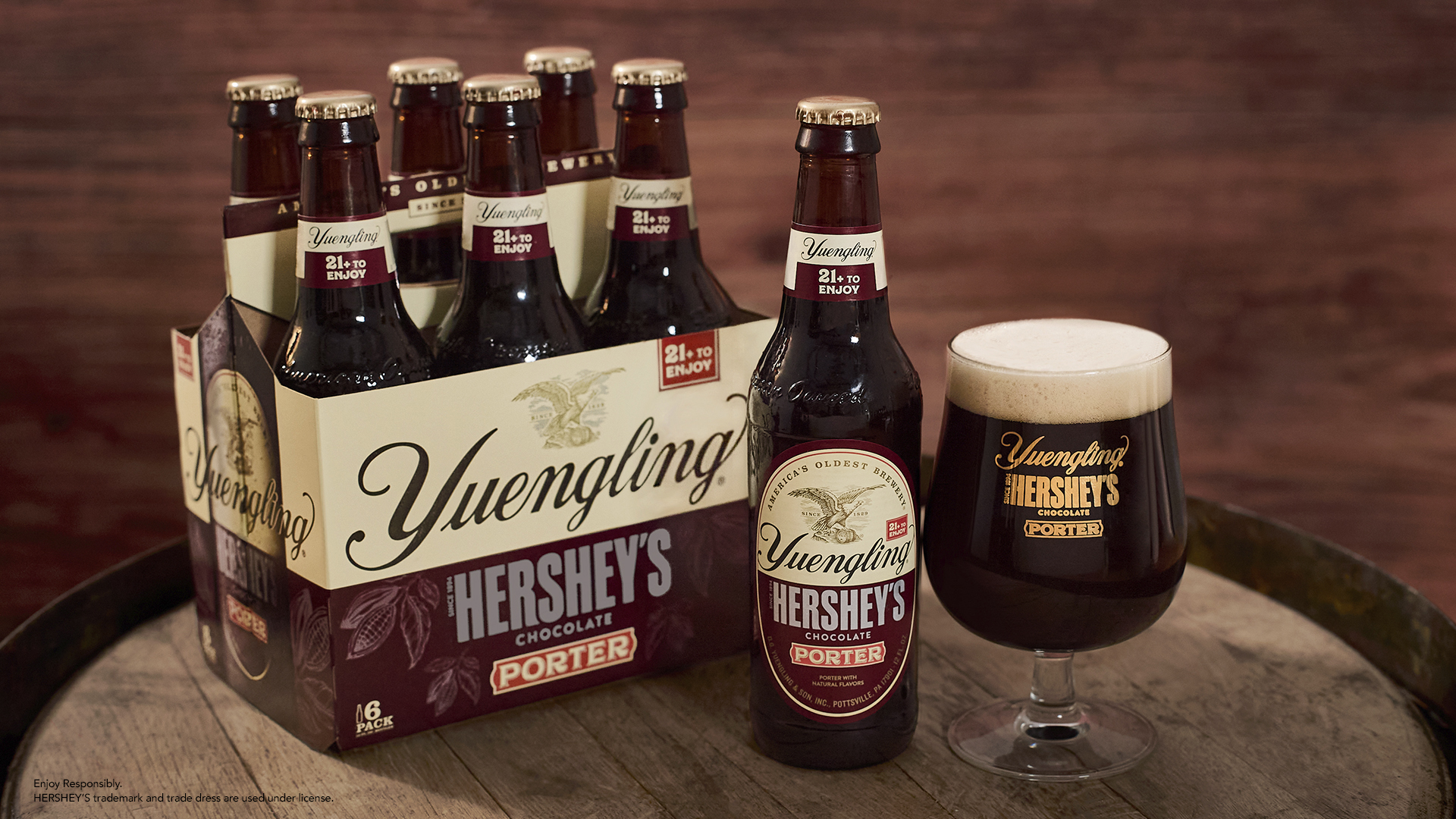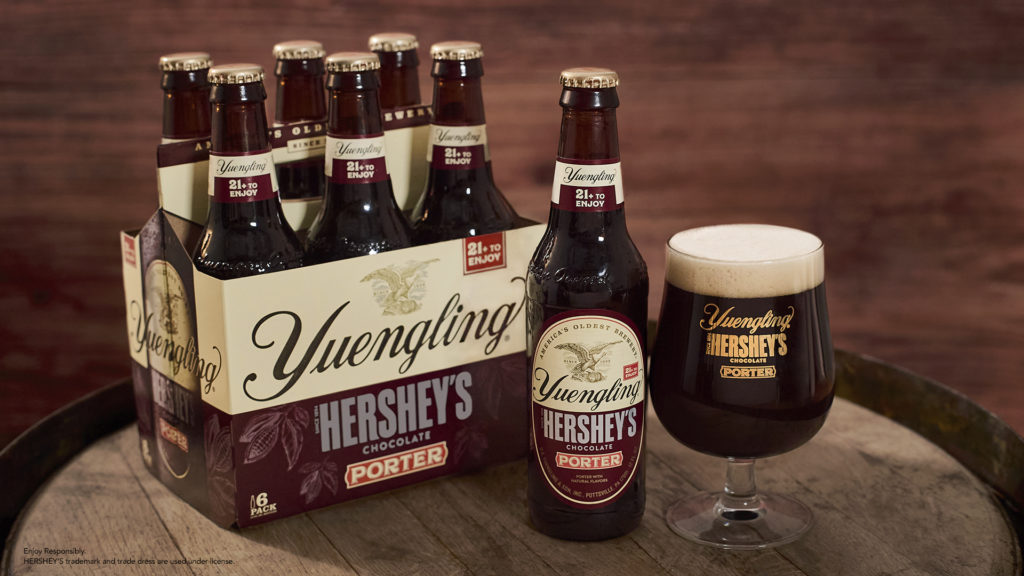 Imperial / Double Pastry Stout — Okay, stick with us here. We know what you're thinking. Yuengling!? The traditional lager brewers from Pennsylvania, really? Beyond the obvious chocolatey reasons, we'd like to call attention to the actual phenomenal feat of brewing this candy-inspired beer. Literally, Yuengling had to have a custom centrifuge made just to handle this beer. Plus, it's a porter, which we believe is one of the most underrepresented styles in craft beer. Don't be scared. Give this one a try.
Lollipops
Lollipop Forest Series
Deciduous Brewing Company — Newmarket, NH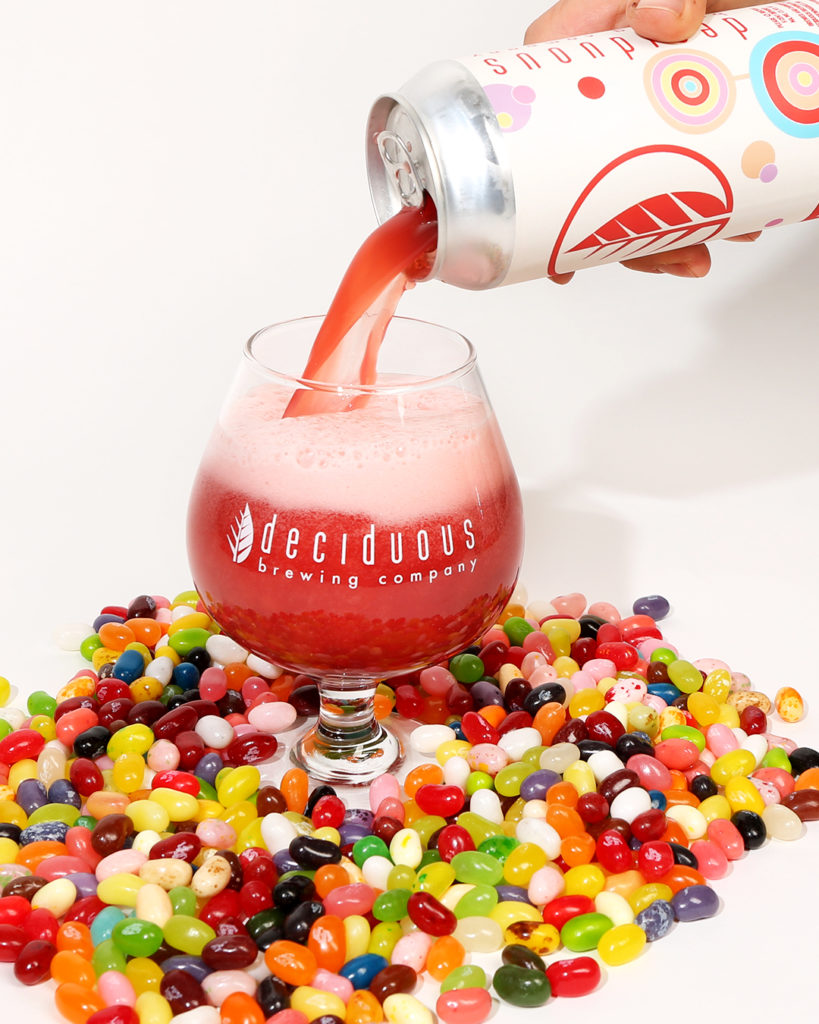 Fruited Sour — Admittedly, lollipops aren't our favorite type of candy. But we love Lollipop Forest. Actually, its one of our favorite dessert-inspired series of the year. Deciduous really just leverages these fruity suckers as inspiration. This means the brewery plays around with all types of confections including: Jelly Beans, jelly donuts, strawberry shortcake, caramel apples, sugarplums, and a myriad of fruits in these fruited. The Lollipop Forest is a magical place where anything wondrous can happen. Prepare to fall down the looking glass. These are trippy beers with Halloween candy sometimes at their core.