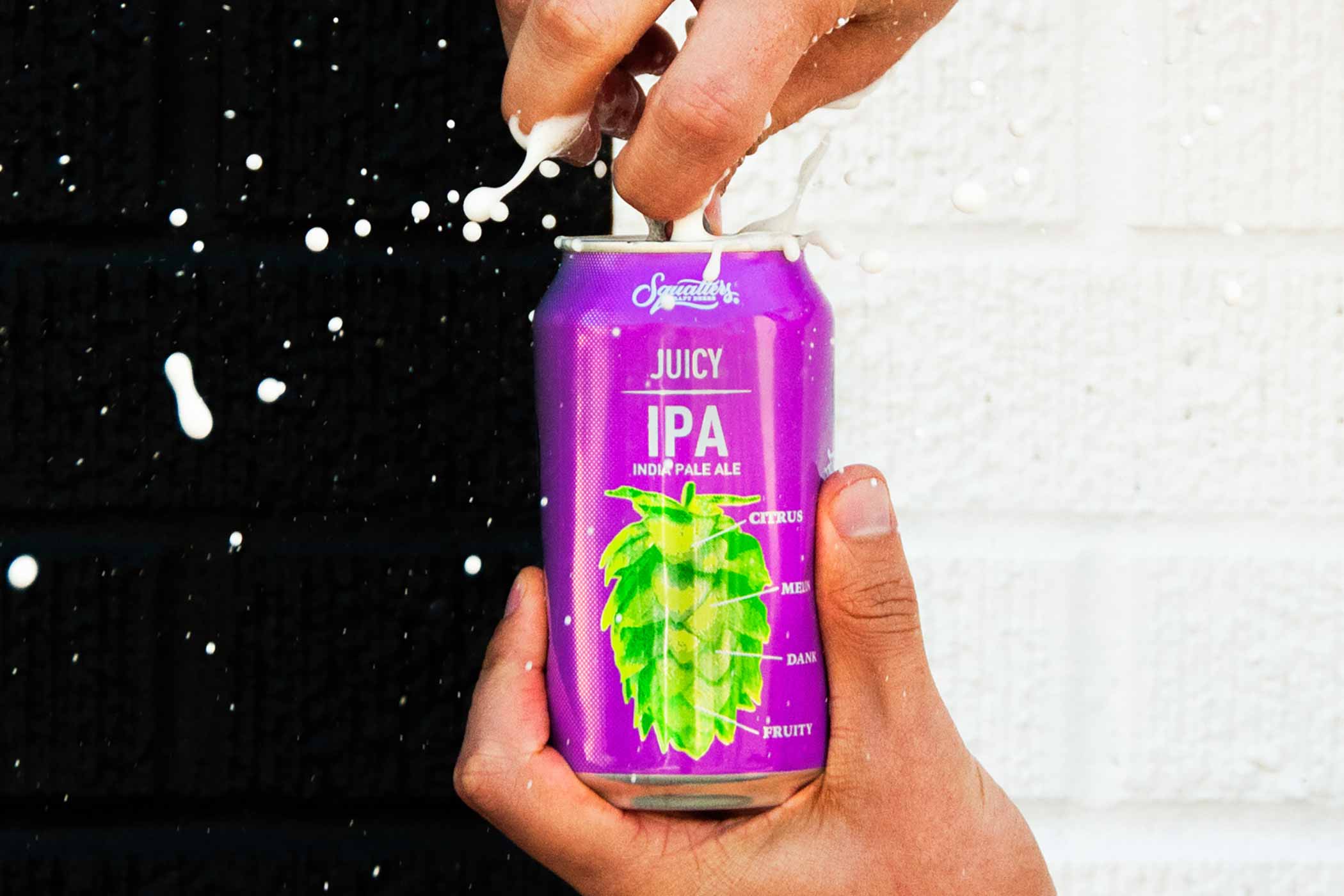 Photography courtesy of Squatters Craft Beers
Want More from Wasatch and Squatters?
When Squatters released its Juicy IPA for the first time in 2019, the Salt Lake City-based brewery had no idea its version of a hazy would grow to be the number one best-selling IPA in the entire state.
"It did really well in our taprooms, and then it did really well in our pubs," says Squatters & Wasatch Breweries Director of Operations David Miller, who recalled the team thinking, "Wow, this thing is becoming pretty big, so maybe we should can it."
Fast forward to 2023, and Juicy makes up twenty-three percent of the brewery's production. Last year, Squatters, who joined the CANarchy Collective of breweries in 2017, made 44,000 barrels—9,500 of that was Juicy, good enough for a fifth of all of Squatters' business, with one in five IPAs purchased in Utah being a Juicy.
And in the grand scheme of the entire CANarchy portfolio, Juicy ranks in the top five best sellers, according to CANarchy Craft Brewery Collective Marketing Manager Kristin Martino. A pretty incredible feat considering Squatter's hazy competes with the likes of Oskar Blues Dale's Pale Ale and Cigar City's Jai Alai.
"Those are national sellers, you can get them in almost every state in the U.S., and Juicy is only available in Utah," says Martino.
Miller says Squatters literally can't make enough Juicy. "Anytime you want a fresh Juicy, just come to the brewery; there is a good chance we're canning it that day."
A best-seller, a number one, a top beer, whatever you want to call it, Juicy crushes it.
So what is the secret behind this perfectly named beer? What makes Juicy so tantalizing?
The answer is simpler than you think.
Squatters Getting Juicy With It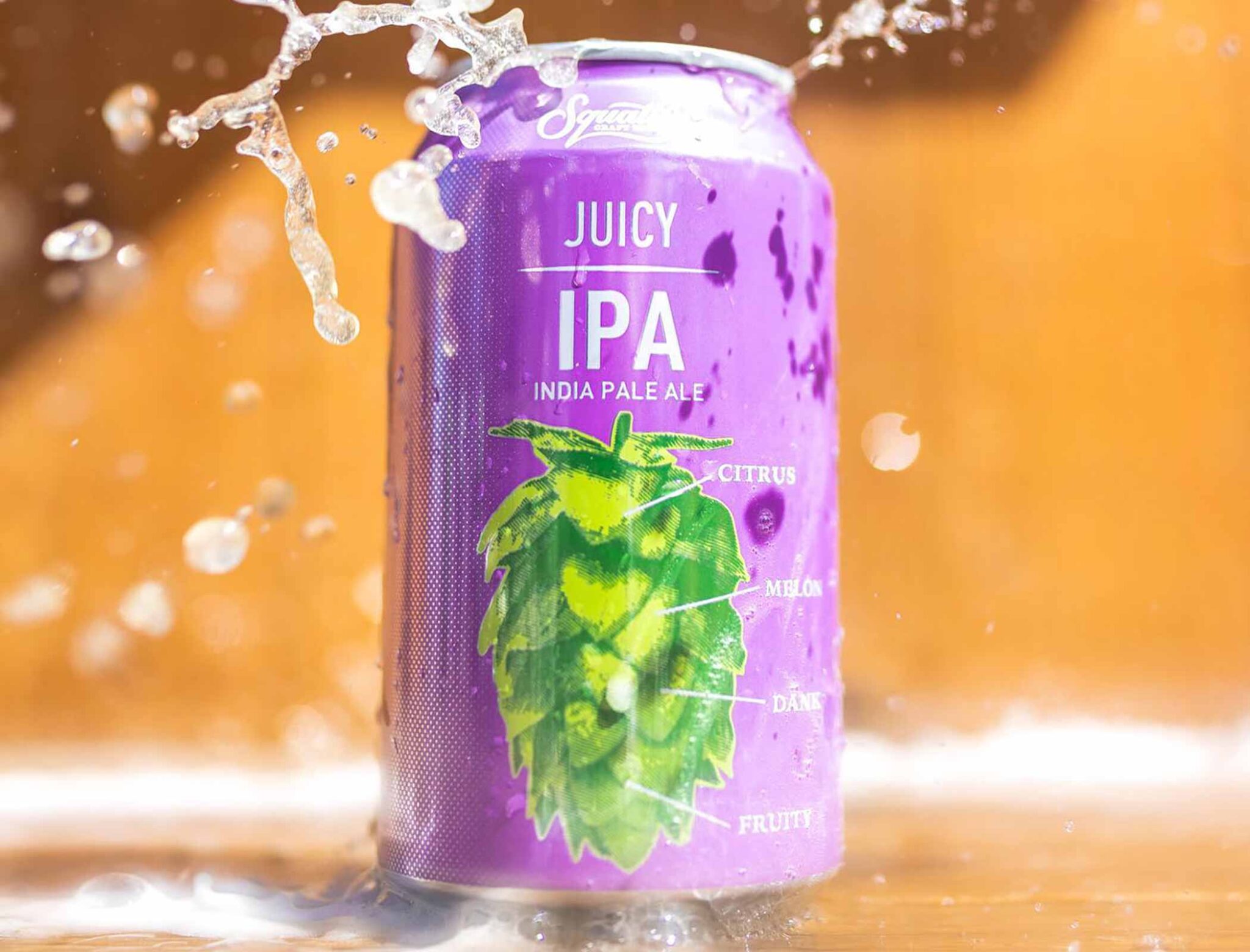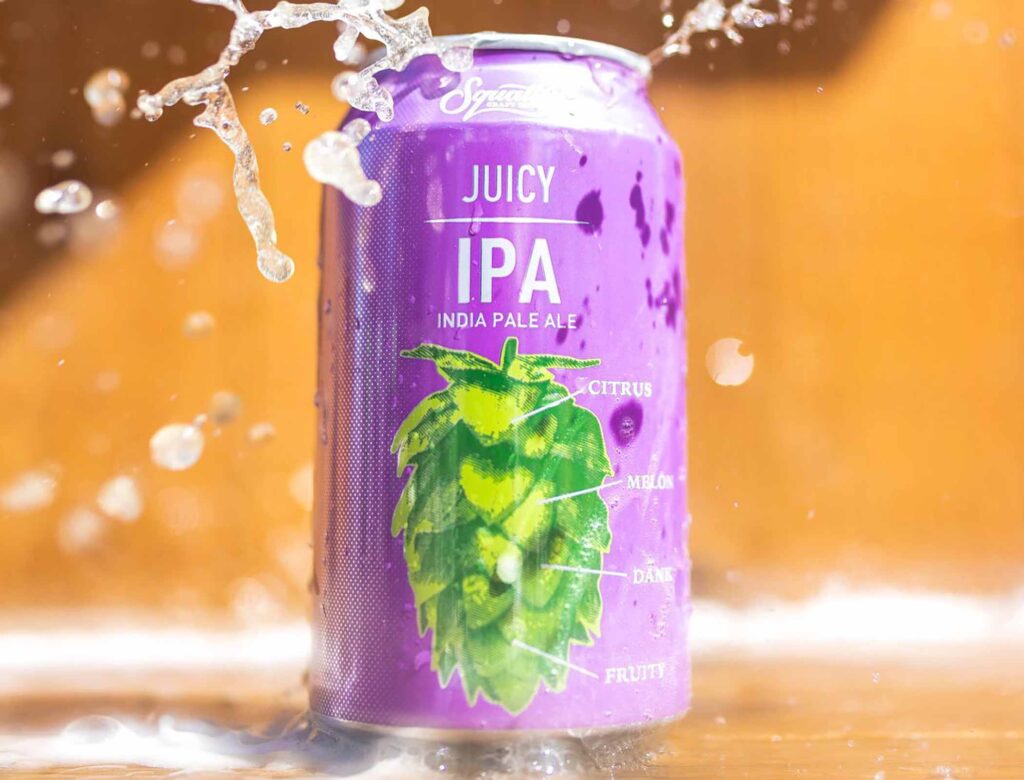 Miller credits Utah Brewers Cooperative Brewmaster Nils Imboden as the brains behind Juicy. Imboden, who works at Squatters and Wasatch's R&D facility in Park City, UT, has touched pretty much every off-the-beaten-path beer coming out of the two breweries, including Last One Down, 147 West Broadway Cold Hazy IPA, and, most recently, Salt Lime Cerveza.
Known for capturing lightning in a bottle, Imboden brewed this 5% ABV hazy at the perfect moment.
"Juicy hit the [hazy] trend at the right time," says Martino. "Its legacy is amazing, especially to see the beer continually grow to be the number one IPA in Utah."
For Miller, that vast growth comes down to one thing: consistency.
Juicy Is Juicy Is Juicy Every Single Time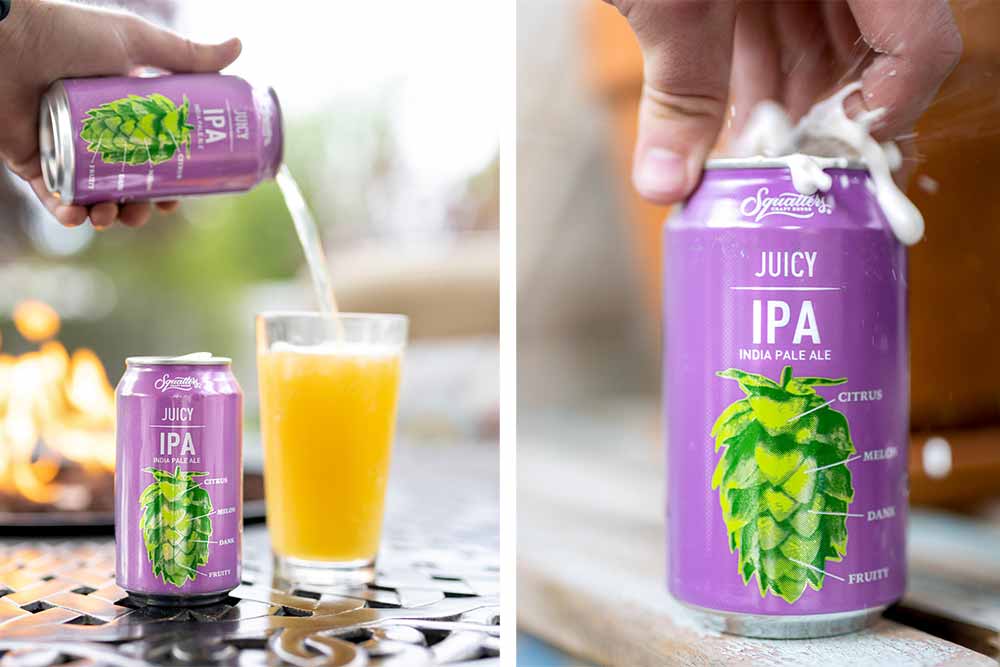 We all have opinions about macro beers such as Miller Lite or Coors Light. Say what you will, but when you buy a 24-pack of Miller Lite from 7-Eleven or the grocery store, you know exactly what you're getting. To brew the same beer—that smells, tastes, and feels identical—every single time takes skill.
At Squatters, Juicy takes that philosophy to heart.
"We pride ourselves on making Juicy the same exact beer every single time we brew it," says Miller. "People know what they're going to get, and they can drink a lot of it.
Consistency starts with sourcing the right raw materials, bringing only the highest quality malts, hops, yeast, and more into the brewery.
But replicating a recipe perfectly has to be carried through by the people behind the beer.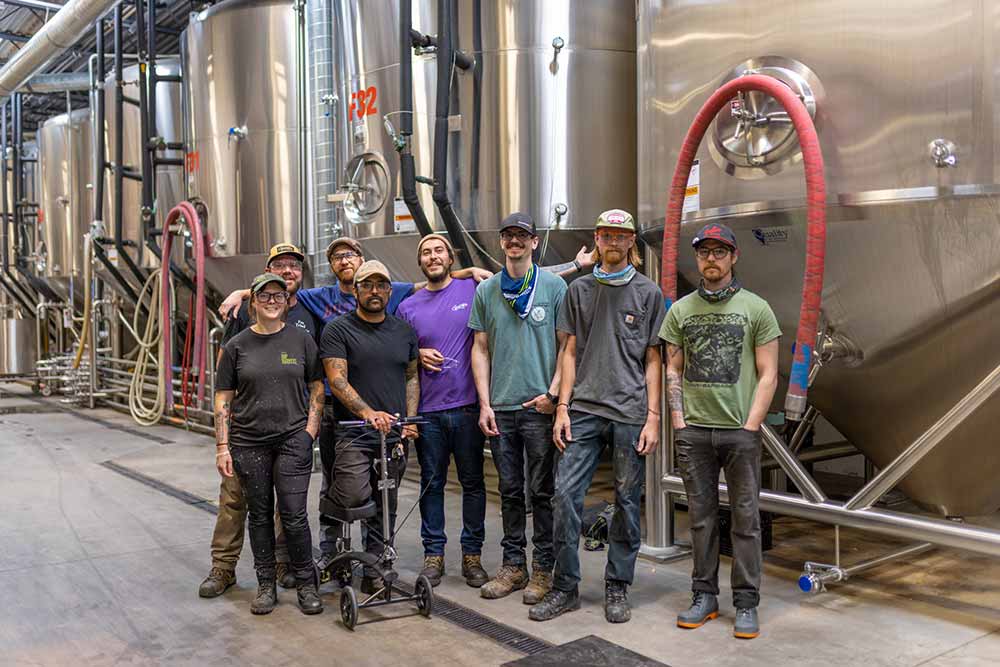 "Machines don't make beer; people make beer," says Miller.
Sure, machines help that process, but people need to make sure mash temps are precisely what they need to be; people need to ensure the original gravity numbers are exactly what they need to be; people need to pitch the right amount of yeast into the fermenter. "Those are all humans," says Miller. "Our team has a tremendous amount of pride that you, the consumer, get the same beer every single time. And they do a hell of a job!"
Squatters holds itself to very high standards, especially regarding Juicy. A batch that doesn't pass rigorous specs won't make it to the consumer.
"There is an old saying in the beer industry that good brewers dump bad beer," says Miller. "If we ever have a bad batch of Juicy—knock on wood, we haven't had one—people aren't even going to have a chance to drink it."
That's how much pride Squatters has when making Juicy or any of its beers.
"If you pick up a craft beer and it's consistently the same thing every time, give those people a high five because it's hard work," says Miller. "People are proud to say I make the number one IPA in Utah."
Juicy, the Number One IPA in Utah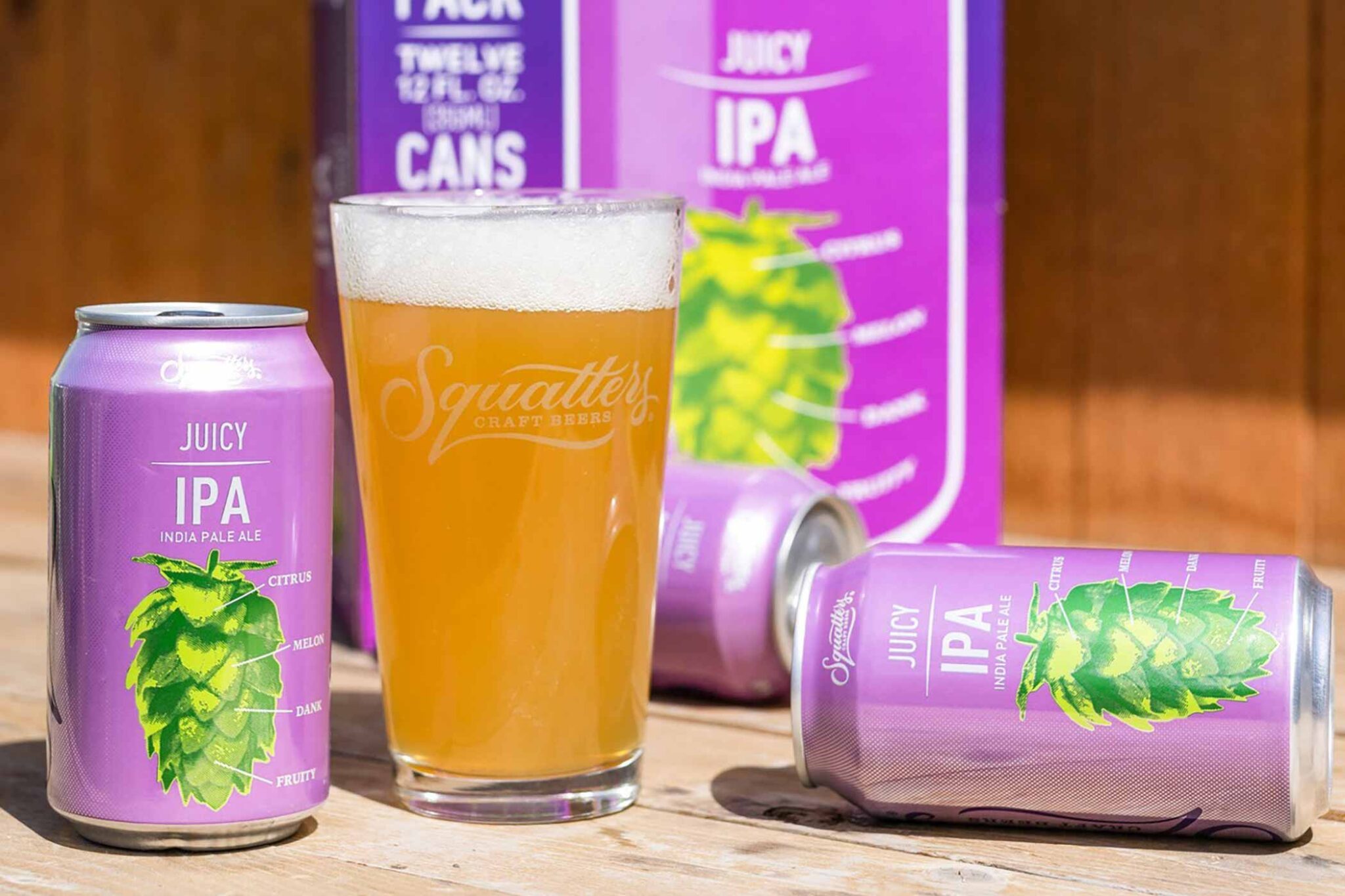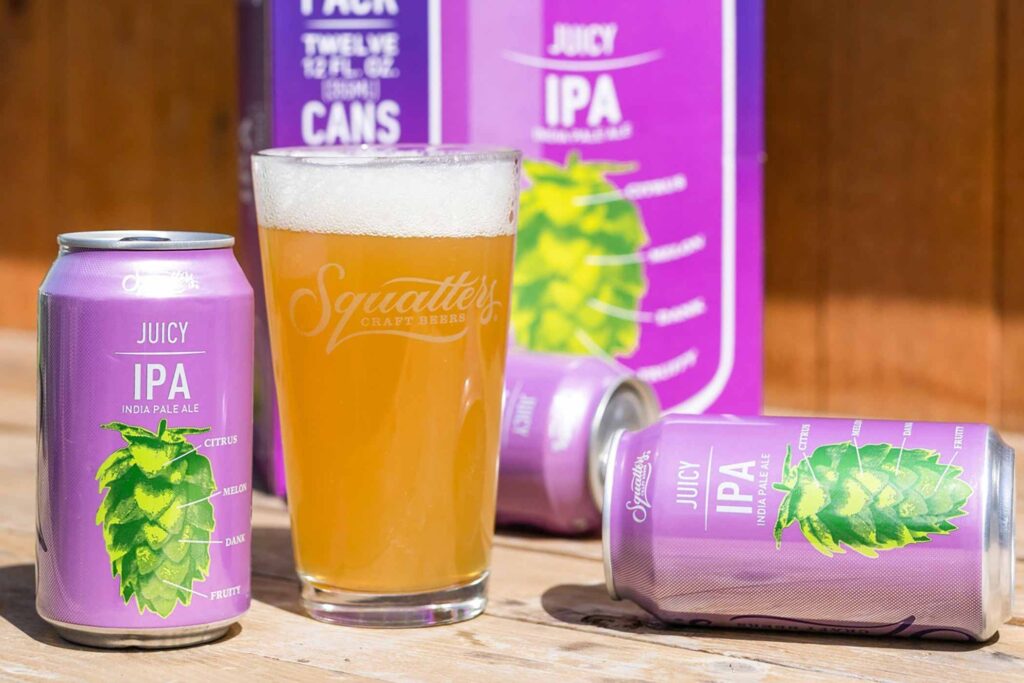 Of course, the beer has to taste good, too. And Juicy wouldn't have climbed to the top of the hazy charts without a delicious recipe.
The key, though, according to Miller?
Simplicity.
Do Squatters load up this beer with an overwhelming poundage of hops?
No.
"More is less," says Miller. "We try not to blast all of our beers, especially Juicy, with a ton of hops because you get to a saturation point."
Instead, Squatters developed a way to maximize flavor and aroma.
Rather than adding a lot of hops on the hot side, they put the majority in the fermenter before the wort even goes in, knocking out onto the hops and letting the beer ferment for three to five days before dry hopping again.
Miller says it is almost like splitting up a dry hop. "If we have 44 lbs each of those hops in the beer, we'll put 11 lbs in the fermenter and 33 lbs into the dry hop."
This process, which uses what Squatters calls "fermenter hops," increases the beer's yield, and "we think we get a lot better mouthfeel, flavor, and more from the hops," says Miller.
Although Miller says Juicy is a pretty simple beer, a hop bill of Bravo, Comet, Galaxy, Idaho 7, and Mosaic adds that explosive juiciness.
Meaning once the beer hits the shelves with its iconic deep purple background and bright green hop, the cans just fly.
Purple + Green Make Juicy Gold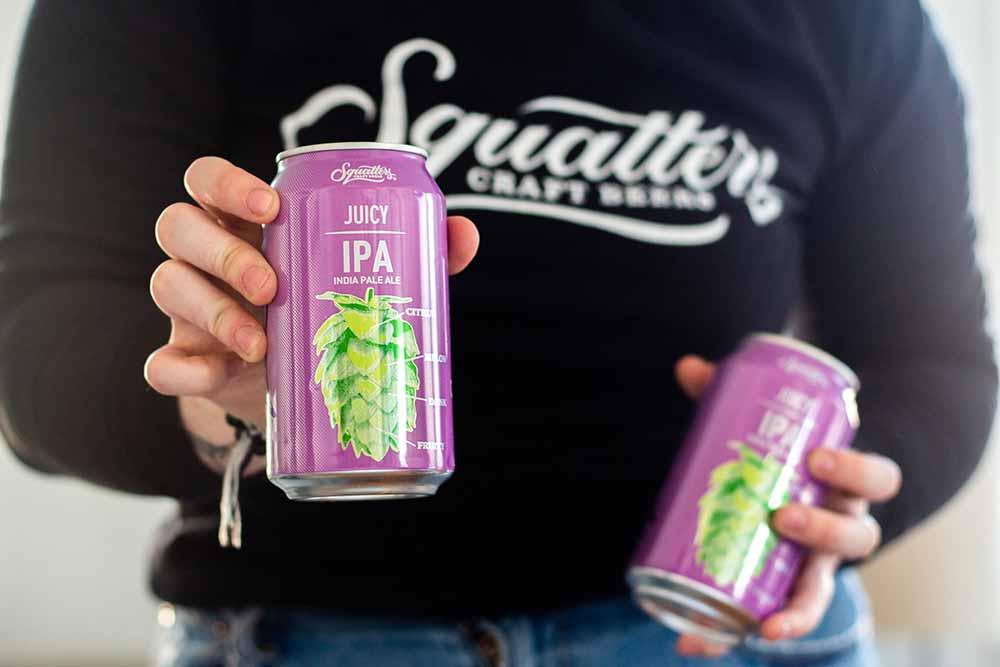 If you've ever walked into a grocery store in Utah and seen an all-purple can on a shelf with a bright green hop and words like citrus, melon, dank, and fruity sticking out, you immediately know that's Squatters Juicy IPA.
Just like how UPS trademarked its own "UPS Brown" and T-Mobile legally inked its pink, Squatters could easily (and may have already) branded these now-iconic colors.
"The color combination is striking … it's a very recognizable purple and a beautiful combination with that very crisp green," says Martino, "You can walk into any space and see Juicy, whether it's a poster or billboard or marketing material on a cooler, and recognize that color and immediately know that Juicy is present."
Squatters and Wasatch's Creative Director Scott Doutre and the marketing team came up with a straightforward yet impactful design.
"What if we just put a hop on [the can] with some descriptors?" says Miller. "Dank, juicy, and citrus are all things people want in a beer these days. Nothing more, nothing less. It was an absolute grand slam."
Again, less is more with Juicy.
Just one simple name, a few simple ingredients treated with the utmost care, and a simple design all contribute to Utah's number-one-selling IPA.
What Does Juicy Taste Like?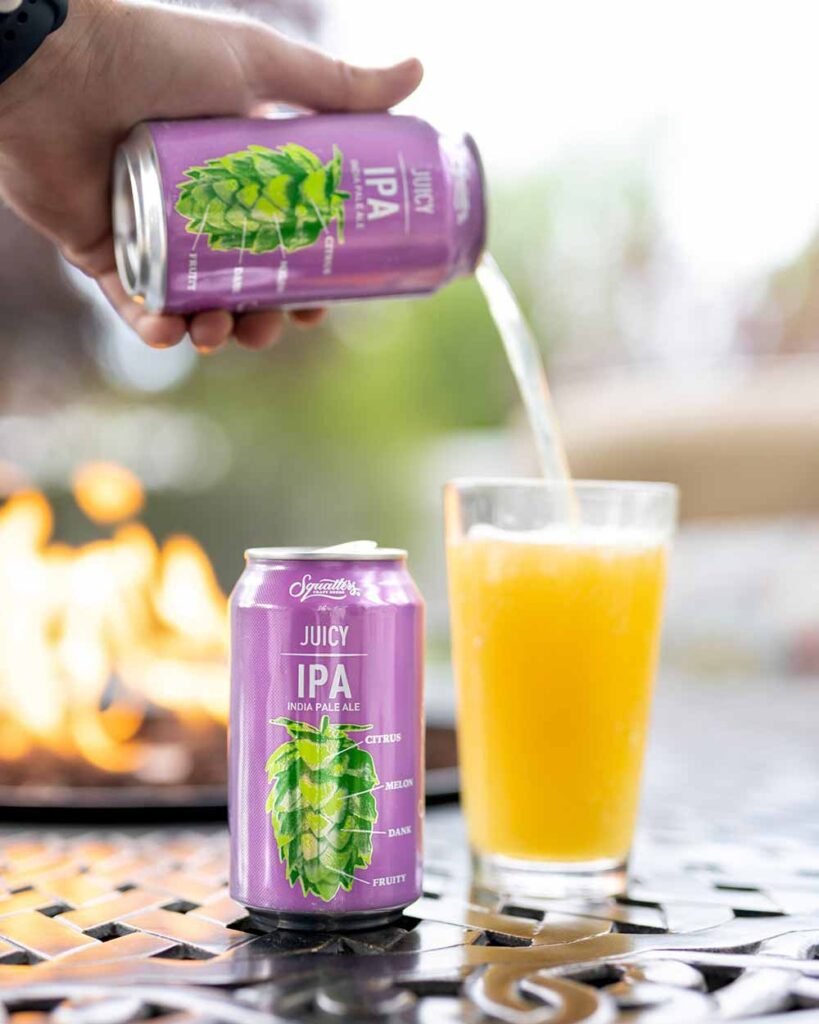 Cracking open a can or getting this beer on draft, Juicy pours a light straw color. And while the beer will be hazy, it won't be milkshake opaque like some other New England IPAs out there, according to Miller.
On the nose, "the aromas you're going to get are exactly what you read about on the can—dank, citrus, melon, and a little bit of lemon-lime," says Miller.
Taste-wise, you'll find a lot of flavors similar to the aroma. Miller gets "fruity, juicy; it's going to have a little bit of orange juice and pine to it with a bit of melon."
Sometimes in a sea swimming with options of DDH this and pastry-adjunct-filled that, finding an honest beer—that does exactly what it says on the label—is refreshing.
With Juicy, you know exactly what you'll get from the moment you pick up the can. And that's precisely how Squatters designed it: to be a freshly squeezed glass of hazy deliciousness each and every time you drink it.
Where Can I Find Squatters Juicy IPA?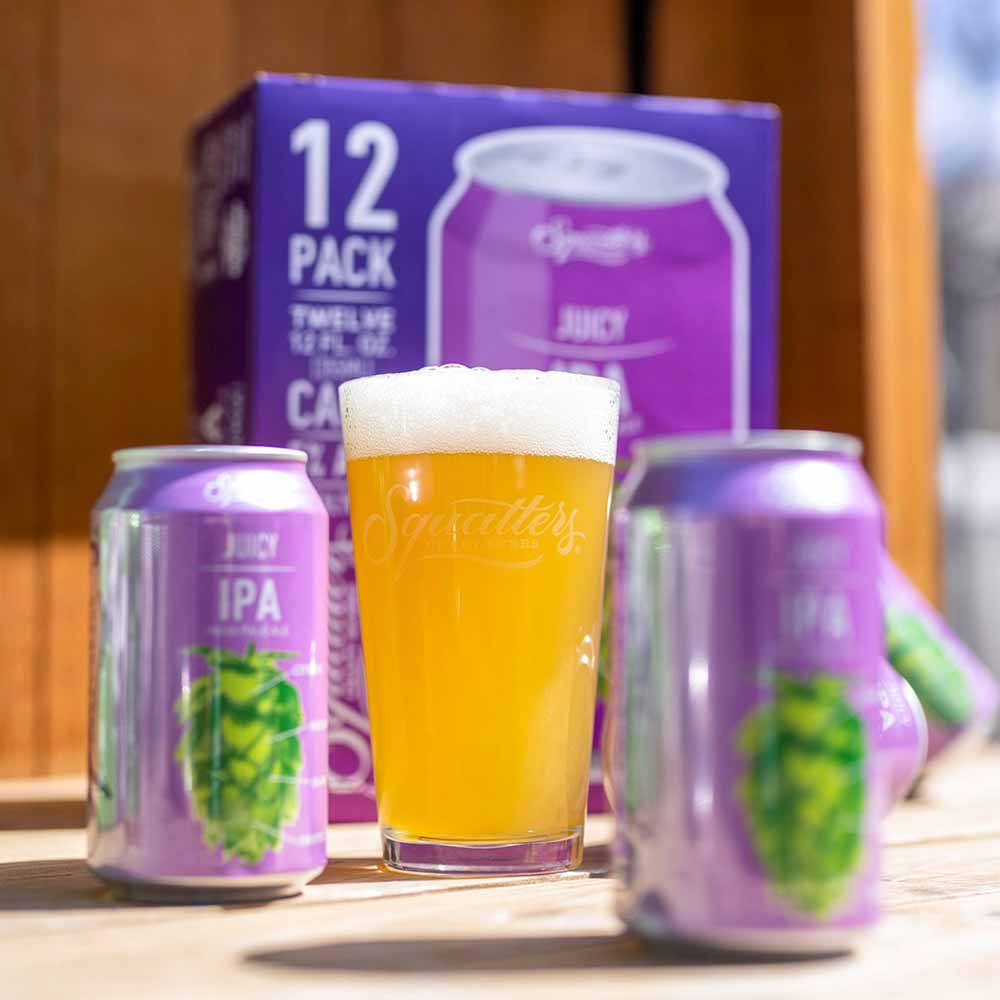 You can find Juicy in 12-packs, 6-packs, 19.2oz cans, in certain variety packs, and on draft within Squatter's footprint in Utah.
For a taste of the best IPA in Utah, grab yourself a sixer and taste why the juice is worth the squeeze every single time with Juicy.