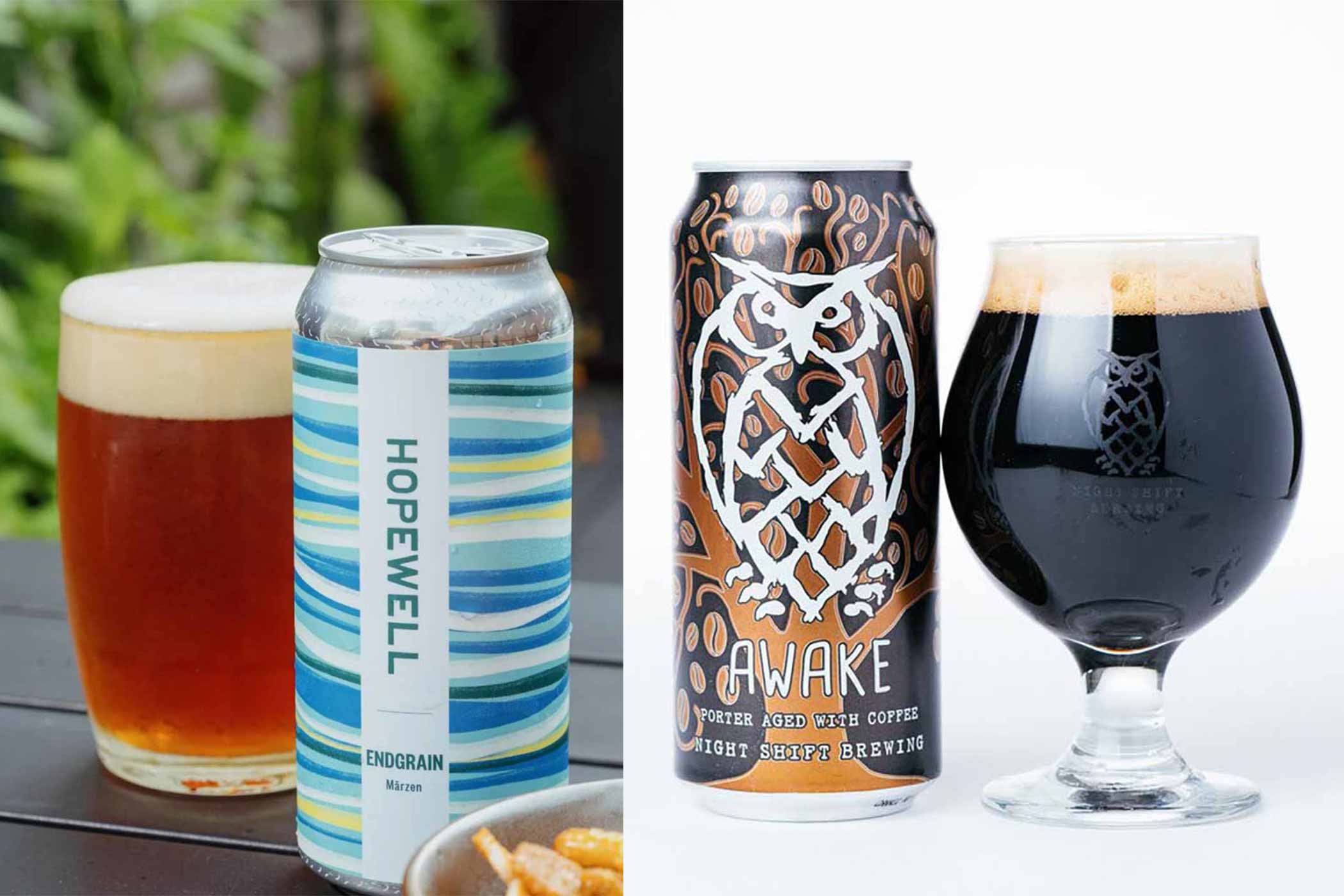 Photography courtesy of Hopewell Brewing (left) and Night Shift Brewing (right)
Heck yes, it's that time of year again! Fall, autumn, harvest, whatever you want to call it.
Personally, we've dubbed this Oktoberfest season, baby.
Sure, the 187th celebration is "officially" over, but not for us.
Because this is our favorite time of the year to drink some of our favorite styles of beer. Mainly, märzens, festbiers, and Oktoberfest-style beers (what the heck is the difference!?).
No need to bury the lead, so we'll begin at the end. Confused? All you need to know is that we're super excited to release our list of this year's "23 Best Oktoberfests/Märzens/Festbiers of 2022."
And we were pretty pleased to kick off the football season the first week of September with our picks for the "Best Brewery Near Every NFL Stadium." Helped ease the sting of our fantasy football team starting 0-3.
Take it from us, he really needed a lot of coffee (and beer) to power through all those cities. So we wrote a piece on "Everything You Need to Know About Coffee Beers" to keep him awake and drinking.
We also launched a whole series of episodes for Untappd's new travel show. With the one and only Hop Culture Founder Kenny Gould traveling all around the East Coast hitting…
Baltimore
Brooklyn
Philadelphia
Cincinnati
Overall, September reminded us why we love fall: festbiers, football, and friends.
And the best part?
We can do it all over again in October! But for now here are the ten best beers we drank last month.
10 Best Beers We Drank in September 2022
Kallima Coffee Cream Ale – Esoteric Brewing Co.
Cincinnati, OH
Cream Ale – Esoteric represents the future of craft beer. Started by Marvin Abrinica and former MadTree brewer Brian Jackson, Esoteric is an Asian- and Black-owned brewery pushing the boundaries of beer. Technically considered the city's first minority-owned-and-operated brewery, Esoteric Brewing wants to be a pillar for the entire community.
"We have to be the ones to ensure that people understand diversity and inclusion," says Abrinica in the episode. "The growth of this whole industry is in women, it's in people of color—Black, Latino, Hispanic, LGBTQ+—they're the future of this country and they're the future of beer as well."
That means showcasing "traditional beers with a bit of a twist," according to Abrinica.
For instance, a historical American style like a cream ale gets a spike of coffee in Kallima. Abrinica and Jackson infuse this beer with a roasted La Terza Coffee blend to provide what they call "a tantalizing twist to the cream ale."
"With an absolutely gorgeous taproom and really elegant branding…it's one of the more hip breweries in Cincinnati," says Hatheway. "[But] they're trying to be more than just a place that serves beer. It's a place where you can go to hangout that plays a good role in their community."
Punch Like a Poet – Mobtown Brewing Company
Baltimore, MD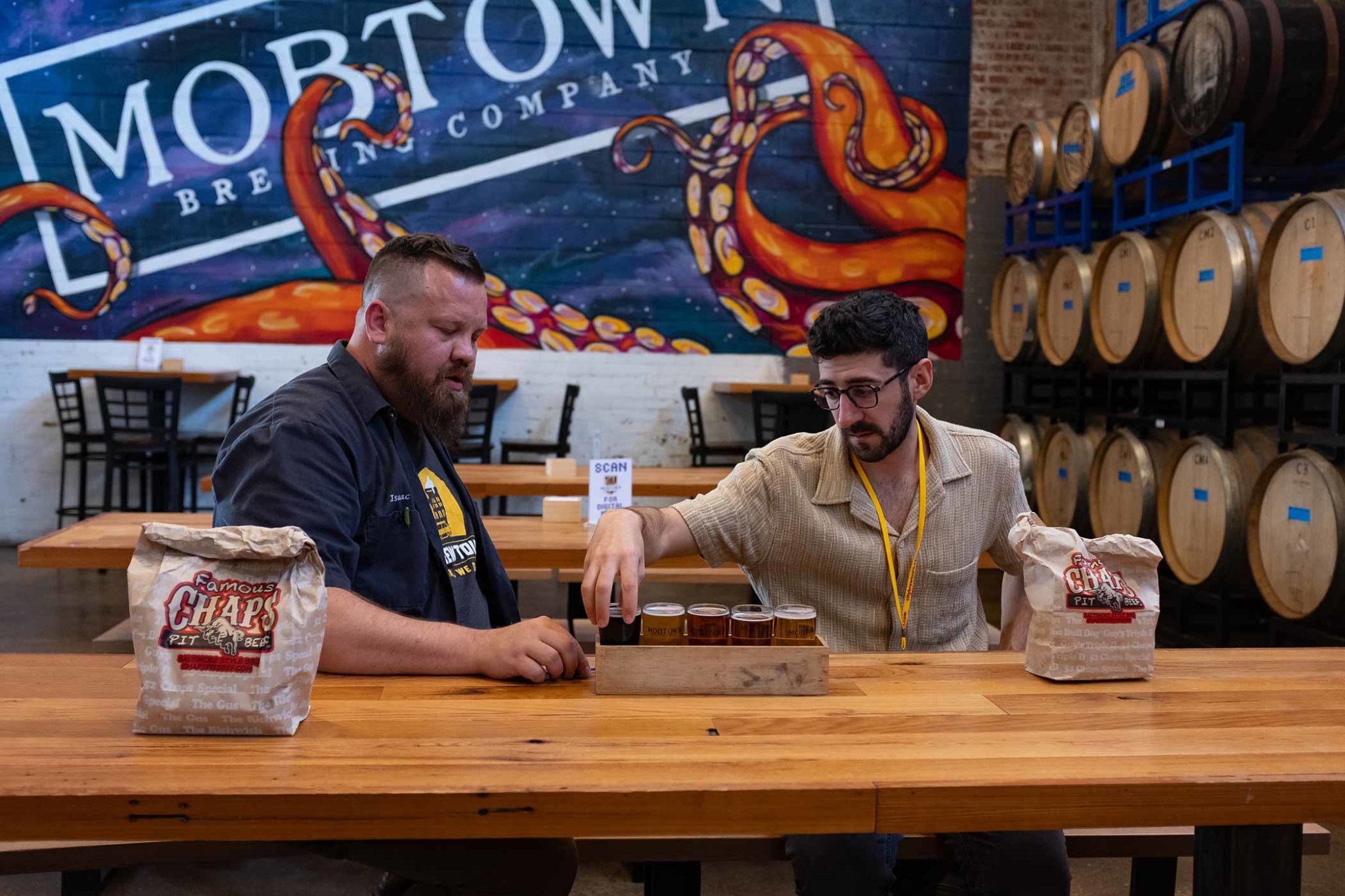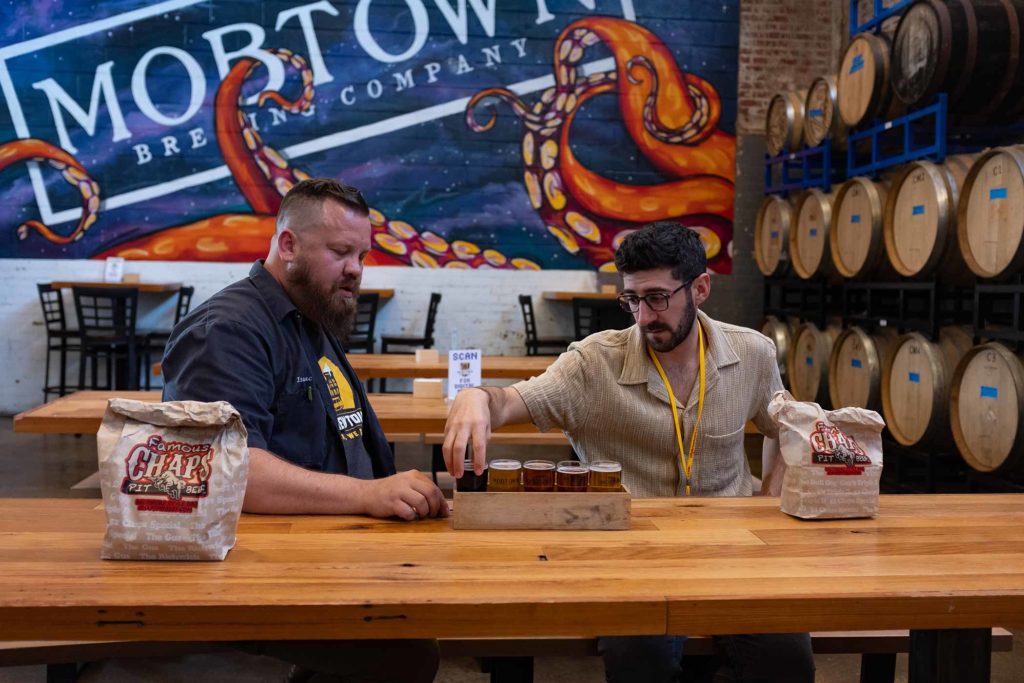 Irish Dry Stout – Hop Culture Founder Kenny Gould spent the perfect day drinking in Baltimore with a backstage pass from City Brew Tours guide Isaac Bell.
The best stop of the day?
Mobtown Craft Brewing.
The first brewery to open in the historic Brewers Hill neighborhood in forty-one years, Mobtown is "not afraid to mess around with different styles, but can also brew a nice, clean traditional lager," says Bell.
The move here, according to Bell?
On the way, grab a bag of pit beef (a classic Baltimore dish of roast beef prepared over a charcoal fire) from Chaps Pit Beef and then sit down at Mobtown with a flight of beers to find the best pairing.
For his money, Bell likes pairing Punch Like A Poet, an Irish dry stout, that he calls "the winning combo." Because "it's surprising; it's one of those don't-judge-a-book-by-its-cover things," says Bell.
Regardless, you can't go wrong with any of the lagers at Mobtown next to a bag of barbecue.
Matsurika – Japas Cervejaria
São Paulo, Brazil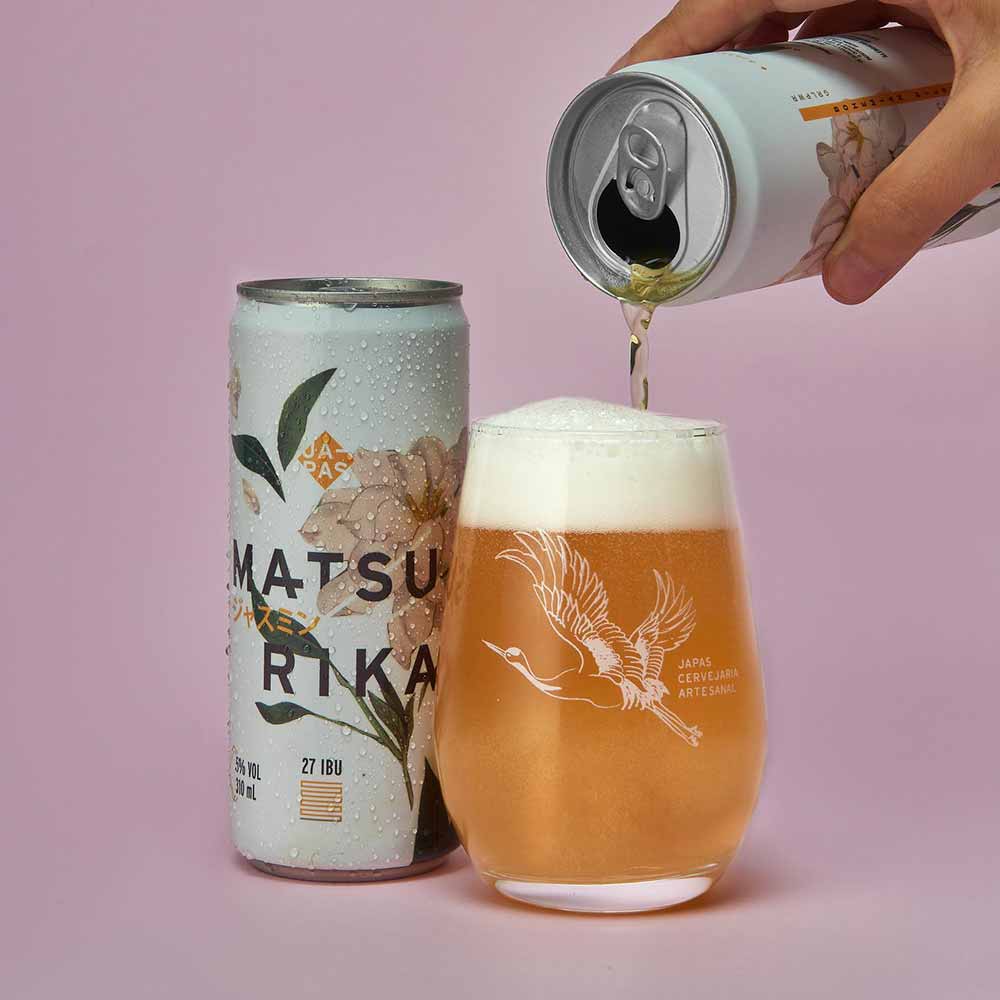 Czech Pilsner – We can't tell you how much we love Japas Cervejaria. Actually, we just said it: We LOVE Japas Cervejaria.
A Brazilian-Japanese, all-women-owned brewery, Japas Cervejaria tells a unique story with each and every one of its beers.
Whether through co-founders Maíra Kimura, Yumi Shimada, and Fernanda Ueno's heritage.
Or through brewing with Brazilian and Japanese ingredients.
For instance, Matsurika, a bohemian pilsner featuring jasmine petals, a common ingredient in traditional Japanese tea.
A soft and delicate beer, Matsurika brings brilliant floral notes to the aroma and palate.
If you haven't heard of Japas Cervejaria yet, now is your chance to discover this groundbreaking brewery.
Mylar Bags – Other Half Brewing Co.
Brooklyn, NY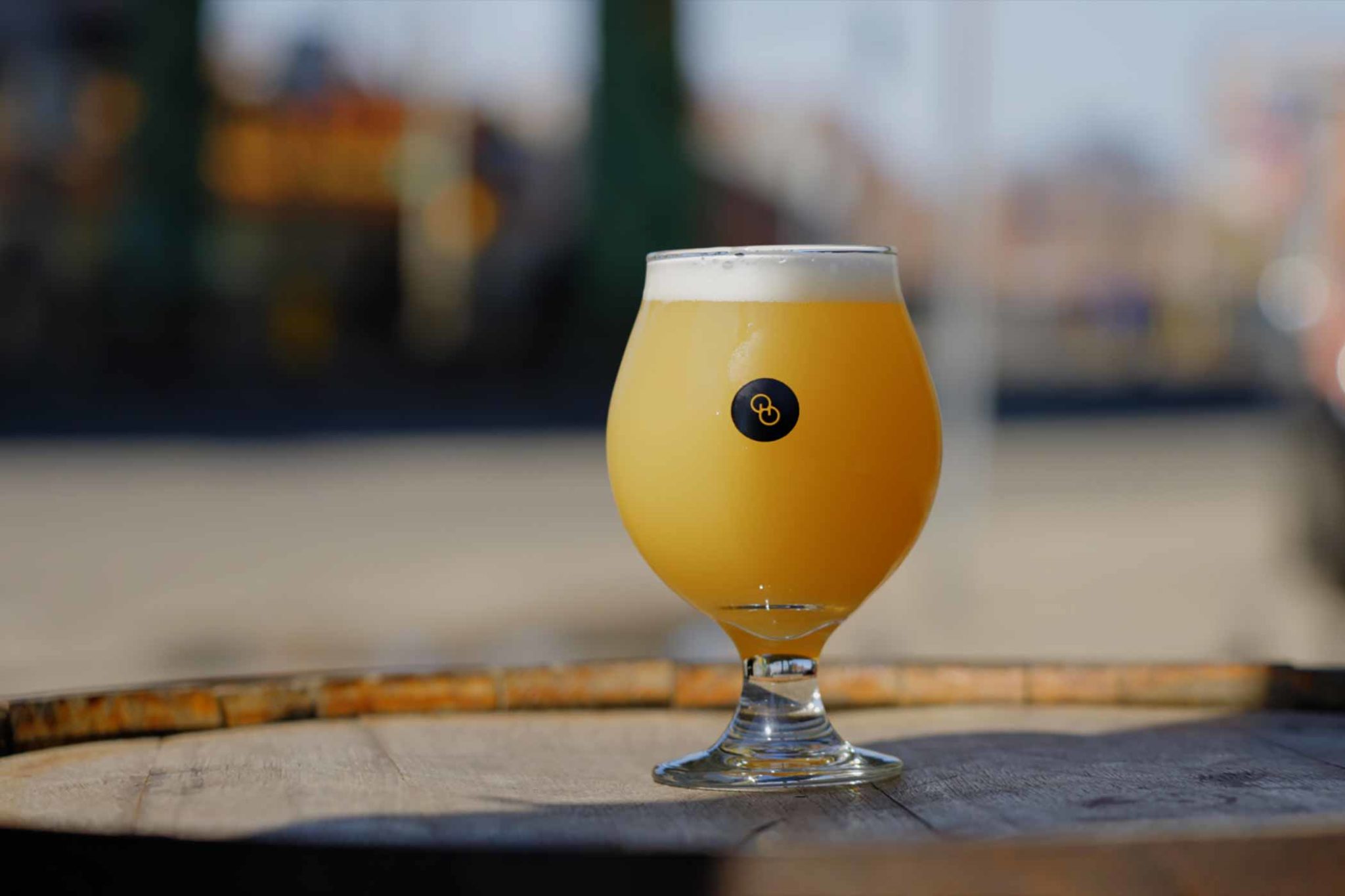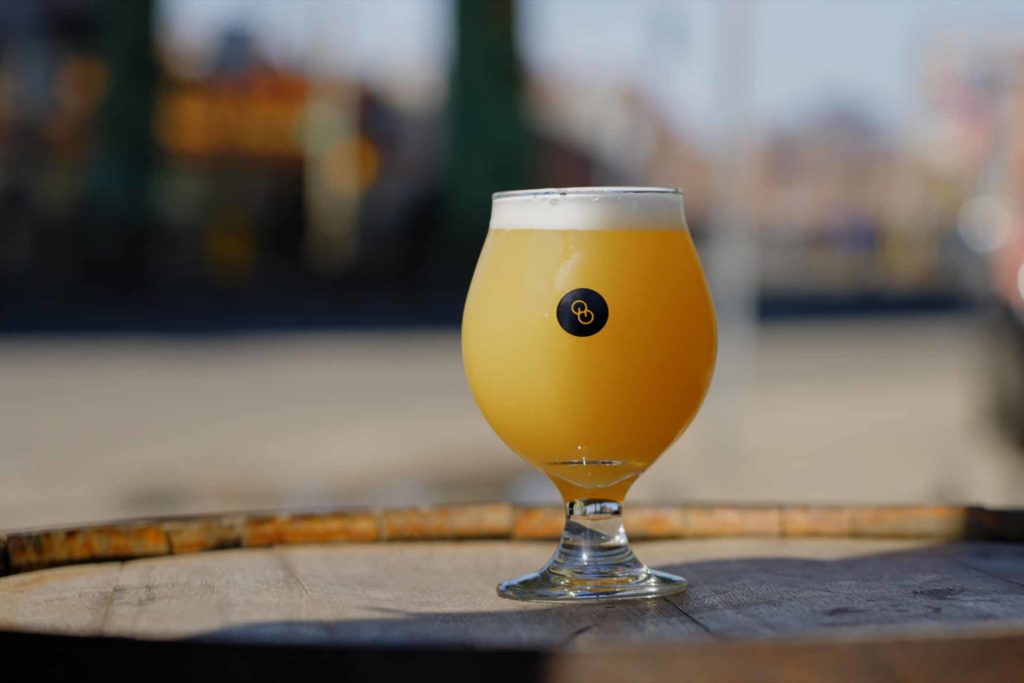 Double IPA – Have you ever wanted to ask Other Half Co-Founder Andrew Burman his favorite beer at Other Half?
Well, Kenny did in the newest episode of Next Exit in Brooklyn.
Spoiler alert: The answer is Mylar Bags.
Why? We hear you ask.
"Because it's standard and it has this fruitful maraschino cherry flavor to it that I love," says Burman in the episode.
Curious where else Kenny visited? (Hint: one of the best craft beer bars in the entire world)
Reaching Skyward – Finback Brewery
Queens, NY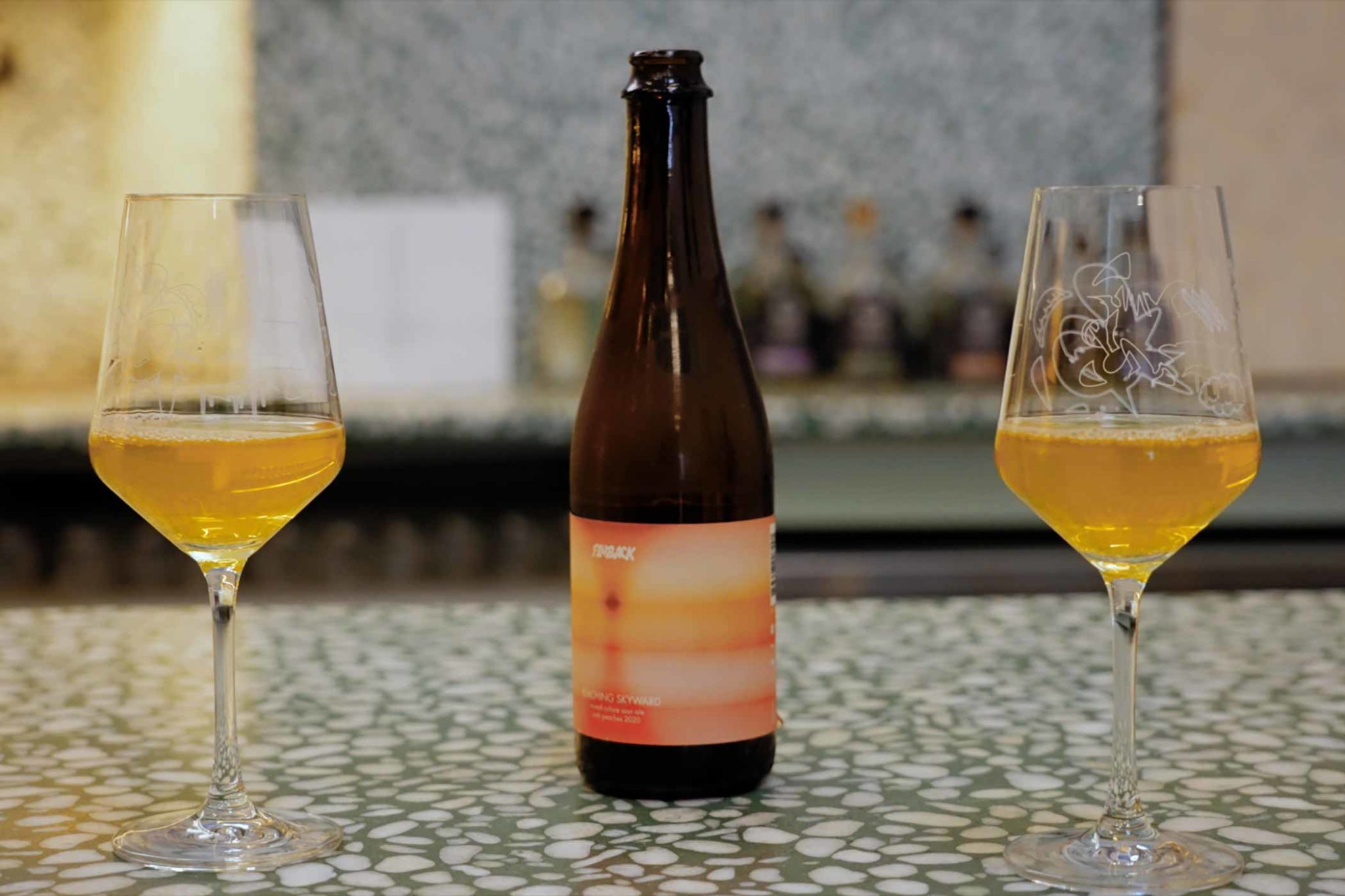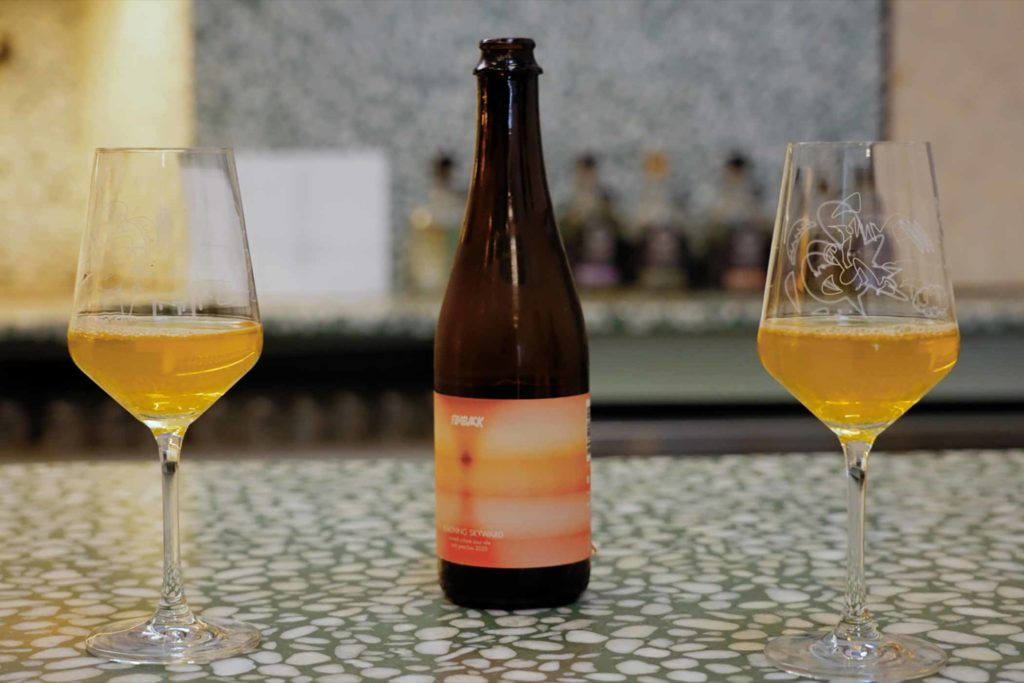 Fruited Sour – To celebrate the release of Next Exit: Brooklyn, Hop Culture tapped renown Finback Co-Founder Basil Lee to share his picks for the best breweries and bars to visit in Brooklyn.
In the episode, he shares one of his favorite beers, Reaching Skyward.
A mixed-fermentation beer fermented in a wooden barrel for ten months, Reaching Skyward also gets a finishing dose of peaches.
All contribute to a beer that's a little fruity, a little tart, and a helluva lot delicious.
Czech 10° – Human Robot
Philadelphia, PA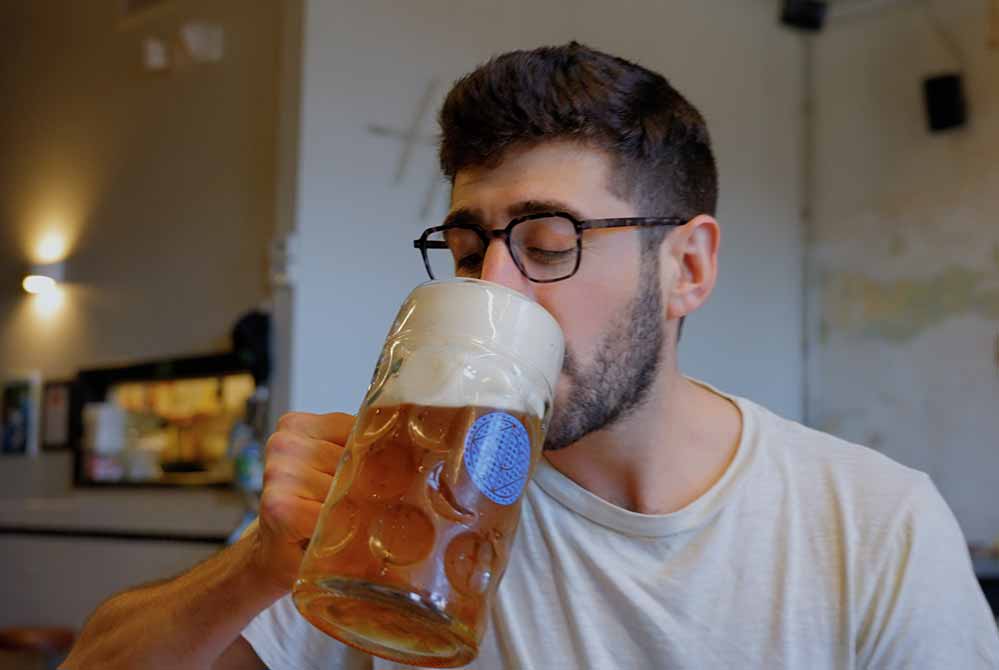 Czech Pale Lager – Somehow in a crowded Philly beer scene, Human Robot stands out.
"Philadelphia and the surrounding four counties are home to ninety breweries, but there is one I keep hearing about again and again, especially from industry people," says Hop Culture Founder Kenny Gould. "And when you hear about a brewery from other people who work in the beer industry, it's usually pretty good—that brewery is Human Robot."
With a heavy focus on European lagers, Human Robot includes old-world touches, but with a contemporary approach.
"We oddly try to push the boundaries of traditions," says Human Robot Head Brewer Andrew Foss. "If we were a bagel shop, we'd be trying to make the best damn plain bagel you've ever had in your life."
But lucky for us, Human Robot makes beer.
Like Czech 10°, an uber malty beautiful bready Czech lager with just a hint of earthy spiciness.
It's perfect to sip on, especially in the cooler fall weather.
Bonus: You could also try a "Milktube," a tall glass of wet foam that you're supposed to drink like a shot. It's a riff on an old-world Czech pouring tradition.
And if you want to watch Gould and Foss go head to head in a Milktube chugging contest, you should probably tune into Next Exit: Philadelphia right now!
Dale's Pale Ale – Oskar Blues Brewery
Longmont, CO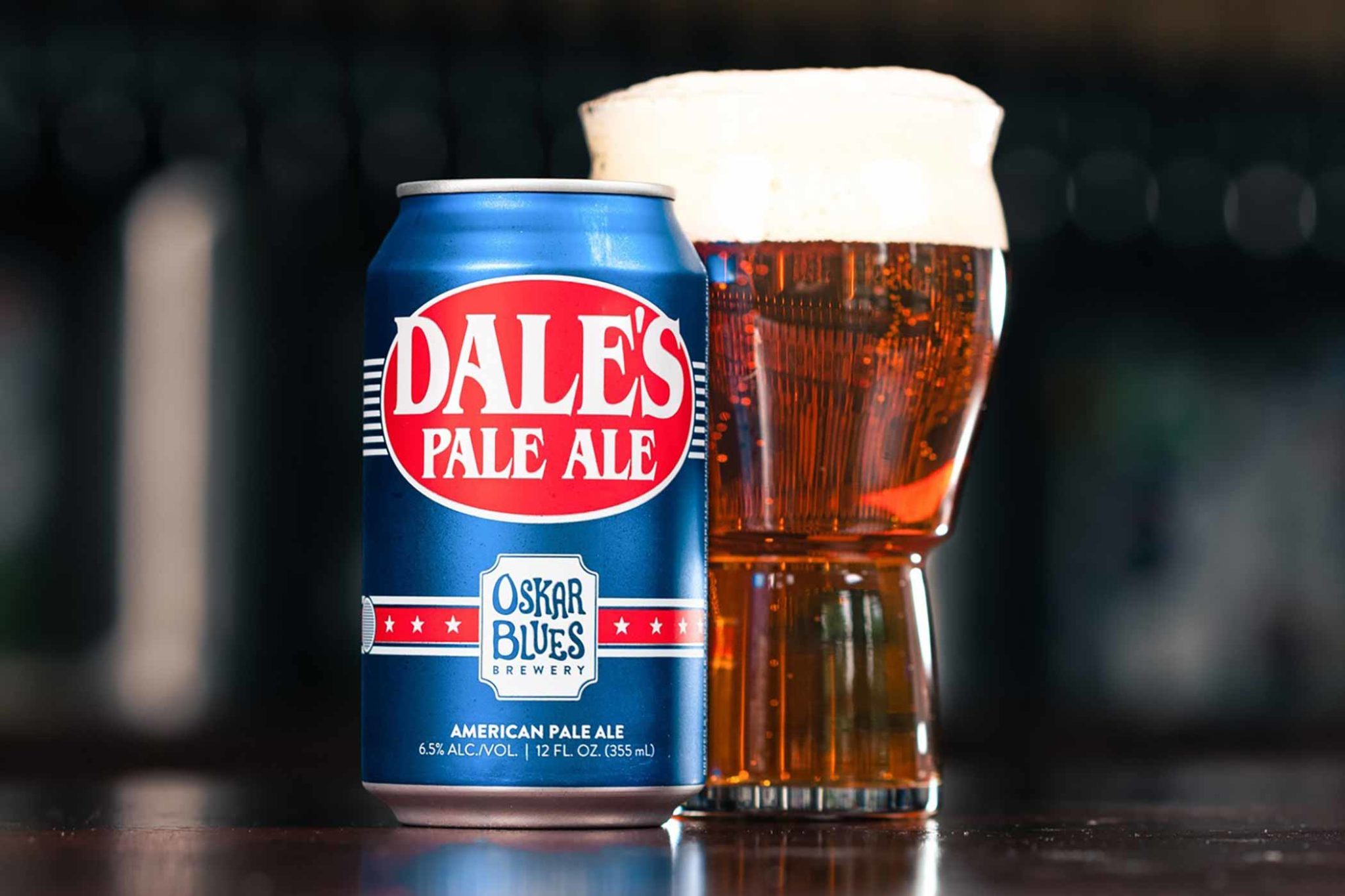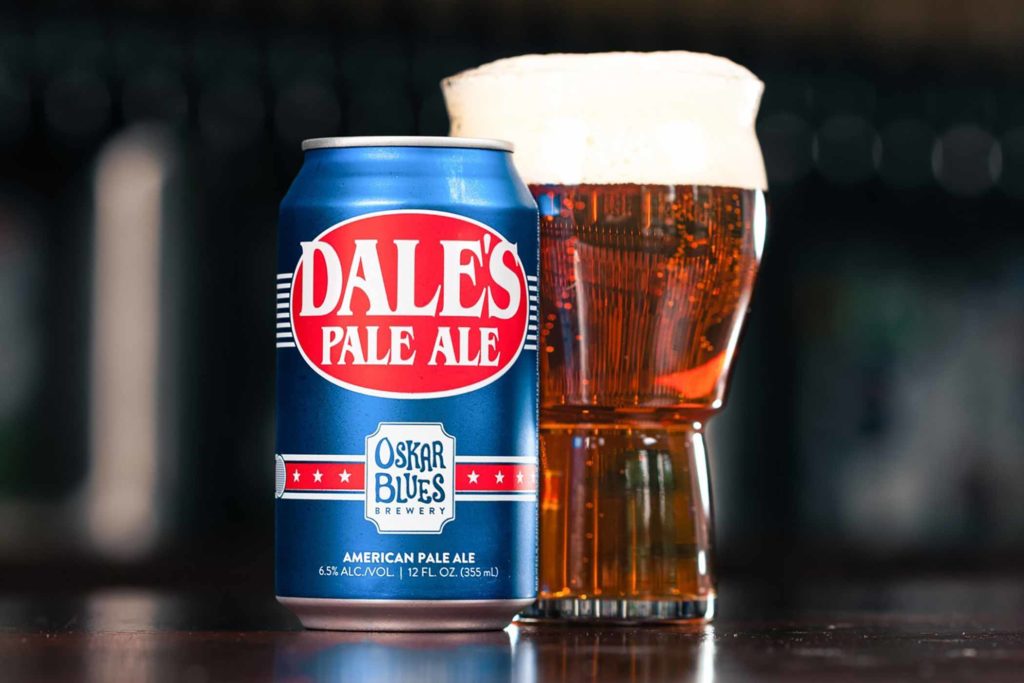 Pale Ale -The canning revolution in craft beer started with one little unsolicited fax.
Sounds like a bold statement?
Well, Oskar Blues, the first brewery to put craft beer in a can, has always been a bold brewery.
Twenty years ago, Oskar Blues Brewery Founder Dale Katechis received a spam fax from a Canadian company promoting a small manual can seamer.
An avid mountain biker, Katechis started to believe that canning beer might be a great way for him to take beer on the road.
In 2002, Katechis bucked convention, releasing the original craft beer in a can—Dale's Pale Ale.
Two decades later, as Oskar Blues celebrates its 20th CANiversary, Katechis' radical decision still reverberates throughout the industry.
And Dale's Pale Ale is still a rad beer. Probably on the borderline of an actual IPA, Dale's Pale Ale is hopped to high heaven, but with a backbone of pale malts that balances brilliantly.
Give 'Em Helles – Yard House x Schneider Weiss
Various Locations x Kelheim, Bayern, Germany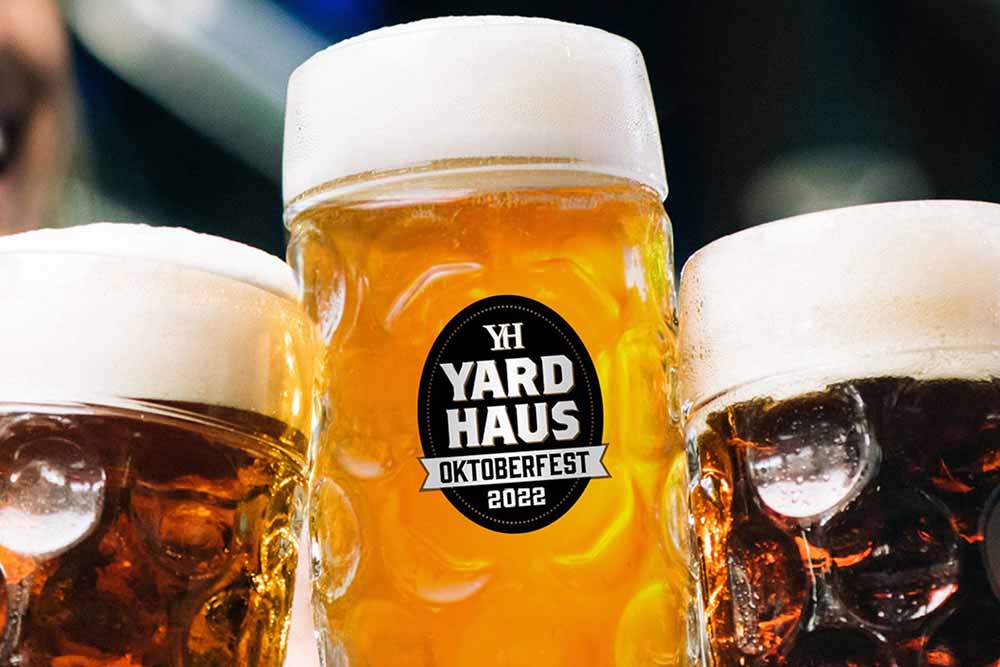 Helles – So technically, this is a helles lager, but it's still perfect for Oktoberfest season. Yard House, the uber popular sports bar with over a hundred taps, collabed with Schneider Weisse to create the German brewery's only bottom-fermented beer to debut in the United States.
Meaning if you don't make it to a Yard House near you to try it now, during the most perfect time of the year, you might not ever try it at all.
Inspired by the tradition of Landbier in Bavaria, which according to Schneider Weisse Braumeister Josef Lechner is "not a style, per se, but a brewing philosophy," the Schneider Weisse Braumeister sourced all the ingredients for Give 'Em Helles from mere kilometers away from the brew house.
Located in a unique place in Germany, Schneider Weisse sits right in between the world-famous hop-growing Hallertau region and the Straubinger Gäuboden area known for its malt.
Accordingly, Lechner incorporates Hallertauer Tradition, Hallertauer Mittelfrüh, and Hallertauer Hersbrucker hops alongside one hundred percent Pilsner malt.
A mildly bitter beer that has a "pleasant bite at the finish…without overpowering the delicate malt flavors in a beer of 4.9% ABV," says Lechner.
Hallertau hops add a mellow bitterness and earthy-floral aroma that add "another dimension of complexity," says Lechner. "Super clean and crisp with nutty notes of grain and a touch of malt sweetness," Give 'Em Helles is probably best for pairing with one of Yard House's jumbo Bavarian pretzels. Lechner calls it "the perfect pairing!"
Endgrain Märzen – Hopewell Brewing
Chicago, IL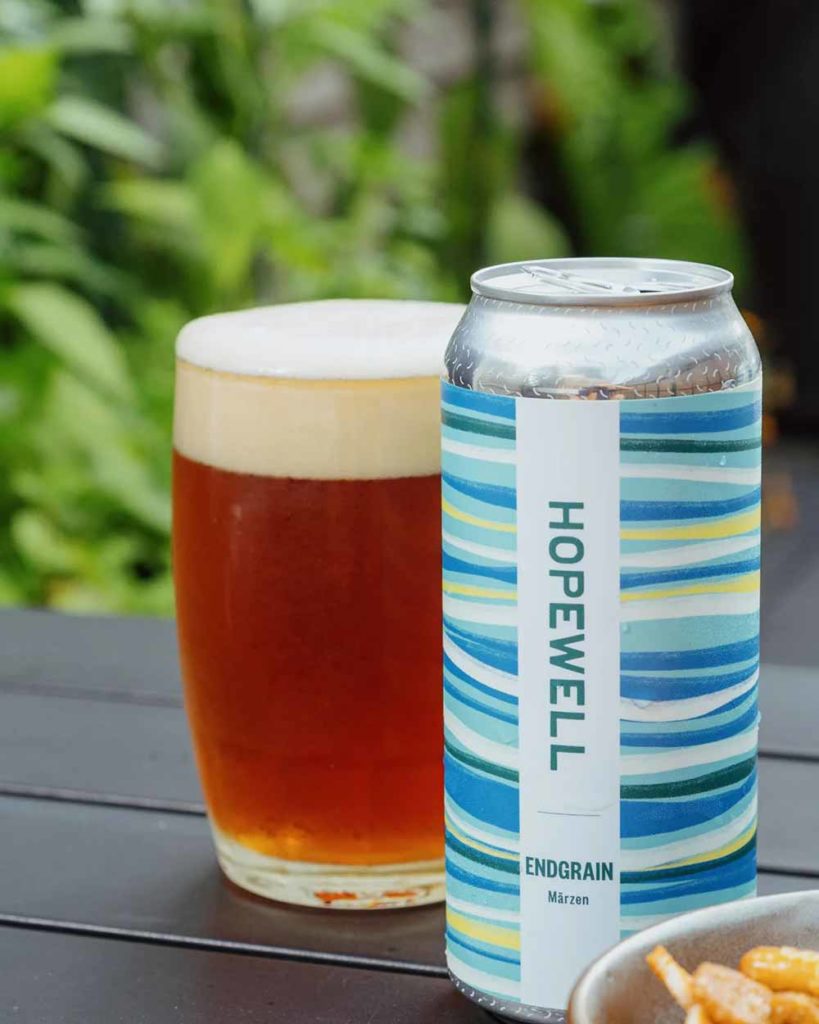 Märzen – Built to bring in the fall, Endgrain captures the essence of this season in a can. Which is why we love it so much. Rich and malty with a hint of that Noble hop character, the aroma actually presented very juicy to us.
Getting into that first sip revealed a complexity and depth that makes us love the märzen style.
With Endgrain, you peel back the layers with every sip. A bit of dark toast with jam hits first followed by an almost smoked meat finish.
This is just a delicious, smooth, and balanced märzen. And one of our favorite "Top 23 Oktoberfest Beers to Try This Fall."
Awake – Night Shift Brewing
Everett, MA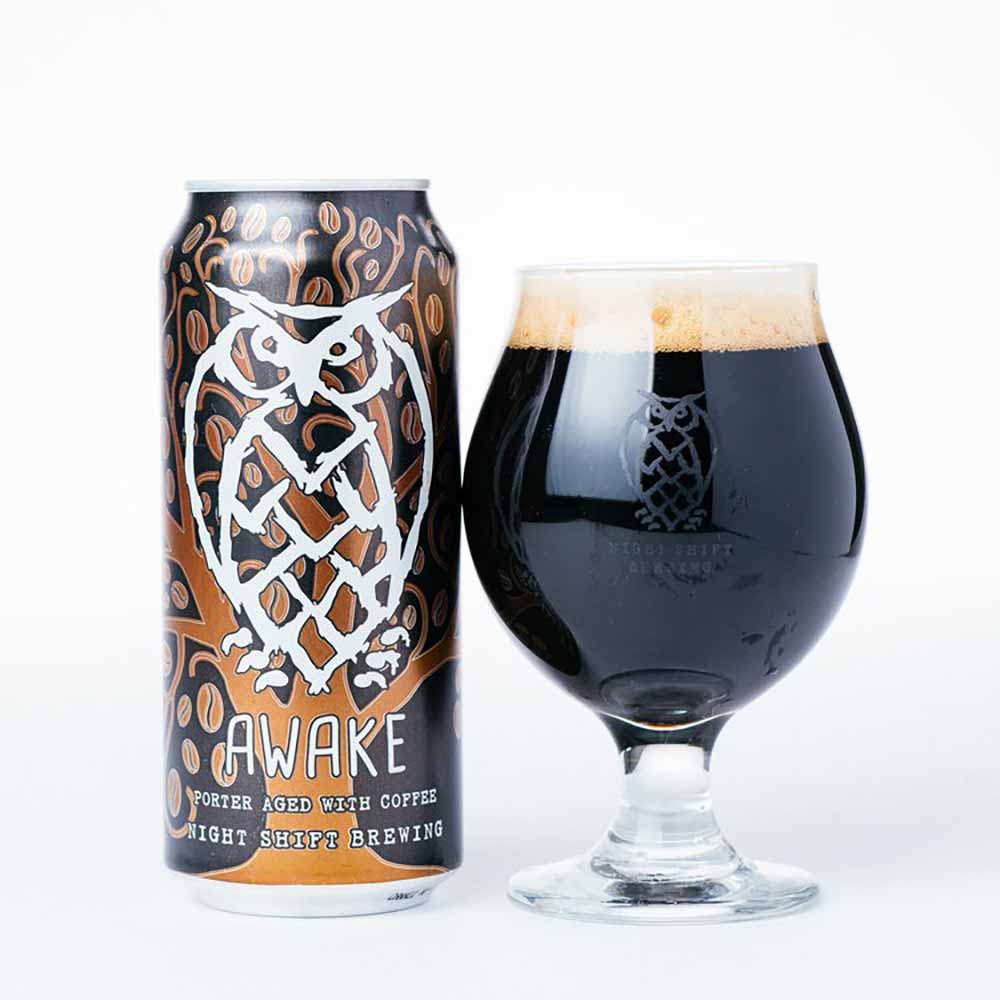 Coffee Porter – Do you like your buzz in the morning with coffee or at night with beer? Well, good news, you can get your buzz on with both. Coffee beers marry the best of both worlds.
"Beer and coffee go together like two things that shouldn't go together at all: parmesan and dark chocolate; miso and ice cream; "nuclear" and "medicine," writes Hop Culture Freelance Writer Andy Crump in his piece "Everything You Need to Know About Coffee Beers." "But like each of these duos, beer and coffee make phenomenal bedfellows… There's nothing like a good coffee beer to warm up on bitter days or as a dessert alternative any time of year."
For a percentage of Massachusetts craft beer dorks, Awake may be the first truly great coffee beer produced by a local area brewery. It's not that the state, or its surrounding New England kin, hadn't birthed good coffee beers before Night Shift made Awake, but more that Awake is such a strong example of how coffee and porter flavor profiles dovetail so well together in the hands of gifted brewers.