Photography courtesy of @treehousereleases
In 2010, Untappd Founder Greg Avola had an idea: build a social platform for the craft beer community.
Avola had impeccable timing. Because while "Like a G6" ran on repeat, Twilight still hadn't stopped making movies, and the Gordon Ramsey-led MasterChef aired for the first time in the U.S., craft beer bubbled and brewed in the background.
And while beer may not have been as catchy as playing Angry Birds on your iPhone4, smartphones and countless apps continued to grow in popularity.
Avola and his co-founder Tim Mather wanted to combine the two, creating a social platform solely focused on craft beer.
In September 2010, they released the first prototype of Untappd in private beta. Untappd has come a long way in its lucky thirteen years. Today, you can post photos, enjoy Untappd in Dark Mode, earn badges, and purchase beer boxes.
Oh, and you can now even buy beer on the app now!
Over these last baker's dozen years, Untappd has grown into the world's largest digital platform for craft beer. (Psst: 10 billion registered members of the community.)
So when a beer hits a coveted 5.0 rating on the app, you know it has some cultural cache.
Which is why, to celebrate Untappd's thirteenth go around the proverbial Internet sun, we looked at the beers currently pulling in a 5.0 ranking in 2023. And gave our two cents (for what it's worth) on what makes them some of the highest-rated beers on Untappd this year.
Editor's Note: The statistics for these rankings come straight from Untappd's platform. We are simply presenting them here. If you disagree with something, we hear ya, but the facts don't lie!
Untappd's 13 Beers With the Most 5-Star Check-Ins of 2023
Pliny the Elder – Russian River Brewing Company
Number of 5-Star Check-Ins: 9,057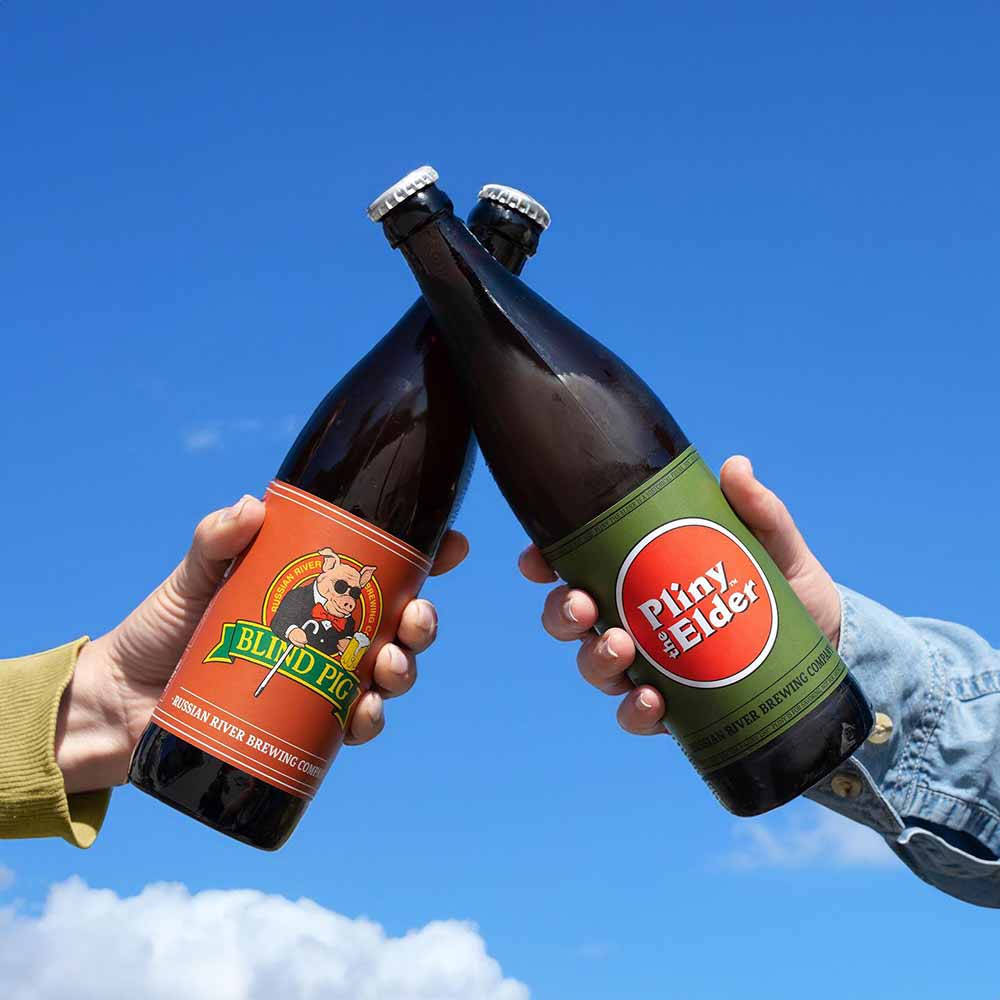 Double IPA – It's not surprising the first-ever double IPA in the country and one of the most iconic American beers, holds the top spot here by a good mile with over 9k five-star check-ins on Untappd in 2023. What is surprising, though, is that a beer initially imagined in the mid-nineties when Russian River Brewing Co-Founder Vinnie Cilurzo worked at Blind Pig Brewing has received rave reviews from fans for decades.
Actually, it all makes complete sense. Because this is a legendary beer!
Pliny the Elder gets its name from Pliny, a man who lived during the first century, 23 to 79 A.D. According to brewing history, Pliny and several others invented the botanical name Lupus Salictarius, aka hops.
And speaking of hops…
Brewed with Amarillo, Centennial, CTZ, and Simcoe hops, Pliny the Elder is a classic double IPA, well balanced with pine, resin, and citrus hop aromas with a lingering, dry finish. This trendsetting imperial IPA is slightly bitter with a bouquet of floral hops, citrus, and pine. Brewed in limited quantities, Pliny the Elder is best enjoyed fresh.
Setting the standard for double IPAs, Pliny the Elder has won countless awards and continues to be the brewery's most popular beer.
Heady Topper – The Alchemist
Number of 5-Star Check-Ins: 7,570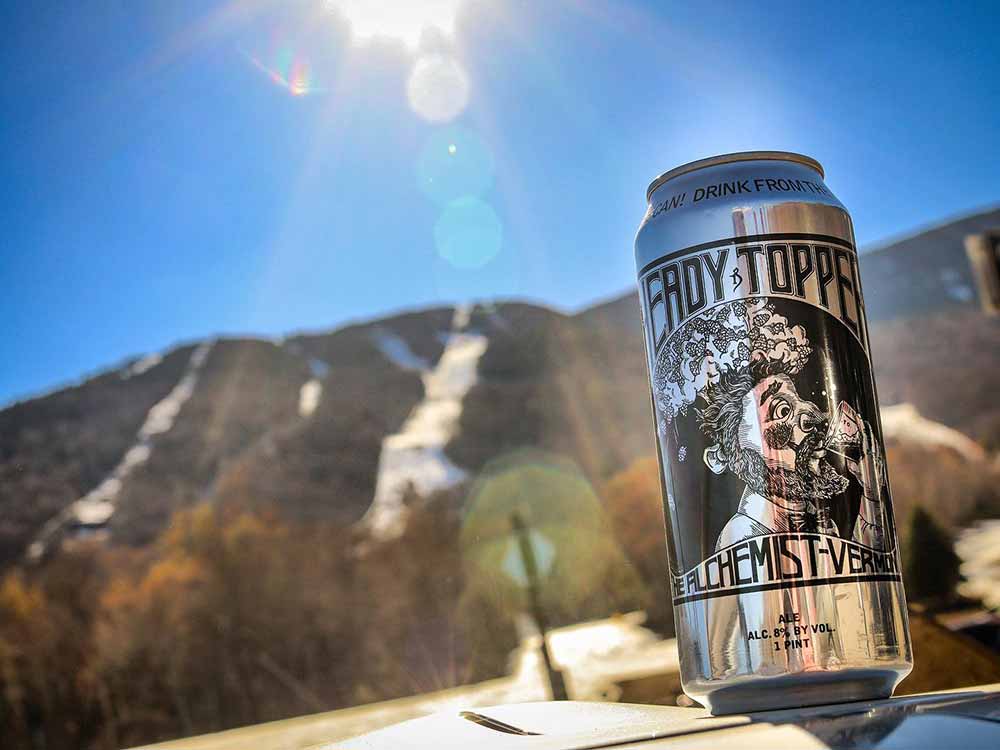 Double IPA – Another all-American classic, Heady Topper checks in second on this list with 7.5k total five-star check-ins.
We could see a trend on this list, paralleling some of the most iconic beers in American history.
John and Jen Kimmich opened The Alchemist Pub and Brewery in Waterbury, VT, with only about four or five rotating beers, including Heady Topper.
John brewed the now-infamous double IPA just two months after opening. But the beer didn't take off right away. At the time, The Alchemist thrived locally, with little national presence. And most beers, like Heady Topper, were only available on draft at The Alchemists' 7-bbl brewpub. The limited distribution ensured freshness but helped increase the beer's rarity and created its "unicorn" status.
Everything changed when Tropical Storm Irene caused a flood that put the pub out of business in August 2011.
That's when John turned all his attention to Heady Topper, canning the now-iconic double IPA right after the flood in The Alchemist's production space.
It was one of his smartest moves.
Arguably, this beer catapulted The Alchemist into craft brewing lore. Most likely, if you mention The Alchemist, it's followed quickly by the words "Heady Topper." Today, it's one of the most famous breweries in the world. And Heady Topper is one of the most famous beers.
And for good reason.
Heady Topper is a hoppy, American double IPA clocking in at 8% ABV. If you read the can, it instructs the drinker to consume the dank goodness straight from aluminum to preserve the flavor.
Today, Heady Topper is much more readily available, but it is still one of those life-changing beers, which is probably why it garnered so many five-star check-ins on Untappd this year.
Trappist Westvleteren 12 – Brouwerij De Sint-Sixtusabdij van Westvleteren
Number of 5-Star Check-Ins: 4,167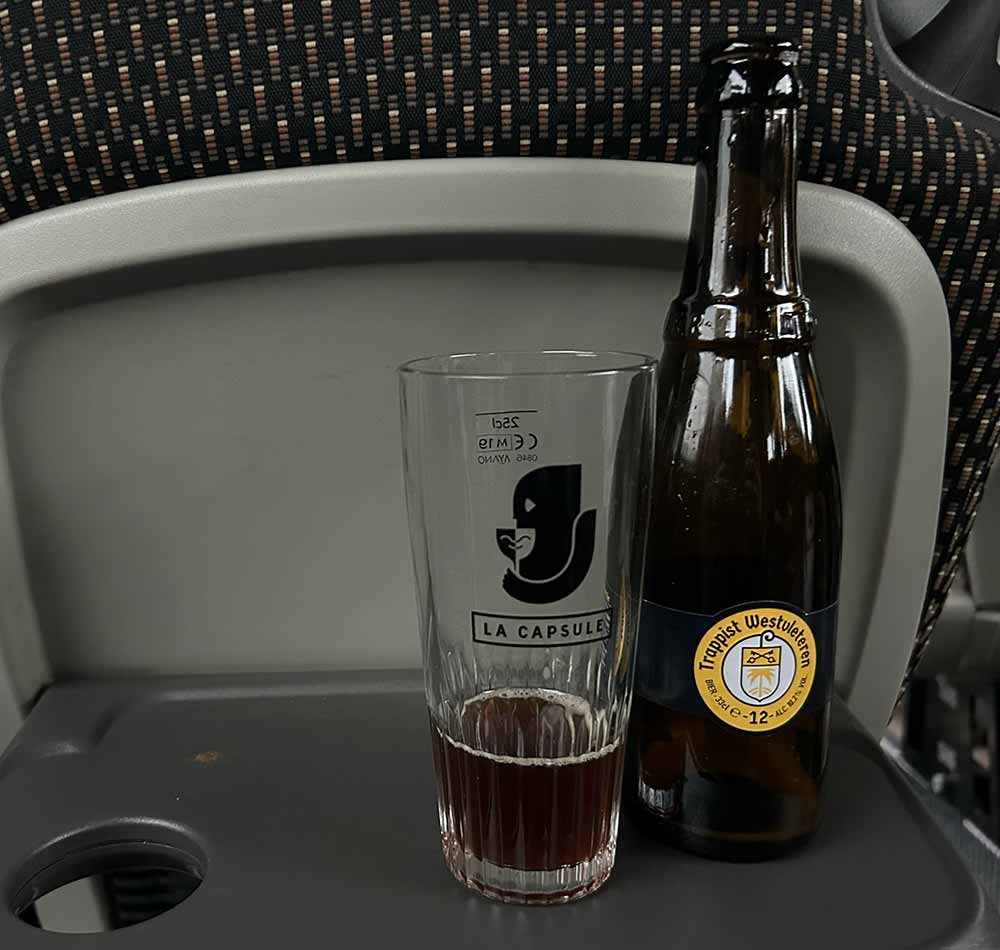 Belgian Quadrupel – Brewed by The Trappist monks of the St. Sixtus' Abbey at The Brouwerij De Sint-Sixtusabdij in Vleteren, Belgium, in such small quantities this Belgian quad rose to rare fandom on the sheer absence of production.
The monks brew Westie 12, as it's affectionately known in the industry, once a week as a way to make money for their abbey. Sold only once a month either at the door of the monastery or a no-nonsense tavern across the street, Westie 12 vaulted to the top of any craft beer connoisseur's bucket list simply because of the laundry list of steps and dash of luck you'd need to try a sip from these unmarked bottles.
But it's also the taste—as we can attribute.
Funny story: Hop Culture Senior Content Editor Grace Weitz's first taste of Trappist Westvleteren 12, one of the rarest beers in the world, happened on a bus in Belgium a mere three weeks ago.
A part of a group traveling to Belgium to tour breweries in this historic beer country, Weitz visited many Belgian breweries from Drie Fonteinen, Cantillon, and Orval (see later in this list).
But Brouwerij De Sint-Sixtusabdij van Westvleteren only opens infrequently. So, while the group couldn't actually visit the brewery, one of the tour leaders broke off to pick up fresh bottles for everyone to share on the bus.
And at 9 a.m. (no joke, this is a true story), Weitz clinked her bus chalice with several others in the back of the bus and said "Cheers!", drinking her first sip of Westie 12 as the bus chugged along to Rodenbach.
And the rating she gave the beer: 5.0!
(Honestly, we can't make up this type of content.)
"Pours a Coca-Cola molasses color," she wrote in her notes. "Smooth as black velvet or the surface of a lake in the morning, Westvleteren 12 had great notes of chocolate cherry and almost no hint of booze despite hitting a 10.2% ABV. One of the best beers I've ever tried!"
Duvel – Duvel Moortgat
Number of 5-Star Check-Ins: 3,625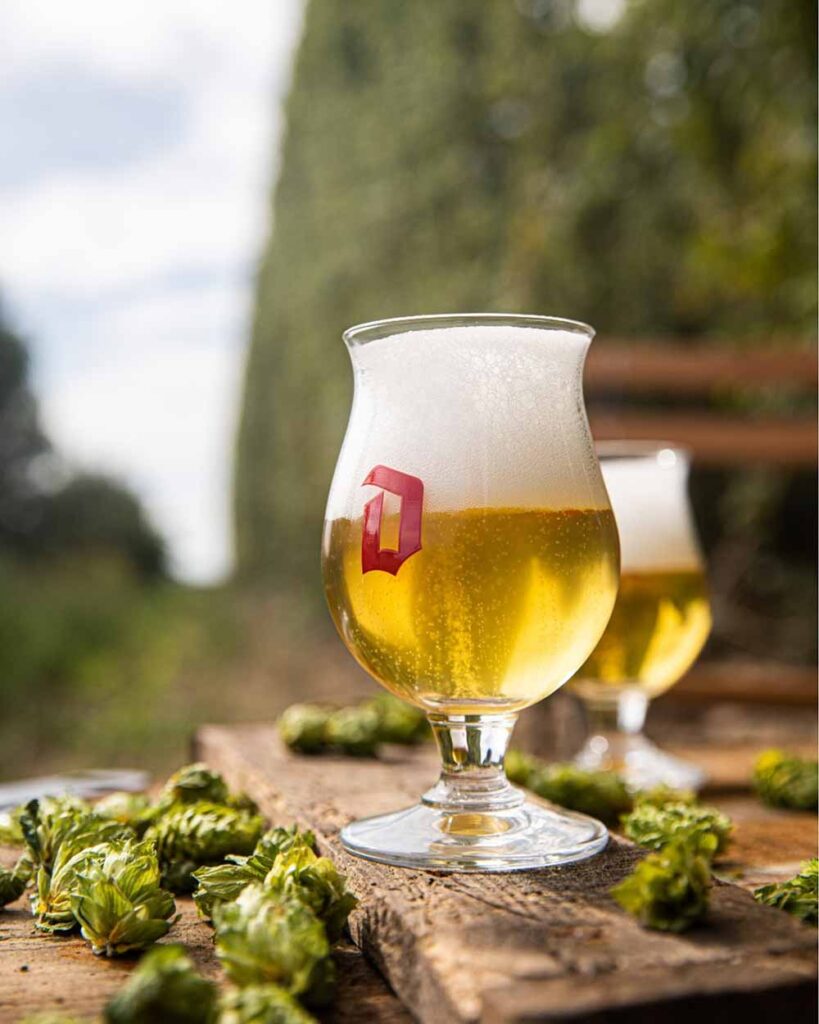 Belgian Strong Golden Ale – This beer seems simple from the outside—a combination of pure spring water, barley, and Slovenian and Czech hops. But Duvel Moortgat brews this Belgian strong golden ale with precision and meticulous attention to detail.
The beer takes ninety days to make, fermenting the ale in tanks from twenty to twenty-six degrees Celsius with an original house yeast strain that, according to Duvel, Victor Moortgat, son of founder Jan-Leonard Moortgat, selected himself from Scotland in the 1920s!
Only when maturing in storage tanks and cooling down to negative-two degrees Celsius is Duvel finally ready to bottle, adding extra sugar for a two-week secondary fermentation as the beer warms again to twenty-four degrees Celsius.
See, making Duval is an exact science. And it's not finished.
A further six-week lagering in cold cellars ensures this Belgian strong golden ale tastes like none other in the world.
Which is why 3,625 people gave Duvel a 5.0 rating on Untappd this year.
Zombie Dust – 3 Floyds Brewing
Number of 5-Star Check-Ins: 3,441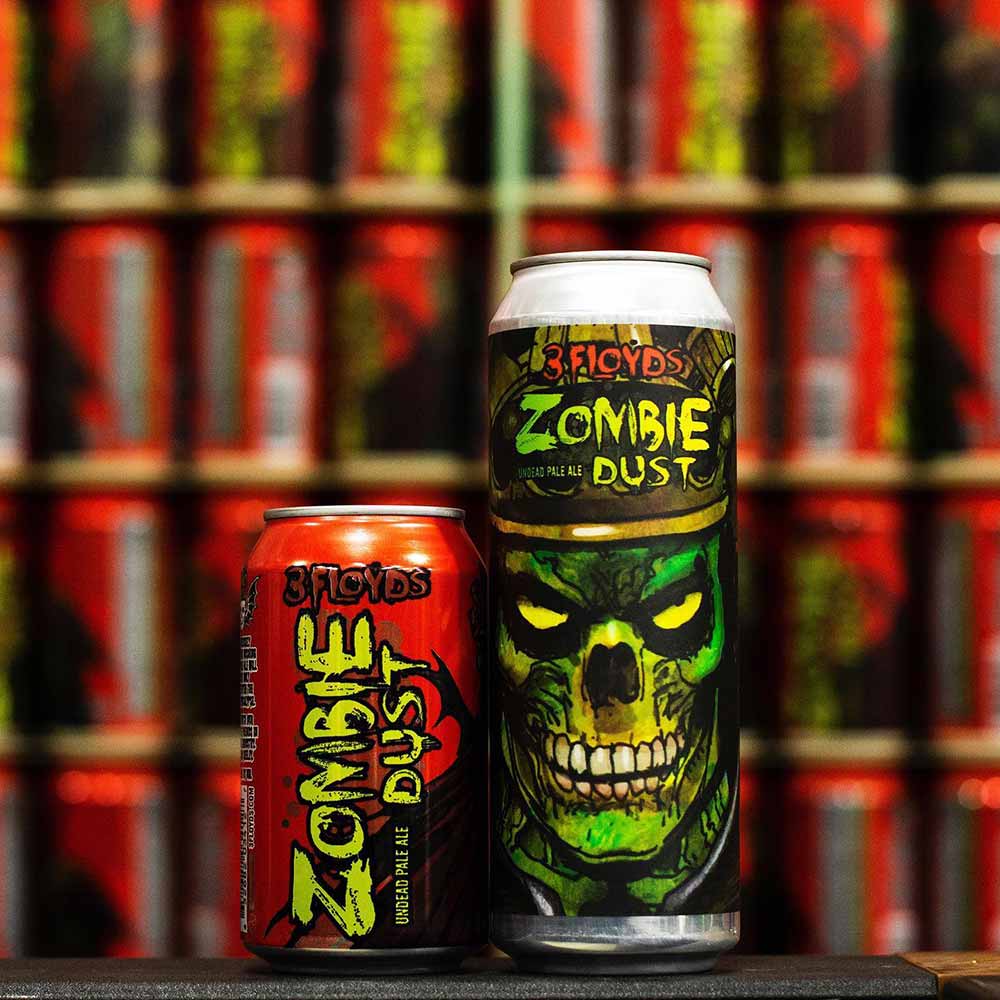 American Pale Ale – First released in 2010, Three Floyds' Zombie Dust features a now well-recognized hop that had just come on the market a mere three years earlier—Citra. And only Citra.
This SMaSH American pale ale captured the juicy, citrusy flavor profile of Citra perfectly.
Today, thousands of beers have showcased Citra, but Zombie Dust is like one of the OGs.
At only 6.2% ABV and 50 IBUs, Zombie Dust gained popularity because it's just a damn-well-made beer that doesn't overload your palate with dankness but instead brightens it with orange, tangerine, and clementine. And at a time when people started reaching higher and higher IBU heights, Zombie Dust stood out like the working person's beer—nothing too fancy, but everything just right.
It's great to see this classic continue to dominate with 3.4k five-star check-ins on Untappd this year.
Focal Banger – The Alchemist
Number of 5-Star Check-Ins: 2,761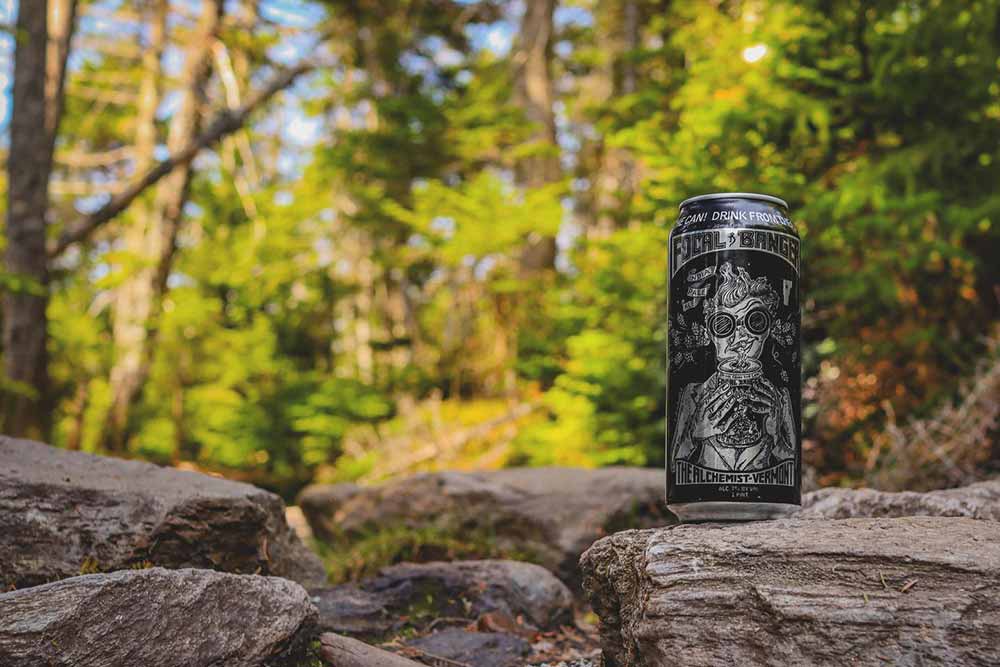 American IPA – The Joker had Harley Quinn; Scobby Doo had Shaggy; Batman had Robin. Even the most iconic heroes and villains had sidekicks. Which is why we love seeing Focal Banger on this list because, yes, Heady Topper is an incredible beer, but so is this American IPA that's often overshadowed by its epic counterpart.
Despite the hypeness of Heady Topper, Focal Banger actually holds its own as a bangin' beer, nabbing 2.7k five-star check-ins on Untappd just this year.
Featuring Citra and Mosaic hops, Focal Banger pours a gorgeous, slightly hazy yellow with tropical fruit and honeydew aromas.
Definitely on the more assertive bitterness side with 90 IBUS, Focal Banger mellows out with equally punchy powers of grapefruit and pineapple.
Making this list proves that Focal Banger is way more than just a beer sidekick.
King JJJuliusss – Tree House Brewing Company
Number of 5-Star Check-Ins: 2,382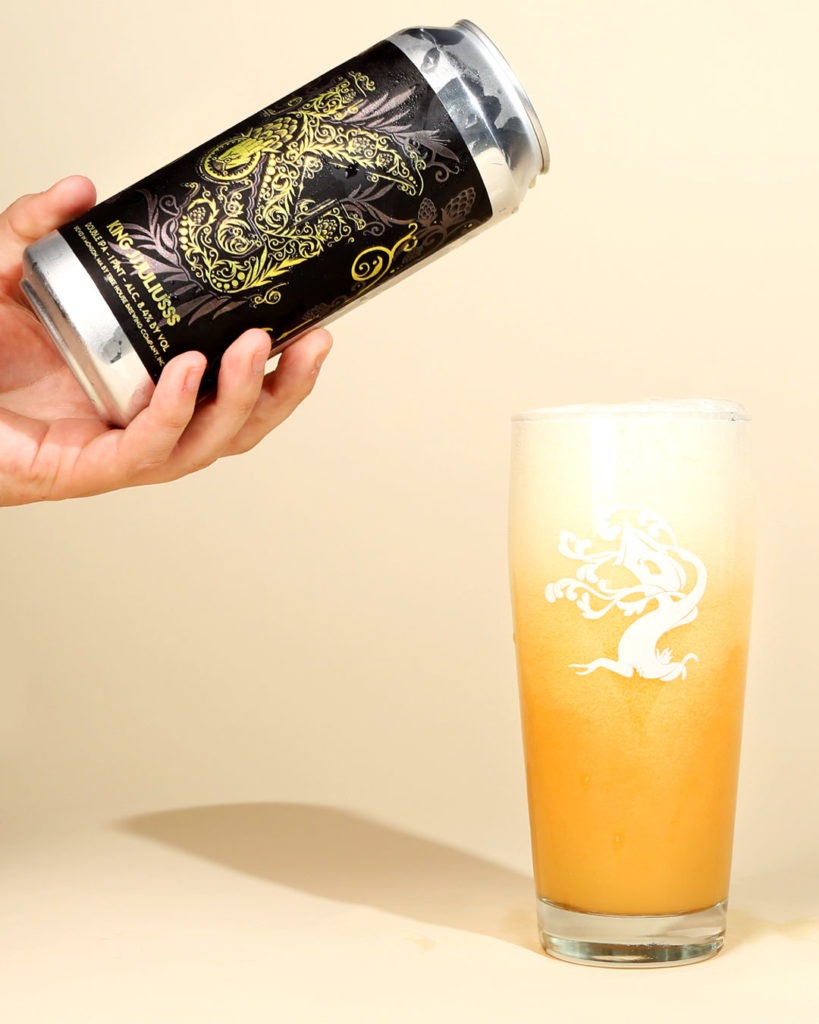 Double IPA – Originally brewed for Tree House's fourth-anniversary celebration, King JJJuliusss takes the brewery's OG King Julius (which also made this list) and does an extra kettle hop and extra dry hop.
"The result is an incredibly intense citrus hop blast unlike anything we've experienced here at Tree House," the brewery writes. "This beer challenges the sense and rewards the palate as it warms in the glass. Complex, raw, and beautiful, the amplified King is a beer we are excited to share with you."
Big notes of mango, orange, and grapefruit hold court in this royal beer, challenging any other beer in the kingdom to dethrone it as one of Tree House's best beers they've ever made.
Seems like folks agree, nominating this DIPA with five stars a grand total of 2,382 times this year.
Spotted Cow – New Glarus Brewing Company
Number of 5-Star Check-Ins: 2,377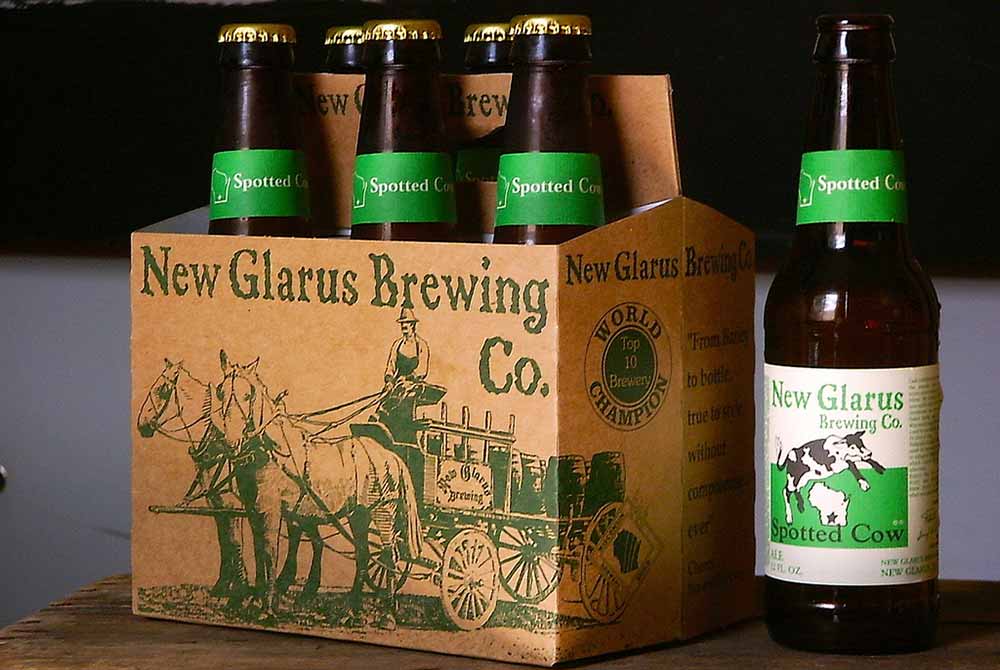 Farmhouse Ale – In 1997, New Glarus Co-Founders Dan and Deb Carey took a trip to England for a beer competition. A side journey to the English countryside full of pastures and sheep inspired Deb. She thought, "I bet when people visit Wisconsin, they must have the same feeling about the cows" (New Glarus).
Spotted Cow became the brewery's flagship farmhouse ale, featuring Wisconsin malts and a bit of corn. The beer represents Wisconsin to its core, much like New Glarus, a brewery that has stayed committed to only serving and distributing beer in its home state for the last three decades.
Today, it's rare to find such a successful brewery as dedicated to its home as New Glarus.
Which makes Spotted Cow's 2,377 five-star check-ins even more of an achievement, considering the beer is literally only available in one Midwestern state.
Weihenstephaner Hefeweissbier – Bayerische Staatsbrauerei Weihenstephan
Number of 5-Star Check-Ins: 2,337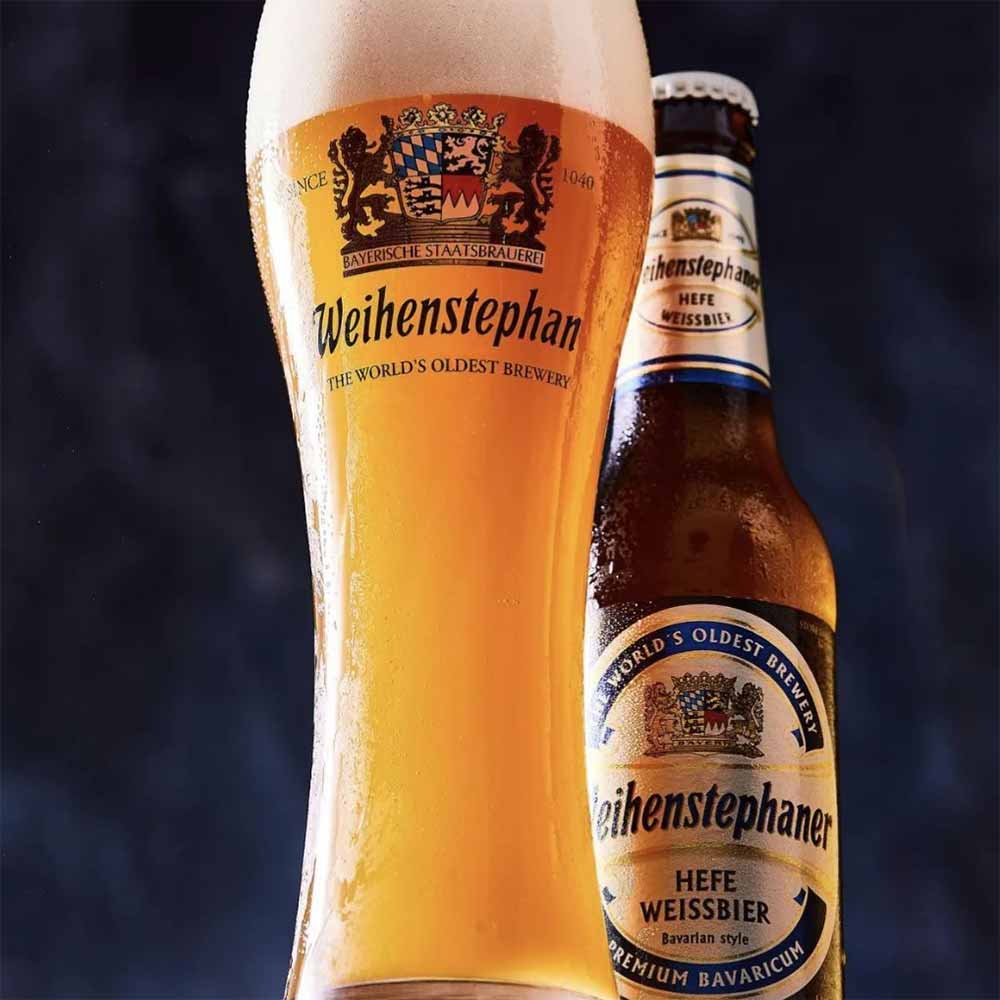 Hefeweizen – Today, the German brewery Weihenstephaner, which calls itself the oldest brewery in the world, makes one of the best and most referential hefeweizens in the world.
Brewed according to centuries-old traditions on the Weihenstephan hill, Hefeweissbier is an epitome of the German style, pouring golden-yellow with a fine head of white foam, smells of cloves, and refreshing, full-bodied, yeasty banana flavor.
If you want the classic German version, you can't go wrong with one from one of the most historic breweries in the world.
A winner of numerous awards, Weihenstephaner Hefeweissbier is the epitome of a German hefeweizen, which is probably why it's gained 2,337 five-star check-ins on Untappd in 2023.
King Julius – Tree House Brewing Company
Number of 5-Star Check-Ins: 2,306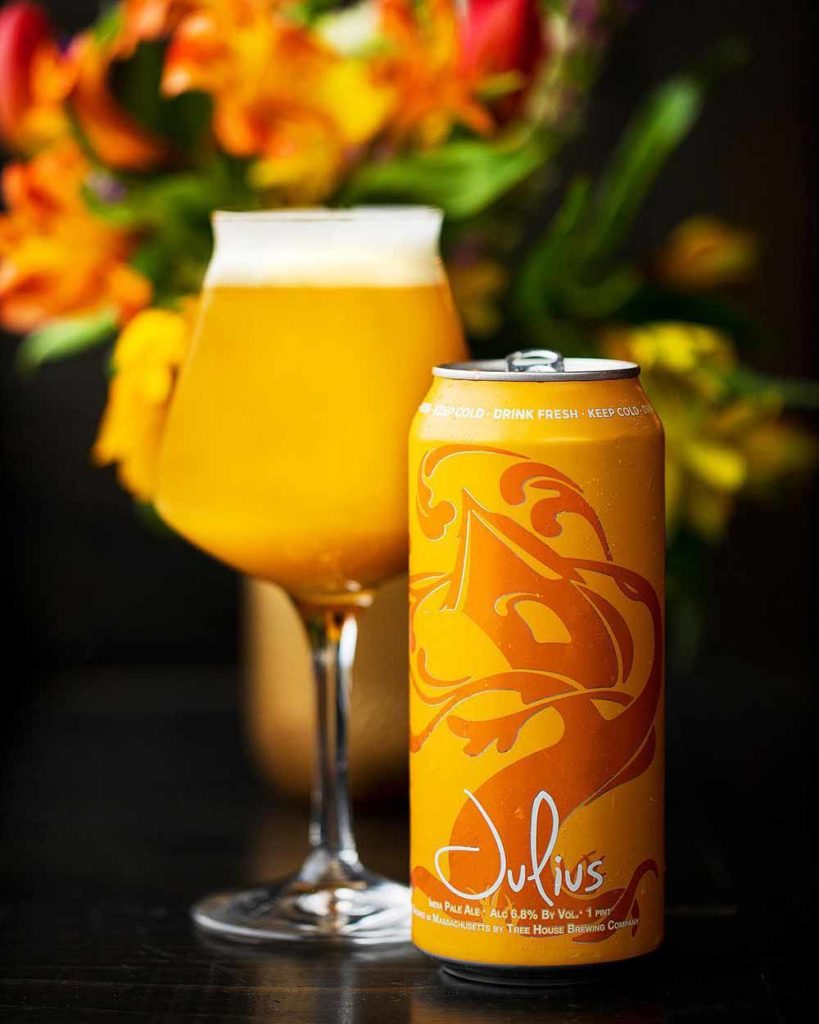 Double IPA – Look, you can't make a better beer without the original being pretty damn good. King Julius has reigned supreme on lists of top imperial IPAs for years. There is a reason why 2,306 people rated this beer a 5.0 in 2023.
Tree House's flagship beer includes hand-selected American hops for a bright menagerie of tropical fruits—mango, pineapple, passion fruit.
All combined with a velvety mouthfeel help make this beer, honestly, one of the epitomes of a hazy before the term hazy became a thing.
It's an OG, a classic; it's a king for a reason.
Orval – Brasserie d'Orval
Number of 5-Star Check-Ins: 2,149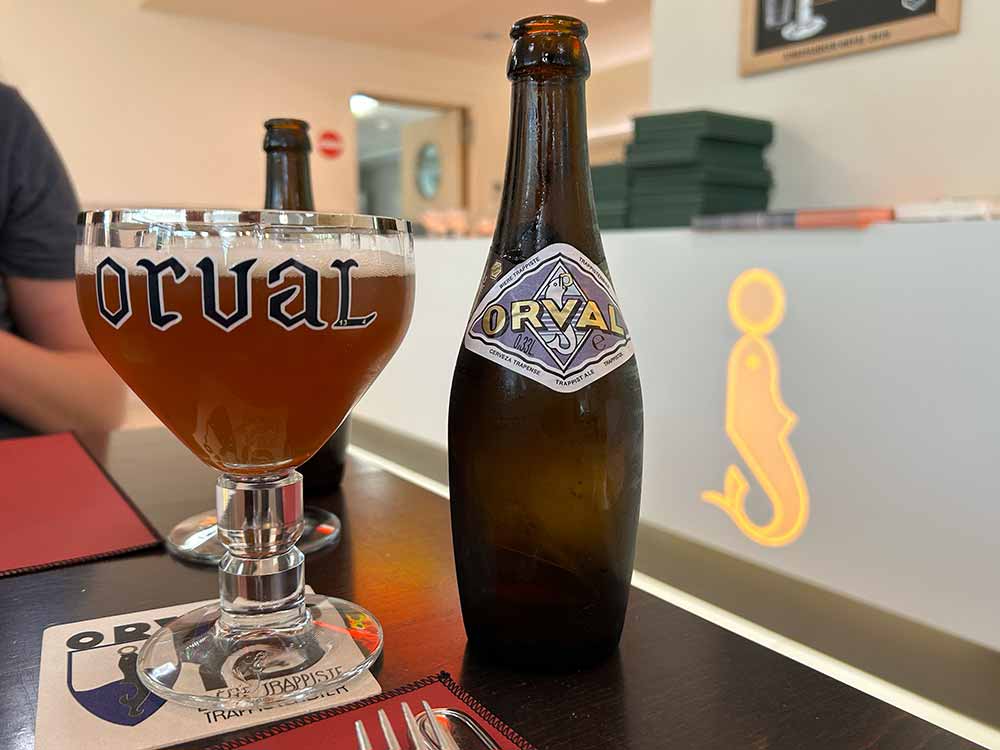 Belgian Pale Ale – We love a beer with history. A Trappist beer from the Abbaye Notre-Dame d'Orval (or Orval Abbey) in Florenville, Belgium, Orval didn't come onto the scene until the 1930s when the monastery started brewing. But the history of the abbey stretches back to 1132 when, as legend has it, the widow Matilde—grieving over her recent loss—stopped by a fountain. As she leaned over, her ring accidentally fell in. Praying for a miracle, Matilde watched as a trout burst the surface, the ring in its mouth.
Overwhelmed with joy, Matilde exclaimed, "Truly, this palace is a Val d'Or" or "Valley of Gold." In tribute, she decided to found a monastery on the site.
In a place as old as Europe, things like fire, war, and time also play an essential role in history. Destroyed during the French Revolution, the Orval Abbey remained abandoned until monks returned in the 1920s, beginning reconstruction in 1926. Architect Henri Vaes designed both the Abbey and the brewery, completed in 1931.
The brewery shipped out the first Orval beer in barrels a year later.
Today, you can still see the iconic trout with a ring in its mouth on everything from the beer bottle labels to the brewery mash tuns.
But in addition to its lore, Orval is a really interesting beer, standing apart from other Trappist beers in several ways.
This Belgian pale ale features Brettanomyces bruxellensis, a yeast strain from the Senne Valley near Brussels, Belgium. Additionally, Brasserie d'Orval dry-hops Orval, something not typically seen in Trappist beers.
Orval also stands apart from other Trappist breweries by boasting the only female brewmaster, Anne-Françoise Pypaert, who worked up from the bottom over the years.
Hop Culture Freelancer Tom Lyon wrote a fantastic piece on the history of Orval that you can read here.
Weitz traveled to Orval three weeks ago, touring the brewery (not normally open to the public) and drinking Orval fresh from the source.
It's a damn fine beer, but she shares an insider's tip. If you are ever visiting Orval, make sure you also try the Orval Vert (Green Orval). This beer is only available on draft on site as the beer the monks drink. It's lower in ABV, uses different, fruitier hops (Mosaic), and doesn't include Brett.
OctoberFest – Samuel Adams
Number of 5-Star Check-Ins: 2,149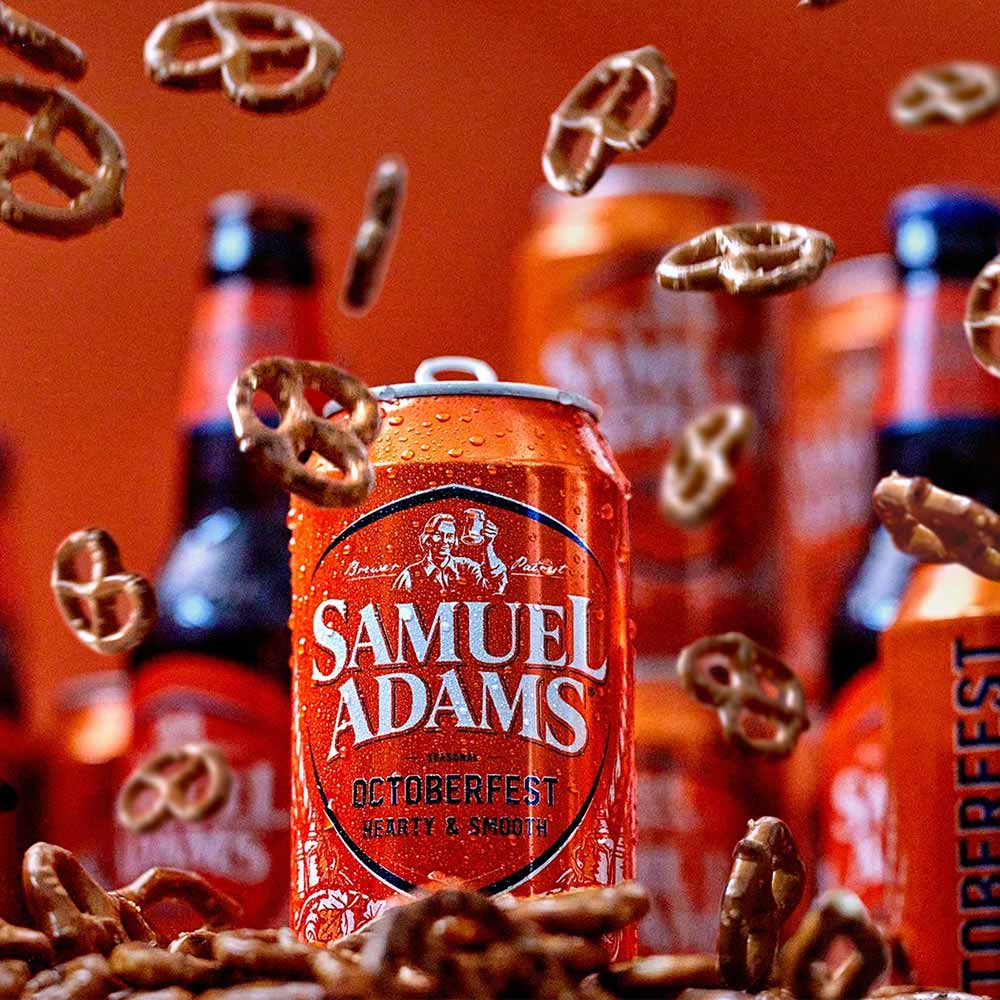 Märzen – We'll admit, this one surprised us a bit. But then we sat back and thought about it. Wait, we added this beer to our list of "The 17 Best Oktoberfest Available in Most Stores Right Now" for a reason.
Boston Beer calls its Samuel Adams OctoberFest a "pröst to fall." Packed full of rich, robust roastiness, OctoberFest pours a gorgeous garnet and punches you in the pie hole with nice biscuity, almost pie-like sweetness from a blend of Samuel Adams two-row pale malt, Munich 10, Caramel 60, and Samuel Adams OctoberFest malt. The brewery's custom malt blends add a unique character to this Märzen.
Hopwise, you'll find Boston Beer stays classical—Tettnang, Tettnanger, and Hallertau Mittelfrüeh Noble hops.
But ferments with its own ale yeast—another one of the brewery's fingerprints on the style.
All meld together harmoniously for a supremely satisfying German lager available from August through October.
Pliny the Younger – Russian River Brewing Company
Number of 5-Star Check-Ins: 2,085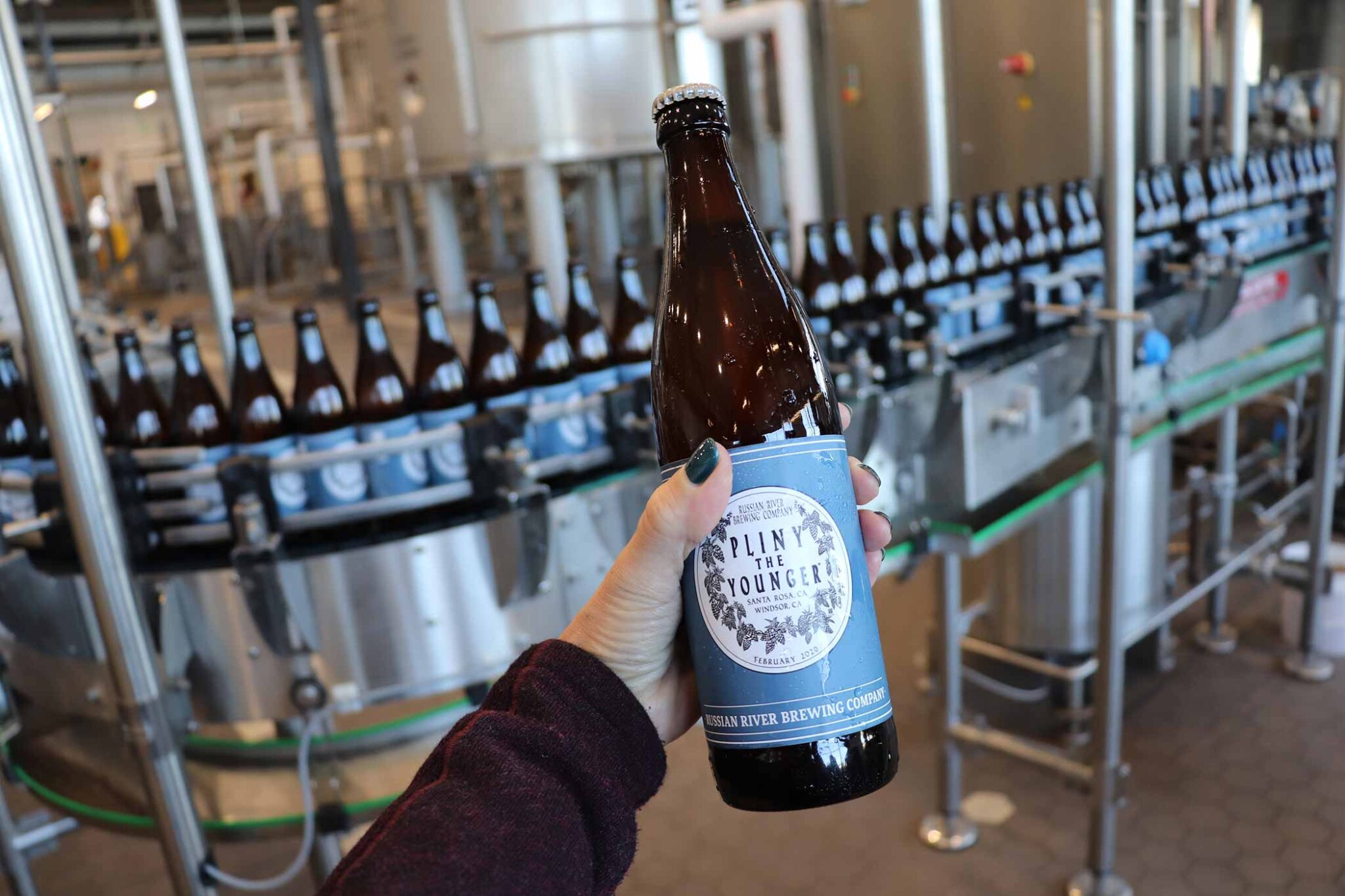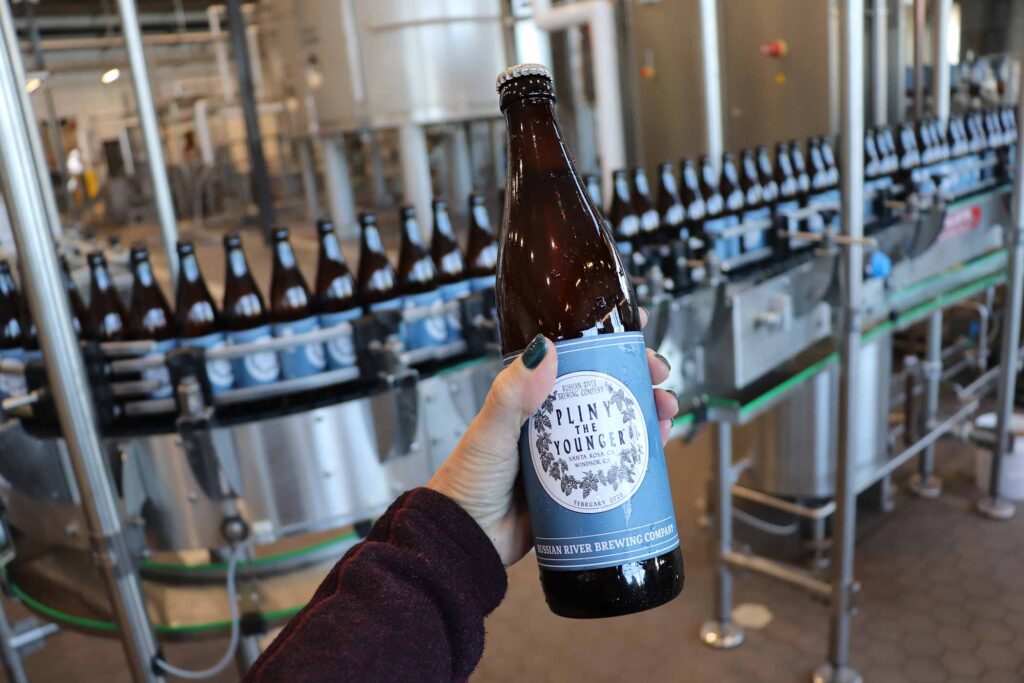 Triple IPA – Hop Culture Senior Content Editor Weitz had the opportunity to go to a Pliny the Younger release for the first time this year with her dad, Mark Weitz.
Driving an hour and change up to Russian River's Windsor taproom on a Monday morning in March, Weitz and her dad weren't quite sure what to expect for a beer that's widely considered one of the rarest in the world.
People packed the taproom and, in a line, wrapped at least a couple blocks long outside.
Weitz, her dad, and countless others (2,085 at least who gave this beer a five-star rating on Untappd this year) are here to say: This beer deserves a spot on this list.
"For a 10% ABV [beer], this is so smooth," Mark gleefully proclaimed after his first sip. "I taste peach, a little grapefruit. It's citrusy but muted and not floral, although it is floral on the nose."
Pliny the Younger has always included Simcoe hops since the very first batch was brewed in 2005. But Russian River Co-Founder Vinnie Cilurzo added Elixir to the mix two years ago and this year, along with Amarillo, Chinook, Citra, Mosaic, and Warrior, dosed Pliny with Nectaron, a New Zealand hop known for its stone fruit notes.
"For me, I get orange slice candies," said Russian River Co-Founder Natalie Cilurzo.
Natalie told Hop Culture that Pliny the Younger has always been at least double dry-hopped long before DDH was a thing. And nowadays, Vinnie technically quadruple dry hops Pliny. "QDH isn't a thing, but maybe we'll make it one," laughed Natalie. So here's the thing: One would expect this beer to slam you in the face with a) bitterness and b) ABV.
But throughout the release, Weitz and her dad kept returning to something Natalie said. "Deceptively well-balanced," she mentioned. "Our friend John Mallett likes to say Vinnie wins the award again for how to hide alcohol!"
Collectively, Weitz and her dad count Pliny the Elder as one of their favorite double IPAs.
After visiting Russian River this year, they both agree that Pliny the Younger might now be their favorite triple IPA.
"I started out thinking I would only have one 10oz pour and then switch to a low-ABV [beer], but I'm definitely going to have a second," said Mark. "And maybe a third!"