Editor's Note:
Welcome to a new series where we pick one of the over 250 styles (including cider, mead, and non-alcoholic) on Untappd, finding which rated the highest over the entire twelve-year history of the world's largest beverage social networking app in it's "Top Rated" section.
For others in the series:
Untappd's All-Time Top-Rated Quadruple IPAs
Believe it or not, September 8th marks National Sour Beer Day (with International Sour Beer Day following shortly on September 20th). Yes, we celebrate a whole day dedicated to the beer style that breaks all the rules.
Which actually makes sense because astonishingly, on Untappd's list of "The Top Ten Styles of 2021," beers in the "Sour – Fruited" category clocked in fourth overall with just a hair over 3M check-ins.
Interestingly enough, these tart renditions, known for leveraging a cornucopia of different fruits, were the only "non-IPA" style to make it into the top five of the year.
And so far this year, "Sour – Fruited" ranks fifth with just over 2.1M check-ins.
In general, sour beers leverage natural microflora like Brettanomyces (often known as just Brett), Lactobacillus (often referred to as "lacto"), or Pediococcus (sometimes known just simply as "pedio") to create incredible funky and intense flavors.
Brewers can introduce that bacteria themselves, making the beer a kettle sour. Or they can let nature do the work by introducing the beer to the wild, open air, often called spontaneous fermentation.
But it's the crucial act of adding fruit that makes a fruited sour.
We've seen everything (and we mean everything) in fruited sours, including peaches, blackberries, raspberries, blueberries, mango, plums, passionfruit, pineapples, lychee, dragonfruit…the shopping list goes on and on.
We've only scratched the surface of possibilities here. Read on to see who dominates the list and continues to wow us with their mouth-puckering wonders.
Here are Untappd's All-Time Top-Rated Fruited Sours.
Untappd's All-Time Top-Rated Fruited Sours
Editor's Note: Since sours are often dependent on fermenting from the environment around them, they're beers that you can see once and then never again. Or released once a year. We found many beers no longer in production on this list, so we decided to focus just on the ones that you can still find out in the ::cough cough:: wild.
Quad Mmm….J.R.E.A.M (Papaya, Pineapple, Peach, Passion fruit) – Burley Oak Brewing Company
Berlin, MD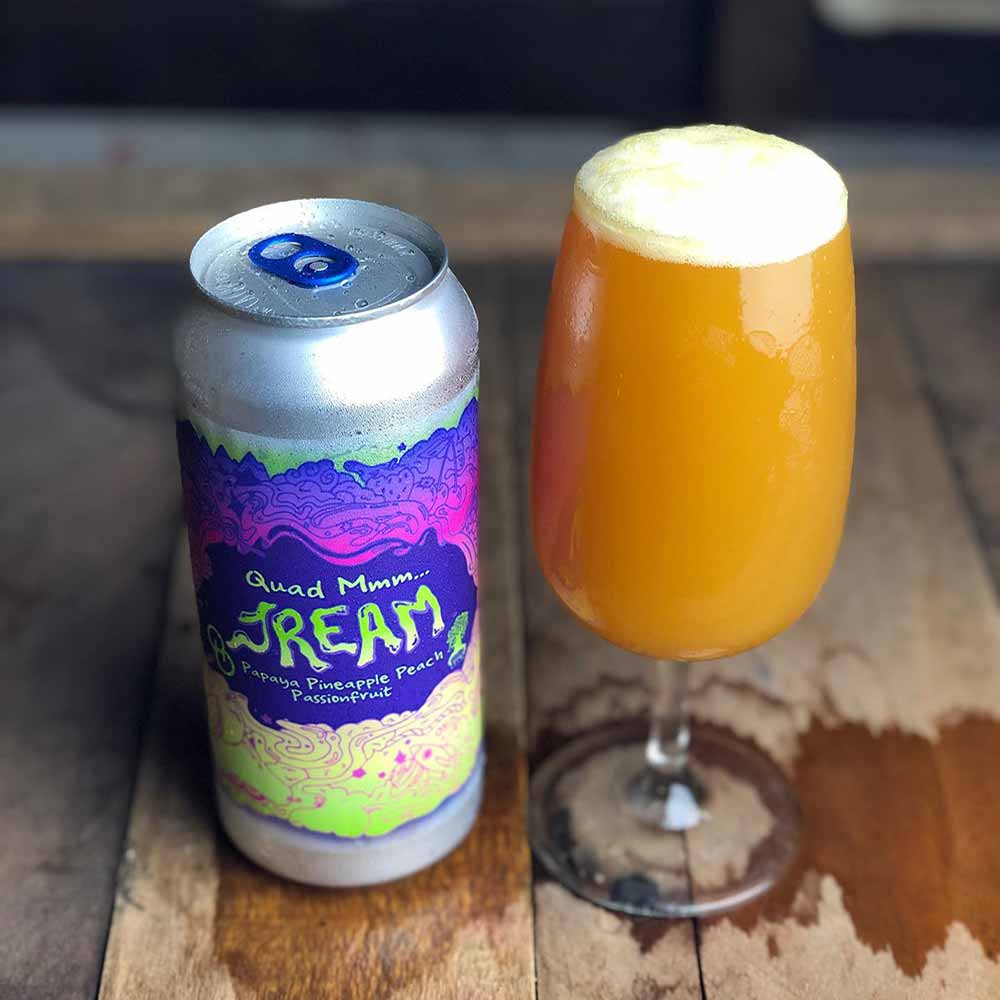 This won't be the first beer on this list from Burley Oak's uber-famous J.R.E.A.M. series (which stands for "juice rules everything around me"). Over the years, Burley Oak has perfected its ode to the Wu-Tang Clan's classic, piling on the produce.
Each version seems to get wilder, fruitier, and more intense. Combined with lactose, the incredibly hefty amounts of fruits in these fruited sours capture people's eyes and taste buds.
We're not sure exactly how many fruited sours Burley Oak has made in the J.R.E.A.M. series now, but obviously, this particular one with papaya, passion fruit, pineapple, and peach ranks at the top.
Did we mention this beer clocks in at 11% ABV, too? Yup, but you couldn't tell. Maybe that's why it earns the top spot on Untappd's All-Time Top-Rated Fruited Sours for beers still in production.
EVEN MORE DAILY SERVINGS – Evil Twin Brewing NYC
Ridgewood, NY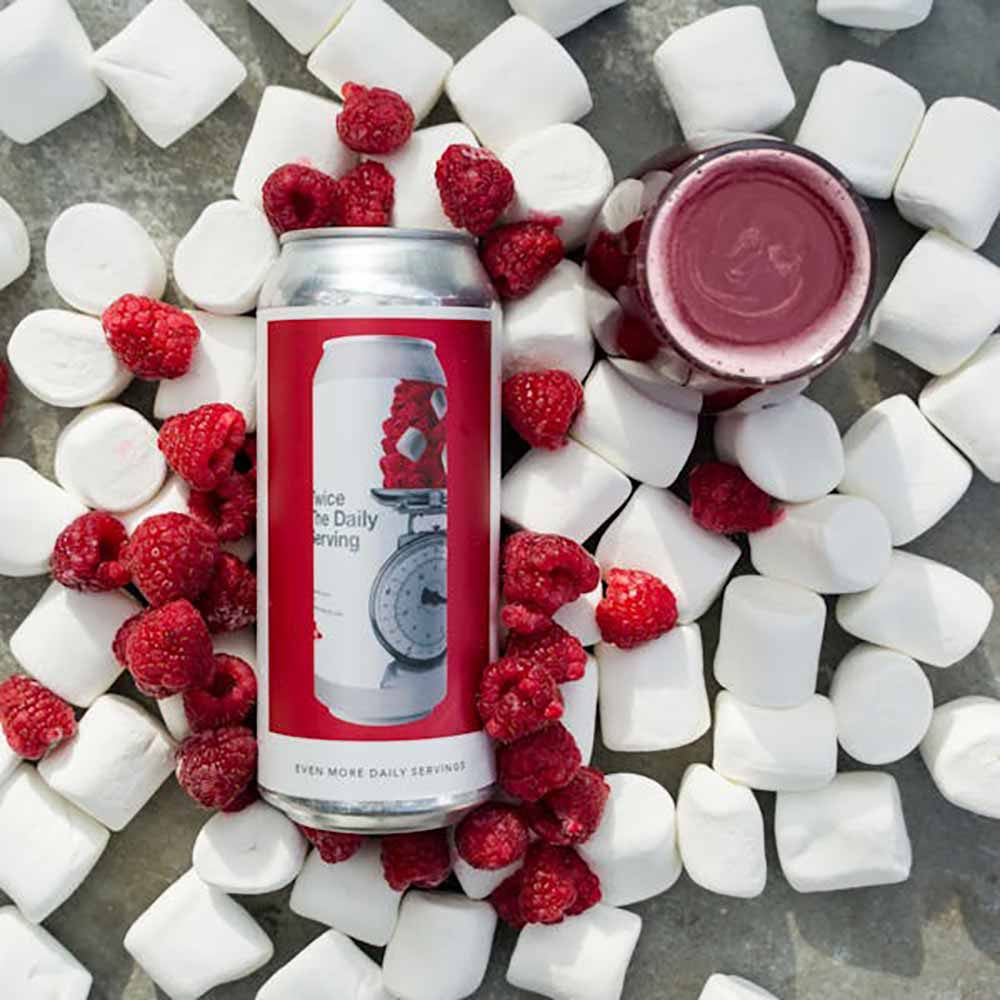 Another brewery you'll find more than once on this list, Evil Twin has become known for its devilish tactics with fruit in beer (and hard seltzer!).
If an apple a day keeps the doctor away and the U.S. Department of Agriculture recommends we eat anywhere from 1½ to 2 cups of fruit per day, Evil Twin probably gets us there in just one can.
EVEN MORE DAILY SERVINGS riffs on a series from Trillium called Daily Serving (in fact, this is a collab with the Massachusetts-based brewery), including heaps of raspberries along with marshmallows for a sweet, berry-forward beer that's a ton more fun to get your daily fruit serving from than a cup of the real stuff.
Soursmith Black Raspberry – Arclight Brewing Company
Watervliet, MI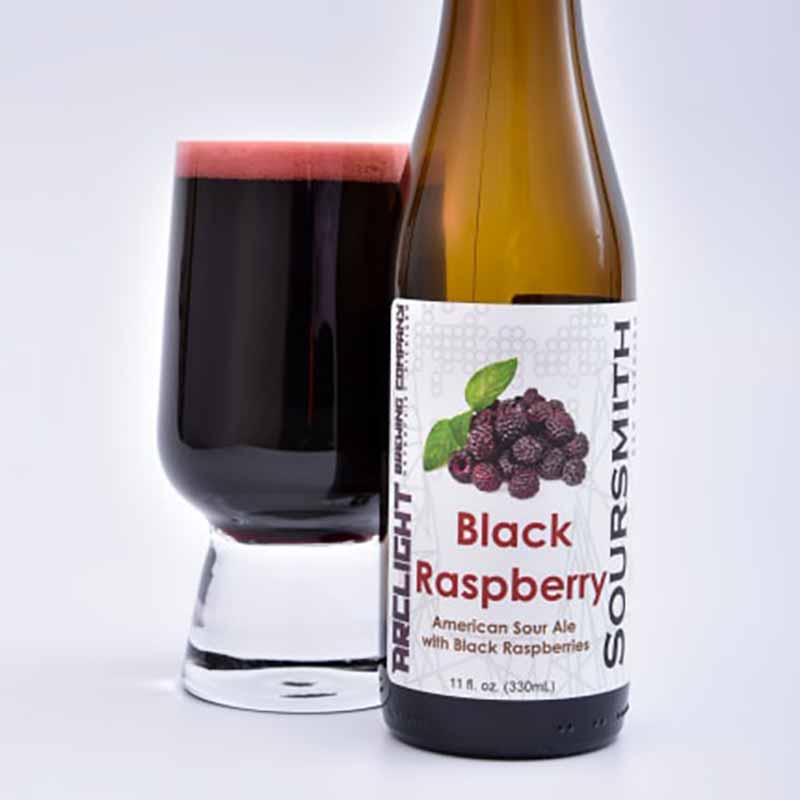 Savvy savants of sours, the Michigan-based Arclight, brews several different versions in its Soursmith series, including kriek (cherry), mango, and red raspberry. But the foeder-aged one with black raspberries gets top marks, earning a 4.48 rating on Untappd.
Triple Apricot Raspberry J.R.E.A.M. – Burley Oak Brewing Company
Berlin, MD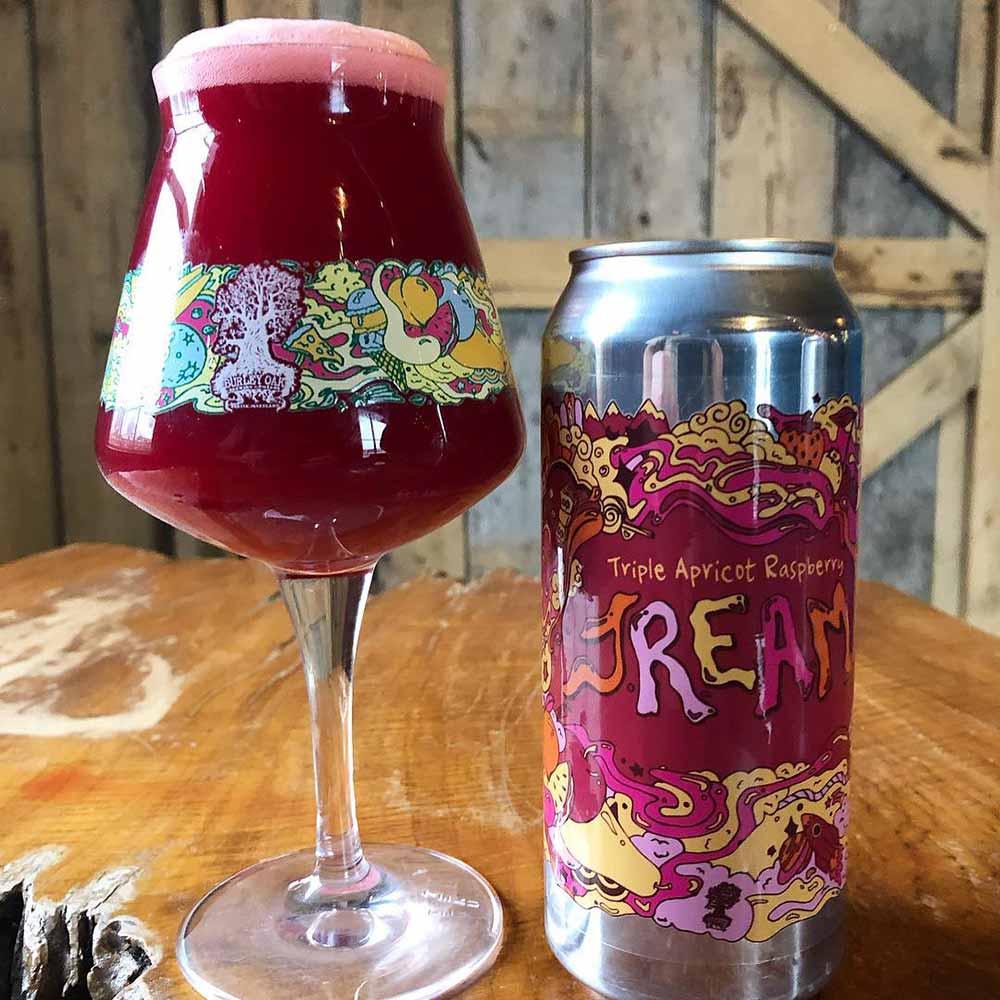 As we said, Burley Oak's J.R.E.A.M. beers show up quite a few times on this list. And rightly so. This imperial sour ale gets dosed with triple the amount of raspberry and apricot—plus lactose—for a creamy, dreamy, jammy sour.
Triple Berry Cherry – Burley Oak Brewing Company
Berlin, MD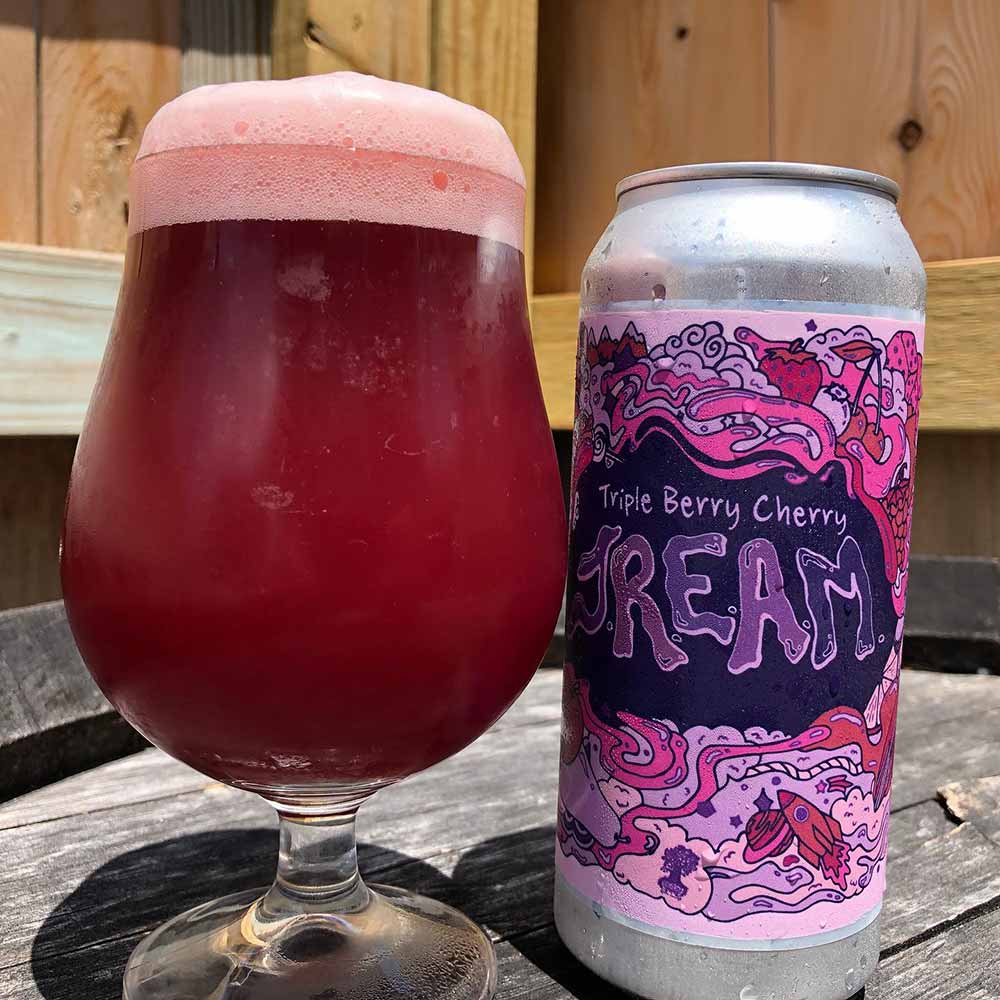 We don't mean to sound like a broken record. Actually, it's a testament to Burley Oak that they can continue to churn out incredible fruited sours in a series that consistently rank so high. Triple Berry Cherry takes the O.G. J.R.E.A.M to a whole other stratosphere with triple the red raspberry, sweet cherry, and tart cherry. Conditioned with lactose, this imperial sour would be a great one to try if you've never had any Burley Oak J.R.E.A.M.s before.
PB & J Mixtape – Xül Beer Company
Knoxville, TN
Thinking back to our childhood, PB&J sandwiches endlessly existed.
The quintessential adolescent sandwich often included Home Pride White Bread slices with gobs of Skippy 25% Reduced Fat Peanut Butter and schmears of Welch's Concord Grape Jelly.
These days we'd rather "drink" our PB&J. So from the bottom of our hearts, thank you, Xül Beer Co., for making the drink of our youthful dreams.
If we could sip anything more nostalgic, we're not sure what that would be. For a fruited sour that brings tart tears—both happy and sour—to our eyes, give PB&J Mixtape a shot.
Blackberry Cobbler J.R.E.A.M. – Burley Oak Brewing Company
Berlin, MD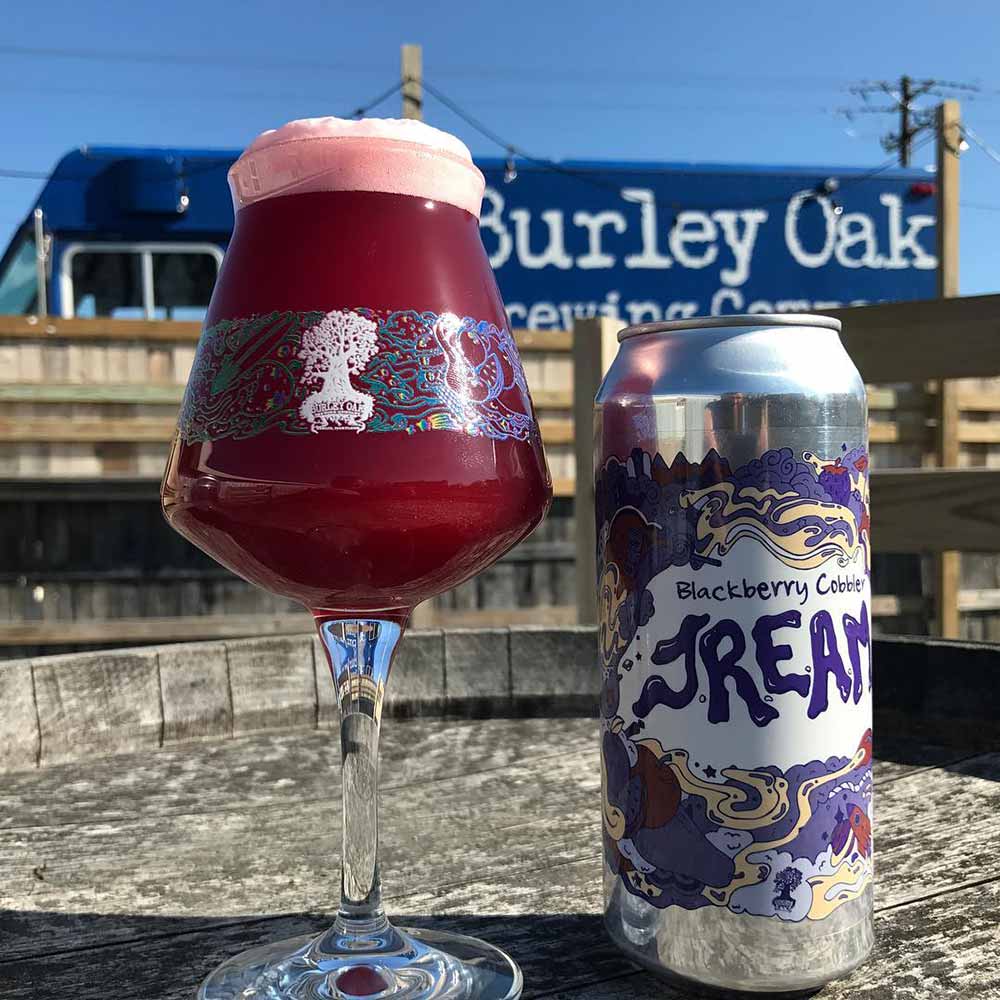 Berries seem to be a pretty common thread among the most successful Burley Oak J.R.E.A.M. beers. Here blackberries make an appearance again, combined with cinnamon, vanilla, and brown sugar and conditioned on lactose. This one drinks exactly like it sounds—blackberry cobbler in a can!
Red & Blue Puffsicle – The Answer
Richmond, VA
One of the best breweries in Richmond, The Answer makes excellent single, double, and triple IPAs along with indulgent pastry stouts and pulpy fruited sours. With Red & Blue Puffsicle, The Answer adds forty percent raspberries and sixty percent blueberries, along with a bit of vanilla. Remember those red, white, and blue Rocket Pops? This beer is kind of like that but with a buzz.
Double Blueberry Cobbler J.R.E.A.M. – Burley Oak Brewing Company
Berlin, MD
Double the blueberries, cinnamon, vanilla, and brown sugar, this imperial sour hits a 4.39 rating on Untappd to round out all of Burley Oak's five offerings in the top ten list of Untappd's All-Time Top-Rated Fruited Sours.
ET STAY(ED) HOME 12 – RASPBERRY, BLUEBERRY, BLACKBERRY, SWEET CHERRY, SOUR CHERRY – Evil Twin Brewing NYC
Ridgewood, NY
The only other brewery to make its mark on this list more than once, Evil Twin stuns again with an out-of-this-world sour packed with lots of produce. Raspberry, blueberry, blackberry, and sweet and sour cherries all make an appearance in this 6% ABV fruited sour. Evil Twin describes this one as "nostalgic flavors of mixed berry jam with subtle notes of stone fruit."
Even More Hydra – Mortalis Brewing Company
Avon, NY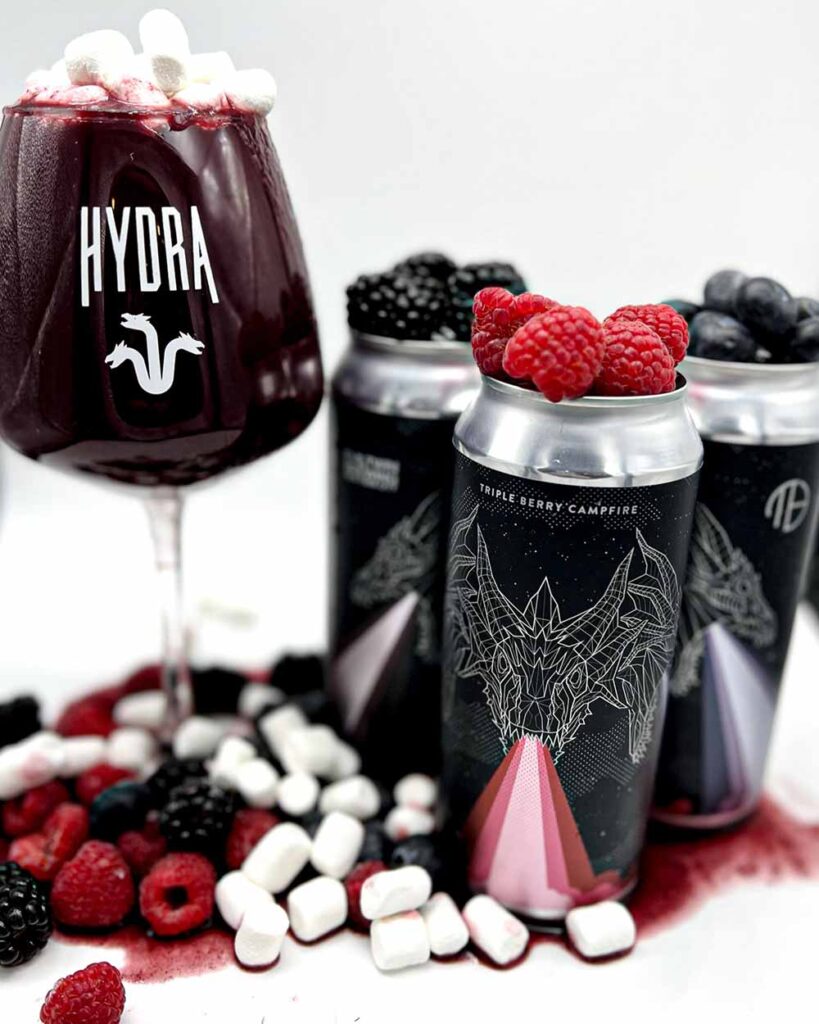 One of our favorite smoothie sour makers, Mortalis, like Burley Oak and Evil Twin, electrifies with some of the world's best, most-indulgent fruited sours. Their ability to outdo, go over the top, and continue to innovate with new flavors weekly just impresses the heck out of us.
Actually a collab with the aforementioned Evil Twin, Even More Hydra includes blackberry, raspberry, blueberry, marshmallow, and cacao nibs. A reference to the Greek monster's many heads, Mortalis' Hydra series gives you plenty of flavors to explore.
Looking For More?