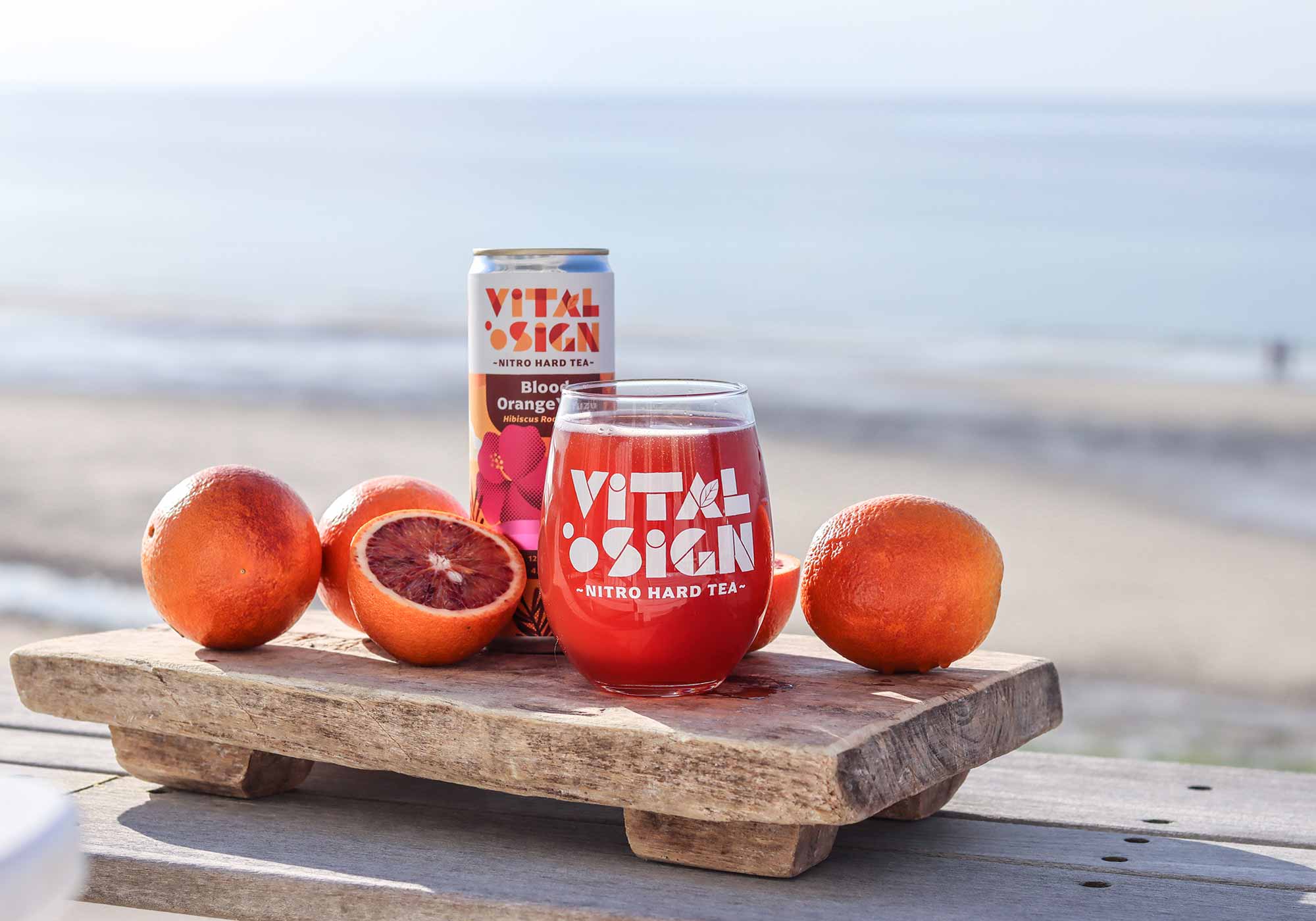 Photography courtesy of Vital Sign
Editor's Note:
This is a paid, sponsored post presented by Vital Sign.
Innovation drives the craft beer industry. Already this year, we've seen a new series of CBD-infused drinks, a line of sparkling hard teas, and even the launch of various non-alcoholic brands. But, we have yet to see anything like Stormalong Cider's Vital Sign, new line-up of nitro hard teas hitting shelves this month.
And that's because Vital Sign is the first of its kind.
What Is Stormalong Cider?
Founded in 2014 by Shannon Edgar, Stormalong Cider showcases the virtues of cider made with the right apples. Inspired by the tall-tale of Captain Alfred Bulltrop Stormalong, described as the "Paul Bunyan" of the sea, Stormalong treats cider like an artistic endeavor. The Massachusetts-based cidery uses a blend of culinary and rare heirloom apple varieties to craft traditional and modern takes on the fermented apple beverage.
Taking almost a renaissance approach to cider-making, Stormalong strives to increase the awareness of the breadth of apple cultivars, which can date back hundreds of years. Their motto, "Respect the apple," is something you'll find repeatedly throughout Stormalong Cider's website.
Just like Stormalong's eponymous seafarer, the cidery pushes boundaries. Their spirit of innovation has helped the company drive its most creative initiatives.
What Is Vital Sign Nitro Hard Tea?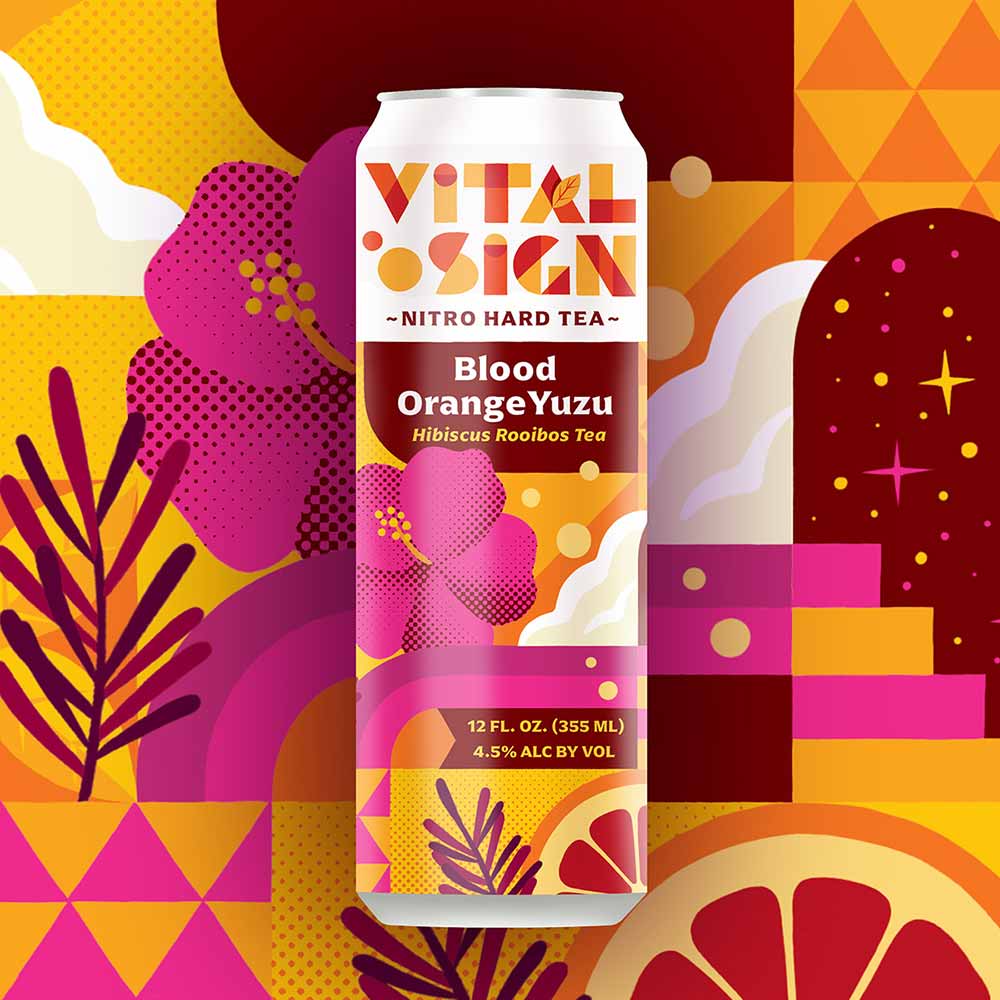 A creation of Stormalong, Vital Sign Nitro Hard Tea is a completely new brand of hard teas. Made with high-grade loose leaf tea and real fruit, the nitro hard teas are the first of their kind in the industry.
As a big kombucha and traditional tea drinker, Edgar first considered launching a hard kombucha line. When he encountered too many constraints in making hard kombucha, Edgar started venturing down the hard tea rabbit hole.
"As I learned more about tea and gained more educated appreciation for it, it seemed like a no-brainer to start experimenting with it," says Edgar.
Edgar's interest grew out of "hobbyland", as he calls it, but he quickly saw an opportunity. Back in 2014, he started Stormalong because he was disappointed with on-the-shelf offerings. And so it was with hard tea.
"We're constantly educating people that cider isn't a concentrated heavily sweetened soda," says Edgar. "Similarly, with hard tea, we found an area to explore to show people, 'Hey, this can be more.'"
From Craft Cider to Hard Tea: Breathing Life Into Vital Sign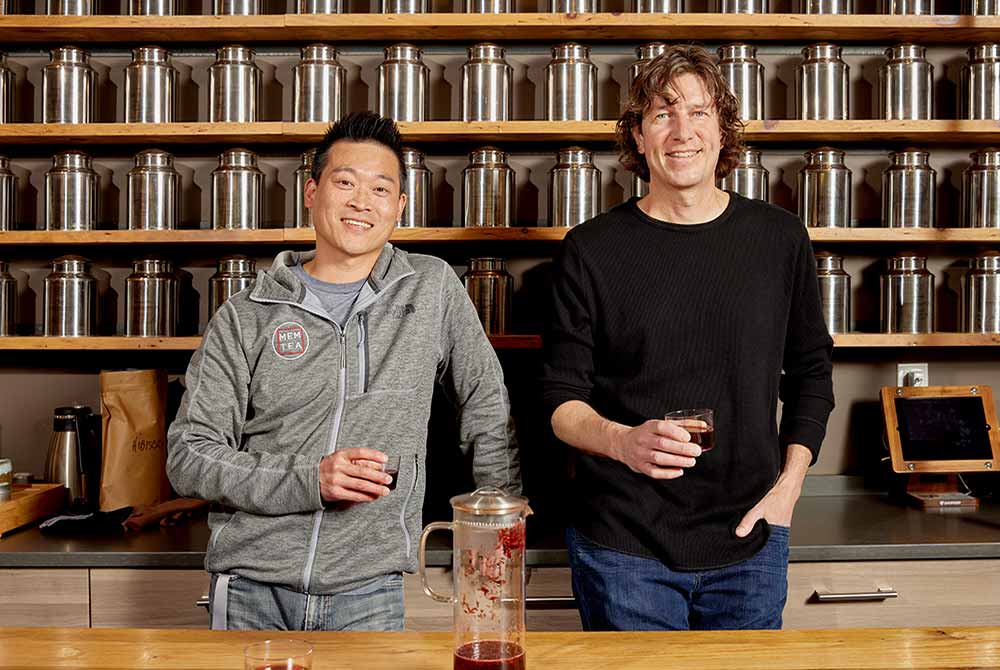 In 2020, Stormalong Cider launched a new holiday cider called Happy Holidays. Leveraging a custom spice blend of cinnamon, nutmeg, cloves, and ginger from Boston-based MEM Tea, the new seasonal cider quickly became a hit.
"Gil and his crew at MEM are very knowledgeable," says Edgar. "They have great relationships out there and they'll custom blend things in house. They'll even bid on small lots [of tea] from specific regions. And can source amazing rare Oolong or green teas. They really helped improve our tea knowledge."
In a way, exploring the new world of teas for Edgar proved to be very similar to apples.
"As I started learning more about tea, I thought, Whoa, this has a lot of similarities to cider and apples. Terroir, varietals, and so many possibilities, tastes, and profiles you have from one plant," says Edgar. "There were some Oolongs I tasted and was blown away by. I thought, How is it possible this flavor is coming from one tea? I had the same experience with apples and cider. I'd taste a crab apple and think, Holy crap, this tastes like a sour patch kid. How is that possible? This same light bulb moment happened with tea."
Through his relationship with MEM Tea, Edgar started exploring a line of hard teas. And much like Edgar brings an ethos of transparency and authenticity to his ciders, he follows a similar approach with the new line of nitro hard teas.
Vital Sign: Real Fruit and Less Than 120 Calories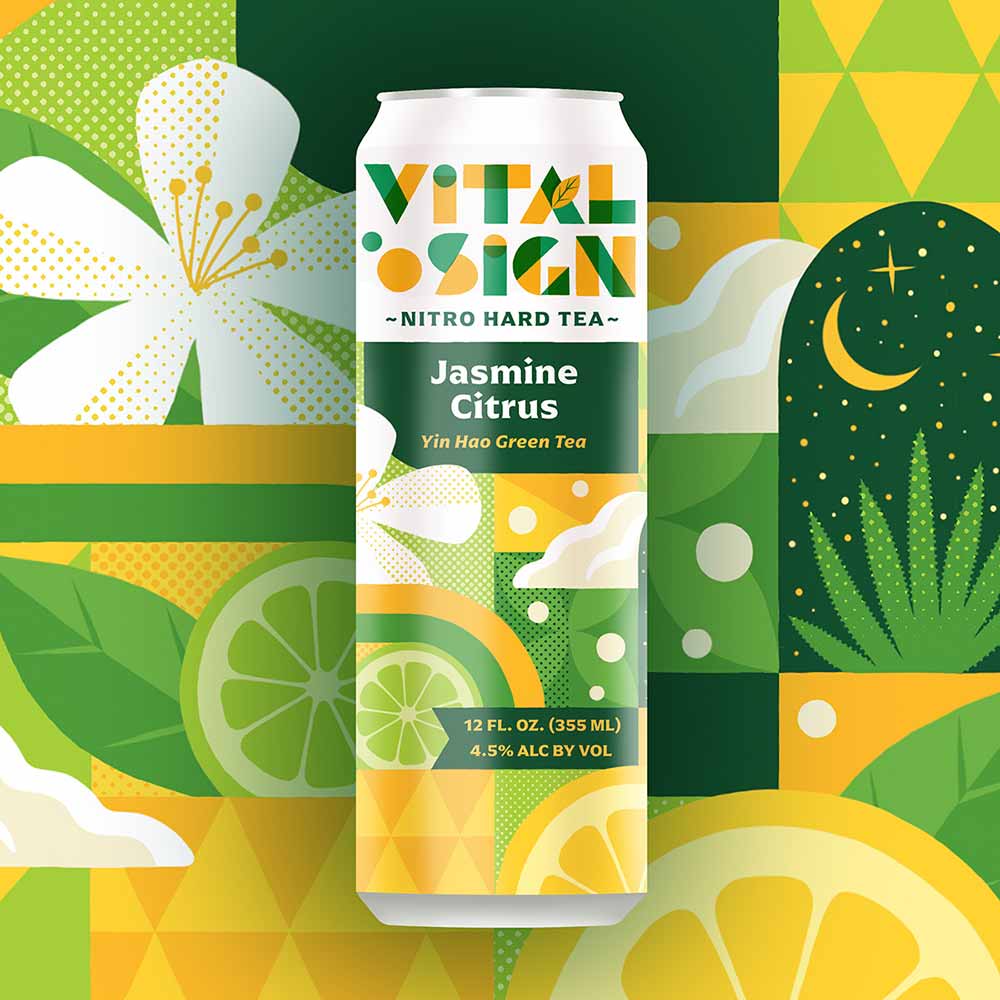 You'll only find one hundred percent real fruit and loose leaf teas in the Vital Sign series of nitro hard teas. And that has been a one hundred percent conscious choice on the part of Edgar and his team.
Creating a naturally sweetened product is important to the cidery. Forgoing powders, extracts, and chemically concocted 'natural flavors' plays into the company's entire ethos.
"[In the beginning], we experimented with 'natural' blood orange flavor from some fancy companies," says Edgar. "But samples showed up in boxes with the toxic symbol on it. Most people don't know this, but a 'natural flavor' could have 100 different chemicals in it."
Instead, Edgar began using real fruit juice to sweeten and compliment his hard teas.
"We felt like these juices really helped enhance the tea flavors and kept us out of this natural flavor world," he says.
Similarly, Edgar takes a transparent approach when putting the "hard" in hard tea. Instead of adding cane sugar as an alcohol base, he leverages his expertise in apples, fermenting and distilling the fruit along with a grape brandy to create an alcohol that has a clean, unadulterated taste.
All of these processes help keep Vital Sign under 120 calories and six grams of sugar.
Why Does Vital Sign Include Nitro?
To make these new hard teas extra velvety, Edgar adds a dose of nitro. A fairly common technique in the craft beer industry, nitrogenization creates a creamy texture and mouthfeel.
"If you think about tea in its traditional or iced format, it's not usually carbonated," says Edgar. "But people like bubbles… so we wanted to do something that had mouthfeel to it but wasn't a completely still product."
Likewise, tea is often served with milk, so adding nitro into the product emulates that creamy component without dairy.
Trying the Three Flavors of Vital Sign
After testing hundreds of possibilities, Edgar honed in on three core flavors for Vital Sign: Jasmine Citrus, Mango Passionfruit, and Blood Orange Yuzu.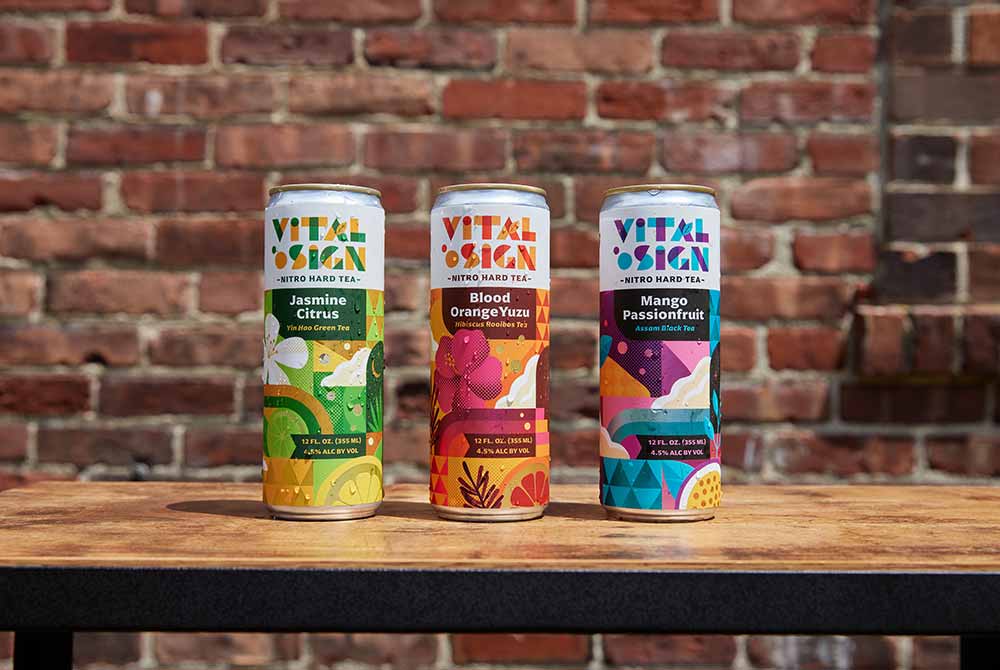 An avid Peet's Coffee fan, Edgar would often drink the Jasmine tea from the popular West Coast coffee shop. So he developed his first flavor of Vital Sign, Jasmine Citrus, as an homage. The product is made with Yin Hao Jasmine Green tea and blended with lemon and lime juices, and lightly sweetened with organic blue agave.
"[Jasmine] is just a beautiful base and by adding a little citrus to it, we create a super-refreshing flavor," says Edgar.
For a more tropical take, Edgar created Mango Passionfruit, which combines mango and passionfruit juices with the leaves from a high-grade Assam Black tea. Slightly sweet and tart, "Mango passionfruit is a great combination. We add just a little bit to give the black tea an enhanced flavor," says Edgar.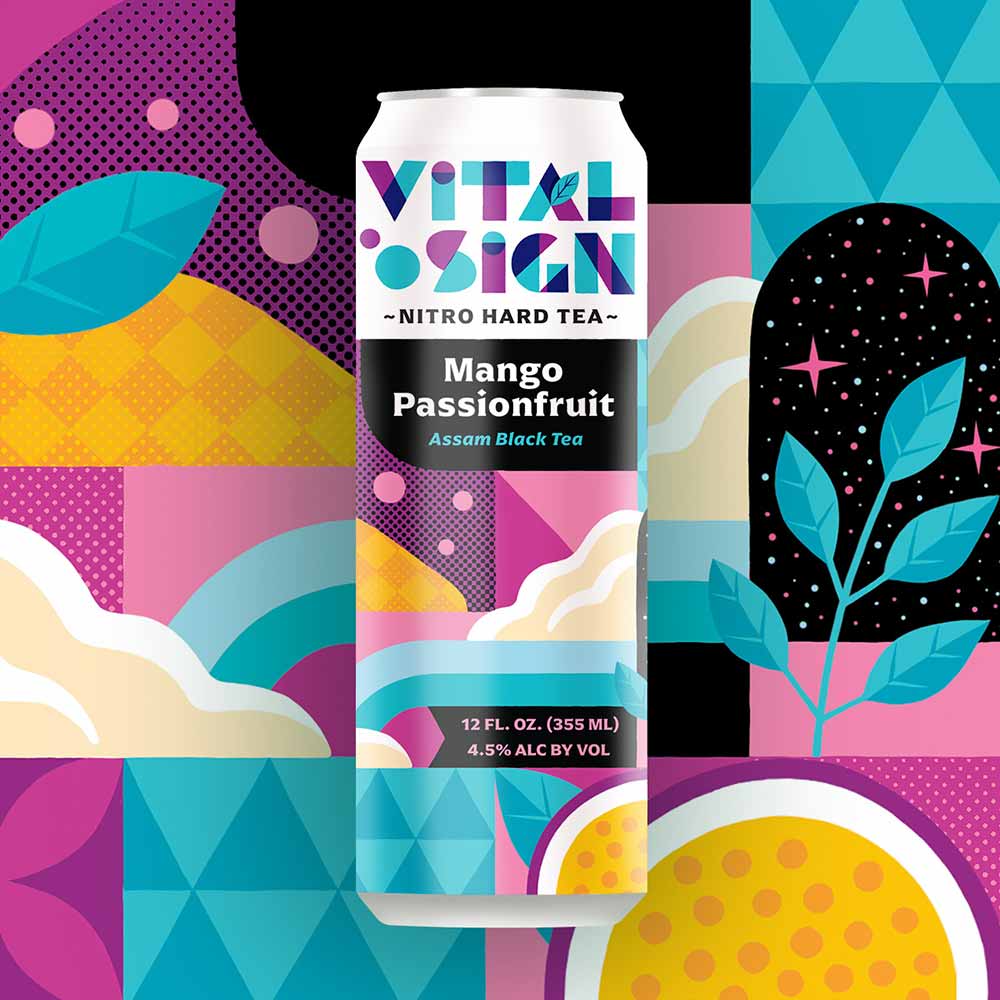 Finally, Blood Orange Yuzu proved the hardest to fine tune. A custom blend of Rooibos, Hibiscus, and Honeybush tea, Blood Orange Yuzu features a cornucopia of unique teas.
Hibiscus is a flower Edgar had used in a Stormalong cider called Red Skies at Night, so he knew he wanted to build a flavor profile around this unique ingredient. But bringing in the other components proved challenging. He eventually settled on a compliment of Rooibos and Honeybush tea.
As a final touch, Edgar adds a dash of blood orange and yuzu juice.
"That took it up a final notch," says Edgar. And while the yuzu can be a bit pricey, it's the flourish that finally perfected this flavor. At 120 calories and six grams of sugar this last core product melds perfectly for a sweet floralness, caramelized citrus, and touch of tart.
What Is the Verdict on Vital Sign Nitro Hard Tea?
Light, tropical, herbal, citrusy, and refreshing, Vital Sign ticks all the right boxes for a better-for-you beverage.
The name "Vital Sign" refers to the transparency and authenticity that are quickly becoming hallmarks of the brand. Edgar hopes that people will want to drink the nitro hard tea line because it's clear exactly what ingredients you're putting into your body.
Plus, the name leaves room for the brand to grow. Edgar says there's potential to explore the CBD and THC space — or even a non-alcoholic version — in the future.
For now, the nitro hard teas will stay top of mind. Next on the calendar, Vital Sign will be releasing a fall/winter seasonal. And while Edgar wouldn't divulge exactly what they're working on, you can be sure that it'll stay true to the brand and leverage real loose leaf tea and fruit juices.
Where to Buy Vital Sign Nitro Hard Tea
At the time of publication, Vital Sign had just started shipping to Massachusetts and Rhode Island and will be available later in this summer in Southern California, Connecticut, New Hampshire, and Maine. You can also purchase Vital Sign online for shipping to all the lower 48 states.
All signs point to a long and healthy life for this groundbreaking brand.
This is a paid, sponsored post presented by Vital Sign.
Liked this article? Sign up for our newsletter to get the best craft beer writing on the web delivered straight to your inbox.