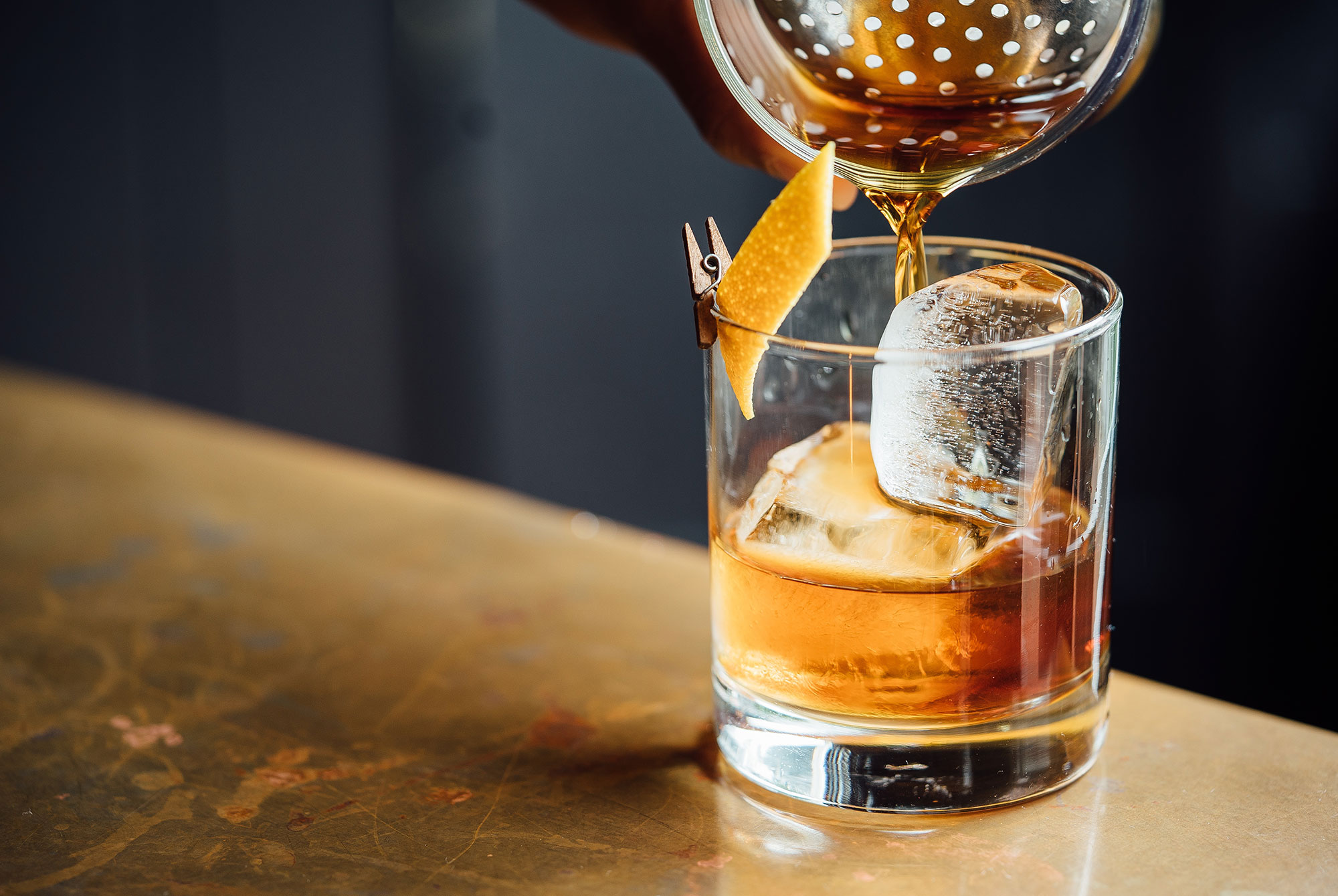 Photography courtesy of Adam Jaime | Unsplash
Considered the water of life, whiskey (whisky) has become one of the most popular spirits in America and worldwide.
So much so that even breweries are collaborating on or distilling their own versions nowadays.
With World Whisky Day coming up this weekend on May 20th, 2023, we're honoring this time-tested tipple by raising a glass of this strong, stiff spirit.
Whether you like whiskey neat, on the rocks (ice), with a splash of water, or mixed into a cocktail, here are our favorite unique whiskeys to try on World Whisky Day.
What Exactly Is Whiskey? And How Is It Different From Bourbon?
All bourbons are whiskey, but not all whiskies are bourbon.
Whiskey includes grain, water, and yeast, but it's the first ingredient that genuinely differentiates the two liquors.
For instance, American rye whiskey must include fifty-one percent rye, while bourbon must have a mash bill of fifty-one percent corn.
Producers generally distill whiskey—such as Irish and Canadian varieties— in used primarily bourbon barrels for at least three years.
Conversely, bourbon ages in new, charred American white oak barrels for a minimum of two years.
For both whiskey and bourbon, the process starts the same, adding milled grains into hot water cooked in a mash tun (similar to beer, too, right!?). From there, the sugar-rich liquid goes into a fermentation tank called a washback, where yeast is added to eat the sugar and convert it into alcohol—this becomes the wash, aka distiller's beer. To distill the alcohol, the wash gets heated. Essentially, since alcohol boils at a lower temperature than water, the alcohol will become vapor, rising into the neck of the still before being cooled and morphing back into liquid.
Depending on how many times you distill, you'll get a higher alcohol content. After that first run, most spirits reach around 60-70% ABV.
The alcohol content is essential because bourbon, for example, can only go into a barrel at less than 125 proof (62% ABV).
On the other hand, most whiskies need to be at least 80 proof (40% ABV). Distillers achieve this by adding water to the wash before barreling.
This History With Whiskey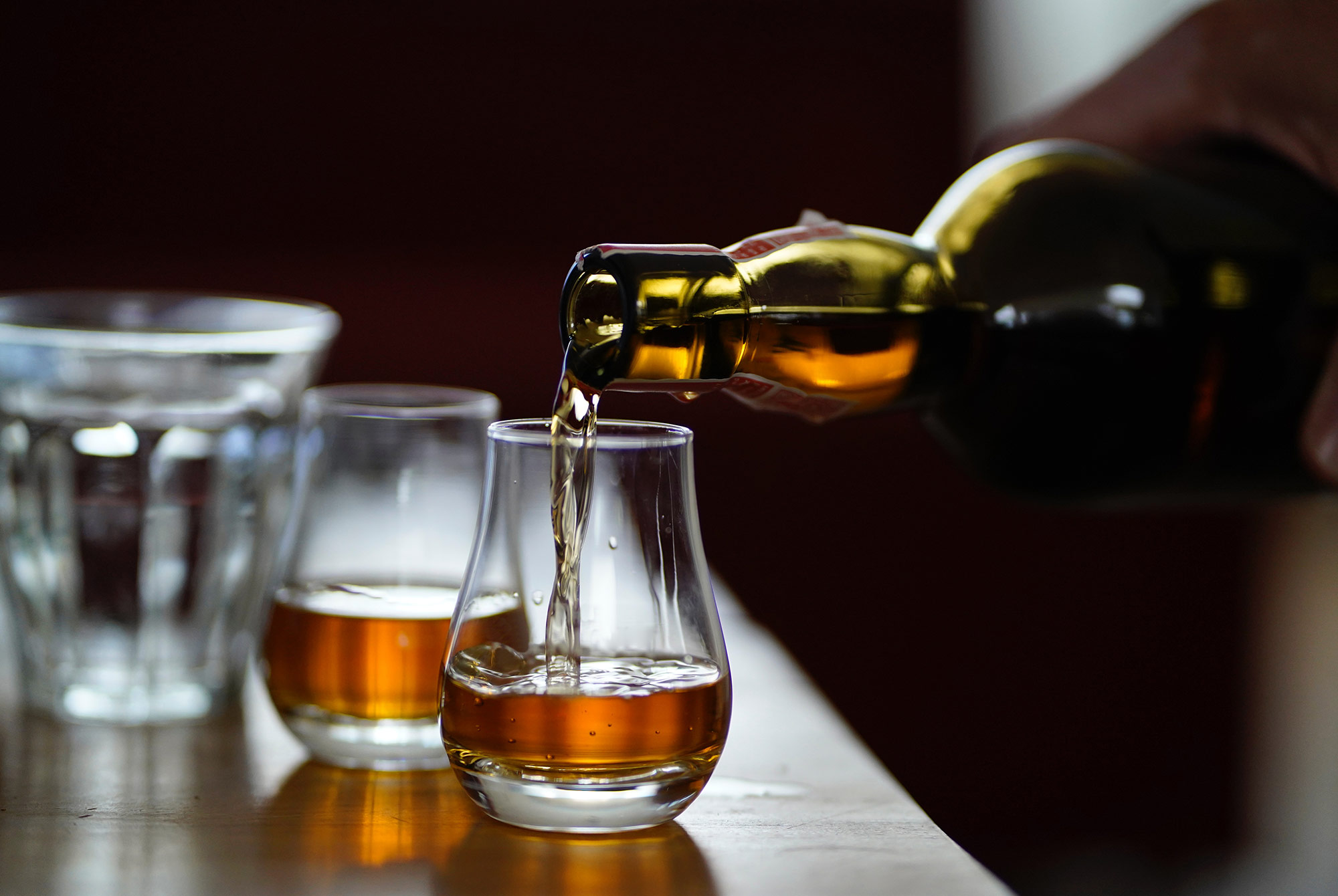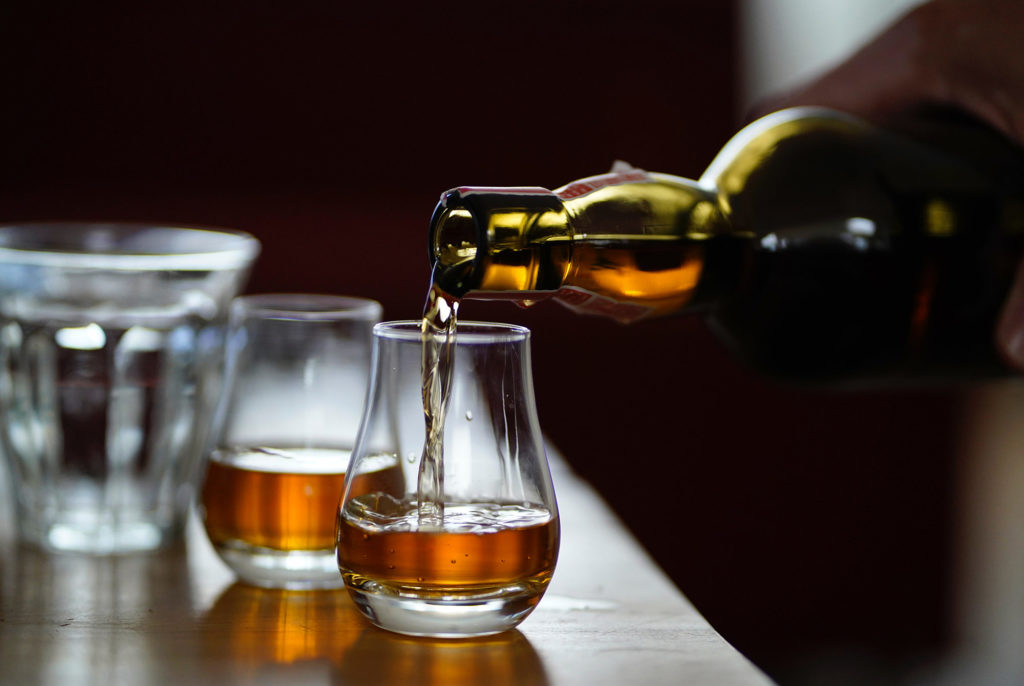 According to the Distilled Spirits Council, the original history of whiskey can be traced back thousands of years to the Medieval monks of Scotland and Ireland, with evidence of stills on Scottish farms since the mid-1500s.
In fact, the name whiskey derives from a Gaelic word uisgebaugh (pronounced WEEZ-ga-bochh), which means "water of life."
In America, whiskey origins are murkier. An influx of Scottish-Irish immigrants in the 1700s, settling in parts of Pennsylvania, Maryland, and North and South Carolina, is said to have brought their distilling traditions to the U.S. In these states, settlers and farmers brewed whiskey as a rye-based product, primarily for themselves.
But as whiskey became more popular, the American government levied the first-ever tax on a domestic product to try and make money to recoup debt incurred during the Revolutionary War. Met with incredible resistance, the "whiskey tax" led to what became known as The Whiskey Rebellion, a public, violent uprising in opposition to the levies. Although the protests were squashed in 1794, political opposition continued until Congress repealed the whiskey tax in 1802.
By then, whiskey production had suffered, leading to lower-quality products. The Bottled-in-Bond Act of 1897 enacted a set of standards for the composition and age of whiskey.
And while Prohibition obviously put a massive dent in whiskey production in the early 1900s, post-Prohibition saw a resurgence of American whiskey brands. And today, whiskey has become one of the fastest-growing spirits in the United States, hitting $5.1 billion in sales in 2022, according to the Distilled Spirits Council of the United States.
Hop Culture's 7 Unique Whiskies to Celebrate World Whisky Day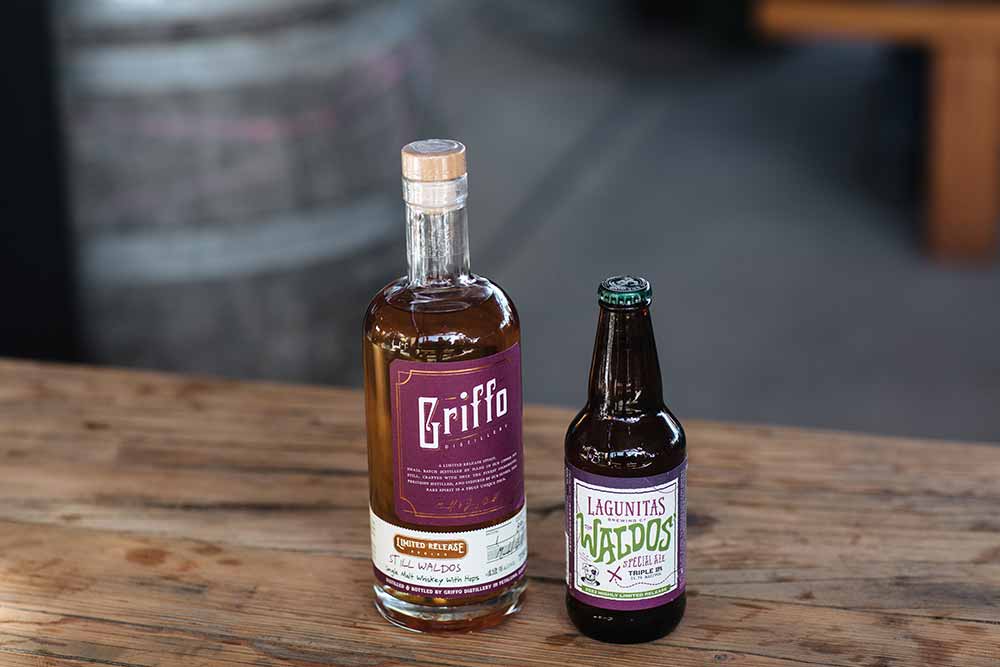 For our own spin on the best whiskies to drink on World Whisky Day, we found some of the most creative, unique ones that involve collaborations between breweries and distilleries, spirit brands within breweries, and even whiskies that include distilling specific beers.
Still Waldos – Lagunitas Brewing Company x Griffo Distillery
Petaluma, CA
Proof/ABV: 84 (42% ABV)
The Story: What happens when one of the most iconic breweries in the country makes a whiskey?
Still Waldos.
A collaboration with Griffo Distillery, Still Waldos morphs Waldos' Special Ale, a triple-IPA homage to 420, into a special spirit.
Lagunitas graciously sent us a bottle of this single malt whiskey, and it's a knock-your-socks-off sipper, literally.
Starting with 100% malted barley, Lagunitas trucks the unfermented malt to Griffo Distillery where the delicious grains get a dose of Waldos hops there before distilling to 120 proof in American Oak (the final proof lands at 84).
As Lagunitas and Griffo Distillery like to say, "Beer Speaks, Whiskey Sings."
Tasting Notes: Bold, floral, hoppy, smooth, strong
Mr. BlueSky Whiskey – Griffin Claw Brewing Company
Birmingham, MI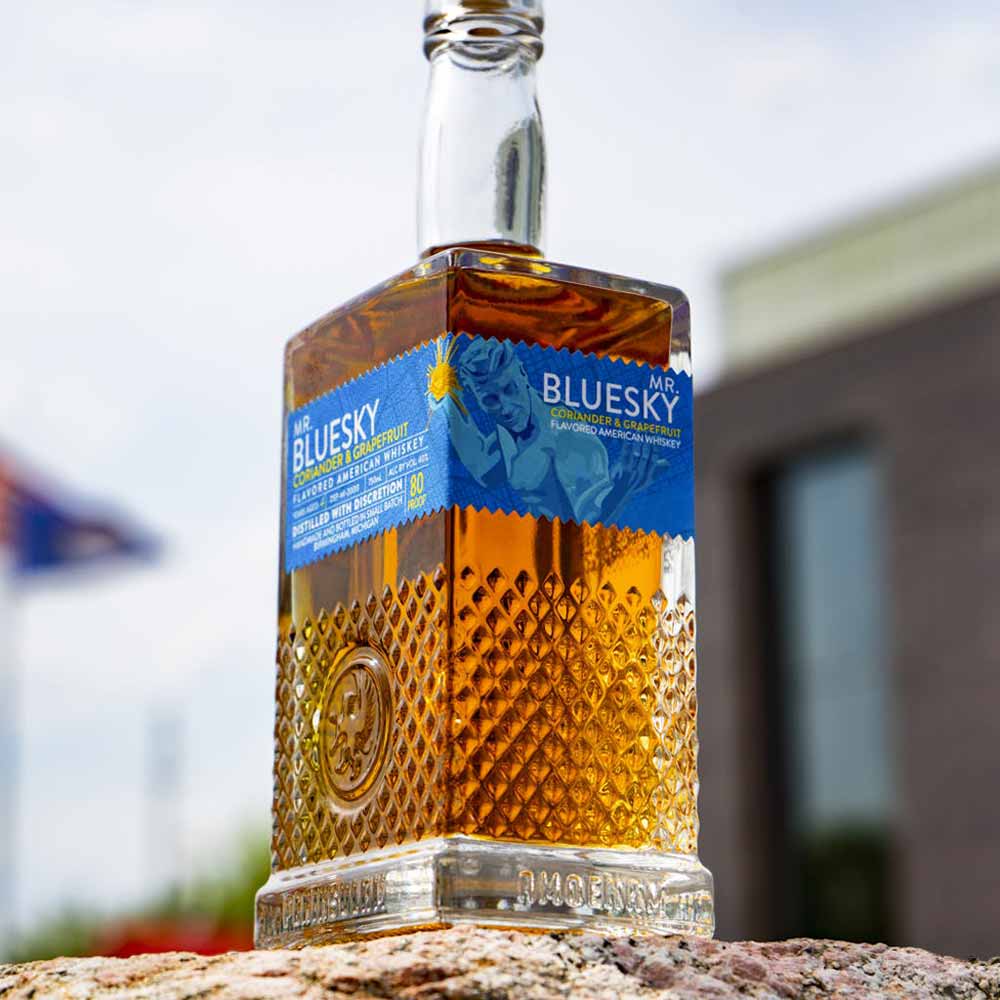 Proof/ABV: 80 (40% ABV)
The Story: When Griffin Claw opened in 2013, they didn't just create a 50-bbl brewhouse; they built space for a distillery too.
"We wanted to make sure our customers had options because not everybody drinks beer," says Scott LePage, managing partner at Griffin Claw, whose dad Norm LePage started the original business.
To build the distillery, Griffin Claw flew up experts from Kentucky to show them how to store bourbon and rye and brew it in true fashion.
This meant leveraging a Meura mash filter that improves brewing efficiencies and has an added benefit when it comes to spirits.
A unique Belgian piece of equipment used to distill, the Meura mash filter allows Griffin Claw to run 100% rye.
"Most ryes are not 100% rye, so ours is really special," says LePage.
As far as LePage knows, at the time, they were the first craft brewery in America to own this piece of specialized equipment. Macrobreweries such as MillerCoors owned one too, but not smaller craft operations. Although more craft breweries nowadays do own one.
"I remember when ours was completed because they custom-made it for us; they didn't want to sell it to us at that point because they saw the market behind it," says LePage.
But the extra work paid dividends.
Today, Griffin Claw makes all sorts of spirits, including this unique whiskey.
Distilled from one of the brewery's most popular beers, an American wheat ale named Mr. BlueSky, Mr. BlueSky rested in lightly charred white oak barrels for over four years.
You get a golden whiskey great for sipping straight up, drinking on the rocks, or adding to cocktails.
Tasting Notes: Citrus, vanilla, coriander, and grapefruit
7YR Kentucky Single Malt Whiskey – Town Branch
Lexington, KY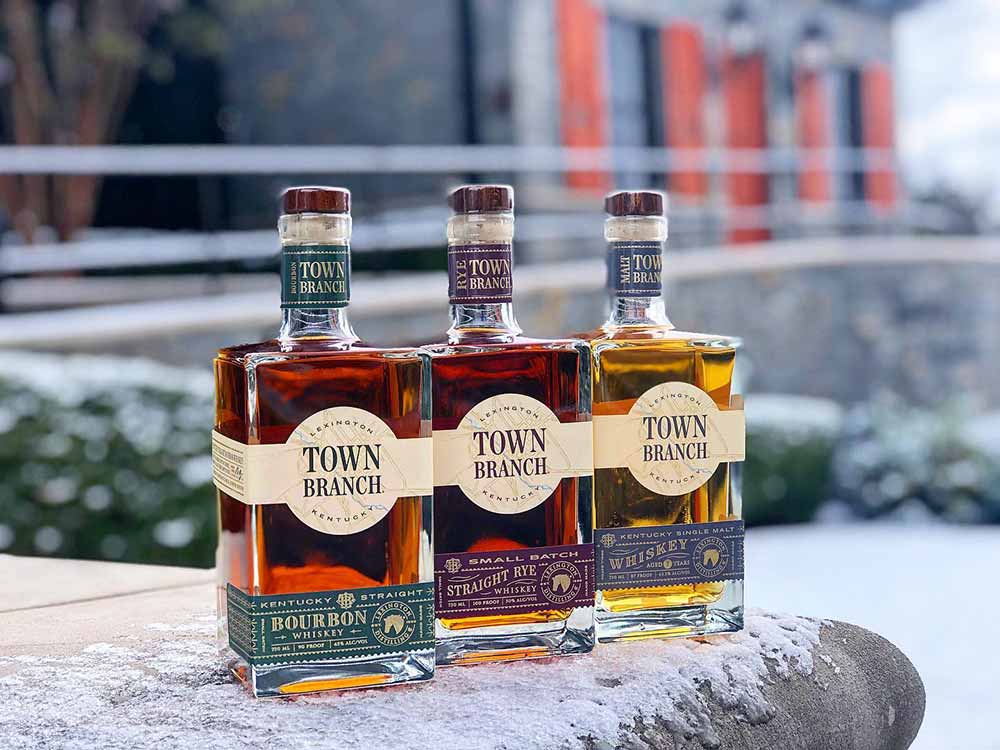 Proof/ABV: 87 (42.5% ABV)
The Story: Part of Lexington Brewing & Distilling Co, the only brewery and distillery on the Kentucky Bourbon Trail, Town Branch is an award-winning distillery making great beer and spirits.
All are on display in the brewery and distillery's seven-year-aged single malt whiskey. Incredibly, Town Branch upcycles its barrels four times—using it for Town Branch Bourbon before aging the brewery's Kentucky Bourbon Barrel Ale in those same barrels, before reusing them once more for the 7YR Kentucky Single Malt Whiskey (and then using them once more overseas for Irish whiskeys at Pearse Lyons Distillery in Dublin).
The 100 percent malted barley mash ages for a minimum of seven years in those post-Kentucky Bourbon Barrel Ale barrels.
The proof is in the barrel, with this whiskey picking up a bevy of awards since it was first released in 2019. For instance, gold from the Beverage Testing Institute in 2021, a double gold at the San Francisco World Spirits Competition in 2020, and a double gold at the North American Bourbon and Whiskey Competition in 2019, among others.
Tasting Notes: Molasses, vanilla, brown sugar, and nutmeg
Baller American Single Malt Whiskey – St. George's Spirits
Alameda, CA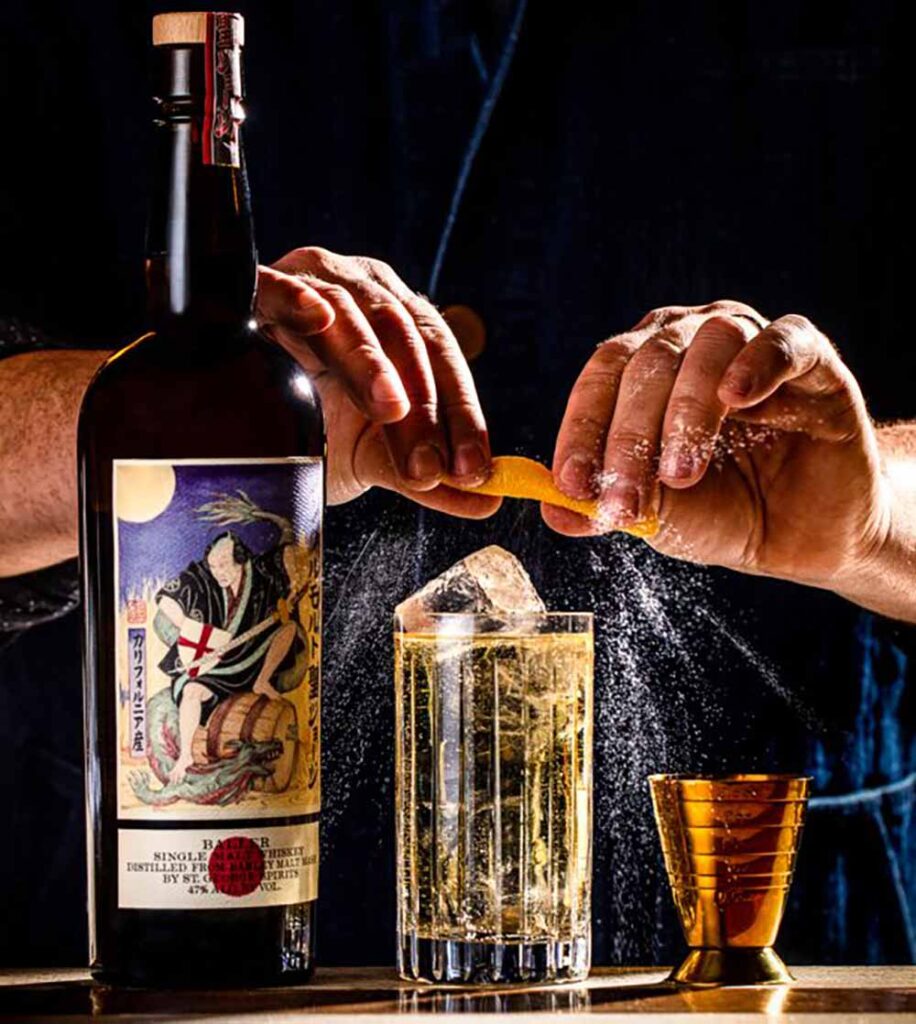 Proof/ABV: 94 (47% ABV)
The Story: In 2013, St. George's Spirits collabed with Sierra Nevada to distill its Ruthless Rye IPA into a Ruthless whiskey. Released in 2021, the whiskey perfectly captured the innovation of a local East Bay distillery. While that whiskey is no longer available, other St. George Spirits have continued to impress. So much so that St. George's Spirits' Master Dillstiller Lance Winter earned an induction into the Whisky Hall of Fame for his libations. For instance, this Baller American Single Malt Whiskey, a Japanese-inspired spirit aged in house-made umeshu finishing casks. Expect an experience unlike any other with this whiskey.
Tasting Notes: Maple, charcoal, smoke, sherry, tropical
Original Small Batch Bourbon Whiskey – New Holland Spirits
Holland, MI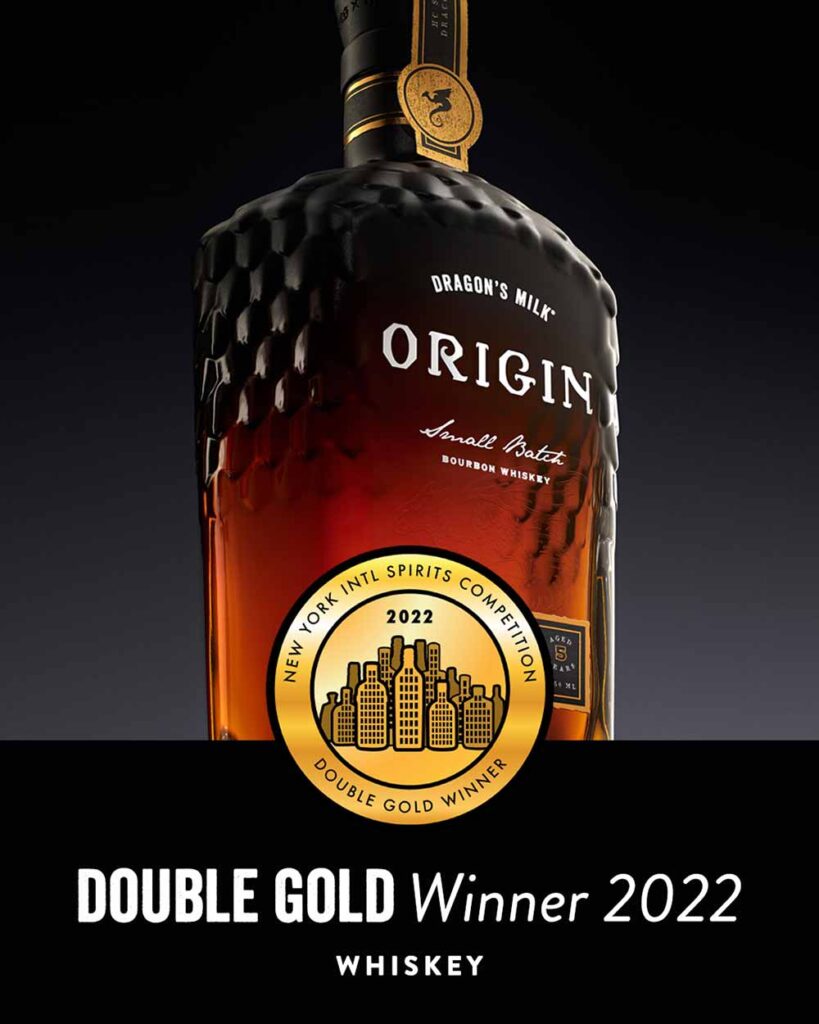 Proof/ABV: 95 (47.5% ABV)
The Story: A branch of New Holland Brewing, New Holland Spirits launched in 2005. The brewery/distillery's small-batch bourbon whiskey is distilled on a Prohibition-era pot still and aged in charred American white oak barrels. The process creates an extremely uniquely flavored whiskey that has won awards all across the country, including a double gold from the New York International Spirits Competition, a gold from The American Distilling Institute, and a silver from the San Francisco World Spirits Competition.
Tasting Notes: Stone fruit, vanilla wafer, pastries, and citrus
Old Potrero Single Malt Straight Rye Whiskey – Hotaling & Co.
San Francisco, CA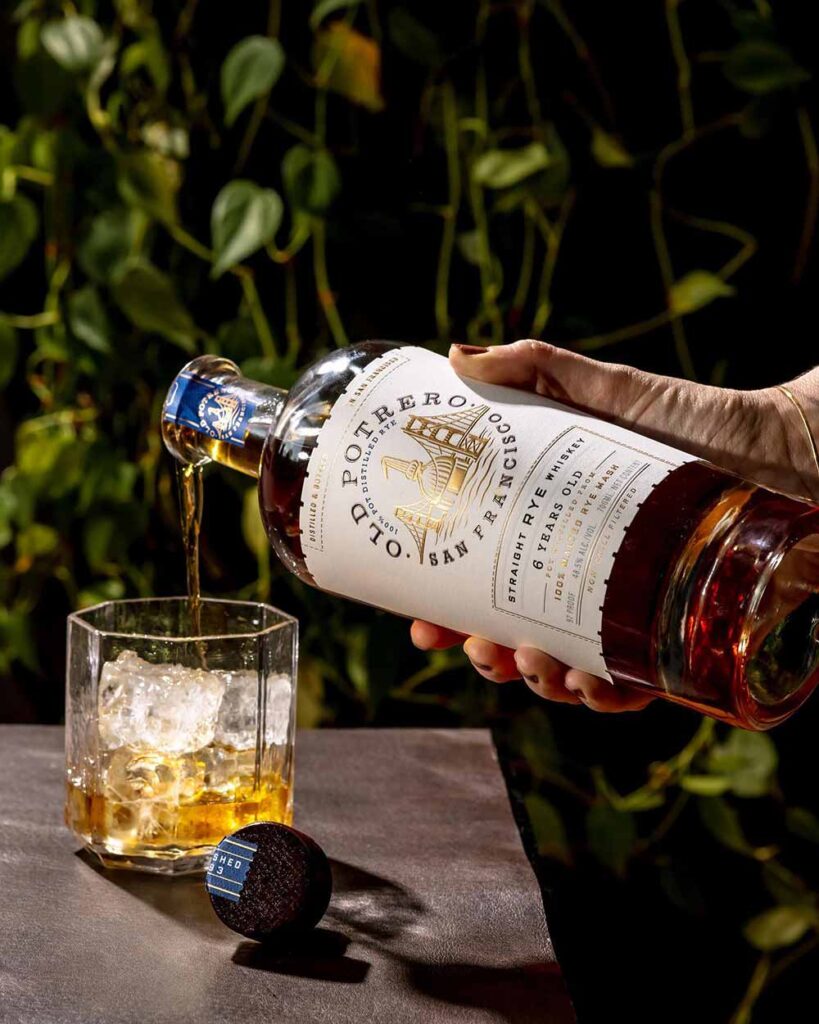 Proof/ABV: 97 (48.5% ABV)
The Story: Originally started as the Anchor Distilling Company by Fritz Maytag (yes, the same Maytag that helped reinvigorate Anchor Brewing when he bought the brewery in 1965), the distillery rebranded to Hotaling & Co. in 2018 (after Sapporo purchased Anchor Brewing but Anchor Distilling wasn't a part of the deal). For Fritz, the goal with the distilling branch was to bring pot-distilled rye whiskey to America. In 1994, the first pot-distilled 100 percent malted rye whiskey went into the barrel. Distilled in a small copper pot at the Hotaling & Co. Distillery in the Potrero Hill neighborhood of San Francisco, Old Potrero Single Malt Straight Rye Whiskey finishes in charred American oak barrels. Across the board, this whiskey has impressed, gaining a score of ninety from Whisky Advocate in 2022, a Top 100 ranking from Fred Minnick American Whiskey in 2022, and a silver medal at the Beverage Tasting Institute in 2020.
Tasting Notes: Cinnamon, orange, cherry, nutty, rich, complex, and smooth
Alternate Takes: Volume 4 – Dogfish Head Craft Brewery
Milton, DE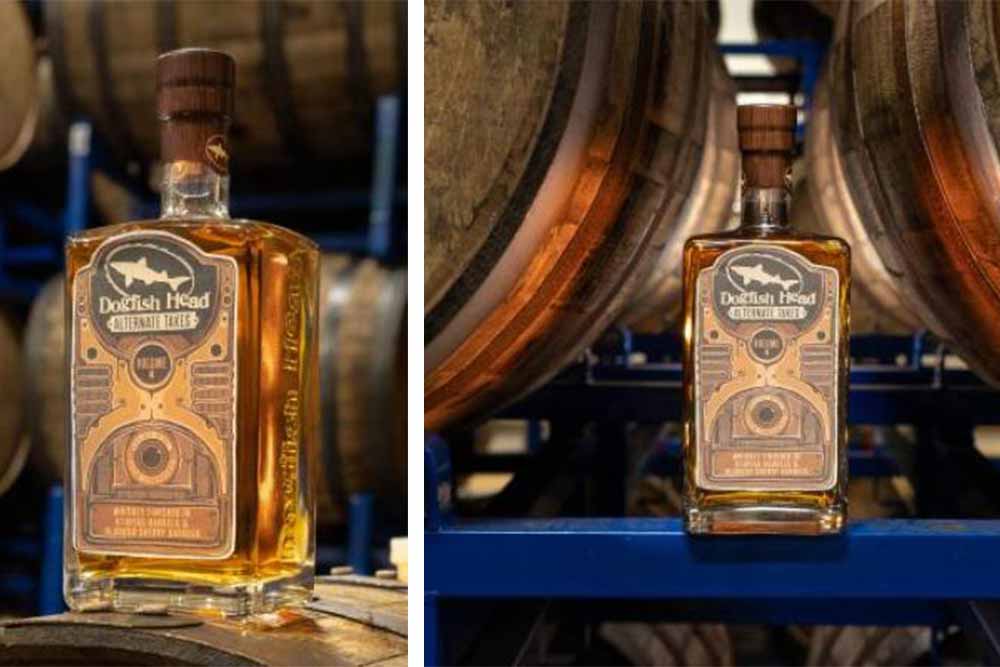 Proof/ABV: 83 (43% ABV)
The Story: Dogfish Head Founder Sam Calagione started getting into spirits and distilling after visiting a scrap metal yard. He found a stainless steel piece of equipment that he bought and MacGyver-ed into a 150-gallon pot still.
The brewery takes the same innovative, culinary-based approach to distilling that they do with brewing. Part of an entire series called Alternate Takes that explores the possibilities of whiskey, Alternatete Takes Volume 4 starts with Dogfish Head's American Single Malt Whiskey before finishing in seventy-four percent Samuel Adams Utopias barrels and twenty-six percent Oloroso Sherry barrels.
This whiskey beautifully combines the confluence of beer and whiskey into one bottle.
It's also worth trying the third version of this series—Alternate Takes Volume 3—an award-winning whiskey finished in apple brandy and apple cider barrels.
Tasting Notes: Dried fruit, cedar wood, nuts, dark cherry, fine port