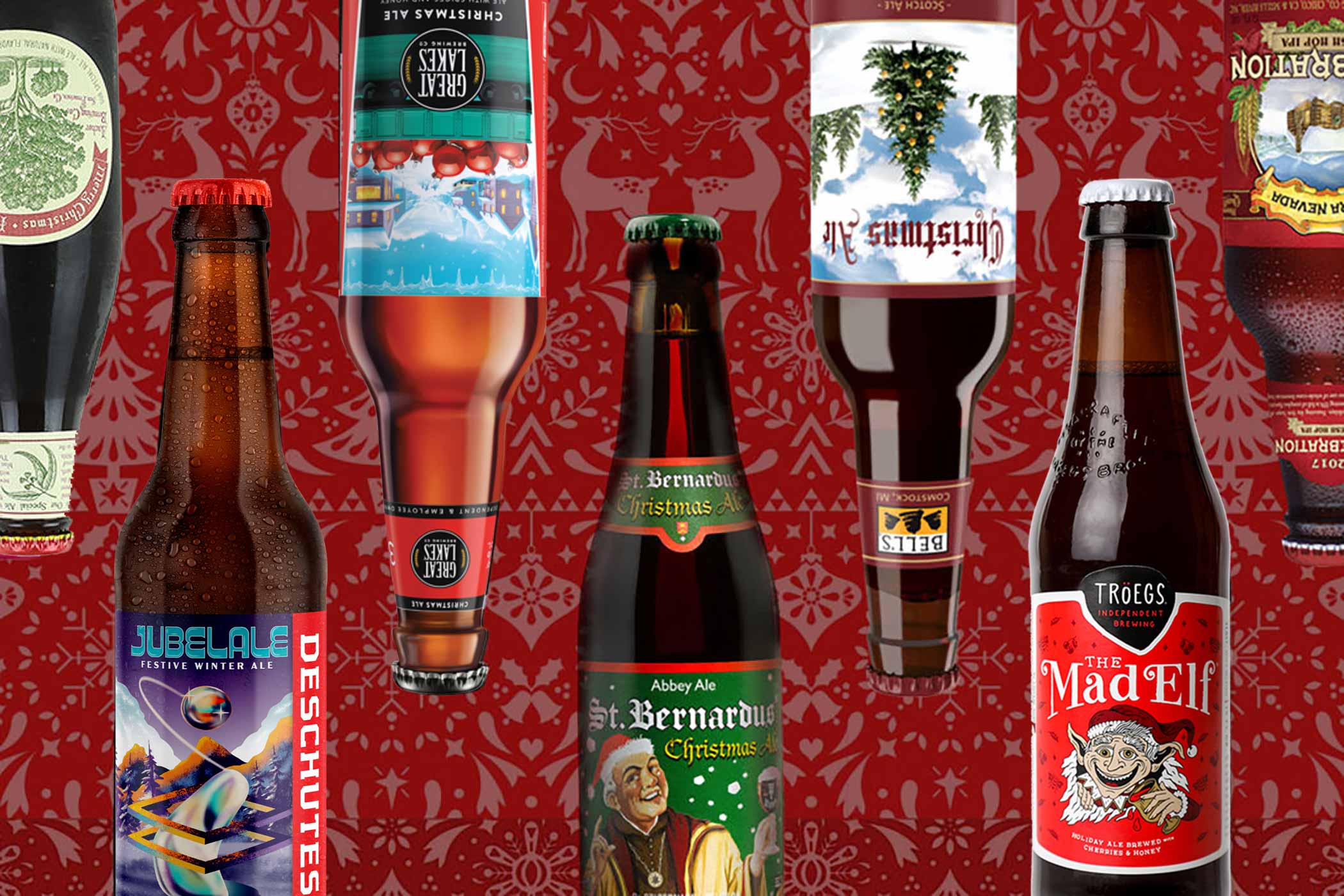 What are the holidays good for if not spending time with friends and family around a fireplace, around a table, around a [insert any communal place here], eating rich foods and drinking decadent beers?
Breweries love to tap into this nostalgia and tradition by fashioning beers based on the holidays. Some feature seasonal ingredients like nutmeg, clove, citrus, and cranberries. Others simply lean into winter themes or holiday characters. Regardless, it's hard not to smile when we come across some of these classic and contemporary versions of holiday beers.
In what has become somewhat of our own seasonal tradition, here are the best beers we're cracking open around the crackling fire for the holidays.
Hopefully, with a few of these beers, these next few weeks will truly be the most wonderful time of the beer.
Hop Culture's Classic Beers to Drink for the Holidays
Tradition! Tradition! The Christmas beers that have developed an almost cult-like following over the past few decades (if not more).
Christmas Ale – Anchor Brewing Company
San Francisco, CA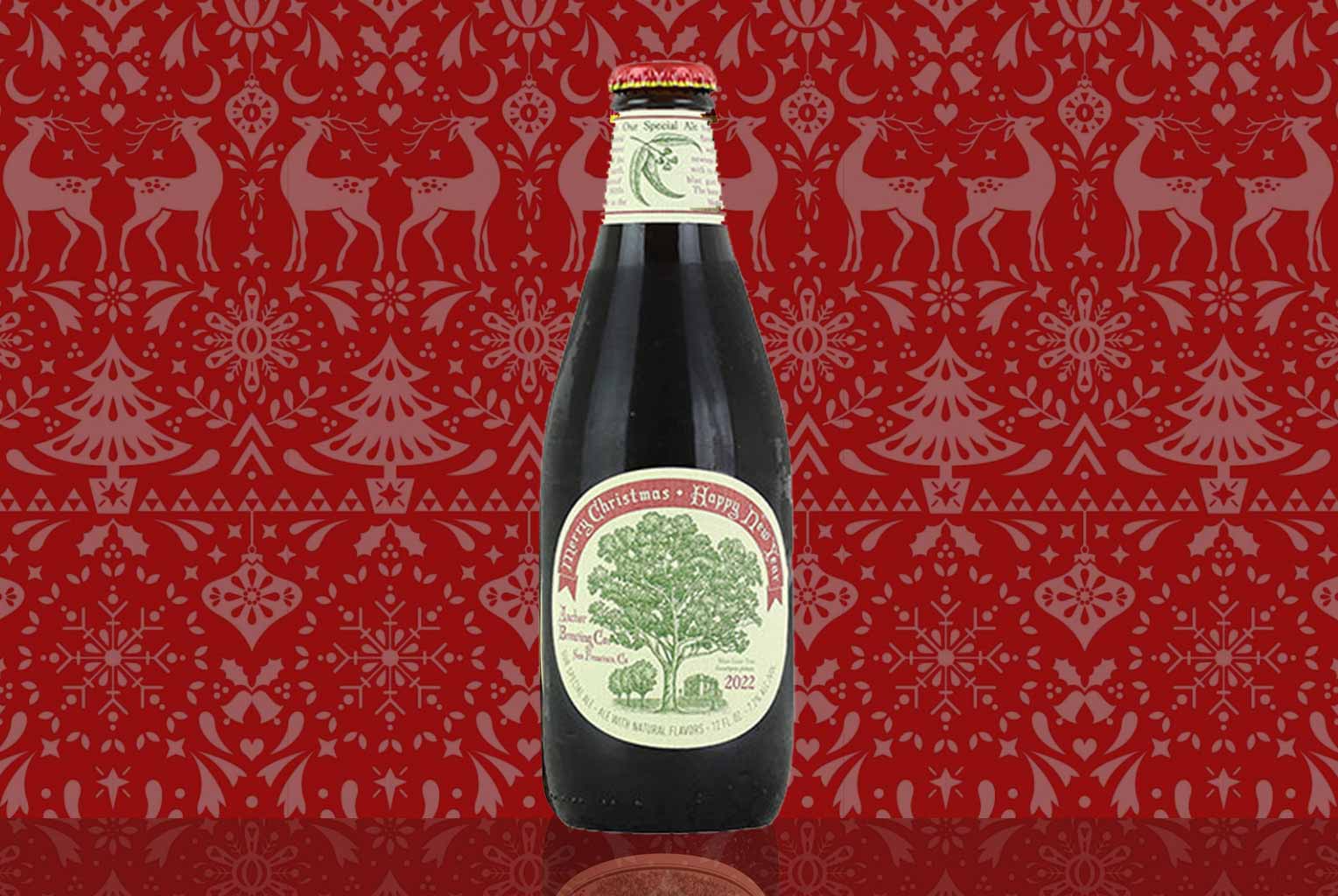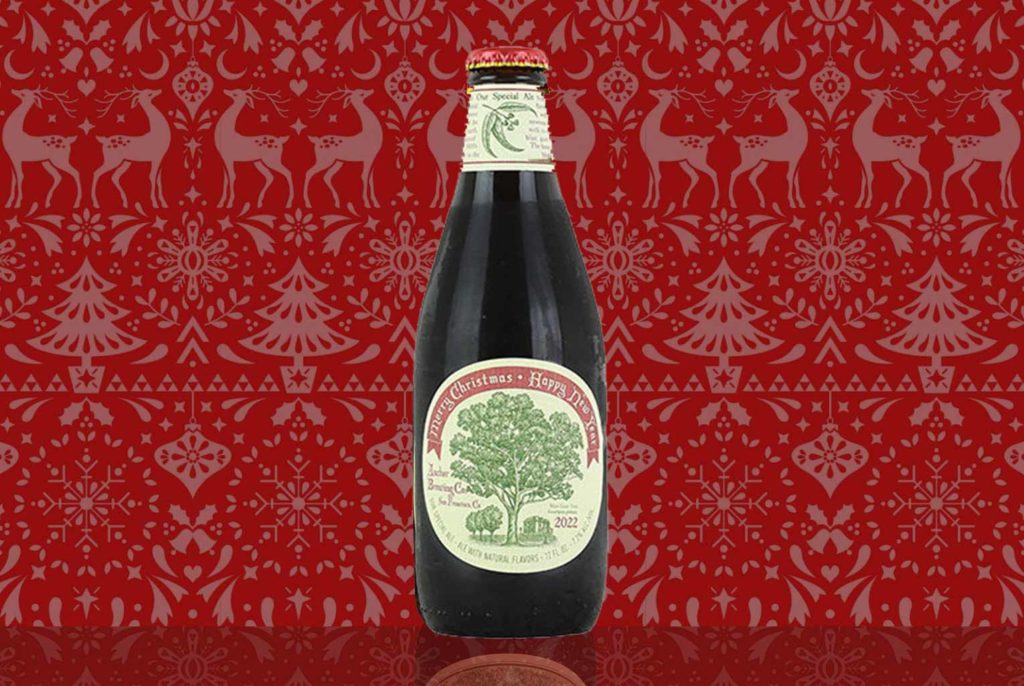 Winter Warmer – This beer is all about tradition.
For Anchor Historian Dave Burkhart, wherever he is in the world, he makes sure that he's at the brewery to grab the first bottle of Anchor Our Special Ale, colloquially known as Christmas Ale, off the bottling line. "That's my little tradition," says Burkhart.
And he's not the only one.
For many, Anchor Christmas Ale has become as much a part of their holiday season as baking cookies or drinking eggnog.
But the recipe is a closely guarded secret. And it changes every single year.
And while we tried our darndest, we just couldn't get Anchor to spill the beans.
Although Assistant Brewmaster Dane Volek did give us a couple hints.
Elegance is the word that comes to mind with this year's Christmas Ale.
Volek notes "strong orange peel aromas, a lot of zesty citrus notes on the nose, as well as those coastal spices."
Consider this beer like Christmas in a glass or a cozy sipper that's quintessential during the holidays.
Celebration Fresh Hop IPA – Sierra Nevada Brewing Co.
Chico, CA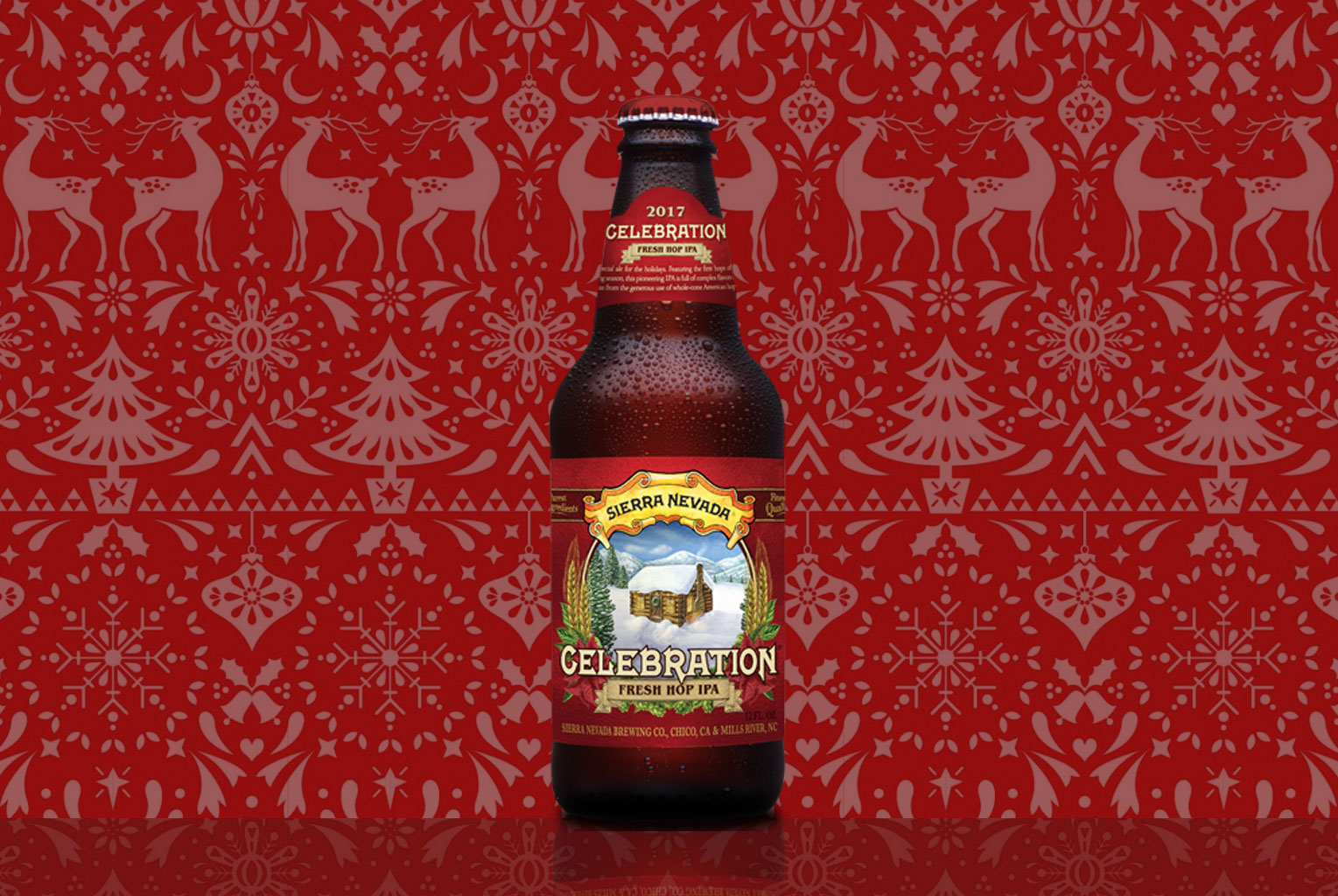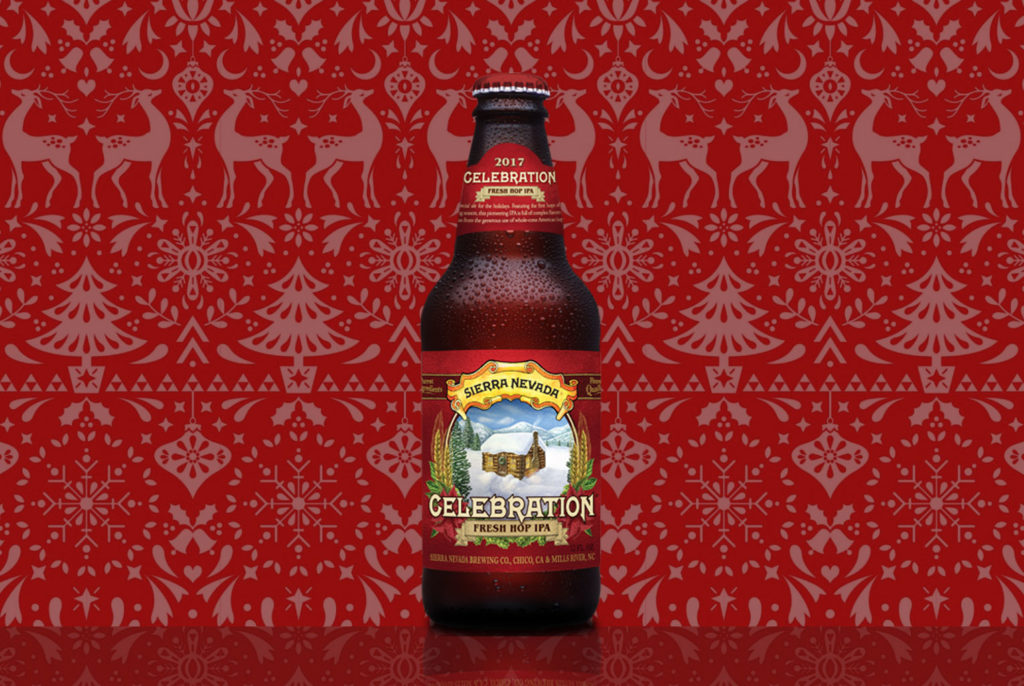 America IPA – Sierra Nevada's Celebration Fresh Hop IPA is a perennial favorite. Made each year with a truckload of handpicked Centennial and Cascade hops, Celebration Ale is a celebration of hops at their peak.
For most brewers, heading to hop harvest means one thing: locking down lots for the year. And yes, that is certainly true at Sierra Nevada. But for one of the most iconic breweries in the country, hop harvest also means something a little extra special. It's the time of year when the brewery picks not just any hops, but essential Cascade and Centennial lots for its Celebration Ale, one of the most unique Christmas beers of all time.
"It's on the minds of everybody going in for hop selection," says Sierra Nevada Product Manager Terence Sullivan, who has been brewing Celebration Ale for twenty-eight-and-a-half years. "We're not only buying for the entire year, but we're buying for Celebration Ale."
That's the clout this American IPA has not only at Sierra Nevada, but also across the country.
Unlike other Christmas ales that feature spices or fruit, Celebration Ale at its core is a beer all about hops.
Which is why we love it so much.
When year-end looms and days darken, most of us turn to stouts, and porters. Normally, we slow down on hoppier styles. But Celebration is the rare exception. A winter mainstay brewed to invoke the sensation of evening strolls by pine trees, Celebration is one of the best holiday beers worth sipping every year.
Tripel Karmeliet – Brouwerij Bosteels
Buggenhout, Vlaanderen Belgium
Belgian Tripel – The holidays are all about tradition and history. Tripel Karmeliet has been brewed for over 300 years. Originally made in the Carmeliet monastery in Dendermonde in 1679, Tripel Karmeliet features just three grains: wheat, oats, and barley. All which give this beer a distinctive velvety mouthfeel and predominant sweetness, which cover this tripel's deceptive 8.4% ABV.
Served in a 750mL bottle, Tripel Karmeliet is perfect for sharing. In fact, Hop Culture Managing Editor Grace Weitz and her family drank their way through a bottle during their own Thanksgiving celebrations.
This is a classic beer that pairs well with most festive foods and is excellent for having a glass or two with a few friends.
Christmas Ale – Great Lakes Brewing Company
Cleveland, OH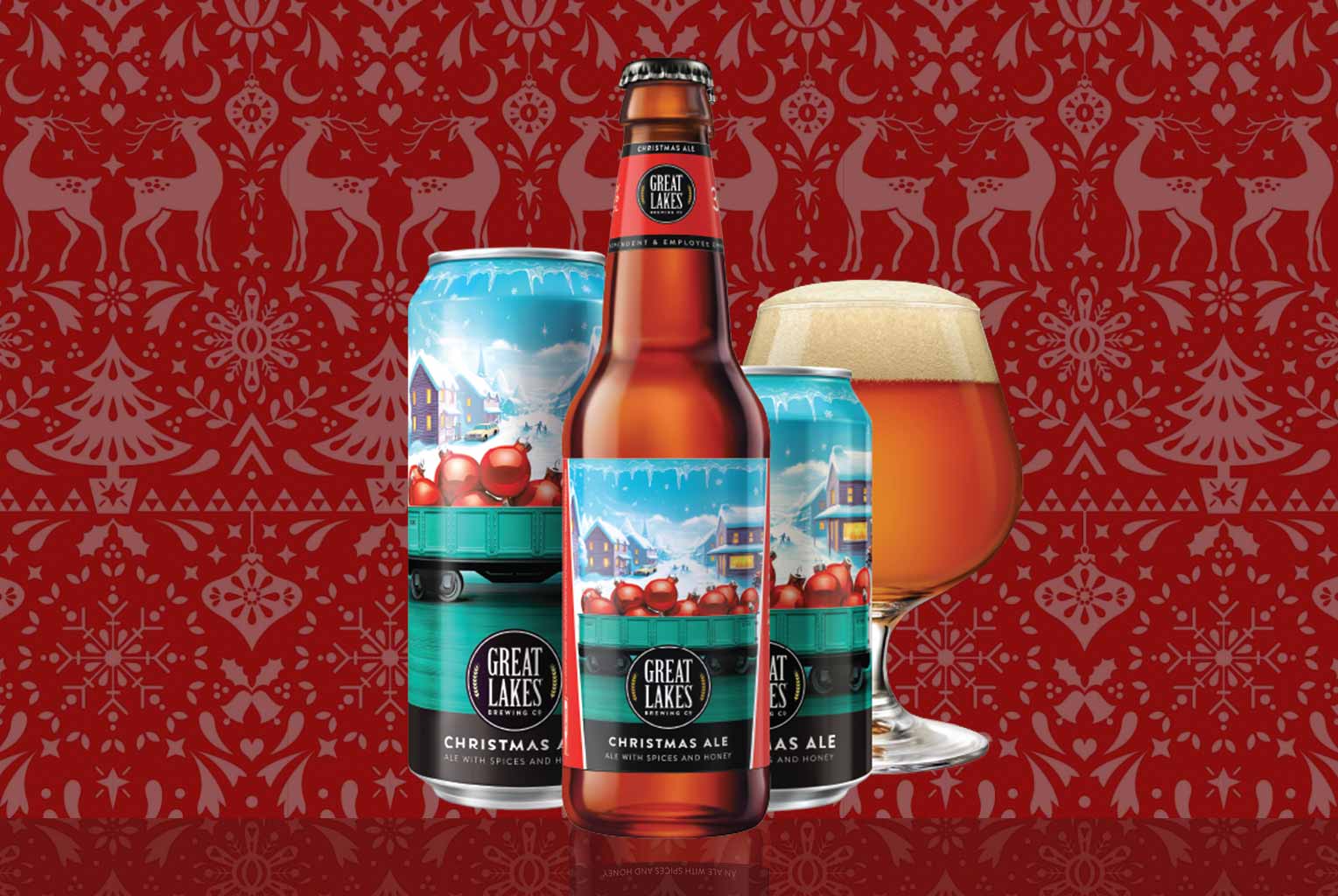 Winter Ale – Hot (or Cold?) take: Christmas beers have a very devoted, some might say almost cult-like, following.
Take Christmas Ale, the seasonal highlight from Great Lakes Brewing Company. Another winter warmer brewed using the style's expected flavors—ginger, nutmeg, clove, and of course cinnamon—this iconic winter ale also includes honey.
The treacly, viscous character imparted by the honey helps Christmas Ale stand out. In fact, this year Great Lakes Brewing Company Brewmaster Mark Hunger says they're on track to use over 200,000 pounds of the sweet, sticky stuff. Along with 7,000 pounds of both ginger and cinnamon.
Christmas Ale drums up quite the fervor in the Midwest. Every year the fine folks of Cleveland (and from all over) line up around the block for the chance to get that first taste of Great Lakes Brewing Company's Christmas Ale.
"A lot of people play hooky from work on a Thursday," laughs Hunger. "People are lining up by 7 o'clock in the morning to be the first ones through the door."
In what has become known as First Pour, Great Lakes goes all out to celebrate Christmas Ale, performing a ceremonial delivery of the first keg through the door. Even the mayor gets in on the action, giving a proclamation of celebration. "It's a lot of hype, a lot of excitement," says Hunger. "When we start pouring, the taps don't stop for twelve hours. I figured it out, and we poured twenty-five barrels of Christmas Ale alone…which during that time period roughly [equals] a pint of beer every five seconds for eleven or twelve hours."
Christmas Ale is just a great beer with its own tradition that'll do just fine as it begins to snow.
The Mad Elf – Tröegs Independent Brewing
Hershey, PA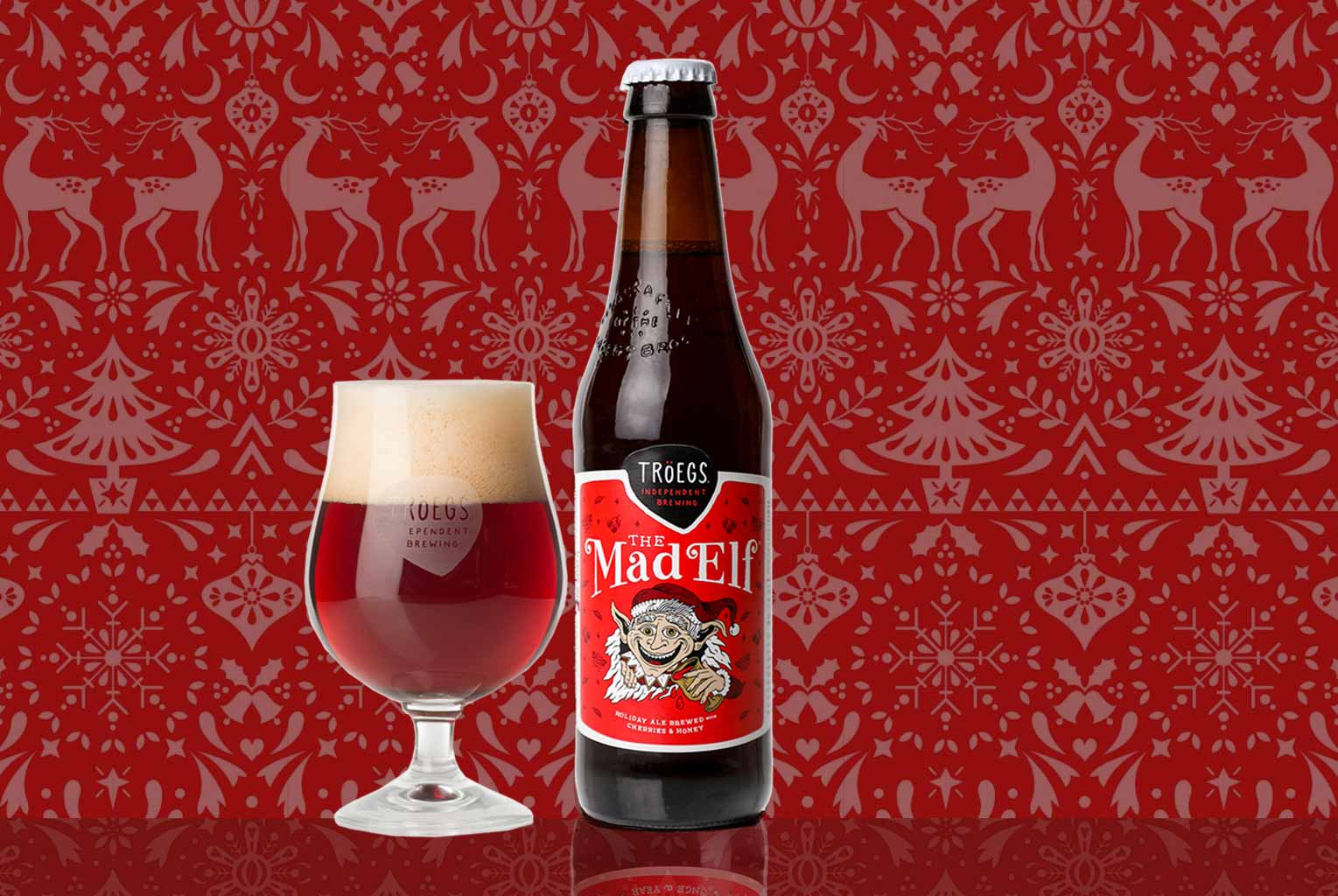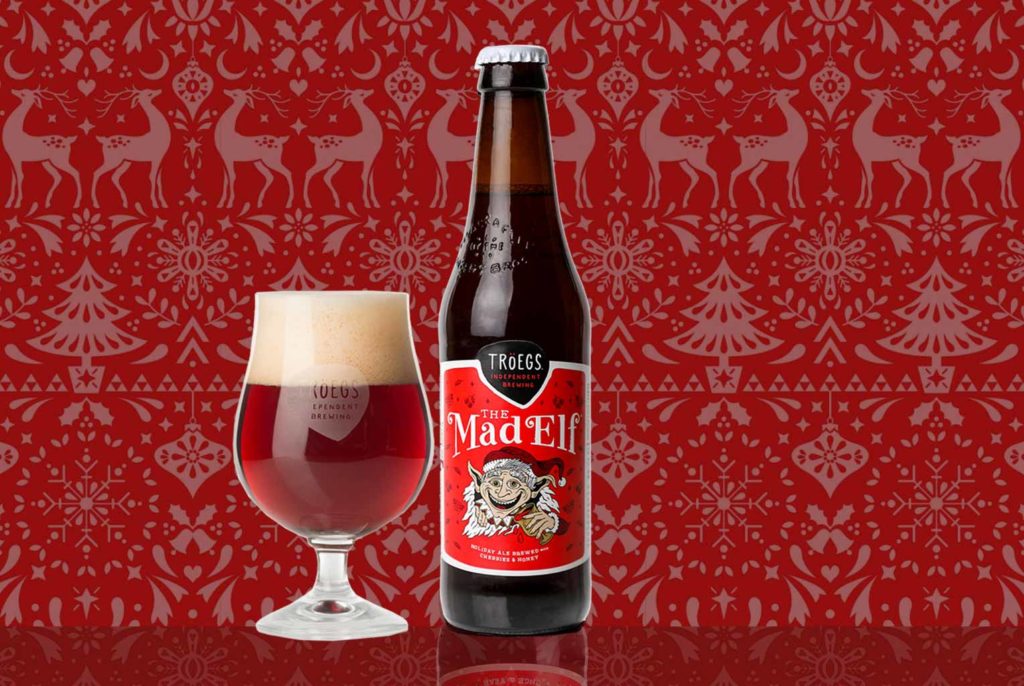 Belgian Strong Dark Ale – Do not drink Mad Elf on a light stomach. It'll knock you out. Elves are tricky. Will they shoot you in the back with an arrow or bake you cookies? Most likely, they'll tie your shoelaces together or glob shaving cream on your hand while you sleep.
You can see that mischief right from the creation of this beer. When Tröegs Co-Founders and brothers Chris and John Troegner decided they wanted to make a holiday beer, they brewed a Belgian beer, added too much fruit and honey, walked away and returned the next day to find "a big foamy mess," says Jeff Herb, marketing media coordinator at Tröegs. Or perhaps it was just a pesky elf causing havoc in the brewhouse. We may never know.
Either way, a legendary beer was born.
For The Mad Elf, Tröegs puts all that mischief in a bottle. The beer itself includes Pilsner, Munich, and Chocolate malt in the base before getting a dose of local wildflower honey from a guy in Carlisle, PA, called the Happy Beekeeper. For Tröegs, he sources a whopping 25,000 lbs of Pennsylvania honey from apiaries around the state each year. On top of that, Tröegs adds five different varieties of cherries—Bing, Lambert, Van, Royal Anna, and Montmorency—into the fermenter for a sweet and tart kick along with a distinctive Belgian yeast that highlights the allspice, clove, and light cinnamon notes.
The Mad Elf's playful tone doesn't imply a lack of seriousness about the craftsmanship that goes into brewing this beer. Instead, it just means you'd better watch out, lest the beer knock you on your ass.
A Christmas classic through and through.
Old Jubilation Ale – Avery Brewing Co.
Boulder, CO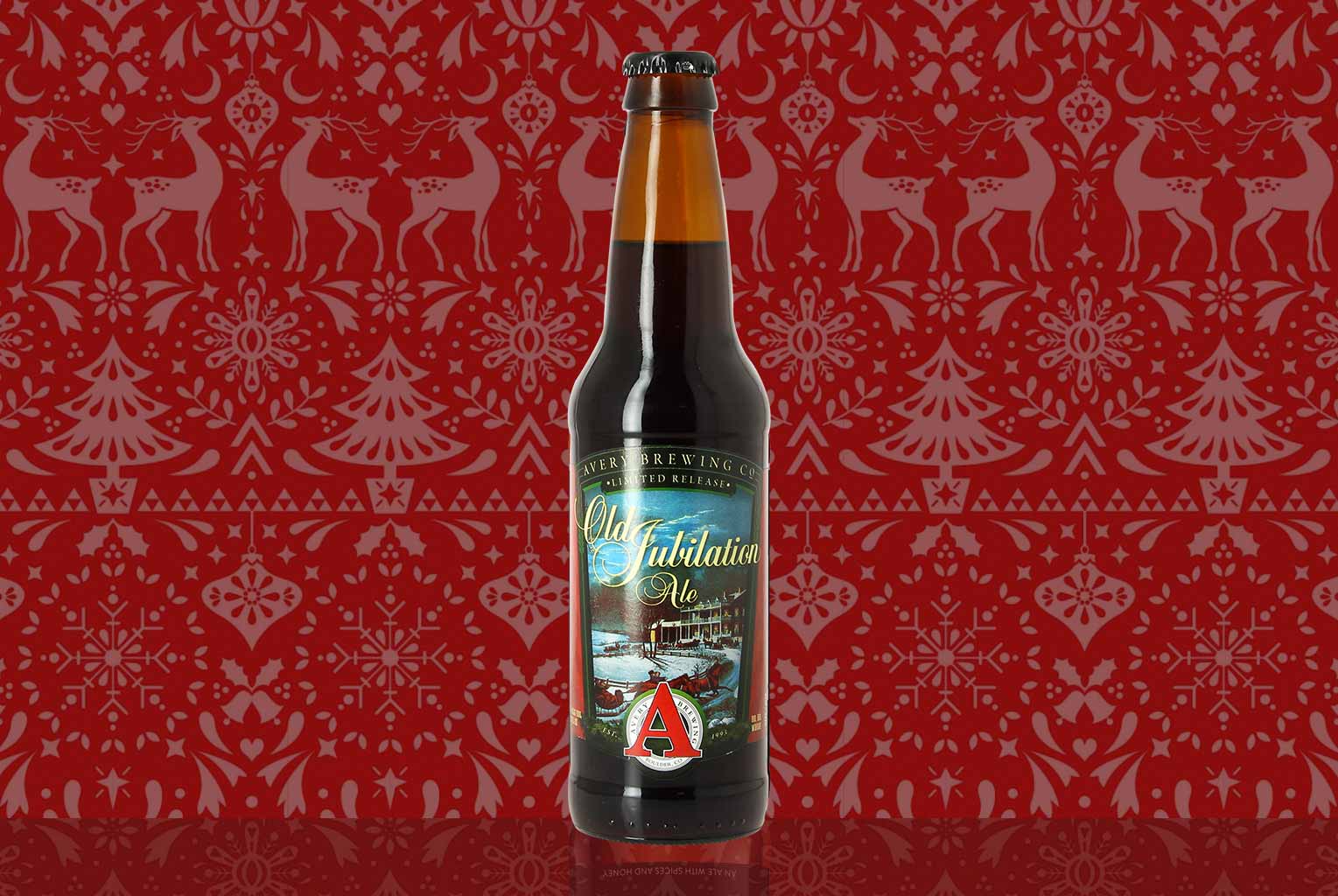 Old Ale – Made in a style you don't see very often, Old Jubilation harkens back to almost A Christmas Carol-like times. A slightly different take on a Christmas-style beer, Old Jubilation forgoes classic holiday spices, instead relying on five specialty malts to give the beer a deep, dark roasted mahogany color.
Those malts also lend the beer a rich, textured, coffee-chocolate aroma and flavor with a strong backbone of nuttiness.
In fact, if this beer were a Christmas carol, we'd probably name it "Chestnuts Roasting on an Open Fire."
Christmas Ale – Bell's Brewery
Comstock, MI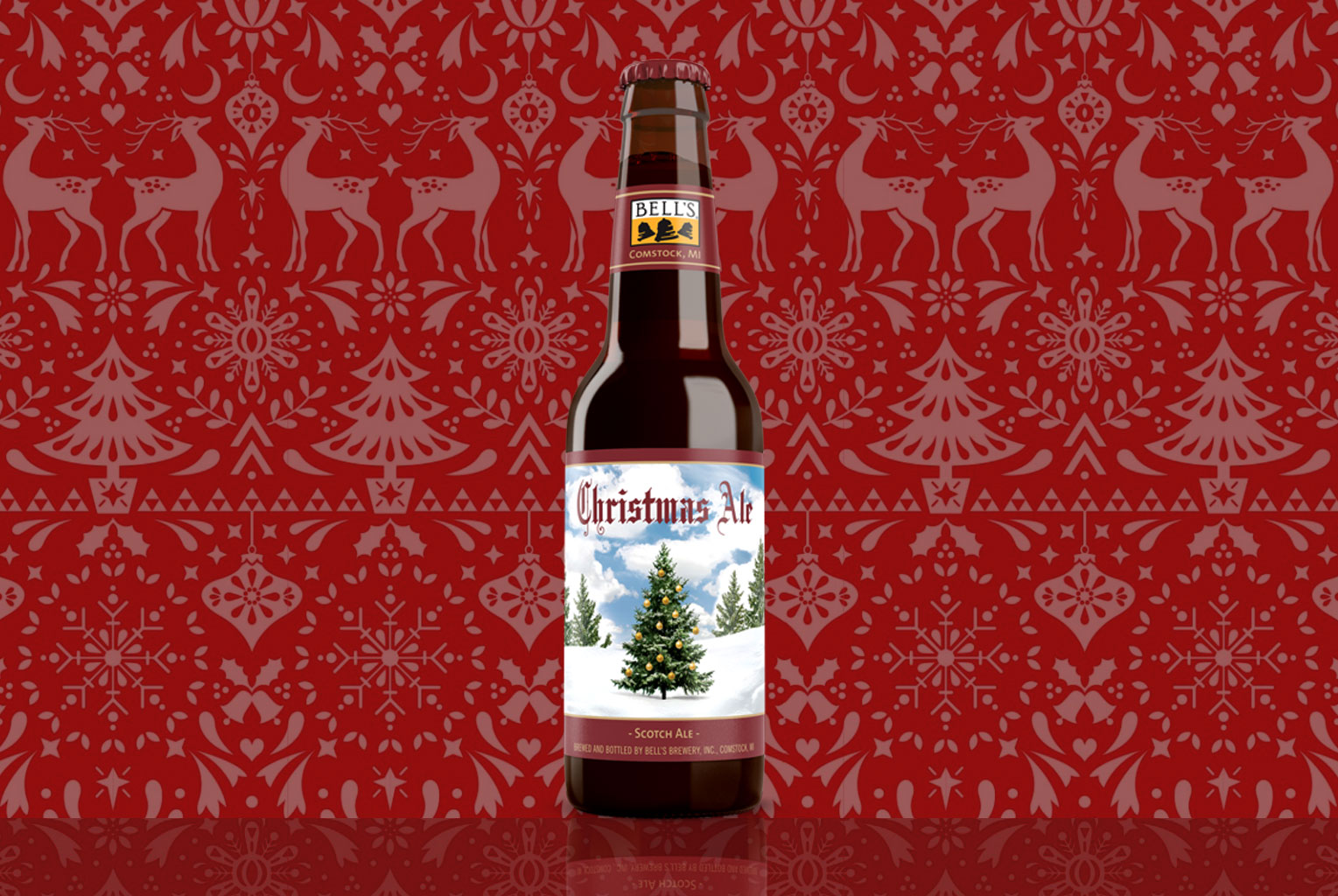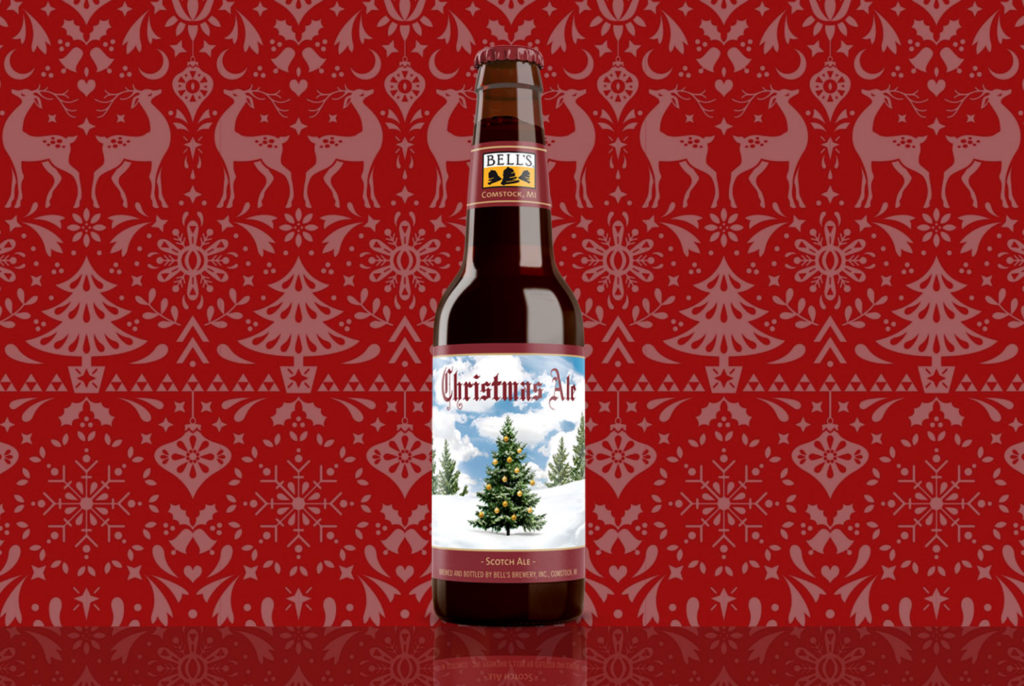 Scotch Ale / Wee Heavy – Only available from October through December, Bell's Christmas Ale rings all the right notes for a traditional holiday beer and then some. Considered a Scotch Ale or Wee Heavy, Bell's Christmas Ale clocks in pretty high in the alcohol content department at 7.5% ABV. So consider this one a fireside sipper.
Think of any holiday dessert and you'll find those notes here: sticky toffee pudding, gingerbread snaps, snickerdoodle cookies. An indulgent treat, Christmas Ale has become as synonymous with the holidays as leaving Santa a plate of cookies and glass of milk.
Who knows, St. Nick might like this Christmas Ale better, actually.
Jubelale – Deschutes Brewery
Bend, OR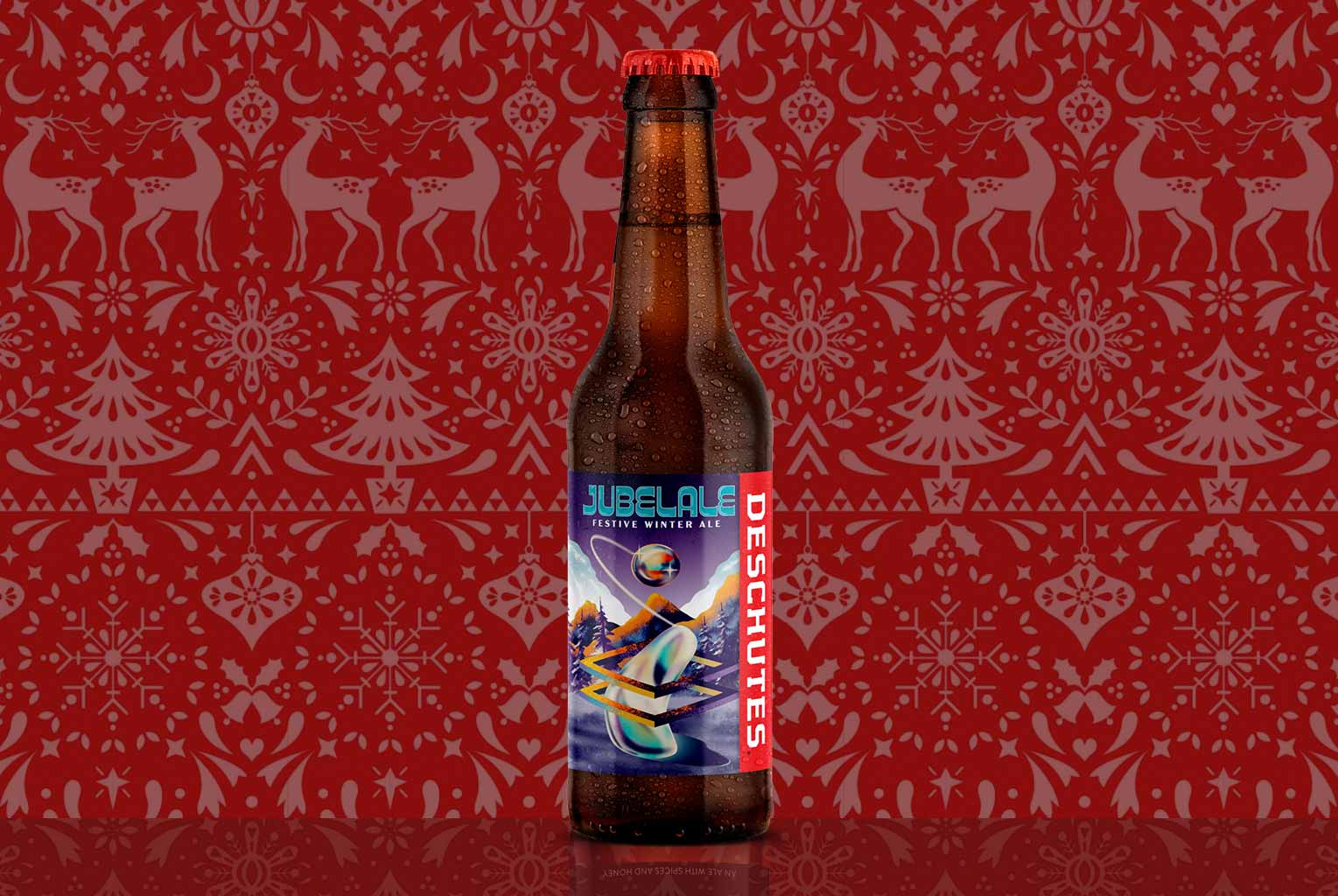 Winter Ale – Speaking of tradition, Deschutes Jubelale sits on the shelf up there with Anchor Christmas Ale and Sierra Nevada Celebration. First brewed in October 1988, Jubelale has stood the test of time. Opening as a brewpub in June of 1988, Deschutes wanted to create a beer specifically to celebrate Christmas that same year. Fashioned as an English strong winter ale, Jubelale was actually the first beer Deschutes bottled, releasing thirty-five cases of 750mL bottles capped by hand.
According to Deschutes' first brewer, John Harris, the brewery bought used champagne bottles, cleaned and sanitized them, and took the labels off, hand-labeling their own makeshift design.
Over thirty years later, Jubelale now features a different label each year. Often showcasing a local Pacific Northwest artist.
And the beer inside remains timeless, pouring a beautiful deep amber "with notes of chicory, earth, spice, and fruit," according to the beer's Untappd description.
Consider Jubelale kind of like a Yule fire that never stops burning.
Christmas Ale – Brouwerij St. Bernardus
Watou, Vlaanderen, Belgium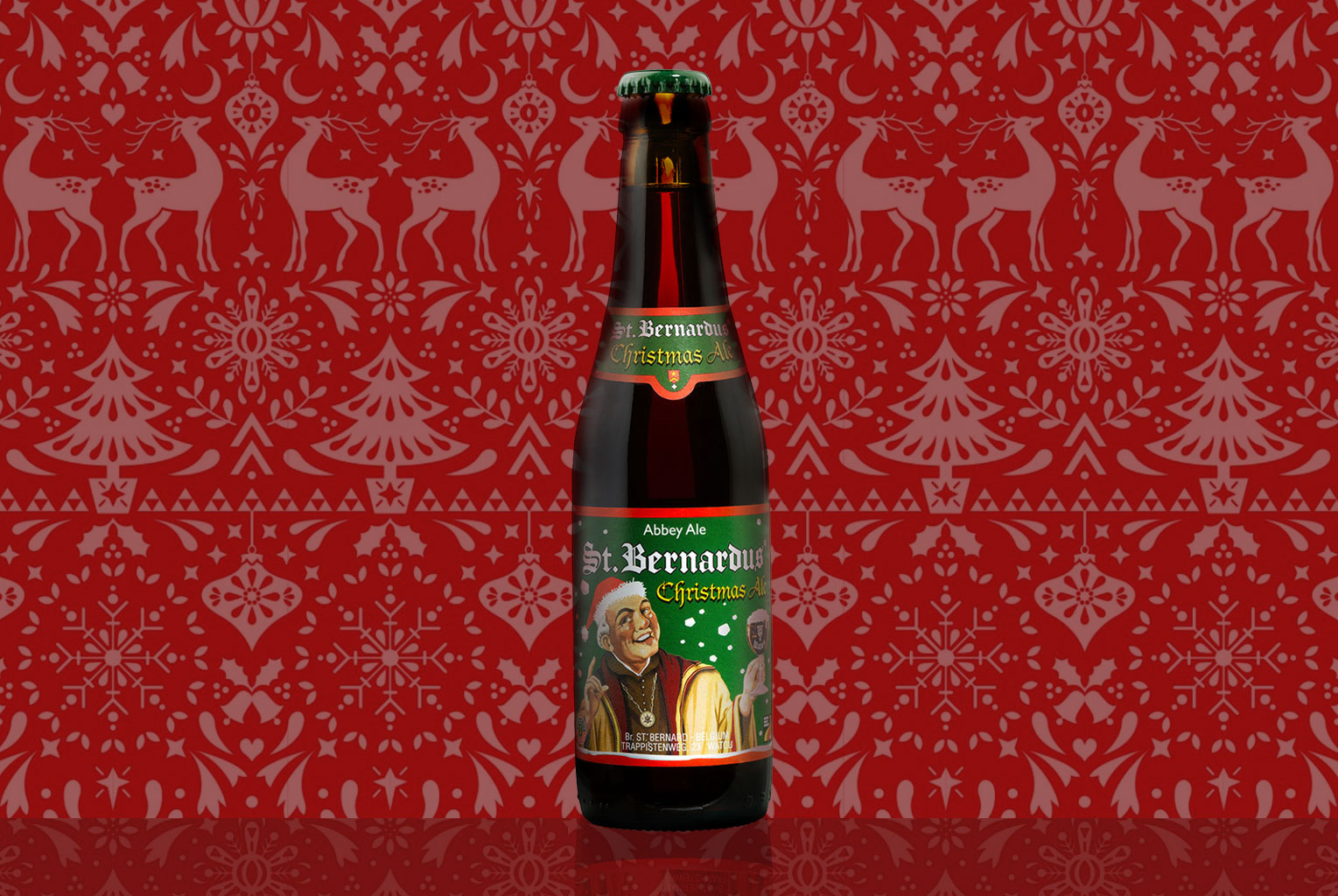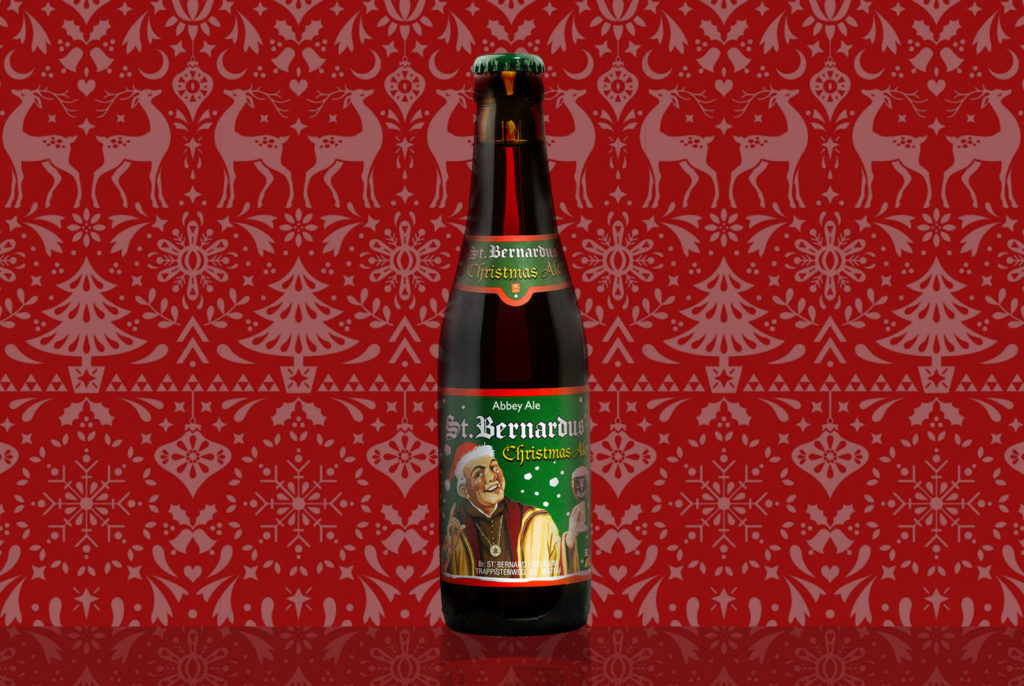 Winter Ale – Belgium just has a brewing history deeper than the U.S. can imagine at this point. And the holidays are nothing if not about tradition.
Tracing its roots all the way back to the early nineteenth century, Brouwerij St. Bernardus began when monks at the Saint-Sixtus-Abbey brewed and sold Trappist Ales to make money for the monastery.
In 1945, St. Sixtus actually made the decision to limit its brewery operations, partnering instead with a local cheese-making factory. By 1946, the cheese factory morphed into St. Bernardus Brewery. The partnership allowed the monks to brew with an acclaimed St. Sixtus yeast strain, which has now wound its way into most St. Bernardus beers, including Christmas Ale.
A very dark, Belgian strong ale, St. Bernardus Christmas Ale pours out midnight black with flecks of garnet. On the nose, predominant holiday notes such as hot cocoa, molasses, and gingerbread dominate. While on the sip you'll find dried dark fruit, warm baking spices, and dark chocolate.
Big, robust, bold, and boozy, Christmas Ale is the hearty drink you need to get through those cold winter nights…or family dinners.
Hop Culture's Contemporary Beers to Drink for the Holidays
These are new holiday-like beers we've discovered this year that we highly recommend bringing to any festive celebration.
Centennial Weirding Way – Our Mutual Friend Brewing Company
Denver, CO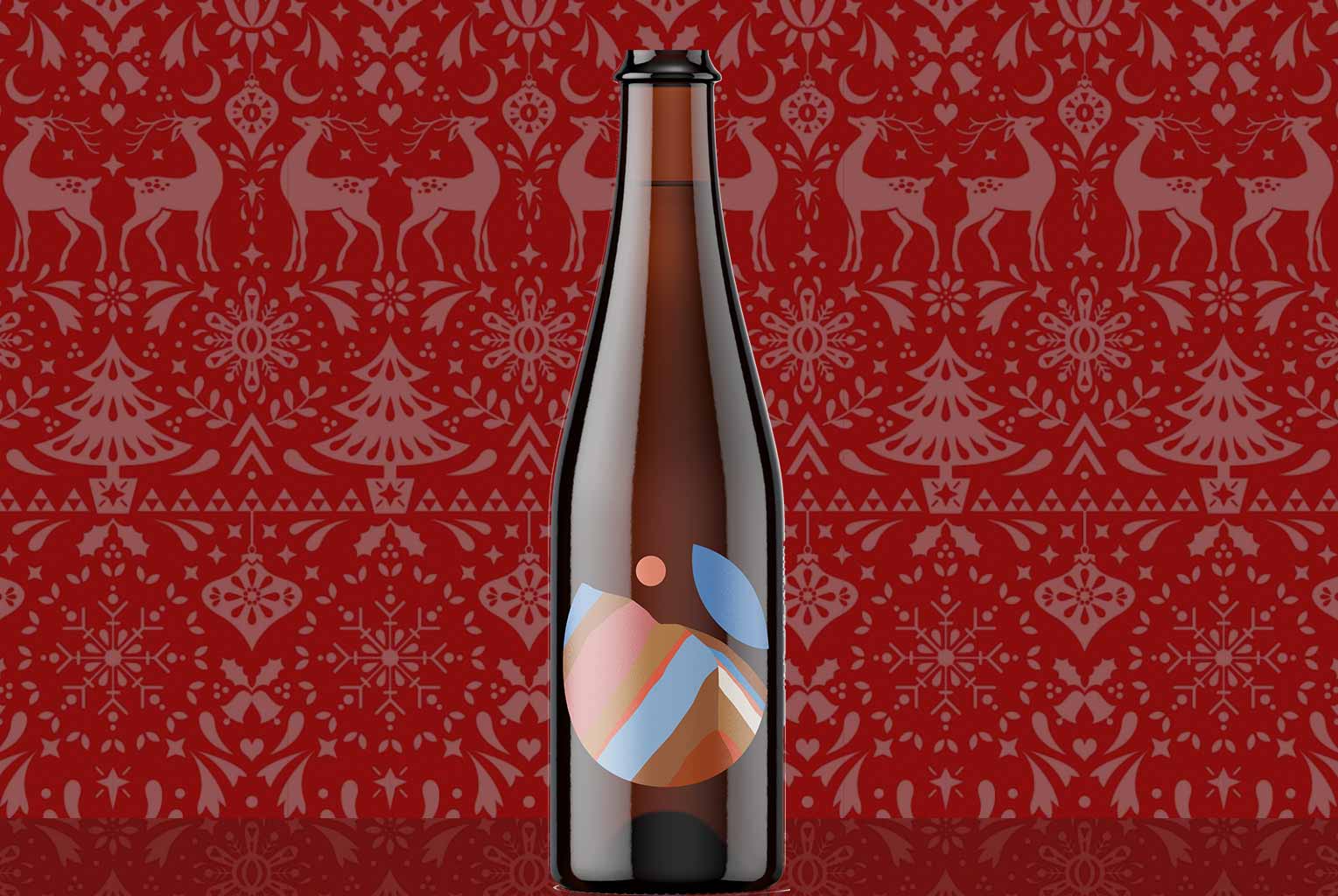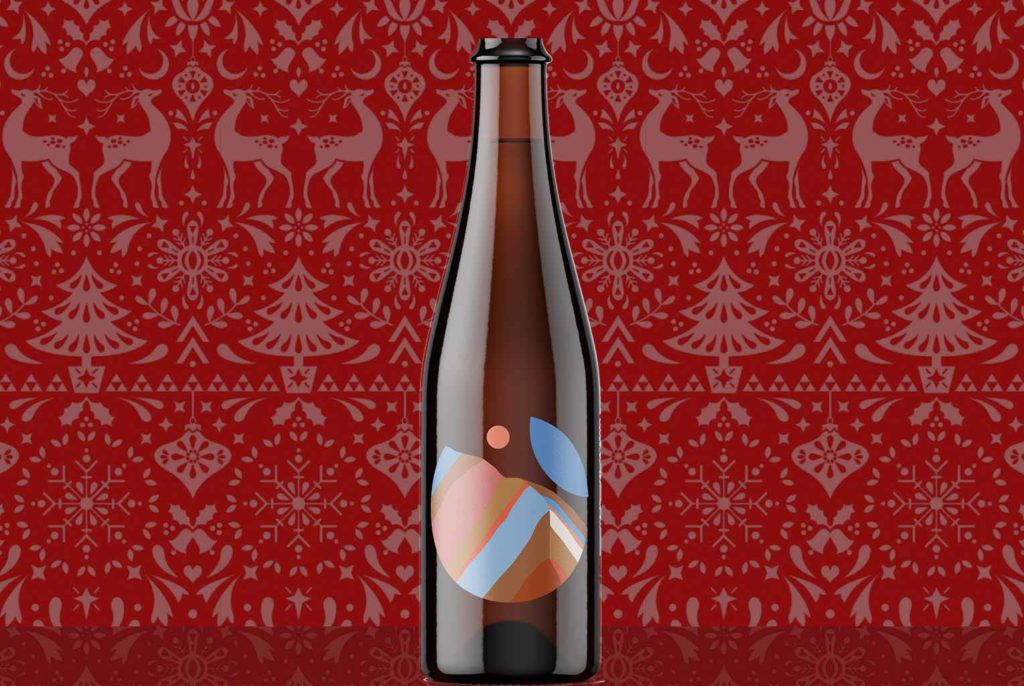 Brett Beer – This weekend, Denver-based Our Mutual Friend, known for its sensational saisons and sours, will celebrate its tenth anniversary. And while a decade may seem small in comparison to a centennial, ten years of brewing award-winning beers is certainly nothing to sneeze at (is that a cold weather joke?).
A foeder-fermented brett saison, Centennial Weirding Way gets an extra dry hop of Centennial for a funky, citrus-forward brett beer that will be a showpiece for any holiday celebration. Especially since this beer comes in 500mL bottles.
A conversation starter, a centerpiece, Centennial Weirding Way needs to work its way onto your holiday table.
Danish Style Red Lager – Figueroa Mountain Brewing Co.
Buellton, CA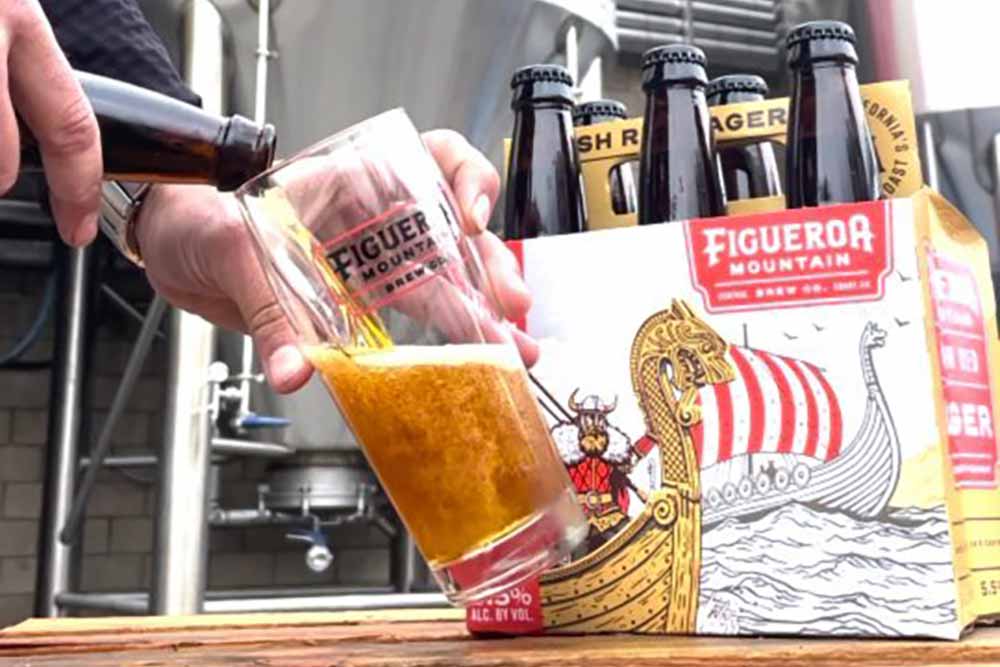 Red Lager – Hop Culture Managing Editor Grace Weitz celebrated Thanksgiving a little differently this year. She and her wife and all their friends and kids (and dogs) got a house in Palm Springs for a Friendsgiving. They actually drove back up to the Bay Area on Thanksgiving day, stopping over in the Danish town of Solvang to break up the eight-hour drive.
One of the only places open, the Copenhagen Sausage Garden offered an outdoor biergarten with steins aplenty. She settled on a Danish Style Red Lager from Figueroa Mountain Brewing to complement her pretzel, German potato salad, and veggie sausage.
Pouring a signature red color (not easy to do with beer), the same hue as the Danish flag (well, not quite that red), this red lager gave a great malty complement to all the buttery, fatty foods.
Sweet caramel malts also complement with a little bit of caramel and toffee.
Honestly, a pretty great Thanksgiving meal. All without any turkey. This might become a new holiday tradition for her.
Castling – Weathered Souls Brewing Co. x Bierstadt Lagerhaus
San Antonio, TX x Denver, CO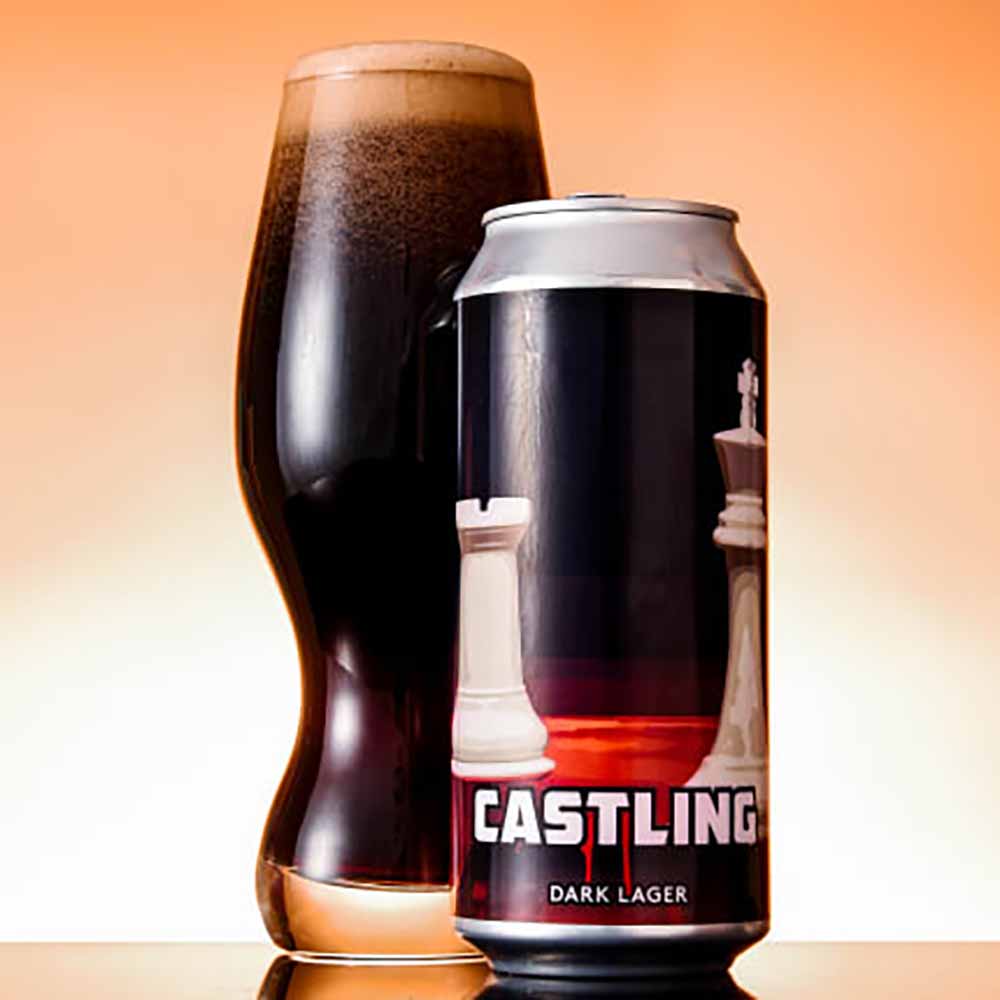 Schwarzbier – You don't need to only drink boozy, thick imperial stouts in the winter. European dark lagers are great beers to indulge in during the dark winter months that are conversely lighter in body and lower in ABV.
Case and point: Weathered Souls collab with Bierstadt Lagerhaus—Castling. Technically considered a schwarzbier, this light dark lager roars to life with roasty toffee, coffee, and caramel notes before smoldering with a complex profile of dried dark fruits like figs and dates. All "making it the perfect beer to sip around the campfire on a cool Texas (or Colorado) evening," according to the beer's Untappd description.
Nouveau – Fort Point Beer Co. x Broc Cellars
San Francisco, CA x Berkeley, CA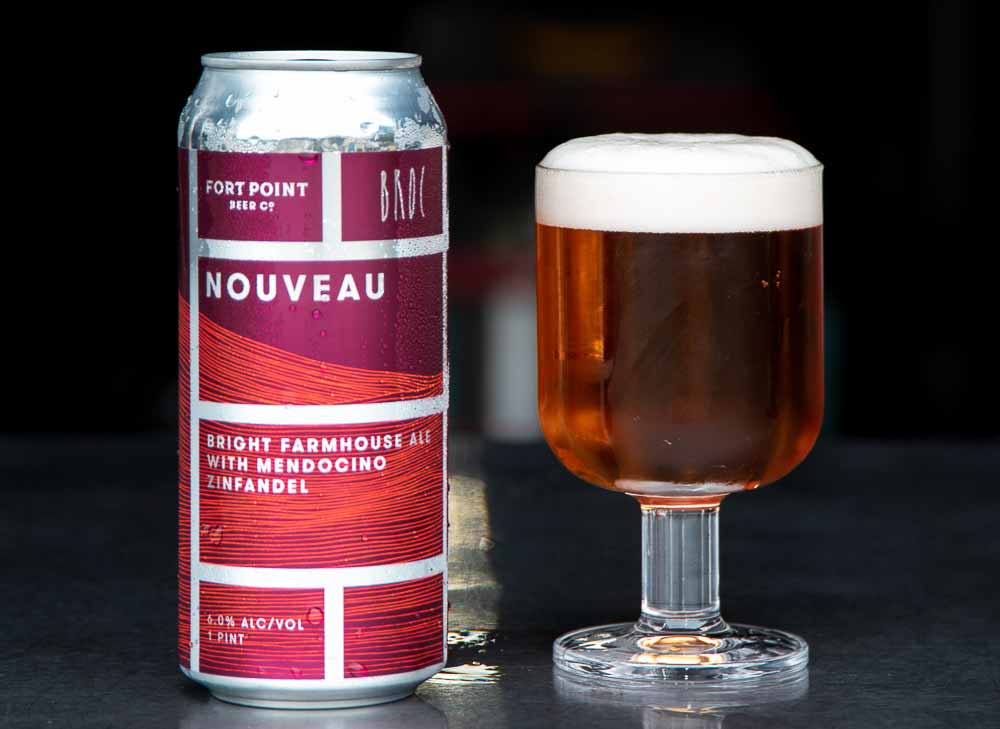 Farmhouse Ale – Made in collaboration with Bay Area natural winemaker Broc Cellars, Nouveau takes inspiration from the California wine country harvest.
"We set out to make a beer-wine hybrid that really captured a lot of the personality and flavor of the juice of the grape itself but still drank like a beer and tasted like a beer," says Mike Schnebeck, director of innovation at Fort Point Beer Co.
A co-ferment, Nouveau maintains the structure and body of a farmhouse beer (think a light malt bill of wheat, Pilsen, and Vienna malts, plus Fort Point's biere de garde yeast), but gets a juicy punch from Mendocino Zinfandel grapes. "We took about twenty percent by volume of Zinfandel juice that had been pressed by Broc Cellars…and put it right into the fermenter that day," says Schnebeck. "Everything fermented as one big happy beverage."
The best of both worlds—wine and beer—Nouveau is the kind of beer you bring over to impress beer drinkers and surprise the palates of wine drinkers.
Pouring out a beautiful almost rose petal watercolor, Nouveau gives off big wafts of cranberries followed by a pleasant wheatiness, which carries through the sip.
"Once I get a nose in that glass, the overall impression of aroma to me is pretty spritzy," says Schnebeck. "The fruit component jumps out, which is really neat especially for Zin with a nice juiciness…and some depth to it—grape stem and skin aromas add a nice complexity."
The beer definitely colors that sweet holiday cranberry with a pretty dry finish in the back, where you'll get an almost buttery biscuit or buttered dark toast.
"In that sense it veers back towards sparkling wine or a Pét-Nat-type vibe," says Schnebeck. "One of the more unique things, I thought, was this cool lingering sweet fruit finish that was kind of unexpected. When we first tasted it, oh, still here. It disappears but then is still there, which is neat."
Overall, this beer is a journey in textures and tastes, "designed to be that beer you're drinking while you're making dinner or hanging out," says Schnebeck. "You get all those fun wine flavors but won't be a bottle of wine deep by dinner time. It is a holiday precursor to dinner, but fits totally well at the dinner table too because of the range of flavor and brightness, acidity, balance."
This beer screams holiday, where we could see a tallboy going as well next to a turkey as a slice of pumpkin pie or holiday ham.
And the best part?
Fort Point has plans to reimagine this beer with different wineries every year around the holiday season. Expect more fun, innovative things from Nouveau in the future.
Little Man Salted Oreo Stout – WeldWerks Brewing Co.
Greeley, CO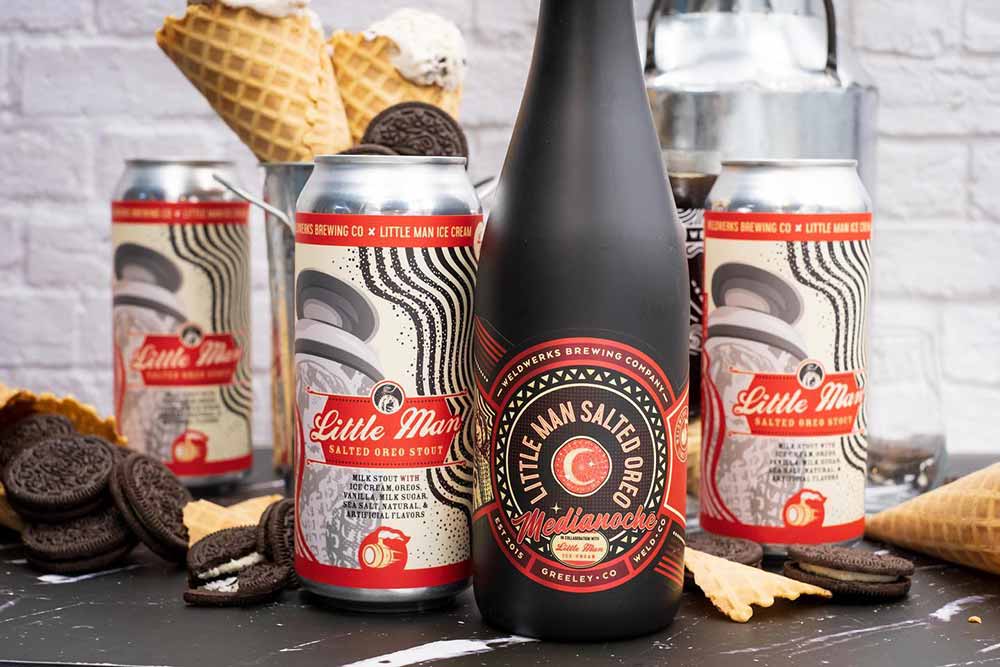 Milk Stout – Dessert, the best part of any holiday meal (or just any meal, in our opinion). Creamy, indulgent, decadent, Little Man Salted Oreo Stout combines Denver-based Little Man Ice Cream's signature Salted Oreo ice cream with oreos, vanilla, milk sugar, and a touch of sea salt. And in the deft hands of WeldWerks, this beer transforms into a larger-than-life treat that's the perfect finish to any Secret Santa exchange, White Elephant party, Hanukkah celebration, or seasonal fete.
Emotional Haircut – Primitive Beer
Longmont, CO
Lambic-style Ale – We all want to look our best around the holidays, right? Hence the ugly holiday sweaters. 😉 Well, if we can't all look our best, at least we can drink our best. Primitive Beer Co-Founders Lisa and Brandon Boldt sent us a little early holiday present package. And while we enjoyed all the beers, we have to say that Emotional Haircut stood out.
Of course, it's probably the hardest beer to find in the market, around only in New York and The Barrel House. But regardless, we had to write about it. A three-year blend of Méthode Traditionnelle spontaneously fermented beer, Emotional Haircut ages on Colorado white peaches in ex-Ruby Port rye whiskey barrels and naturally conditions with Colorado wildflower honey.
This beer smells like fruit pies baking in the kitchen and tastes just the same—like pie on your plate. Peach, vanilla, graham cracker…find it all in this effervescent, bubbly bottle.
Future Reference – Threes Brewing X Hudson Valley Brewery
Brooklyn, NY x Beacon, NY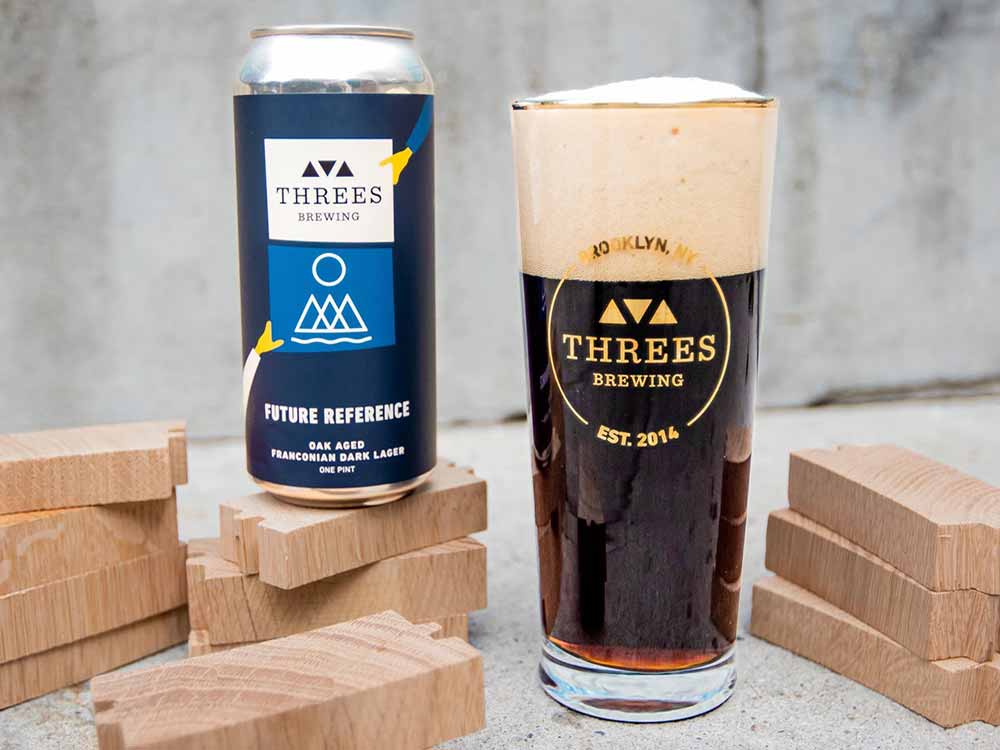 Dark Lager – An oak-aged Franconian dark lager made by both Threes Brewing and Hudson Valley Brewery, Future Reference seems to emulate those dark winter nights. We honestly probably couldn't describe this beer any better than the tasting notes from the Untappd description: fresh-peeled birch bark, distant vanilla, sarsaparilla, blonde roast, cocoa nibs.
Plus, it doesn't hurt that two of New York's best breweries teamed up to brew this one. It's like if Bruce Wilis and Alan Rickman teamed up to make a Christmas movie (because we all know Die Hard IS a Christmas movie). That's something you'd want to watch, right?
Well, this is a beer you want to get your hands on and drink as soon as possible. We're not sure how long this one will stick around.
Bone's Desire – Necromancer Brewing Co.
Pittsburgh, PA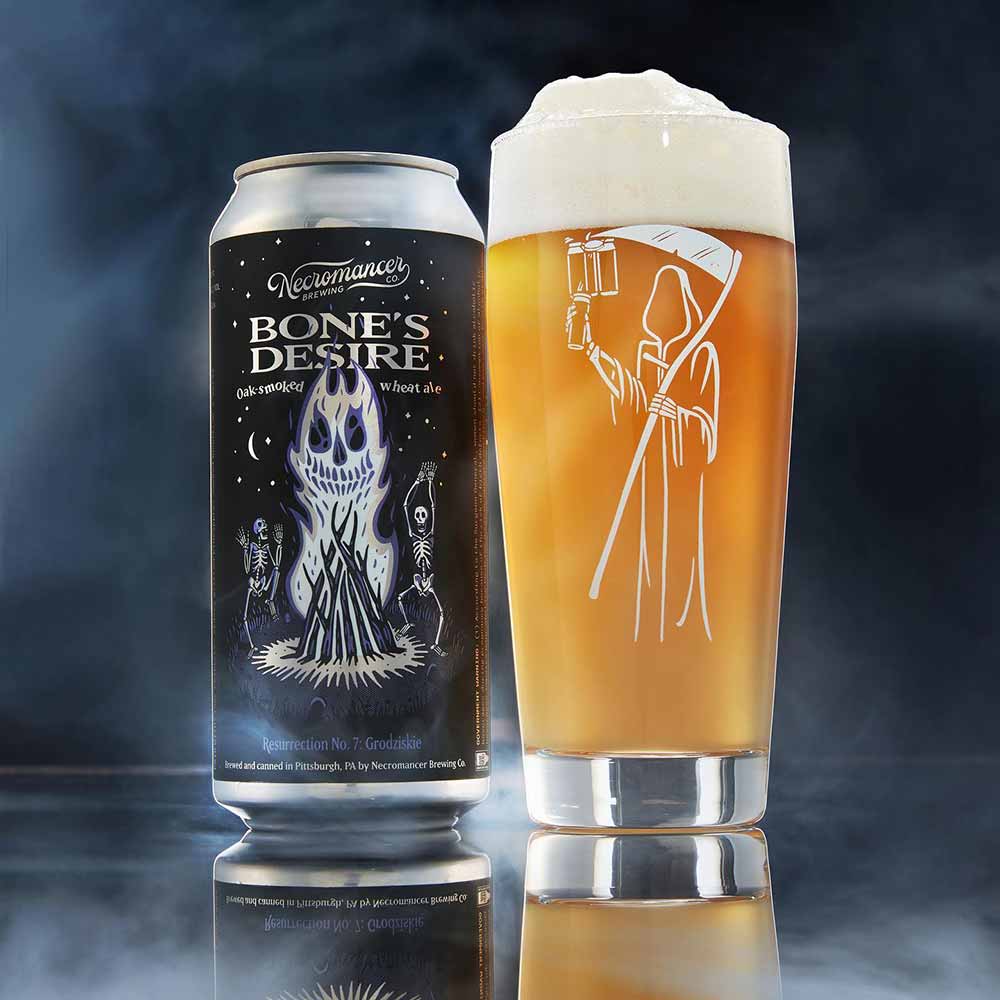 Grodziskie – Would you prefer real bubbly or "Polish Champagne" to celebrate this year? An oft-forgotten style of beer, grodziskie became popular during the nineteenth century for its oak-smoked malts, noble hops, and intense carbonation. Hence the nickname "Polish Champagne."
Necromancer's version called Bone's Desire offers an incredible amount of balance. We're huge fans of smoked beers, rauchbiers, and their ilk like grodziskie (although we don't find many out there), but oftentimes the smoke can become overpowering. In the deft hands of Necromancer Head Brewer Lauren Hughes and Lead Brewer Nina Santiago, Bone's Desire cackles with just the right complement of smoke.
The beer had a nice light effervescence and a slight sweetness, but more like the sweetness from a wheat bread. Honestly, it instantly reminded us of the colder seasons with piles of leaves and smoking firewood.
Is there anything better during the winter than gathering around a crackling fire, whether outside or inside? Bone's Desire evokes that very fiery imagination.
Tough Love [BANISHED] 2022 – Crux Fermentation
Bend, OR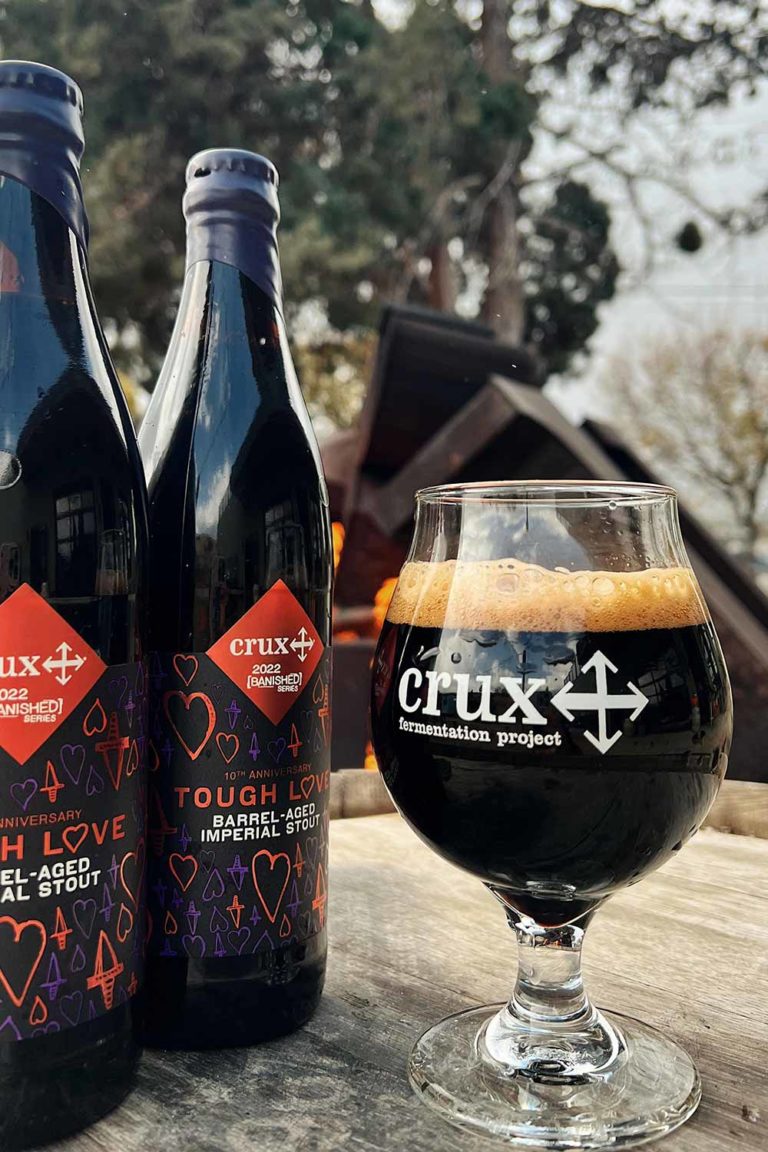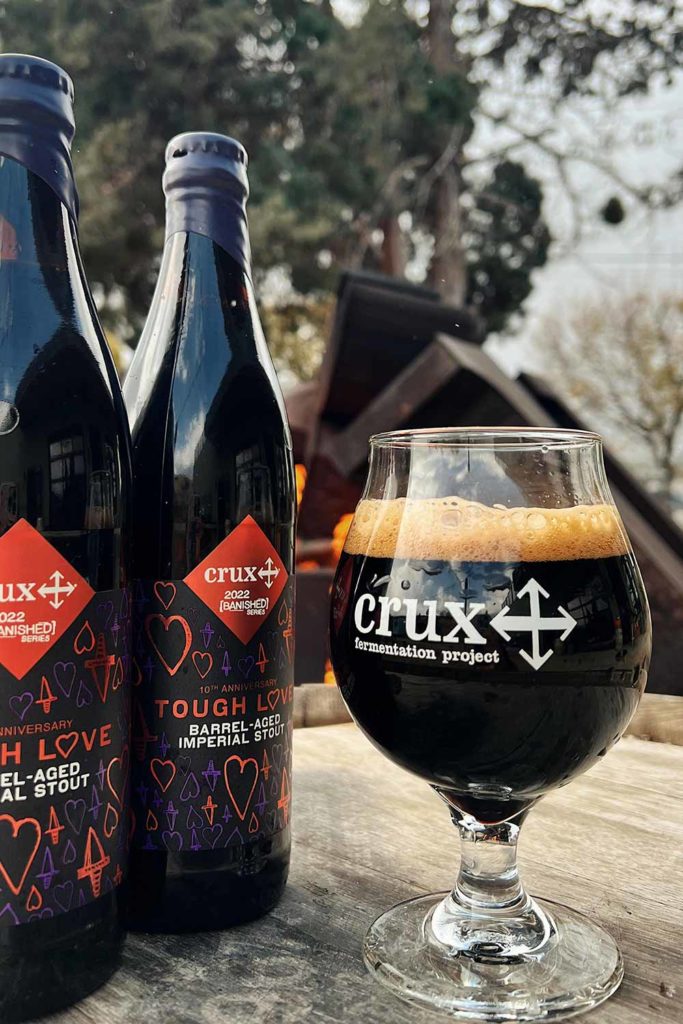 Imperial Stout – A hidden gem in Bend, OR, Crux Fermentation focuses on non-traditional brewing methods (think decoction mashing, spontaneous fermentation, and barrel-aging). Along those lines, the brewery creates a series called [BANISHED] that "banishes" certain beers to oak barrels to nap for several months to allow flavors to mature, meld, and mellow.
One of those BANISHED beers, Tough Love gets a dose of Blackstrap molasses and Brewer's Licorice before aging in select bourbon barrels. Additionally, Tough Love conditions on Madagascar vanilla beans and wild cherry bark for a beer that's immensely complex and deeply thought provoking.
Smoky notes from the bourbon barrels intermingle with deep, dark toasted sugar, vanilla, chocolate, and cherry.
This year happens to be particularly special because Tough Love celebrates its tenth anniversary in 2022. Accordingly, this beer can be found in wax-dipped 500mL bottles with a commemorative label throughout Oregon and Washington.
Reminiscing about the first time he brewed Tough Love, Crux Co-Founder and Master Brewer Larry Sidor encourages everyone to "follow their passion and the reward will be worth the effort! Enjoy ten years of passion."
Sounds like a beer befitting any holiday celebration.
Winter Lights – Horse & Dragon Brewing Company
Fort Collins, CO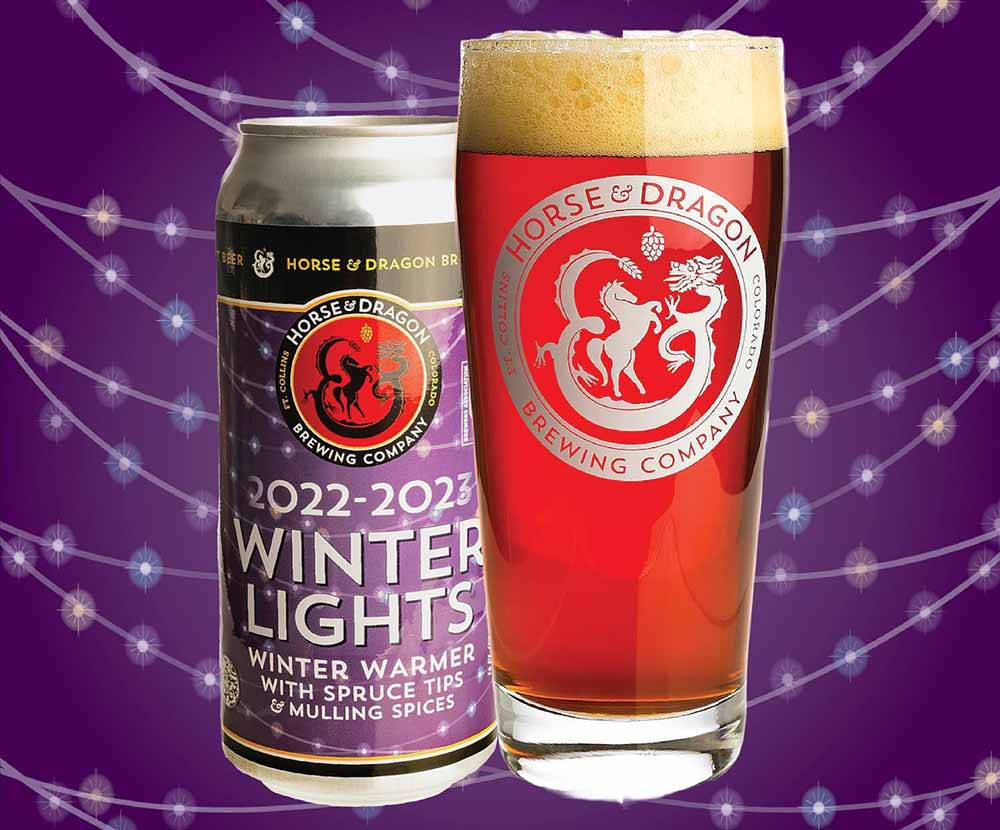 Winter Warmer – Look, Colorado knows how to survive a winter. You need more than toe warmers, balaclavas, snowshoes, snow tires, antifreeze, road salt, and long johns. You need beer…strong beer.
Fort Collins-based Horse & Dragon understands. A winter warmer clocking in at 8.1% ABV, Winter Lights welcomes winter and all its snowstorms with a beer full of spicy rye, sweet candied orange and caramel, and a bit of hop bite.
Sure to keep your cheeks rosy and insides warm, Winter Lights just hits on what we want in a beer to combat the bitter cold winter.
Seasick Crocodile – Prairie Artisan Ales
Krebs, OK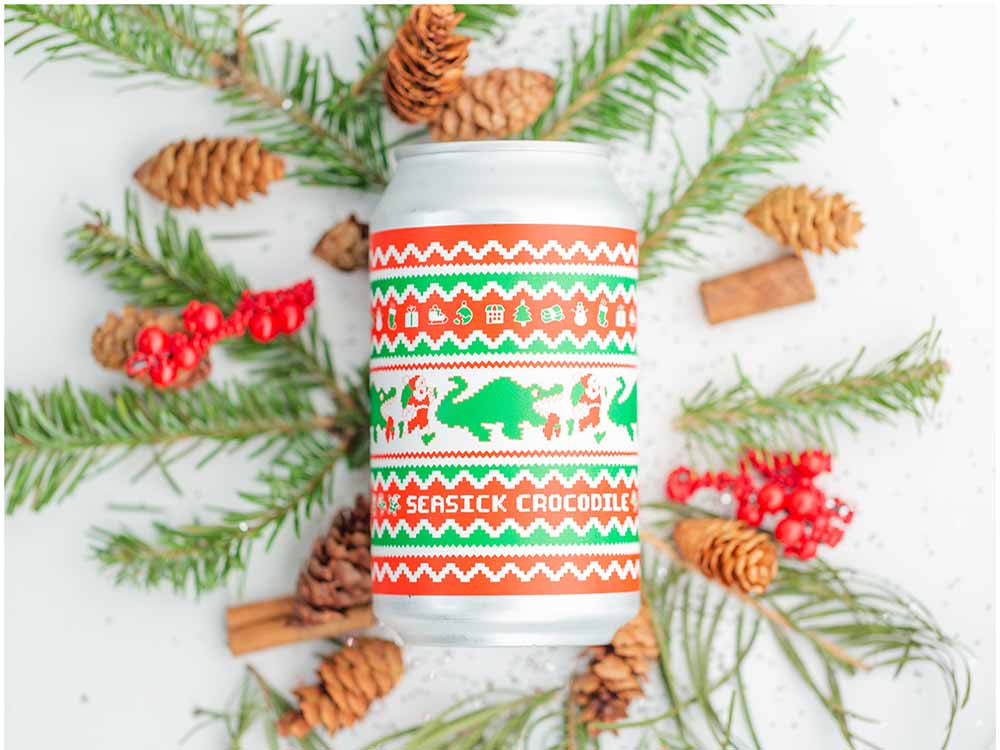 Sour – Most of the times when you say Prairie Artisan Ales and Christmas in the same sentence, it's followed by the word "bomb." And in most cases, Christmas Bomb would be the ultimate holiday beer, but we noticed something a little different from Prairie this year.
Seasick Crocodile is a sour with cranberries, ginger, cinnamon, and nutmeg….aka all the sweet, warm flavors your love from a holiday dinner…in a can.
Home for the Holihaze – Pure Project Brewing x Burgeon Beer Company
San Diego, CA x Carlsbad, CA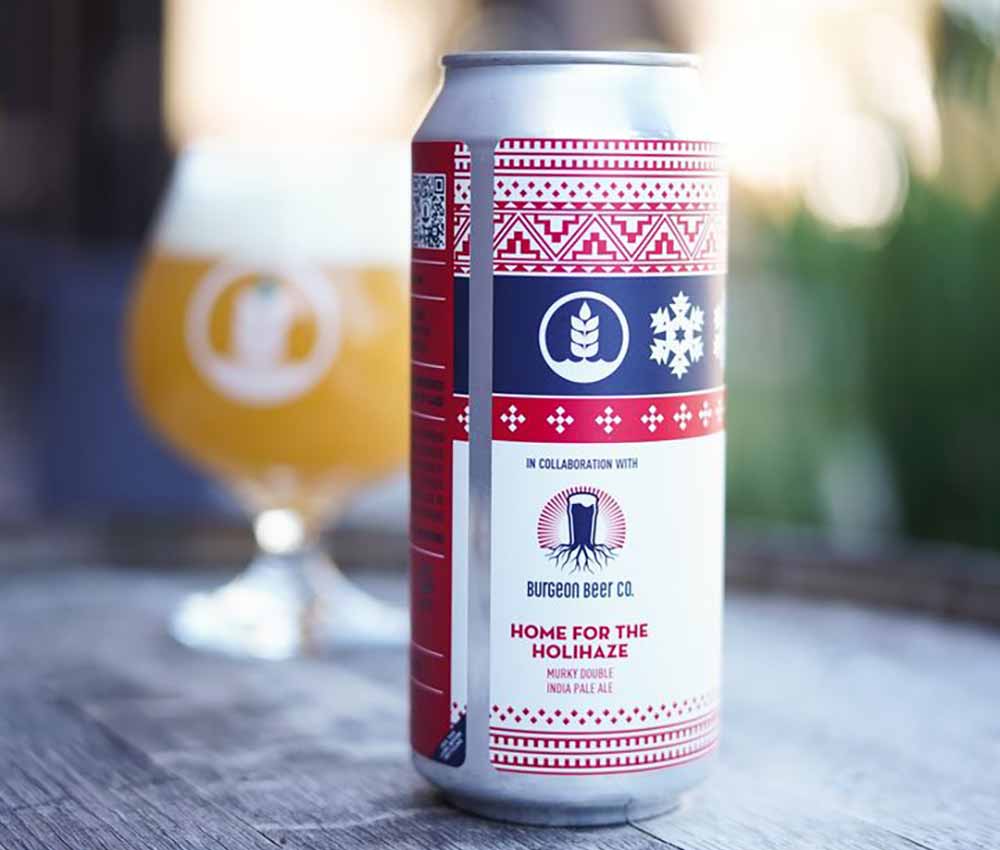 Imperial Hazy IPA – When we hear about a collab between California heavyweights, our ears perk up. When we hear about a holiday hazy, out interest piques even more. Brewed by Pure Project and Burgeon Beer, Home for the Holihaze puts a contemporary spin on the Christmas ale classics.
Much like Sierra Nevada's Celebration Ale focuses on hops, Home for the Holihaze puts the emphasis on the bine. Each year the hops rotate. This year's batch feature Riwaka, Citra, Citra Cryo, and Strata, packed into this beer at a rate close to how Santa Claus might put presents into his pouch—bulging.
A tropical tango of passion fruit jam, ripe strawberry, and dried mango over your tongue like a silky sleigh ride in the snow.
Whoever said IPAs aren't for the holidays are the same folks that say Santa Claus doesn't exist.