Photography courtesy of Bell's Brewery
Click for more in our "Available in Most Stores" series:
What is the best summer beer style? While we know the answer will vary. To us, there is no rarer pleasure than sipping on cloudy, slightly sweet, incredibly refreshing wheat beers and all its worldly ilk—witbiers and hefeweizens.
For quick reference, American wheat beers typically feature a grist of at least thirty percent malted wheat and neutral ale yeast, creating a fluffy, fantastically opaque beer that, although thirst-quenching, doesn't have some of the characteristics of its European counterparts.
For instance, the witbiers, Belgian wheat beers brewed with unmalted wheat and spices such as coriander and orange peel. Those adjuncts give witbiers their distinctive slightly spicy note and citrus sweetness.
Or hefeweizens, German-style wheat beers that gets its striking flavors—sometimes bubblegum, sometimes banana, sometimes even black pepper, or a combination of the three—from a unique Bavarian yeast. Unlike witbiers, which include extra ingredients, hefeweizens get all those complex flavors straight up from the yeast.
Regardless of the exact style, wheat beers have this in common: On a hot summer day, these easy-drinking, quaffable, often crushable beers cool us down and quench us as almost no other style can.
Below, you'll find a mix of wheat beers, hefeweizens, and witbiers. The common thread is that you can find any of these accessible wheat ales in a store near you.
Hop Culture's Picks for the 10 Best Wheat Beers Available in Most Stores Right Now
21st Amendment Hell or High Watermelon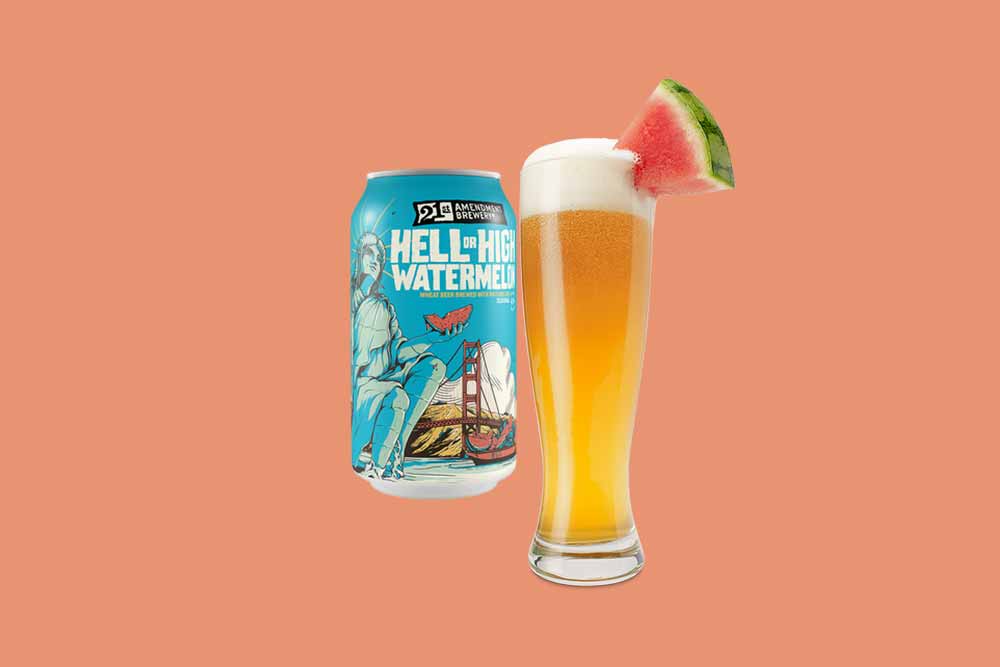 Fruited Wheat Beer — A 21st Amendment cult classic (some might say), Hell or High Watermelon stands as tall as Lady Liberty herself as an American wheat beer with one of our favorite summer fruits—watermelon.
Real watermelon goes into this fruited wheat beer for a nostalgic summer sipper that's crisp, clean, and immutably refreshing.
You can find 21st Amendment's beers in thirty-four states plus Washington, D.C. Use 21st Amendment's Beer Finder to get this beer cold in your fridge for those hot summer days.
Alaskan Brewing Co. White
Witbier — Based on the Belgian-style witbiers, White gets a unique dose of Alaska's glacier-fed water. Originating from the 1,500 square-mile Juneau Ice Field, the water Alaskan Brewing Co. adds to White gives this beer an incredibly unique profile. Alaskan Brewing Co. also adds a blend of European and Pacific Northwest hops.
Altogether, White pours hazy, courtesy of those wheat proteins, for an effervescent, smooth, and slightly complex citrus palate, for an elegant beer great in warmer weather but truly delicious in any season.
Despite calling Juneau, AK, home, Alaskan Brewing Co. actually distributes to twenty-five states. At the moment, use Alaskan Brewing Co.'s Find Our Beers page to locate a White near you.
Allagash White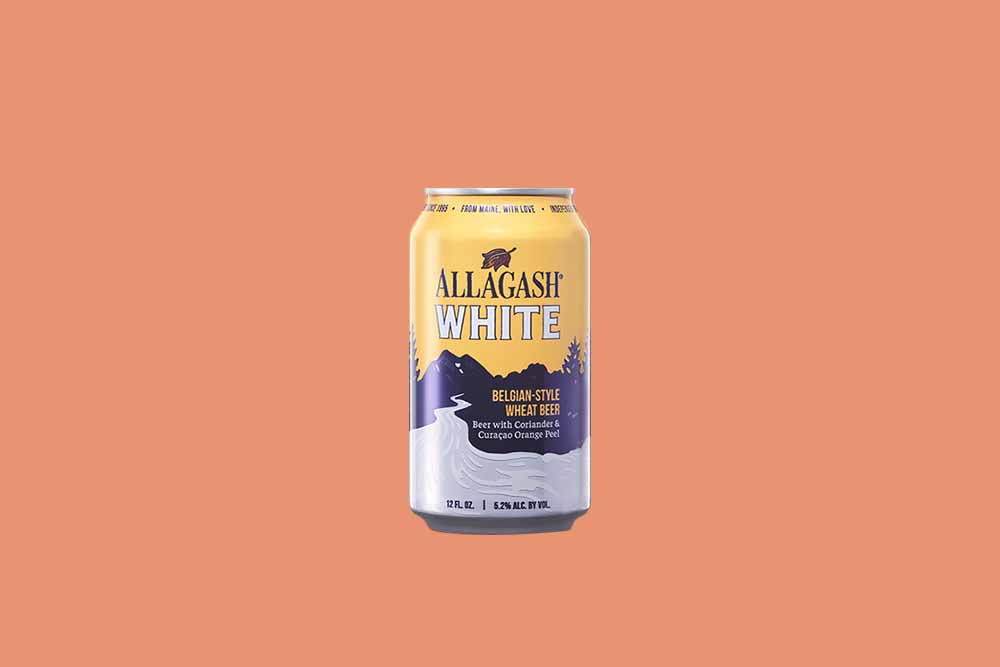 Witbier — Often regarded as the pinnacle of Belgian witbiers here in America and around the world, Allagash White has won numerous awards, including nine gold medals (five at the Great American Beer Festival, three at World Beer Cup, and one at European Beer Star), two silver medals, and three bronze ones.
But this beer has quite a history. And people didn't always want to drink the brewery's now-best-selling beer. Yes, that's right, when Allagash Founder Rob Tod introduced Allagash White in 1994, imports still reigned supreme. Craft-wise, beers breaking the standard included Sierra Nevada Pale Ale, Anchor Steam Beer® (which had actually been around for, well, quite a while), and Boston Beer Co. Boston Lager, for instance.
In the 1990s, Tod worked as a keg washer at Otter Creek Brewing when a Belgian-style witbier called Celis White eventually inspired him to start his own brewery. In 1994, Tod created Allagash Brewing Company out of a warehouse in Portland, ME.
After many trials, Tod released his own Belgian-style witbier, Allagash White.
Ironically, only a few people appreciated the witbier for the first ten years. Today, i​t seems silly to include "stubborn" in the same sentence as Allagash's current best-selling White. However, during the 1990s, no one understood Allagash's first beer.
But Tod stuck to his guns. ​​He solely brewed Allagash White, shopping it around to anyone who would listen.
During the early 2000s, Allagash finally grew, but not in the way you'd expect. Because White wouldn't sell at home, Tod and Allagash Brewmaster Jason Perkins took their beer into as many states as possible. Finally, people's perceptions and palates changed after ten years of hitting the road. Somewhere between 2006 and 2007, consumers came to understand and appreciate the nuances, spices, and appearances of Belgian-style beers. Slowly, Allagash White became Tod's namesake, evoking the family, passion, caring, and innovation that Allagash now counts as its core values.
Now, the traditional Belgian witbier ingredients—Curacao orange peel, coriander, and one undisclosed spice—Tod and Perkins use in Allagash White have made it one of the most iconic beers in the country.
And as a flagship of the brewery, Allagash White has, as we mentioned, won multiple awards, and become a "go-to gateway" to craft beer.
Allagash White is the perfect witbier that you can find in twenty states, including CA, CT, DC, DE, FL, GA, IL, MA, MD, ME, NC, NH, NJ, NY, PA, RI, SC, VA, WI, and VT. Use Allagash's Beer Finder to track down Allagash White near you.
Bell's Oberon Ale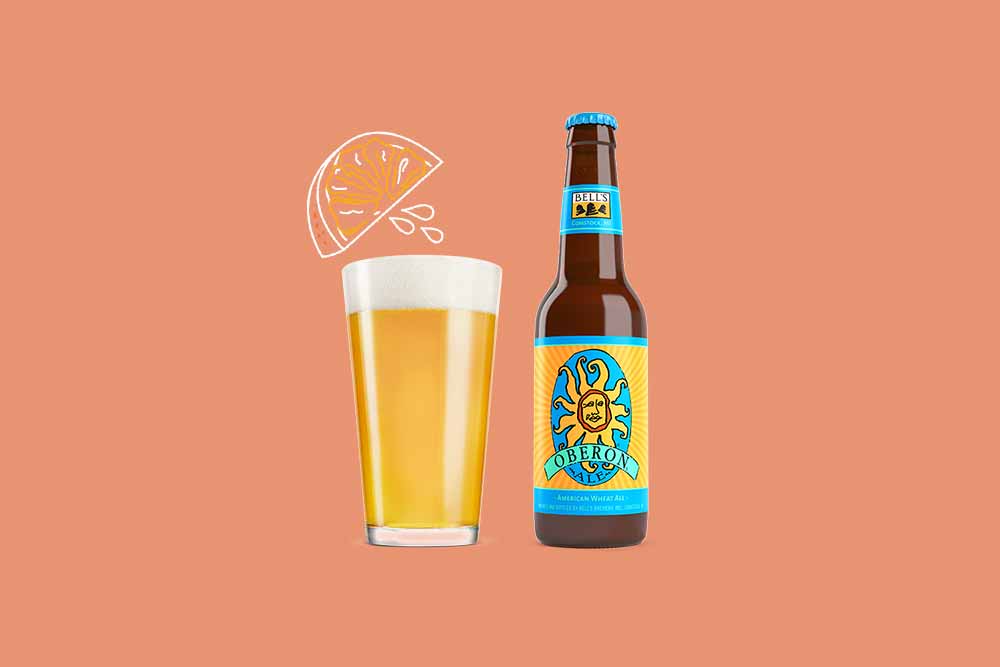 American Wheat Beer — Flowers blooming, sun shining, baseball bats cracking. And, Bell's Oberon flowing.
Certainly for those in Michigan and now for people around the country, the release of one of Bell's most popular seasonal beers signifies the first signs of spring and the promise ahead of summer.
For over 30 years, when spring rolls around, the revered brewery in Kalamazoo and Comstock, MI, shakes the snow from its boots, stows away its shovels, stores its winter jackets, and prepares for Oberon Day, the official release day of Bell's Oberon, one of the most iconic American wheat beers synonymous with sunshine in a glass.
In fact, Larry Bell, president and founder of Bell's Brewery, originally named the beer Solsun to reflect his desire to create the perfect summer beer, pulling on inspiration from Belgian saisons.
"I wanted to do something inspired by Belgian brews but dialed in for Americans [because] there wasn't much in the way of anyone doing anything Belgian-wise, that was pretty exotic," Bell previously told Hop Culture, who notes he designed Oberon at 5.8% ABV to be lighter than what Belgian's traditionally brew, but still pretty firm. "It just became this juggernaut that took on a life of its own … especially in Michigan where we have long, arduous winters. When Oberon came out [in the spring], people saw it as a celebration of having survived winter and summer coming."
Is there a better way to celebrate summer than by drinking a glass of Oberon?
And the best part? With its latest expansion into the Pacific Northwest and Utah, Bell's beers can now be found in forty-nine states plus Puerto Rico. Use Bell's Beer Finder to locate a Bell's Oberon near you.
Brewery Ommegang Witte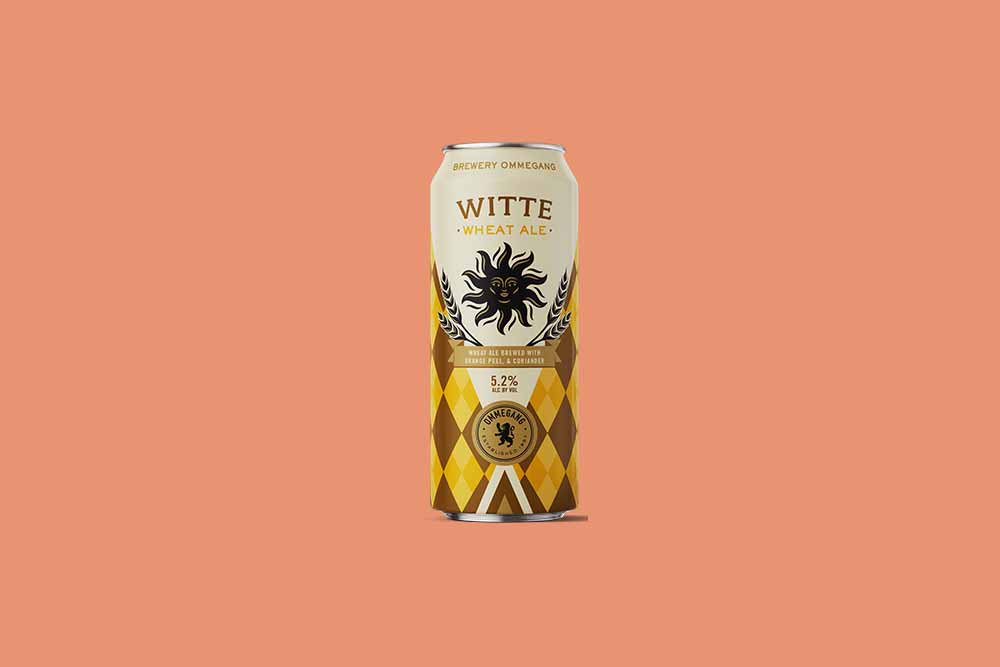 Witbier — A Belgian-inspired brewery, Brewery Ommegang whips up a wonderful version of the traditional Belgian-style wheat beer. Witte includes malted and unmalted wheat along with classic ingredients, such as coriander and orange peel.
Crisp, refreshing, and a touch sweet, Witte pours a heaping handful of hazy for, honestly, a perfect summer beer on hot days.
You can find Brewery Ommegang's beers in forty-seven states. Use Ommegang's Beer Finder to get this beer into your fridge.
Dogfish Head Namaste White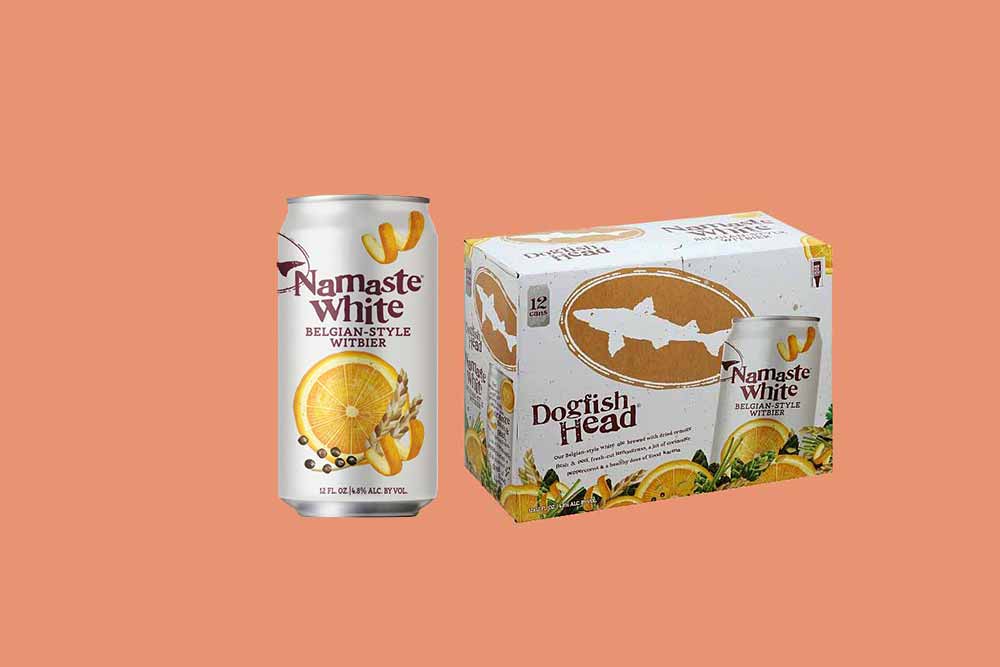 Witbier — Dogfish Head Co-Founder Sam Calagione built his name on beers brewed with culinary inspiration. Dogfish Head Namaste White falls perfectly into that mantra. Brewed with dried organic orange slices, fresh-cut lemongrass, peppercorns, and a bit of coriander, this witbier includes all the fixings of the classic style and then some.
Notes of clove and coriander combine with a zesty sweetness and a slightly spicy finish.
Originally a tribute to Dogfish Head's friends at 3 Fonteinen Brewery in Belgium, Namaste White has all the trappings of a witbier plus a Rehoboth Beach twist for a thirst-quenching ale Dogfish says is "bursting with good karma."
You can currently find this witbier in all fifty U.S. states and Washington, D.C. We recommend using Dogfish Head's Fish Finder to track down a Namaste White near you.
Lagunitas A Little Sumpin' Sumpin' Ale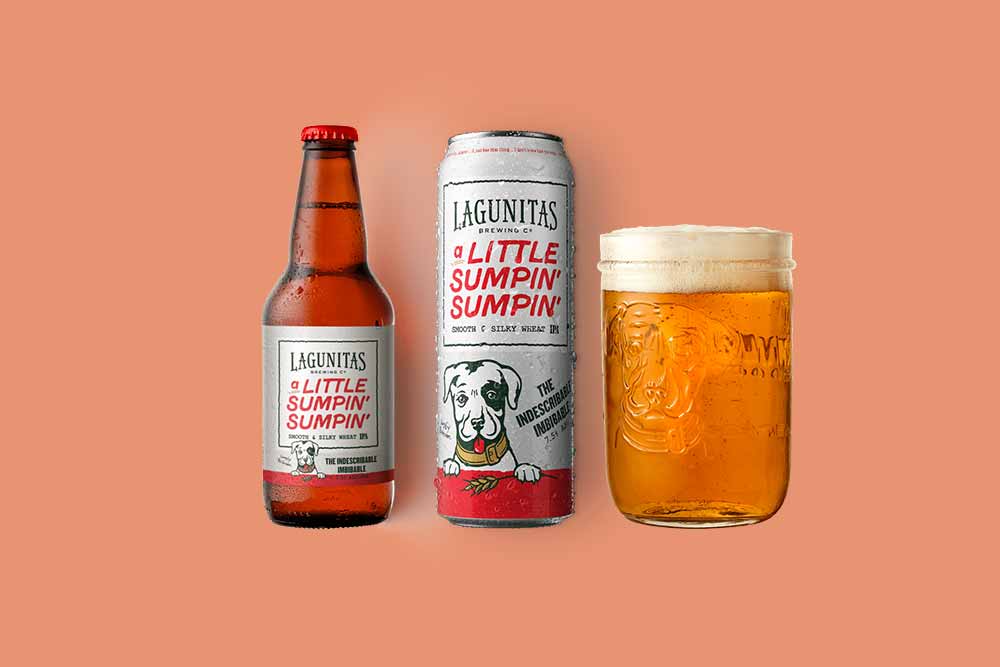 American Wheat — Alright, this beer will cause some controversy. And that's exactly what Lagunitas wants. Should we classify A Little Sumpin' Sumpin' as a wheat beer? An IPA? A hoppy wheat beer? A smooth IPA?
We'll defer to Lagunitas here when they call A Little Sumpin' Sumpin' a "nice wheatley-esque-ish-ness" and a "way smooth and silky IPA" that's "a hoppy pale wheat ale that is great for IPA fans, but so smooth that hefeweizen fans dig it, too."
Brewed with fifty percent wheat, fifty percent malted barley, and some newer hop varieties, A Little Sumpin' Sumpin' will hit a bit higher in bitterness (52 IBUs) with more light cedar and pine notes than a typical wheat beer but still has those hefeweizen-like flavors we love—bubblegum, banana, and even a little pineapple.
Consider this groundbreaking and slightly confounding American wheat beer you can find at a store near you. Currently, Lagunitas distributes to thirty-two states, so to track down a Lagunitas A Little Sumpin' Sumpin' Ale close by, use the brewery's Brew Finder.
Schlafly Hefeweizen Unfiltered Wheat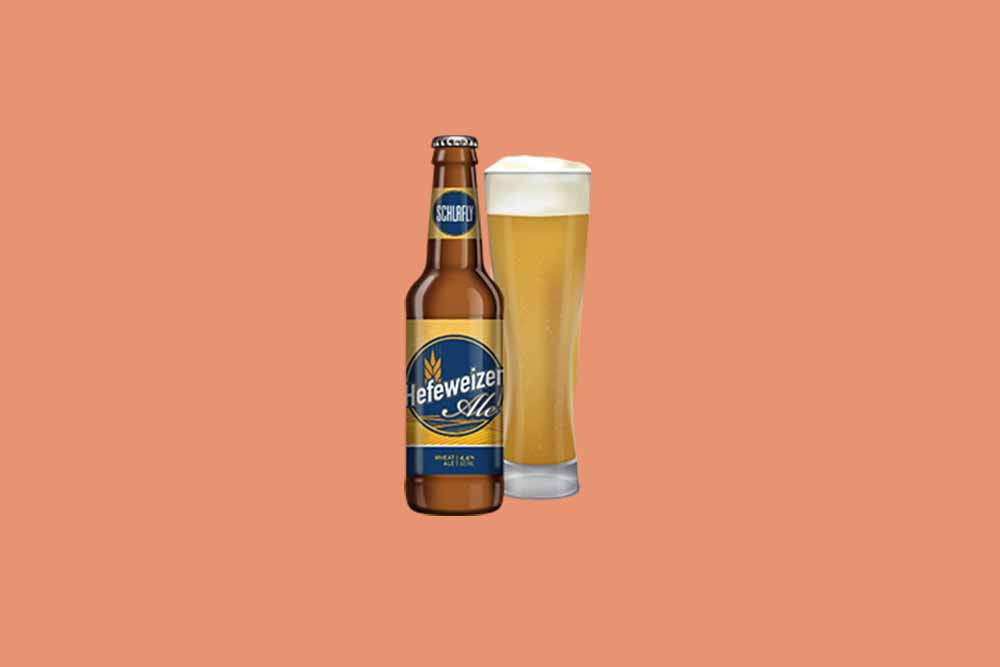 Hefeweizen — Brewed with thirty percent American winter wheat and sweet golden malted barley, Schlafly's hefeweizen gets a dose of Tettnang hops from Oregon and American ale yeast for a distinctly American take on the classic German beer.
Grains are the name of the game in Hefeweizen Unfiltered Wheat, giving this ale its classic cloudiness and buoyant body. The Noble hops add a hint of spice to this refreshing hefe, often served with a wedge of lemon.
You can get your hands on this crushable hefeweizen across Schlafly's footprint, including seventeen states. Check out Schlafly's Beer Finder to find a Hefeweizen Unfiltered Wheat near you.
Tröegs DreamWeaver Wheat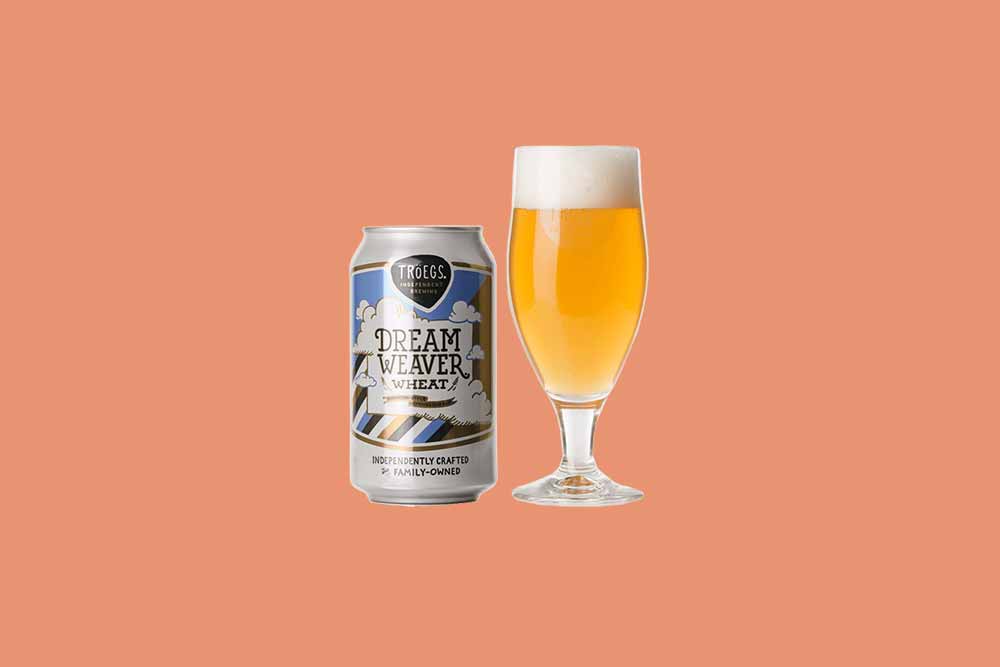 Hefeweizen — Perhaps unsurprisingly, a trip to Germany inspired Tröegs Co-Founder John Trogner to make DreamWeaver Wheat, Tröegs' version of a hefeweizen.
While building his second brewhouse, Trogner traveled overseas to check on his equipment before paying the final bill.
"The joke was that an American brewmaster was coming over on his birthday, and he loves weiss beer," says Trogner. "They took me all over trying the local beers. I think I had six or seven total hours of sleep that whole trip."
During his German drinking adventures, Trogner tried to learn some weiss brewing secrets but found most German crafters heavily guarded their recipes.
"Finally, one wrote this down and handed it to me: fifty percent wheat, fifty percent barley, and Ferulic acid," says Trogner, noting that Ferulic acid naturally occurs in wheat and barley and helps create that black pepper flavor.
Building on that simple recipe, Tröegs uses a blend of red and white wheat to balance the flavors and textures of its hefeweizen.
Inspired by that trip to Germany, John, and his brother Chris, developed DreamWeaver to evoke memories of German brewing. DreamWeaver sways a bit heavier on the black pepper and clove flavors.
"The yeast comes through with a silk texture," Trogner told Hop Culture in a previous piece. "There is a balance of acidity through the carbonation, and the red wheat balances with malty, cracker flavor."
Tröegs currently distributes to the following states: CT, DC, DE, MA, MD, NJ, NY, OH, PA, and VA. To find the nearest store that carries DreamWeaver in the U.S., head over to Tröegs' Brew Finder.
Two Road's No Limits Hefeweizen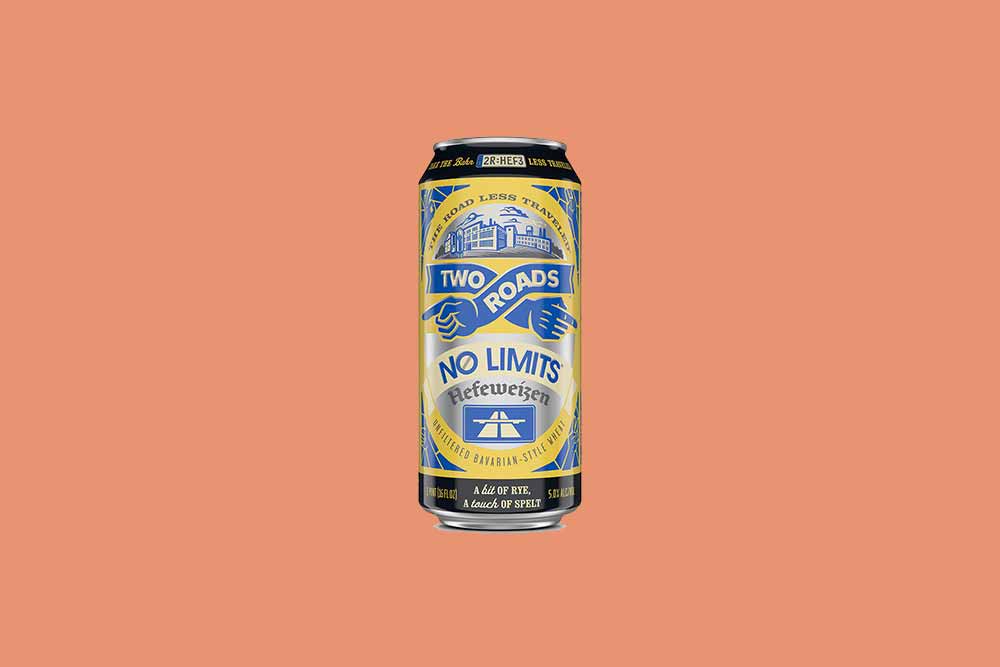 Hefeweizen — "Brewmaster Phil Markowski has taken a 'bahn' less traveled to create our version of the classic Bavarian wheat brew," writes Two Roads on its website. Bahn translates from German to road in English, a nod to the brewery's class tagline "road less traveled."
The mantra means Two Roads brews beers just a little differently. In No Limits, that means using rye malt.
With an elegant amount of haze and a copious cloud of foam, No Limits has a crisp, clean finish.
But you don't have to take our word for it. No Limits won a 2015 GIBF gold medal in the "German-Style Wheat" category and a 2014 CANFEST silver medal.
Two Roads currently distributes in twelve states: CO, CT, DE, MA, ME, NH, NJ, NY, PA, RI, VT, and VA and the UK. Use the Two Roads Product Finder page to nab a No Limits Hefeweizen in your neighborhood.