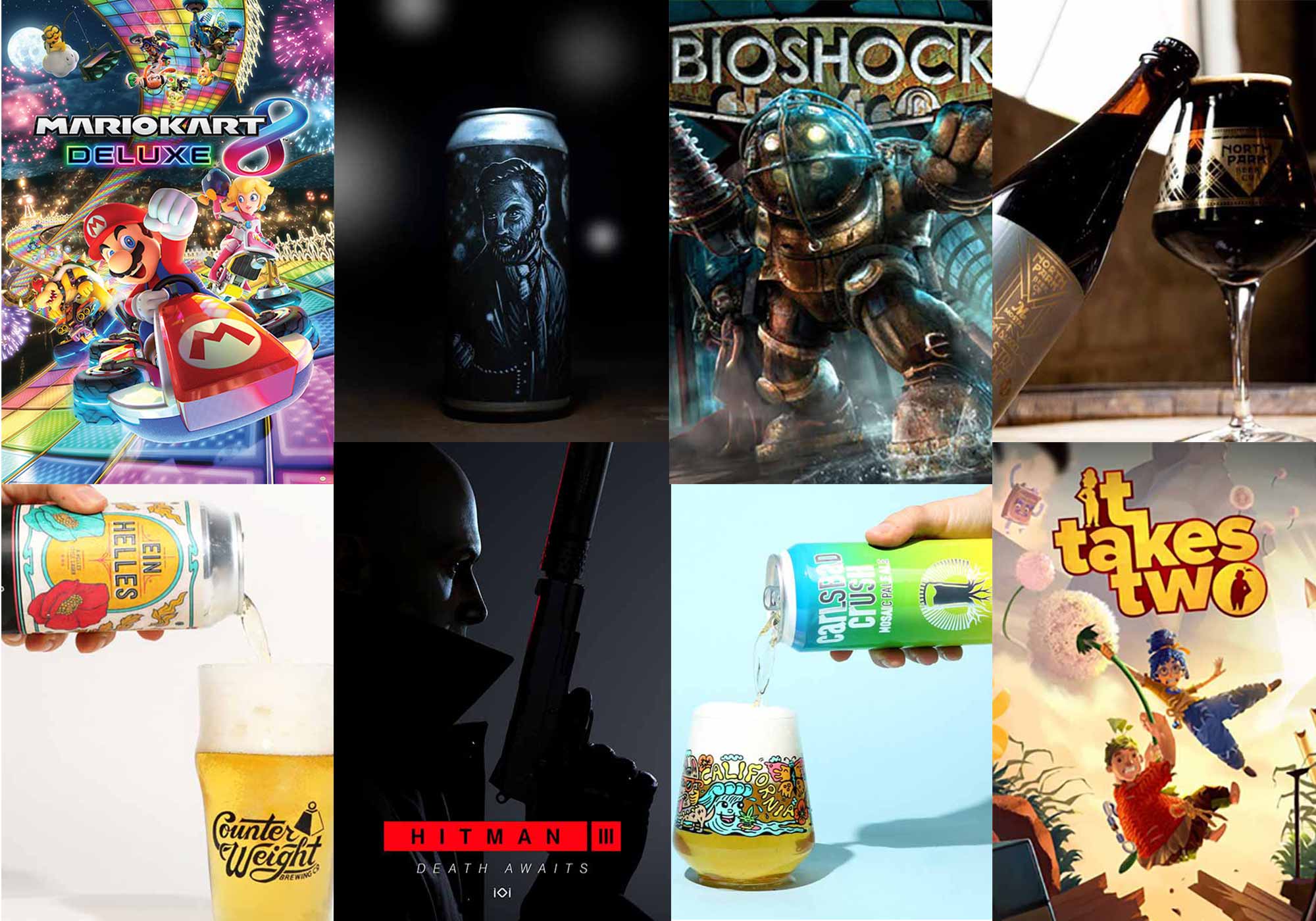 Here are some of the things the Hop Culture team loves: coffee, morning pastries, beer, and video games. On Friday afternoons, we've been known to end the day a little early, crack open a cold one, and try to smash each other in DC Legends. And on trips around the country, you'll often find us stopping in arcade bars to try our hand at classics like Teenage Mutant Ninja Turtles, Cruis'n USA, or Time Crisis. To us, video games and beer are as much of a vintage pairing as Mario and Luigi.
Since most of our team grew up in the 1990s, we all share fond memories of time spent in poorly-lit basements, crushing 2D figures in Street Fighter on Super NES, dropping banana peels in endless matches of Mario Kart on Nintendo 64, throwing touchdowns in Madden NFL on PlayStation, or destroying aliens in Halo on Xbox.
Much like craft beer, video games have evolved over the past two decades. The systems are sleeker and faster. The graphics are bigger and better. The first-person shooters are more complex and challenging.
Regardless of the era, there's nothing quite like putting a controller in your hand and immersing yourself in the fantastical world of Nintendo, PlayStation, or Xbox. So blow the dust off a couple of those N64 cartridges or plug in your brand-new PlayStation 5. To celebrate National Video Game Day on July 8, 2021, we're playing five of our current favorite video games and sharing the best beer to sip alongside them.
Hop Culture's Definitive Guide to Pairing Video Games and Beer
Monster Hunter Rise
Nintendo Switch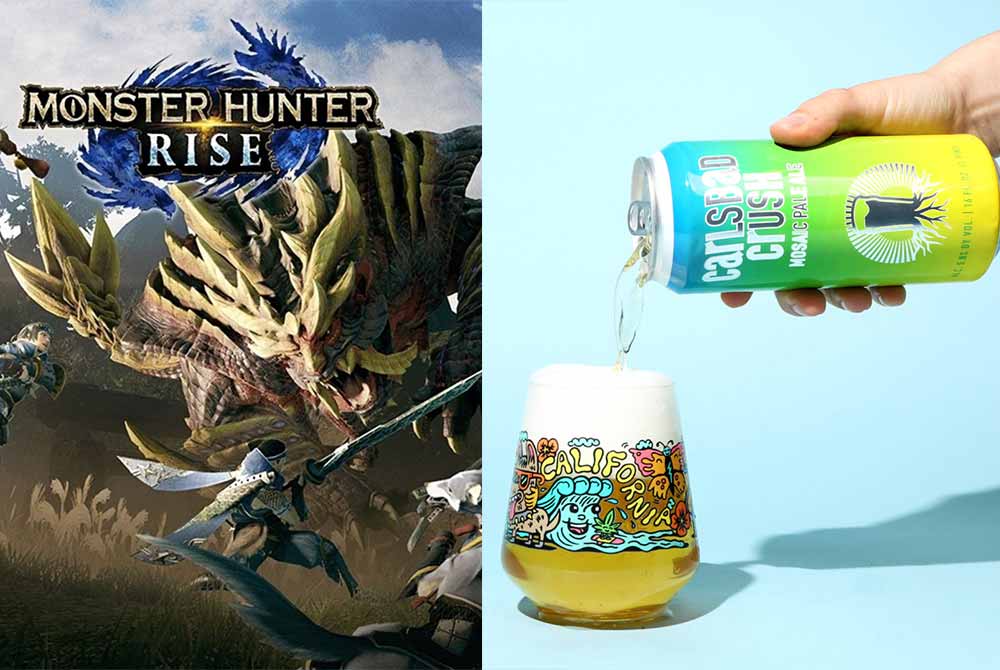 If the film Fantastic Beasts and Where To Find Them the game Super Smash Bros. had a baby, it would probably look a lot like Monster Hunter Rise. Choose your crazy weapon, call on your animal companions, and get ready to smash up some seriously ugly baddies. Basically, you'll be slashing, punching, jumping, and hacking your way through this game. It's addictively fun!
Carlsbad Crush – Burgeon Beer Co.: For a game that requires some serious energy, you'll need a slurpable and sustaining beer. We're thinking Carlsbad Crush from standout San Diego brewery Burgeon Beer. This plush pale ale featuring Mosaic and Mosaic Cryo hops has enough oomph to keep on punching, crushing, and slashing your way to glory.
It Takes Too
PC, PlayStation 4, Playstation 5, Xbox One, Xbox Series S/X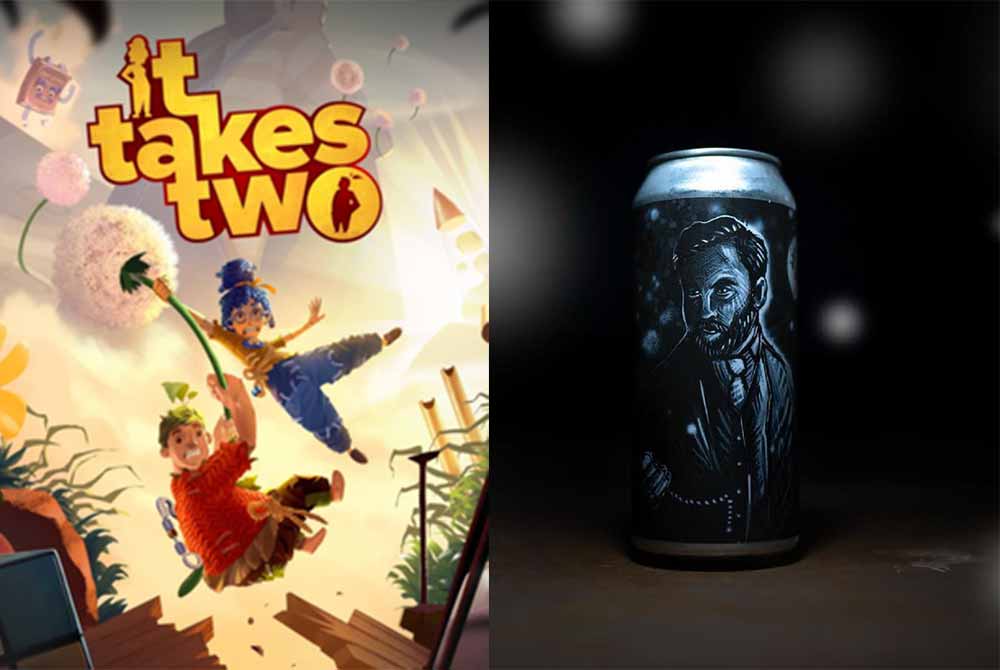 Drinking is better when you're doing it with someone else. So is playing video games. It Takes Too is a two-player cooperative masterpiece that challenges a couple on the edge of divorce to solve a series of magical puzzles and mysterious tasks, all on the quest to save their marriage. Is putting together an IKEA bookcase one of the challenges? Perhaps not, but before you laugh this one off the shelf, think about shrinking down your significant other and stuffing them into a cannon to shoot at a target. In another challenge, the game requires you to hold opposite sides of an oversized pencil (Lady-and-the-Tramp-style) while attempting to harmoniously draw your way through a connect-the-dots map. It's these whimsical, two-player conundrums that will have you high-fiving your partner in joy (hey, a high-five requires two people, too).
You Have Until Midnight DIPA – Vitamin Sea Brewing x KCBC: In the spirit of collaboration, we're suggesting an impressive joint effort between Vitamin Sea and KCBC. An 8% ABV Double IPA, You Have Until Midnight is a real ripper with loads of Citra, Strata, Riwaka, and Motueka hops.
Hitman 3
Nintendo Switch, PC, PlayStation 4, Playstation 5, Xbox One, Xbox Series S/X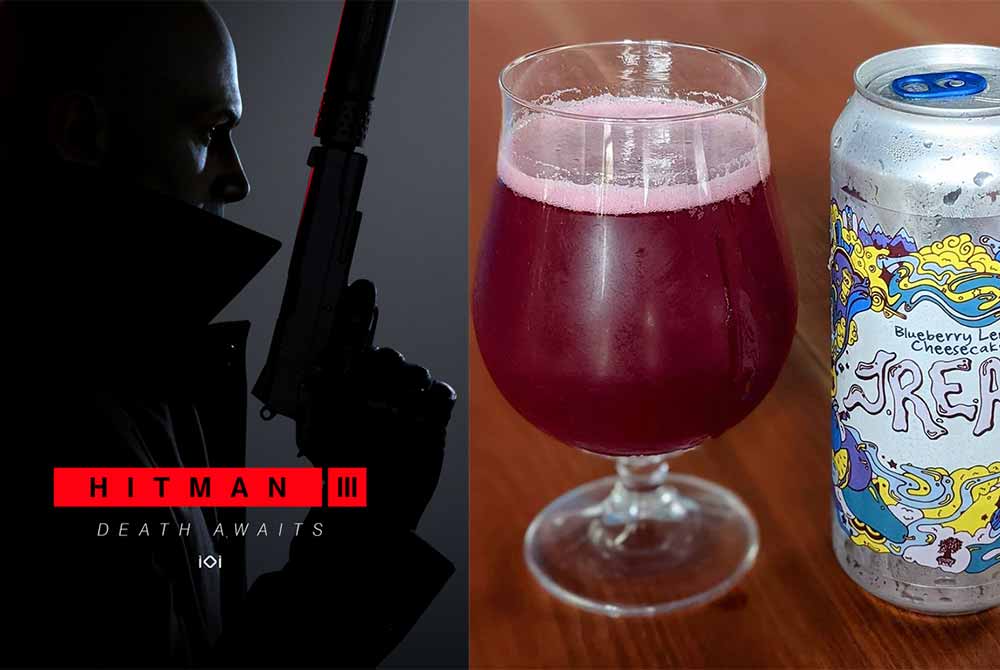 The final game in the saga of Agent 47 returns for a plethora of assassination assignments. The end of the trilogy will take you all across the globe, from warehouses in Berlin to wineries in Argentina to mansions in England. How you take out your targets is up to you, whether that's a simple stab in the back or a complex booby trap. Alternatively, you could just shoot your marked man (or woman) from the front. That's the honorable way. Regardless, Hitman 3 is a memorable finish to a stellar series.
Blueberry Lemon Cheesecake J.R.E.A.M – Burley Oak Brewing Co.: Speaking of series, Burley Oak makes one of the most unforgettable sequences of all time. The Berlin, Maryland-based brewery's J.R.E.A.M series never runs out of steam. And while Hop Culture Founder Kenny Gould tried a really crazy one based on Mountain Dew Baja Blast, we're thinking something more along the lines of the newest Blueberry Lemon Cheesecake J.R.E.A.M — dark, thick, and jammy with gobs of blueberries, lemons, and cheesecake. Hopefully, this unending line of creative beers will inspire you to keep thinking of inventive ways to take out your targets.
BioShock
PC, PlayStation 3, Xbox 360, Xbox Live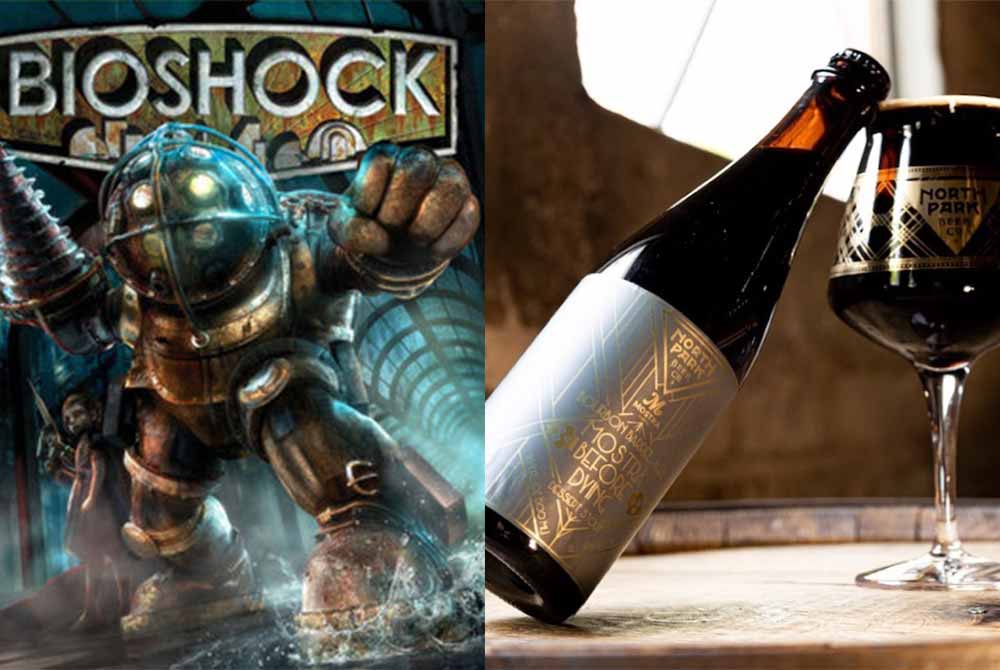 BioShock just happens to be Hop Culture founder Kenny Gould's favorite video game of all time. A "genetically-enhanced" first-person shooter, this game takes place in an underwater dystopia called Rapture. Forced to fight for his life against crazed junkies and mutated monsters, Jack employs an arsenal of biological enhancements and weapons to destroy the creatures of the deep. The story, the art, and the gameplay are unlike anything you've ever experienced.
Bourbon Barrel-Aged Mostra Before Drying Dessert Stout – North Park Beer Co.: If we're about to enter a death trap beneath the ocean, we want to try a bucket-list beer. Our friends at Humble Sea turned us onto North Park's precision-tuned stouts and we in turn hopefully turned you on to them for 2021. The barrel-aged beauty is conditioned on shredded coconut, toasted coconut, Veracruz Mexican vanilla beans, and a proprietary blend of Mostra Coffee's Ethiopian Anaerobic Honey Coffee & Ghost Bear Espresso Blend Coffee. Unfortunately, this limited-edition liquid was only available by Random Draw Lottery through the Oznr app back at the beginning of June. But keep your eyes peeled on the app for more incredible stouts coming down the line from North Park in the near future.
Mario Kart 8 Deluxe
Nintendo Switch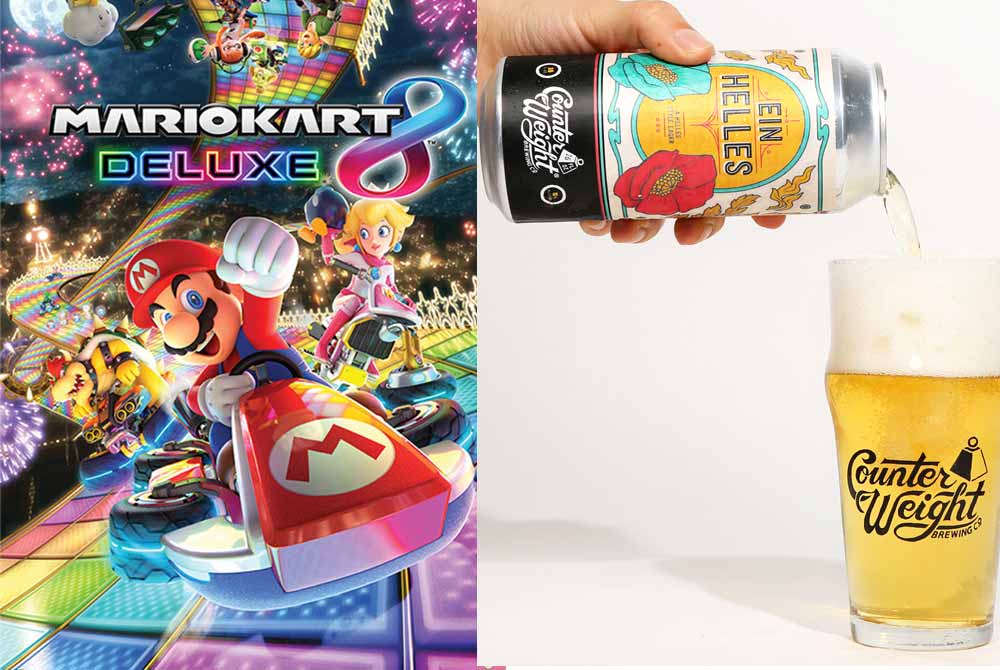 A classic game calls for a classic beer. Back in our college days, we played "Don't Drink and Drive" with the old Nintendo 64 version of Mario Kart and cans of Busch Light. The rules of the game were simple: you need to finish a beer before the race ends but you can't drink and drive at the same time. Every time you went to sip on your beer, you had to put down the controller. These days, we'd much rather play the latest Mario Kart 8 Deluxe on Nintendo Switch and casually crush a beer in between heats.
Ein Helles – Counter Weight Brewing Co.: We're thinking a Helles Lager would be the best compliment here. The Ein Helles from Counter Weight Brewing Co. in Hamden, CT, is a restrained paragon of this classic German style. It's the perfect light-bodied, refreshing, low-ABV pint to fuel your engine while you're leaving a banana peel in your wake. Very sneaky!