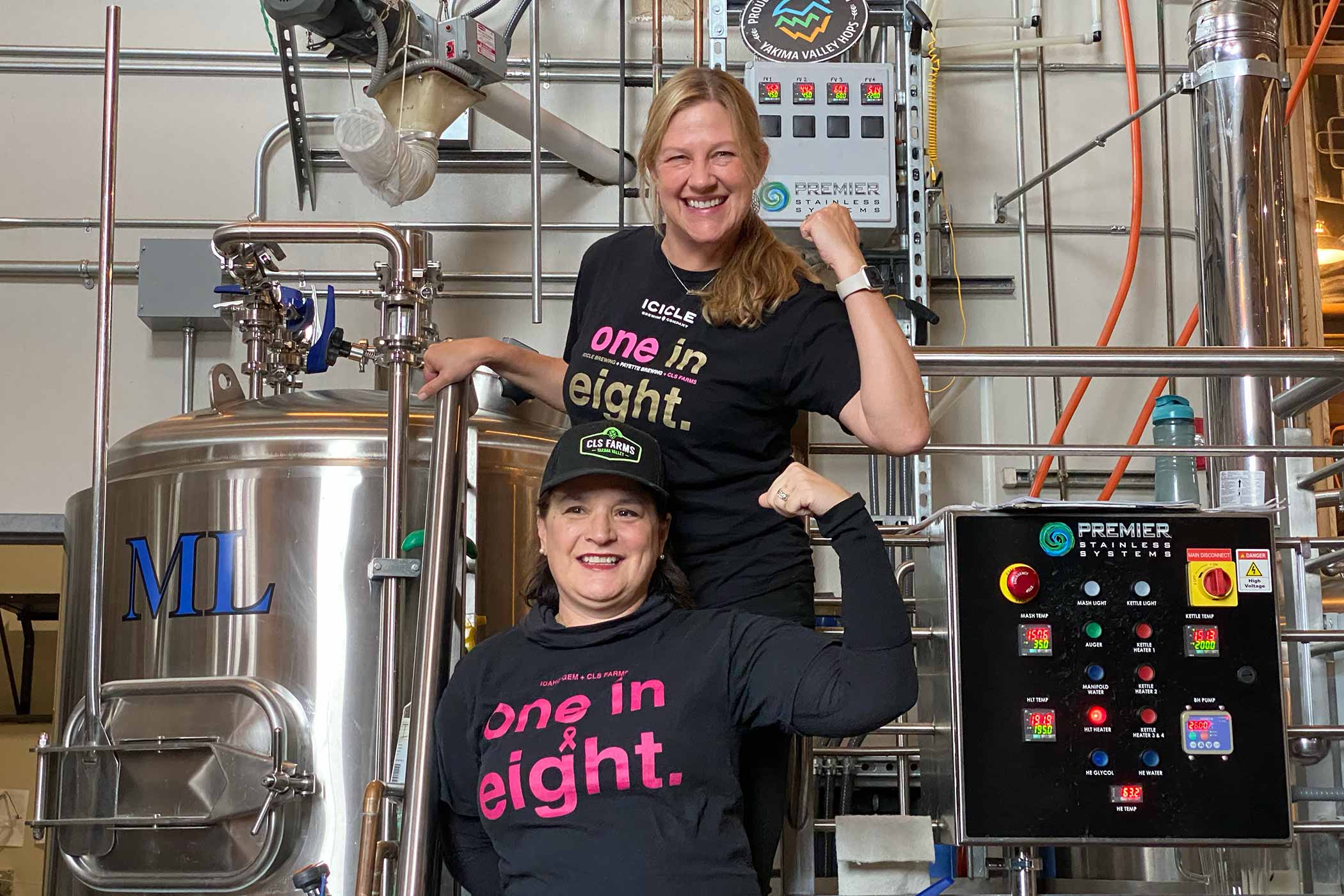 Photography courtesy of Icicle Brewing Company Co-Owner Pamela Brulotte
"One in eight." These words echoed in my head since I attended the Craft Beer Conference (CBC) in Nashville, TN, where Sarah Perez, director of operations at Rahr & Sons Brewing Company; Jess Klembara, marketing director at Confluence Brewing Company; Shelley Desmarais, owner of CLS Farms; Venus Forteza, owner of Maize & Barley; and Pamela Brulotte, founder and co-owner of Icicle Brewing Company, shared their heartbreaking yet empowering breast cancer survivor stories even while working in beer.
One in eight women will be diagnosed with breast cancer, a life-changing diagnosis that affects your physical, mental, and emotional well-being.
And if you work in a brewery? Imagine the added trials. A high-impact, physically intensive job, brewhouse work can be even more challenging to navigate after a double mastectomy that can take several weeks of recovery and limit mobility.
Not to mention navigating how or even if you disclose your diagnosis with your coworkers—plus scheduling treatments and follow-up appointments around a typical work week.
As I listened to each woman's story during the panel, I couldn't help but reflect on the profound impact a breast cancer diagnosis had on their lives both outside and inside the brewhouse.
Breast Cancer in the Brewhouse Is a Challenge Unlike Any Other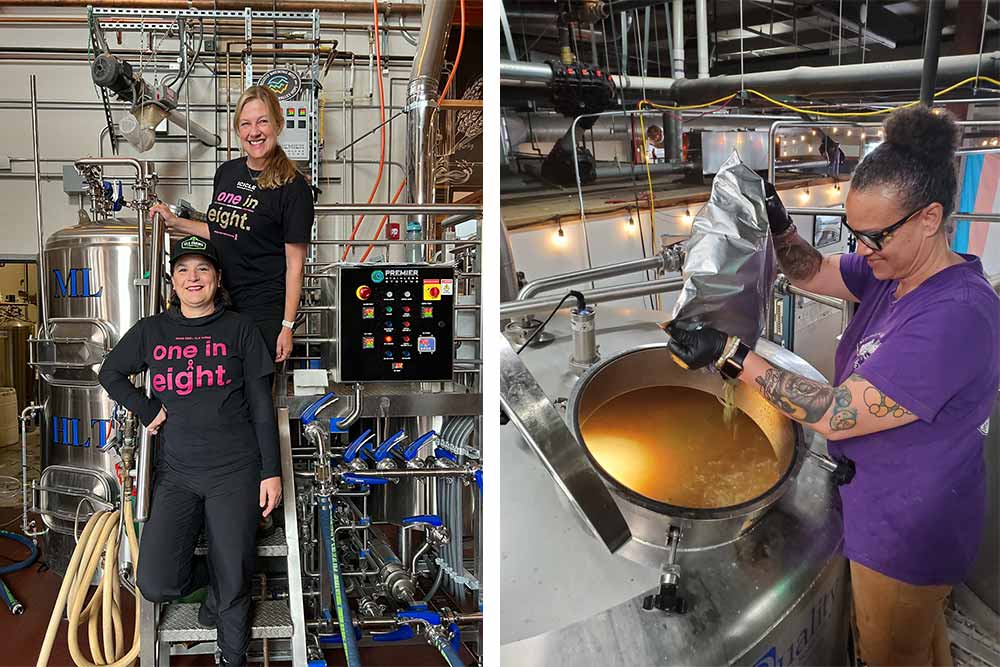 In 2019, Perez, who lived in Alaska before moving to Charlotte and then Texas, went in for a routine mammogram when the technician discovered a lump. Pathologists could not diagnose her because her cancer was so rare. "Literally the day before Thanksgiving, we sent the tumor out and didn't receive the results until almost Christmas," says Perez. After receiving her diagnosis, Perez underwent surgery to remove the cancerous cells.
"After my lumpectomy, it was annoying to have things touching my breast, like wearing a bra and picking up grain bags," says Perez. "I would hold them close to my body, and they would hit right on the scars." However, no one on her team knew exactly what she was going through. As one of the only Black female brewers in Alaska, Perez hesitated to share her diagnosis with anyone because she didn't want another label attached to her identity.
Klembara also struggled with her breast cancer diagnosis affecting her day-to-day responsibilities in a brewhouse. Because of her family history, Klembara took a BRCA test to determine if she had a genetic mutation for breast cancer. Her test results showed she had a very high chance of developing breast cancer. While some people can choose their treatment plan, Klembara's doctors advised her to have a double mastectomy within two months because of the high possibility of her getting breast cancer.
Recovering from an invasive surgery like a double mastectomy can take up to four weeks, and scar tissue can limit your range of motion long after the surgery. For Klembara, it took her six weeks to lift her arms. For a physically demanding job like brewing, being able to lift and throw a fifty-pound grain bag or any other heavy load is part of the job.
While confident she could improve her mobility, Klembara decided to step away from brewing to work in marketing. "I worked so hard to become a brewer," says Klembara. "I literally worked from the bottom and made my way up to the top. I went to school for brewing, and I got my certificate in brewing, so I felt kind of defeated. I felt like cancer and surgery won in a sense."
The Quiet Parts of Cancer are the Hardest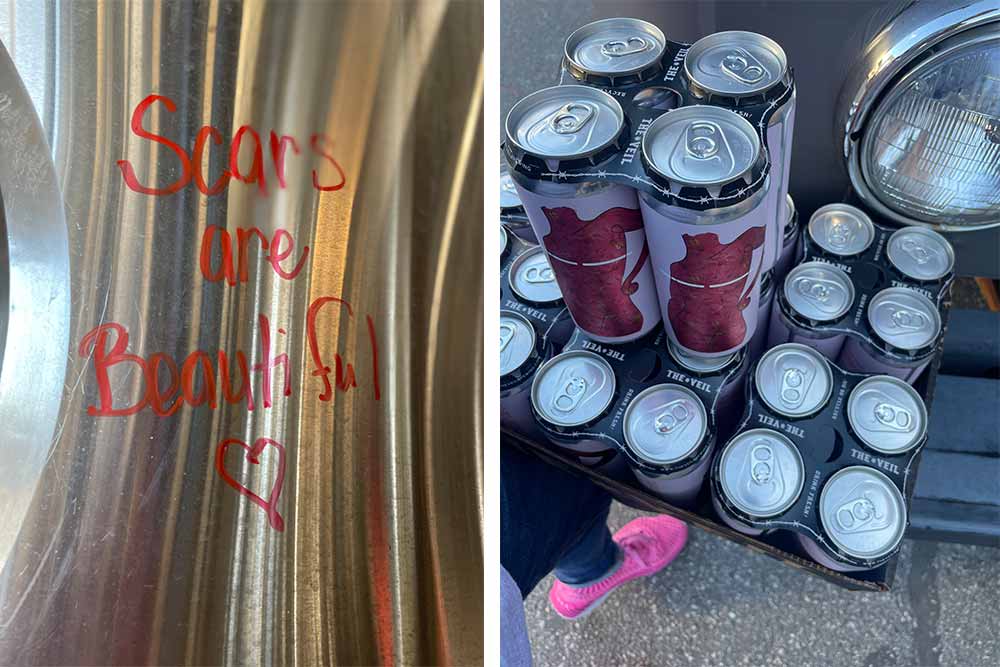 Forteza, diagnosed with breast cancer just days before the pandemic led to the country's shutdown, discussed the difficulty she faced in sharing her diagnosis with her daughter. It wasn't until Forteza had a treatment plan in place that she felt comfortable revealing the challenging news.
Due to the heightened focus on COVID-19, Forteza couldn't consult a specialist until the middle of May, which coincided with the time her husband and co-owner at Maize & Barley returned to work. "The most challenging aspects of dealing with cancer are the quiet things, the things people don't see," says Forteza. Once her husband resumed work, he had to live in a tent in their backyard to ensure her safety, given her compromised immune system.
Other women I spoke to talked about the difficulty of sharing the news of their diagnosis with their children and community because it could change how people see them and treat them.
Often placed in caregiving roles, women can find it difficult to transition to being taken care of.
Desmarais, a ten-year survivor of two breast cancer diagnoses, shared her struggles. "At that time, I was very much in the mindset of 'I can handle this—I've got this,'" says Desmarais. "I have three kids, a husband, a farm, a business, and we're just going to keep on going. When the casseroles started showing up, it meant that I needed help. We wear this armor that is hard to peel off so we can be vulnerable."
Peeling off that armor is difficult but necessary because cancer treatment and recovery are hard to navigate alone.
You are Your Best Advocate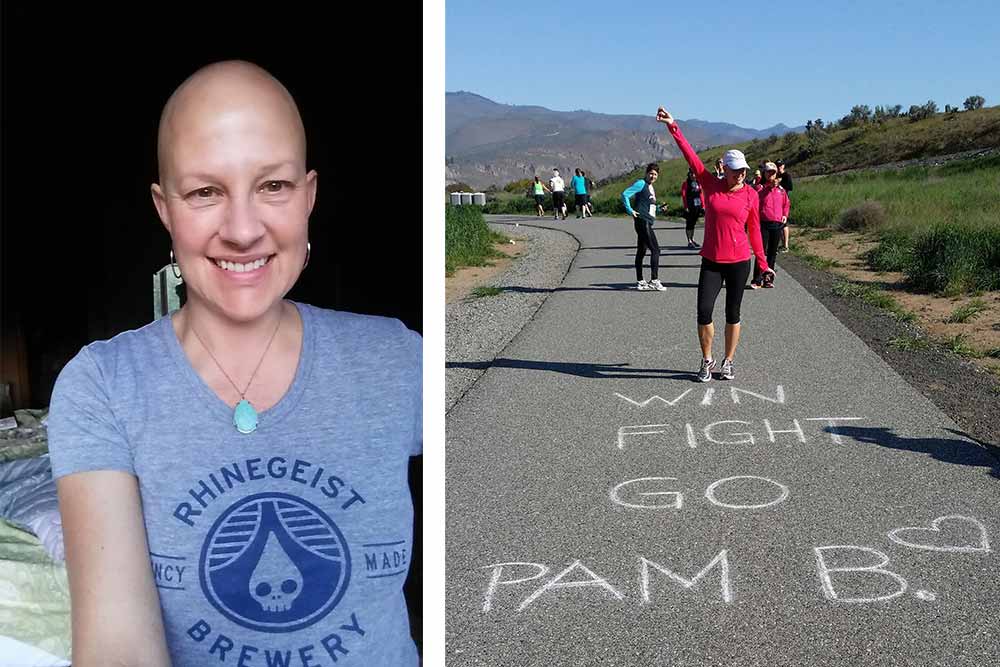 As I listened to each woman's story at CBC, I was struck by how much they had to advocate for themselves through their diagnosis and treatment.
Perez shared how her previous work experience in the medical field and cervical cancer diagnosis prepared her for navigating her care. However, many women diagnosed with breast cancer are walking into the situation without any knowledge.
Forteza had to see more than one medical professional before receiving all the information she needed to decide on her treatment plan.
When Desmarais felt something was wrong with her breast, she had to fight for almost two years to get her second cancer diagnosis because the doctor mistook her lump for scar tissue.
Brulotte, an eight-year breast cancer survivor, shared how she noticed so many flaws in the medical system after her experience. "Just navigating the whole medical system, especially in a rural area, is difficult. You're advocating for your diagnosis and your choice. There are so many options, and it's personal, too. Trusting your gut is huge," says Brulotte.
And once you've harnessed the ability to advocate for yourself, it becomes an easier muscle to flex in other situations, especially in the brewhouse where men still make up the majority of brewers.
Finding the Silver Lining, Finding Sisterhood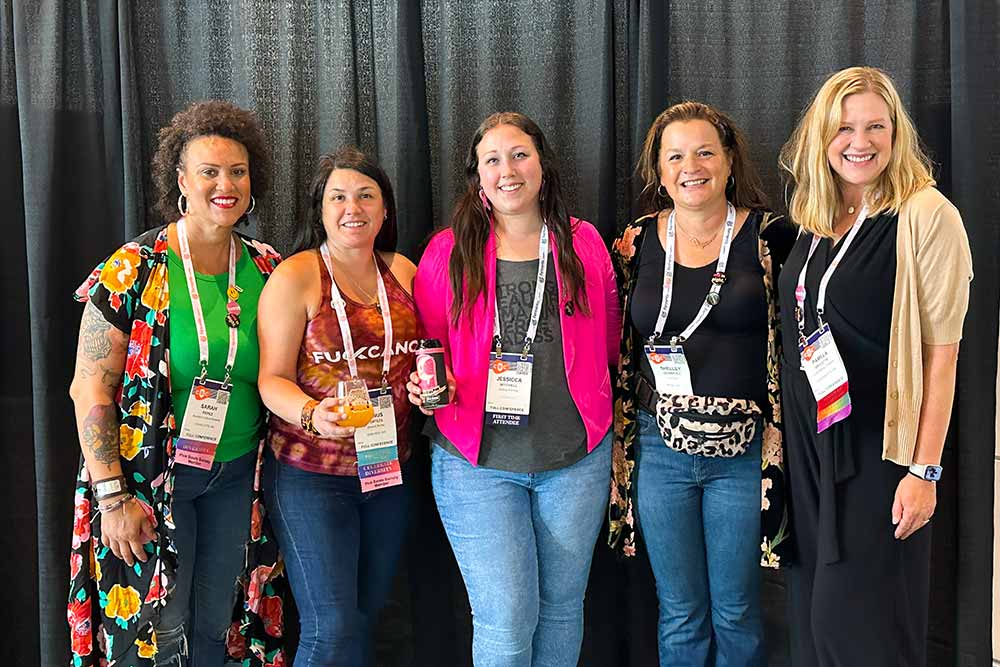 While there are plenty of instances of the difficulty in navigating breast cancer both inside and outside the brewhouse, I heard that strength and resilience ring out above the pain.
Cancer can take so much from you, leaving you not knowing what to do with what's left. But instead of focusing on what she lost, Klembara shifted to how she could help the breast cancer community from a different position.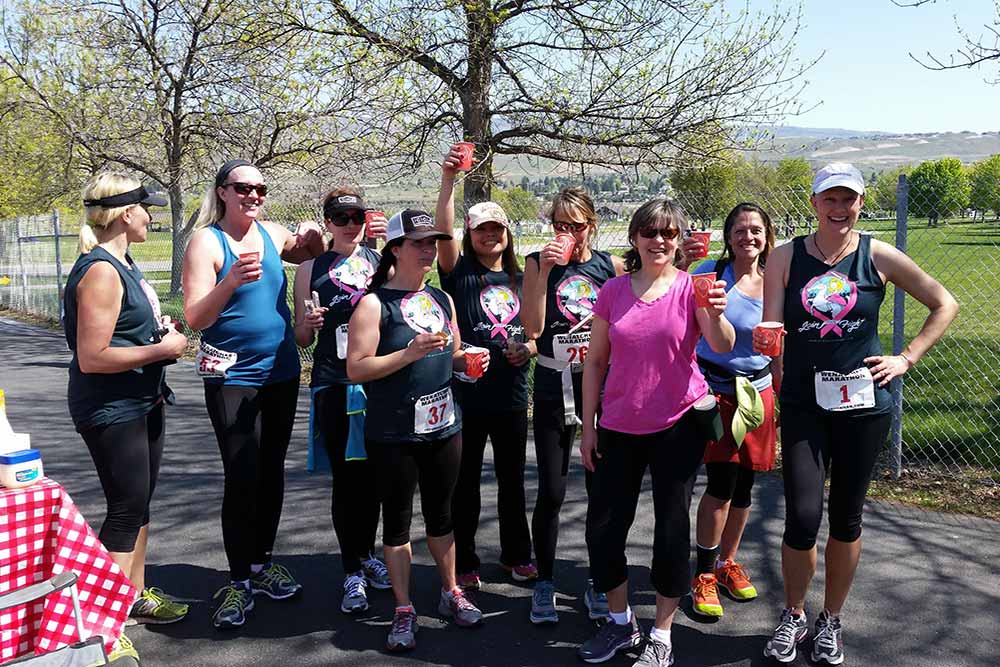 Wanting to support others battling breast cancer, Jess looked for a local walk but found that, in 2021, Susan G. Komen had pulled out of Iowa. So, she hosted a walk through the brewery, which pulled in 500 walkers and raised $30,000 that went to a local breast cancer organization. In the second year, 600 walkers raised $40,000.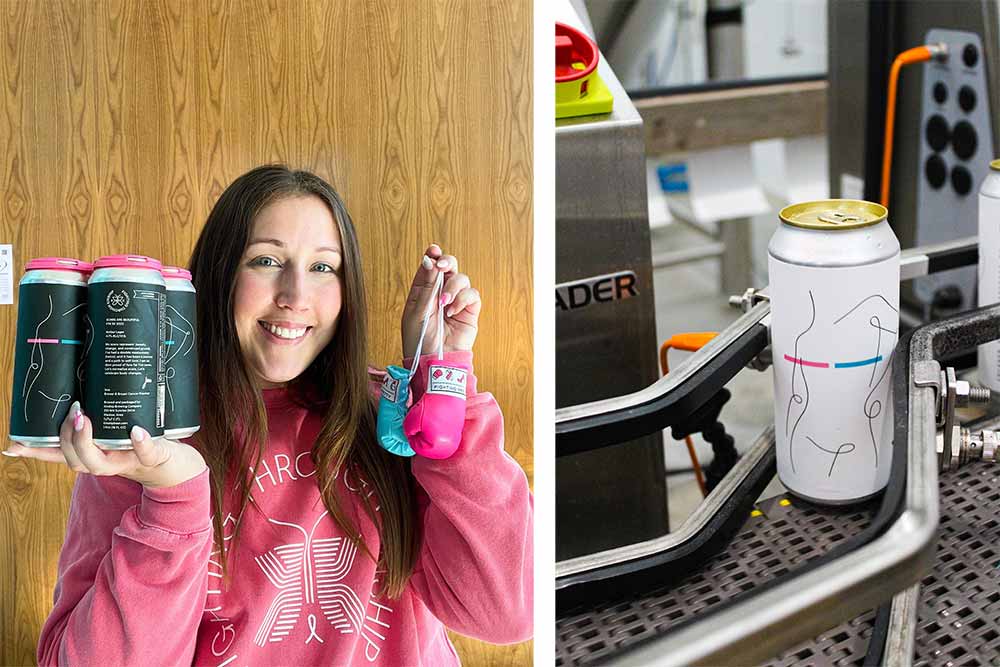 Klembara also started Scars Are Beautiful, a campaign and collaborative beer highlighting the difficulties of recovery and adjusting to your new body.
"When I first looked at my scars, I quickly looked away because I saw ugly," says Klembara. "But through time and therapy, I realized they were beautiful. They were my battle scars and tribute to my past life." In the first year of the campaign, Klembara says over 100 breweries participated, and they are currently gearing up for the second year of the campaign.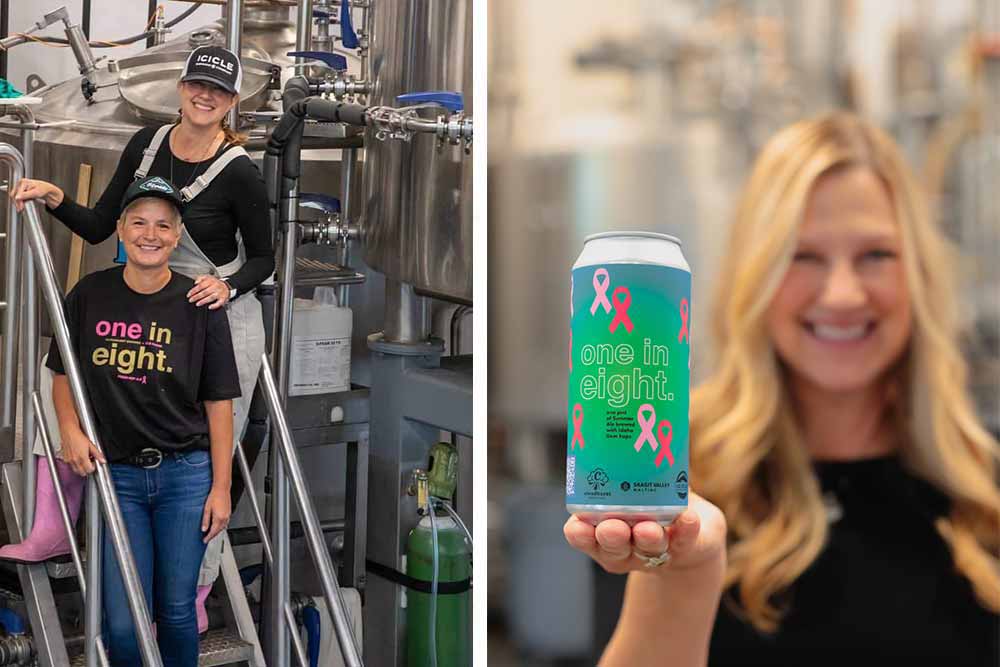 In 2018, Desmarais created the One in Eight campaign, an annual fundraiser for cancer care services in the Yakima Valley.
Perez, Forteza, and Brulotte also shared stories of using their experiences to support their community, whether walking others in the brewhouse (or out of it) through their breast cancer diagnosis or leaning further into helping the craft beer community through organizations like the Pink Boots Society and the Brewers Association.
What I found incredibly touching was the sisterhood they created among each other. Desmarais and Brulotte initially connected in their twenties at a hop convention since both of their families are hop farmers. Years later, Desmarais and Brulotte met Forteza. On a trip to Seattle, Perez connected with Forteza, and Perez brought Klembara into the fold and ultimately brought the entire group together. "I knew what I wanted to bring to life. I just started meeting these humans along the way and got them all together because we all just fit in all the places," said Perez.
Brulotte expressed to me her gratitude for connecting with such a fantastic group of women.
Through the fear, pain, and loss, these women found ways to persevere and give back to their community. And along the way, they found a sisterhood in the brewhouse built on a love of craft beer and their victory over everything breast cancer threw at them.
As Fortuna shared via email, "I am inspired by these women and grateful for their friendship and continued inspiration."