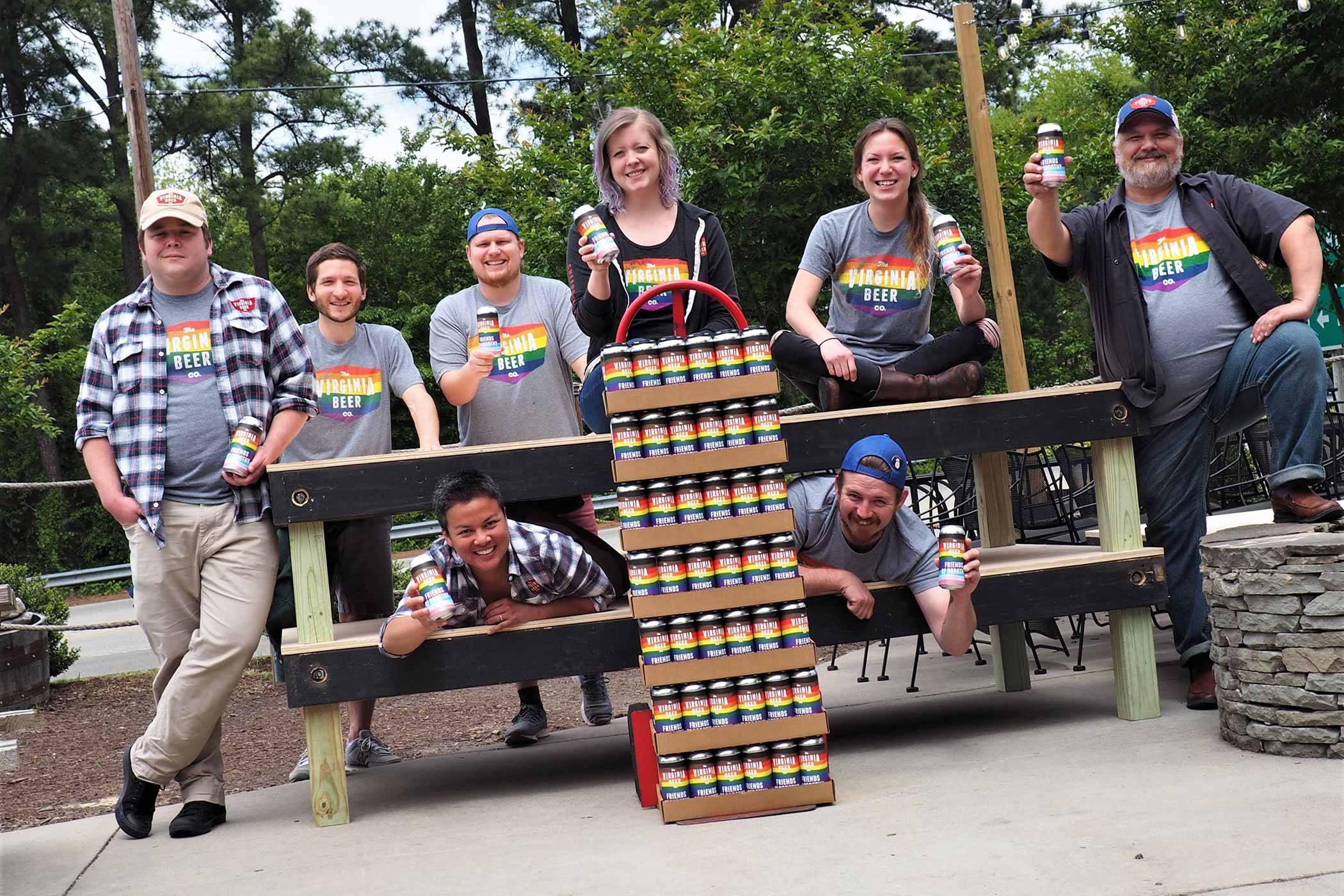 Photography courtesy of The Virginia Beer Co.
Other Stories to Read Right Now:
Beer. People. Purpose. Those three not-so-little words drive everything at The Virginia Beer Company (VBC) in Williamsburg, VA.
These threads intertwine to create the brewery's DNA.
And compose the core values the brewery has strived to uphold since opening in 2016.
At a time when most breweries focused solely on making beer, VBC wanted to do two things—brew great beer, yes, but also make significant contributions to its community.
As a part of that mission, in 2017, they released Friends of Dorothy, a beer brewed in support of the Queer community.
Nowadays, when June rolls around, many breweries make their own version of a Pride beer, but five years ago, Virginia Beer Co. made up one of probably just a handful. And certainly the only one in their state.
Boldly going where most hadn't dared before, VBC set a standard. Following its mantra: Beer. People. Purpose, VBC's impact on the Queer community and beyond for the last six years has rippled out from Williamsburg across the entire state.
Who Is The Virginia Beer Co.?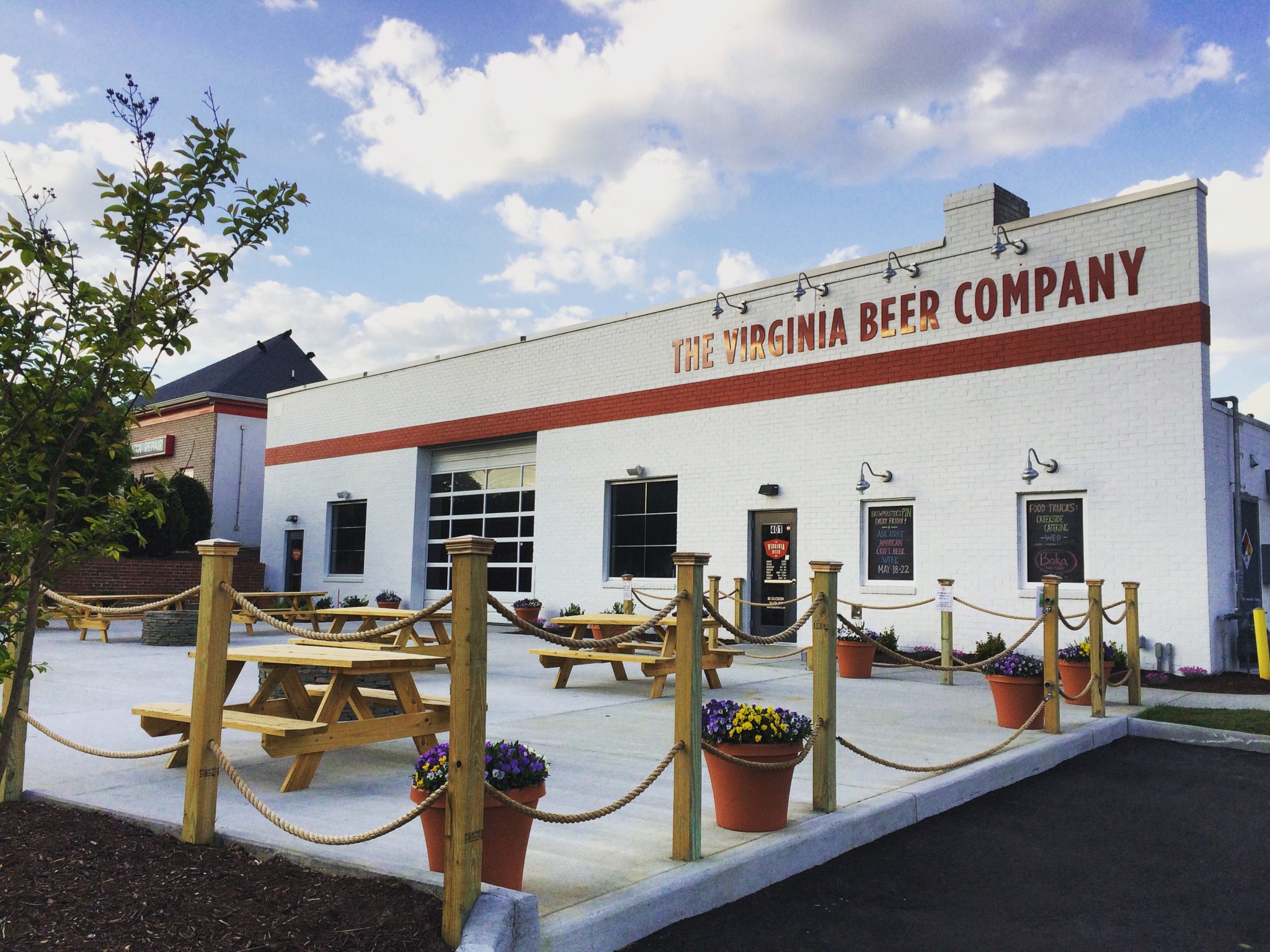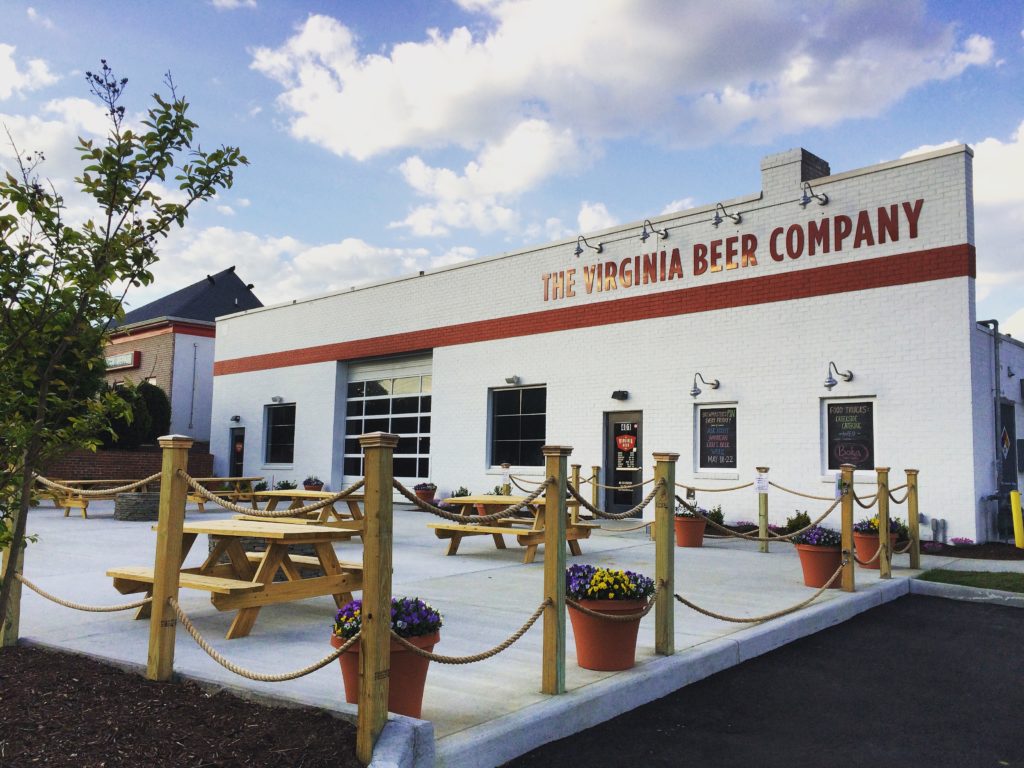 To understand VBC, you need to learn about what has made the brewery tick from the very beginning.
When VBC Co-Founder Chris Smith turned twenty-one at The College of William & Mary, he started frequenting the Green Leafe Cafe with his friend and future business partner Robby Willey. "It was the only craft beer spot in town at the time," Smith told Hop Culture.
But after college, Smith left the small town of Williamsburg for the big city in New York City, starting a career in finance at JPMorgan Chase.
He hated it.
"I'll never forget that day [I arrived in New York], July 13th, 2007, because, from day one, it wasn't for me," says Smith. "That culture, that life, the way people treated each other, the profit motive, all of that didn't speak to me."
To get by, he visited breweries with Willey.
"The dichotomy of [my job] making rich people even richer versus going to craft breweries, where it was all about community, the team, and the people that work with you….to me was so black and white," says Smith. "I didn't like what I was doing, and I liked everything I saw [at breweries]."
So as the story goes, Smith quit his job in the fall of 2012, leaving the big city behind and driving back to Williamsburg to start a brewery with Willey.
But what kind of brewery?
"Of course, having great local beer was a top priority, but … Robby and Chris always hoped the space would become a community gathering space and serve a lot of different purposes within the community," says Michael Rhodes, VBC's Director of Sales, who has been with the brewery since before they unlocked the doors to the public. "How do we package that so people know what we mean when we talk about community?"
Rhodes, who comes from a previous career in marketing and communications for organizations in the animal welfare sector, knew Smith and Willey from that nonprofit world. He says before Smith and Willey opened VBC, they actively talked to local nonprofits, investigating ways their brewery could support the local community.
From the very beginning, Smith and Willey had a vision to make VBC bigger than just beer.
The three words—Beer. People. Purpose—became the core of VBC.
"It's turned into a rallying cry and mantra for us," says Rhodes, noting the leadership team came up with that mission statement right at the start. "But [in the beginning], it was really a touchstone to make sure that any decision we made as a management team checked at least two of those boxes."
Rhodes says, in the early days, Smith and Willey opened up the floor to management to come to the table with nonprofits or projects they were passionate about that the brewery could support.
"Friends of Dorothy was a very early one for us," he says.
From Coded Message to Craft Beer: The Meaning of Friends of Dorothy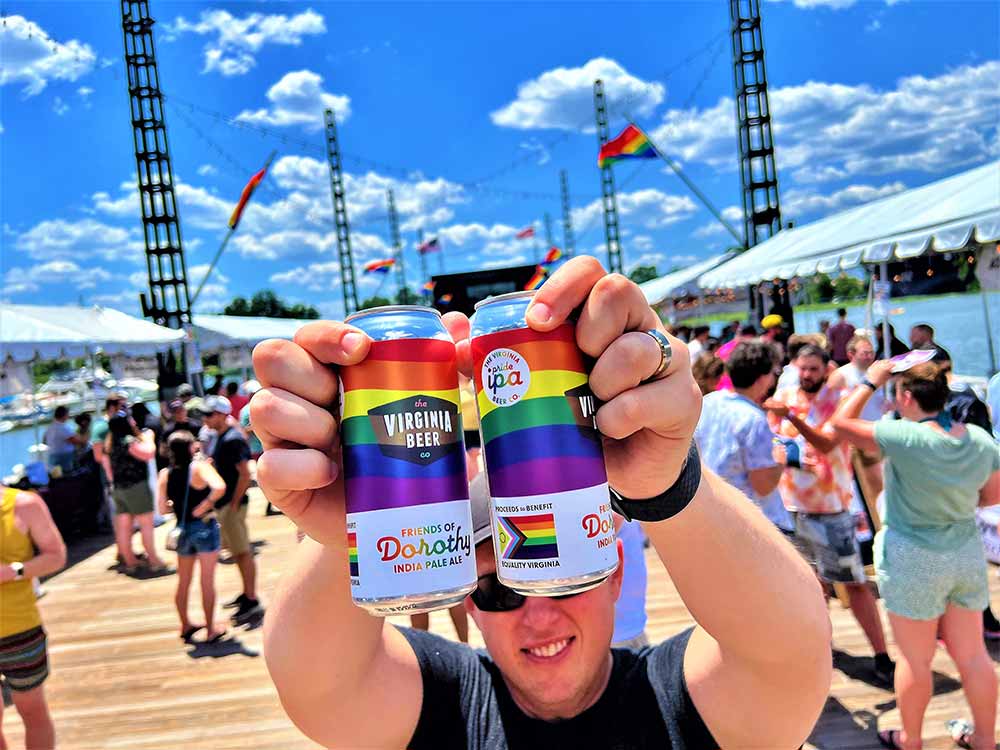 VBC opened its doors in 2016 and, by 2017, released its first Friends of Dorothy, originally to celebrate Pride month in Williamsburg.
"Forty percent of our leadership team represents as Queer … myself included," says Rhodes. "I don't know that there was any craft brewery in the state [at the time] that had that level of representation."
So Rhodes said the leadership team had an early internal discussion about how to authentically support the Queer community.
He pitched the beer name—Friends of Dorothy—although Rhodes emphasizes that the brewery names everything by committee.
He points out that as a beer name, Friends of Dorothy certainly catches, but more importantly, that phrase has an important history.
"Friends of Dorothy has long been a code within the Queer community as a way of self-identifying with one another to make sure you were in a safe space or dealing with a safe individual," says Rhodes.
Recorded as far back as World War II, a time when it's crucial to point out that being gay was actually illegal, the slang was a subtle way for people to signal to each other their sexuality without fear of retribution.
While the origins have been argued to death, according to Rhodes, the most popular story relates to Judy Garland, a gay icon. Perhaps her role as everyone's favorite storm chaser, Dorothy Gale in The Wizard of Oz, inspired the turn of phrase.
"The basic idea was to celebrate a time when we don't have to live in a world where everything we utter has to be coded in a way to ensure that we're dealing with a safe individual," says Rhodes. "Times have changed quite a bit, and it's fun to celebrate that while still honoring the history of the Queer community."
Friends of Dorothy loudly reflects this coded message. Both inside and out.
Friends of Dorothy Speaks Volumes Loudly and Proudly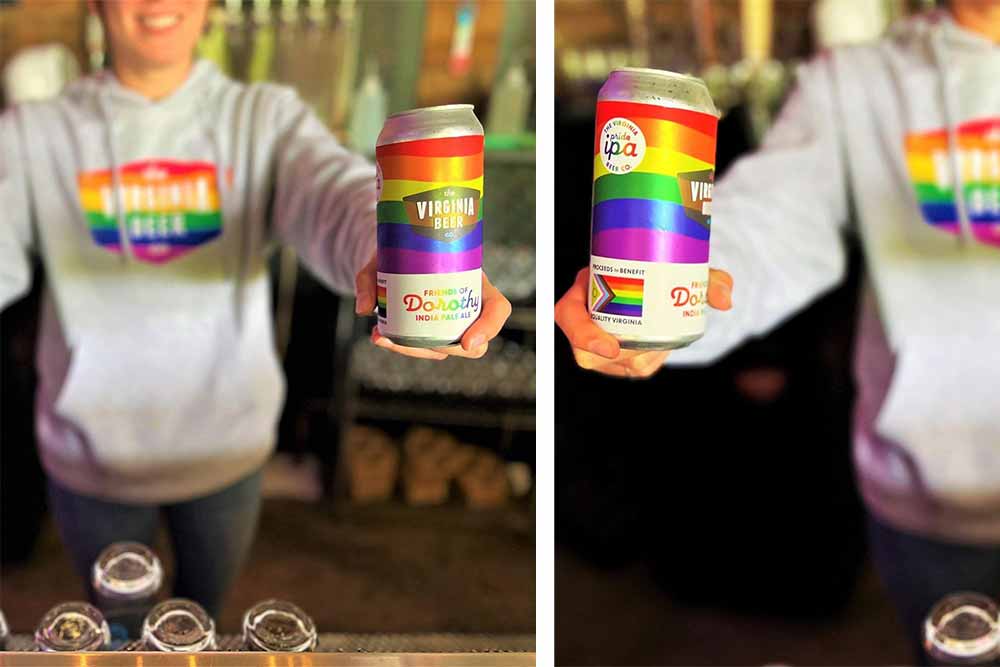 While historically a coded message, Friends of Dorothy at VBC shouts its message loudly and proudly.
Each iteration of the can has included the colors of the Pride flag.
Six years ago, you'd be hard-pressed to find such a bold design on a beer can, especially in Williamsburg.
But the reception went swimmingly.
According to Rhodes, the beer received such a warm welcome that VBC actually started to create a merch line around the rainbow design.
"Every year, we've continued to update it as the community grows and becomes more all-encompassing," says Rhodes. "We add the Trans colors to the flag as well as the Black and Brown for People of Color."
In this year's edition, Rhodes says they even added the newest iteration of the Pride Flag, which includes the triangular cutout, circle, and additional colors for intersex folx. "We're continually trying, as the community grows and we come together and are stronger together, to make sure the can reflects that as well."
For Six Years, 365, 24/7, Not Just a Pride Beer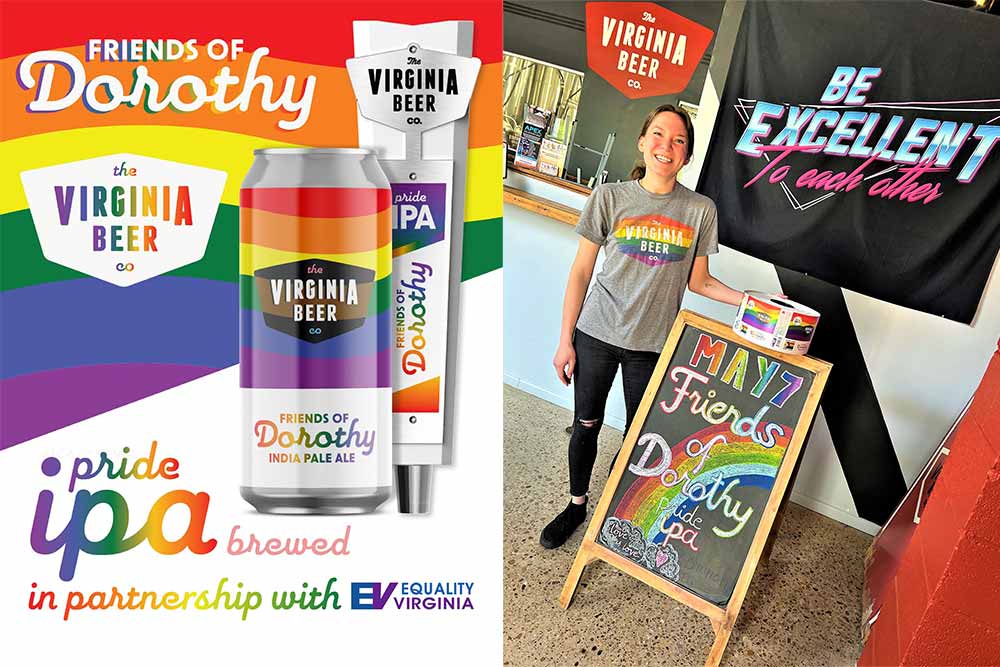 From the very beginning, Friends of Dorothy resonated.
"The community really seemed to connect with what we were saying as far as inclusivity, and in a big way," says Rhodes.
Although the brewery prepared for a backlash, Rhodes says they didn't really receive any negative commentary.
He emphasizes that even if folks didn't necessarily recognize the symbolism behind Friends of Dorothy, they connected with the beer itself.
"The beer happened to be delicious," says Rhodes. "It's an IPA, which is the most popular style, so I think there were folks who were trying it that maybe even didn't know the full context."
In those instances, Rhodes believes Friends of Dorothy acts like a conversation starter. "It's a great way to open a conversation about inclusivity and what we strive to be as a brand, especially as a taproom space," he says.
And either way, more sales of the beer raise more money for different local and statewide Queer organizations.
VBC donates $10 from every barrel sold of Friends of Dorothy to a community partner.
For the last couple of years, VBC teamed up with Equality Virginia, an organization advocating for the LGBTQ+ community in the state, with VBC pledging to donate no less than $1,000 annually to support their mission based on the volume of Friends of Dorothy they brew.
"As it has always been for us, the community visibility and vocal support of inclusivity is at the heart of this project," says Rhodes. "We'd love nothing more than to watch this project and nonprofit partnership continue to blossom and grow."
VBC has also worked with other organizations in the past, including the LGBT Life Center and Love is Love Tidewater.
This year, VBC's retail partners even jumped on board. Rhodes mentions Elwood Thompson's, a small, independent, local grocery store, created a social campaign around Friends of Dorothy, donating a portion of every 4-pack sold to Equality Virginia, too. Although Rhodes emphasizes they ran this campaign completely independent of VBC.
"It just became a part of what they wanted to do to pay it forward," says Rhodes. "It has been fun to see the beer kind of take on a life of its own."
In fact, the beer has gotten so popular that VBC now releases it several times a year, emphasizing that VBC sees Friends of Dorothy as way more than just a Pride beer.
"Pride is an important time of year for the community, and it's the no-brainer time of year for us to really celebrate and do a really large batch," says Rhodes. "But we bring it back multiple times a year" to ensure they celebrate the Queer community 365 days.
So if you missed Friends of Dorothy during June or in our Hop Culture 2023 Queer Beer Box, don't worry! A new batch of Friends of Dorothy will drop to celebrate National Coming Out Day in October.
The Future for Friends of Dorothy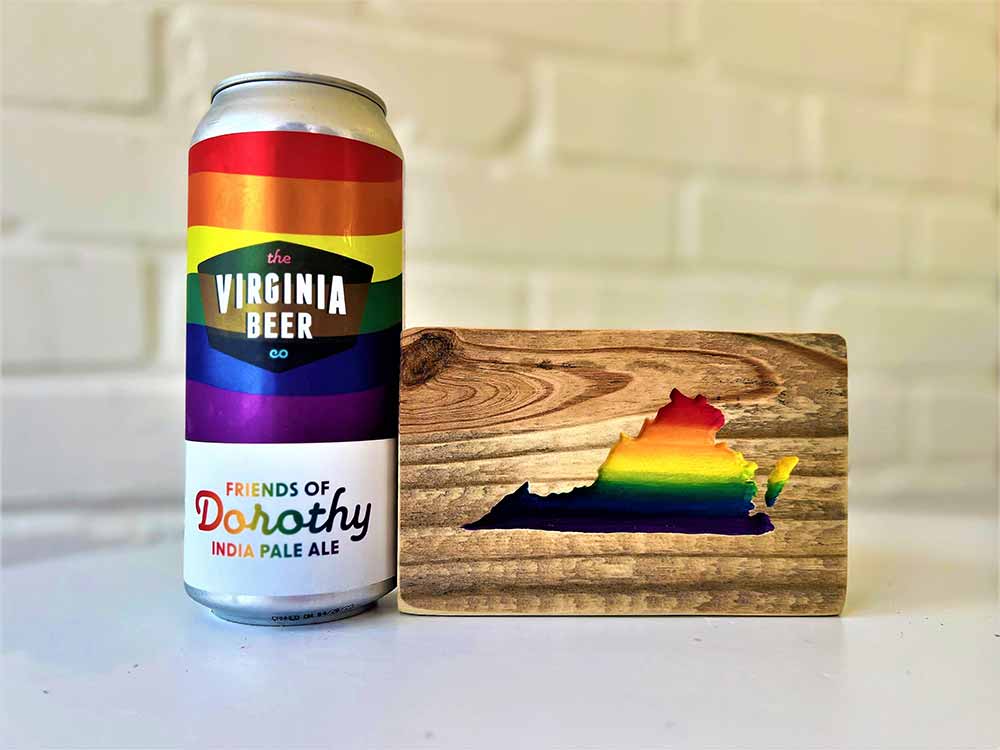 Today, you'll find quite a few breweries making and distributing beers during Pride. But VBC took the initiative to courageously start one at a time when few did.
The beer speaks to VBC's approach as a whole, to how Smith and Willey made the brewery about more than beer right from the very beginning.
The community caught on because "it doesn't feel preachy; it feels organic and close to the core of who we are," says Rhodes. "We love the broader message it sends to the community, not just the Queer community, but the community at large, about inclusivity and offering a safe space for everyone."
And if you're just catching on to Friends of Dorothy, Rhodes says VBC's social community loves to remind newbies that VBC has been doing this inclusive beer for years.
"It's important to us that people know it's genuine," says Rhodes. "That's what we want people to think about when they think about the Virginia Beer Company, whether they're pulling our beer off a shelf somewhere or actually coming to the tavern to engage with us one-on-one."
He continues, "It feels like a part of our DNA."
And will continue to be for years to come.