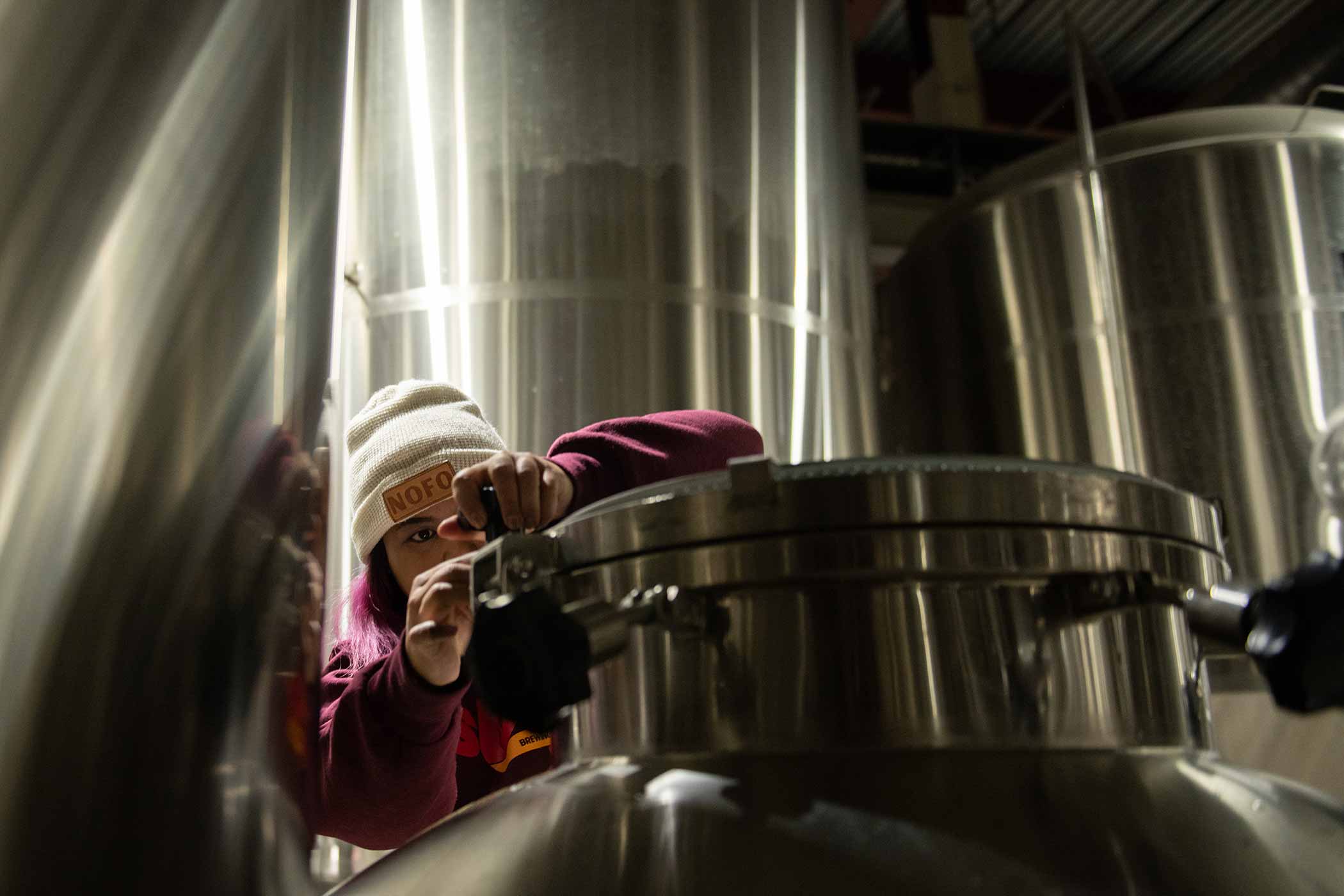 Photography courtesy of Robert M. Davidson | Sloop Brewing
Last summer, Michelle Demetillo won Untappd's scholarship covering one student's full tuition to Appalachian State's Summer Brewing Short Course. From July 25th to July 30th, Demetillo took an intensive course in brewing science, learning the ins and outs of the brewing process. Everything from breaking down a barley kernel structure to the importance of the pH of water and all that's in between.
"Going in I thought I knew something about beer," says the former Hospitality & Community Manager at North Fork Brewing Company in Riverhead, New York. "But after the first two days I realized I knew nothing about beer. It was a wake-up call, but a really good wake-up call."
Five months later, Demetillo applied for the Open Waters Paid Internship Program at Sloop Brewing Co. in East Fishkill, NY. "They called me a few days after Christmas and asked, 'When do you think you can start?'" says Demetillo.
Started to "dismantle barriers in the craft beverage industry, and pave the way for positive change in the world of brewing and craft beer by creating a more diverse and inclusive industry," as it says on the brewery's website, the intensive learning course strives to empower those who may not have had a fair shake to succeed in the industry.
As a Queer woman of color in the brewing industry, Demetillo has found challenges with getting her foot in the door. Both the Untappd Scholarship and Sloops' internship have been integral in helping her advance her career.
In a little over a month, Demetillo has already gained a vast amount of brewing knowledge, learning everything from how the packaging line operates to what goes on in the cellar. Eventually, she'll get a crash course in the brewhouse as well.
With International Women's Day on the horizon on March 8th, 2022, we thought now would be the perfect time to catch up with Demetillo to chat about what she's learning and the change she hopes to see to create a more diverse, equitable, and inclusive industry.
Grace Weitz: Why did you go after the Open Waters Paid Internship at Sloop?
Michelle Demetillo: I've come to a point right now in my life where I'm a little over working nights and weekends for the tasting room and front of house. Recently, I wanted to explore the back of house production side and see how my management skills in the last two years could translate into production.
GW: I've talked to a lot of brewery owners of color, and by far and away the most common theme that always comes up is the lack of representation in the industry. Whether a Black-, Latinx-, Native American-, Asian-, Queer-, or women-owned brewery, business owners commonly tell me that it has been hard to find someone to turn to who looks like them for advice. Largely, it just doesn't exist. How important is it for more breweries to offer opportunities such as diversity, equity, and inclusion (DEI) internships and scholarships?
MD: It's great that we're seeing these types of DEI opportunities now. Sloop wasn't the only one. Bronx Brewery also offers internships and Fifth Hammer has started developing an internship program as well.
When looking at marginalized communities and those who haven't had the opportunity really to have their foot in the door, Sloop's and Bronx Brewery's programs are really important.
Being a woman or part of a marginalized community in the industry, where you're not seeing yourself represented often, there is a lot of doubt in your mind of whether or not someone will give you that foot in the door.
I thought I had my foot in the door, but there were definitely a few places I reached out to that said we'll get back to you in a few months. I'm like, am I ever going to get the chance?
You're just trying to get some volunteer opportunities at local breweries or just a brew day here and there, but it's rough unless you know people and have those connections or have people willing to invest in you. That's why I think it's great to have these DEI opportunities come forward.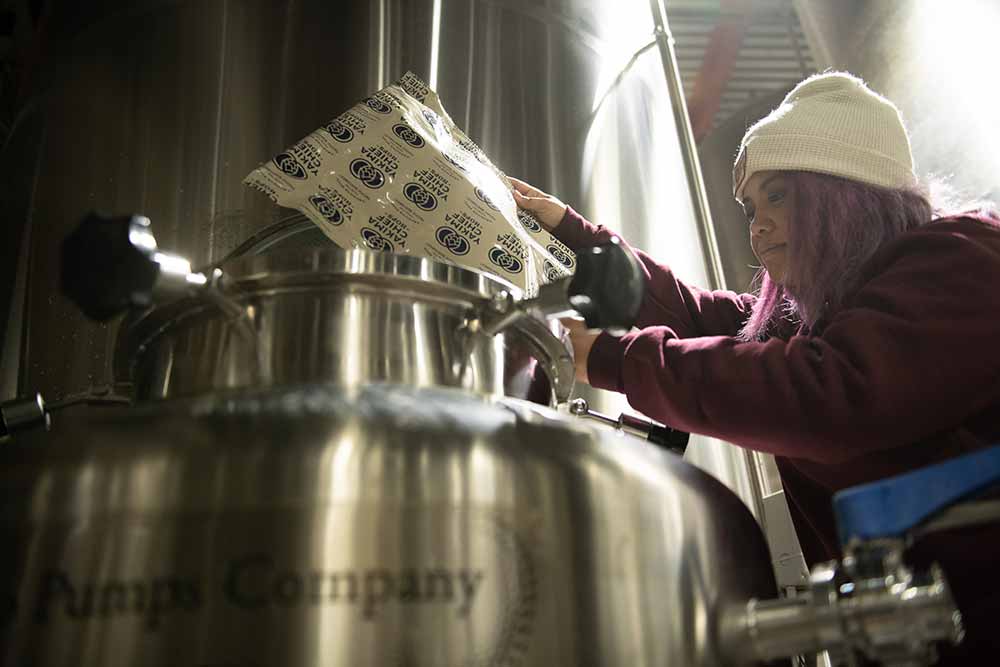 GW:What exactly does your day-to-day look like at Sloop?
MD: For me it's three weeks in packaging, five weeks in the cellar, and four weeks in the brewhouse. I have finished the packaging segment and am currently in the middle of the cellar.
GW: So what have you learned so far in production?
MD: Just watching the process of making beer is really fascinating. Having said that, packaging is probably not my forte; the canning line is a beast. There is a lot to know in packaging beer—flow rates, seaming cans, making sure oxidation isn't happening as it goes into distribution.
They have a great packaging team at Sloop; it's definitely the largest team as far as any department because it is a production line and you need every part of the canning line watched by someone making sure the can doesn't get stuck under one of the fill heads or get stuck and clog up the entire line.
GW: And what has being in the cellar taught you?
MD: Every job in the brewery is super important and essential, and being in the cellar is really cool. Watching how different things can affect the beer—the alpha acids of hops and the yeast and how it ferments and attenuates—there are so many things that are interesting.
But also, there is a lot of cleaning! It's so important.
GW: What is your personal goal by the end of this internship?
MD: The end goal is to see how my skill set and what I've learned can translate into a role in production.
I've put feelers out to a number of different breweries in different states. Right now, I have my eye on North Carolina.
GW: Well, North Carolina is home to Untappd HQ! How did your Untappd scholarship to the Appalachian State Summer Brewing Short Course help prepare you for this next step in your career?
MD:
With Appalachian State it went very heavy into brewing science. There are definitely benefits to taking courses like that. If people are super science buffs I would highly recommend it, but there is more benefit to being in a brewery atmosphere and getting physically hands-on.
As much as you can understand the science of how all these ingredients work together to make beer and how it can impact off flavors, etc., it's never going to help you get into the order and procedure of things in a brewhouse. It's important for people getting into the beer world to get hands-on in some way.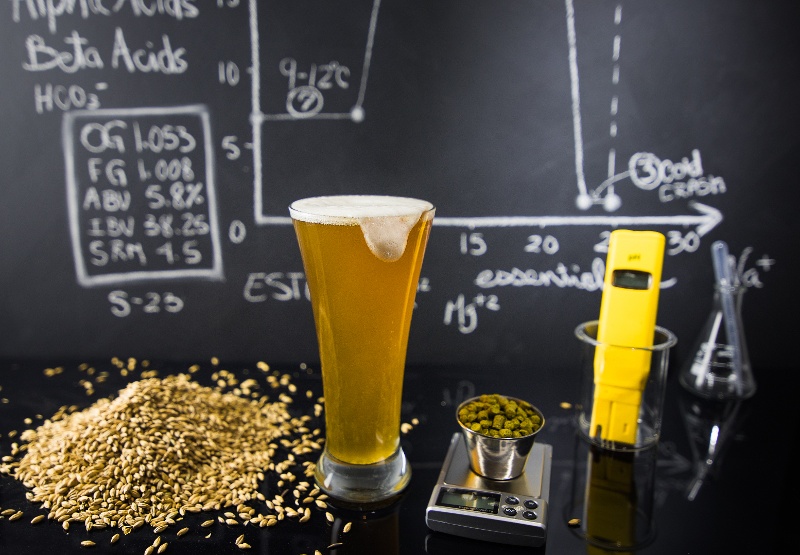 GW: As we've talked about, the barriers to entry for minorities looking to work in the craft beer industry can be very high. What pieces of advice do you have from your personal experience for a person of color looking for a job in a brewery?
MD: It's always good to make your face known in the beer scene. It's not always going to work sending a DM or an email. Coming from the managerial side of running a brewery, people would often send an email saying they are interested in getting into the beer world and if we have any positions open to let them know, but we've never met them before.
It's important for people to connect with local groups. There are so many different places that people can start trying to make connections—homebrew clubs, craft beer bars, and organizations like Girls Pint OUT. See who you can speak to, maybe they have a connection at a local brewery, or befriend some of the bartenders at a local beer bar.
One of the best pieces of advice I've gotten is: Never volunteer your time, especially in a physical labor job because there will be no workman's comp if god forbid you get hurt on a job where you're volunteering. You don't want that all on you.
GW: Great points! But it's not all on the individual right? Breweries need to step up too. What can more breweries be doing to make the industry more diverse, equitable, and inclusive?
MD: Obviously, white men are the majority in a male-dominated field, but it's really important for me to walk into any business and try to see someone who looks like me. It won't always happen, but I think it's really important for breweries and any business to be mindful of what they're putting out there and who they're hiring. Representation is really important.
I'm one of those people that if I'm traveling and I look at breweries, I go to their social media feeds and scroll back and see if there is anyone that looks like me or if they posted anything for women's month or Pride month. It doesn't have to be something during one of those months, but if it looks like they're an inclusive space all year round, that's something I'm always looking for.
If breweries want to open these doors to marginalized communities, it's important for them to realize what they're putting out there.
If breweries can't find that they can have representation within their companies, they can reach out in other ways. Such as working with local charities in the community or sharing with their customers how they are working towards being inclusive and being diverse.
I know a lot of breweries that partnered with charities that deal with sexaul harassment, training courses, workshops, there are so many things that breweries can start doing.
It's really important for breweries to be transparent and do the inner work within their companies and ask themselves what are we doing to move forward in this industry?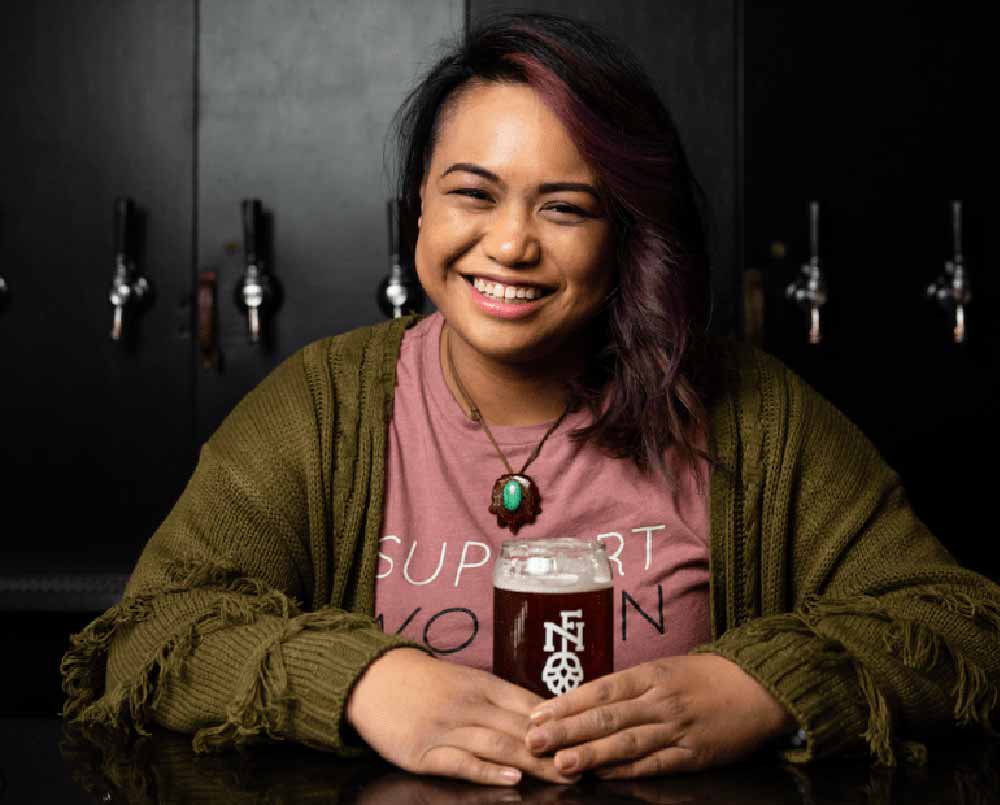 GW: There are many great organizations out there that breweries can partner with especially when it comes to making their work culture and taproom a safe space. For our 5th annual women in craft beer festival, Beers With(out) Beards, and 2nd annual Queer Beer Fest we're partnering with an organization called Safe Bars to take our festival teams through bystander training. This fantastic organization also works directly with bars, restaurants, and breweries to show them how to create safe and welcoming cultures for everyone.
MD: It is difficult to find breweries that are safe spaces for the Queer community. Actually, that was definitely one of the things that impressed me with Sloop because, going into the internship, one of the first things on the info sheets was what pronouns I used.
It's really important for breweries to stay up to date with gender-inclusive language. Also, to try to be a safe space for the LGBTQ+ community and to offer DEI opportunities to make sure that they're educated about the LGBTQ+ community.
GW: We're on the same page there! So with all this in mind, what do you hope for the future of the craft beer industry?
MD: Moving forward, when you look at more modern businesses coming out, it's almost like people copy-paste this cool-looking brewery with the wood background and the succulents in the corner and the cool mural and a bunch of hazy IPAs on tap. After a while every brewery will look like the next and it's your mission that will stand out: How are you helping your community or connecting to your community, and how are you helping marginalized communities and promoting that publicly.