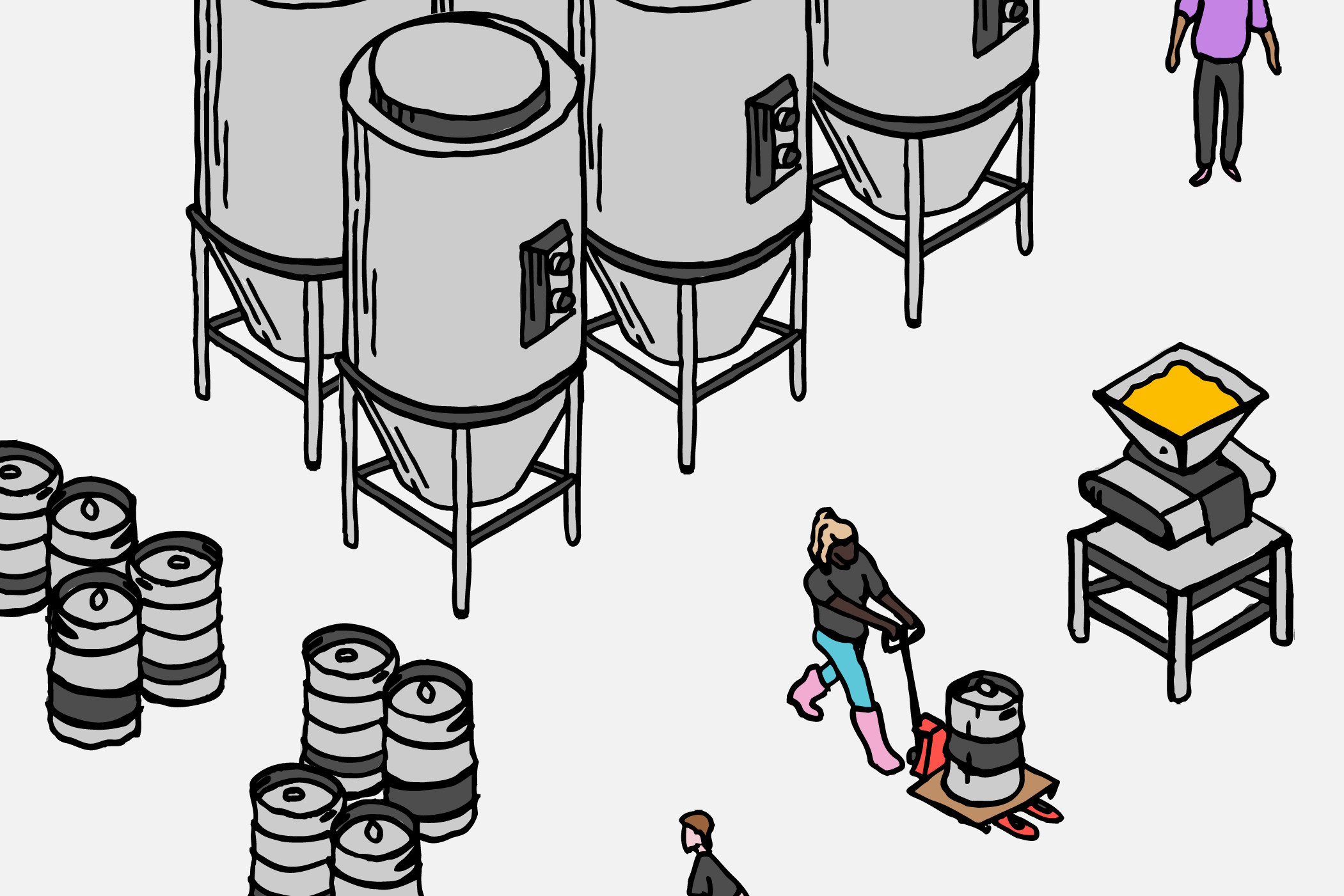 Illustration courtesy of Jake Hill
Three months ago, Women of the Vine & Spirits, a global organization for the alcoholic beverage industry, released a study in tandem with Deloitte called 2023 Women Raising the Bar. Key findings showed that seven in ten women surveyed believe mentorship programs are essential to diversifying the workforce.
For breweries, this could mean starting an internship or vocational program–as Pittsburgh's Trace Brewing did in January 2020 and New York's Sloop Brewing did in the summer of that same year.
"Creating Safer Spaces in Craft Beer" is an in-depth, ten-part series examining why it's important to embrace diversity, equity, and inclusion in craft beer. Every Monday for the next ten weeks, we'll be releasing a new part to the series.
​​[Creating Safer Spaces in Craft Beer, Part One — Why Isn't Craft Beer More Diverse?]
​​[Creating Safer Spaces in Craft Beer, Part Two — What Does a Safe Space Look Like?]
​​[Creating Safer Spaces in Craft Beer, Part Three — Does Every Brewery Needs a Code of Conduct?]
[Creating Safer Spaces in Craft Beer, Part Four — Hire Intentionally and Train Your Team]
Over the past three years, Trace has trained and paid six aspiring brewers from marginalized communities to take part in its training program.
"So much of changing the culture around American craft beer is taking the time to think about what difference can you make," says Trace Co-Founder Dave Kushner, emphasizing even small programs can be impactful. "Sometimes that can be daunting: I can't move mountains, but real change can start with just what you can do."
For Trace, that meant sharing its co-founder and brewmasters' combined thirty years of brewing experience to start a vocational program. As a paid internship offered to two people from an underrepresented community per year, Trace's vocational program gives folks from marginalized communities a chance to learn and make mistakes in a welcoming environment–and in an actual brewery.
Aspiring brewers like Nina Santiago, who joined Necromancer after participating in Trace's vocational program, can benefit and grow from these kinds of opportunities.
Why Start a Brewery Vocational Program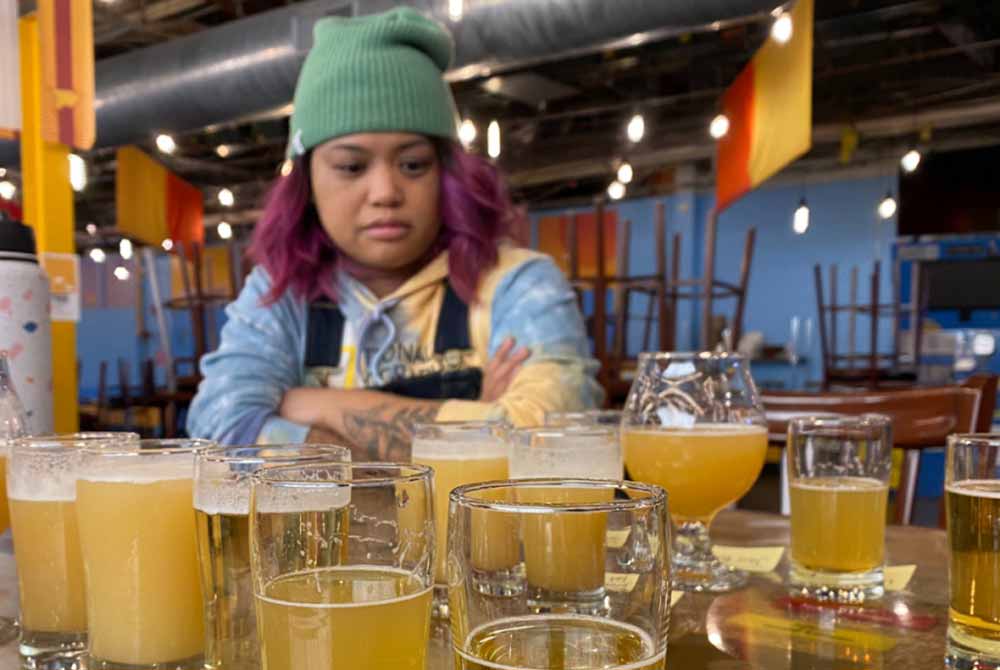 In the summer of 2020, Sloop Brewing did something practically unheard of up until that point: they started the Open Waters Internship Program, an internship aimed at giving Black, Queer, women, and other minority folks a chance to gain an educational experience in a brewery.
Helmed by Marquita Reese, a Black female Queer brewer at Sloop, who also served as the chairwoman of the brewery's diversity and inclusion committee, the internship program strives to "dismantle barriers in the craft beverage industry and pave the way for positive change in the world of brewing and craft beer by creating a more diverse and inclusive industry."
One the program's participants, Michelle Demetillo, a Queer woman of color in the brewing industry, gained a vast amount of brewing knowledge, learning everything from how the packaging line operates to what goes on in the cellar to brewhouse operations. The former Hospitality & Community Manager at North Fork Brewing Company in Riverhead, NY, wanted to transition her career into the brewhouse but didn't know where to start.
"Being a woman or part of a marginalized community in the industry, where you're not seeing yourself represented often, there is a lot of doubt in your mind of whether or not someone will give you that foot in the door." Demetillo says, sharing it can be tough even finding volunteer opportunities at breweries. "It's rough unless you know people and have those connections or people willing to invest in you."
Juan Camillo–who started his own brewery, Dyckman Beer, in New York City that focuses on integrating his Domincan culture and heritage into his beers–shared that if he had the opportunity to apprentice before opening a business, he could've succeeded earlier.
"The know-how is key because it takes fifty times longer to get that information," he told Hop Culture. "Had I done an apprenticeship for a month, I probably would have saved myself time and money. That's one way of knocking down barriers to entry—get a person of color into [a brewery]."
Participating in a vocation program could have greatly benefited Camillo.
"When you are an owner of a business you are wearing every hat," says Camillo. "You are running every department and you have to learn from the ground up. A lot of folks of color and minorities aren't privy to this side of the business."
Luckily, Camillo's background in finance gave him a leg up, but he still felt that he had no one in his community he could turn to for advice.
"I literally had no other person of color who started a beer company from zero," says Camillo. Instead, he had to learn how to work with distributors and open accounts all on his own. "I had to spend my own money or make my own mistakes," he says.
How to Start a Brewery Vocational Program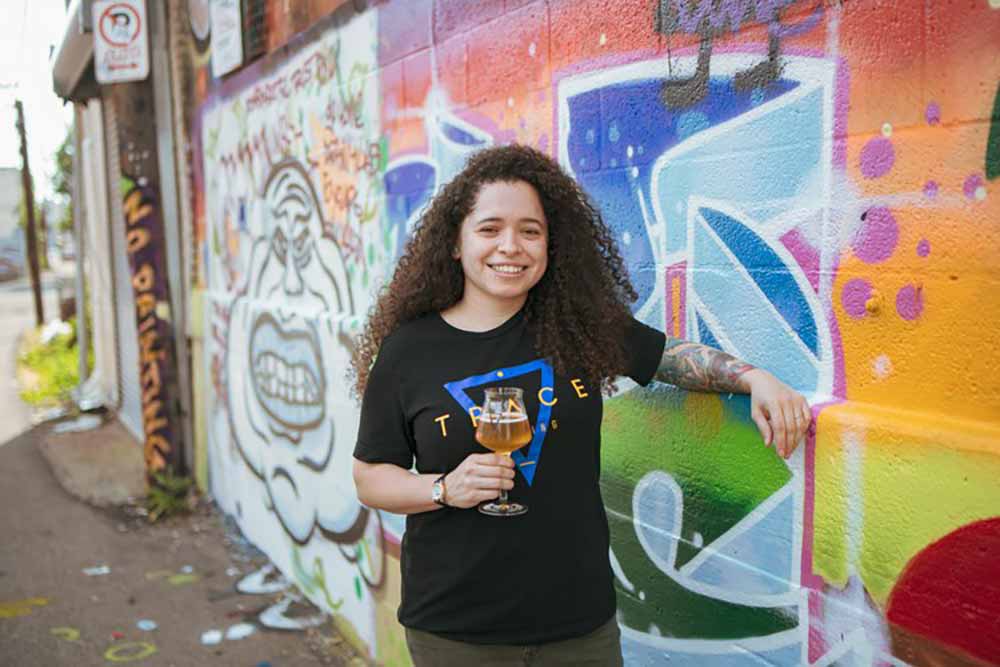 Here's what you should consider.
What Is the Goal of the Program?
At Trace, Kushner stresses that there is no right way to start a vocational program. What's most important is "being very purposeful in your intent and goals," he says.
For instance, at Trace, the goal of the program is to teach for six months. At the end of the internship Kushner says the real test is "can this vocational brewer go out and compete in a highly competitive industry and get a job amongst many applicants with three months, six months, or years of experience."
With that in mind, Kushner says Trace "reverse-engineered" their program to pack in 550 hours (six months) of work, focusing on cellaring, packaging, hands-on experience that participants can talk about when applying for a brewing job.
"The curriculum I created teaches what skill sets you're expected to know in six months like centrifugal pumps, what types of chemicals we're using, safety protocols, what is a ferment, what is fermentation, and what goes on in those tanks," says Kushner.
To Kushner, the hands-on experience they emphasize in Trace's vocational program is key.
He explains that professional brewery interviews usually happen in two phases—first you might chat over a beer about why you want the job, what you were doing at your last job, etc. "The next is more like applying for a kitchen job to see what you can do with your hands," he says. "Can you walk around the brewery and not hit your head? Can you attach hoses? Are you wearing safety glasses? Can you apply what you talked about to reality?"
Is Your Whole Team on Board?
If you're looking to start a vocational program, you also need to make sure your entire brew team is bought in because it will be different than hiring an entry-level person.
"It's going to be a lot of work, a lot of starting over," says Kushner. "You're taking someone completely green, breaking them down, and building them back up, which can be exhausting on your team if they're not committed."
Additionally, brewing can be dangerous, so early on your team needs to take extra care to watch your vocational brewer, making sure they're opening the right valves, for instance, and that they're not hurting themselves or someone else. "That first 60 to 120 hours on the brew floor is a lot of mental effort for someone to be like do I want to do this twice, three, or four times a year," says Kushner. "I'd make sure you have an open, honest conversation with your team: If we're going to do this, we have to be committed."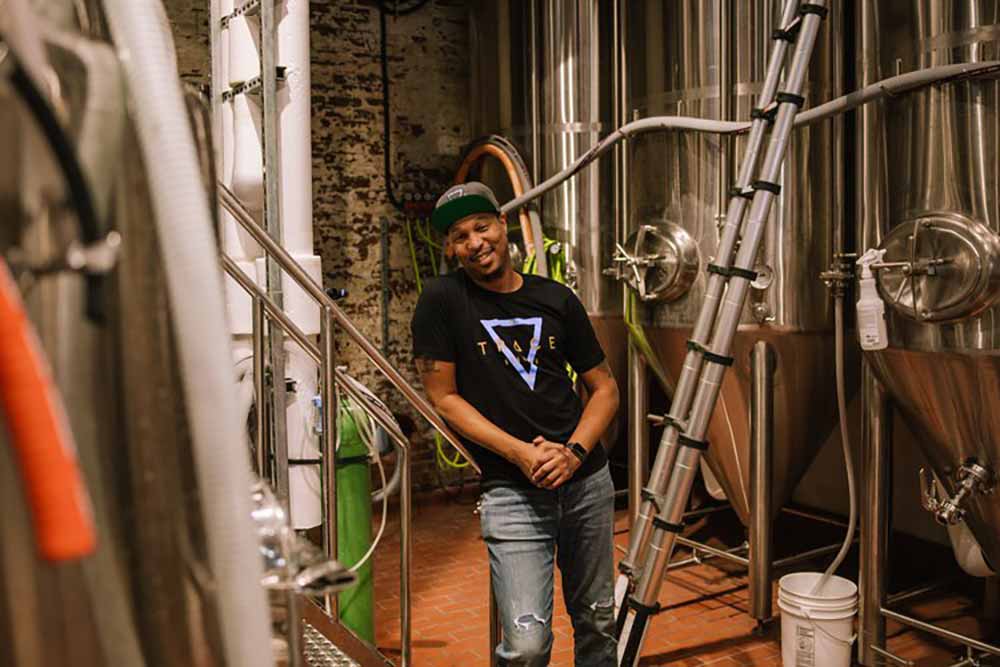 What Are the Financial Costs?
The commitment goes further than just your team too. Starting a vocational program has financial considerations. While the cost of running this type of internship will differ place to place, at Trace, Kushner says the vocational program costs the brewery $50k a year out of its own pocket.
And that's with only running the program three days a week and paying vocational brewers a livable wage according to Allegheny County (and not considering marketing expenses, time your brew staff dedicates to the programs, etc).
But Kushner emphasizes that last piece is crucial to a viable vocational program.
"The program had to be free and we had to make sure we were paying people," he says, noting they worried they wouldn't get a diverse applicant pool that first year. "We did a good job of removing those barriers, saying hey, this isn't just going to be a free internship because then you discriminate against a whole socioeconomic class, which then trickles down to other underrepresented groups."
How Do You Create an Accessible Application?
Additionally, Trace doesn't require a high school or college degree, references, a resume, or any past experience. The only question Trace asks on its application: Why do you want to be a part of the program?
"Some people write a couple of sentences and some will write entire pages," says Kushner. "If you're trying to get someone their first job in the industry, you need to figure out a way to look and say this person, if given that opportunity, would be a full-time brewer, and this is what they really want to do with their lives and that doesn't require past experience."
Make sure you post the opportunity where you'll hit as many diverse underrepresented groups as possible. "If you post on IG or Facebook that might not work," says Kushner. "Reach out to your community partners, local politicians, influencers, and anyone who can help echo that message."
The first year of Trace's vocational program in 2020, they received 120 applications. Kushner cites a lot of that success to removing barriers in the application process.
How Do You Measure Success?
The work doesn't stop once you hire someone. Running a vocational program is an ongoing process. "In the beginning, your job is to highlight them as much as possible," says Kushner, who posts frequently about Trace's vocational brewers on Facebook and Instagram. You also need to get to know the participants and figure out their goals. "Do they want to work for a 3-bbl brewery or a 120-bbl production brewery?" says Kushner. "Guide them in that knowledge and experience, making contacts for them, helping them with resumes, writing letters of recommendation, reaching out to brewery owners, and letting them know they exist."
Otherwise, Kushner says in his mind "What's the point?" If you truly want to help underrepresented groups in the industry get a foot in the door, getting them a full time job should be at the top of your list.
After three years of this approach, Trace has helped all six of its vocational brewers secure full-time jobs. Batting 100 percent, Trace's initiative has become a great example of how vocational programs can succeed.
Kushner says in 2023, his goal is to develop a road map for funding for vocational programs, giving other breweries an incentive to start one and helping Trace expand its current one to a five-day, forty-hours-a-week internship that pays at an even higher rate. "The goal is…we will pay for these programs, just run them," says Kushner, mentioning through his work with the Pittsburgh Brewers Guild and Brewers of PA he's aiming to secure $50,000 to $200,000 of funding for breweries in Pittsburgh that want to start vocational programs.
"We wanted to show we have skin in the game," says Kushner. "We've been paying out-of-pocket, so not only do we want to get funding for Trace, but we want to grow this program in Southwestern Pennsylvania and throughout the state."
If you're a brewery owner looking for a good first step, call up Kushner. He says he's completely open to sharing Trace's curriculum along with their trials and tribulations on how to run the program.
"It can be daunting…but we want to diversify the industry through this opportunity," he says. You can't just be like, hey, we did it, and pat yourself on the back because in another reality, Trace is 0 for 6, and the vocational program failed and it's cool that we got diverse applicants and pool, but if they don't have jobs, it's just exposure. That's cool, but that's not a vocational program."
Up next: Creating Safer Spaces in Craft Beer, Part Six — Crafting Inclusive Events for Your Community