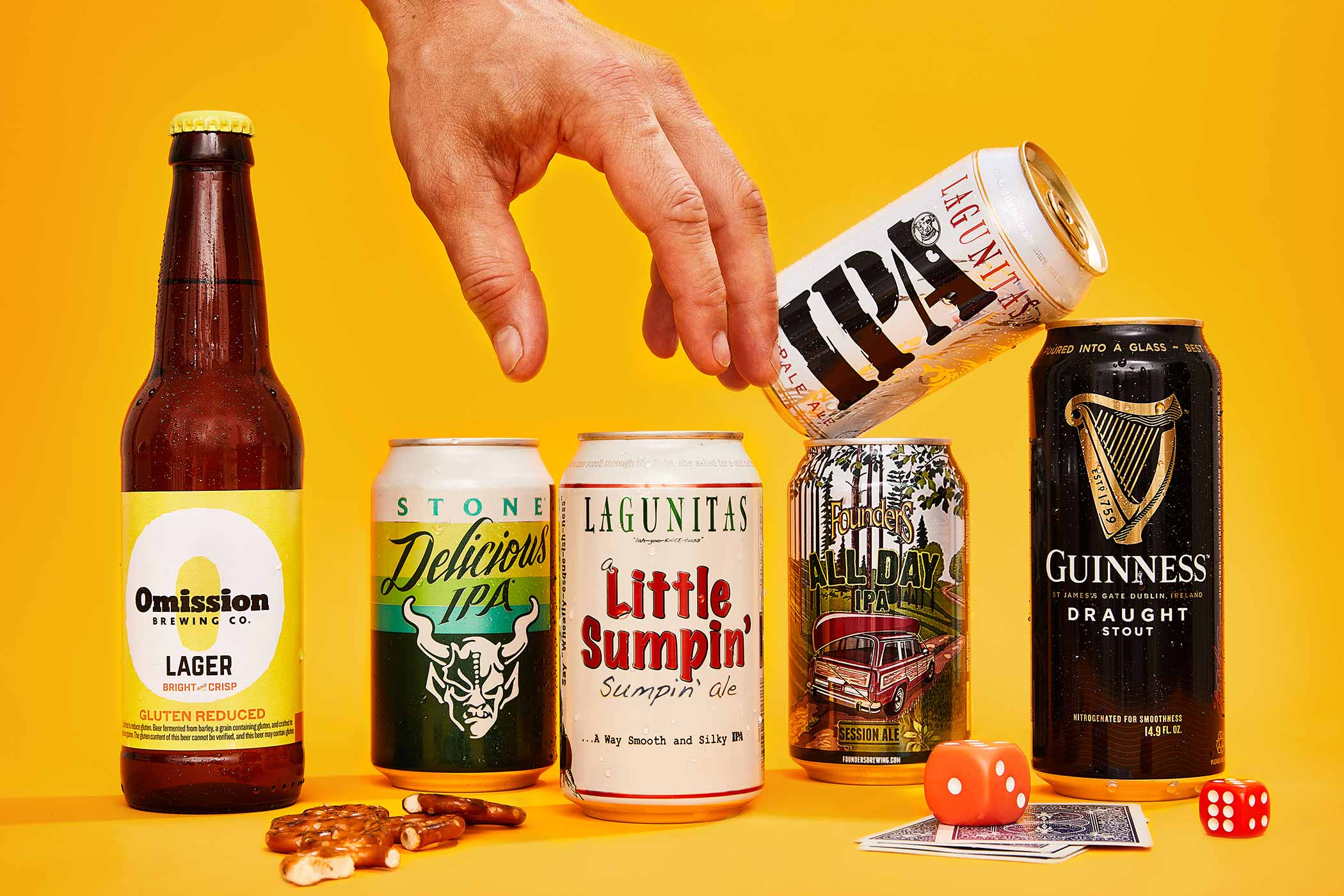 Photography courtesy of Get Stocked
Editor's Note:
This is a paid, sponsored post presented by our friends at Get Stocked.
Picture this: You walk into your local craft beer store, beverage warehouse, or even grocery store, and you're immediately assaulted with hundreds if not thousands of cans and bottles of beer. You're dutifully scanning the shelf for the newest Cold IPA, for a local West Coast IPA, or for something altogether different like a pilsner or stout.
But how do you choose?
Some labels include a little bit more about the beer, but others don't. Even for us so-called "industry professionals," grabbing beer off the shelf has become something of a mental tailspin. Honestly, we don't even do it that much anymore because it can send us into sensory overload.
If we do go to the store to pick up a 6-pack, it's usually because we have a carefully vetted game plan in place. We make a beeline to exactly what we want and keep blinders on to all the colors and shapes around us.
If only there were a way for us to sit in the comfort of our house, put SportsCenter on in the background, and pursue a virtual shelf of highly curated beers from the best breweries around the country. If only there were a way to learn more about each of these beers, read the breweries' stories, maybe even watch a video or two before we press a button and everything ends up right on our doorstep.
A new platform from ReserveBar, the established leader in premium and luxury beverage alcohol e-commerce, Get Stocked is an all-new community and content-centric destination dedicated to exploring curated and trusted selections of all your favorite canned beverages right from your phone or desktop.
Launching just this past month, Get Stocked is poised to be a game changer for those craft beer aficionados looking for an easy, streamlined way to get alcoholic beverages delivered to them for every moment.
Sensory Overload on the Shelf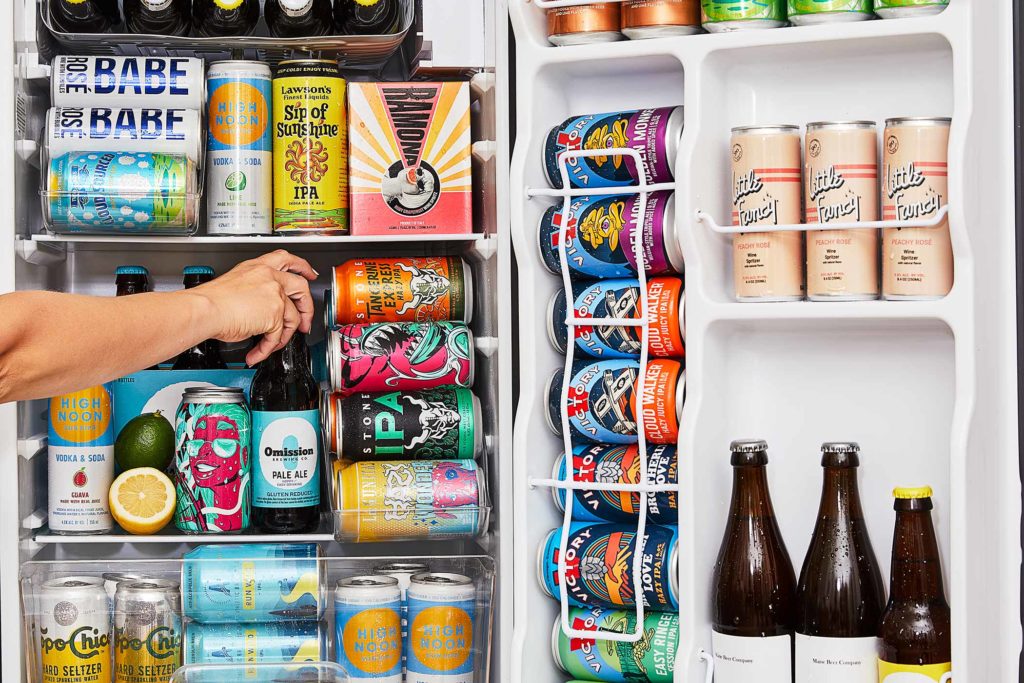 According to the Brewers Association, more than 9,100 breweries now operate in the United States. Now let's say each of those breweries at a bare minimum make ten different beers a year—on the low end you're looking at almost 100,000 potential different products, literally, to potentially pick from on a shelf.
Now of course, not every single possible alcoholic beverage is available to you at your local store. But even so, the fact remains that we are living in a current state of perpetual overstimulation on the shelves.
Walk into any place to buy alcohol and you're greeted with a myriad of options.
"If you've been to a store lately to buy beer or canned cocktails, it's overwhelming in person," says Derek Correia, president of ReserveBar, who remembers a time when buying alcoholic beverages was a bit simpler. "When I was younger and say tailgating…beers weren't that hard to get. My friends liked Heineken, I'd get some IPAs for me and my buddy, a couple bags of ice, and off you go."
But now Correia says the landscape is entirely different. And not just in the store. You have a different demographic of tastes and preferences to take into account. You may have some friends that only want to drink canned Old Fashioneds or ones that just like margaritas. Not to mention you might want an easy-drinking helles to drink during the game, but there are ten options in front of you.
"How do you get that right?" he asks.
Or maybe more prolifically, "You don't want to get it wrong," says Correia.
For Get Stocked, the answer meant creating a platform where you can stock up for all those friends during all those different "Cooler Occasions."
All from the comfort of your couch.
Stocking Up for Cooler Occasions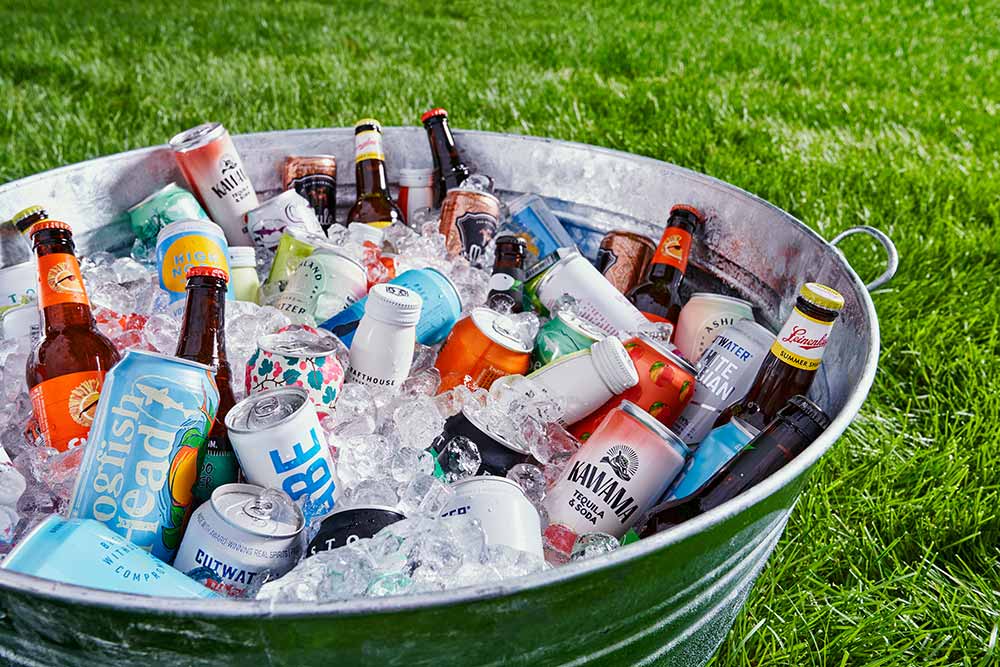 Why do we remember that beach party over Labor Day, crushing some Leinenkugel Shandys? How about that birthday celebration at New Belgium Brewing, for example? Or just a weekend getaway to the cabin, cruising around the lake with cans of Allagash White?
It's the little drinking moments that we end up remembering the most.
I'll never forget celebrating Thanksgiving with my family and sharing a Tripel Karmeliet with my dad. Or sipping a Brut Le Grande from Bruz Beers for my anniversary. Even just drinking a Sierra Nevada Pale Ale while watching the Minnesota Vikings lose to the New York Giants on Wild Card Weekend stands out in my mind (maybe the pain is just too fresh).
Point being, we consciously choose the beers we think will be best with each of these important moments in our lives.
It's those "cooler occasions" that Get Stocked wants to stock you up for.
"It's an occasion where beverages are going to be consumed from a cooler full of ice," says Correia. "Whether it's tailgating, camping, backyard parties, pool parties, picnics, the boat, skiing, vocational rentals, all of those occasions in most people's lives are moments that matter."
These are times you look forward to, ones with family and friends. And you want to make sure that everyone has exactly what they'd like to drink.
"You're looking forward to having everyone over for a barbecue or going to the beach on Saturday with your friends and family," says Correia. "We can provide a reliable and go-to site for whenever someone is thinking about: I want to get that right; I want it to be easy; I want to have confidence; I want to get something that everybody is going to like; I want to get a good price on it and I want the convenience of on-demand delivery."
Get Stocked lets you go on the platform on a Saturday morning, order New Belgium Voodoo Ranger IPA and Stone Delicious IPA 12-packs, for instance, and have it delivered by 11 o'clock, so you can get to the beach by noon, chilling, relaxing, and drinking.
Cooler moments are important ones in your life. "There is a more emotional connection to the word moment," says Correia. "I'm not just going to swing by a c-store and fill up a styrofoam cooler with whatever beer… This deserves a little more attention because it's important to my friends, family, and me. That stock every moment is a more emotional way to connect to these occasions we want to serve."
And to connect with those who are making those beverages we want to drink.
Go Beyond the Label and Liquid
One of the best features of Get Stocked is that you have a chance to go beyond the label and liquid, learning about the actual story behind the drink and history behind the brand.
"It's not just about the liquid, it's about the liquid and the time, the company, the people," says Correia.
But a lot of the time when you go to a retail store, you're only making your purchase decision based on the can. That design may have captured your attention for some reason, but you have no idea what the beer inside is all about. And you may have no clue as to the blood, sweat, and tears the brewery, canned cocktail, or hard seltzer brand put into that liquid.
"When you're drinking a great product, it's because individuals and quite a few people in every step of the process wake up every morning and their entire focus is to make that product great for you to enjoy," says Correia. "Being in a position where we can connect the people and the makers in a more meaningful way, what is a better business to be in?"
Because at Get Stocked, every producer can tell a story.
"You're getting all that richness, the brand can tell you their story, talk about hops used in the beer, craftsmanship of the cocktail, the way it was made or spirit in it, why it is exactly the way it is, and why it's worth it," says Correia, noting you can also read reviews on the product too. "All the things you wish you had in the retail environment are right there in front of you."
On one platform, Get Stocked brings the producer and the consumer together, elevating those cooler occasions so you're stocked for any and every moment.
Our Ten Favorite Beverage Brands You Can Find on Get Stocked Right Now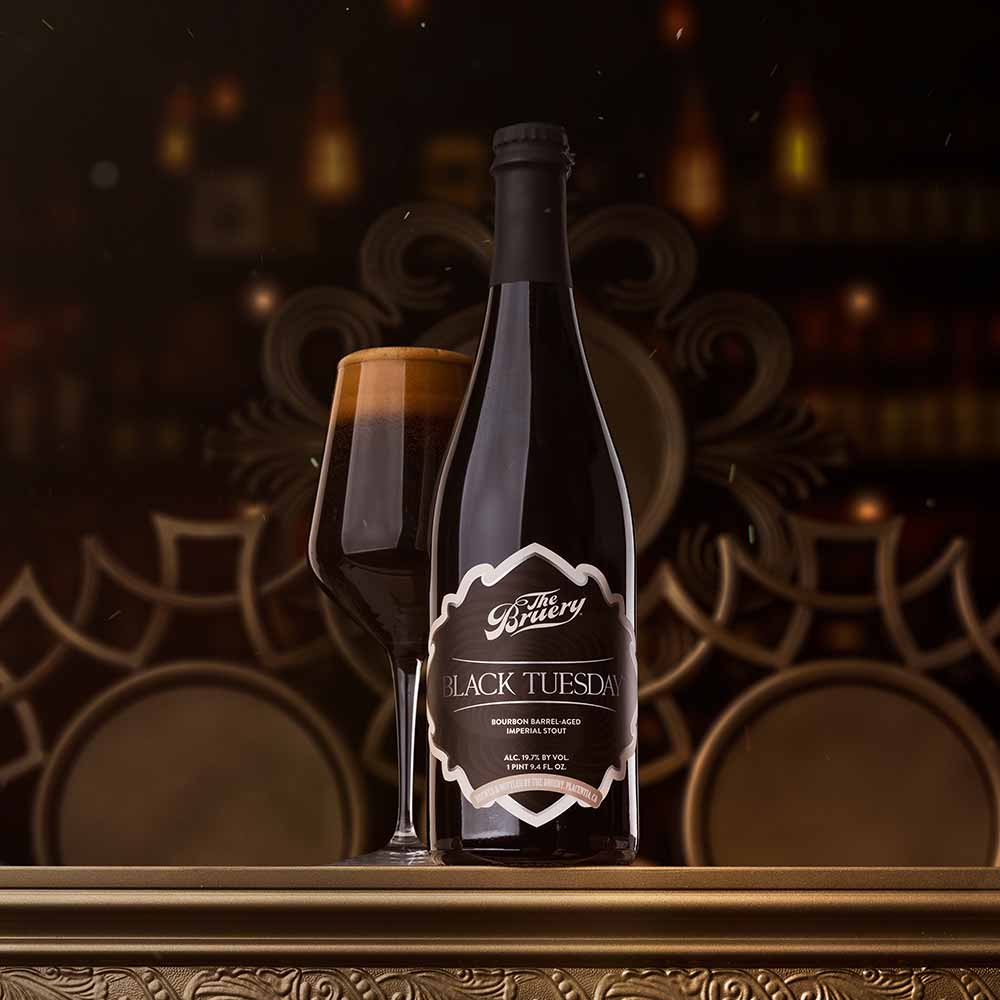 As a highly curated craft beverage platform, Get Stocked currently has over 600 SKUS and over 1,000 variations of those SKUS on the platform. Choose from your favorite craft breweries, hard seltzer brands, ready-to-drink cocktail creators, and even non-alcoholic producers.
"We definitely run the gamut as far as big supplier brands and brand new emerging brands," says Kathy Keefe, Director of Partnership Development at ReserverBar, who has been working for the last fifteen months to welcome brands to the Get Stocked platform. "The common thread is each brand has a unique story to tell and Get Stocked provides that platform so consumers can discover new brands and be educated at the same time."
With a bit of Keefe's guidance and through perusing the site ourselves, we picked out a few of our favorites to give you an idea of what you can find on Get Stocked right now.
The Bruery
This brewery pretty much speaks for itself. The Bruery's speciality, barrel-aged beers are just off the charts. We named their bottle society—The Reserve Society—as one of our top brewery memberships of the year. And you can sign up for that Bruery Reserve Society Select Box right on Get Stocked.
The curated selection of some of The Bruery's most innovative, fan-favorite barrel-aged releases includes beers like Black Tuesday (2021), Grey Monday (2021), Tart of Darkness (Rum Barrel-Aged 2018), and Ivoire (2022), to name a few.
Funkytown Brewery*
One of our "14 Best Breweries of 2022," Funkytown Brewing was created by Richard Bloomfield, Gregory Williams, and Zachary Day to bring a black perspective to beer. The BIPOC-owned Funktyown infuses '90s hip-hop culture into craft beer. Like with their flagship pale ale Hip-Hops and R&Brew or amber ale Woo-Wap-Da-Bam.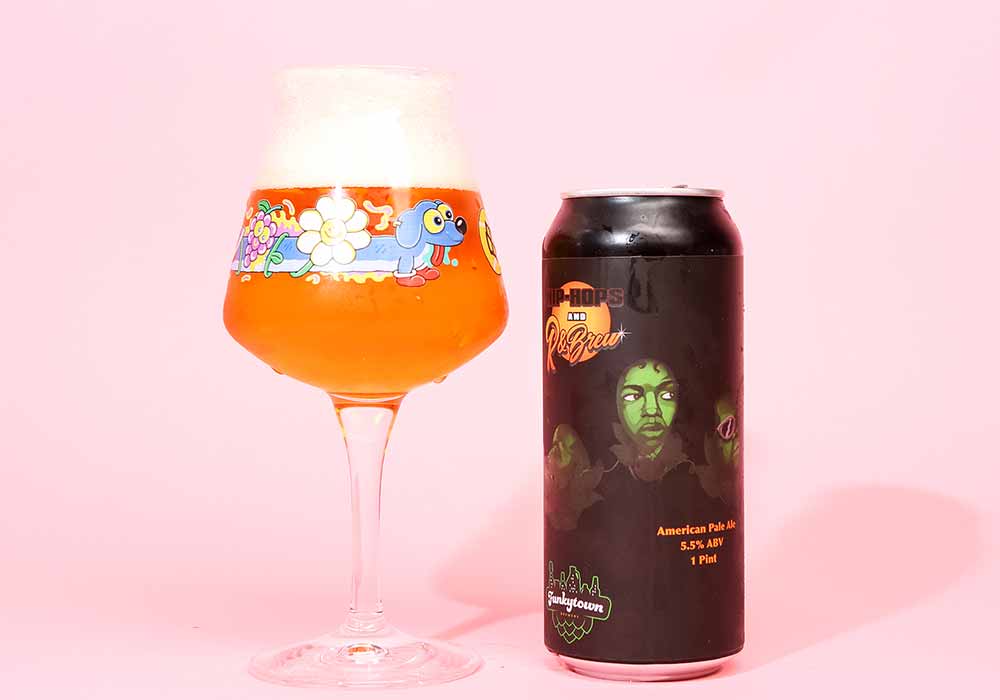 Crowns & Hops*
Hop Culture's "Best New Brewery of 2020," Crowns & Hops, aims to bridge the gap between brewers and drinkers of color, creating an inclusive and equitable community in craft beer. Known for beers such as BPLB hazy and 8 Trill Pils, Crowns & Hops recently collabed with Allagash on a new beer called Cur-8 that supports the brewery's 8 Trill Pils Initiative, which supports Black entrepreneurs and Black-owned breweries. A mashup of Allagash's renown Curiez and Crown & Hops 8 Trill Pils, Cur-8 intriguingly blends a pilsner with a bourbon barrel-aged tripel for a noble beer with a noble cause.
*Editor's Note: Get Stocked is still in a soft launch and continuing to on-board new brands daily. Both of these brands should be on the platform in the next couple of weeks if they are not already.
Crooked Stave
Mostly known for being one of Colorado's premier breweries making sour and wild ale, Crooked Stave features something a little different on Get Stocked. Currently, you can find the brewery's Von Pilsner, an unfiltered keller pilsner with German hops brewed to mimic a traditional European continental pilsner.
Allagash Brewing
Not only can we get our staple Allagash White on Get Stocked, but Allagash also has their Tripel Reserve, North Sky Stout, and River Trip up for grabs.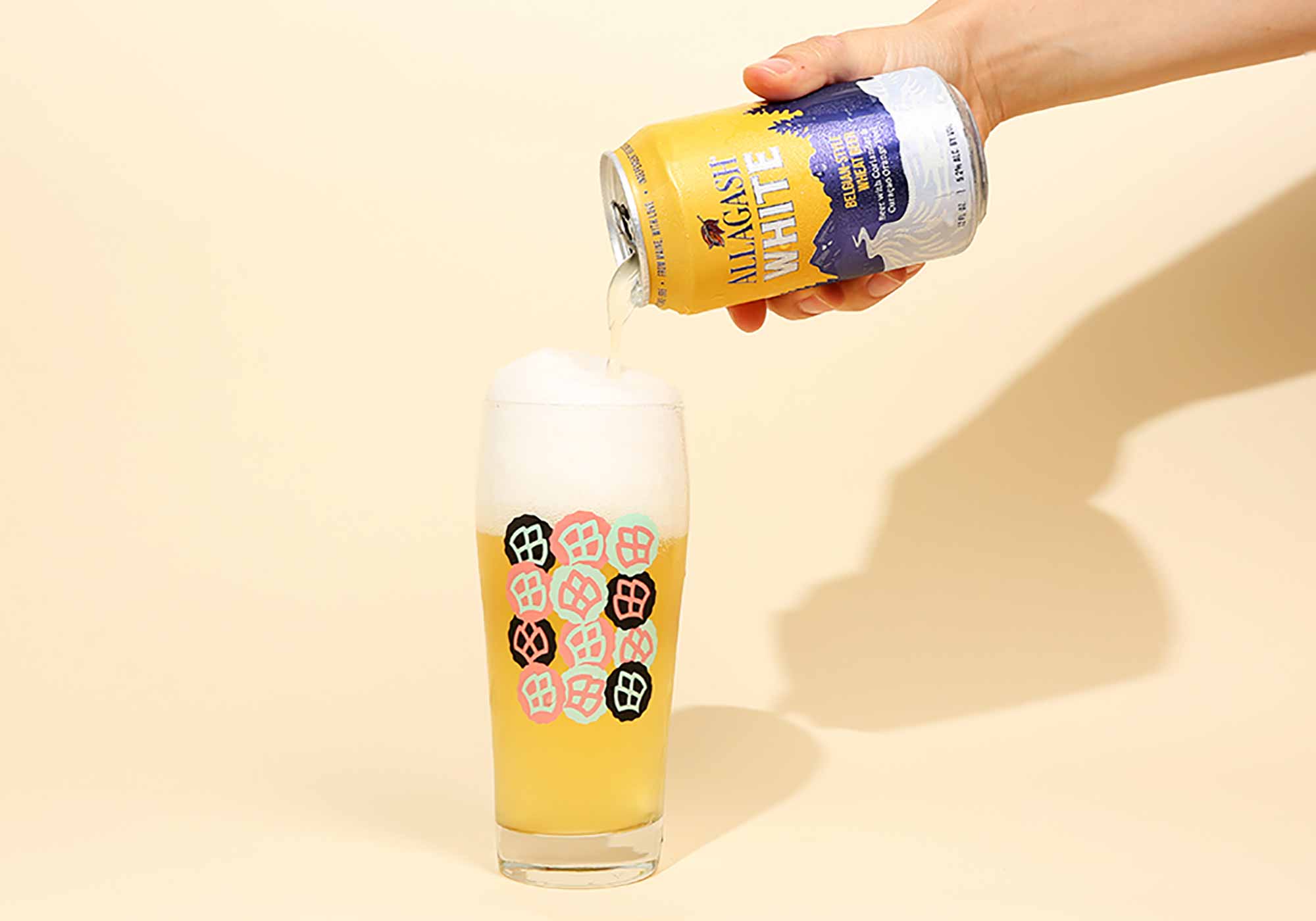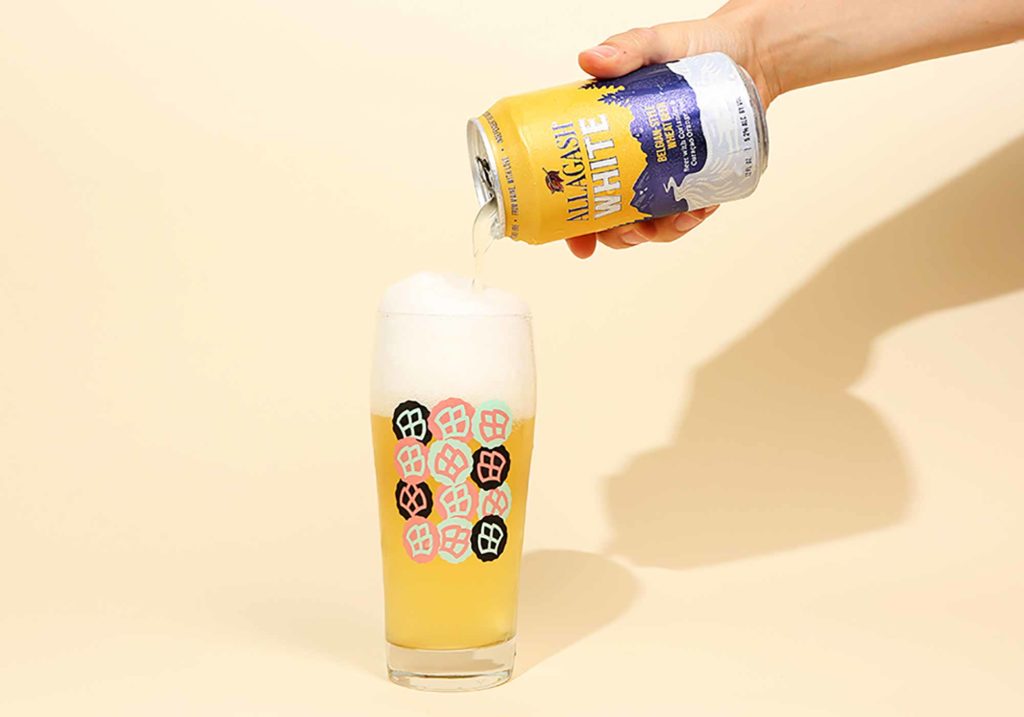 Dogfish Head
Something a little different from Dogfish Head, the brewery branched out into canned cocktails in early 2021, riding the trend of ready-to-drink cocktails that has continued to soar the past couple of years. Dogfish Head has "outstanding, medal-winning cocktails which are delicious and rival those concocted at a bar," wrote Keefe in an email to Hop Culture.
Currently, you can find flavors such as Lemon & Lime Gin Crush, Strawberry & Honeyberry Vodka Lemonade, and Blueberry Shrub Vodka Soda.
But you'll also be able to find old beer favorites from one of the most iconic breweries in America, including 90 Minute IPA, Namaste, 60 MInute IPA, World Wide Stout, and Seaquench Ale.
Mom Water
Keefe told us that this brand was started by a mom who added vodka to flavored water at a resort and thought that it should be bottled! "This is such a fun brand with great marketing," she wrote. "All their SKUS are named after moms (Linda, Julie, Sandy, Susan, Nancy, and of course, Karen)."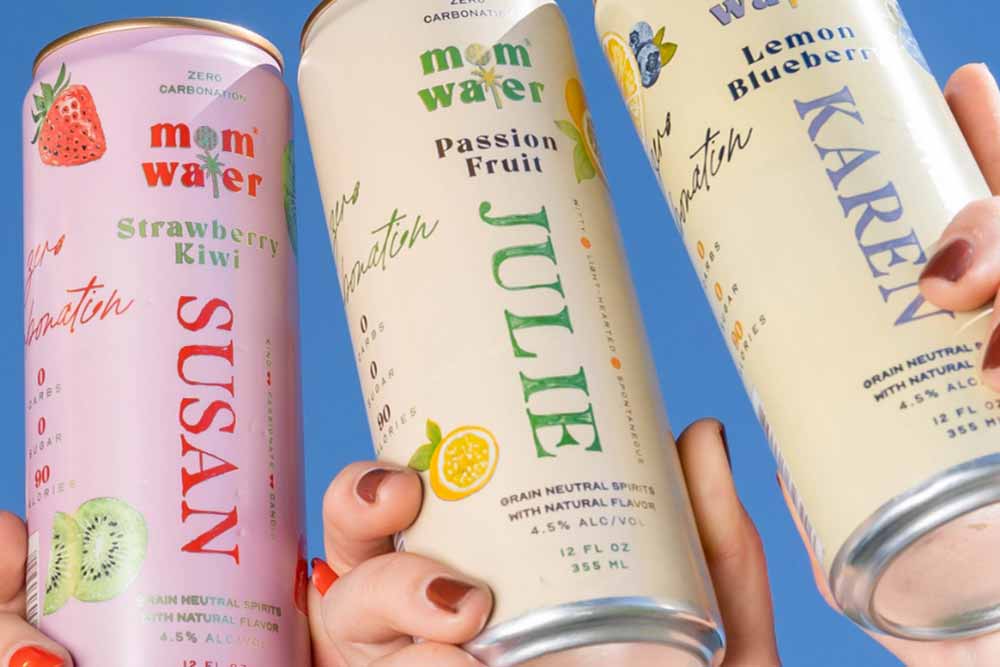 Crafthouse Cocktails
A premium award-winning ready-to-drink brand with drinks designed by Charles Joly, a James Beard Award-winning mixologist, Crafthouse Cocktails includes flavors such as Moscow Mule, Pineapple Daiquiri, Smoky Margarita, and Paloma, to name a few.
Kawama
A brand started by a college student during COVID, Kawama is the brainchild of Lindsay Reed and her brother, Kersey. A hockey goalie for Team USA and her Harvard College hockey team, Reed found extra time to start this tequila and soda canned cocktail. "They are disrupting the legal-drinking-age college scene up and down the East Coast," wrote Keefe.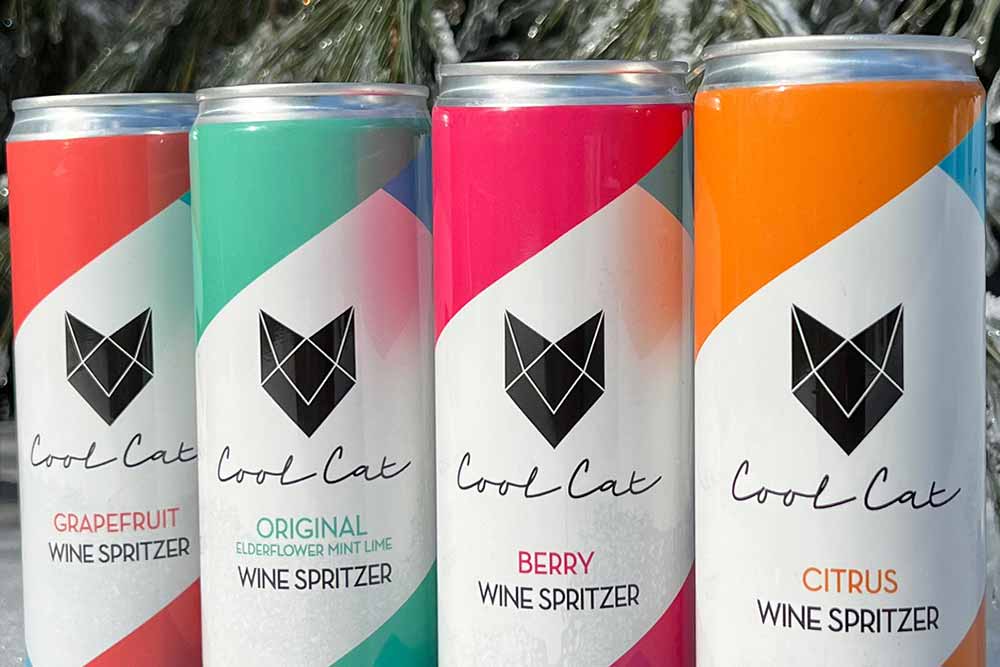 Cool Cat
A canned wine spritzer brand based in Miami, FL, Cool Cat can be found in stadiums all along the East and West Coast with their delicious flavors such as citrus, beer, and grapefruit.
Plus, the brand is a part of ReserveBar and Get Stocked's Spirited Change Initiative.
The Spirited Change Initiative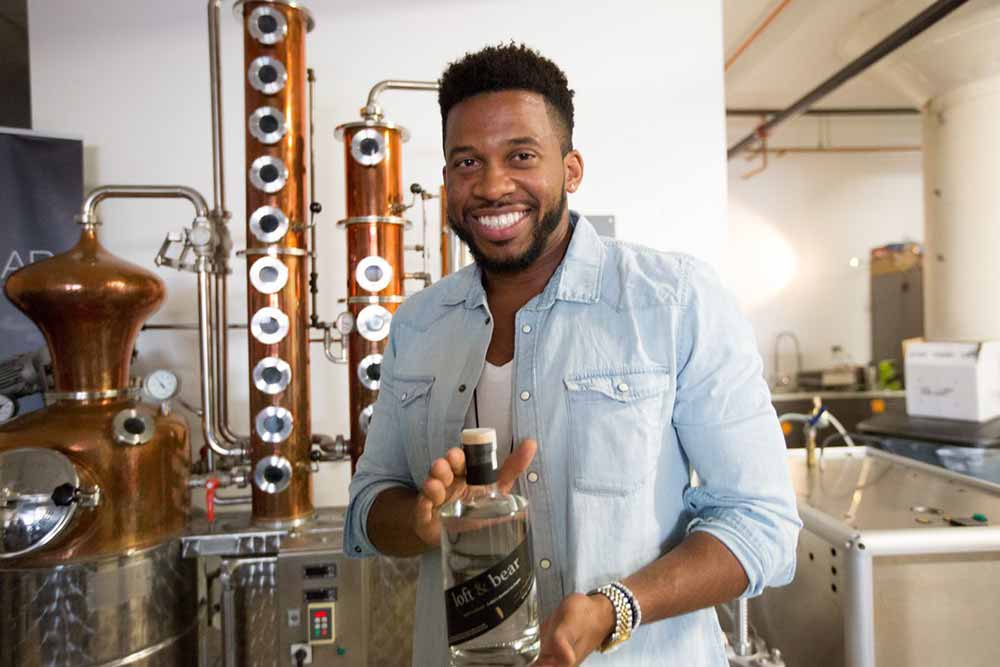 Started in 2020, the Spirited Change Initiative (SCI) celebrates producers from all different backgrounds and is committed to creating more opportunities to make a more inclusive and equitable beverage industry.
"We discovered actual ownership of brands in wine and spirits is abysmal," says Correia. "If you add up all the ownership from Black, Brown, LGBTQ+, and women it's less than five percent of all the brands; that's absolutely insane."
So ReserveBar started not only promoting these brands, but also offering discounted marketing and on-boarding to help underrepresented brands get a leg up in the business and a foot in the door, according to Keefe.
Currently, the Spirited Change Initiative has welcomed 107 brands onto ReserveBar and spent $1 million dollars on marketing deployments and services for Spirited Change brands.
In fact, Correia says one of the first brands ReserveBar featured—Uncle Nearest—has become the best-selling whiskey on their platform.
And the SCI has attracted investment from some big names in the community such as Mary J. Blige, Sean "Diddy" Combs, and Kevin Durant.
Keefe and Correia hope to continue the success of the program over on Get Stocked as well, especially since beer representation has similarly lacked in a predominantly, white, cis-male industry.
From the very beginning Get Stocked has been "reaching out to every brewery we can find from these communities and encouraging them to put their products on our site and support them as well," says Correia. "So many people…want to use their dollar to buy those brands, but go to a store…and you have no easy way to figure out which brands are owned by Queer people. Women, Black people. You're on your own."
With Get Stocked's Spirited Change Initiative there will be an easy way to find and support brands from underrepresented communities in the industry.
All told, ReserverBar and Get Stocked have pledged to commit more than $5 million in support of SCI businesses by 2024.
How Can I Get Stocked Right Now?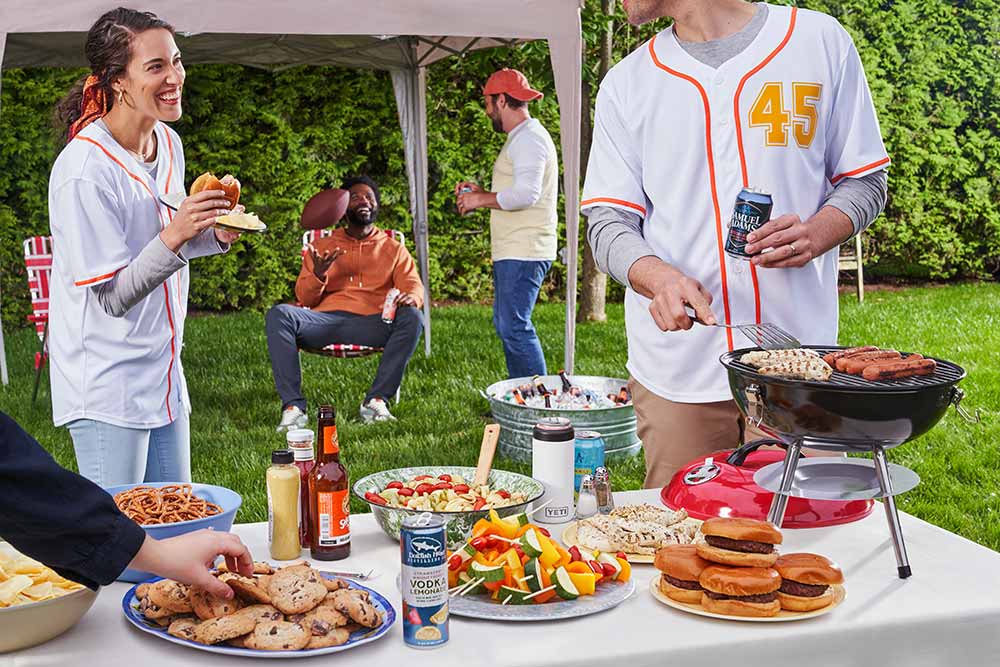 Just go to getstocked.com and get started on stocking up!
Get Stocked currently works with 3,700 retailers and are constantly adding more every day. According to Correia, they hope to be up to over 10,000 retailers in a couple years.
Right now, you can get $10 off your order of $49+ with the code: GETSTOCKED10
Go forth. Stock up. Party on.