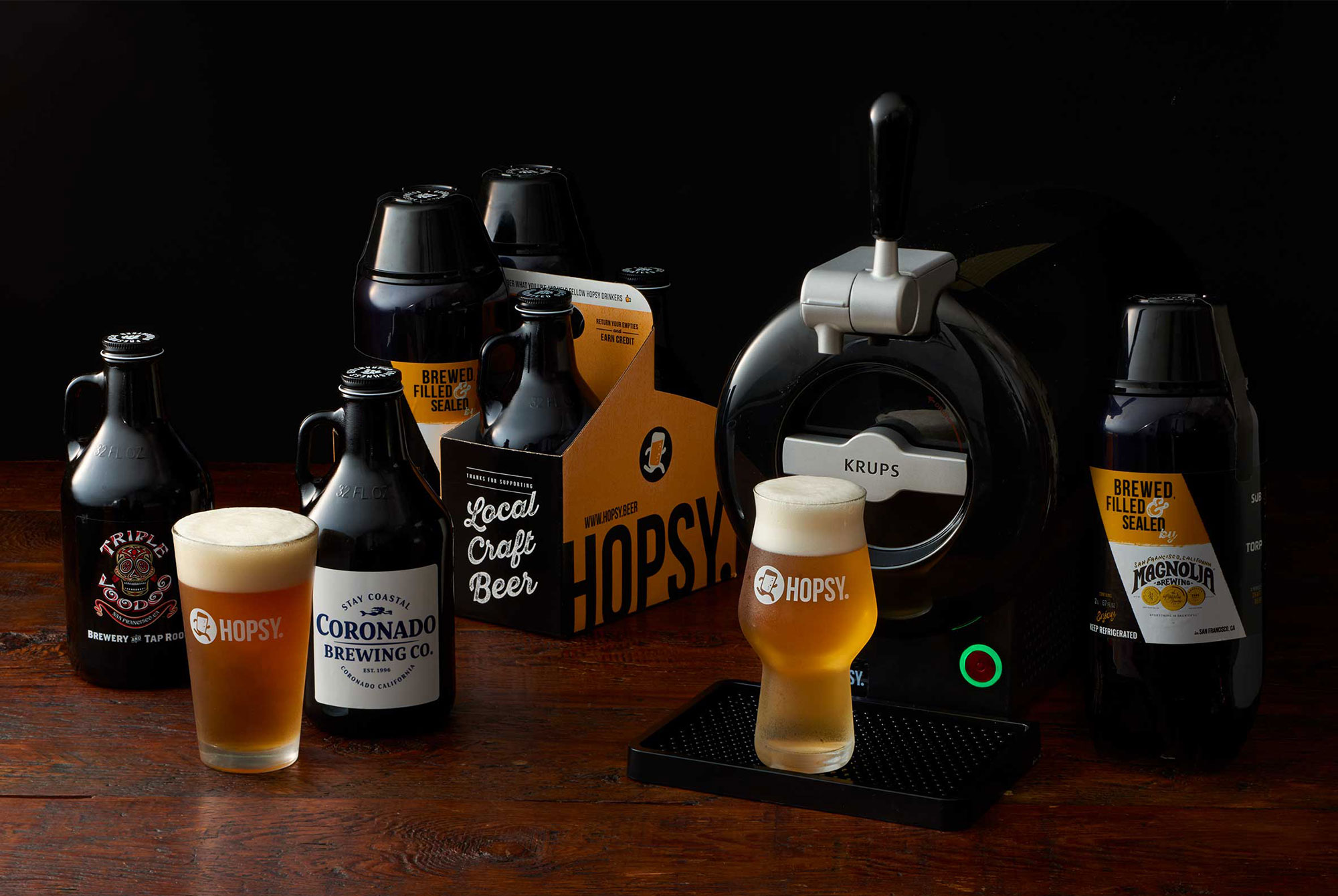 Craft beer has a freshness problem. In many cases, the bottles on your local shop's shelf are months old, having traveled hundreds, sometimes thousands of miles from where they were brewed. To get fresh — I'm talking days old — beer, one must trek to the brewery, or stalk their local craft beer store like an overbearing parent. It's exhausting.
To help those stuck drinking stale IPAs from a state they've never been to, delivery services have begun popping up, promising to make buying beer as easy as ordering a movie on Amazon. Many were liquor stores with glorified ecommerce pages. Others, a bit more ambitious.
Hopsy, a start-up that launched last year, bypasses the shelves and delivers beer straight from the brewery to their customer's door. The beer comes in bottles, growlers, and, more recently, TORPs that pair with a home draft system to put fresh beer on tap in anyone's kitchen. The service launched in San Francisco and San Diego, and recently announced expansions beyond California and into Arizona, Idaho, Nevada, New Mexico, Oregon and Washington.
"Hopsy is for both people new to the craft beer scene, and veterans," says Daniel Munoz, a representative for Hopsy. "It ensures freshness and gives the opportunity to explore and discover new beers and expand your palate."
As an advocate for craft beer, this freshness factor can't be overemphasized. Each day that a craft brew sits on a shelf, customers have less and less incentive to shell out more for what's quickly becoming a beer that's just okay.
With Hopsy, "there's never a question of 'what's the date on that bottle?'" said Munoz. "What's more: We keep all our beer in true cold storage and deliver cold."
While beers can be ordered à la carte, for a party or long weekend, the biggest appeal for the busy drinker is the customizable subscription service. Drinkers answer a series of questions about what type of beer they drink, and how many they drink through in a typical week. They then set a delivery schedule (Munoz says most people deliver to their workplace), and they've officially automated their inebriation.
Get 1/2 Off a Four Growler Purchase
This post is presented by Hopsy, the brewery-direct delivery service.