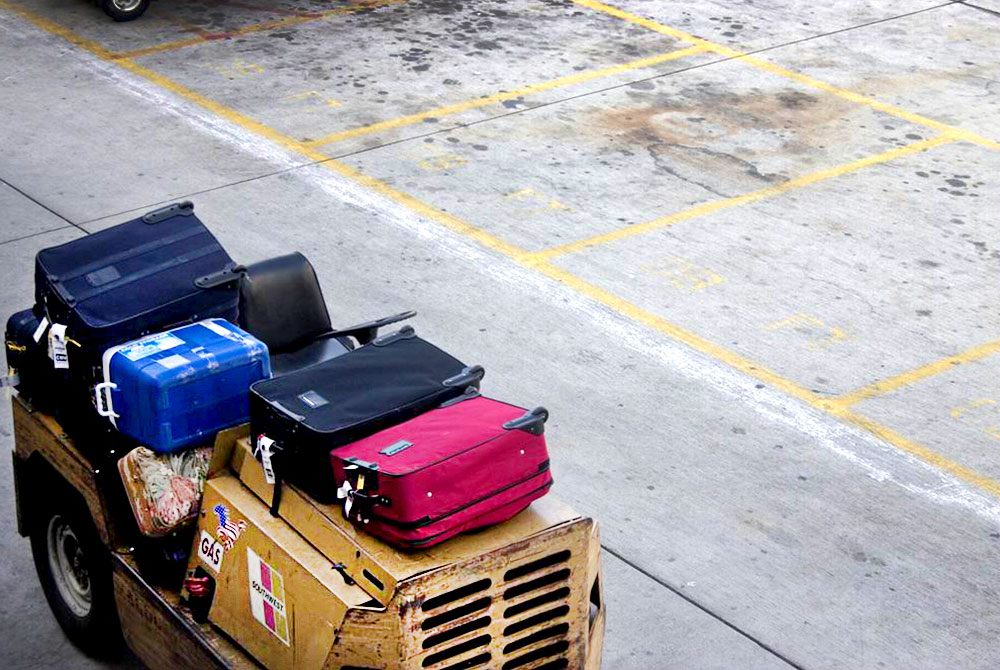 This article was originally published by our friends at BeerMenus, who — in addition to helping drinkers find craft beer — also run a blog.
Our office has been buying, packing, and flying with beer for years, and we've picked up a few tips along the way. So we decided to pool together what we've learned into a single article. Call it a PSA from our co-founder Will. I recently followed him around as he packed for an upcoming trip, and this is what I learned.
Why fly with beer?
Unlike a lot of products these days, beer is regional. Some of this is because of anachronistic laws. But it's also necessitated by taste and quality: as we've written elsewhere, beer is best fresh, and that means it's best to drink beer as close to it's birthplace as possible.
So you order Surly Furious at every bar in Minneapolis. You order an Other Half at every restaurant you visit in New York City. Same with Ocelot in DC, Toppling Goliath in East Iowa, and Russian River in northern California.
Simply put: when traveling, you drink local beer. If you're reading this, you're probably already doing that, so cheers to you.
But sometimes drinking the beer while you're there just isn't enough. Maybe you just couldn't satisfy your thirst and you want to bring some back to your home fridge. Other times a buddy asked you to grab something, or maybe somebody's birthday is coming up. What's better than an awesome, fresh "from-away" IPA? (Answer: not a damn thing.)
In all these situations, you've gotta buy beer to bring home. And that means you've gotta pack it, too, which is never an easy task. That's especially true when an airplane ride is in store.
Step 1: Pre Trip Research
Before we get too far you might be asking: Can't I just ship myself the beer?
You could, but you shouldn't. It's almost always easier and cheaper to check a bag filled with beer than it is to find a shipping company and mail yourself a package of beer. You're also getting into some gray areas, legally speaking, not to mention the risk of your beers shattering/leaking when UPS jettisons your package at your entryway with a t-shirt cannon.
More than anything else, though: do you actually want to spend a single moment of your vacation inside a post office? My dad's a retired postal worker, and even I shudder at that prospect.
Things to know:
Be sure to check how much your airline charges to check a bag. The standard rate is pretty reasonable (most domestic airlines range from $25 to $35), but there can definitely be nickel-and-diming outliers (we've all heard horror stories about Spirit Airlines in the US or Ryan Air in Europe).
Know that this is the price for your first bag. Your second bag is often much more expensive, so if you've got visions of packing up pallets of beer, be prepared to pay for it.
Also check the maximum weight your airline allows for a checked bag. For most airlines it's 50 lbs, but some (mostly international) airlines cap limits at 20kg, or about 44 lbs. Going over the maximum weight can drastically increase the checked baggage cost (sometimes by up to $100).
Light-Weight Baggage
Will hadn't upgraded his luggage for awhile, but he recently treated himself to a new bag. At only 7 lbs, it's a full 5 lbs lighter than his old one, meaning he can safely pack 3-4 more beers without going over the typical weight limit. That's more beer for his Brooklyn fridge
Baggage
Will hadn't upgraded his luggage for awhile, but he recently treated himself to a new bag. At only 7 lbs, it's a full 5 lbs lighter than his old one, meaning he can safely pack 3-4 more beers without going over the typical weight limit. That's 3-4 more beers that wind up in his Brooklyn fridge or at the office. And since at least one of those will be earmarked for me, I'd like to take this opportunity to thank Will for upgrading.
(Pro tip: On your outbound journey, put a soft, foldable duffel bag in the bottom of your hard shell carry-on. For your return flight, put your beer in the hardshell and check it. Put your clothing and other items in the soft duffel bag and carry it on. This is a big time space maximizer.)
Packing
All your preparation is important, of course, but the real meat and potatoes of this conversation is protecting your beer for its journey in the cargo hold. The last thing you want is to have a bottle break or a can rupture: you'll not only lose the beer, but you'll also be guaranteed a stinky bag, a full load of laundry, and a possible trip to the dry cleaners.
Step 2: Packing
1. Wrap each beer in a plastic bag. In transit, things happen. Wrapping the beers individually means that if one of your beers ruptures, the fallout will be mostly limited to that one bag, rather than your entire suitcase and all its contents. Ziploc bags work great, but if you don't want to buy anything, any plastic bag works just fine.
2. Individually pad each beer. Will's a pro, so he uses several two-bottle totes from Built New York, but you can also use clothes. Sweaters and pants are best, since they're a little bigger and thicker, but you can also use a series of smaller or thinner clothing. I've found a couple t-shirts per beer work just as well.
3. No jostling. Your mission here is two-fold: First, no two beers should touch. This is especially true with bottles, since glass-on-glass is a recipe for a problem. (Hint: if you gently knock two padded beers together and they make a dangerous-sounding noise, they either need more padding, or they shouldn't be near one another.) Second, make sure your beers have no opportunity to jostle. Securing them tightly reduces risk.
4. Weigh your bag. A little while back Will bought a portable scale. Before he even heads to the airport he weighs his bags from the comfort of his hotel room/AirBnb. If necessary, he can evenly distribute the weight between bags or polish off that limit-breaking beer or two. All while he's watching Out for Justice or another Steven Seagal classic.
Which beers should I take home?
All beer drinkers have preconceptions about what beers should be sought in different places. You're going to Vermont? You have to get some Heady Topper. Northern California? You must grab some Pliny.
These are great beers, no doubt, but there are tons of equally good beers that you've never heard of before. Those hidden gems are the beers you should seek out and bring home.
The best way to learn about them? Ask the people who know: your bartender or the person stocking at beer stores. They've not only got a local editorial perspective; they've also got their fingers on the distribution pulse. They'll know what's fresh, they'll know what's rare, and they might even know the brewers themselves.
And before you make the final purchase: make sure you can't get the beer at home. There's absolutely no point wasting space on beers you can just as easily get at the local beer store. Check BeerMenus to make sure it's not available around the corner from your front door.