Photography courtesy of @sammy.k.o | Wasatch Brewery
In Utah, the joke goes that most folks can ski before they can even walk. A state renowned for mountain sports, Utah has twenty-one ski resorts—ten considered world-class and located within a one-hour radius of the Salt Lake airport.
But Utah native and avid adventurer Sammy Olsen carved a different line.
"I didn't start skiing until I was eighteen," she says. But once Olsen bought that first ski pass and season equipment rental, she was hooked. "That sparked my passion for the outdoors," she exclaims.
So much so that, after college, Olsen bought a 1989 van off Craigslist for $3,000 in cash. "And then my dad traded a '98 Volkswagen Bug that was worth maybe $1,000 to the guy," she laughs. "So we got a pretty good deal!" After rebuilding the van for about $2,400, Olsen and her friend set off for a year, traveling around the Western United States and Canada, skiing and enjoying the outdoors.
"It was super fun because it was before van life was a thing yet," she tells me in our Zoom chat before catching her flight to visit Fiji. "We weren't getting kicked out of parking lots for camping."
Now permanently parked in the Sandy area, only twenty minutes from the world-class Snowbird and Solitude Mountain Resort, the voracious skier and mountain biking enthusiast hits the mountain five times a week (Monday through Friday, if possible, to avoid the weekend crowds, she told me).
For Olsen, getting outdoors means everything; it's her life. Well, that and drinking beer.
And the beer she chooses to bring with her into the great outdoors?
Wasatch's Last One Down, a lager made in partnership with Ski Utah for folks (like Olsen) who are the first ones up on the mountain and the last ones down.
What Is Last One Down?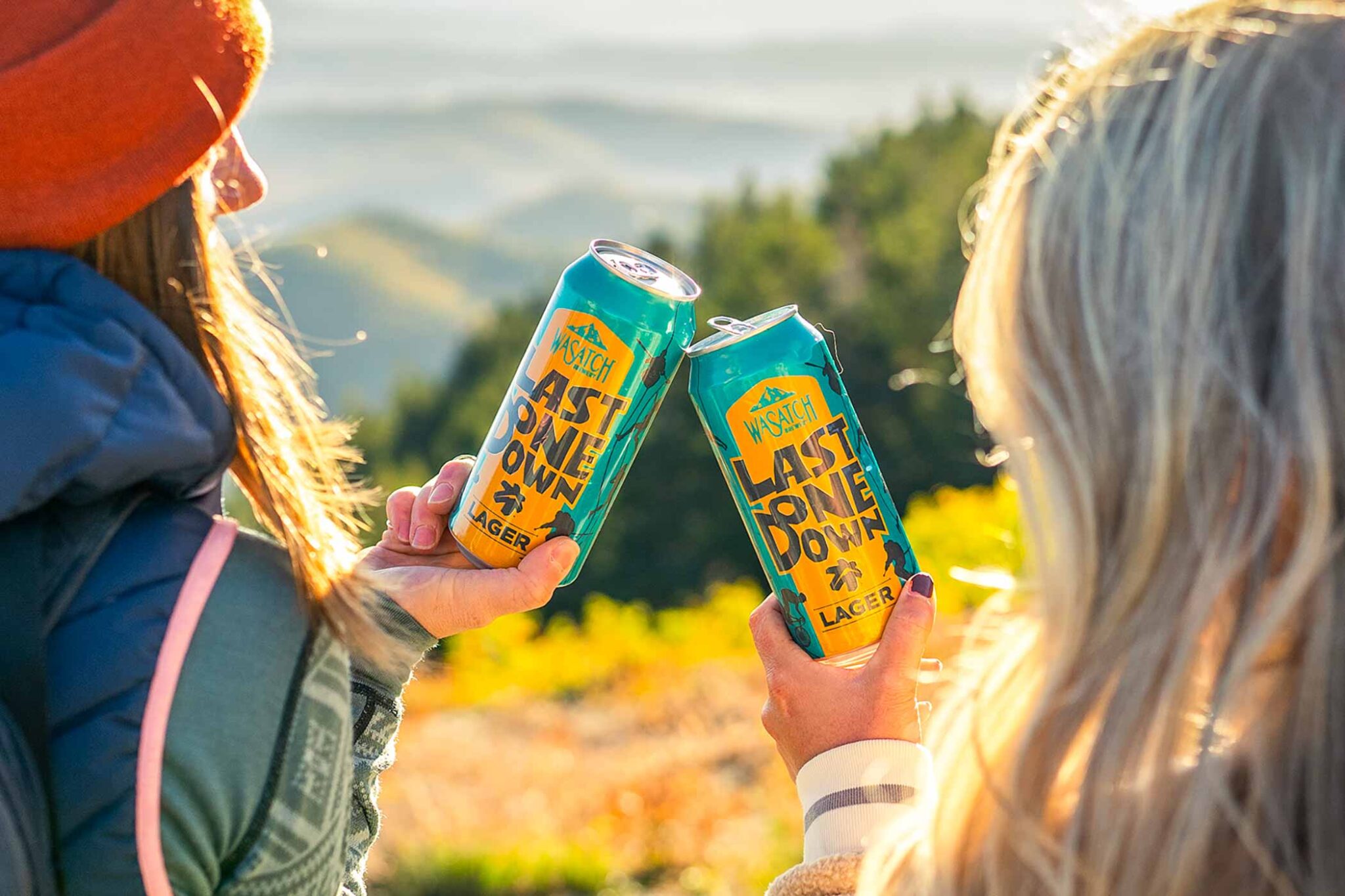 Wasatch engineered Last One Down as a nod to peak life, especially with Wasatch's origin in Park City, UT, aka ski and mountain town USA.
Brewed for those who hit the slopes in the fall/winter and the spring/summer, Last One Down encapsulates Utah in a can.
"Ski resorts are an all-year access point for the outdoors," says Kristin Martino, marketing manager for CANarchy Craft Brewery Collective, who welcomed Wasatch Brewery into its portfolio in 2017. Whether you're skiing and snowboarding in the snow or mountain biking and hiking in the sun, Utah's ski resorts are open to the outdoors any time of year.
So Wasatch designed Last One Down to be a beer for someone who wants to spend their entire day at a higher elevation.
Basically, for those like Olsen, who is constantly on the mountain (even sometimes to paraglide!).
"The Last One Down lager … is my go-to beer." she says. "[It's the beer] I take on the chair lift, the one I take with me to the resorts as like the aprés beer" because Wasatch made it low in ABV and super crushable.
You know, to ensure that you can be the first one up and the last one down (without tumbling down the mountain…).
Why Is Last One Down the Perfect Mountain Beer?
It starts with the basics: taste and drinkability.
"It's just refreshing," says Martino. "It's easy to drink; it has a soft mouth feel; it's very crisp, and it's in a 16-oz can, so you can get a little bit extra hydration!"
No matter the time of year.
"If it's summer and it's really hot out and you want a lighter tasting [beer], but then if you're also skiing all day, you want something that just goes down easy and quickly," says Martino. "[That's] why Last One Down works for the sports world."
Olsen agrees. "The flavor is just super smooth and refreshing," she says. "After a long bike ride … or you are done skiing for the day, it's a good beer to just quench your thirst."
But for Olsen, it's also all about the camaraderie that Last One Down cements.
She likes to pack a tallboy in her jacket "because my ski coat has big pockets and I hate skiing with a backpack," she laughs. "Or I make one of my friends ski with a backpack, and I'll be like, I'll provide the beer; you have to carry it, though!"
While on the slopes, Olsen says sharing a Last One Down is a great…icebreaker. "If you hit it off with someone on the chairlift, it's a super good way to be like, yeah, you want a beer and then also take some laps together," she says. "It's just a good way to connect with people."
Especially, she points out, if someone is visiting. "They're stoked because it's a cool [beer] and a local brand," she says.
And at the end of a long session, instead of going home, Olsen likes to hang out in the parking lot, drinking a couple of Last One Downs.
She recounted her latest adventure, mountain biking a new trail at Park City Mountain Resort. "We biked to the top and came down kind of sketchy because I had no back breaks," she told me with a smile. "We got down, we just hung out at the resort … sitting in the parking lot with our dogs, drinking beers, chilling, and talking about the ride."
It's almost like Olsen and her friends took the taproom to the trail. Instead of packing it in and heading to a brewery, they brought the brewery to the bottom of the mountain.
"We go on these crazy outdoor adventures, but then we just hang, drink beers, and talk about it all—what we liked, what was something sketchy we did," she says.
Sure, riding the line or tackling the trail was an adventure. But half the fun comes from reliving those moments with friends over a beer.
"It's just this common way [of] celebrating and taking time to enjoy what you just did rather than getting in your car and leaving right away," says Martino.
Where Can I This Beer for My Next Adventure?
Before heading up the mountain, stock up on Last One Down at any grocery store, multi-outlet, or convenience store within Wasatch's footprint in Utah. Available in 12-packs with 16oz cans (what Martino calls "a hefty pack"), Last One Down can also be enjoyed at the brewpub itself.
At The Cold Beer Store in Salt Lake City, Wasatch keeps the beer cold, sells it in individual cans and even stays open on Sundays (in Utah, liquor stores are not allowed to sell on the last day of the week).
However and wherever you decide to nab your Last One Down, just make sure you get your hands on one.
Don't be the last one! Because after you spend the whole day skiing, hiking, bike riding, or whatever it is you love to do outside, you're going to want to chill in the parking lot, drinking a Last One Down, laughing, and reliving all your adventures.