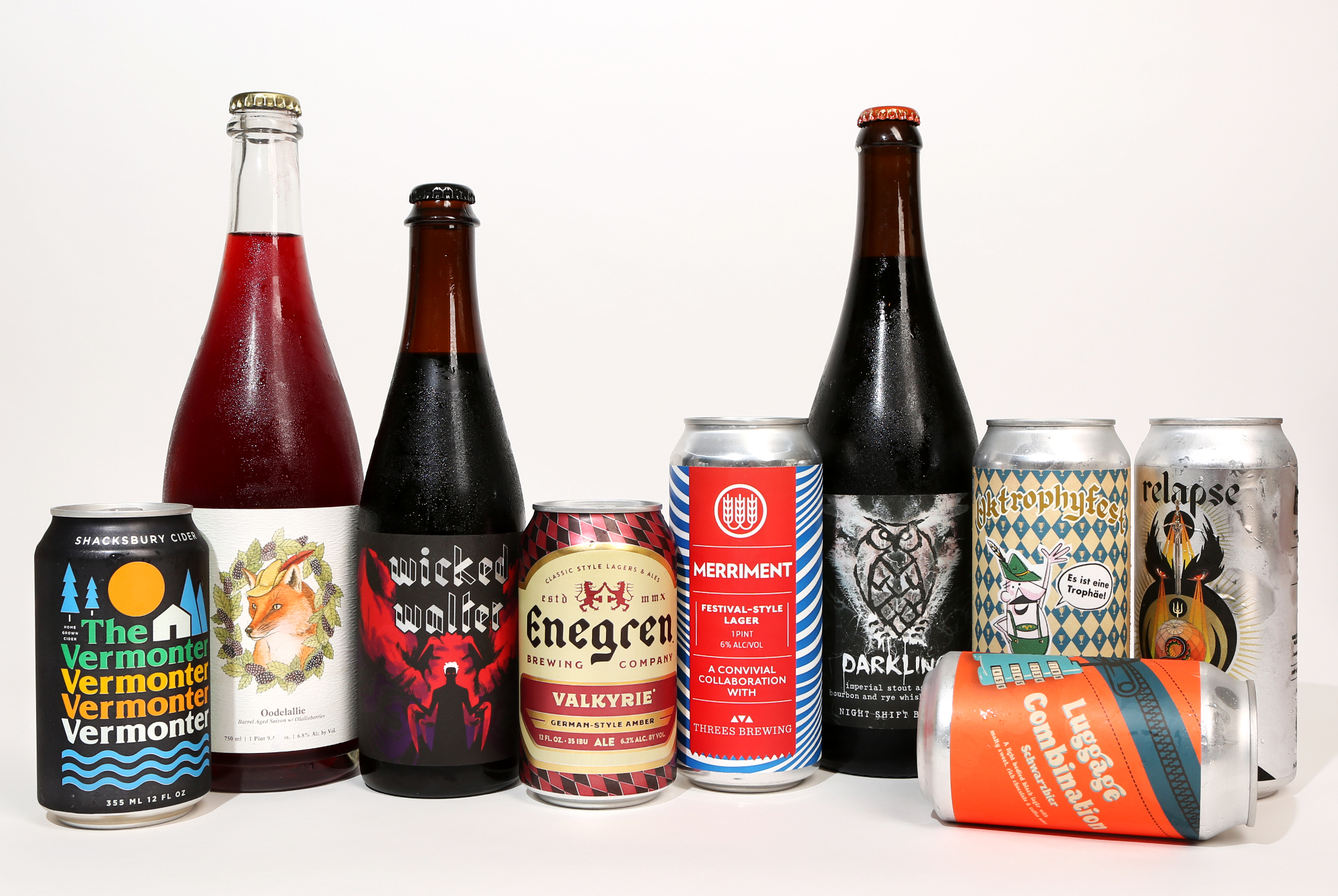 Photography by John A. Paradiso
Fall very well might be the best time to drink beer.
Now, don't get me wrong. A warming stout in the dead of winter or a crisp, refreshing lager to cool off on a sweltering summer day are things of beauty. But, there's something special about sitting on the porch while drinking a Märzen. Or lounging around a campfire with a lightly tart rustic saison. Or sipping on an imperial stout while watching a horror movie. Or… well, you get it.
We probably sound like a broken record at this point, but enjoying beer in 2020 looks very different from years past. Many breweries have shifted to largely to-go models with some even offering delivery. And, if you're looking for beer from farther-flung breweries, many have beer available on Tavour. So, while you might not be able to enjoy a freshly poured beer at your local taproom, you can likely find a great fall-worthy beer to bring with you on a socially-distanced adventure.
Whether you're looking for a classic Oktoberfest or something that bends the rules on Autumn beers, we've got you covered. And if you need some holiday-specific recommendations, check out our picks for Halloween and Thanksgiving.
As always, this list includes a mix of local brewery releases as well as some more widely accessible beverages. Plus, we dipped into the Hop Culture cellar for some fall-friendly picks. Our guide to the best fall beers should merely serve as a blueprint. If you can't find a specific beer we include, ask your local brewery if they have something similar.
The beers are presented below in alphabetical order by brewery.
Our Favorite Beers For Fall 2020
Luggage Combination
2nd Shift Brewing — St. Louis, MO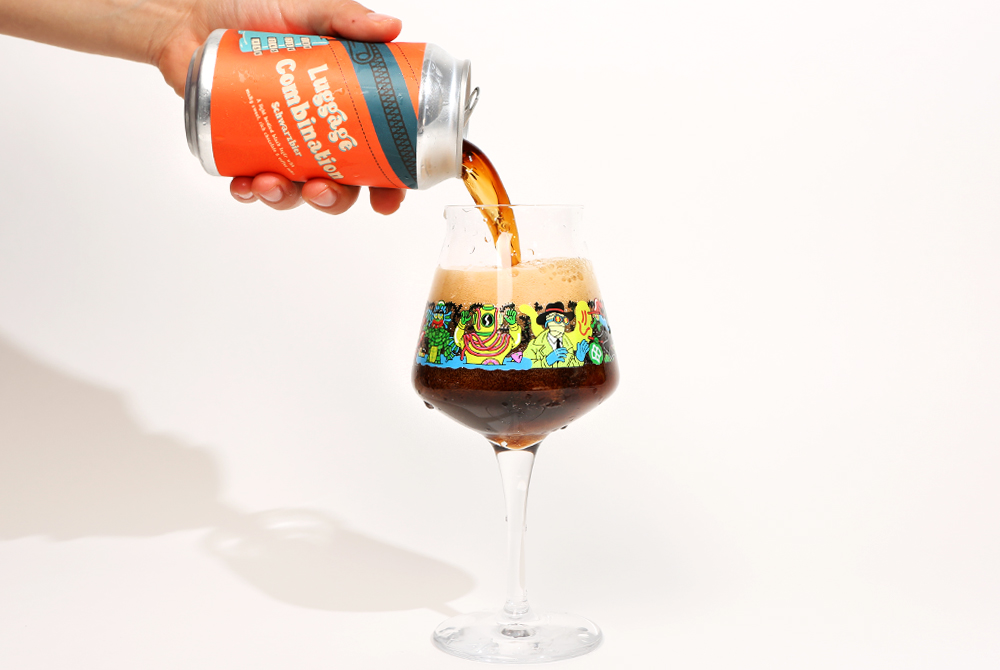 Schwarzbier — 2nd Shift has been around for long enough that this shouldn't come as a surprise, but the St. Louis brewery consistently produces some of our favorite lagers. And this Schwarzbier from 2nd Shift should certainly be on your fall drinking menu.
Luggage Combination is a traditional black lager. Don't be alarmed by that deep, rich color. With sweet bread, chocolate, and coffee notes, this beer is light and smooth in body. We'd recommend pairing with some pumpkin carving and maybe a rack of ribs.
Original Maine Ale
Austin Street Brewery — Portland, ME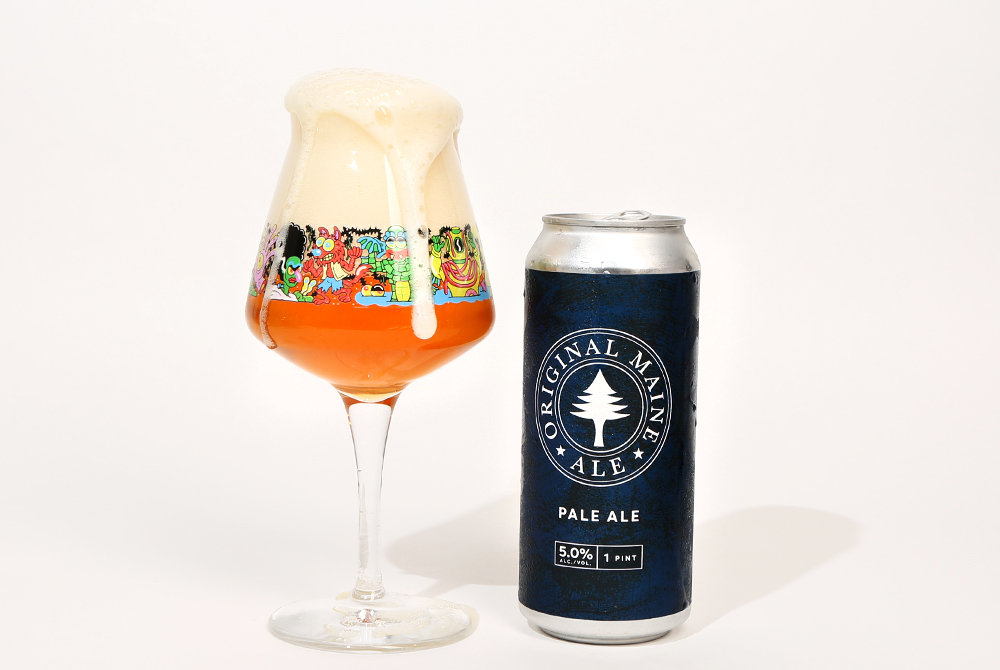 Pale Ale — Brewed in collaboration with Original Maine Flag Co., this pale ale is an ode to all things Vacationland. Original Maine Ale was brewed by Portland's Austin Street Brewery using all Maine ingredients from The Hopyard and Blue Ox Malthouse.
You'll find some slightly sweet caramel notes alongside a touch of citrus, honey, and a gentle piney backbone. Whether you're taking this one out on a weekend camping trip or enjoying from the comfort of your own home, Original Maine Ale will fit right in.
Fresh on Fresh (2020)
Bearded Iris Brewing — Nashville, TN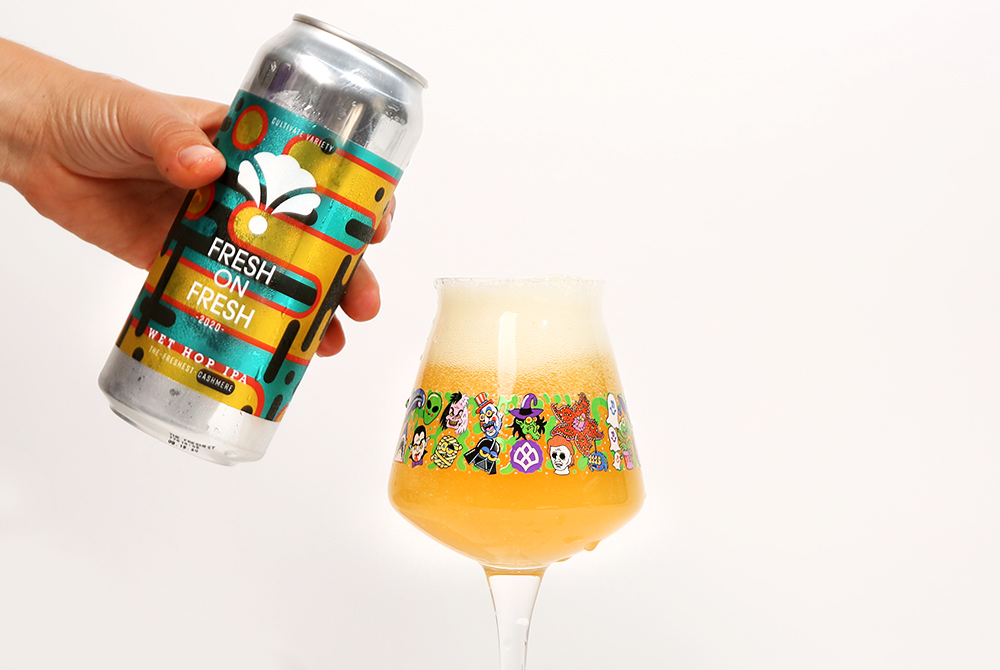 Wet-Hopped IPA — 'Tis the season for wet-hopped ales. (If you need a primer on wet- and fresh-hop beers, click here.) And while many of the commercially available Wet Hop IPAs lean West Coast in their flavors, Bearded Iris looked Northeast.
This New England wet-hopped IPA is bursting with aromatic hops. Brewed with Cashmere, Citra cryo, and Citra, Fresh on Fresh is exceptionally juicy with notes of papaya, tangerine, lime, and melon. It's an excellent example of the hazy IPA style and what a difference freshly picked hops can make to your beer. Even though the flavors might sound tropical and summer-y, we'd recommend cracking this on one of those rare, warm fall days and putting on a Jenny Lewis album.
Wicked Walter
Benchtop Brewing Co. — Norfolk, VA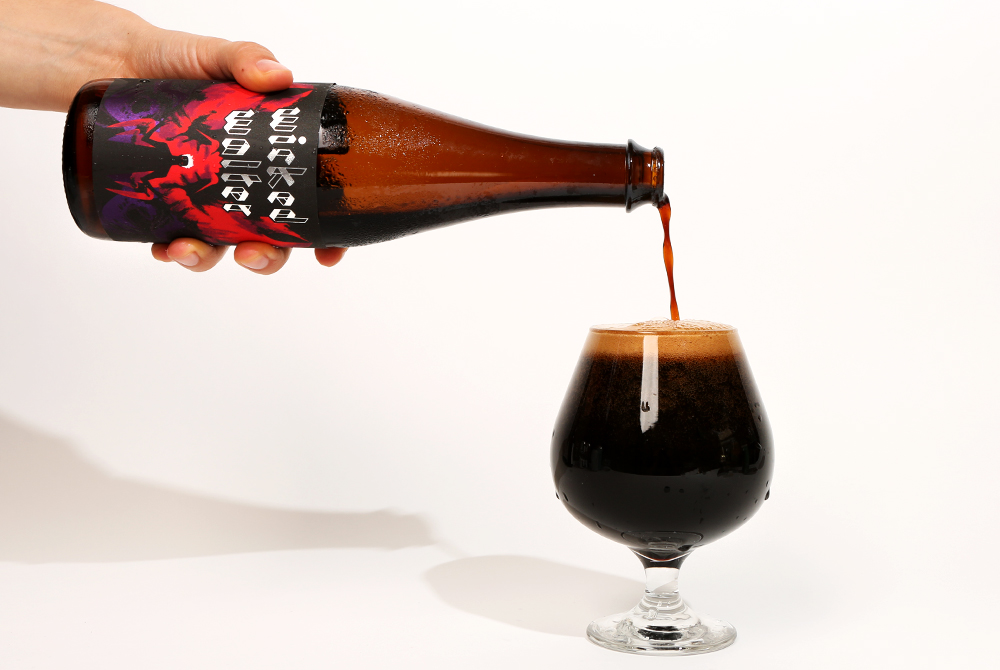 Imperial Stout — We've had this bottle in the ol' Hop Culture cellar for a minute and decided to save Wicked Walter for the cooler weather. And although the coconut produced quite the beachy flavor, we think this beer fits right at home in Autumn. Like hitting the beach on a slightly warm, windy day in mid-October.
Brewed with coffee beans, cacao nibs, coconut, and maple syrup, and then aged in maple bourbon barrels, Wicked Walter hits hard. All of those flavors are felt, perhaps with coconut leading the way, and the 10% ABV is present. But, it's a delicious ride. The coffee is roasty and even a touch stone fruit-forward. The chocolate and maple meld for a sip of chocolate chip pancakes. And the barrel-aging imparts a silky, vanilla touch with some oak present.
Clockworks Blend 3
Cellador Ales — North Hills, CA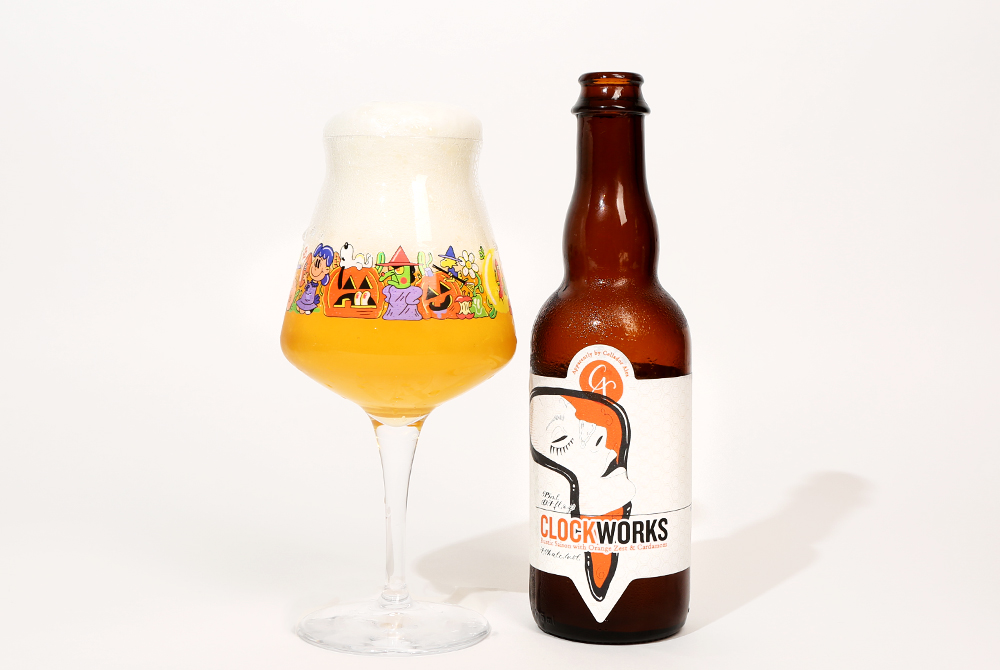 Rustic Saison — This was absolutely stunning. Cellador remains one of our favorite sour producers, and this is a prime example of why. Blend 3 of their Clockworks series is a rustic saison with orange zest and cardamom. The slightest whiff brings dynamic and delightful aromas of orange peel, orange juice, and cardamom.
Each sip is pure joy, complex and changing with zesty orange and spicy cardamom playing the lead. But there's a pleasant tart acetic note in the background. I'd bring out a nice snack board to go with this one.
Valkyrie
Enegren Brewing Co. — Moorpark, CA
Altbier — Enegren is, without a doubt, one of the best lager breweries on the West Coast. And like any great lager brewery, it's because they're simple. Where the aforementioned Clockworks from Cellador is complex, nuanced, and a bit challenging, Valkyrie is one thing: good.
Valkyrie is a highly drinkable Altbier, brewed following traditional German brewing styles. (Alt means "old" in German.) Produced with over 60% imported Munich Dark Malt, Valkyrie is toasty, malt-forward with some caramel sweetness and a hint of nuttiness. It's the ideal beer for your at-home Oktoberfest parties.
Hearthbound
Fox Farm Brewery — Salem, CT
Porter — You might notice a theme developing with our fall beers: we're feeling very roasty, toasty, and cozy with our choices.
Hearthbound, which (true to its name) belongs beside a roaring fire, is a rich, robust porter. Bittersweet chocolate and freshly-brewed coffee flavors are prominent with some gentle, sweet malt notes. But, this beer also manages to be crisp, refreshing, and — at 6.5% ABV — pretty drinkable. So light that bonfire in the backyard and drink your new favorite fall beer!
Gingerbread Stout
Hardywood Park Craft Brewery — Richmond, VA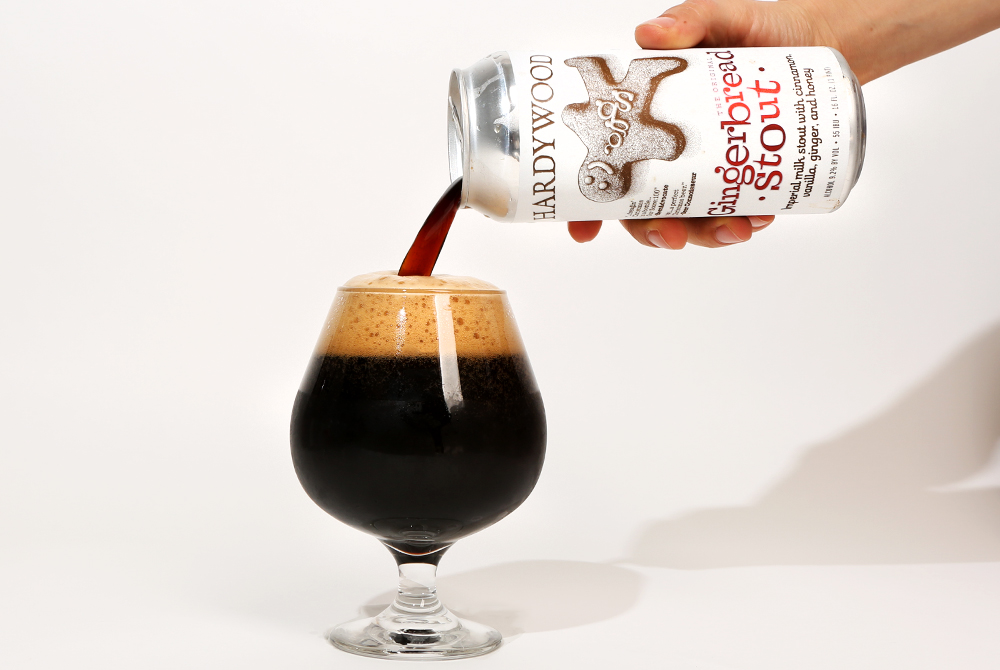 Imperial Milk Stout — All right, I know what you're thinking. Yes, this has previously been a winter beer choice. And sure, this might be another example of seasonal creep. But, time is a construct. You can drink a gingerbread beer whenever you want! And we think you're crazy if you give this a try and claim it isn't a perfect beer for a cold fall evening.
Brewed with ginger, honey, Madagascar bourbon vanilla beans, Vietnamese cinnamon, and lactose, Gingerbread Stout tastes like a freshly baked cookie. It's thick and velvety smooth with fantastic spice characteristics and a frothy foam. Celebrate the holidays a little early with this one.
Smoaktoberfest
Live Oak Brewing Co. — Austin, TX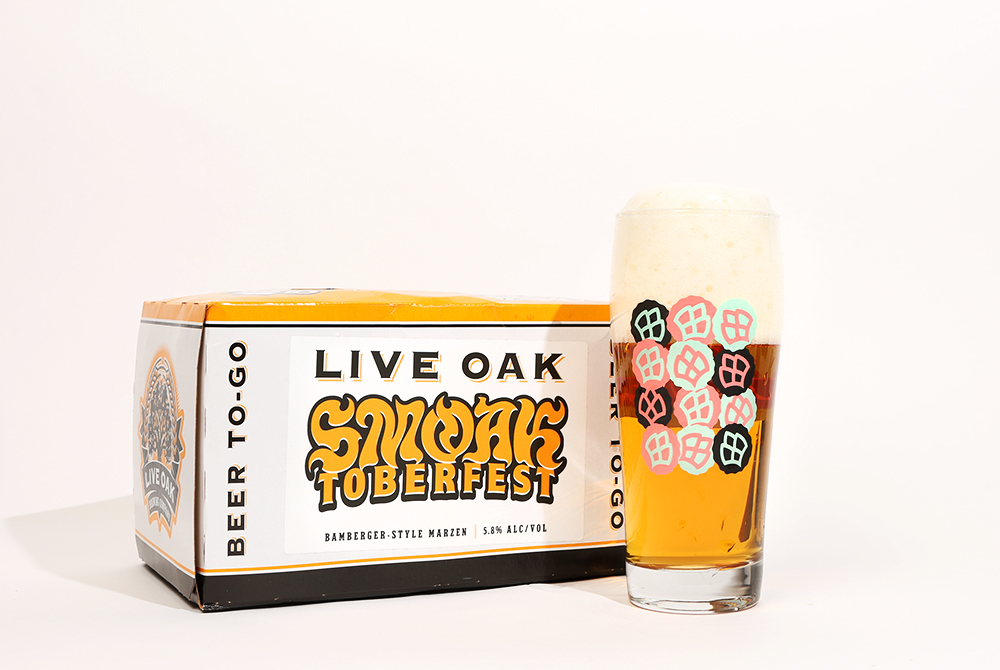 Smoked Oktoberfest — Few styles give beer drinkers pause like a smoked beer. And to be fair, smoked beer can be a bit of an acquired taste, and a smoked beer can go quite wrong in the wrong hands. But we trust the smokey masters at Live Oak to deliver something truly special.
And deliver they did! Smoaktoberfest sees a traditional Festbier get the smoked treatment for a refreshing, sweet malt-forward lager with some campfire, smoked ham, and woodsy flavors. The restraint and subtlety means you still get some traditional Bavarian malt characteristics that are balanced by the smoked malts.
Darkling
Night Shift Brewing — Everett, MA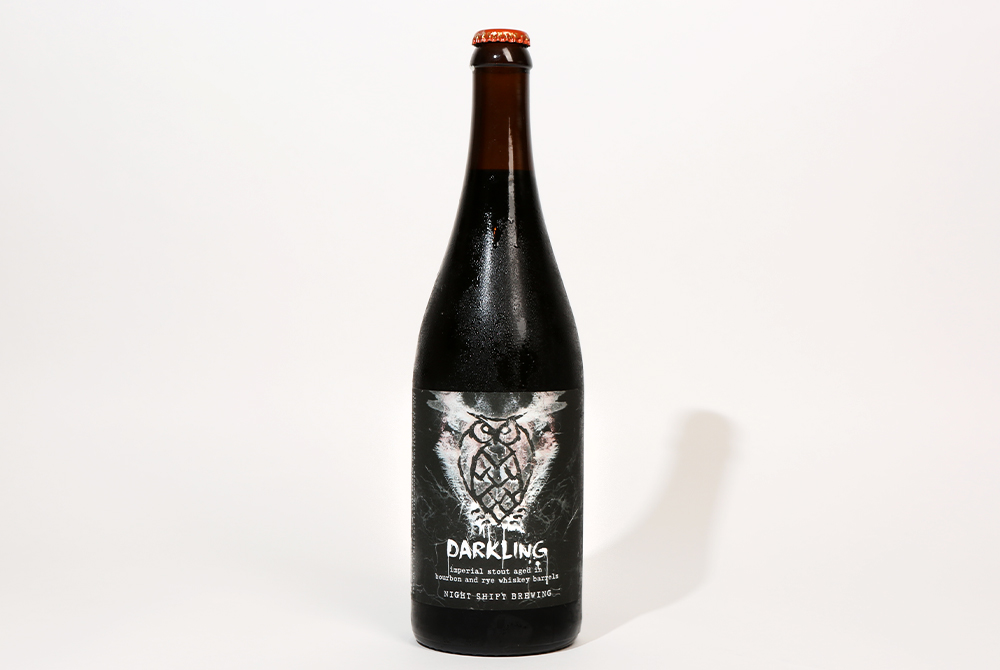 Imperial Stout — Another selection from the hallowed Hop Culture cellar, Darkling is Night Shift's annual bourbon barrel-aged imperial stout. And it's ideal for the fall.
Darkling is effectively Night Shift's Halloween beer. It's deep, dark, and spooky. No, not really spooky. Just very tasty. There's some delicious smoky char in the background with plenty of decadent caramel, coffee, and chocolate with a vanilla streak right through the middle. This particular bottle was from 2017 and has held up marvelously. If you can find vintage releases of this beer, I'd highly recommend scooping it up. But any iteration — even a fresh one — is worth grabbing.
Merriment
Schilling Beer Co. + Threes Brewing — Littleton, NH + Brooklyn, NY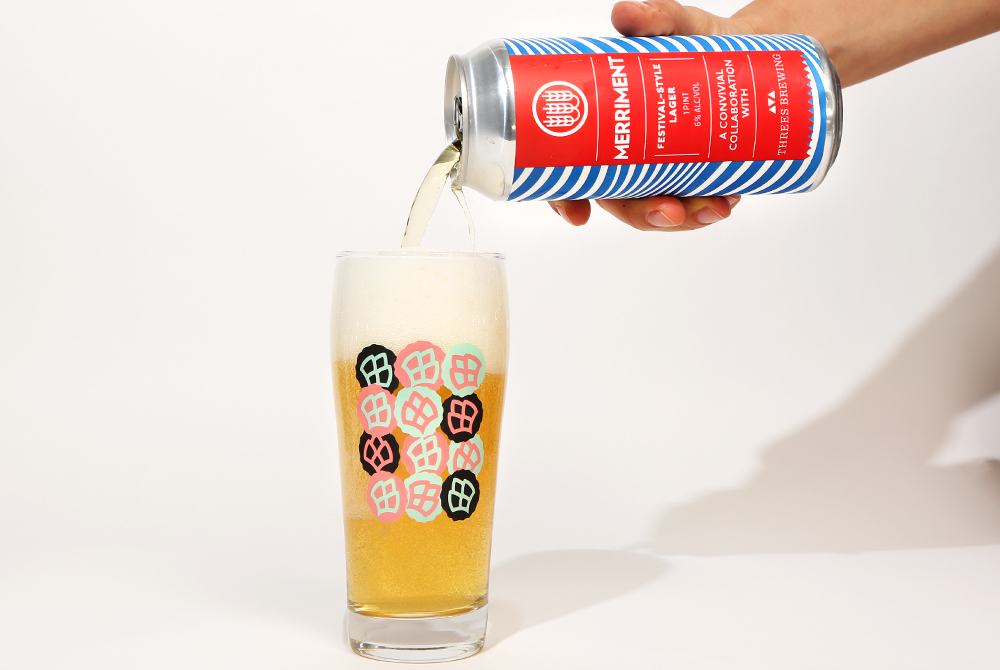 Festbier — Schilling Beer Co. was included as one of our most underrated breweries of the year. And this New Hampshire brewery has definitely flown under the radar for many.
Over the past few years, Schilling has been brewing some fantastic lagers (among other beers). And frankly, it was hard to pick just one of their beers for this article. But, we ultimately settled on Merriment, a collaboration with another stellar East Coast brewery: Threes Brewing. Merriment is a pale lager brewed with Mandarina Bavaria, resulting in some nice orange peel and light citrus flavors.
Overall, this beer is exceedingly refreshing, lightly golden in color, and worthy of a spot in your fridge.
Barrel-Aged Cedar Oak
Scratch Brewing Co. — Ava, IL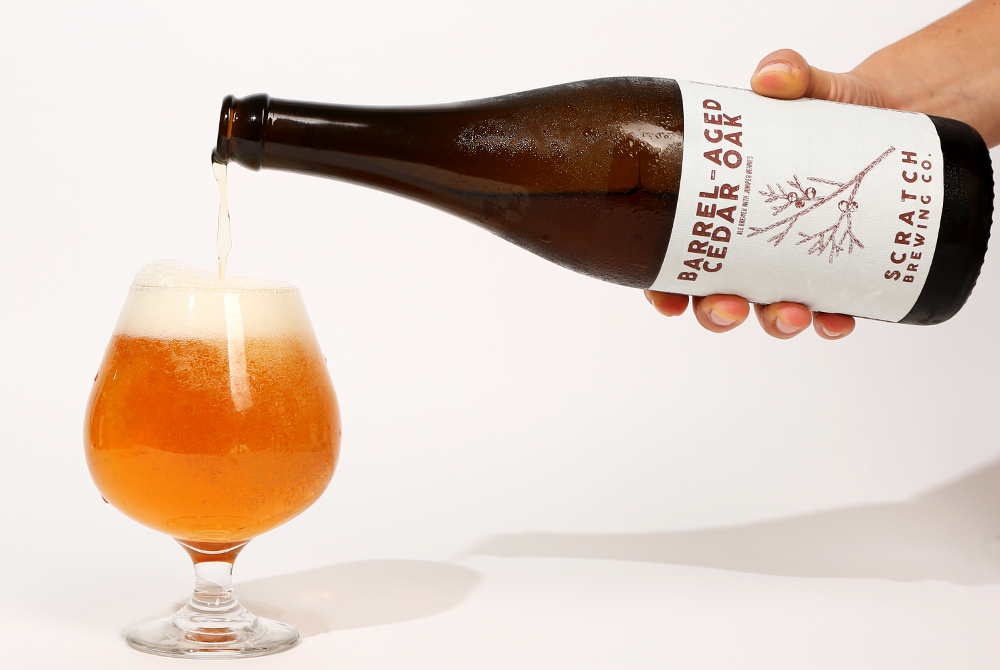 Saison — Scratch's beers manage to be both timeless and hyper-specific. The Scratch Brewing team forages for its ingredients, creating a delightful cocktail of fresh herbs, berries, and eclectic flora in their beer.
This beer, aged in oak barrels, somehow manages to feel relatively light. It's certainly a smooth sipper and the oak character is present, but there's an airiness that sticks through. Perhaps that's owed to the fruity aroma and herbal, juniper-forward flavor. Either way, Barrel-Aged Cedar Oak is a charming beer that could accompany just about any meal.
The Vermonter
Shacksbury Cider — Vergennes, VT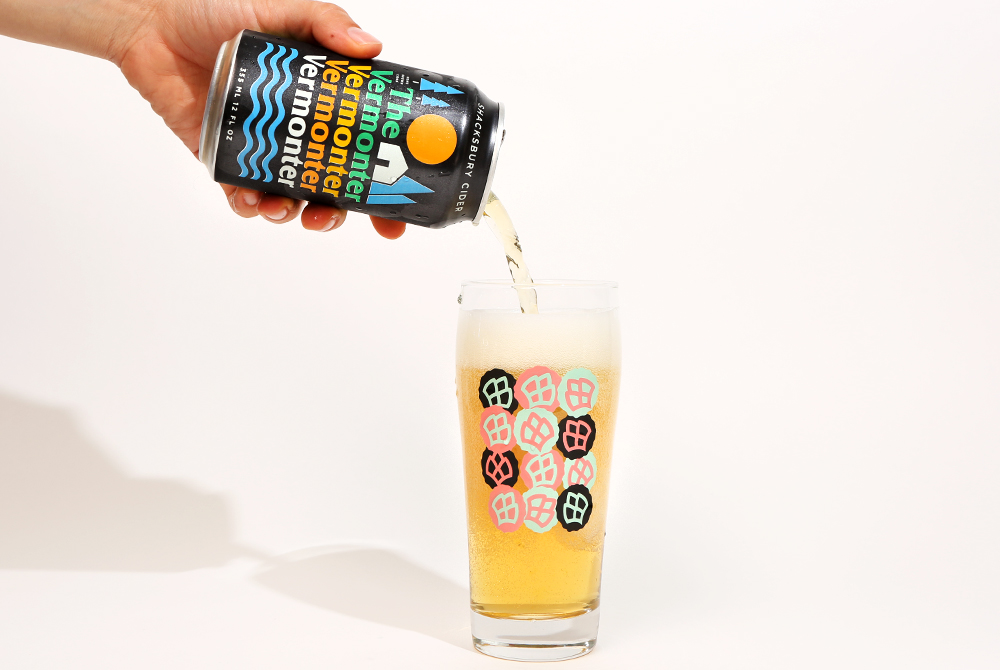 Gin Barrel-aged Cider — Just about all of Shacksbury's offerings are fall-worthy. But, each sip of The Vermonter, a gin barrel-aged cider, takes me right back to Shacksbury's annual Harvest Camp. The leaves are falling, the campfire is roaring, and we're playing cider flip cup.
Nostalgia aside, The Vermonter is a dynamic and playful cider. With strong juniper flavors and a refreshing dry finish, it's crisp and autumnal in both flavor and drinkability. Plus, the new 12 oz. format means we can stock our camping cooler full of these amazing sippers.
Oktrophyfest
Trophy Brewing Co. — Raleigh, NC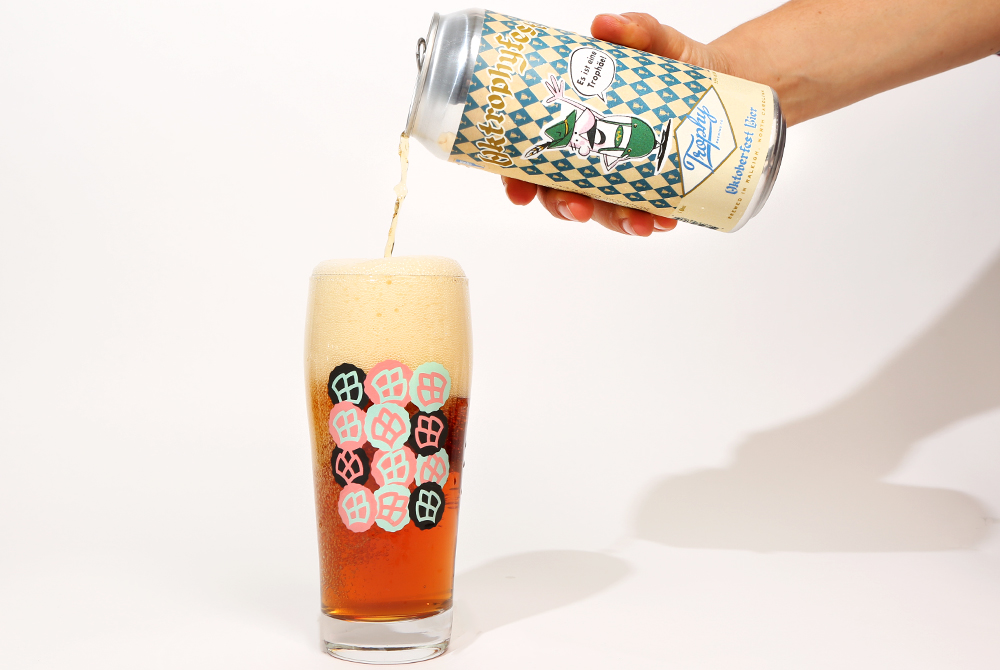 Märzen — At this point, Oktoberfests are a dime a dozen across the country. But, few are able to truly capture the essence of the German party in their beer.
Not only does Raleigh's Trophy Brewing manage a pretty spectacular pun, but they made a fantastic Märzen. Brewed in the tradition of classic Oktoberfestbiers, Oktrophyfest is a ruddy caramel in color and light and smooth in body. There's a wonderful, freshly baked bread aroma and even a touch of citrus in flavor, which is likely owed to the late addition of Australian Galaxy hops.
Pair with some bratwurst for a true Oktoberfest experience.
Polygraph
Urban Artifact — Cincinnati, OH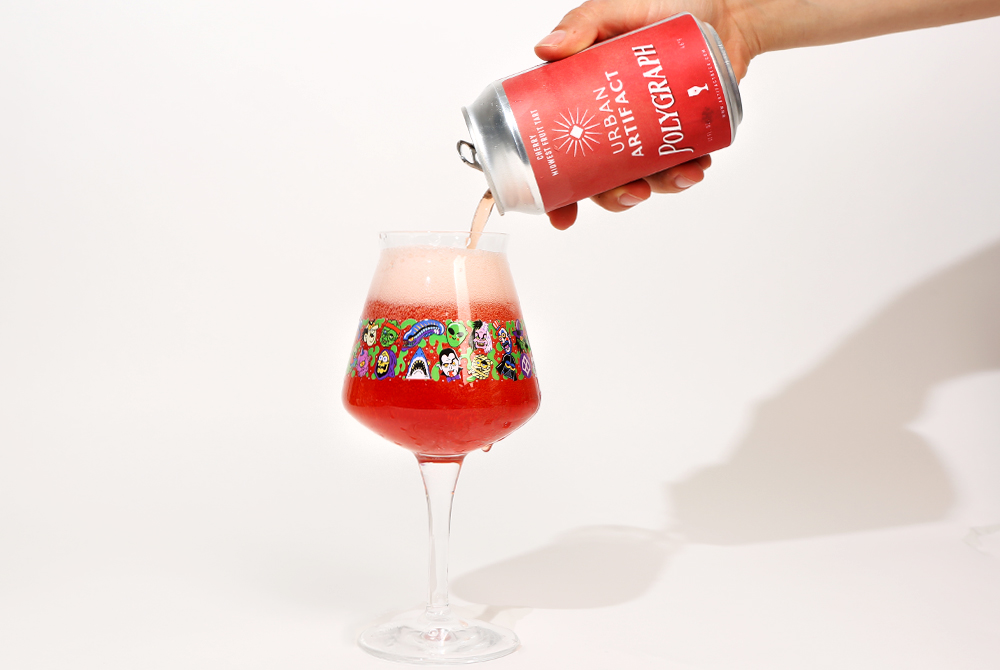 Midwest Fruit Tart — Urban Artifact has quickly yet quietly taken the lead on true sour ales in the Midwest. Few manage to create such complex, fruit-forward beers with the nuance of Urban Artifact.
Polygraph, a bright and bold red sour ale, is brewed with Montmorency cherries and vanilla, resulting in a sharply tart yet surprisingly smooth beer. If you can somehow resist, I'd recommend holding on to at least a few cans until Thanksgiving. Or just cook some turkey and enjoy right now.
Nitro Sweet Potato Ale
Vault Brewing Co. — Yardley, PA
Pumpkin Beer — Perhaps one of the most obvious fall beers on this list, Nitro Sweet Potato Ale is Autumn in a can. Brewed with roasted sweet potatoes, Madagascar vanilla, cinnamon, nutmeg, molasses, and lactose, this beer has a fantastic spice quality and some lovely sweetness. Plus, the addition of nitro makes this beer smooth, frothy, and creamy in the best way.
Nitro Sweet Potato is easily one of the best examples of a pumpkin / spiced beer we've come across. For a true Fall experience, it's definitely worth a try.
Wolf Summoner
Von Ebert Brewing — Portland, OR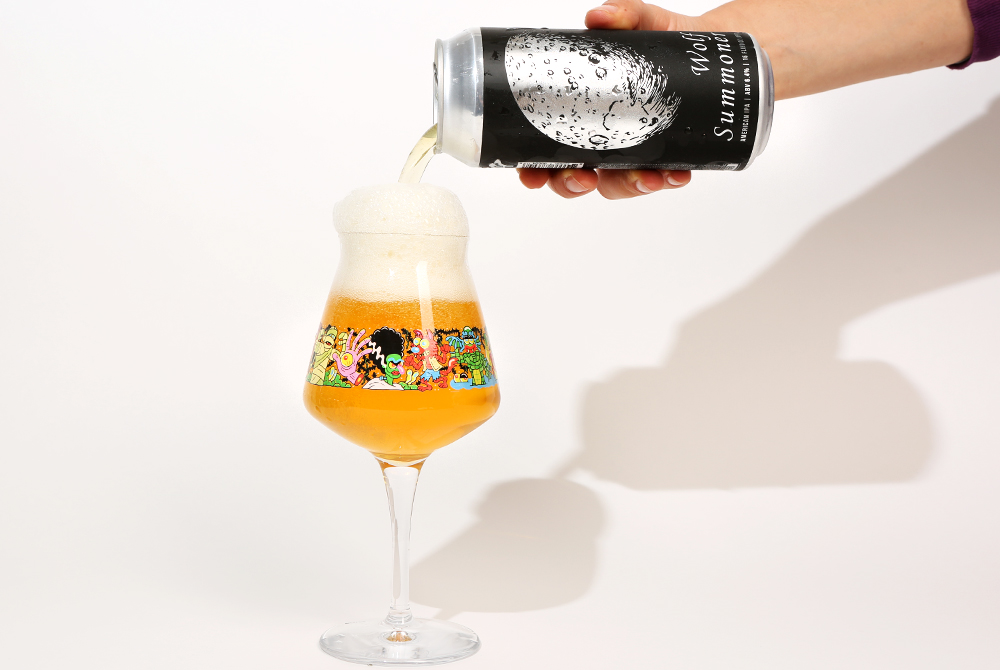 West Coast IPA — A fall beer more in aesthetic than flavor, this West Coast IPA still offers some chilly, weather-appropriate characteristics.
The can design is what sold us, but this beer — brewed with Galaxy, Rakau, Strata, and El Dorado hops — blends tropical flavors with a bitter bite for a refreshing, tasty beer. Crack open a can for Halloween and look out for werewolves.
Relapse
Wayfinder Beer — Portland, OR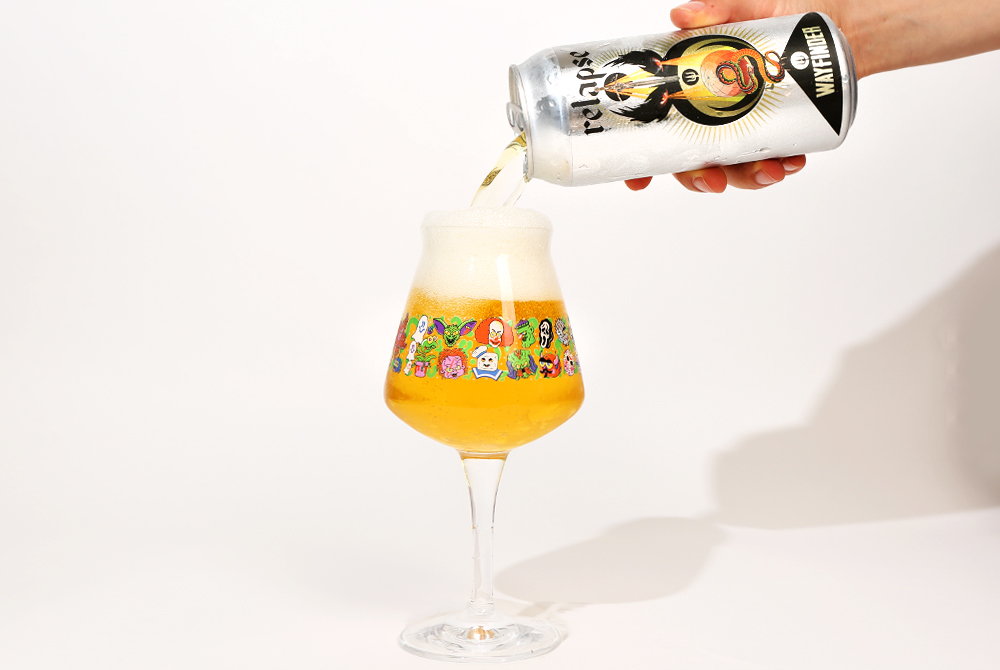 West Coast IPA — No, you're not seeing double. We included two West Coast IPAs in a row! And not only that, but we included two Portland breweries in a row. And we couldn't help ourselves!
Though Wayfinder makes a mean lager, we decided to focus on their fall-worthy hoppy beer: Relapse. Brewed with a healthy combination of new school and old school hops, this beer is decidedly West Coast. In fact, Wayfinder describes it as "Wester than West Coast." It's bitter, resinous, and clean… exactly what you need on a cool, crisp day.
Table Mesa
Wren House Brewing Co. — Phoenix, AZ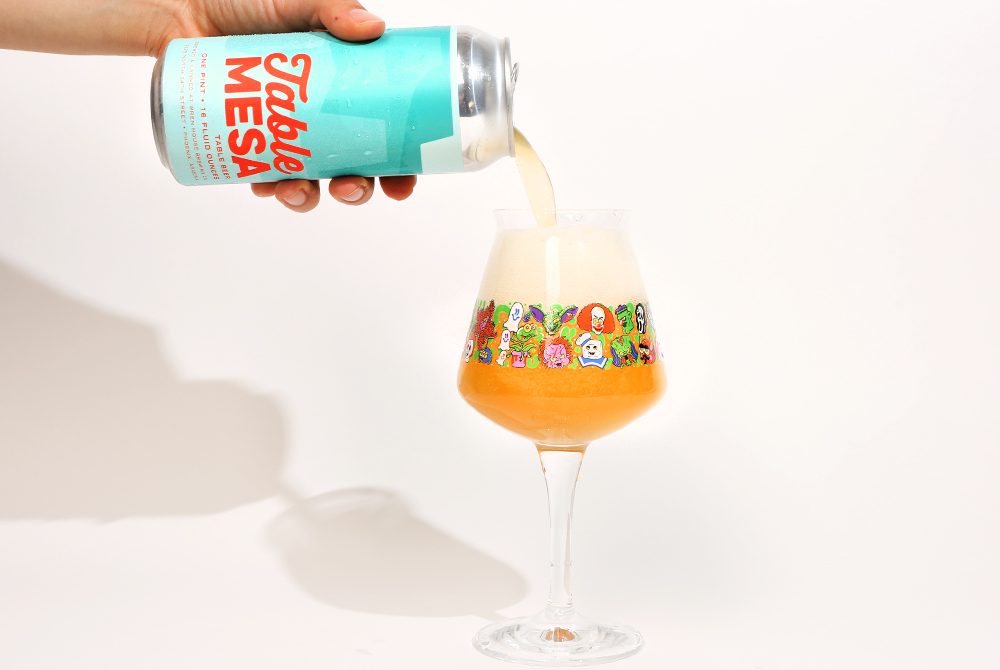 Table Beer — Table Table table beer. (Or Mesa Mesa mesa cerveza.) The joke may have played a more important part than the beer, but the beer is still very good.
Table Mesa does exactly what a table beer needs to do. It's highly drinkable, light in both body and flavor, and subtle. There's a spice characteristic along with some stone fruit. But at the end of the day, at 3.1% ABV, this is a beer meant to be paired with a meal.
Oodelallie
Yeast of Eden — Carmel-by-the-Sea, CA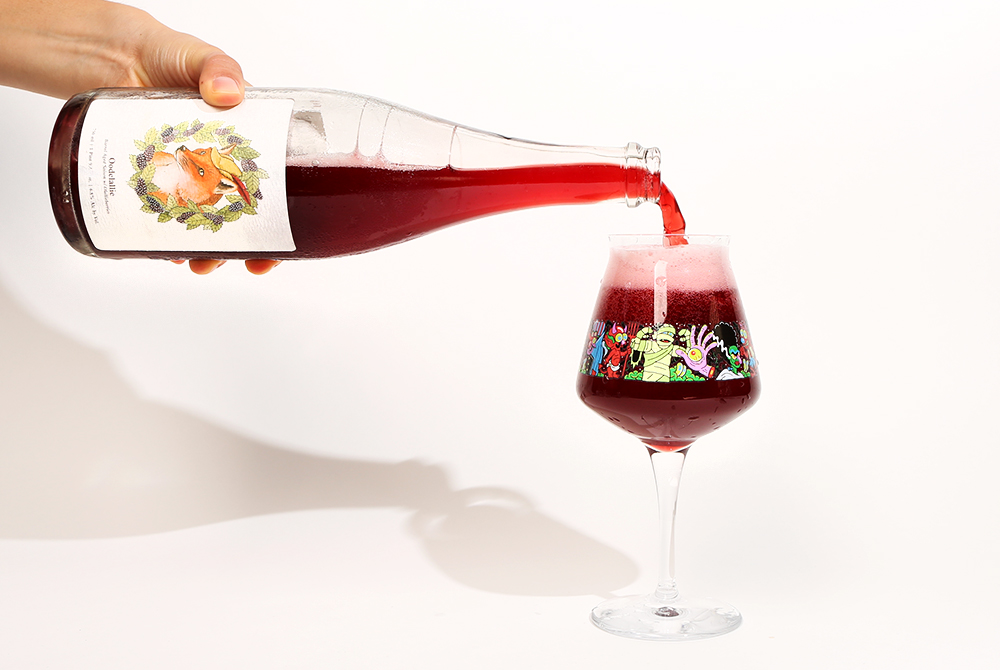 Saison — We've saved the best for last. (Not really — this is an alphabetical ranking. But kind of.)
Oodelallie is hands down one of the best beers of the year.
It's jammy, crisply sour, and lively. A mix of barrel-aged saisons that was then aged on olallieberries, Oodelallie of course has some strong sour berry flavors. But there's also a sweetness to this beer, like pie à la mode. Although the estery saison qualities are a bit overshadowed by the strong fruit flavors (which isn't a problem), there's is definitely some wonderful funk to this beer.
Oodelallie is a wholly unique beer. While it may appear summer-worthy, it's actually perfect for fall. Pair with your favorite cheese plate for a picnic in the woods. A chill autumn breeze is in the air and the leaves are changing right before your eyes. Golly, what a day!
Liked this article? Sign up for our newsletter to get the best craft beer writing on the web delivered straight to your inbox.