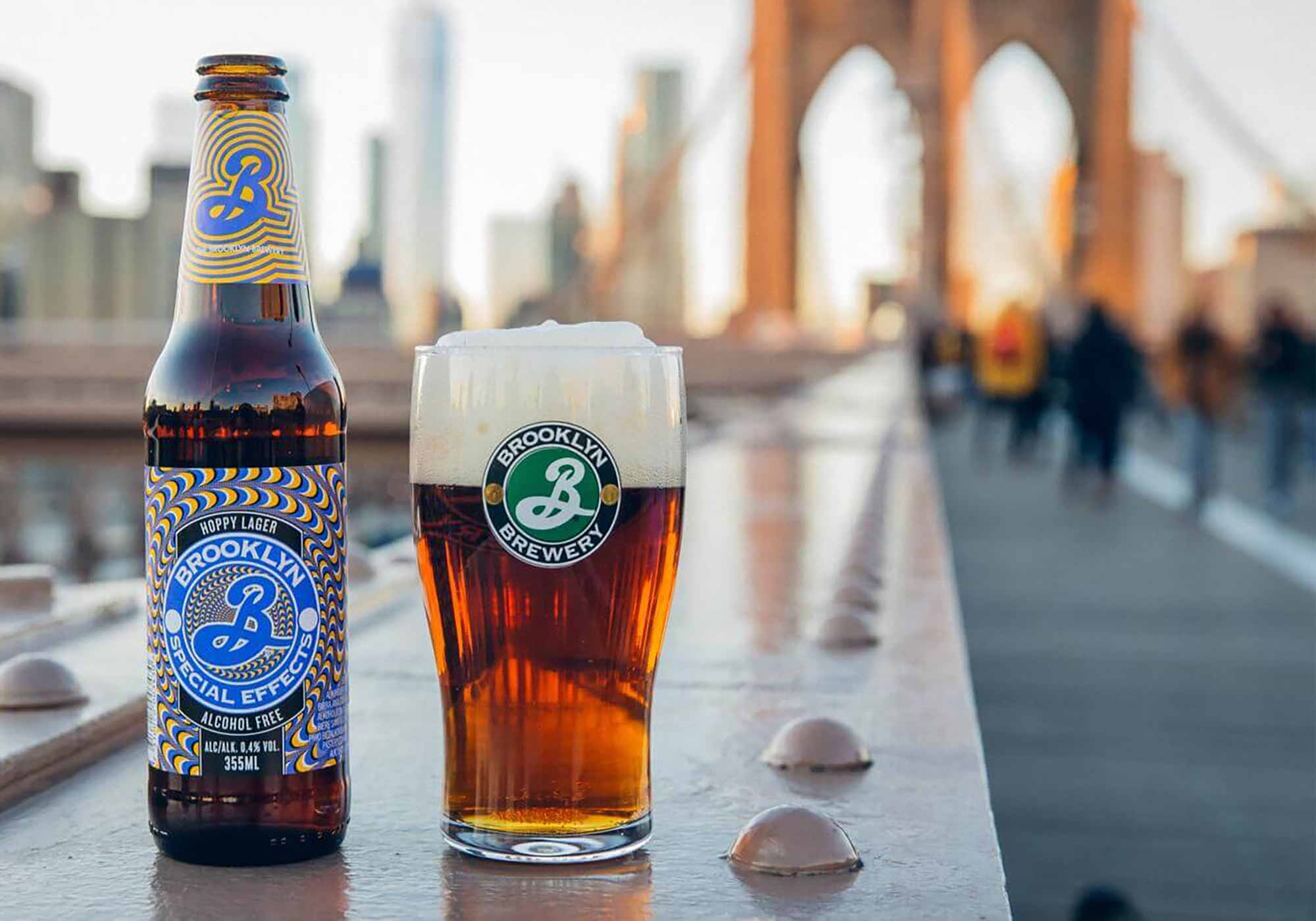 Photography courtesy of Brooklyn Brewery
Every new year kicks off with Dry January, a month where people often choose to cut out alcohol. It's a way of starting the year fresh, taking time to recharge one's mind and body sans booze. But that doesn't mean you can't drink beer. Currently, there are plenty of fantastic non-alcoholic beers on the market.
During the holiday season we spent plenty of time recounting our best beers, best breweries, and best new breweries of the year, so we can confidently say we drank quite a bit. As a result, partaking in a bit of low-ABV liquids seems just fine.
Additionally, the global pandemic has put health first in the minds of many consumers. So it makes sense that according to the third annual BevAlc Insights by Drizly Retail Report, non-alcoholic (NA) products are up 120 percent on Drizly since 2020.
Gone are the days of NA beers with no taste. Today, the market has seen growth from fully NA brands producing flavorful NA beers. For instance, Athletic Brewing Co..
Or Rescue Club, which we named one of our best new breweries of the year.
Additionally, major established brands like Dogfish Head and Boston Beer Co. have crafted their own NA beers.
Last year, Dogfish Head released Lemon Quest, a non-alcoholic wheat beer with lemon puree, blueberry juice, acai berries, monk fruit extract, and sea salt.
Similarly, at the end of 2020, Sam Adams' launched a NA beer called Just the Haze NEIPA.
Non-alcoholic beers are in their infancy in the U.S., but we predict that this beer trend will continue to post gains this year. With that in mind and to celebrate Dry January here are our favorite non-alcoholic craft beers we'll be drinking for the next few weeks. And actually perhaps throughout the entire year.
Hop Culture's 16 Best Non-Alcoholic Beers for Dry January
All Out Stout — Athletic Brewing Company
Stratford, CT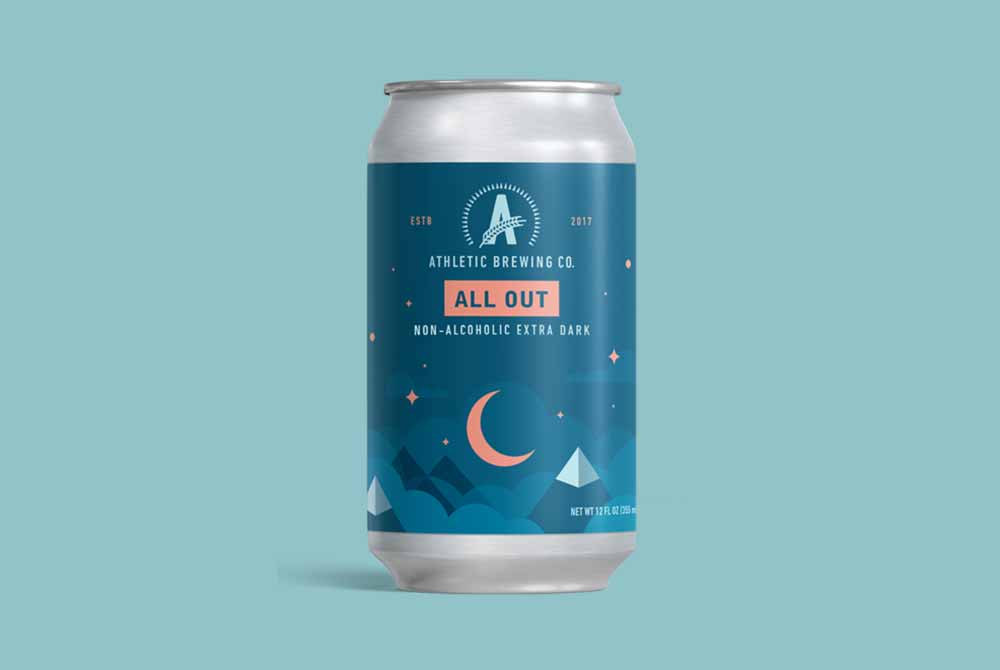 Stout – One of the pioneers of the non-alcoholic beer movement here in the U.S., Athletic Brewing Company is making NA beer cool. The Connecticut-based brewery outgrew their original 10,000-barrel space and moved into a former Ballast Point facility in San Diego last year. This all NA brewery offers one of the most diverse lineups including everything from standard IPAs to an experimental Thai IPA with coconut. But since this is the winter we're kicking off our list with the All Out Stout.
Plenty of roasted espresso beans and bittersweet chocolate notes dominate here. This is the type of beer you drink around the fire after a day of skiing. As the brewery writes on its website, "Don't hibernate this winter. Go All Out!"
IPA — Rescue Club Brewing Co.
Burlington, VT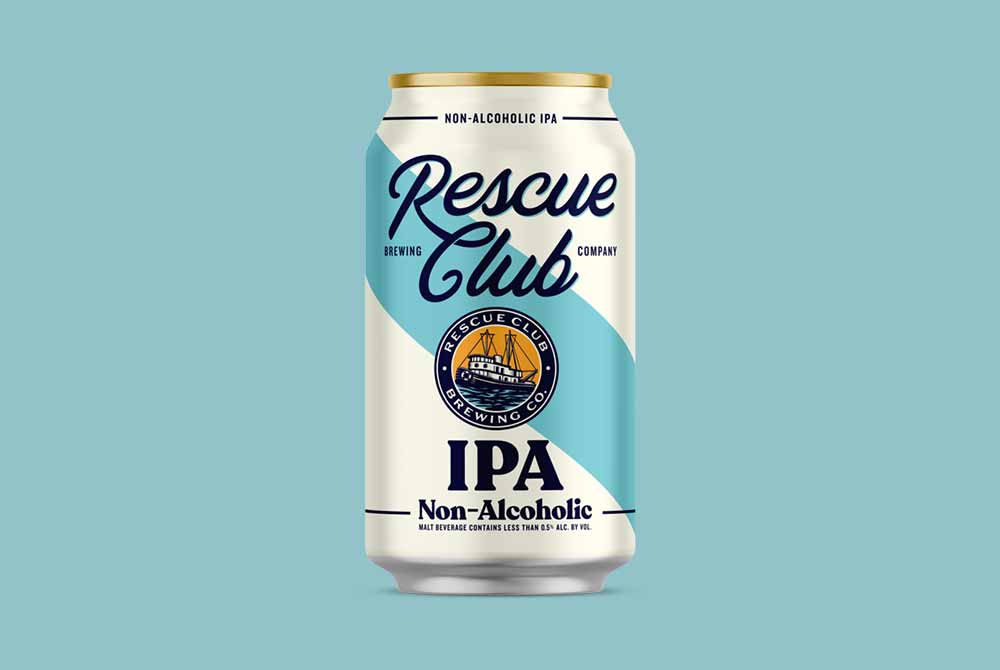 IPA – The brainchild of Zero Gravity Brewing in Burlington, VT and the former co-founder of Citizen Ciders, Kris Nelson, Rescue Club launched with the mantra, "It's not the alcohol that makes the party, but the people."
So far the brewery has only launched an IPA, meaning it's one pretty magical NA IPA. "Being in New England, if you can make that quality IPA without alcohol, that's a beautiful place to be," says Nelson. "It was important we nail this one first and have this be our flagship."
In our opinion, Rescue Club's Non-Alcoholic IPA hits all the right notes without sacrificing flavor. Pouring with a nice, approachable haze, the Non-Alcoholic IPA has a structure just north of a pale ale, but with the bitterness and hop characteristics of an IPA. The beer features Motueka and Citra hops and exudes big, beautiful citrus and tropical fruit notes without tipping the scales on sweetness.
"I call it my Sunday beer," says Katie Palatucci, Director of Marketing at Zero Gravity. "I love drinking beer, but I don't like partying on Sundays. With Rescue Club, I can crack one to watch the game, have a couple outdoors with the sun shining in beautiful Vermont, or drink after a workout."
Rescue Club wants to prove that you don't necessarily need alcohol to have a good time. You can still make memories and have fun even with a non-alcoholic beer. So far, they're on the right track.
Samuel Adams Just The Haze — Boston Beer Company
Boston, MA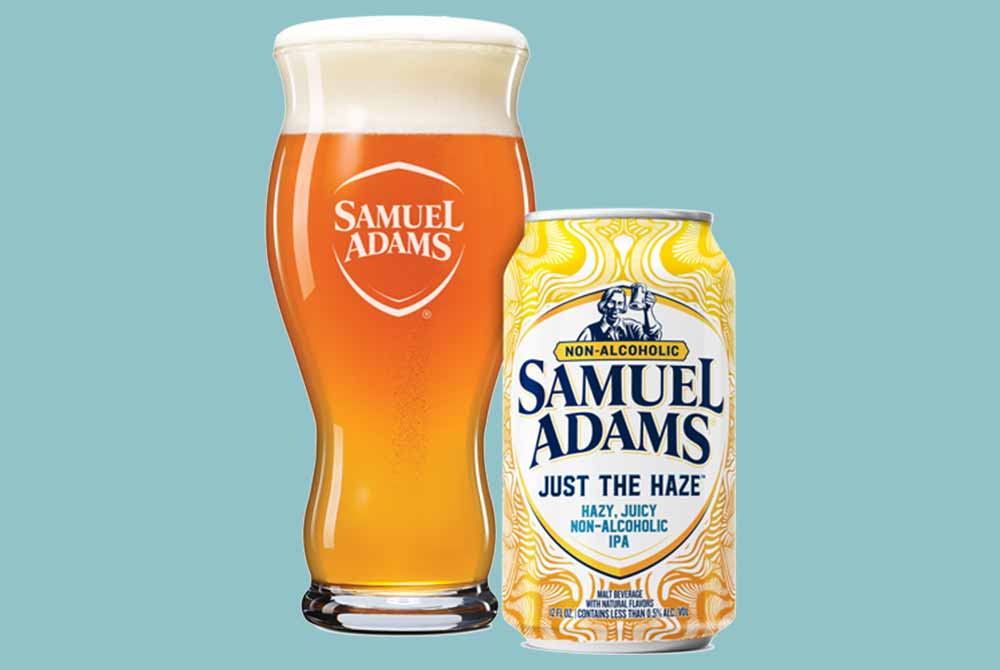 Hazy IPA – Last spring, Boston Beer Company launched Samuel Adams Just The Haze, a juicy, cloudy, hazy non-alcoholic IPA that you should start rotating into your drinking days.
"We're defying the expectations and preconceived notions that come with yesterday's nonalcoholic beer," says Jim Koch, founder of Boston Beer Company. "We see Just The Haze as fitting into a beer drinker's life as a pacer beer, not sacrificing flavor or experience during a beer-drinking occasion."
Citra, Mosaic, Sabro, and Cascade hops give this one an extra squeeze of juice. Expect big, bold hops complemented by perfect punches of citrus fruits.
Special Effects Pils — Brooklyn Brewery
Brooklyn, NY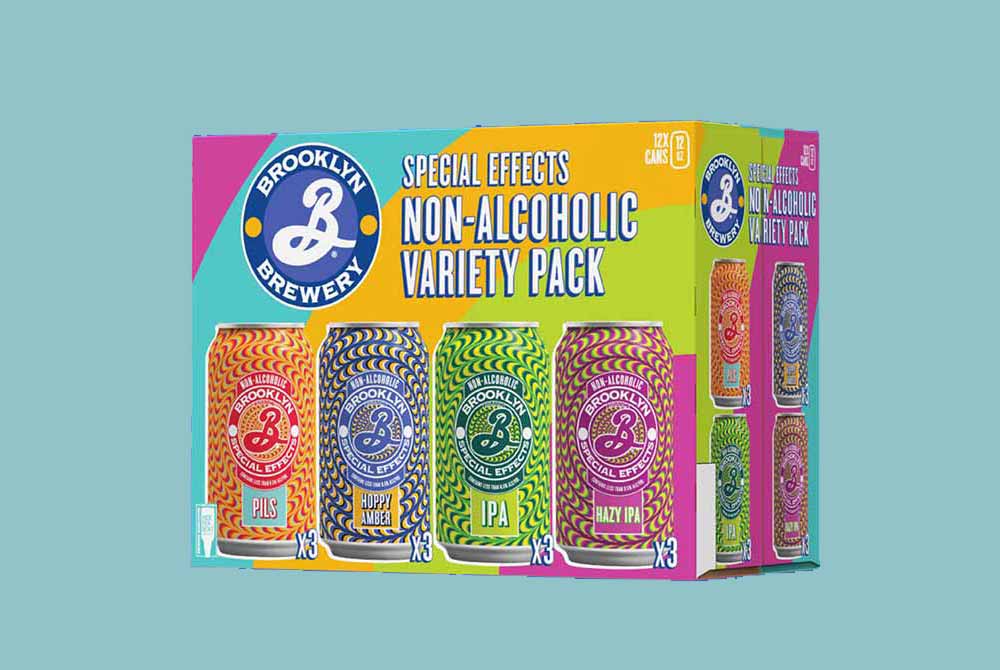 Pilsner – A bit ahead of the trend here in America, Brooklyn Brewery launched its line of non-alcoholic beers a few years ago with its Hoppy Amber. And while we love the original (see below), most recently, the Brooklyn-based brewery expanded its line to include a hazy IPA and a pilsner. It's not often that we see a pilsner as one of the sans booze offerings, so we had to include it on this list of the best non-alcoholic beers.
"With Special Effects Pils you'll get aromas of wildflowers and a wisp of toast, with a distinct snappy freshness, and in taste, a refreshing pop of clean hops and gentle honey sweetness," says Eric Ottoway, CEO of Brooklyn Brewery. Special Effects Pils comes across true to the style – crisp, refreshing, and thirst-quenching. Right now you can find this one in Brooklyn Brewery's Non-Alcoholic Variety Pack along with the Hoppy Amber, IPA, and Hazy IPA.
Heavenly Body Golden Wheat — WellBeing Brewing
Maryland Heights, MO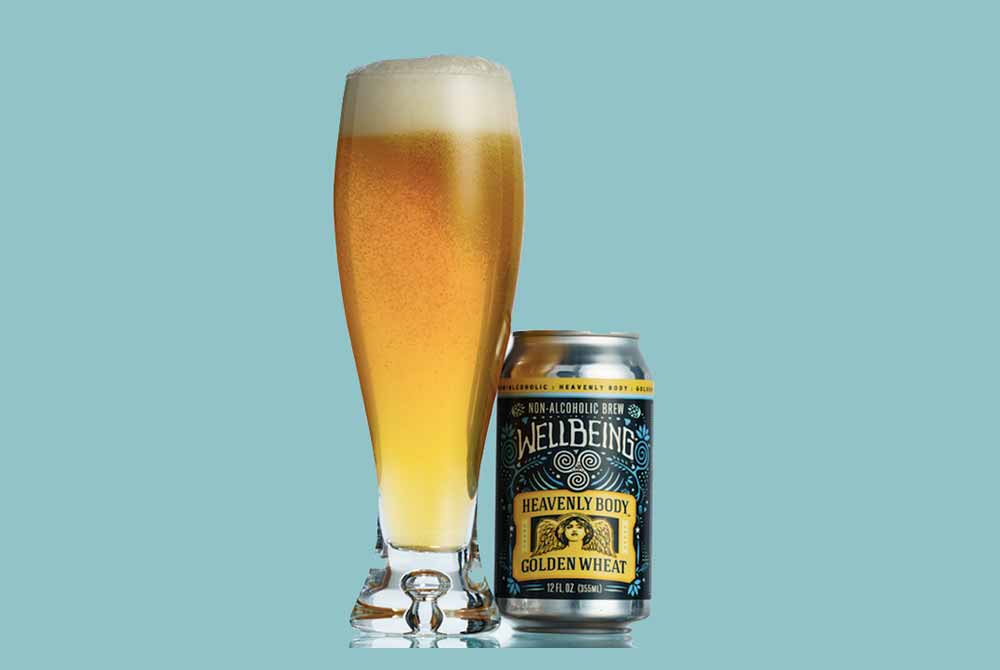 Wheat – A Great American Beer Festival award-winning recipe, Heavenly Body Golden Wheat from WellBeing Brewing acts like the health halo above your traditional alcoholic wheat beers, hitting only 0.3% ABV and sixty-eight calories.
Like the clouds parting and the sun shining through, there is a eureka moment that happens when you take the first sip of Heavenly Body Golden Wheat.
WellBeing adds Cascade and traditional German noble hops for a crisply citrus, incredibly smooth, and luscious pint.
With low-ABV and low-calories, but high-flavor and high wow factor, we can see why this beer is truly for your heavenly body.
Natural Bridges Kölsch — Surreal Brewing Company
Campbell, CA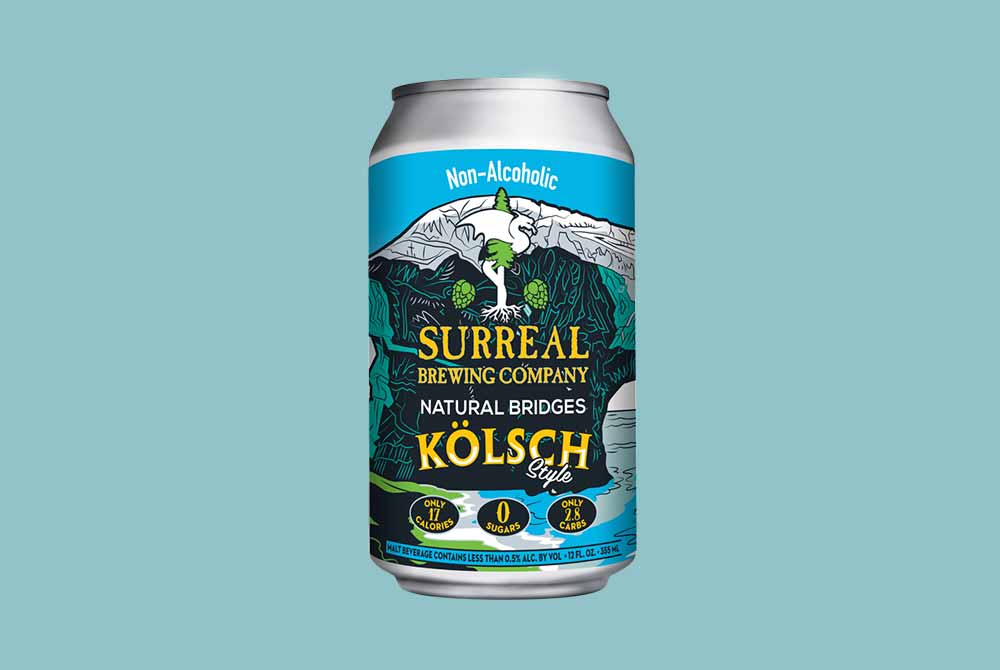 Kölsch – Another style we don't often see in the NA category, this kölsch from Surreal Brewing Company kills it with a subtle malt backbone and light tropical notes from the hops. A tribute to Natural Bridges State Park, a marine protected reserve in Santa Cruz, this beer won an award for the Best N/A Pale Beer in the World at the 2019 World Beer Awards.
Lemon Quest — Dogfish Head Craft Brewery
Milton, DE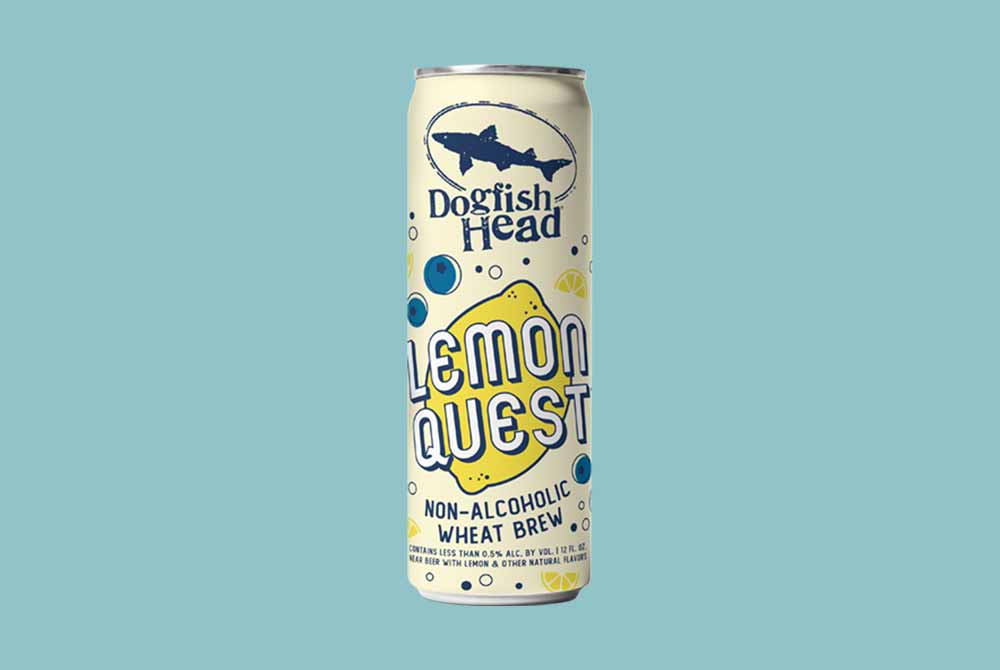 Wheat – Dogfish Head joined Brooklyn Brewery and Samuel Adams as major breweries launching NA lines in the past few years. "The biggest trend we are seeing right now is the increase in popularity of 'better-for-you' offerings," says Sam Calagione, founder of Dogfish Head, in a Beverage Dynamics article. "In the last five years, we have seen more and more craft beer lovers — especially those Millennial drinkers — searching for lighter, more sessionable products that seamlessly fit into their active lifestyles."
With that in mind the 0.5% ABV wheat beer called Lemon Quest gets a dose of lemon puree, blueberry juice, acai berries, monk fruit, and sea salt for a beer best for anyone with an active agenda. This delicious wheat-based non-alcoholic beer pops on all levels. Bright, acidic, and tiny tart notes balance with a beautiful malt foundation. As Dogfish Head's first foray into NA beers, Lemon Quest is the perfect pick me up for anyone's low-ABV lifestyle.
IPNA — Lagunitas Brewing Company
Petaluma, CA
IPA – We all know Lagunitas launched one of the most revolutionary IPAs in American craft beer history in 1995. But Lagunitas also broke boundaries by rolling out Lagunitas IPNA in late 2020. The non-alcoholic version of the brewery's iconic IPA includes Mosaic, Citra, and Columbus hops along with Alberta barley and English crystal malt.
Lagunitas took its time to dial in its NA beer, developing the final recipe for over a year. This means a flavorful, but lighter version of its regular IPA. Expect a very citrusy, piney, resiny, version that clocks in at less than 100 calories and under 0.5% ABV.
Blonde — Partake Brewing
Calgary, AB, Canada
Blonde Ale – Partake Brewing Co-Founder and CEO, Ted Fleming, started his brewery because he couldn't drink regular beer due to a medical condition. At the time he couldn't find any good tasting NA beer. So he started Partake to change the norm.
For a non-alcoholic beer that only hits fifteen calories, but shines with flavor, turn to Partake Brewing's Blonde. This blonde ale doesn't faff around, ringing true with light floral, earthy hops and a tinge of tropical fruit. Like booze-free sunshine in a can, Partake Brewing Blonde is certainly perfect to drink in the summer, but also during Dry January to remind you that warmer months are ahead.
Peanut Butter Stout — Bravus Brewing Company
Newport Beach, CA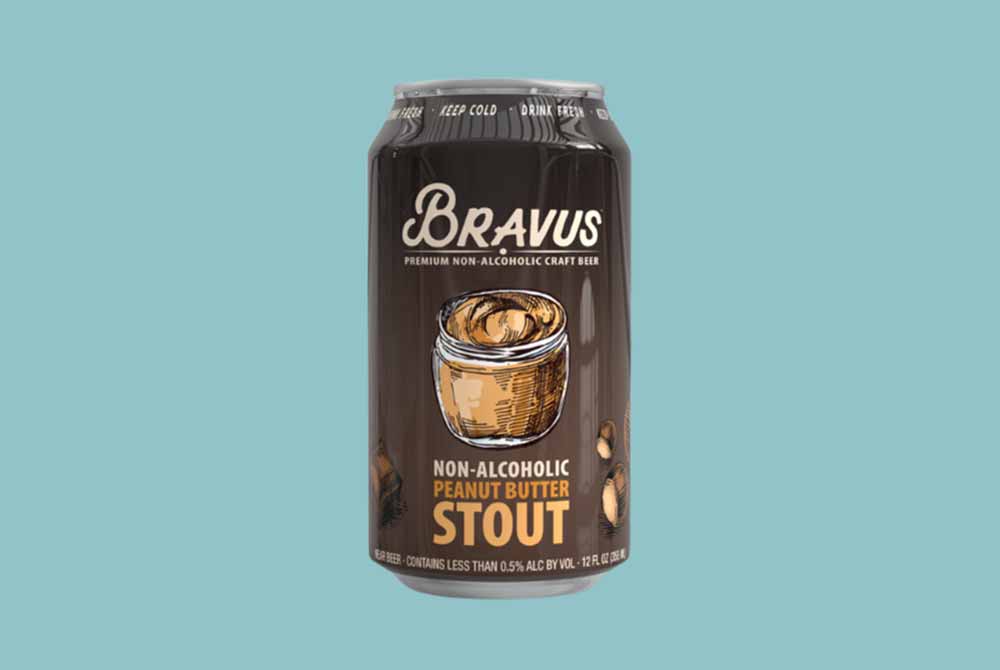 Pastry Stout – Touted as North America's first non-alcoholic craft brewery, Bravus Brewing began in founder Phil Brandes' garage in 2015.
At the time a close friend turned to non-alcoholic beer after battling alcoholism, but couldn't find any remarkable options.
So Brandes started Bravus Brewing to craft out-of-the box, innovative versions of NA beer. Just take a look at the current lineup which includes a Blood Orange IPA, Raspberry Gose, and of course this Peanut Butter Stout.
And folks have notices. Only six years later he's taken the business from a garage project to a 23,000 sq-ft facility in Anaheim, CA. As a result, Bravus Brewing has disrupted the industry, rewriting the script on what it means to exclusively produce beer minus the booze.
For this candy creation, Brandes uses Belching Beaver's iconic Peanut Butter Stout as inspiration, adding peanut butter, hazelnuts, and dark chocolate for a unique NA pastry stout unlike any other.
Rich, decadent, and indulgent Bravus Brewing's Peanut Butter Stout is perfect for the cold winter months ahead.
Run Wild IPA — Athletic Brewing Company
Stratford, CT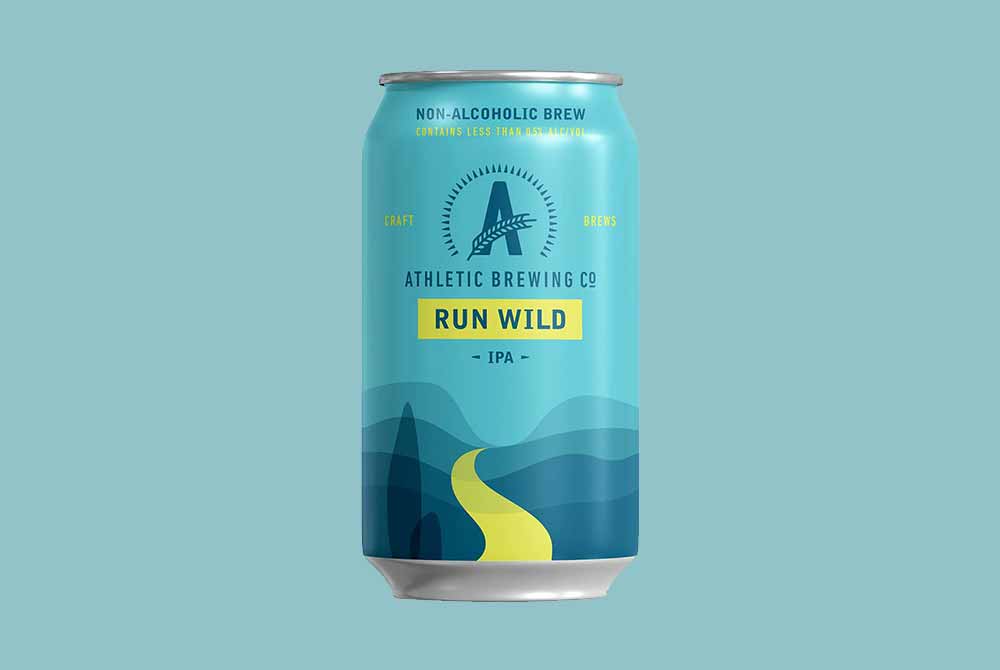 IPA – Billed by Athletic Brewing as "the ultimate sessionable IPA", Run Wild boasts a bevy of five Northwest hops for a true taste of the bine minus the alcohol bite. If you try just one non-alcoholic IPA in January it should probably be Run Wild. But you don't have to take our word for it. Just take a look at the awards Run Wild racked up: 2020 Silver International Beer Challenge, 2020 Gold Best of Craft Beer Awards, Best Non-Alcoholic Beer USA at the World Beer Awards, 2020 Gold U.S. Open of Beer, 2021 Gold Winner U.S. Open of Beer., and 2021 Bronze International Beer Challenge.
Special Effects Hoppy Amber — Brooklyn Brewery
Brooklyn, NY
Amber – In the beginning of December my wife and I took a trip to New York to visit family and friends. We did plenty of drinking along the way, so by the time we made it to our last meet up of the trip at Cardiff Giant in Brooklyn, NY we were both pretty fatigued. Luckily, Cardi G (as we affectionately call it) offered Brooklyn Brewery's Special Effects Hoppy Amber. I'll take one of those please!
The award-winning hoppy lager was the first NA beer brewed by Brooklyn Brewery. Pale, caramel and dark roasted Munich malts give a toasted bread base that pairs wonderfully with dry-hopping from Mosaic, Citra, and Amarillo hops.
It's a full-bodied, full-flavored beer without the ABV and therein as the beer bard says lies the special effect!
Intrepid Traveler Coffee Cream Stout — WellBeing Brewing
Maryland Heights, MO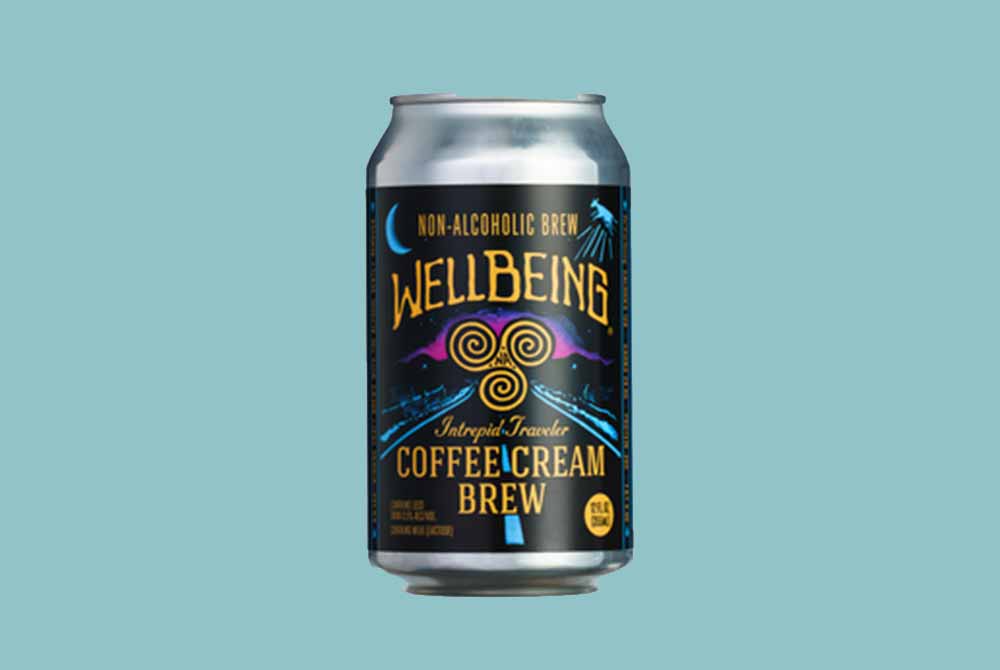 Coffee Stout – As WellBeing writes, "Intrepid Traveler is brewed for open road adventurers to enjoy 24/7". For our part this is the first coffee-inspired non-alcoholic beer we've seen on the market.
Subtle warming winter spices such as cinnamon, nutmeg, and clove combine with lactose for a velvety, decadent seasonal stout. Part rich cup of coffee; part traditional stout; Intrepid Traveler takes your taste buds for a sleigh ride worthy of any Santa Claus.
Enough Said — Two Roots Brewing Co.
San Diego, CA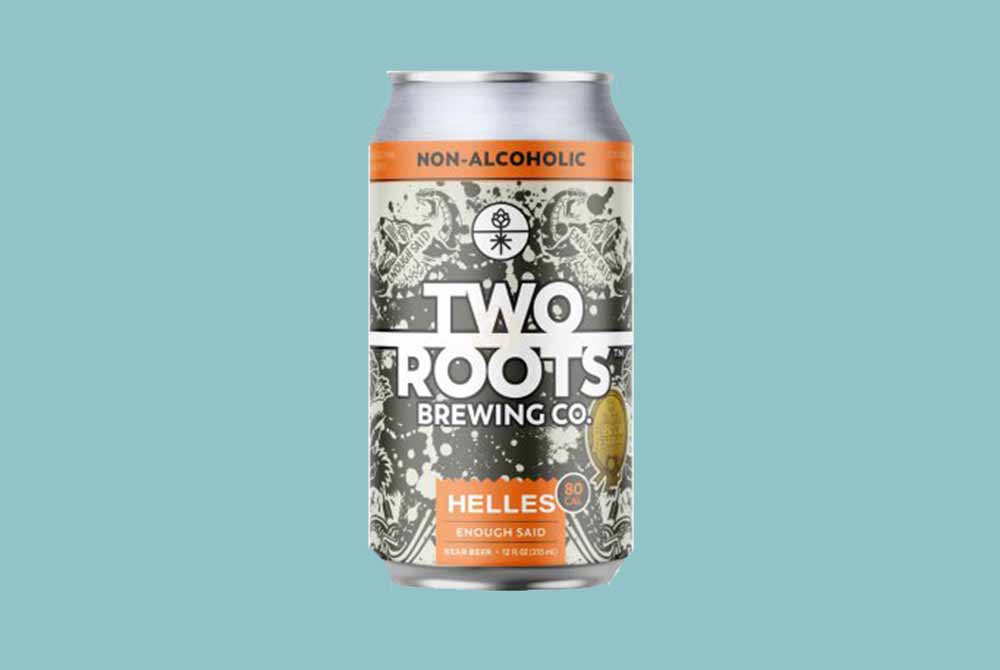 Helles – Two Roots tapped into German tradition to craft the 2019 and 2021 GABF gold medal winning Enough Said. Considered a helles, Enough Said includes pilsner malt and Hallertau hops for a clean beer that cuts through all the fluff straight to one of the truest styles of beer.
And does so brilliantly.
This is one of our favorite non-alcoholic beers out there. Enough said.
Pale — Partake Brewing
Calgary, AB, Canada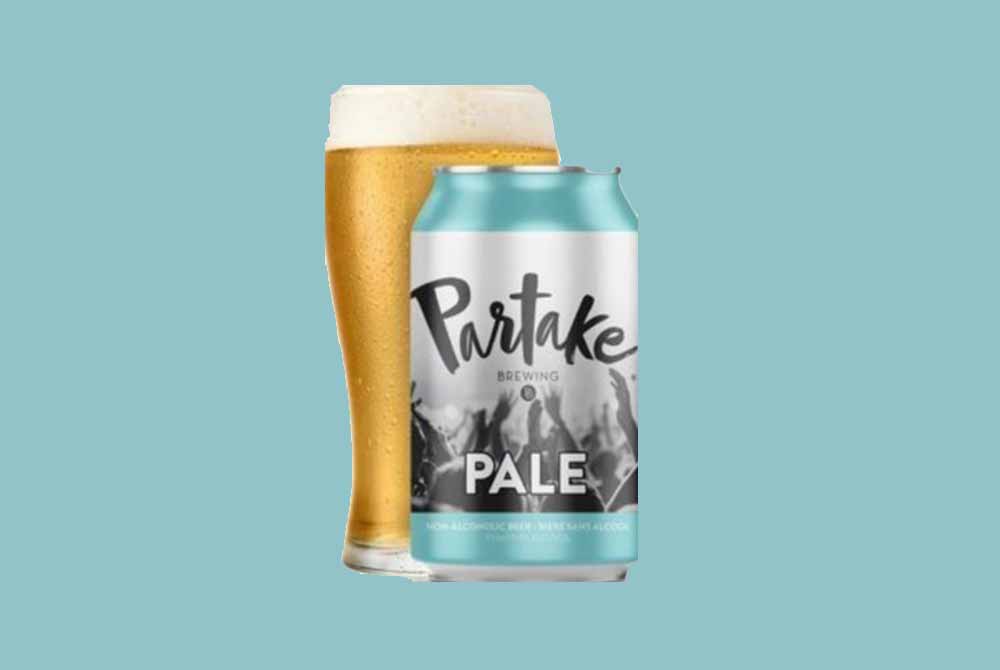 Pale Ale – Another award-winner, Parktake Brewing Pale shines with its simplicity. A copper pour tops off with a thick head of white foam for a pale ale that's full of fresh citrus zest and just a hint of earthy pine needles.
This non-alcoholic beer features a mildly bitter backbone that finishes with a decent floralness punctuated by juicy, fresh squeezed fruit.
If you're new to the NA craft beer game, consider Pale a great place to start. Not too bitter. Not too juicy. Just right.
Breakfast Dark — Bravus Brewing Company
Newport Beach, CA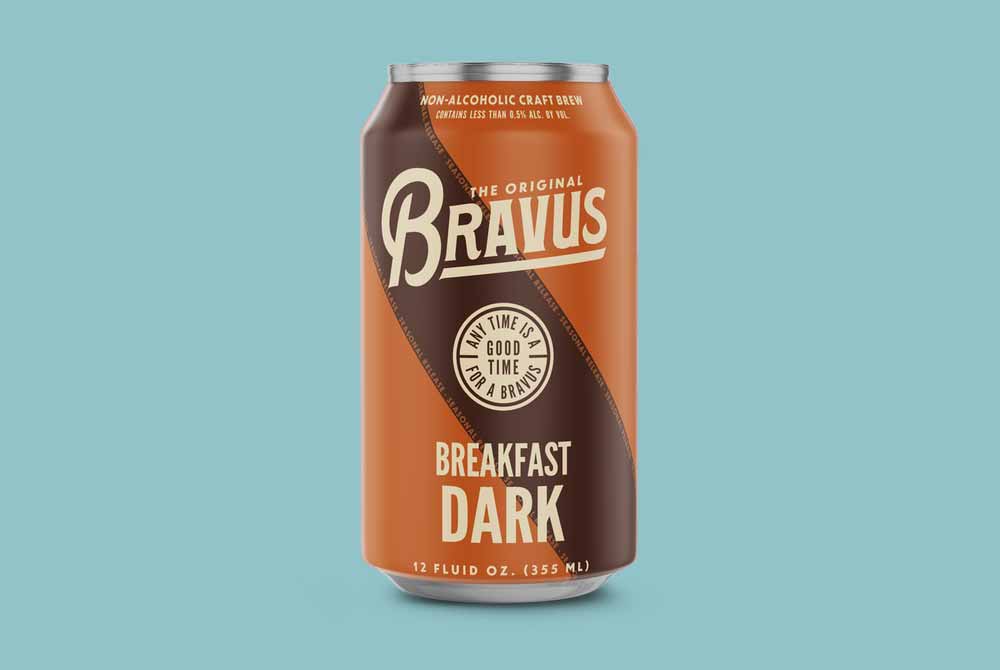 Stout – Bravus Brewing Breakfast Darks makes us happy in so many ways. Brandes takes his award-winning Oatmeal Stout recipe and kicks it up with the additions of coffee, chocolate, and cinnamon.
As a result, Breakfast Dark turns out like the ultimate cup of hot cocoa. Just a touch maltier and a scoosh more caffeinated. A gold winner at the 2020 U.S Open of Beer, Breakfast Dark could be considered the breakfast of champions in a can.
And at only 0.5% ABV you could probably enjoy one in the morning!
Juicy Mavs Hazy IPA — Surreal Brewing Company
Campbell, CA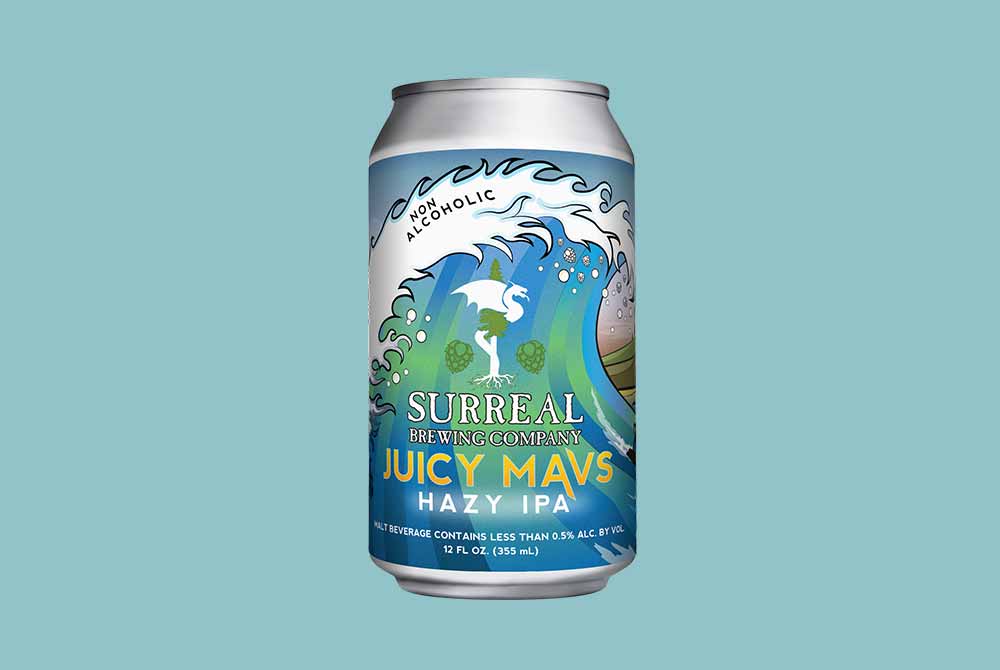 Hazy IPA – Another strong option from Surreal Brewing, Juicy Mavs Hazy IPA explodes with juiceness. It's in the name for goodness sake! Another nod to California culture, Juicy Mavs' artwork features a major wave from Pillar Point just north of Half Moon Bay.
Seems like the perfect metaphor here as this hazy IPA washes over you with wave after wave of tropical fruit and citrus notes.
As we like to say here in the Bay Area this is one hella good non-alcoholic beer.