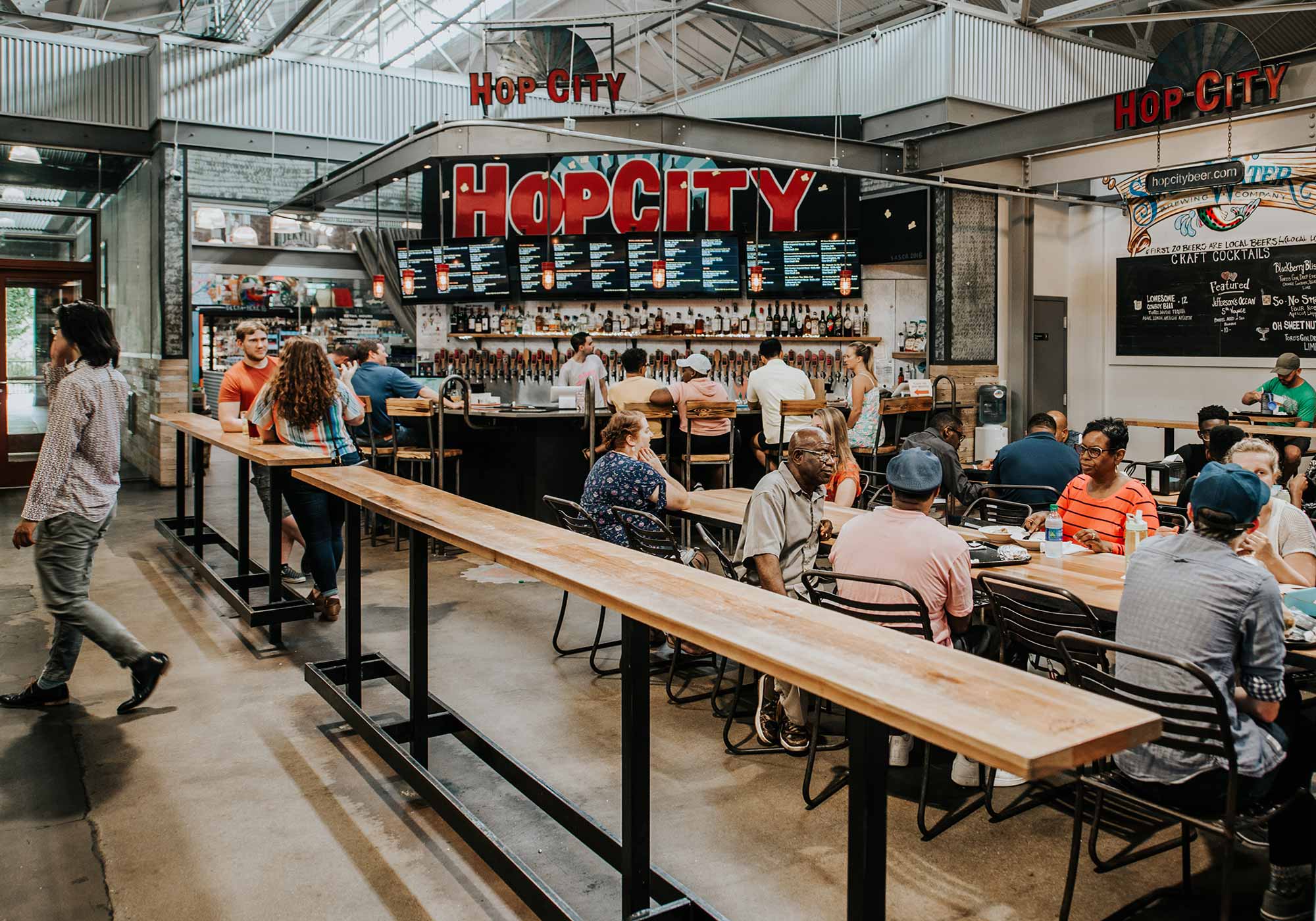 Photography courtesy of Hop City
While traveling to a new city everyone has a few musts, right? For instance, the Hop Culture team has to find that perfect coffee spot. And of course a few taprooms on our radar. For my wife and I, no matter where we travel, we always need to find a cool, local food hall.
Why?
Well, it's a great way to sample a bunch of the city's fare all in one spot.
Food halls burst onto the scene in the early naughts. An upgrade from food courts in malls, food halls provided space for a menagerie of specialty pop-up restaurants, local purveyors, and artisanal creators to congregate in the same place.
For instance, Eataly, one of the earliest examples of the modern food hall concept, includes various vendors, a grocery store, and even a bar along with full sit-down and quick-service restaurants.
In my humble opinion, it's a genius concept.
Today, food halls have become sought-after destinations with major developments popping up in almost every major city.
But now food isn't the only thing on display at these culinary pantheons. Taprooms and bottle shops have also become major attractions.
So, we found five of our favorite food halls across the country that also have fantastic craft beer spots inside.
At any of these places you can park yourself at a long communal table, cruise through the pop-up restaurants, order a bunch of different plates and beers, and hang out all night long.
The Top 5 Food Halls With Great Beer
The Grand Delancey at The Market Line
New York City, NY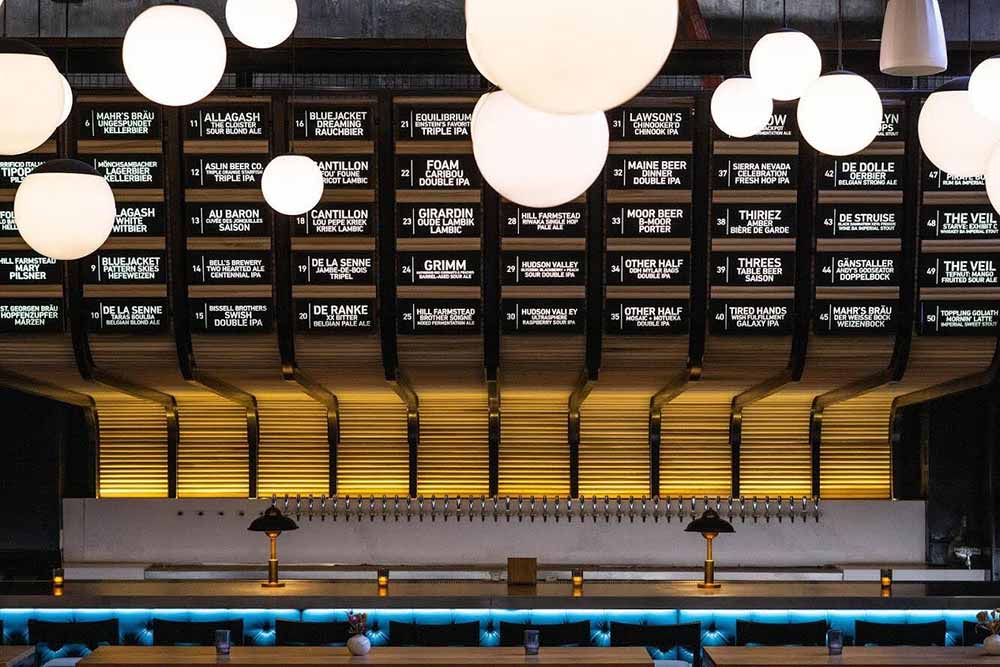 Billed at NYC's underground market, The Market Line is, as it writes on its website, "the buzzy bazaar where fashionable foodies go to eat, shop, and get down in the heart of the Lower East Side." Walk downstairs into the basement of Essex Market at the corner of Essex and Delancey streets and you'll find twenty-seven unique stalls. Some featuring a few of New York City's most iconic restaurants. Such as Nom Wah, a historic dim sum spot. Or Veselka, the Ukrainian place serving up fantastic pierogies.
From a beer perspective your best bet is The Grand Delancey for many reasons.
Firstly, choose from a huge menu with hundreds of worldwide organized by flavor profile including: Crisp, Malt, Smoke, Roast, Fruit & Spice, Tart & Funky, and Cask.
For instance, under the "Crisp" section you'll find an O.E.C. Coolship Lager and an Oxbow Luppolo. While under the "Roast" you'll find Grimm Lithos schwarzbier and Threes Nothing Is Forever bourbon and brandy barrel-aged Imperial stout.
Secondly, The Grand Delancey has Czech-style side-pull faucets pouring fresh pilsners from near and far. Such as Suarez Family Brewery Palatine Pils and Birrificio Italiano TipoPils.
Additionally, an old-school beer engine dispenses two classic British-style brews from casks at all times.
Finally, The Grand Delancey has a lengthy list of whales, most notably a deep selection of lambics from the likes of Cantillon and Drie Fonteinen.
All this means that at The Grand Delancey you have a fun, comprehensive way to explore plenty of different styles. And with small pours available, the best move might be to order a few taps to pair with the plates you've accumulated.
Hop City at Krog Street Market
Atlanta, GA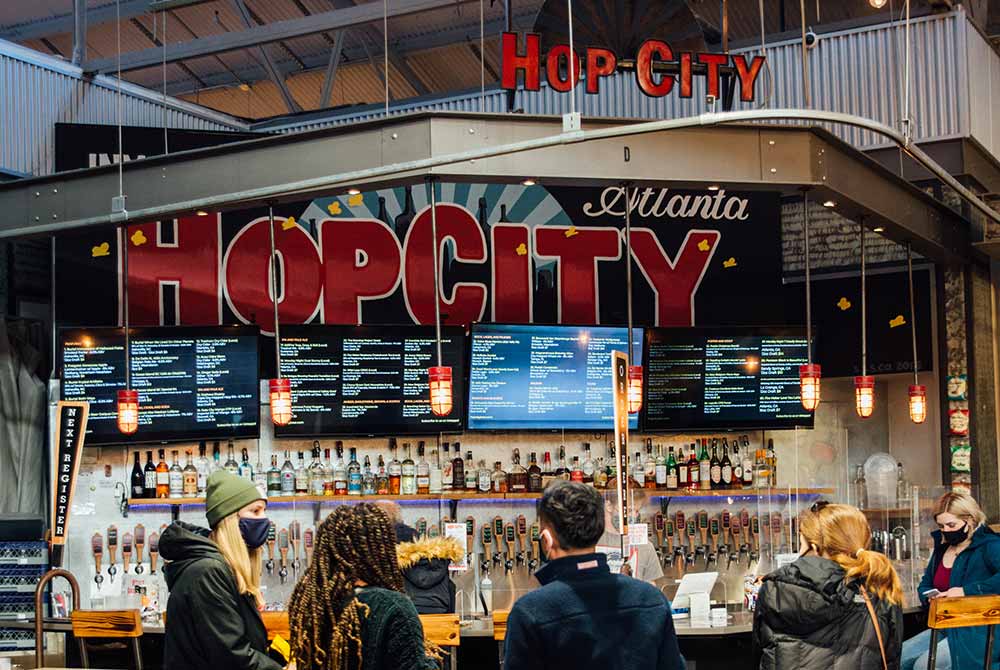 Named one of "The World's Best Food Halls" by Travel + Leisure in 2015, Krog Street Market effuses culinary excellence in Atlanta. Since then the market's vendors have continued to earn awards from James Beard Foundation nominations to Best New Restaurants and Best Bars in America acclaim. Seventeen dining pop-ups include everything from bao to elevated soul food to acclaimed burgers.
Meanwhile, Hop City holds down the drinks. The top-rated Southeast craft beer retailer has an impressive buildout at Krog City Market. An excellent curated selection of craft beers complements a full bar pouring fresh drafts. You'll likely find plenty of options from the region's standout breweries. Plus, Hop City often hosts special events. A few upcoming include a Creature Comforts Get Comfortable Launch on Feb. 10th, 2022, and a Green Bench Tap Takeover on Feb. 24th, 2022.
Terminal Bar at Union Station
Denver, CO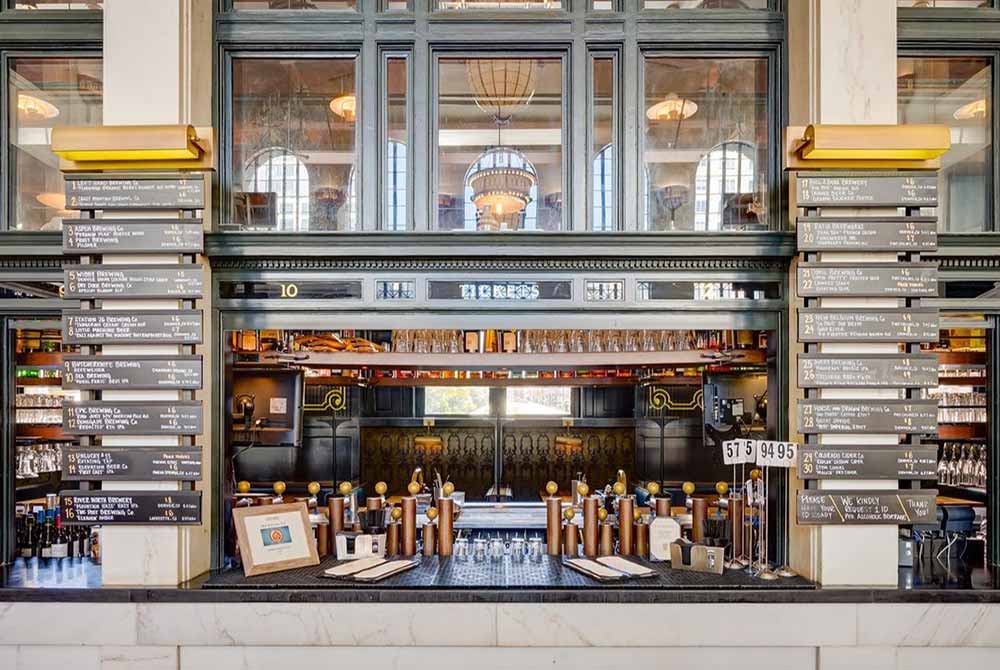 Housed in a historic 100-year-old building in downtown Denver, Union Station includes some of the city's best restaurants and bars, including meals from James Beard award-winning chefs. Eleven purveyors dish up everything from small plates at a Spanish and Portuguese tapas spot to iconic breakfast stacks from a Denver institution.
Keeping patrons' thirst slaked, Terminal Bar has thirty taps all featuring local Colorado beers. On the extensive draught menu you'll discover well-known names like Great Divide Brewing Co., Left Hand Brewing Co, and New Belgium Brewing alongside favorites such as New Image Brewing, Dry Dock Brewing Co., Avery Brewing, Horse & Dragon, and Ratio Beerworks.
Bottlecraft at Liberty Public Market
San Diego, CA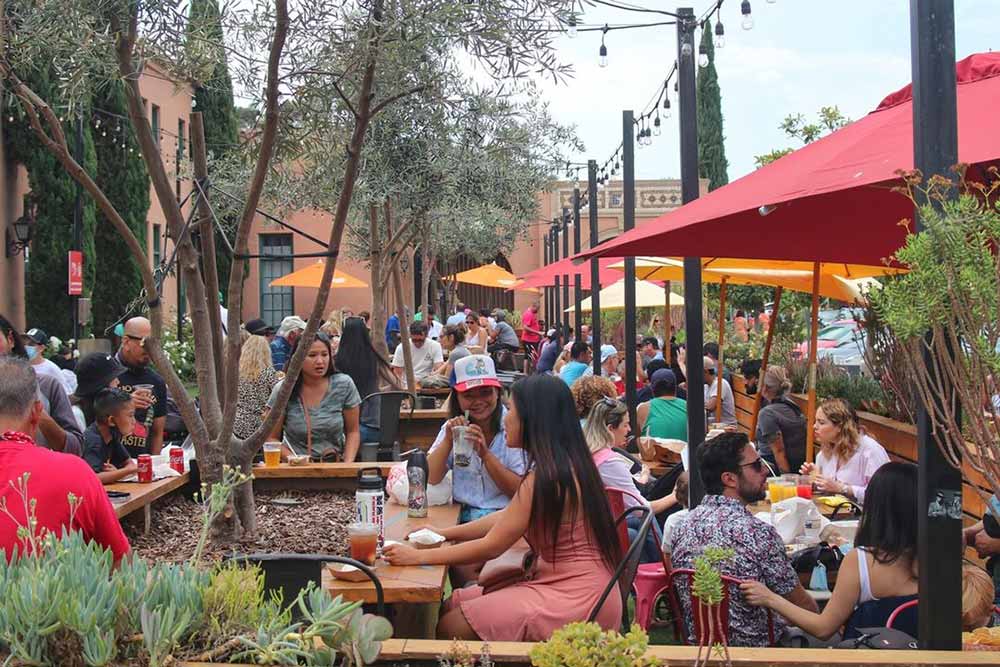 Opened in 2016, Liberty Public Market is San Diego's first seven-day-a-week public market. The market strives to showcase the best artisans from the region in one communal place in Point Loma's historic Liberty Station. With over twenty-seven food and drink stalls featuring everything from Texas-style barbecue to ramen, Liberty Public Market has plenty to eat.
And to wash everything down, be sure to stop by Bottlecraft. A 1,000 sq-ft bottle shop, Bottlecraft features over 500 bottles of rare and exclusive craft beer alongside twenty-four rotating taps. With such a huge selection we'd be surprised if you couldn't find something to pair with that New York-style pizza slice, authentic New England lobster roll, or Filipino rice bowl.
Eastlake Brewery at Midtown Global Market
Minneapolis, MN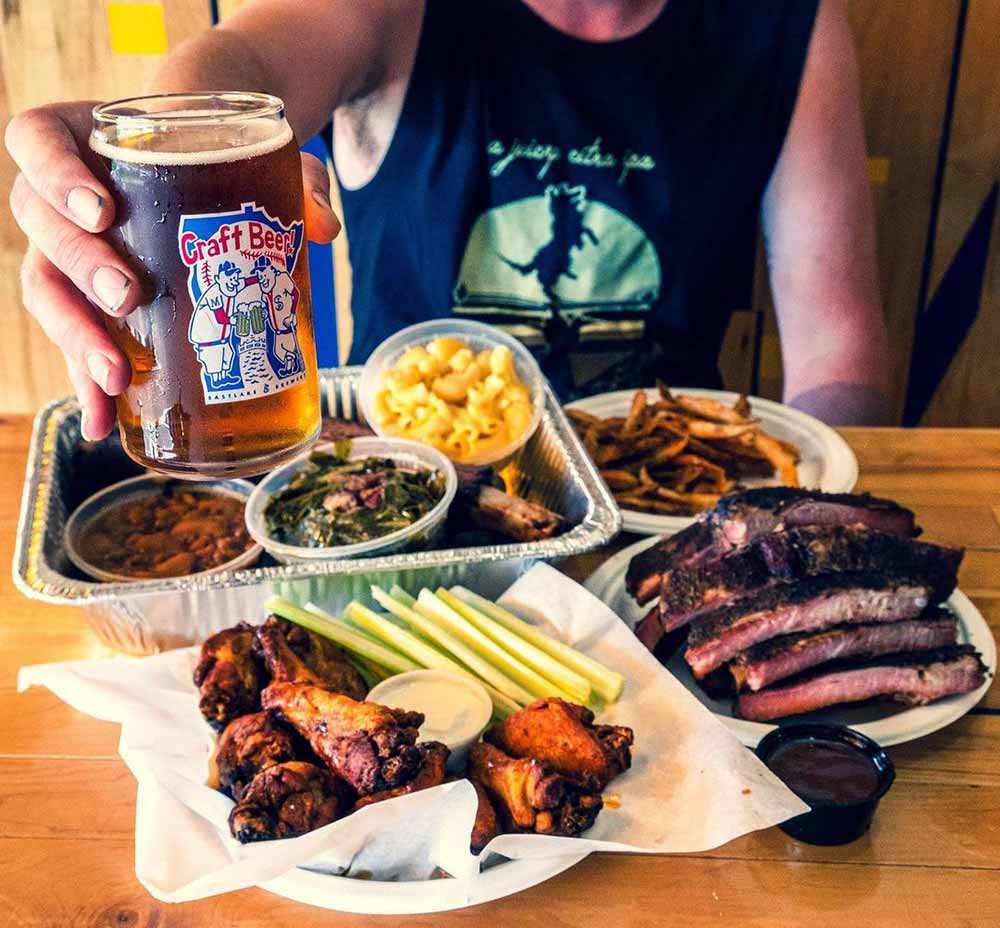 Midtown Global Market (MGM) stays true to its name featuring over forty-five merchants showcasing everything from custom clothing and jewelry to eats from around the world. Such as Arepa Bar, the first authentic Venezuelan-owned restaurant in the Twin Cities. Or Hot Indian Foods, a popular concept making Indian street rolls wrapped in roti.
On the suds side, Eastlake Craft Brewery offers up its award-winning sour beers, malty lagers, and hoppy ales to pair with the market's meals. The best part? You can bring your takeout from any of the stalls into the taproom to eat or even order from a select few restaurants for delivery right to the bar.