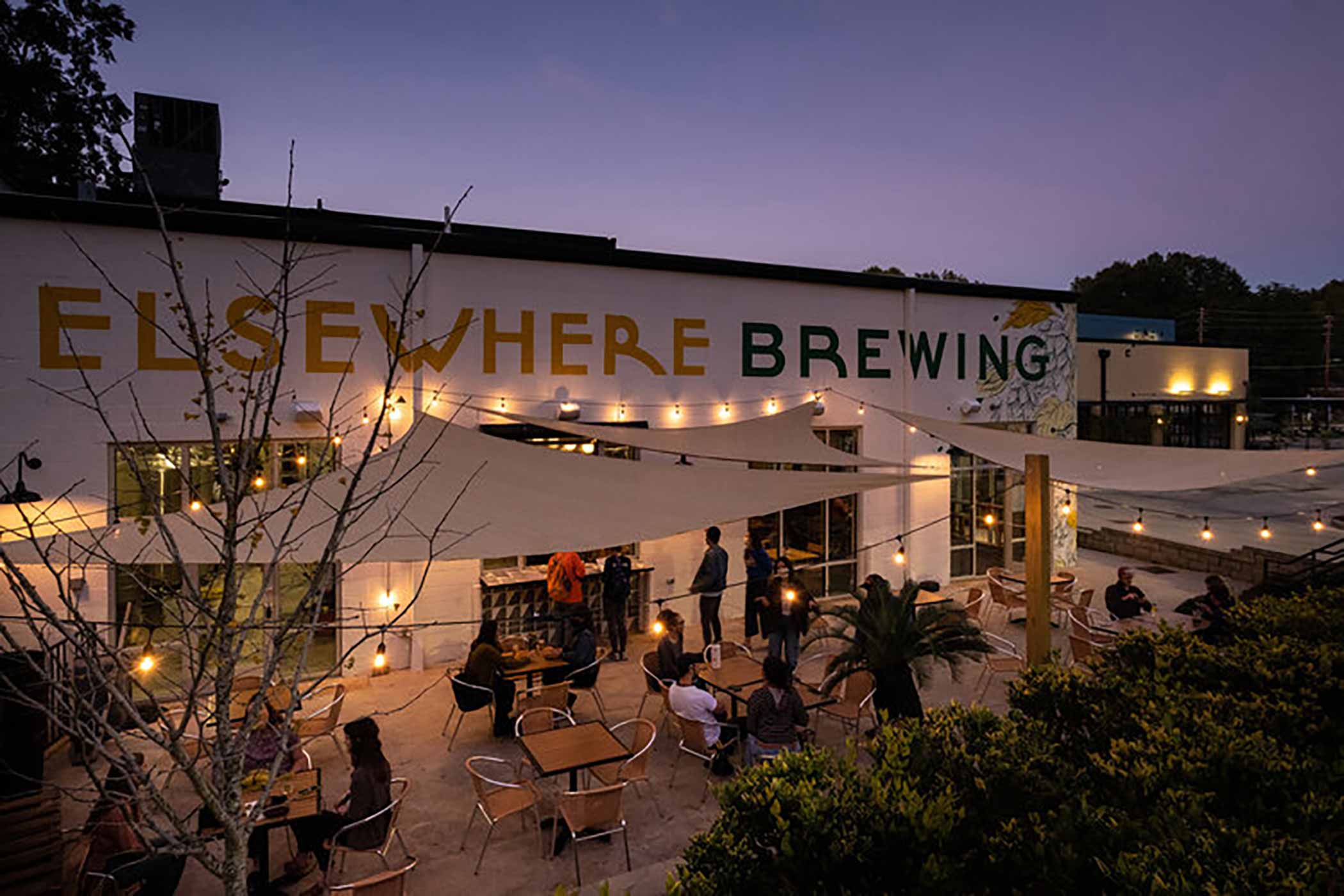 Photography courtesy of Elsewhere Brewing
What do these beers have in common?
Halfway Crooks Radix, The Good Word Immortality, and Elsewhere Brewing Grant Park Menagerie.
They have all ended up on either our list of "The 21 Best Beers We Drank in 2021" or "The 20 Best Beers We Drank in 2020."
And if you are paying close attention, you'd realize that these beers are all from breweries in or within thirty miles of Atlanta.
So when the Georgia Brewers Guild calls you up and asks you to be the keynote speaker at their annual symposium in Atlanta, a city whose breweries you've always admired and beers you've always highly rated, you probably don't pass up that opportunity.
And I didn't!
Last Saturday night through Monday, I spent time exploring a city I'd never been to before. I drank and ate my way through… What do they call Atlanta anyway?
Some have nicknamed Atlanta the "New York of the South."
And I can certainly see why. Every Lyft driver I talked to welcomed me to the city, explaining how it's changed over the last decade. An influx of newcomers and returners have changed the complexion of Atlanta. In fact, the city has actually swelled from 420,000 people ten years ago to almost 500,000 according to the 2020 U.S. Census.
When I arrived at the Marriott Marquis hotel on Saturday night, downtown thrummed. The pulse certainly felt similar to midtown Manhattan. (It was so busy I almost got run over by a bellhop.)
Some call Atlanta the "Chicago of the South."
And I can certainly see why. Over the next couple days, I walked through eclectic pockets. Such as the vibrant punky Little Five Points to the hipper Grant Park to the locally loved Cabbagetown. I spent six years in Chicago, and the different neighborhoods definitely gave off Windy City vibes.
So which is it? Because at the end of the day, Atlanta is a southern city right?
Well, according to locals I talked to, some don't even technically consider Atlanta to be a southern city. Simply because of how much it has grown as a metropolitan area over the last three years.
So as a complete outsider—a homegrown Midwesterner and a current West Coaster—I can only give my fresh two cents.
And I don't necessarily think either of those nicknames are quite accurate.
Because Atlanta is its own damn city! One that proudly pulses to the beat of its own drum. Character and, yes, a touch of Southern hospitality flow through the city's veins. Along with a s*** ton of great craft beer.
To me, Atlanta was like that first sip of a tall glass of cold pilsner on a hot day, refreshing and comforting. Something that took me to a happy place. And while I wanted to sit all day long on one of the hundreds of front porches and rocking chairs I passed, there simply wasn't time.
You don't have to follow in our footsteps (exactly), but here are our suggestions for how to drink and eat around Atlanta in just forty-eight hours.
Saturday Night: Take a Drive
I landed at Hartsfield-Jackson Atlanta International Airport—the busiest airport in the country—at 7pm on a Saturday night. After quickly dropping my bags at the hotel, I jetted over to Duluth, GA, to visit one of my top five favorite breweries in the country.
Good Word Brewing & Public House
3085 Main St, Duluth, GA 30096 | (678) 336-9928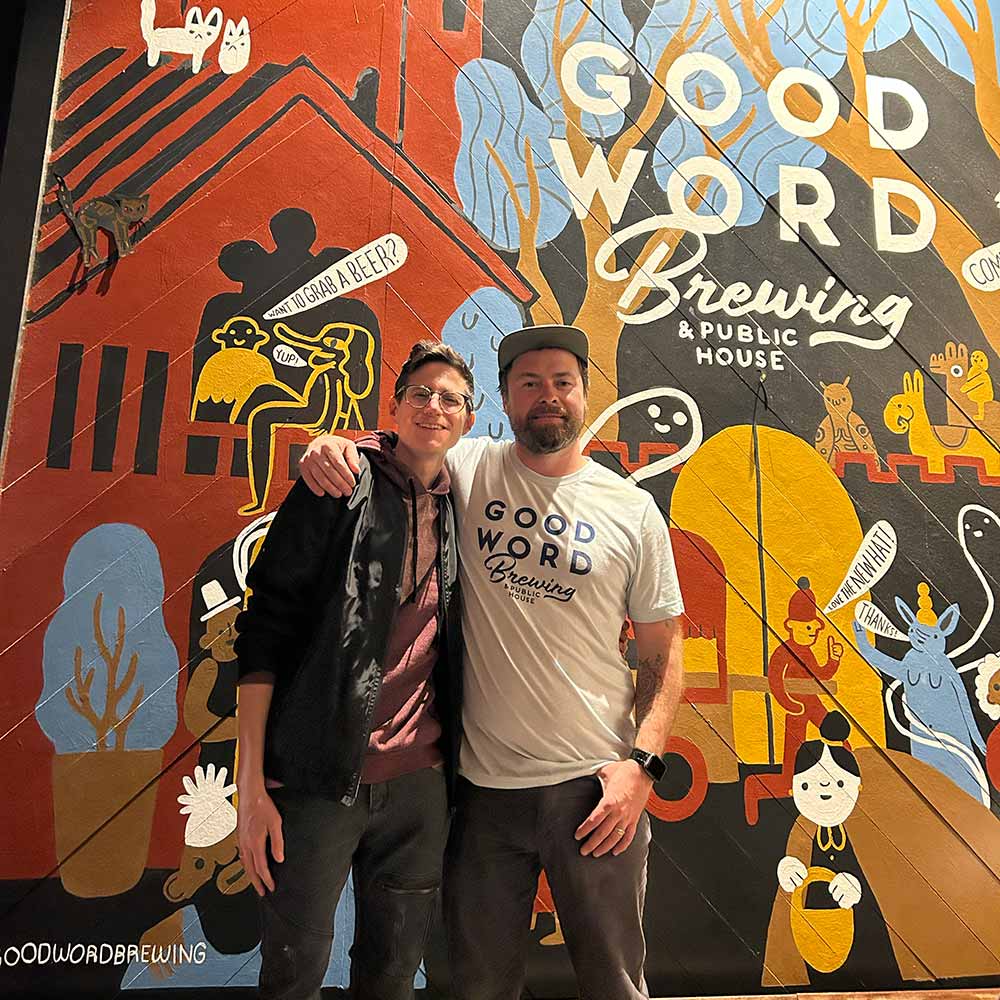 7:30 PM Worth the drive – This is what I texted my wife in the about-forty-minute Lyft ride out to Duluth, GA: "I'm heading over to this brewery called Good Word. Probably in like my top five favorites. They just do a lot of European styles super well. I'm so excited!"
The Hop Culture crew met Good Word Owner and Brewer Todd DiMatteo back when we used to host around ten festivals a year. Todd joined us at several of our events, and every time I tried his beer I was blown away.
Since then, Todd has sent me the occasional package or we've chatted for pieces we've put together such as "What Is an ESB?" I've loved every one of his beers.
Peek into Todd's cranium and you'll probably just see straight up genius. Now that looks like different things for different people, right? I'm sure looking into Einstein's brain you'd see E=MC2 or into Thomas Edison's and you'd get a light bulb. Well with Todd, it's just straight up beer…mostly English and European styles.
He has this incredibly humble approach to brewing these humble European styles that come out as straight perfection in the glass. These are some seriously voluptuous beers. But you wouldn't know it just by looking at them. You have to really take the time to sit down with a can or a 16oz pint, sip on it, and peel it back layer by layer.
And if you have the chance to do it right at the source in Duluth, GA, you're in for a night.
Walking into Good Word felt like stepping into an ornate library…just with a bar. Shelves with books sandwiched message board signs of the current beer list (my wife and I debated whether they looked like old movie marquees or old-school deli signs—you decide who's right).
The good cheer and laughter from those plopped on stools around the bar, tucked into booths, or hanging out on the patio filled the air.
Quickly glance around and you'll find hands clutching Czech mugs, pilsner glasses, or imperial-style pints.
That's right. What Good Word does best (and with such a delicate touch) are beers like an English-style bitter, a Czech pilsner, a Czech dark lager, an English porter, or an Italian pilsner, just to name a few.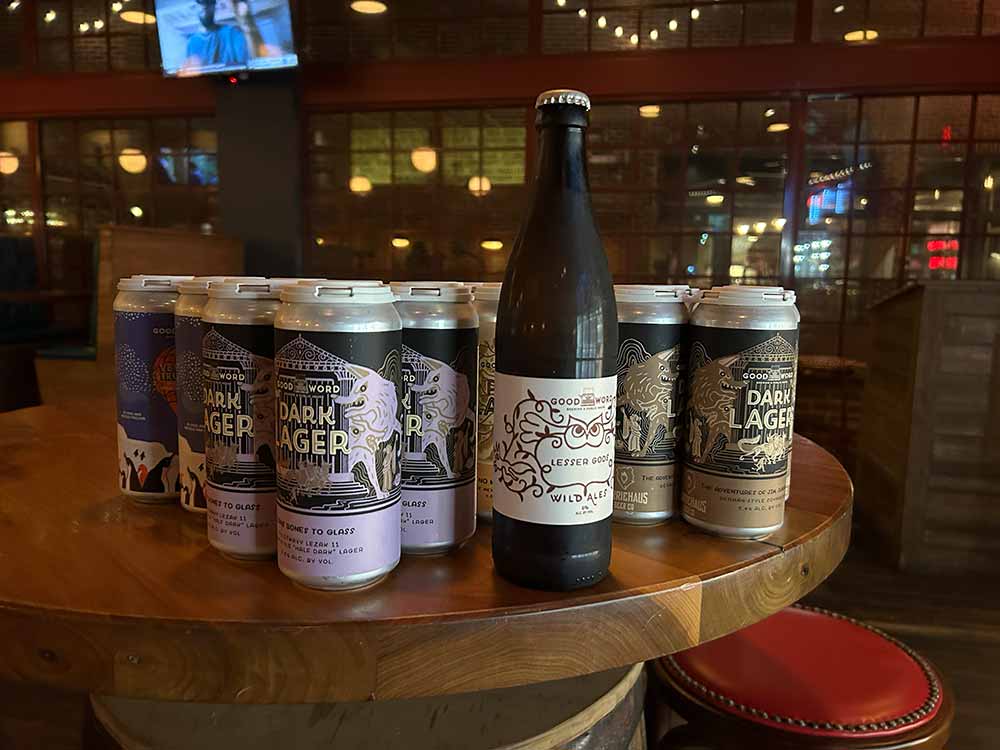 In fact, we named Quantum Immortality, an English porter, one of the best beers we drank in 2021.
And Isabella, a hefeweizen, made our list of the "The Top 10 Beers We Drank in February."
On my recent visit, I ordered a Czech half dark lager called Turns Bones to Glass (which Todd told me is apparently a reference to a song by Bill Callahan). "So so so freaking good," is the first thing I wrote in my notes. Pouring with an amber, brown hue, this half dark lager had a lovely complexion in appearance but also in flavor. With a nice toasted crust buoyed by an almost warm snickerdoodle cookie right out of the oven.
Todd suggested I try one of his namesake beers on tap, Young and Youthful Todd. A 5% ABV kellerbier, this un-aged house pils just presented as an absolute table sipper.
I also tried to get a taste of an English-style smoked porter brewed in collaboration with John Holl, but they were all out. 😥
Whatever you order at Good Word (and yes, there is currently a West Coast-style IPA on the menu for all you hopheads), you seriously can't go wrong.
All in all, when I knew I was coming to Atlanta, Good Word was at the top of my must-stop-there-or-I-may-never-get-a-chance-to-do-this-again list.
So yes, you will need to travel about 30-40 minutes to find Good Word, but take my…good word for it, the trip is completely worth it.
Sunday: Decatur + Summerhill + Grant Park
In full transparency, Todd "kept" me at Good Word until the wee hours of the morning, so that was my only stop that night. And I knew if I was going to ambitiously tackle Sunday, I needed a good hearty breakfast.
Options abound.
Locals Saturday night gave me some great suggestions (and I'd get plenty more over the course of the weekend). The consensus seemed to be that Silver Skillet, Home grown, Busy Bee Cafe, and Atlanta Breakfast Club are all considered some authentic, no-frills, diner-esque spots to grab a stick-to-your-ribs southern breakfast. So if that's your jam, I highly recommend one of those local-approved options.
Pro Tip: Atlanta Breakfast Club is right by the Georgia Aquarium, which locals and non-locals alike rave about. I didn't have time to stop by, but it should be on your radar for a non-beer-related activity.
That's not quite my jam, so I went a little farther afield for breakfast. But I'm also a vegetarian, and saying that out loud in Atlanta gets weird looks, so I wanted to throw those breakfast spots out there first.
Here's where I ended up:
Fellows Cafe
1088 Green St, Roswell, GA 30075 | (678) 983-1481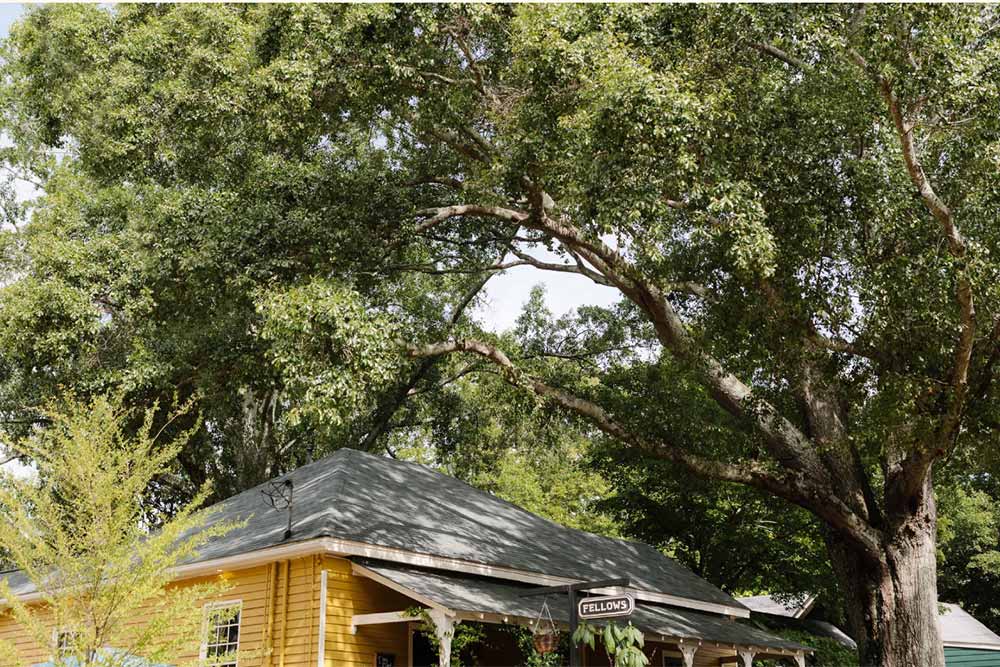 10:00 AM Home-cooked food with southern hospitality – If your grandmother opened a cafe in her living room, that might be Fellows Cafe.
Walk across the spacious front porch nestled under a one-hundred-year-old oak tree, step through the probably fairly newer screen door, and you'll find a quaint cafe serving up contemporary breakfast and brunch fare in historic downtown Roswell.
We're talking an epic cheese board, a three stack of lemon ricotta hotcakes dosed in compote and crumble, and just something called "The Usual," a bowl of scrambled eggs, bacon, avocado, dressed greens, roasted sweet potatoes, and half a slice of house-baked sourdough.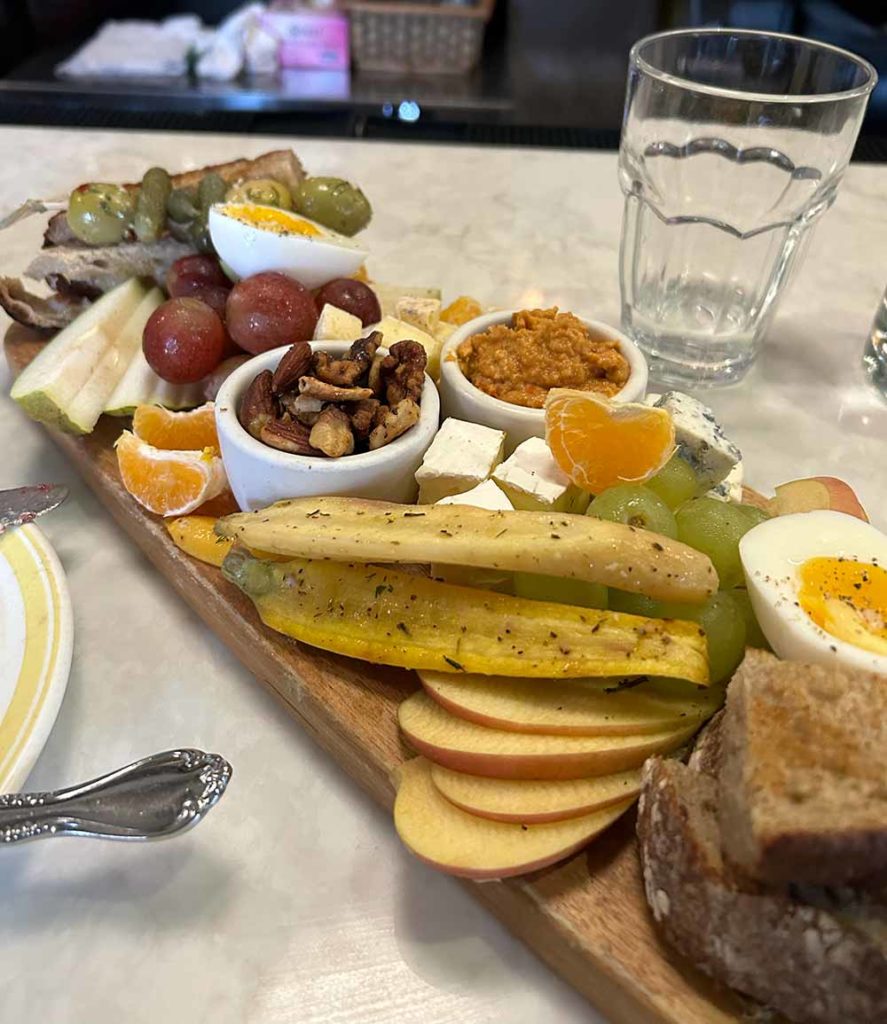 I wanted everything on the menu, but I settled for the Fellows Board and a side hotcake. Nate, my host behind the bar, asked if I wanted to add all the toppings to it (mixed berry compote, pecan crumble, and wildflower honey drizzle). Uh, yes! Of course I do. He also came by and refilled my ceramic coffee mug free of charge. And when I asked for a to-go cup, he poured me a completely fresh cup. That's the kind of southern hospitality you're getting here.
On the stool next to me, a man named Bruce told me that he's a regular, coming in pretty much every other day. Almost every single member of staff came over and chatted with Bruce, just truly enjoying his company.
Like I said, this is like your grandmother's living room. She's in the kitchen cooking up a storm and you're sitting on the couch amongst a host of antiques, sipping on tea and chatting with her friends.
Hike Around Vickery Creek Falls Roswell Mill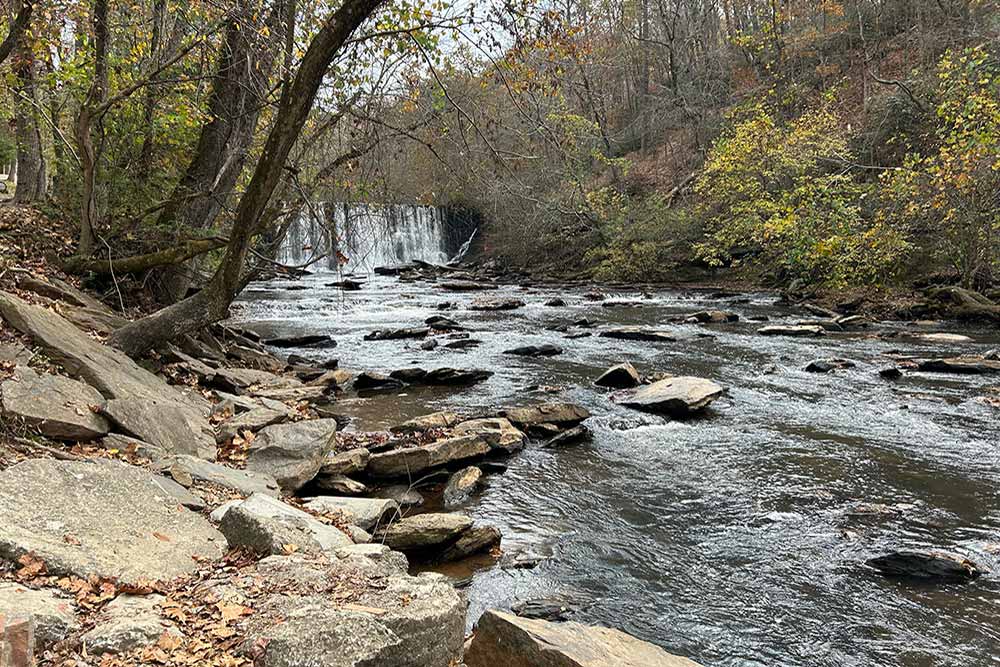 11:00 AM See the sights – Roswell is a beautiful town. Kind of this idyllic small town situated on the Chattahoochee River. A cotton mill anchored the town back in 1839. Now you can view some of the old parts of the mill in the Chattahoochee River National Recreation Area.
A forested area featuring a network of trails along a scenic creek, the park also has a pretty much picture-perfect covered bridge and waterfall.
Walk off your enormous Sunday brunch here, stop and take a few selfies, and you'll be in a happy place.
The Little Tart Bakeshop
437 Memorial Dr SE, Atlanta, GA 30312 | (404) 348-4797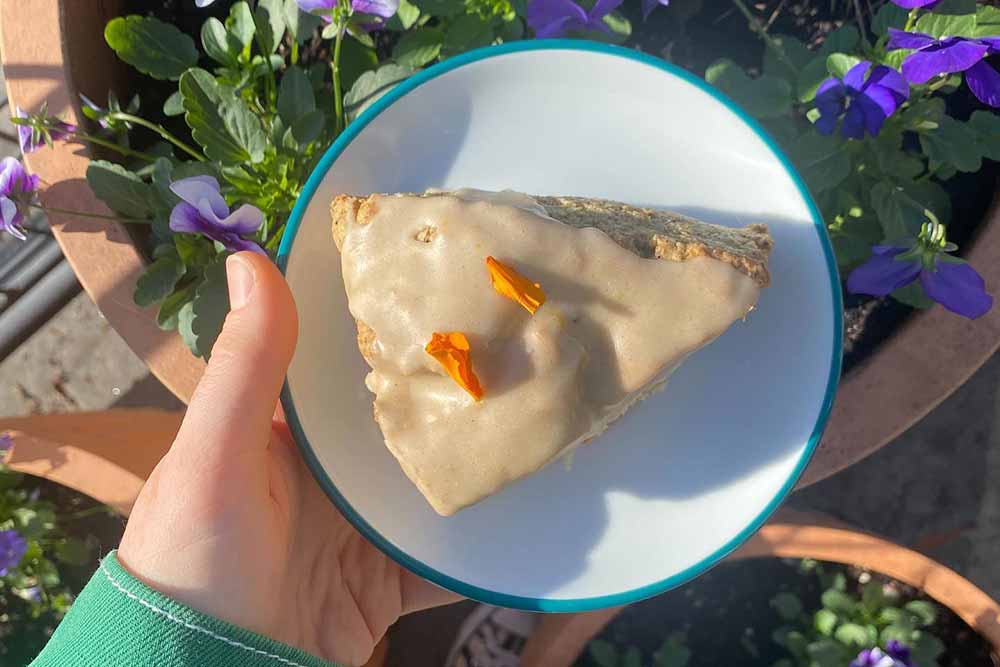 12:00 PM Back into the city for baked goods – Funny how when you hike off breakfast you also get hungry again. One of the buzziest bakeries around Atlanta, The Little Tart Bakeshop had humble beginnings.
Started by Ohio-native Sarah O'Brien, this homey yet contemporary bakery started just at Atlanta's farmers markets in 2010. Now, O'Brien's expanded to three locations. But the shop has kept its local feel. The Little Tart Bakeshop works with local farmers, jam makers, beekeepers, cheese makers, and butchers. And folks have taken notice.
Expect to wait in line on a Sunday. But if you do, you'll be treated to bites like a buttery biscuit with seasonal jam or sausage.
A whole glass counter shows you the day's pastries, which can range from a pistachio and orange bostock to a blueberry, fig, and honey hand pie. Flavors rotate.
I went for the Coffee, Chocolate, & Walnut scone, a perfect blend of rich, caffeinated icing on top of a more crumbly scone.
It was the perfect post-hike snack to accompany me for my next amble.
Stroll Around Little Five Points Neighborhood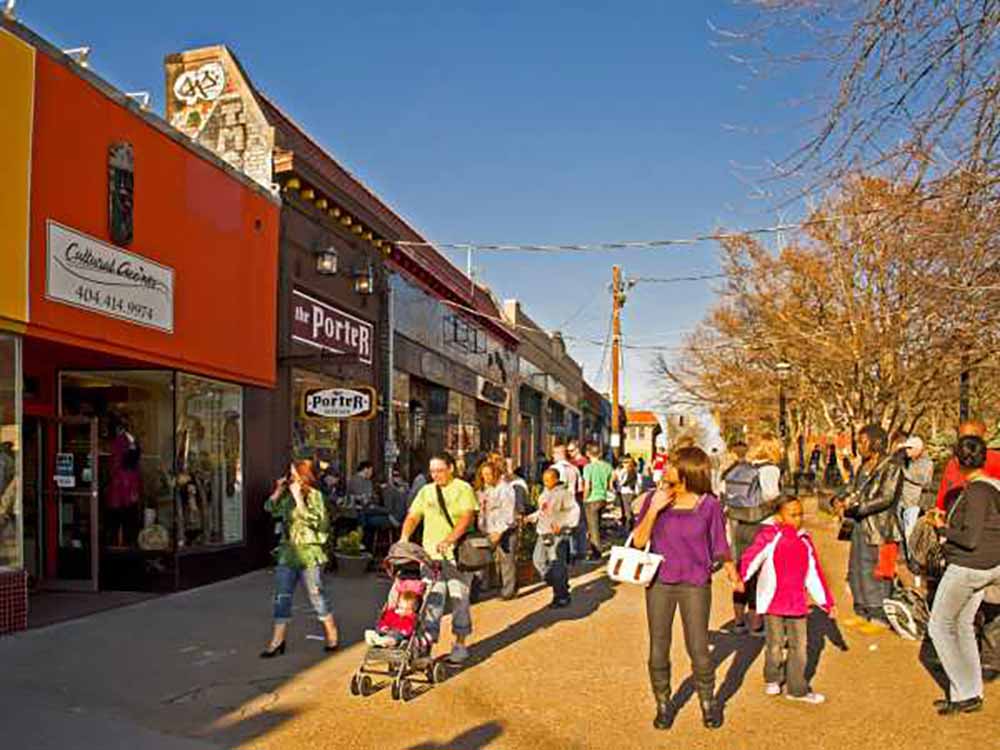 1:00 PM The sights and sounds of life – Full and happy, I strolled over to the Little Five Points neighborhood.
It's like the ultimate artist area. Kind of a Bohemian-chic treasure hunt, you'll find vintage record stores peppered in between indie bookstores, a natural foods market, tattoo parlors, and even an independent radio station. Everything is a gem.
You can wander around in and out of shops or just stroll up the streets listening to folks banging on drums on corners or festivals rocking on in parking lots (at the one I passed, people appeared to be constructing a skateboard halfpipe) or catch some pretty epic street art.
This place just brims with energy.
I did go here with the goal to stop at The Porter Beer Bar, a supposedly funky little place with fifty drafts and over 800 beers. Unfortunately, I found the windows covered in brown paper and a little sign saying they're undergoing renovations, despite appearing open on Google Maps. Hopefully when you go, this highly rated hangout will be open. But you should probably give them a call before you go!
Brick Store Pub
125 E Court Square, Decatur, GA 30030 | (404) 687-0990
2:00 PM An English-style pub in an old courthouse – From there, a quick ten-minute Lyft brought me over to an unassuming little storefront that houses one of the best beer bars in the area.
Co-owned by Mike Gallagher, Dave Blanchard, and Tom Moore (who perhaps not too coincidentally also have a stake in Good Word), Brick Store Pub emulates the quintessential neighborhood British pub.
Situated in an old courthouse building, Brick Store Pub has been a staple in the area for twenty-five years. And over the last two and a half decades has absolutely built up its renowned reputation…brick by brick.
Plop into an intimate booth with mustard yellow cushioning and dark mahogany benches. Pull up a stool to the horseshoe-shaped bar or head upstairs to the cozy cask bar. Wherever you sit, it's like you're hiding in plain sight. And that's the most comforting feeling, especially when you start off drinking solo at the bar, enjoying their Sunday Biscuit Service (two small buttery biscuits with a swath of apple butter), and reading a Michael Connelly book.
Lucky for me, on the day I ventured out, Brick Store welcomed Schilling Beer Co. to take over eleven of its taps. (Okay, I wasn't exactly lucky; I'd learned about the event from Odd Colony Brewing Co. Co-Founder Blake Schweigert at Good Word the night before.)
Any given Sunday you can find Brick Store spotlighting a different brewery.
Jeff Cozzens, co-founder of Schilling Beer Co., actually parked it on a stool next to me. So, of course, I struck up a friendly chat. He was probably even more excited than I was to be pouring his beer at Brick Store. And that's a testament how much the craft beer industry respects this place.
I couldn't drink all eleven beers, but I had a couple of stunners. A Czech half dark lager called Augustin came off a Czech Lukr side-pull faucet. A tad earthy, almost like wet leaves smoking in a campfire, Augustin had an incredible whipped-cream-like head from that slow pour. And the beer drank incredibly smooth.
I also had a small pour of a dunkel courtesy of the bartender's suggestion.
I can't say that I'm often a fan of this style, but Landbier Dunkel might have changed my mind. The smoothest one I've probably ever tried, Schilling's version had deep aromas of hot cocoa and raisin. Everything carried through on the sip, filling my mouth with smooth chocolate nuttiness.
Again, technically Brick Store Pub is in Decatur, but the thirty-minute Lyft ride out will be more than worth it for a pub full of old-world charm yet featuring new-world breweries (albeit some still doing old-world styles).
Halfway Crooks Beer
60 Georgia Ave SE, Atlanta, GA 30312 | (678) 705-5530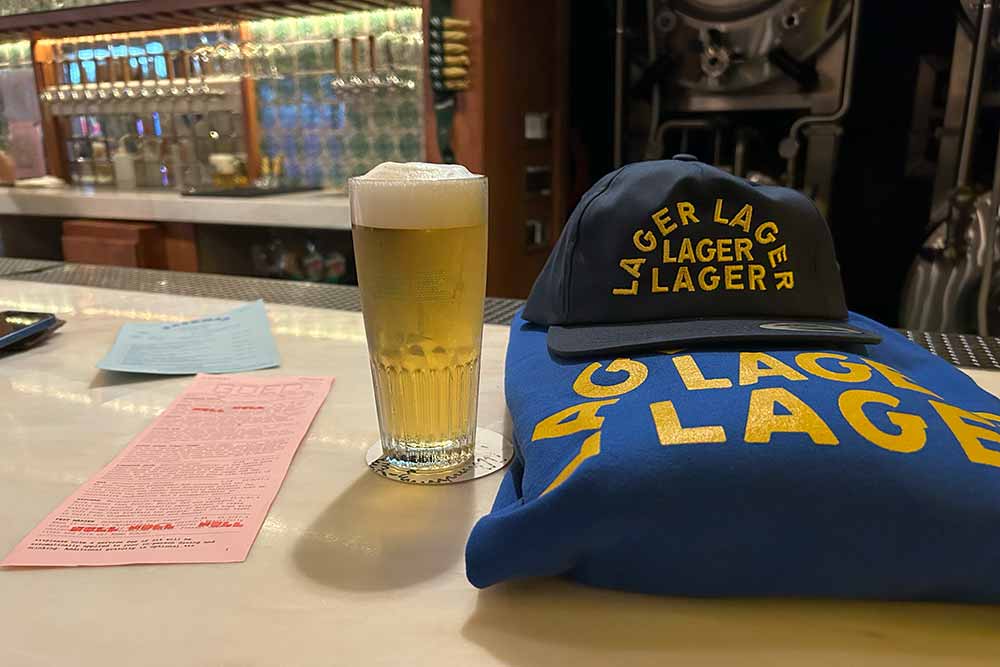 3:30 PM Lager, lager, lager, lager – Perhaps some of you will remember when former Hop Culture Managing Editor John Paradiso first discovered Halfway Crooks, a killer started by Co-Founders Shawn Bainbridge and Joran Van Ginderacther in 2019.
As impressed by the merch and branding as the beer, we named Halfway Crooks one of our "10 Best New Breweries of 2019."
Certainly walking into their Summerhill location you're struck by both. Full of wood, light, and quirky touches, Halfway Crooks' Golden Age meets grandma's attic knick-knack vibes flow from their beer taps into each piece of furniture and certainly their hipster-loving merch.
I'd be lying if part of the reason I didn't stop by was to snag a "Lager, Lager, Lager, Lager" sweatshirt and hat.
But I also had time to pull up a stool to the absolutely gorgeous bar and grab a quick beer.
Originally pretty European-centric, Halfway Crooks does have an entire portion of their menu now devoted to the hoppy stuff (cheekily called "NOT LAGER NOT LAGER NOT LAGER"). But if you go here, you have to at least try one beer from the "LAGER LAGER LAGER LAGER LAGER" side.
Metric is a classic German-style helles we've been fans of for a while. So I went for something unique I'd never tried before. A smoked helles called Kelvin. People can be a little hot or cold for smoky beers, but when done right one screams perfection to me. Kelvin gave me more of a smoldering peck on the cheek than a full-on burning French kiss. Make no mistake, there is smoke here; the fairly light crackery helles base gives a great backbone for the smoke to shine. There's nothing super malty to intervene, so if you're cold on smoke, maybe this one isn't for you.
Whatever you try at Halfway Crooks, this is the kind of siren brewery that calls out to you, luring you back time and time again to discover new treasures each time you step inside.
Elsewhere Brewing
1039 Grant St SE Suite B34, Atlanta, GA 30315 | (770) 727-0009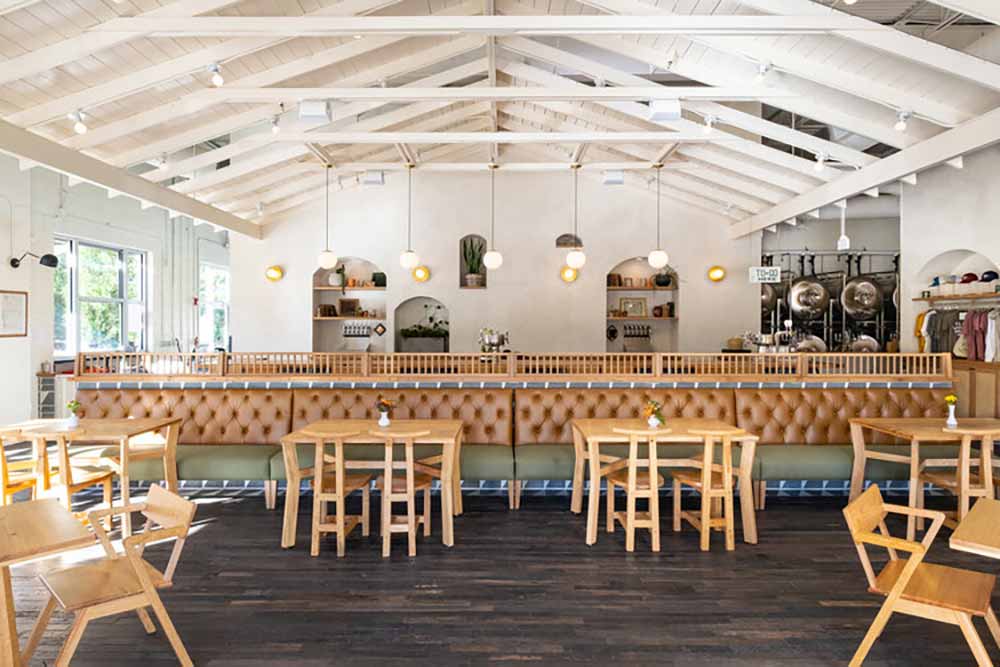 5:00 PM Find somewhere at Elsewhere – I've been trying to rack my brain to remember how I first connected with Sara and Sam Kazmer from Elsewhere Brewing. Sometimes it just seems that a package of their beer magically ended up on my doorstep and I've had the pleasure of drinking all of their mostly European-leaning styles ever since.
Everything has struck a chord. Which is probably why we named them one of our "10 Best Breweries to Watch in 2021."
And don't you just love it when you're right?
Throughout the rest of that year, their beer continued to wow us.
Probably not surprising then that their German hefeweizen, Promised Marvels, made it on our "20 Best Beers to Drink in Fall 2021."
And that their Grant Park Menagerie Belgian blonde landed on our "21 Best Beers We Drank in 2021."
So I'll just leave it at this: Whenever Sara or Sam hit me up saying they'd like to send me something new…I never say no.
But now, I finally had a chance to visit. To try their deceiving complex and thought-provoking beer from the source. And even better, I had the chance to grab a meal with Sara and Sam.
Literally from the moment I walked in, we sat down, ordered a couple of Proletariat modern pilsners, and talked for something like four hours straight. Somewhere in between those hours, Sara ordered some food for us and the rounds of beer kept coming.
In between bites of perfectly fried and delicately spicy Buffalo cauliflower and toast points with the south's infamous pimento cheese, we talked about Sam and Sara's eighteen-month journey traveling around South America and Europe. The R&D journey was meant to be inspiration for starting Elsewhere after Sam medically retired from the Army and Sara quit her marketing job.
And in between sips of the brewery's excellent slightly roasty but indulgently smooth Czech dark lager, Gest, we spoke about how surprising it is that beer has ended up being one of their best sellers.
Suffice it to say we shut down the place. Honestly, I probably stayed longer than I should have because I know all the incredibly friendly bartenders and staff wanted to go home on a Sunday night, but I just couldn't help it.
Kind of one of those magical times you don't forget.
Sara and Sam are the type of humble adventurers you want to drink beers with just to hear their stories. And in their gorgeous taproom, you could certainly while away a whole evening sipping everything from a Czech dark lager to a saison to a Belgian tripel to even a cream ale (and yes, there is a West Coast IPA and hazy IPA for all you hopheads).
I certainly did. And I already wish I could go back next Sunday.
Eventide Brewing
1015 Grant St SE, Atlanta, GA 30315 | (404) 907-4543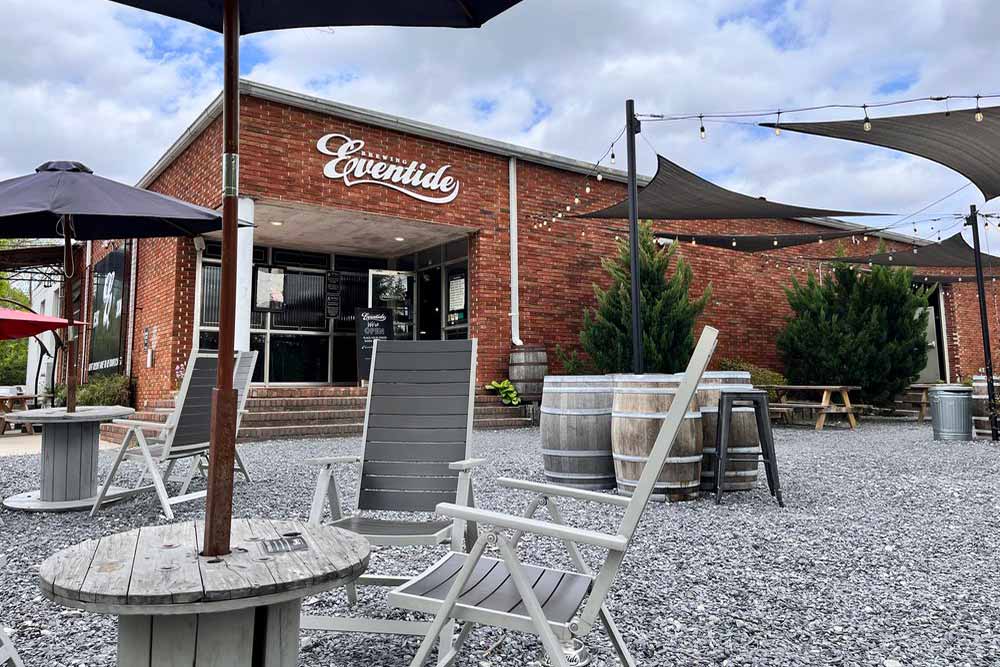 7:00 PM Great, not complicated – So like I said, we shut Elsewhere down on a Sunday night, so I didn't have time to get to Eventide. But if you manage your time better than I did, you should certainly hit up this "great, not complicated" brewery in the same complex.
A mere three-minute walk from Elsewhere, Eventide Brewing started thanks to friendship and a love of good beer.
Co-Founders Matthew Sweezey, Nathan Cowen, Haley Cowen, and Geoffrey Williams all met at Georgia Southern. There they discovered a love of all things fermented.
Today, Eventide is a place where you can relax and grab an unpretentious beer.
Like Eventide's Midnight Hour, a perfect example of a schwarzbier.
In this beer, Eventide Head Brewer Adam Lukey uses dark Munich malt, roasted black barley, and a touch of chocolate wheat, which "gives the beer a softer and slightly sweet taste on the palette," says Lukey. "Immediately you get a full maltiness, not so bready, but there is sweetness to it. The roast is what comes out immediately after, and you do get that chocolate coffee note, but not bitter at all."
Midnight Hour hits just 5.5% ABV, so it's a clean, crisp black lager. And you can have one, two, or maybe even three of either on a hot summer afternoon or a cold winter night.
Go to Eventide for unfussy, uncomplicated, yet well-executed beers in a friendly, neighborhood place.
Monday: Beers Along the Westside Beltline
My last day in Atlanta was a whirlwind. I will preface by saying that many breweries in Atlanta are closed on Monday, so make sure you check before visiting or plan your weekend a little differently than mine.
It just so happened that since I participated in the Georgia Brewers Guild's Annual Symposium on a Monday, my weekend played out a bit differently.
For your travels, I'd recommend flying in on Thursday and out on a Sunday if you can.
Silver Skillet Restaurant or Home grown
200 14th St NW, Atlanta, GA 30318 | (404) 874-1388
968 Memorial Dr SE, Atlanta, GA 30316 | (404) 222-0455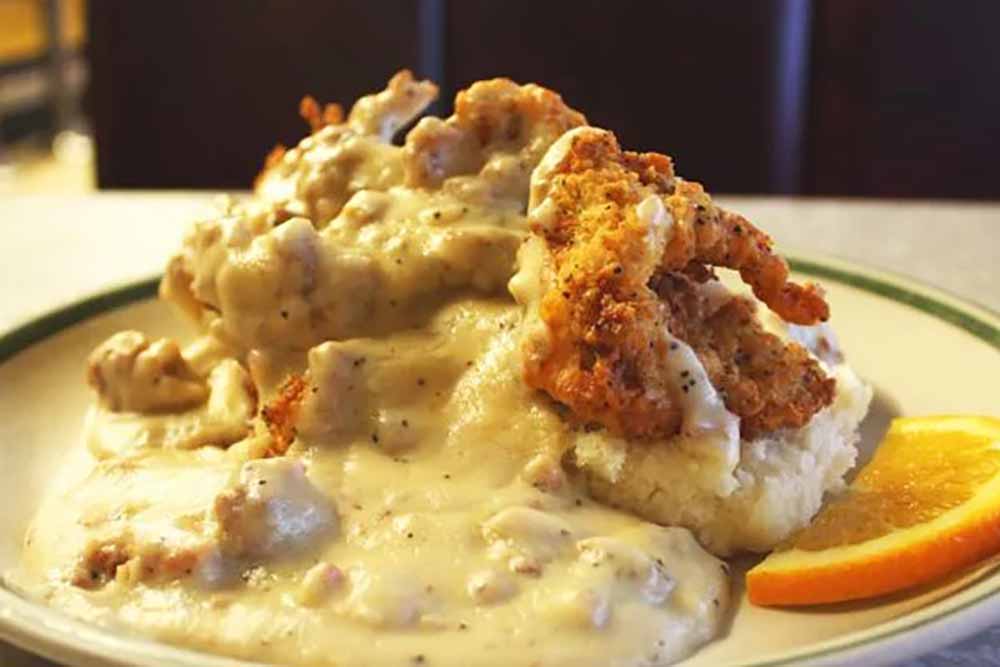 10:00 AM Fuel up in an institution – I'm putting two choices here because technically Home grown isn't open on a Monday while Silver Skillet is. Hopefully though you'll be in Atlanta on a weekend and can have the choice to go to either.
As we mentioned before, wherever you end up, these are both Atlanta institutions.
Housed in a little white brick, green, and brown building, Home grown has some of the city's best biscuits. And served in the south's best way, smothered in country gravy.
Silver Skillet has those classic diner vibes. Here you'll find an extensive menu with chicken and waffles, omelets, old-fashioned buttermilk pancakes, and everything in between.
Fuel up, because you'll be drinking all day!
Monday Night Brewing – The Garage
933 Lee St SW, Atlanta, GA 30310 | (404) 352-7703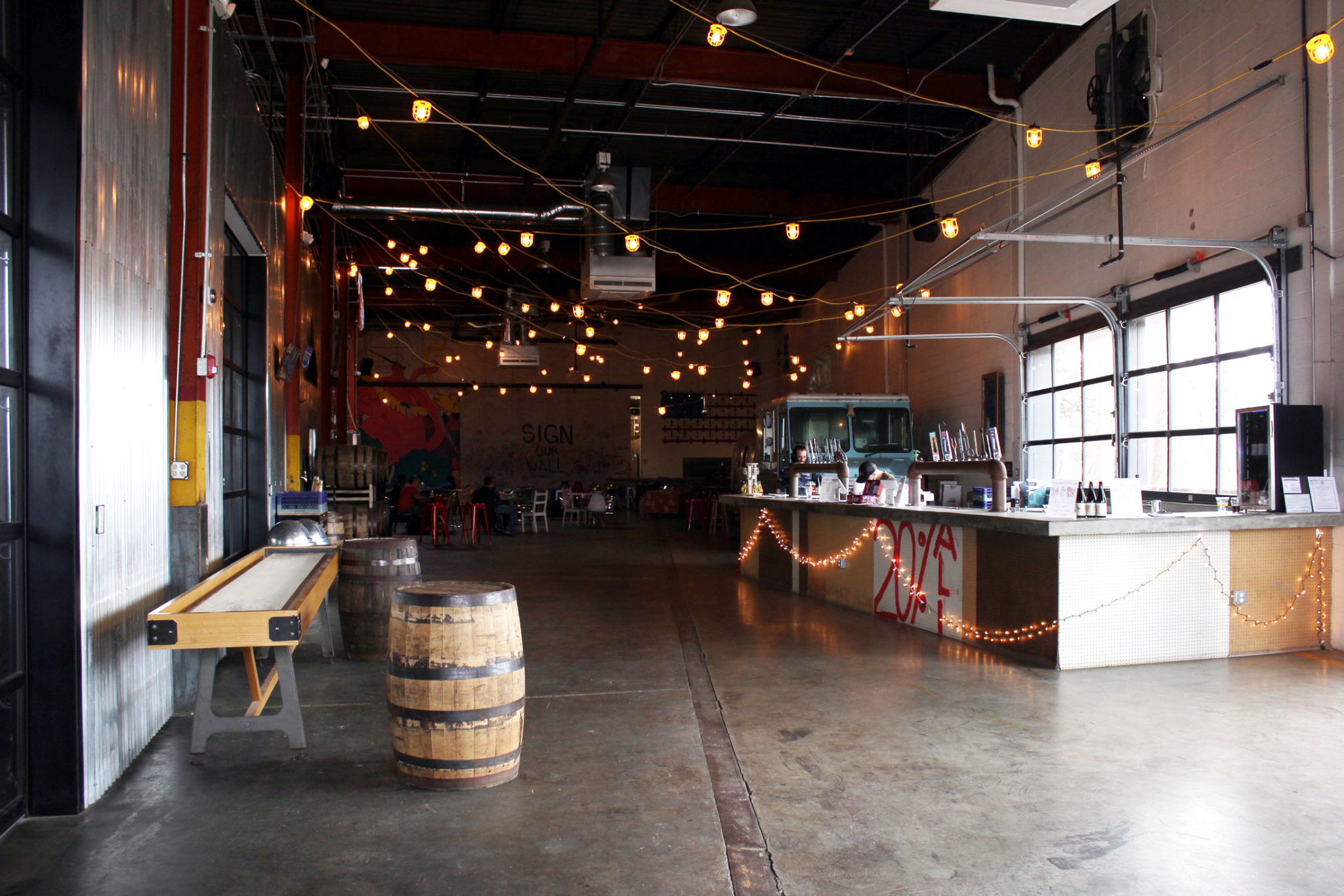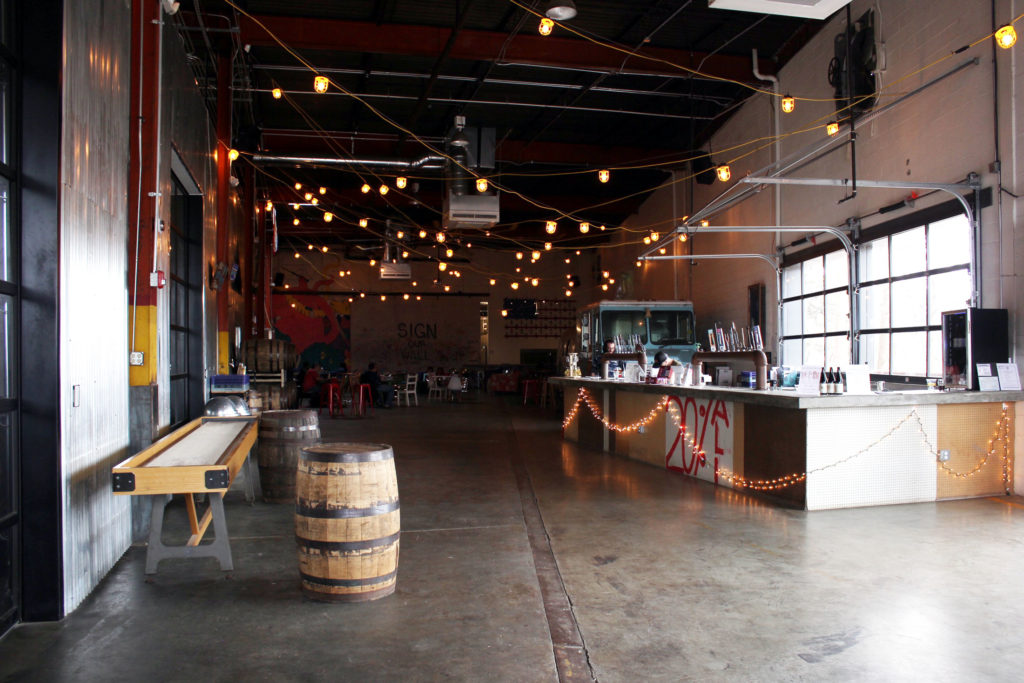 12:00 PM Barrel-aged, sour experiments – Probably one of the most recognized breweries in Atlanta, Monday Night Brewing has actually grown to epic proportions with two locations open in Atlanta, one in Birmingham, and another in Nashville. Plus, a couple more on the horizon!
Co-Founders Jeff Heck, Jonathan Baker, and Joel Iverson started Monday Night thanks to a small Atlanta Bible study. The three got to know each other while brewing beer on Monday nights all the way back in 2006. As more and more folks came to their driveway to try their beer, the trio knew they were on to something.
Since 2011, Monday Night has grown into one of the most well-respected breweries in the metro area.
Their Garage location, which opened in 2017, is massive! A part of the new Lee + White complex along Atlanta's Beltline, the Garage is 22,000 sq ft of Monday Night madness including three barrel aging rooms, a coolship, and an onsite orchard and garden.
Here you'll mostly find the brewery's barrel-aged and sour experiments. Beers like a foeder-aged Czech pilsner called Shwaka Pils with Hallertau Mittelfrueh, Saaz, Magnum, Saphir, and Mandarina Bavaria. Inspired by a government-sponsored trip to the Czech Republic, Brewmaster Peter Kiley fermented the pilsner on lightly toasted French oak and dry hopped with Saphir. 🤯
Here's the move: Amble up to the bar where you can grab an excellent Taco Tuesday Mexican lager or Death Raptor "Killer" IPA. Order a pizza from the in-house 900-degree Fahrenheit wood fired oven. The dough for everything includes a special sourdough yeast culture blend with wild yeasts captured in the Garage's coolship.
Then sit down inside or around a fire pit outside and enjoy the start to your Monday afternoon at The Garage.
Wild Heaven Beer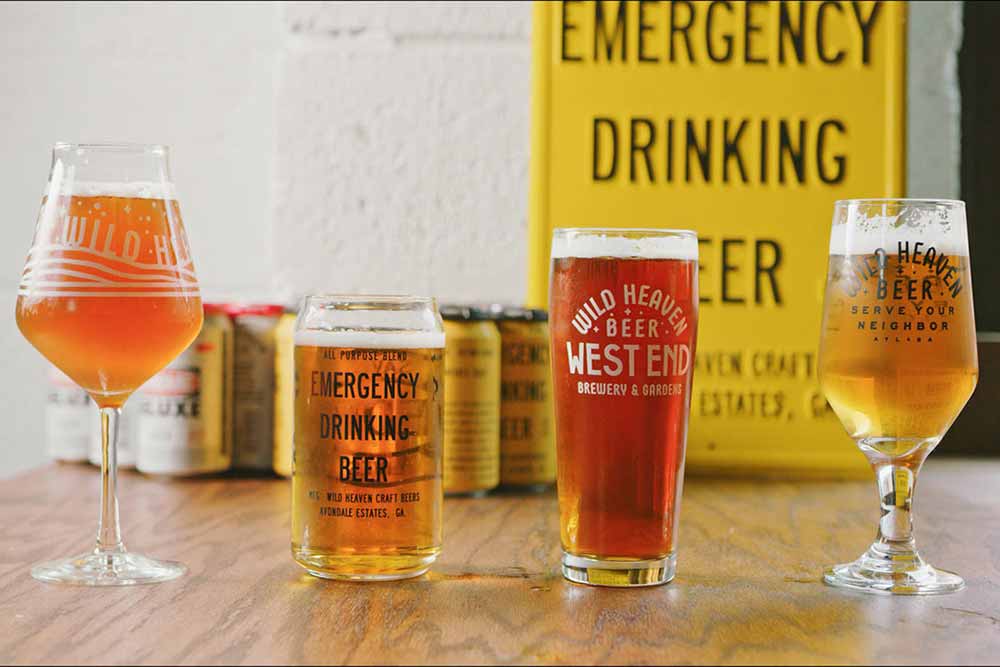 2:00 PM A stones throw – The best part about walking along the Westside Atlanta Beltline in the Lee + White complex is that you'll either purposefully or accidentally stumble upon a slew of other breweries. Probably a two-minute walk from The Garage is Wild Heaven Beer.
In fact, if you were eating a pizza and drinking a beer outside The Garage, you could literally see Wild Heaven; it's just a stone's throw away.
Head over there to try traditional European and innovative American beers. For instance, an ATL Easy Ale pale ale, Euro-Style Pilsner (that's the actual name!), Emergency Drinking Beer pils-style session ale (that's the actual name!), or Sunburst IPA.
Here, "Serve Your Neighbor" is their motto. And Wild Heaven serves up some pretty low-key impressive beers.
Dinner: Ticonderoga Club
99 Krog St NE W, Atlanta, GA 30307 | (404) 458-4534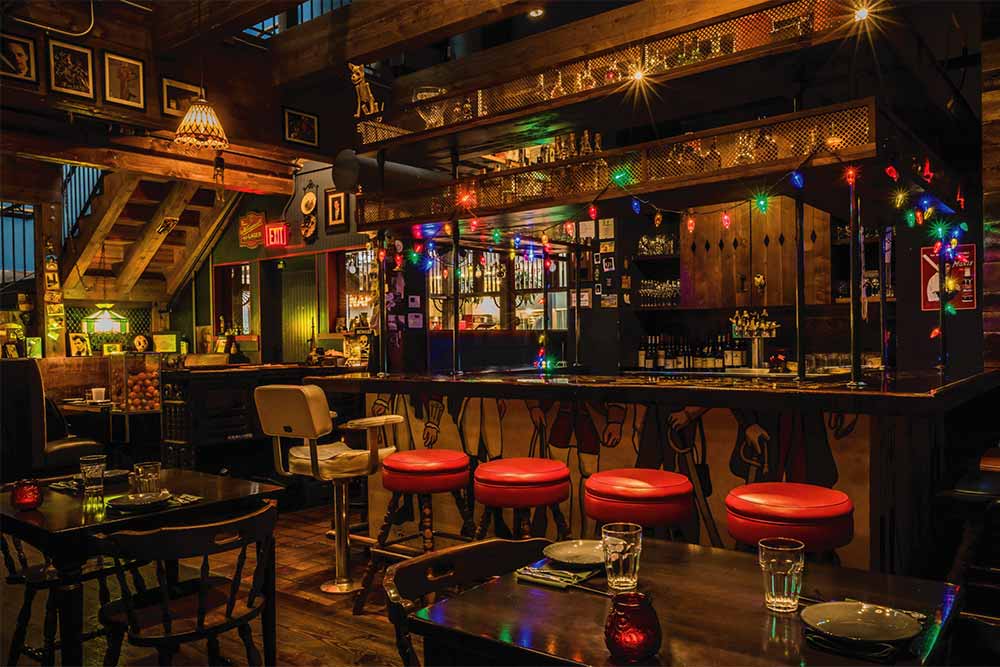 5:00 PM Something other than beer – After a couple days of heavy beer drinking, your palette is probably ready to switch it up. Head to the Ticonderoga Club in the Krog Street Market for the literal and physical nightcap on your amazing forty-eight hours in Atlanta.
Tucked into a back corner of one of our top food halls with great craft beer, the Ticonderoga Club is kind of like this slightly Southeast-Asian-inspired meets southern hideaway. For example, you'll find eggplant with thai chili, toasted coconut, and Bali sauce on the menu next to JoJo's & Crab Gravy with Tasso ham, the holy trinity, and scallions. Then there's The Chuck Wagon Dinner, "an absolute embarrassment of beef" with 48oz of Black Angus Chuck Roast served with fresh horseradish and wort and parsley red onion salad.
Here you should order a cocktail. LIke the Rising Fall with La Luna Mezcal, Amer Ticon, dry Vermouth, fino sherry, and orange liqueur. Or Borrowed Time with Elijah Craig small-batch bourbon, bounty dark rum, sorghum, and bitters.
This is the kind of place that feels like a Saturday night even though it's a Monday night. It's bustling, but the service is warm and a little playful. You can order plates of delicious food (or one big plate of beef) to share. And you'll sip on cocktails late into the night.
Let the conversation flow, let the food fill you with happiness, and let the alcohol settle around you like a warm hug.
Could not have been a better place to end my trip in Atlanta.
Honorable Mentions
But hot damn if I didn't leave Atlanta too soon. Here are a few places I didn't get to check out but heard around town are one hundred percent worth a stop.
Fire Maker Brewing Company
975 Chattahoochee Ave NW, Atlanta, GA 30318 | (678) 705-8777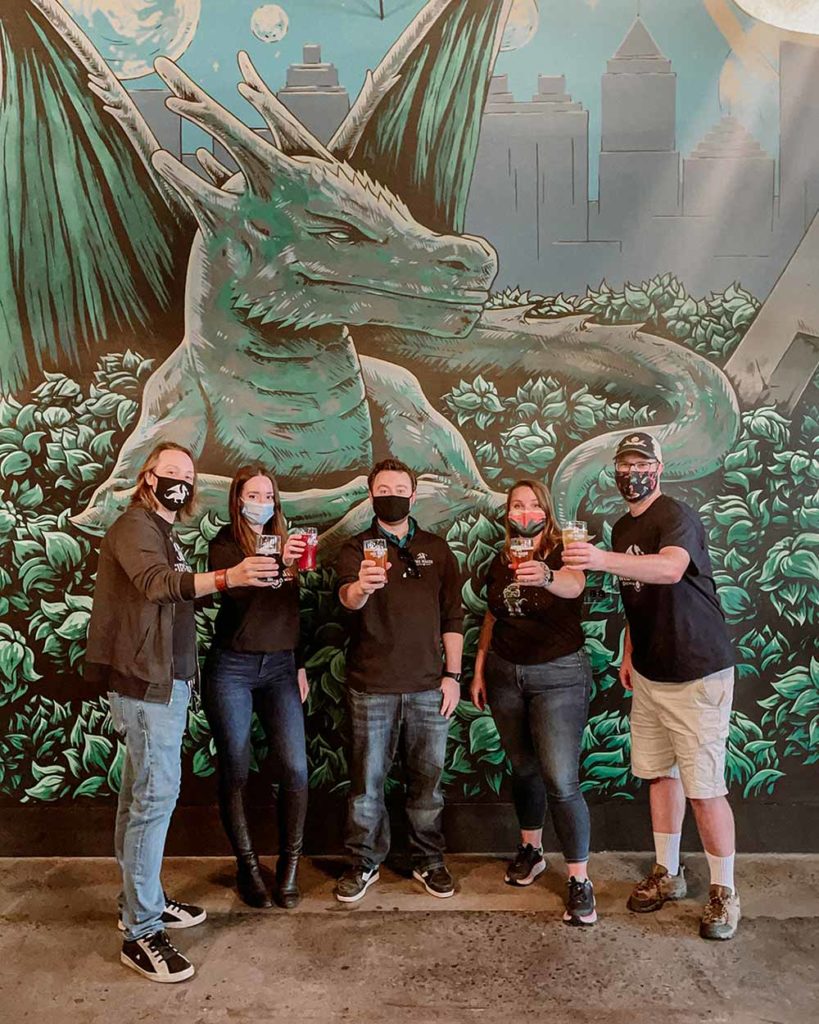 In 2021, USA Today's 10 Best Readers' Choice Awards named Fire Maker the #2 Best New Brewery in America.
Chosen by a panel of experts and determined by popular vote, Fire Maker is a must-stop in Atlanta.
Founded on values of family, integrity, and revelry, Fire Maker prides itself on beers that are pretty down to Earth.
Twelve taps feature the gamut. Such as a Way Down Yonder golden ale, a 4th Down amber lager, and a Calamity Jane blonde ale. Alongside a Yukon Cornelius hazy, DD214 rye IPA, and Chattahooch-Tea Southeastern IPA (basically, a beer-meets-refreshing-glass-of-sweet-tea).
I'm still kicking myself that I didn't get there. At least two Lyft drivers recommended the place to me too. That's how you know somewhere is good: When the locals start suggesting it, right?
Pontoon Brewing
500, 8601 Dunwoody Pl, Sandy Springs, GA 30350 | (770) 674-1075
The idea behind Pontoon Brewing is that when you're out on a boat, preferably a pontoon, you can escape the stress of life and just relax on the open water, preferably with a beer.
For those who don't know, a pontoon is basically a boxy, slow-moving float, for lack of a better term. Perfect for parties, cruising, and hanging out with friends, pontoons seem to embody that #lakelife.
And the styles at Pontoon the brewery do the same.
In fact, we named their Croccante Italian pilsner one of our "20 Best Beers to Drink in Spring 2022."
A style we've seen popping up more and more, Italian pilsners are light in color, clean in body, unfiltered, and defined by dry hopping. For purveyors of the style, European hops are encouraged. In Pontoon Brewing's version, you'll find traditional German hops such as Hallertauer Mittelfrüh and Tettnang alongside a clean pilsner base. At only 5% ABV, this is an all-day day-drinking beer. You'll find a distinct floralness and low bitterness in the body. But that's balanced by a high crispness—croccante literally means crisp in Italian.
But you'll find all kinds of crushable styles here. For example, a Crushing Waves Georgia Weisse, a new Wave Premium Ale, and a Dod Bod Session IPA.
This is easy living and easy drinking at its best.
Red's Beer Garden
1328 Boulevard SE, Atlanta, GA 30315 | (770) 637-2299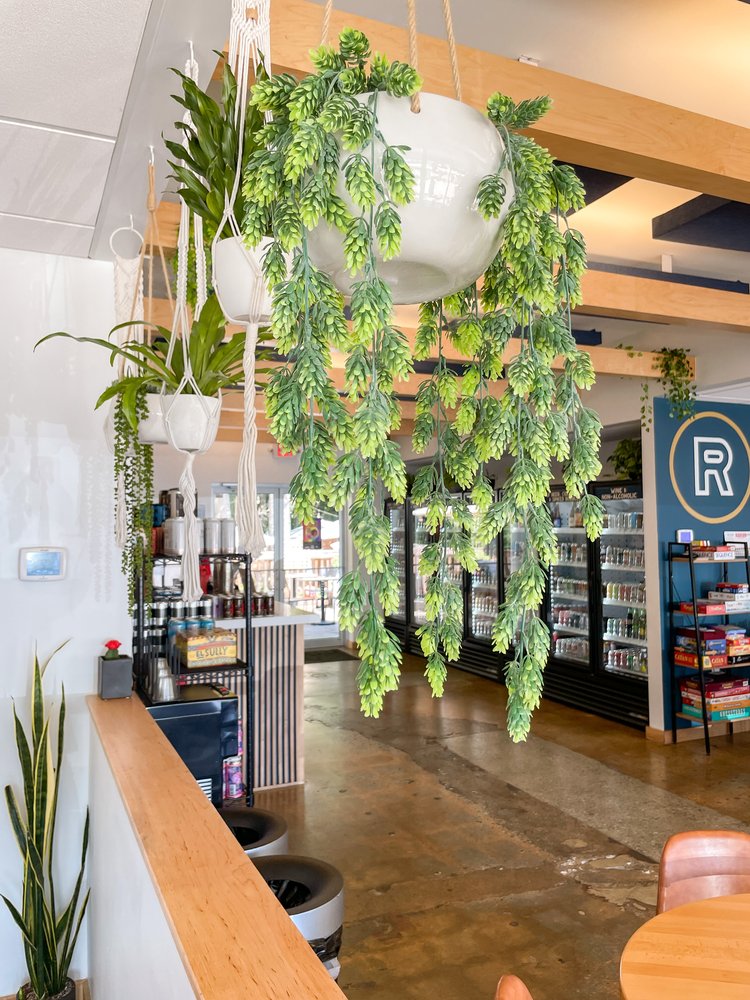 Two words: cold beer and hot dogs. Okay, that's five words, but you get the idea. Nestled off the Southside Beltline in Atlanta, Red's Beer Garden serves up both impeccably.
I didn't have time to stop by on my latest trip, but I did get the chance to meet Red's Co-Owner, Kristen (aka 'Red') Sumpter. And everything she told me about Red's made me put a little asterisk in my notebook to add it to my must-stop list for next time.
This is the kind of place where you can grab one of more than 200 beers from their self-serve refrigerators or draft from the bar, amble outside to the beautiful beer garden, order up a creative dog, and just kick back and relax.
Red features both global and local, low-key and highly sought after beers. For example, you can find a can of Good Word Quantum Immortality next to one of Ayinger Celebrator next to a PBR.
"At Red's, we believe in creating memories, cultivating friendships, and coming together with a common purpose: to enjoy good food and drink," it reads on their website. Not sure we could say it any better than that.
Orpheus Brewing
1440 Dutch Valley Pl NE | (404) 347-1777
Minutes away from midtown Atlanta's sprawling Piedmont Park, is Orpheus Brewing. It's a place perfect for those looking for a crisp brew after a long walk through the park. And if you haven't hit the park or the pavement in weeks, that's fine too. Specializing in "native funk, old barrels, big hops, and a little bit of chaos," Orpheus Brewing's beer list is a medley of barrel-aged, limited, and core brews. Unsurprisingly, Orpheus' barrel-aged selection is chock full of heavy hitters. For instance, Ye Who Enter Here (a 14% barrel-aged imperial stout). Or Coffee Minotaur (an 8% barrel-aged sour ale).
Bonus brewery note: The beer garden at Orpheus Brewing is open seven days a week if you prefer to avoid the weekend rush.