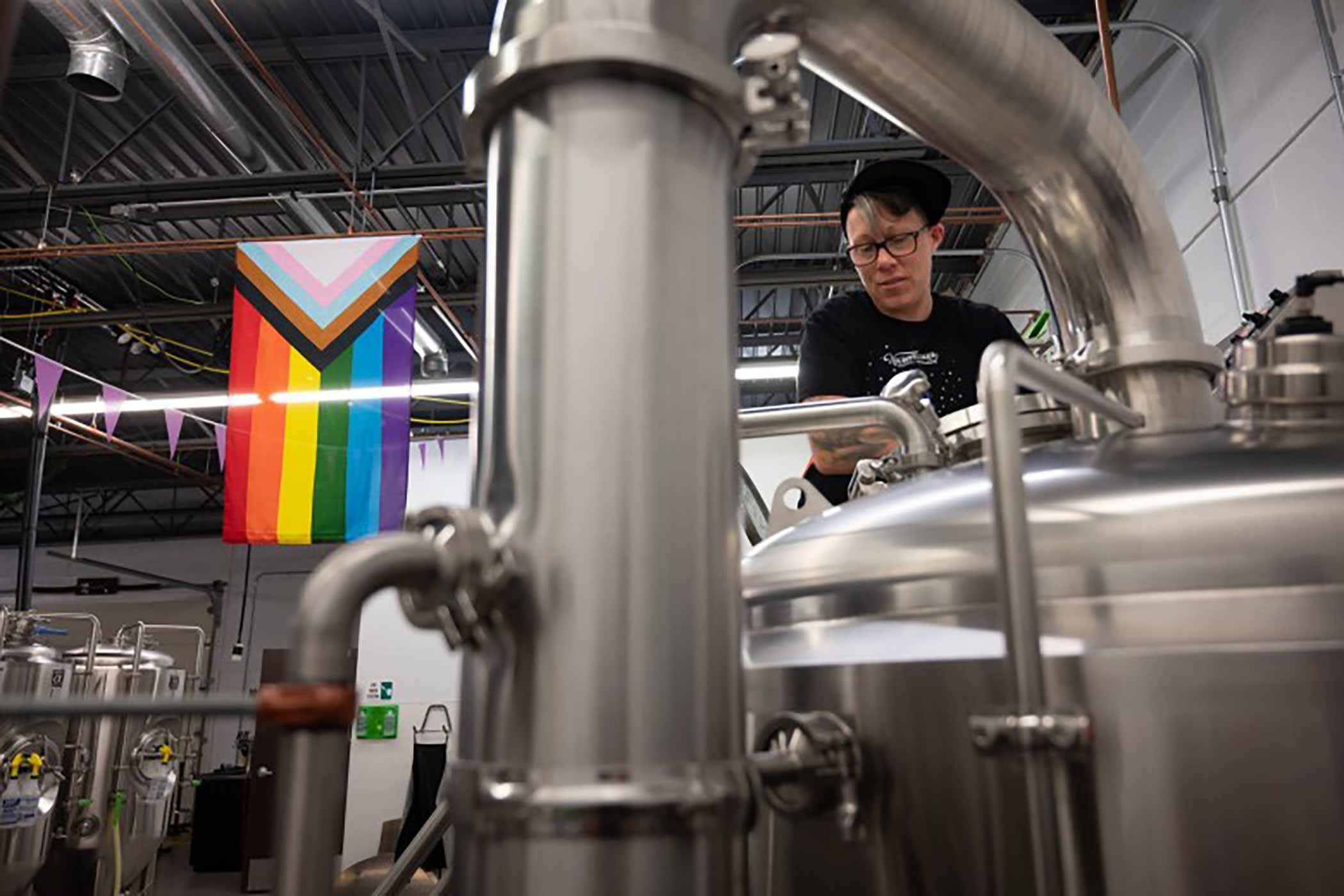 Photography courtesy of Stephanie Strasburg | PublicSource
Don't Miss:
Find Necromancer's Gold cream ale along with 11 other beers in Hop Culture's newest 2023 Queer Beer Box!
Get Hop Culture's newest beer box here!
Rotbier, English golden, extra special bitter, cream ale, black pilsner, altbier, English dark mild, lichtenhainer (smoked, fruited sour), maibock, grisette, Scotch wee heavy, Czech-style dark lager, Merseburger (black hoppy ale), London brown ale, the list of off-kilter, oft-forgotten beer styles goes on and on at Necromancer Brewing in Pittsburgh, PA.
Which is why we had high hopes for this creative brewery when we named them one of the 10 Best Breweries to Watch in 2021. We had a good feeling about the then-new spot founded by Ben Butler, who also owns the design agency Top Hat…We love it when we're right.
The brewery has lived up to the hype by resurrecting bygone beer styles (hence the name Necromancer … Get it?).
Helmed by Head Brewer Lauren Hughes and Lead Brewer Nina Santiago, Necromancer's brewing program focuses on their "Resurrection Series" while also peppering in plenty of hoppy goodness with hazies, West Coast IPAs, and contemporary takes.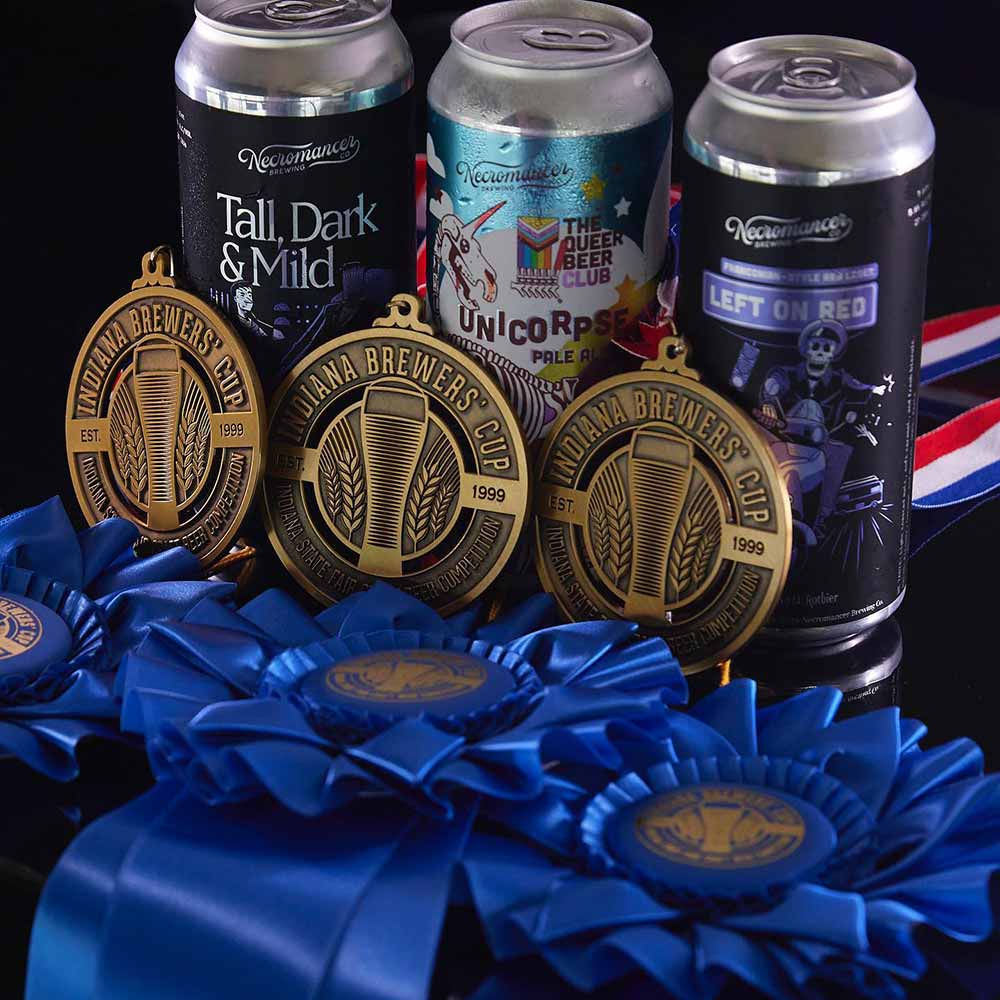 You'll be hard-pressed to find another brewery out there like Necromancer, which is why we also named them one of our "12 Best New Breweries of 2021." And you'll find their beers peppering our "best of" lists, including "The 37 Best Beers to Drink in Spring 2023," "The 27 Best Beers We Drank in 2022," and "The 20 Best Beers to Drink in Summer 2022." (Not to mention winning tons of awards: Hello, World Beer Cup and Indiana Brewers Cup.)
But beer isn't everything at Necromancer. Funny enough, being human and treating anyone who wants to enjoy beer humanely has been a core component of the brewery since the beginning.
A precedent we expect to continue for…well, eternity.
Flying Rainbow Flags at Necromancer From the Beginning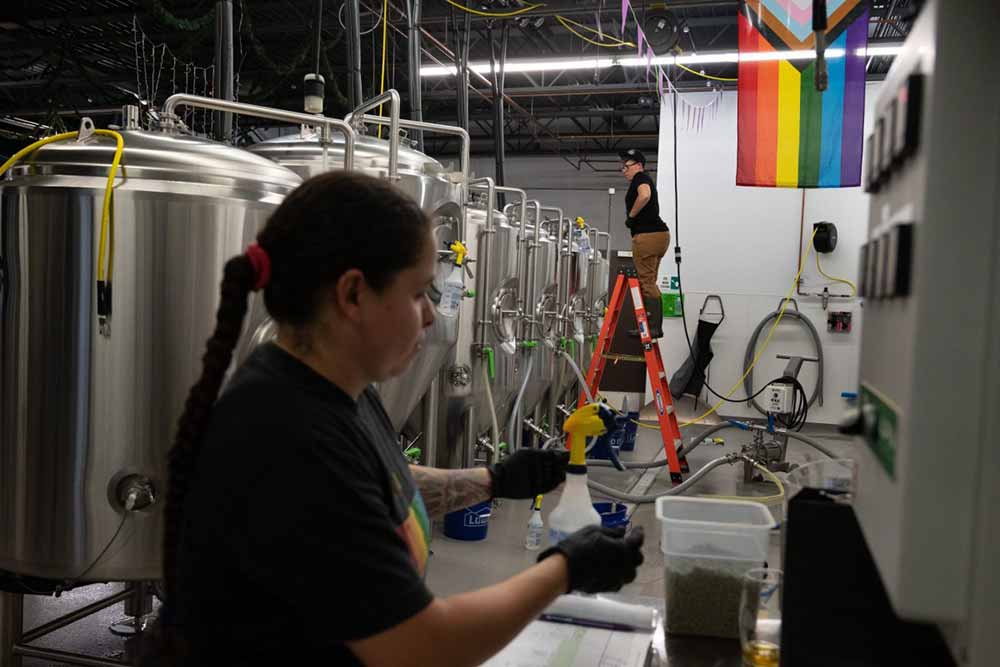 Hughes started homebrewing in college after her friend made her drink a Three Floyd's Gumballhead, "which I actually didn't like when I first drank it," she laughs. "But I wanted to be cool, so I kept drinking it, and he kept showing me different IPAs. Eventually, I got really into it and started enjoying it."
Investing in her own homebrew kit, Hughes started brewing, landing a job at Sun King Brewery out of college. After stints as a brewer and assistant head brewer at Rock Bottom, Hughes worked at Penn Brewery in Pittsburgh before heading over to Necromancer.
Throughout her career, Hughes, who identifies as Queer, says, "It was a very hard experience working my way up because you are met with a lot of adversity. I always pushed twice as hard to get noticed, to get my beer noticed … and that I could do the same thing that anybody else could do."
But all that changed when Butler approached her about the head brewer position at Necromancer.
"When Ben and I first talked, one of the things that he actually brought up, which was very surprising, is he wanted to have something that was different, that wasn't just kind of a cis-male white brewery, even though he is a cis-white dude," says Hughes. "He was just like, I want this to be different; I want everything about Necromancer to be different."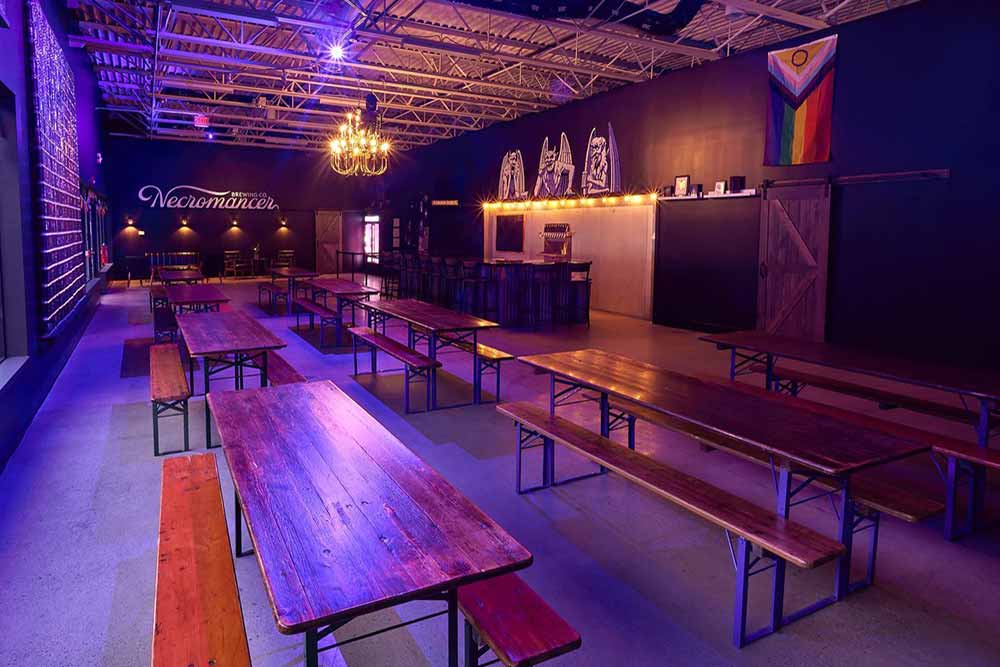 Drawn to Butler's refreshing push to buck convention, Hughes says she felt respected and treated like a human with a seat at the table from the very beginning. "I didn't have to work so hard just to prove myself because he trusted that I knew what I was doing based on my background instead of who or what I was," she says. "You know beer, you know what you're doing, so let's work through this and get this thing going."
First order of business, Hughes requested a rainbow flag in the brewhouse. "That's who I am; it's always something I've wanted to put in a brew house, but you never find that," she says. "You're working with a bunch of dudes, so you're not going to do that."
Hughes says Butler responded emphatically. "Yeah! Let's put one in the taproom too."
A seemingly simple gesture had a huge impact on Hughes and Necromancer employees and customers to come.
"I never had to hide [my identity]," she says. "It's just been a really great experience."
Another impactful thing Butler did at the start: Write a code of conduct.
Necormancer Thinks Every Brewery Should Have a Code of Conduct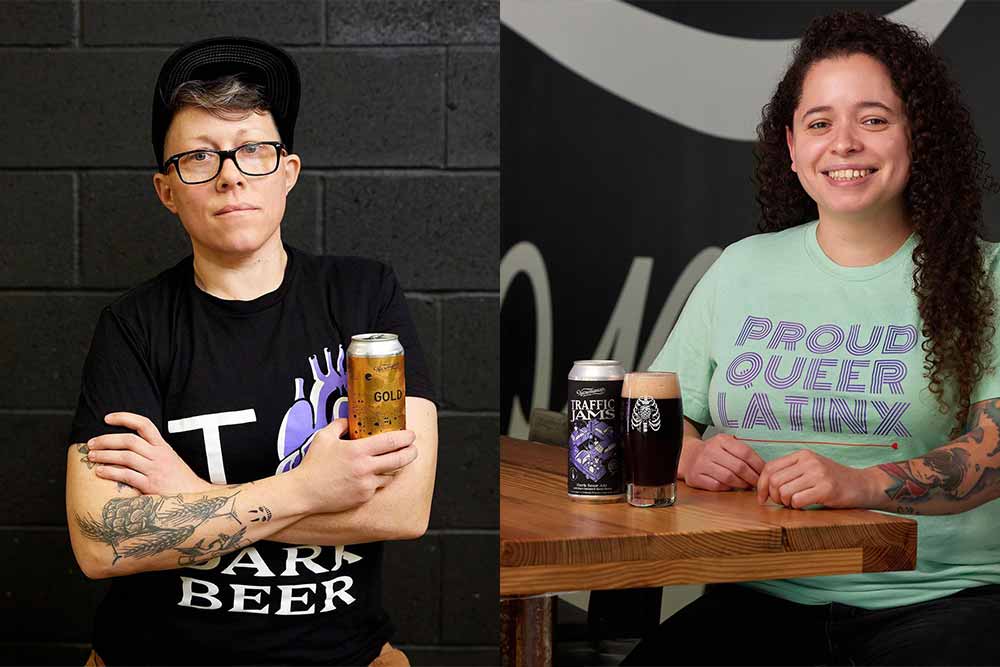 Writing and publicly displaying a code of conduct is one of the first steps to ensuring your brewery creates a safer space for all, whether someone drinks in your taproom or attends an event.
"Not just every brewery should have a code of conduct, but every company," says Butler. "Every company needs to have one, point blank."
Butler believes Necromancer's code of conduct is fundamental to running the business and a crucial part of why employees feel safe working there and people feel safe drinking in the taproom.
"Especially in the food and beverage space and because of the number of people and situations where alcohol is involved, you need to have a blatant understanding of where the lines are," says Butler. "The food, beverage, and brewery space has shown that people don't know where they are or care, and that's why we need to be this explicit."
Implementing a code of conduct since day one, Necromancer looked to the Brave Noise movement for helpful language in putting their company standards together. Accordingly, they have an almost three-page document that's easy to read but crystal clear on what's acceptable and not in their business.
Butler posted Necromancer's code of conduct online for anyone to see, and it's clearly presented to any new employee when they start working.
Butler says in any situation he runs into as a business owner, he always returns to his code of conduct, which helps him make decisions.
The ripple effects can be felt throughout the brewery.
"It's honestly just refreshing to be at a place where you could feel supported," Santiago says. "I could get behind this because we're doing great things for the community and for people who matter."
Necromancer As a Chosen Family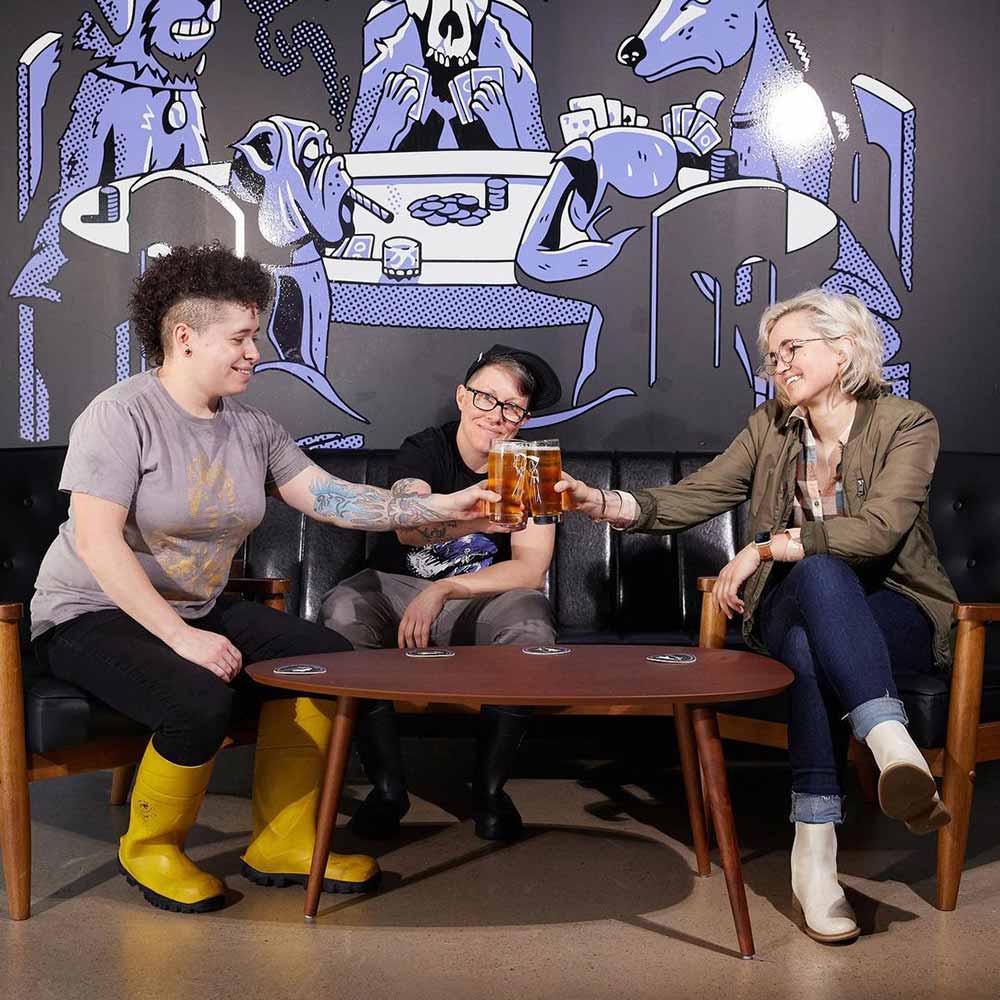 Community and family are top of mind for Santiago, who made a career shift after a push from her wife and her wife's family.
Growing up, Santiago says her dad's addiction to alcohol gave her quite a bit of disdain for the beverage.
But seeing her wife's family, who happens to own a vineyard, come together to pick and mash grapes and even homebrew inspired her. "Something for me in my childhood that tore my family apart brought her family together in a different way," Santiago says.
Working in retail for the past eight years, Santiago came across an ad for Trace Brewing's vocational program a few years ago.
With Santiago's wife urging her to follow her dreams, "I took a leap of faith," she says.
Santiago hasn't looked back, landing a job at Necromancer right after her training wrapped up at Trace.
"It was wonderful going from one place that felt like a family at Trace to another place that became a family, where I could be myself and not have to worry," she says. "I'm very grateful."
In the Queer community, you'll often hear a term used called "chosen family," meaning a nonbiological kinship with other Queer friends, coworkers, or even allies.
Santiago likens those at Necromancer to her chosen family.
"Whereas other places I've worked at, it's kind of like you don't really get that sense of family or that sense of belonging. … [At Necromancer], it's not artificial; it's not performative. It's naturally the group of people that we are and who the company is," she says. "I think that speaks volumes."
For Santiago and Hughes, every fiber of Necromancer always comes back to embracing diversity and supporting the community, especially the Queer community.
Necromancer Starts One-of-a-Kind Queer Beer Club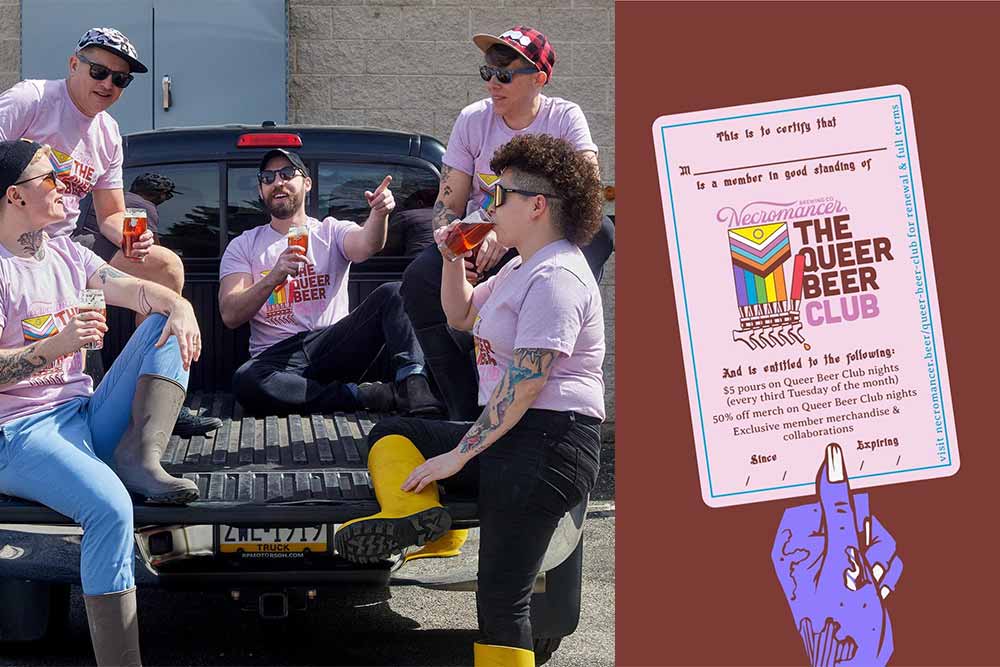 Hughes admits that she started Necromancer's Queer Beer Club sort of selfishly. When she first got into craft beer, she never had a place to go out as her authentic self. "I hung out with a bunch of white dudes," she says, noting people often stared at her like she didn't belong. "It was very intimidating for me to go to a brewery or a homebrew club and try to talk to people because I didn't look like or act like [them]."
At Necromancer, Hughes wanted to create an event series where people could come to the brewery and feel comfortable drinking and talking to the staff about beer.
Modeled off old-school gay bars that required membership cards, Queer Beer Club happens one night a month, inviting Queer people to Necromancer to enjoy themselves, drink beer, and be around people like them in a safe space.
"Everybody has Queer events, but no one has a club," says Hughes. "You get to just enjoy some beers, hang out at a brewery, and know that you're accepted; it's your night to do whatever you want to do."
What started as a meet-and-greet happy hour has expanded into a myriad of events, including skate nights, burlesque shows, a Queer country theme, and even Queer wrestling.
"I love showing up on those nights, seeing how diverse the taproom is," says Hughes. "You just look around, and it makes you so happy because there are people in there you would never see on any other night … but they feel so comfortable that they come here, have a beer, and just hang out being themselves."
Santiago points out that those members of the Queer Beer Club cover a wide set of the community, too. "There are all kinds of Queer people that come," she says. "It speaks to a broader Queer audience of people who feel intimidated going to a gay bar or Queer space where there are cocktails and drinking, but they feel comfortable coming to a brewery."
Most recently, Hughes and Santiago led members of the Queer Beer Club through a hop selection, letting them pick hops for a new beer—Unicorpse.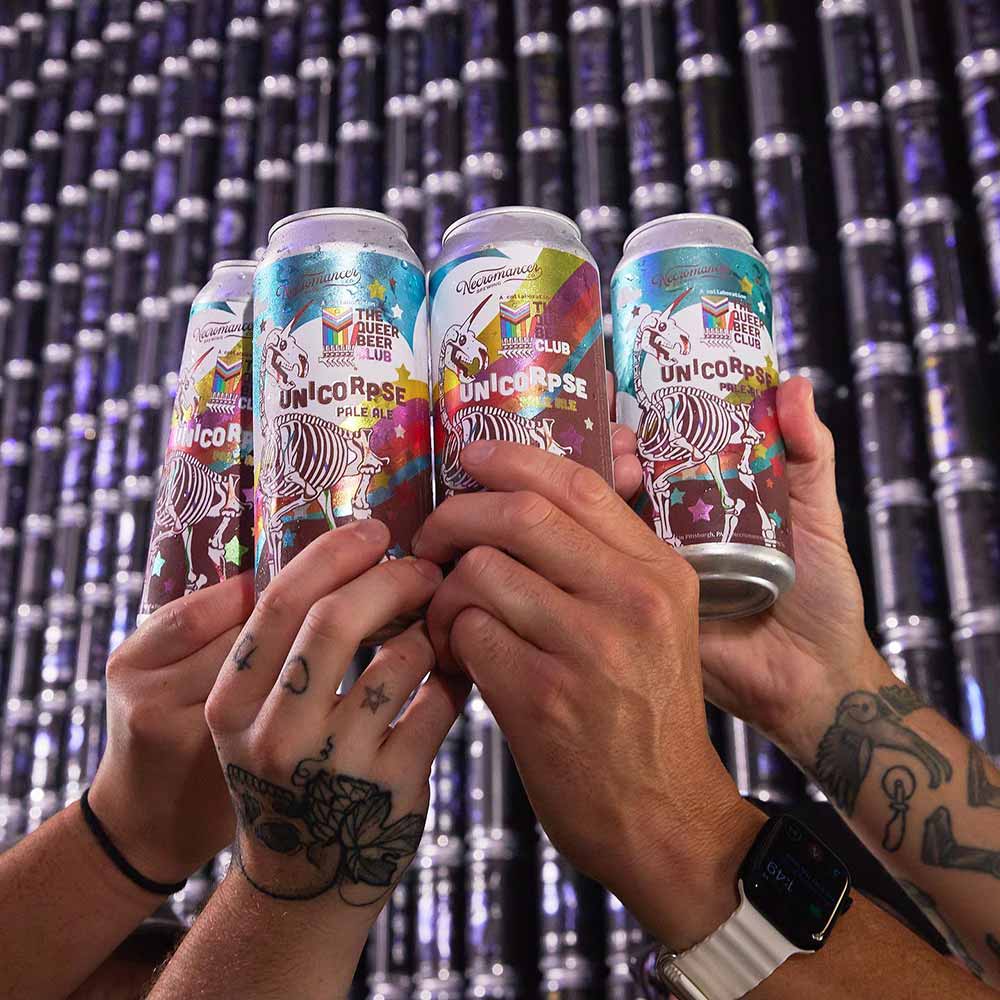 For this West Coast pale ale, the group chose Citra, Centennial, and Cascade. Plus, Hughes pulled her brewer card and added Bravo and Zythos, "Because why not?" she says. "They're newer hops that people are using for West Coast IPAs … so we picked them just for s**ts and giggles."
On a whim, Hughes sent the beer to the Indiana Brewers Cup in May, picking up a surprise gold medal in the pale ale category.
"I'm super excited because the pale ale category is usually pretty competitive," says Hughes, who got a tattoo of a unicorpse during a flash event Necromancer held during its Pride celebrations. "Now everybody's telling me I have to get a gold medal tattoo, but I'm not going to do that!"
Happy People Make Even Gayer Beer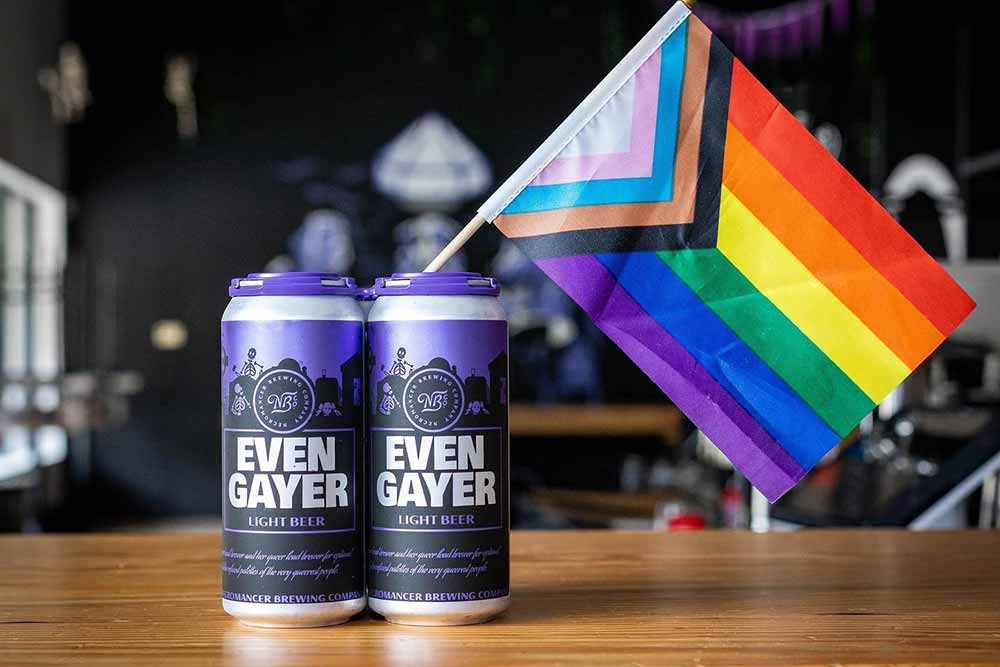 In May, Bud Light inexplicably fired two members of its marketing staff and pulled ads featuring trans influencer Dylan Mulvaney after people boycotted the campaign.
The inexplicable slap in the face to the Queer community has caused waves of repercussions throughout the industry.
Necromancer wanted to respond.
Even Gayer, an American light lager, delivered this message: "Beer is for everybody. No exceptions. *No employees were fired in the making of this beer."
"It was such a bold statement," says Santiago. "We weren't tiptoeing; you knew what we were about. This just represented Necromancer."
Santiago hopes that beer acted as a positive light in the industry. "I always think visibility matters because that will speak to someone who might be going through a dark time in their life, but they see that, and they're like, okay, I am affirmed in myself," she says. "I am part of this community; I'm important; I matter."
Well, if actions speak louder than words: Necromancer says at the initial release, which donated a portion of the proceeds to Gay For Good Pittsburgh, the cans sold out within one hour.
In fact, on the night Necromancer released the beer, Santiago recalls people stopping her in the parking lot just to say thank you. "This matters to a lot of people," she recalls people telling her. "We feel seen, we feel heard."
Santiago believes the beer defined Necromancer to its core. "We are all about making great beer, but at the same time supporting the community and making a stand," she says. "Hey, we see you, we hear you, we're here for you."
Necromancer's Community of Collabs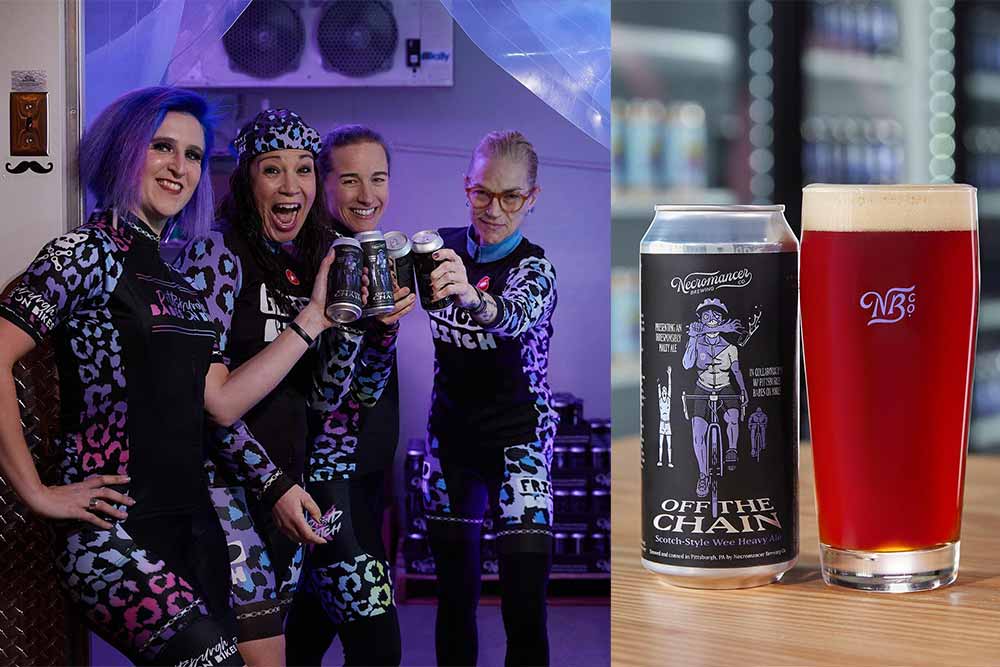 That runs true for many of Necromancer's beers, especially their collaborations.
For instance, Off the Chain that Necromancer brewed for Frigid Bitch, an all-female and non-binary alley cat race hosted by Pittsburgh Babes on Bikes that raises money for the local women's shelter. "We won't just brew a beer, tell you what it is, and give five bucks," says Hughes. "We invite everyone to hang out, and we are upfront with how much we can donate."
Hughes says oftentimes, if the beer isn't raising enough money, Necromancer will add more out of its own pocket just because "we f***king love this organization and what they do, and we'd like to help them keep doing what they're doing."
Like Steel City Roller Derby, the local roller derby team that Santiago describes as a "safe space for Queer people," including Santiago's wife, who competes with the group.
Upcoming, Necromancer will also be collabing with HUNY, an award-winning photographer whose work focuses on Black women and LGBTQ+ communities, to make a beer for Barrel & Flow Fest, the nation's first beer festival showcasing Black and Brown brewers and breweries.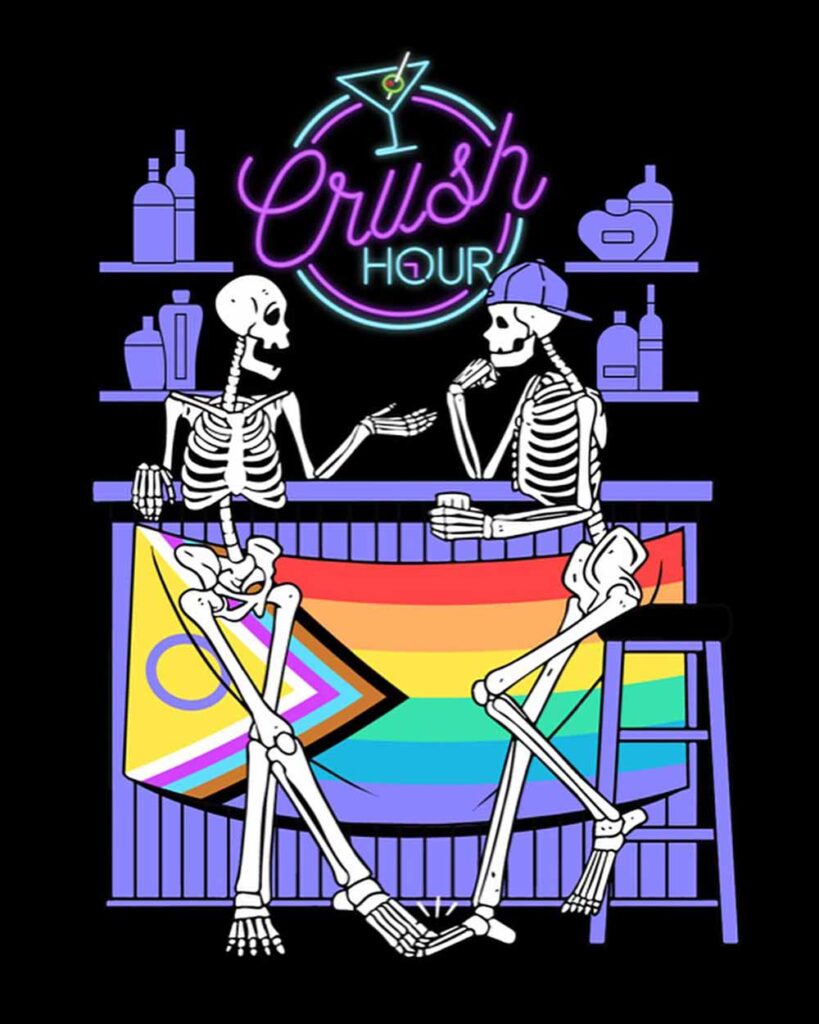 And they'll be teaming up with Crush Hour, a local happy hour event creating a safe space for LGTBQ+ women in Pittsburgh. The official Crush Hour beer called Crush Hour Strawberry Blonde will debut at the group's August meetup, hosted at Necromancer, with proceeds benefitting Dress for Success.
"You can give money to anybody, and that's great, but when it's more personal or an organization and a community that you care about and are interested in helping … that makes it more worthwhile," says Hughes. "It has to be a partnership."
Just another way that Necromancer lives its authentic self in this life and the next.
What's Next in the After Life for Necromancer?
Despite only being three years old, Necromancer already has plans for expansion.
Recently purchasing a bar called Hough's, an old craft beer mecca in Pittsburgh, Necromancer will be giving the space new life.
Turning the bar into an English-style pub called The Midnight Whistler, Necromancer's new spot will serve fifty-one percent Necromancer beer along with guest taps and a full food concept, including a Drag brunch.
"I'm excited to resurrect an old craft beer bar, make it ours, and have our beer there for everybody in the community," says Hughes.
In reality, Necromancer hasn't just resurrected old beer styles and bars in Pittsburgh; they've breathed new life into an industry that, for too long, only recognized and respected a very specific demographic.
At Necromancer, you're accepted no matter who you are.
We may have tagged this brewery as one to watch several years ago for its exciting approach to beer, but now we're proudly proclaiming that Necromancer is a brewery you should support for eternity.
Simply because they're doing more than just making life-altering beer; they're actually changing lives.
And that's something that we can drink to forever.