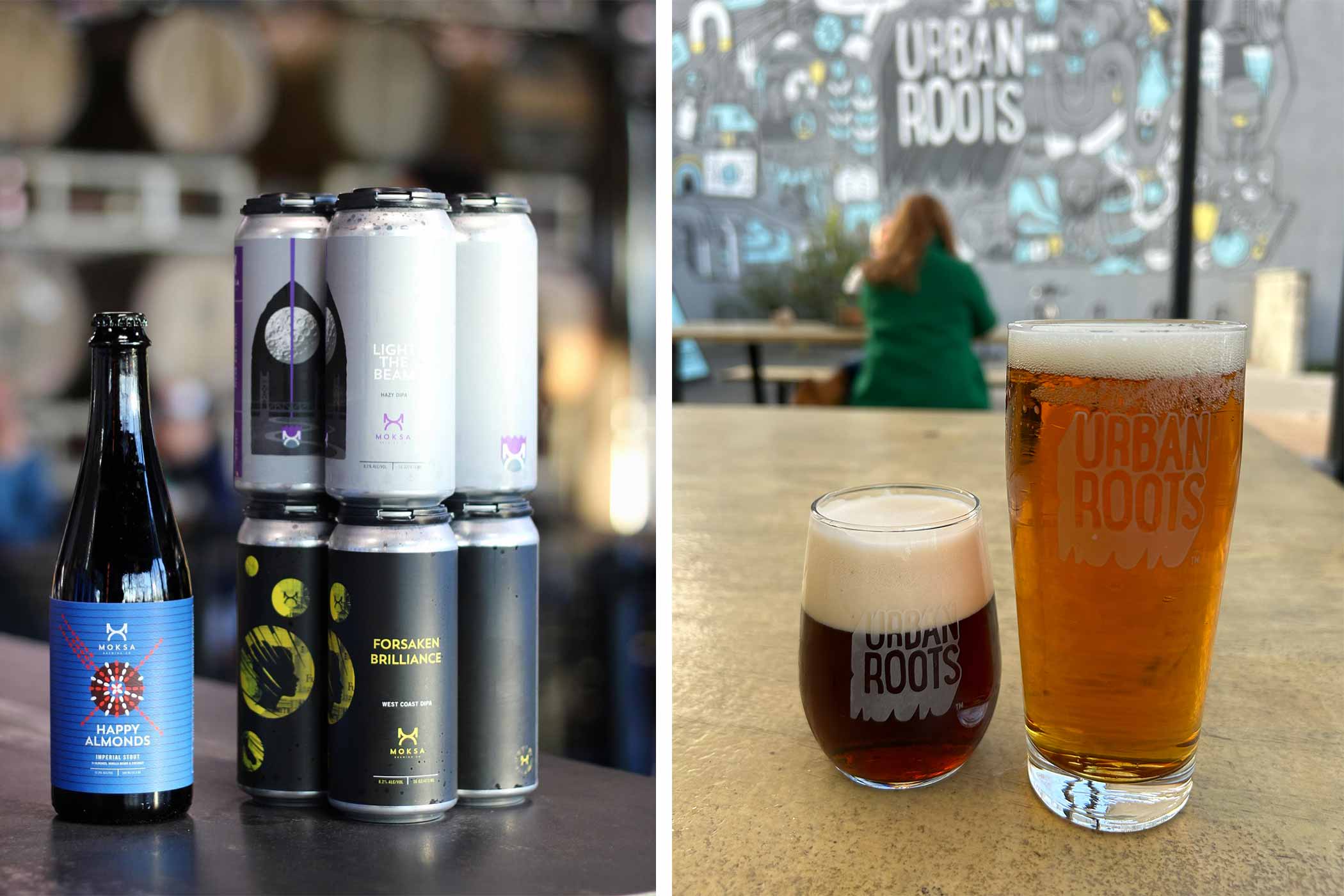 Photography courtesy of @moksabrewing (on the left) and Grace Weitz (on the right)
Remember when we wrote that California is one of the best beer states that made a comeback in 2022?
We bet, when we mentioned the Golden State, you mostly thought of places like San Diego and Los Angeles in Southern California and The Bay Area in Northern California. But travel about an hour north of San Francisco and Oakland and you'll roll into the state's capital—Sacramento.
And much like those first explorers that discovered gold, you can unearth a few absolute treasures in America's Farm-to-Fork Capital. Actually, we might as well rename Sacramento America's Grain-to-Glass Capitol after our most recent trip.
I live a mere hour's drive Northwest of this city, so when I took some days off at the end of last year, I decided to pass through on my way to one of my personal craft beer pilgrimages—Sierra Nevada Brewing Co.
From a brewery making some of the country's best imperial stouts and West Coast IPAs to one combining craft beer and barbecue, I discovered the hidden gems in this hidden craft beer city.
Here's what I drank and ate in my twenty-four hours in California's capital.
Morning: Start with Coffee, Pastries, and Underground Books
After a quick drive, I rolled into the Oak Park neighborhood of Sacramento at about ten in the morning. When I'm traveling (and yes, I consider this traveling) I like to start my day with decent coffee, a great pastry, and a good book.
Check, check, and check.
Check it out.
Faria Bakery
3417 Broadway, Sacramento, CA 95817 | (916) 204-8726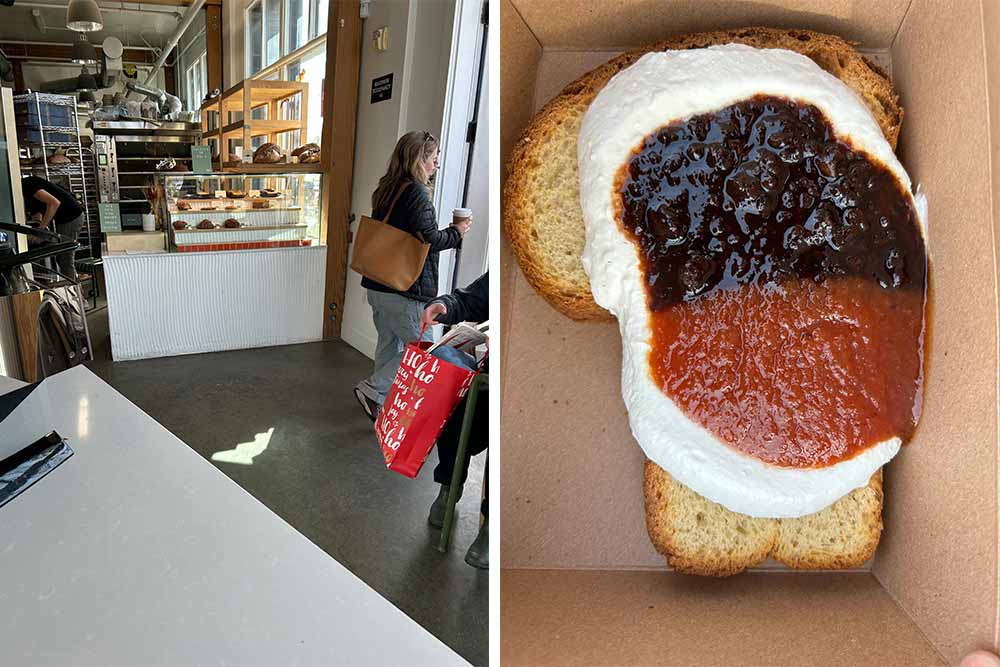 10:00 AM Fuel up – Faria sits in a pretty upbeat strip in the Oak Park neighborhood of Sacramento. The bakery itself is airy and light, much like the ricotta toast I tried.
A smear of the creamy cheese and heaps of two different jams drenched a surprisingly light and crispy slab of brioche bread.
Other offerings include a few local, naturally leavened breads made with organic, freshly milled flours. Unique among them included a miso bread with homemade chickpea miso, brown rice porridge, and toasted sesame seeds.
Faria also has a concise pastry case filled with usuals like an almond croissant and kouign amann and the unusuals. Such as a miso butter toast featuring that aforementioned miso bread, housemade miso, butter, and flecks of salt. Or a chocolate walnut beer cookie with gobs of white and dark chocolate, freshly milled beer grains from Oak Park Brewing Co. down the street, and a dash of sea salt. I bought one of these for later.
The space is small, so you might not be able to sit inside, but that's okay.
My recommendation: Take your goods on the go and explore the one-block strip which is chock full of eclectic gift shops, such as Queer-owned Strapping or DISPLAY: California, and bookstores, including my favorite below.
Underground Books
2814 35th St, Sacramento, CA 95817 | (916) 737-3333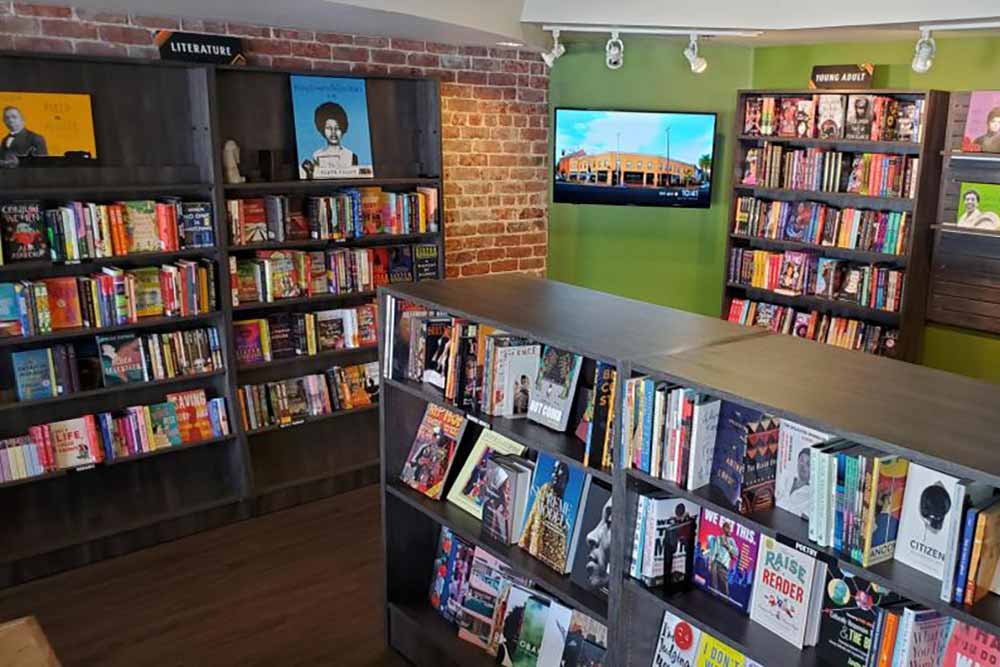 11:00 AM Book up – A part of a 40-acre cultural center in Oak Park, Underground Books is a non-profit bookshop run under St. Hope, an organization focused on revitalizing Oak Park and bringing resources to students around Sacramento.
The BIPOC-run bookstore is presided over by Georgia "Mother Rose" West who has been at the shop since it opened in 2003. Inside you'll largely find books by BIPOC authors in all categories from fiction and non-fiction to sci-fi and mystery.
I picked up a sci-fi book called "Binti," by Nnedi Okorafor, that I've been wanting to read for a while along with a noir crime novel called "One-Shot Harry" featuring an African American forensic photographer trying to solve a crime during the race and civil rights movement in Los Angeles in 1963.
Oak Park Brewing Company
3514 Broadway, Sacramento, CA 95817 | (916) 389-0726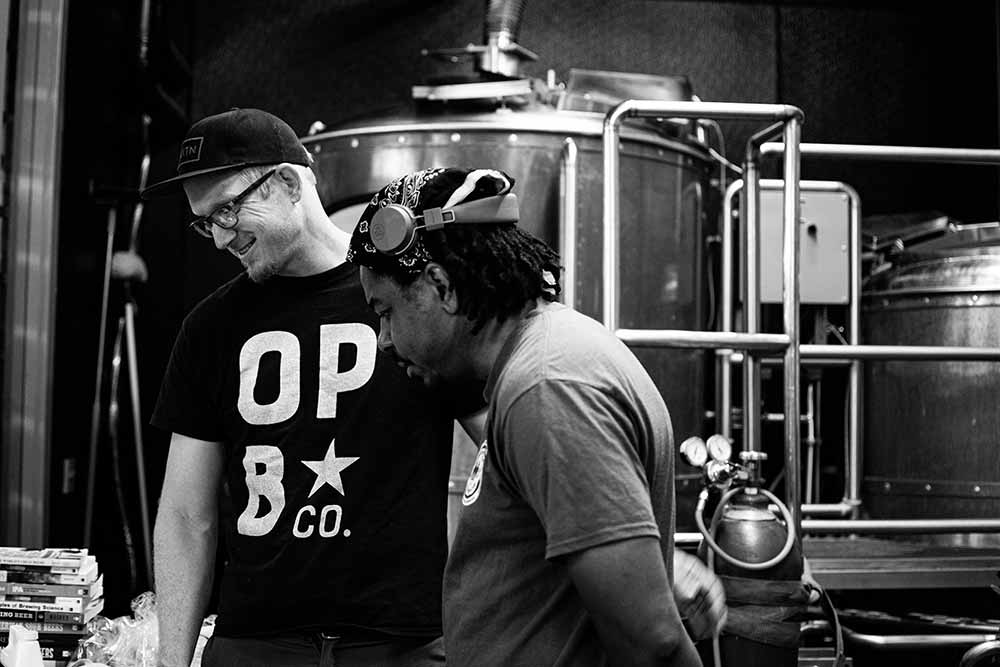 12:00 PM Beer up – It's probably time for a beer, right? A short block walk (if that) will take you to Oak Park Brewing Co. The Black-owned brewery in Sacramento takes pride in what it calls the ABCs—(A)rt, (B)eer, and (C)ommunity. Their Code of Conduct clearly states, "We want OPB to be a place where everyone feels welcome and respected… At OPB, we are about brewing quality craft beer and making a difference."
That means things like a beer collaboration called Brew Your Story. Launched in September 2021, the project invited both Black-owned breweries and homebrewers to brew a shared recipe and share their own story in craft beer. Overall, the collab celebrated one of the nation's first Black-owned breweries—Peoples Beer.
Or a hazy IPA 4-pack released during Black History month last February with four different can labels featuring different Black history heroes. The artwork featured Bessie Coleman, the first African American female pilot; Mary Ellen Pleasant, the mother of the Civil Rights movement on the West Coast; Frederick McKinley Jones, who patented the world's first successful refrigerated transportation system; and Robert Abbott, founder of "The Chicago Defender."
This is a brewery with a mission. Go, drink, be inspired.
Early Afternoon: Persian, Parks, Barbecue, Beer
Explore Sacramento through Persian and barbecue restaurants, parks, and beer.
Maydoon
1501 16th St Suite #111, Sacramento, CA 95814 | (916) 382-4309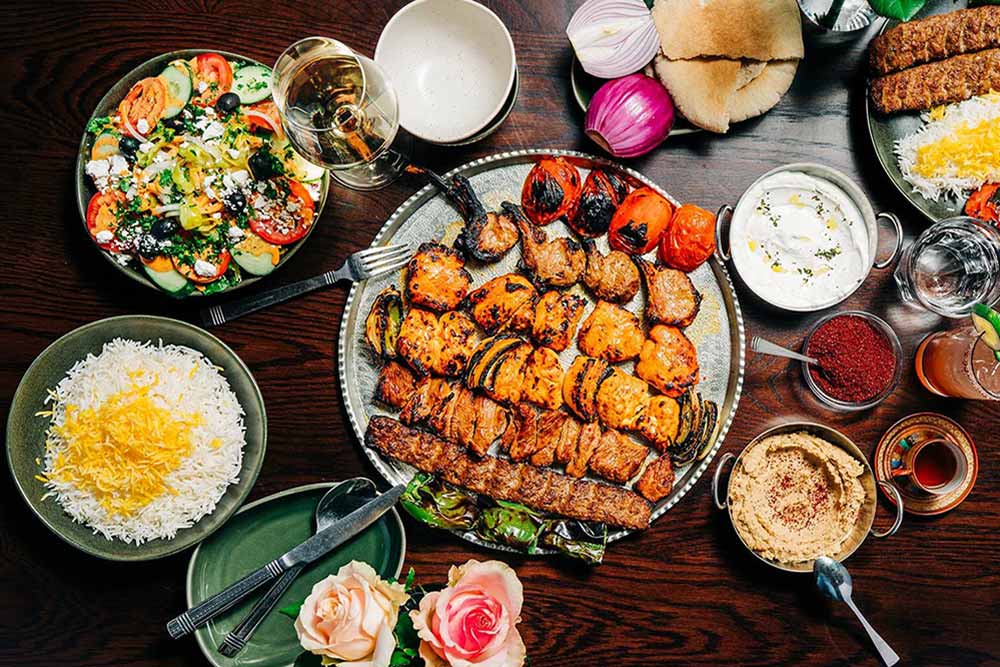 1:00 PM Pick up Persian, eat in the park – Take a short drive (or Uber) over to the Midtown area of Sacramento to find Maydoon. A recommendation straight from the Visit Sacramento team, the family-owned modern Persian restaurant honors traditional Persian flavors but with a contemporary twist.
Iranian-born Executive Chef Idean Farid comes from a family of chefs and restaurant owners. His parents originally operated the successful Shahrzad Persian Cuisine in Rancho Cordova, CA. Although the family sold that restaurant in 2020, Farid opened up Maydoon in the same year to keep his family's recipes alive.
Which include apps like dolmeh, cooked grape leaves densely packed with creamy rice, split peas, and fresh herbs that had just the right amount of acidity.
Or a dip trio featuring hummus; kashkeh bodemjan, a grilled eggplant mash topped with yogurt and mint oil; and must khiar, yogurt mixed with cucumber and mint. Everything came with hunks of toothsome pita to soak everything up, of course.
The move? Order ahead, pick up your food, and walk a couple blocks over to California State Capitol Park. You can take in your lunch amongst the gardens, trees, and even cacti in the shadow of the California State Capitol Museum.
Urban Roots Brewing & Smokehouse
1322 V St, Sacramento, CA 95818 | (916) 706-3741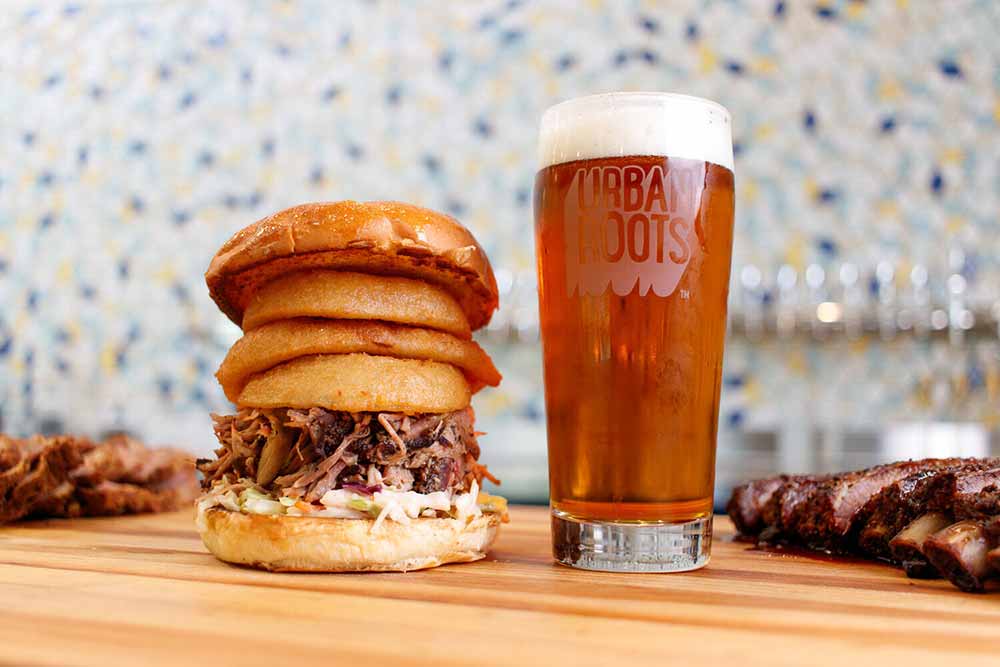 2:00 PM Smoke and suds – The cool thing about Sacramento is that the city is split up in a numerical and alphabetical grid, literally. Cardinal-numbered streets run northeast to southwest while lettered streets run northwest to southeast. So basically, it's hard to get lost in this city.
California State Capitol Park runs between 10th Street and 15th Street and N Street and L Street. So you know that walking to Urban Roots at V Street between 13th Street and 14th Street will only take you about eight blocks.
This brewery is kind of like the quintessential cool taproom. Now I'm a vegetarian, so Maydoon called my name harmoniously; but if you call yourself a carnivore, then you might want to save your appetite for Urban Roots.
Smoke and sizzling meat are the two things you smell immediately when walking into the humongous 15,600-sq-ft, 15-bbl taproom with an attached smokehouse and 2,400-sq-ft outdoor patio.
On the beer side, with about twenty on tap, there's something for everyone. While these beers won't blow you out of the water, they will certainly satisfy (especially alongside some 'cue). I enjoyed small pours of a Czech amber, dark mild, and Vienna-style lager while sitting in their beer garden and soaking in the sounds of a quiet Sacramento neighborhood.
Ultimately, Urban Roots is just a fun environment with killer-looking food and a lively vibe. I went during lunchtime on a Wednesday and the place was buzzing.
Hyatt Centric Downtown Sacramento
1122 7th St, Sacramento, CA 95814 | (916) 371-7000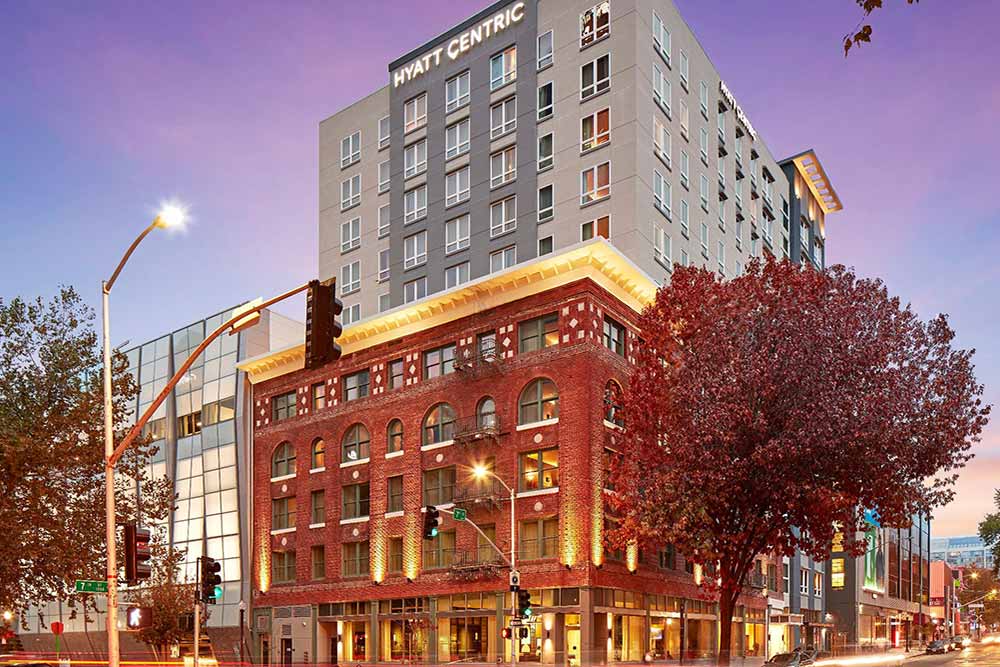 3:00 PM Check in and check out Old Sacramento – Modern posh luxury in the middle of downtown, the Hyatt Centric Downtown Sacramento sits mere steps from the Golden 1 Center, home of the Sacramento Kings. Walk into a brightly lit lobby, where a wall of records and a couple smiling faces greet you.
Drop your bags off in a room that is peak contemporary featuring smart fridges, huge wall TVs, fluffy pillows, and great views of the city. The hotel is the perfect place to quickly rest the dogs before trekking back out for dinner.
Or, if you're feeling adventurous, take a stroll around the Golden 1 Center and down under the highway to Old Sacramento. Situated along the waterfront, the historic waterfront district is a cluster of boardwalks connecting saloon-style shops. You'll find all your classic touristy ventures here such as a fudge confectionery and gift shops aplenty.
Sure, it's kitschy, but it's still fun to explore. Plus, who doesn't love a good waterfront?
Late Afternoon: Drive to One of the Best California Breweries Hidden Amongst Auto Shops
Rested or at least in a good place to take a drive again after a couple brewery stops, we highly recommend braving potential traffic for a thirty- to forty-minute drive to Rocklin, CA.
Why?
Read on…
Moksa Brewing Co.
5860 Pacific St, Rocklin, CA 95677 | (916) 824-1366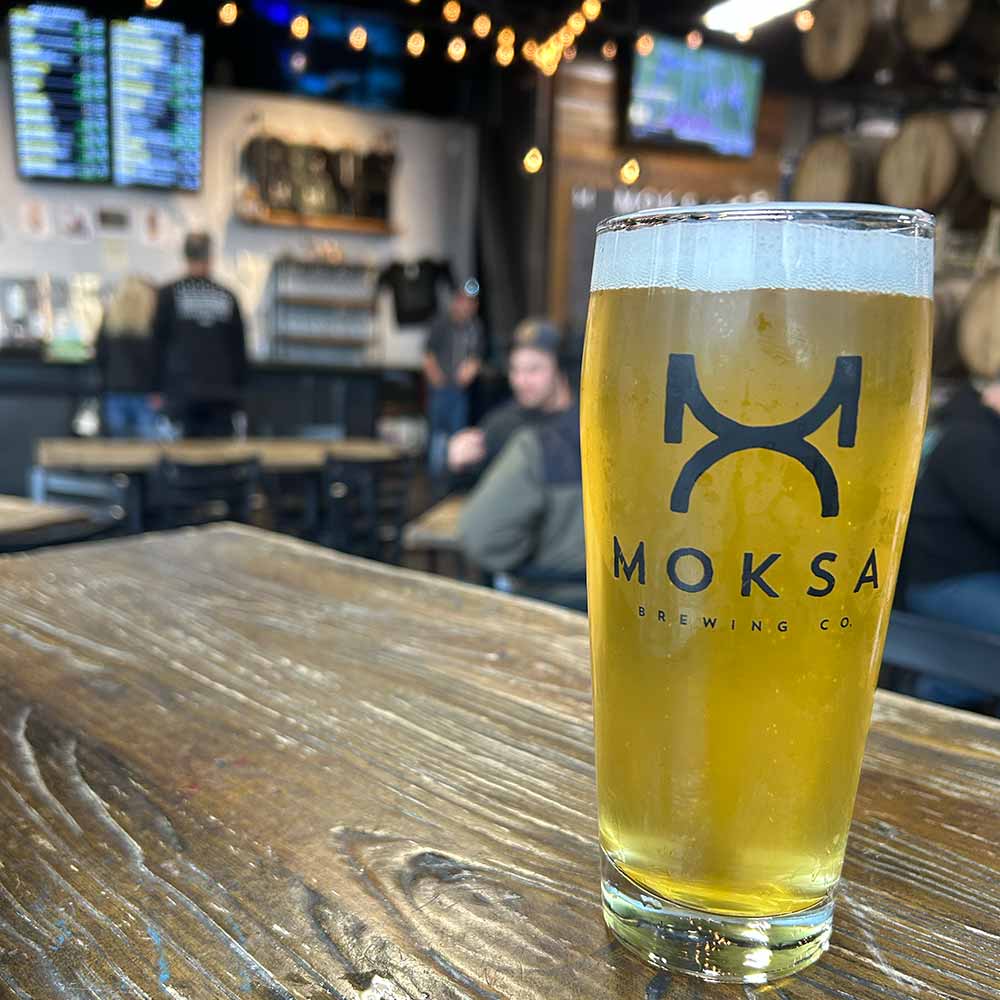 4:30 PM Incredible pastry stouts and IPAs – Risk gridlock on I-80 E, then curve and twist your way through a cacophony of auto shops to find Moksa Brewing Company.
The Rocklin-based brewery's fantastic imperial pastry stouts have been on our radar for a while.
Case and point: We featured Moksa's stouts in pieces such as "The 22 Best Stouts to Drink for International Stout Day," "The 20 Best Beers to Drink in Spring 2021," and "The 20 Best Beers to Drink in Winter 2020."
And we're not the only ones who love this brewery. When we arrived at 4:00 p.m. on a Wednesday afternoon, the place was packed.
Folks sipped on beers like Happy Almonds, an imperial stout with almonds, coconut, and vanilla described as a "liquid candy bar." And Chai Times, an imperial stout with "Magic Hour" chai tea and vanilla beans.
Stouts not your thing?
Don't worry, there's an entire side of the tap list devoted to IPAs. A couple of triple hazies like 3-Ply and 3-Loko (ha, nice!) cozy up next to a bevy of West Coast doubles and hazies.
Plus, Moksa has a variety of lagers, especially kölschs. For instance, Summerthyme, an award-winning beer with lemon and thyme; Meet the Meyer, a kölsch with Meyer lemon zest; and Dragon Kölsch with dragon fruit.
Brave the potential grid lock and maze of auto shops for top-notch pastry stouts, kölschs, and IPAs.
Evening: Two Words: Pizza + Beer
Is there a better way to end the day?
OneSpeed
4818 Folsom Blvd, Sacramento, CA 95819 | (916) 706-1748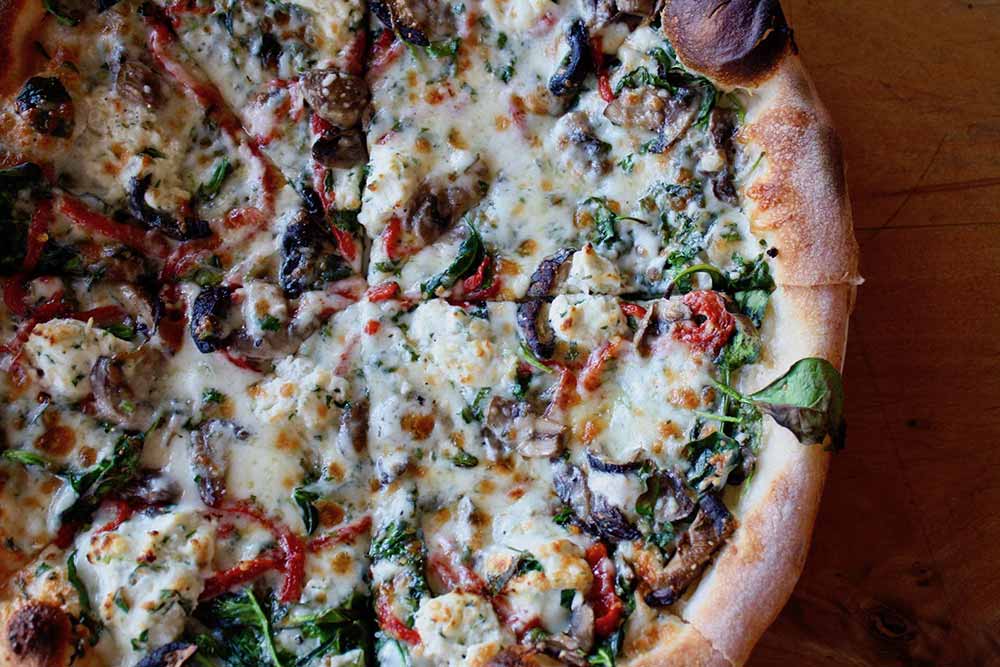 6:00 PM Peddling perfect pies – If I had to recommend one must-eat-at restaurant in Sacramento, it would be OneSpeed.
Stepping inside from the cold, rainy night, I was greeted with the salivating smell of garlic, salt, and charred dough mixed with maybe a little marinating tomato. All the good markings of an Italian-American restaurant. And walking into OneSpeed reminds you more of an American red-sauce joint than a place peddling five-star Neapolitan-style pies.
One where they offer you extra parmesan and red pepper flakes to put on top of your pizza.
Or where the bartender knows almost everyone's name.
OneSpeed is a place where you'll find as many people dining solo at the bar as couples on double dates and families at the sit-down tables.
But don't be fooled. In this unassuming neighborhood spot, the pies are top notch.
The crust had that perfect bite, magically crisp and toothsome at the same time. Not really wet in the center like a traditional Neapolitan pie, perhaps these pizzas are more California-style Neapolitan. Still sturdy enough to pick up and fold, my slices included a great amount of cheese and topping ratios.
Oh, and they offer half-and-half pizzas! Yes, you'll pay extra, but it's worth it so you can try a couple. Which you'll absolutely want to. And as a solo diner, I can't tell you how much I appreciated this neighborly touch.
I ordered half and half with the Garden on one side bursting with pickled peppers, cauliflower, Delicata squash, red onion, herb mozzarella, ricotta, parmesan, and chili oil. On the other side, the Mushroom featured button, oyster, and shiitake mushrooms along with a cheese trio, potatoes, pepperoncini, rosemary, and cream.
The Garden side had that comforting comforter of cream cut by sweetness from the squash and zings from the pickled peppers and chili oil. The Mushroom side bordered on the almost too salty but teetered back to Earth thanks to the starchy potato slices. Creamy, chewy, starchy, umami—this pie had all the perfect textures and tastes.
Plus, when you washed it down with a pint of Perennial pilsner, you pretty much entered nirvana.
The draught list is pretty tight (in fact, I saw more folks with carafes of wine), but you can still find a few gems. And the can list expands a bit with an Original Pattern rotating hazy, Grimm DIPA, and Pizza Port Chronic amber ale, among others. The guy next to me even downed two Athletic NA IPAs along with his pizza.
And it's not just the pizza here that people love. Everywhere I looked, towering hunks of lasagna seemed to magically appear in front of everyone. From eavesdropping, it sounded like this was just a special. But you can also find a concise number of apps like the Pickled Beet, Potato, and Trout Salad or options under the "Not Pizza" section of the menu. For instance, the couple next to me tucked into a heaping twist of spaghetti with almond pesto, shaved chicories, anchovy, capers, garlic, and arugula.
This is a homey, humble neighborhood gem kicking out kickass pizza. That's all you should need to know to bike, drive, or run to OneSpeed as fast as you can.
Morning: Finish With Great Coffee and Even Greater Goods
Scorpio Coffee
1905 16th St, Sacramento, CA 95811 | (916) 822-4241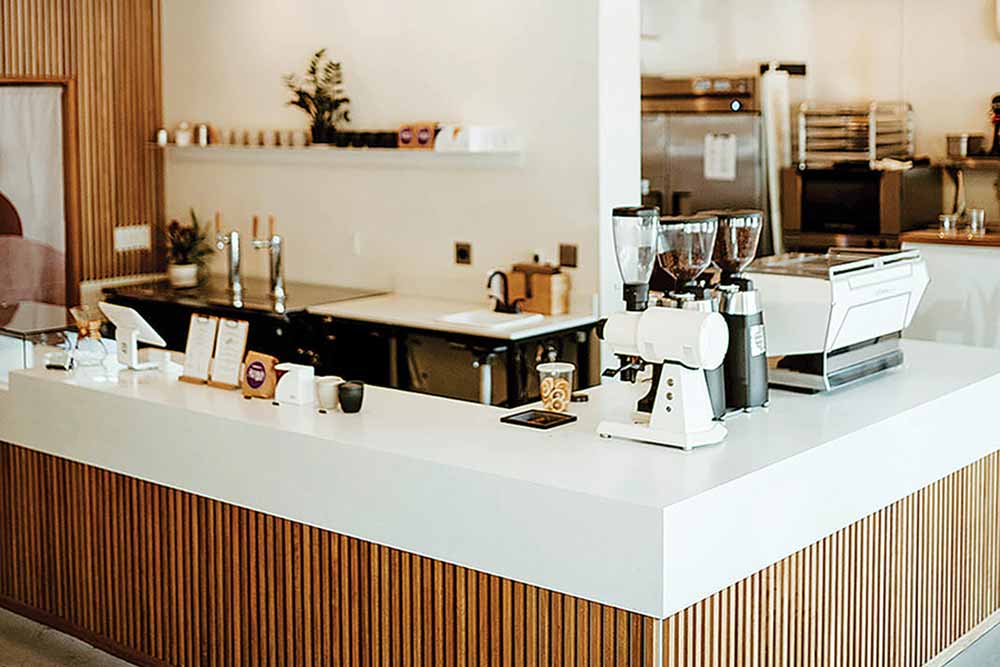 10:00 AM Fuel up one last time – A modest storefront belies a buzzing, contemporary coffee bar inside.
Beautiful clean lines, gray benches, and light wood wind their way through this beautiful Japanese-style coffee cafe.
No doubt the coffee is front and center here. Behind the bar you'll find every type of caffeinated toy like grinders, a gleaming espresso machine, kettles to heat water, etc. The only thing missing appeared to be a Chemex…until I realized they were using one to collect tips!
I ordered a Cortado that arrived steaming and frothy with a gorgeous milky design. I'm a straight-up black-coffee drinker, so I considered this espresso-based drink a treat. But for those more adventurous, they also have a pretty good looking seasonal and signature menu with offerings like a peppermint mocha and hojicha tea latte.
And don't skip out on the food here.
A tight menu of California staples gets thought-provoking Japanese twists. For example, the ricotta toast comes on shokupan, a Japanese milk bread that is magically pillowy yet dense, slightly sweet yet savory all at the same time. Same with the avocado toast (although normally served on sourdough, on the day I visited they were using milk bread). And a mushroom toast features hiratake mushroom (a sort of Japanese oyster mushroom), gochujang aioli, and pickled daikon.
I have to shout out the hospitality here too. Although the ricotta toast had somehow disappeared off the menu, I asked the barista about it and he said he still had all the ingredients and would make it for me despite no longer being publicly available.
Above all, it's small touches like that which make Scorpio Coffee pretty magical.
Actually, I loved this coffee shop so much that when passing back through Sacramento on my way home two days later (after a visit to Sierra Nevada Brewing Co.), I went a little out of my way to have breakfast at Scorpio Coffee.