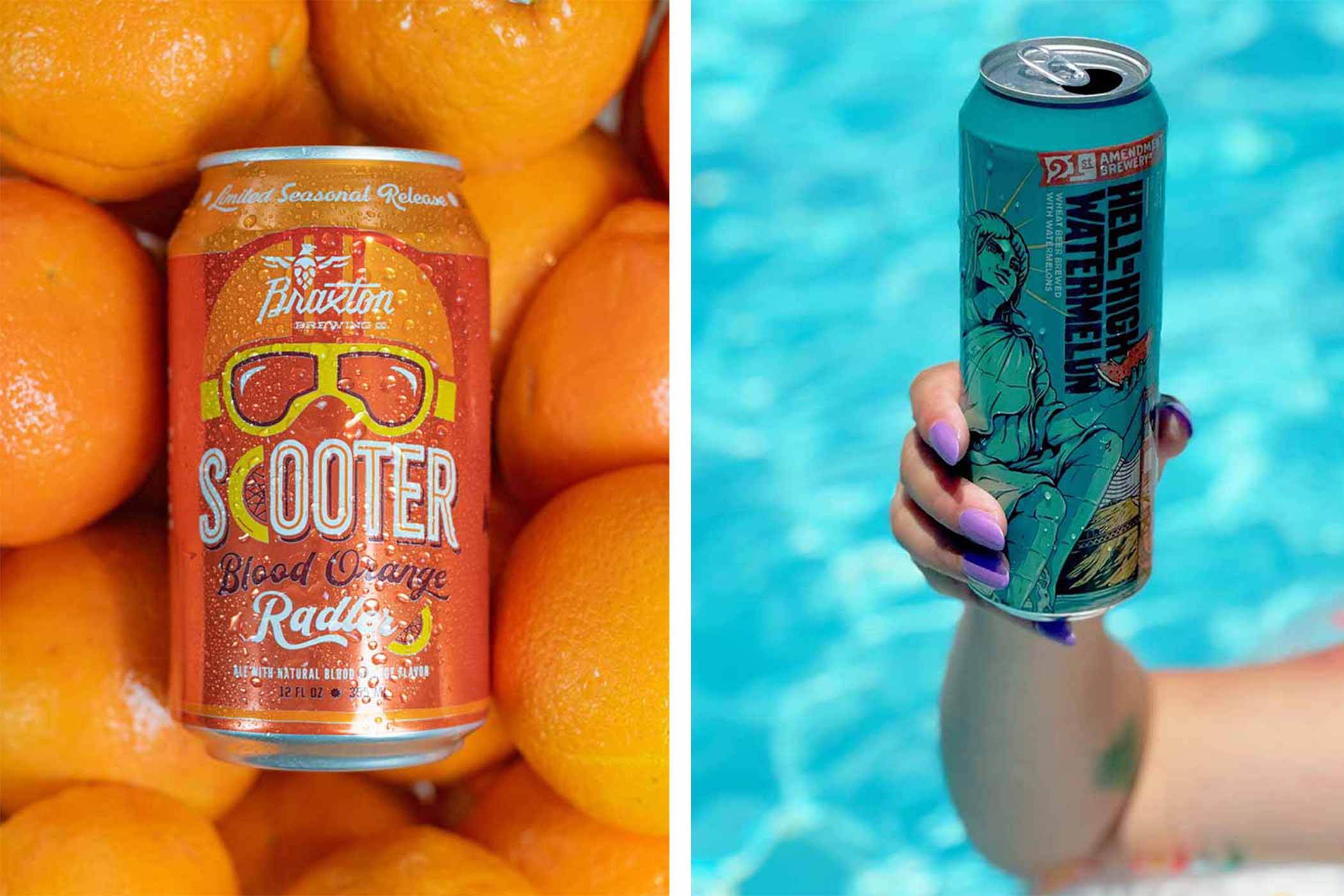 Photography courtesy of Braxton Brewing Company (on the left) and @21stamendment (on the right)
Top Monthly Beers of 2023
Hello, hottest days of the year. As temperatures around the country run dangerously high, make sure you're staying safe and hydrated out there. In the high heat of the season, with the sun burning down on us, we turn to those lighter-bodied, lower-ABV, crisp, refreshing styles that, perhaps somewhat delusionally, we think keep us cool. Which is why some of our top beers we drank in July included:
A watermelon wheat classic from 21st Amendment.
Or a straight-up delicious cream ale from Necromancer Brewing.
We also downed cans of a 6.4% ABV hazy from Cerebral.
And sipped on a fruited hefe from Goldspot while splashing around in the shallow end of the pool.
For beach days, we grabbed for Braxton's summer-crushing radler, a mix of blood orange and lager.
Overall, July really turned up the heat, so here are the hottest beers we drank for the last thirty days.
Top 12 Beers We Drank in July 2023
Rare Trait – Cerebral Brewing
Denver, CA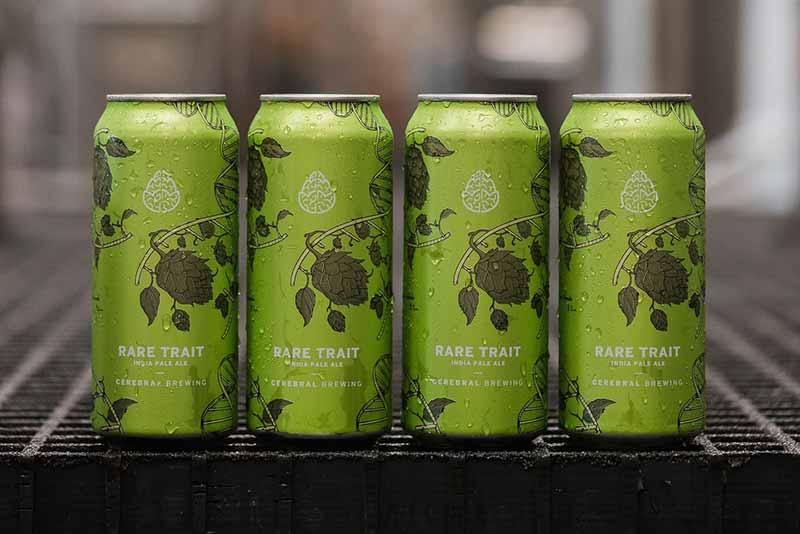 Hazy IPA – We've always known the award-winning Cerebral in Denver's Congress Park neighborhood for its systematic scientific approach to brewing. Started by co-founders Sean Buchan and Dan McGuire in 2015, Cerebral focuses on imaginative IPAs, foeder-fermented lagers, and barrel-aged beer, among other styles.
The brewery's pin-point-precision approach garnered them awards across the board. Most recently, they picked up a 2023 World Beer Cup Silver in the "Juicy or Hazy Pale Ale" category for Muscle Memory.
But while awards give Cerebral fantastic public recognition (like also being one of our top beers in July!), behind the scenes, the brewery has worked hard over the last few years to become one of the most inclusive breweries in Colorado (alongside their neighbors such as Lady Justice and Goldspot).
One of our favorite Cerebral beers also happens to be the brewery's crown jewel—Rare Trait, a house hazy with Citra, El Dorado, and Mosaic, hits a 4.02 rating on Untappd.
Expect huge bursts of tangerine, mango, and candied peach with a restrained bitterness characteristic of this fantastic Denver brewery.
"We were one of the earliest breweries in Colorado to start doing hazy IPAs," says Cerebral Director of Brewery Operations Anne Abrahamson. "[Rare Trait] is like peach rings in a nice, sessionable IPA."
You can find Rare Trait plus eleven other beers in Hop Culture's newest beer box (which you can get right here).
Hell or High Watermelon – 21st Amendment Brewery
San Leandro, CA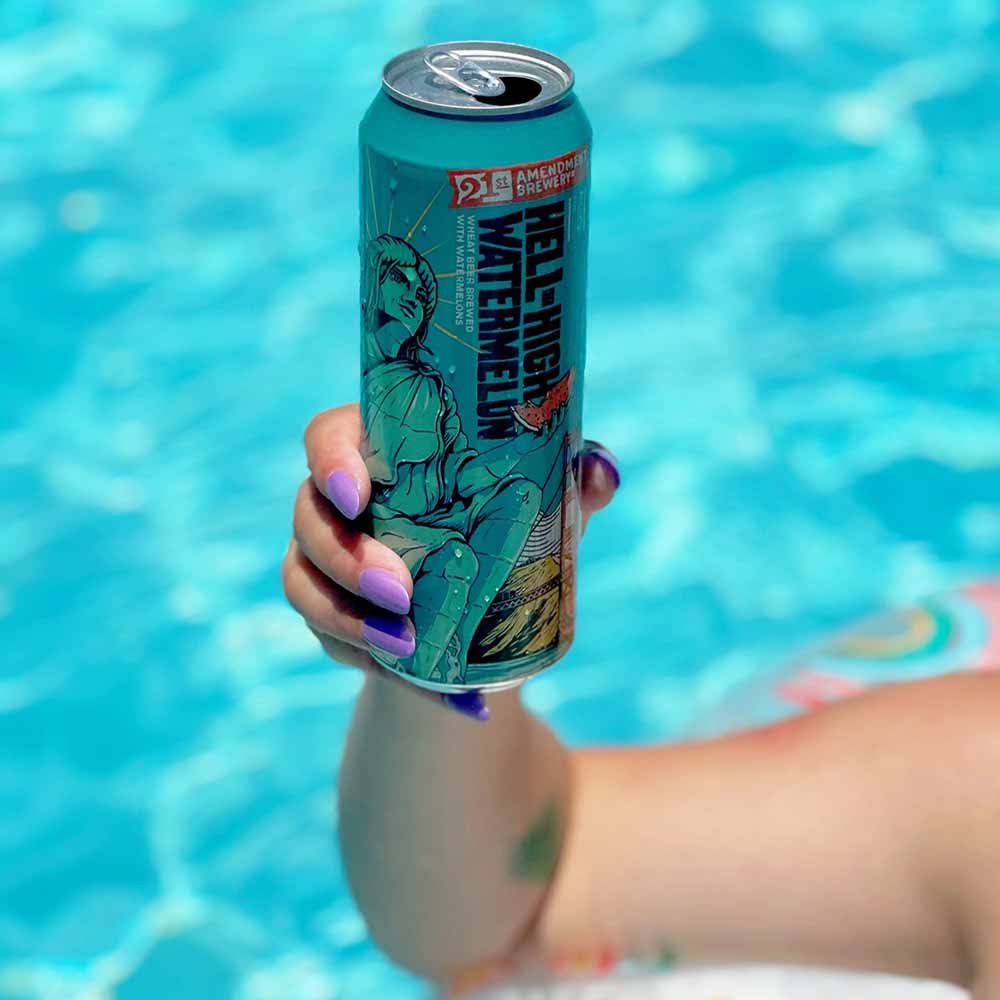 Fruited American Wheat – A 21st Amendment cult classic (some might say), Hell or High Watermelon stands as tall as Lady Liberty herself as an American wheat beer with one of our favorite summer fruits—watermelon.
Real watermelon goes into this fruited wheat beer for a nostalgic summer sipper that's crisp, clean, and immutably refreshing.
Which is why we named this beer one of our "10 Best Wheat Beers Available in Most Stores Right Now."
Quite simply, this is the perfect beer for summer and one of our top beers we drank in July.
Anchor Steam Beer – Anchor Brewing Company
San Francisco, CA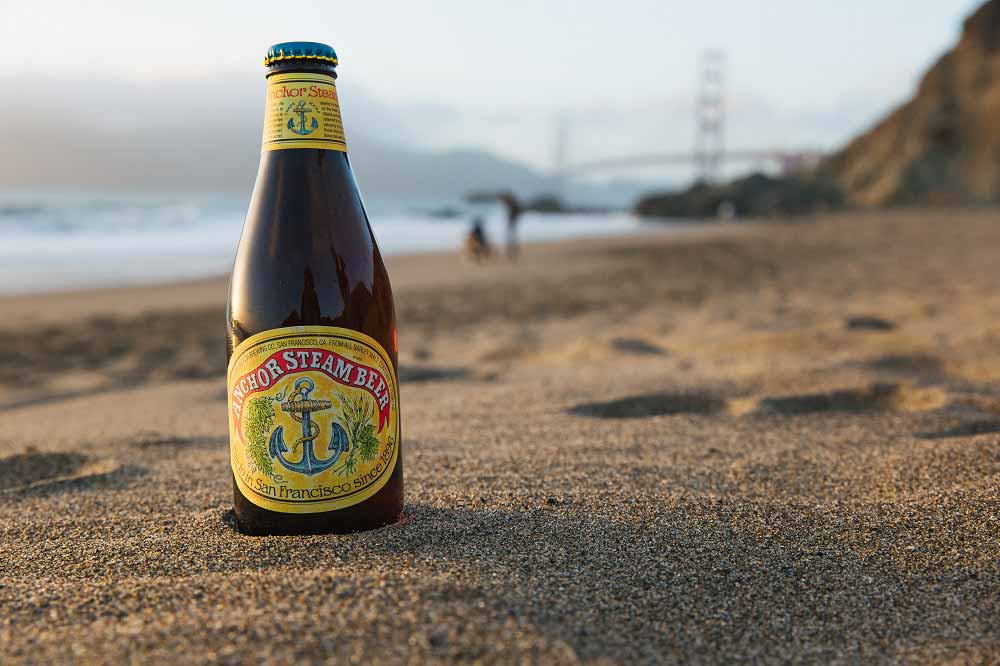 Steam Beer – One of the only beer styles born in America, steam beer has a pretty fascinating history.
Our freelancer reporter Andy Crump reported on the history of the California Common, aka steam beer.
When Anchor announced it would be closing its doors, we ventured out to their Public Taps taproom for one more taste of history at the source—Anchor Steam Beer.
GET THIS BEER WHILE YOU STILL CAN!
Today, Anchor Steam Beer is one of the most American beer styles, iconic for its color, aroma, and taste. Pouring a beautiful copper, steam beers have a richness on the palate that teeters between bitterness and sweetness courtesy of the fruity esters from the yeast.
"I call it the extraordinary everyday beer," says Anchor Brewing Historian Dave Burkhart. "In other words, I never get tired of it; it's history in a glass, yet it never grows old."
Even if Anchor does end up closing its doors (we're 🤞 that someone comes in at the eleventh hour to save it), Anchor Steam will go down in history as one of the most iconic beers in America.
Calling this one of our top beers of July doesn't even come close to giving this beer due recognition. So pay this beer tribute if you can, while you still can!
Gold – Necromancer Brewing
Pittsburgh, PA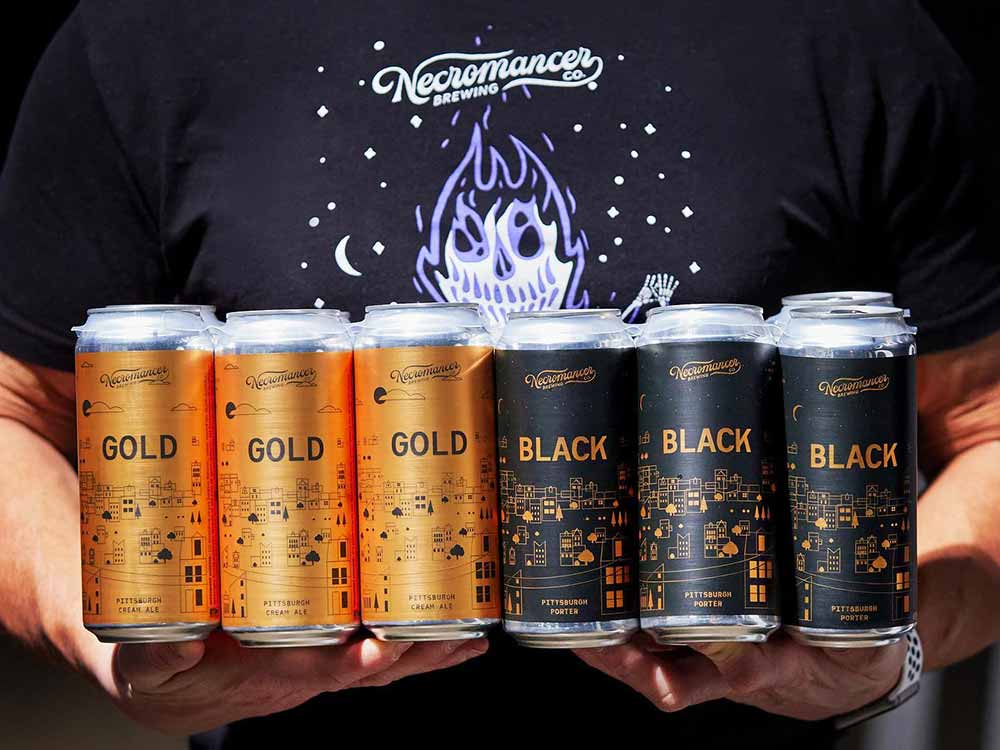 Cream Ale – Cream ales have a bit of a cult following. And it's a fervor we want to join!
Necromancer nails pretty much every beer they make. And its Gold cream ale is no different. Drinkable, crisp, and deceptively rich in flavor, Gold is light, refreshing, and crushable with a crisp finish.
Want to give this beer a try? Good news!
Find this Gold in Hop Culture's newest beer box here!
Modernism – Schilling Beer Co.
Littleton, NH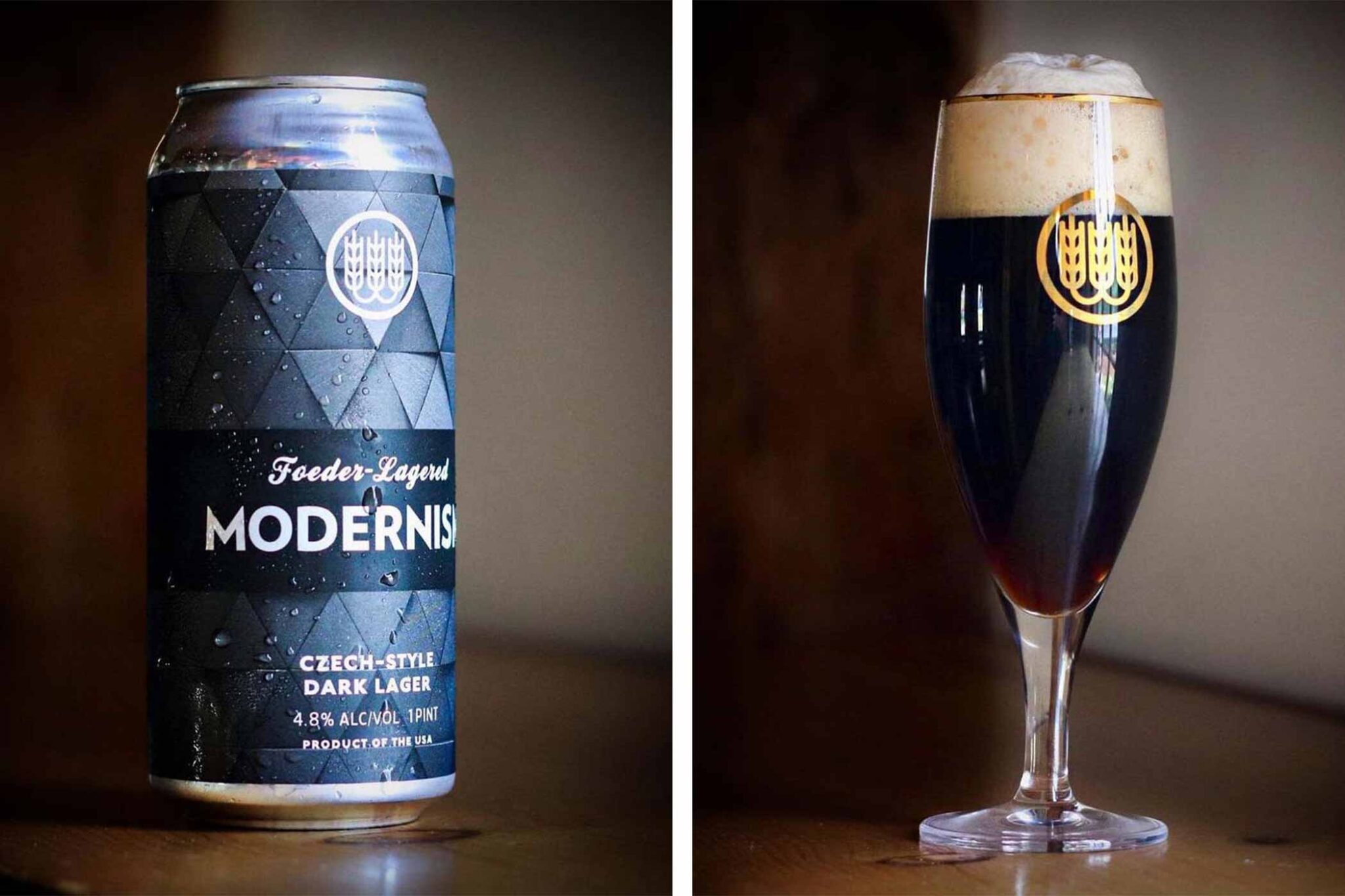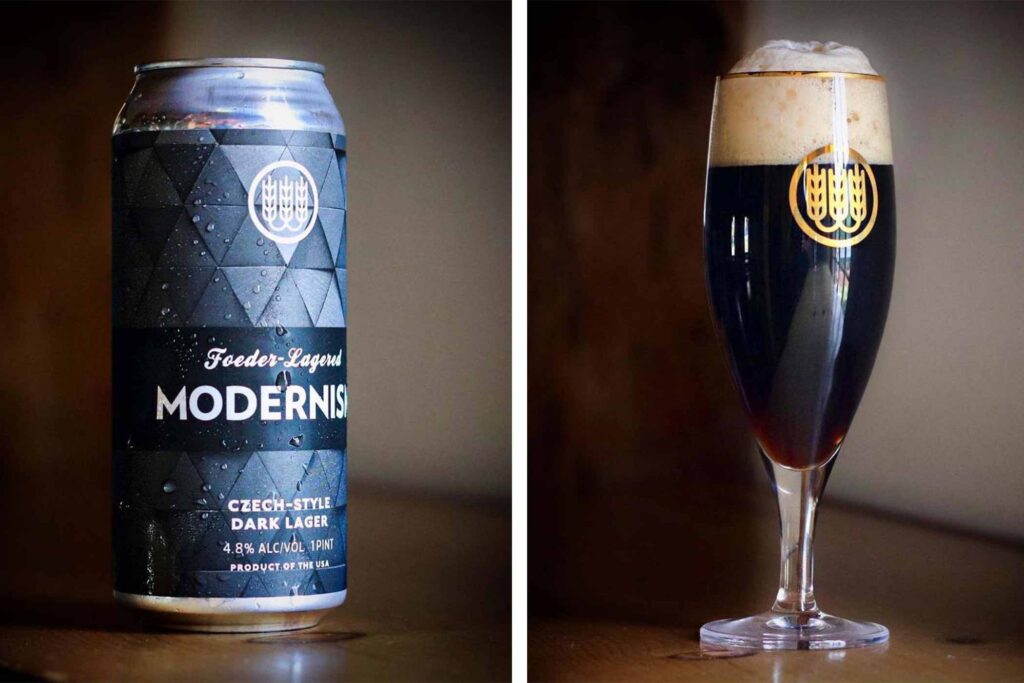 Czech Dark Lager – This month, Hop Culture Freelancer Andy Crump told the story of the rise of Czech dark lagers. One of our favorites, Schilling Beer Co.'s Modernism, nails the style to a T, making it one of the top beers we enjoyed in July.
In his words…
There's an earthiness to Modernism that's far less prevalent in its peers, but that's good. In fact, it's essential to underscore Czech dark's reception to little tweaks here and there in the style. Modernism showcases the flexibility of Czech brewing nicely through that earthy quality, likely a result of Schilling's decoction process; a shot of spice on the finish gives the beer not only a sense of completion but a uniqueness to set it apart from the best Czech dark lagers brewed in the U.S.
Samuel Adams Boston Lager Remastered – Boston Beer Co.
Boston, MA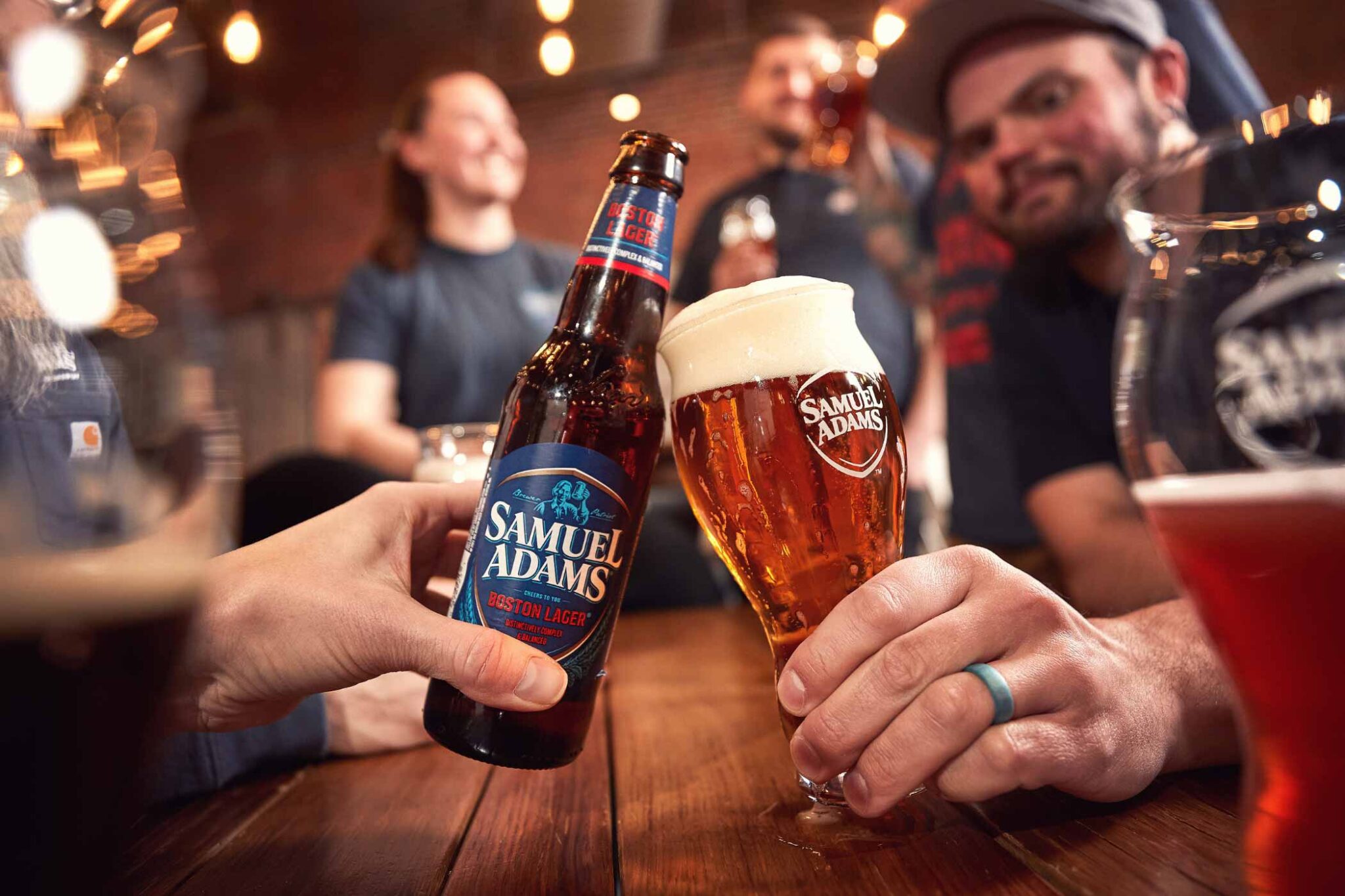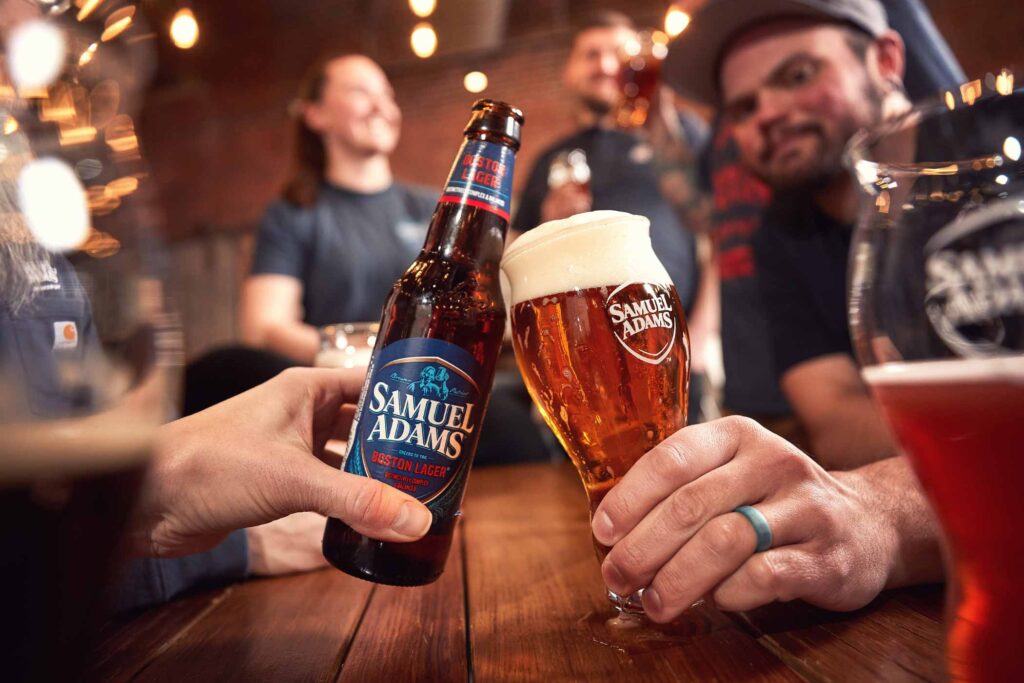 Vienna Lager – Since brewing his great-grandfather's recipe in his own kitchen, Boston Beer Co. Founder Jim Koch guesses he has drank over 50,000 Boston Lagers in his lifetime.
Phew, that's a lot of one of the most revolutionary beers in America.
And now Koch and Boston Beer have made the best beer in America…
Just a little better.
How? You'll have to read this story to find out.
Here's a sneak peek, though—while none of the original ingredients have changed, the process has, making Boston Lager a bit "brighter, cleaner, fresher," says Koch. "It just has a sparkle to it that was missing before."
Coming from a man who hypothesizes he's tried 50,000 Boston Lagers over almost four decades, that's high praise.
But the pursuit of perfection always continues.
"Legacies don't just continue to exist like dirt, rocks, and trees; it has to be a living thing," says Koch. "If you don't keep trying to make it better, there's a natural tendency for people to start making compromises."
Jazzman – Vine Street Brewing
Kansas City, MO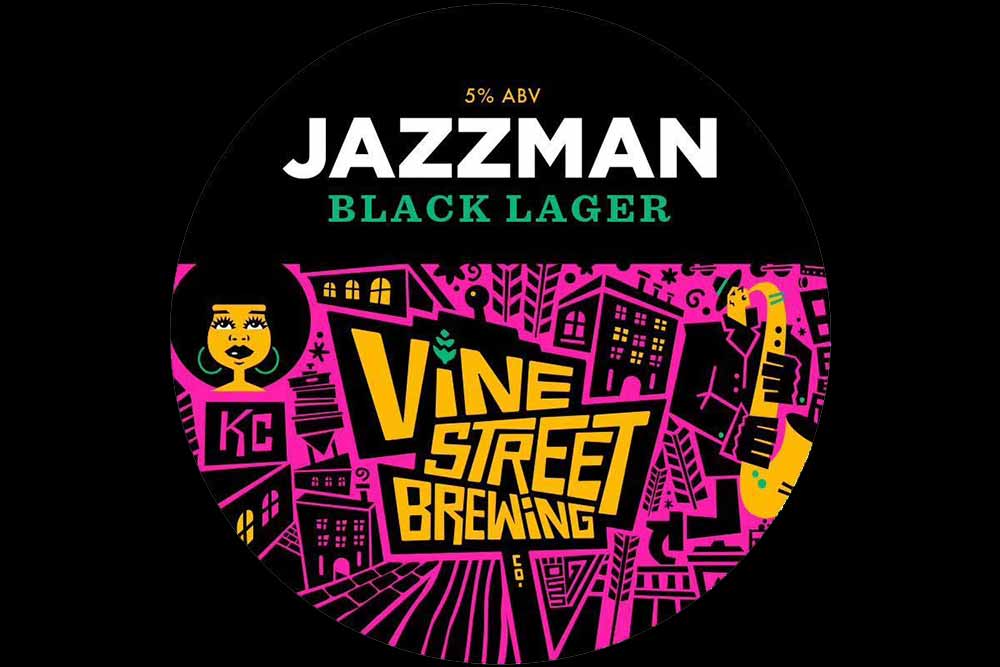 Dark Lager – When most breweries launch with core beers, you'll find the lineup stacked with crowd-pleasing favorites—IPA, hazy, maybe a pale ale, and a pilsner or stout.
Rarely have we seen a brewery open with a flagship dark lager. But that's precisely what Vine Street did with Jazzman when they flung open the doors in the historic Jazz neighborhood of Kansas City at the end of June.
Looking to educate folks that dark beer is more than just Guinness and pastry stouts, Vine Street takes inspiration from Czech dark lagers but uses American ingredients for Jazzman.
Pouring a deep black with a tan foamy, frothy head, Jazzman erupts elegantly with aromas of dark chocolate and a bit of roast. That dark chocolate hums bravely on the sip with a bit of cola and toffee. Finishing crisp and clean thanks to a lager yeast and three-week cold fermentation, Jazzman has layers.
In many ways, this black lager acts in concert with its namesake.
Think about listening to jazz. "It's more about the experience, and the beer supplements … it doesn't take away from what you're doing, whether having a conversation with friends, hanging out on the patio, or at a jazz house," says Vine Street Co-Founder and Brewer Elliott Ivory. "This beer fades into the background," but simultaneously makes a bold statement.
Smooth, refreshing, easygoing, and approachable yet complex, Jazzman rings all the right notes, which is essential and perhaps controversially more so for Missouri's first Black-owned brewery.
"It's one thing to have a brewery and just be making beer, but it's another thing to have a Black-owned brewery," says Vine Street Co-Founder Kemet Coleman. "It's a whole completely different animal. … That's what's special about Jazzman."
Unicorn Floatie – Goldspot Brewing Company
Denver, CO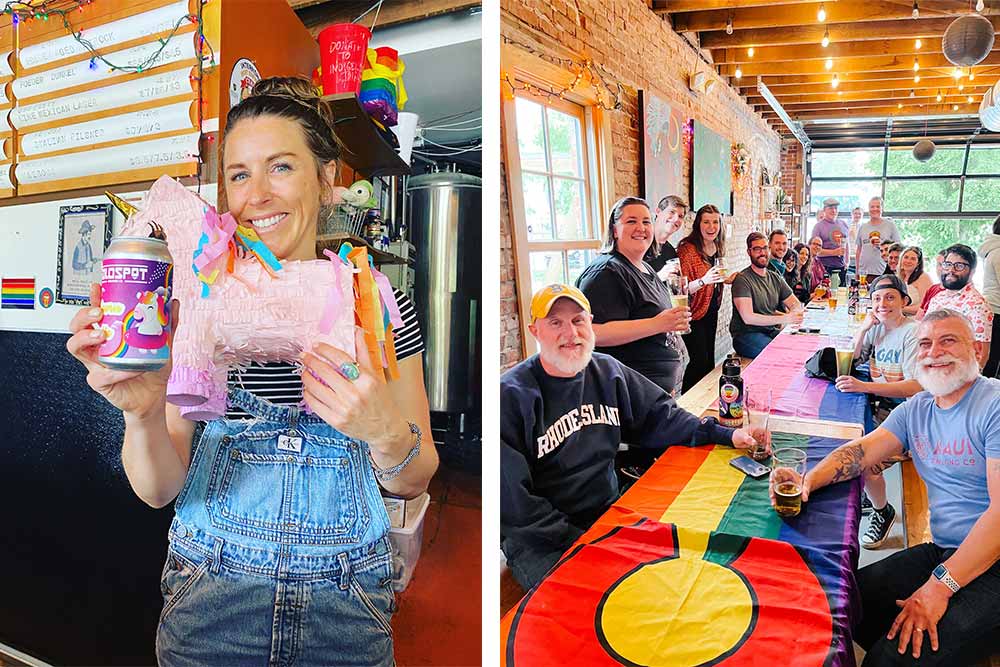 Fruited Hefeweizen – The beer speaks loudly at Goldspot, a one hundred percent Queer- and woman-owned brewery in Denver, CO.
Those like Gender Fluid, an Italian pilsner that initially started as a beer to raise money for one of the Goldspot bartender's gender-affirming surgery. Matching the amount raised from $1 per pint poured, Goldspot Owner Kelissa Hieber morphed that beer into a series, donating to a different organization every time, such as Denver Community Fridges or the Transformative Freedom Fund.
Or This Beer F*cks, a collaboration with the food truck The Easy Vegan. The session IPA with passion fruit donated ten percent of all proceeds to LGBTQIA+ organizations fighting for Queer rights in Texas, Tennessee, and Florida.
Unicorn Floatie will be the beer featured in Hop Culture's 2023 Queer Beer Box.
The third or fourth recipe Hieber ever wrote, Unicorn Floatie is a hefeweizen with strawberry puree from a women-owned producer.
Hieber says this beer was the first time she did something "stupid and gay to see if people would still drink it."
They did, and then some. "I always love when a big burly dude is like, 'Can I get the Unicorn Floatie,'" chirps Hieber.
Like a strawberry banana smoothie, Unicorn Floatie "is always good. Sometimes juicier, sometimes a little more tart, but always what you want it to be," says Hieber. Which is just a crushingly refreshing beer to drink in the summer.
Goldspot's in-house designer Cat Vasquez created the label. "I asked for Lisa Frank realness, and she delivered," says Hieber. Sporting a bright pink and purple label with a cute unicorn caricature bouncing along a rainbow in a pool ring, Unicorn Floatie is just pure summer fun.
Small Batch Tequila Blanco – Teremana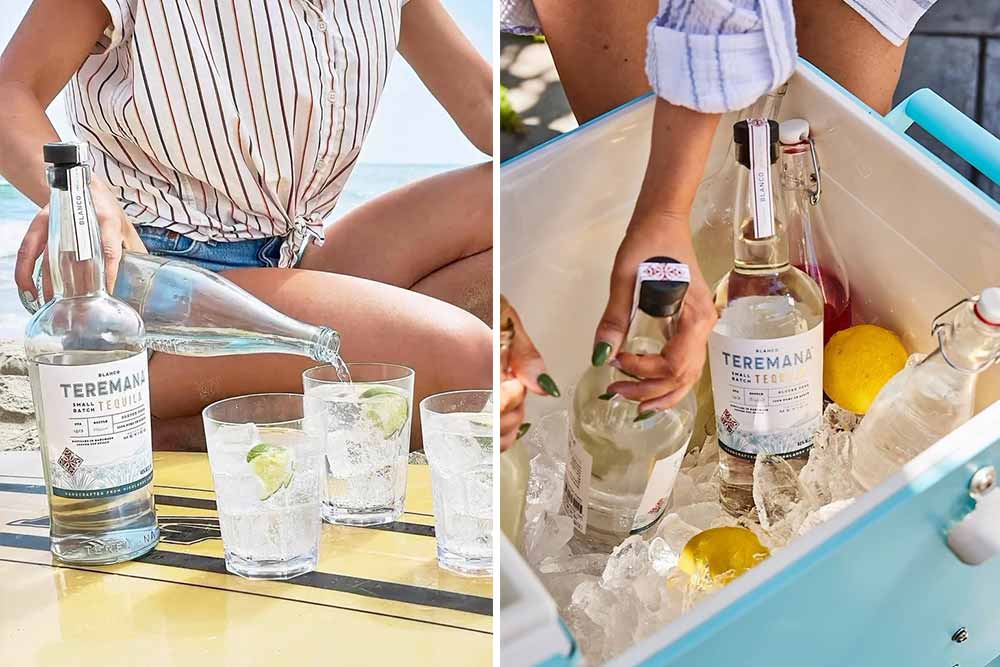 Tequila – Because sometimes one of the top beers we drank in July…isn't a beer at all. Do you love the WWE? Are you a fan of HBO's Ballers? How about the movie Moana or Furious 7? What does this have to do with tequila?
Dwayne "The Rock" Johnson has become one of the highest-paid celebrity actors for a reason. His blend of charm, brawn, and decent acting chops has made him one of the most sought-after celebrities.
Much like his own brand of tequila. Launched in March 2020, the Rock's tequila brand sold 300,000 cases in the U.S. in just ten months. The tequila caught on for its quirky yet affordable approach. Priced at an average of $31 a bottle, Teremana combines the word "tere," which means earth in Latin, and "mana," which means spirit in Polynesian, a nod to the Rock's roots.
Available in three types—añejo, reposado, and blanco—the latter version of this "spirit of the earth" tequila includes one hundred percent Blue Weber Agave from a small Mexican town in the Jalisco Highlands that's roasted for three days before being distilled in handmade copper stills.
As if that wasn't enough, Teremana has racked up awards, including a 2022 gold from the Spirits Business for the Tequila & Mezcal Masters and a gold at the 2022 San Francisco World Spirits Competition, to name a few.
Scooter Blood Orange Radler – Braxton Brewing Company
Covington, KY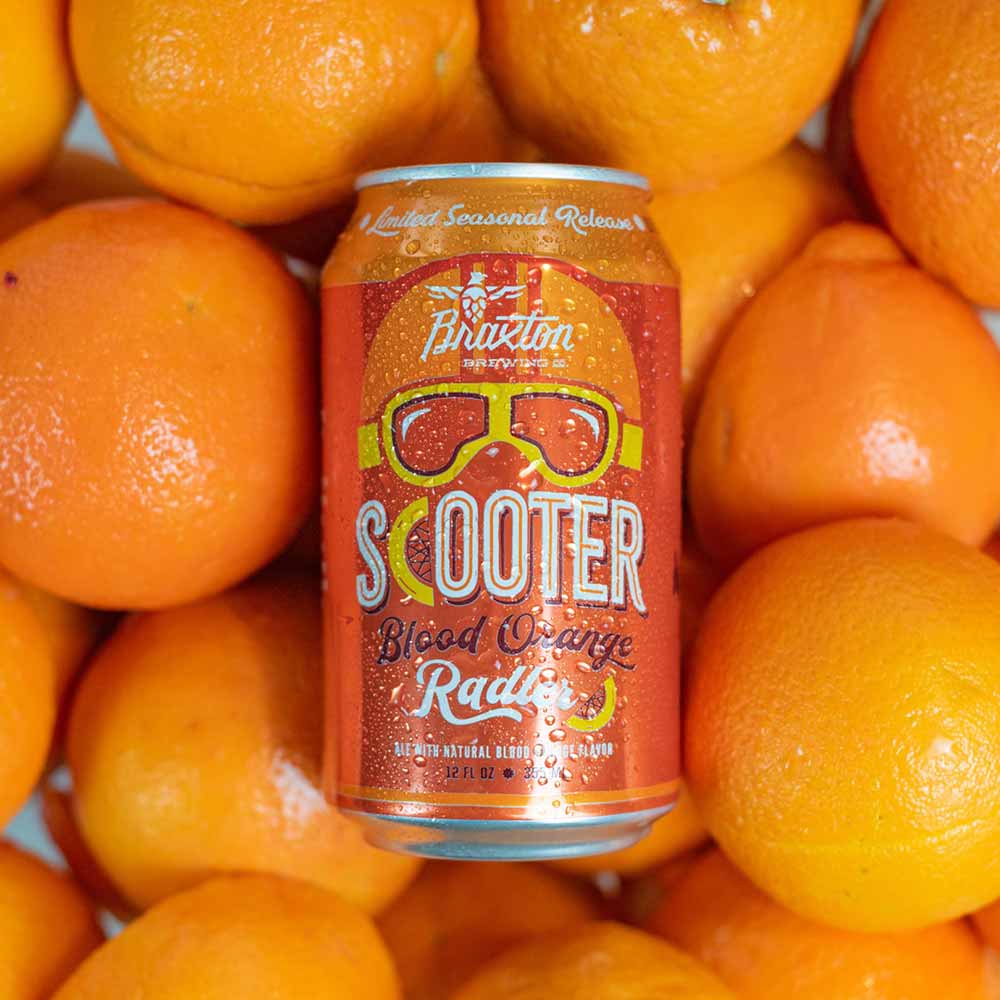 Radler – One part lager + one part citrus soda = the most delicious drink. According to local legend, Franz Xaver Kugler invented the radler in June 1922. While history can neither confirm nor deny this fact, the story is worth telling. As the tale goes, Kugler, an innkeeper in Deisenhofen, Germany, capitalized on the country's biking craze by creating a trail from nearby Munich to his tavern. One beautiful day in June, 13,000 cyclists wound their way to his establishment, looking to quench their thirst. Overloaded with thirsty patrons, Kugler quickly began to run out of beer. But a stroke of genius saved him. Kugler cut his pilsner with overstocked lemon soda.
Today, radlers abound, especially in the warmer months of summer. Braxton's version includes the sweet, sweet juices of blood orange for a citrus sensation screaming for fun in the sun.
As the brewery tells it, "Every ride has a story. Make it an adventure with Scooter Blood Orange Radler, crafted for sunny days, smooth sips, and crushable refreshment."
Right Time – Resident Culture Brewing Company
Charlotte, NC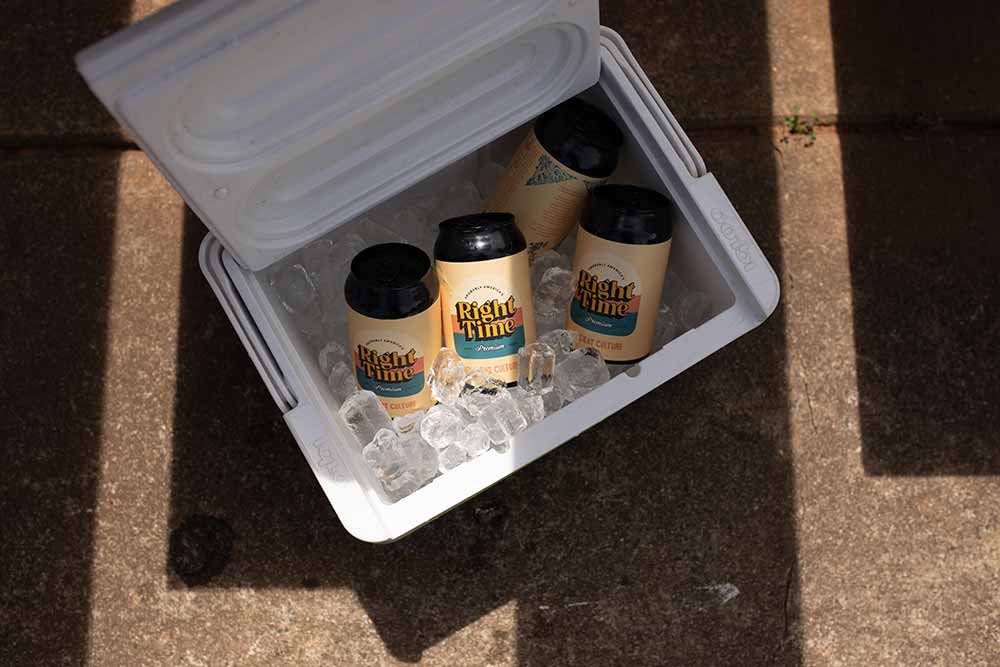 American Light Lager – The time is now, aka it's the 'right time' (and maybe the only time) to grab America's most premium lager. At least, that's what Resident Culture has been calling Right Time, their new American light lager that's precisely the beer those at the brewery want to drink all day, every day.
A summer session crusher? Yup, we want one of the top beers of July in our cooler right now.
Find this Right Time in Hop Culture's newest beer box here!
Fresh Hot Coat – Kane Brewing Company
Ocean, NJ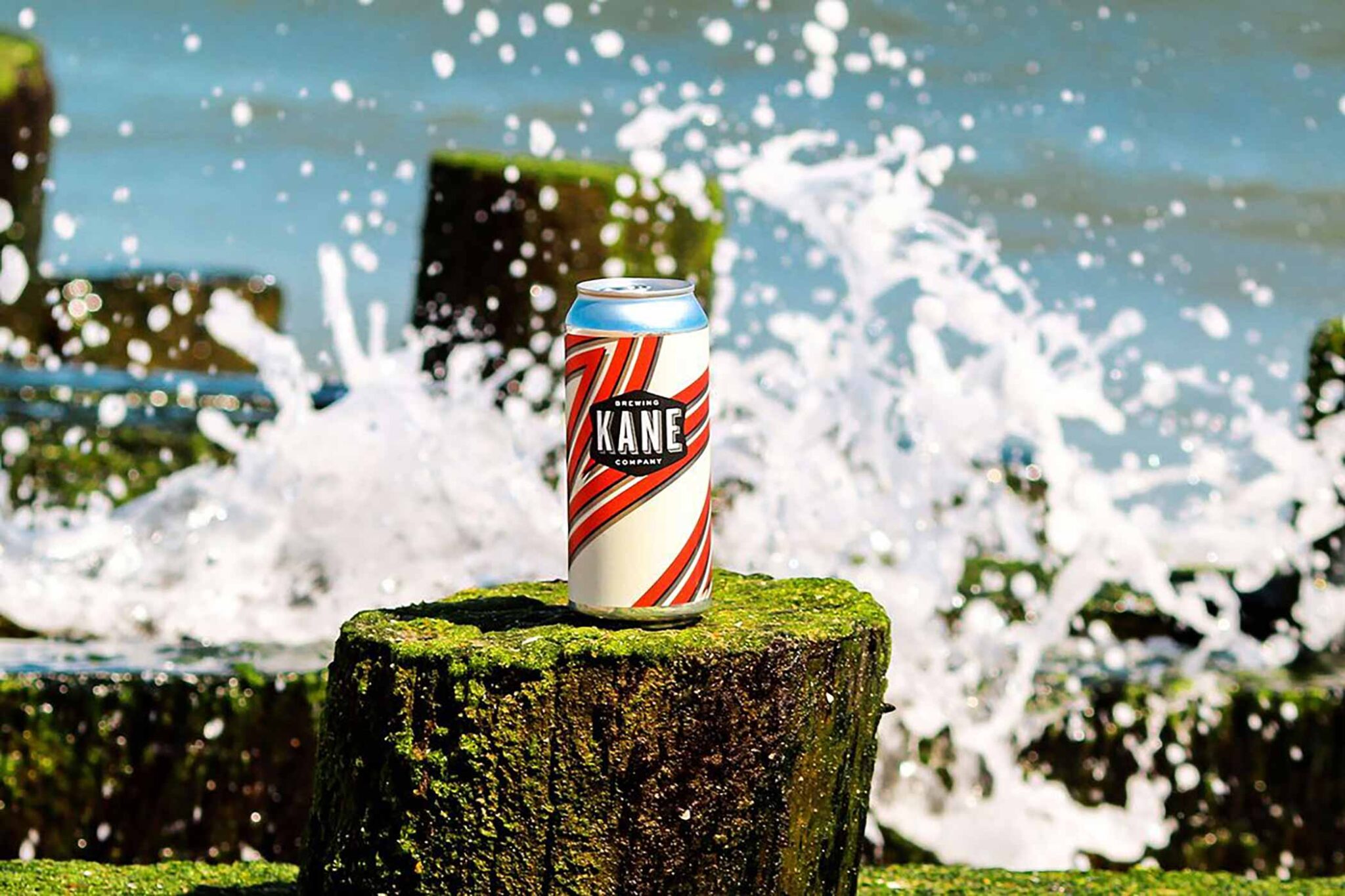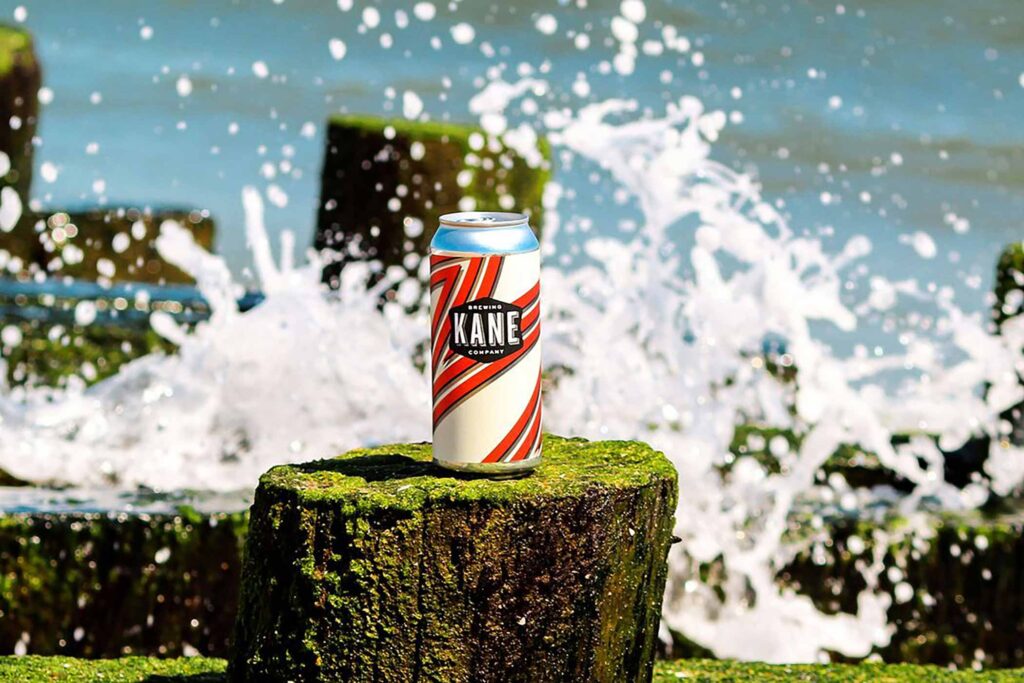 Hazy IPA – Famous for its beautiful coastline, seaside resort towns, and long winters, New Jersey now boasts a bevy of the best breweries in the Mid-Atlantic and Northeast. One of the OG breweries in the thirteenth state of America, Kane Brewing made a name for itself by brewing consistent, high-quality imperial stouts and IPAs.
For instance, Fresh Hot Coat, a 7.6% hazy with Mosaic Incognito and Riwaka in the whirlpool, and a Citra, Citra Cryo, Mosaic, and Riwaka dry hop.
If you visit New Jersey, you should absolutely pay homage to a brewery that set the tone for the entire craft beer scene in the Garden State.
And then check out all of our Best Breweries in New Jersey.