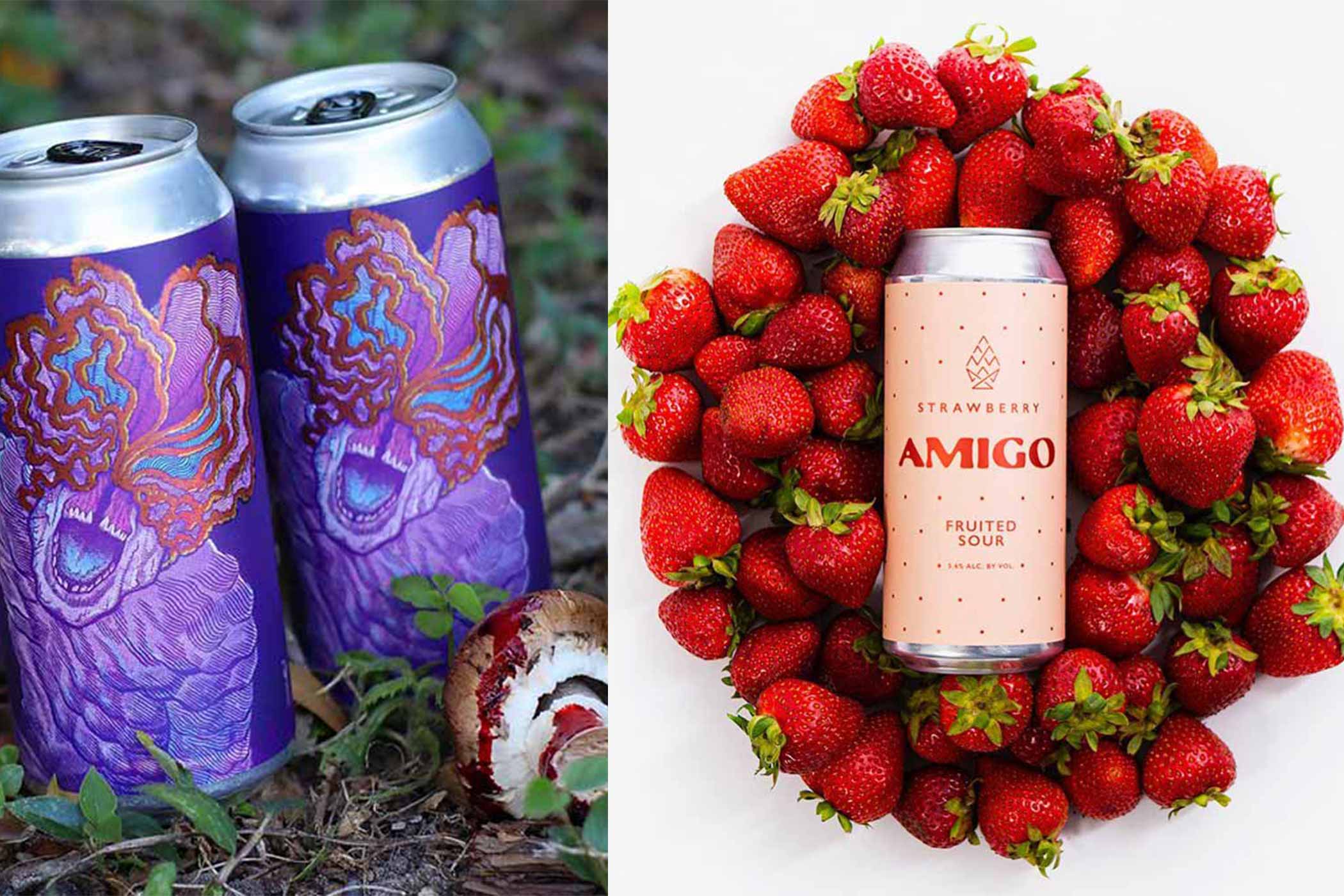 Photography courtesy of Tactical Brewing Co. (on the left) and Bow & Arrow Brewing Company (on the right)
Our Favorite Beers From Previous Months
April sours bring May flowers. Isn't that how it goes?
It could, and we indeed found a few sours leaving us wide-eyed and puckering this month. Like an unintentionally Last of Us-inspired mushroom beer that landed on our ranking of "The 37 Best Beers to Drink in Spring 2023." Or a sour from one of our favorite breweries in New Mexico (that also happens to be Indigenous- and Queer-owned) nodding to a classic strawberry shortcake dessert.
But we could have easily said April ales bring May gales.
Because we broke down a new, exciting style called hazy pale ale…
And we discovered a brewery in Portland making some of our new favorite hoppy ales.
We probably can't say April lagers bring May…well, nothing rhymes with lagers anyway. Also, for perhaps the first time, we only added one lager to our "Top Beers of the Month" list.
Although, that German-smoked lager did have us drinking mug after mug.
Regardless of what we tend to say in April, we packed this month with a literal Garden of Eden of beers—IPAs, hazies, a DIPA, a hefeweizen, a hazy pale ale, a German smoked lager, a mushroom gose, a strawberry fruited sour, and even an English mild ale.
Go ahead, pick your favorite, and drink our best beers from April.
Top Beers We Drank in April 2023
Aufschnitt – Temescal Brewing
Oakland, CA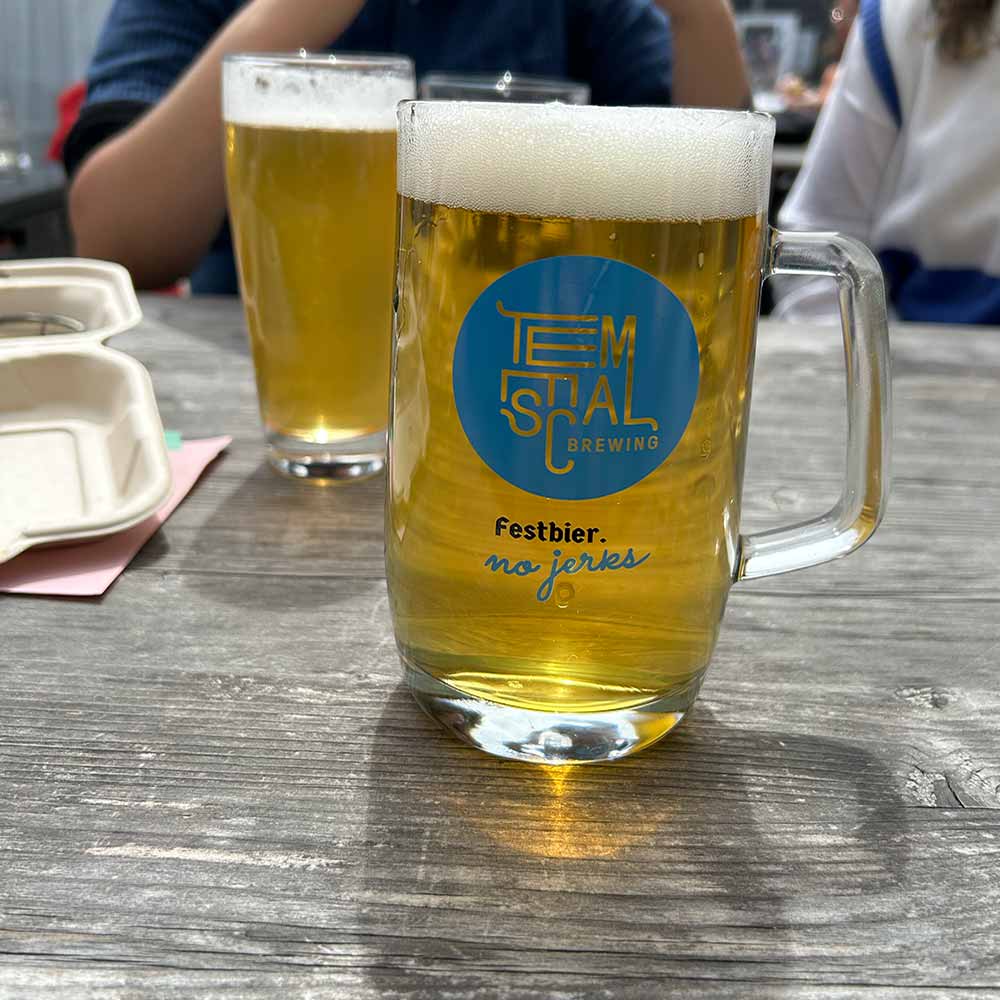 Smoked German Lager – Temescal Brewing is one of my favorite breweries in the Bay Area. When my wife, Stacey, and I moved to Oakland on March 1st, 2020, we celebrated by meeting all our friends at Temescal for Queer First Fridays.
The event, held monthly on the first Friday of each month, brings together Queer musicians and drinkers to celebrate a night uniquely Queer. The event gained popularity in the area for crafting a safe space for Queer folks to hang out with friends and listen to great music while enjoying incredible beer.
Actually, it was the last public gathering we went to before the global pandemic forced breweries and taprooms to shut down.
But when everything reopened, Temescal quickly became a go-to brewery for us. Stacey celebrated her birthday there last year, and two weeks ago, our friend Rachel did the same thing.
This time, they had a smoked German lager on tap called Aufschnitt. While I had planned to start with this one and move on to something else, I enjoyed the light cherrywood and beechwood smoked malt lager so much that I ordered a second mug.
Later that night, Temescal hosted Queer Magic Dance Party, a dance party and fundraiser for the Trans Advocacy & Care Team (TACT) that champions trans wellbeing.
We and our friends certainly love Temescal because they make incredible beer, but they're also one of the best Queer-supporting breweries, so we know we can grab a beer and feel safe drinking there every time.
Interested in other Queer-led breweries you can champion right now? Hit this link or the button below.
Scrugsy – Belleflower Brewing
Portland, ME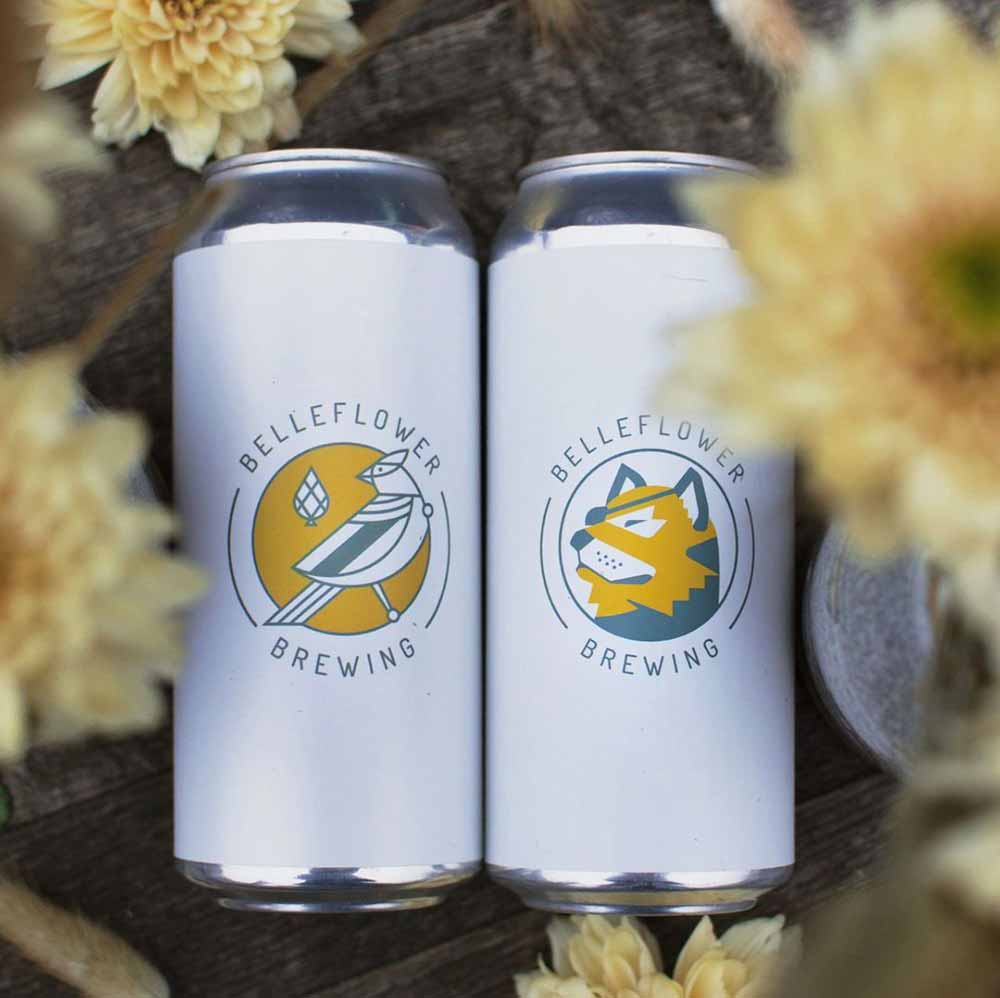 Hazy IPA – Our good friend Mike Dyer, who became a co-owner of Untold Brewing after stints at Trillium Brewing Company and Tampa Bay Brewing Co., turned us onto Belleflower Brewing in Portland, ME. We listen whenever folks in the industry tell us about their favorite spots. Especially when those folks made our list of the "Best Beers to Drink in Spring 2022."
After Untold collaborated with Belleflower last year, Dyer told us that "they have a gorgeous taproom, strong ties to the local community, fantastic beer, and are simply great people. It's also quite cool that it is a woman-owned, family business."
Founded by Katie and Nick Bonadies, vice president of brewing operations at Trillium for many years, along with Melissa and Zach Page, Belleflower focuses on crafting small-batch beers, often with local ingredients.
Accordingly, Katie and Nick send us a compilation of hazies, double IPAs, IPAs, and sours, showcasing ingredients like malt from Blue Ox Malthouse. Oh, and an imperial stout with peanut butter and roasted cacao nibs that has been one of the best stouts we've tried in a long while.
Honestly, everything stunned us. Each one of Belleflower's IPAs surprised and delighted. From Hexology, a 7.3% ABV DIPA with Mosaic, Citra, and BRU-1 expressing candied grapefruit and orange, to Barn Hex (Mosaic, Strata, El Dorado), a New England DIPA with oats that reminded us of an orange creamsicle.
We had a hard time choosing one here, but Scrugsy blew us away.
A hazy named after a one-eyed dog that Belleflower Co-Owner Katie's mother had when she was young, Scrugsy was the first IPA Belleflower ever brewed.
Amazing that a true OG impressed us so much.
Pouring a light lemonade color, Scrugsy hit us first with something we rarely smell on a beer—kiwi and honeydew. Our minds immediately traveled to the white-wine-expressive hops of the Southern Hemisphere. Fitting then to find Enigma in Scrugsy along with Citra and BRU-1. "Wow, that is a crazy, crazy beer," we wrote in our notes. "We're getting cotton candy, kiwi, and bubblegum."
So vibrant and fresh, Scrugsy hits you like a neon sign in a sea of billboards. All your tastebuds turn on, blinking and flashing as if you've won a brand-new car on a game show. Ding ding ding!
HefeWeizen – Live Oak Brewing Company
Austin, TX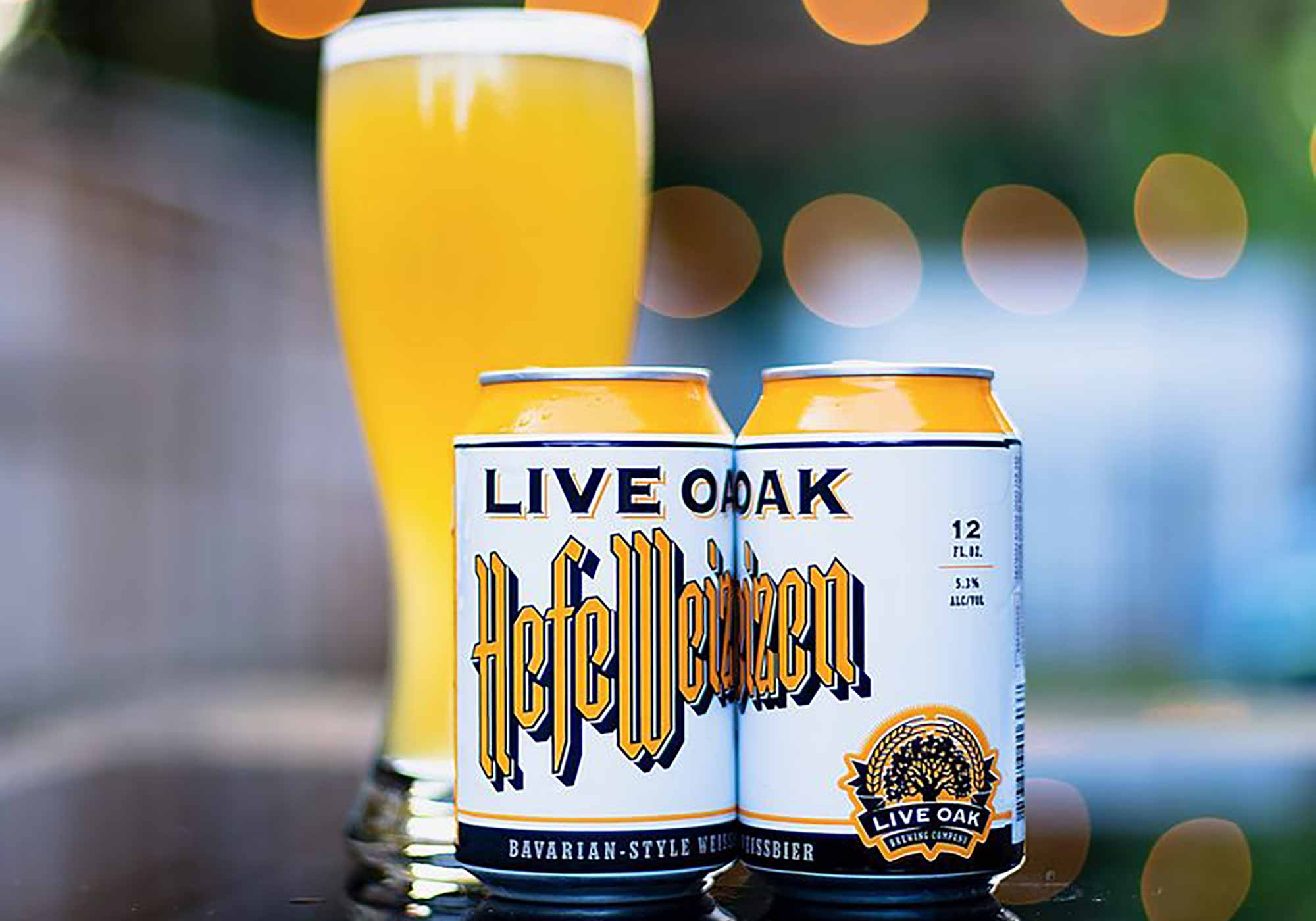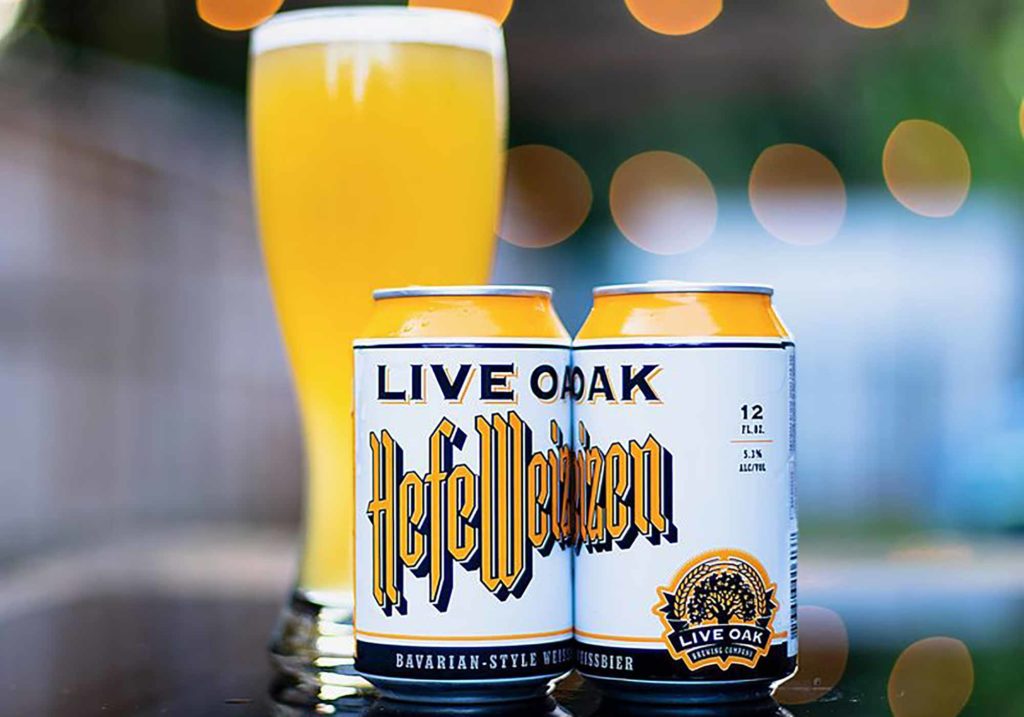 Hefeweizen – Speaking of wheat beers, what is a hefeweizen anyway? Literally translating from German to yeast and wheat, those two ingredients define hefeweizens. Pouring a cloudy, golden color with a thick foamy head from the wheat, hefeweizens also feature iconic banana, clove, bubblegum, and even black pepper aromas and notes from the yeast.
Immensely popular on the hot patios of Texas, Live Oak HefeWeizen pours a very pale golden color with a healthy haze of yeast and an immensely dense head. It's a classic version of this style at its best.
"Ours is pretty ester phenol forward, so you get a good aroma of clove-y, vanilla, and a little bubblegum," says Dusan Kwiatkowski, head brewer at Live Oak Brewing Company. "Then, way at the back, a little bit of banana. The perfectly ripe banana, not the overripe banana."
Also, fun hefeweizen fact: Way back in Bavaria, Germany, during the 1520s, the Duke of Wittelsbach created a loophole in the Reinheitsgebot (Bavarian Purity Law, which stated that brewers could only make beer with four ingredients: barley, hops, water, and yeast) to drink his favorite wheat beers.
The Weissbierregal or "the right to brew wheat beer" decreed that a single brewery in the village of Schwarzach would be allowed to brew these wheat-forward beers.
So big ups to the Duke! Without you, we might not even have hefeweizens and their ilk today.
Want to learn more fun facts about the hefeweizen? Hit the button below.
Whirlpool – Night Shift Brewing
Everett, MA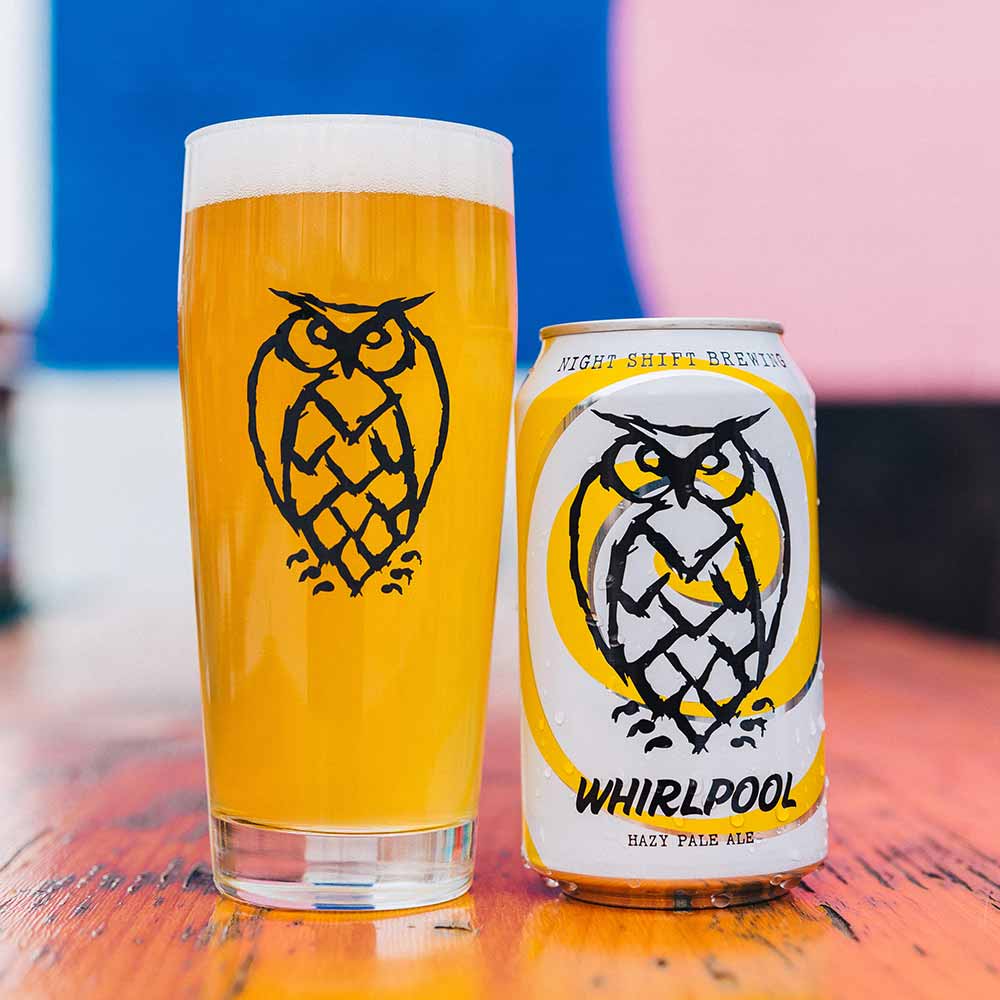 Hazy Pale Ale – We're unsure if we can proclaim Whirlpool as the first hazy pale ale, but it has to be up there. In 2014, Night Shift wanted to "do something weird with hops," says Night Shift Co-Founder Michael Oxton, who admits that their whole thing was no IPAs and nothing hoppy when Night Shift first started. "There was a whole world we weren't touching," says Oxton. "It would have been silly not to explore it."
So Head Brewer Joe Mashburn had an idea: using a defunct tank on the brewery floor to make a free-rise pale ale. In other words, the beer wouldn't go into a fermenter with temperature control but an unused brite tank and ferment to whatever temperature it needed. "So the opposite of what you should do in brewing," laughs Oxton.
Oh, and instead of adding hops during the boil, Mashburn threw in a hefty amount of Mosaic and Ella during the whirlpool process. "We're going to hop the crap out of it during whirlpool, and we're going to let it free rise in the brite tank," says Oxton.
What started as a little experiment or almost a joke turned into a beer Oxton and Mashburn put on tap that sold out in a day in, wait for it…growlers.
"It tasted delicious…like easy-drinking orange juice," says Oxton.
Eventually, Night Shift brought in a German company to create a brewhouse specifically designed to handle their complex, extensive, and lengthy dry-hopping process in the whirlpool.
Today, Night Shift sub-boils Whirlpool by dropping the temperature below 300 degrees and doing a ton of whirlpool hopping (1.6 lbs/bbl). But other than that, only a little of the Whirlpool recipe changed.
"Wheat and oats add softness and body without making it heavy, just giving it this nice creamy, soft texture and a super vibrant sip," says Oxton.
Pouring out a hazy blond, Whirlpool hits you in the face with what Oxton describes as "if you put your fingernail through a clementine and took a big sniff."
You'll find some of that clementine and peach on the sip. "It's citrusy but also [has] this stone fruit peach flavor that rounds it out as you're going through," says Oxton.
All make Whirlpool an exemplary hazy pale ale. What is that style exactly? Hit this link or the button below to discover why we love this new style.
Catchy Chorus – Dogfish Head Craft Ale
Milton, DE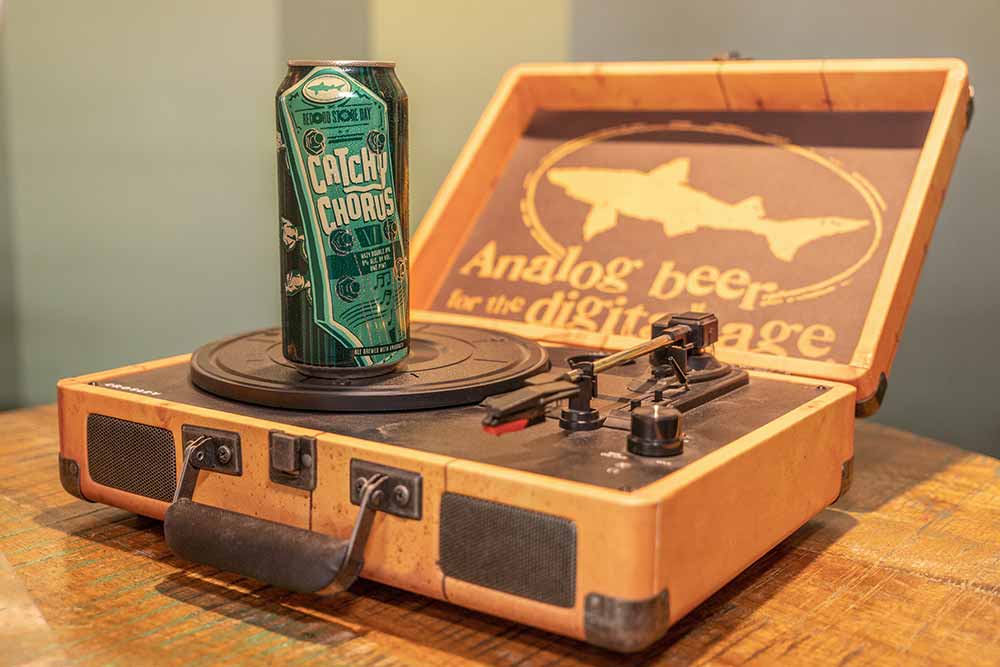 Double IPA – Right on the cusp of April, our company hosted a fireside chat with Jim Koch, co-founder of The Boston Beer Company, and Sam Calagione, co-founder of Dogfish Head Craft Brewery—two of the most iconic breweries in the entire country. 😱 Encouraged to drink during our conversation, Koch came with a classic—Boston Lager—while Calagione cracked open fresh-off-the-line Catchy Chorus.
Not thirty minutes later, a box showed up at our doorstep with…you guessed it, Catchy Chorus.
Brewed to celebrate Record Store Day this year on Saturday, April 22, Catchy Chorus catches inspiration from E, B, C#m, and A, considered the four "magic chords" because they make up most of the world's most popular melodies.
"A disproportionate amount of top pop hits of the last fifty years were written with this chord progression," Calagione told us. "We took those four magic chords and built the recipe using four hops with the same first letter as the chords."
And while Eureka, Bravo, Calypso, and Azacca hops may not be a classic hop combination, in Catchy Chorus, they sing.
More of a soprano, this double IPA hits the high notes at 9% ABV.
Think of Catchy Chorus as the Prince of beers, with a high, smooth vocal range that's the hallmark of his style…and a well-brewed DDH DIPA.
Click Click Bloom — Tactical Brewing Co.
Orlando, FL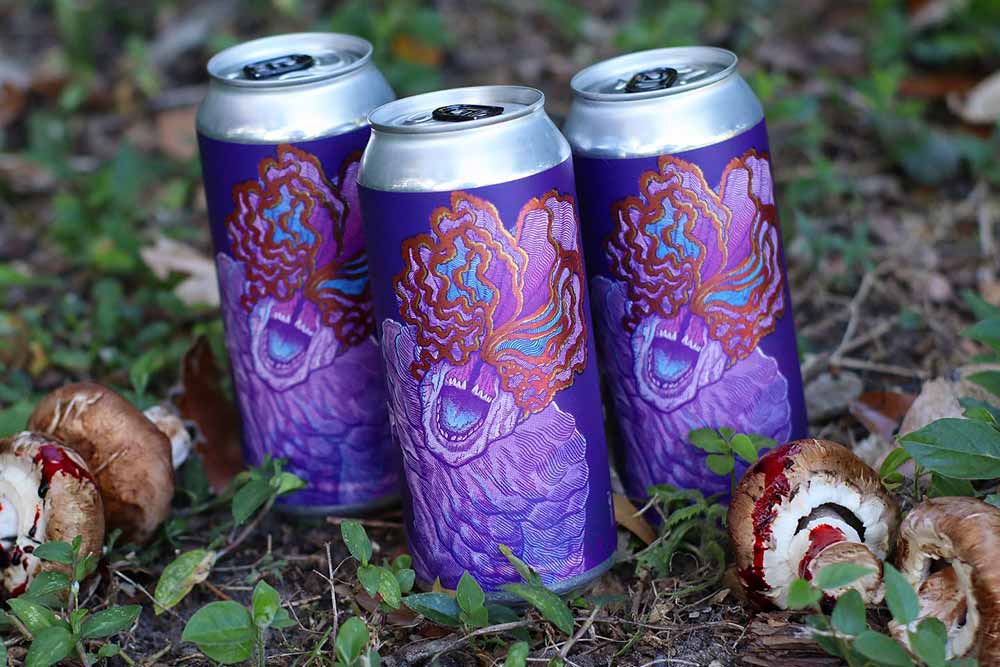 Gose – We can count on one hand the number of mushroom beers we've tried in the last five years—Chanterelle from Scratch and Fung Shui from Fox Tale Fermentation Project. Now add Tactical's Click Click Bloom to that list. (Literally, this beer made our list of the "The 37 Best Beers to Drink in Spring 2023.")
A gose base, already popping with umami from a hit of salt, gets a double dose from adding mushrooms such as cordyceps, roasted lion's mane, oyster, and no-big-deal truffle.
We only wish we had watched The Last of Us to make some excellent pop references here. Apparently, the gorgeous label has something to do with the critically acclaimed video game series turned HBO phenomenon.
"We have been growing various mushrooms and wanted to do a mushroom beer for a while," Tactical Brewing Owner Doug Meyer told us. "With 'The Last of Us' becoming so popular, it was serendipitous!"
Strawberry Amigo – Bow & Arrow Brewing Co.
Albequerque, NM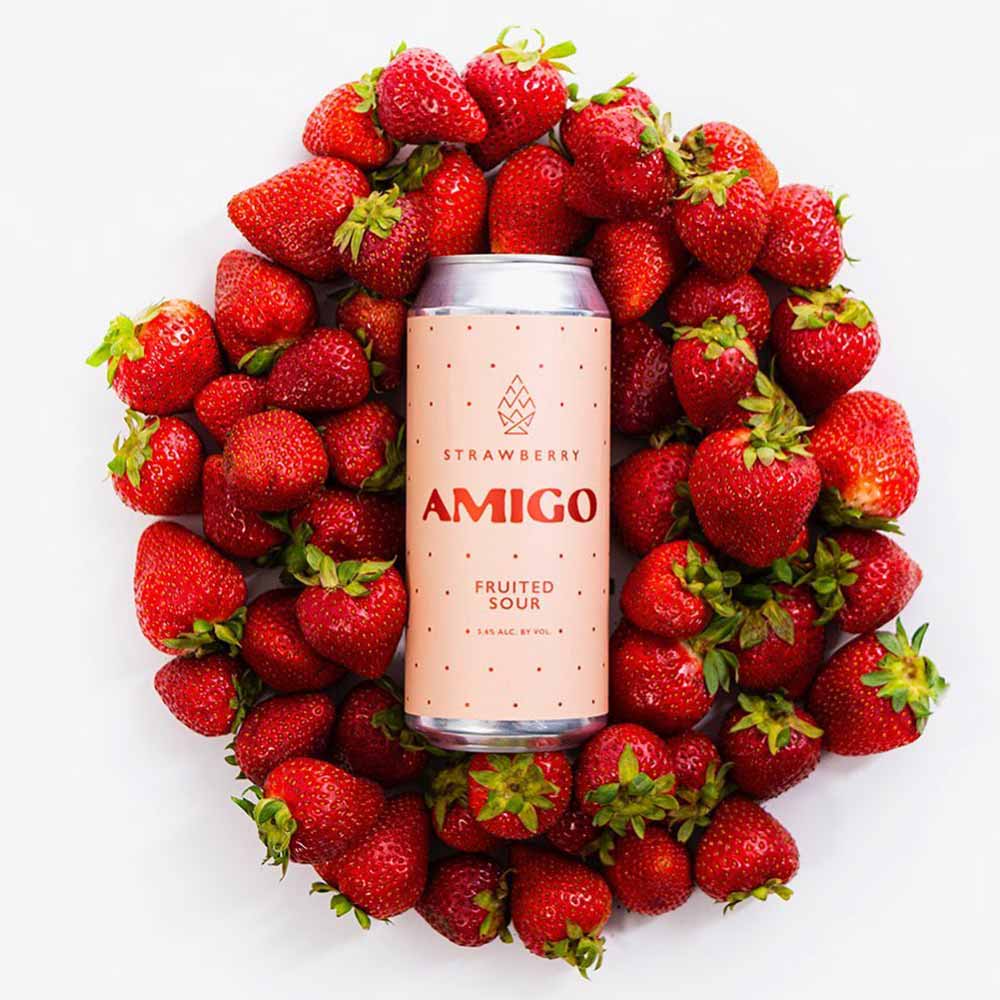 Fruited Sour – We think Bow & Arrow is not just one of the best Indigenous- and Queer-owned breweries, but also just one of the best breweries in the country period. And we're not the only ones. Last fall, Thrillist named the Albuquerque-based brewery to its list of the thirty-four best breweries in the country.
Partners in business and life, Shyla Sheppard and her wife, Missy Begay, opened their brewery in New Mexico to incorporate ingredients and culture from their Native American heritage. Born and raised on the Fort Berthold Reservation in North Dakota, Sheppard is a member of the Three Affiliated Tribes, while Begay is the granddaughter of Navajo silversmiths and weavers. This dynamic duo weaves delicate threads of Native American customs and legacy combined with a vision for the future across their entire brewery.
The beauty of this synergy explodes in the can with beers like Native Land, a project designed to increase awareness about ancestral Native land and raise funds for current Native communities and organizations.
Most recently, Strawberry Amigo riffed off the classic strawberry shortcake dessert, bringing in those vintage flavors of the sweet red fruit, creamy whipped cream, and fluffy vanilla cake.
Interested in other Queer-led breweries you can champion right now? Hit this link or the button below.
Ouroboros – Fox Tale Fermentation Project
San Jose, CA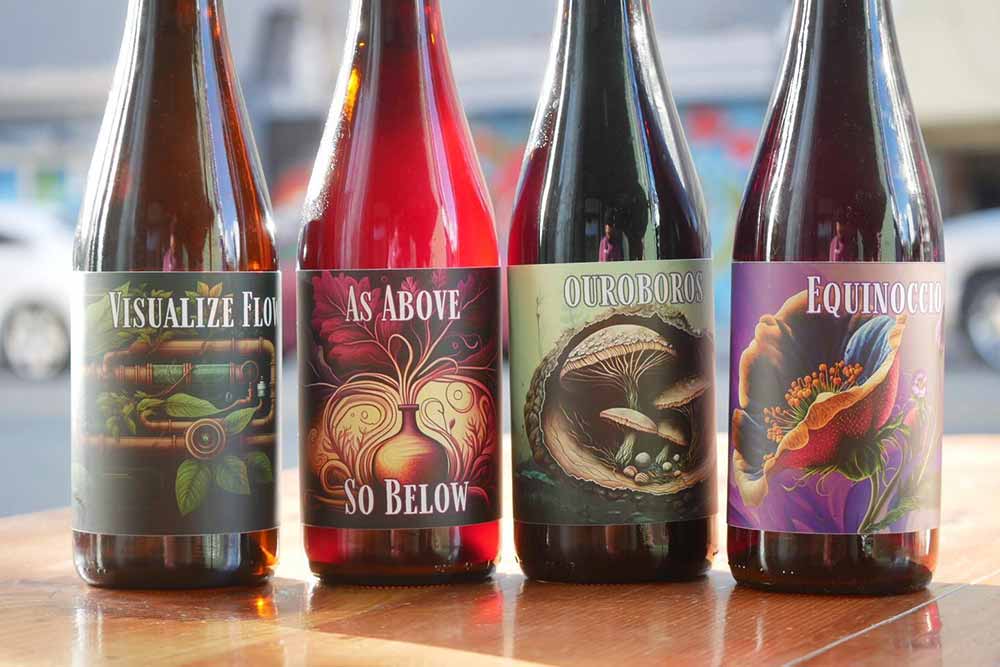 Black Saison – Two Fridays ago, I and Next Glass Executive Vice President, Product, Kyle Roderick, traveled to Fox Tale Fermentation Project in San Jose, CA, to visit Hop Culture's Best New Brewery of the Year.
Celebrating its first anniversary, Fox Tale Fermentation had plenty to reflect on in the last twelve months.
Like how Roderick and his wife, Carolynne, and almost our entire IG community turned us onto this little jewel in the South Bay.
For those who know nothing about this brewery, drop everything and read our story on Fox Tale Fermentation Project.
But in a nutshell, co-owners Wendy Neff and Felipe Bravo play magic tricks on your tastebuds, from the beer coming off the tiny Blichmann 2.5-bbl electric system to the mostly fermented food coming out of Wendy's tiny New-York-apartment-sized kitchen.
When we visited this last time, Fox Tale had brewed a host of collabs with local favorites such as Cellador, Almanac, and HenHouse.
We loved Ouroboros, the black saison collab with HenHouse that included whole oysters and lacto-fermented oyster mushrooms in the boil.
Simultaneously earthy, funky, savory, a touch sweet, and briny, Ouroboros again played tricks on our tongues.
Pair that with a Firebrand pretzel and housemade cashew cheese dip (🫠), and it's so easy to remind ourselves why we love Fox Tale Fermentation Project.
Congrats on year one, and cheers to many more years of fantastical fermentations to come!
Rockhill & Locust – BKS Artisan Ales
Kansas City, MO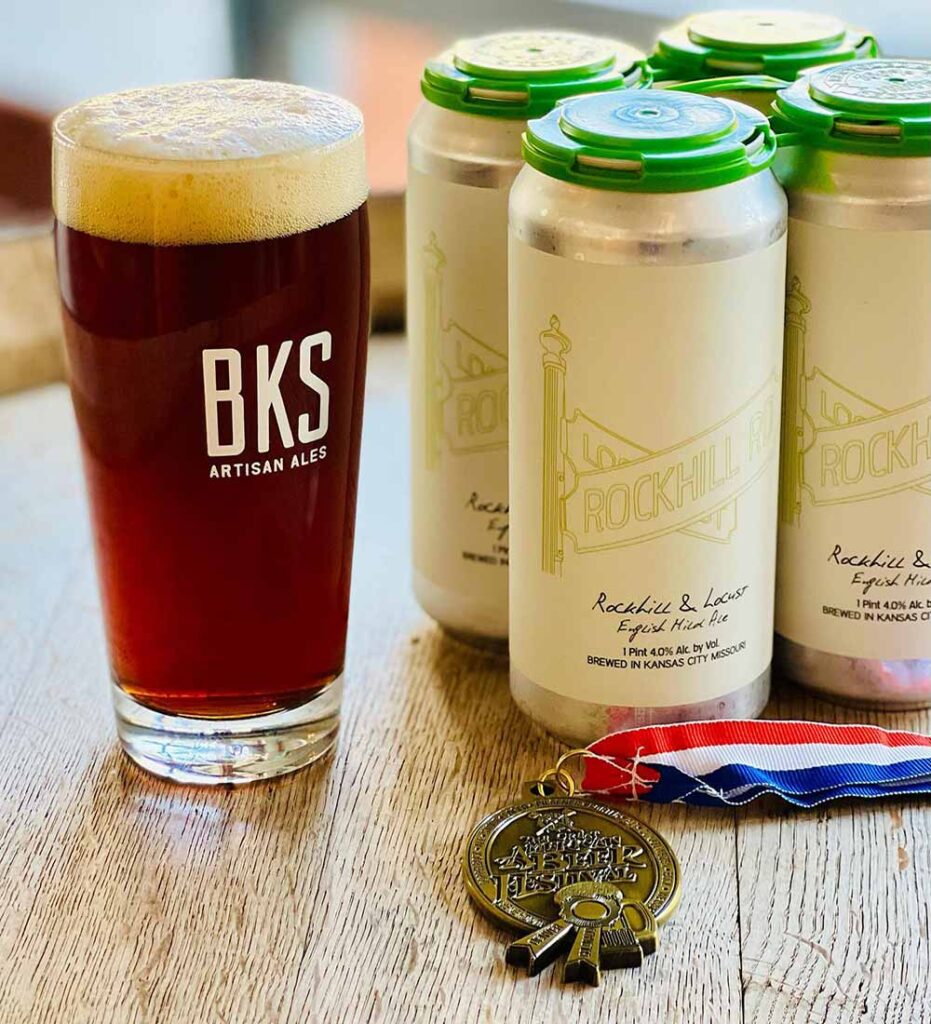 English Mild Ale – BKS Artisan Ales in Kansas City, MO, recently sent us a beer package that we've enjoyed immensely. Bohemian Style Pilsner, a beer from its all-lager brand Pivo Project, has already made our list of the "37 Best Beers to Drink in Spring 2023." And while we felt that beer evoked spring perfectly, we did fall in love with this English dark mild ale from the ales side of their brewery.
Rockhill & Locust pours a chestnut brown, almost ruby garnet if you hold the beer to the light. A gem indeed, this English dark mild ale washes over our taste buds with notes of charred graham cracker, toasted bread, and a touch of cappuccino. Probably thanks to the handfuls of English pale malts and the unique blend of specialty malts.
With just a light smack of floralness at the end from the English East Kent Golding hops, Rockhill & Locust evokes this style effortlessly.
A testament supported by its gold medal in the "English Mild or Bitter" category at the 2022 Great American Beer Festival.
Oh, and did we mention it's only 4% ABV? So go ahead and sip on one, two, or even three of these. This beer is a little gift to yourself in a glass.