Photography courtesy of (l to r) Reuben's Brews and Alex Pasternak | Roughhouse Brewing
Our Favorite Beers From This Year
May flowers! That's all we can think about with the bouquet of beers we drank this past month.
Like a bright, bold all-South Asian-owned brewery collaboration called Subcontinental with jackfruit.
Or a fragrant, floral hazy rice IPA called Tigresa from Japas Cervejaria.
We also picked out a fresh-as-daisies Czech-style pale lager collab called Bus Beer with Monday Night, Green Bench, Halfway Crooks, Cohesion, Threes Brewing, and Schilling Beer Co.
And we can't forget an opportunely plucked pilsner from Southern Grist's relatively new lager program.
We even found a prized petunia in Reuben's Brews' World-Beer-Cup-winning English barleywine.
But by far, the blooming best we drank these past thirty days may have been a historic American lager recipe from the country's first African-American-owned brewery.
Check out all our fresh picks from May below.
Top 11 Beers We Drank in May 2023
Tigresa – Japas Cervejaria
São Paolo, Brazil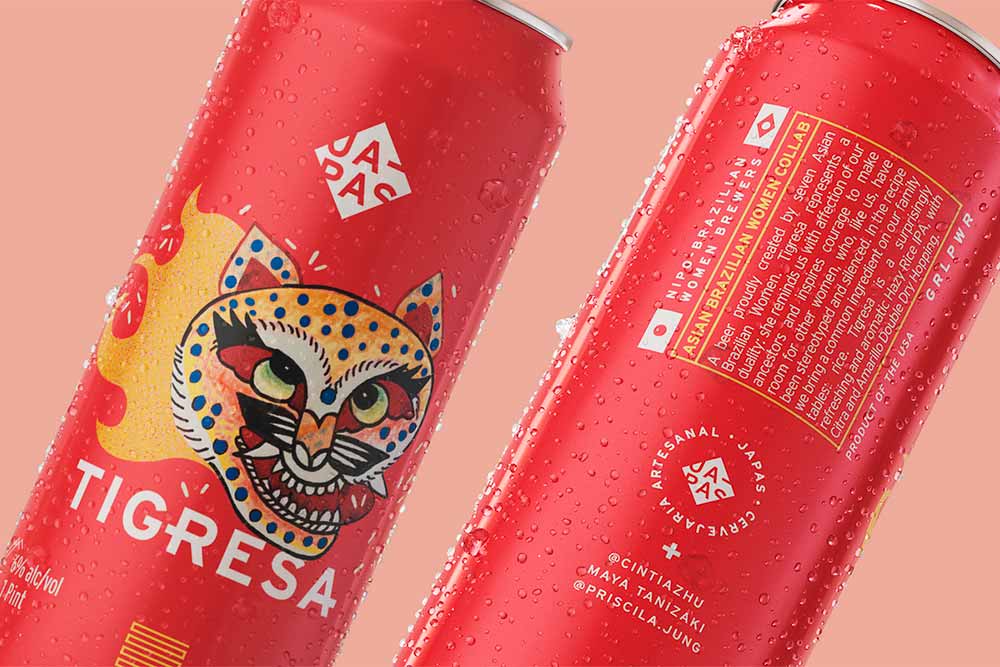 Hazy Rice IPA – To celebrate AAPI (Asian American Pacific Islander) Heritage Month in May, Japas Cervejaria teamed up with Brazilian content creators Priscila Jung, Maya Tanizaki, and Cíntia Zhu to brew Tigresa. The hazy rice IPA double dry hopped with Amarillo and Citra represents more than just beer.
"There were lots of discussions about how we can break stereotypes of being exotic, both in beauty and cuisine," says Tanizaki in a press release. "It's common for Asian women to be viewed a certain way, but in fact, we have our own unique cultures and traits. This was the launching pad for the collaboration."
How often do we, as Americans, lump Asian countries together into one amorphous cultural representation that becomes precisely what Maya Tanizaki calls "exotic"?
Every culture has its own identity, with food and drink an integral part of that representation. So it's great to see how Japas and these collaborators are reclaiming and rewriting that narrative here because, unfortunately, these stereotypes still exist.
"Cute. Submissive. Exotic. Obedient. These are among the many stereotypes that are placed on us as Asian women," according to Tigresa's brand statement. "These words fetishize and infantilize us, and oftentimes they play into the model minority myth. However we are described, the truth is these harmful, racist, and sexist characterizations can make us feel inferior and sidelined."
The statement continues. "Therefore, we want to raise awareness about this important topic that has long constrained our community. Asian women are not a monolith. We are all unique, each with our own colors, experiences, personalities, and histories."
To tie all of the ladies' cultures together, they chose to include rice in the beer because "it is the most common ingredient on our families' tables and because it is part of the staple diet of so many other families coming from different parts of Asia," says Japas Cervejaria Co-Founder and Brewmaster Fernanda Ueno.
Beyond the beer, you'll find a bright, bold Tigresa representation on the can to illustrate the power of Asian women in all their beautiful diversity.
"The Tigresa represents a duality and fondly reminds us of our ancestors, giving us the courage to support other Asian women, who, like us, have been stereotyped and silenced," says Maíra Kimura, co-founder, brewmaster, and business strategist for Japas, in a press release.
For a beer that welcomes all Asian women to the table, Tigresa pounces onto shelves in Brazil, but also California, Colorado, Florida, New York, Wisconsin, Massachusetts, and Rhode Island, with a tremendous roar.
Subcontinental – South Asian Beer Club, Misfit Outpost, Windmills Brewery & Restaurant, Roughhouse Brewing, Azadi Brewing Company, and The Chicago Brewseum
Various Cities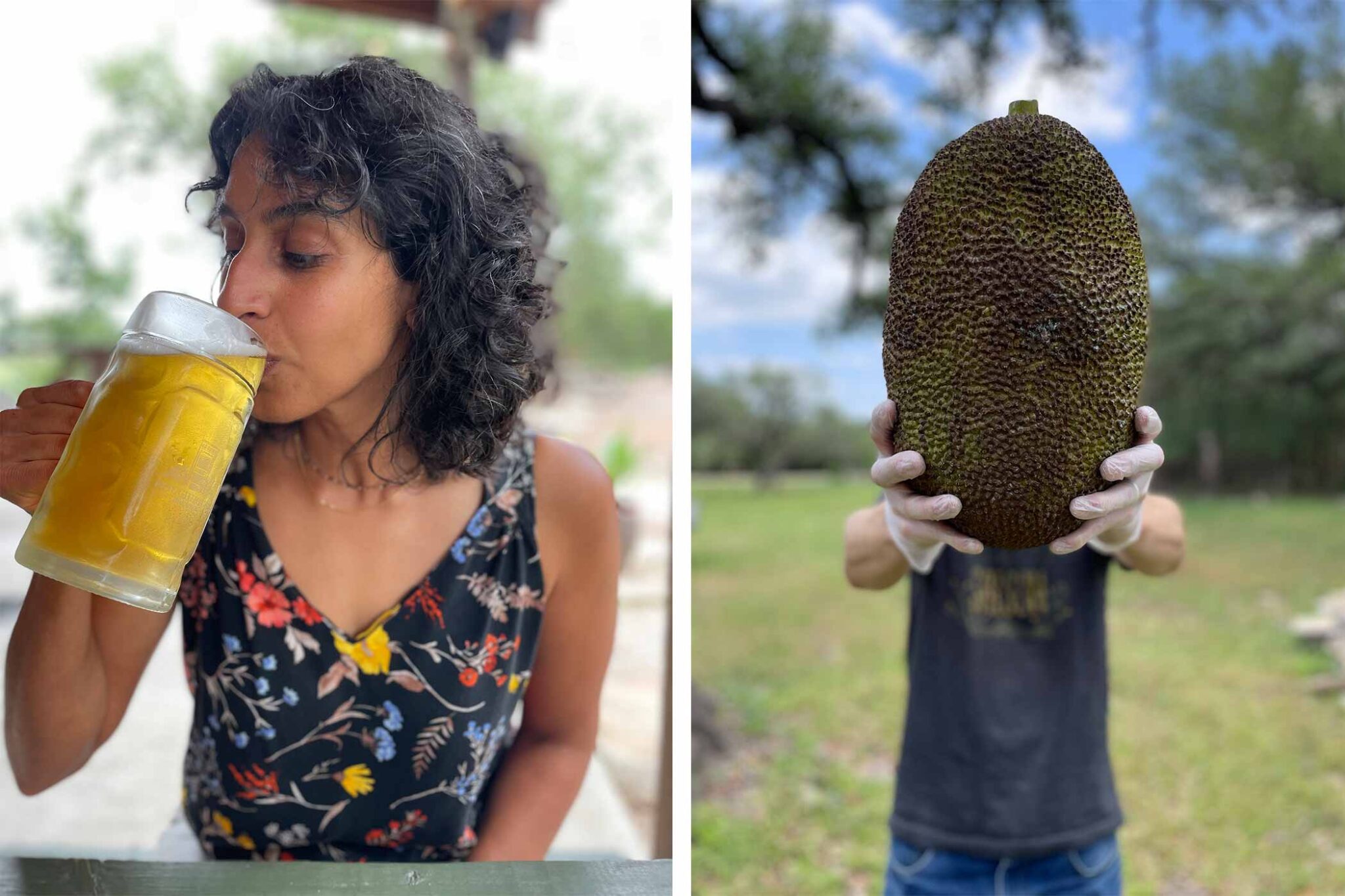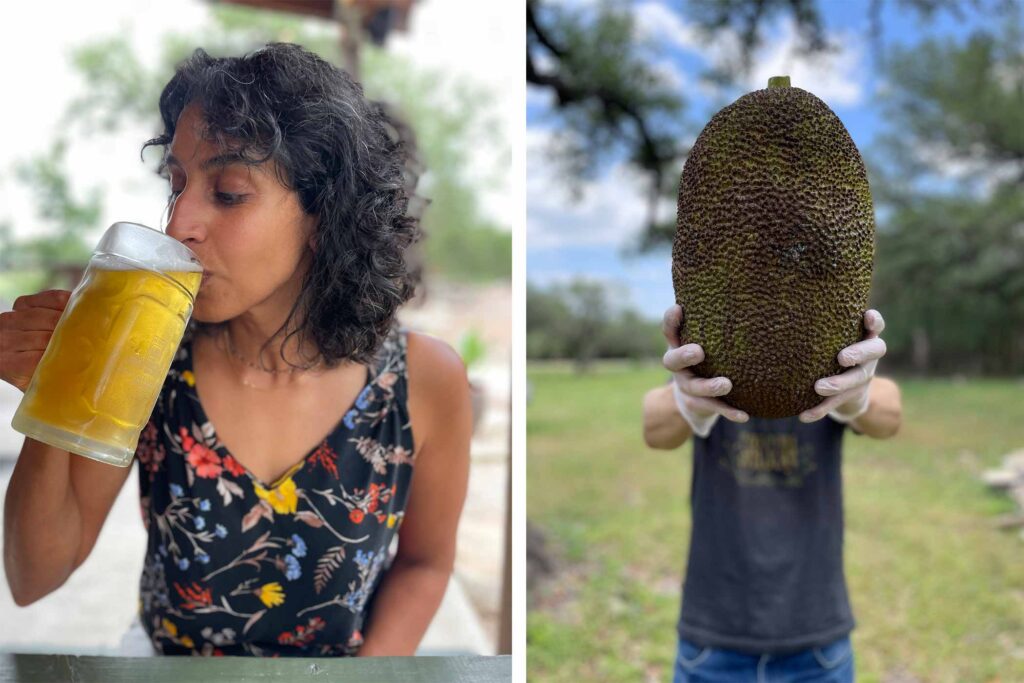 Jackfruit Rice Lager – Started by South Asian Beer Club Founder and freelance journalist Ruvani de Silva, Subcontinental is North America's first-ever all-South Asian collaboration beer.
Brewed to bring awareness to South Asians in craft beer, this jackfruit lager collab includes owners and brewers from four South Asian-owned breweries, including Azadi Brewing Company in Chicago, IL, Windmills Brewery in The Colony, TX, Roughhouse Brewing in San Marcos, TX, and Misfit Outpost in Cypress, TX.
A continuation of the first-ever South-Asian beer panel hosted by The Brewseum at its annual summit in Chicago in 2021, Subcontinental answers the question de Silva asked herself when she first moved to the U.S. from the U.K. five years ago: Where are all the South Asians in beer?
"I tried to find out where all the South Asians were [in beer]," she told us. "Of all the people I talked to on social media, where are all the other brown people?"
For the first time, these South Asian brewers and brewery owners have come together to brew a collaboration beer. One that represents where they've all come from, where they're all going, and the one thing that binds them all together: a love of craft beer.
"We felt the idea was to tell a story about South Asian culture and cuisine in a way accessible to people that was not intimidating, nothing to scare people away but to introduce them to something they didn't know," says de Silva.
To that end, all four chose a lager base to represent the beer most commonly drunk on the Subcontinent—a broad term that refers to all South Asian countries—and jackfruit, a surprising ingredient in beer that had meaning to all their various cultures.
"Everyone has done a chai beer," says de Silva.
Nadeem agreed. "Coconut and mango are popular, but we wanted to do something that wasn't done before but is also popular in South Asia."
While de Silva said they talked briefly about jaggery, a type of unrefined cane sugar common on the Subcontinent, ultimately, the team landed on jackfruit.
A fruit from a tree in the fig, mulberry, and breadfruit family, jackfruit originates in Southern India but can be found in dishes all over various South Asian countries.
While each brewery made its own version of Subcontinental (with Roughhouse and Misfit both opting for rice lagers), the beer's core remains consistent.
"I'm hoping that, even though it's a small group of people, that [Subcontinental] piques people's interest, gets people to try something they might not try otherwise, and gets people aware we have a South Asian beer community," says de Silva. "What we have to offer in terms of flavors and ideas coming from our culture and cuisine and that to a new market, bringing in people who might not know or be interested in craft beer and showing them what it's about and having them enjoy what we enjoy."
For a beer representing the entire Subcontinent and South Asians in beer, Subcontinental seems to have the weight of the world on its shoulders, metaphorically.
But it's time. The question is no longer, 'Where are all the South Asians in beer?'
They're here, and they're making fantastic beer.
As Nadeem says, "This isn't just about uniting South Asians in the beer community, but educating non-South Asians and letting them know, hey, we do exist."
Bus Beer – Monday Night Brewing Company, Green Bench Brewing Company, Halfway Crooks Beer, Cohesion Brewing Company, Schilling Beer Co., Threes Brewing
Various Citites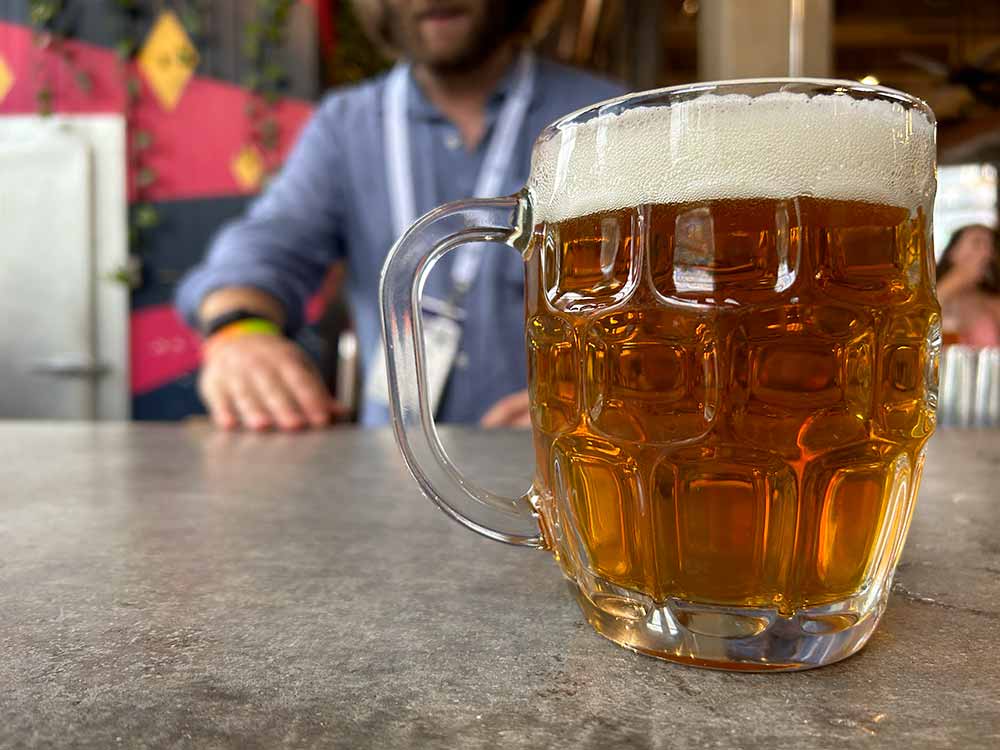 Czech-Style Pale Lager – What do 17.77 tallboys of Pilsner Urquell, six American brewers, and one bus have in common? A life-changing mission trip to the Czech Republic sponsored by the Embassy of the Czech Republic to the USA and Canadian ingredients importer Hop & Stuff.
For five days, Peter Kiley, brewmaster at Monday Night Brewing; Shawn Bainbridge, co-founder of Halfway Crooks; Ryan Murphy, lead brewer at Schilling Beer Co.; Eric Larkin, co-founder of Cohesion Brewing Co.; Khris Johnson, head brewer and co-founder of Green Bench Brewing Company; and Ben Peterson, lead brewer at Threes Brewing, imbibed an epic amount of Pilsner Urquell (sometimes Budvar 33) on a bus as they traveled around this beer-focused country.
The memory they all recounted to us with utter clarity (despite the copious liquid consumed) was drinking a tallboy of the ubiquitous Czech beer on the bus.
"Every day was a professional hair of the dog," laughs Bainbridge.
Kiley jokingly told us that the hair of the dog would be beer number one of the 17.77777 they drank daily.
"We were inundated with Pilsner Urquell from sunup to sundown; it was everywhere," says Larkin.
They all learned one thing pretty quickly: The Czechs LOVE beer.
Need proof? Well, for the last twenty-eight years, the people of the Czech Republic have consumed the most beer per capita out of any country in the world. In 2020, Czechs drank 181.9 liters per person 😱 (Kirin Holdings). For context, the United States ranked seventeenth with only 72.8 liters per person.
Suffice it to say that the Czechs take their beer seriously. And for the first time in centuries, they're finally sharing their beer culture with the world.
Returning to the States, the sextet knew they wanted to brew a beer as an homage to their trip, what they learned, and Czech beer culture.
Bus Beer stays as faithful as possible to the 12° Czech pale lager, one of the most popular styles in the Czech Republic.
"That beer was like water over there," says Kiley. "It's the first beer you have when you walk into any bar … but it is so much more complex, nuanced, and delicious than what we have as our water of beer in America."
That required extensive planning, passion, education, and experience. Namely, a ridiculously long email thread debating minute details (the thread had forty-three responses when we talked to Kiley in February, right before they brewed the beer). "It looked like a scene from Russell Crow in a Beautiful Mind where he's just writing on the wall," laughs Kiley. "It's just cool s**t to watch the passion."
Like debating where the final IBU should land, arguing between thirty-two and thirty-three. "People presented their case," says Kiley. "In a group like this, no one is allowed to come with the feeling of fact. You need to come, correct."
In Bus Beer, the group landed on a grist bill with almost exclusively imported Moravian Czech floor-malted pilsner malt and a smidge (six percent) of Caramalt, resulting in a final beer that hit 5.6-6 SRM.
For hops, světlé ležák should only include Czech-grown Saaz, which Bus Beer replicates all the way through, including some whole-leaf Saaz at the end.
Production-wise, when the six met at Green Bench in St. Petersburg, FL, to brew the beer, they triple decocted, a method of siphoning off part of the wort (roughly a third) from the mash, boiling the cracked grains anywhere from fifteen to twenty minutes to cause a Maillard reaction or caramelization in the malts ("the same thing that browns your toast or sears your steak," says Larkin), and moving it back to the main mash.
We tried Bus Beer when it debuted at the Monday Night Preservation Co. taproom in Nashville, TN, during the Craft Brewers Conference.
The word that stuck in our heads the most? Incredible.
Presented in a Czech dimple mug, Bus Beer had a nice two-finger head of foam capping a beautiful blossom of lightly hoppy, crisp, clean beer.
While we couldn't have drunk 17.77 of those, we could undoubtedly drink two. And we did.
The wheels on the bus (beer) go round and round!
Imperial Menace – Fait La Force Brewing Company
Nashville, TN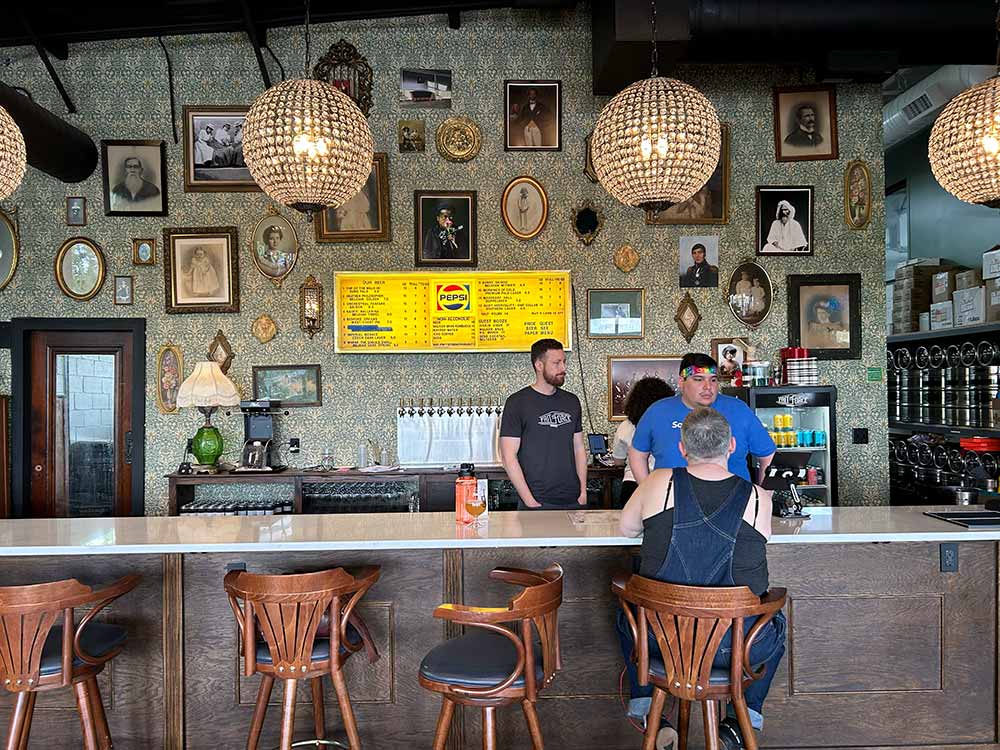 Czech-Style Dark Lager – Speaking of Czech-style lagers, Imperial Menace from Fait La Force was another of the best beers we drank while spending 48 hours in Nashville to attend the Craft Brewers Conference (CBC). Actually, it was the first beer we put to our lips in Tennessee. According to co-founders Parker Loudermilk and Zachary Sowada, Imperial Menace had been a weekend hit amongst industry folks.
And we see why.
Elegant is the word that comes to mind with Imperial Menace. Light notes of roast, coffee, and bitter dark chocolate smoothly slid down our tongues as we chatted with Loudermilk and Sowada about the one-year-old brewery.
Fait La Force stands for the Belgian motto "L'Union Fait La Force," which essentially translates to strength in unity. When Loudermilk and Sowada opened the Belgian- and European-focused brewery after a five-year journey, they wanted to ensure that the taproom felt like a place for everyone—regardless of their background, gender, or sexuality.
"We were very aware of the fact of what Zack and I look like—just another couple of bearded white guys in the beer industry," says Loudermilk. "How can we be a force for change, creating a seat at the table for people of all races, all genders, all sexualities? No matter who you are, we want to be a place you're welcome to come to."
Hosts of a Pride night during CBC and a ceremony for the Michael James Jackson Foundation (MJF), Fait La Force, is living up to its name.
And Imperial Menace is just one example of the great beers you can find here, including sophisticated saisons ("The goal is always to have at least one saison on at all times," Sowada told us) and European-influenced lagers.
Peoples Beer – Oak Park Brewing Company
Sacramento, CA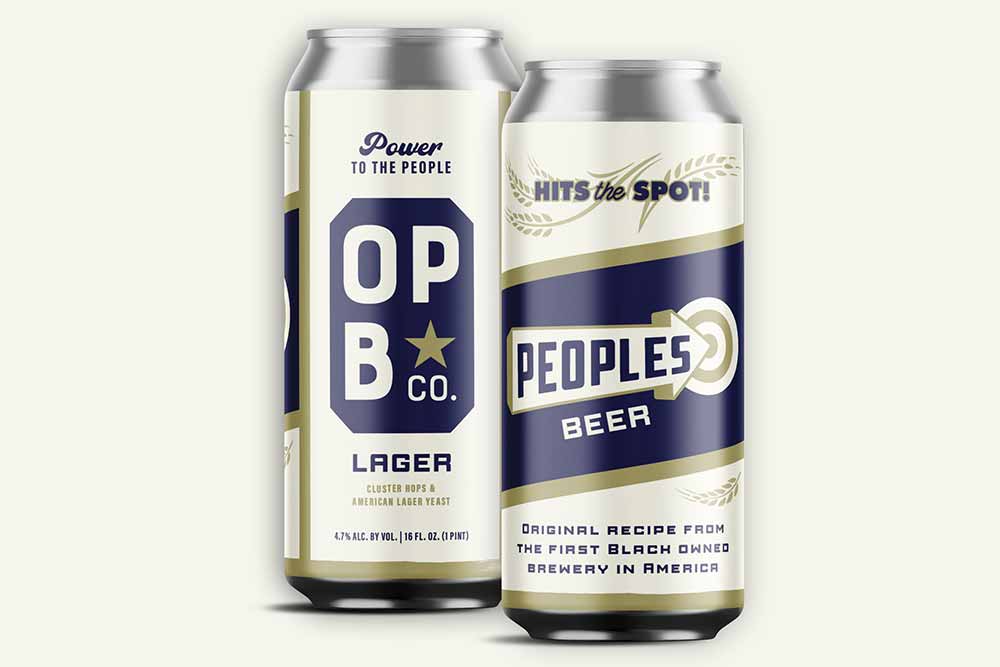 American Light Lager – We had the honor to drink this lager at a bottle share celebrating the creation of the National Black Brewers Association (NB2A), a non-profit organization dedicated to promoting the Black brewing community, increasing the number of African Americans in the beer industry, and fostering an understanding of the legacy of African American brewing the United States.
For instance, Theodore Mack Sr., the first African American to own and operate an American craft brewery. To honor this icon, Oak Park Brewing Co. in Sacramento, CA, brewed Peoples Beer following the recipe from Peoples Brewing Co. in Oshkosh, WI.
Easy-drinking but with heavy meaning, Peoples Beer stands for more than just the liquid in the can. Enjoy drinking this American lager all summer long, but also take the time to appreciate the history of everything that went into making it and how it can guide the future of the entire industry, just like the NB2A.
Three Ryes Men – Reuben's Brews
Seattle, WA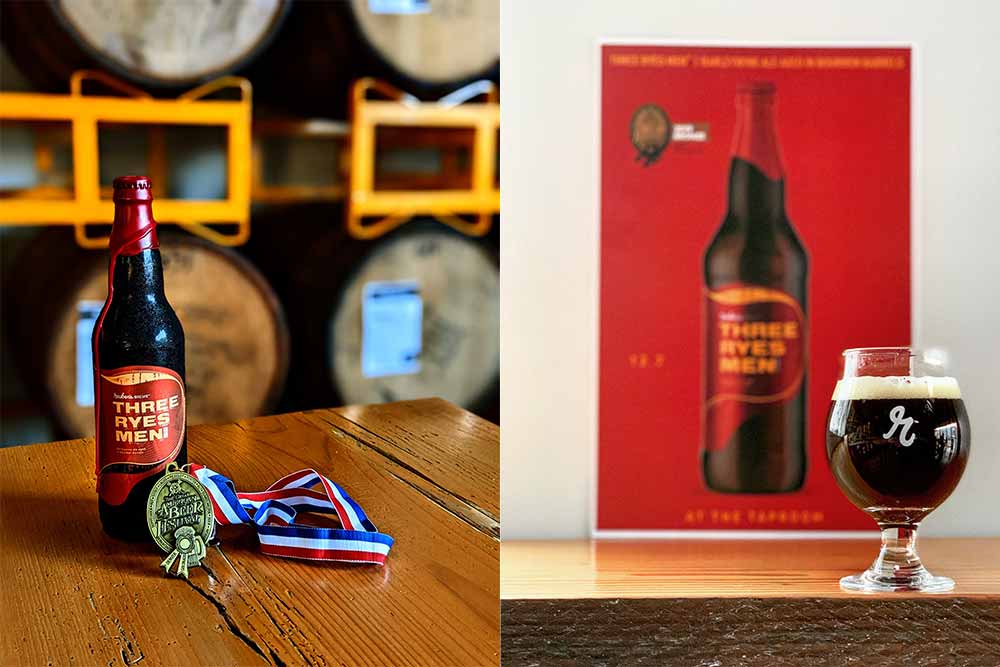 English Barleywine – What's a beer called a wine that's not a wine? Why a barleywine, of course. A strong, boozy, high-ABV beer style that's malt forward, barleywine gained notoriety in the U.S. with iconic beers like Anchor Old Foghorn® Ale, Sierra Nevada Bigfoot, Firestone Walker Helldorado, and Deschutes Mirror Mirror, to name a few. In recent years, a new crop of barleywines has led the way—those like Three Ryes Men from Reuben's Brews in Seattle, WA.
Winner of a gold medal in the "Old Ale or Strong Ale or Barleywine" category at the 2022 Great American Beer Festival and, most recently, a bronze at the World Beer Cup, Three Ryes Men tastes like a "liquified, alcoholic Rolo," according to Reuben's Brews CEO and Co-Founder Adam Robbings. "It features a full body with malt-driven caramel and chocolate notes and layers of warming complexity."
First brewed in 2018, Three Ryes Men didn't start as a quintessential English or American barleywine (yes, there's a difference) but did begin to lean toward the former as the recipe developed. "I have always felt that the balance in an English barleywine is better [because] in such a soft, decadent, luxurious beer, having the hops in the background makes sense," says Robbings. "Getting too high a hopping rate can often take over the show … We set out to achieve balance in an amazing beer, which ended up being a better representation of English barleywine. And, of course, being born in England, I was somewhat biased in my choice!"
Pouring a deep brown with ruby highlights, Three Ryes Men gives off aromas of chocolate, caramel candy, oak, bourbon, and maple syrup, Robbings notes, adding "from the first sip, you'll notice flavors of rich caramel, chocolate, brown sugar, vanilla, toffee, and a little raisin in the background."
Are you wondering what the heck a barleywine is? We've got you covered. Either read this article or drink this beer. The choice is yours.
Flyway Pils – Drake's Brewing Company
San Leandro, CA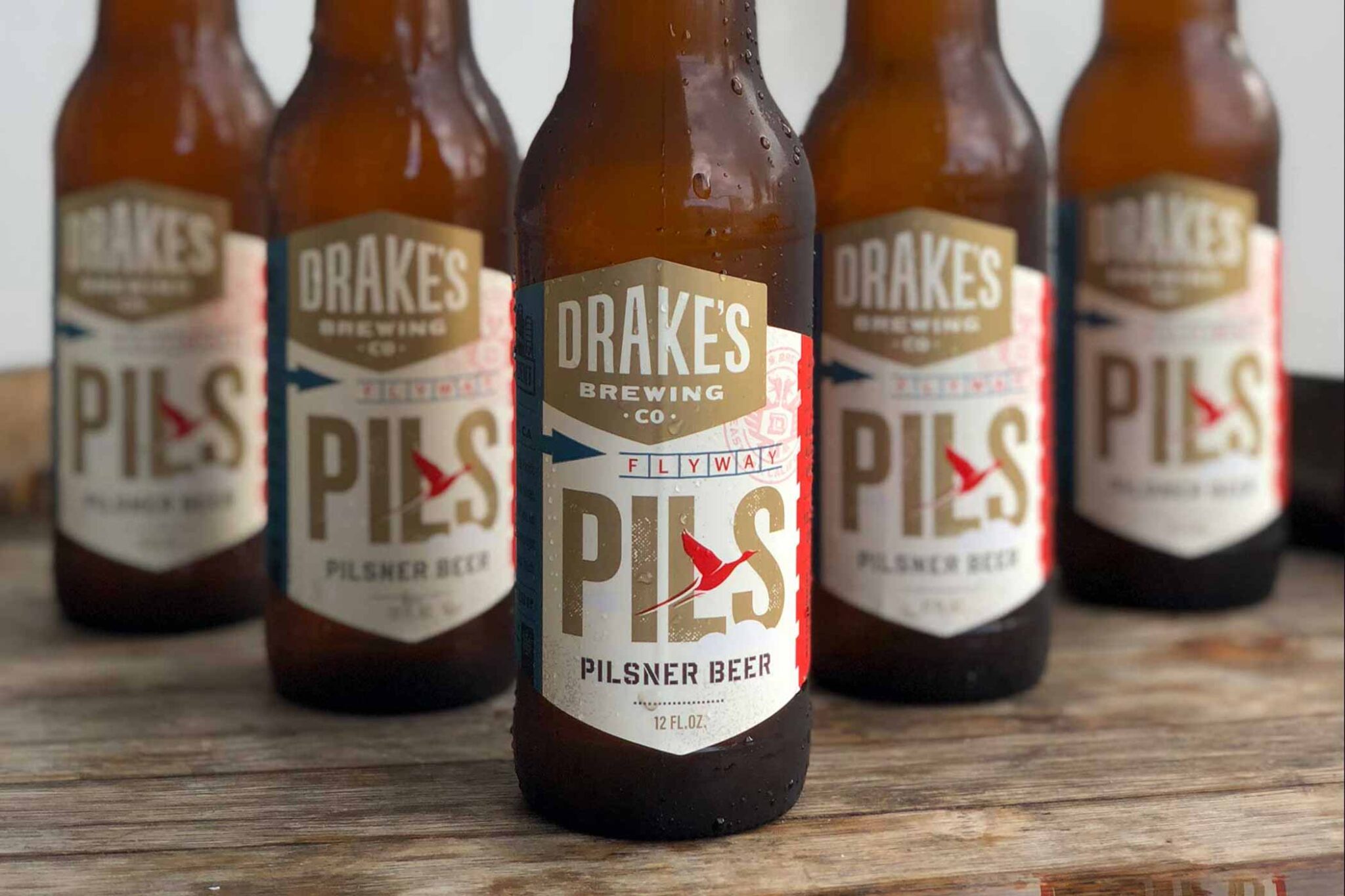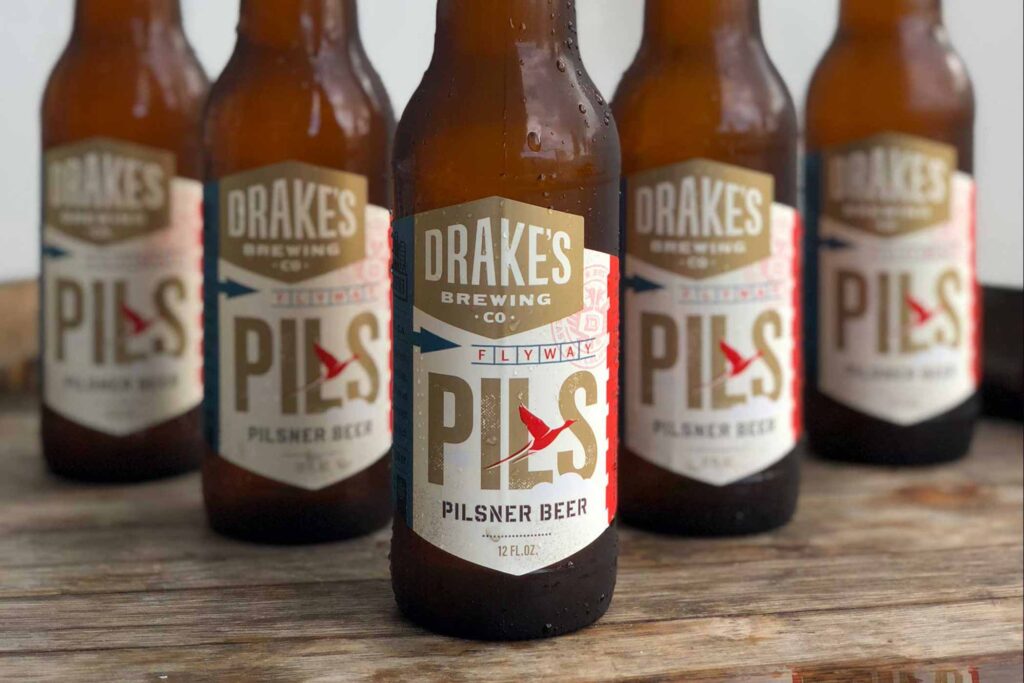 Pilsner – Simple on the outside yet complex on the inside, pilsners are a humble lager first produced by Bavarian brewery Josef Groll in Plzeň, Czech Republic, in 1842. Technically, the word pilsner actually means "from Pilsen (or Plzeň)" in Czech. Pilsners (and lagers in general) can be fussier for brewers to make. That's why industry folks love tasting a brewery's pilsner. Because it's often considered the unofficial mark of a dedicated brewer—you can be sure that someone who took the time to perfect their pilsner recipe has put a lot of effort into making that beer.
Drake's calls Flyway Pils a North German style thanks to its higher hopping rate. The California-based brewery starts with a base of extra premium pale German pilsner malt and American flaked maize, the latter of which helps create a nice, dry body for the beer. For hopping, Drake's picked Vanguard, a noble-style American hop. Presenting with a distinct floral spiciness, Flyway Pils finishes with some light red berries but mostly a clean, crisp body that repeatedly encourages the next sip.
Which is why we named this pilsner to our list of the "Best Pilsners Available in Most Stores Right Now."
Old Chub® – Oskar Blues Brewery
Longmont, CO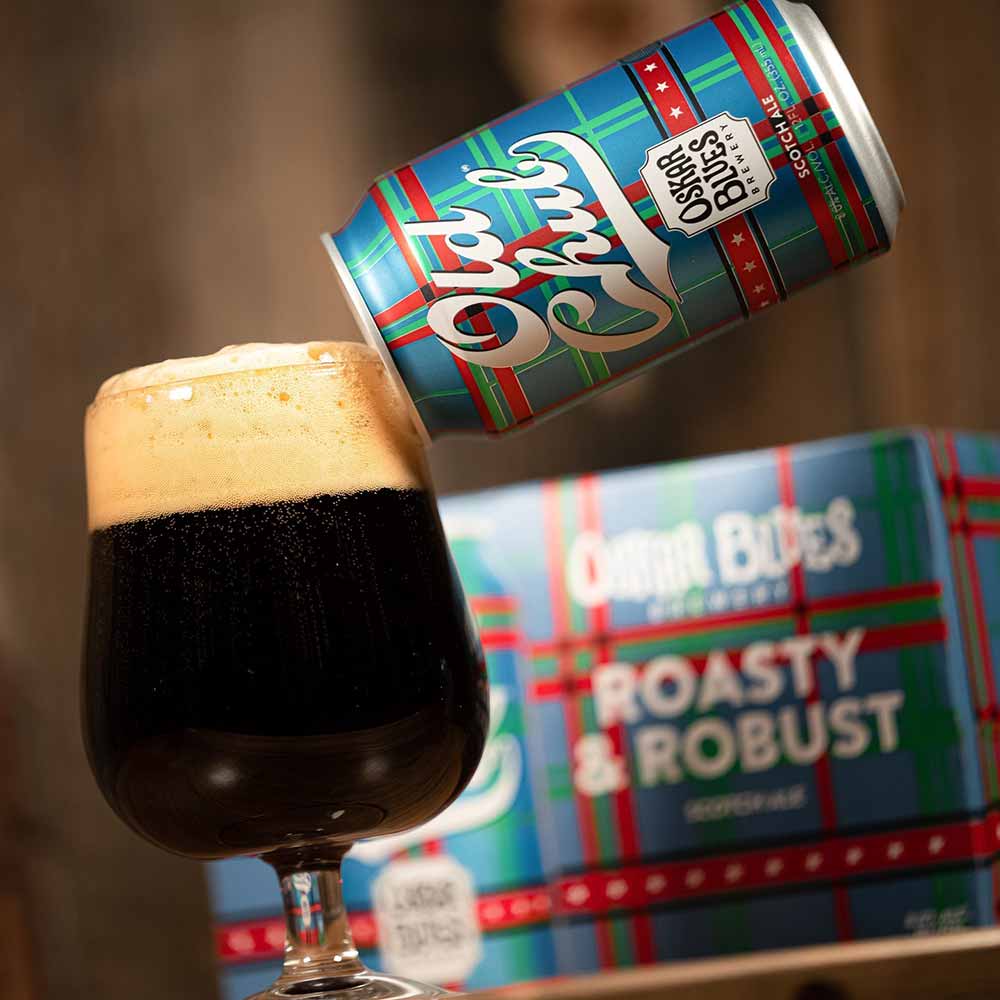 Scotch Ale – A somewhat esoteric style of beer known for its super malty, rich caramel flavors and boozy ABV, Scotch ales are like the bottom log on a fire, simmering and smoldering. Is it the star of the fire? No, but the piece of wood that burns the longest keeps the whole fire going. Similarly, Scotch ales aren't sexy. But if you give them a shot, their bold toffee flavors, a hint of smoke, and caramelized sugar will warm your soul.
The style transformed from a traditional English strong ale. Some of the first strong ales, called old ales or Burton ales, originated in the British Isles. From there, these rich, intense, dark amber ales inspired the English barleywine, eventually reaching Scotland and taking on its own character as a Scotch ale.
Pale malt is standard in a Scotch ale, intending to create a sugar-rich environment or sometimes add an adjunct sugar such as syrup or molasses.
Alternatively, a long boil super concentrates the wort to create a cornucopia of complex sugars for the yeast to munch on.
And while hops don't play a significant role in a Scotch ale, anything English like East Kent Goldings, Fuggles, or Admiral with delicate tea-like floral hop character works well.
The most widely available, accessible, and affordable version of a Scotch ale in the U.S., Oskar Blues' Old Chub® has copious amounts of crystal and chocolate malts and a touch of beechwood-smoked malts for a malty, caramel celebration of the style with a hint of smokiness.
Magic Swirling Sip – Wild Fields Brewhouse
Atascadero, CA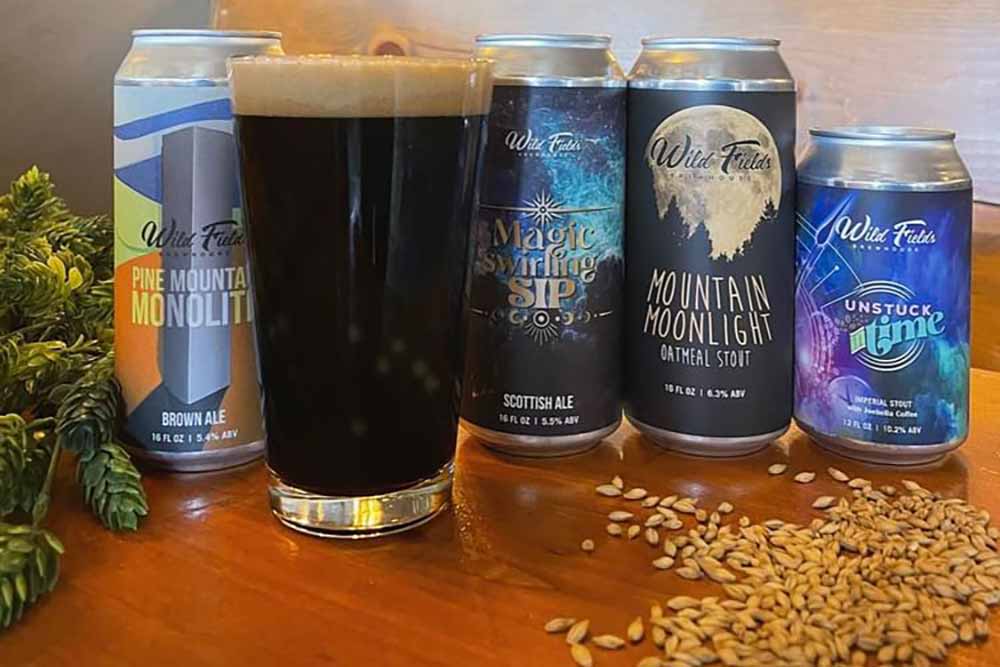 Scottish Ale – Speaking of Scottish-style ales, Magic Swirling Sip from Wild Fields Brewhouse was another great beer we tried at CBC. Winner of gold at the 2022 World Beer Cup and gold at the 2022 Great American Beer Festival, Magic Swirling Sip is a Scottish Export or 80 Schilling Ale, considered the strongest of the Scottish ales but not as strong as a Scotch ale.
Brimming with excellent maltiness, creamy caramel, and robust coffee, Magic Swirling Sip gave us one incredible complex sip in one smooth package.
Transcontinental Crisp – Southern Grist Brewing Company
Nashville, TN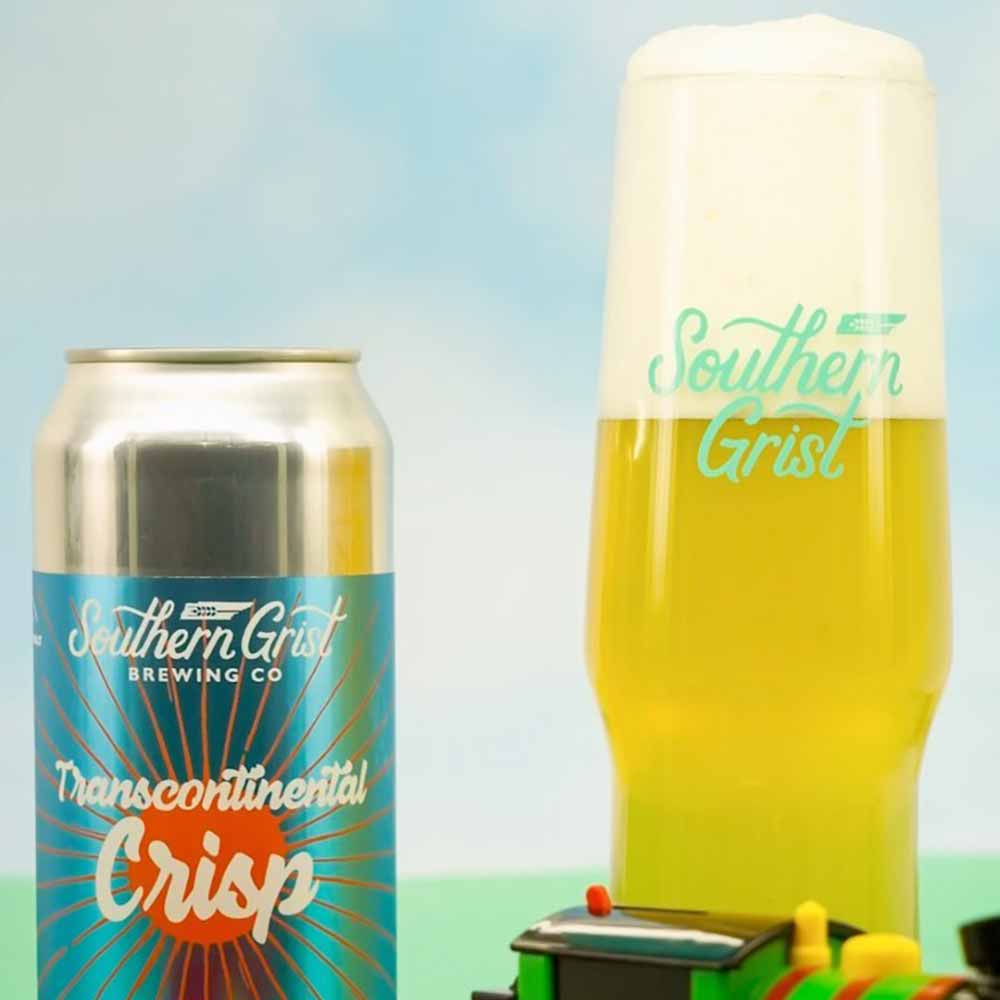 Pilsner – Southern Grist celebrated its seventh anniversary a few weeks ago. When the brewery first opened in 2016, the beer landscape in Nashville looked very different. Old-guard breweries like Yazoo and Blackstone offered classics like pale ales, porters, and even amber. But the beers Southern Grist started bringing to the bar, well, they'd never been seen before.
Clearly, because when Southern Grist Co-Founder Kevin Antoon recounts serving the brewery's first hazy IPA, he says half the folks sent the beers back, indicating something was wrong with the beer.
"People thought we were crazy," he laughs, remembering that the brewery also opened with a fruited sour. "They were like, you guys really think people are going to drink a red beer in Nashville."
Turns out they did.
Now, that fruited sour and hazy IPA are the two beers Southern Grist became known for.
Well, actually, way more than just those two beers at this point.
Over the past seven years, Southern Grist Co-Founder and Head Brewer Jared Welch has made a whopping 1,067 different beers.
And innovation has always been the key.
A part of what is now considered the second wave of beer in Nashville, Southern Grist made its mark by sticking to its guns, brewing whatever the f**k it wanted.
People got on board, not just in Nashville but also across the country. The first year, Antoon, Welch, and their third business partner Jamie Lee planned to measure success by whether they sold 1,000 beers a month (so 12,000 the entire year, for all you nerds out there).
"We sold 1,000 beers the first Saturday we were open," laughs Antoon. "I remember that just being like a light bulb. Can I quit my job now!?"
That first year, Southern Grist sold 125,000 beers!
All the rules the brewery set down for themselves in year one eventually went out the door.
"I'm super freaking proud of what we've done over the last seven years," says Antoon. "I realized that most of our change was getting out of our own way. When we opened, we said we'd never do a flagship. We have three flagships now. We won't do lagers. We have a whole lager program now. We'll never distribute. We're in twenty-one states. So we ripped up our business plan, and now it's all about … adaptation."
Thank god they did, because that meant I could enjoy beers like Transcontinental Crisp, an unfiltered pilsner-style lager with Canada Malting EuroPils Malt and hopped with Michigan-grown Zuper Saazer. A light touch of toasted character drinks easy with a pleasant floral finish.
When you're looking for a true taste of Nashville from the last seven years and for the next probably seventy years to come, there is no better brewery than Southern Grist.
Still Waldos – Lagunitas Brewing Company x Griffo Distillery
Petaluma, CA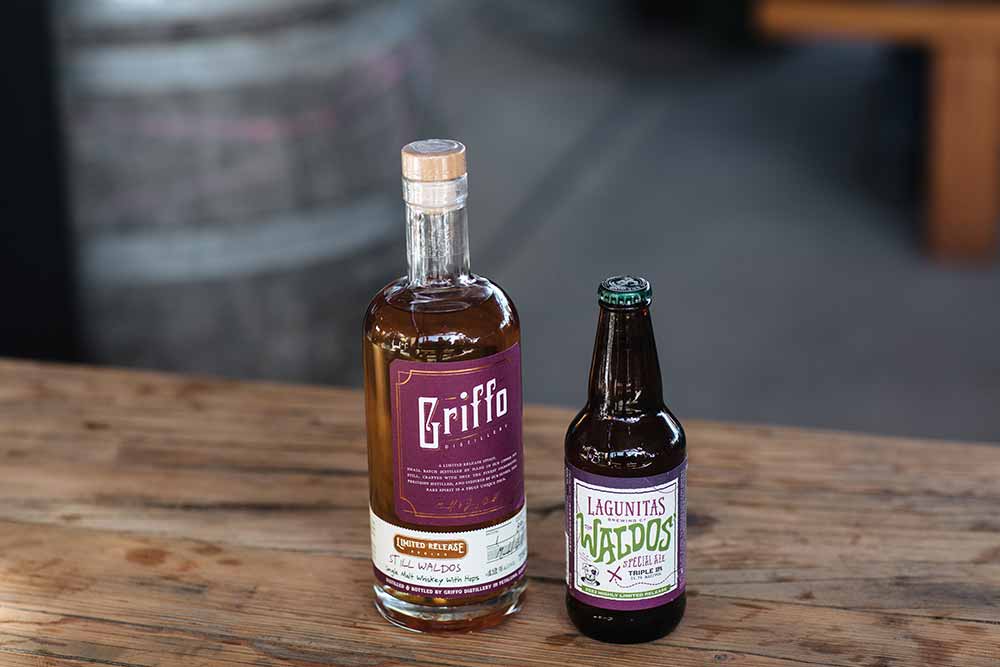 Whiskey – What happens when one of the most iconic breweries in the country makes a whiskey?
Still Waldos.
A collaboration with Griffo Distillery, Still Waldos morphs Waldos' Special Ale, a triple-IPA homage to 420, into a special spirit.
Lagunitas graciously sent us a bottle of this single malt whiskey, and it's a knock-your-socks-off sipper, literally.
Starting with 100% malted barley, Lagunitas trucks the unfermented malt to Griffo Distillery, where the delicious grains get a dose of Waldos hops there before distilling to 120 proof in American Oak (the final proof lands at 84).
As Lagunitas and Griffo Distillery like to say, "Beer Speaks, Whiskey Sings."
Bold, floral, hoppy, smooth, and strong, this is a beer drinker's whiskey. Looking for more whiskeys that a beer drinker would love? Check out these beer-inspired whiskies.