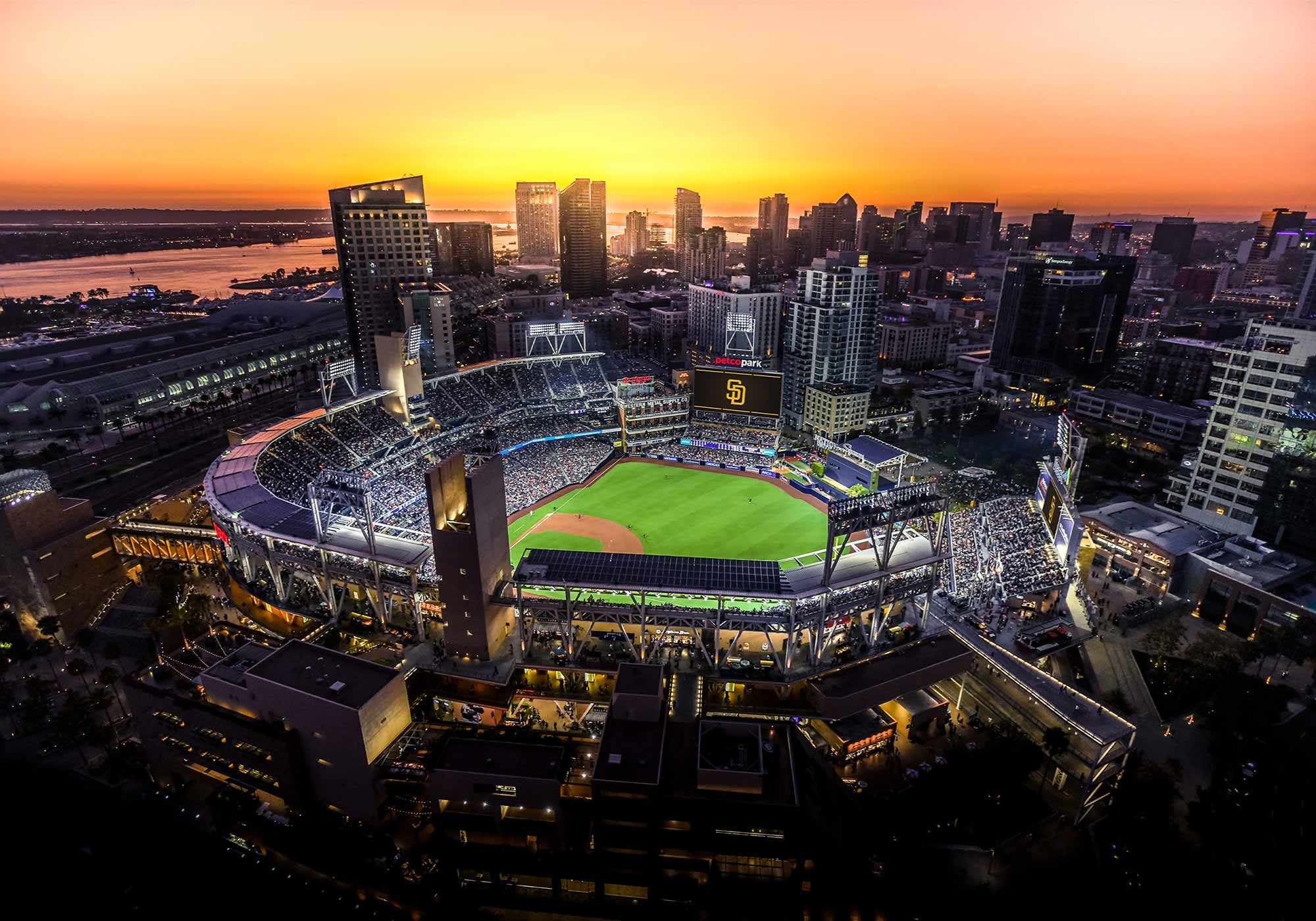 Photography courtesy of Petco Park
Last month our friends at Untappd announced their first in-person beer festival of the year hosted at Petco Park, home of the Padres, in sunny San Diego. It's an All-Star affair with some of our favorite breweries from around the country pouring, including Vitamin Sea (our best brewery of 2019), Horus Aged Ales (the masters of stouts), Wren House (one of the best breweries in Phoenix), DankHouse Brewing Co. (a best brewery of 2018), Great Notion (a best brewery of 2020), Ingenious Brewing (another best brewery of 2020 and a must-visit in Houston), Tripping Animals (one of the hottest breweries in the country), and many more.
And the beer is just the beginning. With headlining bands, an epic venue, and the chance to once again enjoy beer in the company of other people, Untappd's San Diego Beer Festival is shaping up to be a real knockout (of the park).
Interested in joining us? Grab a ticket to one of the four available sessions from September 30th, 2021 – October 3rd, 2021, and head to San Diego for a few days of fun.
And if you're still on the outfield fence….
Here are the 6 Hottest Reasons Hop Culture is Hitting Up Untappd's San Diego Beer Festival
The Venue: Petco Park
Sun 365 days out of the year. ✅
Beautiful views of the city skyline and the sea. ✅
Architectural marvel. ✅
The San Diego Padres' home baseball stadium has it all. What could be better than drinking beer together at Gallagher Square in Petco Park against the backdrop of downtown San Diego? Well, if you're a VIP you'll get to sip beer in an exclusive section on the Beach & Pier overlooking right center field. A sweet venue is the first start to a fantastic beer festival.
The Beer: Horus Aged Ales, Vitamin Sea, Tripping Animals, Oh My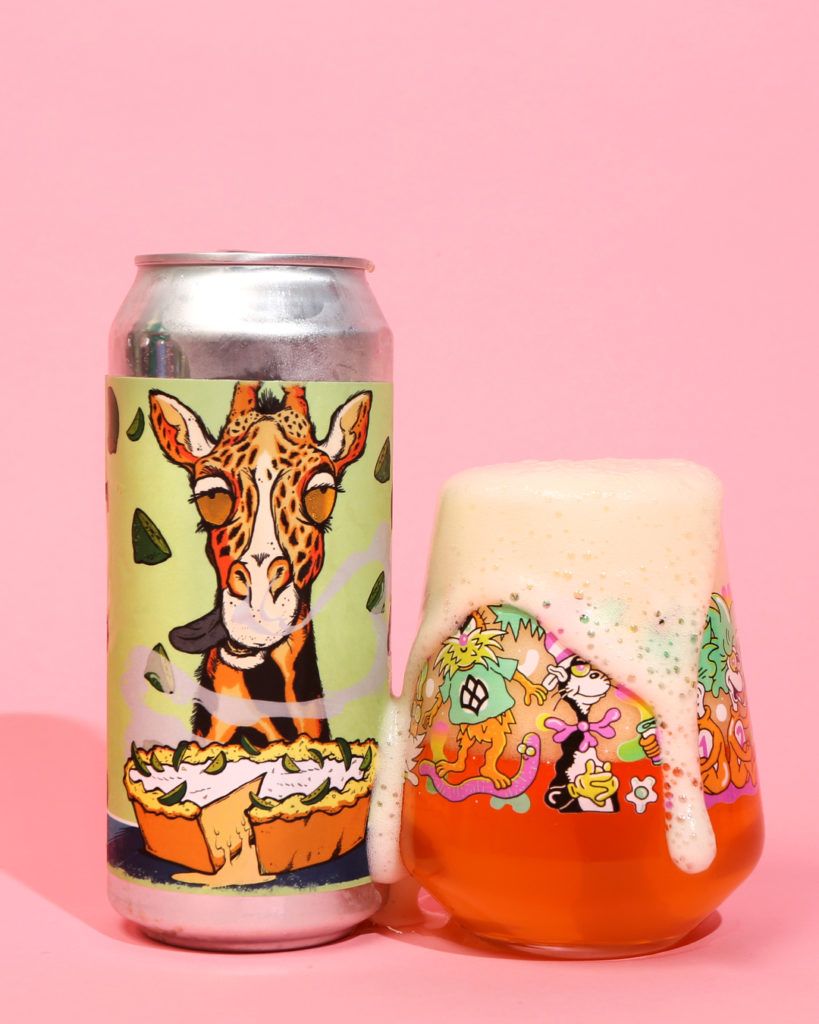 Let's be honest, we know the most important thing at a beer festival is…the beer. When organizing our own fests, we look for the most-hyped, up-and-coming, and juicy brewers to join us. We've hosted over 35 beer festivals to date, so let us be the first to tell you that this event is swinging for the fences. There will be unlimited samples from over 70 breweries, including some of our faves from across the country such as Wren House, Great Notion, DankHouse, Drekker, KCBC, Weathered Souls, North Park, Marz Community Brewing, Ingenious, SingleCut Beersmiths, and many more.
Our recommendation? Take a big Barry Bonds swing for a VIP ticket. Beerwise, extra perks include VIP-only beers from the aforementioned Horus Aged Ales, Vitamin Sea Brewing, and Tripping Animals. Plus, exclusive special tappings from The Bruery, Definitive Brewing, Crowns & Hops, and more. Lastly, brewers will be leading guided tastings throughout the event, so you'll have the chance to meet these folks in person. It's just an extra added layer that makes this event even more special.
The Music: The Vegabonds, Okey Dokey, Arson Daily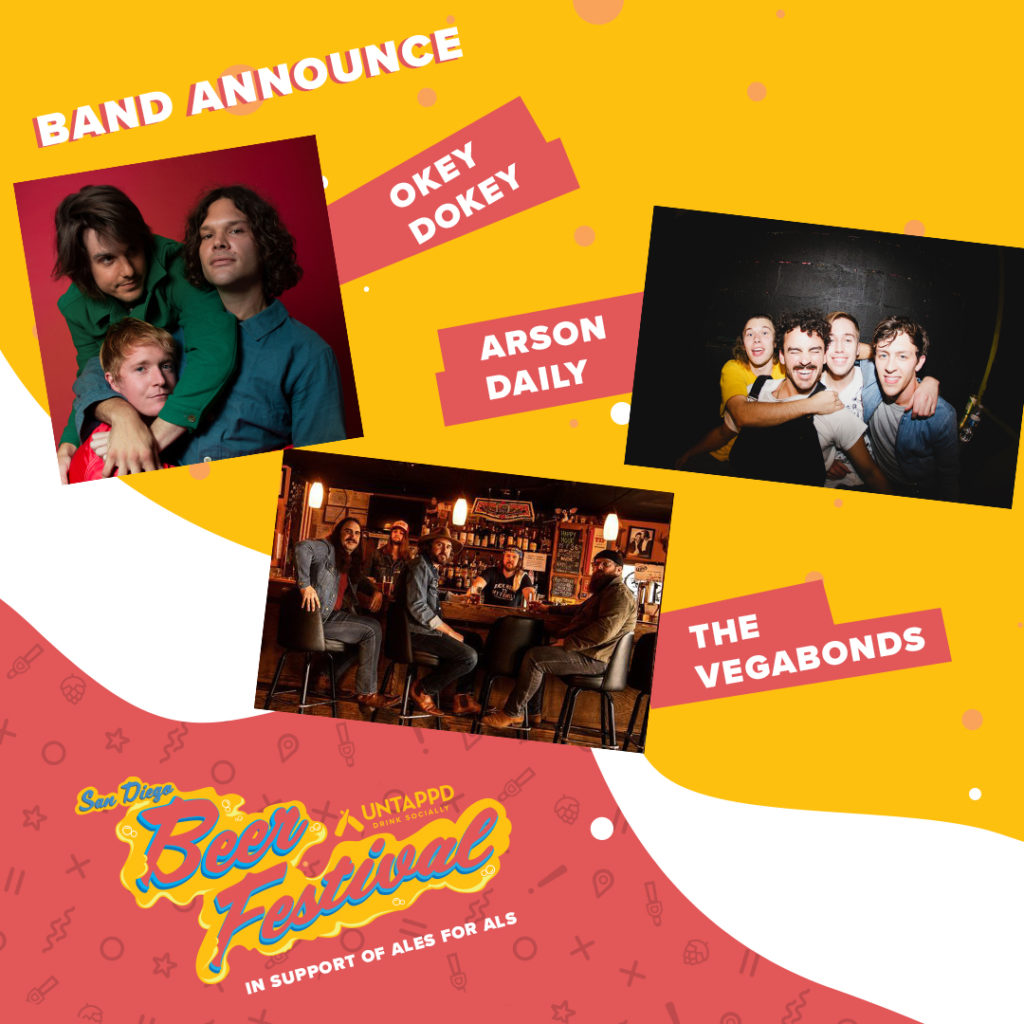 If you know the Hop Culture team at all, you know that we're music and vinyl aficionados. Rumor has it the band Strange Ranger once asked if they could crash on Hop Culture Founder Kenny Gould's couch. So when we saw the music lineup at Untappd's San Diego Beer Festival, our ears started buzzing. Headliners include The Vegabonds, the uber popular eclectic Southern rock and country band; Okey Dokey, a Nashville duo looking to create art that withstands the test of time; and Arson Daily, the Raleigh-based garage-rock phenom featuring sonic qualities comparable to surf-western and indie radio trash.
The Cause: Partnering with Ales for ALS™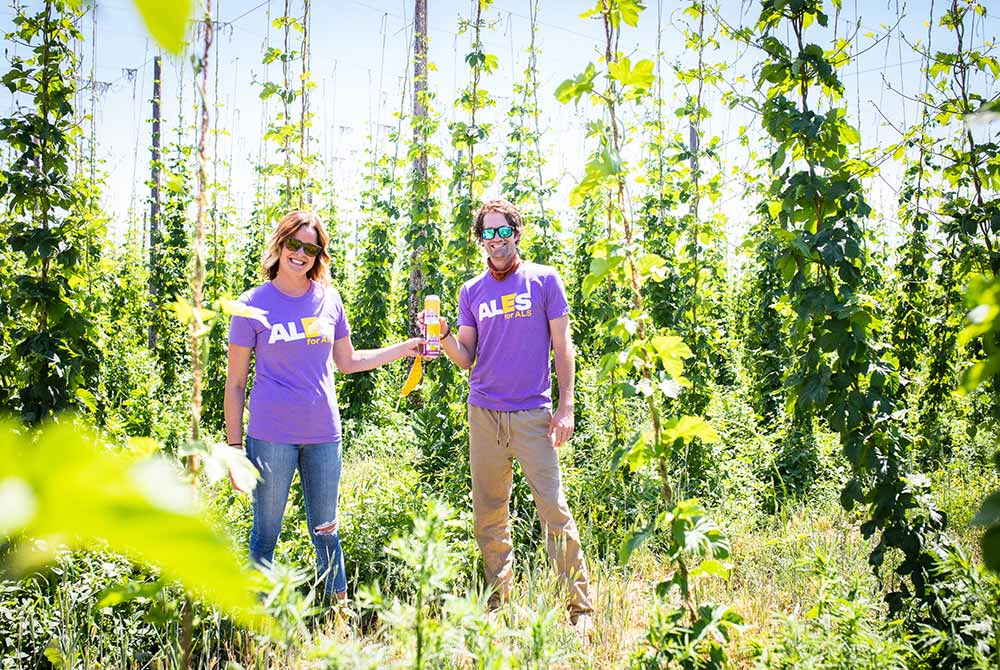 The Untappd beer fest in San Diego recently announced its partnership with Ales for ALS™. If you're not familiar with Ales for ALS™, over the past seven years, breweries from around the world such as RAM Restaurants & Brewery, Bell's Brewery, and Cigar City Brewing, among many more, have joined the program, fighting to end ALS by crafting great beers.
Participating Ales for ALS™ brewers receive a unique hop blend, created and donated annually by Loftus Ranches and YCH. With the exclusive hop blend, which is provided to participating brewers at no cost, they can each craft and sell their own unique Ales for ALS™ brew.
Started by Meghann Quinn, Kevin Quinn, and Kevin Smith of Bale Breaker Brewing Company, Ales for ALS™ has raised over $3.5 million dollars to find a cure for ALS. We're excited to hear that Untappd teamed up with this amazing organization to help bring awareness to the disease and to raise money to fund ALS research.
The City: Drinking the Finest Beer in America's Finest City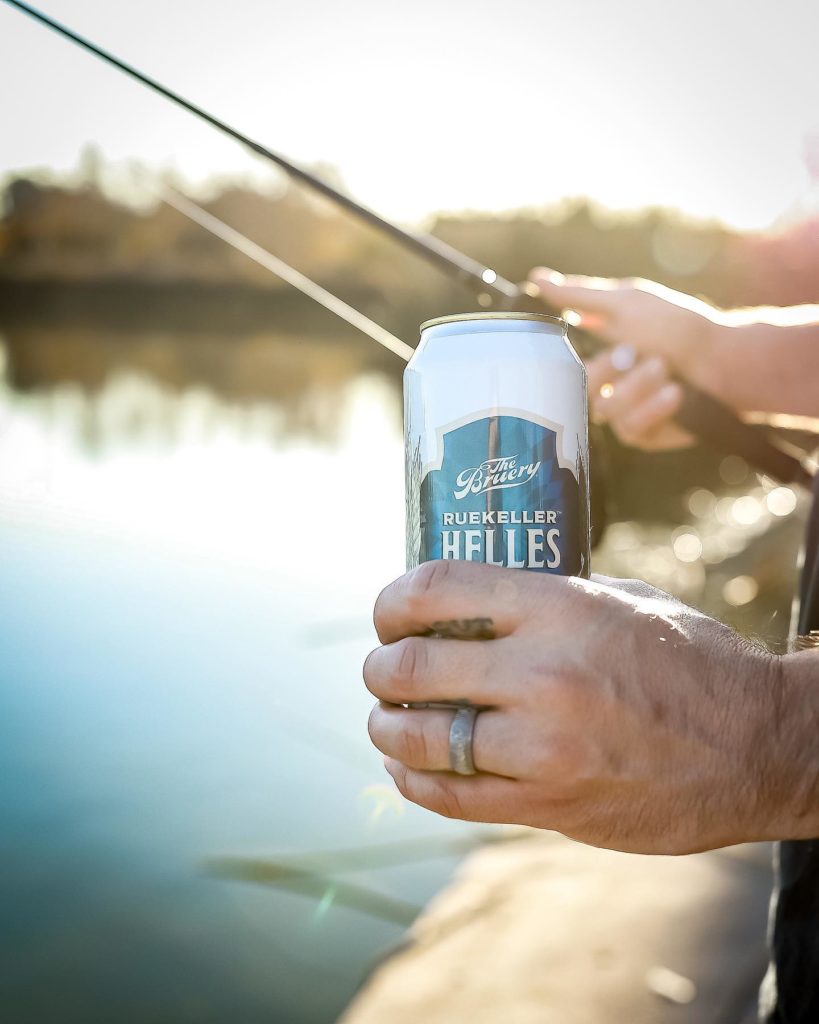 We recently released our five best breweries to visit in San Diego, but we know this list could easily reach much higher. A strong homebrewing community has spawned a generation of talented brewers in this city, many of whom started their own operations or went on to cut their teeth at the big stalwarts like AleSmith and The Bruery (both will be at Untappd's beer fest in San Diego!).
At the time of writing, more than 150 breweries call San Diego home. And we're soaking it all up like those famous California rays. From a standout stout maker to a sun-drenched IPA cranker, these breweries are signaling a changing of the guard in one of America's sunniest cities. If you call yourself a craft beer aficionado, you need to visit San Diego at least once in your lifetime. So, here's your chance. We're excited to explore and celebrate this city both inside Petco Park and out.
The Food: Because You'll Need Grub to Go with All That Great Beer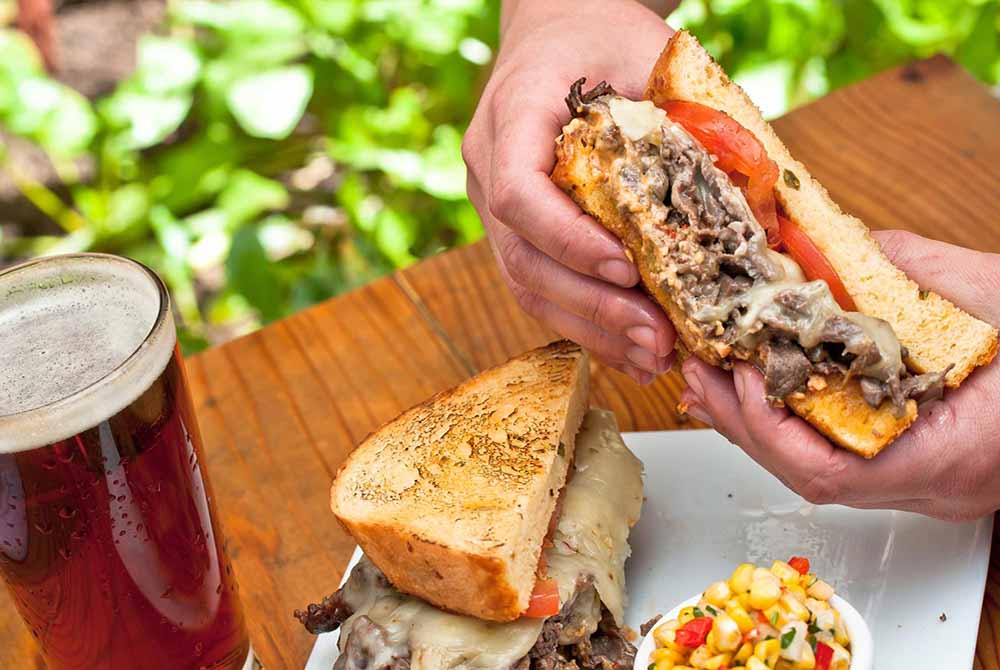 Oftentimes, the perfect beer festival doesn't just offer the best, most-hyped beer, but also the most delicious, well-executed food as well. After all, you need something to sop up the suds. From an iconic San Diego snack shack serving pork sandwiches and tacos to a 50-year-old spot serving "the best burgers in the world!" Untappd has rounded up the tastiest grub from the top local eateries for its beer fest in San Diego.
Here's who's coming so far::
Carnitas' Snack Shack – One of the top favorite downtown restaurants in San Diego for its tasty pork sandwiches and tacos.
Buona Forchetta – A tiny Italian restaurant known for its rave-reviewed pizzas. One of Eater's 38 Standout Restaurants in San Diego.
Hodad's – Serving the world's best burgers by the beach for 50 years. Need we say more?
Grand Ole BBQ – Some of the best BBQ in San Diego. This smoke is no joke. And it goes perfectly with beer.
Seaside Market – Locals serving locals since 1985. This place is iconic San Diego. Think super fresh burritos, tacos, and barbecue with locally sourced ingredients.