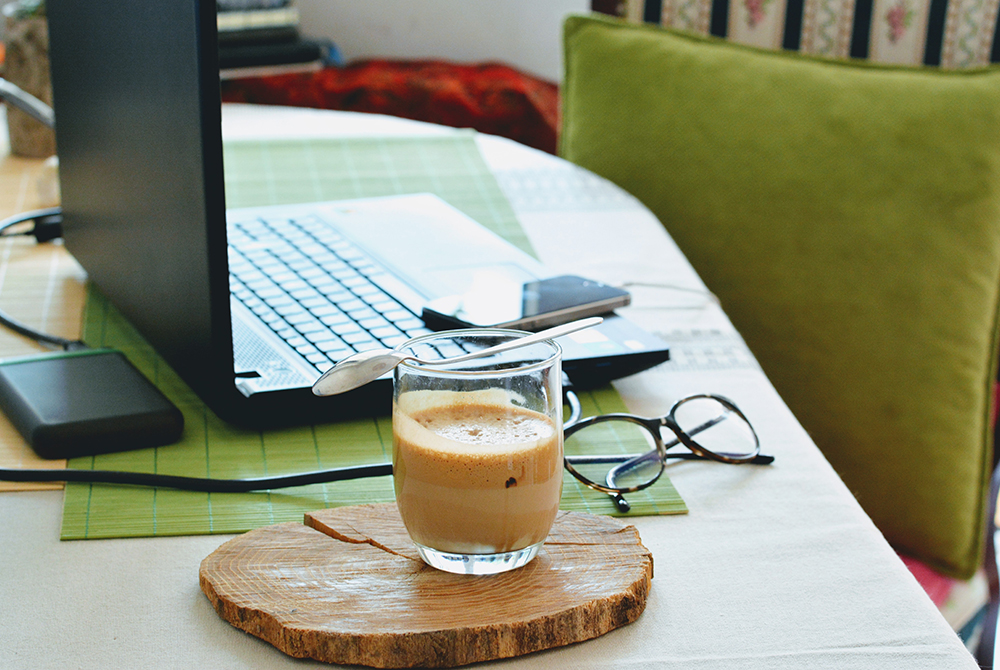 With two months of shelter in place under our belt, we've had a bit of time on our hands to test out and refine our daily quarantine routine.
Everyone has a different way getting through the day whether it's doing a quick 30-minute yoga session, joining a coffee subscription program (Hop Culture even started its own!), or playing a new game (Pandemic Legacy is currently Kenny's favorite while John has enjoyed A Short Hike and I'm getting my kicks from an old-school Nintendo NES system).
A handful of these items are practical while some are just excuses for us to buy more beer. Regardless, each one brings us that little bit of joy that we could all use right now. So, read on for our recommendations on the best things we've found to make our work-from-home days a little brighter (and a little boozier).
Micro Dry Softlux Footies
Plush, soft, one-size-fits-all, these little foot-conforming slippers are absolutely necessary for all that walking you'll be doing around your dusty apartment floors while working from home.
Tavour App
With taprooms and breweries across the country closing their doors we know that everyone is currently looking for the best way to have their favorite craft beer delivered. The Tavour App lets you build a box of beer with as much beer as you want from over 650 breweries across the country like Anchorage, Resident Culture, WeldWerks, and Other Half. Once you've curated your perfect box of beer Tavour will ship it right to your doorstep.
Manitoba Harvest CBD Peppermint Oil Drops
Look, it's a stressful time and sometimes we all just need to Netflix and really chill. Manitoba Harvest leverages over 20 years of hemp experience to craft these tantalizing CBD Peppermint Oil Drops. Additionally, here are a few other essential pieces we're using for our own self-care.
Bon Appetit Magazine Subscription
Our Instant Pot and Chef's Knife have gotten some serious action since we've been stuck cooking at home. We've even played around with pairing food with our favorite IPAs and how to pair steak with beer. Bon Appetit has some of our favorite recipes and is also a way for us to vicariously pretend to go out and eat.
Apera Instruments pH60
Now is the perfect time to check "make my first beer" off your bucket list or hone your homebrewing vocation. We rounded up our favorite craft beer making kits, but no matter which set you choose, this Apera Instruments pH meter is a must once you take your homebrewing hobby one step further. It's super accurate and the absolute best and most affordable precision tool on the market.
The Brewing Cloud
Not to toot our own horn but: "beep beep." Our Founder Kenny Gould wrote his own book! The Brewing Cloud is his collection of humorous short stories that take place in a floating city where everyone is involved in some aspect of the beer industry. Plus, at the moment we're donating 100% of ebook profits and 50% of paperback profits to Direct Relief, a highly regarded charity providing emergency medical relief to any individual. Beyond books we've written we're also huge fans of these top craft beer books.
Masque Bar Pretty Animalz Printed Sheet Masks
Giving yourself a day at the spa is imperative while we're all in quarantine. Sure, we may wear sweatpants and slippers during the week, but that doesn't mean we can't indulge in a little self-care on the weekends. Swap out your face masks for these adorable animal-themed versions to moisturize, hydrate, calm, and nourish. So slap one on during your next virtual happy hour and prepare to laugh your ass off with your friends.
Audible, Kindle, Prime Gift Membership
We're firm believers that random acts of kindness will be the best way for us all to get through these challenging times together. Do something nice for your friend, pay-it-forward for a family member, or treat your co-workers to a live homebrewing experience. Amazon has a ton of easy gifts to give from a membership that lets you download audiobooks to a Kindle subscription to even the pre-paid gift of Amazon Prime – my mom can certainly use a Mother's Day movie marathon.
Give the Audible: $15+
Gift Kindle: $130
Send a Friend Prime: $39+
Alamo Drafthouse + Mondo Jurassic Park Puzzle
If you're like me, then you've probably already completed three 1,000 piece puzzles since working from home. For my project I recently pre-ordered two unique pop culture puzzles from my favorite movies: Die Hard and Alien. There are a ton of options ranging across the menagerie of film, comic, and gaming culture. Along with puzzling these board games can stave off the boredom.
BottleKeeper Standard 2.0
Now that most taprooms around the country have closed their doors we've had to get creative with how we pick up beer. While having beer delivered from our friends at Tavour, Saucey (Get $5 OFF your first order with code: HOPCULTURE), or Drizly (Get $5 OFF your next purchase with code DRIZLYDEAL) are great options, we encourage you to safely stop by your local brewery and pick up some fresh beer to-go. You'll be supporting their small business while simultaneously getting the freshest beer possible right from the source. To make sure that beer stays as cold and crisp as can be throughout the weekend we highly recommend filling up with one of these growlers. Or, get the BottleKeeper Standard 2.0, which keeps your bottles cold, comes in fun colors, and will last you an eternity (but definitely through the quarantine).
Phil & Sebastian Coffee Roasters
We don't have any definitive research to back this up, but we feel that our coffee consumption has definitely peaked. At the very least we've been buying a bunch of cool gear for our caffeine habit. With the opportunity to try out some new roasters, we're digging the beans from Phil & Sebastian Coffee Roasters. Plus they're 100% Direct Trade and their expert team relentlessly pursues the goal of growing, sourcing, and roasting the best coffee in the world.
Buy Now: 50% Off Your First Order with Code SAVE50
Glerups Slipper
Since I rarely leave the apartment anymore, my wife and I invested in a couple pairs of durable yet super comfy home slippers. Made from a blend of 100% Merino and Gotland wool, the Glerups are luxurious, breathable, and perfect for wearing day in and day out around the house.
Craft Beer Club
This one is simple. Get beer delivered to your doorstep monthly. For $43 per month (including shipping), The Original Craft Beer Club will send you a box of twelve beers — three of four different styles. Although you won't get the rarest or most hyped beers, you're guaranteed to get quality. Enjoy beers from Hardywood Park Craft Brewery, Yazoo Brewing Company, Scuttlebutt Brewing Company, 3 Sheeps Brewing, and more. The best part? The customer service is second-to-none, with more 5-star reviewers writing about the quality of the service than the actual product. If you're looking for all the options, we got you!
Torched Products Beer Cap Map
We can imagine you've started to collect a pile of bottle caps. Find a way to display those leftover bits in a unique way. These Beer Cap Maps from Torched Products are stylish, sleek, and a just plain conversation starter. At least they will be once you can invite people over to your house again.
Alexandrie Cellars Brut Sparkling Wine
Looking for something a little bit stronger than beer for your next happy hour? Well, Alexandrie Cellars makes a stellar and, most importantly, affordable sparkling wine. Go ahead pop a bottle and celebrate making it through another week of quarantine.
Hungryroot Deliveries
If you are tired of cooking, let Hungryroot do the work for you. Just like there are a plethora of monthly craft beer delivery services and coffee subscriptions out there, the choices for meal deliveries sent to your front door are immense. Our current favorite is Hungryroot. It's the easiest way to eat healthy full of handpicked grocers and recipes from trusted brands and products. But you don't have to take our word for it. Try them out!
Dream of Your Next Vacation
Okay, this one is a pipe dream. While we're practicing safe social distancing, staying indoors, and not traveling we still think it's fun to spend a day planning out our next grand vacation. Whether it's traveling to beaches in Hawaii or the Colosseum in Rome even if it takes us virtually outside our apartment for just an hour we're on board.
Unless otherwise noted, all of the products featured on Hop Culture are independently chosen by our editorial team. However, Hop Culture may earn a commission from purchases made through affiliate links on the site.
Liked this article? Sign up for our newsletter to get the best craft beer writing on the web delivered straight to your inbox.