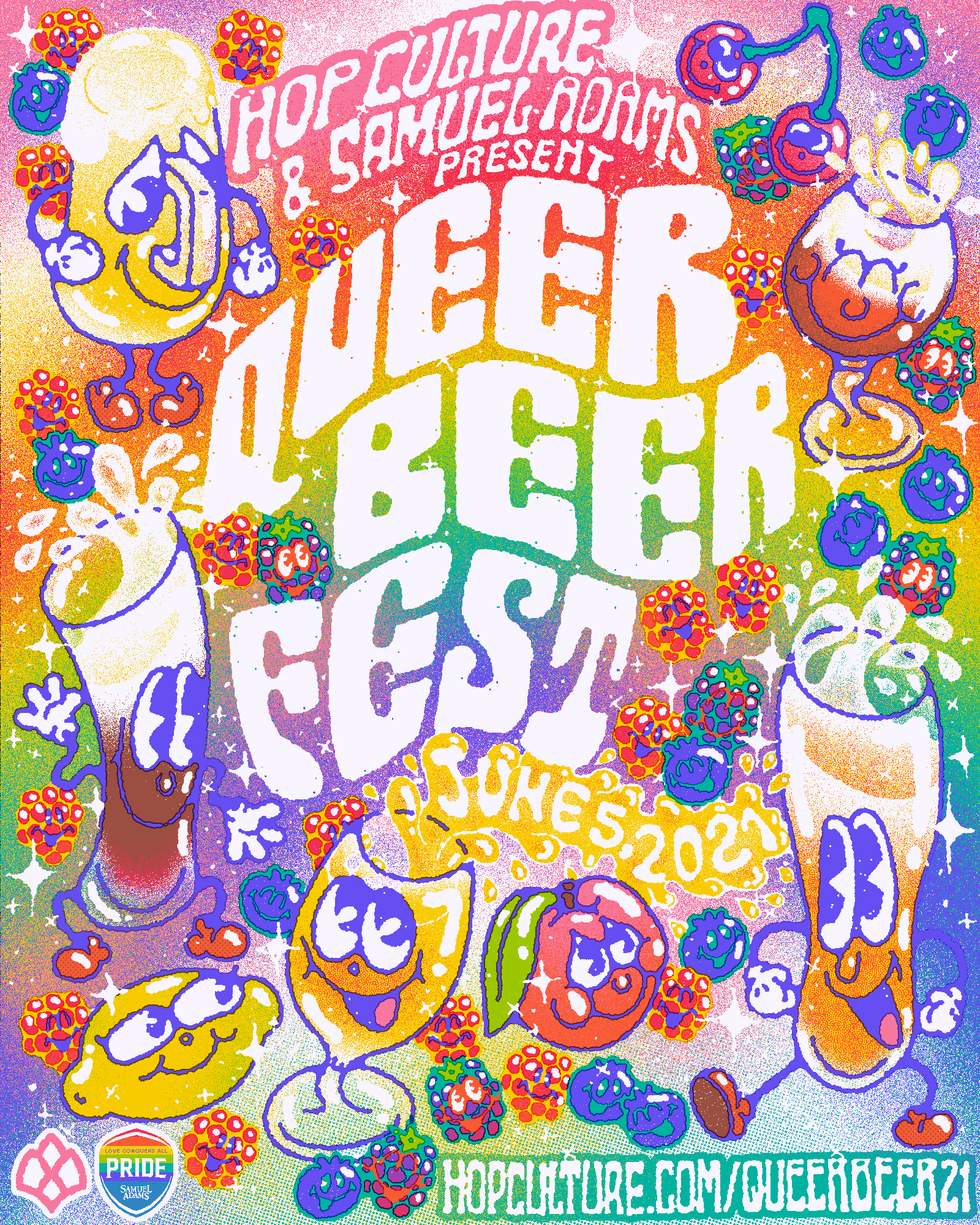 Poster designed by Lia Sued
Editor's Note:
The schedule is subject to change. You can tune in to the festival livestream here.
The day is almost here for The Hop Culture x Samuel Adams Presents Queer Beer Fest.
With the festival just around the corner check out the full schedule of events below. The schedule is subject to change so be sure to check back to plan out your entire drinking schedule on Saturday, June 5th. If you want more details about the festival, click here.
What Is the Schedule For Queer Beer?
The festival will be live-streamed on Saturday, June 5, 2021 starting at 11:30 AM EST. You can access the livestream here or tune in to the embedded video below.
Below is the schedule of events for the festival. All times are in EST.
11:30 AM – Welcome! Opening toast with Grace and our co-host Megan Stone aka @isbeeracarb and Media Coordinator at Societe Brewing.
A quick hello from the Hop Culture team and our wonderful guest host for this fest, Megan Stone (she/they). With over 34k followers on their Instagram handle @isbeeracarb, Megan has become a powerful voice in the industry, using their platform to address issues of diversity, equity, and inclusion in the craft beer. From speaking on panels to educating folks through social posts Megan has become a strong advocate in craft beer. In fact, most recently the Craft Beer Marketing Awards named them the first ever Women/Person of the Year and Hop Culture listed them as one of the 50 best Instagram accounts to follow in 2021!
11:35 AM – Guided Beer Tasting with Samuel Adam's Love Conquers Ale
Brewed by and for the LGBTQ+ community this limited release Blackberry Basil Lime Gose is just one piece of Samuel Adams' work in the LGBTQ+ community. In addition to forming its own internal diversity and inclusion group called Labels Out, last year Samuel Adams started the Pride platform Love Conquers All in collaboration with GLAAD, donating a $100,000 to the organization committed to rewriting the script for LGBTQ+ acceptance.
11:45 AM – How to be an LGBTQ+ Leader in Craft Beer Panel Presented by Samuel Adams
Samuel Adams brewer and Director of Partnerships Jennifer Glanville leads a discussion with three LGBTQ+ leaders in craft beer. Joining us will be Melissa Myers, Owner of The Good Hop Bar & Bottle Shop in Oakland, CA, Maureen Fabry, Co-Founder of CraftRoots Brewing in Milford, MA, and Carissa Sweigart, Leader of Diversity, Equity and Inclusion at Boston Beer, the OG brewery that has been leading the charge on inclusion and equity in the queer community.
12:45 PM – Guided Beer Tasting With Provincetown Brewing's Golden Hook Golden Ale
Founded on progressive ideals and activism as its ethos, PBC brews beers that highlight a cause or organization they care about. From LGBTQ+ rights to conservation and more, charities receive a percentage of sales from each product sold. People from far and wide come to Provincetown and love it for its unique character. PBC is the taste that will take you back to Provincetown year round.
1:00 PM – Guided Beer Tasting with New Belgium's Dominga Mimosa Sour
A stalwart in the craft beer industry, New Belgium recently hired Patrice Palmer, a black, queer, trans intersection leadership educator as its Diversity and Inclusion specialist. We've been so impressed with Palmer's work to create and manage programs, projects, and lead initiatives on diversity and inclusion within the brewery that we actually named Palmer our most important voice in craft beer in 2020. One of Palmer's revolutionary programs included releasing Biere De Queer last year to celebrate National Coming Out Day, an annual LGTBQ+ awareness day observed annual on October 11th.
For Queer Beer we'll be sampling the brewery's Dominga Mimosa Sour, a golden sour ale with the sweet, detoxifying juice of Calamansi Oranges.
1:15 PM – Authenticity in Queer Spaces in Craft Beer Presented by New Belgium
A conversation with New Belgium's Diversity and Inclusion Specialist Patrice Palmer on how can you be authentic in queer spaces as a business, as an individual, and as an ally. Joining Patrice will be Lily Waite, Founder of the Queer Brewing Project, and Bryan Van Den Oever, Co-owner of Red Bear Brewing Co.
2:15 PM – Guided Beer Tasting with Brooklyn Brewery The Stonewall Inn IPA
"This is a beer for everyone, no exceptions." Each year Brooklyn Brewery brews The Stonewall Inn IPA to support The Stonewall Inn Gives Back Initiative (SIGBI) and the LGBTQ+ community. And, aside from their annual donation and direct support for SIGBI through their Stonewall Inn IPA, Brooklyn Brewery is implementing fundraising efforts, directing more donations to LGBTQ+ causes, and working to create a more inclusive and welcoming environment for LGBTQ+ people in the craft beer industry.
2:20 PM – Guided Beer Tasting with Almanac Beer Co.'s Love Hazy IPA: Pride Edition
Last year Almanac Beer Co. in Alameda, CA showed up in a big way transforming its most popular hazy IPA into a special edition can during Pride month. Brewed in the spirit of equity, inclusion, and justice for all people, Almanac said loud and clear: LOVE IS LOVE! In addition to swapping out the design for a vibrant rainbow colored can the brewery also committed to donating proceeds from the sales of the beer to support the Oakland LGBTQ+ Community Center, a nonprofit dedicated to enhancing and sustaining the well-being of lesbian, gay, bisexual, transgender, and queer people through educational, social, health, and wellness-related activities, programs, and services.
2:45 PM – Keynote Presentation Presented By Samuel Adams Featuring Ren Navarro
With nearly a decade of experience in the alcohol industry, a passion for encouraging personal and professional growth, and her trademark wit, Ren Navarro is cultivating diversity in beer and beyond by educating, enlightening, and engaging.
Since launching Beer. Diversity. in 2018, Ren has become a known name at breweries, wineries, distilleries, and beyond. She has given talks on diversity and inclusion at several colleges and countless festivals, panels, radio shows, and podcasts throughout North America. In addition to being a diversity educator, she is a craft beer consultant for bars and restaurants in Ontario and an educator for countless businesses throughout the country.
Beer. Diversity. is more than just a company that educates, it's a resource built from the passion and love of the industry to do better and be better. Navarro's experience in public speaking and history in the drinks world alongside her perspective as a queer Black woman makes her an essential voice in the work and outreach involved in creating a welcoming and diverse environment for beverage producers and imbibers of all backgrounds.
Taking steps. Wanting change. Having the desire and the tools to put in the work to be an agent of change. That's what Beer. Diversity. is about.
Together we can do better.
3:45 PM – Guided Tasting with Dorchester Brewing's O.F.D. Double IPA
Massachusetts' gayest brewery makes damn good beer. Gay-owned Dorchester Brewing Co. has become a staple in the Dorchester neighborhood of Boston. So, it makes sense that the brewery named a Double IPA "Originally from Dorchester" to reflect the brewery's roots. Busting with Mosaic hops, O.F.D delivers big citrus flavor and aroma. Well-balanced with a big personality, this beer is O.F.D. to the core.
4:00 PM – Guided Tasting with Lady Justice Sandra Day IPA
Queer- and woman-owned and Latina-founded Lady Justice Brewing Co. in Aurora, CO set out with the goal to make beer for a better world across all genders, nationalities, races, and sexualities. To date the brewery has raised $32,000 for over 30 organizations across the country from sales of its beers such as Sandra Day IPA with Centennial, Citra, and Warrior hops.
4:15 PM – HRC Happy Hour Presented by New Belgium
New Belgium recently received recognition as one of the Best Places to Work for LGBTQ+ Equality from the Human Rights Campaign's (HRC) Equality Index, with a perfect score of 100. They're the only craft brewery to be awarded this distinction in the industry. Community Programs Manager at New Belgium, Meghan Oleson, joins us to share the one simple thing the brewery did to become one of the most LGBTQ+ friendly breweries in the country.
4:30 PM – Guided Tasting with DC BRAU VOTE Kristallweizen
The brewery in our country's capital has become a powerhouse for promoting change. VOTE has a simple, but powerful message – get out and exercise your right to vote. A German-style ale, VOTE is essentially a filtered take on hefeweizen. This year the brewery has committed to donating proceeds from the sales of VOTE to SMYAL, the Sexual Minority Youth Assistance League that creates opportunities for LGBTQ+ youth to build self-confidence, develop critical life skills, and engage their peers and community through service and advocacy.
4:45 PM – Virtual Cooking Class Presented by Allagash Brewing
Cook alongside Chef Chala. (they/them), chef, community organizer, and Assistant Editor at Bon Appétit, as they whip up a dream recipe featuring the iconic Allagash White. Fueled by a passion for food justice, culture, and history, Chef Chala.'s work strives to illuminate the ways in which food shapes and influences the world at the individual, institutional, and systemic levels of society.
5:15 PM – Guided Tasting and Queer Art Showcase Presented by Collective Arts f. Life in the Clouds NEIPA
Well-known for bringing together art and beer, Collective Arts made a priority last June to celebrate queer artists by releasing a series of special edition cans of their flagship Life in the Clouds IPA. This New England style IPA balances Simcoe and Mosaic hops to make a juicy explosively fruit-forward IPA in both taste and aroma while curbing any unbearable sweetness to make an extremely drinkable beer. We'll be featuring work from each of the artists – Ethan Barry (Vancouver, CA), Matthew Willie Garcia (St. Joseph, MO), Gabriella Grimes (Philadelphia, PA), and Henri Campeã (São Paulo, Brazil) – and discovering how Collective Arts came up with this fantastic campaign.
We even featured a design from Henri Campeã on an exclusive Queer Beer tumbler. And the best part? All of the net proceeds from the sales of this exclusive glass will be donated to Queer | Art, an organization launched in 2009 to support a generation of LGBTQ+ artists that lost mentors to the AIDS Crisis of the 1980s. They offer mentorship, exhibition opportunities, funding and other supports to LGBTQ+ artists.
We only made 480 of these, so nab yours now!
5:45 PM – Guided Tasting with Mountains Walking's Sweets – Cherry Chocolate Smoothie Sour
Head Brewer Lewis McCallister, who identifies as queer, brewed this Smoothie Sour with brown sugar and lactose before fruiting it with tons of tart cherry puree and conditioning it on copious amounts of organic cocoa nibs and Tahitian vanilla bean.
6:00 PM – End of Broadcast Day
Liked this article? Sign up for our newsletter to get the best craft beer writing on the web delivered straight to your inbox.