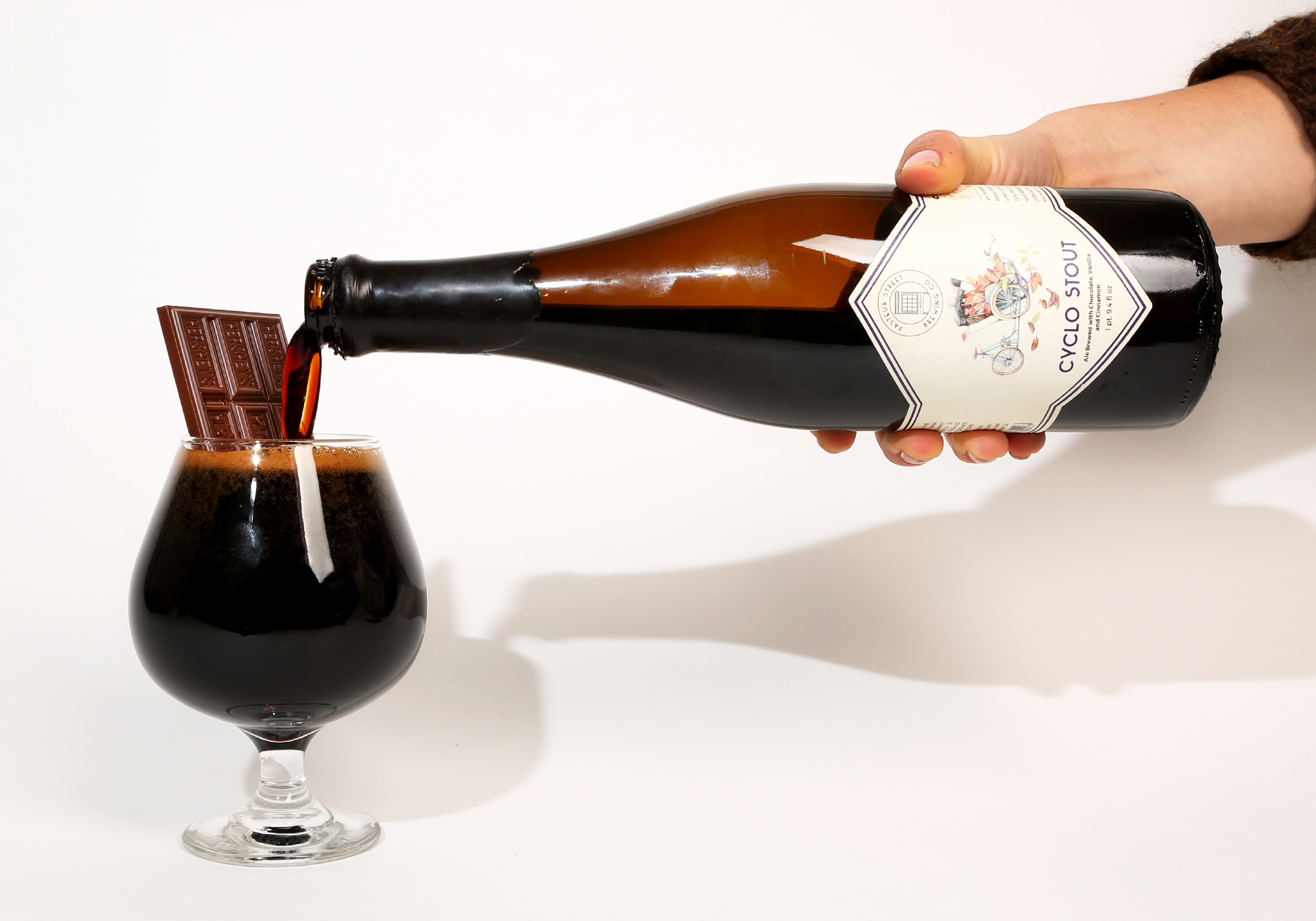 Editor's Note:
"From the Cellar" is an editorial project where Hop Culture's managing editor digs into the Hop Culture cellar to review a beer. Have a vintage bottle or cellared beer you think we should try? Drop us a line at hello@hopculture.com with the subject line "From the Cellar."
The current landscape of stouts tends to lean on the heavier side. Brewers have gone all-in on lengthy barrel-aging, boozy ABVs, and decadent adjuncts. Many recent releases have a laundry list of added ingredients that seem to favor the "kitchen sink" approach rather than a thoughtful balance. Though there are some stout brewers (like Kyle Harrop of Horus Aged Ales) that manage to find equilibrium despite the intensity of time spent in barrels and highly flavorful adjuncts. The point is that many stout brewers opt for "more is more."
In an era of pastry and imperial stouts, it's nice to revisit a beer that may have preempted the movement toward dessert-forward beer but remains separate from the sickly sweet stouts of today. We're talking about Cyclo Chocolate Stout from Vietnam's Pasteur Street Brewing Co.
Cyclo Stout at a Glance:
Cyclo Stout is a chocolate stout brewed by Pasteur Street Brewing Co. in Saigon, Vietnam.
The beer is released in 750 ml bottles. This particular edition was released in 2017 and has been in the Hop Culture cellar since then.
Cyclo Stout is 13% ABV and is brewed with Vietnamese cinnamon, vanilla, chocolate.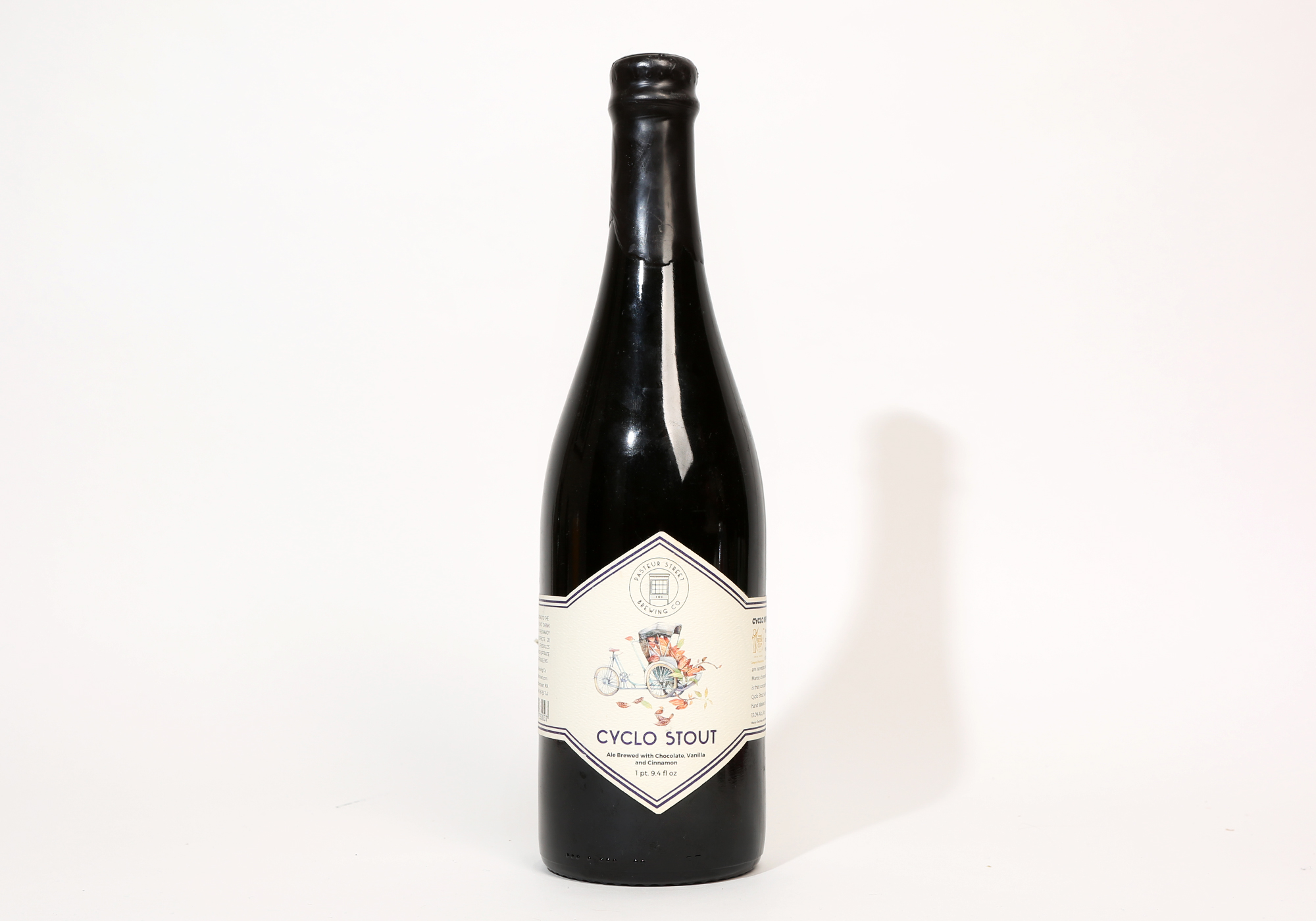 The Story Behind Pasteur Street Brewing Cyclo Stout
Unlike other prominent international breweries (like say Omnipollo or Dieu du Ciel!), Pasteur Street Brewing Co. hasn't become a widely known brewery here in the states. But, this beer will likely prompt responses of "Oh, that looks familiar." You've likely seen Cyclo Stout before.
Cyclo Chocolate Stout from Pasteur Street Brewing Co. sits in an interesting place. It often pops up on the shelves of reputable bottleshops and in the boxes of beer of the month clubs. It's both reasonably accessible but also produced in limited quantities.
In fact, Cyclo Stout earned a Gold Medal at the World Beer Cup in 2016. Vietnam isn't exactly known as a craft beer powerhouse (yet) so that honor is truly impressive and speaks to the culinary expertise of the team at Pasteur Street Brewing Co.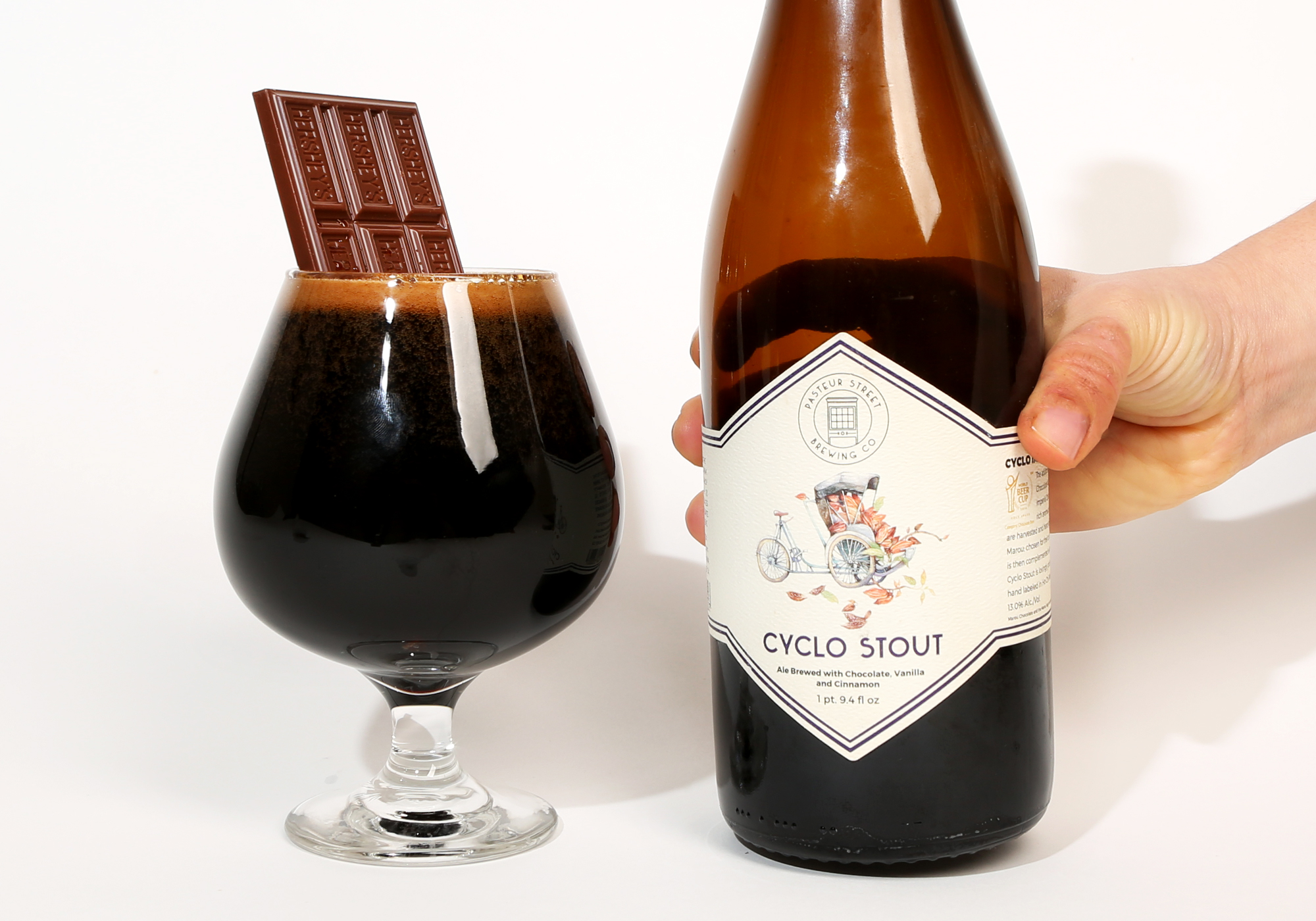 Cyclo Stout features a balanced profile that highlights the flavors of Vietnam. The chocolate is sourced in the Mekong Delta by Marou, reportedly the best chocolate on Earth. The cinnamon is locally grown and the vanilla is deftly added to offer a counterbalance to the robust chocolate. It's a truly remarkable beer and has earned widespread acclaim. So why aren't folks going crazy for this thing?
Those that have tried Cyclo Stout rave about it. But, it still hasn't earned the same name brand hype that American stouts have like Abraxas, Hunahpu, or, frankly, Bourbon County Stout.
At this point, drinkers' palates' shift sweeter. Cyclo Stout might not offer the same sugary goodness as other more lauded offerings. It's the prototypical pastry stout–similar adjuncts to the dessert stouts flooding today's market but not with the same intensity that drinkers might expect. Still, Cyclo Stout is a landmark offering and it's encouraging to see the flavors of Vietnam used to such stunning effect.
What Cyclo Stout is like:
Pours pitch black with a rusty caramel head. Bubbles form along the rim of the glass.
Smells like a strong chocolate stout with slight yet noticeable pops of vanilla and cinnamon.
The first sip brings robust and full-bodied chocolate. It's rich but not sweet, like dark chocolate brownies.
The taste only gets better as the beer warms with spicy cinnamon coming through. It tastes like a liquid cinnamon chocolate cake.
There's also a sense of smokiness that comes through, like burnt caramel.
The Bottom Line
After nearly four years, Cyclo Stout still tasted phenomenal. And the beer demonstrated that the team at Vietnam's Pasteur Street Brewing Co. had perfectly blended Vietnamese flavors with American and European craft beer sensibilities. Fans of Vietnamese Iced Coffee would likely recognize the flavor components in this beer.
Based on the taste alone, Cyclo Stout deserves to be among the best stouts currently available. And, unlike some of the highest-rated stouts of today, it's relatively accessible. Plus, it should appeal to pastry stout fans and detractors alike — it rides the fine line of dessert beer without tipping into sickly sweet territories.
Liked this article? Sign up for our newsletter to get the best craft beer writing on the web delivered straight to your inbox.