Photography by John A. Paradiso
Updated on August 19, 2023
We've seen some pretty crazy ingredients thrown into beer. Everything from peanut butter to jelly beans to any assortment of fruits, peppers, herbs, spices, and everything in between. Comparatively, honey doesn't seem so strange. But the bee byproduct can be pretty tricky to add—balancing the sticky sweetness is no easy task.
However, we have enjoyed some incredible beers brewed with honey. The deciding factor? Intentionality. Often, these breweries are dedicated to their local agriculture and care deeply about the ingredients they use. A delicate and thoughtful infusion of honey in a wild or farmhouse ale can yield exceptional results and even finding the right balance in a lager can produce some unexpected harmonies.
What Is the Difference Between Honey Beer and Mead?
When the words "alcohol" and "honey" are brought together, many think of mead, the alcoholic drink made by fermenting honey and water. While there are definite ties between beer and mead, mead is a unique liquid with a history.
The primary sugar source in mead is the honey itself, while the sugar in beer comes from malt, and the honey is just an additional ingredient. Yet, just like modern, juicy IPAs, meads have achieved incredible hype, and the beverage definitely deserves its own article.
Editor's Note: Interested in learning more about mead? We've published a guide to the style here.
And, What Is a Braggot?
Usually considered a hybrid, braggot falls somewhere between mead and beer. Made from malted grains and honey, braggots are likely predecessors to all-grain beer. The style can be complex as brewers aim for a healthy balance of honey and malt; neither of the two components should overpower the other.
The 11 Best Honey Beers
Now that we understand the different types of honey beverages and beers, let's dive into the hive. As we honor National Honey Bee Day on Sat., Aug. 19, 2023, celebrate with the current best honey beers that have us buzzing—each uniquely uses honey in fascinating ways, delivering a puckering sweetness or balancing some farmhouse funk.
Bière de Miel – Jester King Brewery
Austin, TX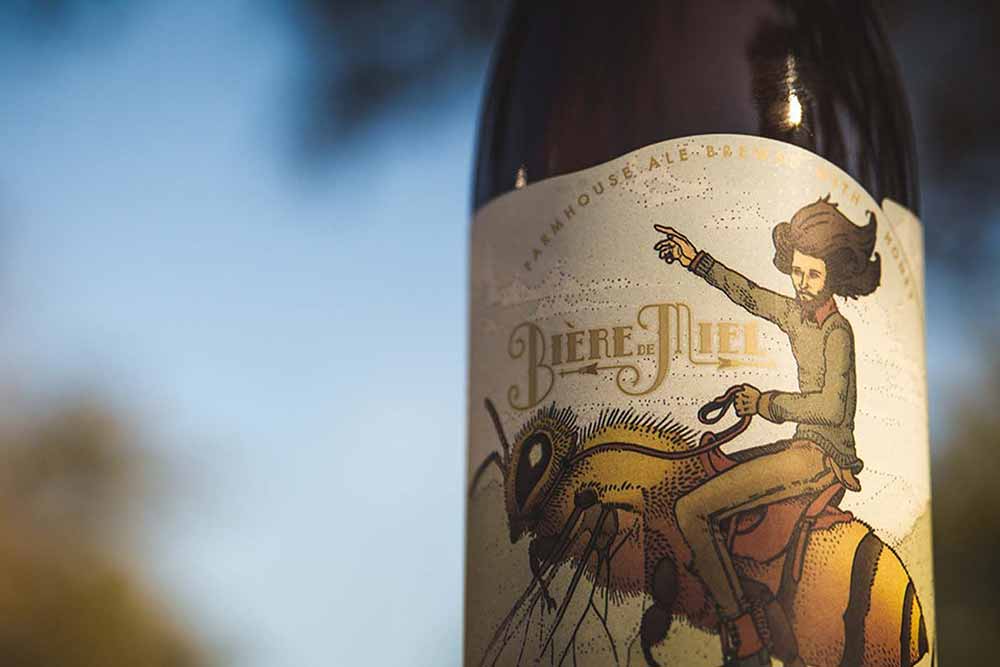 Farmhouse Ale — The famous farmhouse brewery adds a late-boil addition of raw Texas wildflower honey from Good Flow Honey Co. in Austin, TX, to kickstart this honey-centric farmhouse ale. Jester King injects another dose of the sweet, syrupy stuff after the first several weeks of fermentation to make this a true Bière de Miel, aka "Honey Beer."
Reboog Roadtrip – Southern Grist Brewing Co. + Garagiste Meadery
Nashville, TN + Tampa, FL
Braggot — We actually tried this stunning beer from Southern Grist back in 2019, but it blew our minds, so we'd be remiss not to include it here. And we weren't the only ones. To this day, Reboog Roadtrip ranks as the top-rated braggot on Untappd.
A true beer/mead, Southern Grist's Reboog Roadtrip collab with Garagiste Meadery includes over 300 lbs. of wildflower honey, plus peanut butter and blackberries.
We didn't find too much carbonation in Reboog Roadtrip. Instead, the beer/mead mashup felt thick and rich, similar to a spoonful of honey. In fact, if you took a spoonful of honey, blackberry jam, and peanut butter, this wouldn't be too far off. But it was excellent and a perfect beer to wow friends after dinner.
Scurry – Off Color Brewing
Chicago, IL
Dark Honey Ale — Scurry plays off a historical German style called Kotbusser, featuring wheat, Noble hops, honey, and molasses. Off Color makes a dark version with pils, dark Munich, wheat, chocolate malt, and flaked oats. The hop bill includes Nugget, Hersbruckers, and Strisselspalt, finishing with the crucial addition of that honey and molasses post-boil to give this dark, rich ale notes of toasted bread, milk chocolate, and the milk at the end of your cereal.
A seasonal available in the fall, Scurry should be dropping soon. Be on the lookout!
Smashing Honey Blonde – Hoppin' Frog Brewery
Akron, OH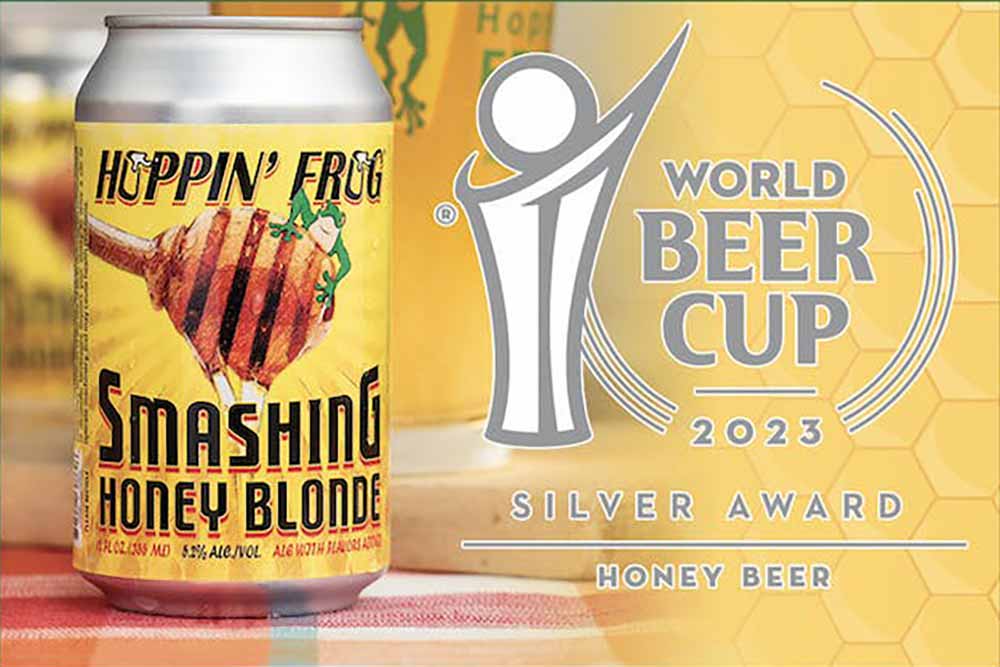 Blonde Ale — Hoppin' Frog smashed it this year with its honey beer, winning silver in the "Honey Beer" category at World Beer Cup 2023. Smashing Honey Blonde takes that somewhat classic blonde ale base and adds a splash of honey.
Basic B@tch – My Yard Live Beer Co.
San Marcos, CA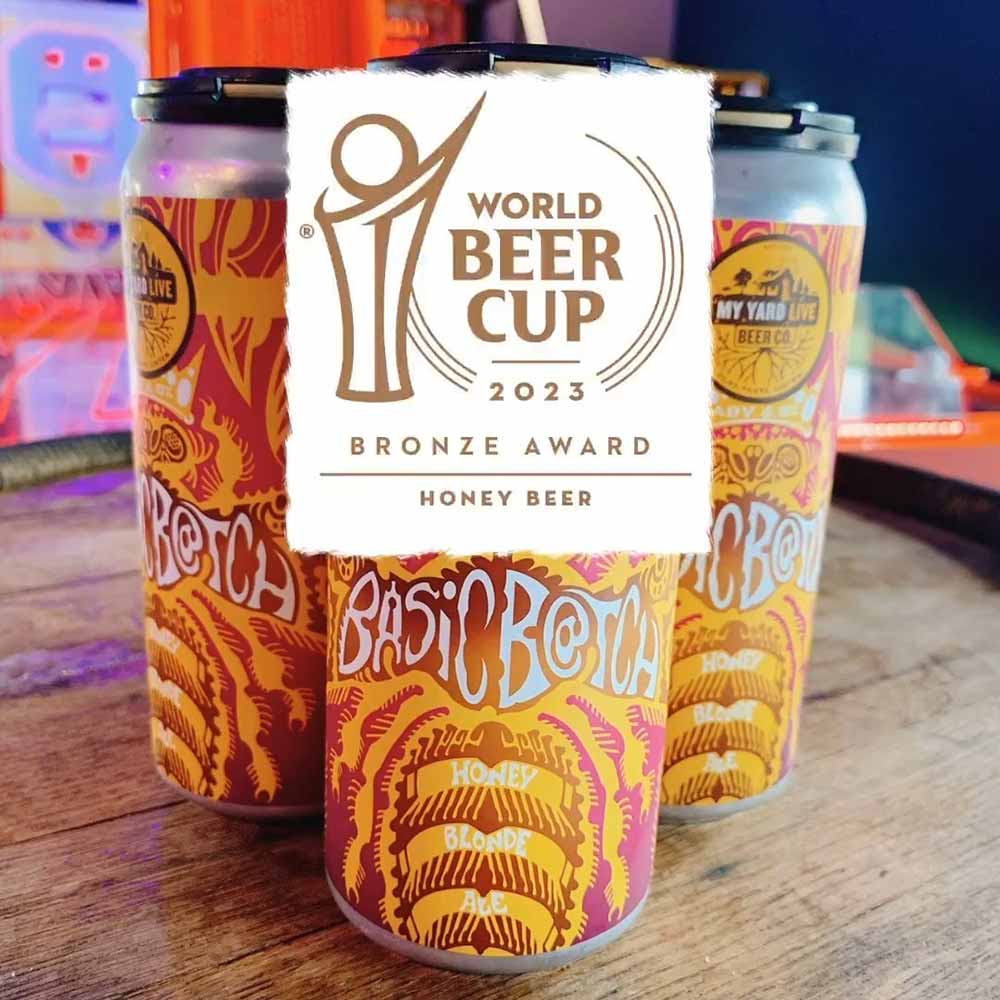 Blonde Ale — Another medal winner at the World Beer Cup in 2023, Basic B@tch from My Yard Live Beer Co. picked up a bronze in the "Honey Beer" category. What the brewery calls "a perfect summer pairing," Basic B@tch includes locally sourced honey, giving an undercurrent of floral sweetness to a very crisp, dry blonde ale.
Hope Eternal – Tree House Brewing Company
Charlton, MA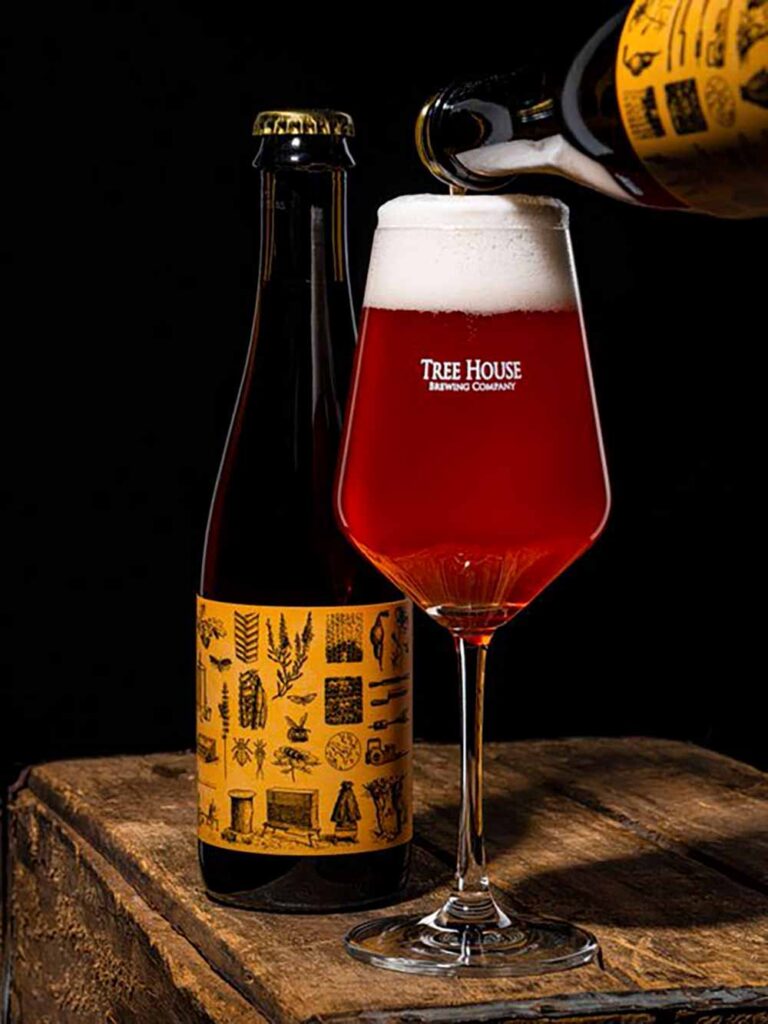 Mixed-Fermentation Ale — Tree House not only adds local wildflower honey to this mixed-fermentation ale, but also a bouquet of berries—red raspberries, black raspberries, and blackberries.
Bottle conditioned on that same wildflower honey, which gives the beer an extra dose of sugar to ferment, Hope Eternal offers many layers to enjoy.
If you've ever enjoyed a honey cake, this beer reminds us of the layered Russian dessert if you just added a berry sauce.
Sweet with a bit of tannin from the berries, Hope Eternal really sings with that natural honey.
Wood Ya Honey – Jackie O's Brewery
Athens, OH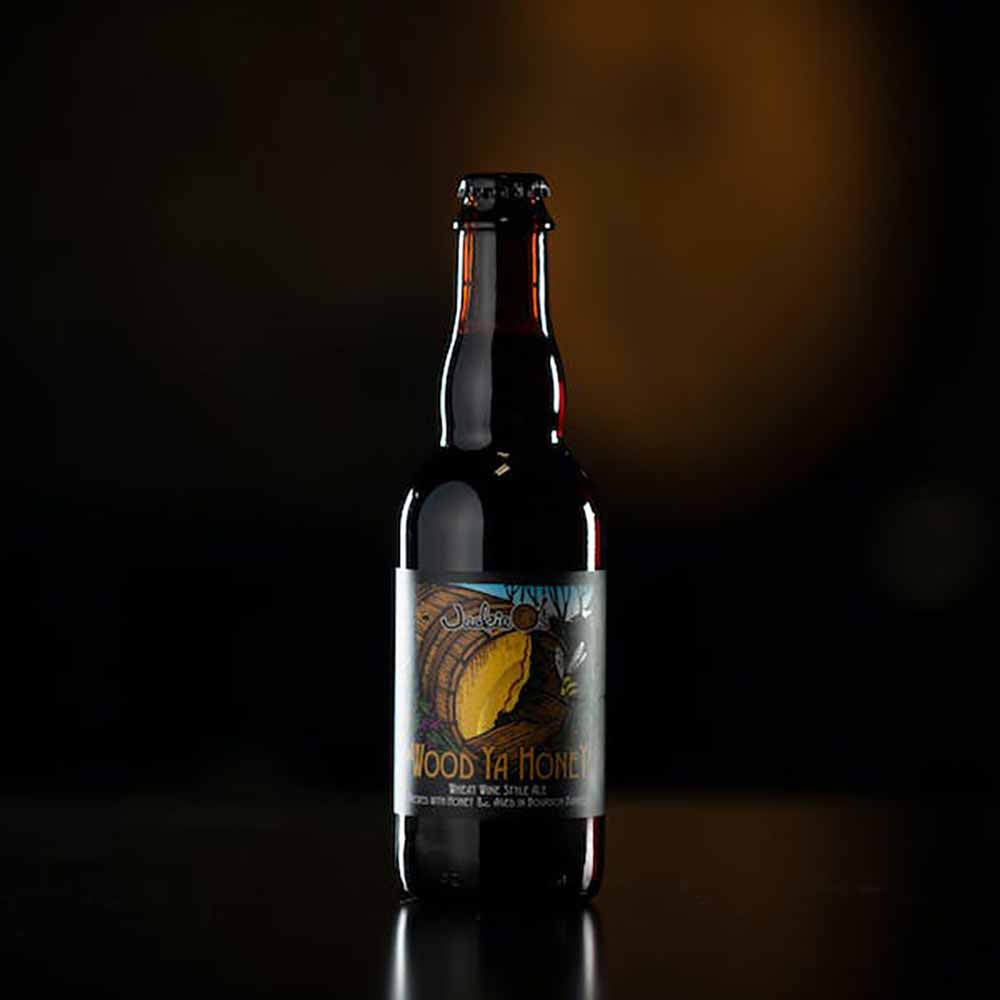 Wheat Wine — Like other beers on this list, Wood Ya Honey gets a generous addition of local wildflower honey. Unlike other beers on this list, Jackie O's version of a honey beer naps in bourbon barrels for a year. The result? Jackie O's says they pick up notes of "dripping honeycomb, marzipan, and raisin."
Flora, Fauna, and Merryweather – Sapwood Cellars Brewery
Columbia, MD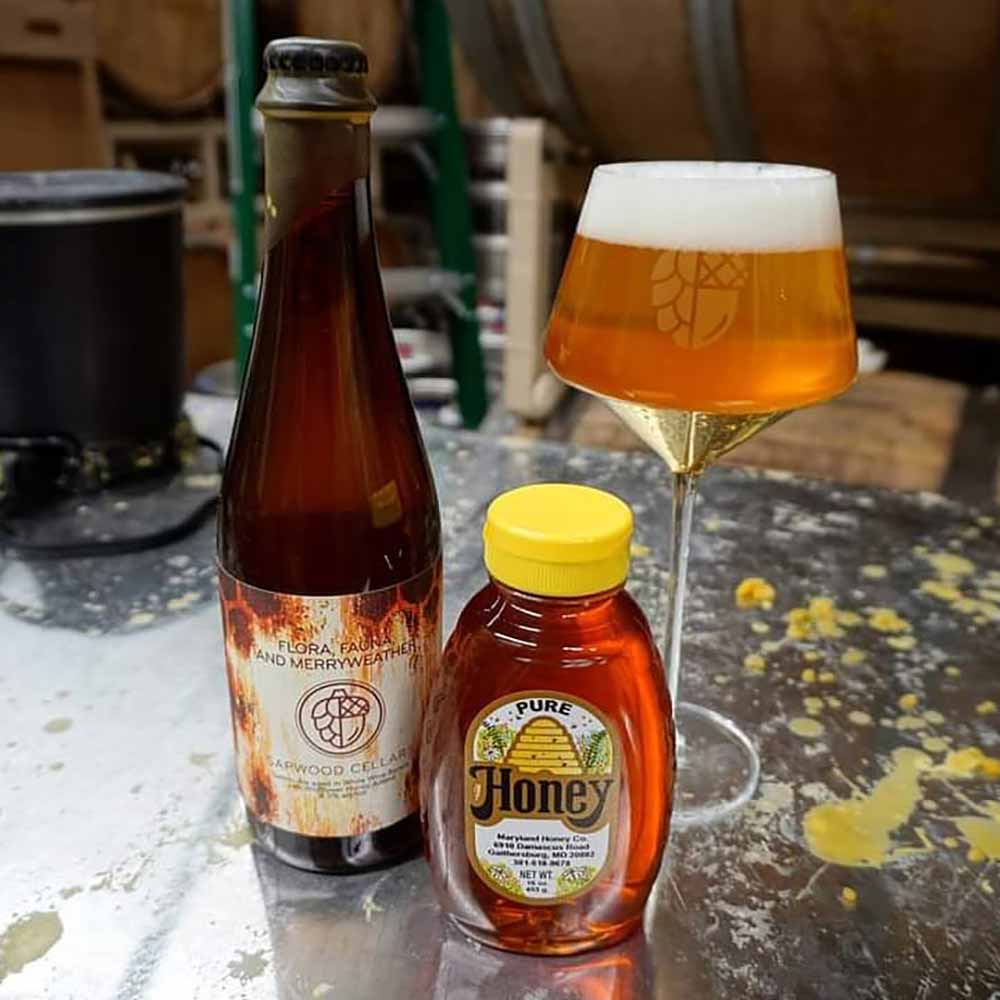 Saison — Dropped three years ago, these bottles still pop up in the wild, and according to some folks on Untappd, the beer drinks like a dream. In fact, this saison with sixty pounds of wildflower honey aged in Sauvignon Blanc and Chardonnay barrels ranks in the top ten highest-rated honey beers on Untappd.
Nectarous with a bit of earthiness from the addition of buckwheat, Flora, Fauna, and Merryweather pays tribute to the beautiful environment around us.
Honey Blonde Ale – Central Waters Brewing Company
Amherst, WI
Blonde Ale — Blonde ales are a standard vehicle for honey, a light, sometimes slightly biscuity base that works well off the sweeter honey. Central Waters' highly rated version has excellent balance, finishing crisp and clean to entice you for the next sip.
Honey Kölsch – Rogue Ales
Newport, OR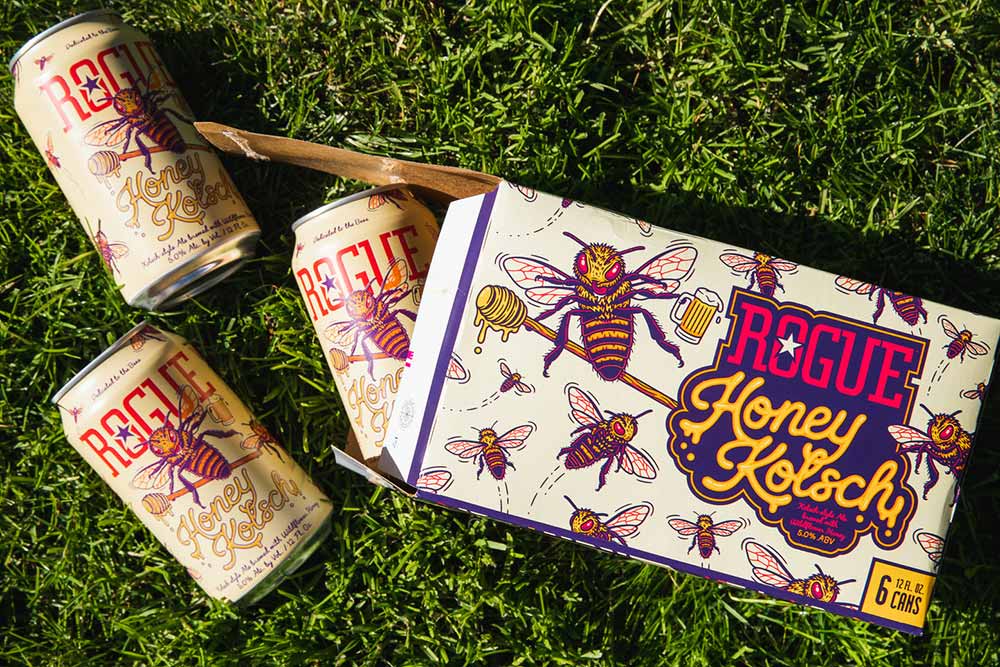 Kölsch — Leveraging a crisp, refreshing, slightly crackery base of a kölsch, Honey Kölsch from Rogue Ales adds wildflower honey for a perfectly sweet, lightly malty, and ultimately crushable take on a honey beer.
Bees Better Have My Honey – Morgan Territory Brewing
Tracy, CA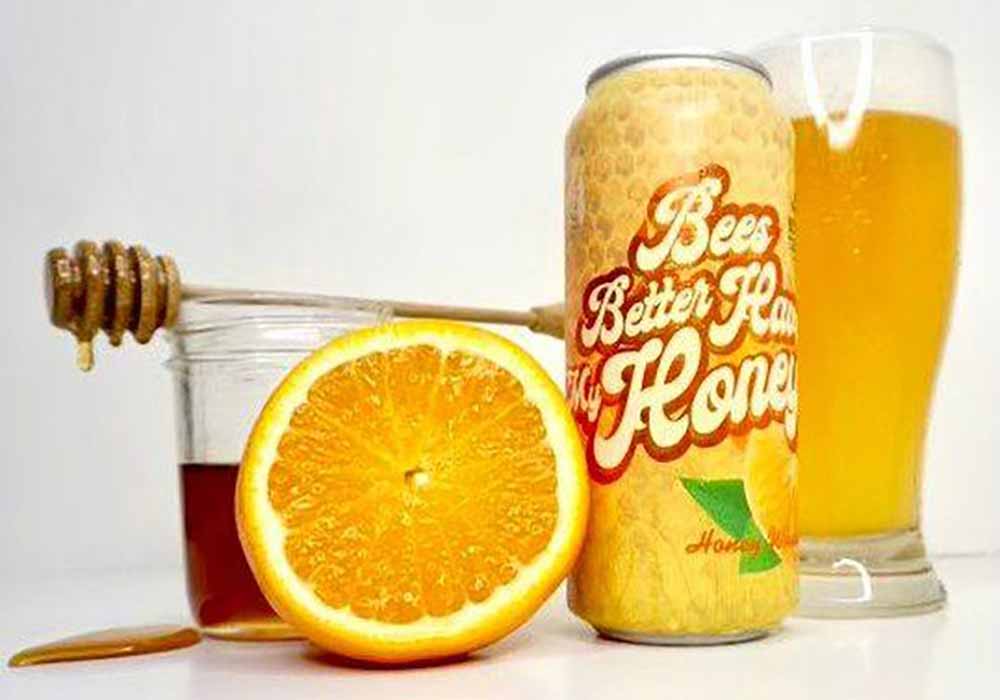 Wheat Beer — Named the California Brewery of the Year 2023 by the Brewers Cup of California, Morgan Territory Brewing is an unassuming little spot in an industrial park in Tracy, CA, about sixty miles east of San Francisco (plus a new location they just opened in Pleasant Hill this year). Now living in the Bay Area, we've waxed poetic about this spot, and we're not alone, obviously. Besides this most recent award, they've racked up many more over the years (including a spot on our "37 Best Beers to Drink in Spring 2023").
While we love their Snap Shot American premium lager, this article is about honey beers. And Morgan Territory happens to make a mighty fine one.
For Bees Better Have My Honey, Morgan Territory starts with fifty percent American White Wheat before adding the Experimental Hop 06297, known for its orange notes. At the finish, the brewery ferments this wheat beer with local honey and seasonal orange zest (and adds more post-fermentation).
A bit cloudy, bready, citrusy, a little sweet, and a lot bright, this honey wheat beer just crushes, especially in the warmer months.
Liked this article? Sign up for our newsletter to get the best craft beer writing on the web delivered straight to your inbox.