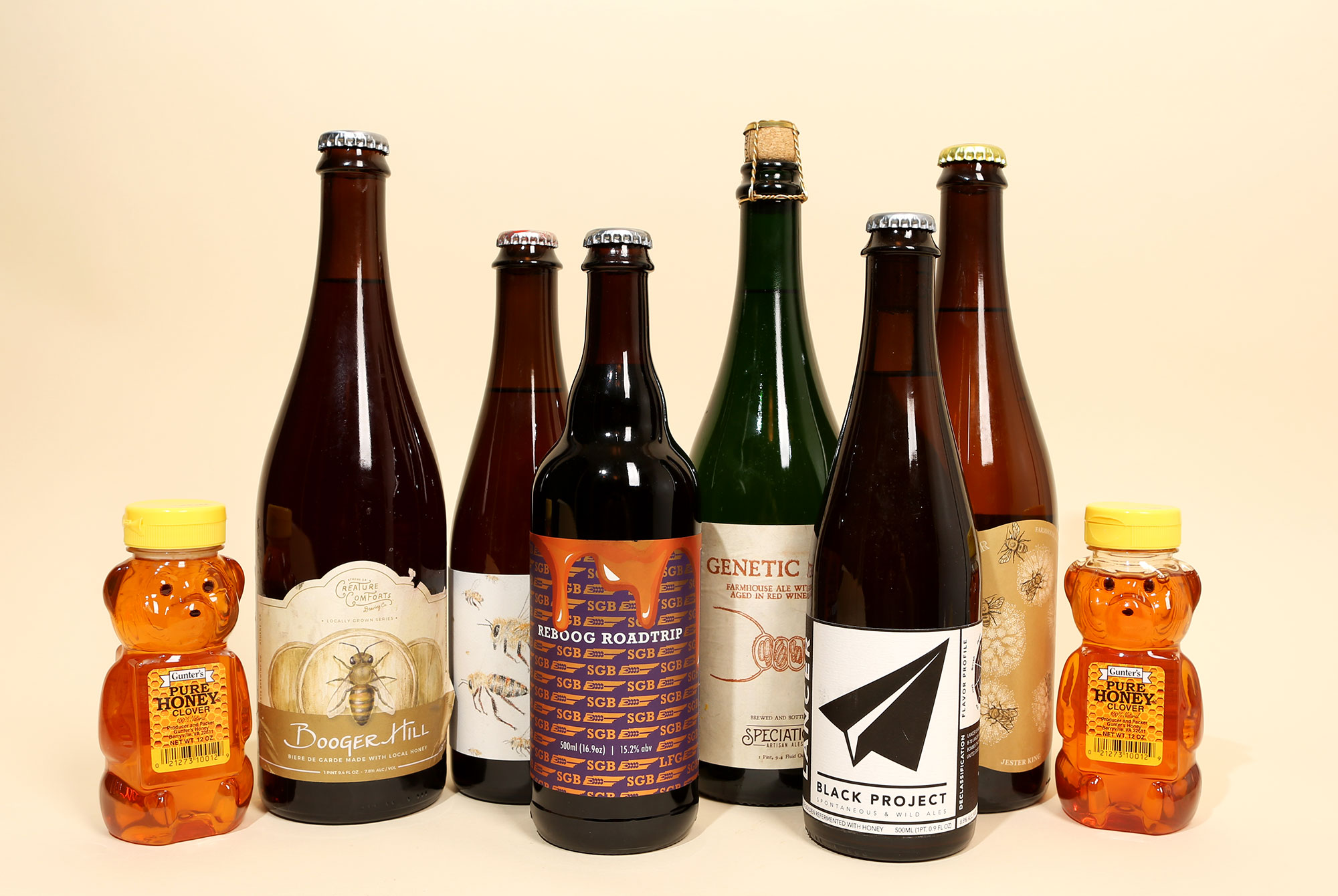 Photography by John A. Paradiso
I can't really remember the first time I drank a beer brewed with honey. Clearly, I wasn't wowed by the experience. I should clarify that honey is a tricky ingredient — balancing the sticky sweetness is no easy task.
However, I have enjoyed some really incredible beers brewed with honey. The deciding factor? Intentionality. Often, these breweries are dedicated to their local agriculture and care deeply about the ingredients they use. Chucking a bunch of honey into any old beer won't make for an exciting product. But a delicate and thoughtful infusion of honey in a wild ale or farmhouse ale can yield exceptional results.
When the words "alcohol" and "honey" are brought together, many think of mead, the alcoholic drink made by fermenting honey and water. While there are definite ties between beer and mead, mead is a unique liquid with a history all its own. The primary sugar source in mead is the honey itself, while the sugar in beer comes from malt, and the honey is just an additional ingredient. Yet, just like modern juicy IPAs, meads have achieved incredible hype, and the beverage definitely deserves its own article.
Editor's Note: Interested in learning more about mead? We've published a guide to the style here.
What Is a Braggot?
A braggot is typically thought of as a hybrid between mead and beer. They're made from malted grains and honey and they're likely predecessors to all-grain beer. The style can be difficult as brewers aim for a healthy balance of both honey and malt; neither of the two components should overpower the other.
6 of the Best Honey Beers
Not too long ago, while looking through the Hop Culture cellar, I realized that we had unintentionally gathered a few beers made with honey and made by some incredible breweries. I decided it'd be worth sampling our way through these delectable and diverse beers. Each is unique and used the honey in fascinating ways, delivering a puckering sweetness or to balance some farmhouse funk.
LANCER
Black Project Spontaneous & Wild Ales — Denver, CO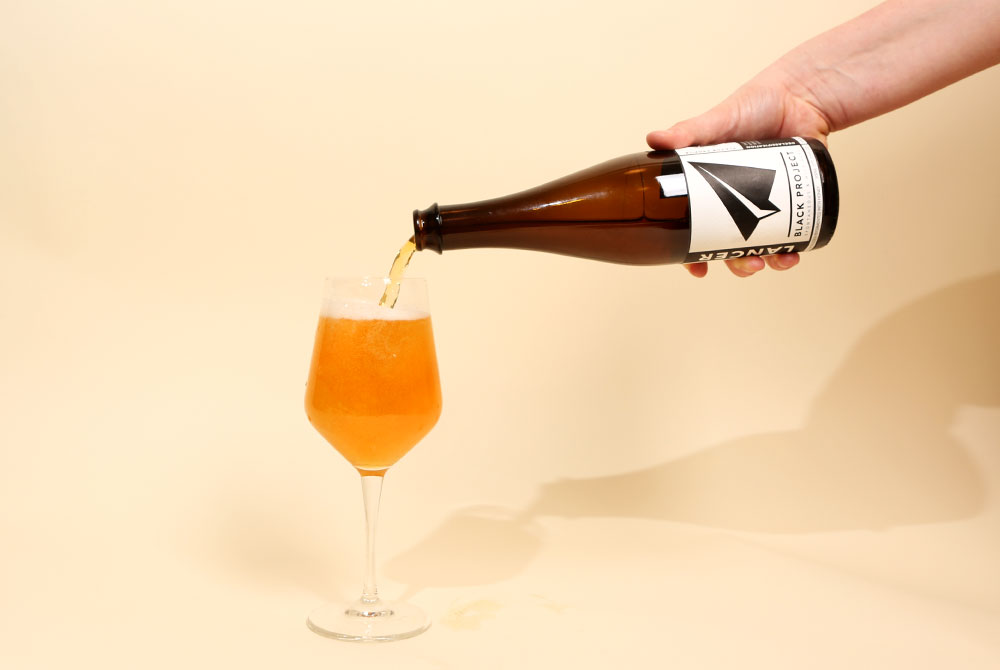 Wild Ale– Black Project's beer never ceases to amaze; the complexity and subtlety in their execution is astounding. By Black Project's standards, LANCER is sort of business as usual. The brewery's base golden sour is pulled from a solera and aged in neutral oak barrels with local, raw wildflower honey. After spending some time in the barrel and re-fermenting, the beer is bottled and enjoyed soon after. We got some really lovely tart notes and a nice touch of sweetness. The beer is good to go as is but feel free to let it sit for a little while and see how it develops over time.
Booger Hill
Creature Comforts Brewing Co. — Athens, GA
Bière de Garde– Booger Hill might not be the most appetizing of names for a beer. But if you can, I urge you to try this beer. The beer is named for Georgia-based Booger Hill Bee Company, which supplied the honey for this Bière de Garde. This was perhaps the most challenging of the bunch. The barnyard funk is matched by a floral sweetness that is just barely reigned in. It's a powerful beer but I'd recommend seeking this out and enjoying with a plate of charcuterie and cheese.
Overzestous
The Good Beer Co. + Almanac Beer Co. — Santa Ana, CA + Alameda, CA
Wild Ale– This collaboration between two excellent California breweries was tart. The honey played a minor role in the final product. In fact, there was more of a citrus zest than a honey sweetness. Still, it was a delicious beer that reminded me that spring is just around the corner.
Queen's Order
Jester King Brewery — Austin, TX
Farmhouse Ale– If anyone were to use honey in a unique way, it'd be Jester King. The beer was brewed with Texas Guajillo honey and Texas-grown Eureka and Ujukitsu lemons. The honey was present in the aroma but the beer had a slight bitter bite with subtle funk and lemon notes. Queen's Order required a little more attention than the others and was a fascinating display of how honey can work in beer.
Reboog Roadtrip
Southern Grist Brewing Co. + Garagiste Meadery — Nashville, TN + Tampa, FL
Braggot– This one blew our minds. Reboog Roadtrip, a braggot, was a true beer/mead. Southern Grist teamed up with Garagiste Meadery on this beer brewed with over 300 lbs. of wildflower honey, plus peanut butter and blackberries. There wasn't much carbonation, meaning Reboog Roadtrip was thick and rich, similar to a spoonful of honey. In fact, if you took a spoonful of honey, blackberry jam, and peanut butter, this wouldn't be too far off. But it was excellent and is a perfect beer to wow friends after dinner.
Genetic Drift
Speciation Artisan Ales — Comstock, MI
Saison– This was our favorite of the bunch. It was simple yet expressive. The perfect balance of funky, sweet, and tart flavors. There's also a nice oak character from the red wine barrels. It was certainly the easiest to drink and would be great on its own or paired with a fresh salad or, if I may be so bold, a deli sandwich. Mhm, delicious.
Liked this article? Sign up for our newsletter to get the best craft beer writing on the web delivered straight to your inbox.