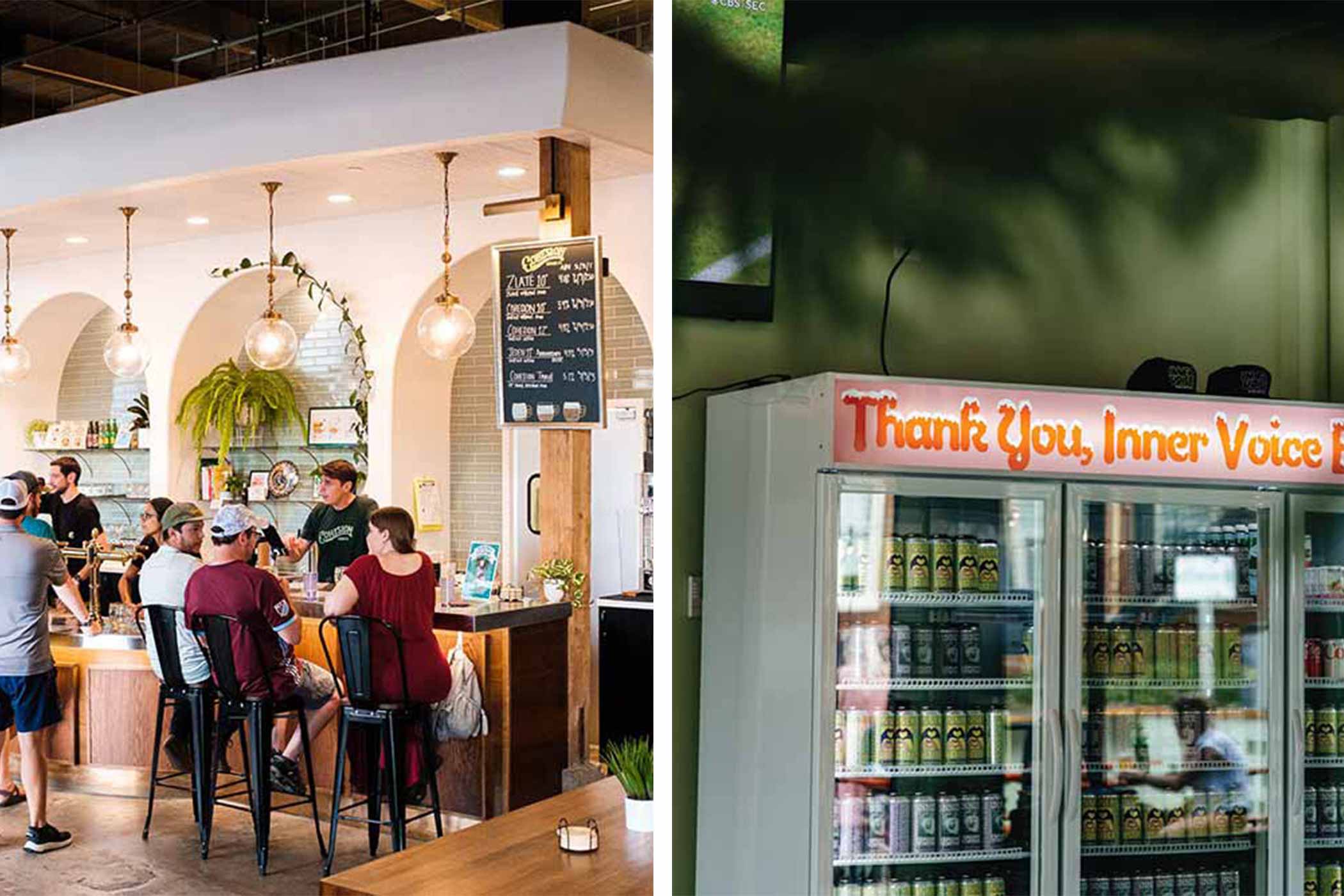 Photography courtesy of Cohesion Brewing Company (on the left) and Inner Voice Brewing (on the right)
It's official: There are a s**t ton of breweries in the United States. And what amazes us is that every year this number continues to grow. Despite a worldwide pandemic. Despite a potential recession. And despite countless continued challenges and ongoing supply chain issues.
In fact, the Brewers Association recently reported that the industry reached new heights in 2021, climbing to 9,118 craft breweries. (And if you include all 1,886 microbreweries, 3,307 brewpubs, 3,702 taproom breweries, and 223 regional craft breweries, the number actually jumps up to 9,247.)
Last year, 646 breweries threw open their doors for the first time. And while that number did technically decline from 2020, it's still a pretty impressive mark. We don't have any exact stats yet on how many beer-soaked spots opened in 2022, but we're going to hypothesize it's around the same.
Which is why we're here. Because you probably can't possibly visit all 600+ places. That would be insane, right? That would be like hitting up two breweries a day, which we suppose isn't impossible. #2023goals
Honestly, this is one of the most exciting parts of our job: finding and exploring new breweries and brands pushing the boundaries of the industry forward.
So below you'll find a list of the top new breweries we (and you) discovered in 2022. For the most part, these are places that opened a taproom for the first time or started a new brand in the past twelve months (but like we tend to do, you'll find a couple on here from the waning weeks of 2021).
To get a representative list, we called on folks across the Next Glass team from different backgrounds and geographies. And this year for the first time, we put out a call on Instagram asking all of you to share your favorites!
To that end, we've presented the best newly opened craft breweries in no particular order except for Fox Tale Fermentation, which popped up repeatedly on IG as an answer to both your favorite breweries of the year and favorite new breweries of the year.
Of course, any "best" list is open to interpretation, so take these picks with a grain of salt. But without further ado: Here are our picks for the best new breweries of 2022.
The Best New Breweries of 2022
Fox Tale Fermentation Project
San Jose, CA
Submitted by: You all via Instagram!
And Kyle Roderick, Executive Vice President of Product, Next Glass…
And Grace Weitz, Managing Editor, Hop Culture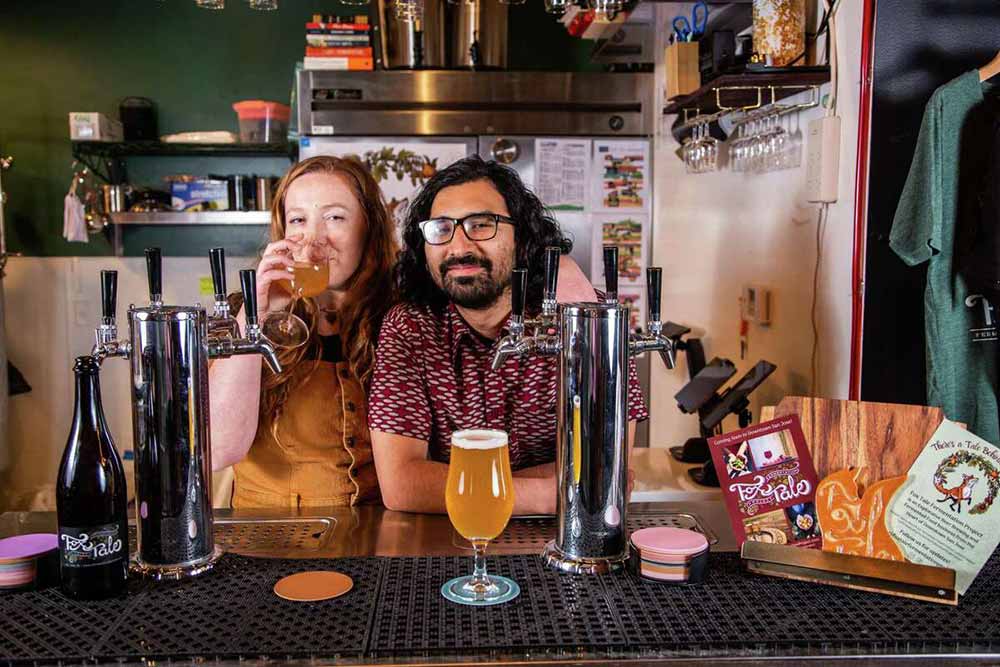 After two of us on the team plus a bunch of fans on Instagram wanted to name Fox Tale Fermentation Project the best new brewery of the year, the decision seemed easy.
Kyle Roderick
Fox Tale has become one of my favorite places to stop on my trips through The Bay Area this year. You might never guess that one of the most creative new breweries in the region was nestled tightly into the back of this unassuming little shop. Their fridge is always stocked with different condiments, kimchis, michelada mixes, and other interesting fermented options that clearly inspire the incredible beers, mixed drinks, and non-alc cocktails.This is a tough one, but my favorite beer was either Zombie Army: Collab with Hella Coastal or Poetic Memory: Collab with Yeast of Eden.
Grace Weitz
After seeing the name Fox Tale Fermentation pop up repeatedly as an answer to the question we put out on Instagram, "What Is Your Favorite Brewery of the Year?" I did what all good journalists do nowadays.
I Googled them.
Imagine my surprise when I discovered Fox Tale Fermentation had set up shop in San Jose, a mere forty-five-minute drive from me. So I reached out to co-founders Wendy Neff and Felipe Bravo.
Spend any amount of time talking with both, and you'll be magically transported down a rabbit hole.
Here's just a taste of what I mean: At Fox Tale, Bravo has been magically whipping up beers with ingredients like candy cap mushrooms, lacto-fermented lemons, or pawpaws.
For example, a new light rice-based beer called Head Space includes those aforementioned lacto-fermented lemons, green tea, and locally foraged leaves from a Ginkgo Biloba tree in the neighborhood. "You have tartness from the lemon rind, fruity aromatics from the jasmine green tea, and herbalism from the Gingko Biloba," says Bravo, who says this is his favorite beer he's made this year. "We're trying to use all these ingredients to create something special."
Meanwhile in the kitchen, Neff oversees the fermented foods. Leveraging her background leading the Superfoods program at Facebook Headquarters, she creates dishes that engender exploration and nourishment. "I want people to walk away having tried something they've never tried before and learn about something they would have never eaten before."
For example, an avocado toast. Ubiquitous right? Not at Fox Tale Fermentation. Something you think you've seen in every form transforms under Neff's wizardry.
Firebrand sourdough gets topped with California avocado: One gets pickled beets, Guindilla peppers and sage cream. While the other includes cultured seed and a fermented ratatouille "chopenade."
"It's easily one of my favorite things I've ever made," says Neff, who takes tomatoes, eggplant, zucchini, peppers, and basil from a Portuguese and Spanish family farm and ferments them all together. "It turns into this very cool, colorful, rich, flavorful spread," she says. "These are flavors everyone knows but in a way they've never had."
And we haven't even mentioned the mocktail program. I've never seen someone go to such lengths to make a non-alcoholic drink.
Neff's process for one drink often includes creating a fermented syrup, making a fermented tea, and adding a whimsical rim with ingredients like toasted coconut sugar.
The most popular, according to Neff, is a fermented strawberry lemon verbena syrup mixed with butterfly pea flower rose hips and violet. It comes with a rim of lemon paste and sugar infused with rose hibiscus and damiana, an herb known as a powerful aphrodisiac. Neff calls it her "love potion."
"It's a deep dark purple base that's sparkling with a super beautiful hot pink syrup," says Neff. "It is so refreshing and decadent at the same time."
But that's just the ethos at Fox Tale.
They want to create an inclusive space that supports local ingredients through beer, food, kombucha, mocktails, and more, where everyone from the community can come and be a part of their magical world.
Fox Tale Fermentation isn't just breaking the rules, they're fermenting them. As Neff says, "The fun part is deciding whatever rules were made before, we have no obligation to follow them and we can create our own new way of doing things."
Good Line Beer Co.
Lubbock, TX
Submitted by: John Gross, Director, Strategic Business Development, Next Glass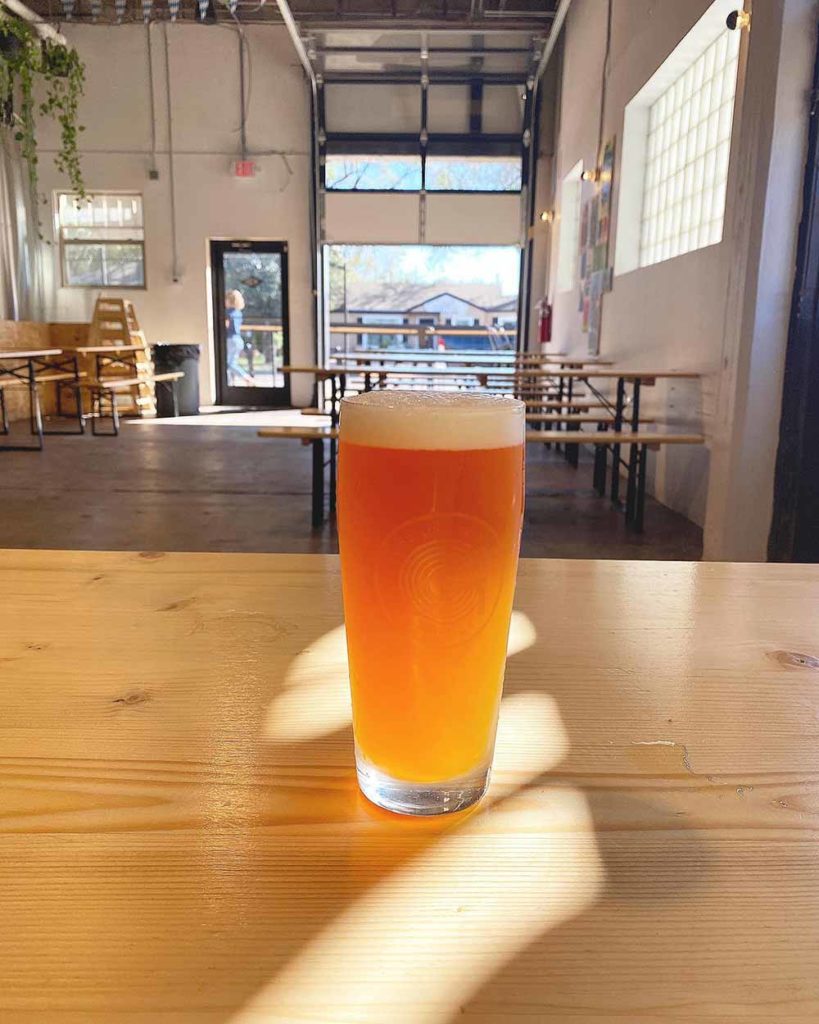 Rising from the sacred, dusty, high plains of Lubbock, TX (home to songwriting legends Terry Allen and Buddy Holly), comes a new hero: Good Line Beer Co.
Started by two of the founders of the Austin Beer Guide, Chris Troutman and Shawn Phillips, who set up shop in Lubbock, the brewery has invented a style of brewing dubbed "Dust Coast."
Their Austin access to some of the greatest lager minds of our generation, along with avid note taking and practice, practice, practice, have culminated in a real-deal brewery of their own.
Their county was dry up until twelve years ago with just one brewpub in the whole panhandle area, so it's a relatively young market. The drinkers in Lubbock are not jaded or pretentious and instead exude pure enthusiasm for what Good Line is doing.
"Good Line" is a reference to good lines in songs, movies, literature, etc… Books, records, films—these things matter. (Ask High Fidelty's Rob Gordon.) These lines inspire each of the beers. For example, "Catastrophe Waitress Berliner Weisse," "Dry The Rain Wet Hop Pale Ale," "Range Life Pilsner," etc.
Good Line provides the community a new place in a historic building to congregate to drink the freshest beer possible. No kitchen, no canning line, just community and Dust Coast freshies made by legit music and beer fans.
Rave on, y'all.
Cohesion Brewing Company
Denver, CO
Submitted by: Grace Weitz, Managing Editor, Hop Culture
Here's what I have to say about Cohesion Brewing, and this should say it all to you: I haven't even physically been to the brewery yet and I'm adding it to this list.
Why?
Because numerous folks I've run into—from Monday Night Brewmaster Peter Kiley to Halfway Crooks Beer Founder Shawn Bainbridge—have amazing things to say about Cohesion Co-Founder Eric Larkin.
I truly regret that I didn't have a chance to stop by Cohesion while drinking and eating my way through Denver during the Great American Beer Festival.
But I did have a chance to meet Larkin and hear him talk about his philosophy towards Czech beer at a panel during the Georgia Brewers Guild Annual Symposium.
So for all those reasons: I'm sold.
"Bringing people together over beer" is the goal at Cohesion, which opened in August of 2021. And personally, I love how that starts with a deep dive on Czech lagers.
With a pedigree that took him from Zero Gravity to Allagash to Odd13 Brewing, Larkin actually first made a name for himself by bringing his hazy IPA knowledge to Colorado.
But a trip to the Czech Republic on his honeymoon with his wife Lisa Larkin changed everything. Now the Larkins bring Czech beer to Denver.
And I am one hundred percent here for it.
Glance at the tap list and you'll find all types of Czech styles including pale lager, half dark lager and special dark beer.
Plus, you'll get an education in different Czech-style pours from the Hladinka, which roughly translates to "perfect pour" with a thick head of foam, to the Mlíko, which translates to "milk" and is literally just a straight up mug of foam.
Don't make the same mistake I did. If you're in Denver, go here immediately, get educated, and drink fantastic Czech beer.
Here Today Brewery & Kitchen
Seattle, WA
Submitted by: John Gross, Director, Strategic Business Development, Next Glass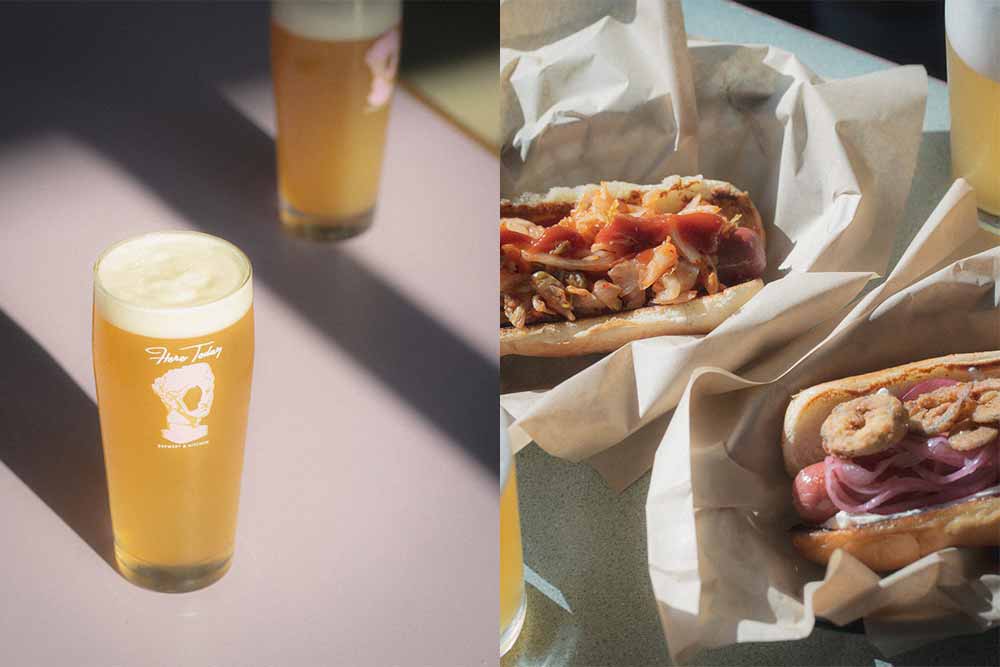 After years of planning and all of the many stresses that come with opening doors, Here Today is finally contributing in a meaningful way to the already robust beer scene of Seattle.
It's tricky to bring something new to a party like Seattle, but with beer, design, and the space itself, Here Today has pulled it off with flying hyper-colors.
Co-owners Dave Riddile, Chris Elford, and Mario Cortes have captured what it means to drink incredible and innovative beers while sitting inside of an early '90s Trapper Keeper.
I'm here for it.
Bright colors, inspired branding, and obsessive details make this space a standout.
"Mall Wave No-Coast IPA" and "Lily Mexi-Saison" on the draft wall help the place pop like a hologram. What's a "Mexi-Saison," you ask? "Lily", is named for Mario's grandmother and is brewed with a heavy dose of corn and masa harina along with piloncillo sugar. This nod to his family and heritage makes a truly delicious beer all the more compelling.
The same laser-attention goes for the no-frills/big-thrills food program, which sprinkles Southwest flair to the Pacific Northwest (read: queso).
Neon lights, grecian busts, and TRON bleeps and bloops, oh my! Vaporwave isn't dead, it's just enjoying some hot dogs and sessionable pilsners over at Here Today.
Root + Branch Brewing
Copiague, NY
Submitted by: You all via Instagram!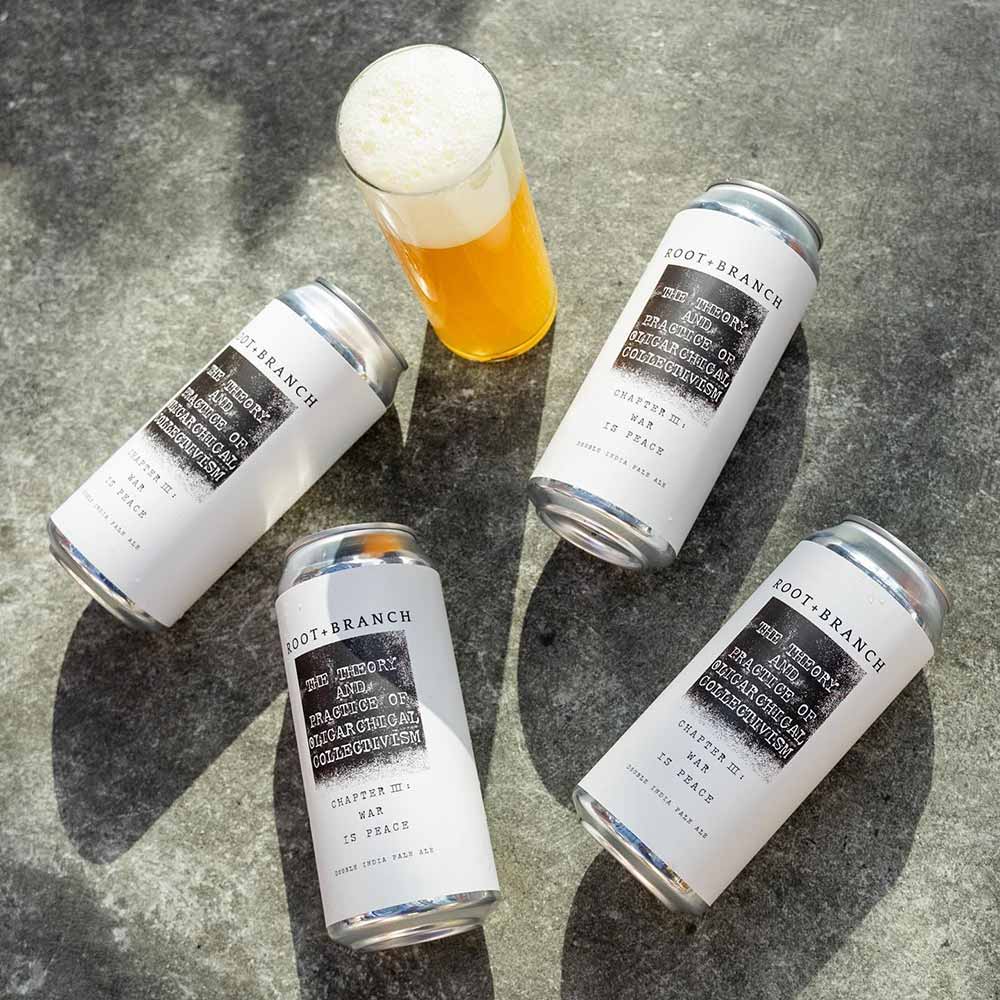 We've been fans of Root + Branch since 2018 when we shared a pint with Root + Branch Head Brewer and Co-Owner Anthony Sorice. But for the last four years Sorice and co-owner Ryan Mauban have been gypsy brewing everywhere from Twelve Percent Beer Project in Connecticut to, most recently, Great South Bay Brewing in Bay Shore. All while looking for a permanent home.
The dream came true this past June when Root + Branch threw open its doors to a beautiful 4,000-sq-ft space under the Copiague Long Island RailRoad Station in Copiague, NY. It's a build-out that started two years ago but faced multiple delays due to the pandemic.
Now the 10bbl brewhouse and twelve to fourteen taps will showcase Sorice and Mauban's excellent hazies and hoppy pale ales.
"It's impossible to have a conversation about elite producers of hugely flavorful opaque ales without mentioning Root + Branch," says Larry Koestler, who helped us put together our list of the "5 Under-the-Radar Breweries with the Best Hazy IPAs, According to the Experts." "They round out my personal top three favorite breweries and have long established themselves as a premier producer of beers that meticulously elicit extraordinary hop character."
Although Koestler did point out that Root + Branch might not be technically considered under-the-radar anymore. We'd have to say that's pretty accurate, considering several of you posted their praises on Instagram. "@rootandbranchbrewing Amazing beers, beautiful taproom, great staff!," wrote @phineasphrogbeer.
With every release from Sorice and Mauban, the brewery seems to raise the bar, especially since the opening of their new taproom in Copiague, NY.
For example, The Crystal Spirit, a hazy DIPA with oats and wheat, dry hopped with a blend of American hops. Or Straight to Hell, a hazy 9.5% ABV TIPA.
Koestler suspects they're on the "cusp of becoming even more widely known and appreciated."
We can't wait to watch and see that happen.
Bizarre Brewing
Seattle, WA
Submitted by: Libby Borchert, Account Executive – Brewery Solutions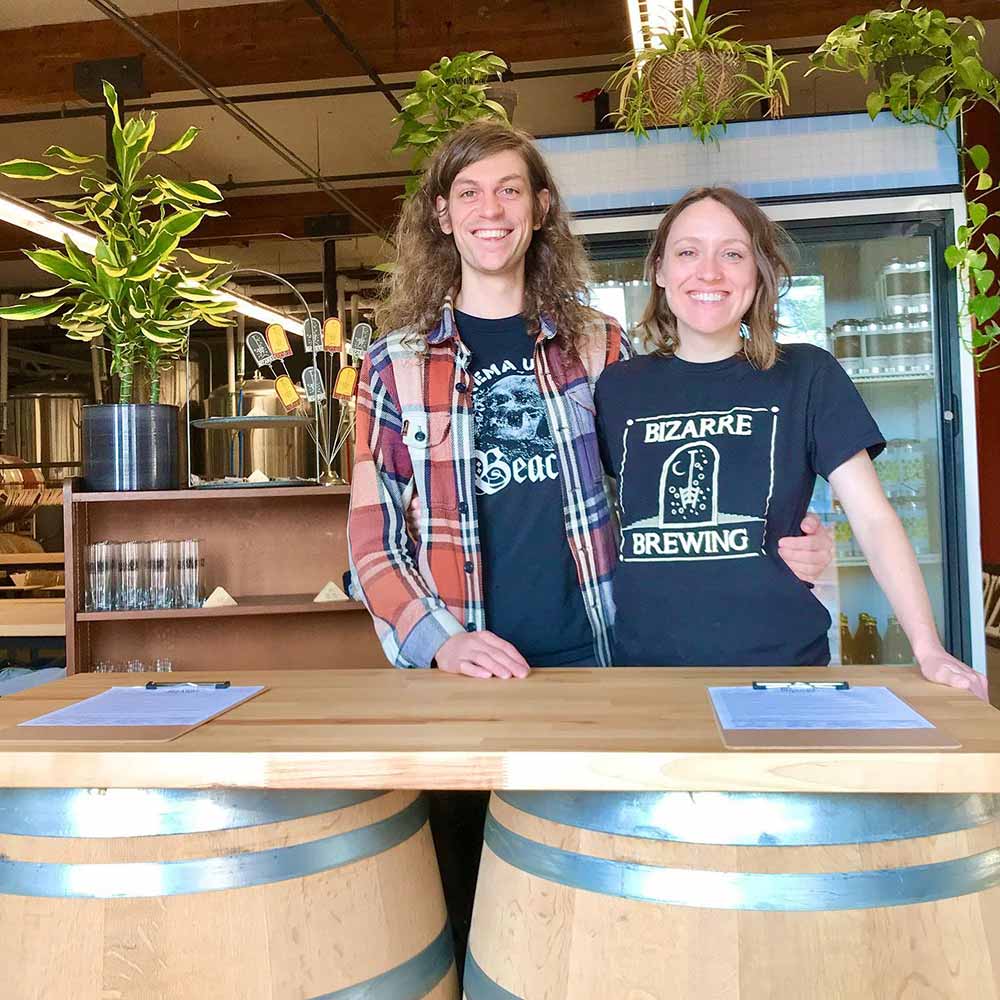 I used to work with Bizarre Brewing Co-Founders Derek Brown and Collette Boilini at Fremont Brewing almost a decade ago. Back then Derek, who made some mean homebrew, always talked about his dream of opening a brewery. Many years later these beer nerds and love birds finally made that dream come true! Their first beer hit the Seattle market recently with a killer kölsch called Television People. Keep an eye out for this up-and-coming brewery and talent!
Everywhere Beer Co.
Orange, CA
Submitted by: You all via Instagram!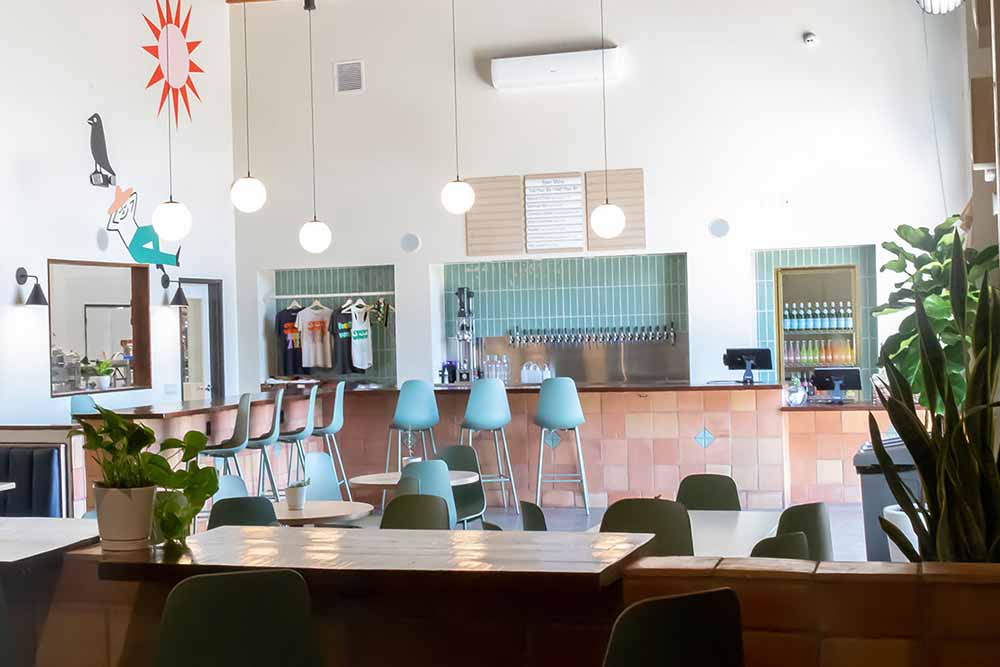 When four former The Bruery employees get the keys to Gunwhale Ales' old production facility and open up a brewery, you take notice.
Jermey Grinkey, Daniel Muñoz, Stefan Weber, and Keith Pumilia have a collective forty years of working in alcoholic beverages, including beer and wine.
And they bring all that wealth of knowledge to their own spot called Everywhere Beer Co., which opened in August 2022 in Orange, CA.
Here you'll find beers like Irresistible, a German pilsner with German pilsner malt and Hallertau Mittelfrüh hops. Or Bygones, a West Coast pale ale with premium pilsner malt and Mosaic, Simcoe, and Warrior hops.
"@everywherebeerco Great beers, awesome vibes and nice staff 🍻," wrote @ingriduhhh
Beyond the beer, what's impressive about Everywhere Beer Co. is that these four co-founders are committed to creating an inclusive safe space for the passionate craft beer community, with Muñoz's Chicano heritage, culture, and experience in the industry playing a huge part in their brand, voice, and vision.
@_craftandarts writes, "Oh yeah, was gonna name @everywherebeerco too…fun, open, & welcoming vibe, with stellar staff, & a highly drinkable & creative beer list—crushing it & only 2 months old 🍻🎨🤙"
Oh, and ask for kölsch service. Don't ask us, just trust us and go ask them. Go to the bar and do what we say.
Mahalo Aleworks
Makawao, HI
Submitted by: Kyle Roderick, Executive Vice President of Product, Next Glass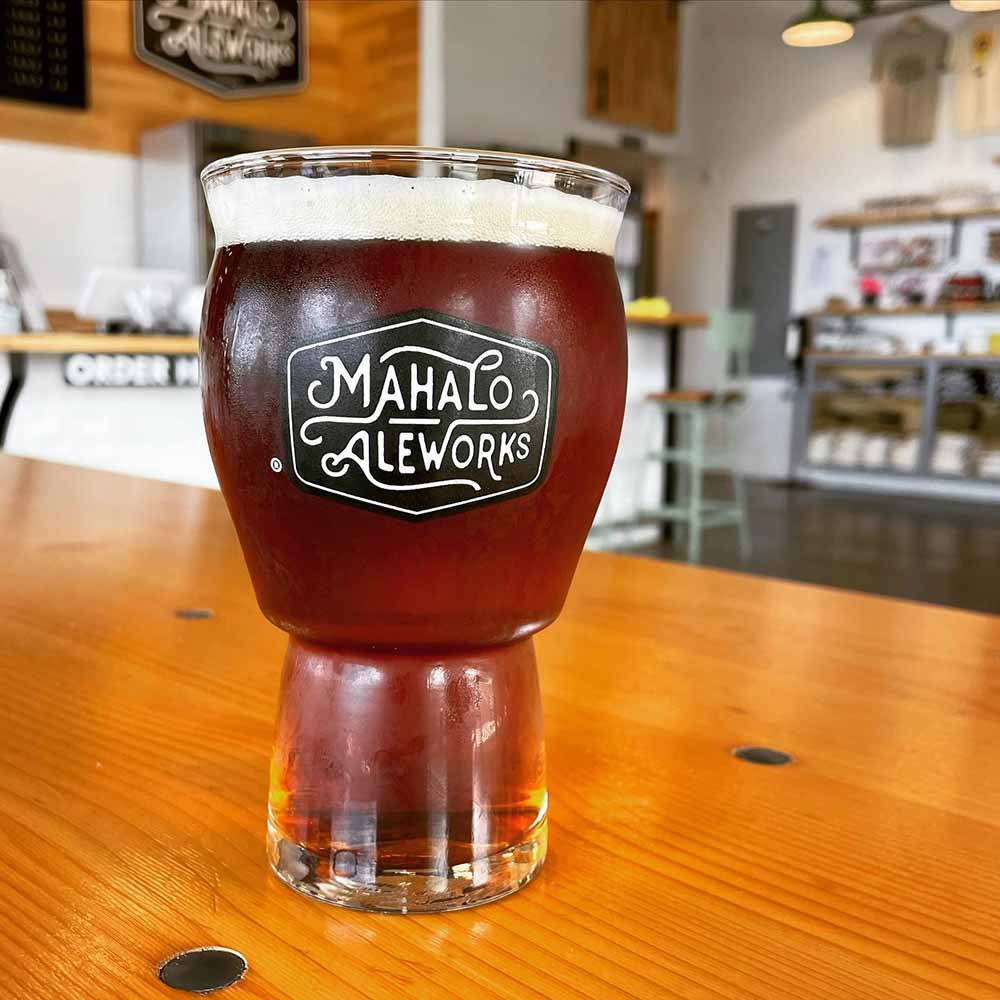 Opening in late (September) 2021, Mahalo Aleworks was one of the highlights of my trip to Maui last year. They're positioned in a tiny shopping center adjacent to the weekly farmers market and sandwiched between a gorgeous sunset vista and a newly opened Neapolitan pizza spot. They focus on Maui's hyper-local, seasonal fruit and ingredients as the base for a wide range of sours, wild ales, and other foeder-aged beers.
Favorite Beer: English Brown Ale.
Inner Voice Brewing
Decatur, GA
Submitted by: Grace Weitz, Managing Editor, Hop Culture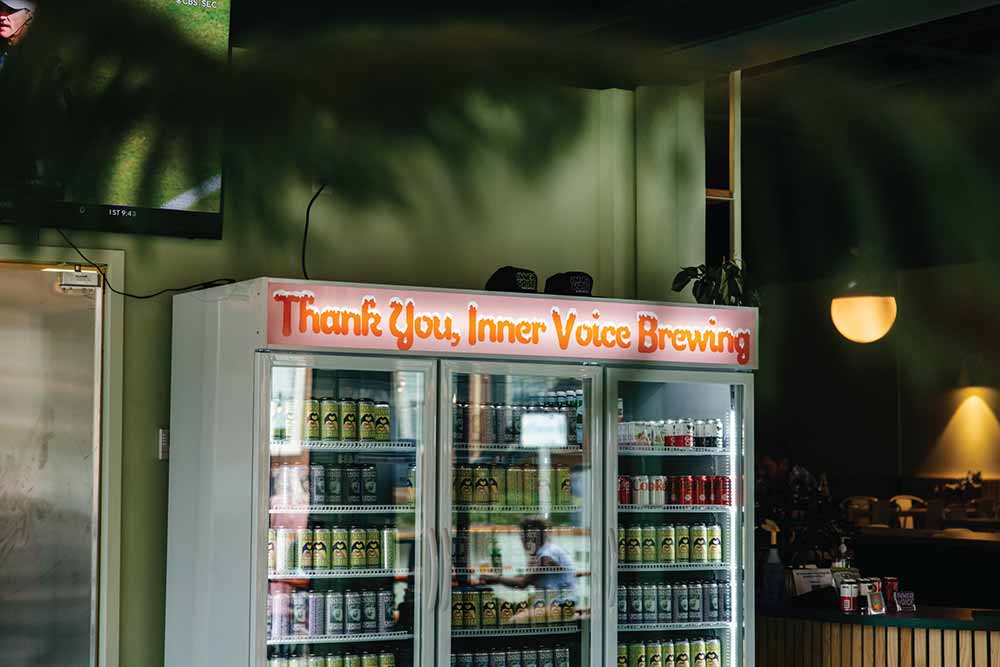 We've been hearing rumblings about this Decatur, GA-based brewery a mere five-minute walk from Brick Store Pub, one of our favorite bars in the country and a must stop if you're visiting Atlanta.
In fact, Inner Voice Brewing Co-Founders Rhett Caseman and Josh Johnson can often be found imbibing inside.
The two met while working at Monday Night Brewing and have gone on to work at select spots around Georgia, including Variant Brewing and Halfway Crooks Beer.
Since September 2021, the duo have been brewing beer their way, which means mostly draft beers served unfiltered from horizontal tanks with bag liners. Along with cans of beers like Koru, a pale ale dry hopped with Nelson Sauvin and Motueka. Or Tasty Town, a pale lager.
And again…self-service kölsch service.
Is this German tradition becoming a trend?
Oh, and you can get slices from Glide Pizza out of a takeout window.
Listen to your inner voice…and get to Inner Voice.
Honorable Mentions
The following are already-established breweries we love that opened up a second (or fourth or seventh) location this year!
Weathered Souls Brewing Co.
Charlotte, NC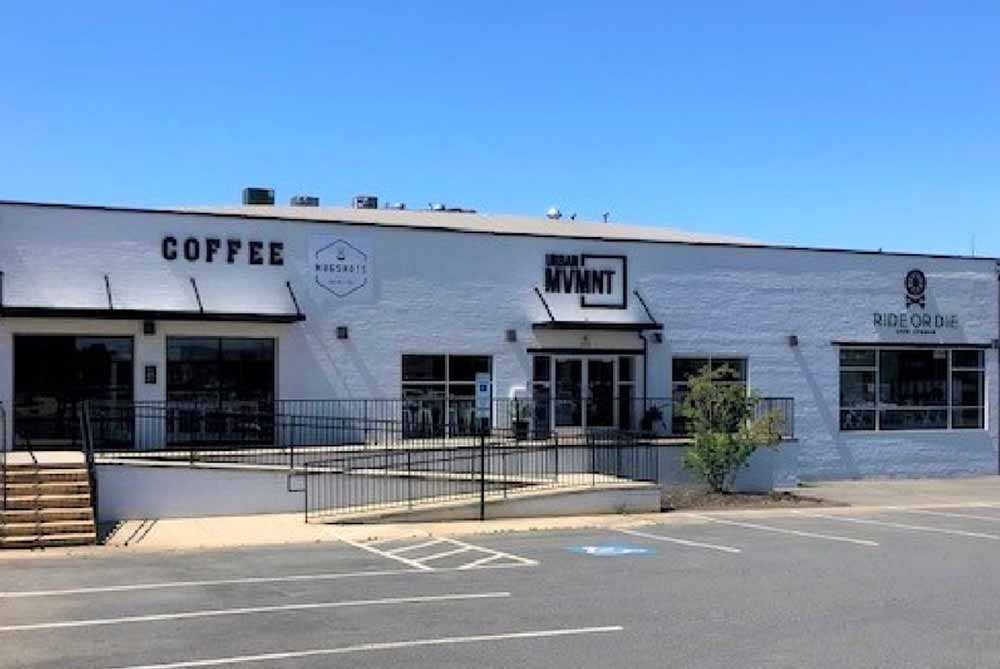 After five years of racking up accolades (including Hop Culture's own "Best Brewery of 2020" award), Weathered Souls Brewing Co-Founder Marcus Baskerville announced last year that the brewery would be opening up a new location in Charlotte in 2022. He also announced the creation of the Harriet Baskerville Incubation Program (HBIP), an initiative designed to provide opportunities in the beer industry for minorities and women.
The 10,000-sq-ft facility, which includes twenty taps, a coffee bar, cocktails, and full-service kitchen, opened on November 12, 2022.
Currently, Weathered Souls is the only black-owned brewery in the city.
"Charlotte has an amazing craft beer scene emerging right now, and it's growing," says Baskerville. "There are a ton of breweries there and it has a completely different type of scene than what we have in San Antonio."
Big ups to this revolutionary brewery to continue to grow and send out waves of change in the industry.
Other Half Brewing Co. – Philadelphia
Philadelphia, PA
The Other Half expansion train keeps on chugging along. When their Philly spot opened in February 2022, it became the award-winning brewery's seventh taproom and first Pennsylvania outpost.
And it is a doozy.
Located in Philadelphia's Fishtown, this 150-seat spot has an enormous outdoor beer garden, two lines of twenty draft beers, a collection of local canned cocktails, and a full kitchen.
When Other Half Co-Founder Andrew Burman joined us for an episode of our YouTube travel show Next Exit, he told us, "That's it for right now and I'm happy about that."
But we'll see!
Human Robot
Philadelphia, PA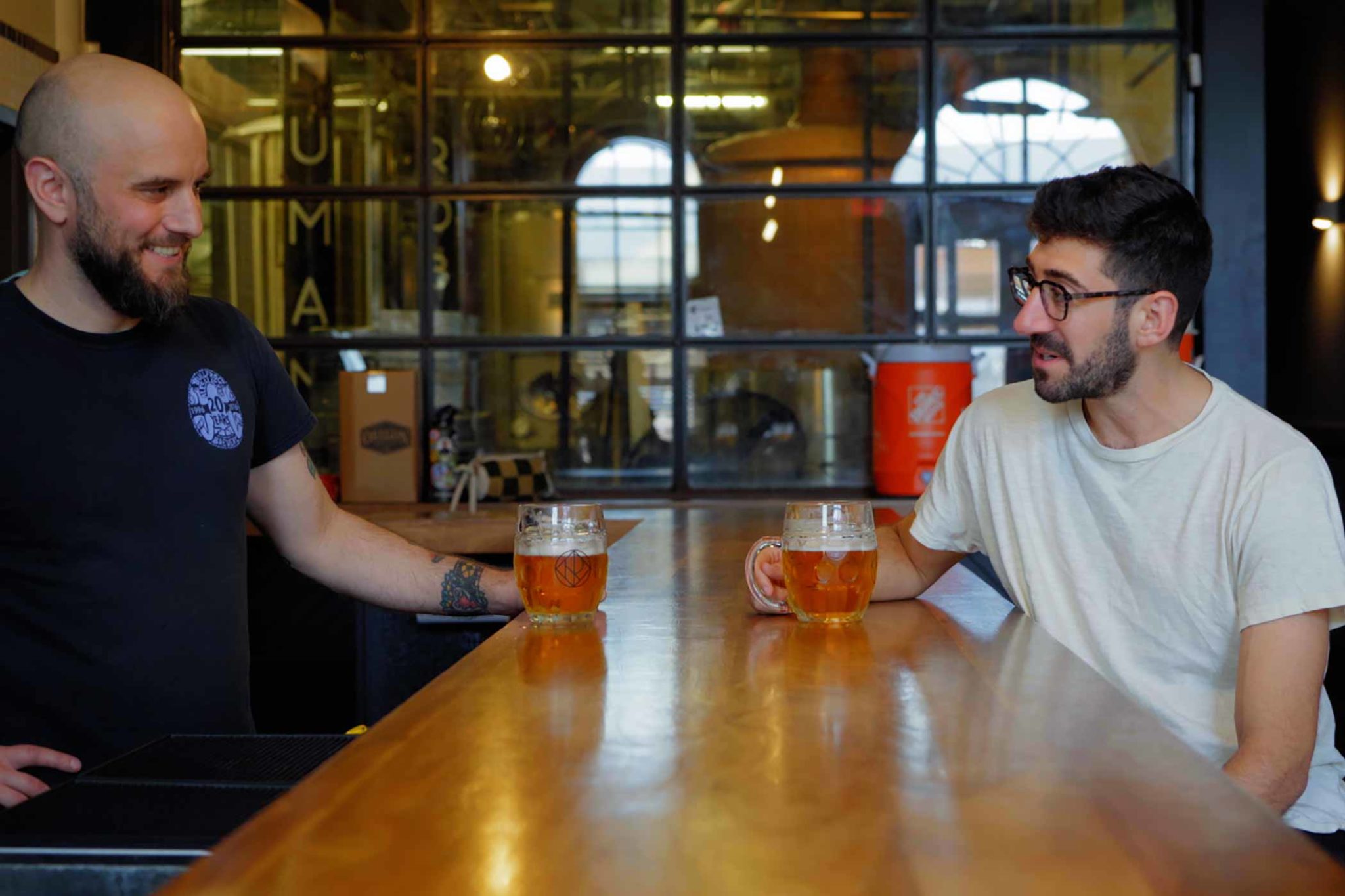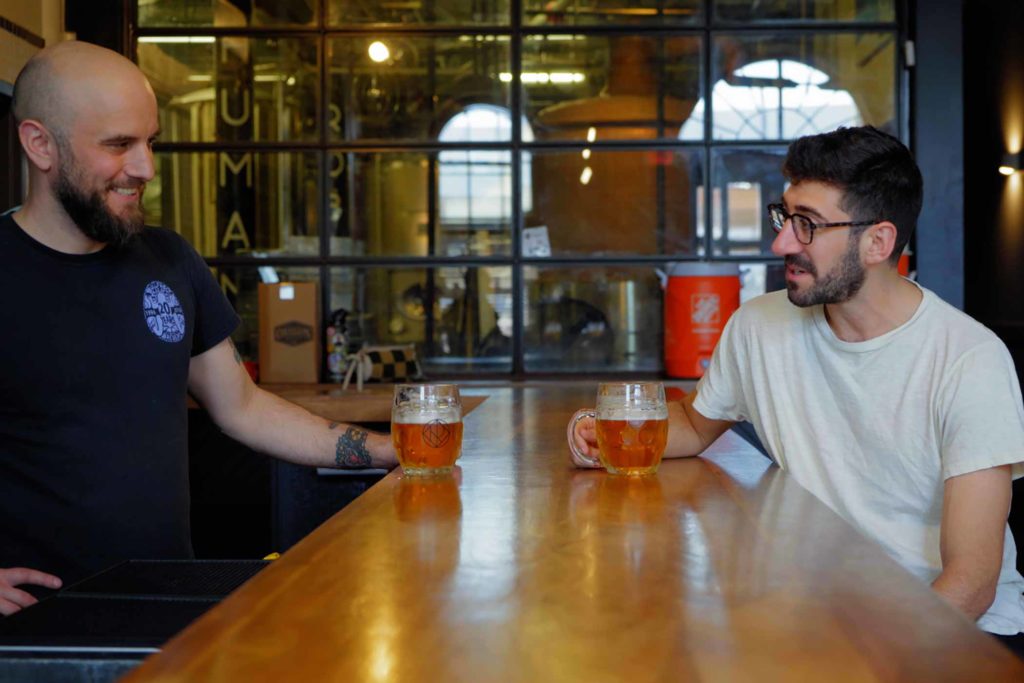 Somehow in a crowded city and beer scene like that in Philadelphia, Human Robot manages to stand out from the pack.
And that's saying a lot. Especially because the entire local industry seems to feel the same way about Human Robot.
"Philadelphia and the surrounding four counties are home to ninety breweries, but there is one I keep hearing about again and again, especially from industry people," says Hop Culture Founder Kenny Gould. "And when you hear about a brewery from other people who work in the beer industry, it's usually pretty good—that brewery is Human Robot."
And while the original Philly location opened in 2020, Human Robot recently cut the ribbon on a new space in Jenkintown.
With a heavy focus on European lagers thanks to its 3-vessel German brewhouse, Human Robot includes old-world touches across the taproom, but with a contemporary approach. To that end, you'll also find crazy hazies and fun stouts.
"We oddly try to push the boundaries of traditions," says Human Robot Head Brewer Andrew Foss in Next Exit: Philadelphia. "If we were a bagel shop, we'd be trying to make the best damn plain bagel you've ever had in your life."
But lucky for us, in this case that means Foss showcasing Weyermann malts, some of the best in the world, in beers like Hallertau Pils German-style pilsner, or Sylt, a Northern German-style pils.
This is an industry-respected and industry-vetted brewery. So when you hear about them opening a new spot, you should probably check it out.
Burial Beer Co.
Charlotte, NC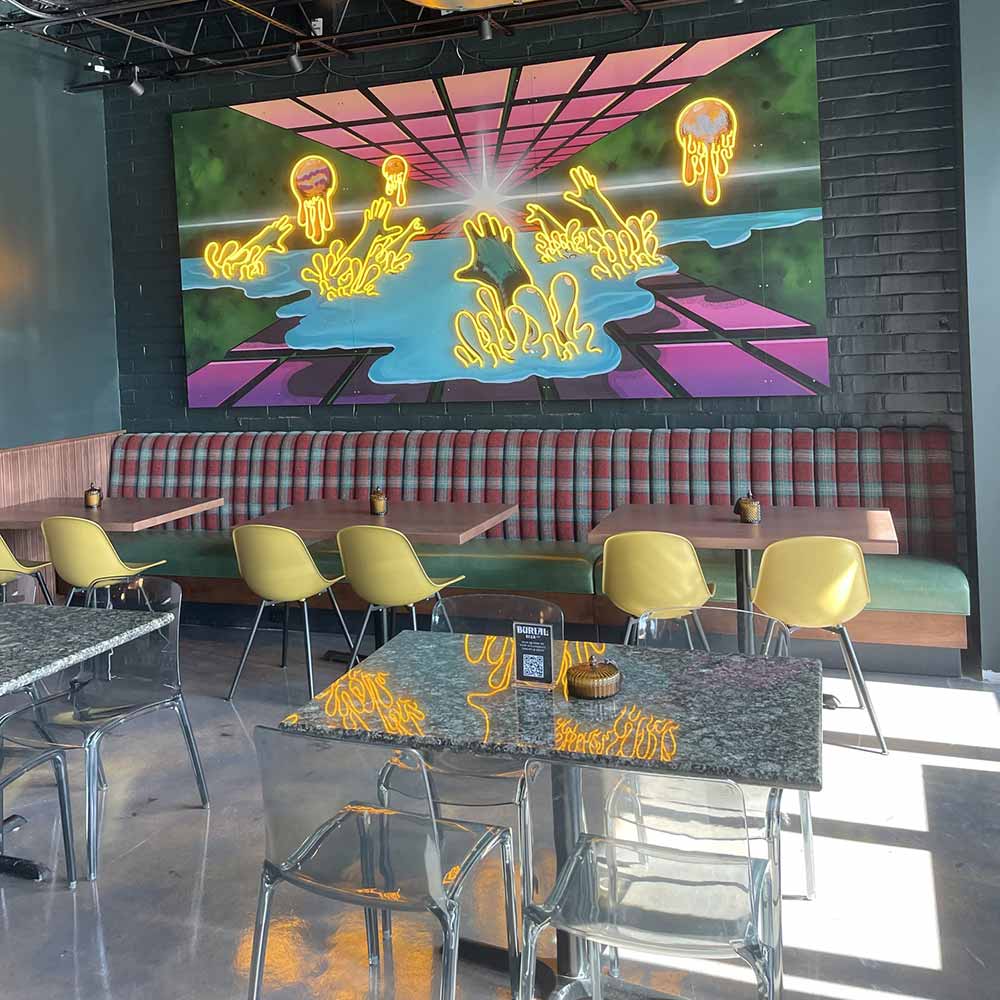 Charlotte is apparently where it's at this year. One of the best breweries in Asheville, Burial took their hoppy ales, lagers, pastry stouts, and barrel-aged sours (and long-winded beer names) to Charlotte.
Called The House of Relics, this location (actually the brewery's fourth) set up shop in Charlotte's historic Plaza Midwood neighborhood.
Sit down in the indoor lounge with vintage vibes and twenty-four taps, get away to the secluded outdoor beer garden, be seen on the rooftop deck, or buy beer to go in the bottle shop downstairs.
And while beer is certainly a focus here, you'll also find natural wine and cider from Burial's sister project, VISUALS.
Homage Brewing
Los Angeles, CA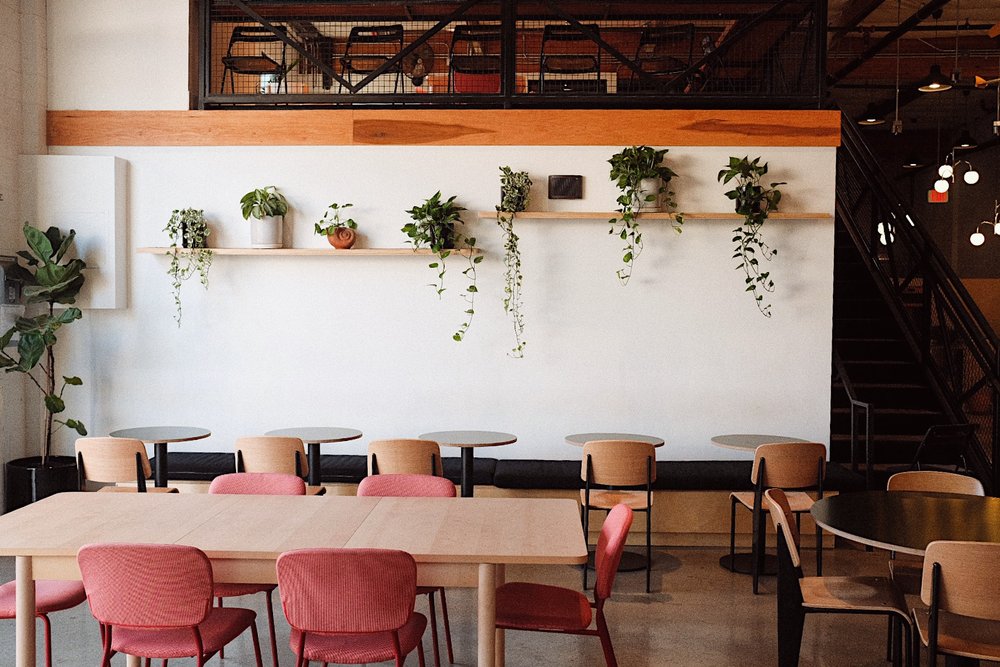 Even when Homage technically set up shop in Pomona, CA, we considered it one of our "7 Best Breweries in Los Angeles." Well, after the brewery we love for its inventive experimental barrel-aged beers, saisons, and lagers opened a location in L.A.'s Chinatown in the later half of 2021, we can truly call it one of the best in Los Angeles now.
On a recent trip to Southern California, Hop Culture Managing Editor Grace Weitz had a chance to stop by, sampling Dark Fantasy, a schwarzbier she named one of the top craft lagers to drink right now.
Beyond the beers, the space shines, literally. Half inside and half outside, natural light streams into the brewery, pouring over impeccably dressed Los Angelites sipping on hoppy and malty ales.
Bonus: Take a one-minute stroll down the street and you'll find Highland Park Brewery.
And lastly, keep an eye on these breweries that have plans to open up new locations in 2023: Finback Brewery, Monday Night Brewing, Elsewhere Brewing, and Cellarmaker.