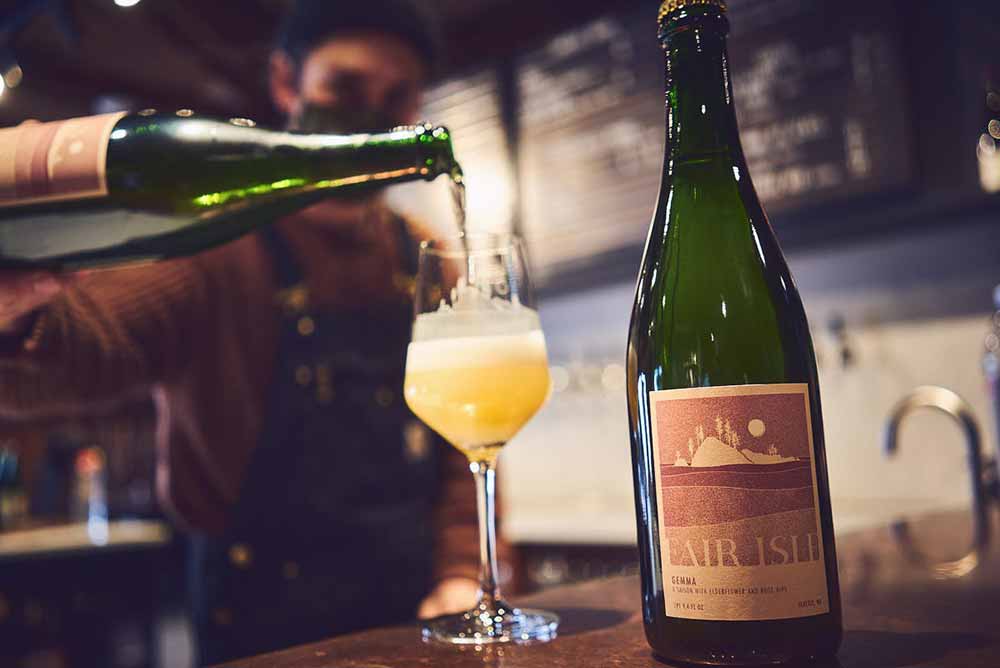 Photography courtesy of @fairislebrewing | Fair Isle Brewing
Check Out These Travel Guides:
Updated on September 1, 2023
As Seattle grows, more and more breweries are springing up across the city. And with the number of breweries now topping seventy, competition is fierce. Some breweries look toward the power-packed bitterness of Pacific Northwest IPAs to get noticed, but that's not the only way. In the city, many breweries have focused on reinventing the craft beer experience for enthusiasts. The breweries champion family- and dog-friendly taprooms, onsite food truck options, and, most importantly, innovative beers often reflecting ingredients from the fertile region. Here are our best breweries in Seattle to get you started.
Hop Culture's Best Breweries in Seattle
Fremont Brewing
1050 N 34th St, Seattle, WA 98103 | (206) 420-2407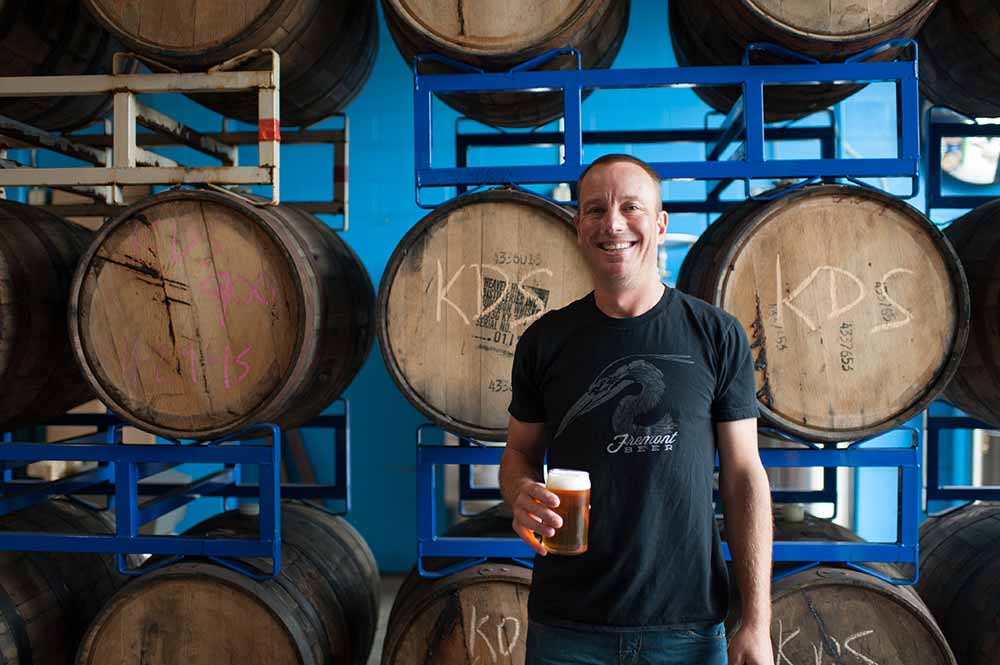 If you love stouts, look no further than Fremont Brewing, which maintains one of the best barrel-aging facilities in the country.
One of our best breweries in Seattle, WA, was co-founded by Sara Nelson and her husband, Matt Lincecum. In addition to award-winning stouts, the brewery's proximity to the Yakima Valley gives it unparalleled access to fresh hops, and thirsty fans arrive by the droves during harvest season for their wet-hopped IPAs.
As a family-owned brewery, this urban beer garden location is the gold standard for breweries in the Seattle Metropolitan area. So whether you enjoy the roasty, more structured flavors of stouts or the bitter bite of an IPA, you're set at Fremont Brewing.
Reuben's Brews
Taproom: 5010 14th Ave NW, Seattle, WA 98107 | (206) 784-2859
Barrel House: 1133 NW 51st St, Seattle, WA 98107 | (206) 784-2859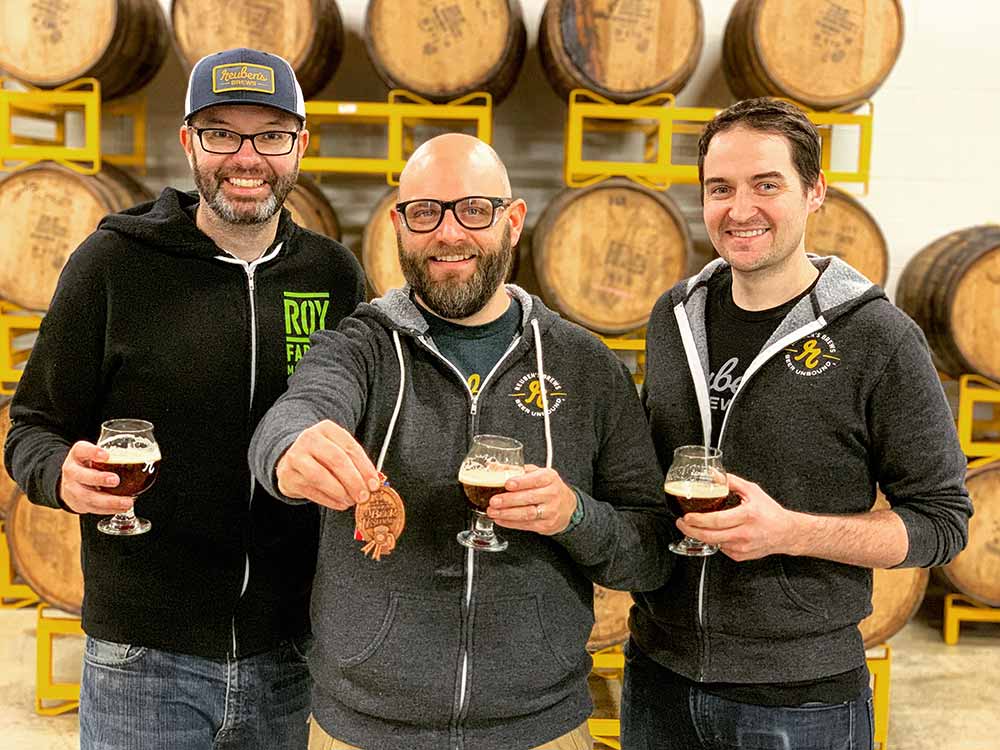 Outfitted with twenty-five taps and walls draped with awards, Reuben's Brews most recently added to that cache, winning a bronze in the "Barley Wine-Style Ale" category at the World Beer Cup 2023 for Three Ryes Men.
The English barleywine, which also picked up a gold in the "Old Ale or Strong Ale or Barleywine" category at the 2022 Great American Beer Festival, tastes like a "liquified, alcoholic Rolo," according to Adam Robbings, co-founder and CEO of the brewery. "It features a full body with malt-driven caramel and chocolate notes and layers of warming complexity."
Although Reuben's Brews makes medal-winning beers, the taproom is very down to earth. Located in the pulsating Ballard Brewing District, the taproom offers an outdoor patio for enjoying weekend food trucks, as well as root beer, ginger beer, juice, and sparkling water for children and those that just want to take it easy.
Fair Isle Brewing
936 NW 49th St, Seattle, WA 98107 | (206) 428-3434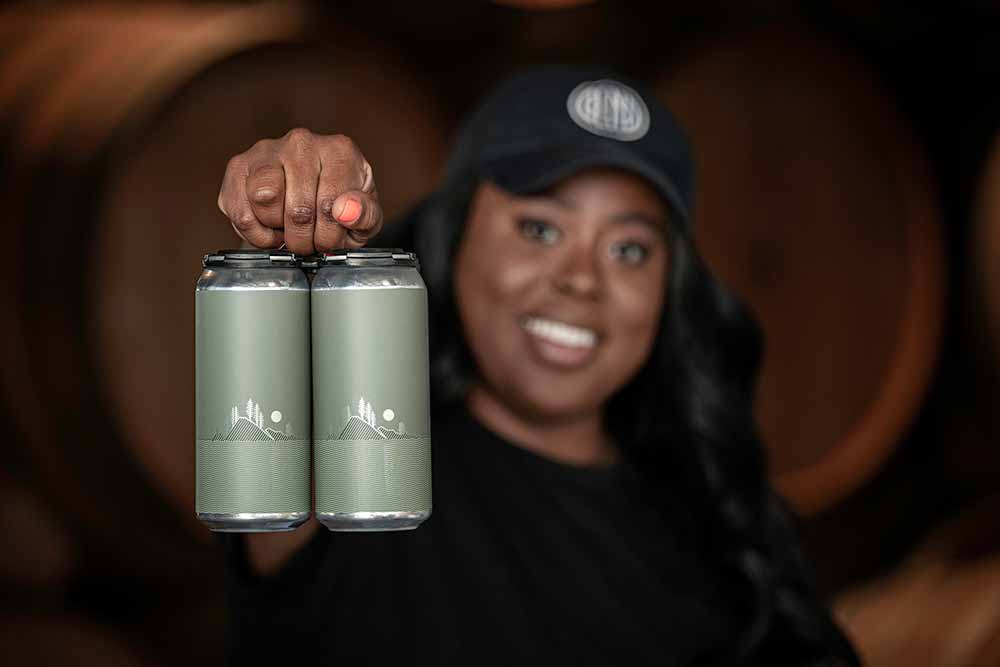 Technically, Fair Isle has been on our radar for the last few years. Their beers consistently make it into our "best-of" lists, including:
"The 11 Best Breweries to Watch in 2023"
"The 20 Best Beers to Drink in Summer 2022"
"The 21 Best Beers We Drank in 2021"
"The 20 Best Beers to Drink in Spring 2021"
For the first time last year, we had a chance to sit down with Fair Isle Co-founder Andrew Pogue and R&D Brewer Matt Rowe to learn about the mad science behind the magic of their mixed-culture saisons.
Spend mere moments chatting with Pogue and Rowe, and it's almost like they've opened up a door at the back of your wardrobe. But instead of walking into Narnia, you step into this Seattle-based brewery's magical backyard.
There, words like sustainable, patience, and terroir grow on trees.
In that same vein, ingredients like wild blueberries, foraged fir tips, and local Yakima Valley hops flourish in abundance.
In the fields of Fair Isle, the concept of a beer stretches as far as the eye can see.
Although this sounds like a fantasy, we promise you the best part about Fair Isle is that it actually exists.
And they're brewing some of the most exquisite mixed-culture saisons nationwide.
Holy Mountain Brewing
1421 Elliott Ave W, Seattle, WA 98119 | (206) 457-5279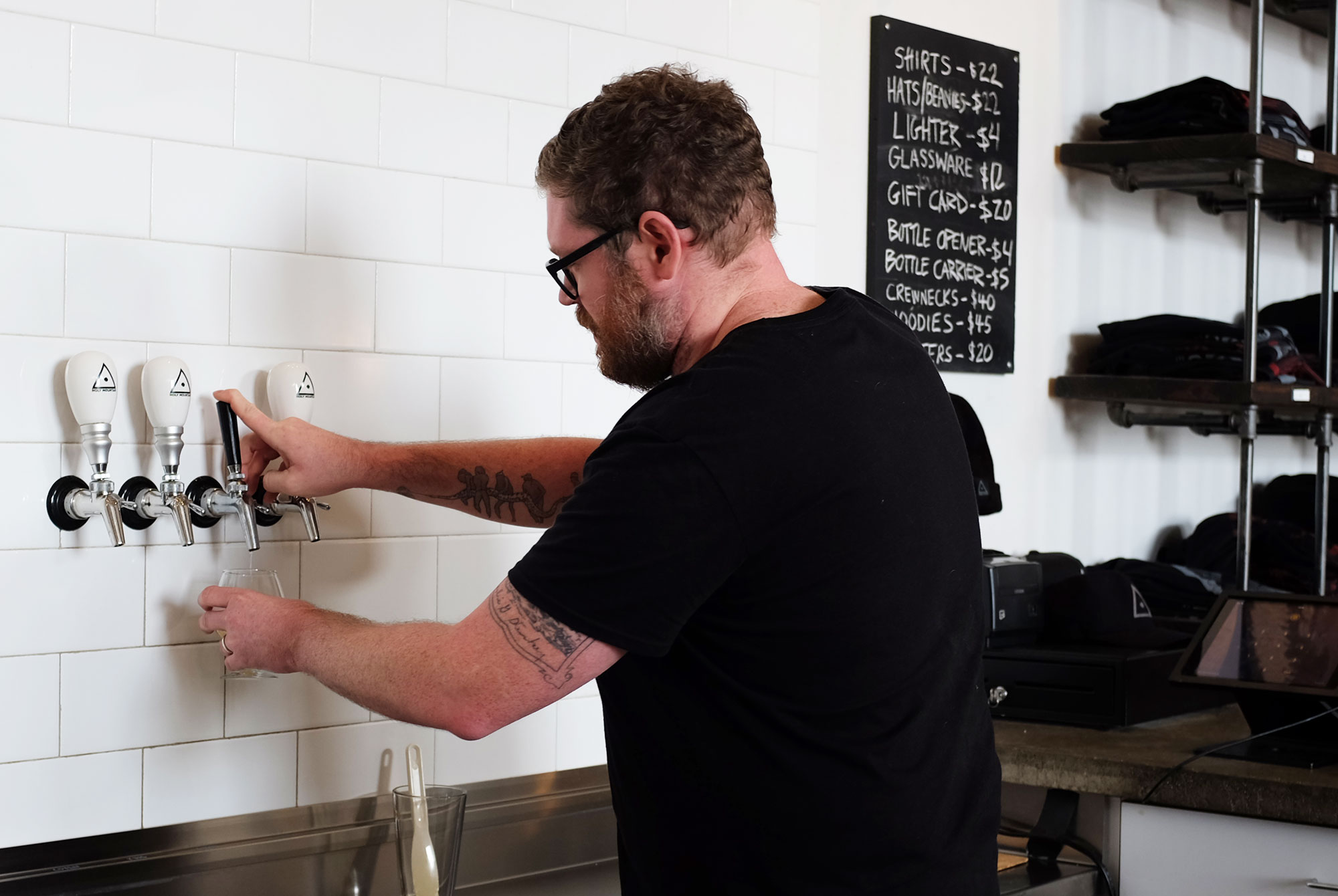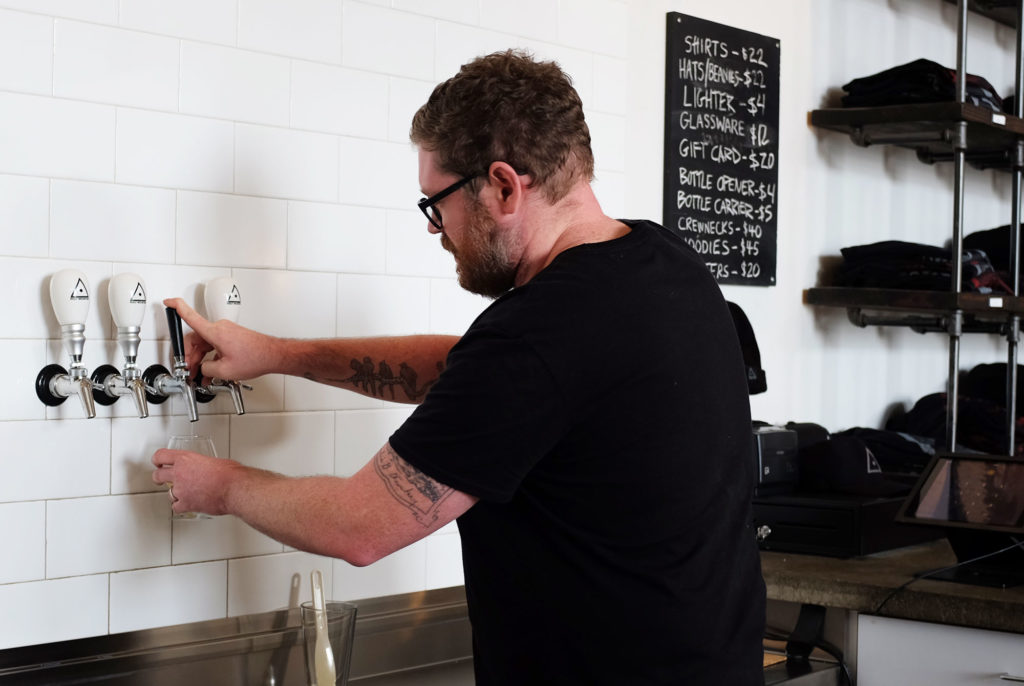 Known for their mixed-culture program, Holy Mountain started after co-founders Colin Lenfesty and Mike Murphy spent three years thinking about oak-inspired beers. Opened in 2014, the 10,000-sq-ft taproom showcases oak-aged beers at their best. Whether aging through oak barrels, puncheons, or foudres, Lenfesty and Murphy brew an ever-rotating lineup. Every time you go, you might find something new.
Their proximity to Yakima Valley also means you'll find a great interplay between hops, oak, and mixed fermentation.
Cloudburst Brewing
2116 Western Ave, Seattle, WA 98121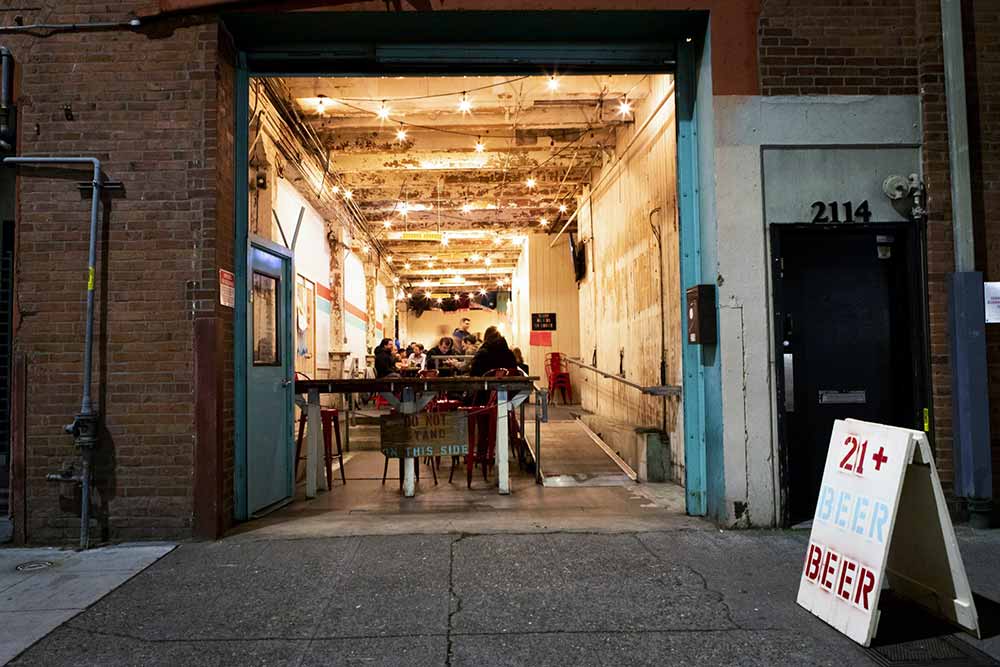 In 2016, Cloudburst Founder Steve Luke, a former production brewer at Allagash and Elysian, opened his own brewery. Specializing in hazy IPAs, Luke quickly made a name for himself for being humble and fiercely independent.
IPAs are certainly the name of the game here, with standouts like Cadillac Converter West Coast IPA and Welcome To Cloudland NZ-PNW IPA collab with Garage Project Beer from New Zealand.
But don't sleep on Happy Little Clouds, an American-style pilsner, and Not Interested, an American brown ale.
Here Today Brewery & Kitchen
2815 Elliott Ave Suite 101, Seattle, WA 98121 | (206) 502-4129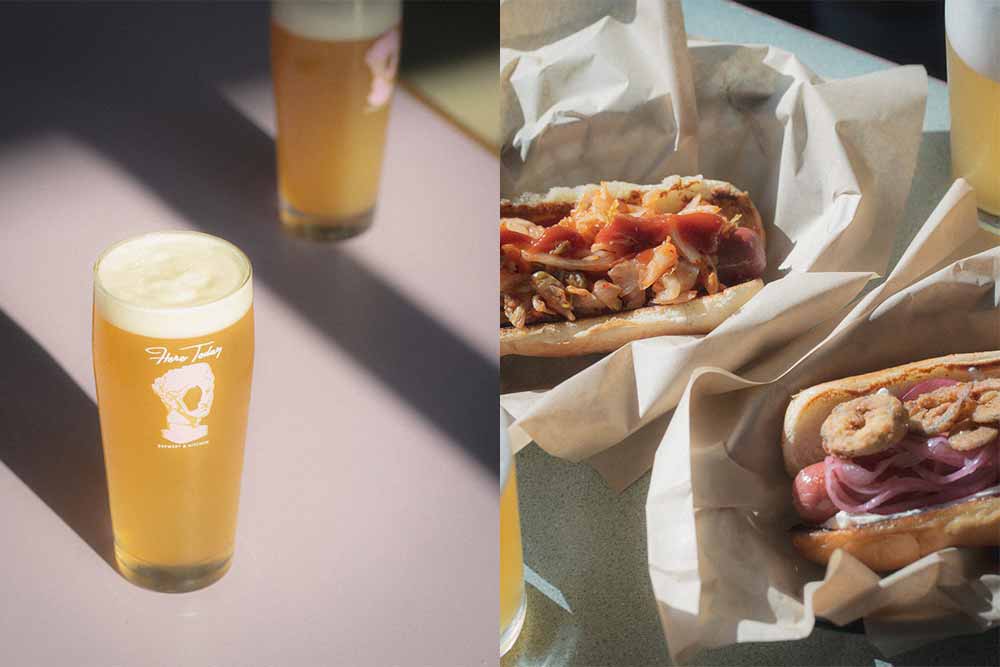 We're here to live in the present.
Much like Here Today, one of our "Best New Breweries of 2022" that opened in October 2022.
In a city already slick with magnificent breweries, Here Today had to do something different to stand out.
"Co-owners Dave Riddile, Chris Elford, and Mario Cortes have captured what it means to drink incredible and innovative beers while sitting inside of an early '90s Trapper Keeper," wrote Next Glass Director of Strategic Business Development John Gross. "I'm here for it."
What's the 411?
Bright colors, neon lights, kooky designs, a Pacific Northwest-meets-Southwest food menu, and, of course, dope beer.
Like Icarus Phase grodziskie, a lesser-known fizzy Polish wheat beer, Lazer Shades Mosaic pale ale, and Glitter Paw IPA.
Yeah, we'd get jiggy at Here Today any day. It's da bomb.
Obec Brewing
1144 NW 52nd St, Seattle, WA 98107 | (206) 659-0082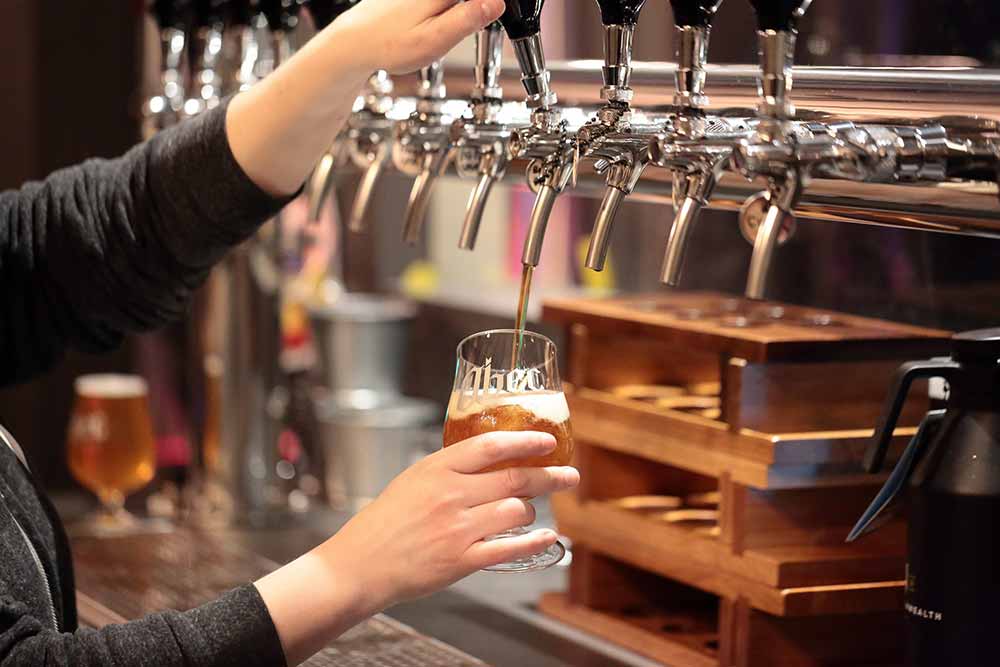 Also located in Seattle's densely beer-packed Ballard area, Obec Brewing (pronounced obetz) goes against the grain a bit. Or is it actually with the grain?
Let us explain.
Although located near the Yakima Valley, which produces seventy-five percent of all hops in the U.S, Obec concentrates more on grain-forward options—a Belgian saison, Czech dark lager, Czech amber lager, Czech pils, English bitter, porter, and more.
That's not to say there aren't hop-forward beers. There are a few, but Obec proudly emphasizes lager and malt-forward ales. And to us, that's pretty refreshing.
Urban Family Brewing
1103 NW 52nd St, Seattle, WA 98107 | (206) 595-5255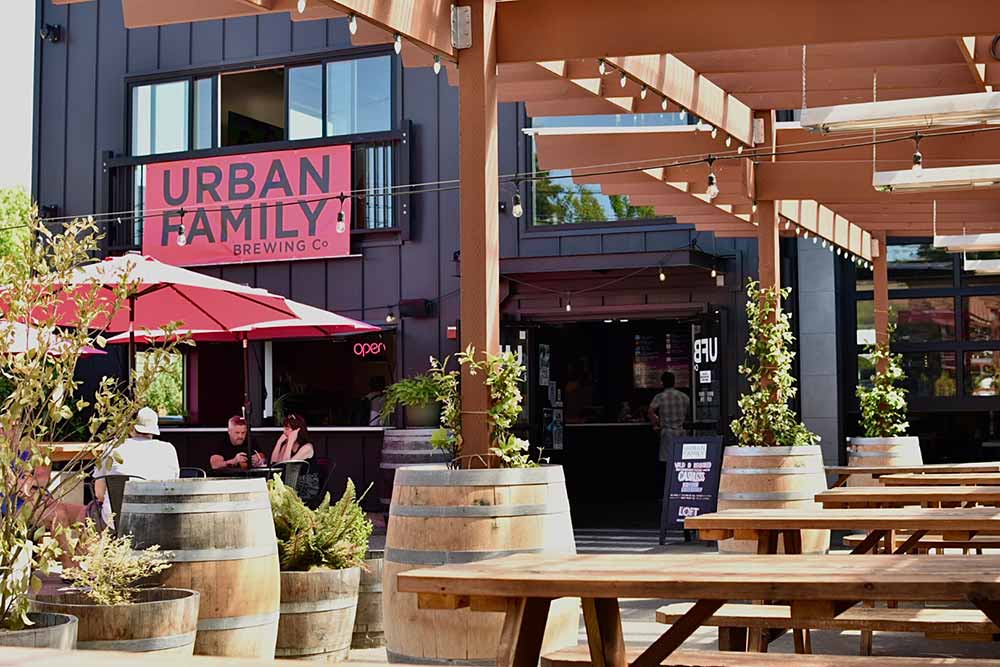 From Obec Brewing, walk just to the end of the block, and you'll find Urban Family, brewing up mouth-puckering, unique beers to make it one of the best breweries in Seattle. With a focus on farmhouse ales and sours, Urban Family changes the game by packing a punch with fruit-forward beers and memorable names to match. Order a flight of these colorful brews to brighten your day.
Bale Breaker & Yonder Cider Taproom
826 NW 49th St, Seattle, WA 98107 | (773) 998-1464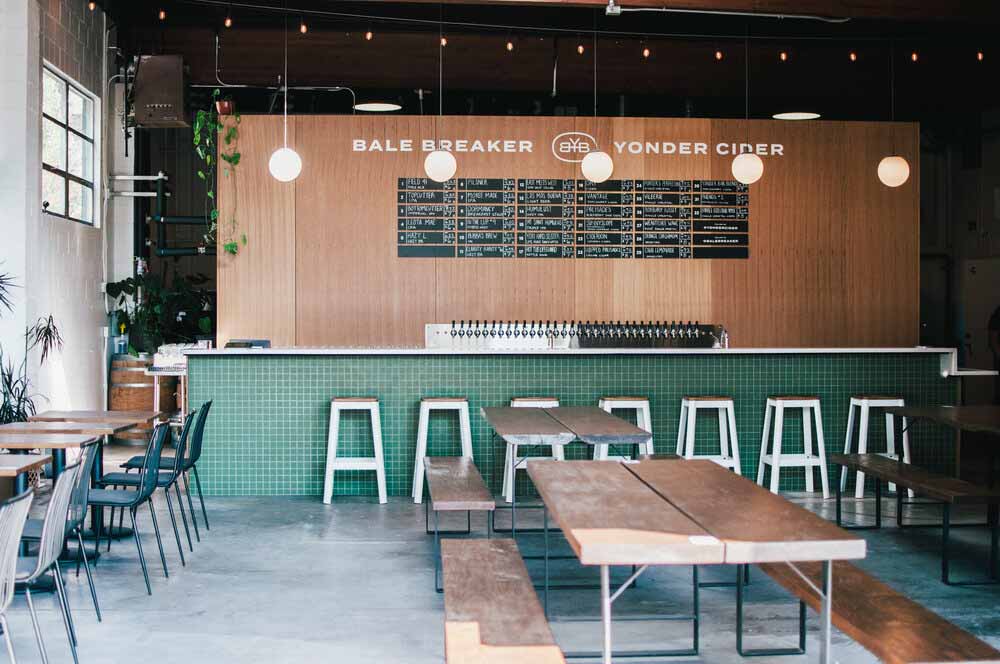 Also located in Seattle's trendy Ballard Distillery District (see a trend emerging here?), Bale Breaker's satellite taproom is a joint venture with Yonder Cider.
"Sharing this taproom between our two brands means we are able to showcase nearly the entire breadth of beverages made in Washington State," said Co-Founder Meghan Quinn in a press release. "From beer and cider to hard seltzer and eventually wine, craft beverage enthusiasts will be able to experience and explore it all in one space!"
The first-of-its-kind brewery/cidery looks phenomenal, with over 6,200 sq ft of outdoor and indoor spaces complete with fire pits, a mural from local artist Jennifer Ament, and fantastic beer and cider on tap.
Expect each brand to craft its own creations, but don't be surprised if you see beer and cider collaborations. For example, Whatever's Clever, a collab with Yonder Cider and Double Mountain Brewery, infused guava with Cashmere hops into an herbed cider!
Stoup Brewing
1108 NW 52nd St, Seattle, WA 98107 | (206) 457-5524
Stoup Brewing perhaps perfectly encapsulates the vibe of the Ballard Brewery District. The brewery has become a welcoming, inclusive space for all to drink. Robyn Schumacher, who identifies as a Queer cis-woman, co-owns Stoup Brewing with husband-and-wife team Lara Zahaba and Brad Benson. A former high school science teacher turned brewer, Schumacher became the first woman in Washington to become a Certified Cicerone. Today, Schumacher and the brewery continue to strive to create a safe, equitable space for all to drink, whether hosting a Queer as Funk Tea Dance Party or brewing a Stoup Pride month IPA.
Hellbent Brewing Company
13035 Lake City Way NE, Seattle, WA 98125 | (206) 361-3707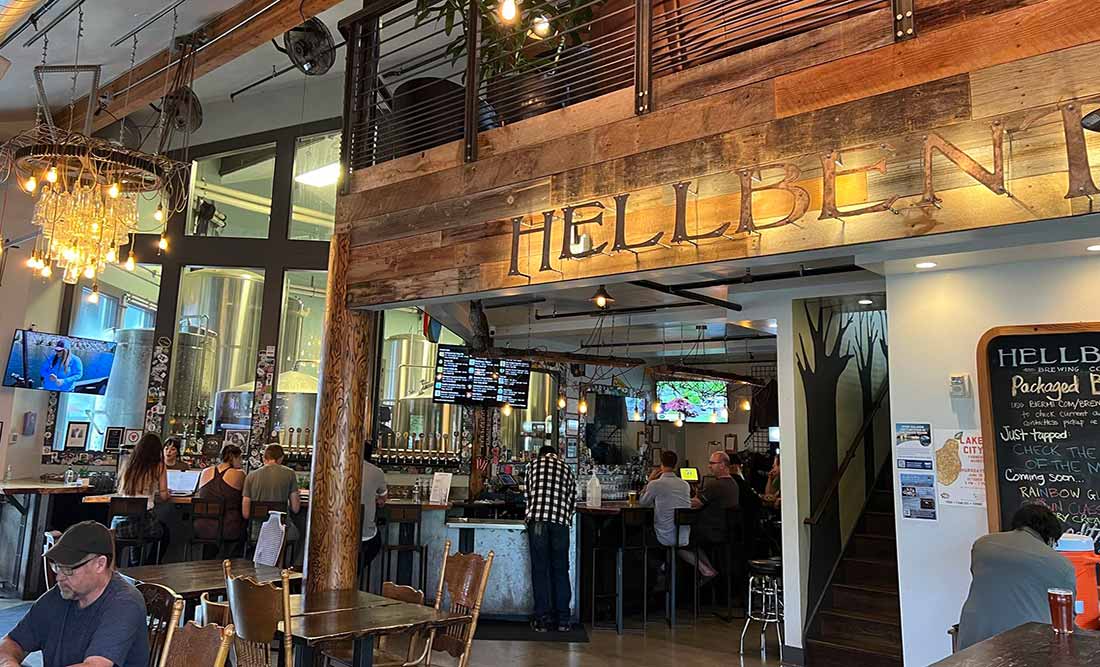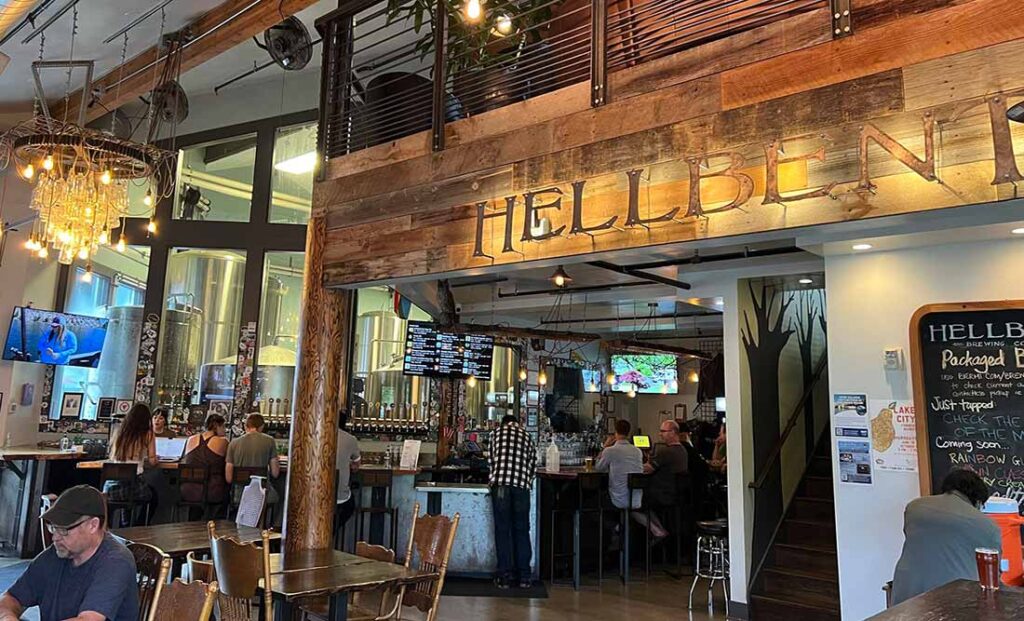 Located in the Lake City area of Seattle (with another taproom in Wenatchee, WA), Hellbent Brewing makes salt-of-the-earth, honest-to-goodness, award-winning beer that reflects its hometown city.
For instance, Seattle Sunshine, which won a platinum award for "Best in the Northwest" by SIP Magazine in 2020, and a bronze at the Washington Beer Awards in 2019. Or Red Patina Amber Ale, a gold-medal winner at the Washington Beer Awards in 2019 and silver at the World Beer Cup in 2022.
Hellbent may seem like an unassuming brewery on the outside, but walk inside, and you'll find a two-story taproom complete with a game room, outdoor patio, and a chandelier made of pint glasses! But that's all just icing on the cake for a place making award-winning beer.
Lucky Envelope Brewing
907 NW 50th St, Seattle, WA 98107 | (206) 659-4075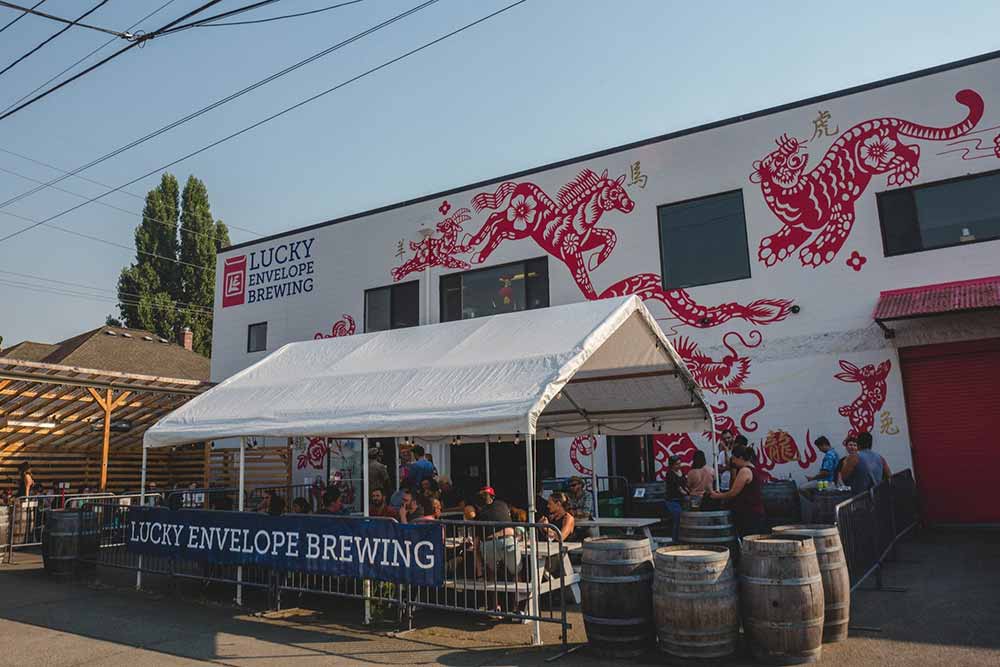 In an intriguing twist, you'll find Chinese influences throughout Lucky Envelope, courtesy of the heritage of co-founders Ray Kwan and Barry Chan.
Named after the red envelopes elders give children as gifts, Lucky Envelope makes what they call "culturally inspired" beer, often based on Kwan and Chan's own experiences.
For example, Water Tiger Cold IPA. For the last several years, Lucky Envelope collabed with another AAPI-owned brewery—Highland Brewing—to celebrate the Chinese New Year. Last year, Water Tiger made our list of "The 20 Best Beers to Drink in Summer 2022" by leveraging El Dorado hops and Seattle's Marketspice Berry Bush tea for a unique take on a new IPA brewing technique.
Expect to be surprised and to learn a thing or two about another culture at Lucky Envelope.
Rooftop Brewing Company
1220 W Nickerson St, Seattle, WA 98119 | (206) 457-8598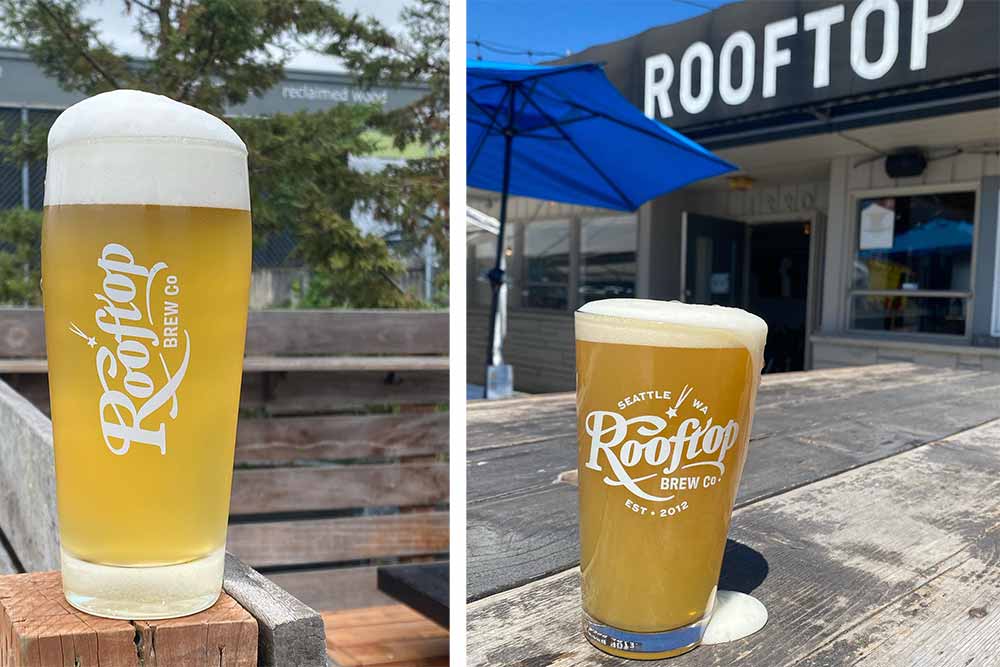 From a 1-bbl nano-brewery that started in a garage behind a 7-Eleven, Rooftop Brewing has really…grown up into a 15-bbl production brewery and tasting room on—you guessed it—a rooftop. Near the south side of the Ballard Bridge, Rooftop Brewing prides itself on being a friendly place for the community.
Whether you're a family making a pit stop off your bikes on the South Ship Canal Trail or just taking your dog for a stroll and need a mid-walk beer, Rooftop Brewing opens itself to all.
Plus, the beer hits home, too. Styles abound for all palates, including, currently, an oatmeal stout, Belgian witbier, American wheat, hazy pale ale, IPAs, and more. Hit a flight, then hit the trail again. Coming down off of Rooftop, you'll feel like you're walking on cloud nine.
Métier Brewing Company
2616 E Cherry St, Seattle, WA 98122 | (425) 415-8466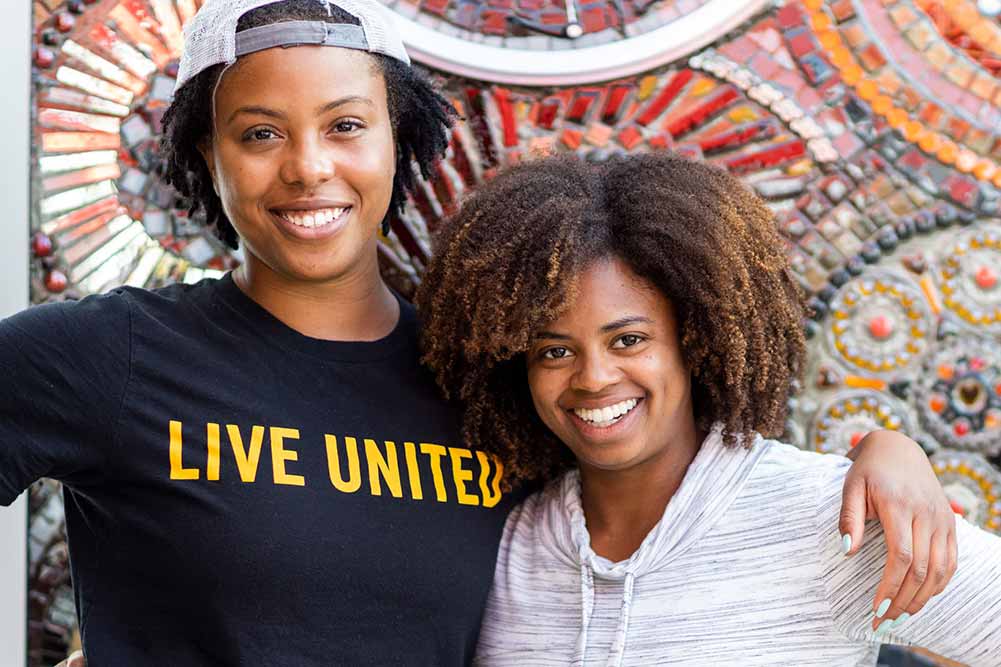 Since opening in 2018, ​Métier Brewing Company (MBC) has become one of the hottest places to drink in Seattle, earning a place on Brewbound's Rising Stars list in 2022.
Started by Rodney Hines and Todd Herriott, MBC proudly states that it is a "purpose-driven, Black-owned craft brewery" that believes in representation first and intentionally creating an inclusive space for anyone that walks through its doors.
Look out for anything barrel aged, such as the Tequila Barrel Aged Smoked Porter, which won a bronze in the "Smoke Beers" category at the Washington Beer Awards in 2022. But you'll also find great takes on wits, IPAs, kölschs, Scotch ales, pale ales, pilsners, and schwarzbiers, to name a few.
The Good Society Brewery & Public House
2701 California Ave SW Unit A, Seattle, WA 98116 | (206) 420-3528
When the Great American Beer Festival rates you as "The Small Brewpub and Small Brewpub Brewer of the Year," you know you're doing something right! The Good Society earned that recognition in 2020, but has continued to make "Beer for the Greater Good" and win awards.
That same year, The Good Society's grisette, First to Fall, picked up a gold in the "Belgian-Style Ale or French-Style Ale" category.
You can find that beer still on their tap list today, along with other standouts like Mystery Made West Coast IPA with Nectaron and Hausbier, a traditional German kölsch.
Seapine Brewing Company
2959 Utah Ave S, Seattle, WA 98134 | (206) 682-7985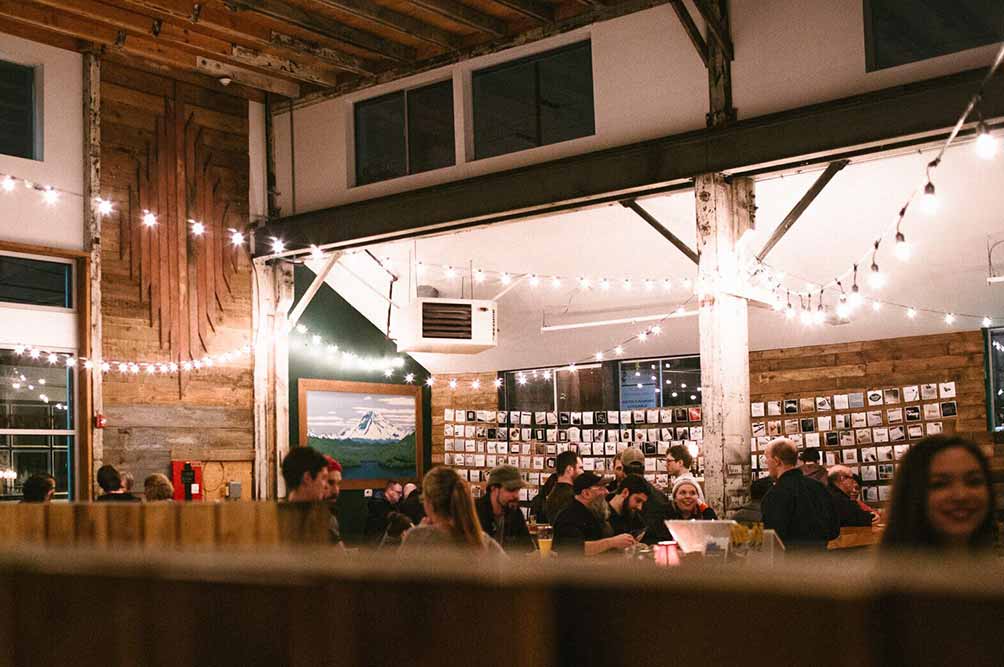 Situated in SoDo, Seapine Brewing prides itself on making beers with a Pacific Northwest influence. Such as the Seapine IPA, Mosaic Pale Ale, or Rainbow Suspenders double IPA.
Ghostfish Brewing Company
2942 1st Ave S, Seattle, WA 98134 | (206) 397-3898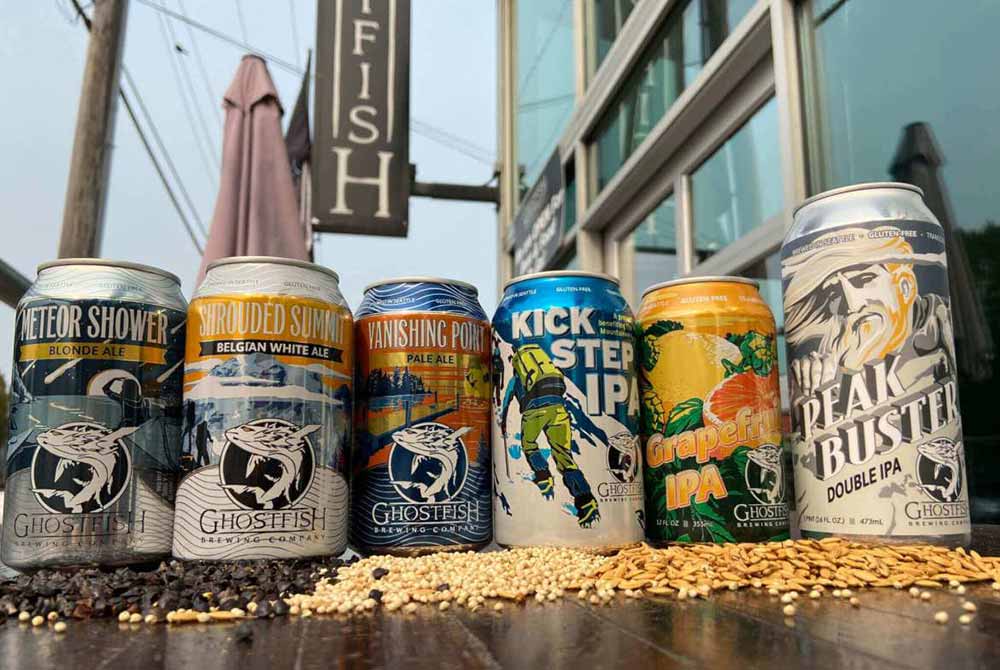 Kicking butt and taking awards with their "unusual grains" and "legendary taste," Ghostfish is a paradise for the gluten-free among us. If gluten-free beer is not enough, their gastropub menu is also gluten-free and complements any beers on tap.