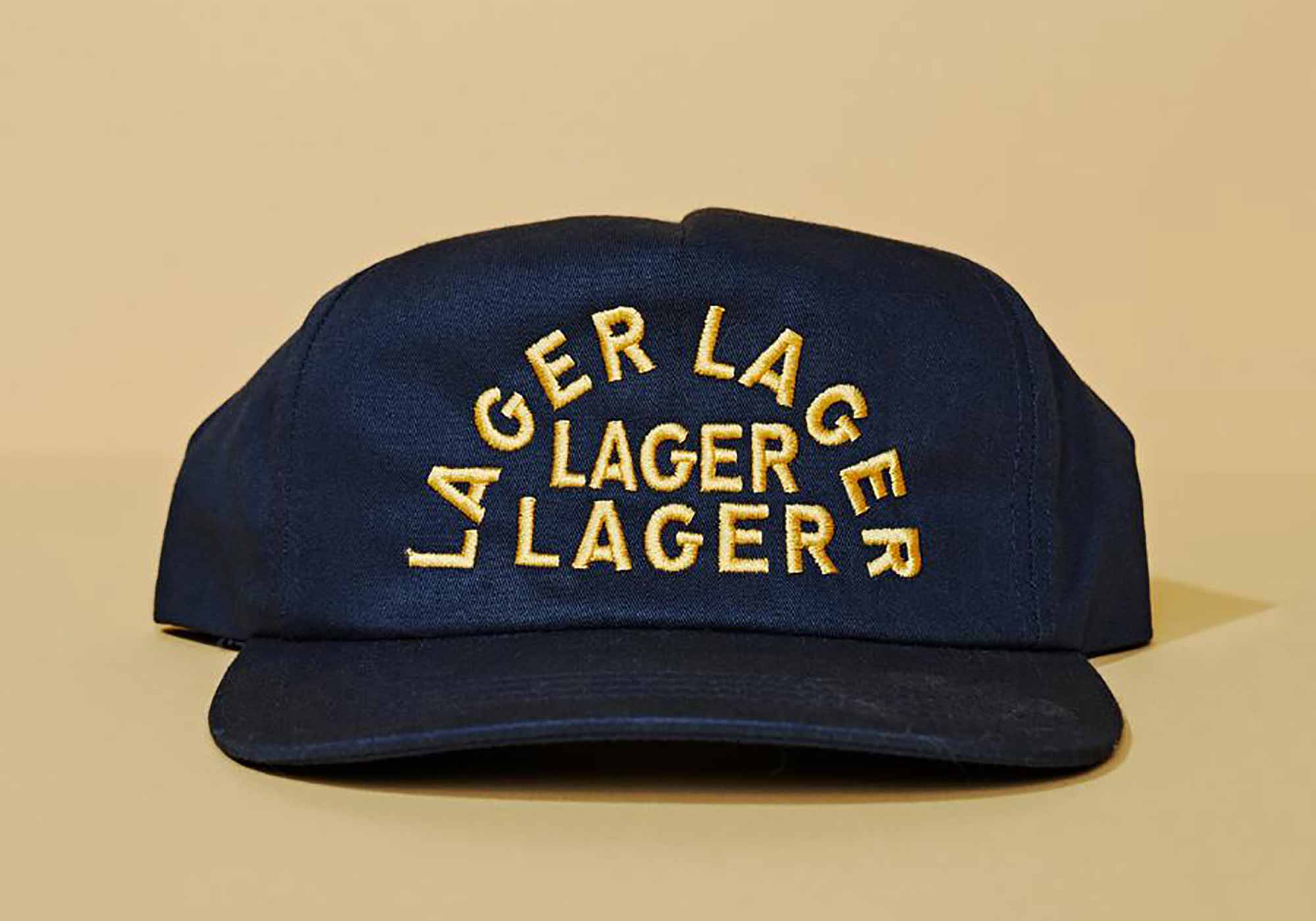 Photography courtesy of Halfway Crooks Beer
Updated on December 9, 2022
We know that single, double, triple, hazy, New England-style, sour, milkshake, and really any kind of IPA will continue to dominate trends in craft beer. But, to us, lagers are a labor of love. From the darker dunkels, schwarzbiers, and bocks to the amber märzens and red lagers to the golden pilsners, zwickelbiers, and everything in between, lagers are infinite in their longevity and breadth. And of course, there is no better time to drink a lager than for National Lager Day, taking place on December 10, 2022.
We've asked this question a few times, but it bears repeating here: When will it officially be the year of the lager? Was it 2022? Will it be 2023? Last year, for the first time ever, pilsners cracked the top ten most checked-in styles of the year on the Untappd app, with just over 1 million check-ins. For the record, it was the only lager substyle to make it to the list. But the future impact of lagers on the hop-loving masses remains to be seen.
For a while now, those in the industry have clamored for the return of lagers. But for the most part, consumers remain intertwined with the bine.
In fact, lagers are the most popular beer style worldwide.
Of course, that's due in large part to the popularity of macro lagers such as Bud Light, Miller Lite, Modelo, Coors, and Corona. But today, many craft brewers have been reclaiming this historic style.
A Quick History of the Lager in Europe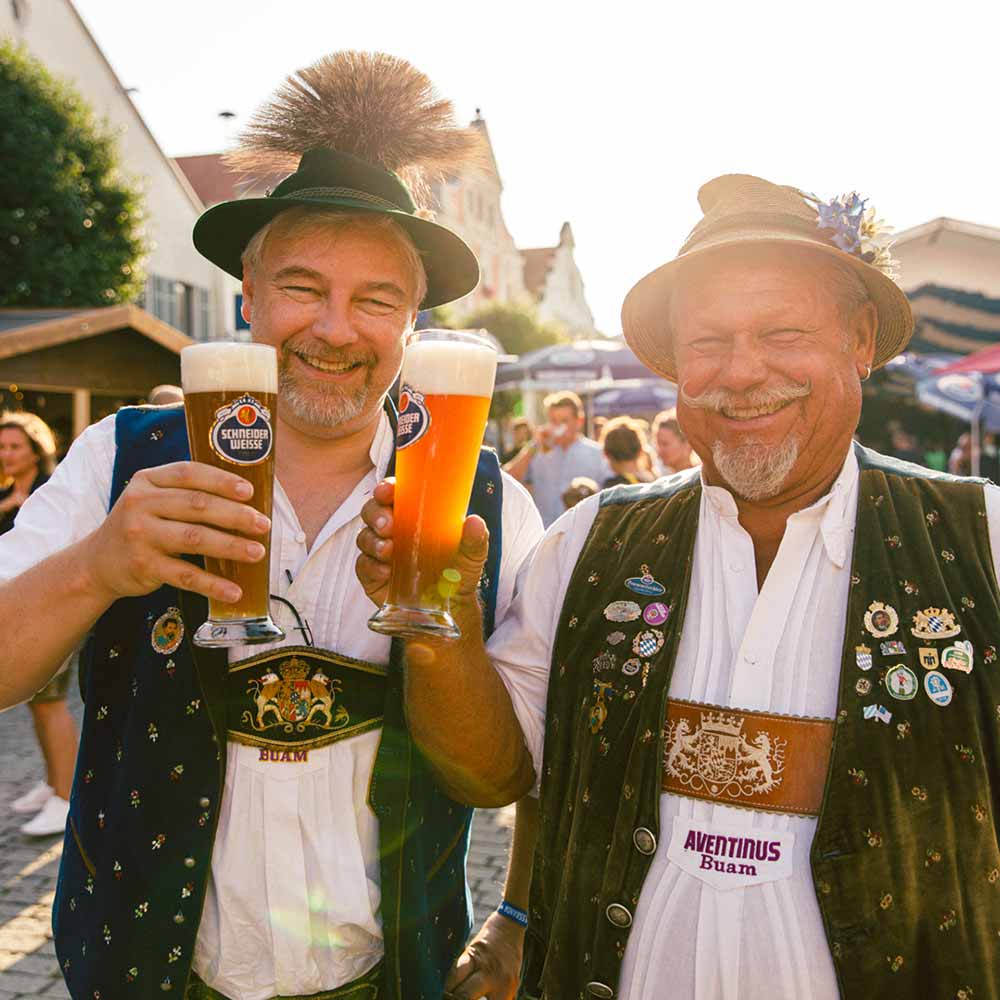 Historically, lagers originated in Northern Europe, specifically in the area that we know today as Germany and Austria.
Fermented with a yeast strain that enjoys cooler temperatures and works at a slower pace, lagers are typically tricky beers to brew. This was especially true back in the day.
During the Middle Ages, brewers typically made these bottom-fermenting beers from September through May, when temperatures tended to be colder. Additionally, brewers stored lagers in cool environments like caves and cellars. In fact, "lager" in German actually translates as "to store."
For the better part of the nineteenth century, European brewers worked on perfecting their lagering techniques. In Bavaria, lagerbiers, known as dunkels, tended to be darker thanks to the heavy water in the region. In Austria, brewers used lighter malts to develop red lagers. And in the town of Plzeň in Bohemia, Bavarian brewer Josef Groll used the area's soft water and local barley to brew a golden beer we now know as pilsner.
A Quick History of the Lager in America
In America, we can thank a Bavarian brewer named John Wagner for bringing lagers across the pond. In 1840, Wagner arrived in America with a haul of lager yeast in his back pocket. Settling in Philadelphia, Wagner quickly realized that Americans had been drinking English-style ales for the last hundred and sixty or so years. More familiar with his own German-style lagers, Wagner took his precious cargo of yeast and brewed what is historically considered the nation's first lager beer.
And that's not the yeast of it. As a large population of German immigrants in Philadelphia immediately began drinking the style, the American people slowly caught on as well. By the late 1880s, lager had overtaken whiskey as America's favorite alcoholic beverage.
Today, these light, refreshing, crisp, and normally lower-ABV lagers give us the opportunity to comfortably drink a couple of beers without overwhelming our palate or feeling overloaded.
Available in many different styles, from dark dunkels to mineral-toned pilsners, breweries are reinventing this classic category with craft in mind.
So, we want to challenge you to put away the IPA and try a few. And the best part? December 10 is National Lager Day, so you have an excuse to sip away on a few (okay, we can't lie, we really went over the top here and listed quite a few) of our current favorites.
These are lagers we've drank within the last nine months that we love. But there are so many out there now. Drop us your favorites at @hopculturemag on Instagram. We're always looking for new beers to help us reinforce that this is the year of the lager!
Hop Culture's Picks for the Best Lagers to Drink Right Now
Matsurika – Japas Cervejaria
São Paulo, Brazil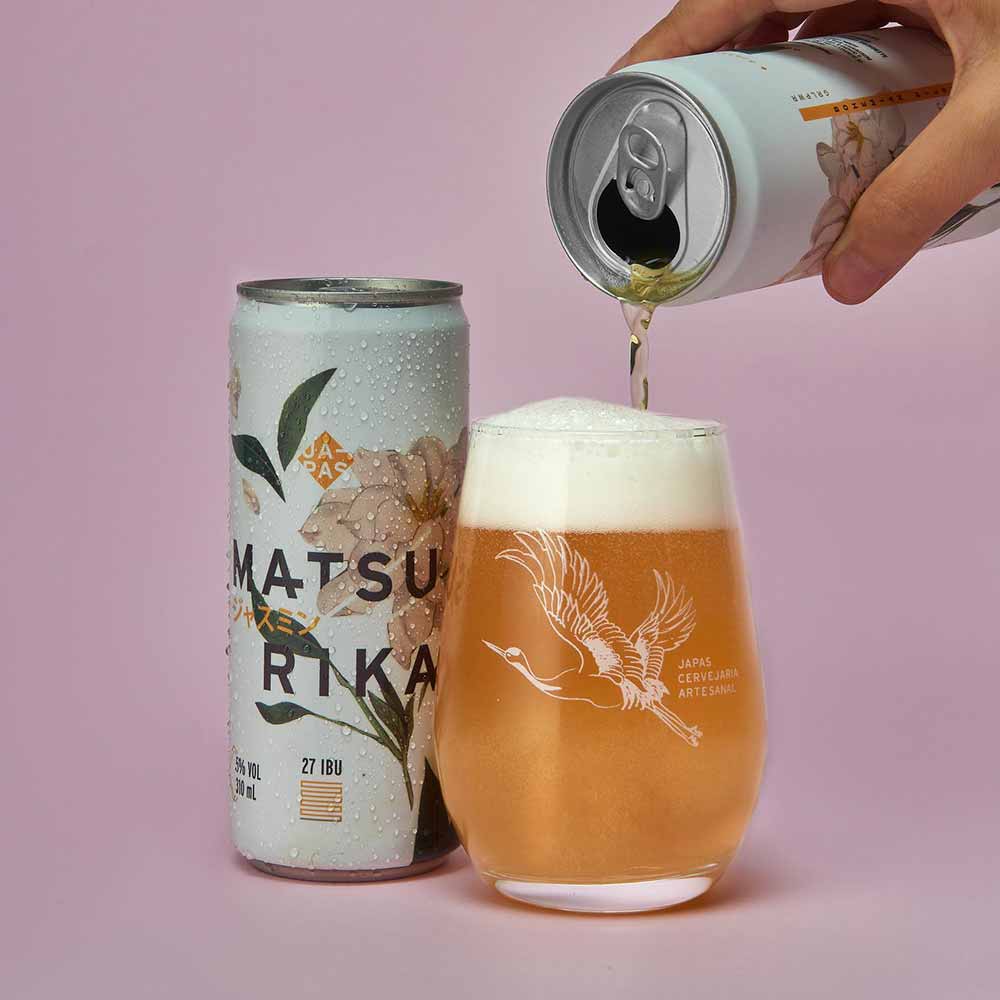 Czech Pilsner – We can't tell you how much we love Japas Cervejaria. Actually, we just said it: We LOVE Japas Cervejaria.
A Brazilian-Japanese, all-women-owned brewery, Japas Cervejaria tells a unique story with each and every one of its beers.
Whether through co-founders Maíra Kimura, Yumi Shimada, and Fernanda Ueno's heritage.
Or through brewing with Brazilian and Japanese ingredients.
For instance, Matsurika, a bohemian pilsner featuring jasmine petals, a common ingredient in traditional Japanese tea.
A soft and delicate beer, Matsurika brings brilliant floral notes to the aroma and palate.
If you haven't heard of Japas Cervejaria yet, now is your chance to discover this groundbreaking brewery by drinking their flagship pilsner.
Kelvin – Halfway Crooks Beer
Atlanta, GA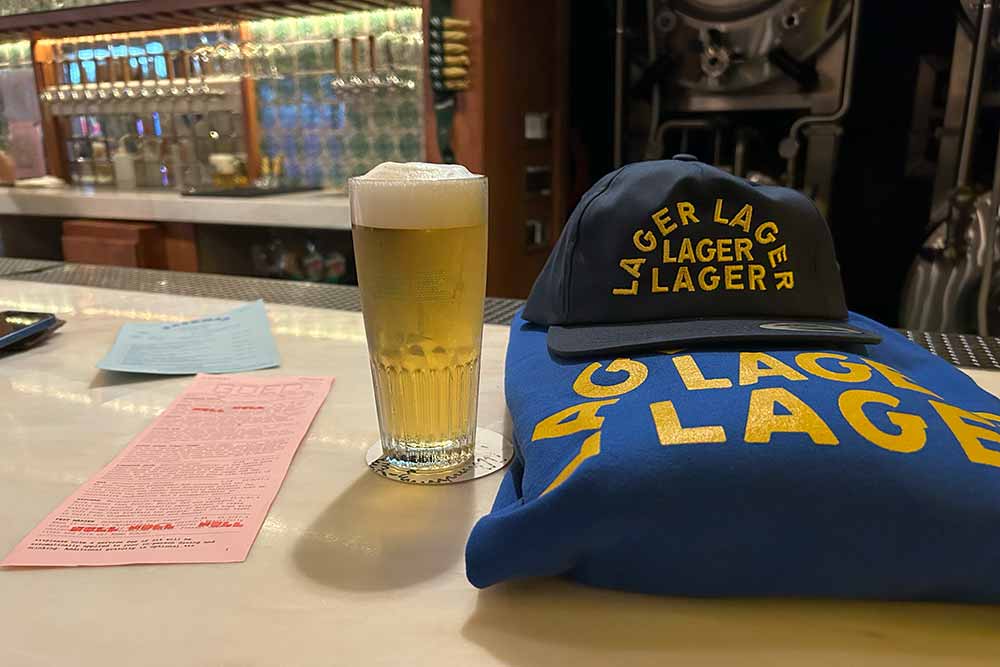 Smoked Helles – Perhaps some of you will remember when former Hop Culture Managing Editor John Paradiso first discovered Halfway Crooks, a killer started by Co-Founders Shawn Bainbridge and Joran Van Ginderacther in 2019.
As impressed by the merch and branding as the beer, we named Halfway Crooks one of our "10 Best New Breweries of 2019."
Originally pretty European-centric, Halfway Crooks does have an entire portion of their menu now devoted to the hoppy stuff (cheekily called "NOT LAGER NOT LAGER NOT LAGER"). But with Halfway Crooks, you want to try a beer from the "LAGER LAGER LAGER LAGER LAGER" side.
Metric is a classic German-style helles we've been fans of for a while. But on our latest visit we tried a smoked helles called Kelvin that awed.
People can be a little hot or cold for smoky beers, but when done right one screams perfection. Kelvin gave us more of a smoldering peck on the cheek than a full-on burning French kiss. Make no mistake, there is smoke here; the fairly light, crackery helles base gives a great backbone for the smoke to shine. There's nothing super malty to intervene, so if you're cold on smoke, maybe this one isn't for you.
Whatever you try at Halfway Crooks, this is the kind of siren brewery that calls out to you, luring you back time and time again to discover new lager-loving treasures each time you step inside.
Gest – Elsewhere Brewing
Atlanta, GA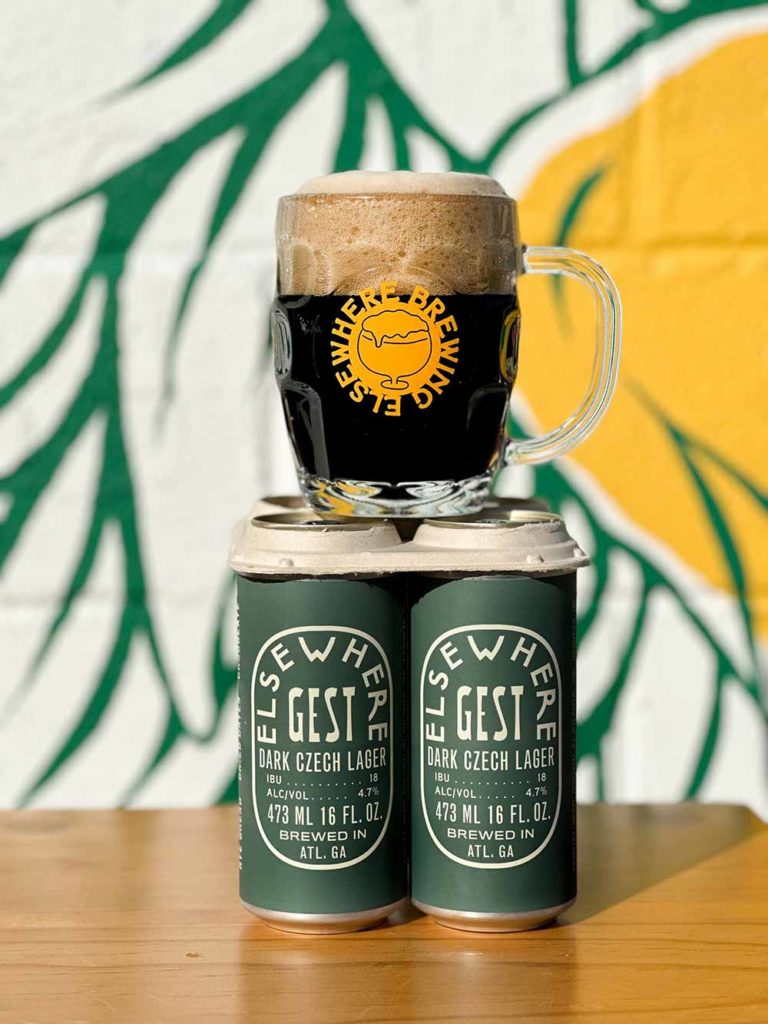 Czech Dark Lager – We've been trying to rack our brains to remember how we first connected with Sara and Sam Kazmer from Elsewhere Brewing. Sometimes it just seems that a package of their beer magically ended up on our doorstep and we've had the pleasure of drinking all of their mostly European-leaning styles ever since.
Everything has struck a chord. Which is probably why we named them one of our "10 Best Breweries to Watch in 2021."
And don't you just love it when you're right?
So when we visited Atlanta last month for an epic 48 hours of drinking and eating, we had to stop at Elsewhere Brewing. 'Twas a magical night. And the beer that stuck with us most? Gest, the excellent slightly roasty but indulgently smooth Czech dark lager. According to the Kazmers, this beer has (surprisingly) ended up being one of their best sellers. So perhaps this truly is the year of the lager!
Friendlier – Highland Park Brewery
Los Angeles, CA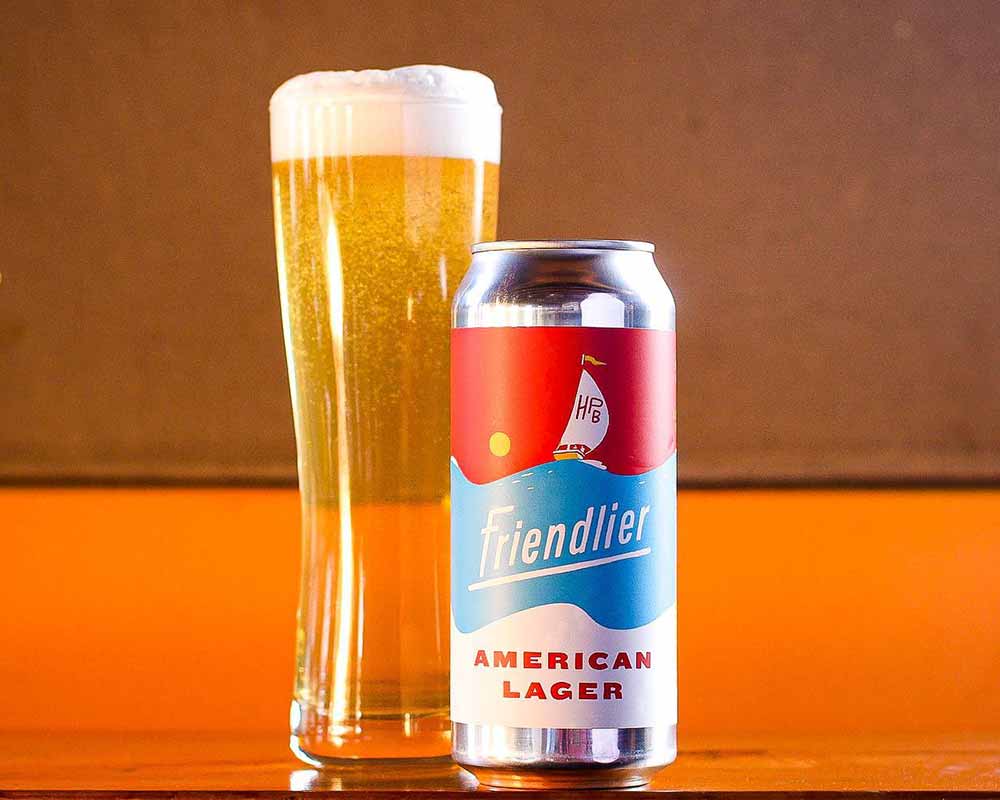 American Light Lager – On a trip down to Palm Springs to celebrate Friendsgiving, my wife and I had the chance to make a quick pit stop in Los Angeles. With just one brewery to hit up, we landed at one of our seven favorite breweries in Los Angeles.
Highland Park has earned a spot on the Southern California craft beer map alongside Pizza Port, Homage, and Mumford. Started by Bob Kunz in 2018, the brewery has become known for their dedication to IPAs—they execute both West Coast (Hello, LA) and hazy styles (DDH More) very well—don't sleep on their funky, experimental saisons and farmhouse ales. And they make a pretty great pilsner that we like to drink in the shower.
This time around, HPB had a fresh batch of their chuggable American Lager Friendler on tap and in cans. Their crushable American lager felt like the perfect patio sipper. And when I left to continue my journey to our Friendsgiving in Palm Springs, I snagged two more 4-packs of Friendlier to go.
Let's just say this beer was the hit of the weekend.
Taco Tuesday Lager – Monday Night Brewing
Atlanta, GA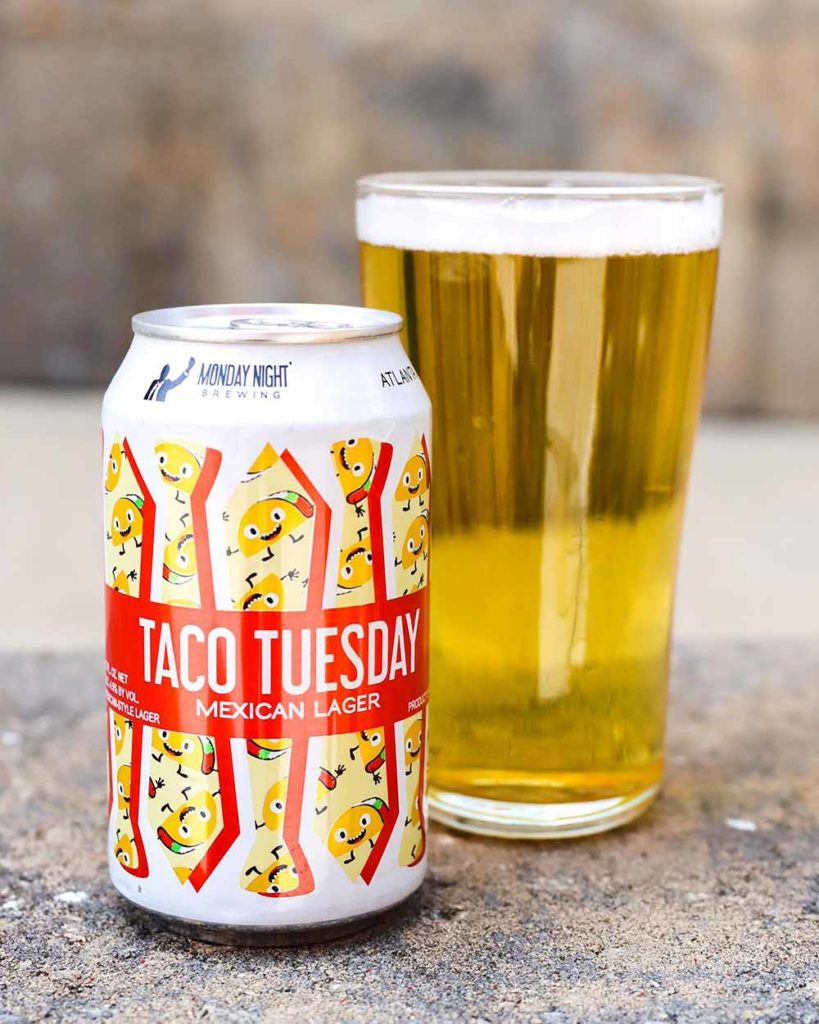 Mexican Lager – This is just an absolute crusher. At 4.5% ABV, Taco Tuesday from Monday Night Brewing features Pilsner and Munich malts expertly balanced with Saphir and Saaz hops for a beer best paired with tacos. Actually, this beer can really go with anything from pizza to burgers to just drinking straight up pint after pint. If we lived in the Southeast, we would keep this beer stocked in our fridge all summer (and actually all winter) long.
Yacht Party – Charles Towne Fermentory
Charleston, SC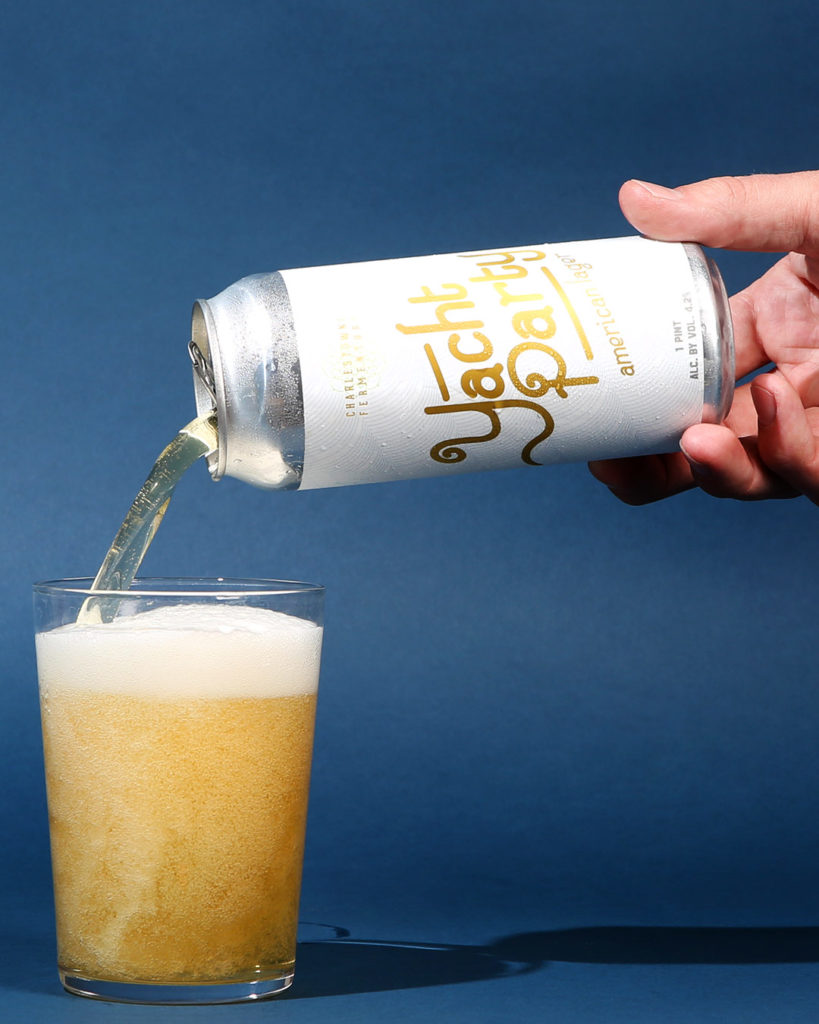 American Light Lager – We're consistently impressed with the crushability of this crisp, clean, American-style craft lager. While you can certainly drink this beer on a yacht, we recommend cracking one in a hammock, on the back deck, or around the campfire. It's just a damn good version of a good ol' lager.
Augustin 13° – Schilling Beer Co.
Littleton, NH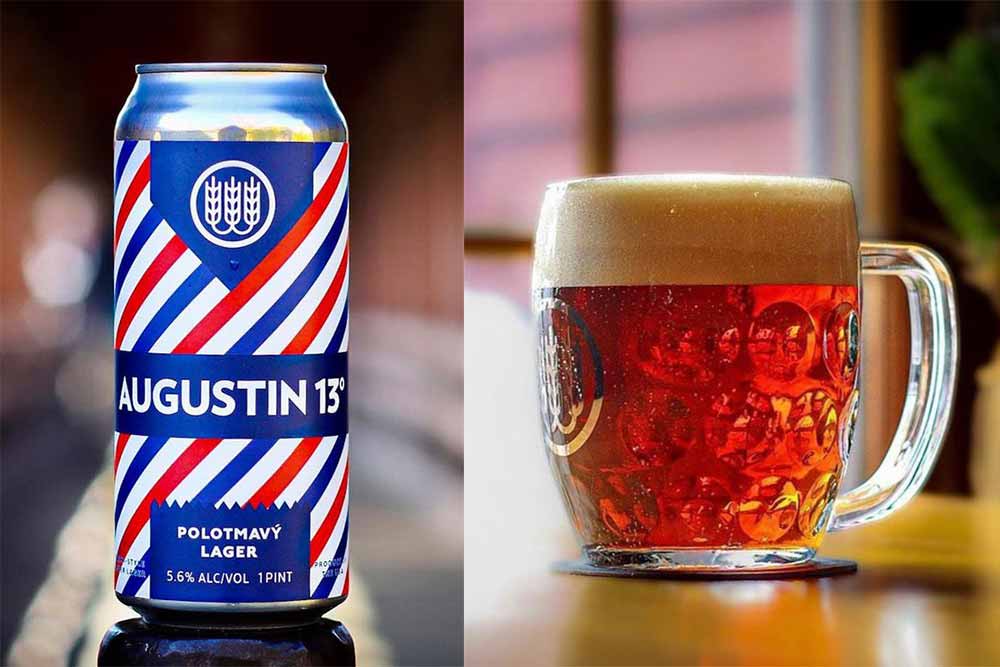 Czech Amber Lager – On a recent trip to Atlanta we stopped at Brick Store Pub when they happened to be hosting Schilling Beer Co. One of our favorite breweries in New Hampshire, Schilling Beer focuses almost exclusively on European styles. And to be frank: They excel at lagers.
In fact, we've featured their lagers quite a few times in everything from our Top 23 Oktoberfest Beers to Try This Fall
to The 20 Best Beers to Drink in Fall 2021
On this particular trip, we tried a Czech half dark lager called Augustin off a Czech Lukr side-pull faucet. A tad earthy, almost like wet leaves smoking in a campfire, Augustin had an incredible whipped-cream-like head from that slow pour. And the beer drank incredibly smooth.
Honestly, we highly recommend trying any lager from Schilling Beer. And if you're in New Hampshire, please, please, please stop by the brewery.
Czech 10° – Human Robot
Philadelphia, PA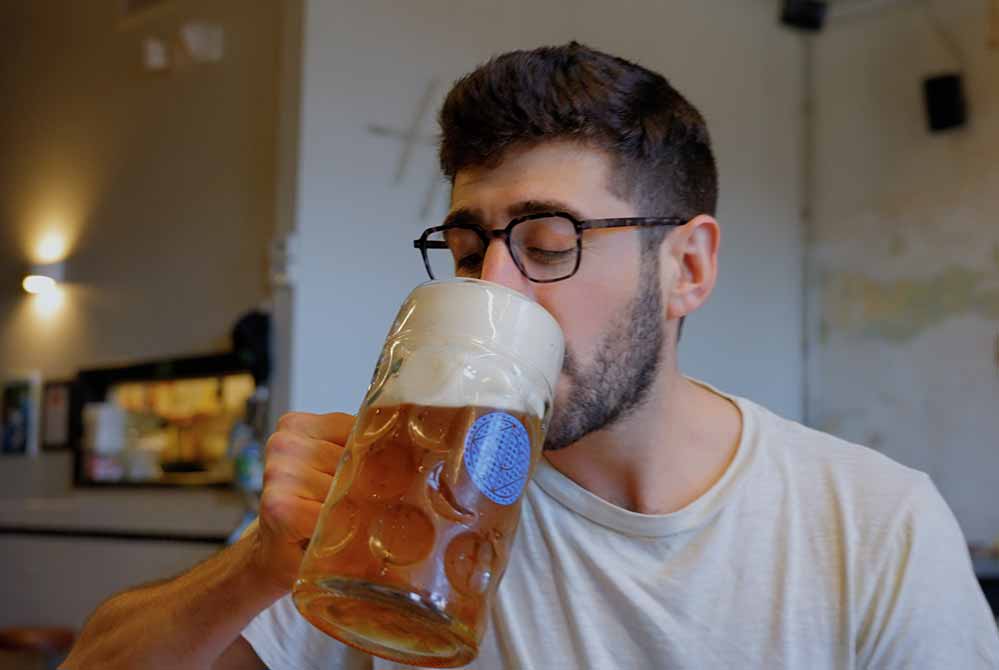 Czech Pale Lager – Somehow in a crowded Philly beer scene, Human Robot stands out.
"Philadelphia and the surrounding four counties are home to ninety breweries, but there is one I keep hearing about again and again, especially from industry people," says Hop Culture Founder Kenny Gould. "And when you hear about a brewery from other people who work in the beer industry, it's usually pretty good—that brewery is Human Robot."
With a heavy focus on European lagers, Human Robot includes old-world touches, but with a contemporary approach.
"We oddly try to push the boundaries of traditions," says Human Robot Head Brewer Andrew Foss. "If we were a bagel shop, we'd be trying to make the best damn plain bagel you've ever had in your life."
But lucky for us, Human Robot makes beer.
Like Czech 10°, an uber malty beautiful bready Czech lager with just a hint of earthy spiciness.
It's perfect to sip on, especially in the cooler weather.
Bonus: You could also try a "Milktube," a tall glass of wet foam that you're supposed to drink like a shot. It's a riff on an old-world Czech pouring tradition.
And if you want to watch Gould and Foss go head to head in a Milktube chugging contest, you should probably tune in to Next Exit: Philadelphia right now!
Turns Bones To Glass – Good Word Brewing & Public House
Duluth, GA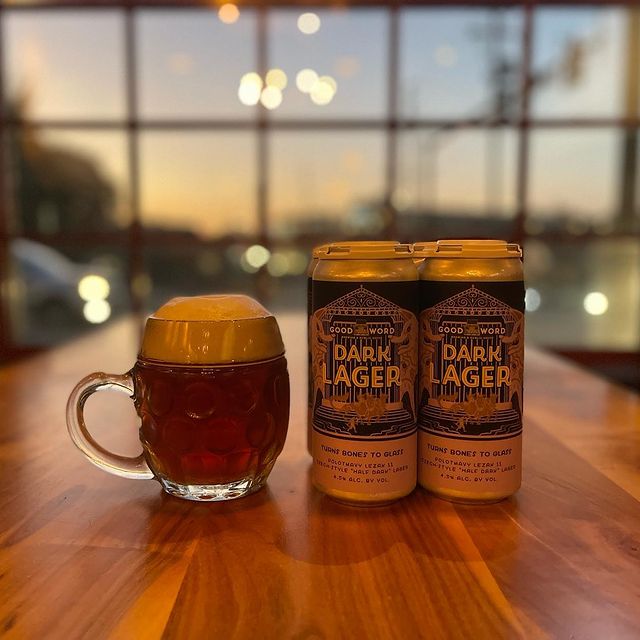 Czech Dark Lager – Have we mentioned yet that we spent an amazing 48 hours drinking and eating our way through Atlanta?
We just can't stop talking about it. But what you might not have heard is where we stopped first.
Good Word Brewing & Public House!
The Hop Culture crew met Good Word Owner and Brewer Todd DiMatteo back when we used to host around ten festivals a year. Todd joined us at several of our events and every time we tried his beer we were blown away.
Peek into Todd's cranium and you'll probably just see straight up beer genius in the form of mostly English and European-style ales and lagers.
On our recent visit, we ordered a Czech half dark lager called Turns Bones to Glass (which Todd told us is a reference to a song by Bill Callahan).
"So so so freaking good," is the first thing we wrote in our notes.
Pouring with an amber, brown hue, this half dark lager had a lovely complexion in appearance but also in flavor. With a nice toasted crust buoyed by an almost warm snickerdoodle cookie right out of the oven.
Ruekeller: Helles – The Bruery
Placentia, CA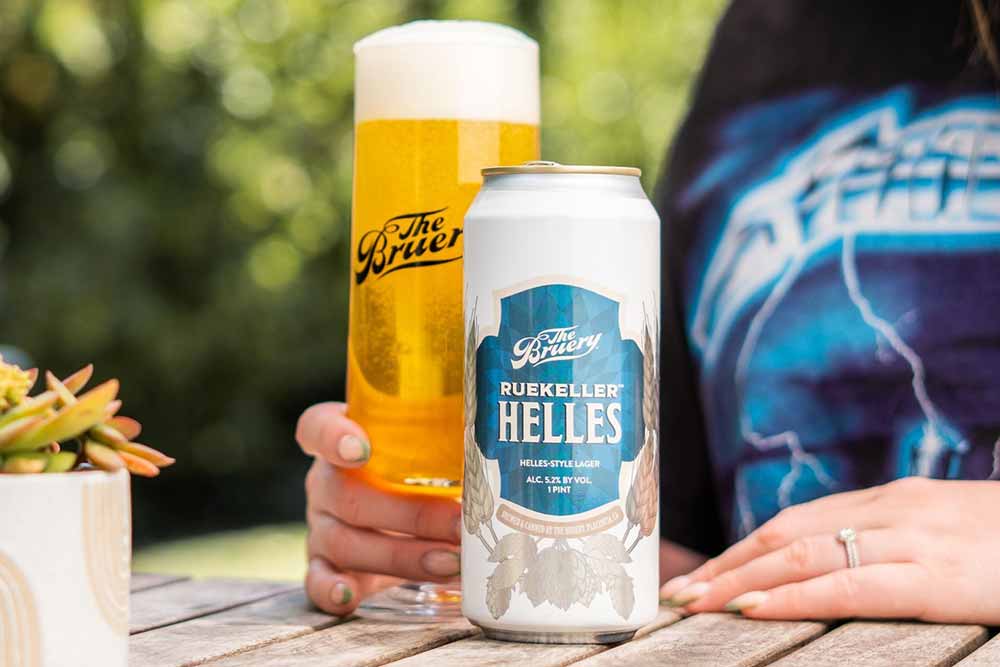 Helles – Though The Bruery might be known for its more bombastic offerings like burly stouts and flavorful barrel-aged sours, their softer beers are just as wonderful (hence the 3.8 rating out of 5 on Untappd with 7,087 ratings and reviews). A traditional Bavarian-style helles, Ruekeller: Helles is brewed using Pilsner Malt, with Magnum and Saaz hops, and conditioned using the Krausen method. It's a smooth, full-bodied beer that is perfect for outdoor adventures!
Brünhilda – Idle Hands Craft Ales
Malden, MA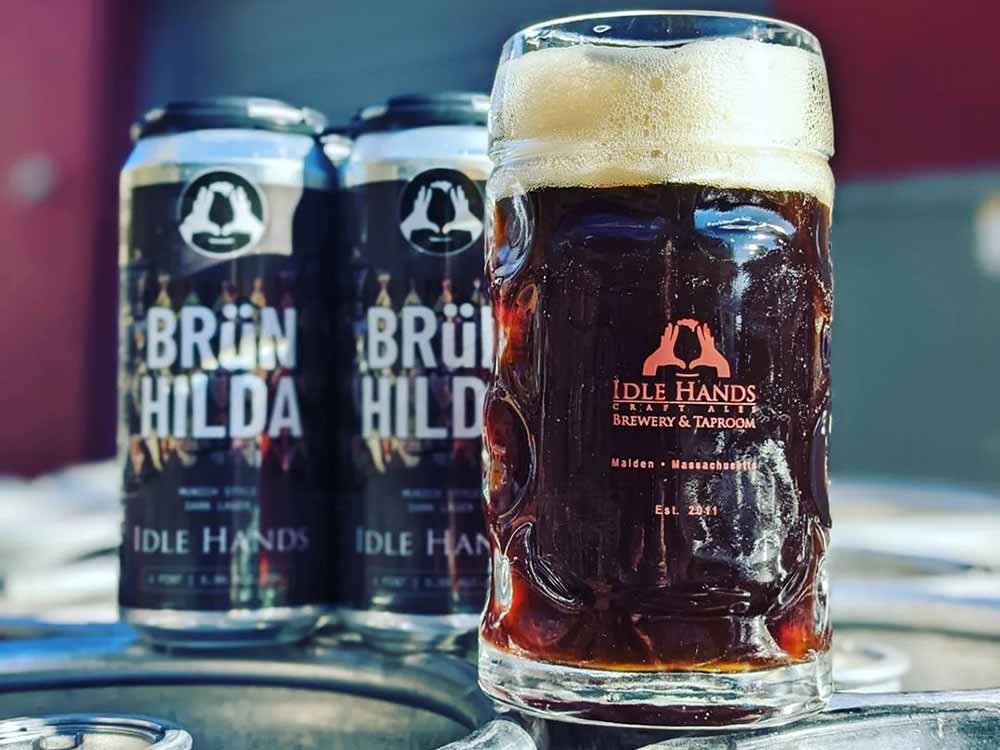 Munich Dunkel – I'll be honest, I'm not usually a fan of dunkels. I often find them cloyingly sweet. But in the hands of Idle Hands, Brünhilda executes a delicate balance between smooth and honeyed.
And I'm not the only one who thinks so. Apparently, this Munich dunkel is one of the brewery's most anticipated annual beers. First brewed ten years ago, Brünhilda washes over our tongue with notes of toasted rye bread crust, snappy coca cola, and dark chocolate.
Those may all seem like things that don't complement each other, but actually they're dark, deep, and complex. Just like this beer.
Solace & Virtue – Fieldwork Brewing
San Leandro, CA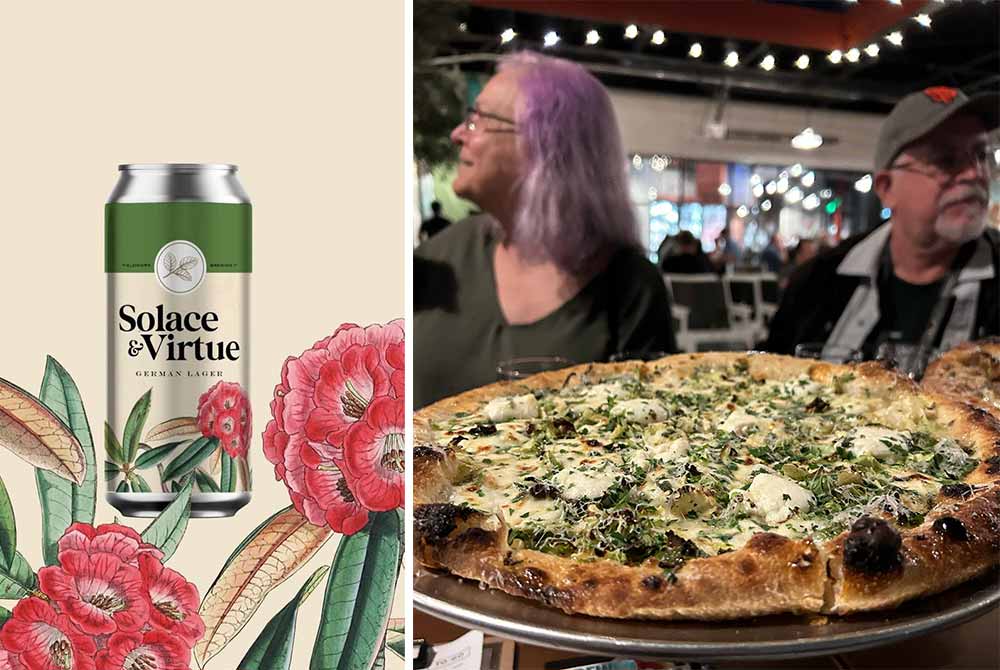 Pale Lager – Lagers are seriously so great with pizza. And who doesn't love pizza and beer? Is there a better pairing in the history of all humanity?
We asked experts around the industry for their favorite beer and pizza combinations.
Whether that's a NY-style foldable cheese slice and lager.
A Detroit-style pepperoni slab with a West Coast IPA.
Or a Neapolitan-style floppy Margherita pie with a blonde ale.
Whatever combination of dough, cheese, and sauce you love best alongside a full glass of beer, we've got a few recommendations from self-proclaimed beer and pizza aficionados!
Fieldwork Brewing CEO and Co-Founder Barry Braden suggested pairing the brewery's Solace & Virtue German Lager with their cheese pizza.
So we did!
The beer's smooth, crisp lightness provided the perfect foil to rich cheese.
With the maltiness of a helles but a distinct floralness of a German pilsner, Solace & Virtue was the kind of deceivingly complex beer we could find ourselves reaching for again and again.
Especially while eating pizza.
German Pilsner – Shred Monk Brewery and Coffeehouse
Bozeman, MT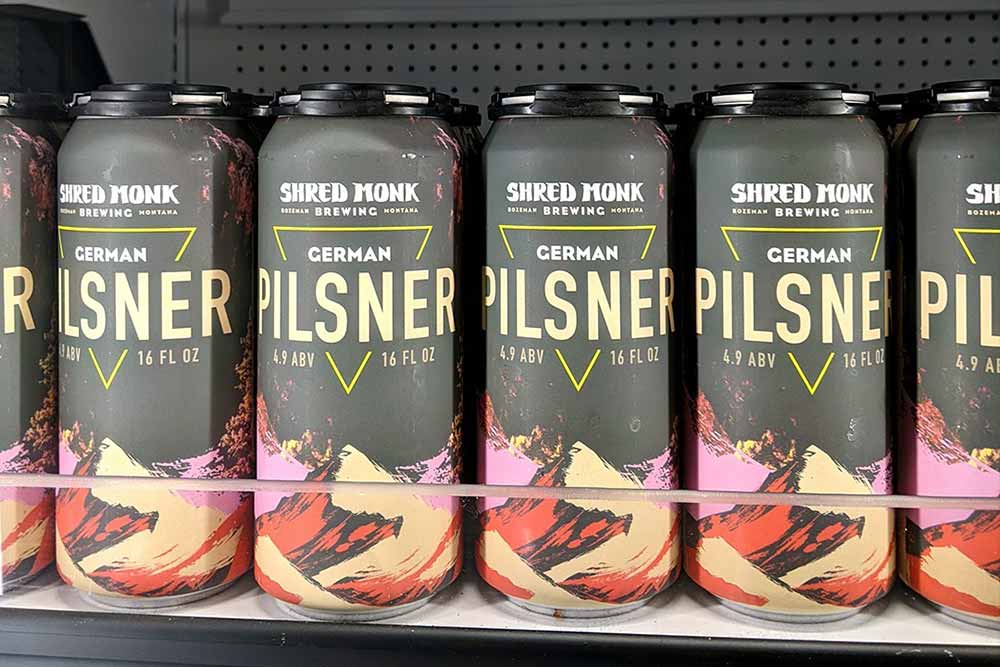 German Pilsner – A couple months ago, I joined my parents on a car trip from Minnesota to California. A fortuitous stop in Bozeman, MT, had me searching out Shred Monk Brewery and Coffeehouse.
Why?
Because I noticed that their German pilsner—aptly named German Pilsner—earned a bronze medal at the 2022 Great American Beer Festival (GABF) Awards Ceremony. I'd seen their name pop up when I attended GABF a couple weeks ago and made a mental note to stop by while in town.
The beer definitely lives up to the hype. Crisp, clean, with a pleasant minerality, Shred Monk's German Pilsner certainly gains high accolades from me.
But again, they don't need to take my word for it. They have a medal to prove it.
Dyckman Brew Pilsner – Dyckman Beer Co.
New York, NY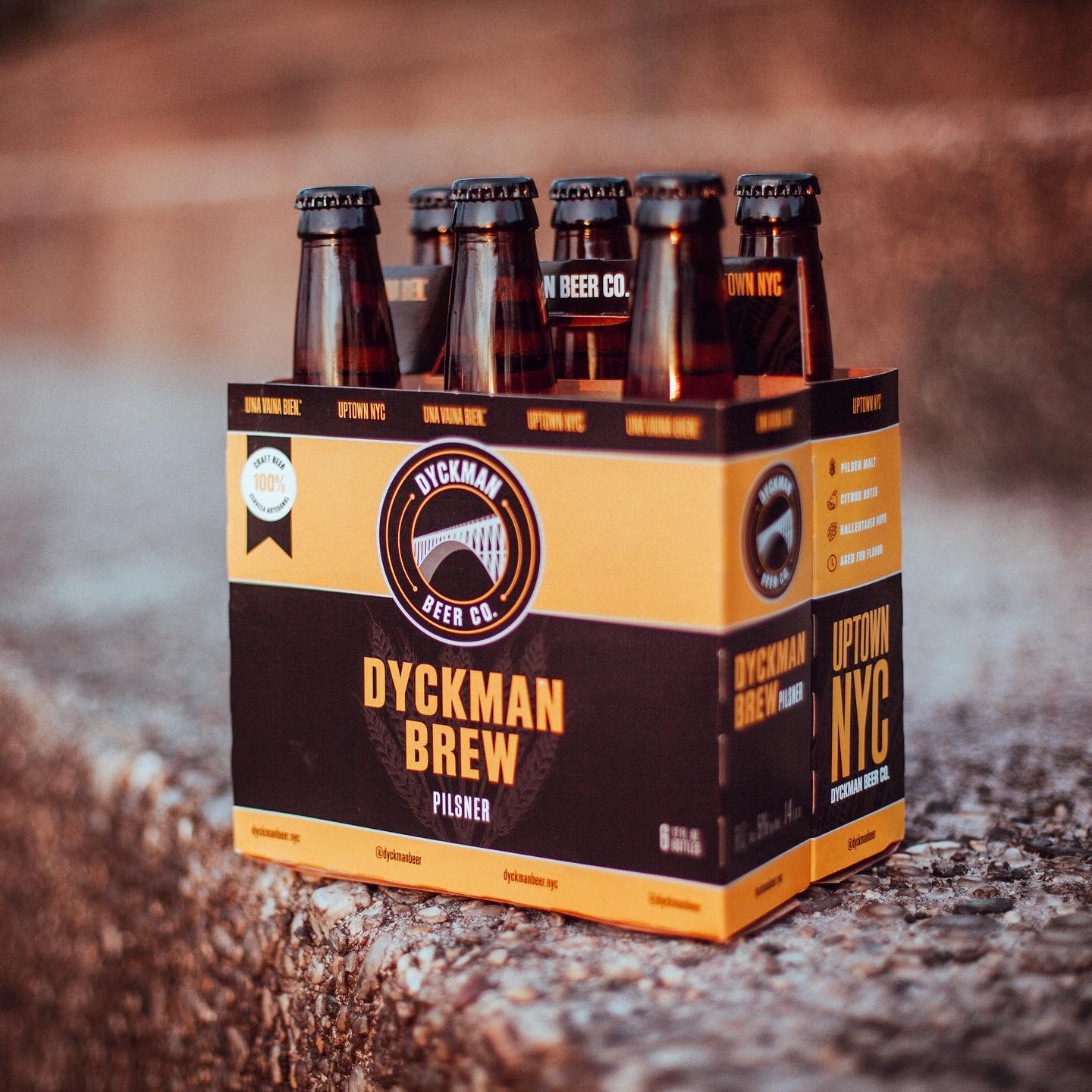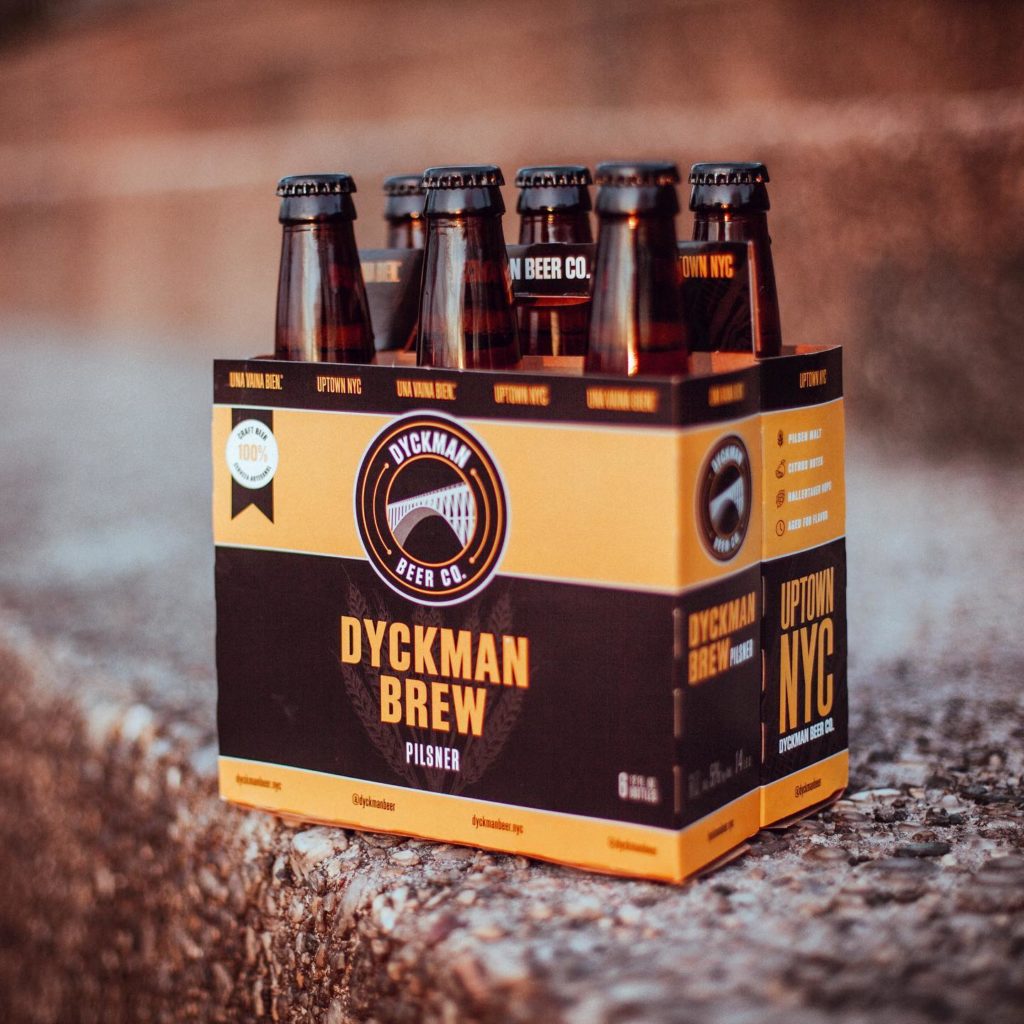 Pilsner – At the beginning of the year we featured Dyckman Beer Co. Founder Juan Carillo in our piece on Latinx-owned breweries. He impressed us back then with his tenacity and grit in getting Dyckman Beer Co. off the ground. Recently, he sent us a package of beers and we can whole-heartedly see Carillo's passion and verve come through in everything he offers.
Inspired by the flavors, people, and culture of Uptown NYC, Dyckman Beer Co. has a distinct point of view.
In his pilsner, Carillo hit a home run farther than Aaron Judge at Yankee Stadium. Pouring a deep gold, Dyckman Brew Pilsner immediately hit us with subtle citrus notes. But on the sip, we found a nice pale malt backbone for a pilsner that's both pleasantly malty and pleasantly spicy.
Smooth, substantial, and solid, this beer runs deep, hitting us to the core. This is just a damn good pilsner. And if you live in New York, you should definitely seek out any Dyckman beers right now!
Beer Flavored Beer – Divine Barrel Brewing
Charlotte, NC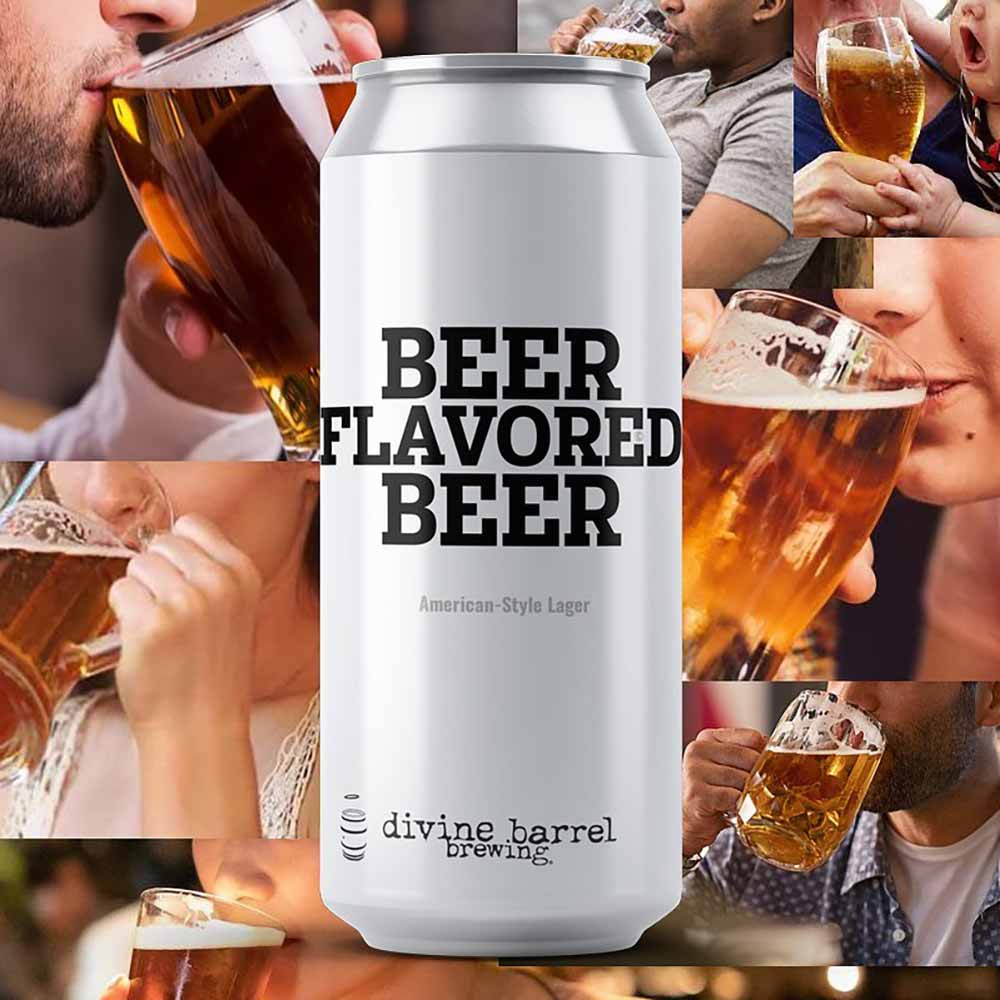 American Lager – First, the name of this beer alone won us over. But we all know it's also the liquid in the can that has to shine. And luckily, Divine Barrel's take on an American Lager nails it.
The concept could not be more straightforward. With Beer Flavored Beer, what you see is what you get. Perhaps the beer's Untappd description does the beer the most justice: "Please reference the beer name for tasting notes."
This is just straight up American craft lager at its absolute best.
Last One Down – Wasatch Brewery
Park City, UT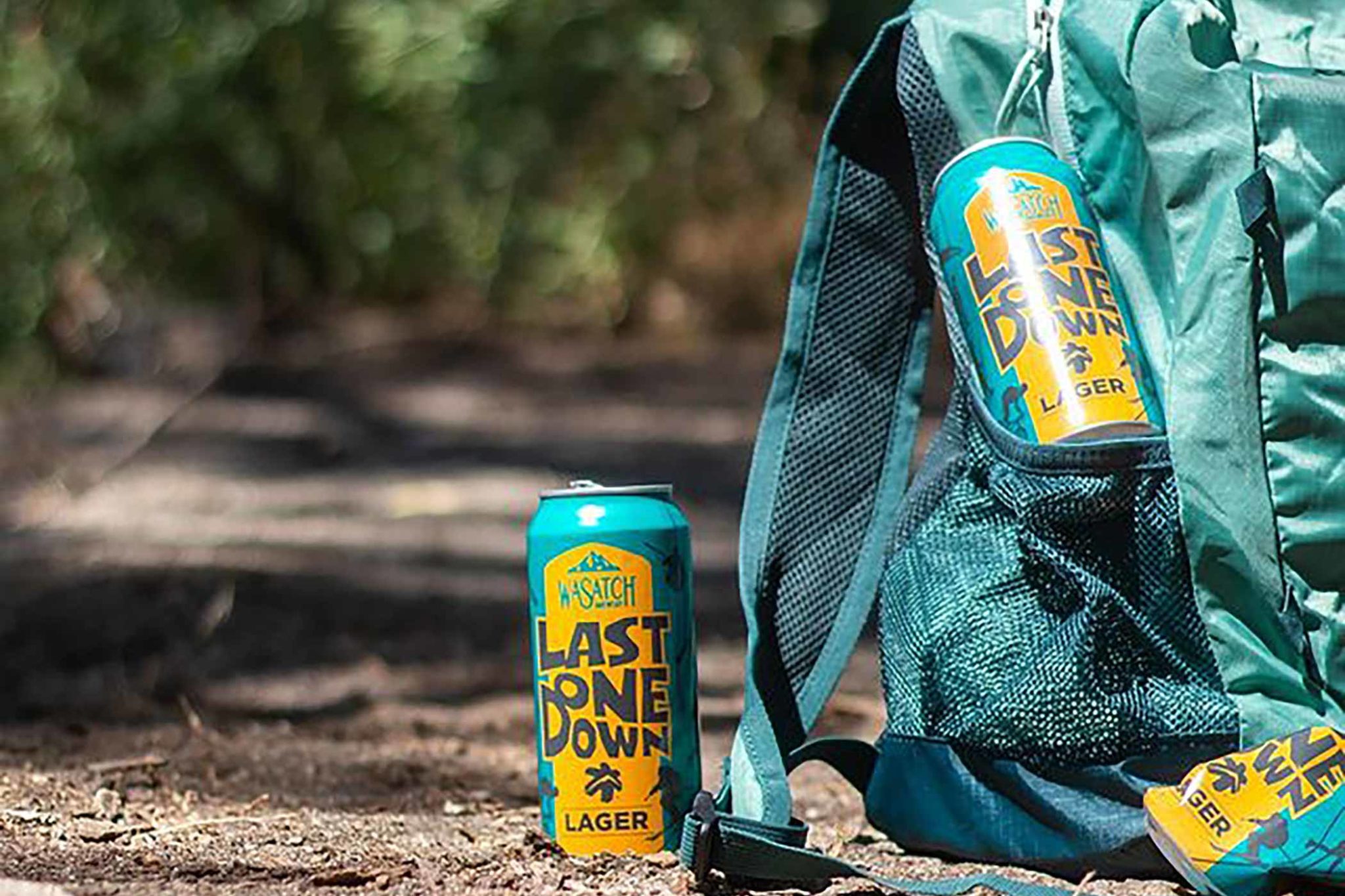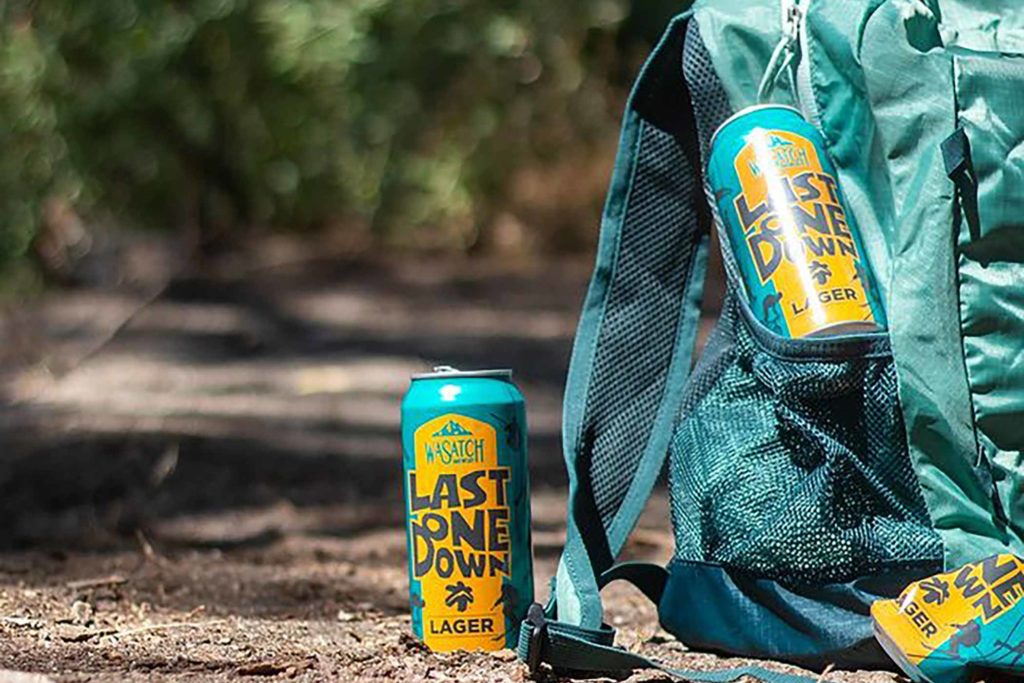 American Lager – In Utah, they ski, hike, and bike the mountains. Often from sun up until sun down. It's not uncommon at one of the twenty-one ski resorts (ten of which are considered world class and located within a one-hour radius of the Salt Lake airport) in the Beehive state to find folks who are the first one up on the mountain and last one down.
That's the vibe Wasatch Brewery wanted to capture with its newest beer, Last One Down.
"We're combining love for the mountains, all the activities that go along with it, and sharing that experience with your buddies and friends," says Kristin Martino, marketing manager for CANarchy Craft Brewery Collective, who welcomed Wasatch Brewery into its portfolio in 2017. "You're getting out there by cracking open a beer after, before, or during those activities," whether that's hiking during the summer or skiing during the winter.
If you want to ski, hike, or bike for the entire day, you can't carry around a high-gravity stout, for example. Instead, Wasatch needed to design a recipe built for the outdoors.
"If you're the last person off the mountain because you love being in that space so much, this beer has to be light, easy, and something you'll want to drink after you are the last one down," says Emily Abels, marketing coordinator at CANarchy Craft Brewery Collective.
"We use the term crushable," says Martino. At only 5% ABV, Wasatch again wants to ensure that you can drink one or two on the mountain over the course of the day and maybe even another once you're the last one down.
In other words, this is the all-season, all-year, all-sport beer built for wherever your adventures to higher elevations take you, whether that's skiing, hiking, backpacking, biking, or more.
Jerk Drum – Wah Gwaan Brewing Co.
Denver, CO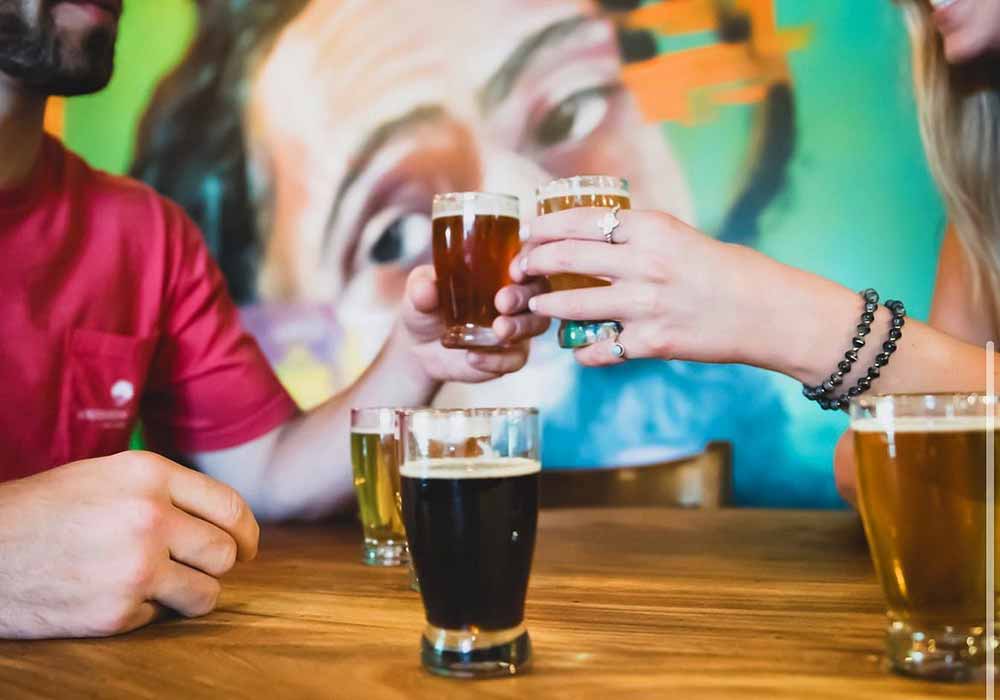 Rauchbier – Started by life and business partners Harsha Maragh and Jesse Brown, Wah Gwaan showcases both Maragh's Jamaican-Indian-American and Brown's bi-racial heritage with a specific goal in mind.
"From the very beginning, Wah Gwaan is about community," says Maragh. "Bringing together the Caribbean community, the Black community, the Queer community. It's about bringing these folks together in a space where people can feel at home, feel safe, feel included…and try different beers."
That means beers of all styles with ingredients like jackfruit, soursop, and curry. Or beers inspired by dishes like jerk chicken.
A rauchbier, Jerk Drum includes smoked malts, jerk seasoning, allspice, fresh ginger, and scotch bonnet. "We're trying to capture the flavor of jerk chicken, jerk pork, the jerk seasoning that Jamaicans use," says Brown. "I don't like chili beers… However, this is the best chili beer I've ever had and I drink it all the time"
For a completely unique take on a smoked beer, Jerk Drum really impresses.
Slow Pour Pils – Bierstadt Lagerhaus
Denver, CO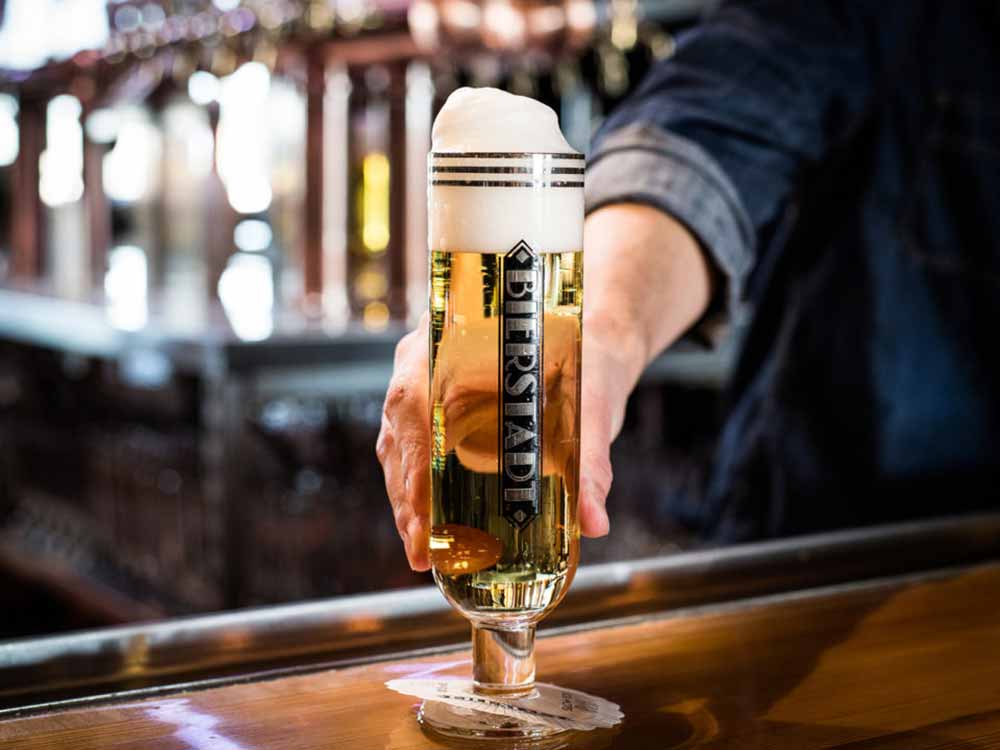 German Pilsner – An OG for a reason, Slow Pour Pils is an absolute must-try if you're looking for a classic slow pour. Read the recipe and this beer may seem simple—just Barca pils malt and Hallertau Mittelfrüh hops—but dig deeper and you'll see that this is a labor of love.
"This is very much a technique-driven beer," says Bierstadt Lagerhaus Co-Founder Ashleigh Carter. She deploys a short seventy-minute hop at the beginning, a single decoction, and a flotation tank, which is an old-school piece of German equipment, before lagering the beer and lastly "filtering the shit out of it," says Carter. "I believe beer should be bright, especially lager beer."
The result is a beer that has a wonderful lightly lemon hop aroma and clean, crisp bit. When it's slow poured, that's when the magic truly happens.
We highly recommend you visit the brewery's taproom in Denver to experience Slow Pour Pils (and its incredible thick, fluffy head) right at the source. But if you can't travel, Carter also worked extremely hard to dial-in this recipe for cans.
Florida Room – Hoof Hearted Brewing
Marengo, OH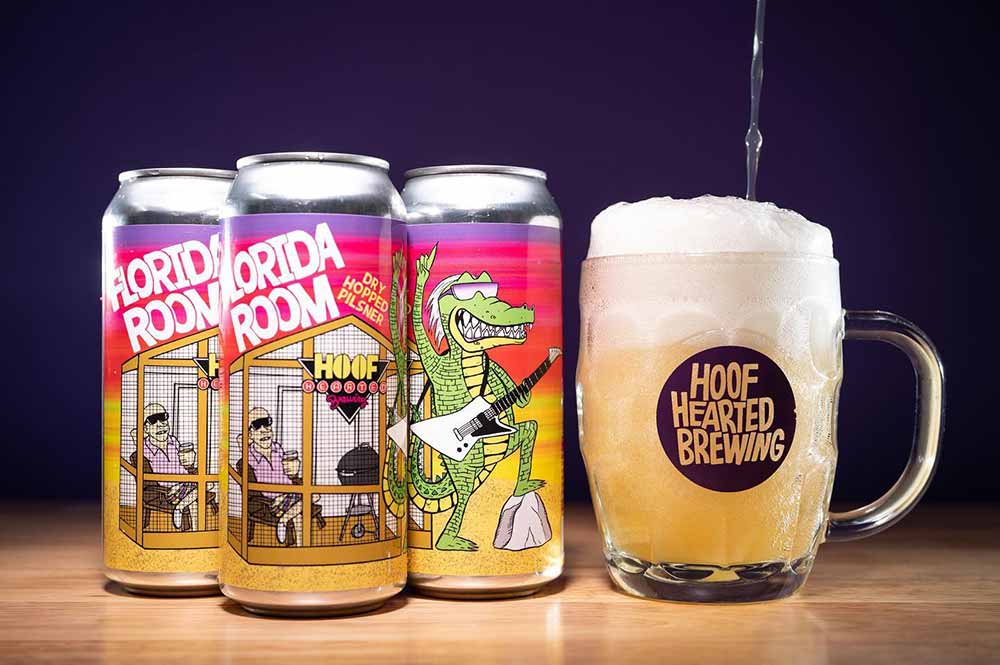 Dry Hopped German Pilsner – Speaking of pilsners, Hoof Hearted's version includes 100 percent Ohio-grown Pilsner malt chilling in a Florida Room with Huell Melon hops. Curious about this particular hop? And hey, we're not even talking about an IPA. Huell Melon is a new German hop that, amazingly, has hints of melon. The morning gourd notes actually play really well in a pilsner, balancing that blunt minerality with a soft sweetness.
Again, pilsners are dog-day, vacation, picnic crushers, so you can't go wrong with sipping on one during any season.
Castling – Weathered Souls Brewing Co. x Bierstadt Lagerhaus
San Antonio, TX x Denver, CO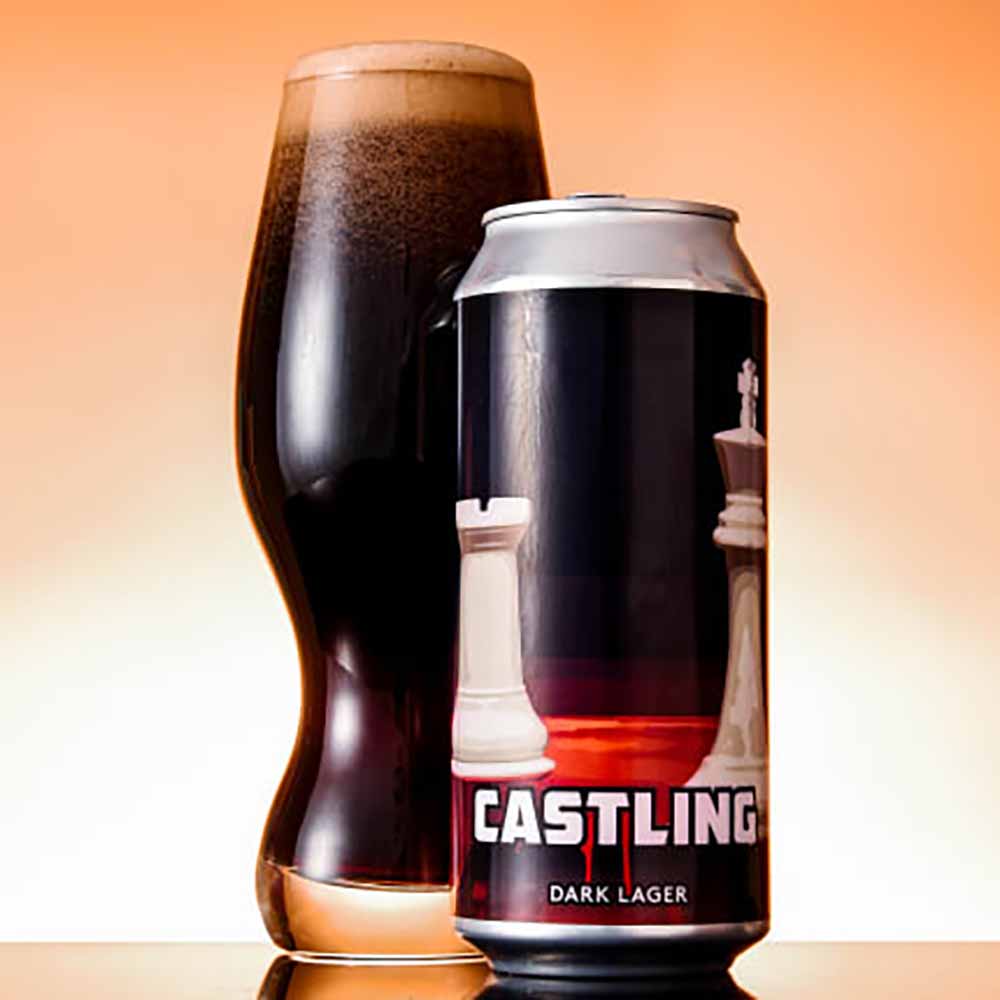 Schwarzbier – You don't need to only drink boozy, thick imperial stouts in the winter. European dark lagers are great beers to indulge in during the dark winter months that are conversely lighter in body and lower in ABV.
Case and point: Weathered Souls collab with Bierstadt Lagerhaus—Castling. Technically considered a schwarzbier, this light dark lager roars to life with roasty toffee, coffee, and caramel notes before smoldering with a complex profile of dried dark fruits like figs and dates. All "making it the perfect beer to sip around the campfire on a cool Texas (or Colorado) evening," according to the beer's Untappd description.
Premiant – Alma Mader Brewing
Kansas City, KS
Czech Pilsner – Considered a Czech-style pilsner, Premiant features all Czech malt and all Czech hops—mainly Saaz. "It's a beer on paper that looks seemingly simple," says Alma Mader Brewing Owner Nick Mader. But the devil is in the details with this beer with Mader even treating their Kansas City water to mimic a Czech water profile.
Accordingly, Mader says that, on average,it takes six to seven weeks to make Premiant.
But it's worth the effort. "It's the beer that everyone loves brewing and drinking at the brewery," says Mader.
Premiant hits all those classic Czech pilsner notes—crispy, effervescent, and snappy—while finishing a touch drier. "It's a bold beer," says Mader. "We pull out herbal, floral, lemon, and something that reminds us of Buddha's hand."
From the first sip, you'll be hit with an assertive noble hop character that follows through with a nice light honied bread and finishing dry. "For me a tiny bit of lingering bitterness gets me ready for the next sip," says Mader. "My palate needs it… Let's go!"
And while we highly recommend you venture straight to Alma Mader's taproom to try a slow-pour Premiant, Mader does also can this beer.
Future Reference – Threes Brewing X Hudson Valley Brewery
Brooklyn, NY x Beacon, NY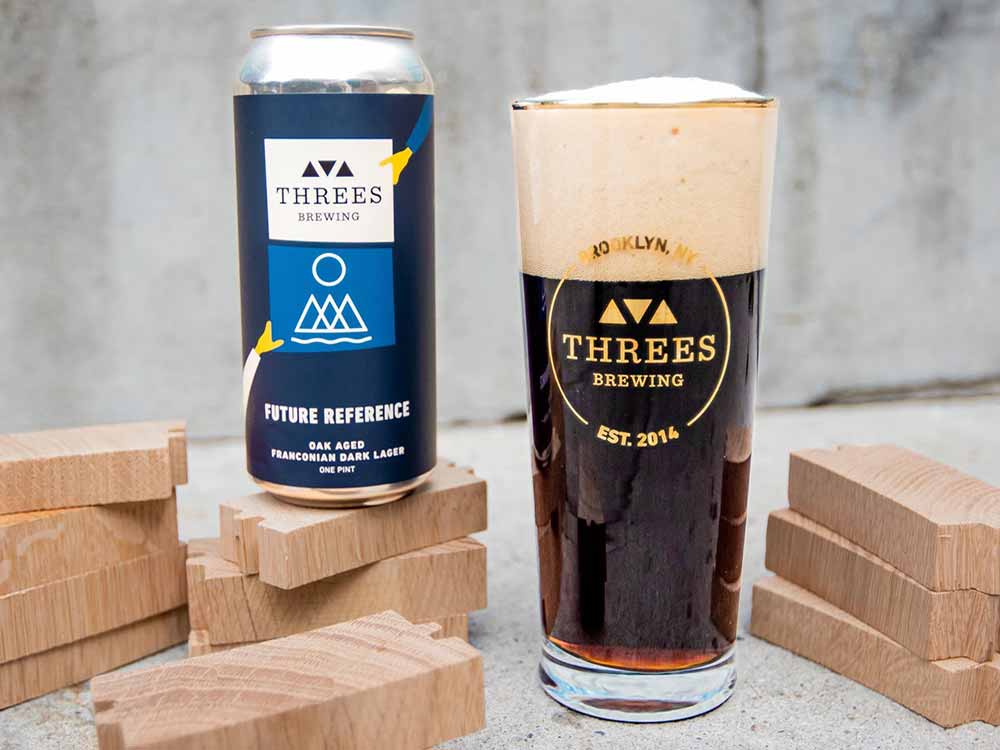 Dark Lager – An oak-aged Franconian dark lager made by both Threes Brewing and Hudson Valley Brewery, Future Reference seems to emulate dark winter nights. We honestly probably couldn't describe this beer any better than the tasting notes from the Untappd description: fresh-peeled birch bark, distant vanilla, sarsaparilla, blonde roast, cocoa nibs.
Plus, it doesn't hurt that two of New York's best breweries teamed up to brew this one. It's like if Bruce Wilis and Alan Rickman teamed up to make a Christmas movie (because we all know Die Hard IS a Christmas movie). That's something you'd want to watch, right?
Well, this is a beer you want to get your hands on and drink as soon as possible. We're not sure how long this one will stick around.
Pivo Pils – Firestone Walker
Paso Robles, CA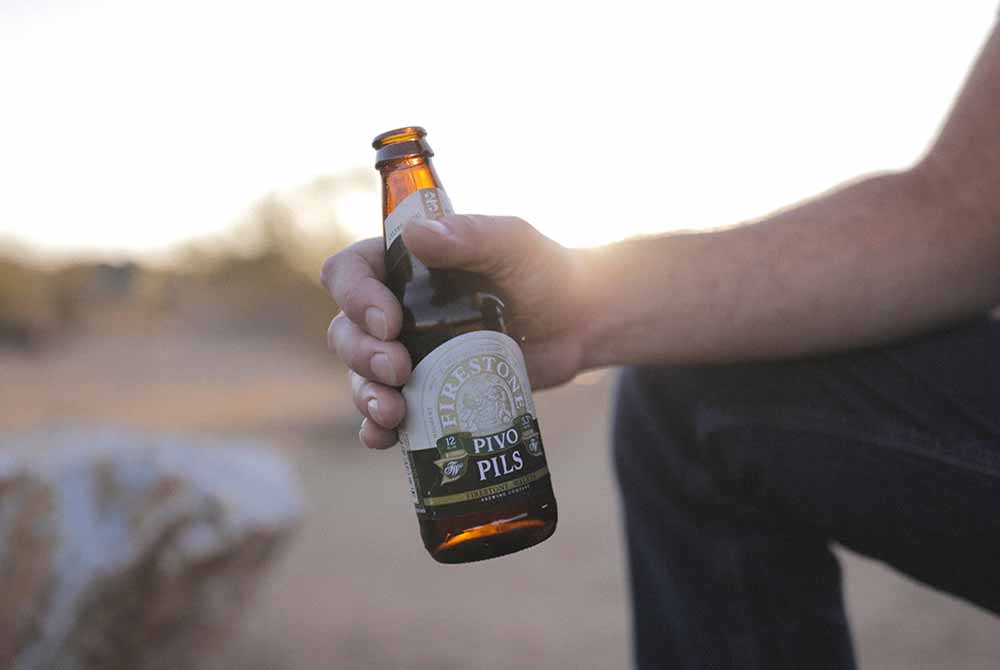 Italian Pilsner – If you're looking for a clean, approachable pilsner, you have to get your hands on some Pivo Pils. We ranked Firestone Walker's iteration seventh in a blind taste test of 30 beers for its bready aroma, slightly spicy esters, and balanced hop bitterness. Brewing for twenty-five years has to mean something.
Oskar's Lager – Oskar Blues Brewery
Longmont, CO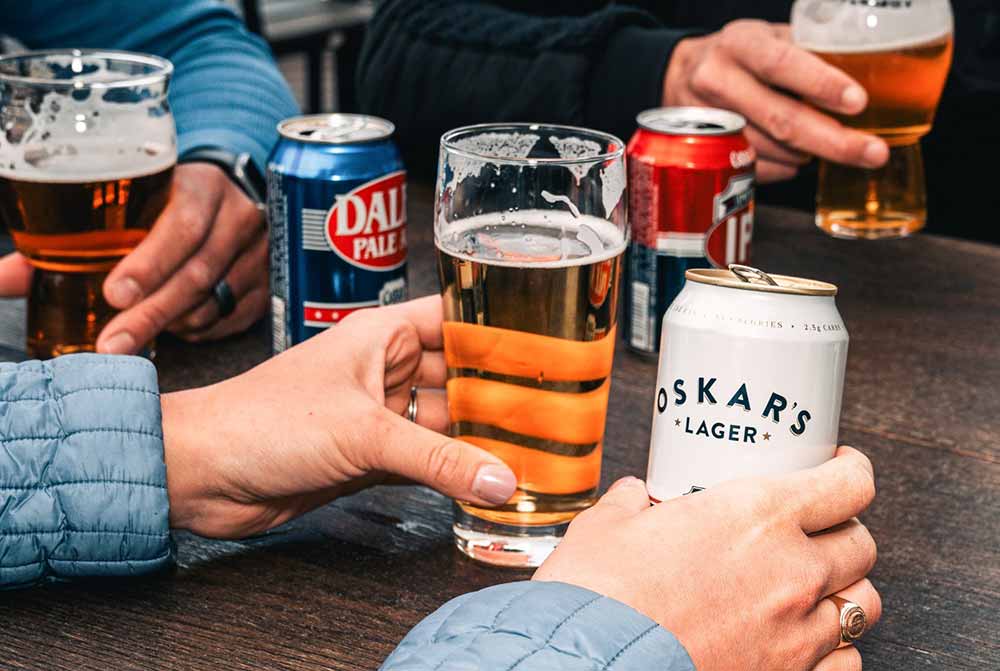 American Pale Lager – Oskar Blues has never been a brewery to go with the grain. Twenty years ago, Oskar Blues Brewery Founder Dale Katechis bucked convention by releasing the original craft beer in a can. And over the course of the last two decades, Oskar Blues has continued to innovate. For instance, brewing its own Scotch ale, Old Chub. Or the boundary-breaking Ten FIDY imperial stout (FIDY stands for "Fuck the Industry, Do it Yourself").
Now, the brewery has struck gold again in the most unassuming way, brewing its revolutionary take on a craft American pale lager called Oskar's Lager.
A lawnmower beer. An everyday beer. Or a beer after a bike ride or following a long shift. Oskar's Lager has been described as many things. But at its core, the American pale lager boils down to one simple solution…
This is the beer Oskar Blues' brewers always wanted to drink but couldn't regularly find in cans on shelves or on draft in taprooms.
So quite simply, they brewed their own, releasing Oskar's Lager in 2021.
And we're so happy they did.
Oskar's Lager is truly a beer for any situation, whether you're hanging out after work or hitting the trail.
Do we hear echos of "Fuck the Industry, Do It Yourself" ringing true here too?
Day Lite and Nite Lite – Night Shift Brewing
Everett, MA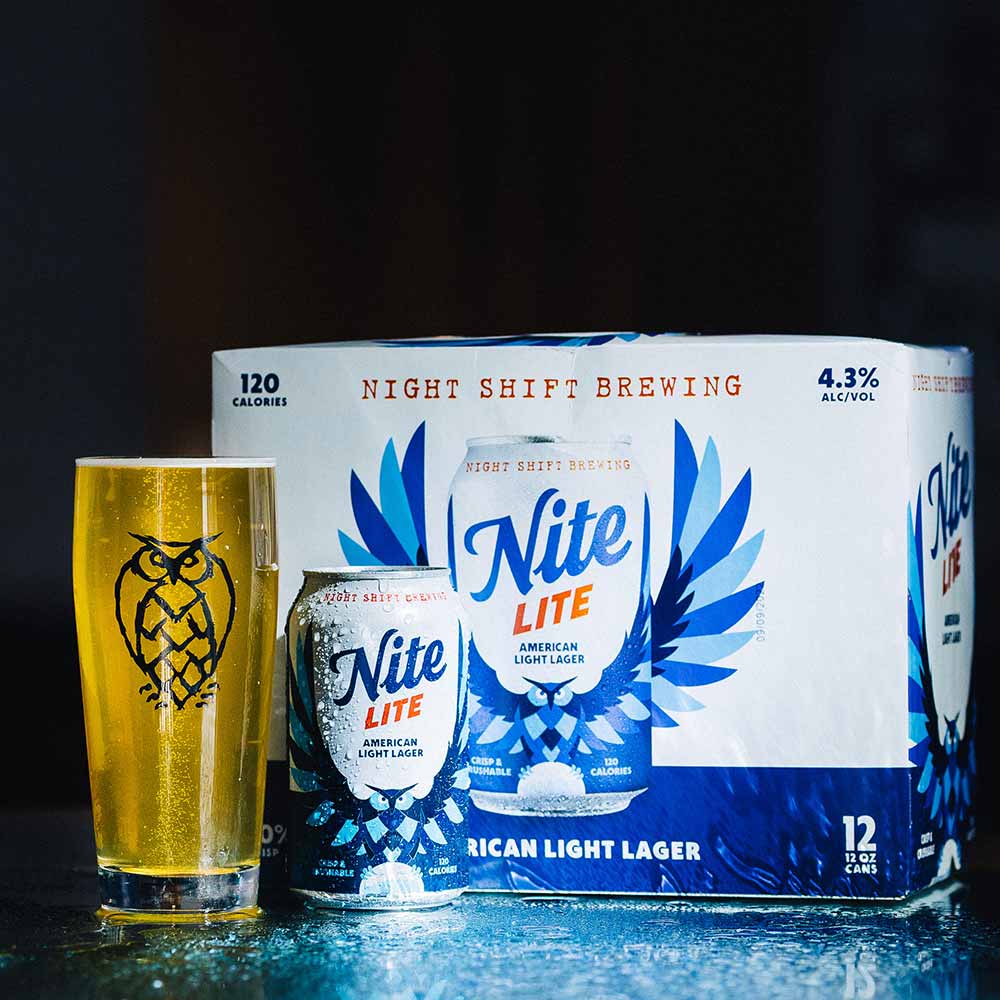 American Lager – In the summer, Night Shift introduced us to Day Lite, a wheat lager with orange peel, that had us gushing through the warmer months. Recently, the brewery told us about a rebrand for their now pretty-recognizable American light lager, Nite Lite.
All is part of the brewery's quest to hone in on the light beer segment, crafting flavorful, delicious light lagers that hit on low ABV but capture the crispness and bold notes of a lager.
"Nite Lite pours sunny gold with a soft, white head while aromas of fresh bread lead into refreshing notes of biscuit and citrus," wrote the brewery in an email to Hop Culture. "It's simply better tasting than any light beer out there. Night Shift Brewing is on a mission to brew and share better light beer. With zero preservatives, corn syrup, or artificial flavors, and a recipe that's focused on flavorful ingredients (real corn, German hops, fresh two-row barley), Nite Lite is a better light beer."
Having tasted both, we'd have to agree.
Beyond the Binary – Almanac Beer Co.
Alameda, CA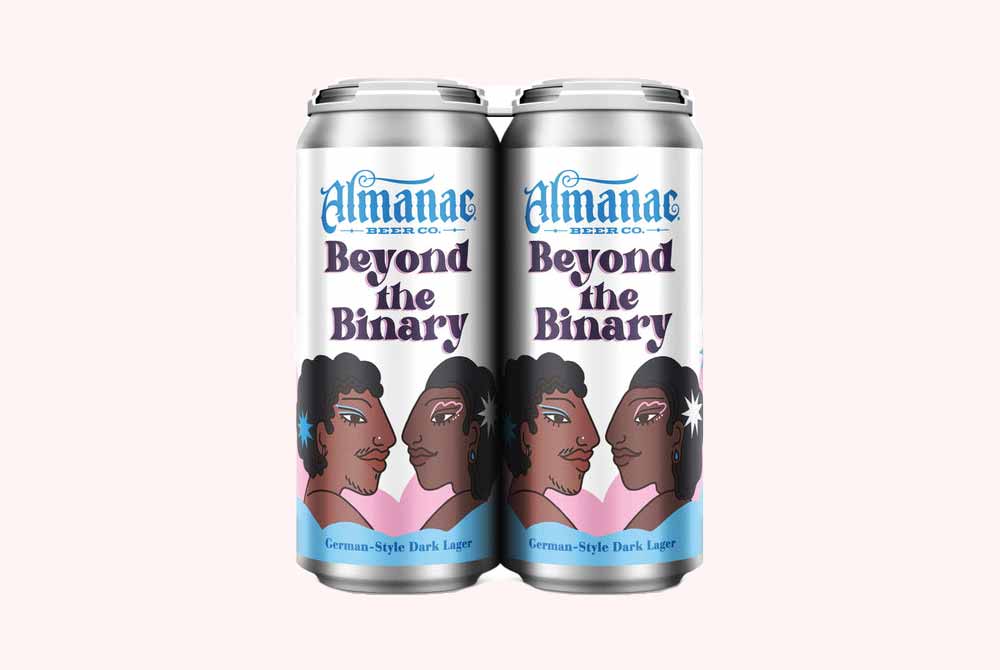 Schwarzbier – Literally a German word that translates to black lager, schwarzbier is reminiscent of a German-style dunkel, but drier, darker, roastier, and lighter. It's a style that has a rich history in Germany but only recently started to pop up in the United States.
Considered a beer of the people, German farmers originally brewed schwarzbier using cultivated grains such as barley, wheat, oats, and rye perfect for beer. Hence why schwarzbiers are literally considered black lagers; the dark grain gave this beer style not only its color, but also its roasty, dry qualities.
So it makes sense that Almanac chose this German-style dark lager to represent Beyond The Binary, a beer brewed by trans and gender-nonconforming beer professionals. With the goal to support the National Center For Transgender Equality, Beyond The Binary does make a great beer for summer in style, but even more importantly, this schwarzbier represents equality for all at a time when freedoms for some in this country are being continually threatened.
According to the Human Rights Campaign, in 2022, about 300 anti-trans bills have been proposed across thirty-six states, a record-setting pace.
Drinking Beyond The Binary gave us an opportunity to enjoy a great all-weather beer, but also to remind ourselves that we have more work to do to make our industry (and country) more diverse and inclusive.
Thresh – Trillium Brewing Company x Fox Farm Brewery
Canton, MA x Salem, CT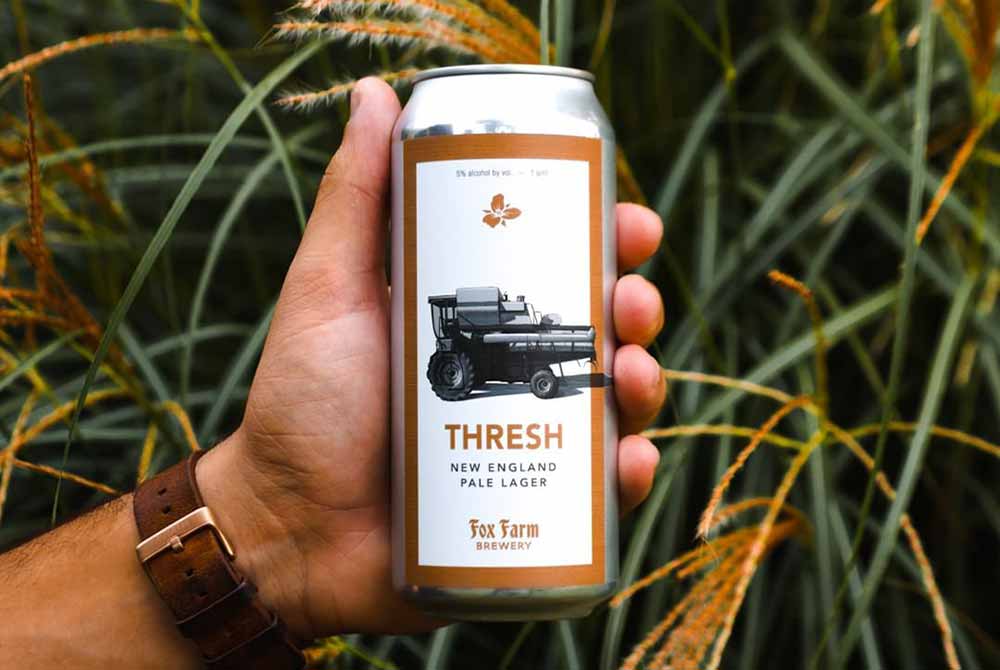 Pale Lager – Okay, spicy take from the Hop Culture crew: We're predicting that pale lagers are going to make a huge comeback in 2023. You heard it here first. Let's just look at the anecdotal evidence: Find a brewery worth its salt in IPAs and take a gander at their taplist. We bet you'll also find a pale ale or pale lager. Brewers that enjoy putting out top-notch IPAs have also started quietly almost surreptitiously putting out a pale lager or pale ale.
With Thresh, one of New England's IPA stalwarts joined forces with one of Connecticut's best bucolic breweries.
Together, you get a beer brewed with a sense of place. Using Pilsner malt from Valley Malt in Hadley, MA, and Thrall Family Malt in Windsor, CT, Thresh immediately gives off bread bakery vibes. In fact, sipping this beer is almost like knocking on the sturdy crust of a well-baked boule. Baked dough greets your nostrils while on the sip you get a snap of sourdough-esque bitterness.
A hint of citrus zest in the finish is what ultimately peaks our interest here in the summer. That light bite of orange or apricot jam is the best complement to the biscuity base.
Drinking this beer invokes visions of fields of golden grain waving in the wind and bucolic farms filled with rolling hills, pastures, and meadows.
In conclusion, we'll sign up for that any day.
Decocted Helles – Von Ebert Brewing
Portland, OR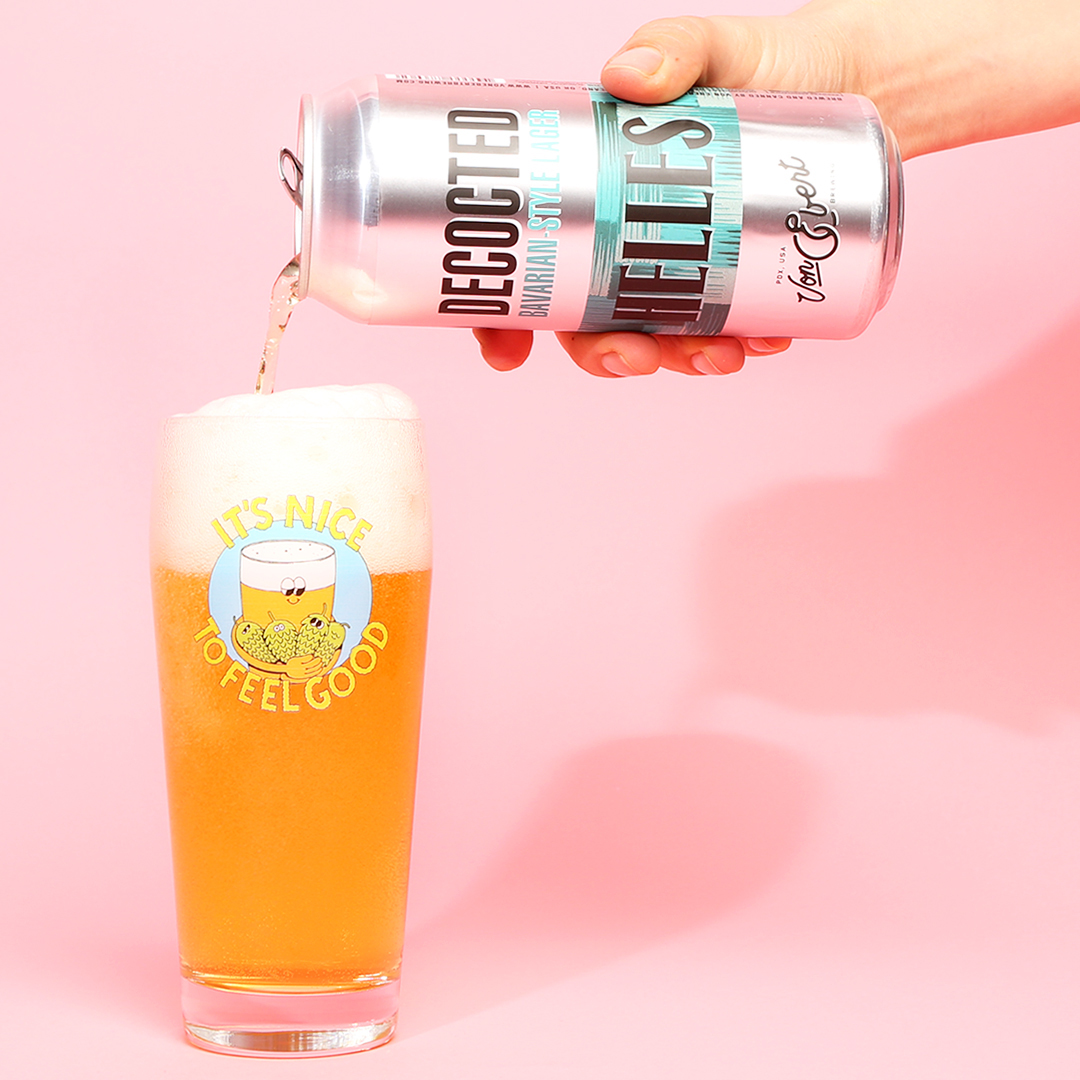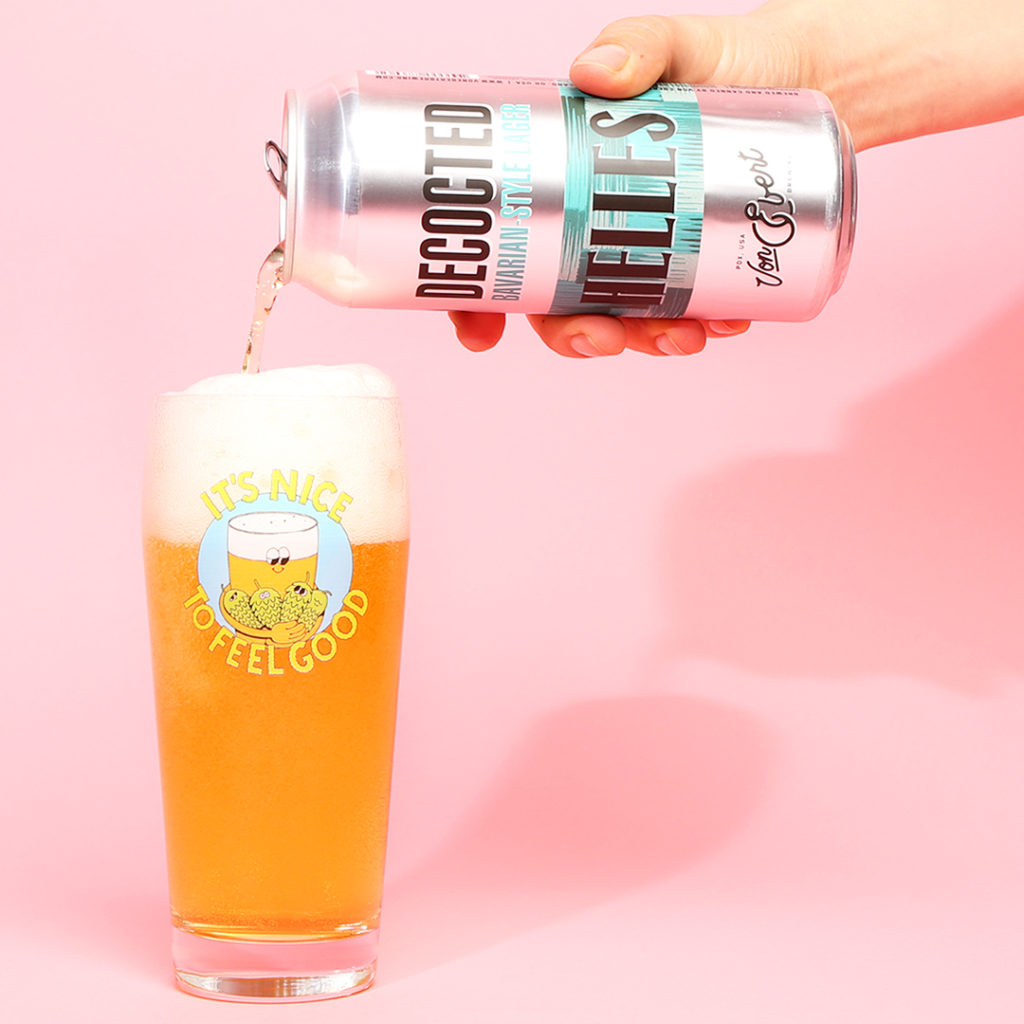 Helles – A simple beer that's actually deceptively hard to brew, helles represents a Bavarian beer style that's crisp and clean. But we don't need to go into that here. All you need to know is that Von Ebert's Decocted Helles reminds us of the following words: fresh bread, crackers, herbaceous, floral, quaffable. Simple summer perfection. Pour out a fresh one of these on the porch. After that, watch the sunset and you have summer sipping at its best. It's nice to feel good.
Beer for Burgers – Off Color Brewing
Chicago, IL
Helles / Maibock – Originally brewed as a nod to a boilermaker—a beer and a shot—Beer for Burgers was meant to be the ultimate…well, beer for your burgers. "The idea was to make a clean beer that could stand up to the wood and alcohol you get from barrel aging," says Dave Bleitner, co-founder of Off Color Brewing in Chicago, IL.
Using Off Color's helles bock base, Bleitner created Beer for Burgers by resting the beer in a blend of second- and third-use bourbon barrels. Fermented with a traditional lager yeast, Beer for Burgers is "a very clean base that has a little bit of fruit notes from fermentation, especially like a mild stone fruit mixed in with a little boozy alcohol note," says Bleitner. "Not to the extent you get on an imperial stout, but just a hint of alcohol burn helps balance the residual sweetness from the malts."
While the lighter German-style lager known as a helles bock or maibock isn't an uber popular style here in America, it's one that often represents the spring. Actually, mai in German translates to May. While these paler cousins of the bock are strongly malty and slightly hoppy lagers perfect for the days from March to May, you can still crack 'em open in the winter.
Gold – Beale's
Bedford, VA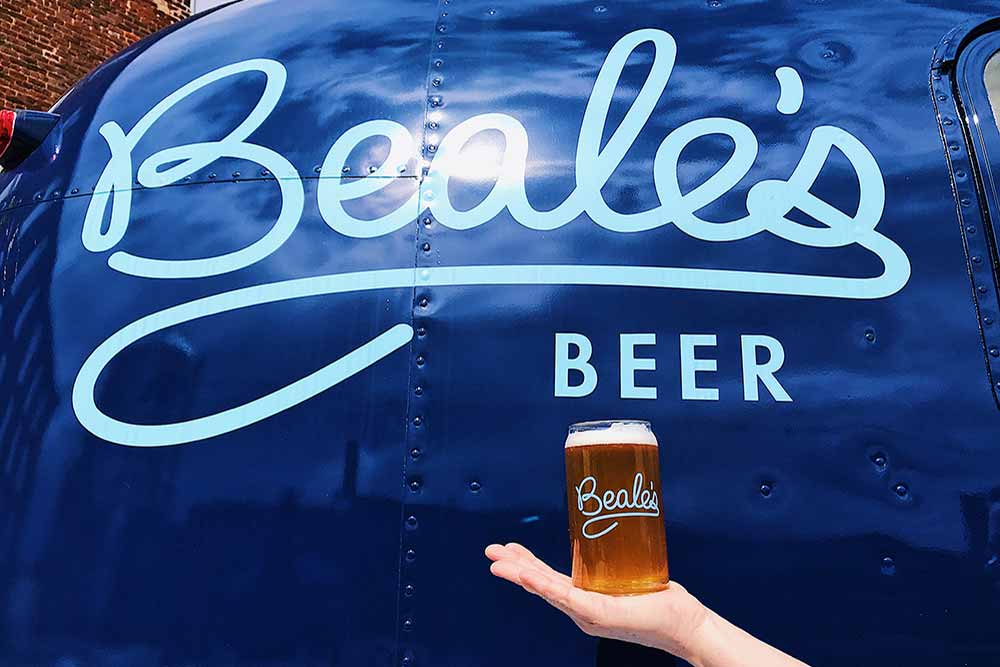 Helles – We'll admit that we're new to Beale's, but after tasting their helles called Gold, our antennae are pointed right in their direction. Crisp, smooth, and deceptively simple we actually found this beer to be pretty complex. A pleasant nuttiness erupted on the nose and carried through the sip. Nuttier than a typical helles, Gold gave us notes of Marcona almonds balanced by a slight minerality and almost a hint of smoke.
This is a beer we kept wanting to go back to in order to discover more. So good thing this helles is super crushable.
Bok Lobster – Dutchbag Brew Co.
Chicago, IL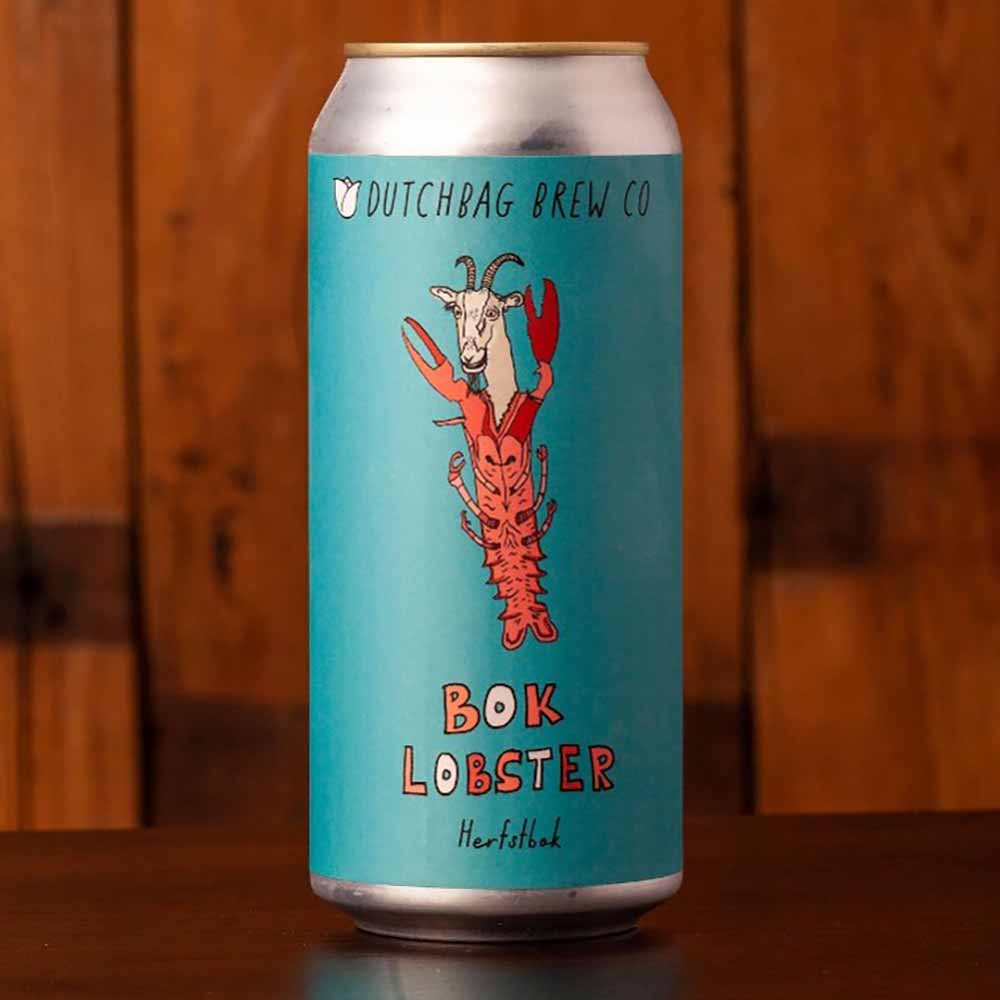 Bockr – Translating to "Autumn Bock" in Dutch, Hertsbok is a traditional fall beer in the Netherlands, known for its deep beautiful garnet rust color and slight smokiness. Dutchbag Brew Co.'s version features Maris Otter, Munich, Caramel specialty, and chocolate rye malts along with flaked oats for a smooth creaminess.
Light and crisp with a bit of bitter espresso on the sip, Bok Lobster also gave us everything we love about the colder seasons: toasted twigs smoldering in a fire pit, charred marshmallows around a fire, and slightly melted dark chocolate on top of graham crackers.
Beyond The Sky – Radiant Beer Co.
Anaheim, CA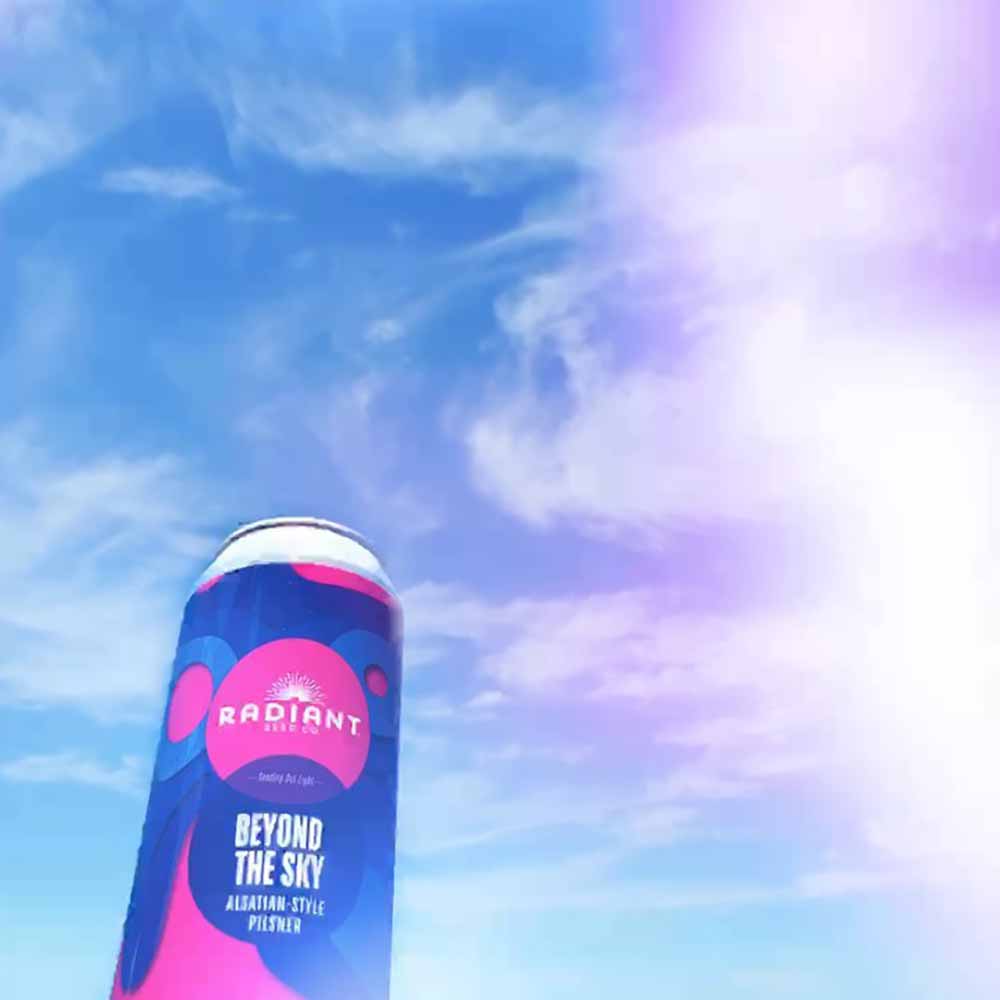 Alsatian-Style Pilsner – As bright and colorful as Radiant Beer Co.'s cans are, Beyond The Sky impresses not for its boldness, but for its deceptive simplicity. The brewery calls this one an Alsatian-style pilsner. A collective term for the area between eastern France and western/upper Rhine in Germany and Switzerland, Alsace is a distinct cultural region.
So it goes that beers from this region must also be pretty interesting. We've never been ourselves, but we're going to imagine that Radiant's Beyond The Sky takes us on a trip there.
Super light and clear, this dry, highly carbonated pilsner includes French Pils malt and French Strisselspalt hops. Notes of lemon zest and baked bread are balanced by a floralness from the French hops.
The best way we can describe this beer is that it's an elegant pilsner. Elegant in balance, elegant in flavor, and elegant in carbonation.
Sfizio – Fort Point Beer Co.
San Francisco, CA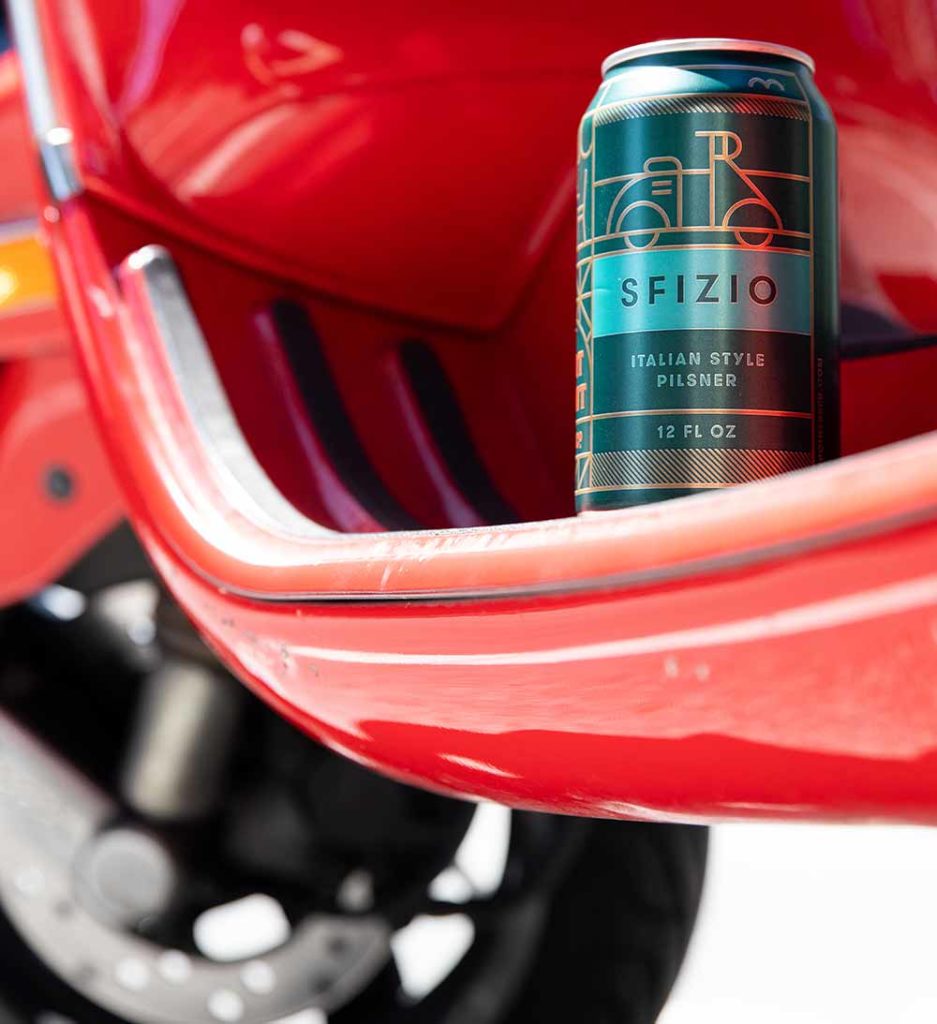 Italian Pilsner – Inspired by a few other versions of Italian pilsners, Fort Point Beer Co. Director of Innovation Mike Schnebeck brewed Sfizio as a light, refreshing complement to the rest of Fort Point's portfolio. Using a 100 percent house Pilsner malt and Hallertau Middlefrüh and Aurora hops gives this beer its distinct characteristics.
"Sfizio has an aroma of fresh-cut grass with a little bit of menthol and anise in the background. Aurora is just the squeeze of lemon to brighten it up, peak interest, and give that cooling sensation, drinkability, and refreshing quality of [the Italian pils]," says Schnebeck.
We love Italian pilsners because they have a very interesting history. And if we had to stock one version in our fridge constantly, Sfizio would top that list.
Natural Rise – Common Space Brewery x Three Weavers Brewing Company
Hawthorne, CA x Inglewood, CA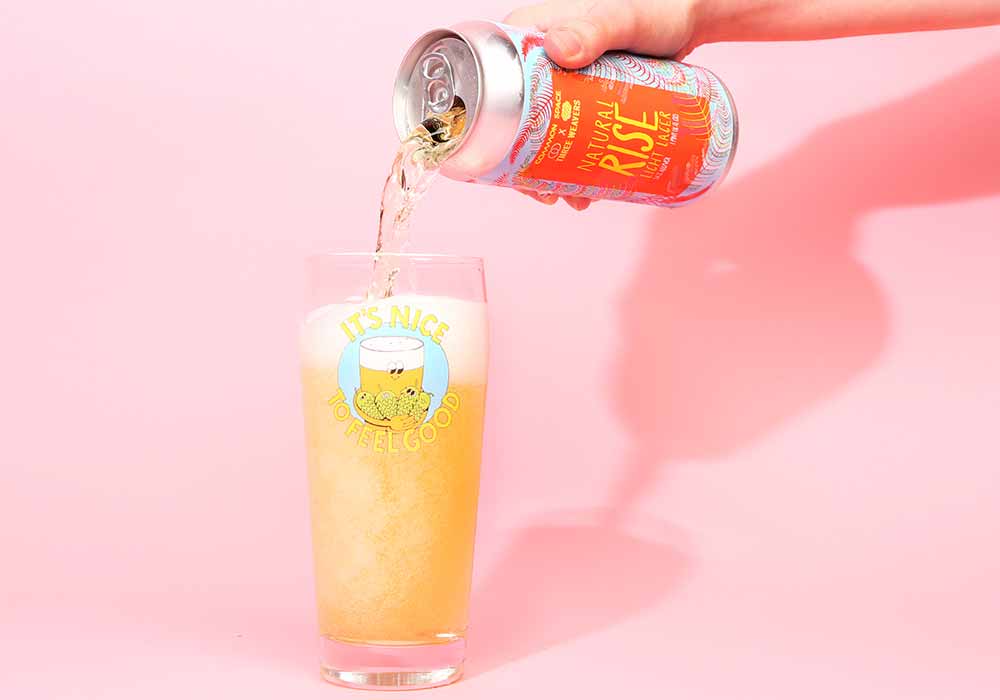 Light Lager – Sometimes a rainy winter day gives way to a cloudless sky and it feels like the world has been refreshed, ready to start anew. Natural Rise, a light lager collab from Common Space and Three Weavers, feels exactly like that. This is just a good, clean, crisp lager expressing the perfect balance of high-quality organic malt and hops for an incredibly crushable can of beer.
The Miner – Czig Meister
Hackettstown, NJ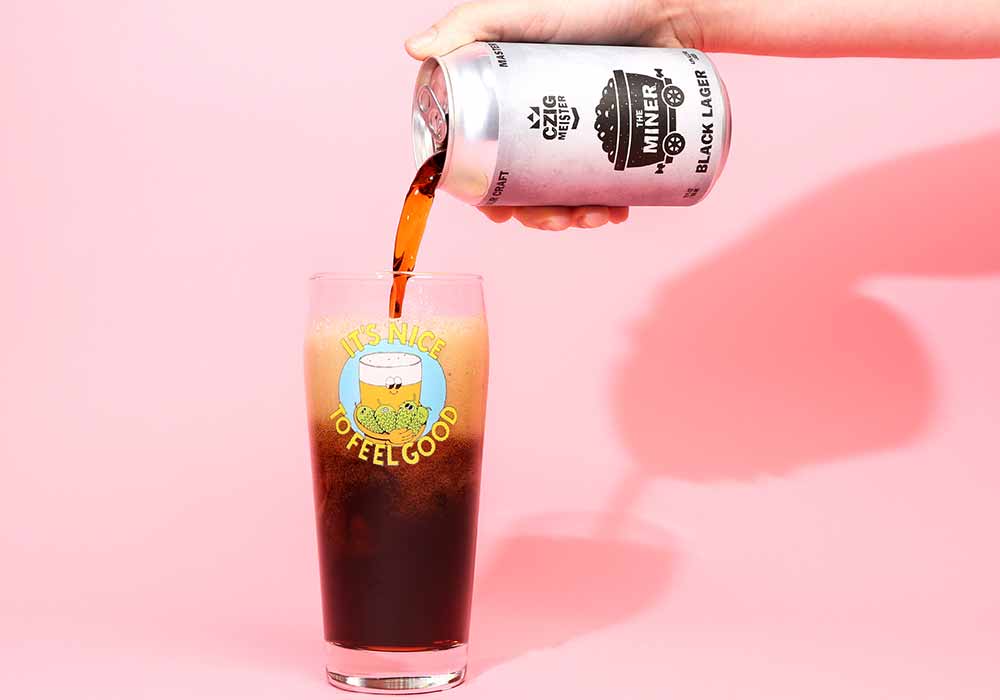 Dark Lager – Yes, this beer is black, and we know that darker colors sometimes equate to heartier beers. But not always. And The Miner from Czig Meister, one of our 77 best women-led breweries to support right now, proves that impeccably.
Pouring more of a Coca-Cola brown, this dark lager offers redolent aromas of roasted barley and freshly ground coffee. Yes, as we mentioned, this beer is dark, but light and fresh are the keywords here. Digging into mostly toasted biscuit and slightly browned pie crust, The Miner finishes nice and dry. As soon as you take a sip, you're ready for the next. And the next. And the next. Can you dig it?
Croccante – Pontoon Brewing
Sandy Springs, GA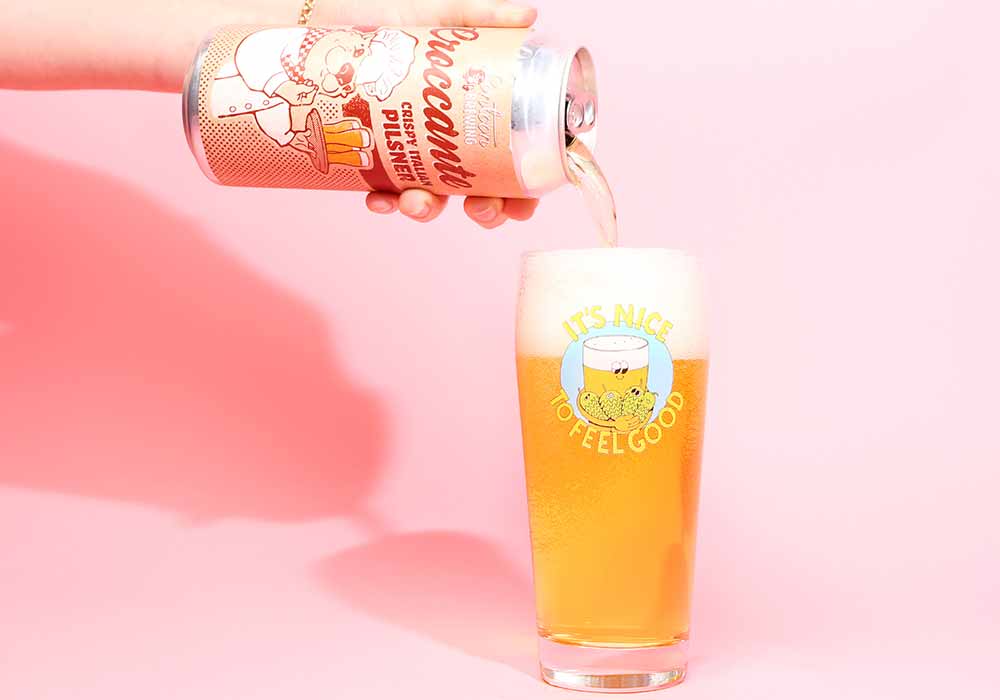 Italian Pilsner – A style we've seen popping up more and more, Italian pilsners are light in color, clean in body, unfiltered, and defined by dry hopping. For purveyors of the style, European hops are encouraged. And in Pontoon Brewing's version, you'll find traditional German hops such as Hallertauer Mittelfrüh and Tettnang alongside a clean pilsner base. At only 5% ABV, this is an all-day day-drinking beer. You'll find a distinct floralness and low bitterness in the body, which we feel nicely complements spring. But that's balanced by a high crispness—Croccante literally means crisp in Italian, making it the ideal spring beer.
Pilsner – Dovetail Brewery
Chicago, IL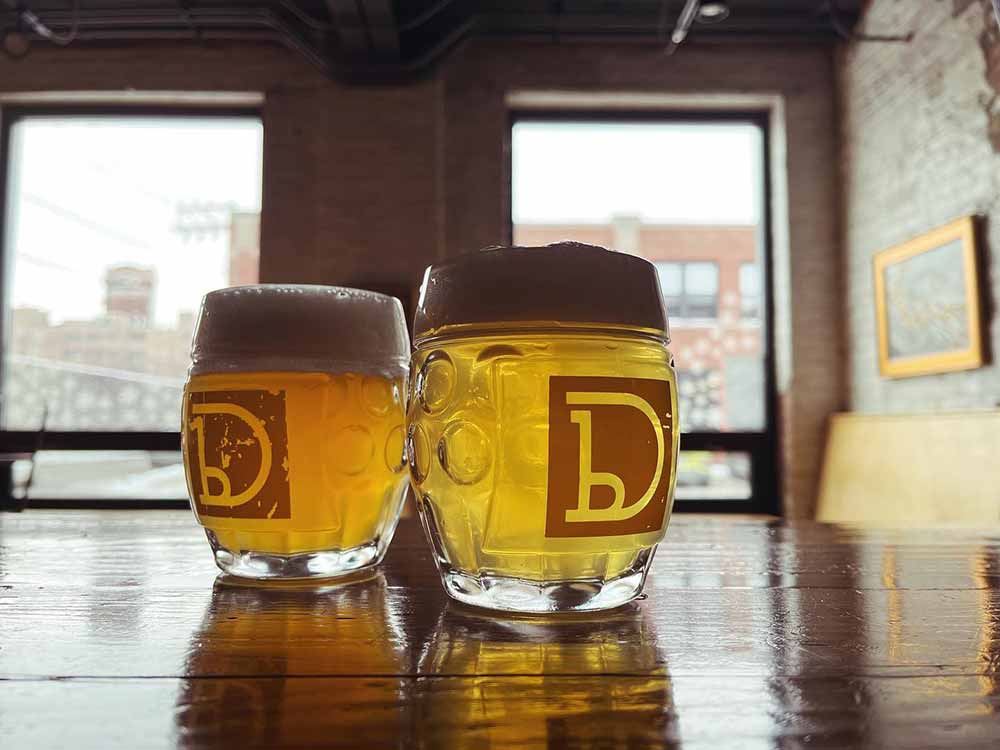 Czech Pilsner – One of our best breweries in Chicago, Dovetail follows a rustic route, simply naming their beers based on the style. For instance, Dovetail Lager, Dovetail Hefeweizen, and Dovetail Pilsner.
You all know how much we love pilsners. Dovetail's version is something special, showcasing Czech hops, 100% Pilsner malt from Bamberger Mälzerei, and what the brewery calls, in the beer's Untappd description, "heaven's water." Aka a recreation of Plzeň's iconic soft water all the way in Chicago.
Dead Out – Arizona Wilderness Brewing Co.
Gilbert, AZ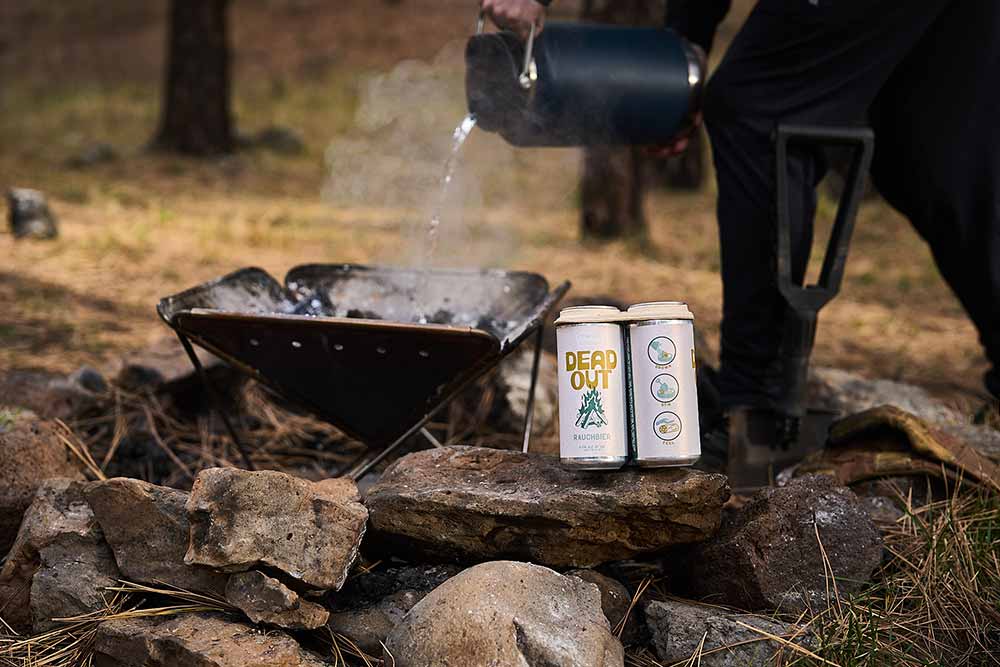 Rauchbier – Brewed to bring awareness to wildfire prevention, Dead Out refers to the term for when a campfire is completely extinguished.
"Wildfires burned more than 500,000 acres of nature in 2021, and nearly a million acres in 2020!" says Jon Buford, Arizona Wilderness' co-founder. "The sad fact is that most of those fires were caused by humans and were completely avoidable. One little fire can grow into something that devastates the wilderness, so if this beer teaches even one person to fully put out their campfire, I'll consider it a huge success."
It's a beer with an important environmental mission that also fires on all cylinders in the tasting notes. With the perfect amount of smokiness, Dead Out also pushes out warm baked ginger snap cookies.
With a lovely, silky mouthfeel, Dead Out kills the rauchbier style (while also reminding us to kill campfires).
Endgrain Märzen – Hopewell Brewing
Chicago, IL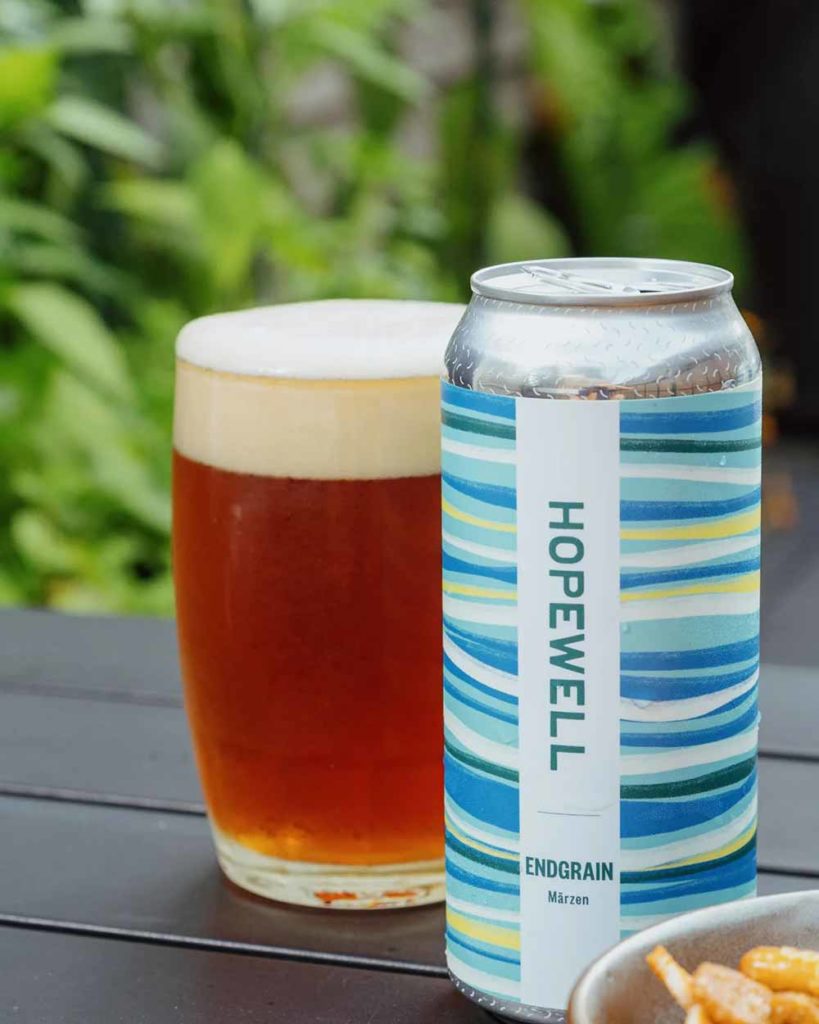 Märzen – Built to bring in the fall, Endgrain captures the essence of this season in a can. Which is why we love it so much. Rich and malty with a hint of that Noble hop character, the aroma actually presented very juicy to us.
Getting into that first sip revealed a complexity and depth that makes us love the märzen style.
With Endgrain, you peel back the layers with every sip. A bit of dark toast with jam hits first followed by an almost smoked meat finish.
This is just a delicious, smooth, and balanced märzen. And one of our favorite "Top 23 Oktoberfest Beers to Try This Fall."
Glean – Garrison City Beerworks
Dover, NH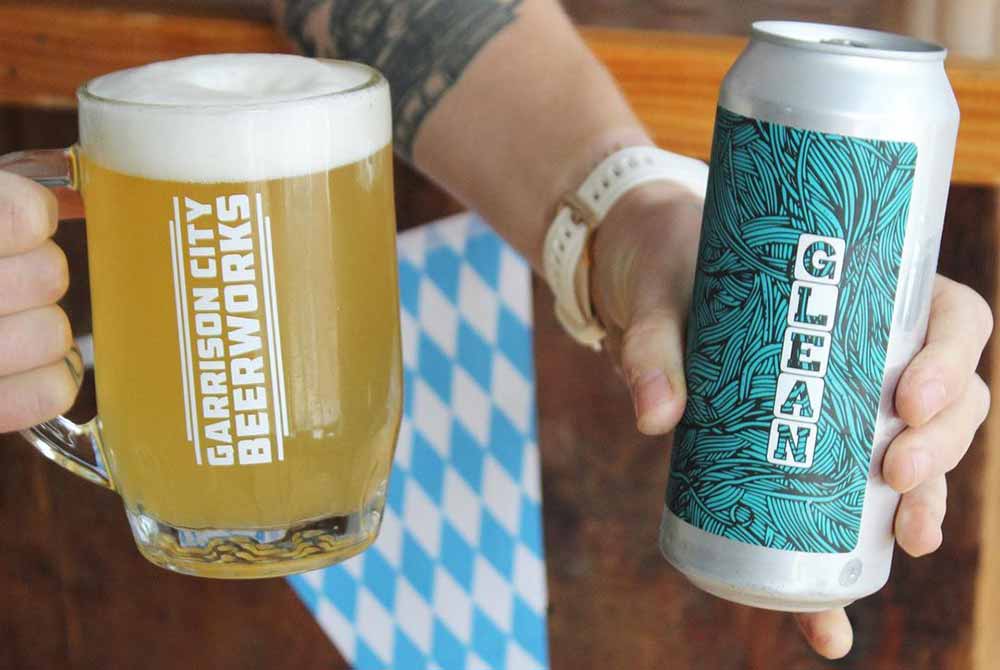 Kellerbier / Zwickelbier – Garrison City Beerworks is hands down one of our favorite breweries in all of New Hampshire. And while co-founder Nicole Gray is a wizard when it comes to IPAs, she sent us this rustic lager earlier in the year with all local malts from Blue Ox Malthouse that knocked our socks off.
Super clean, refreshing, and smooth, Glean just reminds us why we love lagers—and Garrison City Beerworks—so much.
Death & Taxes – Moonlight Brewing Co.
Santa Rosa, CA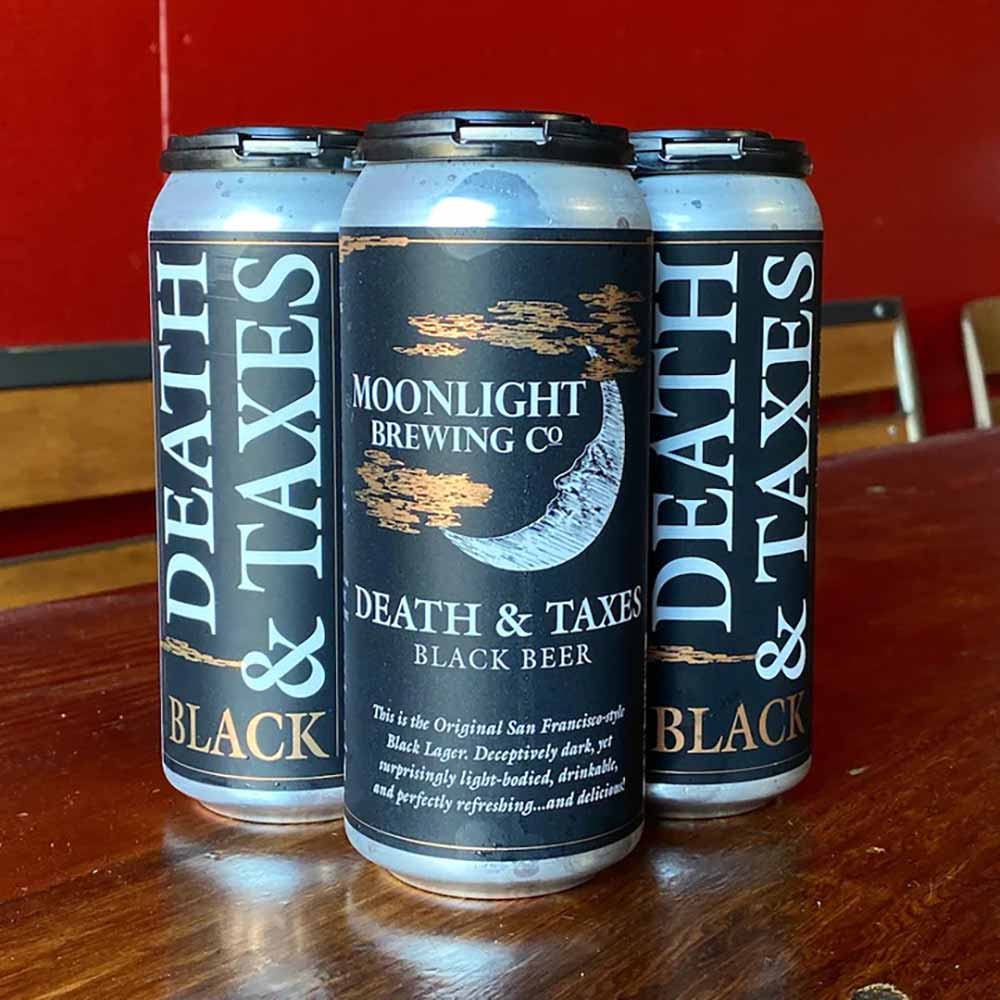 Dark Lager – A bit of a…dark horse, some might say. Considered a black lager, this beer from the Santa Rosa-based brewery is surprisingly crisp and light.
Like a lager. Go figure.
With the texture and aroma of iced coffee, Death & Taxes is sure to please the palate while staying crisp enough to qualify for a startlingly unique post-hike, post-ride, post-adventure beer.
Dark Fantasy – Homage Brewing
Los Angeles, CA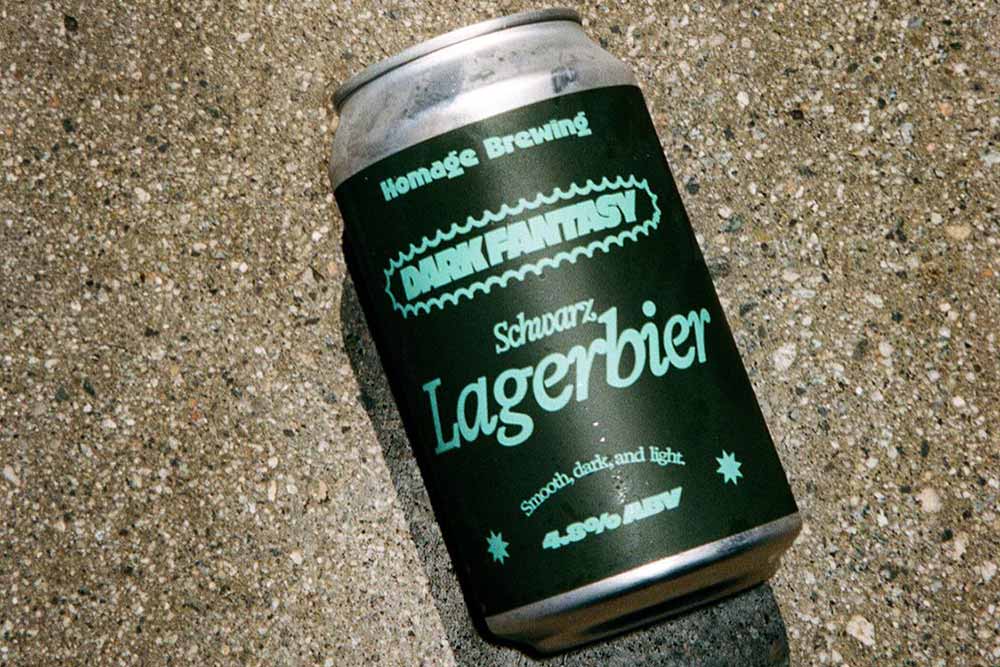 Schwarzbier – On a recent trip to Los Angeles we made a pilgrimage to one of our favorite City of Angels breweries—Homage Brewing. The Pomona-based brewery known for creating some of the most inventive beers in the region opened up a taproom in Chinatown about a year ago. And while we love Homage for its saisons and blended takes on barrel-aged varieties, lagers were the focus for us this time around.
Dark Fantasy drank smooth and velvety, greasing the wheels for every next sip. Notes of dry cocoa mix, a little bit of that savory charcoal ash, and dark chocolate kissed us tenderly.
Cool, crisp, and so refreshing for a dark lager, Homage nailed this European dark lager style.
Dabbling in Decoction – Firestone Walker Brewing Company x Green Bench Brewing Co.
Paso Robles, CA x St. Petersburg, FL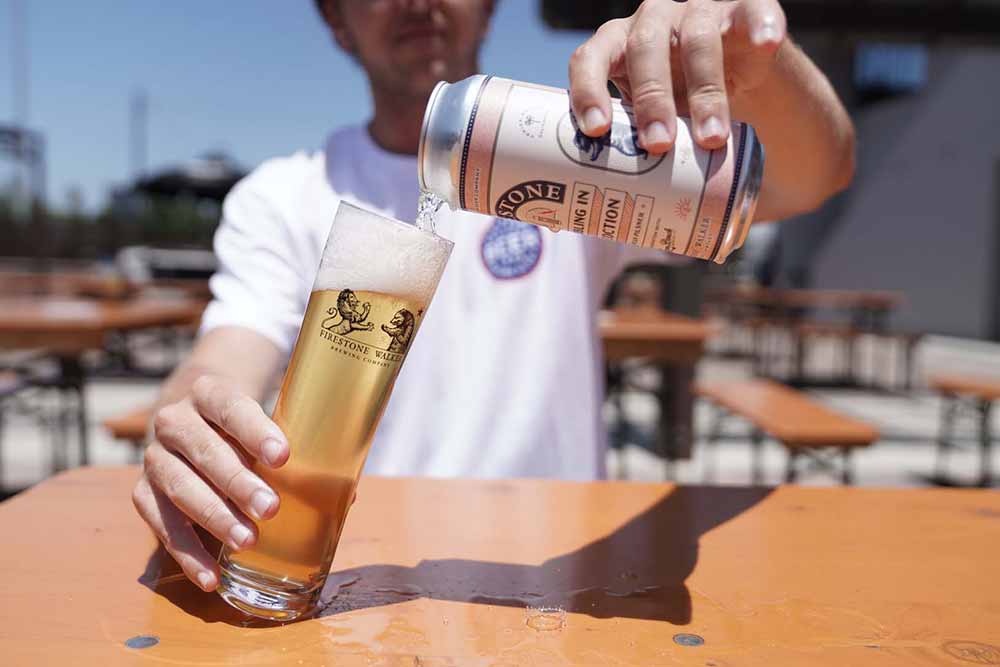 Pilsner – Here were my first thoughts after sipping on Dabbling in Decoction: Damn, that's really good. Creamy with a slight sweet corn-like base, this pilsner collab with Green Bench Brewing (one of the best breweries in South Florida, in our humble opinion), is a lesson in geeking out on lagers.
Green Bench Head Brewer/Co-Owner Khris Johnson made a trip to Firestone Walker's The Propagator in Venice, CA, to brew with The Propagator Brewery Manager Sam Tierney.
As the story goes, when Johnson mentioned that he had started "dabbling" in decoction-mashing, a new beer was born.
A traditional lager method that includes boiling a portion of the mash and mixing it back into the main mash, decoction is extra work for sure. But a method that really pays dividends in the end. The preferred method of mashing in Germany and Czechia, decoction purportedly creates a higher-quality beer with a depth of maltiness.
Actually a combination of this European technique with American-grown ingredients, Dabbling in Decoction features floor-malted, California brown pilsner malt from Admiral Malting in Alameda, CA; non-GMO corn from Briess in Wisconsin, and Lorien and Mt. Hood hops from Indie Hops.
This beer feels like a labor of love. And for a humble pilsner it feels luxurious, like a red carpet rolled out for my tongue.
On Center – Trademark Brewing®
Long Beach, CA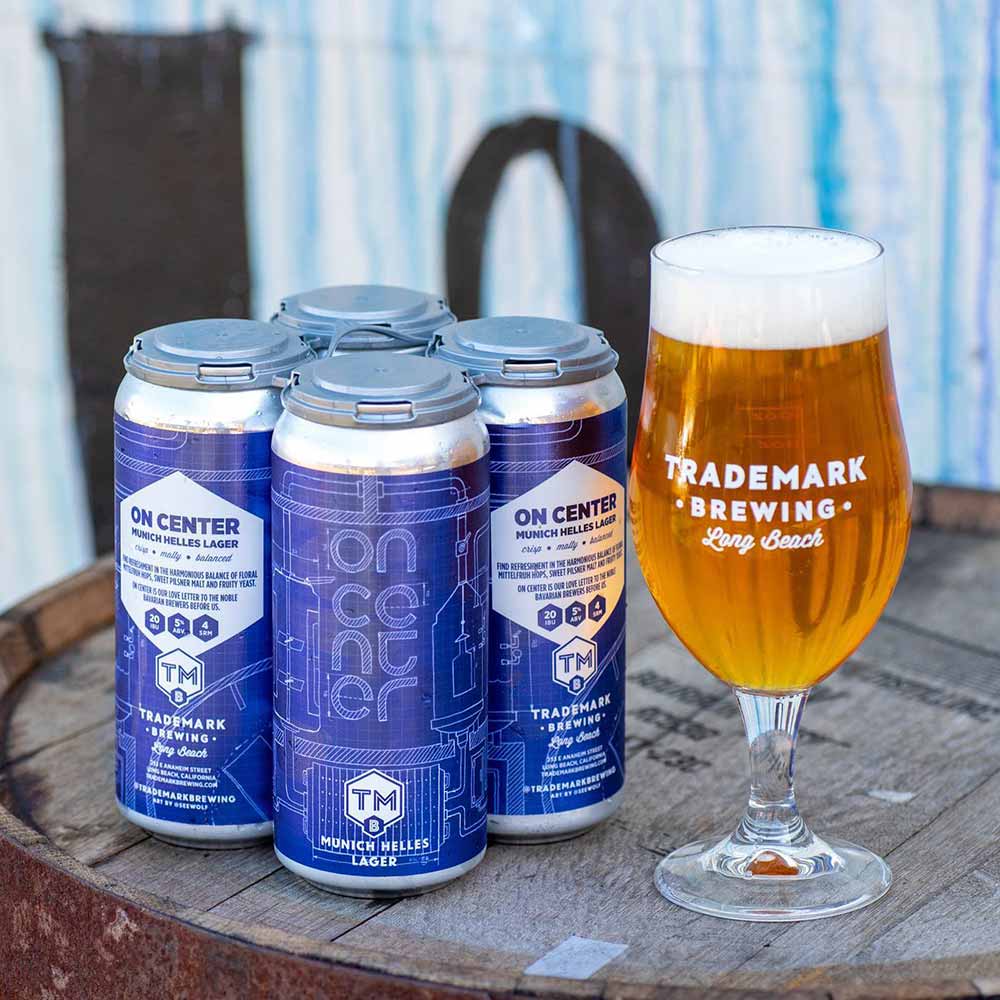 Helles – Crispy, malty, and balanced(y), On Center has a touch of sweetness on the side of baked honey, but also a Cheerios-like breadiness from the Pilsner malt. Mittelfrüh hops add that complementing floralness while a fruity yeast rounds everything out for what we kind of consider the goldilocks of helles—just right.
Pilsen Liberation – Three Taverns Brewery x Pivovar Proud
Decatur, GA x Pilsen, Jihozápad Czech Republic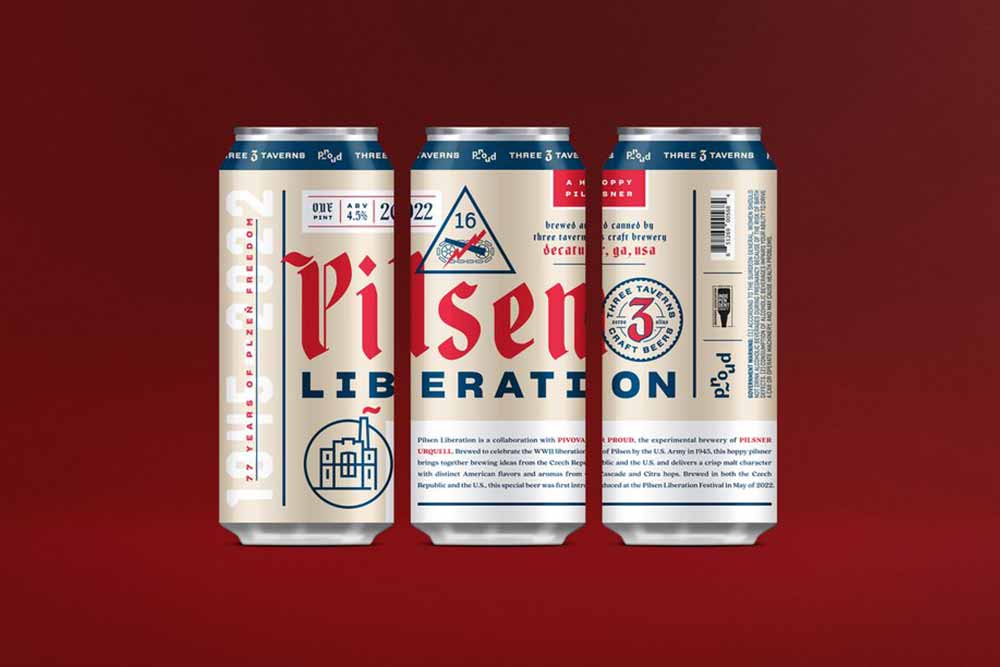 Pilsner – Three Taverns Brewery went straight to the source to brew this pilsner—the Czech Republic. Teaming up with Pivovar Proud, an experimental brewery from Pilsner Urquell, Three Taverns brewed this hoppy pilsner for the 2022 Pilsen Liberation Festival in the Czech Republic.
It's actually another one of Three Taverns beers, Prince of Pilsen, that caught the attention of Pilsner Urquell Development Senior Supervisor Petr Starý. "It was the name of your beer," says Starý in a Three Taverns blog. "When I saw you brewed a beer called Prince of Pilsen, I knew I wanted to try the beer. After sampling the beer at our brewery, I knew I wanted to see you guys in the Czech Republic and make a beer together."
The beer—Pilsen Liberation—commemorates the liberation of the town of Pilsen by America from the Nazis during World War II. Full of Czech malt that lends that classic crispness and Saaz hops that lend that classic noble hop character, Pilsen LIberation gets a distinct American touch from the addition of Citra and Cascade hops.
This is collaboration in its truest form, marrying a traditional Czech-style pilsner with a contemporary American flair.
For the Love of Lager – Wallenpaupack Brewing Co.
Hawley, PA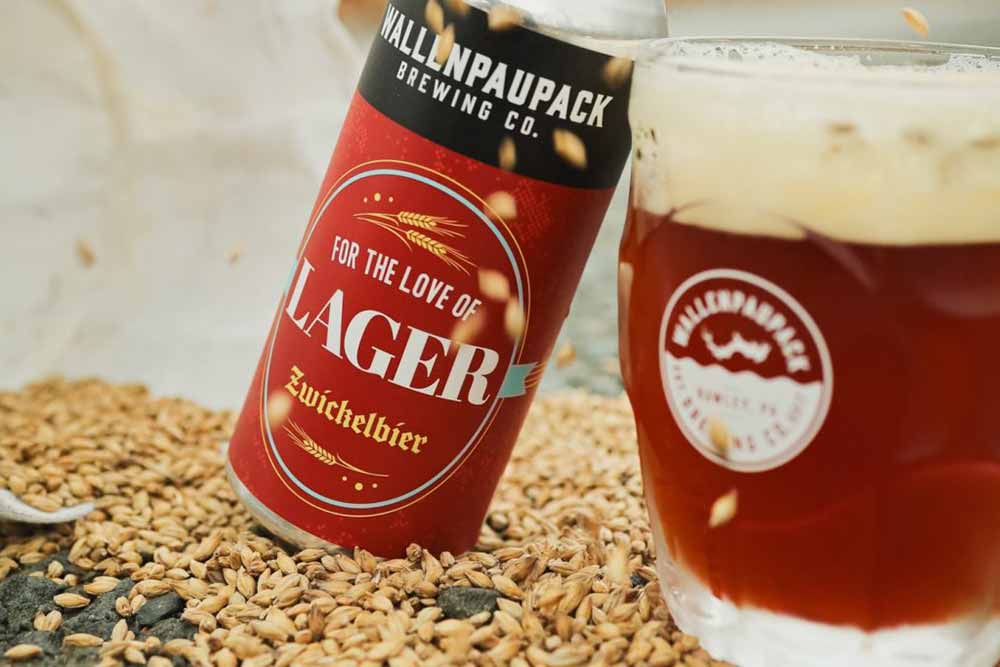 Kellerbier / Zwickelbier – The glowing amber hue of this Zwickelbier, courtesy of some Vienna malt, immediately caught our attention. On the nose we find warm biscuits right out of the oven, tall, fluffy, and cakey with a drop of honey baked in. The sip follows through with almost some darker crust notes or studded fruit bread like panettone.
Wallenpaupack really went through their paces to brew this beer, following a decoction mash and a process called "spunding," a form of natural carbonation that produces a very velvety finish.
Again, For the Love of Lager proves that lagers are a labor of love. A labor we're quite frankly honored to taste.
Liked this article? Sign up for our newsletter to get the best craft beer writing on the web delivered straight to your inbox.