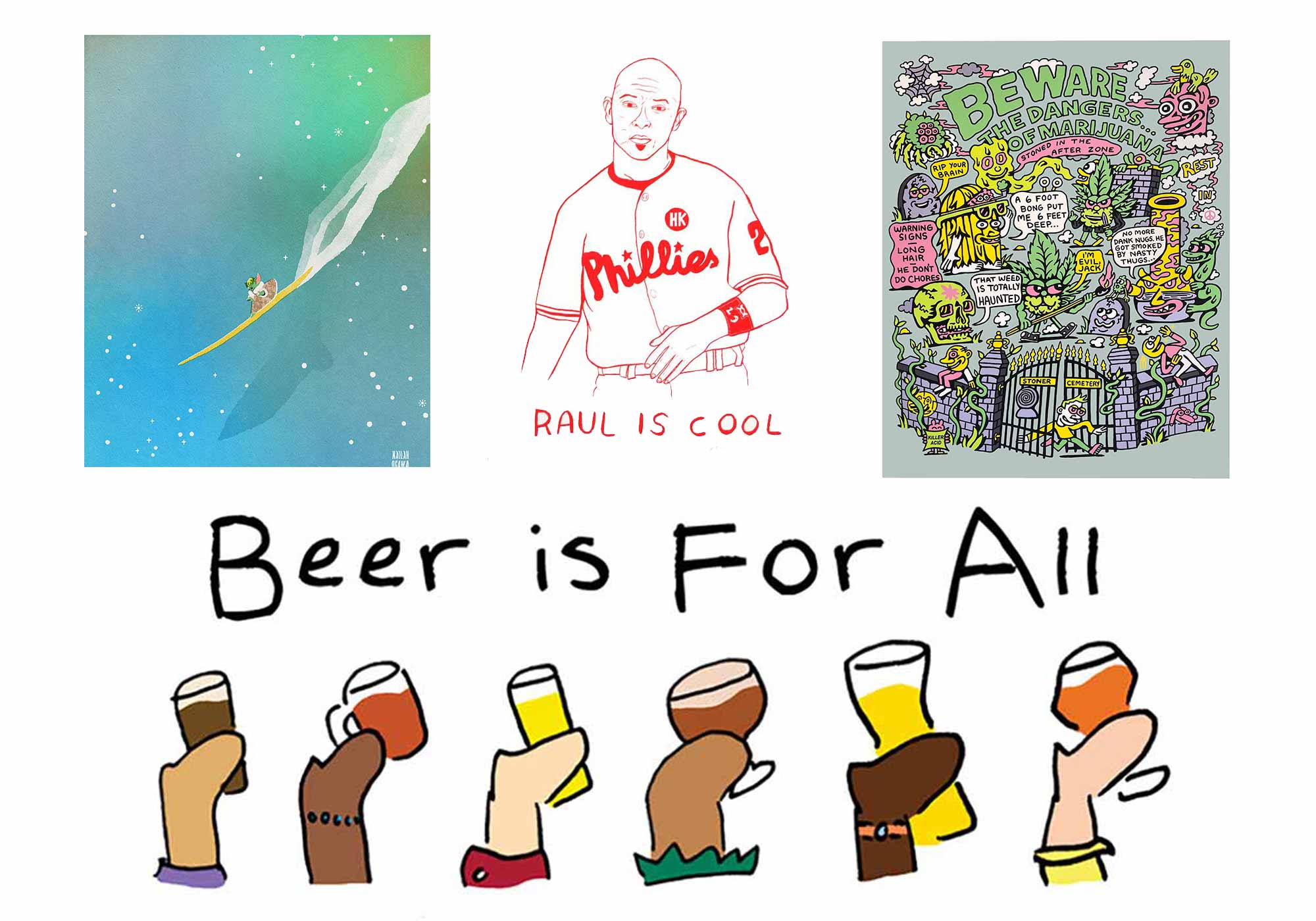 Beer and art often go hand in hand. Because making beer is as much a craft as it is a science. And today everything from designing a brewery to illustrating the right can label defines a brewery's brand. And helps their beer stick out on the shelf. Or can build an eye-catching merch program. Even here at Hop Culture we've had the opportunity to work with a multitude of talented artists including: Sam Taylor, Killer Acid, Kailah Ogawa, Lia Sued, Em Sauter, and Thom Lessner. So while we don't know every artist out there, we do keep up with a few. And it's no surprise that these artists make some of the coolest beer gifts around.
With so many talented artists impacting craft beer, we wanted to shout out a few of our favorite pieces of work. Some you'll see in print from. But many you'll find on glasses, sweatpants, shorts, t-shirts, hats, beanies, and more. All make excellent gifts for the beer drinker in your life. And help support an artist or brewery too. It's a win-win!
Hop Culture's 10 Coolest Gifts for the Artistic Beer Drinker
Samuel Adams x Hop Culture Pour Out Your Pride Posters
This past summer to celebrate announcing our inaugural Queer Beer Fest presented by Samuel Adams we asked queer artists to send us their best illustrations of what it looks like to be a powerful queer person participating in the craft beer industry or culture. We received some amazing vibrant, colorful, and empowering designs.
The winning illustration came from Molly Gajdosick (they/them/theirs), a 26-year-old non-binary designer. Their illustration incorporates the colors of the trans flag along with the spirit of Pride into a design that simultaneously captures the motion of pouring out a bottle of beer. You can find her winning design on these YETI Colsters along with an exclusive full-color print.
And, a huge shoutout to all of the talented semifinalists for crafting some seriously sensational designs including Nicole Stark, Lisa Gay-Milliken, and Chloe Lee. Our presenting partner Boston Beer printed all of the winning and semi-finalist illustrations on these limited-edition posters.
Thom Lessner Prints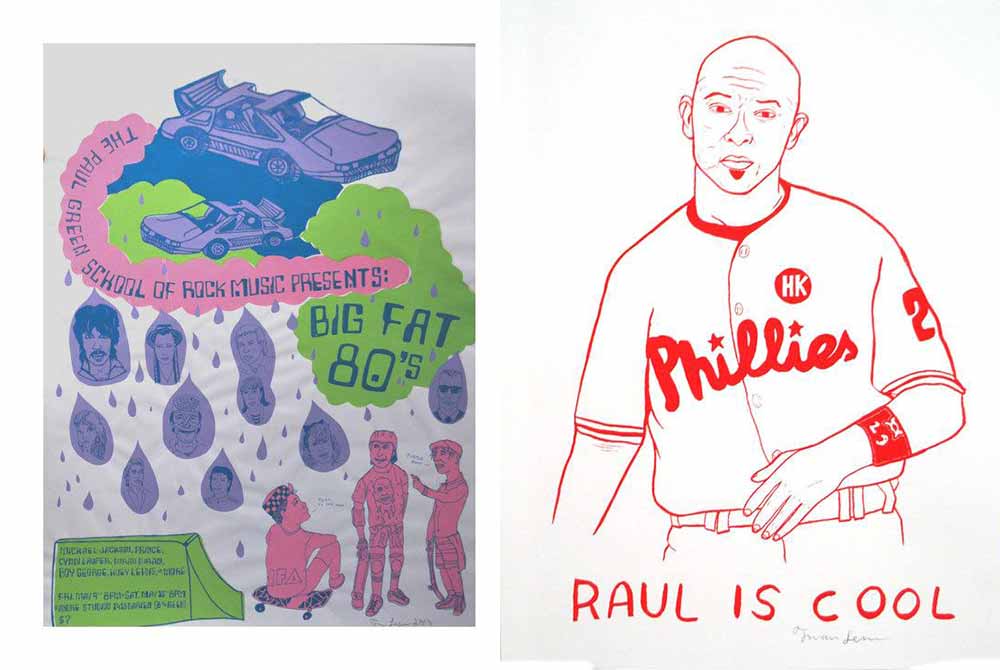 Thom Lessner is nothing short of a magician. Known for an almost skateboard punk-esq vibe Lessner's designs have become pretty well known in the craft beer community. A self-taught artist Lessner's illustrations have made the rounds from animations with Narragansett Beer to Hoof Hearted labels and merch (plus, he has his own line of Obey Clothing!). And his work has appeared in publications such as Vice, Revolver, Swindle, Spin and Rolling Stone.
Hop Culture Founder Kenny Gould even has a couple Thom Lessner prints in his house! His work is kooky and stylized, mixing goofy characters with clean lines and pops of color. If Lessner's work is good enough to grace the walls of Kenny's house it should be good enough for yours too!
Weird Fishes Tumbler Glass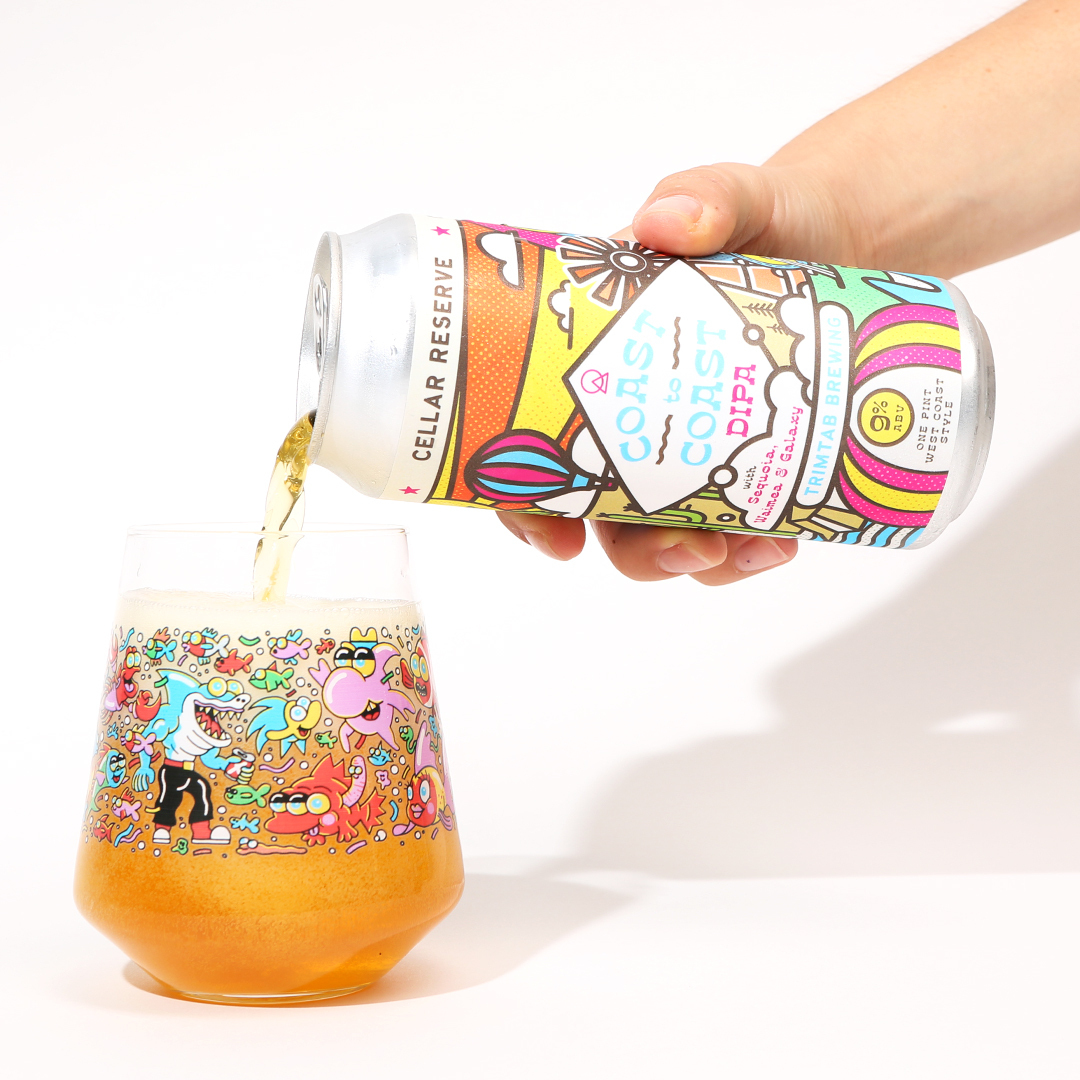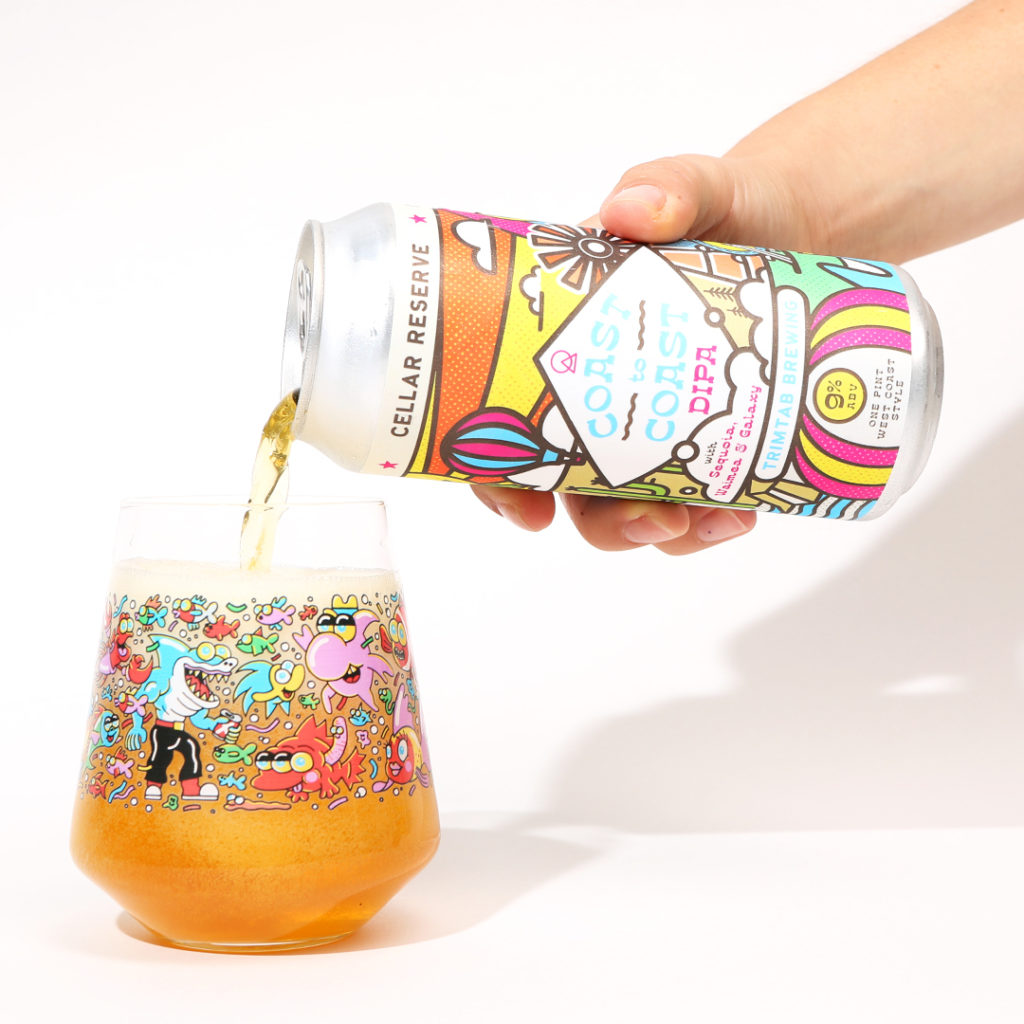 British artist Sam Taylor has accomplished more in his career than many designers dream about for a lifetime. By his third year of art school, he was already completing commissions for VICE Magazine and Death Skateboards. The past decade saw the addition of even more impressive names to his client roster: Nike, Warner Brothers, The Guardian, Nickelodeon, and — most recently — Hop Culture.
Over the past four years, Sam Taylor has drawn the majority of Hop Culture art, including most of Hop Culture's apparel, beer cans, posters, and glasses. Including our latest drop: Weird Fishes.
We've always wanted to make a glass that made it look like fish were swimming in your beer. And now, thanks to the genius of Taylor, we've got one! Fish reminds us of many things: taking tropical vacations, going on trips to the aquarium, watching Jaws, or even just listening to that one Radiohead song. Regardless, you better hook one of these Weird Fishes glasses before they're gone.
Killer Acid Miles of Smiles Shorts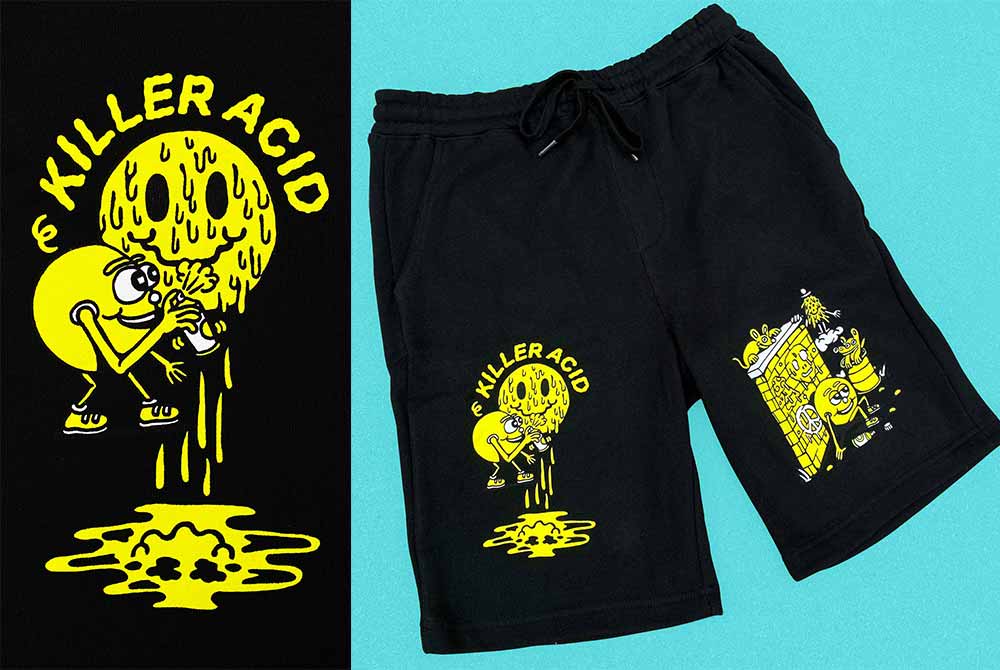 California-based Rob Corradetti aka Killer Acid creates thought-provoking, bright, loud pieces of art. Which is the primer for some of the coolest beer gifts. From far away Killer Acid's work may just seem to be just that – psychedelic, crazy, and often cannabis-themed. But take a closer look and you'll find that Corradetti often digs deeper, displaying conversations around mental health and other personal issues. We've teamed up with Corradetti before to design glasses and poster art. But these Miles of Smiles gym shorts are just the best. Comfy and relaxed yet with one of those classic trippy Killer Acid designs.
Kailah Ogawa Prints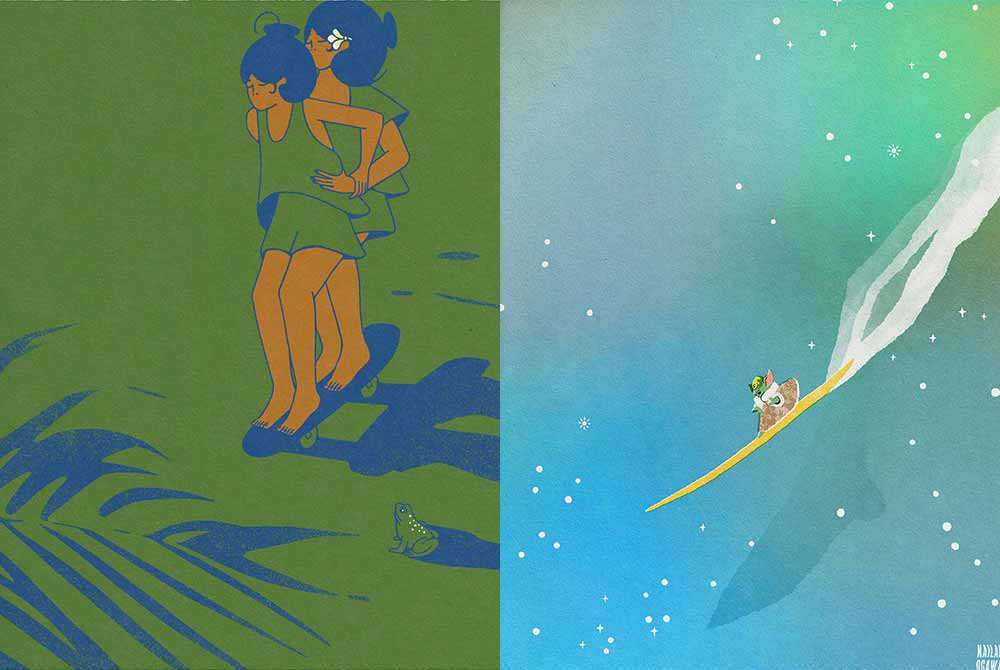 Two years ago we hosted a design contest for our inaugural women in craft beer festival, Beers With(out) Beards. Out of all the submissions, we received one stood out. The design from Hawaiian-born artist Kailah Ogawa caught our attention with its striking ability to capture movement, color, diversity, and beer.
We loved Ogawa's illustration so much that we put it on the back of a t-shirt and sold it during the festival. And two years later we asked Ogawa to draw all of the art for BW(O)B (psst…we still have a few this year's BW(O)B glass featuring Ogawa's amazing work left in the Hop Culture store right now)
Ogawa's work is minimalist, using clean lines, shapes, and colors to paint an often breathtaking scene. Any of the prints that she's currently featuring in her store are fantastic, but we found her Sister Skate print to be one of our favorites. Although the Baby Yoda one was pretty great too.
Lager, Lager, Lager Sweatshirt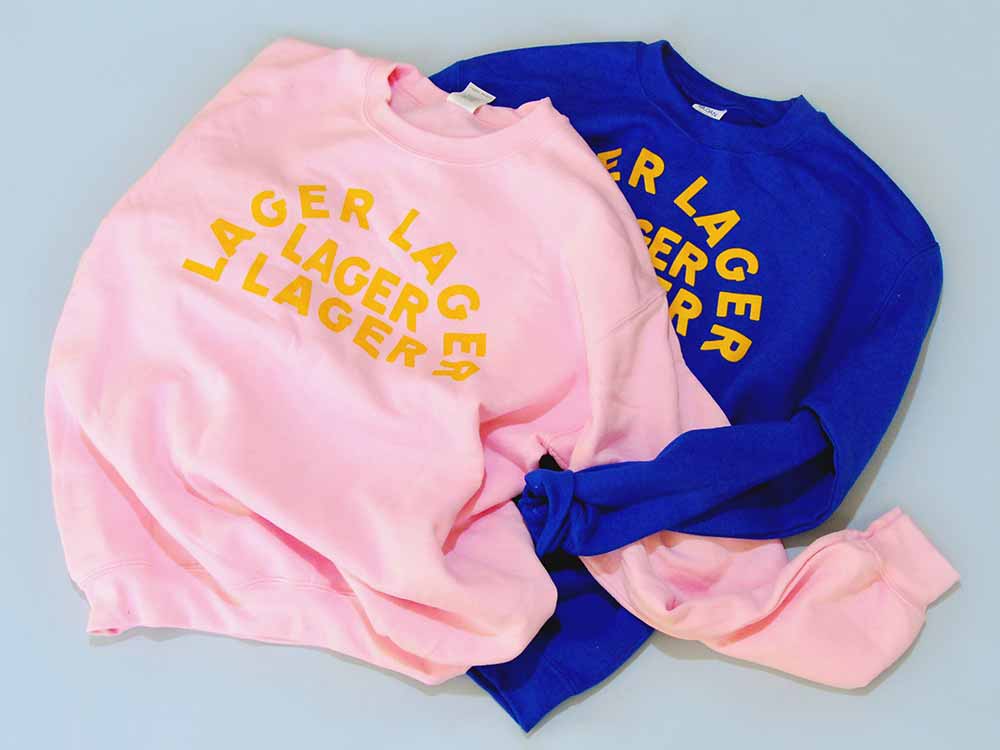 Preface: This may be the coolest beer gift on this list. Halfway Crooks makes some of our favorite beer merch in the game. Tongue-in-cheek humor dominates their whole lineup of shirts, sweatshirts, hats, and glasses. Plus, all of their apparel is extremely well made.
As self-proclaimed lager enthusiasts we were immediately attracted to The Lager Lager Lager Lager crewneck sweatshirts (we prefer the royal blue version, but it also comes in baby pink). And we weren't the only ones. Apparently, this entire line of apparel took the internet by storm. And for good reason. Hilarious, stylish, and statement-worthy, these sweatshirts belong on any lager fan's back.
Hudson Valley Brewery Apotheosis Skateboard Deck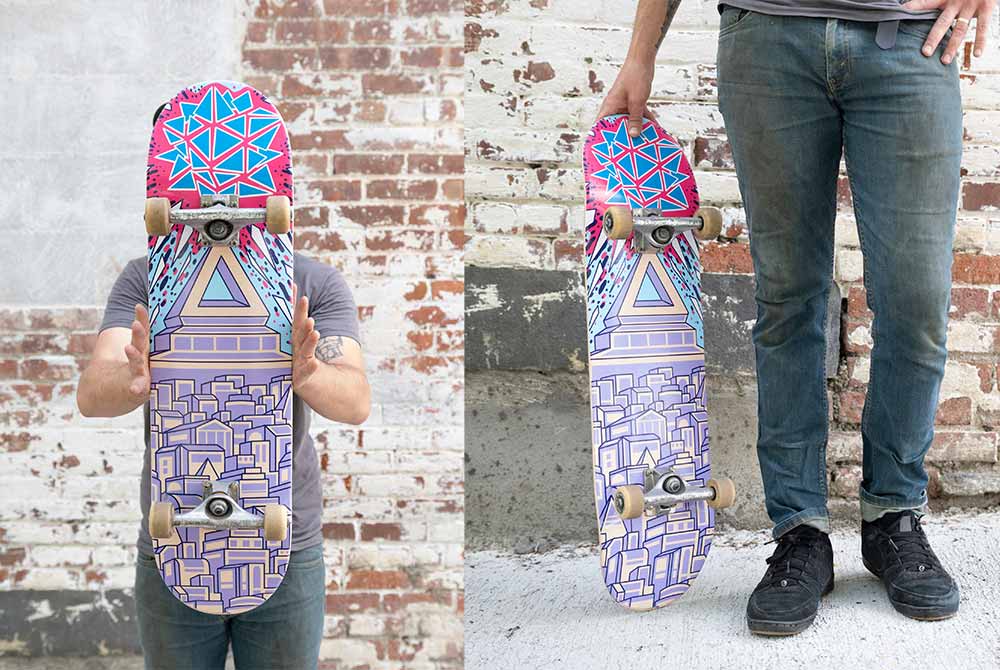 If we were to name a brewery off the top of our head that has some of the most beautiful can art and merch we've ever seen…Hudson Valley Brewery would top that list. So much so that we named their Ultrasphere sour IPA one of our favorite can label designs of 2019 and their Instagram one of the 20 best of 2020.
In our eyes you could argue that Hudson Valley made a name for itself on two things: creative, unique sour IPAs, and elegant, ethereal designs. With the help of their artist Evan M. Cohen, Hudson Valley uses each beer label to tell a story.
Often they'll translate that narrative to a piece of merch. Most of which will be snapped up mere days after dropping. So we encourage you to check out what they have available right now from stunning prints to beautiful, functional totes.
However, if we're splurging just a little bit (and looking for the absolutely coolest of HV's beer gifts) we have to go with the Apotheosis Skateboard Deck. A study in shapes this illustration bursts off the back of the skateboard in an explosion of color and movement. To make an analogy this design is…Just like popping an ollie.
Pints and Panels Beer Is For All Print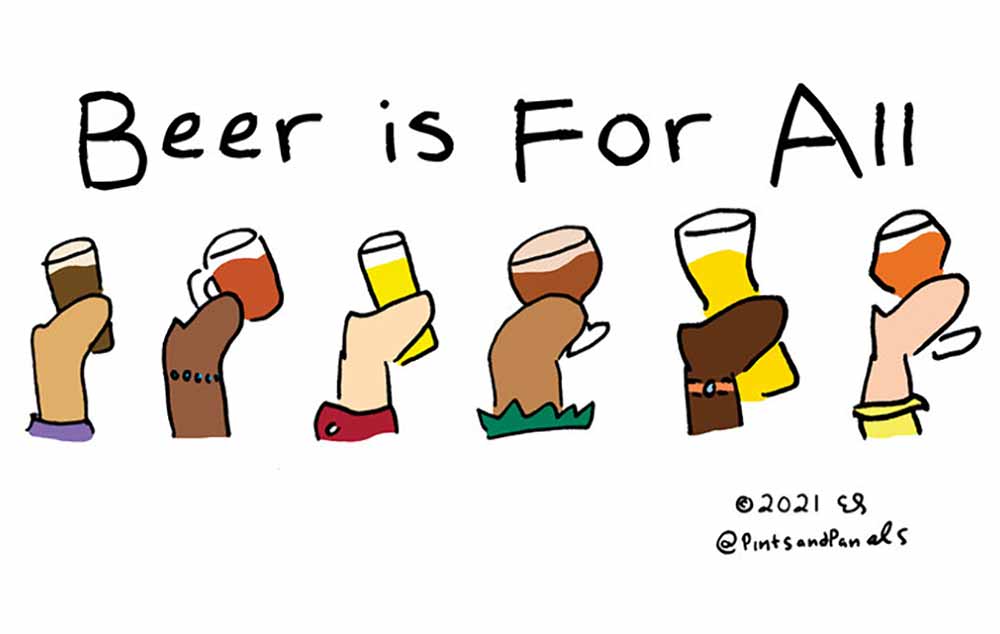 When Em Sauter attended graduate school for cartooning in 2010 she started Pins and Panels as a side hobby. A recent craft beer drinker, Sauter began illustrating beer reviews. Several years later while studying for her Master Cicerone exam Sauter thought, Why not draw these comics on complex topics?
Now, you'll find Sauter's comics covering everything from what makes a witbier to the difference between English and American porters. Her designs have caught on, gaining recognition across the country. Most recently, she was featured on a can of Hopportunity Awaits, DuClaw Brewing and Craft x EDU's newest project to spread stories of success in the craft beer industry.
We love this Beer is For All print because of the message it supports. Just take a look at all the different sizes, shapes, and colors of the hands and glasses raised in a communal toast. Now more than ever we need to come together to take action to make our industry more equitable, inclusive, and just. Supporting Sauter and supporting this panel is one small way to do just that.
Threes Brewing Gender Neutral 5 Panel Beach Hat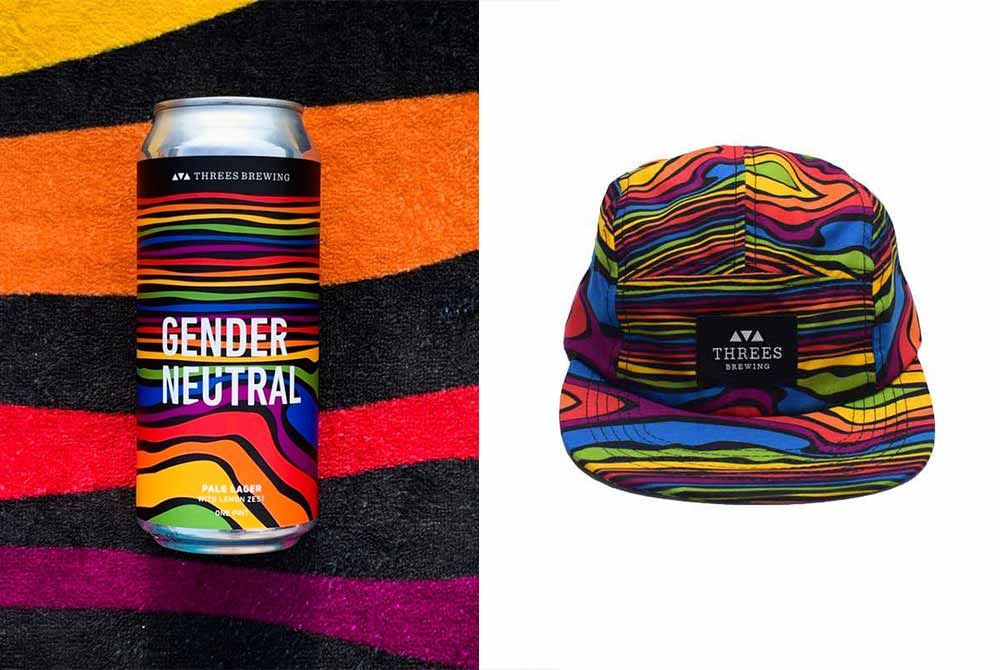 Back in 2017 Threes Brewing brewed a Pride beer before Pride beers were a buzzword. Four years ago after then-American President Donald Trump had been elected to the White House, the Threes team tried to think of ways they could do something to respond.
Gender Neutral was a beer and a cause the brewery could get behind.
Made to represent the full, colorful spectrum of gender identities, Gender Neutral has been canned and released in June each year since to, "make a broader commentary on human nature and society at large," according to Threes. It's one of the reasons we named then one of the top queer-supporting breweries in the country.
The uber colorful beer label translates really well into this 5-panel hat. And the best part? Ten percent of the proceeds from this piece of merch will be donated to the Anti-Violence Project, an NYC-based organization that works with LGBTQ+ and HIV-affected communities.
Our Mutual Friend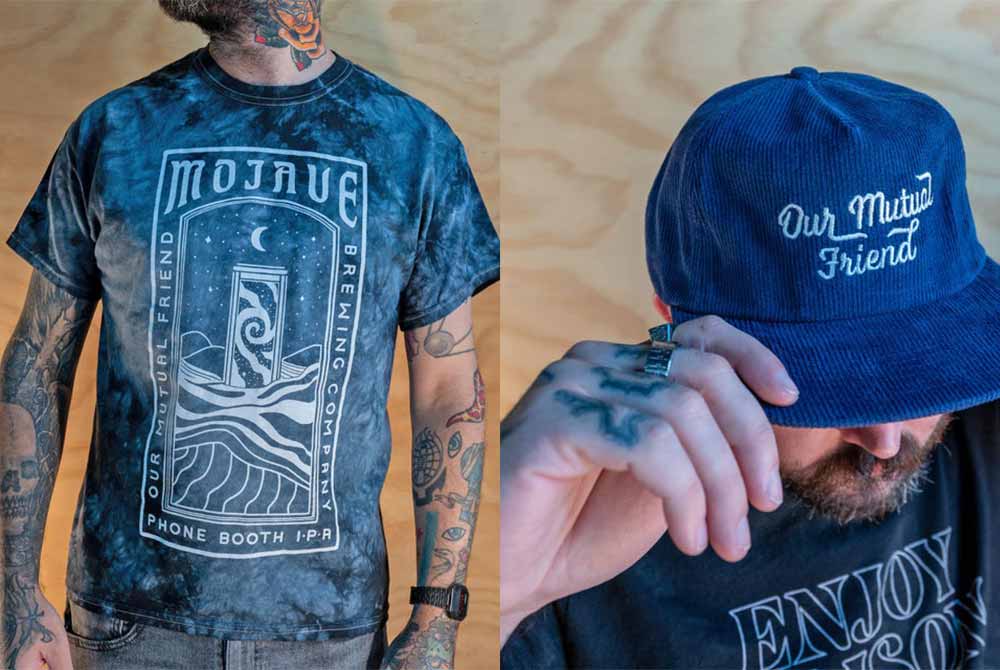 Another craft brewery that has the swag game on lock, Our Mutual Friend makes a pretty extensive lineup of shirts, hats, beanies, and more. A few of our favorites include: The Mohave IPA black tie dye shirt and Our Mutual Friend navy Corduroy Dad Hat. But really any of their merch will make for one of the coolest beer gifts of the season.