Looking ahead to 2022, now more than ever, consumers want to know what a brewery stands for and how they're shaping their communities. That could be by forming a 501c(3) organization to help Veteran-owned businesses succeed, highlighting trans, queer, and Black and Brown people, or by creating events specifically to bring together women in the industry.
As we head into the new year watch how these ten people continue to break boundaries in the industry. On this list, you'll find Black, Brown, female, Queer, Latinx, and Veteran voices — all calling for change.
Keep an eye on the people who are shaping the future of craft beer.
Hop Culture's 10 People to Watch in Craft Beer in 2022 Ren Navarro
Founder, Beer. Diversity.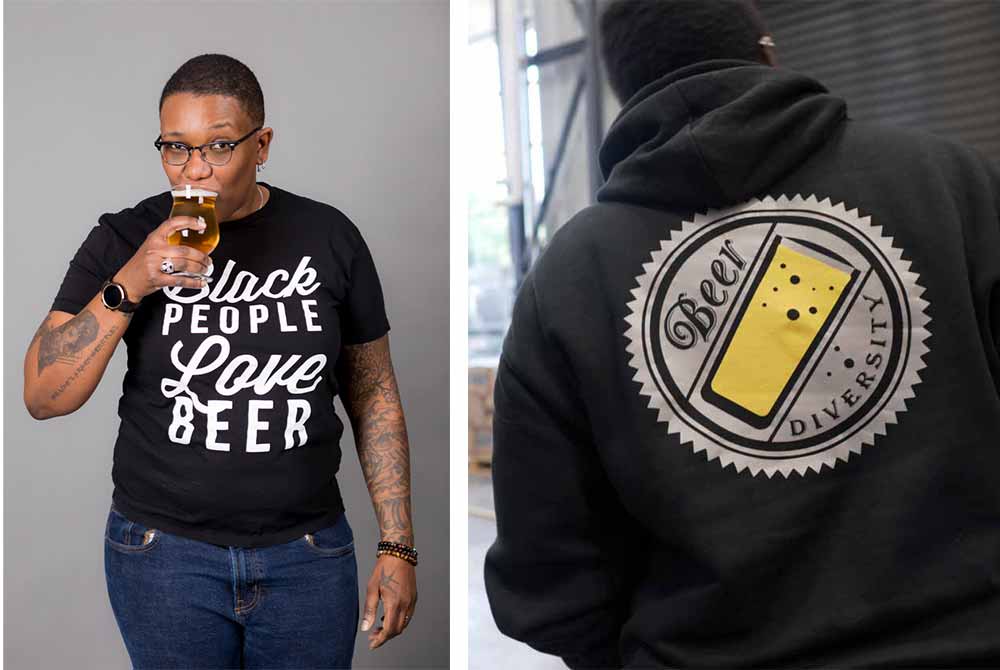 As a Queer, Black woman in craft beer, Ren Navarro has taken her nearly decade of experience in the alcohol industry, combined it with a hint of wit, and started a company aimed at cultivating diversity in beer.
Since launching Beer. Diversity. in 2018, Navarro has been educating people at breweries and beyond on how to be more inclusive. Through talks at colleges, festivals, panels, and podcasts across North America, Navarro has made a name for herself as a respected, knowledgeable voice in the industry.
This year Navarro was featured as the keynote speaker at Hop Culture's fourth annual women in craft beer festival, Beers With(out) Beards.
"I met Ren the way I met most folks in 2021," says Britt Burke, Manager of Event Operations at Next Glass and co-host Beer With(out) Beards 2021. "Through computer screens and hundreds of miles away from being face-to-face." However, despite the physical barrier, Navarro's message resonated with Burke. "Ren is brilliant and warm and speaks openly and honestly about some uncomfortable truths in a way that encourages you to sit with your discomfort, reflect, and strive for improvement," says Burke.
That is to say that Navarro — and Beer. Diversity. — have set the tone for the future of craft beer. Through her company and her character, Ren has helped the craft beer and larger alcohol industry create spaces that are more diverse and more welcoming to people on both sides of the bar.
Alisa Bowens-Mercado
Founder, Rhythm Brewing Company
The founder of Rhythm Brewing Co.has always moved to the beat of her own feet.
A professional salsa dancer, Alisa Bowens-Mercado has owned her own dance studio for over twenty years. Her goal is to create a space where people of all backgrounds, ethnicities, genders, and sexualities can come together to do one thing: dance.
A few years back while at the Cape Cod Brew Festival Bowens-Mercado noticed something. A scene very different from one in her dance studio.
First, she saw few women. Second, she found hardly any people of color. And third, she had trouble finding classic lagers.
So Bowens-Mercado set out to change the status quo in Connecticut, opening the state's first BIPOC-owned brewery.
Yes, Bowens-Mercado knew she wanted to brew a full-flavored, craft lager. But more importantly, she wanted to get more women involved in the industry. Plus, she wanted to open up doors for more brewers and consumers of color to feel included in the craft beer space.
"My mission is bigger than just a can of beer," says Bowens-Mercado. "How can I use my platform and my voice to open doors? How can I bring more seats to the table? [Ultimately], I want more tables and I want more seats."
In fact, her work has earned her the nickname "Lady Lager."
Up until now Bowens-Mercado has contract brewed, but she recently shared with Hop Culture she hopes to open her own taproom next year.
You can bet this space — like her dance studio — will be welcoming for all. Stay tuned to how Bowens-Mercado continues shaking up craft beer culture next year.
Edgar Preciado
Founder, @beerthuglife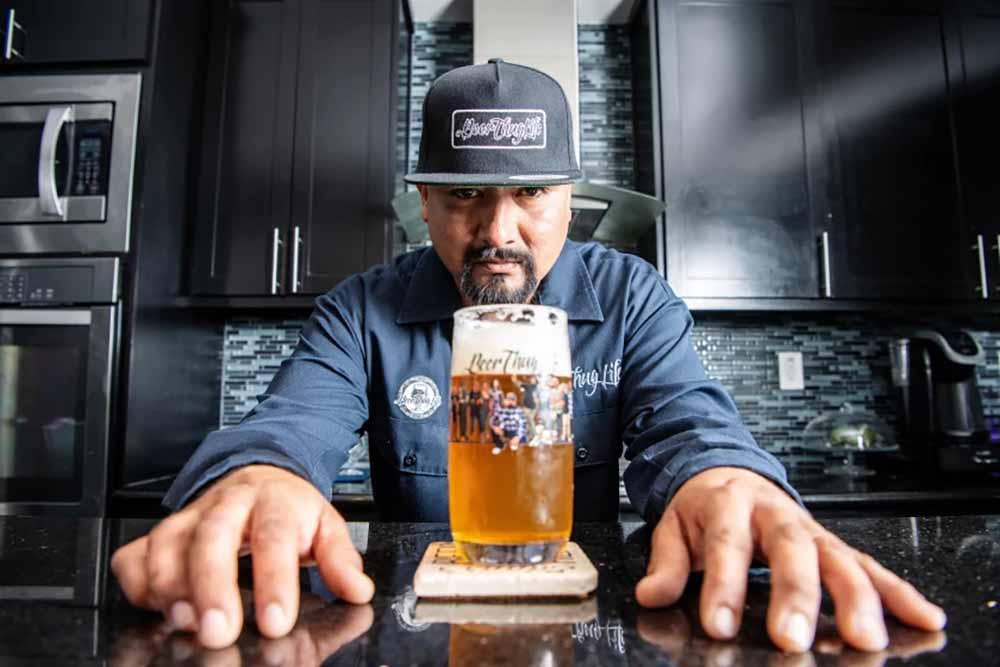 Edgar Preciado's (aka @beerthuglife) story is uniquely his own.
As a Mexican-American, Edgar wanted to create the representation that he wasn't seeing in the craft beer space. So a couple of years ago, he posted a video to Instagram in which he chugged an entire can of Monkish's Enter the Fog Dog in just a few seconds. Within twenty-four hours, the post had over 1,000 views.
The video flipped craft beer's perceived pretension on its head, breaking the stereotype of craft beer drinkers as snooty, white, bearded, hipsters.
"He was a breath of fresh air for a lot of people," said BeerAdvocate Founder Todd Alström in an article for the Los Angeles Times. Earlier this year, Preciado joined Alström as co-host for BeerAdvocate's Extreme Beer Fest: Cyberspace.
Since that original video, Preciado has continued pushing the norms of the industry — all without betraying his love of beer and the community. Most recently, Preciado began brewing collaboration beers under the BeerThugLife brand. His newest beer, Death Row West Coast IPA, celebrates the official thirtieth anniversary of Death Row Records.
In 2022, expect Preciado to continue breaking barriers and forging a new path, whether he's crushing cans or starting collabs.
Torie Fisher
Founder, Backward Flag Brewing Company and Arms2Artisans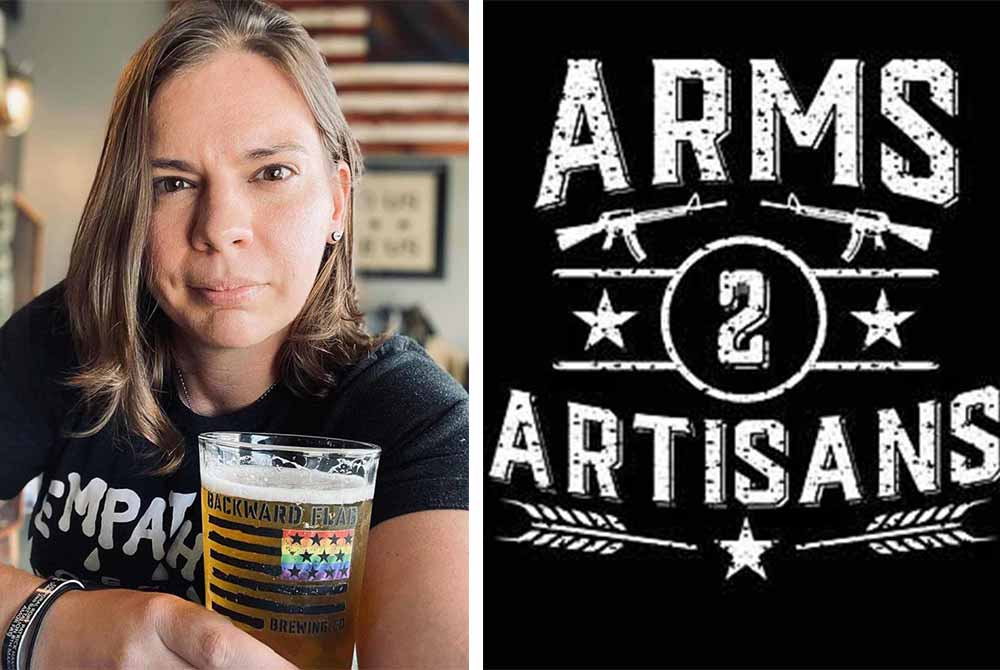 Torie Fisher spent thirteen years in the service before founding veteran-owned Backward Flag Brewing. The organization is one of several veteran-owned breweries around the country.
"When people describe us as a craft brewery, I find myself correcting them," says Fisher. "We're much more than that. Yes, I focus on making great beer, but beer is just a platform for everything else we do."
This ethos is just one of the reasons we named Backward Flag one of our top breweries in New Jersey.
Over the years, Backward Flag has become a community hub and voice for veterans. For instance, Backward Flag's Somethings Missing Tribute IPA honors Rory Hamill, Fisher's friend and fellow veteran, who lost his leg in Afghanistan. Almost two years ago, Hamill also lost his personal battle with Post Traumatic Stress Disorder (PTSD) and took his own life. In memoriam, Hamill's friends and family now brew this beer annually. Moreover, Fisher donates 100% of all sales to Veteran mental health advocacy programs.
Recently, Fisher took things even further by starting a 501(c)(3) nonprofit called Arms2Artisans. The organization helps veteran-owned businesses looking to hire veterans by helping to cover the first six months of an employee's training and financially assisting veteran-owned businesses.
It's this type of completely selfless and unrelenting work that makes Fisher one of the important voices in craft beer this year.
Megan Stone
Founder, @isbeeracarb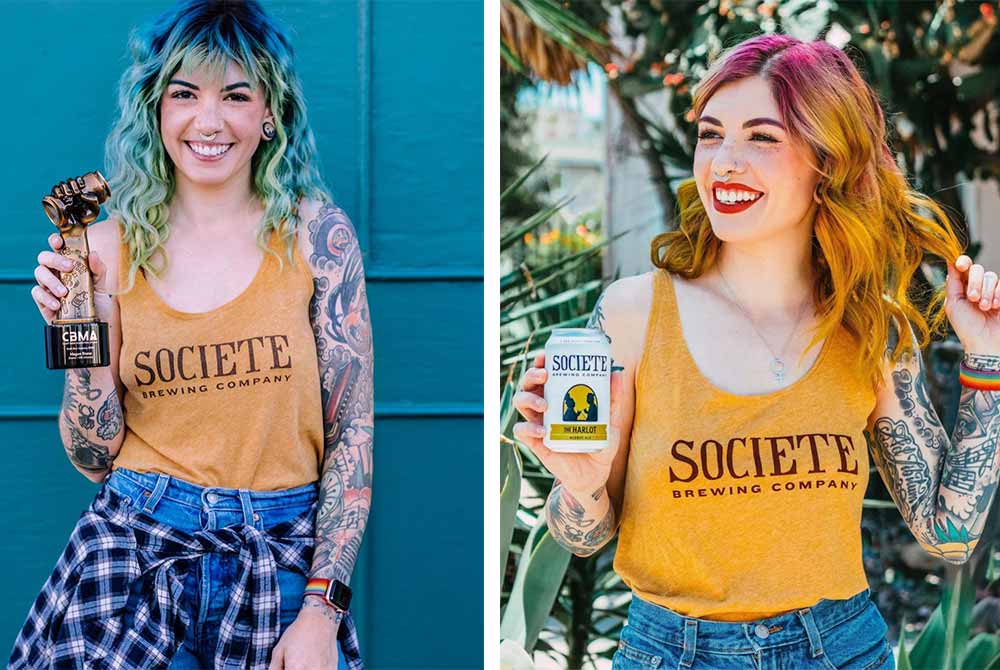 Megan Stone (they/them) joined us earlier this year as a co-host for our inaugural Queer Beer Fest presented by Samuel Adams. The festival celebrated the diverse and colorful voices of the Queer community in craft beer.
Known throughout the industry for their influential Instagram handle @isbeeracarb and work as the media coordinator at Societe Brewing, Stone is the perfect example of someone using their impactful social platform to create change. With over 36k followers, Stone's Instagram has become a powerful platform to address issues of diversity, equity, and inclusion.
Earlier this year, Hop Culture listed Stone as one of the 50 best Instagram accounts to follow in 2021! And most recently, the Craft Beer Marketing Awards named Stone the first-ever Women/Person of the Year.
Breeze Galindo
Brewer at Other Half, Creator and Host of the Other Half Women's Forum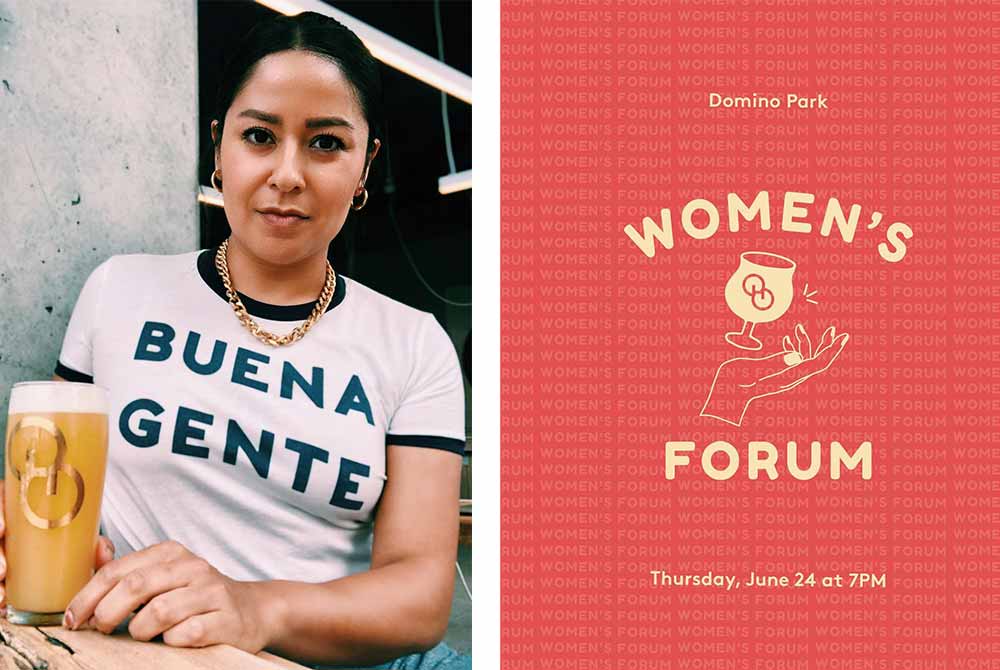 Breeze Galindo works at a brewery known for its can release lines (pre-COVID) and IPAs. In between her ten-hour brewing shifts, she started asking how she could impact the community of women in beer.
In May 2021, Galindo launched the Other Half Women's Forum, which organizes panels and conversations around sexism and racism in the industry. Galindo has invited speakers from female-owned Three Weavers and Grimm along with KCBC and Burial Beer Co., to name a few.
"Other Half has a very dude-ish vibe," says Galindo in an article for VinePair. "The women's forum is like a bat signal. It catches your attention."
In addition to creating the Other Half Women's Forum, Galindo also serves as a board member of The Michael James Jackson Foundation for Brewing & Distilling. Lately, she's been helping to develop a mentorship program.
Expect more from this ground-breaking brewer soon!
Toni and April Boyce
Co-Founders, BlaQ & Soul®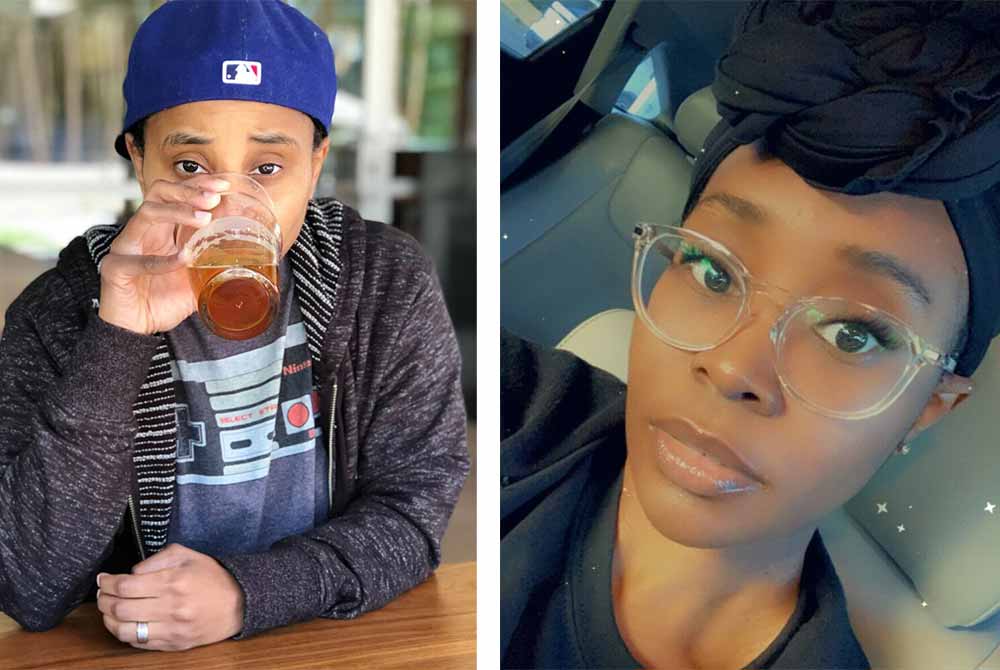 For years, drinking culture has experienced an overall lack of diversity.
A recently updated demographic audit of brewery owners from the Brewers Association found that less than twenty-four percent of breweries are women-owned. And less than one percent are Black-owned.
But the tides are changing.
Just this past year, we've seen Weathered Souls Founder and Black is Beautiful organizer Marcus Baskerville announce a new incubation program to provide opportunities for women and minority-owned breweries.
Additionally, organizations like BlaQ & Soul are blazing a new trail through craft beer.
Founded by business and life partners Toni (she/they) and April Boyce (she/her), BlaQ & Soul is a mostly virtual space "centering Black LGBTQ+ folks through food and beverage, community activism, and lived experience-based education."
An engineer by trade, Toni has also worked in the beer industry as everything from a writer to an analytical chemist. They are also a Certified Cicerone and BJCP Judge. Their time in the industry exposed them to an enormous gap for Black, Queer, and Trans representation.
Through pieces Toni's written such as Selective Outrage: Does Inclusion Include Us? and The Time Is Now, Part Two — Why Beer's Culture and Workplace Practices Must Change for Good Beer Hunting, BlaQ & Soul offers blunt critiques of the problems in the industry and solutions on how we can work together to solve them.
Most interestingly, BlaQ & Soul doesn't pull any punches. Through accountability and activism, Toni and April bring recognition to communities and cultures often excluded in the craft beer industry.
Become a Patron of BlaQ & Soul
Gabriel Colon-Sciabarrasi
Cause Marketing & Internal Communications Specialist at The Boston Beer Company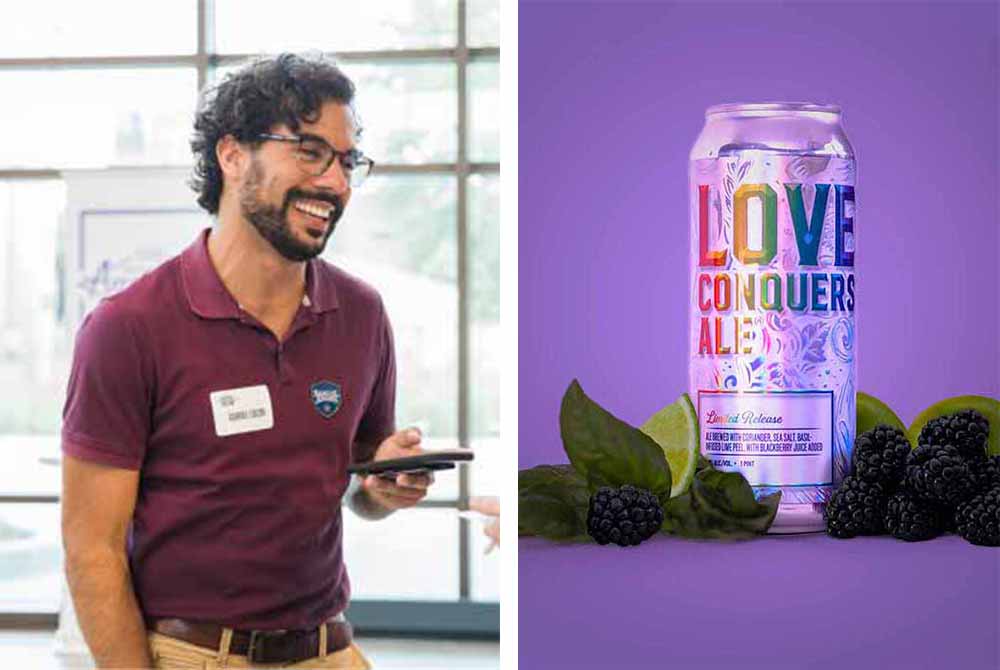 In June 2019, Samuel Adams hosted a discussion series for co-workers in its Cincinnati taproom. The panel featured three co-workers across different roles and locations. When the event came to a close, the team realized they didn't want the conversation to end.
Born from that discussion series, Labels OUT is an inclusive network of Samuel Adams co-workers dedicated to supporting and celebrating its peers as members and allies of the LGTBQ+ community. And Gabe Colon-Sciabarrasi, Cause Marketing & Internal Communications Specialist at The Boston Beer Company, has been integral in pioneering and leading Labels OUT.
"Our goal is to steward and develop positive impact for all co-workers by providing a forum for education and awareness, advocating for inclusion and authenticity, and supporting professional growth," says Colon-Sciabarrasi, who was born in San Juan, Puerto Rico, and identifies as Queer. "Through equal and active demonstration of our company values, we strive to create an authentic and safe space for all LGBTQ+ coworkers and allies."
Labels OUT meets bi-monthly to design content for the Samuel Adams community. In the past, they hosted a viewing party of Paris Is Burning and an interview with Cesar Valentino for a discussion on LGBTQ+ people of color. The program has also organized a conversation with the Dru Project in regards to LGBTQ+ youth and the five-year memoriam of the Orlando Pulse Nightclub, as well as a night with comedian Fay Jacobs.
Additionally, Labels OUT has partnered with the Samuel Adams communications and HR teams to develop language and understanding around the use of gendered pronouns in email signatures and business cards. They've also hosted open forums and meetings to support their networks and members and advocated with leadership to grow the Boston Beer Company networks and invest in a Director of Diversity and Inclusion role.
Other huge Samuel Adams initiatives include Love Conquers Ale, a revolutionary Pride beer that also inspired an entire Pride platform called Love Conquers All.
With Colon at the helm, you can expect big things from this internal diversity committee and Love Conquers All platform in 2022. Labels OUT is setting the tone for the future of diversity and inclusion at Boston Beer Co. and beyond.
Meghann and Kevin Quinn and Kevin Smith
Co-Founders, Bale Breaking Brewing Company and Ales for ALS™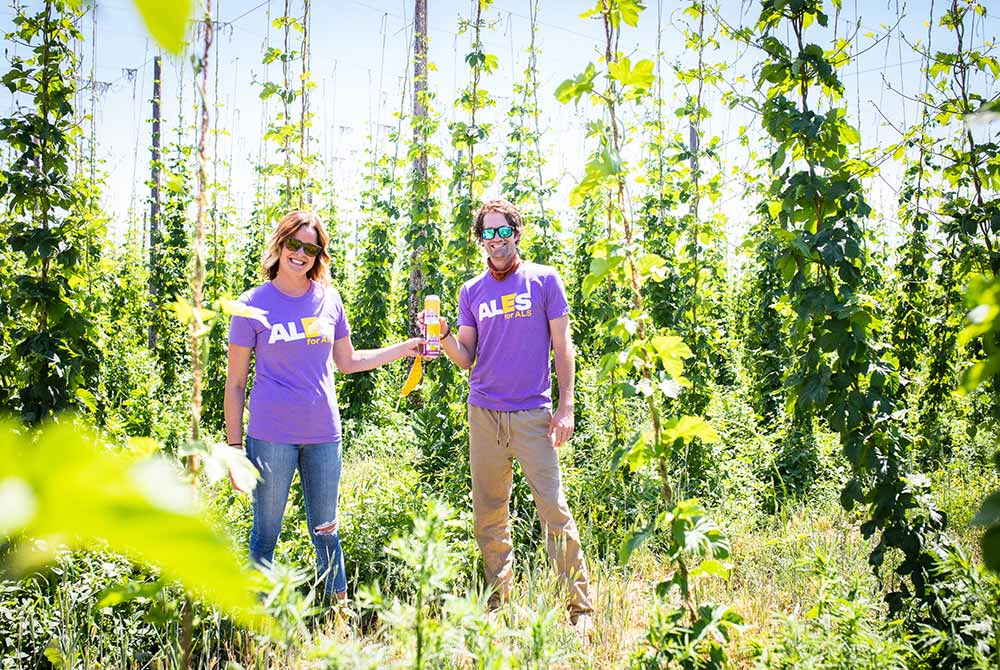 In 2013, the co-owners of Bale Breaker Brewing Company — Meghann Quinn, her husband Kevin Quinn, and Meghann's brother Kevin Smith (known as "Smitty") — helped start the Ales for ALS™ program with Mike and Cheryl Smith from YCH Hops and Loftus Ranches.
Designed to raise awareness and money to find treatments for amyotrophic lateral sclerosis (also called ALS or Lou Gehrig's disease), the initiative personally hit home for the Quinn and Smith family. Meghann, Smitty, and their parents have nine family members who have passed away from the disease.
"Ales for ALS™ is really near and dear to our hearts," says Meghann. "Our biggest goal is to find a cure."
Ales for ALS™ is proof that hops, beer, a little ingenuity, and a lot of elbow grease can help change the course of a degenerative disease. And hopefully, eventually, even lead to cures.
Every year, the family's hop farm — Loftus Ranches — donates hops to create a unique blend. Another big hop purveyor in the area, Yakima Chief Hops (YCH), scales things up, adding to the blend, pelletizing the hops, packaging them, and shipping them to any brewer around the country who asks. In receiving the free hops, the brewery agrees to brew a beer using the blend. Additionally, they donate at least one dollar from the sale of every pint to the ALS Therapy Development Institute (ALS TDI). The rare nonprofit biotech and comprehensive drug discovery lab dedicated to researching treatments for ALS.
So far, the program's impact has far exceeded everyone's expectations. In the last eight years, Ales for ALS™ has raised over $3.5 million dollars to find a cure for ALS.
Meghann and her family have started an annual nationwide initiative with a huge impact.
Khalilah Olokunola
Chief People Officer, TRU Colors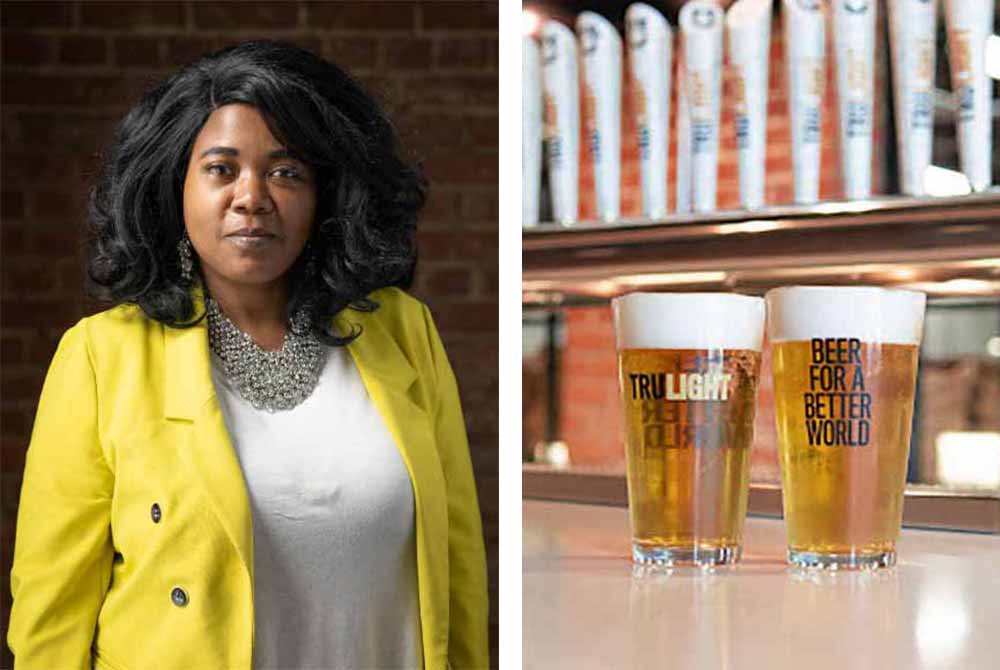 Launched as a for-profit brewery with a mission to unite gang rivals and decrease violence in Wilmington, North Carolina, TRU Colors started with the death of Shane Simpson. In 2015, the 16-year-old was gunned down on Castle Street, not far from Untappd HQ.
Sparked by shock, Untappd partner George Taylor reached out to his friend and New Hanover District Attorney Ben David to learn more. David introduced Taylor to the local gang task force, who connected him directly with some of the top gangsters in the city.
"At the time, imagine getting a call from a detective saying someone wants to meet you because they're interested in learning more about gangs," says Khalilah Olokunola, Chief People Officer at TRU Colors. "[When you get a call from a detective] that usually means you need to run out of town."
Instead, some gang members choose to take Taylor's call.
On a monthly and weekly basis, Taylor started meeting with active leaders in rival gangs such as the Bloods, Crips, and GDs in the Untappd building.
"Groups of gangs pulled up to Untappd, a building filled with college-educated white Millennials, to talk about what they could possibly do [to decrease gun violence]," says Olokunola.
What started as conversations turned into hiring three active gang members — Bhig Sos, Fatty, and Blanco — to join the Untappd sales team. Subsequently, the program expanded, becoming a full-fledged brewery that hires former and active gang members.
Today, TRU Colors has settled into its own 54,000 square foot space, including a 33,000 square foot brewhouse. Additionally, the facility includes classrooms as well as a 1,000-square-foot gym with a yoga and recording studio.
As Chief People Officer of TRU Colors, Olokunola champions company culture and leads the training and development. This means overseeing a company where over eighty-five percent of employees come from gangs. There are Bloods, Crips, GD, and BD members leading the digital marketing team; they're also in the finance department, writing checks and paying invoices. On the brewing team, eight out of the ten members are currently active in gangs.
From a consumer perspective, that means "When you pick up a cold TRU Light you're not just drinking beer but becoming part of [the conversation and of] the chance of helping us decrease street violence and drive unity," says Olokunola.
Moving forward, Olokunola hopes that TRU Colors will serve as a model for creating change across the globe. The brewery is an amazing example of how beer can bring together members from different cultures to cultivate community.