Don't Miss Our Other Seasonal Beer Lists:
Here's a crazy summer beer story to go along with this list of best summer beers. (Not interested? Skip down to TL:DR. We understand if you just want to get to the point!)
In early June, I attended the Firestone Walker Invitational (seriously, one of the best beer fests in the country). On a hot Saturday afternoon, I sat on a bench in the shade next to some misters to cool off (nice touch, Firestone Walker!). As I rested, I struck up a conversation with the woman, Julie, next to me. Curious, I asked her where she'd traveled from to attend the fest.
"Minnesota," she replied.
"No way, I'm from Minnesota," I responded. "Just out of curiosity, whereabouts?"
"Golden Valley," she said.
"That's where I grew up!" I exclaimed. "Golden Valley is pretty big, but what street do you live on?
"Thotland and Toledo," she replied.
"You're not going to believe this, but I grew up on Thotland and Wills Place, one street over," I replied in awe. "At 1120 Wills Place."
Floored by our discovery, she brought up the image on Google Maps, asking, "Did you live in the house with the pool?"
Yup. When my parents moved into that house in 1983, my mom, an avid swimmer, saw potential in the backyard. They dug out a pool.
When I grew up in the 1990s, our backyard became a hot spot during the summer, filled with neighbors, friends, or family for pool parties and backyard barbecues. I fondly remember heated volleyball matches while my dad fired up the grill, smoking salmon and hot dogs. If I asked nicely, my mom would make my favorite summer salad, a corn situation with cubes of cheddar cheese and a cool, creamy dressing.
Alongside everything, these summer soirees were one of the only times I could drink pop (yes, I'm from Minnesota, so I say pop, get over it!)—Dr. Brown's Cream Soda, Dr. Pepper, even Mr. Pibb; the sweeter, the better for me.
Now that I'm in my thirties, I've long since ditched the pop for barbecue beers.
The fun, food, flowing drinks, and memories of my childhood summers stick with me. Now I'm making new ones with new beverages in my hand. Which is why I love putting together a piece on the best beers to drink during the summer.
TL:DR – This year, we thought doing things a little differently with our best beers of the summer piece would be fun. We wanted to focus on styles perfect for the summer—lighter-bodied, lower-ABV, refreshing, crisp, clean, and easy-drinking ones that you want in your hands whether in a lounge chair around a pool, in camping chairs dockside by the lake, on a blanket on the beach, or any other summer occasion.
Styles like: American lager, American light lager, American pilsner, American wheat, American wild ale, Berliner Weisse, blonde ale (or is it a golden ale?), Cold IPA, cream ale, Czech pilsner, fruited sour, German pilsner, gose, hazies (of course), hazy pale ale, kellerbier/zwickelbier, kölsch, maibock, Mexican lager, milkshake IPA, radler, session IPA, smoothie sour, table beer, and witbier.
Then, using the data from our friends at Untappd, we found the highest-ranking beer (those with more than 1,000 check-ins) in each of these styles for 2023.
🚨 Very Important Editor's Note: These rankings are only from 2023 and based on the time of publication, so could be subject to change. We're also not talking about all-time ratings here.
So pucker up, buttercup; this might be our most intense seasonal beers list ever. And you don't have to take our word for it (because, you know, "D"ata).
The Highest-Rated Beers for the Summer of 2023
Green Torch
Half Acre Beer Company — Chicago, IL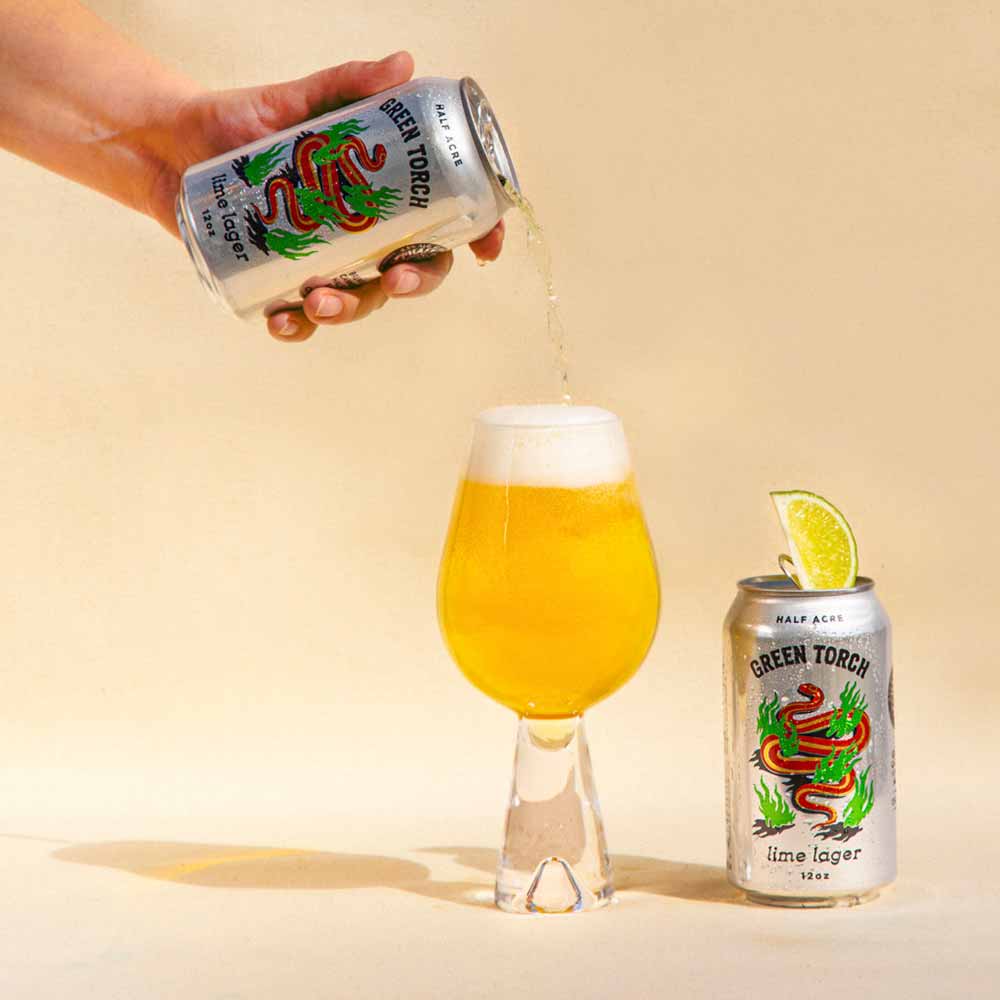 American Lager — We know our friends at Half Acre are aficionados of ales. Hell, they make a mean pale ale (hello, Daisy Cutter). But turns out they also nail the lager side of the equation.
Considered a lime lager, Green Torch lights up all those pleasure zones of summer sessions—light, refreshing, slightly zippy, and ultimately crushable.
This American Lager is just pure beer-drinking refreshment.
Totally Naked
New Glarus Brewing Company — New Glarus, WI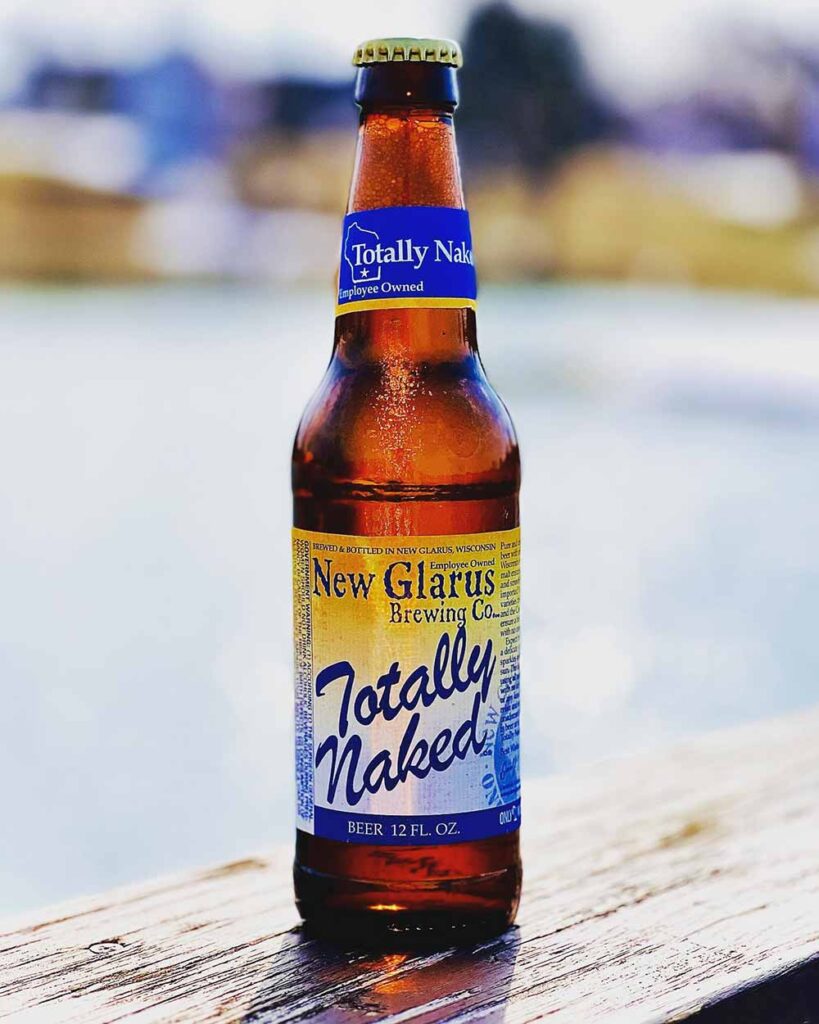 American Light Lager — American light lagers aren't a category we dabble in too often. But here's the thing with this beer style—you have absolutely nothing to hide behind. Either you make a bangin' beer, or you stray into the territory of your dad's yellow fizz. Luckily, New Glarus makes the former.
Using Wisconsin two-row barley malt and imported Noble hops from Germany and the Czech Republic, this sort of Euro-Midwest lager drinks smoother than a glass of America's Dairyland milk. With a subtle hop aroma and zing but none of the bitterness, Totally Naked quite simply lives up to its name.
Strip away everything, and you have just pure beer-flavored beer. Can you ask for more in the hot, hot summer?
Geo
Phase Three Brewing — Lake Zurich, IL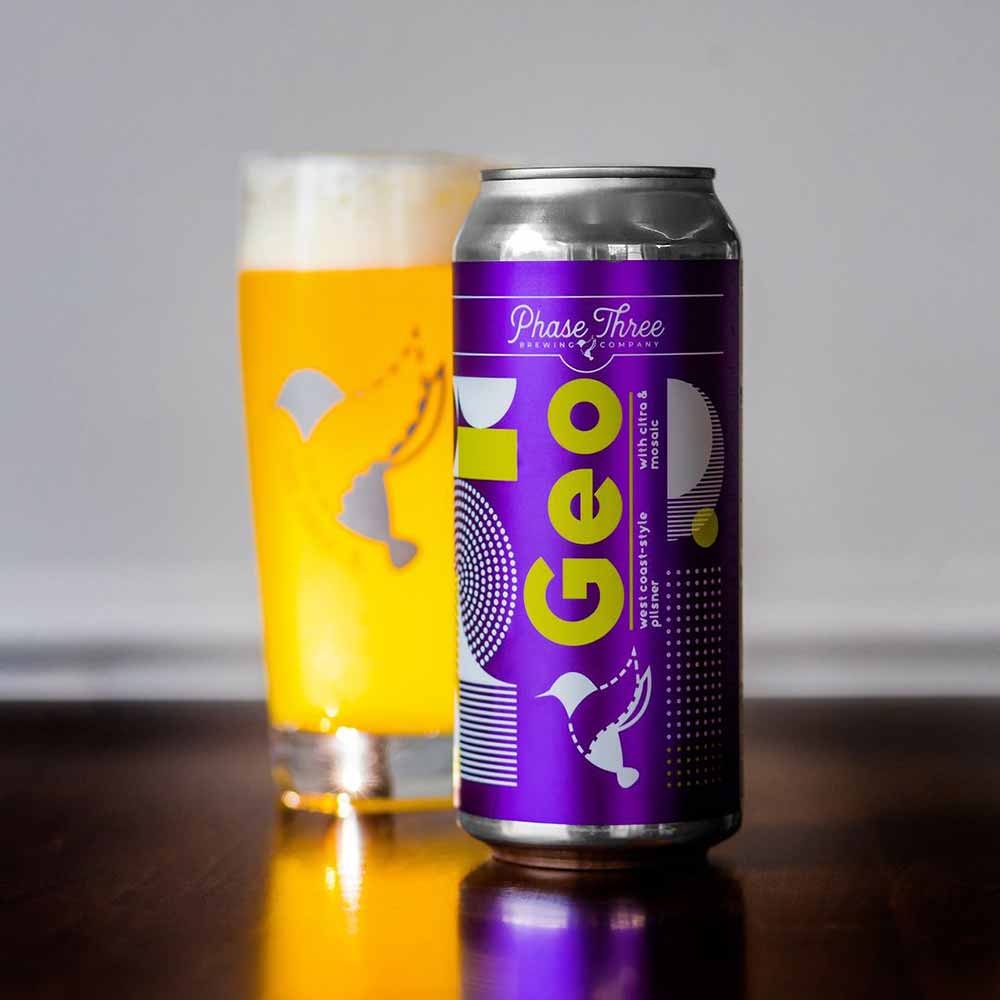 American Pilsner — Considered a West Coast pilsner, Geo targets a mash-up of a classic clean, crackery pilsner base with the ample, bold, noble hop humor. Yes, Phase Three adds heaps of Mosaic and Citra hops post-fermentation to give Geo big hits of, we'd say, sweet fruit, citrus, and a kick of herbaceousness. For those who like their crispy bois and girls a little softer, Geo hits the spot.
Oberon Ale
Bell's Brewery — Comstock, MI
American Wheat Beer — Flowers blooming, sun shining, baseball bats cracking. And, Bell's Oberon flowing.
Certainly for those in Michigan and now for people around the country, the release of one of Bell's most popular seasonal beers signifies the first signs of spring and the promise ahead of summer.
For over 30 years, when spring rolls around, the revered brewery in Kalamazoo and Comstock, MI, shakes the snow from its boots, stows away its shovels, stores its winter jackets, and prepares for Oberon Day, the official release day of Bell's Oberon, one of the most iconic American wheat beers synonymous with sunshine in a glass.
In fact, Larry Bell, president and founder of Bell's Brewery, originally named the beer Solsun to reflect his desire to create the perfect summer beer, pulling on inspiration from Belgian saisons.
"I wanted to do something inspired by Belgian brews but dialed in for Americans [because] there wasn't much in the way of anyone doing anything Belgian-wise, that was pretty exotic," Bell previously told Hop Culture. Bell notes he designed Oberon at 5.8% ABV to be lighter than what Belgian's traditionally brew, but still pretty firm. "It just became this juggernaut that took on a life of its own … especially in Michigan where we have long, arduous winters. When Oberon came out [in the spring], people saw it as a celebration of having survived winter and summer coming."
Is there a better way to celebrate summer than drinking a glass of Oberon?
Consecration
Russian River Brewing Company — Santa Rosa, CA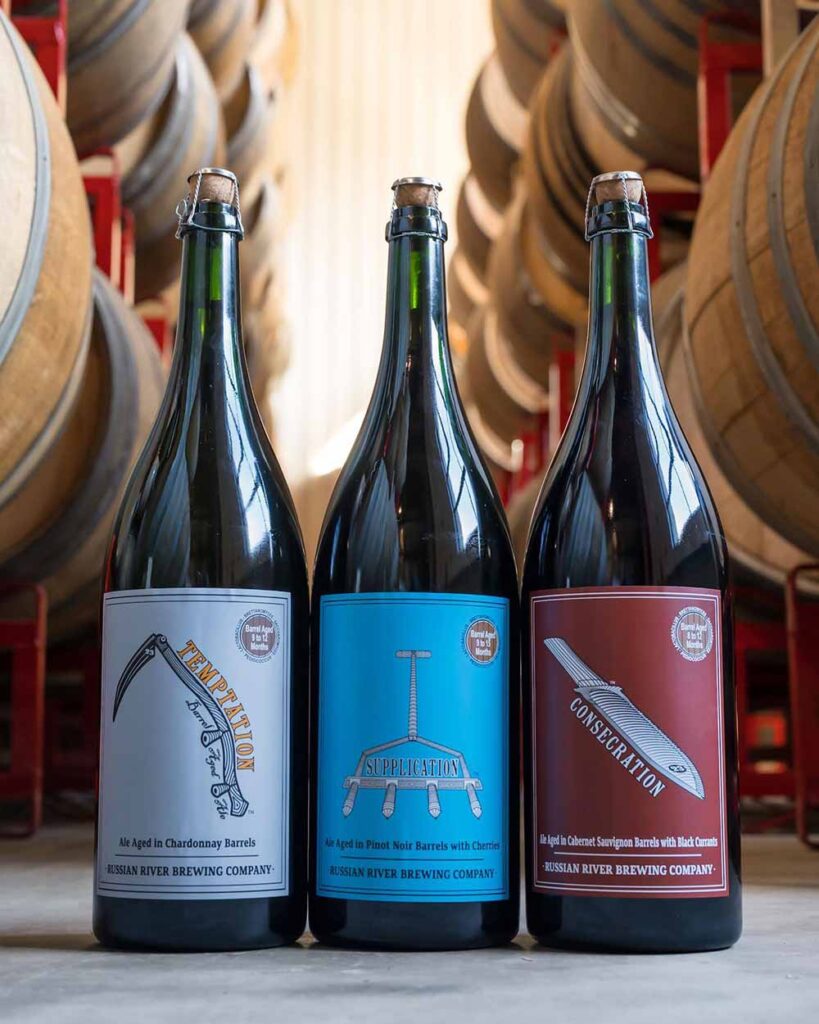 American Wild Ale — If you haven't had Consecration before, prepare to be baptized into an American wild ale religion. A dark wild ale aged in Cabernet Sauvignon barrels from local Santa Rosa wineries, Consecration devotes itself to aging for eight to twelve months on currants and three wild yeasts—Brettanomyces, Lactobacillus, and Pediococcus.
Unsurprisingly, this Russian River beer hits a 4.3 out of 5 on Untappd.
Considered a lambic-style beer, Consecration will make you a beloved American wild ale aficionado after one sip; we're confident. With so many nuanced layers, this hallowed ale will have you singing its praises for all summers to come.
Cherry Sour à La Mode
Untitled Art — Waunakee, WI, x Corporate Ladder Brewing Company — Palmetto, FL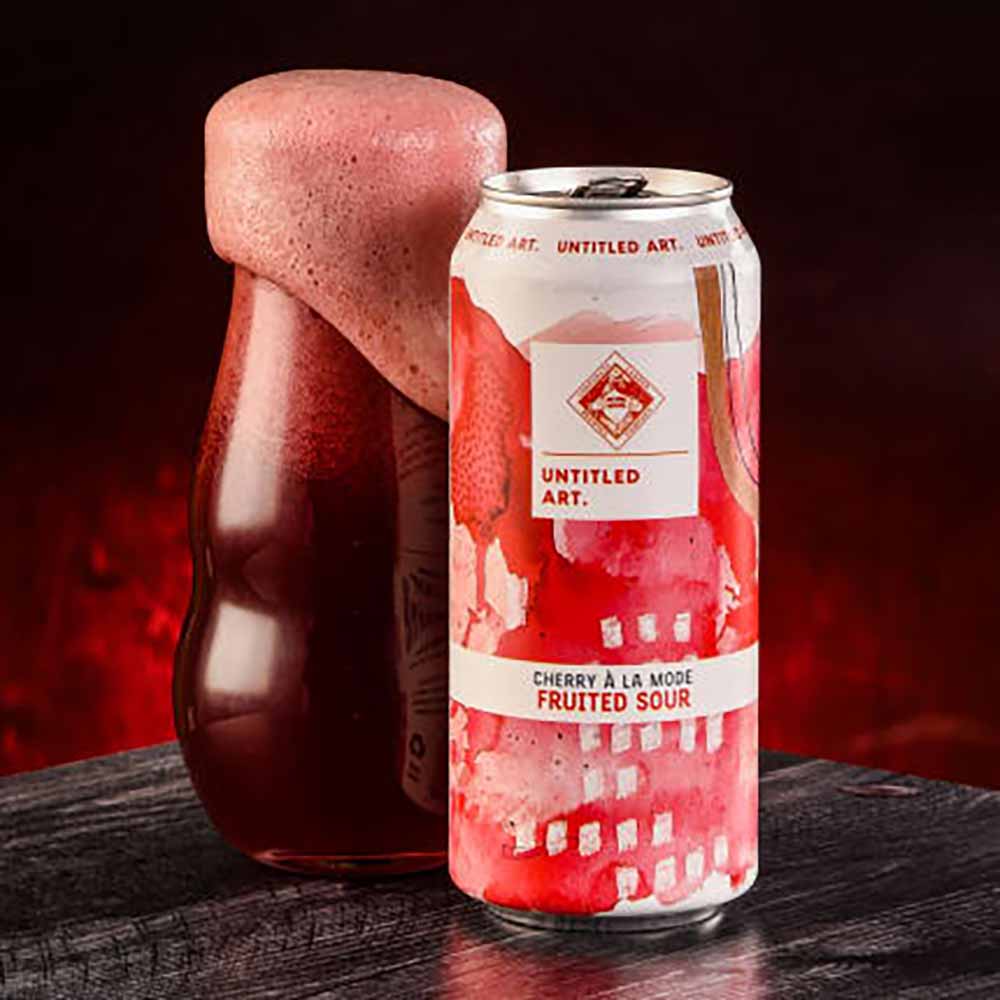 Berliner Weiss — What exactly is a Berliner Weisse? Considered the Champagne of the North, these golden, zippy, sour wheat beers picked up that nickname from Napoleon's troops. Super popular in Germany in the early nineteenth century, the style lost luster over time. Today, the slightly esoteric beer has made a bit of a comeback, especially as American brewers switch up and play with the fruits.
This makes Berliner weisses a perfect canvas for Untitled Art and their collab partner Corporate Ladder, known for crazy yet intentional and elegant experiments in the can.
For instance, Cherry Sour à La Mode, a seemingly ice cream-themed Berliner weisse that includes cherry concentrate and milk sugar.
Do you remember those summer nights when you hit up the Dairy Queen after the beach and ordered a strawberry sundae? Pulling up to the takeout window, your heart beat a little faster as the person inside handed you a clear plastic cup full of luscious creamy soft serve and a drizzling of red syrup.
That's Cherry Sour à La Mode—the ultimate summer indulgence.
Strawberry Orange Mimosa
South Beach Brewing Company — Miami Beach, FL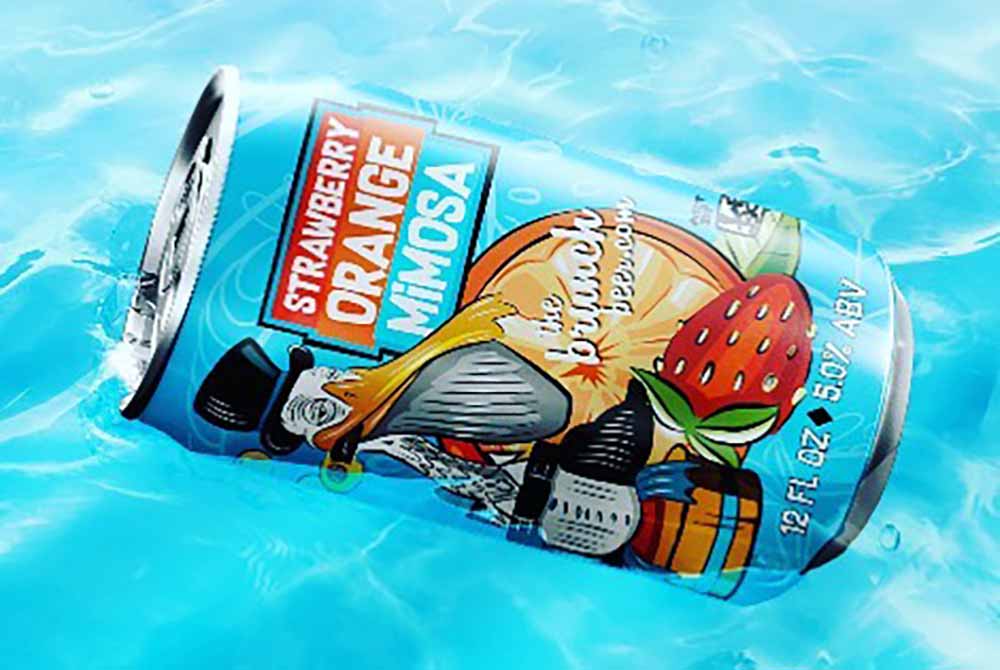 Blonde Ale — Brunch takes the bummer out of summer. Sure, we all check out on "summer" Fridays, but getting a combination breakfast/lunch on Sunday keeps us from succumbing to the Sunday Scaries.
South Beach Brewing Company understands this. Of course, they would; they're located in Miami Beach, FL, where it's probably summer all year round.
An homage to South Beach's famous weekend brunch parties, Strawberry Orange Mimosa takes everyone's favorite alcoholic mid-morning tipple and puts it in a can.
Leveraging real, honest-to-goodness Florida orange juice, this blonde ale also gets a hit of strawberries for that zippy sparkle you're looking for in a mimosa.
Apparently, and we can neither confirm nor deny this, South Beach Brewing infuses this beer with their "Proprietary Electrolyte." So not only are you drinking a mimosa-beer blend, but you're literally punching your hangover in the face with much-needed nutrients.
No Sunday Scaries here! Get off the couch, get a Strawberry Orange Mimosa, and keep the weekend summer partying going at least a little longer.
Rocket 2 Ruin
Two Roads Brewing Company — Stratford, CT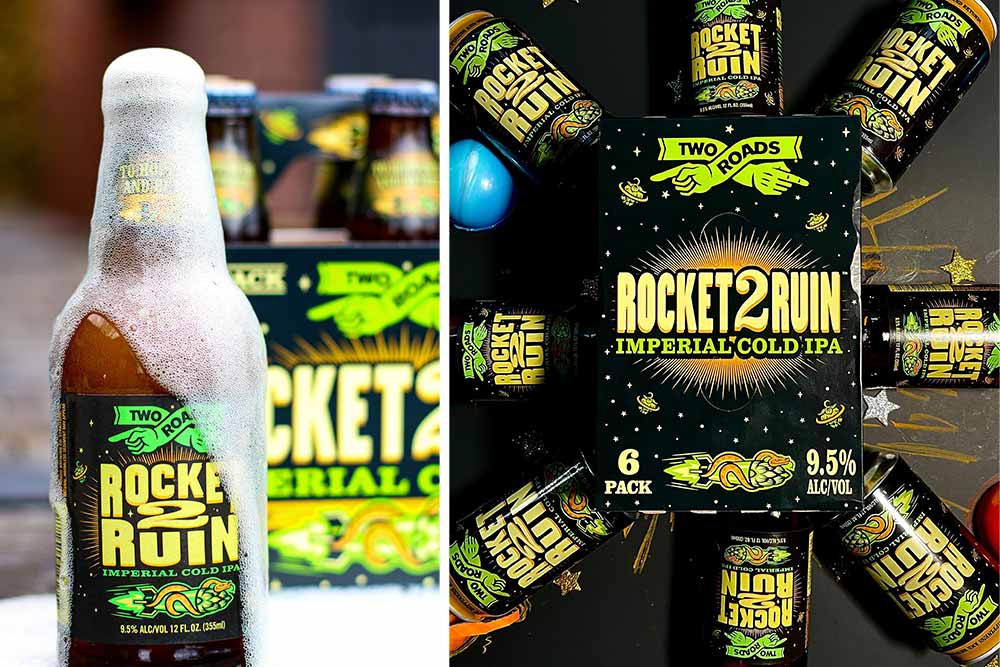 Cold IPA — In a season where Cold IPA is one of the hottest styles on the shelf, Rocket 2 Ruin topped them all on Untappd.
Two Roads took its famous Road 2 Ruin DIPA, strapped it on the back of a missile, blasted it to a galaxy of 9.5% ABV, and then cold fermented it to give the beer a crispness characteristic of Cold IPAs.
We haven't seen too many double Cold IPAs on the market yet, so drinkers beware because, with Rocket 2 Ruin, you'll finish the sip and immediately want another. Meaning this Cold IPA can sneak up on you faster than the Bell X-1 Glamorous Glennis breaking the sound barrier.
This Cold IPA is pure rocket fuel, but we're here for the ride.
Kentucky Vanilla Barrel Cream Ale
Lexington Brewing & Distilling Co. — Lexington, KY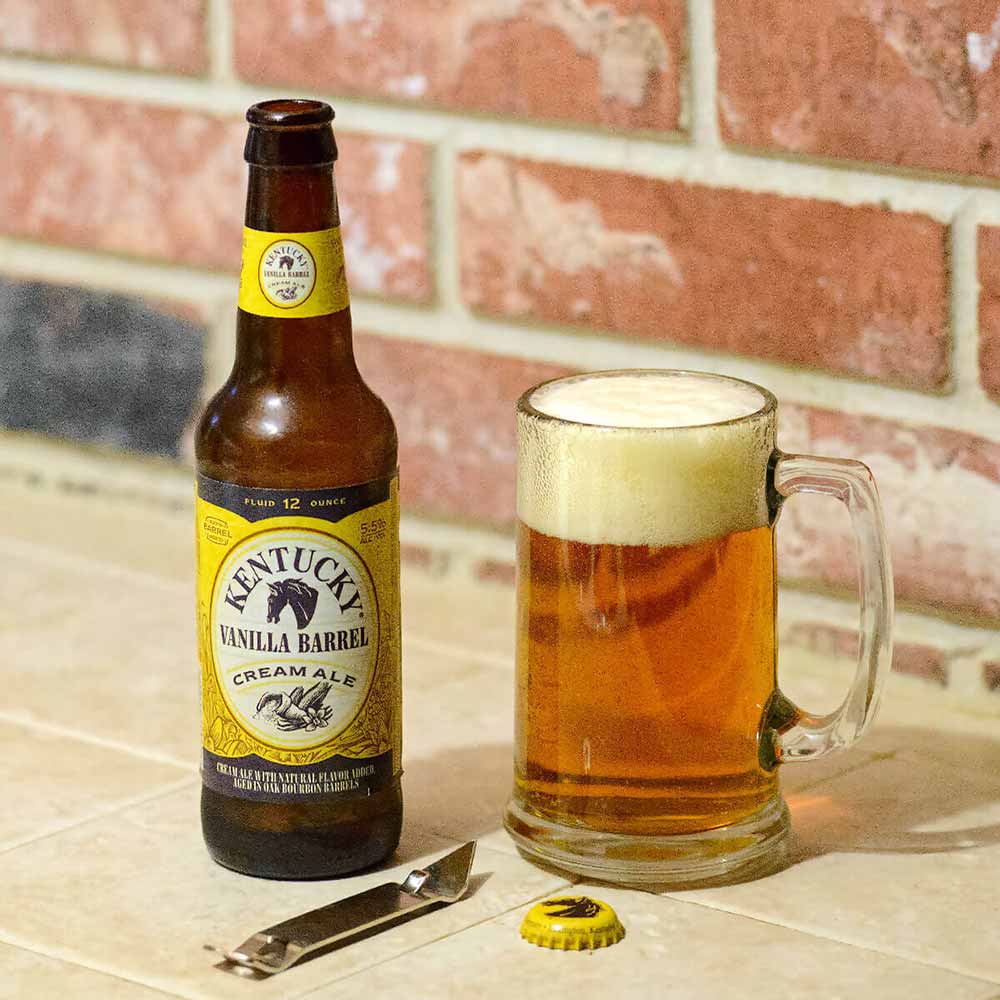 Cream Ale — Here's a fun fact: Cream ale is one of the only beer styles born in America. Popularized by Genesee Cream Ale, this beer style can best be described as the perfect lawn mowing beer—light, crisp, clean.
Lexington Brewing & Distilling Co. takes things further with its cream ale, cold-conditioning before adding bourbon vanilla beans and fermenting everything in Kentucky bourbon barrels for at least two months.
Consider Kentucky Vanilla Barrel Cream Ale like a cream ale all grown up. In other words, this is not your dad's cream ale. Instead, you'll find a luxurious yet balanced sweetness cut by a bit of robust bourbon. All these flavors mingle against a backdrop of flaked corn that cuts through the richness.
At only 5.5% ABV, Kentucky Vanilla Barrel Cream Ale is "the perfect complement to any dessert or all-day event," according to Lexington Brewing.
Alexandr
Schilling Beer Co. — Littleton, NH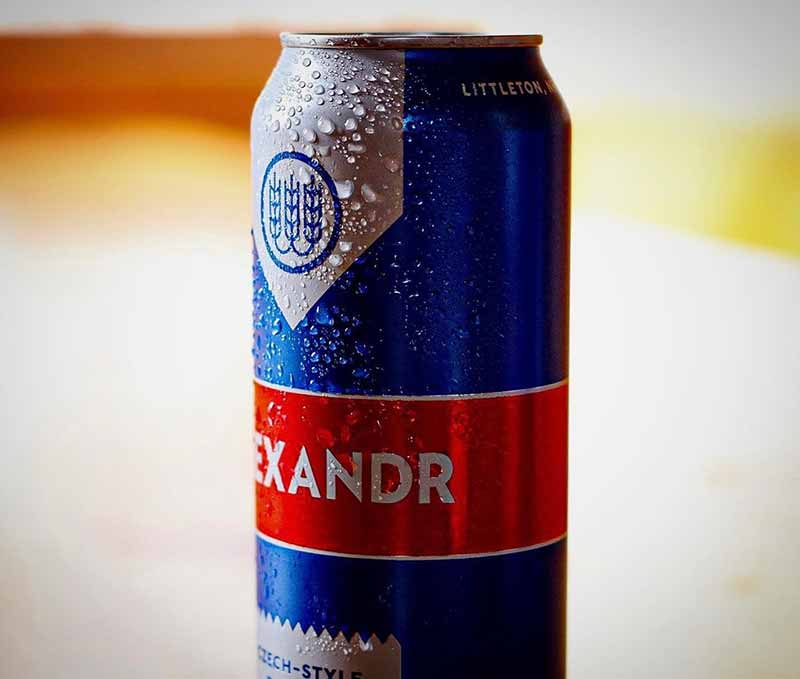 Czech Pilsner — At the beginning of the year, we predicted this would be "The Year of the Czech Lager." We will give ourselves brownie points on this one. So far, it seems to be pretty true. Almost every taproom we visit has a Czech-style beer on the menu (like this crazy six-brewery collab made after a mission trip to the Czech Republic), and almost every brewery that sends us beer includes a Czech-style one in their package. Even historically IPA-focused places have tried their hand at Czech beers.
But Schilling, on the other hand, has been dedicated to lagers (and only lagers) from day one. Whenever Schilling sends us some suds, we know with absolute certainty we're getting some tasty, tasty lagers.
They're just experts at what they do.
Now, this brewery has made many a version of Czech-style pilsners, but Alexandr is one of the classics.
In fact, this Czech-style pilsner is the first and OG one created at Schilling.
Schilling sums things up pretty well in the beer's Untappd description, "Crisp, clean, and sessionable, with a firm but rounded hop backbone."
Goses Are Red
The Bruery Terreux — Anaheim, CA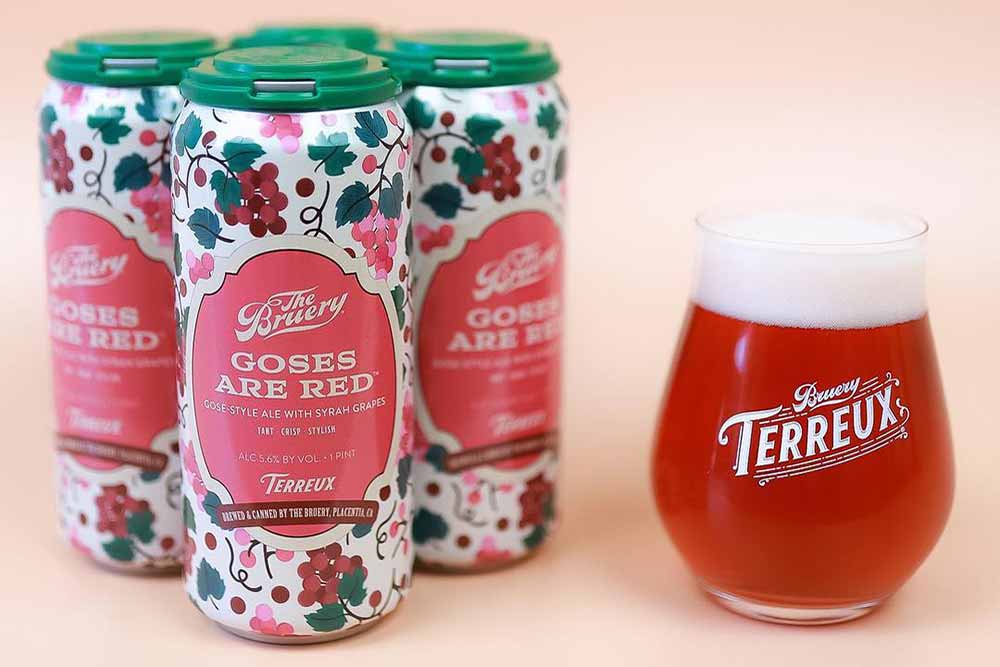 Fruited Gose — Gosé all day. Yes, please accent that "e"! A mashup between rosé and a gose, salty German wheat beer, Goses are Red from The Bruery Terreux is a real crowd-pleasing beer.
A little tart, funky, and sweet, Goses Are Red dazzles like a bouquet of fresh roses.
Starting with a pretty standard gose base—wheat and salinity—The Bruery adds a bit of coriander, aging the beer in an oak foeder with the addition of grapes. Yes, grapes!
All contribute to a unique beer-wine or gose-rosé hybrid that probably only The Bruery could pull off.
We could write odes about the layers of complexity in this charismatic beer.
Oh, Goses Are Red, shall I compare thee to a summer's day? I think we shall!
PB&J Mixtape
Xül Beer Co. — Knoxville, TN
Fruited Sour — Thinking back to our childhood summers, somewhere between splashing in the pool, playing soccer games, and traveling to the lake, PB&J sandwiches endlessly existed.
The quintessential summer sandwich often included Home Pride White Bread slices with gobs of Skippy 25% Reduced Fat Peanut Butter and schmears of Welch's Concord Grape Jelly.
These days we'd rather "drink" our PB&J. So from the bottom of our hearts, thank you, Xül Beer Co., for making the drink of our childhood dreams.
If we could sip anything more nostalgic, we're not sure what that would be. For a fruited sour that brings tart tears—both happy and sour—to our eyes, give PB&J Mixtape a shot.
Slow Pour Pils
Bierstadt Lagerhaus — Denver, CO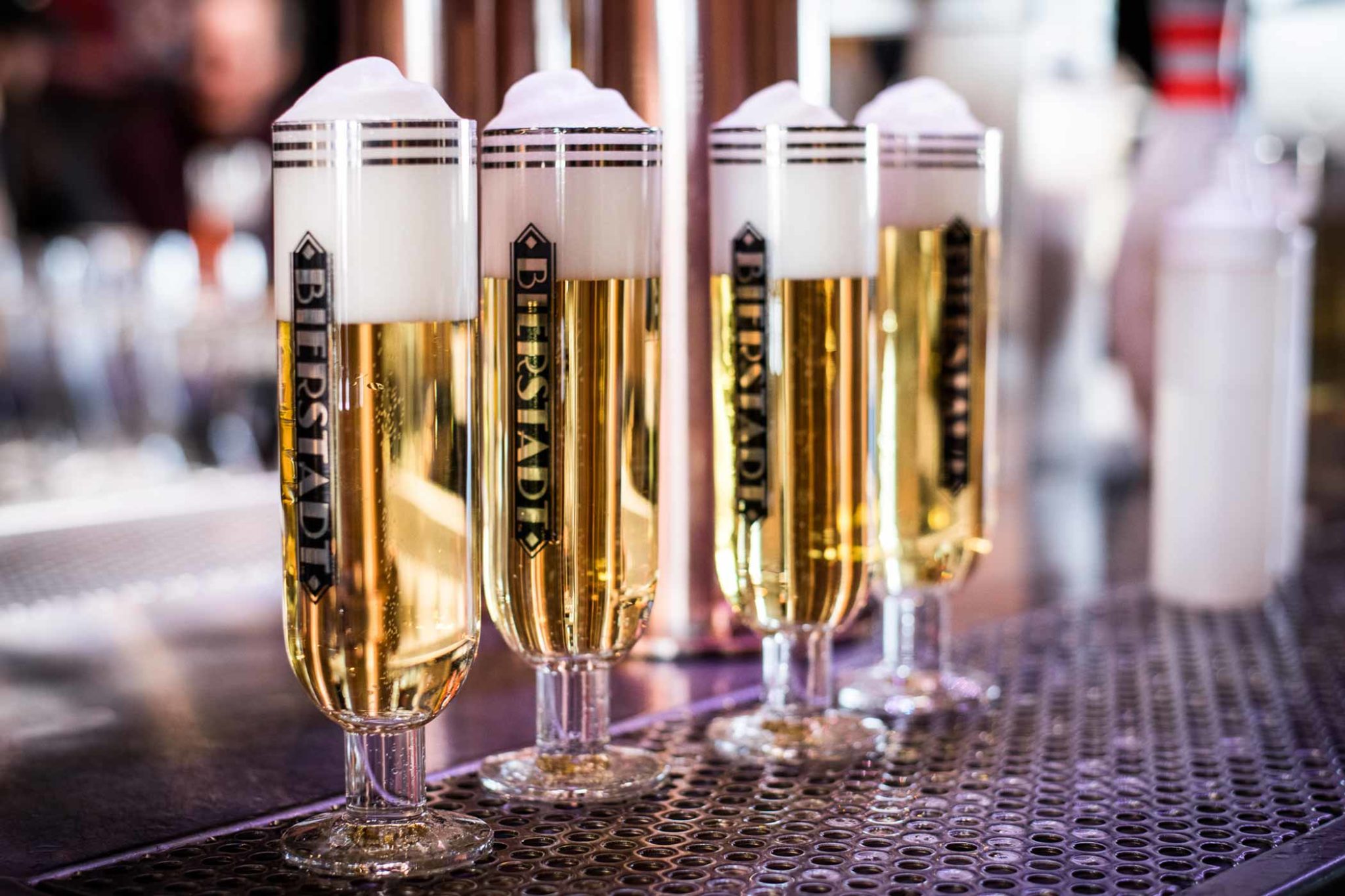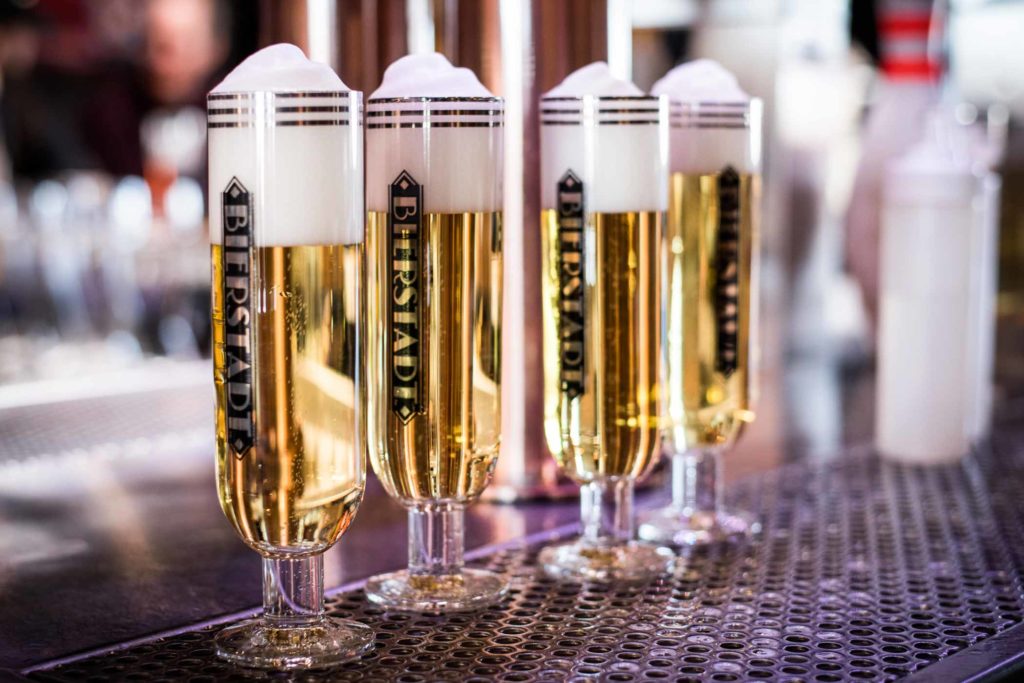 German Pilsner — We love this beer so much that we wrote an entire story about Slow Pour Pils. Bierstadt Lagerhaus Co-Founders Ashleigh Carter and Bill Eye created this beer and unique pouring technique.
"There is only one Slow Pour Pils," says Bierstadt Lagerhuas Head Brewer and Co-Owner Ashleigh Carter. "Just like there is only one Heady Topper. Just like there is only one Pliny the Elder—that's the name of our beer, and there is no other beer that is Slow Pour Pils out there. Yes, it describes the process, but it is also the name of our beer. … Those words were never uttered together in front of the word 'pils' or any beer until we did that."
Wondering exactly what is a "slow pour?" Well, hit up our story for all the deets.
But when it comes to the beer, here's all you need to know.
If you visit the brewery in Denver, you'll wait about seven minutes for this pour. And every second will be worth it. A tall glass that Carter and Nye commissioned specially from a producer in Germany will arrive with an almost ice cream-like mound of beautiful foam on top, courtesy of a LUKR Czech side-pull faucet that has a screen inside that filters out larger bubbles, promoting a tighter, wetter foam.
This OG slow-pour beer may seem simple—just Barca pils malt and Hallertau Mittelfrüh hops—but dig deeper, and you'll see that this is a labor of love. The beer actually takes thirty hours to make, for gosh sakes!
"This is very much a technique-driven beer," Carter told Hop Culture.
She deploys a short seventy-minute hop at the beginning, a single decoction, and a flotation tank, an old-school piece of German equipment, before lagering the beer and "filtering the shit out of it," says Carter. "I believe beer should be bright, especially lager beer."
The result is a beer with a beautiful, lightly lemon hop aroma and a clean, crisp bite. When it's slow poured, that's when the magic truly happens.
We highly recommend you visit the brewery's taproom in Denver to experience Slow Pour Pils (and its incredibly thick, fluffy head) right at the source. But if you can't travel, Carter also worked extremely hard to dial in this recipe for cans.
Hey, some things in life are worth the wait!
Double Dry Hopped Melcher Street
Trillium Brewing Company — Canton, MA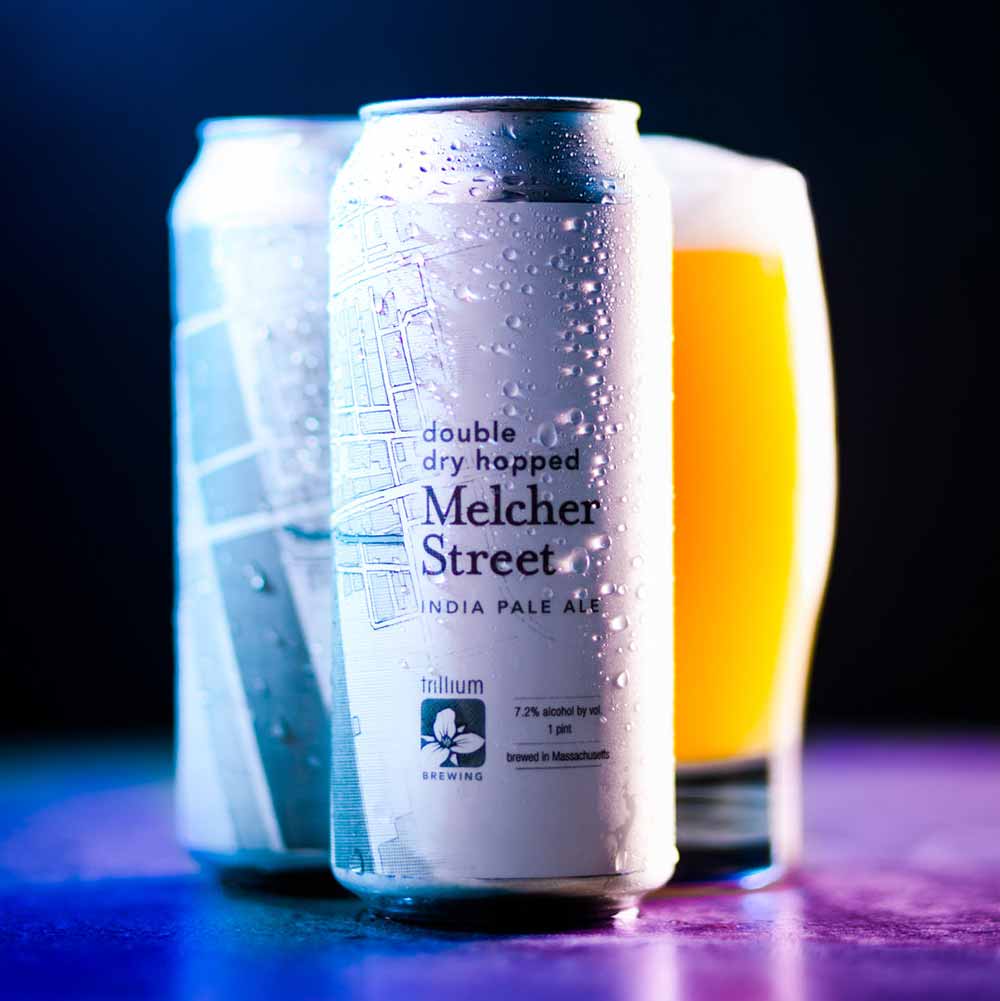 Hazy IPA — Just as Trillium's Double Dry Hopped Congress Street is a perfect expression of the top Australian hop, Galaxy, Double Dry Hopped Melcher Street makes Mosaic the star. Slightly spicy, definitely piney, and fully resinous, DDH Melcher Street also "bursts with nuances of tart citrus, tangerine, clementine, and subtle green onion," according to the beer's Untappd description. "Bold flavors of under-ripe melon, cantaloupe rind, and pineapple are highlighted with a gentle bitterness and delicate, biscuity malt character."
Are we surprised Trillium has one of the top-rated hazies of the year? Absolutely not.
But this beer is one of their classics and a great example of how if something ain't broke, don't fix it.
Teacher's Pet
Fidens Brewing Co. — Colonie, NY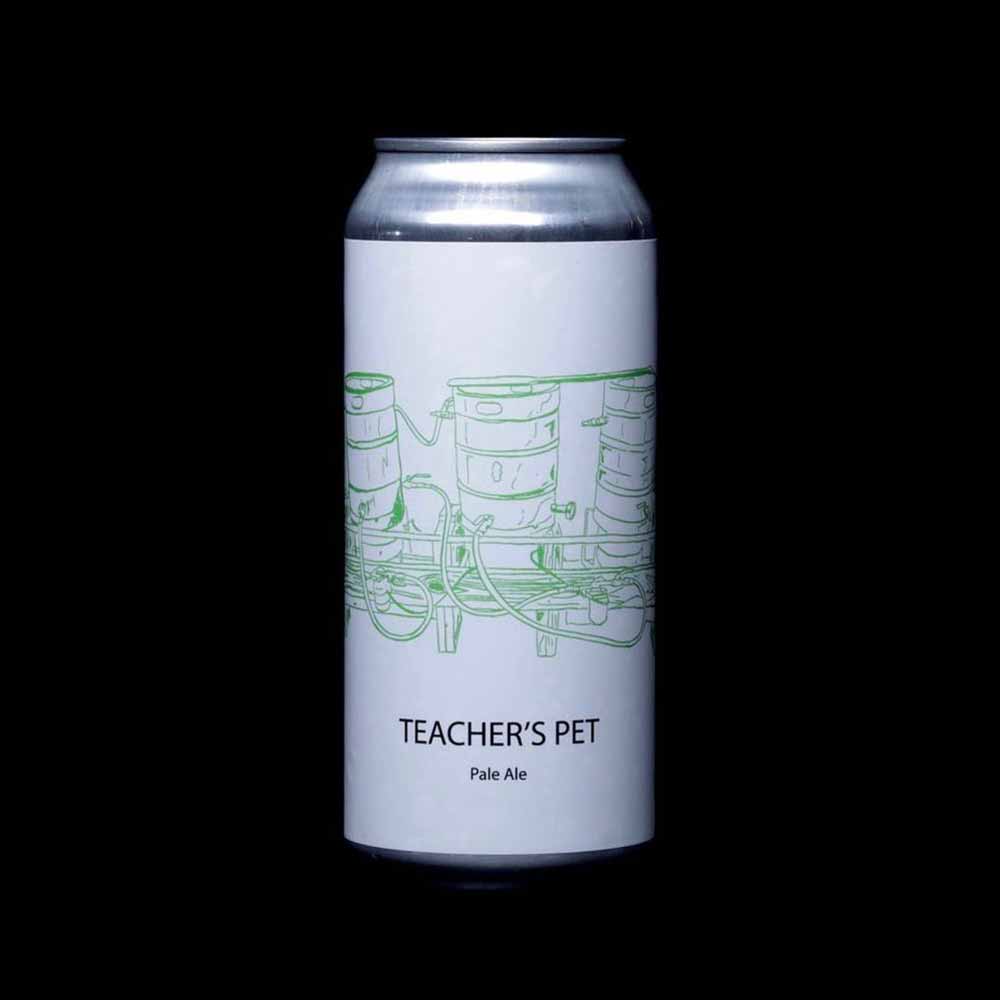 Hazy Pale Ale — When Fidens Brewing opened in upstate New York in 2019, the brewery was something of an insider's secret as our freelancer writer Niko Krommydas reported. Now, everyone knows that Fidens makes some of the most incredible hazy IPAs in the country.
But it turns out they have a deft hand at hazy pale ales too. Which makes complete and total sense because the brewery is under the guidance of Fidens Co-Founder and Head Brewer Steve Parker, who has an almost spidey-sense-like ability to brew creamy, expressive iterations on a hazy…Every. Single. Time.
Seriously, these guys can't miss.
"IPAs are our brew of choice, and we don't apologize for it," Parker told Hop Culture when Krommydas interviewed him a couple of years ago. It's a courageous choice. One reflected directly in the brewery's name. Fidens is a Latin term meaning courageous or without fear.
For Teacher's Pet, Parker takes the brewery's gutsy double hazy, Jasper with Nelson, and turns it into a hazy pale.
Need we say more? Because I think we've said enough already.
Zwickel
Urban Chestnut Brewing Company –St. Louis, MO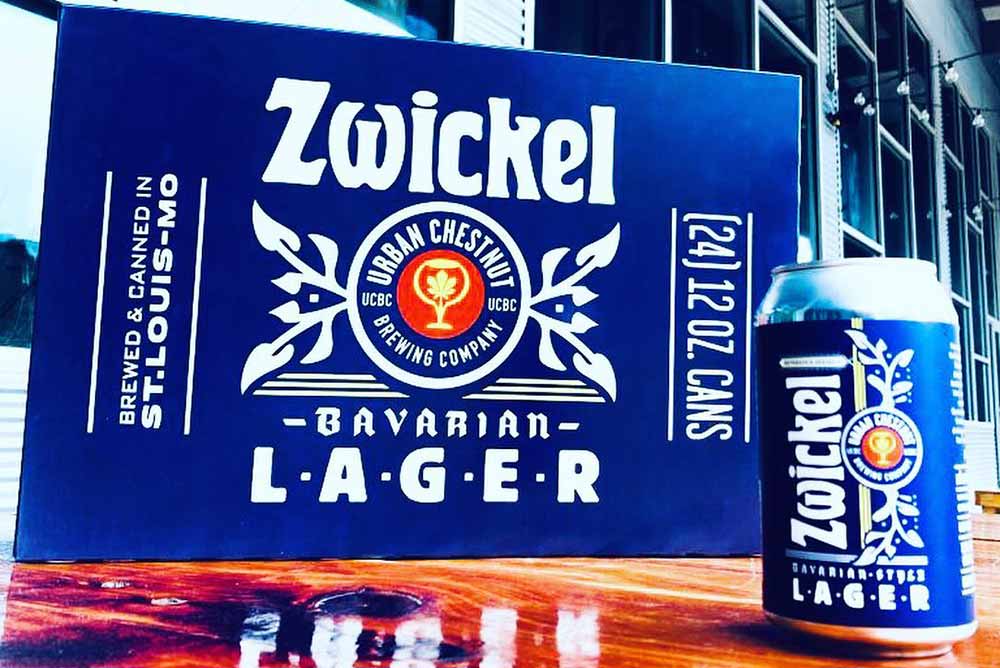 Kellerbier/Zwickelbier — A style you probably haven't heard of often, zwickelbier is an unfiltered, unpasteurized German lager. You can't get a more precise version than Urban Chestnut's flagship beer, simply named Zwickel (pronounced "zv-ick-el").
Featuring two-row and pilsner malt and Hallertau hops, Zwickel pours deliciously cloudy. So much so that you'll probably start salivating on a hot day, waiting expectantly for the uber-refreshing, light, and slightly yeasty brew.
KÖLD
Fair State Brewing Cooperative — Minneapolis, MN
Kölsch — Kölschs can be confusing: part ale and part lager. In other words, these beers use a top-fermenting yeast but go through a cold fermentation. The result? The best of both worlds—hoppy notes from an ale with a chilled, refreshing finish from a lager.
Minnesota's Fair State takes on their interpretation of the classic German style admirably.
And we feel the name truly embodies what kölsch is all about.
KÖLD pours a beautiful gold, finishing with a classic crisp bite. This is the beer you want by your side when you're day drinking over the summer, whether by the pool, during a barbecue, or at the beach.
We just have three words: crushable, smashable, and loveable.
Dead Guy Ale
Rogue Ales — Newport, OR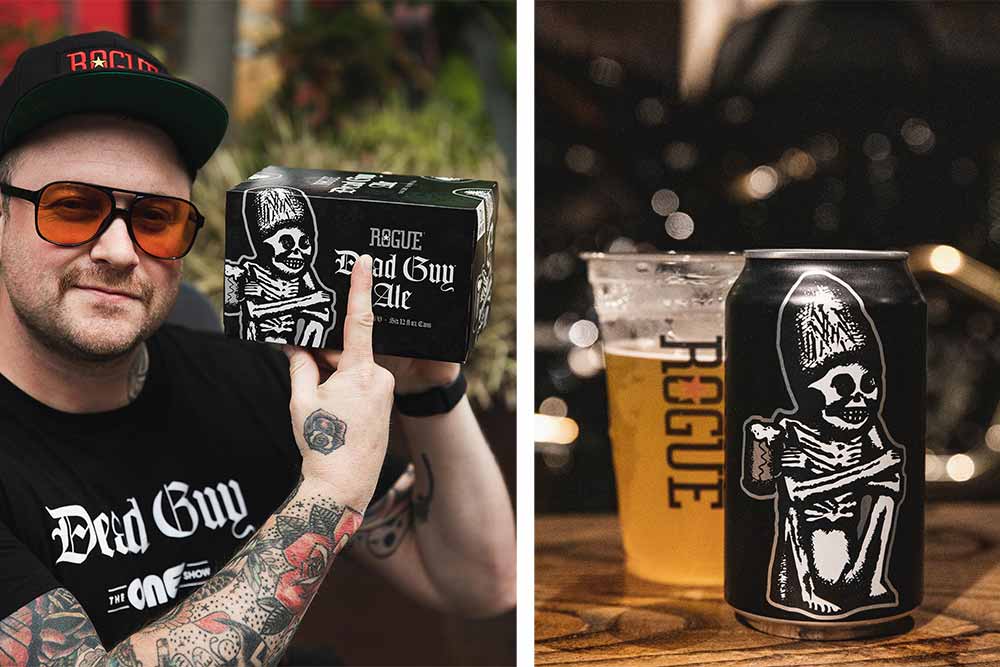 Maibock — Another lesser-known style, maibock is a malty, pale, German lager, often drank in the spring (and summer) because it's light-bodied and easy-drinking.
There is probably no more iconic maibock in the U.S. than Rogue Ales' Dead Guy Ale. Introduced to drinkers over twenty-five years ago, Dead Guy remains a staple for Rogue.
A base of caramel malts bridges some very expressive herbal hops for a balanced, satisfying, and invigorating beer.
As the brewery writes in the beer's Untappd description, "This guy is still as drinkable as ever."
Lime Feelin' Good
Fat Head's Brewery — Middleburg Heights, OH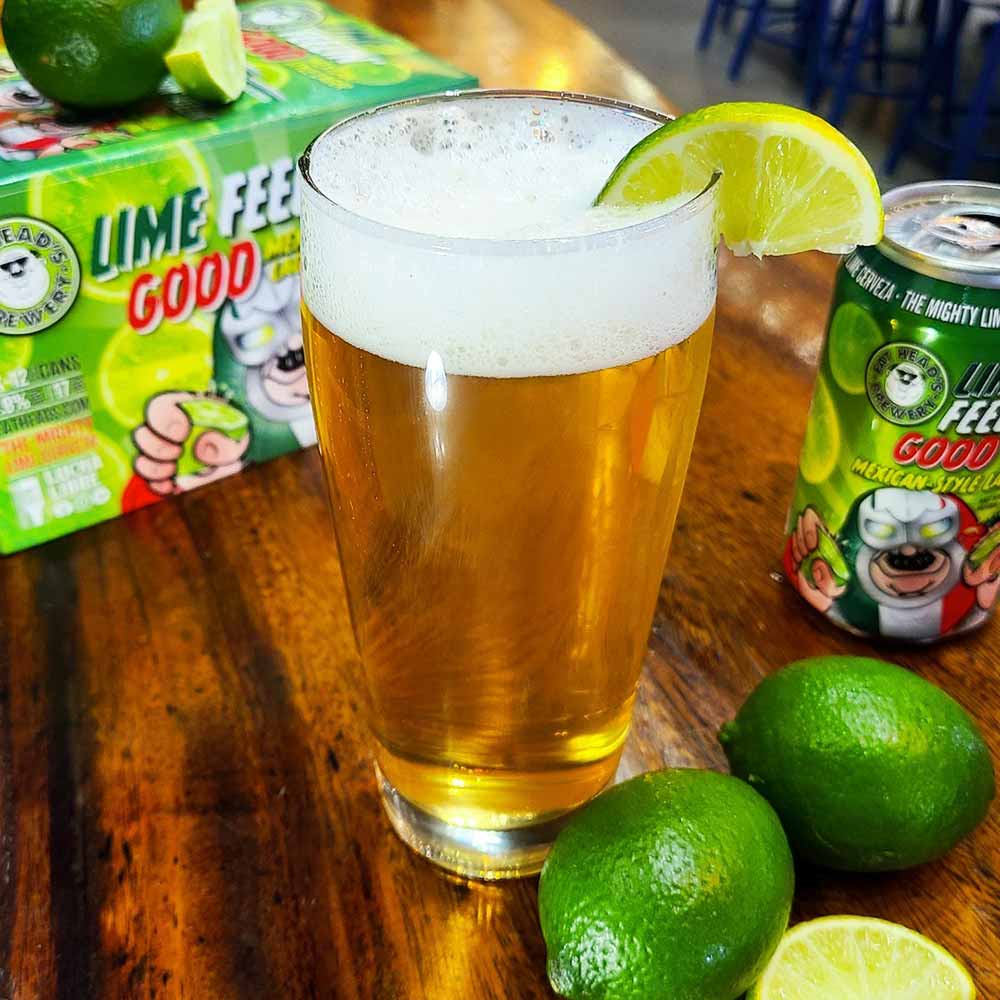 Mexican Lager — As the timeless Nina Simone sang:
"Birds flying high, you know how I feel
Sun in the sky, you know how I feel
Breeze driftin' on by, you know how I feel."
"It's a new dawn
It's a new day
It's a new life for me,
And I'm feeling good."
Fat Head's captures those vibes in a can. You know the feeling. You just finished work at 2 pm on a Friday, went for a run, and are driving to meet up with some friends at a bar.
Or.
The sun is shining, the windows in your car are down, and the breeze wafts through your hair as you head to the beach, surfboard in tow.
Somehow Lime Feelin' Good captures all those good vibes in this lightly hopped Mexican-style lager.
Drink one…and you're feeling good.
Drink two…and you're still feeling good.
Orange Creamsicle
Great Notion Brewing — Portland, OR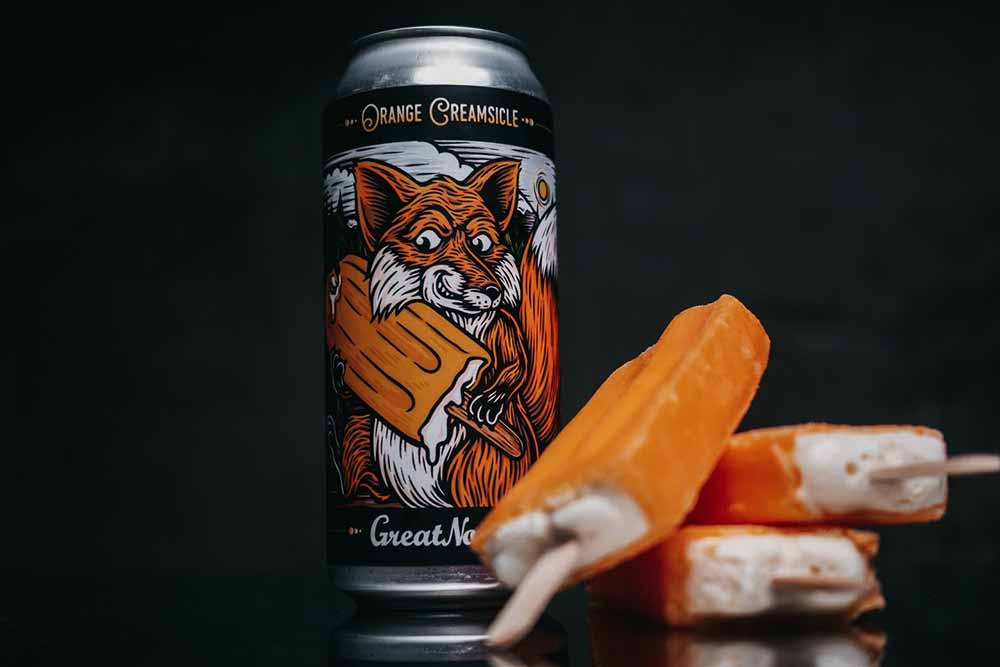 Milkshake IPA — The magicians of milkshake IPAs, Great Notion conjures up pure childhood nostalgia with Orange Creamsicle.
Combining orange puree, vanilla, and milk sugar with the citrusy Amarillo and Motueka hops, Great Notion puts the iconic push pop into a can.
On a hot summer day, Orange Creamsicle can't be beaten for pure fun and childhood memories.
Camp ShandyShore Lemon
Toppling Goliath Brewing Co. — Decorah, IA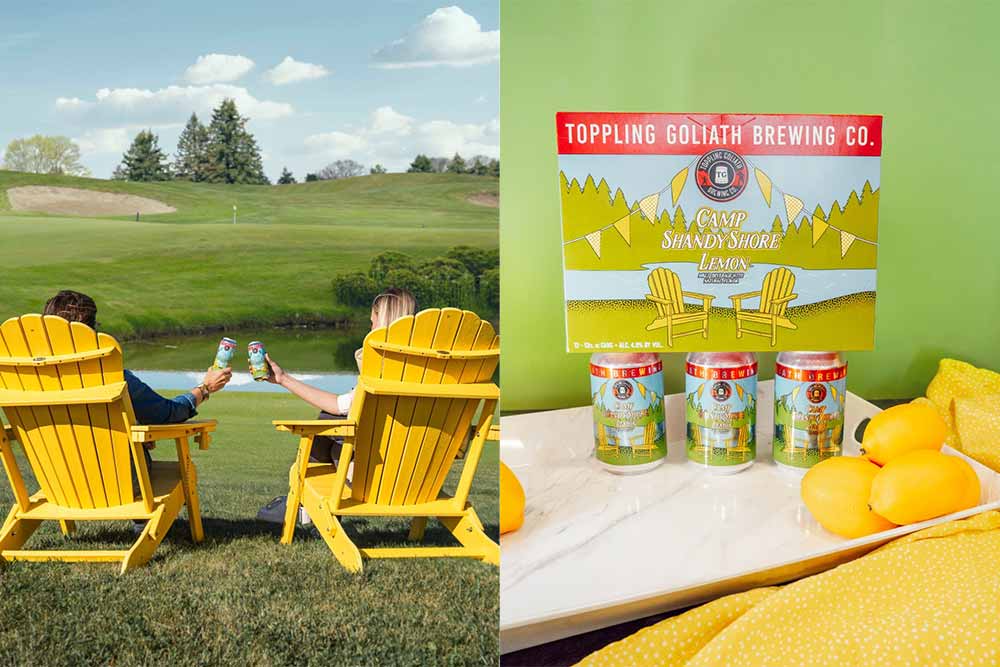 Radler/Shandy — Radlers and shandies were made for summer, the latter a mixture of beer and a citrus beverage, often lemonade.
Welcome to Camp ShandyShore—summer in a glass.
Or as Toppling Goliath says, "Sun on your skin, fresh air, and a crisp beer in hand. Camp ShandyShore lemon beer is the perfect addition to all of your summer plans."
Forever Ever
Other Half Brewing Co. — Brooklyn, NY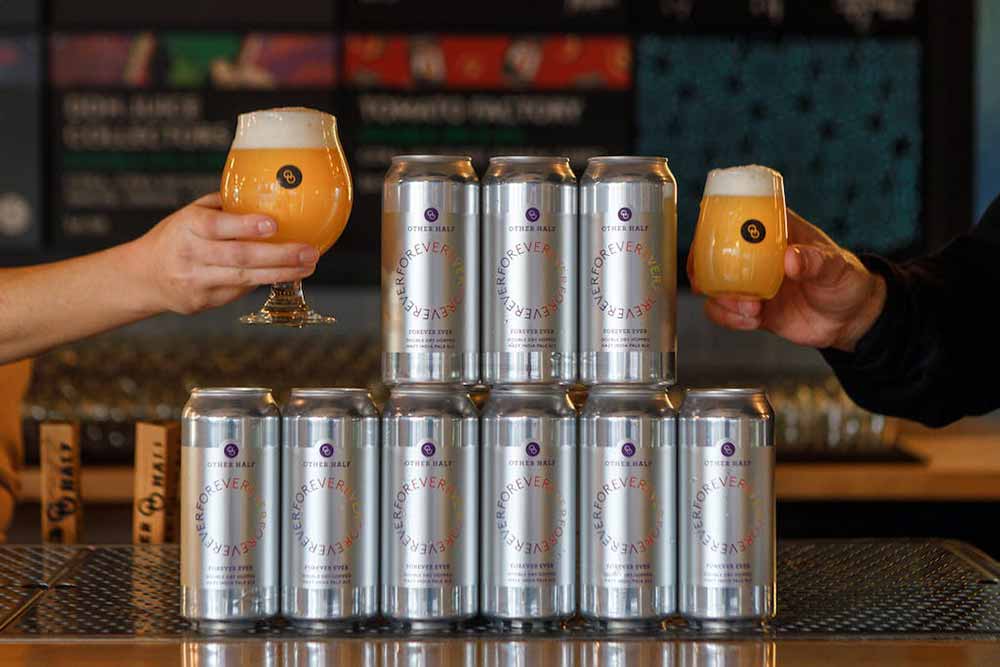 Session IPA — Other Half calls Forever Ever a "crusher." In other words, a beer you can drink forever, ever, and ever, thanks to its 4.7% ABV.
Brewed with Mosaic, Cashmere, and Citra, then double dry-hopped with more Citra and Mosaic, Forever Ever may be a session IPA, but its flavor continues forever and ever.
Now, if only summer could last forever.
Hydra | Fluff Motif
Mortalis Brewing Company — Avon, NY, x Two Tides Brewing Co. — Savannah, GA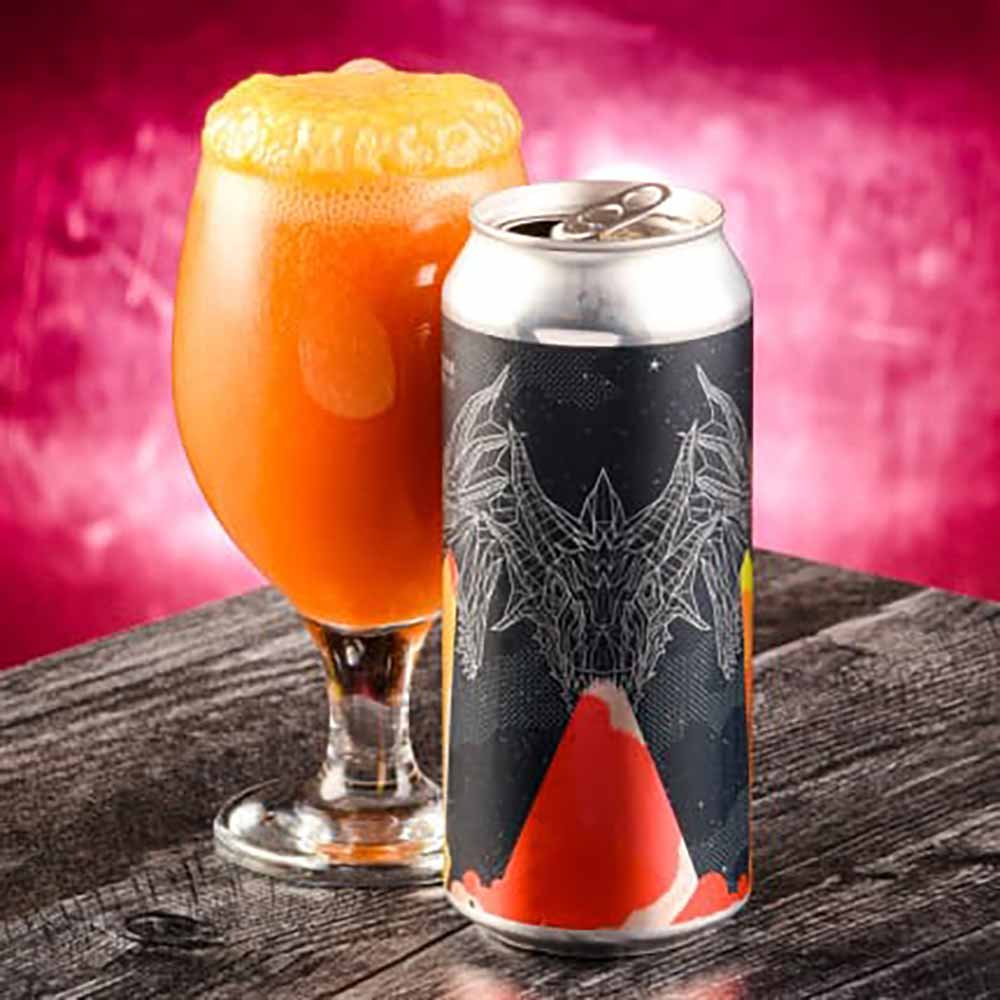 Smoothie Sour — Let's not beat around the bush. Motralis makes some of the world's best, most-indulgent, most-electrifying, most-satisfying smoothie sours. Releasing a new one pretty much every week, Mortalis gives you plenty of pastry sours to keep you on your toes.
But Hydra | Fluff Motif, a collaboration with Two Tides, stands out for its excessive blend of pineapple, strawberry, mango, marshmallow, and three (count 'em, three) flavors of sorbet powder.
Named after the mythical creature of many heads, this smoothie sour gives you many flavor tunnels to explore. If you're familiar with Mortalis, Hydra | Fluff Motif will exceed expectations. And if you're new to Mortalis, this beer will probably blow a hole in your mind. 🤯
Just please, for the love of all things smoothie sour, do not keep this beer on your hot porch in the summer.
Pebble
Fox Farm Brewery — Salem, CT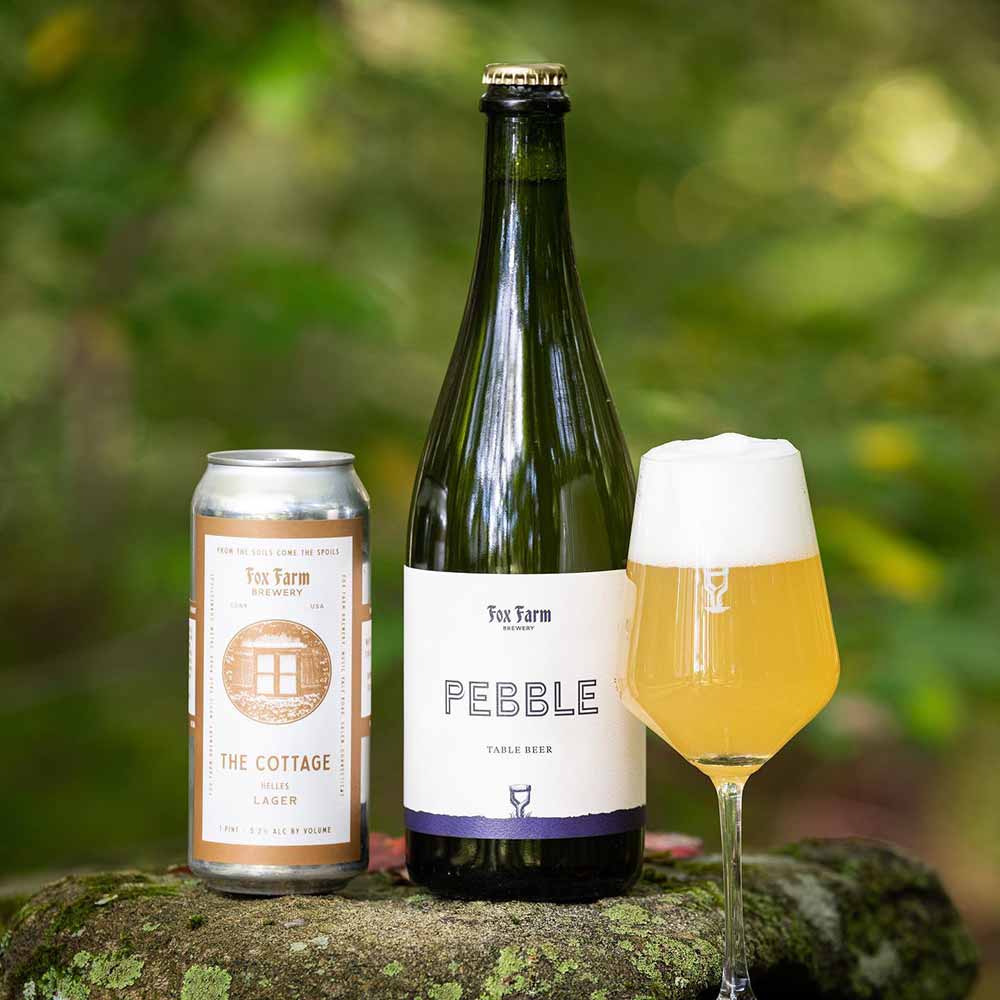 Table Beer — Sometimes also referred to as "small beer," table beer is historically brewed to be a low-ABV, malty, Belgian beer. During the turn of the twentieth century, these beers became popular as mealtime sippers. Flavorful and robust, yet light-bodied and low in alcohol, table beers were perfect for savoring while you sat around a table.
Nowadays, we don't see table beers too often. But their intended use aligns with breezy, low-key summer evenings.
Fox Farm's version uses a saison yeast, which imparts layers of complexity, and Amarillo hops for a bit of a tang. Carbonated in the can, Pebble pops with bright bubbles and pleasant acidity to give you that endless summer sipper.
Teach's Peaches
Edward Teach Beer Co. — Wilmington, NC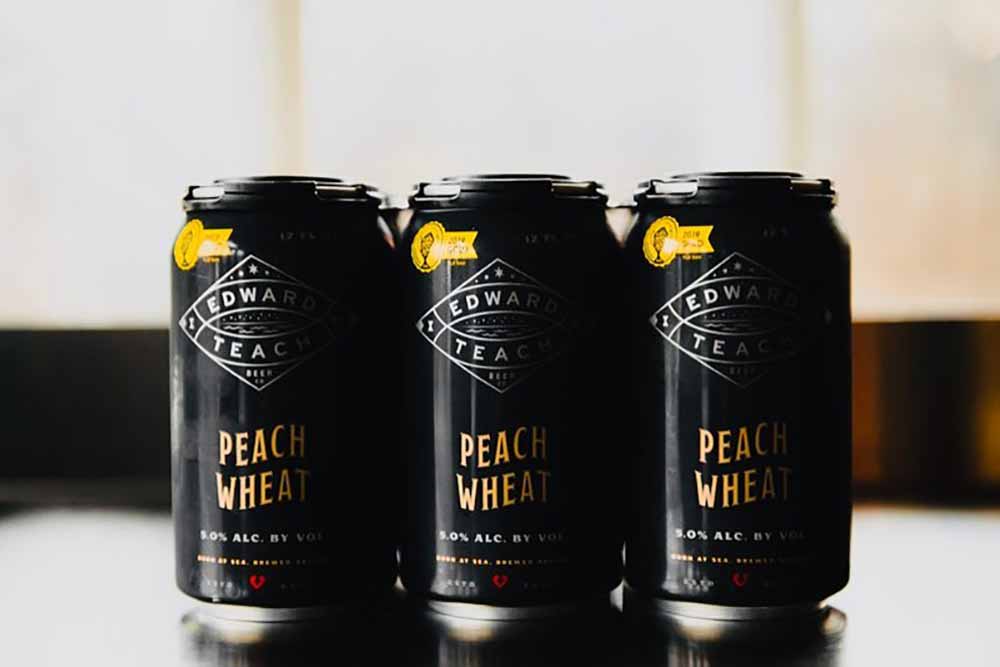 Witbier — As the adage goes, "An apple a day keeps the doctor away." Well, a peach a day keeps the teacher at play. Okay, maybe that doesn't make sense. But Edward Teach Beer Co.'s Teach's Peaches updates a classic with its take on a witbier.
Typically a classic Belgian wheat beer with coriander and orange peel, Teach's Peaches takes a slightly different approach, nodding to the brewery's Southern roots by infusing peaches—eighty pounds, to be precise. Oh, and a bit of apricot puree, as well.
A nice, light wheat base helps these stone fruits shine like the summer sun. With a slightly tart finish, this 5% ABV witbier drinks dry and easy for all the livelong day.