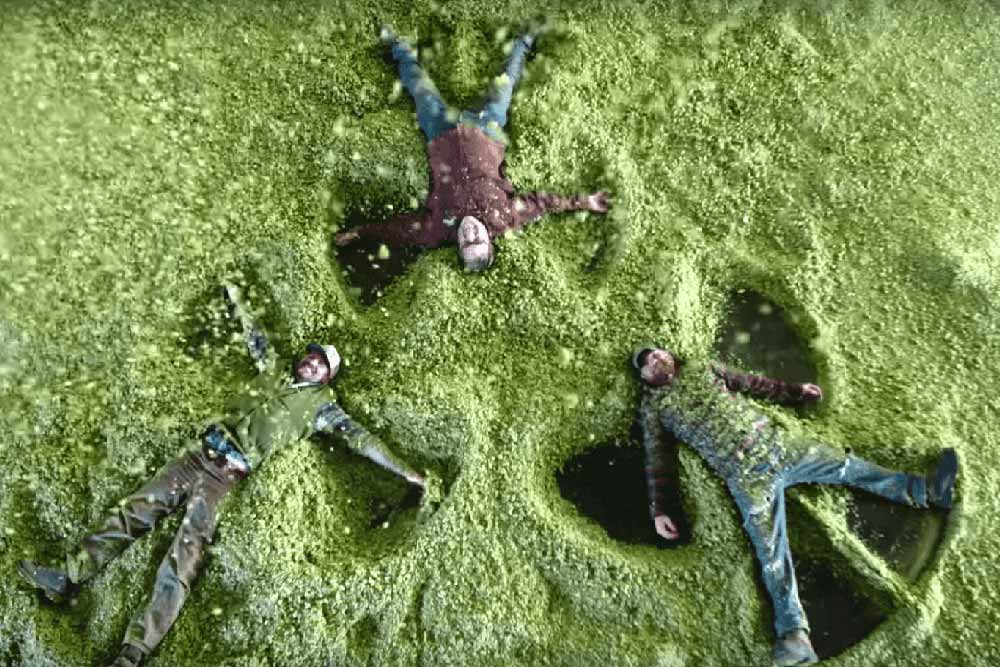 Photography courtesy of Sierra Nevada Brewing Company
Every month, every week, every hour of every day, it feels as if craft brewers are discovering and experimenting with new hops in their IPAs and pale ales (and occasionally their lighter beers). We are in craft brewing's golden age, a time for hop heads to rejoice in the sheer diversity of hop varietals and the resultant flavor profiles of their kettle boil (or dry hop) marriages.
We can make an argument that perhaps there are too many hops. Or if not that, too many hop-focused breweries; not everyone likes hop bursts on the tongue, which is why pilsners, American lagers, Vienna lagers, and other delicate beers occupy more space in the market. But IPA is still the master and commander of the brewing world and a significant part of craft beer culture. The style even makes up a culture all its own—one might say a hop culture.
With so many different hops to choose from, brewers face the perils of decision paralysis: brew with the classics (Citra, Mosaic, Simcoe), the new hot ones (Strata, HBC-586, Peacharine, Nectaron), or a combination of both. So we got to wondering: Which hops do the industry's hop-oriented brewers like brewing with the most?
We reached out to some of the best brewers in the country for their perspectives and their favorite hoppy obsessions.
15 Brewers Share Their Favorite Hops of All Time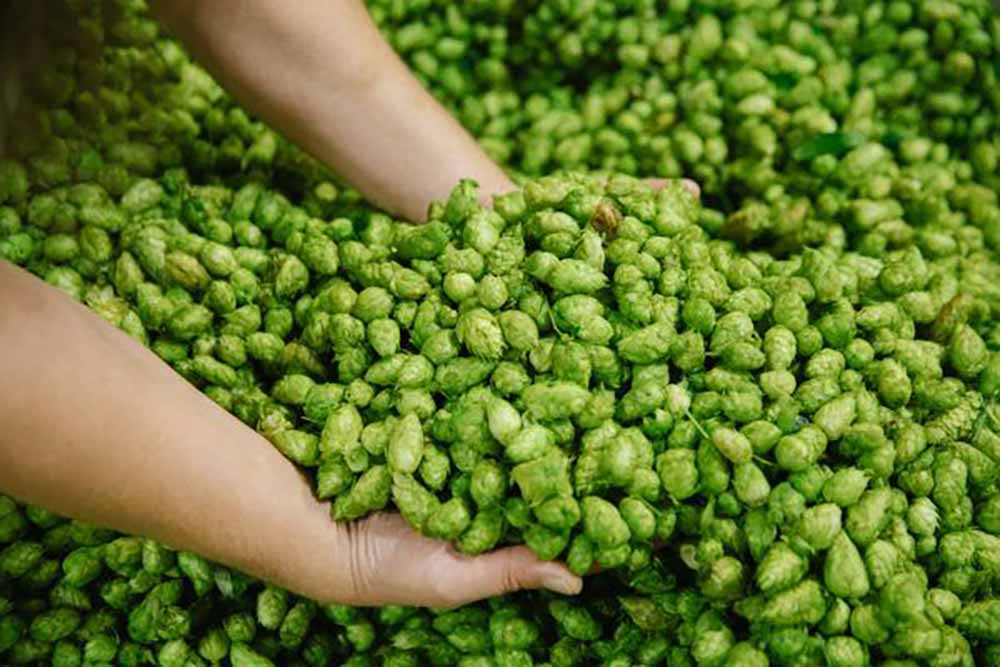 Nicole Gray – Head Brewer & Owner, Garrison City Beerworks
Dover, NH
It's such a good time to be a hop-forward brewery.
Enigma (AU) is my tried and true. The complexity of flavors that this hop brings is outstanding. From white grape to honeydew melon to candied weed, this one stands out and can star in the show or play a great supporting role. We utilize it in a number of our IPAs. My favorite is Dappled Light, a jasmine rice NEIPA with matcha tea. The jasmine and matcha set the scene, but Enigma really brings it home.
HBC 630 (USA) has been a lot of fun to work with. It lends notes of cream, banana, and peaches which play exceptionally well with our yeast profile. It is the main hop in our DIPA Teeny Tiny Triangles, a frothy New England IPA loaded with flaked oats, pale wheat, and pilsner malt. I hope this will make it into Lupo Max form in the next few years.
Talus (USA) is great in a Cold IPA. It reminds me of walking in the mountains in the summertime. Happy notes of pine, rosemary, and citrus work so well with the dryness and clean profile of the (rather polarizing) Cold IPA.
Marcus Baskerville – Founder & Head Brewer, Weathered Souls Brewing Co.
San Antonio, TX
My favorite hop is Citra, and I think it will always be Citra—the versatility of it, being able to use it within different styles like pilsners, IPAs, and even some Belgian beers. The aroma will always be one that I appreciate—melon, passionfruit, citrus, and grapefruit. And it stands the test of time. It is still a premier hop that most seek and enjoy, and I don't see it going anywhere anytime soon.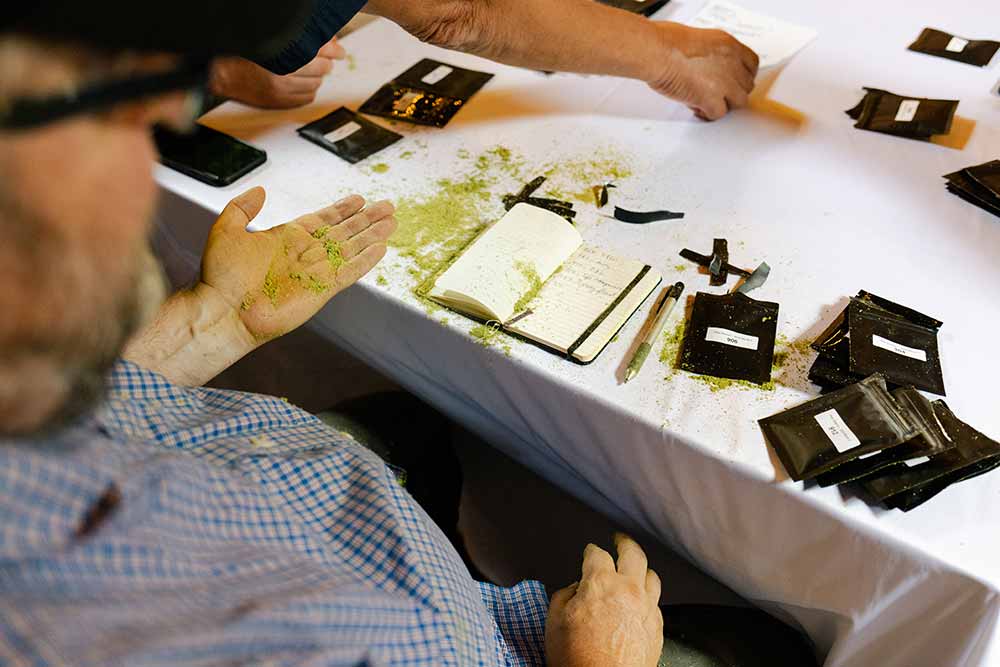 JC Tetreault – Founder & Brewer, Trillium Brewing Co.
Boston, MA
We continually evaluate new hop varieties alongside our selected hops as part of our quality and innovation program. Given the incredible flavor and aroma descriptions levied for new and experimental hop varieties, it can be very tempting to just go all in. We are keen to learn, collaborate, and help elevate the overall industry, so we are contributing members to both the Hop Quality Group and the newly formed Freestyle Hop Research Collective.
However, as we've done benchtop fermentations, finding a variety that is truly distinctive and on equal footing or "better" than something already out there is no easy task. And, of course, the agronomics for any new variety has to work for the hop farms, as well.
One hop that has stood out above its peers is Peacharine from Freestyle. Its core aromatics of stone fruit with backing elements of citrus and tropical fruit could have it right up there for popularity alongside Citra and Mosaic in the coming years.
The folks at Freestyle have set an industry standard for involving and seeking out, listening, and putting into action what brewers care about. They've reimagined how to center their practices based on feedback and transparency. Since Peacharine is at the leading edge of its hop breeding program, we have a lot to get excited about from the folks from New Zealand!
Ashley Benson – Head Brewer, Arizona Wilderness Brewing Co.
Gilbert, AZ
I've recently been in love with Belma. Its sweet fruit, strawberry, and cherry notes are fairly unique to most commercial hops on the market. It's often an underrated hop, but it makes such a great addition to tropical hazy IPA recipes that need a bump in perceived sweetness. However, I also recently added it as a whirlpool addition for a barrel-aged stout base and loved the extra layer of complexity that it gave the style. It's just a fun hop to play with across styles.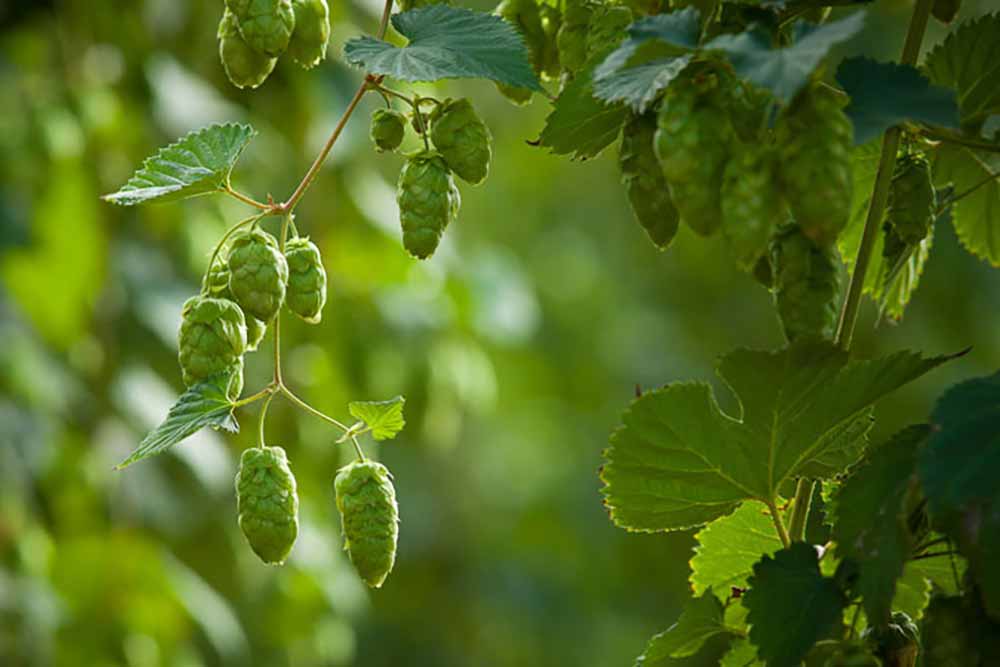 Chaz Hubbard, – Co-Founder, Hella Coastal
Oakland, CA
It feels like new hop varieties are popping up every day, but one shouldn't forget about the hops that made craft beer what it is today. A classic trio we really love is Citra, El Dorado, and Mosaic. These hops combine to create a really nice tropical, citrus juice bomb with those classical floral, dank notes.
I'd say one hop we are really loving now is Strata. We've been using it in our lighter ales during the cold pool and dry hop, and according to our head brewer Manny Ponce, it gives the beer a nice "Dank Berry" vibe.
Dino Funari – Founder, Vitamin Sea Brewing Company
Weymouth, MA
Nectaron is a hop that brings me back five to six years. It has this classic dankness that reminds me why I love hoppy beers. It hits you on the sides of your tongue and makes you go, "Wow!" We have a single-hopped hazy IPA that uses Nectaron, and we're blown away by the flavor and aroma!
Maíra Kimura, Yumi Shimada, & Fernanda Ueno – Co-Founders, Japas Cervejaria
Sao Paolo, Brazil
We love brewing with Citra and use it often because of its delicious citrusy profile. But on our trip to the U.S. last summer, we visited our friends at Other Half and tried their All Riwaka Everything. It was the first time I tried a beer with Riwaka, and we were impressed by its complex and powerful flavors and aromas, so we decided to use it in Kamakura Maru, a Hazy IPA we're releasing this year.
Jacob Keyes – Owner & Brewer, Skydance Brewing
Oklahoma City, OK
We've been excited about a hop we recently switched to in our flagship IPA: HBC 586. Mm-hmm. We replaced Simcoe in that beer with that hop. HBC 586, the big thing for me was just the effects it had on the aroma. It's pretty pungent to me.
As far as something newer that we've used that we're just really excited about: Nectaron. We've found ourselves using Nectaron in several one-off releases that we've done recently. Nectaron, to me, is like the Citra-of-New-Zealand-type hop. I think it will end up being like the hop, having that same presence in many beers that Citra currently has. What I like about Nectaron is that it also brought forth more of that pineapple than a lot of other tropical fruit-type hops, which I really gravitate towards: pineapple and a citrus note to it.
The other one I'm excited about, but I just won't know how good it is until this other beer is finished, is Luminosa. I just discovered [Luminosa] from a beer that [John Kimmich, Alchemist Brewing,] recently made. We just got it, and it smelled amazing. I'm excited to see what that's like.
But I think, honestly, we're getting to this point where a lot of these hops kind of have the same descriptors. You can basically just say "tropical fruit." It sort of seems to describe a lot of these for me.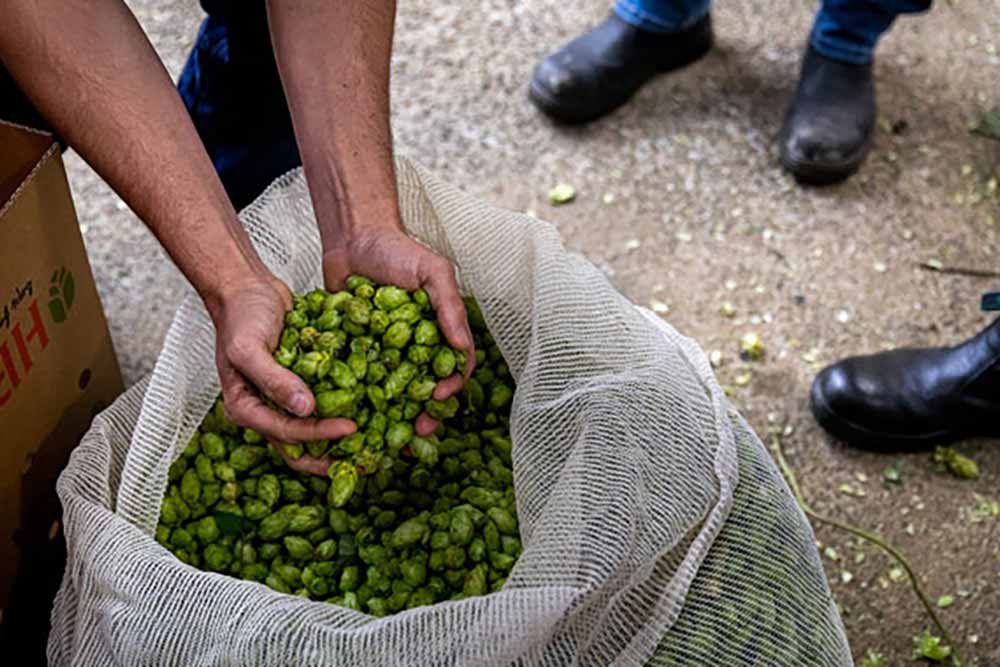 Lauren Hughes – Head Brewer, Necromancer Brewing
Pittsburgh, PA
Always Simcoe. It's a favorite of mine, and I love how that sticky orange sap flavor plays alone or with other hops. It suits so many different beers. It just complements so many other hops, but on its own, it's delicious.
Cashmere; I love the soft melon and peach.
Idaho 7; these hops often round out others in my IPAs.
Mosaic; dank blueberries and pine.
We have a series called Demo Reel. It gives me a chance to fool around, put different hops together, do different things, and not have to experiment on a core brand. So we recently put Cashmere, Idaho 7, and Mosaic in a Demo Reel, and we liked it so much we're making it into a house hazy that we'll keep doing called Snake Mountain.
John Kimmich – Co-owner & Brewer, The Alchemist
Stowe, VT
Well, Simcoe has been one of my all-time favorites since, geez, since I first got my hands on it in the mid-2000s. It would be a safe bet to say that it is my favorite hop, as it is so key to my favorite beer, Heady Topper!
As far as new hops go, I definitely check out a ton, and with my Skadoosh series, I'm always trying out different hops and combinations with them. The one that has turned me on the most in the last two years is the experimental hop 2B grown out in the Willamette Valley by Oregon Hop Commission, and it's my friend Ben Smith. He and four or five other growers right in his neck of the woods are developing a couple of new varieties, the first of which was McKenzie. That started coming out three harvests ago. And then the second hop that they released is 2B.
Mackenzie is super interesting, and 2B is their second swing at a new variety. They're both super unique and super fun to play around with. McKenzie has hints of Zappa, that wild new Mexican hop; Zappa has such a unique character, but McKenzie has little whispers of that with fruit on top of it. The 2B is proving itself to be, in my opinion, the real winner there, so we'll do our fourth variant using 2B.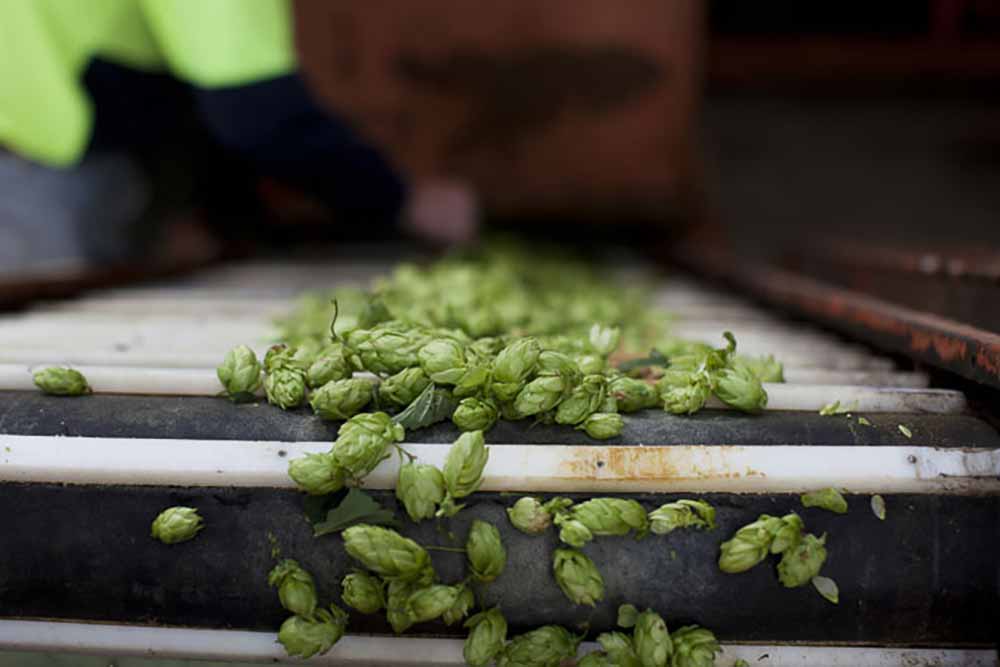 Justin Negrotti – Founder and Brewer, Coastal Mass. Brewing
Beverly, MA
Everyone loves Citra, but I think my love for Citra is really driven by just the versatility of the hop itself. It lends itself to mixing with so many other hops that it's the hop that we use in almost every beer we brew because of its ability to play and work with other varieties.
I really love the survivability of the compounds in Citra. So [Yakima Chief Hops] has done a lot of studies around the oils that exist within these T90 pellets; how many of those oils actually carry through from the kettle to the fermenter and make their way into the finished beer? There are these different compounds within the hops they've done a survivability study on, and they've determined specific varieties where what you'd put into the kettle actually makes its way through to the finished beer. Citra is definitely on the end of the spectrum where the survivability of the compounds is very high.
We learned through working with them that Amarillo is a hop with good orange characteristics, but only when used on the cold side or during a dry hop, for example. When you add Amarillo into the kettle, a lot of the heat within that kettle ends up driving away the compounds that you want that you're looking for with the Amarillo variety. So you're better off using Amarillo later in the process than earlier if you want to retain the characteristics you're looking for.
It's really important to get close with your vendor and develop that relationship where you can have open dialogues about what you're looking to achieve in the finished beer and work backward, so to speak…in terms of the brewing process and where you add your hops in and dosing rates to achieve those flavor profiles that you're looking for.
Zahra Tabatabai – Founder, Owner, & Brewer, Back Home Brewing Company
Brooklyn, NY
I brew a lot of styles where the hop isn't necessarily the star of the show and where it plays more to balance the beer. I recently brewed Yalda Queen—a Gose with pomegranate purée and juice. I used Barbe Rouge hops because the flavors it provides are incredibly delicate, and I wanted it to simply highlight the fruit in the beer. From the dry hop, I got a nice light berry and sweet citrus—the perfect complement to the tart pomegranate. I think it would be a great hop to layer with for an IPA, but I haven't gotten there quite yet.
Bob Grim – Co-founder & Head Brewer, Foam Brewers
Burlington, VT
I've been thinking a lot about what the next "sexy" hop might be. I wonder if it's because I'm jaded now—I don't think that's it—but I just don't feel like there have been any noteworthy "WOW" hops released from "the big guys" in the past couple of years. With that being said, I'm increasingly interested in some of the new hop products (I hate the word "product!") that are being developed. More specifically, I'm excited to incorporate a few of the new water-soluble extracts I've recently heard about into our beer development program here at Foam. One of the larger domestic hop suppliers in the U.S. recently told me that they are in the final stages of development on these extracts, and coincidentally, Champlain Valley Hops, one of our main VT hop growers/producers, have been working on their own proprietary extract development.
Extracts are cool and have a lot of potential to create new, fresh flavor profiles in beer. But there is one traditional hop varietal that I'm stoked on right now. This hop—named Leopold, or Leo, for short—is totally unique and has been cultivated by Whitefield Hop Yard, "the other" VT hop farm, that we have partnered up with to supply Foam with our beloved Vermont-grown hops. Leopold is quite different from any other hop, especially from VT, I've ever used to make beer. It expresses itself in our beer with bright, fresh flavors of pineapple.
I asked Kevin and Karen Broderick, the owners of Whitefield Hop Yard, to write a brief description of their exceptional offering so you could get it from the source:
"Leopold was developed by 'taming' a feral hop we found growing in the wild here in East Hardwick, VT. The town was home to several large hop yards listed on maps in the 1800s when VT (at the time) was the second-largest hop-producing state in the U.S. What is now Leopold was found growing near one of the old, long-gone hop yards listed on those maps. We had it analyzed at a lab, and the results came back unlike any other hop they have in their extensive database. We named the hop after Karen's dad, Leopold—the man who encouraged us to start growing hops in the first place."
The other thing is, Foam is the only brewery (ever!) that has been granted the opportunity to use this remarkable hop. That's pretty damn cool.
Julian Miller – Head Brewer, Brockton Beer Company
Brockton, MA
We really like Citra in most of our New England IPAs. This past crop year of 2022 has been particularly excellent, just lots of tropical notes, citrus flavors, and whatnot, typical of what you would see from that hop in the past, but it's amplified this year. So that's great.
We also just did a Pink Boots Society collaboration and used their hop blend, which was pretty impressive. It wasn't a hop-forward ale—this was done like a saison, so light on the dosage from there. But the aromatics that came off that blend were awesome. I don't know how familiar you are with it, but it's a blend of three different hops, which are Loral, Ekuanot, and HBC 586. So it's throwing a lot of tropical notes and piney flavors and aromas.
One last hop that I would say is my go-to, as long as the budget permits, is Riwaka. That's been really good to us this past year. So I just try to blend it in across the board.