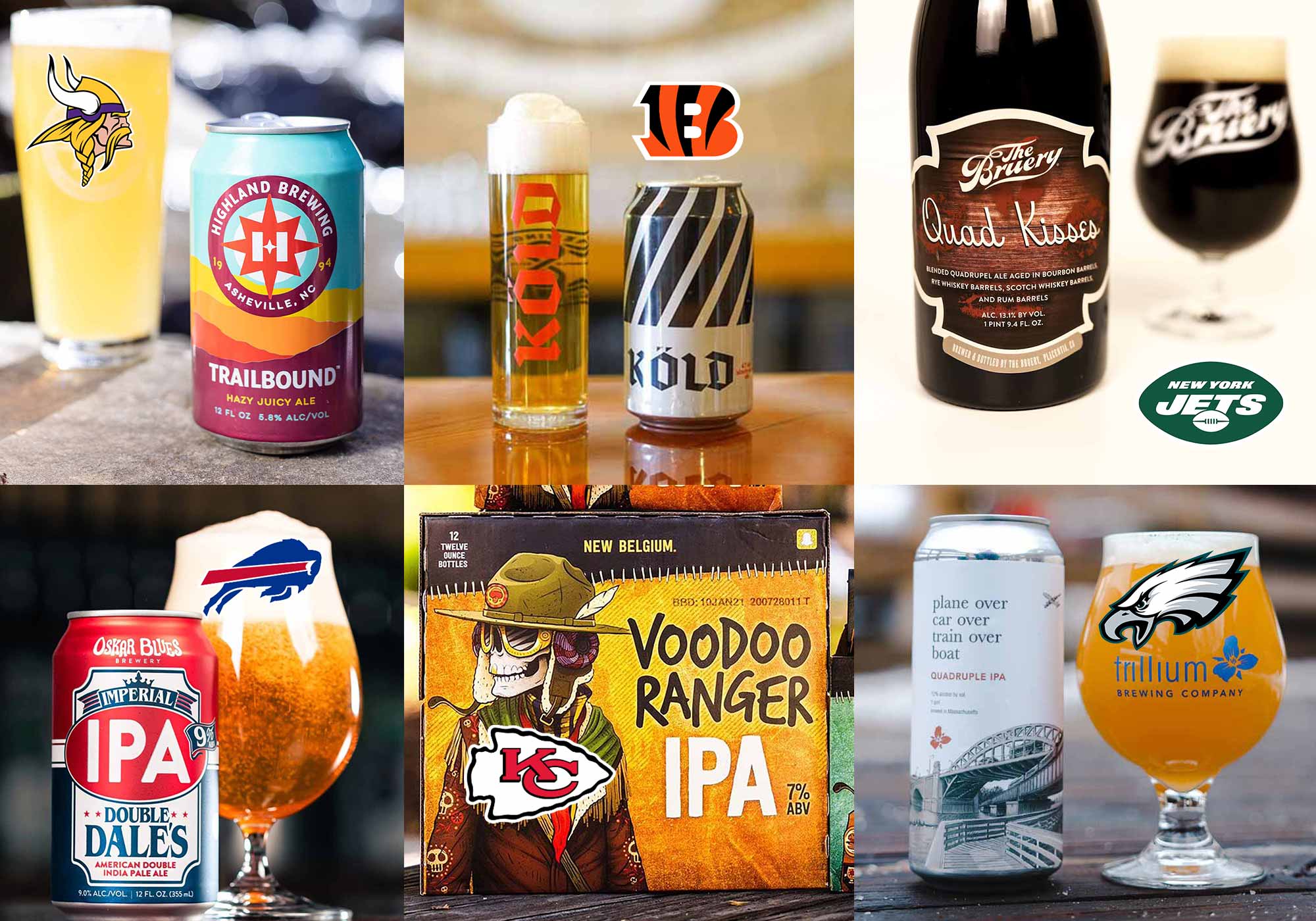 Like us, have you been watching reruns of old Hard Knocks Episodes (and recent ones with the new-look New York Jets), listening to fantasy football podcasts, and finishing up the Quarterback documentary on Netflix? All in preparation for the 2023 NFL season, kicking off on Thursday, September 7, 2023, when the defending Super Bowl Champion Kansas City Chiefs face the upstart NFC North Detroit Lions.
The NFL season opener always brings a sense of excitement. Before that first Thursday in September, any team has the chance to win a Super Bowl.
The trade gossip swirls:
Where will Jonathan Taylor land? Turns out nowhere.
Trey Lance to the Cowboys. Damn, Jerry, you couldn't even tell your franchise QB about the move?
Aaron Rodgers + the Jets = Super Bowl or bust.
All the team narratives reach their peak.
So before the chaos bubbles down with the first kickoff of the year tomorrow, we thought we'd get in on the action.
[[If you haven't already, be sure to check out our uber-popular guide: The Best Brewery Near Every NFL Stadium.]]
We've crunched every team's upcoming storylines and paired them up with a certain beer style.
Are we reaching? Maybe. Are we potentially critical, understanding that we could upset you? Perhaps. Are we having fun? You betcha!
Why are we writing this story? Why not?
At the end of the day, beer is supposed to be fun and enjoyable. Just like watching a game of football.
These two things go hand in hand, and when agonizing defeat sets in or so-and-so tears his ACL, threatening a promising season, you can always fall back on cracking open a beer, reading this story, and hopefully laughing, smiling, nodding along, and maybe crying a little. But just a little.
For fun and football, keep on reading.
Hop Culture's NFL Team and Beer Style Pairings
Feel free to skip down to your favorite team:
Arizona Cardinals + Sour IPA
Where to start? After a disastrous 4-win, 13-loss season with former head coach Kliff Kingsbury at the helm, the Cardinals appear to be falling apart piece by piece.
Last year, the once-coveted QB Kyler Murray threw tantrums and had a clause added to his contract about required video watching. He now remains on the physically unable to perform (PUP) list, recovering from a torn ACL suffered last December.
And for mysterious reasons, the Cards thought this would be the perfect time to release veteran backup quarterback Colt McCoy, trading for Josh Dobbs (who?) and relying on fifth-round pick Clayton Tune.
Things seem a little sour in Phoenix. So, the sour IPA seemed like a good fit for the Cards this year.
Because answer this question honestly: When did you last have a sour IPA?
A style that held the spotlight for a bit, sour IPAs have sort of slid out of existence. Much like the Cards themselves, who are still trying to regain the excellence from an 11-6 season in 2021 that saw them exit in the NFC Wild Card round to the eventual Super Bowl champion Los Angeles Rams.
Of course, sour IPAs are actually pretty delicious. And if you live in New York, you can get Hudson Valley's industry-changing versions.
So perhaps you'll find the biggest Cards fans—the ones lining up for games—still rooting for the team to succeed this year. Much like folks will continue to line up for Hudson Valley's sour IPA releases every weekend.
Atlanta Falcons + Schwarzbier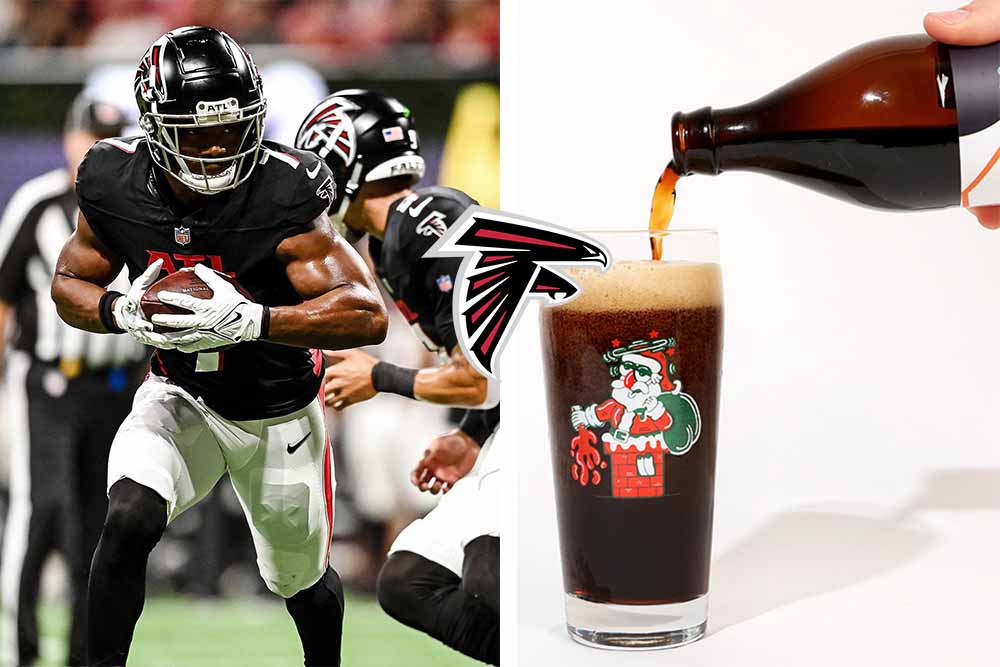 May the Schwarz be with you! It's not hard to make a connection between a schwarzbier, the Millennium Falcon, and the Atlanta Falcons.
Yes, we know that quote is from Spaceballs and not Star Wars, but c'mon, they're all related.
In Atlanta, the season's theme is probably whether QB Desmond Ridder will settle in as a hero like Luke Skywalker or underperform and become a villain like Darth Vader.
Either way, first-round draft pick Bijan Robinson could be the shining lightsaber for the team this year, cutting his way through defenses with ease.
Only time will tell.
Baltimore Ravens + Dry Irish Stout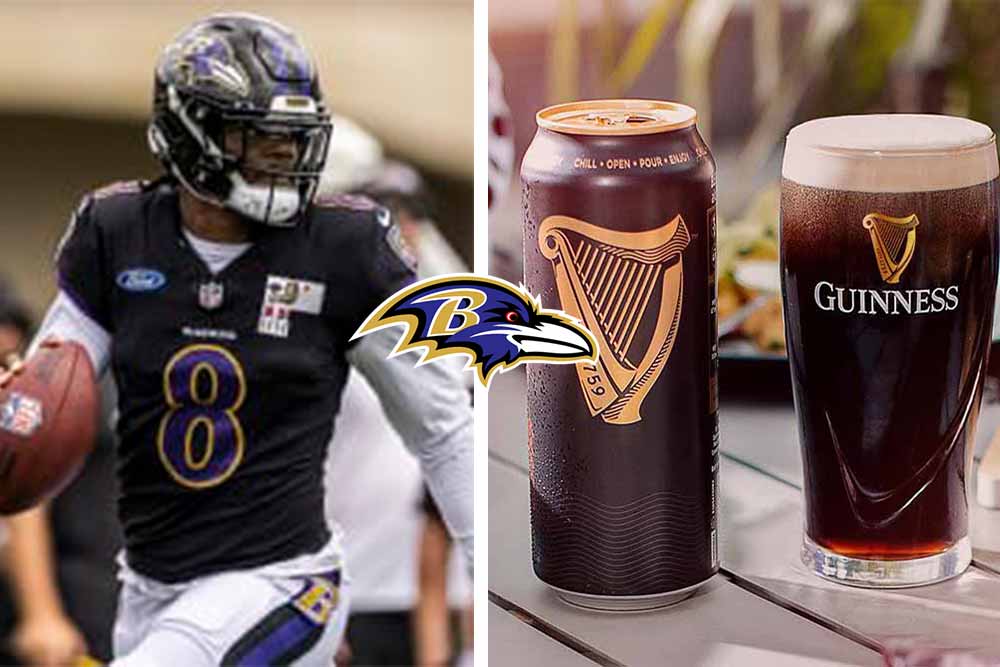 We're going very literal with this pairing. Without a doubt, star signal-caller Lamar Jackson is the epitome of this team. And in the Baltimore Ravens' backyard, Guinness Open Gate Brewery makes a pretty world-renowned dry Irish stout that heads up their portfolio.
Drama abounded in Baltimore over the spring, with the Ravens struggling to sign the self-represented Jackson to a long-term contract, eventually settling on a five-year $260 million mega deal.
Similarly, the mega Guinness Open Gate Brewery shared its struggles, closing its Maryland production facility (though not the actual taproom) and recently putting up forty-five acres of the former manufacturing plant for sale.
Luckily, the Ravens won't be putting Jackson up for sale anytime soon. But the team's success this season, as it has in previous years, rests squarely on Jackson's shoulders and knees staying healthy.
Buffalo Bills + Double IPA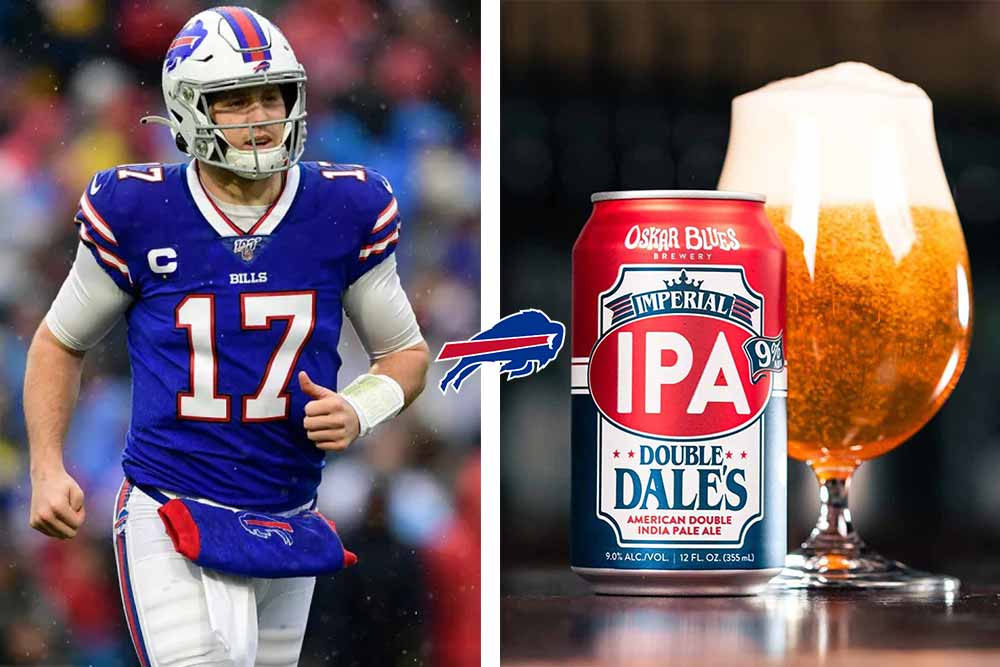 The Buffalo Bills thrive on the double threat of QB Josh Allen and wide receiver Stefon Diggs. In 2022, the two connected for 108 catches, 1,429 yards, and 11 touchdowns in 16 games.
Pretty impressive stats for a Buffalo team with high expectations in 2023. This tandem hookup will continue to need juice if the Bills hope to better their NFL Divisional Round loss in the playoffs last year.
With double the punch, hops, and power, double IPAs perfectly encapsulate the Buffalo Bills this year.
Carolina Panthers + Italian Pilsner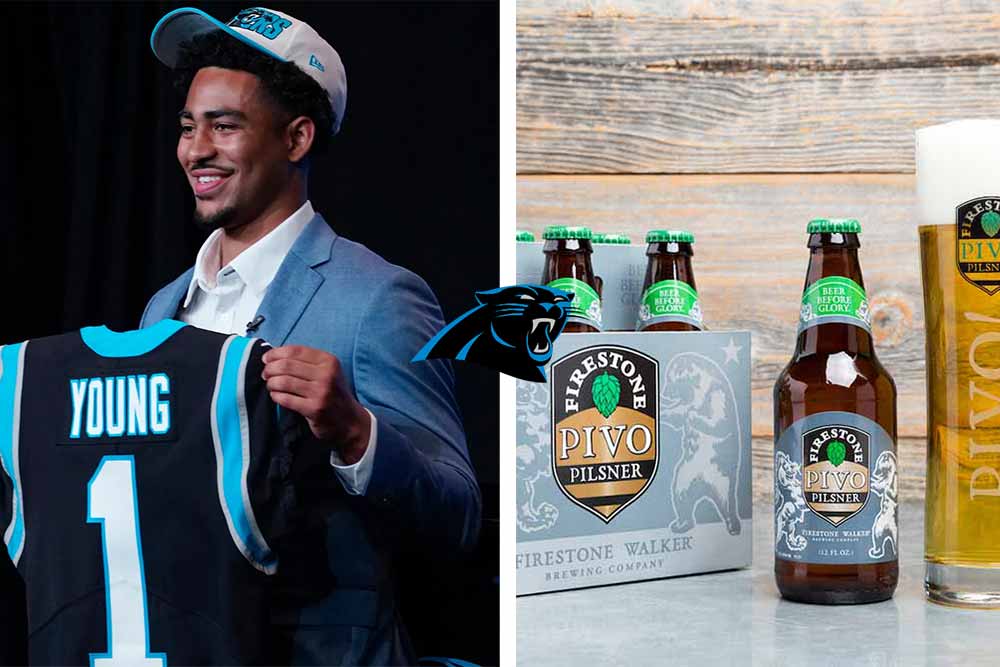 Hopes for the Carolina Panthers this year rest on the shoulders of first-round draft pick quarterback Bryce Young.
A startling young talent with potential stratospheric upside, Young, a former Heisman Trophy winner, will hope to put the Panthers in playoff contention. Something that they haven't done since 2017.
Which is why we've paired the Panthers with a growing style like Italian pilsner. Something we've seen creep onto tap lists and into portfolios slowly but surely over the last decade.
Originally invented in 1996 by Agostino Arioli, founder of Birrificio Italiano, Italian pilsners started to gain popularity in America when Firestone Walker's Matt Brynildson attempted the style himself, releasing Pivo Pils in 2013.
Over the last decade, the style has silently gained momentum. After a Super Bowl loss in 2015, the Panthers have slowly tried to climb out of middling performances in the NFC South.
We're rooting for Young and the Panthers to pounce this year. Just like we're rooting for Italian pilsners to get their time in the limelight.
Chicago Bears + Honey Beers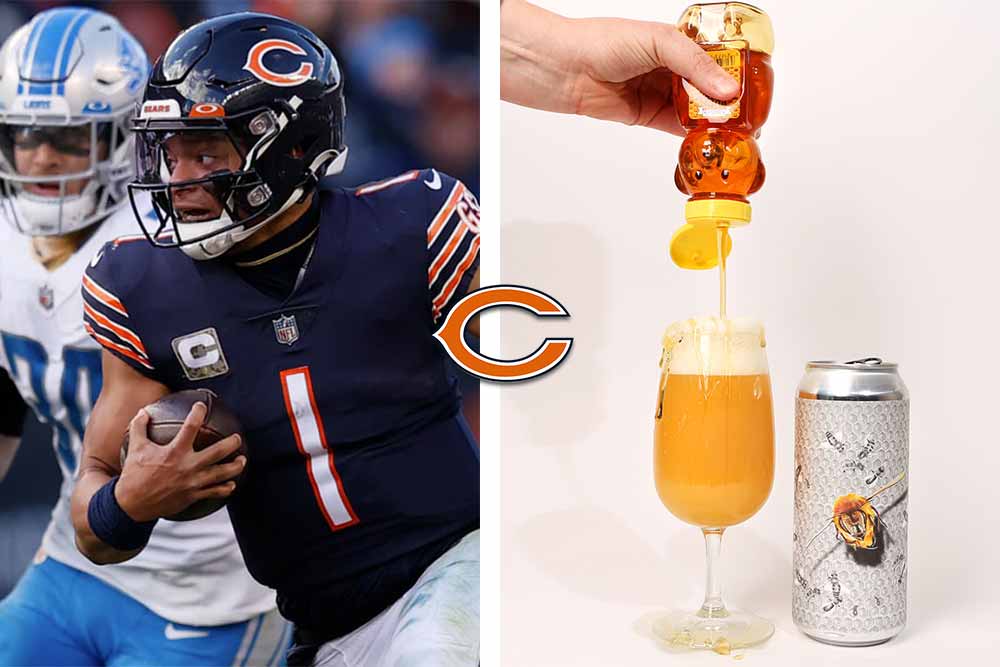 Too on the nose to pair the Chicago Bears with honey beers? C'mon, it makes so much sense, and we love being tongue-in-cheek. Will this year be sweet for standout Justin Fields? The signs in Chicago are buzzing.
But Fields' time with the Bears has been tricky, as much about finding a balance between running all the time and passing—something a good quarterback worth their salt must do.
Honey beers, too, can be a tricky proposition, getting that sweetness balance right so the honey isn't cloying or overpowering.
The Bears will be hoping Fields can strike that harmony on the field as much as we've found these brewers do in one of our top honey beers.
Cincinnati Bengals + Oktoberfest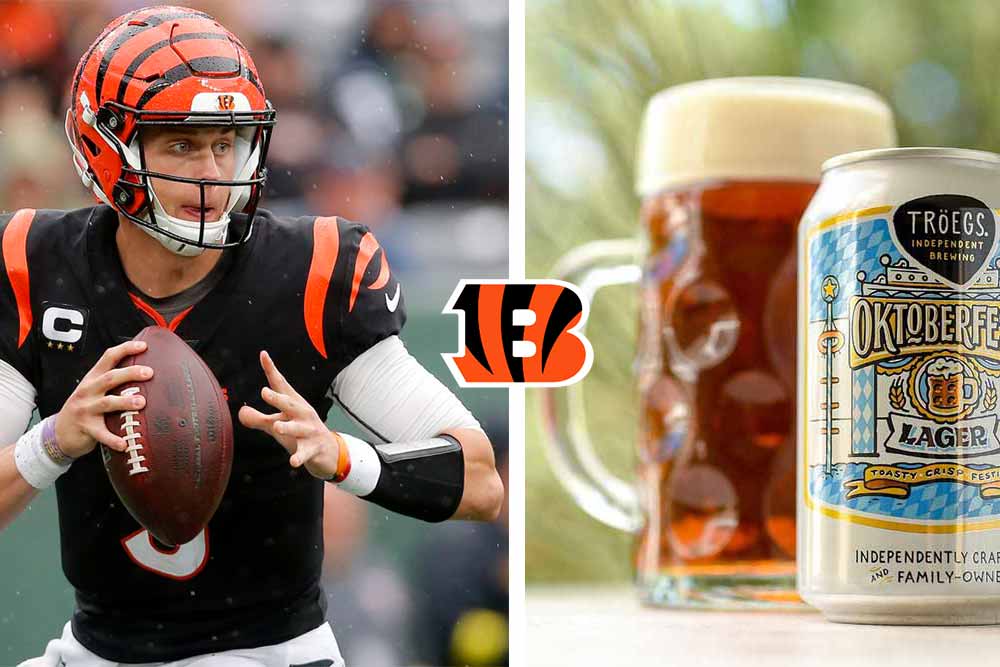 Oktoberfest Zinzinnati ranks as the largest Oktoberfest celebration in all of America, taking place in Cincinnati annually. Showcasing the city with the third-largest German population in America, Oktoberfest Zinzinnatti welcomes 700,000 people each year.
A huge celebration in a town that has huge expectations for its football team this year.
Can Joe Cool, aka the Bengals franchise quarterback Joe Burrow, keep his cool again in 2023? He's already led the team to franchise-first back-to-back AFC North titles in just his first three seasons.
Burrow has a sterling record in the playoffs (5-1) but fell four points short of the Vince Lombardi trophy in 2022.
In a city with the biggest Oktoberfest celebration and the biggest NFL playoff expectations, a big stein of a cold-lagered Oktoberfest fits so well.
Prost to the Bengals this year!
Cleveland Browns + Digestif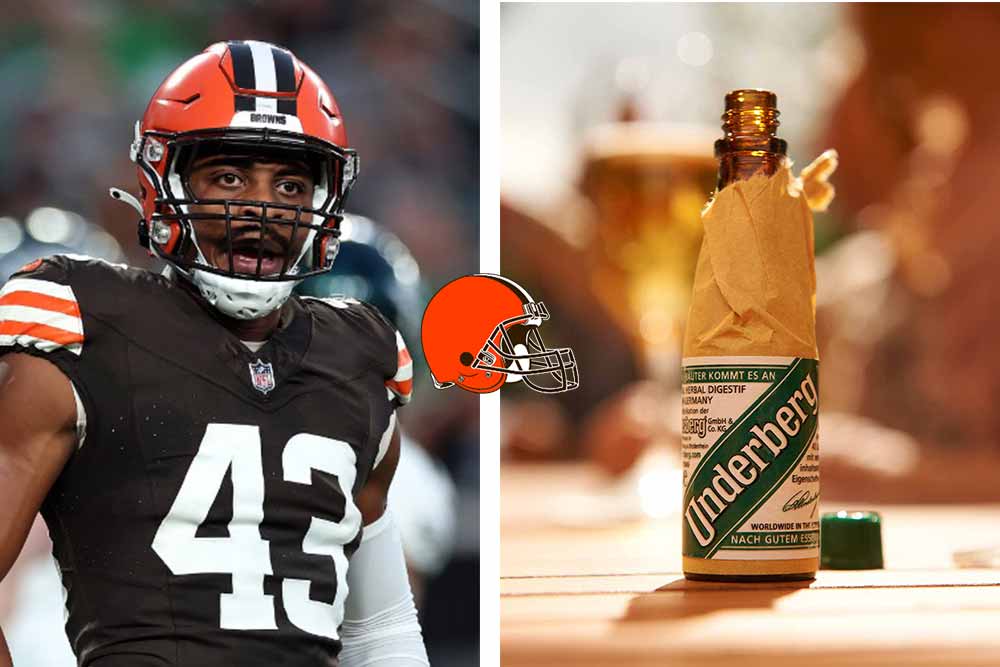 We cheated a bit with this one. Not technically a beer style, a digestif is traditionally a liqueur you drink after a big meal to help you digest.
Something we seriously need every time we watch the Browns play. But we really wanted to assign one digestif in particular to this team—Underberg.
Those little bottles you see wrapped in brown paper sometimes sticking out from behind the bar, Underberg is a 175-year-old drink composed of a collection of bitters and herbs.
Enjoying a cult following—kind of like the Browns—Underberg has a little motto to describe its status: "It cannot be explained; it must be experienced."
Which is probably how Cleveland fans feel about their team this year.
Dallas Cowboys + Session IPA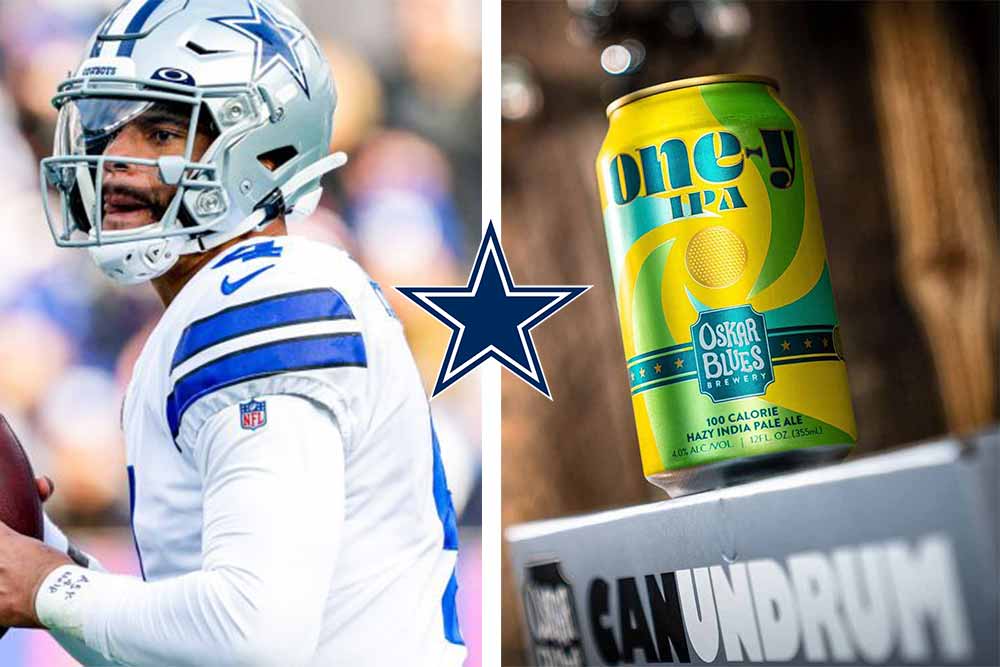 Just how many times can America's team underperform? Since 2000, the Cowboys have only won four times in the playoffs. We imagine Dallas fans are astounded.
And yet, every year, the Cowboys always consume the conversation. It's as much the Jerryworld effect as anything—on full display a couple of weeks ago when the team owner traded for former 49ers QB and first-round draft pick Trey Lance without informing his current franchise quarterback or head coach.
Session IPAs certainly had their time in the spotlight. But these crushable, low-ABV versions of America's favorite beer style aren't the darlings they used to be several years ago.
And that describes the Cowboys perfectly—a crushable, lower-strength version of America's favorite team.
Denver Broncos + Slow-Pour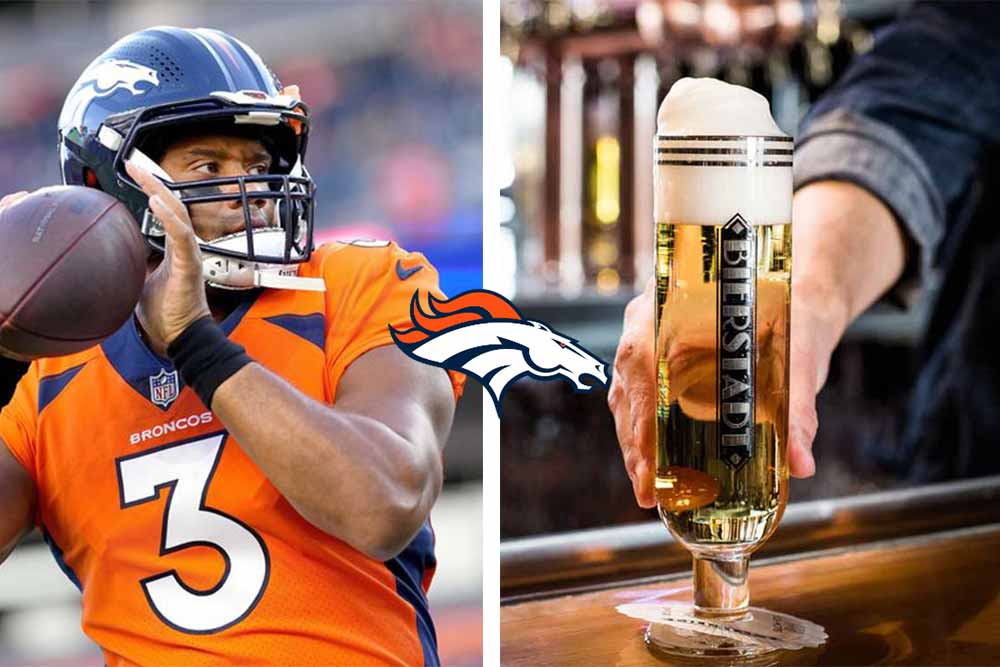 When the Broncos traded three players and four draft picks for quarterback Russell Wilson last year, the team expected him to make an immediate impact.
Things could not have gone more sideways in Denver.
Now, with Sean Payton replacing Nathaniel Hackett as head coach, fans hope the highly rated coach can sprinkle some magic back into the storied signal caller's game.
Still, expectations have gone from sky-high in Mile High to more of a slow burn, making the slow-pour an apt style for this team.
And no one makes a better Slow Pour Pils than Denver-based Bierstadt Lagerhaus.
A beer that takes seven minutes to pour from a LUKR side-pull faucet, Slow Pour Pils is actually a pretty simple recipe—just Barca pils malt and Hallertau Mittelfruh hops—but it's all about the technique.
(Something Wilson will need to get back to if he wants to find his form again this year.)
Bierstadt Lagerhaus Co-Owner and Brewer Ashleigh Carter deploys a short seventy-minute hop at the beginning, a single decoction, and a flotation tank, which is an old-school piece of German equipment, before lagering the beer, and lastly, "filtering the shit out of it," Carter told Hop Culture. "I believe beer should be bright, especially lager beer."
The result is a beer with a wonderful, lightly lemon hop aroma and a clean, crisp bit. When it's slow poured, that's when the magic truly happens.
Which is probably the attitude Broncos fans should adopt this year, a slow burn instead of quick success.
If you're a Denver Broncos fan and drink beer, you're probably also a Bierstadt Lagerhaus fan, making a slow pour the perfect style for this team.
Detroit Lions + Cold IPA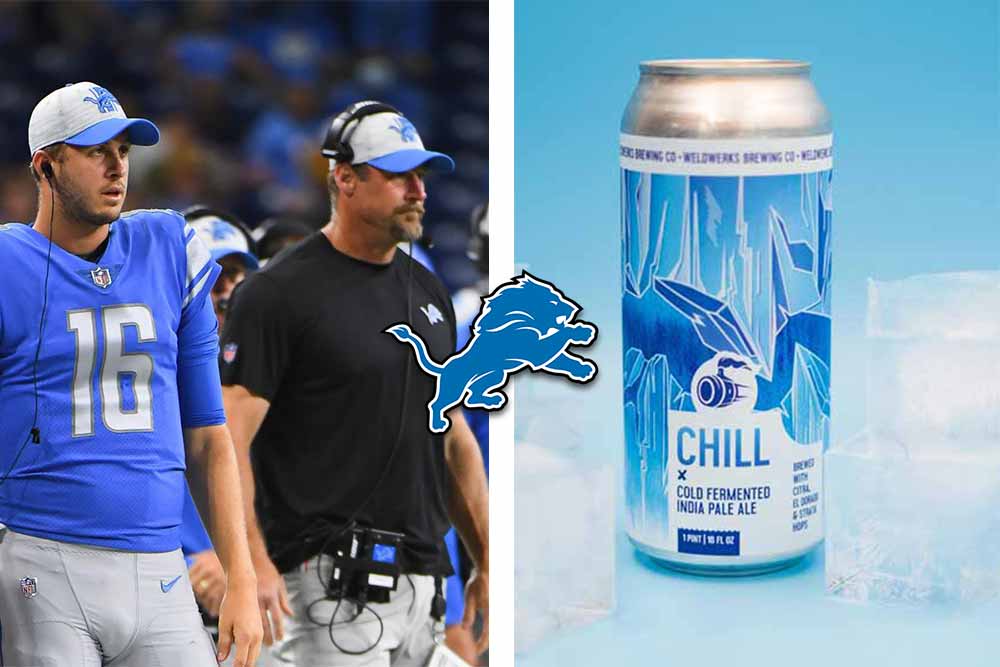 Over the past few years, the Detroit Lions have gone from ice cold to rip-roaring hot, with some predicting the Lions will win the NFC North this year. After starting 2022 with a 1-6 record, the Lions put together a complete turnaround, winning eight of their next ten and finishing second in the conference.
Gaining steam under energetic three-year coach Dan Campbell, the Lions will hope to capitalize this year on improved play from now-three-year starting QB Jared Goff and his connection with what appears to be a steal of a pick for electric receiver Amon-Ra St. Brown in the fourth round of the 2021 NFL Draft.
Cold IPAs went from barely existing to existing everywhere. There could not be a hotter style in craft beer than Cold IPA, a West Coast-style IPA that showcases American hops but ferments cold with lager yeast for a drier, cleaner beer.
We only expect Cold IPAs to continue to gain momentum, much like the Lions in 2023.
Green Bay Packers + Helles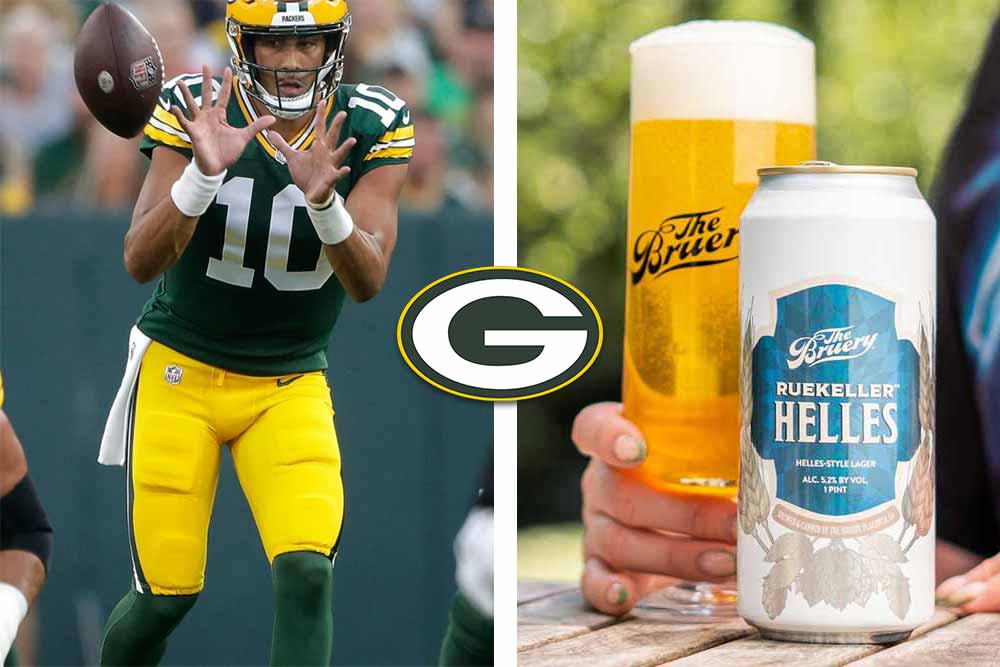 What the hell? A statement many (and certainly Aaron Rodgers) made when the Green Bay Packers moved up four picks to draft Jordan Love as the star QB's replacement in the 2020 NFL draft.
What the hell? A statement many (and certainly Aaron Rodgers) made this past offseason when the Packers drew out negotiations on a trade deal with the New York Jets.
What the hell? Will that be a statement many make this year after seeing Jordan Love get his first full season with the reigns of this Packers team?
Who knows.
But we're settling in for a long season, and the best beer style to settle in with for a team causing such hellish qualms has to be a helles.
Why? Because it's an easy-drinking, low-ABV German lager that we can crush a bunch of, and it probably also pairs really well with cheese, right?
Houston Texans + American Light Lager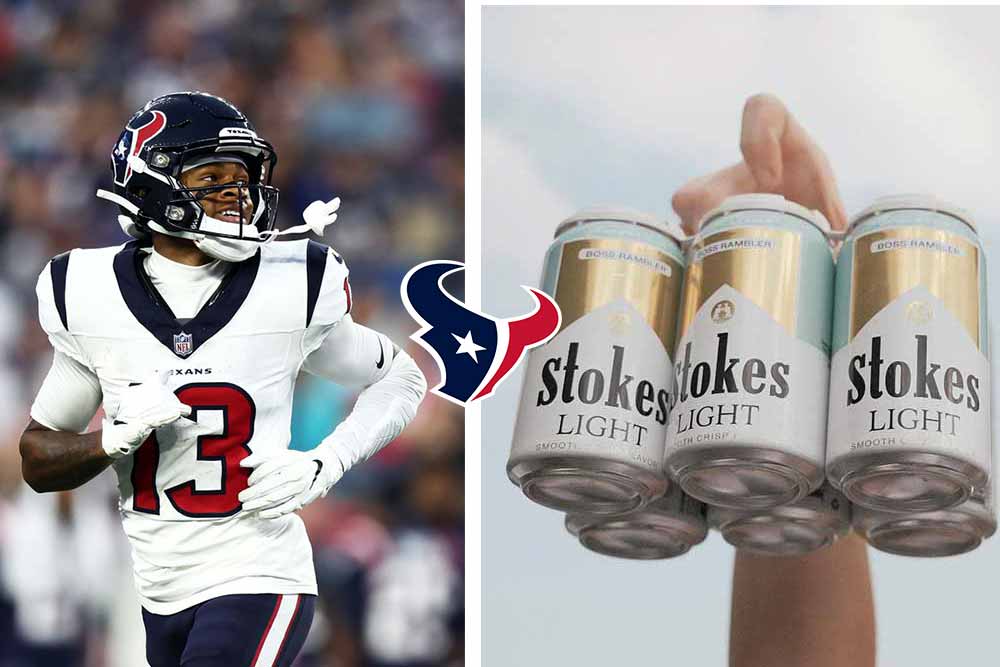 Pundits don't have high expectations for the Houston Texans this year. Still, those in the Houston training camp report a noticeable improvement in talent compared to last year.
Probably bolstered by rookie quarterback C.J. Stroud, named as the official starter for the 2023 season.
We'd say in previous years, expectations have never been high for a style like an American light lager. But now, more and more, we're finding breweries creating their own delicious craft versions.
Will the Texans, buoyed by their new QB, return to the playoffs for the first time since 2019? Will American light lagers, buoyed by a craft resurgence, finally make this the "Year of the Lager?"
Ask us again in January.
Indianapolis Colts + Smoked Beer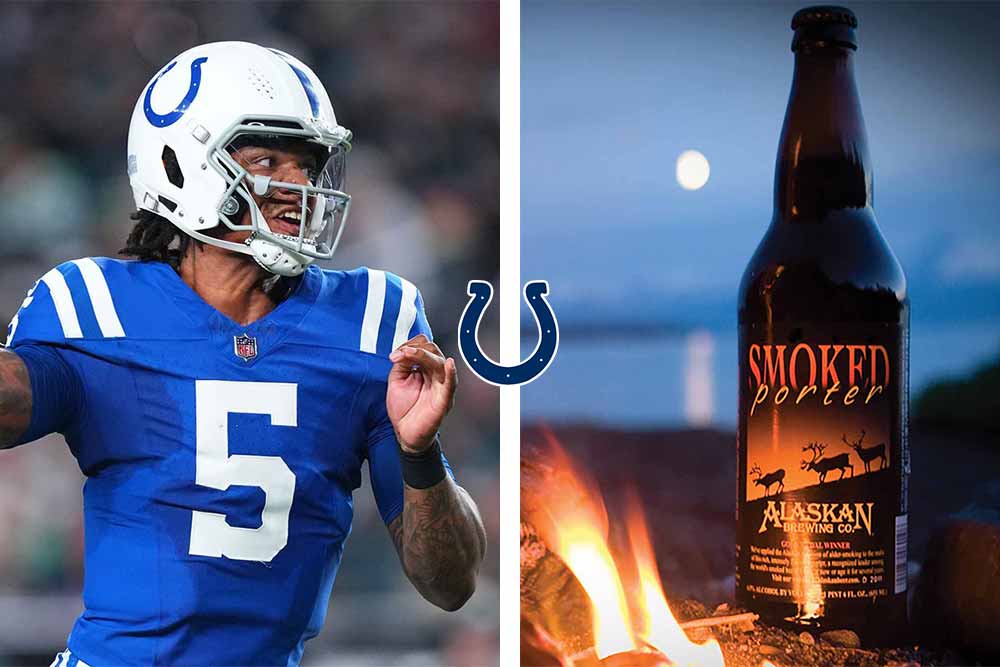 Where there is smoke, fire will almost certainly follow. And the Indianapolis Colts are a pile of tinder about to go up in flames.
Owner Jim Irsay's public handling of star running back Jonathan Taylor is the smoking gun for a team about to crash and burn.
A second-round draft pick in 2020, Taylor became a pivotal part of the Colts' offense, racking up rushing yards (3,841), touchdowns (33), and even catches (104 for 802 yards) in the last three seasons.
But at the end of July, Taylor requested a trade after failed contract negotiations. The Colts only permitted Taylor to look for a trade one week ago with a deadline of 4 pm ET on Aug. 9th to complete one.
No dice. Indianapolis did not find what they considered a fair-value offer for Taylor, who will now stay on the PUP list and be ineligible to play for the season's first four games.
You can see why we chose smoked beers to represent the Colts. Besides the obvious implications of smoke, these beers tend to be polarizing. Some love 'em, and some hate 'em.
We imagine that's how fans feel right now toward Irsay and the team—split between how they've handled Taylor and wanting to move on and try to salvage a season with rookie QB Anthony Richardson.
Jacksonville Jaguars + Witbier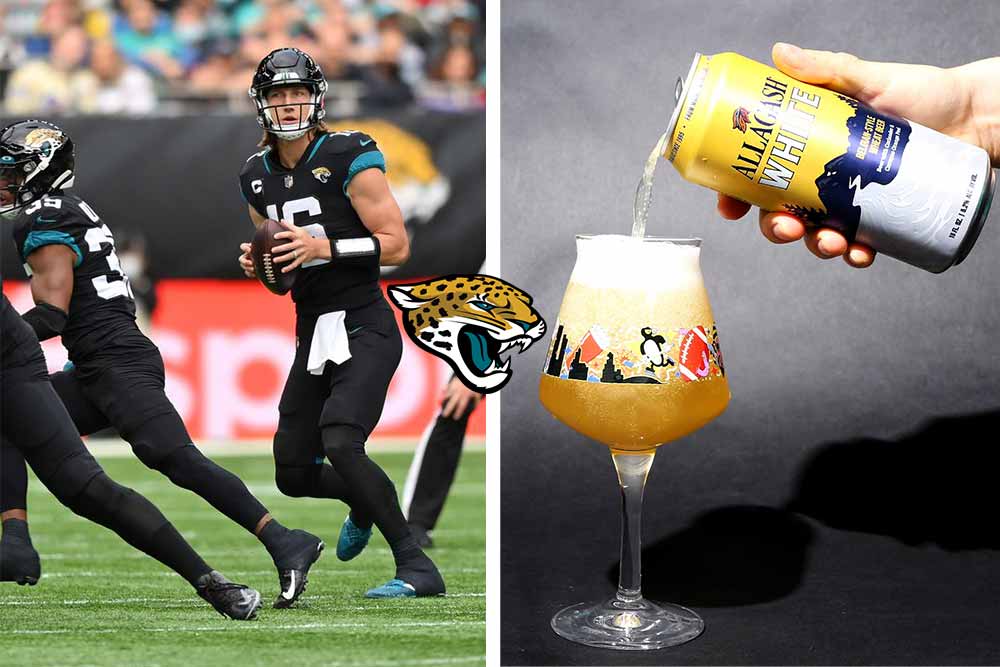 The Jacksonville Jaguars could be set for a not-so-sneaky stellar year. Starting quarterback Taylor Lawrence took a big leap in his sophomore season and now finds Calvin Ridley among his arsenal of weapons. Combined with a strong run game from breakout Travis Etienne Jr., the Jaguars could spice things up in the AFC South.
Witbiers are not-so-sneaky stellar Belgian-style beers that spice things up with a combination of wheat, citrus, and coriander.
Brought to America (Austin, TX, specifically) by Belgian brewer Pierre Celis, formerly of Hoegaarden fame, in the early 1990s, witbiers are cloudy, refreshing beers for the heat of the South.
The Jaguars debuted in Jacksonville in the early '90s, playing their first season in 1993. It took some time for the team to ramp up, reaching their first AFC Championship game in 1996 and again in 1999.
Witbiers, too, needed some time to get going in the States, as Allagash Founder Rob Tod will tell you. His love of Celis' witbier led him to brew Allagash White as his flagship beer, hawking that witbier for ten years before fans caught on. Now, it's the brewery's best-selling beer and one of the most iconic in America.
The Jaguars certainly haven't reached iconic status yet, but we have high expectations in 2023.
Kansas City Chiefs + American IPA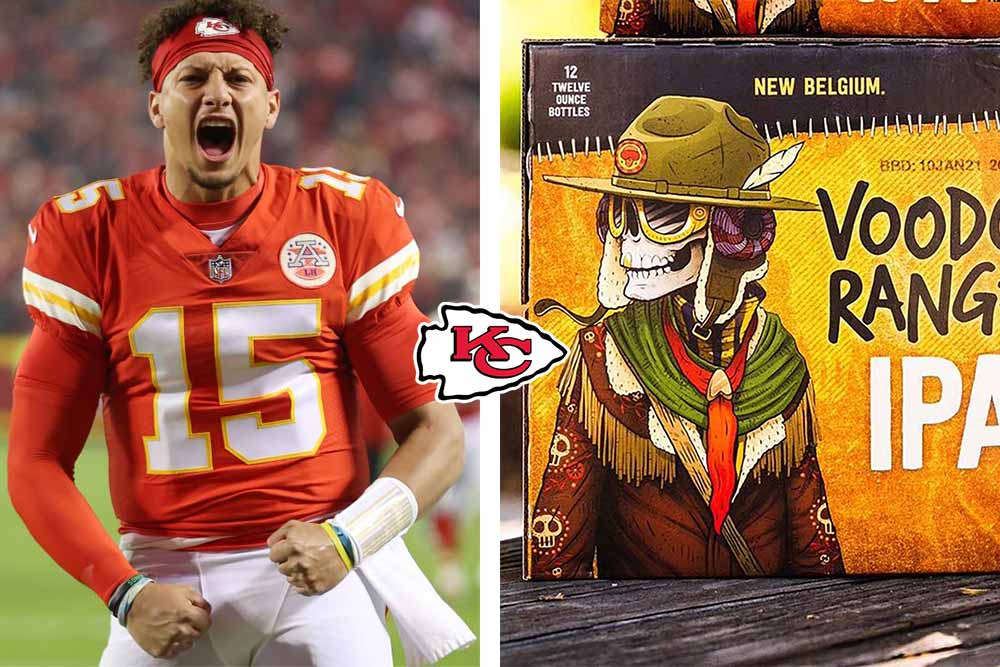 An easy one. The best team in the NFL with the best quarterback deserves the best beer style in America.
Undisputedly, the American IPA has ranked as the beer with the most check-ins on Untappd for the last twelve years. For the first seven months of the year, this beer style notched over 6.7 million check-ins (Untappd).
Can anybody stop the dominance of American IPAs?
Can anybody stop the dominance of star quarterback Patrick Mahomes?
Probably not.
The Kansas City Chiefs and American IPAs are unstoppable.
Las Vegas Raiders + Dunkel Bock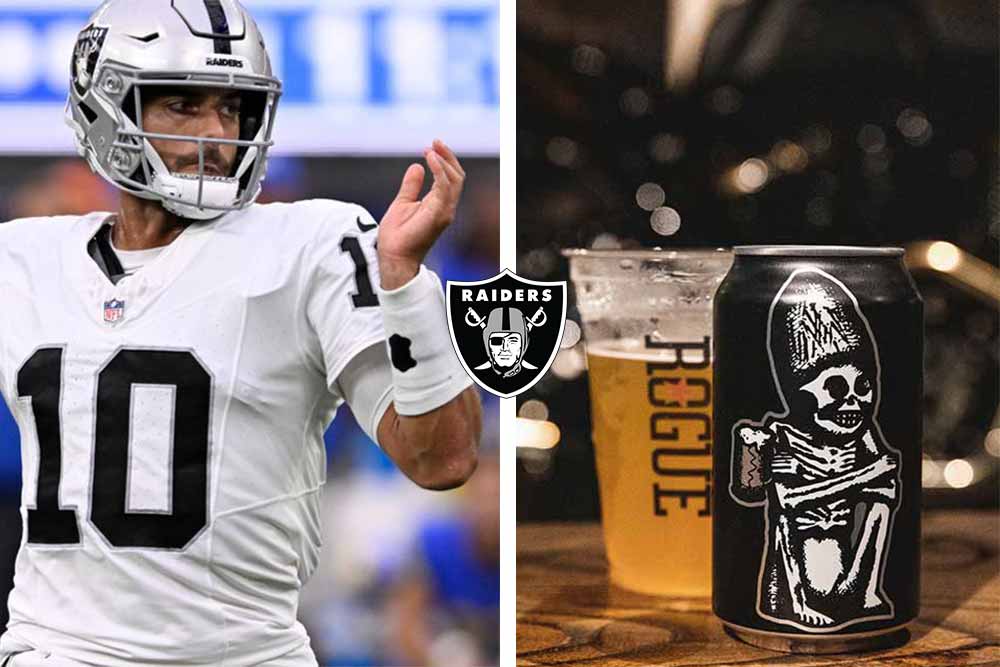 We can't say the Silver and Black have captured our attention this year.
Sure, quarterback Jimmy Garoppolo now sits at the helm, slinging to star wide receivers like Davante Adams.
Sure, 2022 NFL leading rusher Josh Jacobs held out for a bit but finally signed a one-year contract worth up to $12 million.
But we struggle to see any intrigue with the Raiders before the 2023 season.
To us, they're just going to be a solid, steady team. One without gloss or shine, an ethos they play out with pride. Or at least they did in Oakland. (Seems a bit incongruous in the land of glitz and glam like Las Vegas.)
No mind. We choose German dunkel bocks to pair with the Raiders because they're strong, malty, dark beers. These are gritty lagers crafted after numerous decoction mashes and long boils to develop flavor and malt complexity.
This is just an understated, hard-working lager that you won't find stealing headlines, but you will find grinding it out under the radar. Which is kind of how we imagine the Raiders' season going this year.
Los Angeles Chargers + West Coast IPA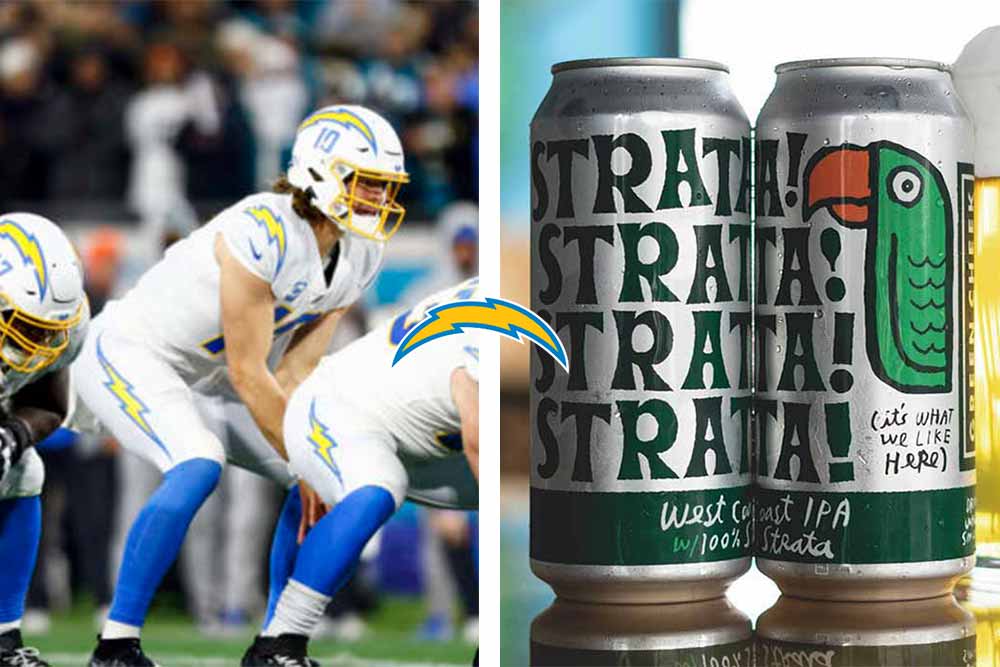 Are West Coast IPAs back, baby!? Did they ever leave? Not really, but multiple West Coast breweries we talked to this year—Pure Project and Humble Sea come to mind—mentioned how they've dialed back the hazy craze and ramped up the West Coast phase.
If the bold, bright West Coast IPAs are giving a jolt to the hop-loving industry, shaking up the hazy tree, the Bolts are certainly electrifying the AFC West, making a playoff appearance last year for the first time since 2018.
The Chargers didn't technically go anywhere (just moving from San Diego to Los Angeles in 2017), but they're finally starting to make their mark again after fifty-six years in San Diego and one Super Bowl appearance in 1994.
Don't call it a comeback because the Bolts never really left, but they're starting to slowly ebb back into the playoff conversation as a top-caliber team in 2023.
What's Up With West Coast IPAs?
Los Angeles Rams + Black IPA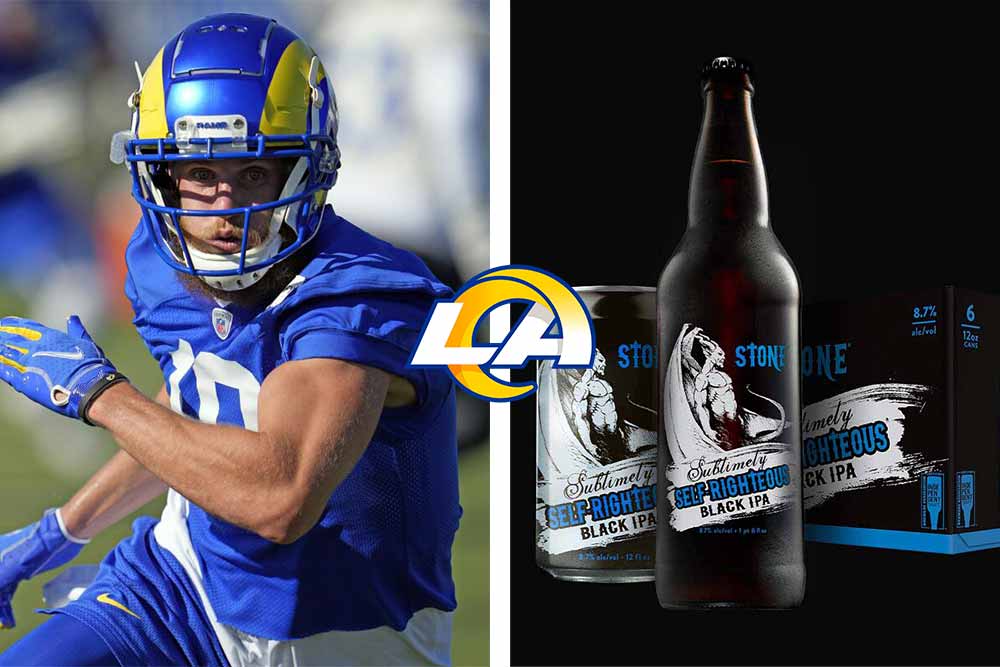 Has any post-Super Bowl team belly-flopped as hard as the Los Angeles Rams last year? Heavy is the head that wears the crown, and the victory hangover weighed LA down in 2022.
But star players Matthew Stafford, Cooper Kupp, and Aaron Donald will look to lock horns with any opponent this year, steadying their shaky ground.
We're intrigued to see how the Rams bounce back. Much like we're intrigued to see black IPAs bounce back from the black hole of oblivion.
For real.
Both Firestone Walker and Stone brought back previously eighty-sixed versions of their iconic Cascadian dark ales—Wookey Jack and Sublimely Self-Righteous, respectively—after shouts from fans.
A somewhat contradictory style that combines dark, non-astringent malts with often West Coast hops, black IPAs aren't beloved by all, but they're shouted for by an ardent few.
One of two comeback styles and stories in beer and football on the West Coast this year, we'll follow this storyline and team closely.
Miami Dolphins + Fruited Sours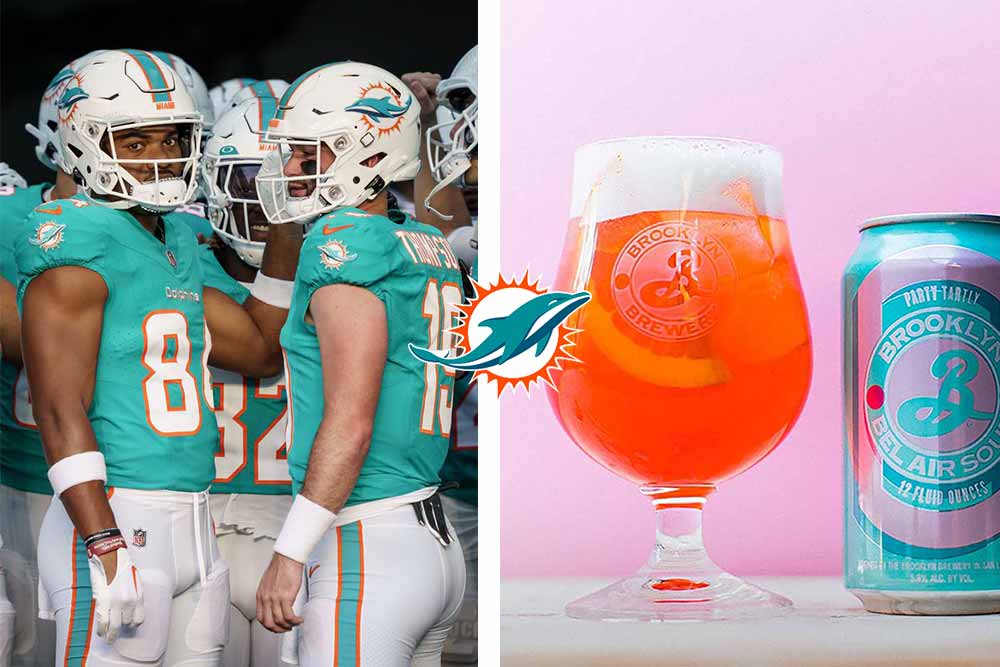 Miami could be poised for a sweet or sour season. An all-star wide receiving core led by Tyreek Hill and Jaylen Waddle has folks excited about the Dolphins' potential.
But much of their success will ride on the health and stability of third-year quarterback Tua Tagovailoa.
An intriguing combination of funky, tart ale and a cornucopia of produce, fruited sours can often dazzle the taste buds.
In fact, fruited sours so far this year rank fifth with just over 2.1M check-ins on Untappd—the only non-IPA style to make it into the top five.
If the South Florida team can keep their quarterback protected and healthy, the team could be in for a star-studded show worthy of Super Bowl contention.
Minnesota Vikings + Hazy Pale Ale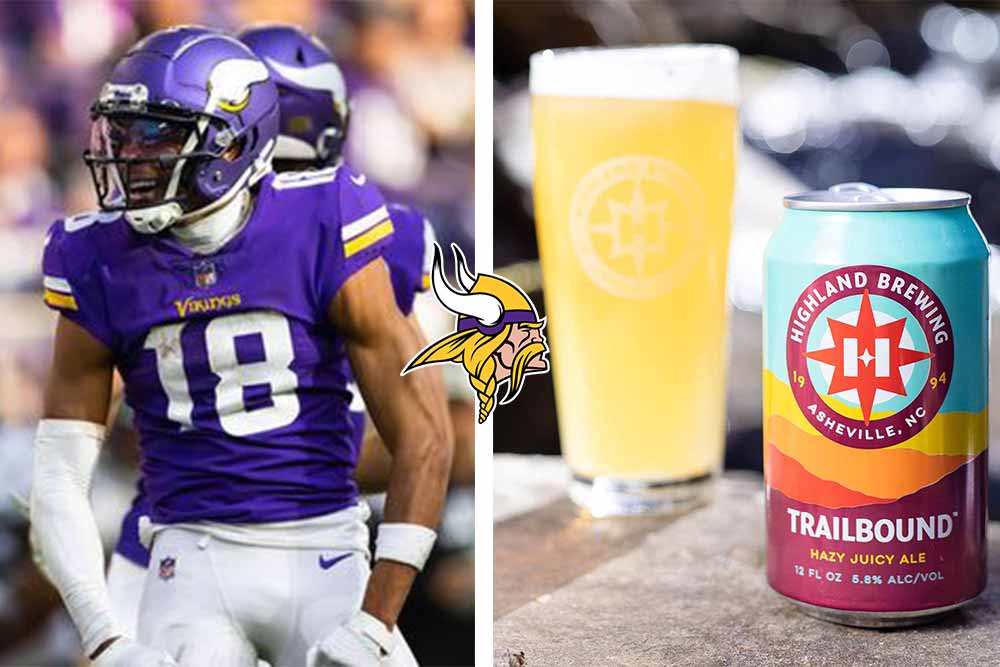 A new look for an old-school style, hazy pale ales emerged as a budding trend in 2023. Although we won't call them as hot as Cold IPAs yet.
Which is why hazy pales are a pretty fitting beer style for the Minnesota Vikings, considering pundits flip-flop on the team's durability and explosiveness in the NFC this year—some think they'll excel, while others see them tanking.
Last year, the Vikings engineered the greatest comeback in NFL history, one of eleven one-score games they won (another record-breaker) throughout the season.
The team was very, very sneaky good. And they have the potential to be again this year, but they aren't getting the hype they deserve.
Hazy pale ales are sneaky good but see their hype siphoned off to their hazy IPA brethren.
Don't sleep on Minnesota, and don't sleep on hazy pale ales in 2023.
Skol Vikings!
New England Patriots + New England IPA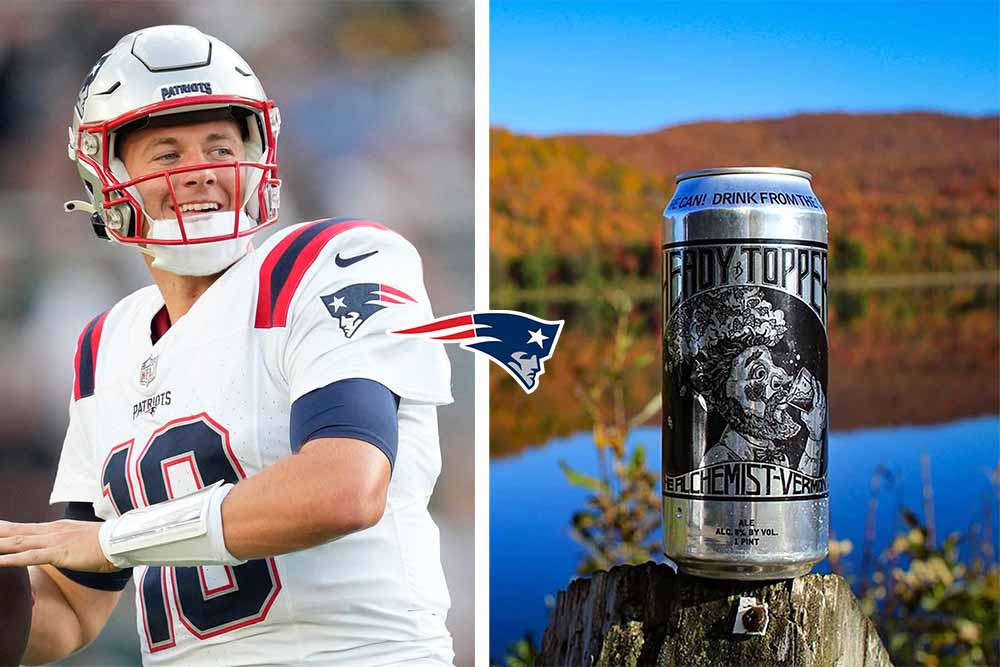 Oh, this one is too easy. Although we don't in any way, shape, or form think the Patriots will be as successful as hazies, we have to give a nod to the birthplace of one of America's most iconic beer styles—New England-style IPAs.
This is just a simple pairing we can't pass up. There isn't any reach here; there isn't any tongue-in-cheek connection.
The New England Patriots represent New England, and no beer style represents this region of America more than the New England-style IPA.
New Orleans Saints + Wheat Beers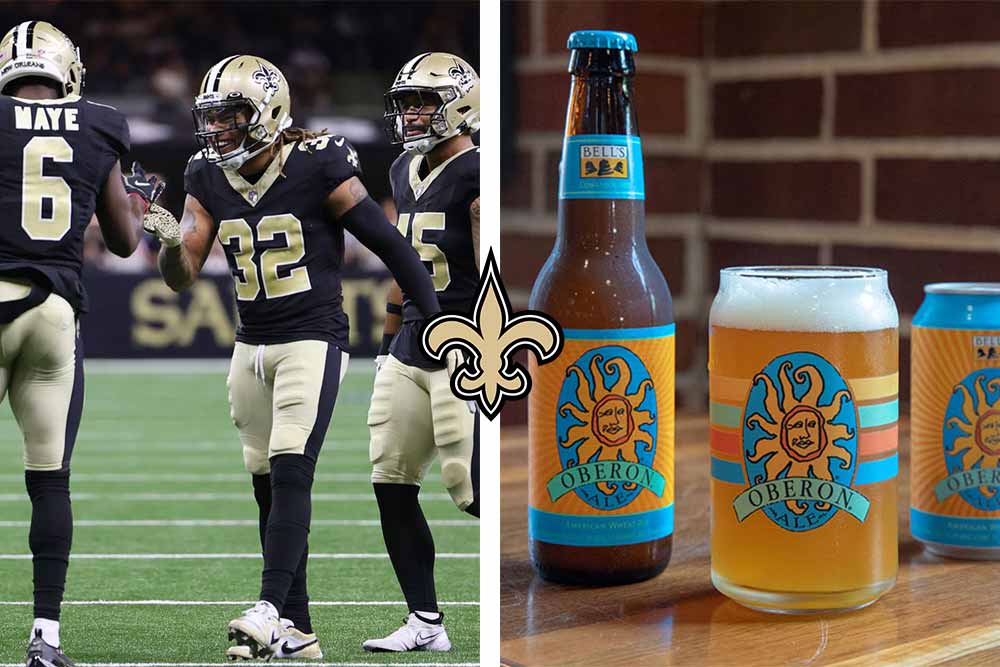 Dennis Allen's second year as head coach of the New Orleans Saints, taking up a mantle held by the revered Sean Payton for fifteen seasons, looks a little cloudy.
Kind of like a classic wheat beer.
Will bringing in former Raiders quarterback Derek Carr be a good fit?
Will the running game get going during Alvin Kamara's three-game suspension at the start of the season?
And will the team finish better than a 7-10 record in a highly lackluster, laughable NFC South conference last year?
Pour out one of these top wheat beers available in most stores right now, sit back, and let the season unfold.
Perhaps things will clear up by December.
New York Giants + American Stout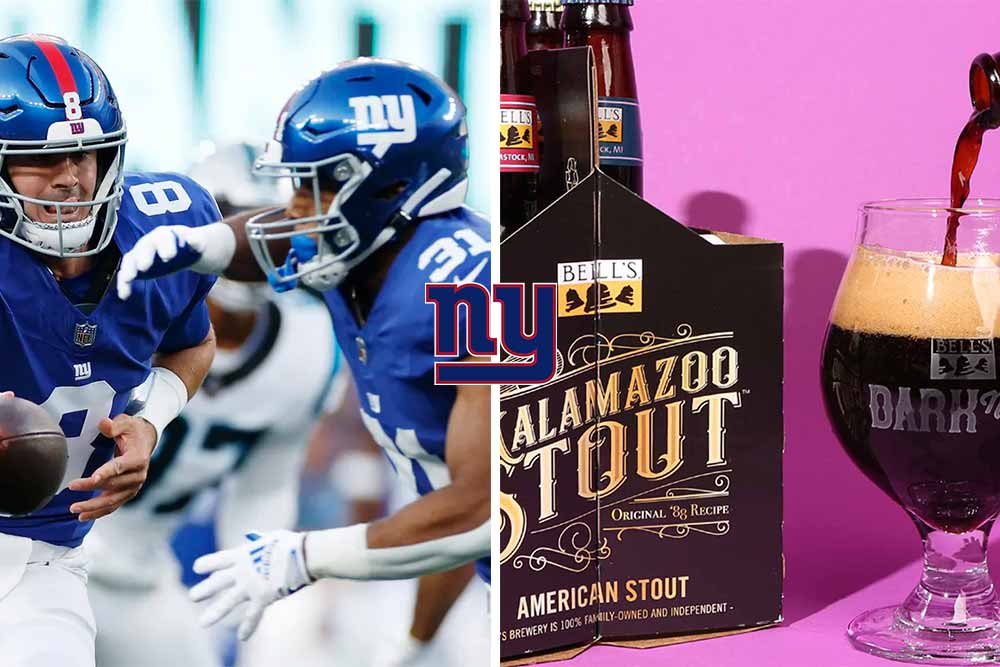 Earlier this year Daniel Jones got his big payday, a 4-year, $160 million contract. So far, reports from camp say he's playing well and with confidence. The sometimes-mercurial QB could be primed for a top year.
Saquon Barkley got his less-than-big payday, a 1-year, $10 million contract. But the team squashed the drama and can expect the stout rusher with huge quads to hopefully post top-five finishes in carries, target, touches, and scrimmage yards—much like he did in 2022.
A stout receiving core composed of Darius Slayton, Sterling Shepard, Isaiah Hodgins, and Wan'Dale Robinson may not be the flashiest, but it looks deep.
Last year, the stout G-Men made it as far as the Division Round, losing to the Philadelphia Eagles, and looked primed to make a charge in 2023.
While their AFC compatriots—the Jets—may steal all the headlines, the Giants quietly march forward.
Sometimes, with stouts, achieving greatness takes time. Cellaring for a year or two or more often brings even more depth and complexity.
The Jones- and Barkley-led Giants haven't leaped out of the gate, but their stars are bouncing back and coming into their own at the right time.
As stouts prove, some things are worth the wait. With this season, Giants fans might understand that better than anyone.
New York Jets + Belgian Quad
We're really not sure what to say about the Jets this year except: It's boom or bust; it's Super Bowl or hide our heads in a hole.
The Jets went ALL IN on Aaron Rodgers, making the team a no-brainer to feature on this year's edition of Hard Knocks, an HBO show that takes an inside look at NFL training camp.
Here's a fun, esoteric fact for you. Out of the twenty seasons of the HBO show, only seven teams featured made the playoffs. Of those seven, only one made it to a conference championship. Any guesses about whom?
Yup, that's right, the 2010 Rex Ryan-led Jets. So maybe the odds are in the Jet's favor.
We're not saying it won't work. We're just saying we're excited to crack a beer, sit back, and watch the drama unfold.
Rodgers isn't the only exciting player in the Jets' camp. We're excited to see how Breece Hall bounces back from tearing his ACL (we drafted him on a couple of our fantasy teams), and wide receiver Garrett Wilson looks to piggyback off winning NFL Offensive Rookie of the Year. All early signs point to a good connection with Rodgers.
And on defense, another first-year—cornerback Sauce Gardner—locked down Defensive Rookie of the Year in 2022, allowing just 33 catches on 73 targets and 54 yards in man coverage over 18 games, leading all cornerbacks with at least 120 man coverage snaps.
That's a quad-fecta, if you will.
Which is why we chose Belgian quads, because the Jets promise four times the fun in 2023.
Plus, Belgian quads can be absolute stunners when all the pieces and parts meld together. These are high-octane, high-alcohol, highly complex boom-or-bust beers. Much like the Jets in this NFL season.
Philadelphia Eagles + Quadruple IPA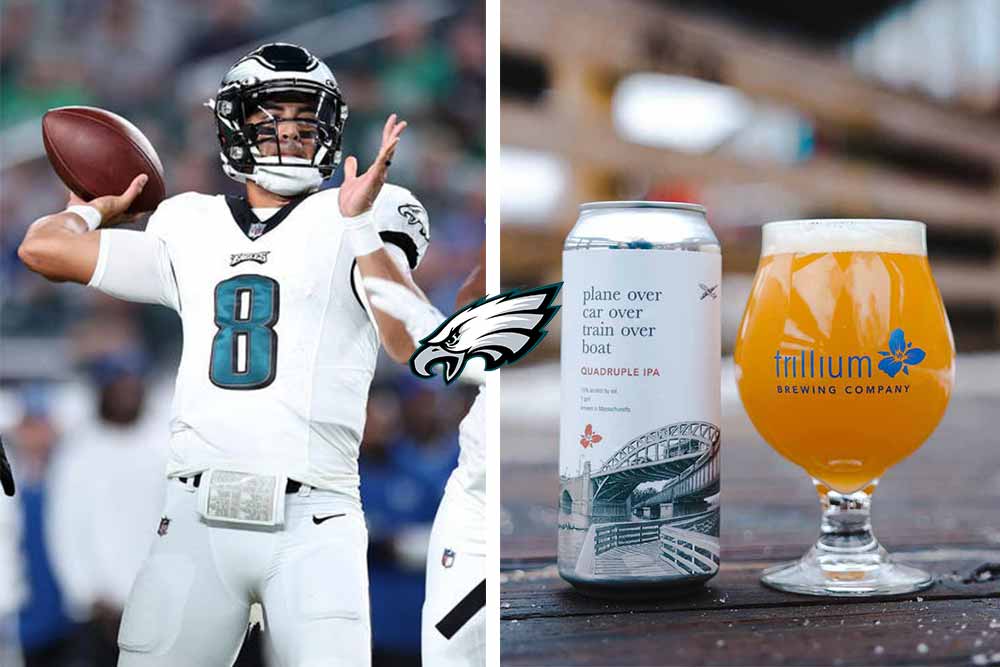 Do quadruple IPAs exist?
Is Jalen Hurts for real?
Yes, on both accounts!
A style you don't see very often, quad IPAs—ones that loosely hit around 10% ABV or above—aren't technically defined by any organization such as the Beer Judge Certification Program or the Brewers Association, but breweries are making 'em, and you should be buying 'em.
Just like we're buying the Hurts-led Eagles in 2023.
In fact, why are we still talking about whether the Philadelphia QB is legit?
Last year, he threw for 3,701 yards and 22 touchdowns, running for another 760 yards and 12 touchdowns. All while leading the Eagles to their second Super Bowl appearance in the last four years.
Sure, they lost to the Chiefs, but Mahomes is on another level.
Quadruple IPAs are expensive and extensive to make and require a whole sh••tload of hops (anywhere from seven to over ten pounds per barrel). These beers take time, work, and money. But everything is worth it in the end.
Much like we expect the Eagles' season to go this year. Fly, Eagles, fly!
Pittsburgh Steelers + Pilsner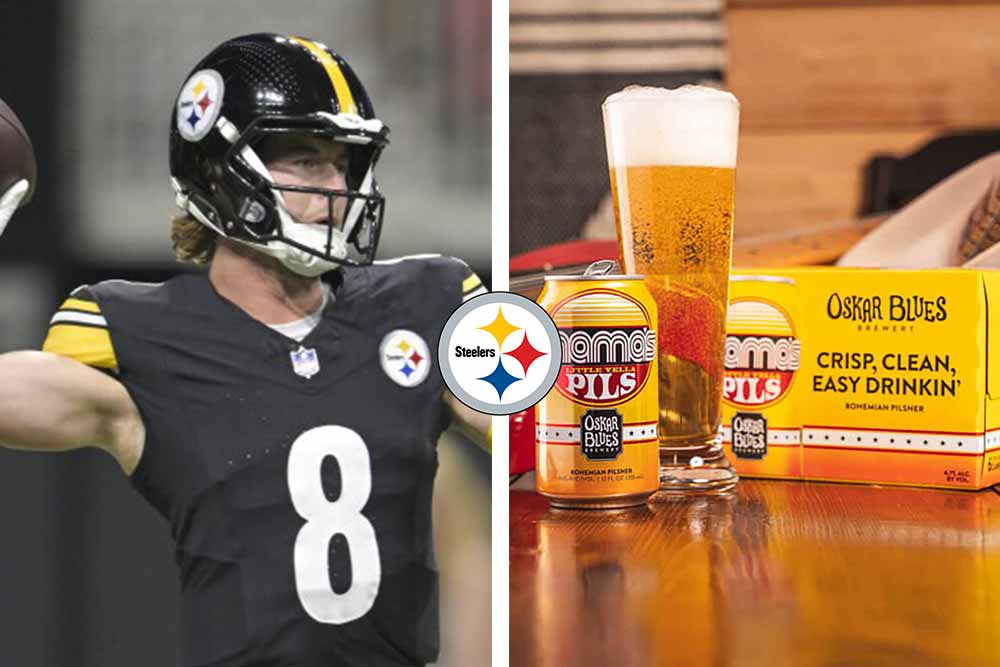 The Steelers as an organization have built a team founded on good ol' fashion hard work and sweat. This is a blue-collar team. One that grinds away year after year.
A pilsner is a perfect pairing for Pittsburgh. A seemingly simple style that's pretty challenging to nail, pilsner is a working person's beer.
Plus, if second-year quarterback Kenny Pickett lives up to the early training camp hype, someone in the Steel City needs to make a Pickett Pilsner.
We're just saying.
San Francisco 49ers + Steam Beer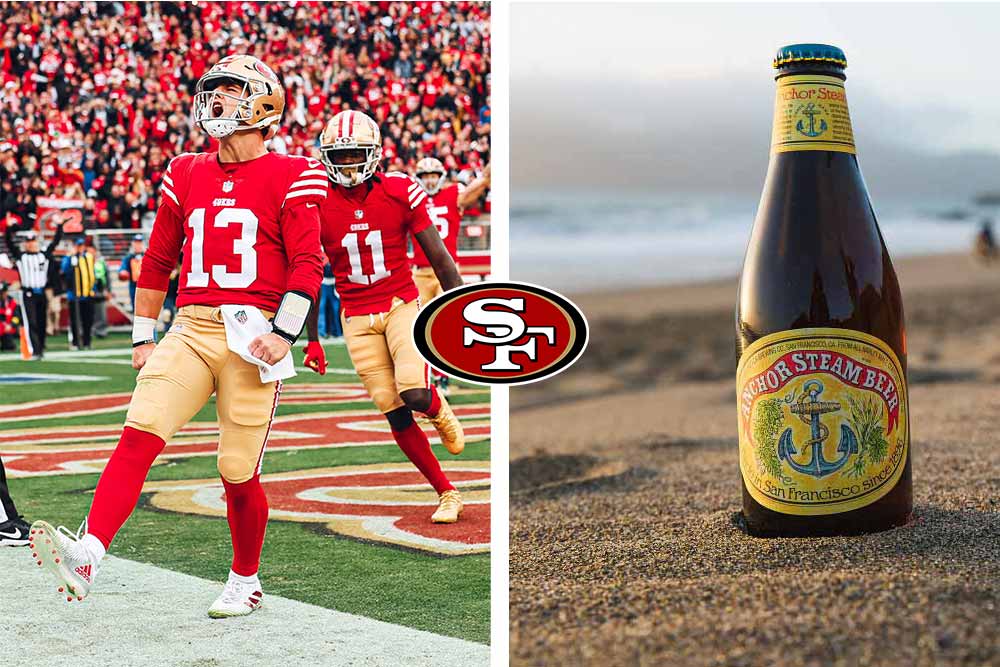 Much like the Ravens go hand-in-hand with the locally produced Guinness dry Irish stout, the 49ers are almost intrinsically connected to Anchor Steam Beer.
A style originating in San Francisco, steam beer gets its name from the technique West Coast brewers used to ferment beer at lager temperatures without caves or ice. Instead, they used coolships—large, open vessels to cool the beer down—often on the tops of buildings in the temperate San Francisco air.
What happens when hot beer meets cold air?
Steam.
Genius!
Which could be what Niners fans will be saying of San Francisco GM John Lynch for drafting QB Brock Purdy as the final pick (262nd overall) in last year's draft. Mr. Irrelevant stepped into the injured Trey Lance and Jimmy Garoppolo's cleats, winning seven consecutive games and taking the 49ers all the way to the NFC Championship (before getting injured himself).
If he performs well this year, too, we'll be talking about Purdy as a Tom Brady-like pick.
It helps that Purdy has an incredible team around him full of offensive weapons—Deebo Samuel, Brandon Aiyuk, Christian McCaffrey, George Kittle—and defensive ones—Nick Bosa and Fred Warner, to name a few.
Like with steam beer, it could be that all the right things are coming together at the right time for the Niners.
Seattle Seahawks + Saison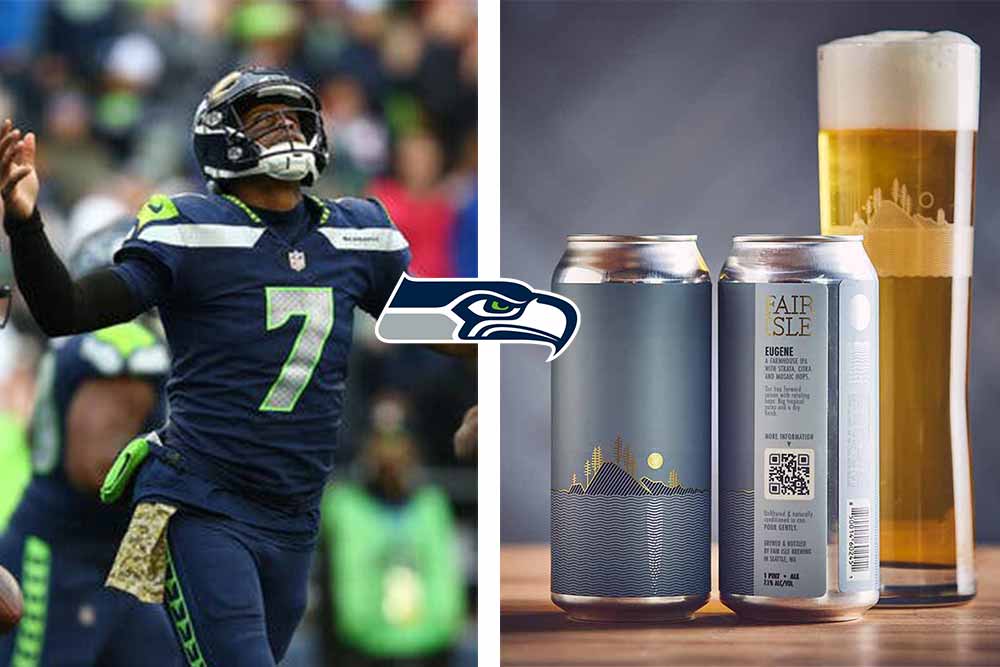 Geno Smith could be the comeback kid of the NFL millennium, resurrecting a career that had been circling a black hole and threatening to fall into oblivion. But while a surprisingly good team last year, bolstered by Smith's resurrection, a stand-out rookie running performance from Kenneth Walker III, and the consistent tag-team receiving corps of Tyler Lockett and DK Metcalf, the Seahawks lost in the first round of the playoffs.
All eyes will be on the 'Hawks to see if they can step up this year in Seattle.
And while saisons are incredible beers, many still seem to pass over them. You can't fly over the Seahawks or saisons anymore.
Give them both a chance in 2023.
Tampa Bay Buccaneers + ESB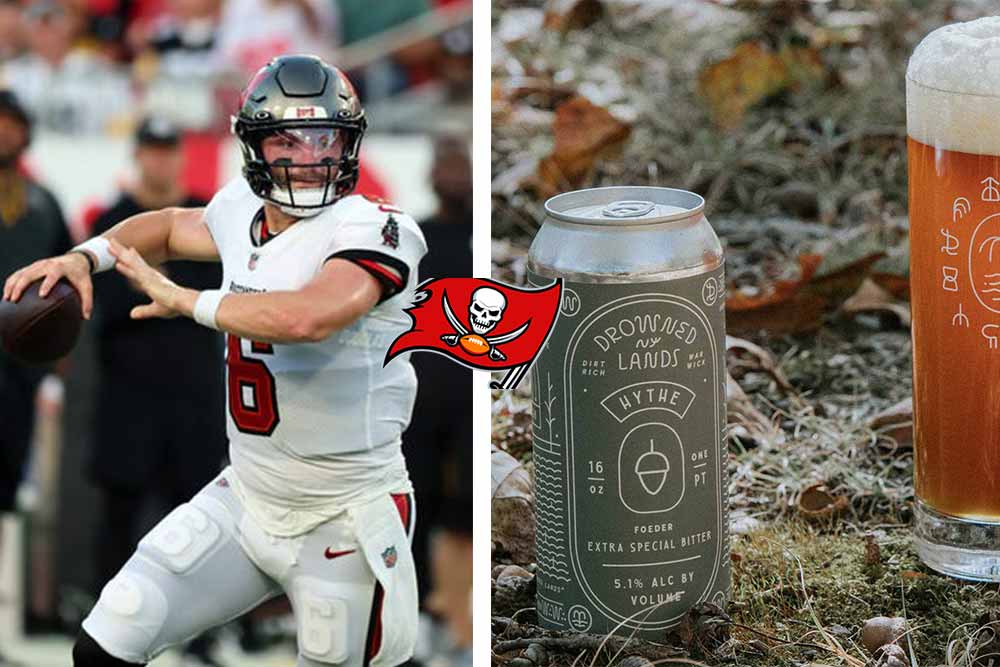 Should the Buccaneers' fans be bitter in 2023?
No one would blame them. Last year saw the meteoric, sometimes-appearing-ageless Tom Brady finally succumb to gravity and fall back down to earth.
The Bucs sort of lethargically limped to first in the NFC South, a supremely sub-par conference, before crashing out to the Cowboys of all teams, who often look blindfolded and handcuffed in the postseason.
Perhaps to everyone's relief, Brady stayed in retirement this year. But that meant the Bucs grabbed at straws, signing the mercurial QB Baker Mayfield in the offseason.
The normally raucous pirates could be a bit of a misnomer for the team this year as we're tempering expectations.
Which is why we picked an English bitter or extra special bitter (ESB) here. Actually a bit of a misnomer itself, English bitters are English, but they're not bitter at all, especially compared to West Coast or American pale ales.
More malt-forward and sessionable, ESBs focus on balance and stability.
Something the Bucs will need to do this year as they try to put the pieces back together from a two-year-old domineering Super Bowl-winning team that has only seemed to fall apart since.
Tennessee Titans + Barleywine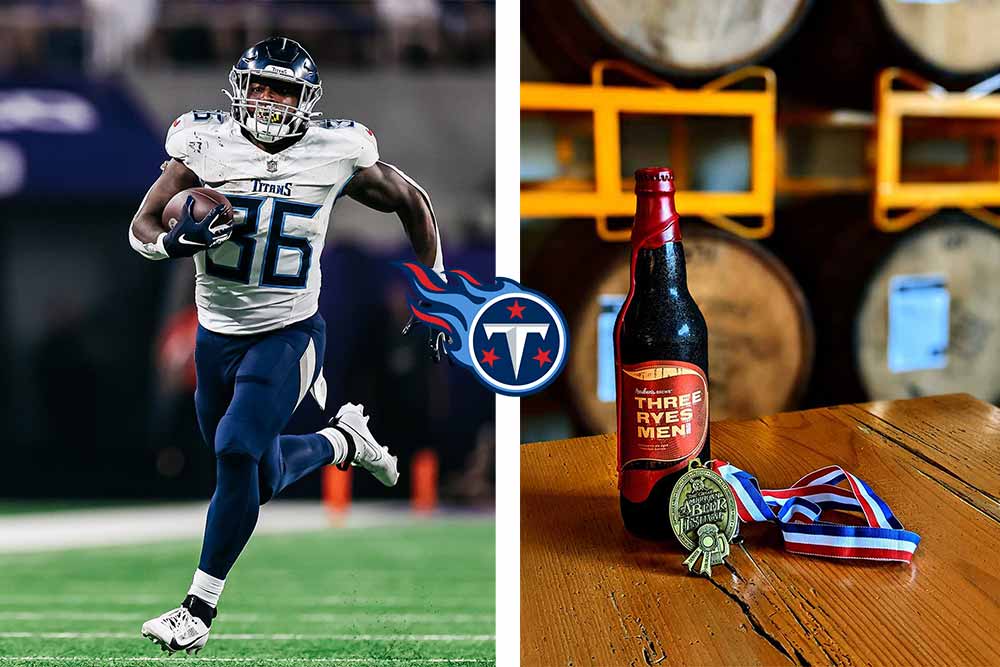 We feel like barleywines deserve more attention. Imperial stouts seem to get all the love and attention when it comes to darker beers that nap in barrels.
But don't sleep on barleywines. A strong, boozy, high-ABV beer style that's malt forward, barleywine gained notoriety in the U.S. with iconic beers like Anchor Old Foghorn® Ale, Sierra Nevada's Bigfoot, Firestone Walker Helldorado, and Deschutes Mirror Mirror, to name a few.
But they remain a relatively under-appreciated style.
Much like the Tennessee Titans have remained under the radar despite some success the past couple of years. The Mike Vrabel-led team won back-to-back AFC South titles in 2020 and 2021, the first time since 1960, and made three consecutive playoff appearances. But last year was a bit of a letdown with the Titans, missing out on postseason play.
Still, don't sleep on the Titans this year.
Ryan Tannehill has flourished in Tennessee alongside superstar running back Derrick Henry.
The Titans have it all to play for in 2023, a bit to prove. Much like barleywines.
Washington Commanders + Pumpkin Beer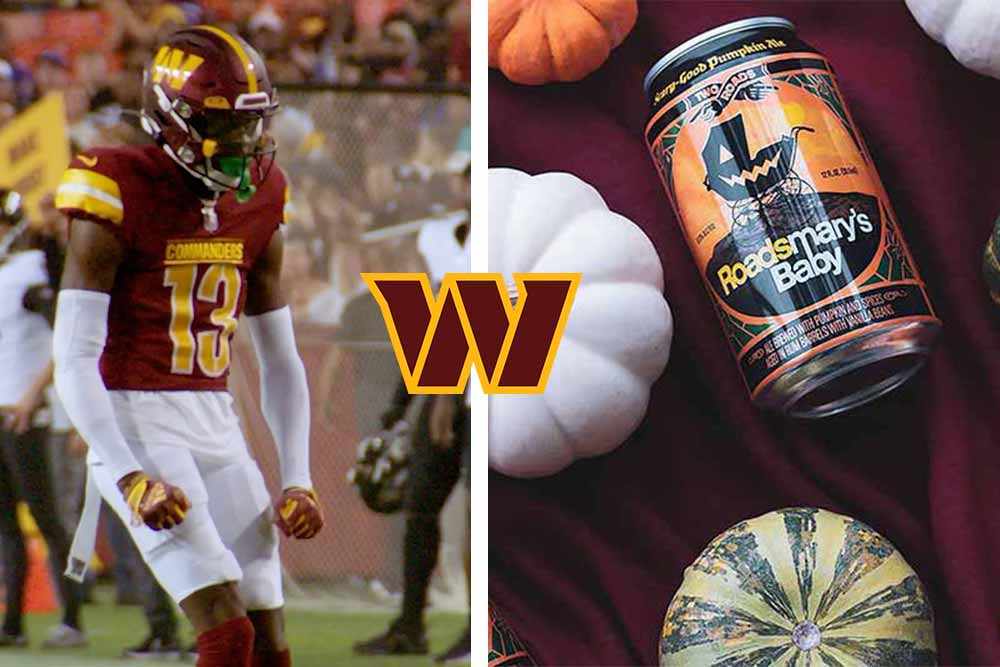 Although the Cardinals and Colts somehow put themselves up for contention for the most polarizing teams in the NFL this year, the Washington Commanders have worn that maroon "W" for a while now.
In July, ex-Commander Owner Dan Snyder finally sold the team for $6 billion. Somewhat more laughable than that, the NFL slapped Snyder with a $60 million fine after a lengthy investigation corroborated numerous allegations of sexual harassment and misconduct.
Since Snyder bought the team for $800 million in 1999, he's contentiously wrapped this team in scandal and controversy, refusing even to change the racist name of the team until big-name partners like Nike, PepsiCo, and FedEx threatened to pull their sponsorship.
All this is to say the Commanders will finally hope to pull out of Snyder's sordid shadow. But until then, the team remains as polarizing as pumpkin beer.
Yes, the oft-maligned but sometimes loved style seems a perfect fit for a team looking to reclaim its narrative.
And as we reported last year, while it may seem pumpkin beers are squashed, they're not.
Those in Washington, D.C., will be hoping the same for their team in 2023.